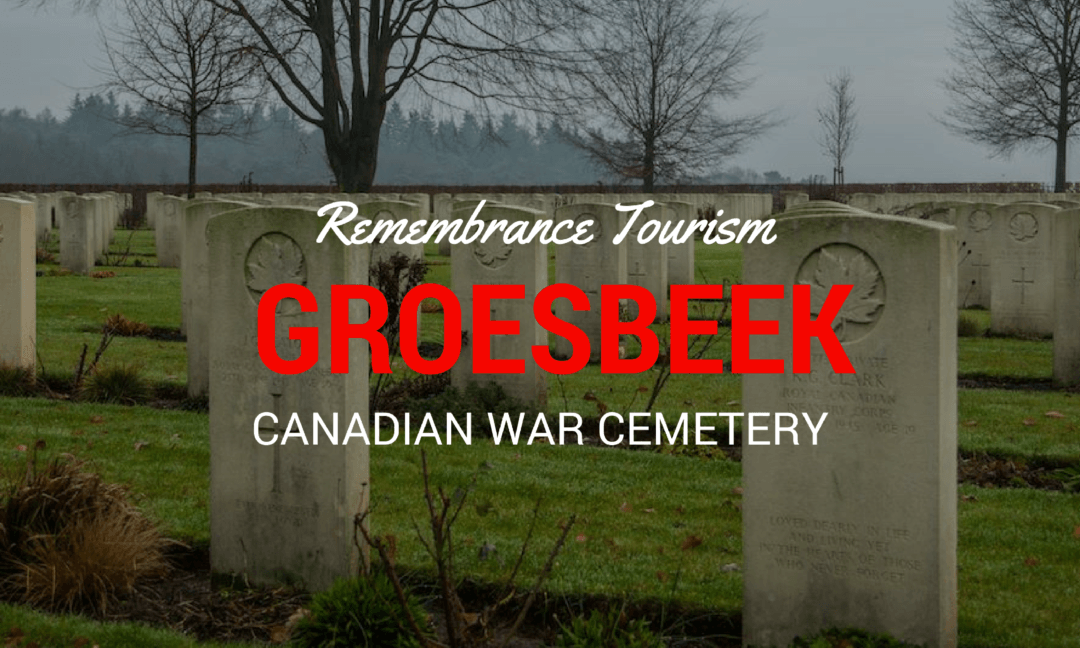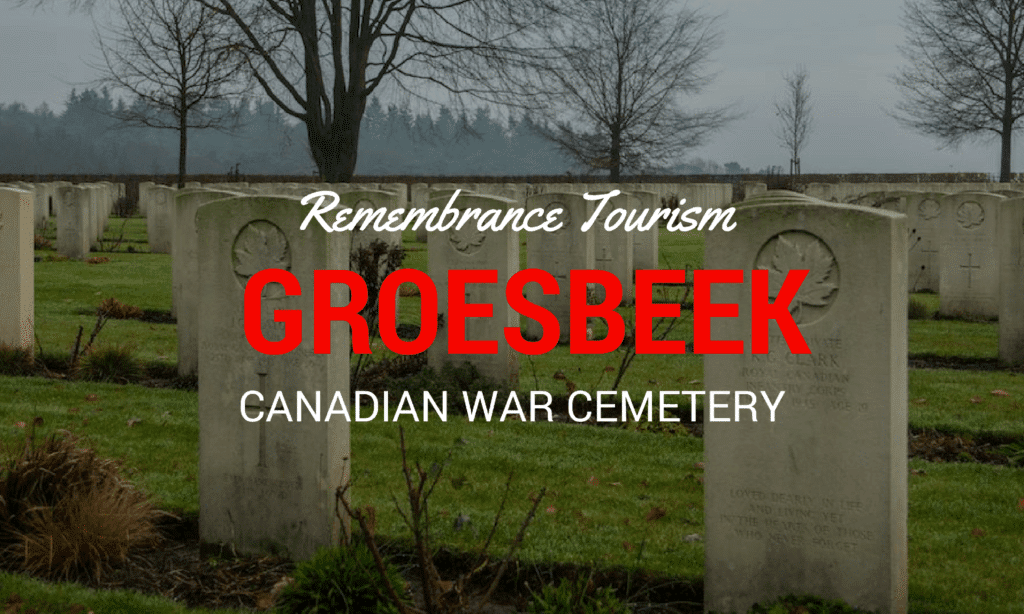 This is Canadian ground, says Martin, as we pause at the cemetery gate, shifting our weight to stay warm as he introduces us to the cemetery and its eternal residents.
My eyes involuntarily well up a bit, and I brush my face with a gloved hand, scanning the grounds with my eyes as Martin continues to talk.
They all look the same, these Commonwealth War Graves: the Railway Dugouts where Geoff's great-great uncle Walter lies; the Ryes cemetery in Normandy where my maternal grandfather's brother is buried; and now here, in Groesbeek, Netherlands.
Green, manicured grass; light grey headstones with serif crosses; engraved maple leafs. It's like seeing your hometown from 30,000 feet on your way out of town. Familiar and filled with your countrymen, yes, but set apart from your life now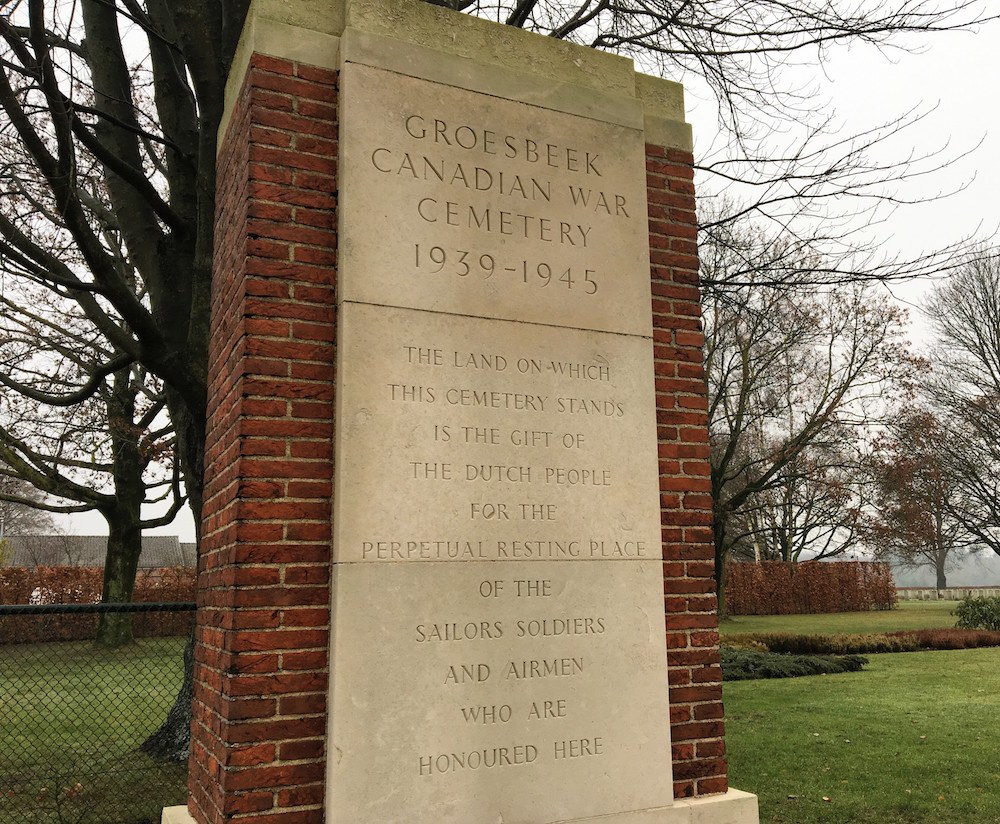 We follow Martin past the gate and onto the grounds, everything vibrant and green from the persistent winter drizzle.
Left from the entrance, right down an aisle, just a few rows back. There lie Johnny's remains, his name etched under a maple leaf on one of those same headstones we've come to know.
37667 Sergeant
J.T. Bateman Royal Canadian Army Service Corps
8th February 1945 Age 28
Love's greatest gift. Remembrance.

All we know about Johnny is what my dad — Johnny's nephew, born four years after his death — knows; small memories from my grandmother's life.
There's a few old black and white photographs of him, and one of his grave taken when it was a still a fresh mound of dirt topped by a bright white wooden cross. And there's a page from what I'd guess is my grandmother's scrapbook with two cutouts from a newspaper: one is a photo of Johnny in his army uniform, and the other is his notice of death.
Beneath his photo, my grandmother glued a typewritten version of William Collins' How Sleep the Brave.
Beyond those small details, Johnny's life and death are a mystery, like trying to read a novel without your reading glasses, the details you know are there frustratingly obscured.
That's about to change.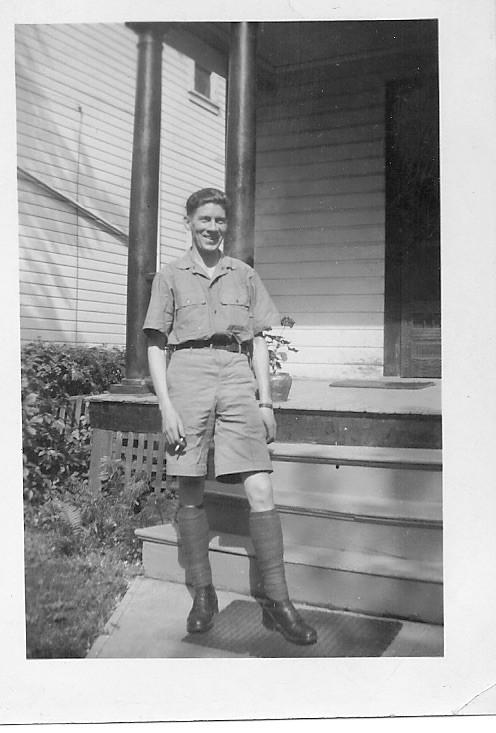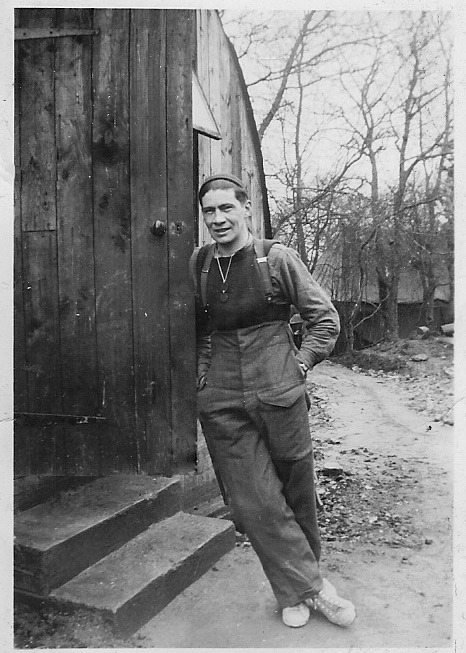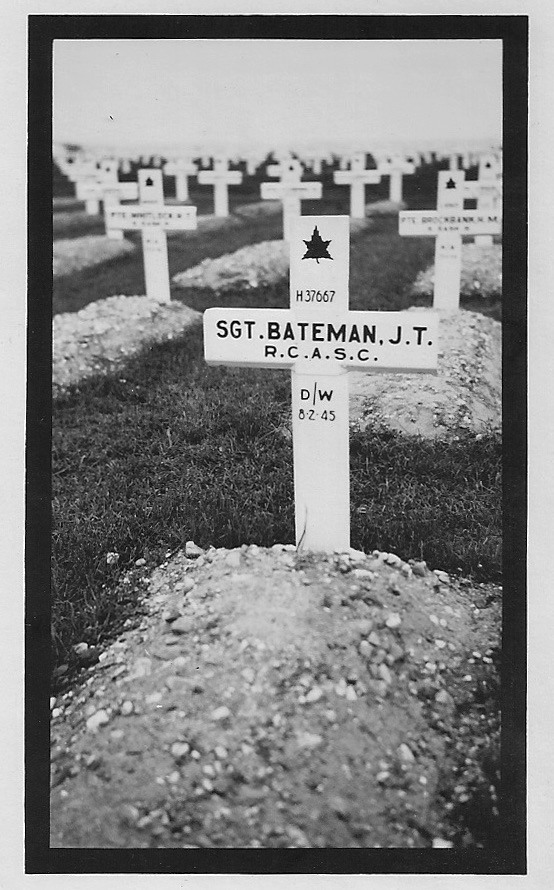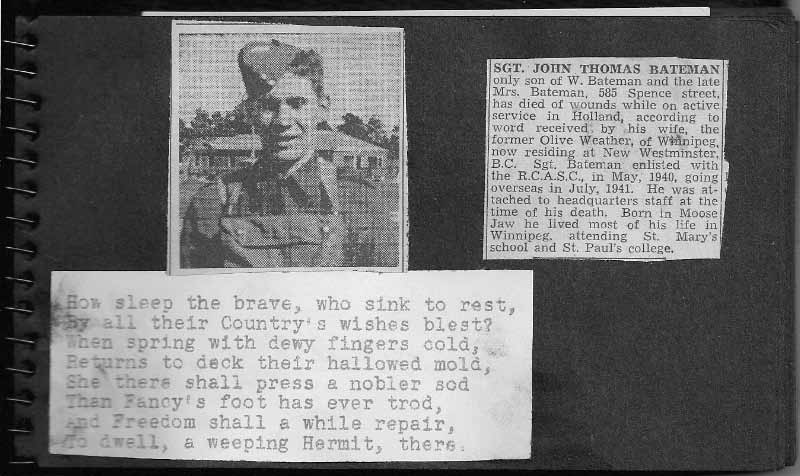 Johnny died on the first day of Operation Veritable, Martin explains, standing with us in front of the grave, an arm full of documents and pictures as visual aids.
In February and March 1945, the 1st Canadian Army was part of an offensive to clear the Germans from the area between the Rhine and the Maas Rivers, an area filled with the Reichswald Forest and small towns, forcing the fighting into Germany's industrial heartland.
On February 8, Johnny's 7th Infantry Brigade advanced on the first day of Veritable, using the Buffalo amphibious tanks that were widely used in this stage of the war.
It's impossible to know how far Johnny got on the last day of his life, but we know his unit advanced as far as the German town of Zyfflich that evening, taking it within 2 hours. He probably died on German soil.
Martin traces their route on a map he's brought along, and gives us a minute to pay our respects and take photos of Johnny's final resting place, before moving on to the many other stories he has to tell us about the people buried here.
It's hard to imagine the hell of this place just over 70 years ago, when the Rhineland offensive got underway, and so much still remains unknown, or has been forgotten.
A volunteer with the nearby National Liberation Museum, Martin's trying in his own way to record the history for future generations. He has an effusive enthusiasm for the subject, and he'll talk your ear off if you let him, repeating the stories he hears from veterans and their families, and piecing together what is available in the records to help others remember what happened here, on the eastern edges of the Netherlands, more than 70 years ago.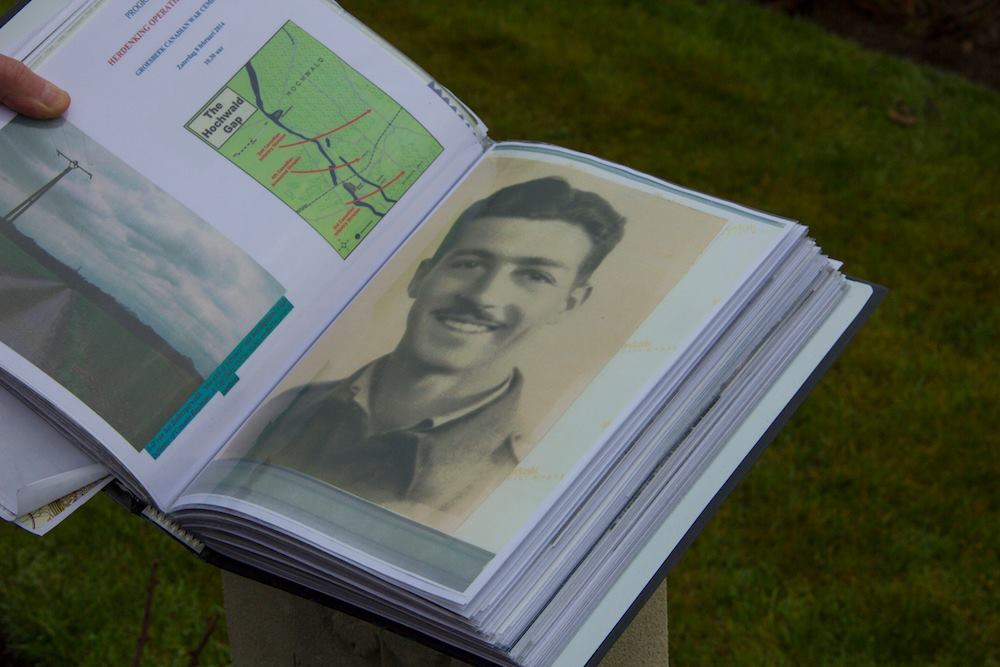 After we're finished at the cemetery, Martin leads us through the National Liberation Museum, telling us more stories from the war and Allies' liberation of the Netherlands, both his own and those he's learned over more than a decade of volunteering here.
At the end of our time at the museum, we enter the Remembrance Dome, which houses a Roll of Honor listing the 150,000 names of Allied soldiers who died during on the liberation route between D Day until VE Day.
He walks over to a name on the inner wall, and points.
This guy here, he begins. He was the first of the 82nd airborne to be killed in Operation Market Garden, and I know that because of his buddy George.
Martin recounts a moment more than a decade ago when George, a veteran, visited the Museum to remember the war and his friends.
Sitting here, Martin points to the front row of chairs, he got out of his chair and walked over to this name.
Do you know this man, he asked me? He was my buddy. We trained together in Fort Bragg, we fought together in North Africa and Sicily, and we jumped together in Holland.
Martin pauses for the next part, drawing on his own memory of that first day of Operation Market Garden, when thousands of Allied troops fell from the sky over the Netherlands.
I was 6 years old at the time, and I staying with my grandparents. You can't understand what it was like when all those planes were flying over us. No more than 400 meters above us. If they were flying over us now, we couldn't speak. It took 1.5 hours before they passed. And the thing is, I must have seen George jump. It's unbelievable. And I must have also seen his buddy's jump, and that his parachute didn't open enough. He died – the first casualty of the US 82nd Airborne in Operation Market Garden. And this is his name.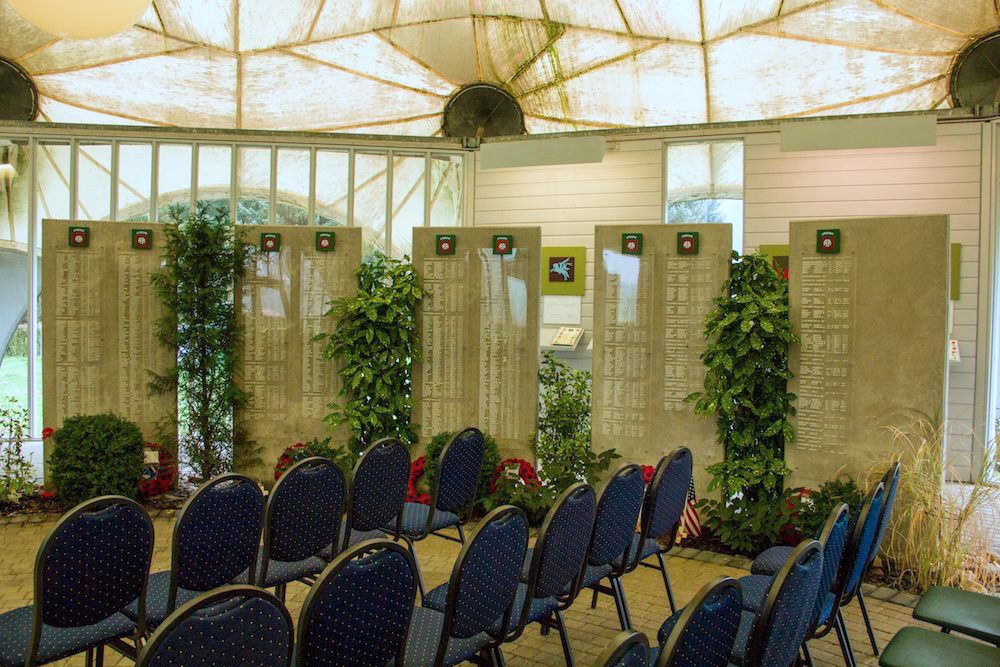 ---
Visiting the Groesbeek Canadian War Cemetery: Practical Info & How To
If you're planning a remembrance trip to Gelderland, there are a few 'must do' things we'd suggest.
The National Liberation Museum near Groesbeek and Airborne Museum Hartenstein near Arnhem are both excellent, and we'd suggest you make time for both of them.
In Nijmegen, also arrange to participate in the Sunset March, which happens daily at sunset (the time is posted daily on their website).
We'd also recommend you download the excellent Liberation Route app on your phone (iPhones and Androids). There are dozens of historical WWII stops in Gelderland, and the Liberation Route is a not-for-profit org that's dedicated to helping you find each spot, and learn about it on your travels.
Finally, we suggest you base yourself in Nijmegen, which is a larger city than the capital of Arnhem. We stayed right beside the train station at the Mercure Hotel (affiliate link), which ended up being uber convenient for travelling around the region and exploring Nijmegen itself. Renting a car is the easiest way to get around, and will give you the most flexibility. Holiday Autos and Auto Europe are both good bets for finding a good deal (affiliate links)
Remembrance tourism isn't exactly uplifting, I'll be the first to admit.
And yet, for some reason, Geoff and I keep being drawn to it, in Europe, and beyond — the wars of other places.
There's something about seeing the name of your blood engraved in stone, on foreign soil and far away from home. Something about seeing the ground on which they fought and fell, and learning about the particular brand of hell they lived through.
And something about doing it all NOW, when we have to wonder if it's a plot device in the story of this century. Foreshadowing.
A few years ago, in 2012, we visited Flanders and Normandy as part of a larger trip. Wandering through the In Flanders Fields Museum and buying a poppy pin in the gift shop; seeing the Menin Gate; visiting Normandy on a long day trip from Paris. It all had the vague feeling of a history lesson, like a travelogue I once had to read for a history class.
Back then, less than 5 years ago, it all felt like we were experiencing History, capital H.
But now? The stories Martin tells us today — the devastation, violence, and the bravery — they feel like lessons that people don't want to hear, and aren't listening to.
Standing in the spot where so many died, it's insane to think some would have us do this all over again. Lest we forget.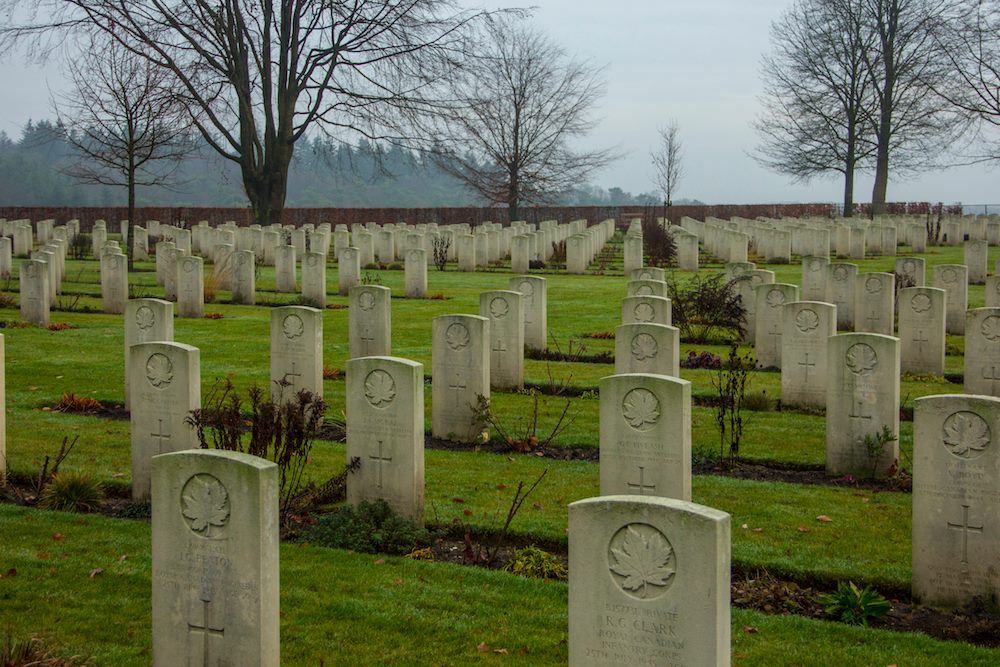 ---
We were guests of The Liberation Route while in Gelderland, and used the Liberation Route App and their website while exploring Arnhem, Nijmegen and Oosterbeek. All opinions remain our own.
Read More About Our Travel in the Netherlands by Checking out these Suggested Posts, or Visiting our Netherlands Home Page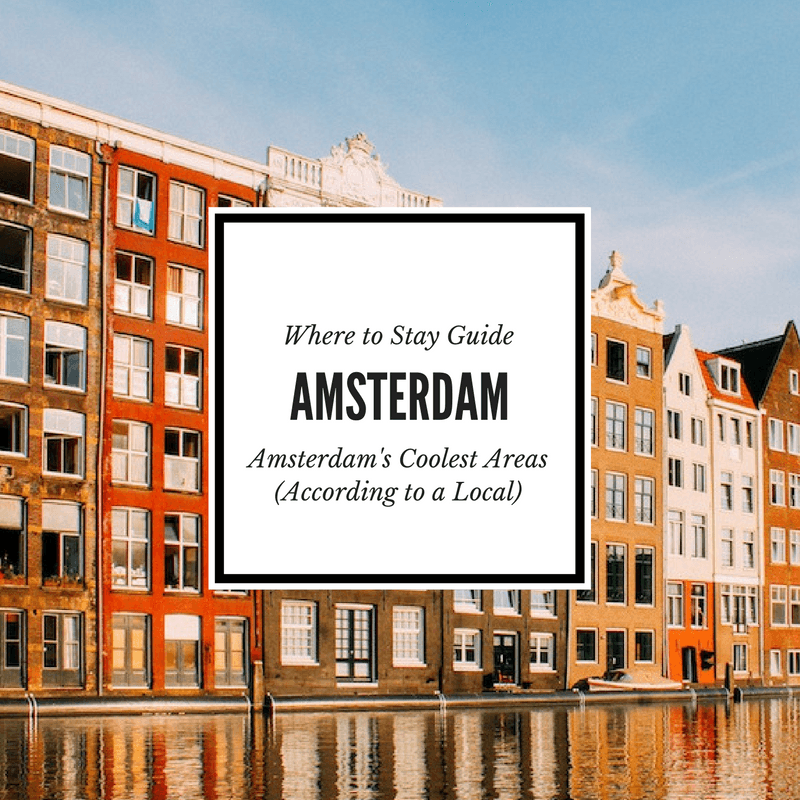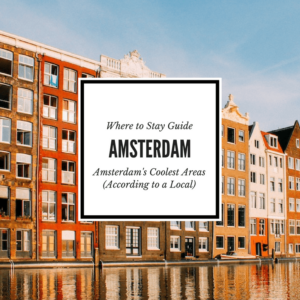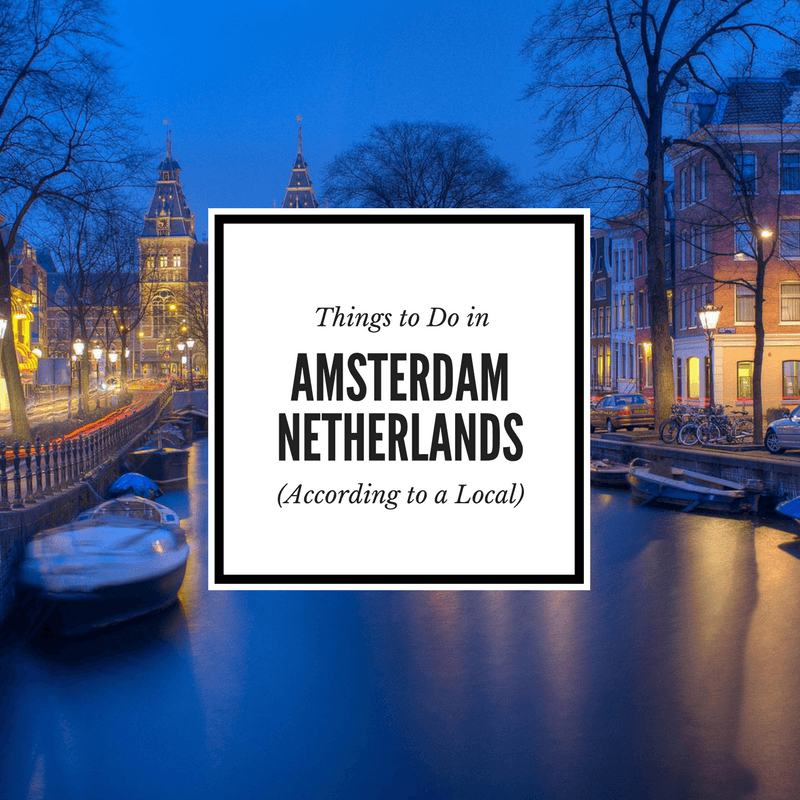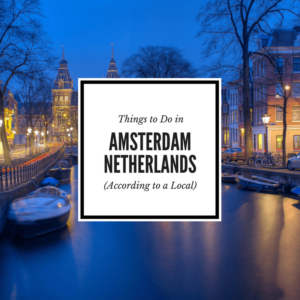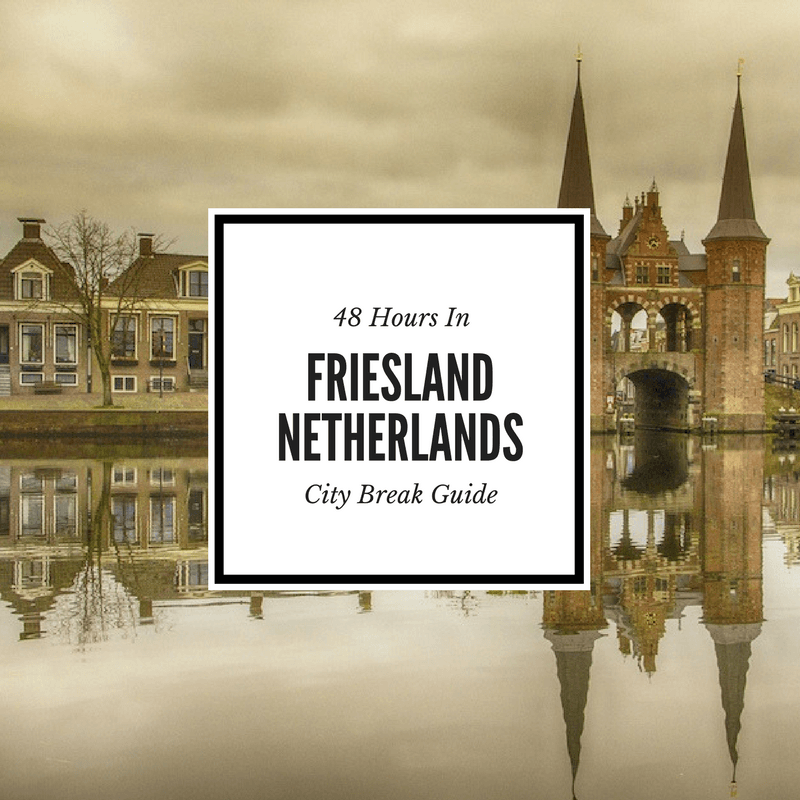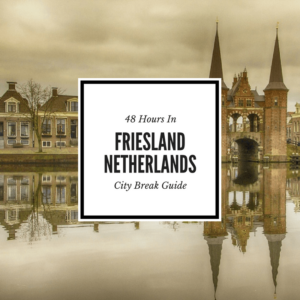 ---
Pin Now, Read Later. Save This Post on Pinterest.