Visit Friesland: The Best Things to do in Friesland Northern Netherlands. A Visit Friesland 48-Hour City Break Itinerary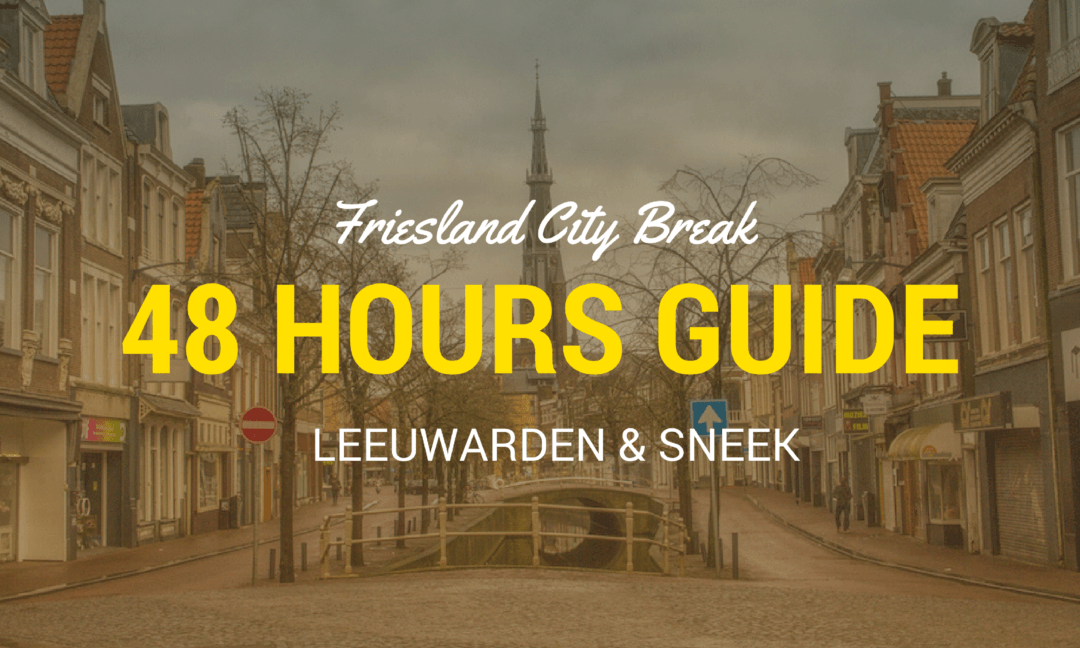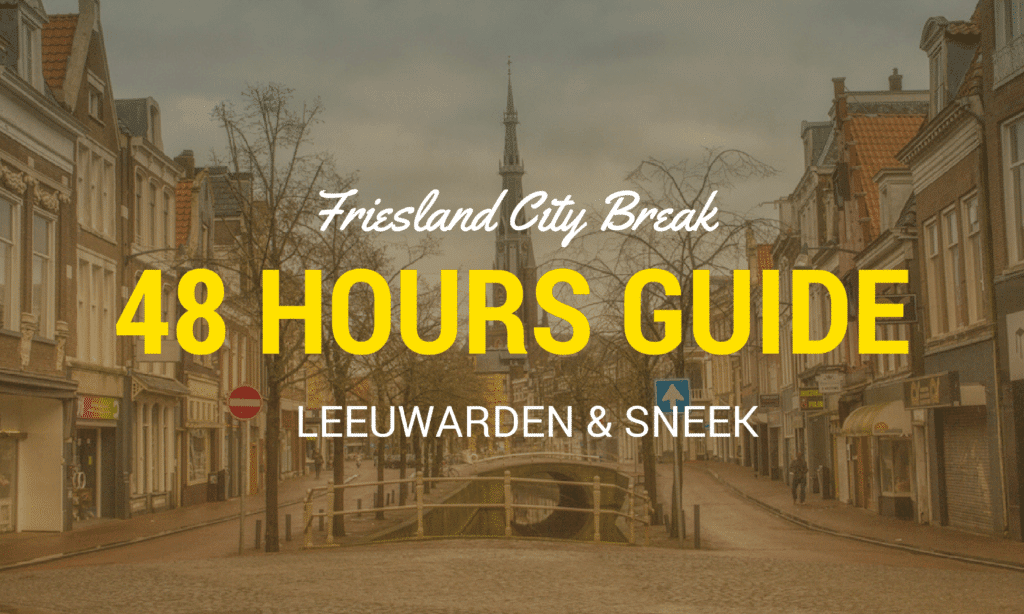 Disclosure: This Friesland Itinerary Guide contains affiliate links. That means we earn a commission when you use the links on this site to book a hotel, buy your travel insurance, etc.. You don't pay anything extra. If you'd like to learn more about how this works, you can read more under our Disclaimer page.
***
Friesland, Netherlands isn't on many people's travel radar, but after visiting the region, we found ourselves asking ourselves why more tourists don't visit Friesland.
Tucked up in the northern Netherlands, Friesland feels like a world away from the crowds of Amsterdam, a refreshing break from the rowdy groups concerned more about 'coffee shops' than they are about culture. Add to that, Friesland has a distinct culture unique from the rest of the Netherlands, and enough to do to keep you busy for a weekend city break or a week of exploring, depending on your interests.
We recently took a city break trip from Amsterdam to Friesland, spending a night each in Leeuwarden (the capital) and Sneek (one of the 11 historic cities). And we thought we'd pull together a 48-hours itinerary filled with the best things to do (and eat) in both cities in case you decide to visit Friesland yourself.
Welcome to our Visit Friesland City Break Guide, filled with 48 hours of things to do in Friesland!
Day 1
---
Explore Friesland's cozy capital city of Leeuwarden by foot and bike, and try some of the city's delicious casual eats! A day or more in Leeuwarden is a must on any visit to Friesland.
Eat: Fill Your Belly at Broodhuys
A broodje is a pretty typical (and delicious) Dutch lunch…I ate it every chance I got. Brood means bread, and broodjes are listed on almost every lunch menu as a simple and filling sandwich, usually served with meat, cheese, or jam/honey.
Start your visit to Friesland with a mid-morning train from Amsterdam to Leeuwarden, and make Broodhuys your first stop before starting your explorations. Offering a simple but delicious menu with a cozy ambience, it's the perfect introduction to Leeuwarden, which we found to be super cozy overall.
Make it Happen: Broodhuys is at Nieuwestad 99. Check their website for more.
Explore: Take a Tour with A Guide to Leeuwarden
If your visit happens to be over a weekend, join one of the free English tours of Friesland's capital with A Guide to Leeuwarden. They offer a Friesland-focused tour on Fridays, and a Leeuwarden-focused tour on Saturdays. You can also arrange a private tour with the company, a great option if you're there mid-week or have special interests. And if you need more help planning your time in Leeuwarden, be sure to read our interview with A Guide to Leeuwarden's founder Henk, in which he shares the best things to do in Leeuwarden.
Make it happen: A Guide to Leeuwarden offers regular 'pay what you want' tours on Fridays and Saturdays. Check their website for more info.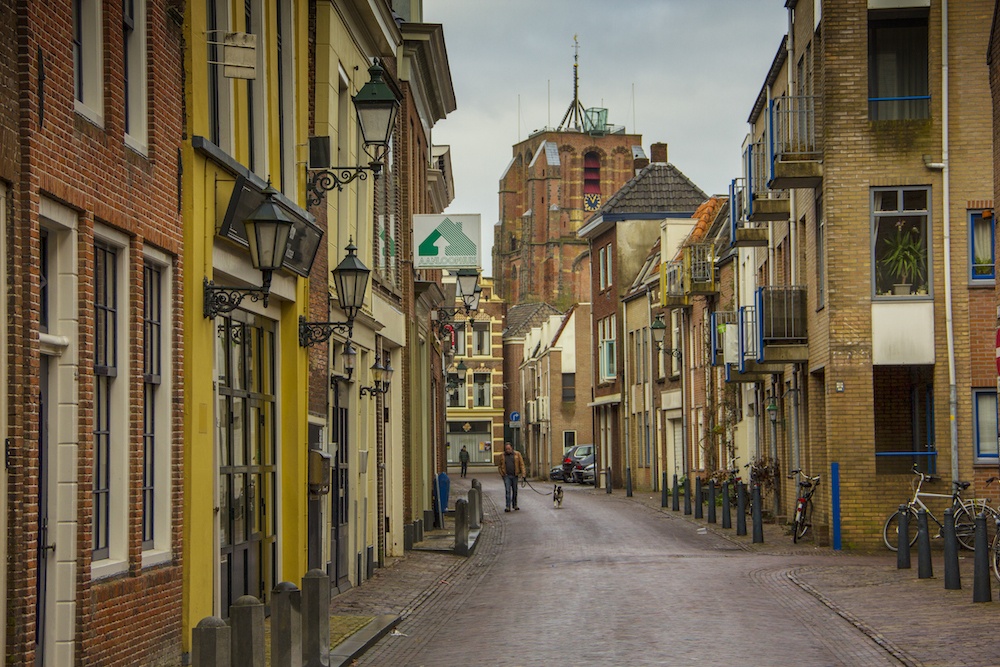 Learn: Hit Up the Ceramics Museum

Located in the former Royal home of Maria Louise van Hessen-Kassel, Princess of Orange-Nassau, Leeuwarden's Princessehof Ceramics Museum houses a massive collection of ceramics and pottery, running left, right, up and down across the aesthetic range and from around the world.
Ceramics, of course, has a long tradition in the Netherlands, a country famous for its Delftware, and the museum has a good collection of Dutch works. However, they also have lovely Asian pieces, as well as those from across Europe and the Islamic world.
When we visited, the special exhibition was Sexy Ceramics, which runs through to July 2017. Including pieces that were symbolic and tastefully metaphorical, to those that were overtly crude, the most interesting part about this exhibit, for me, was that it gave a window into the Dutch psyche and their famously liberal cultural attitudes toward sexuality.
A second interesting note is that the museum was packed, a theme we noticed throughout various visits to the Netherlands. Dutch people, it would seem, appreciate high culture.
Make it happen: The Museum is open year-round from Tuesdays through Sundays from 11:00am to 5:00pm (closed Christmas and New Year's Day), and entry for adults is €10.00. Reduced tickets available, check the website. The Museum is located at Grote Kerkstraat 11.
If you plan on visiting both the Fries Museum and the Ceramics Museum, you can get a discounted combination ticket for €20.50, which saves you €4.50.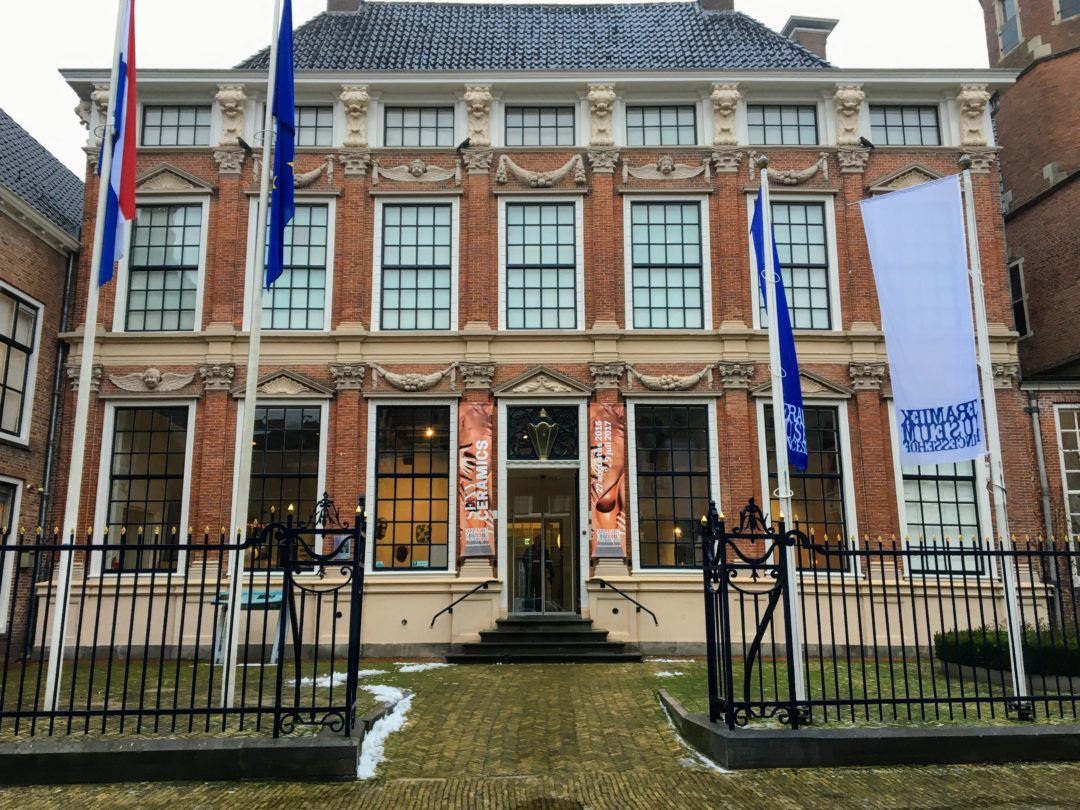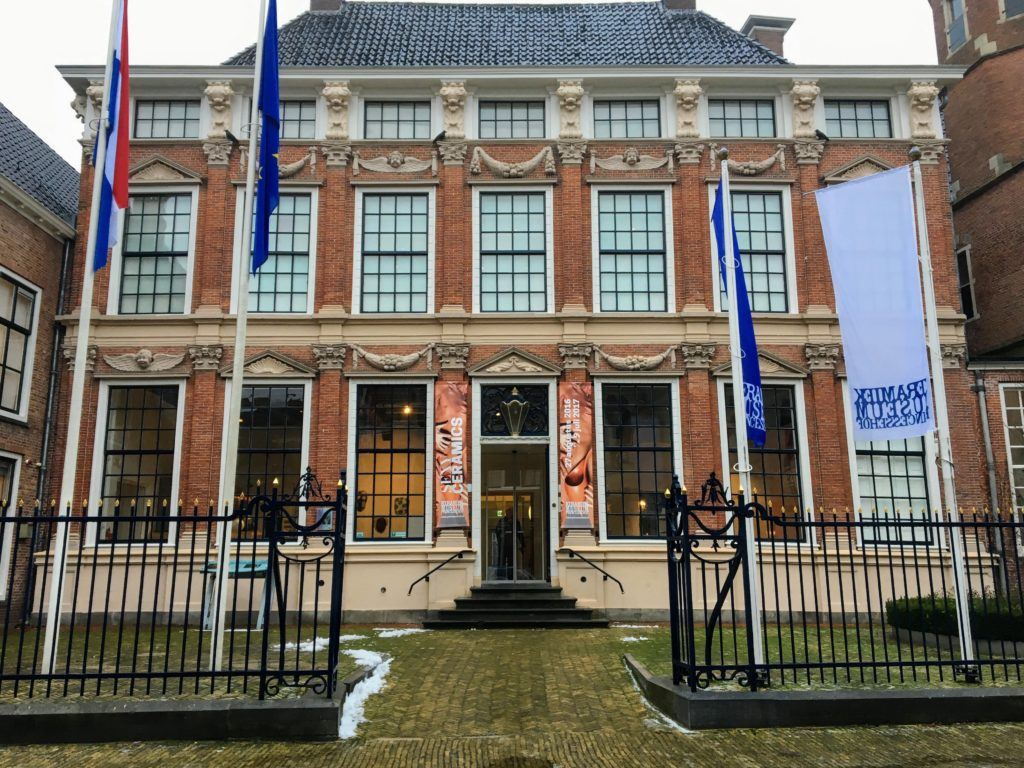 ---
Unfamiliar with the northern Netherlands' region of Friesland? Be sure to check out our Introduction to Friesland post for more reasons to go!
---
Eat: Dinner at Spinoza
For another cozy-casual restaurant with exceptional food, we'd suggest dinner at Spinoza.
The interior strikes a balance between being beautiful AND comfortable, which we've found to be quite rare: think lovely wood tables, hundreds of candles, and super friendly staff. If you're there in nice weather, there's a gorgeous terrace, which unfortunately (but sensibly) was closed for the season when we visited.
Add to that the food is delicious, and includes a good range of options for meat-eaters, vegetarians and vegans. I chose Geert Wilders — the only time in my life I'll say that, I expect — which was a rumpsteak (Geert Wilders is a right-wing populist/nationalist politician in the Netherlands), and the server's recommendation. It was delicious. Geoff chose the Sylvana Simons (a Dutch television presenter), which turned out to be a lovely chicken satay dish.
Make it Happen: Spinoza Eetcafé is at Eewal 50-52. The Dutch are big on reservations, at least for dinner. It's worth calling ahead (or asking your hotel to do so) to make a reservation and ensure you can get a table! Check their website for more.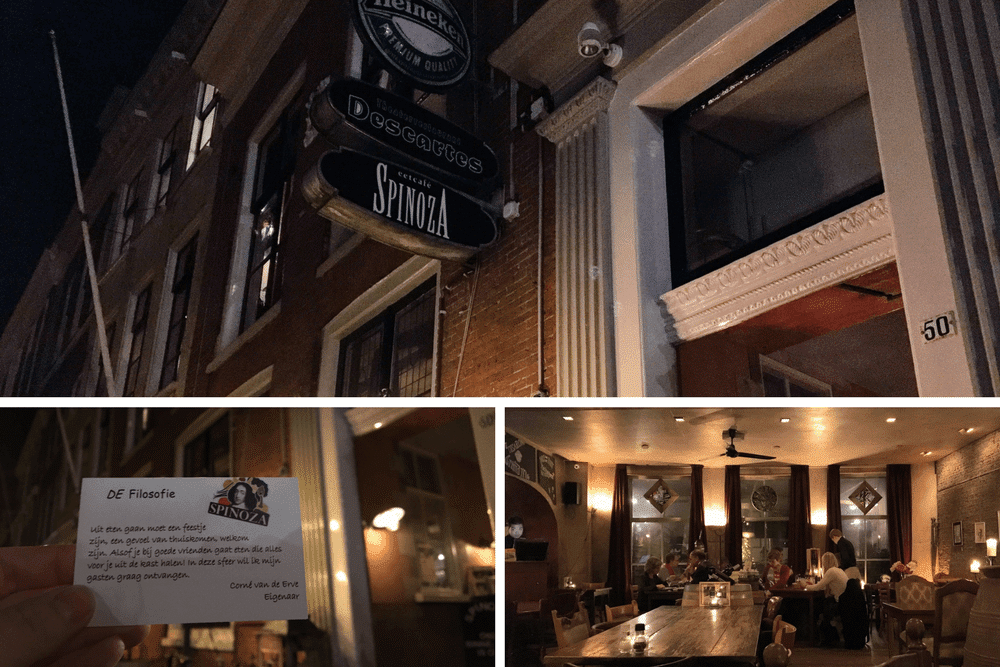 Drink: Taste the Tipple at Speciaalbier Café De Markies
If you're thirsty after dinner or want to unwind on the way back to your hotel, stop in for a night-cap (okay, a night beer) at Speciaalbier Café De Markies. While this spot wasn't on our itinerary, it comes highly recommended from Henk at A Guide to Leeuwarden.
Make it happen: You'll find it at Groot Schavernek 19
Explore: Be Sure to Tour the City on Two Wheels!
For experienced cyclists, riding a bike is truly the best way to get around all of the Netherlands' cities. However, if you're not so confident on two wheels, we'd suggest Leeuwarden — or any of the cities around Friesland — is a great place to test out the Dutch people's favorite mode of transportation: the bike. The Westcord WTC Hotel offers rentals for a reasonable fee, and Leeuwarden is well set-up to explore on two wheels.
Make it happen: Check your hotel before committing to be sure they rent bikes.
Sleep: Where to Stay in Leeuwarden
We stayed at the Westcord WTC Hotel, which is about a 20-minute walk from the centre, or an easy 7-minute bike ride. Being a bit further out, we found it to be super quiet. They also have a fantastic buffet breakfast in the morning, on the top floor of the hotel, with views over Leeuwarden.
Check availability and prices on Booking.com
Day 2 Header
---
Learn more about the region at the wonderful Fries Museum before heading to Sneek, another one of the 11 historic cities, for an overnight and some exploring.
Eat: Breakfast
We filled up at our hotel (which was excellent), but if you feel like venturing out and trying something different, the buffet breakfast at Wannee comes highly recommended.
Learn: The Fries Museum
Continuing on the excellent museums theme, don't leave Leeuwarden without visiting the Fries Museum. For us, a visit to this museum really enforced the idea of Friesland having a unique and separate culture from that of the Netherlands as a whole — and one that Frisians are rightly proud of.
When we visited, two special exhibitions really stood out for me about famous Frisians: a small exhibition about the was she / wasn't she a spy/femme fatale Mata Hari, and an exhibit of Lawrence Alma-Tadema's work.
Again, the Fries Museum — and in particular the Alma-Tadema exhibit — was jam packed with locals, a sign that the Frisians take culture seriously, and enjoy consuming it.
Make it happen: The museum is open Tuesdays through Sundays from 10:00am to 5:00pm, and entry for adults is €15.00. Reduced tickets available, check the website. The Museum is located at Wilhelminaplein 92.
If you plan on visiting both the Fries Museum and the Ceramics Museum, you can get a discounted combination ticket for €20.50, which saves you €4.50.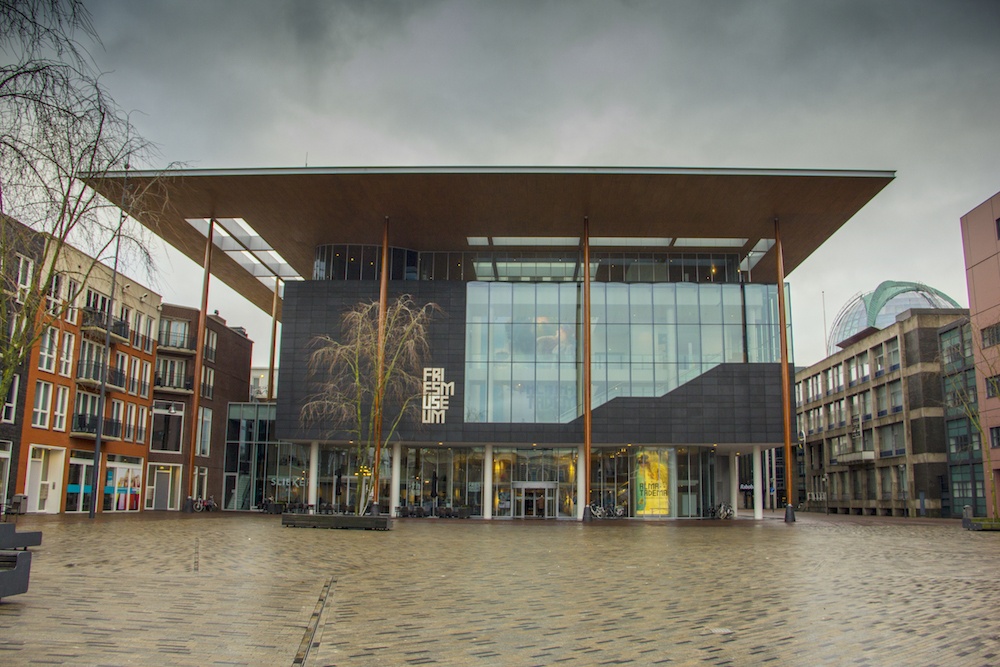 Travel: Catch the Train to Sneek
Sneek is one of Friesland's 11 Historic Cities, and is only 20 minutes by train from Leeuwarden. Trains run frequently from Leeuwarden's Platform 1, and once you arrive in Sneek, everything is compact and walkable!
Eat: Lunch at De Walrus
If you arrive hungry, grab a quick and casual bite at De Walrus, which is right in the centre of Sneek, and is usually jam-packed with locals and visitors (which is always a great sign). With an atmosphere that's a bit like a family-friendly pub, the portions are massive and delicious. The salads get the highest marks — I had the chicken caesar — and the sandwiches are good, too. De Walrus would also make a nice spot for a drink in the evenings, and they have a nice terrace when it's warm.
Make it happen: De Walrus is located at Leeuwenburg 11. Visit their website for more info.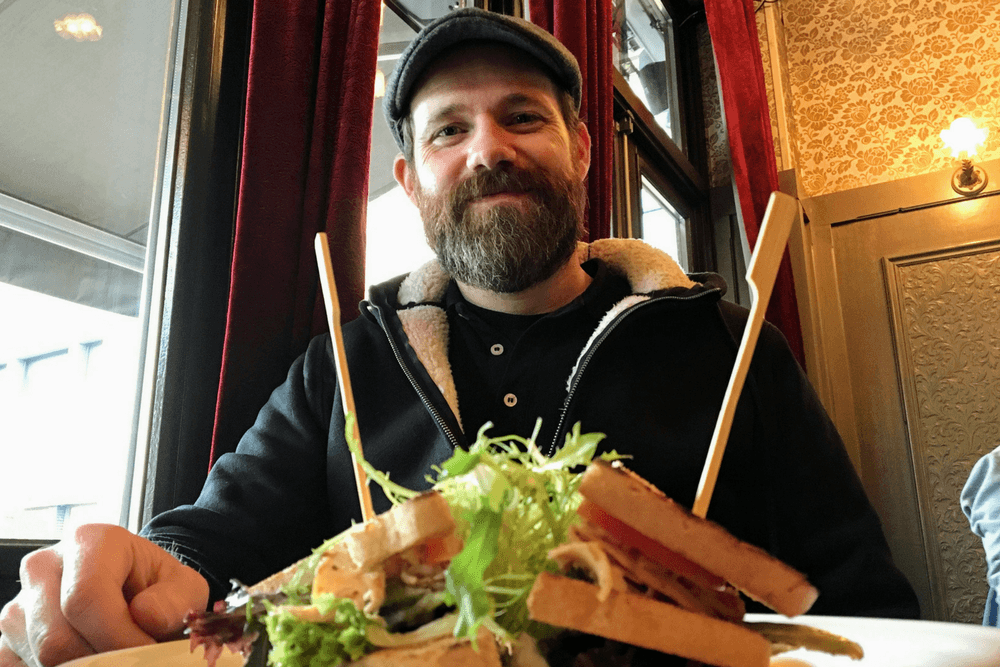 Learn: Fries Scheepvaart (Shipping) Museum
A must for shipping aficionados (such as Geoff), the museum is also interesting to those who are interested in learning a bit more about the history and culture of Sneek, and of Friesland more generally.
My favorite part of the museum was the section on the Elfstedentocht, an ice skating race through the 11 historic cities of Friesland. Spanning 200-km (120 mi), it happens every year in which the ice is thick enough, and has been held a total of 15 times, first in 1909 and most recently in 1997. The museum has photographs and mementos from the races through the years, and gives interesting insight into the role the waterways — both as water and as ice — have played a key role over the course of Sneek's history.
Make it happen: The museum is open Mondays through Saturdays from 10:00am to 5:00pm, and on Sundays 12:00pm to 5:00pm. Entry for adults is €7.50. Reduced tickets available, check the website*. The Museum is located at Kleinzand 16.
* The website is in Dutch, but if you use Google Chrome as an Internet browser, Google will automatically translate everything for you. That's why we think Chrome is the best browser for travel planning!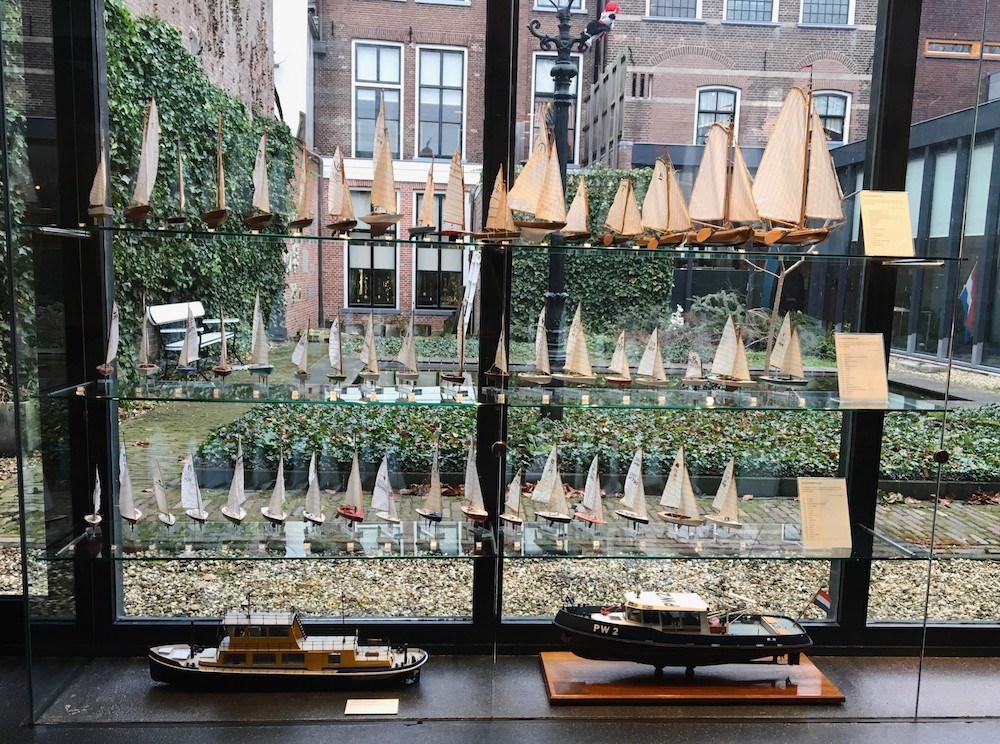 Explore: Waterpoort
When you're finished at the Shipping Museum, stroll down to the Waterpoort, the most iconic structure in Sneek and a symbol of the city.
This is the only remaining gate to the city, down from an original of four water gates and two land gates.
Built in the early 17th century, the gate today is a beautiful structure — and great spot for photos — but also a clue into how important the canals have been to Sneek throughout its history. The water gates outnumbered the land gates 2:1 because water was the primary mode of transportation when they were built.
Be sure to stroll past the Waterpoort a bit, and then turn back to look at it – that's where you'll get the best views.
Make it happen: The Waterpoort can be found at the end of Waterpoortsgracht, just a 5-minute walk from the Shipping Museum.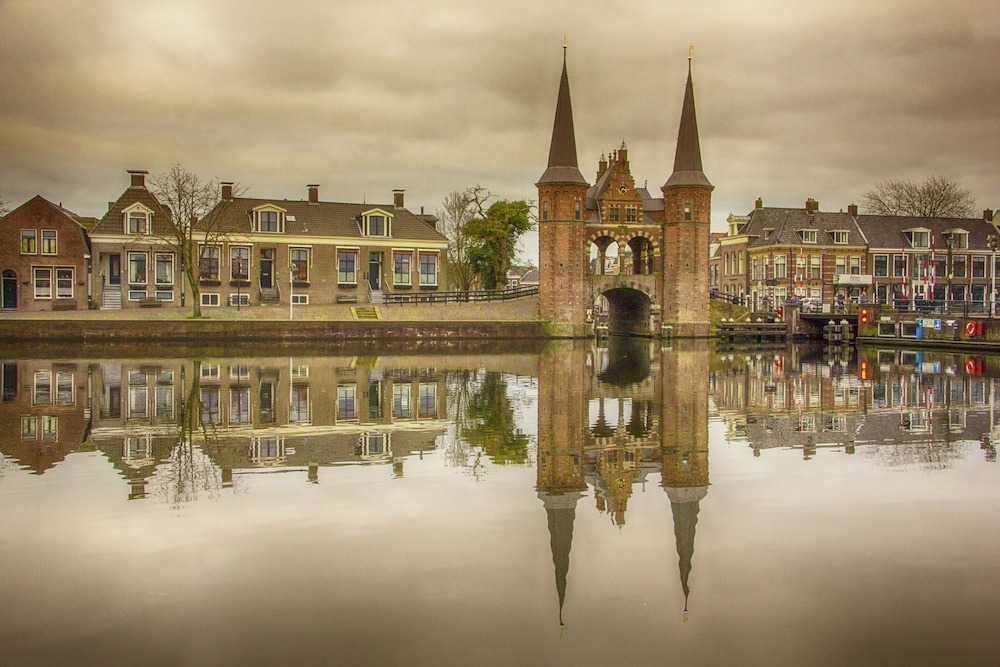 Explore: Self-Guided App Tour
The Sneek Promotion Foundation has partnered with the travel app, izi.Travel to put together a 15-stop self-guided walking tour through central Sneek, with a bit about each stop and the history.
The tour more or less does a loop around the city, stopping at some of the key sights including the Market Street, the Weigh House, and the Town Hall, among many others. Our favorite stop was the Martinikerk which, unbeknownst to us, has a plaque dedicated to six Canadian soldiers who died liberating Sneek in 1945.
If you download the app ahead of time, you can save the info at different stops for offline use, allowing you to use it even if you don't have Wifi or a local SIM card.
We didn't do the full tour, because we ran out of time. However, the way it's designed, you can pick and choose a few stops if you're limited on time. I'd suggest taking a look at the app locations before you head out exploring, as you'll more than likely pass many of the locations listed even if you randomly wander. It's a great way to get a bit of context about the history and locations you see in the city.
Make it happen: The izi.Travel app is available for OS, Android and Windows devices. More on their website.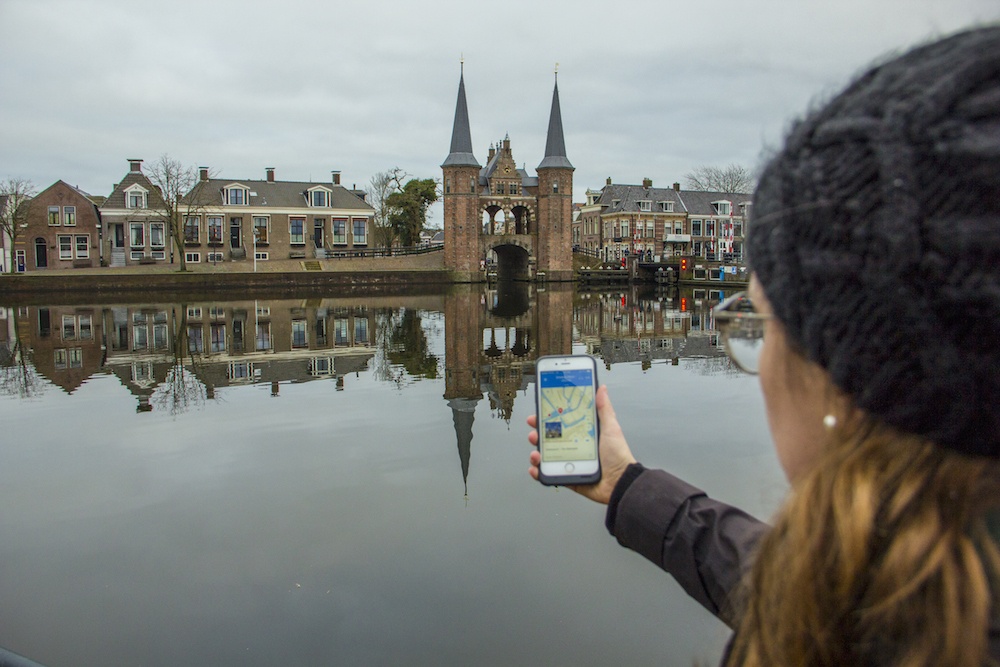 Eat: Dinner at Aan de Gracht
On your last night, jump into Aan de Gracht for dinner, which means 'At the Canal.' Another super cozy spot, we were glad we had reservations, as the place was packed. Opened recently by a Dutch guy originally hailing from Haarlem (near Amsterdam), this restaurant is a passion-driven business for him, and it shows: the food and service is excellent, and he'll happily chat to you about his adopted home of Friesland, why he loves it, and of course food!
We had a tapas platter appetizer, and then split the burger and Biefstukpuntjes – all of which were the chef's recommendations.
If you're up for a drink after dinner, Neighbours Bar came recommended as a local favorite. Unfortunately it was closed when we visited on a Sunday, so we didn't get to visit ourselves.
Make it happen: Aan de Gracht is at Grootzand 4, and is easy to walk to from anywhere in central Sneek. It was busy and filled with locals when we went (again — always a good sign!), so it's worth calling ahead to make a reservation. When we visited, menus weren't available in English, but don't let that stop you — the server was more than happy to translate, and Dutch people speak exceptional English in general. You can also check their menu ahead of time on their website, by using a combination of Google Chrome (browser) on your computer, and Google Translate on your smartphone, using the camera translate function.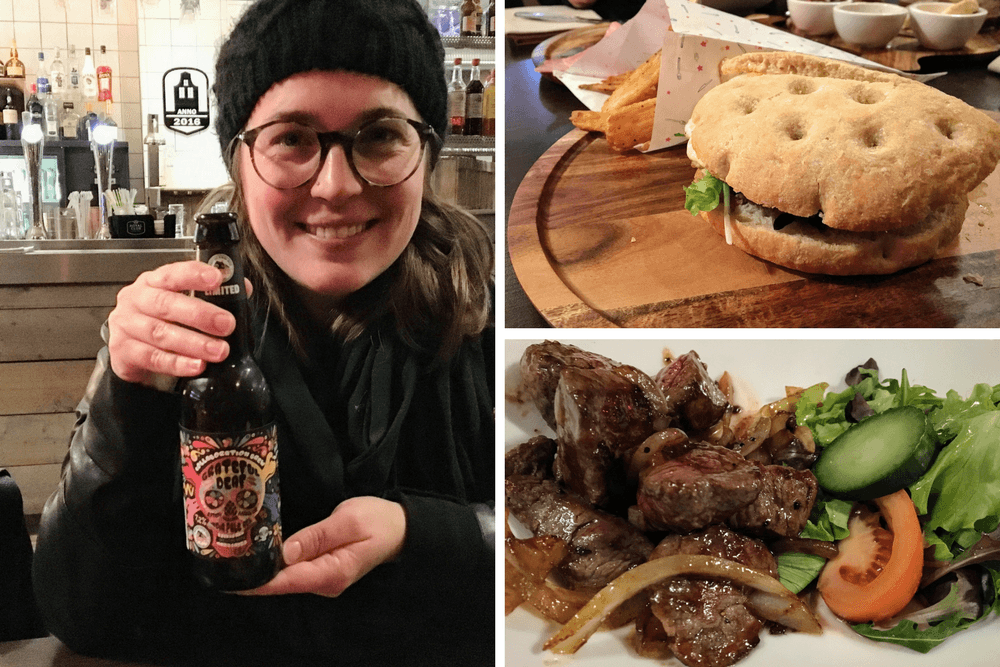 Sleep: Where to Stay in Sneek
In Sneek, we stayed at Hotel Klein Genot, which was about a 7-minute walk from the train station, and right in the historical center, making it a great base from which to explore the city.
At the time of writing, it wasn't possible to reserve this hotel via Booking.com or Hotels Combined. Your best bet is to check out their website (in Dutch, so be sure to use Chrome as your browser).
Friesland Practical Travel Info
---
Getting to Friesland
Transportation wise, Leeuwarden is really the gateway to Friesland, unless you have your own car, or are willing to rent a car. Most travellers will be coming from Amsterdam, from which trains go several times per hour, with most requiring one or two transfers. The entire trip should take you about 2 hours on the train. Check schedules and plan your journey on the Netherlands train website.
Getting around Friesland
Once you arrive in Leeuwarden (one of the 11 historic cities of Friesland), you can take public transport to some, but not all, of the 11 cities: Sneek, IJlst, Stavoren, Hindeloopen, Workum,Harlingen, and Franeker can be reached quite easily via train, and Dokkum and Bolsward by bus. Sloten is more difficult to reach via public transport.
---
Read More Before you Visit Friesland and the Northern Netherlands
Disclaimer: We were guests of Merk Frysland during our two days in the region, and of Mooi Leeuwarden whilst in the capital city. Notably, both offer great trip planning resources if you're planning a visit to the region. All opinions remain our own.
Like this Guide? Pin it for later!