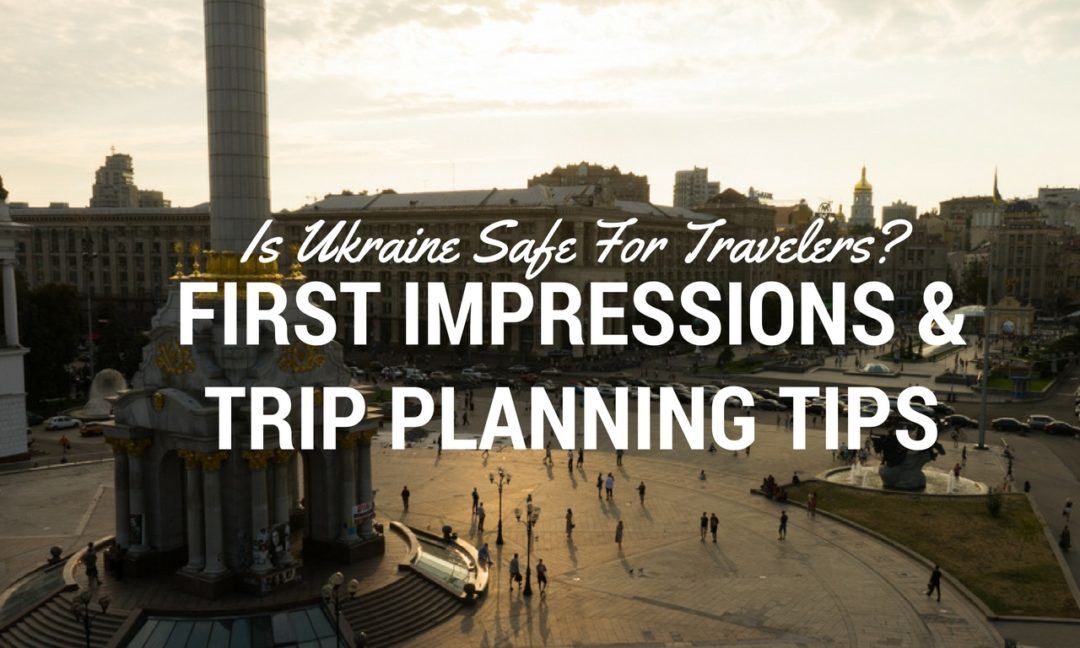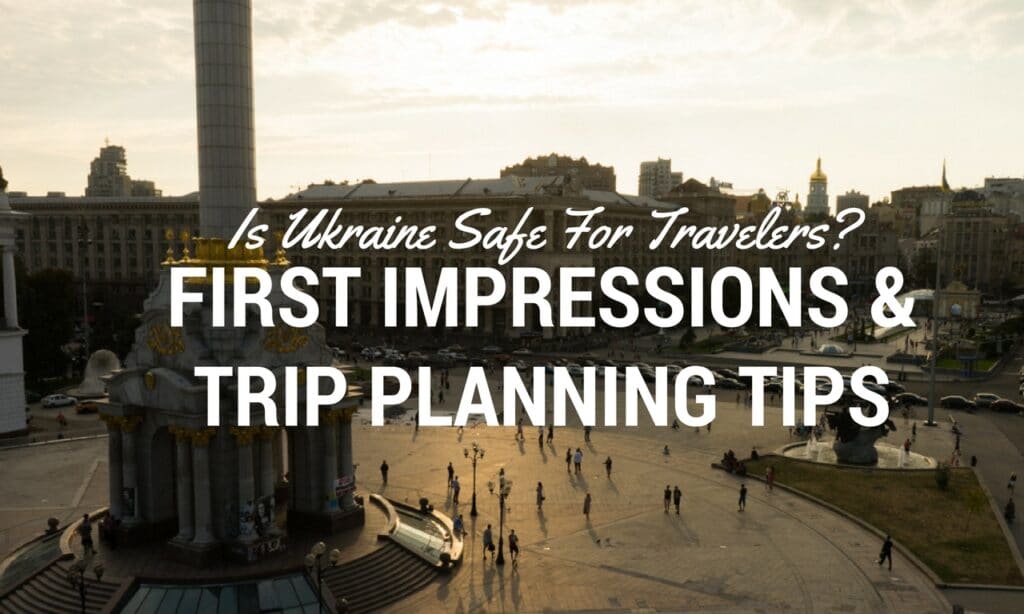 The night before we left Budapest, neither of us could sleep. Instead of drifting off to dreamland in the beautiful boutique hotel we were staying in, we both spent the four hours between midnight and our alarm clock tossing and turning, fighting each other for the sheets and reaching for our phones, blue light be damned.
I'd checked the visa situation at least a half-dozen times, and knew we'd receive a 3-month visa upon arrival, but I still found myself running through the what if scenarios, over and over again. I'd checked Global Affairs Canada — our answer to the American State Department — daily, waiting to see the magic words I knew would be there: There is no nationwide advisory in effect for Ukraine. And I'd checked a few Eastern Europe traveller's Facebook groups for opinions about what was — of course — top of mind: is Ukraine safe to travel in right now?
This is the first time we've ever travelled to a country that's fighting a legit war within its borders, with one of the world's superpowers, to boot. Despite all the research that told us – Go; Ukraine is awesome; You'll fall in love with it – and a basic knowledge of geography — Kiev is further away from Crimea than it is from Warsaw, and Lviv (our destination after Kiev) to Crimea is about the same distance as Budapest to Hamburg — a tiny voice at the back of our minds was whispering: are you crazy?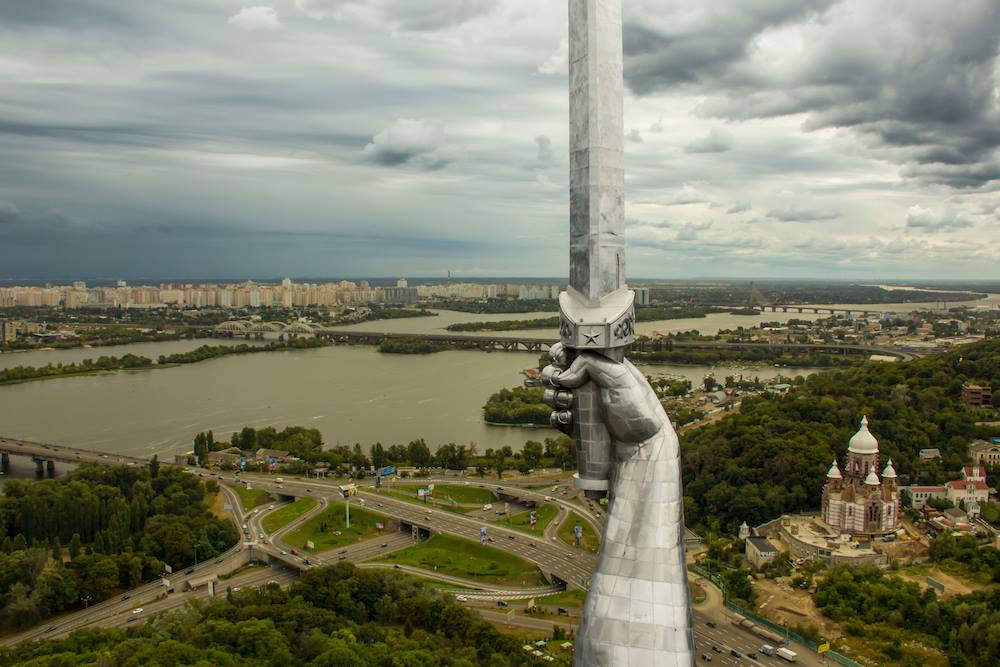 For those of you who do think we ARE in fact crazy for travelling to Ukraine right now (I'm sure the blunt pencil Mexico lady would have a thing or two to say to us), let's just clear up a few things right off the bat.
We are not reckless travellers, and we don't take unnecessary risks.
That said, we are far more adventurous than the average North American traveller. For us, much of Mexico is perfectly safe and filled with friendly people, Iran is near the top of my list, and a 12-hour train trip to check out Chisinau, Moldova – for a few days, just because – was an interesting adventure.
While we're not going to book a trip to Syria, Afghanistan, South Sudan or Iraq anytime soon, we also don't believe that the entire world is a big, bad scary place. Despite all the s**t that does happen – and yes, our collective cup does seem to runneth over with poop these days – what we've actually seen and experienced on our travels is that places we thought might be scary (Colombia, parts of Mexico, and yes – Ukraine) have turned out to be not scary at all.
I'd classify us as "cautiously adventurous" travellers. And when I say adventurous, I mean it in the sense that we travel to off-the-path, adventurous-to-us destinations, and do so independently, rather than in the sense that we're bungee jumping off bridges and skydiving whilst we're there.
Mostly, we like to wander around cool cities; check out art, architecture, people and bars; learn about history and culture; and drink multiple strong cappuccinos in short succession.
Nothing crazy.
And that's how we found ourselves tossing and turning the night before our departure to Ukraine, quietly wondering what the hell we were doing; wondering is Ukraine safe right now.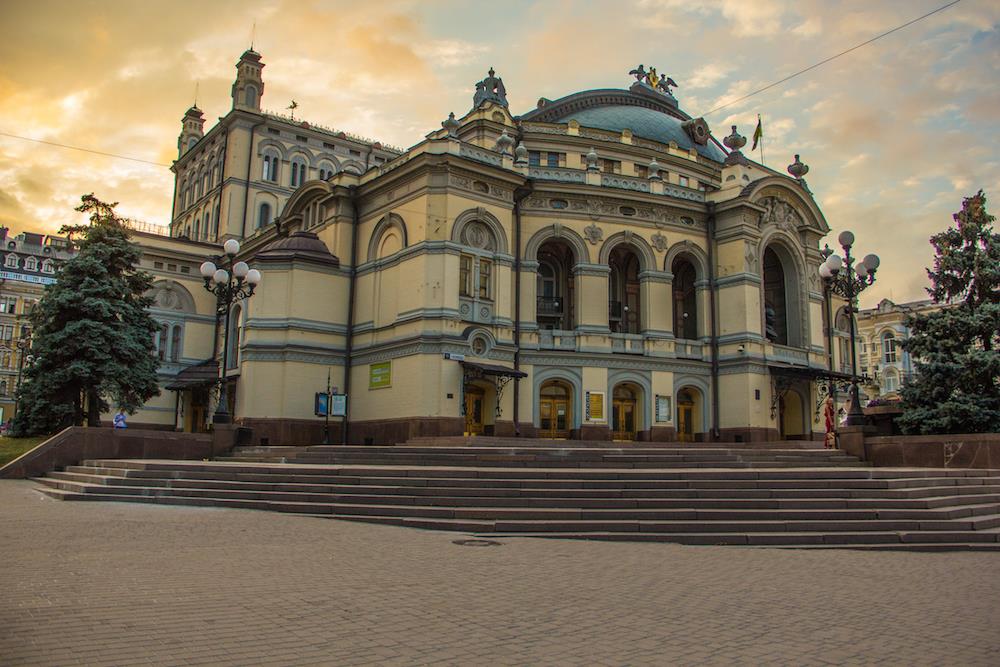 Is Ukraine Safe for Travelers Right Now
This is a post of first impressions, and that's it. I don't pretend to be an expert, and spending four days in the capital, and then forming an opinion about the safety of a city, let alone a country, is admittedly a huge stretch.
So why am I writing this?
To be honest, it's exactly the type of post I wish I could have read before we got on our flight to Kiev: just some simple observations from someone with a similar travel style — and zero knowledge of Russian or Ukranian — to give me an idea of what to expect when we arrived.
This should go without saying, but anytime you're researching trip safety, you should get opinions from multiple sources, including your own government. If the situation in Ukraine changed and the Canadian (or British, or American…) government advised travellers to avoid travel to Ukraine, there's no way we'd travel here.
We rely on bloggers all the time in our trip planning stage, but it's also worth noting we read with a critical eye. Frankly, just because a blogger says somewhere is great or safe to visit, doesn't mean it is and doesn't mean you should. Like, you should definitely not go to Crimea, Donetsk or Luhansk right now.
(This is a bit of an aside, but this recent piece in Vanity Fair about YouTube vlogger Fun for Louis visiting North Korea really nails the issue of bloggers papering over serious issues within a country under the (true or not) excuse of spreading positivity and intercultural connection: That blinkered, synthetic optimism, mixed with this particular group of vloggers' increasingly embarrassing self-importance—tethered to the assumption that they can heal and change the planet through quotidian daily vlogs and mawkish, surface-level "inspirational" sponsored content—creates a climate that allows for these truly unsettling North Korea videos to exist.)
At the end of the day, it's you alone that can ultimately decide whether you're comfortable travelling somewhere.
So…while we can't decide FOR YOU, what we can offer is thoughts on how we feel travelling here in Ukraine. And with that, I give you our first impressions on the issue, formed from our time Kiev and Lviv, including our opinion on the biggest question you probably have: is Ukraine safe right now for travellers?
I'll start with some general first impressions, talk about how we feel, safety wise, and then offer some trip planning and safety tips that may be helpful at the end.
Our First Impressions of Ukraine
---
Travel In Ukraine Is Easier Than We Expected
This probably seems a bit rude, and I expect I'll catch some angry comments from it. But the truth is, we had no idea what to expect arriving in Kiev and read quite a few accounts from fellow travellers who didn't exactly paint a positive picture of the place.
There were a few great blogs that we did rely on while planning the trip, and they convinced us to give Kiev a chance. But in addition to those gems, the Internet seems to be rife with outdated warnings about the city:
You'll get ripped off by taxi drivers in Kiev, for sure!
No one speaks English, so if you don't speak Ukrainian or Russian, good luck!
There are scammers everywhere!
Train travel is disorganised and crazy!
What we found when we arrived in Kiev (and Lviv, from where I write this) is anything but the insanity the Internet warned of. While it's true that many people don't speak English, most people speak a few words of English. When you combine this with the few words of Ukranian we've learned, and our efforts to learn the alphabet (which actually isn't that hard), we've gotten by just fine. When necessary, we've found Google Translate's translate via photo function is especially helpful trying to decipher a few words at a time.
And say what you will about Uber, but being able to do everything from an app (at least in Kiev, the only city with Uber so far), in our own language, completely changes travel: no more gesturing; handing taxi drivers an address that, for some reason, they never seem to know; getting taken for a ride to run up the meter; or fighting over change. In addition to Uber, we took the metro in Kiev a few times, which was also quite user-friendly.
Basically, everything is manageable, even if you only speak a few words of Russian or Ukrainian (either language seems to do: we actually met full-time residents of Kiev that ONLY speak Russian…no Ukrainian!)
Yes, There's A War. But…
Out and about in Kiev, we can definitely tell Ukraine is fighting a war. One of the first things we noticed in the taxi ride from the airport is the number of soldiers out and about — not on patrol, but off-duty soldiers in uniform, or soldiers on a break during their work day — and the number of posters about the military (which we presumed to be recruitment posters, but we don't know for sure).
At Maidan, where the latest revolution (and the one before that) happened, there are signs everywhere of those who lost their lives, and the violence that happened back in 2014 through to the war that continues today: memorials with the victims' pictures, dates of their lives and deaths, and flowers and candles.
Ukrainian yellow and blue are everywhere too…small signs of nationalism, signals that seem to show many Kievans see themselves as firmly Ukrainian.
So while it's clear there is a war happening, there aren't any other signs of it in the capital, at least as far as we could see as casual visitors. The day we arrived, the rhetoric between Russia and Ukraine seemed to rise a level, and tensions between the two countries increased; many experts started warning that all-out war (as opposed to the faux cease-fire that's in place now) may be on the horizon, but even then, all talk remained on Ukraine's southern and eastern conflict zone, not Kiev and certainly not the west of the country.
Despite all there, there really didn't seem to be any sense of tension that we (as casual tourists!) have noticed. Life seems normal, and for visitors and tourists to Kiev and Lviv, it seems to be business as usual. To us, Kiev and Lviv feel safe to travel to.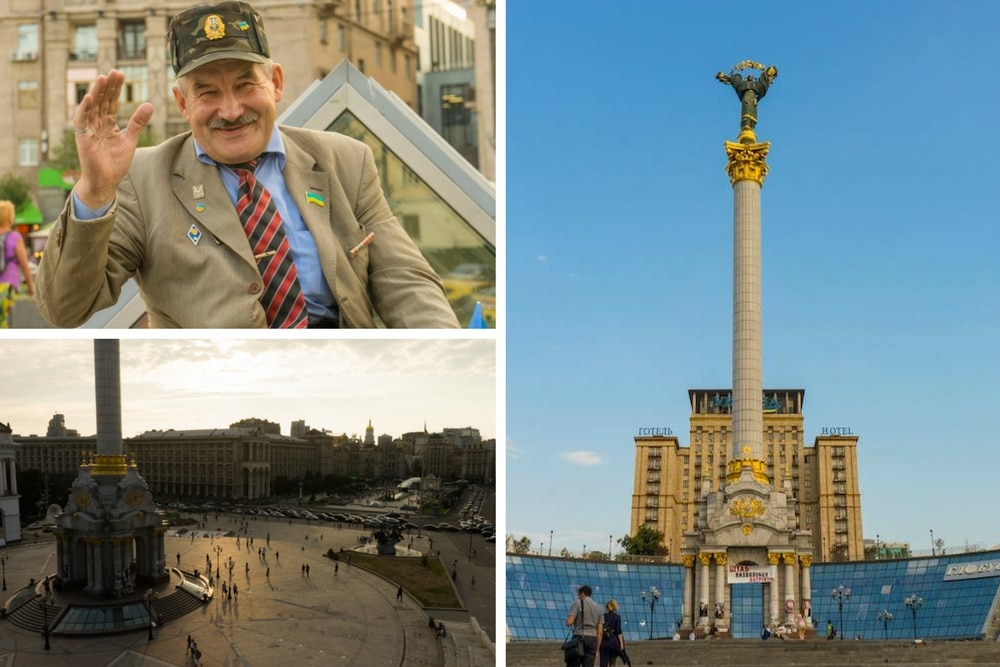 We Like Ukraine So Far & There's A Lot On Offer For Curious Travelers
---
Kiev is not all Soviet-y
I'll admit I thought Kiev would be a lot uglier than it is. Actually, it's a nice looking city, with hideous spots and beautiful spots alike.
Yes, there are some Soviet monstrosities of buildings that make up the streetscape. But there are also some really cool-looking Soviet buildings, built to a massive scale unlike anything we've seen before.
There are many beautiful pre-soviet European buildings, too, just like you'd find in Prague or Budapest or Vienna. And there are modern, post-Soviet glass buildings, too.
Kiev is a city of layers, each of which coincides with its complicated recent history, which makes it interesting if you have even a passing interest in architecture. Even casual observers (aka us) can spot the distinctive styles of different buildings, and pinpoint them to a point in time in Ukraine's history.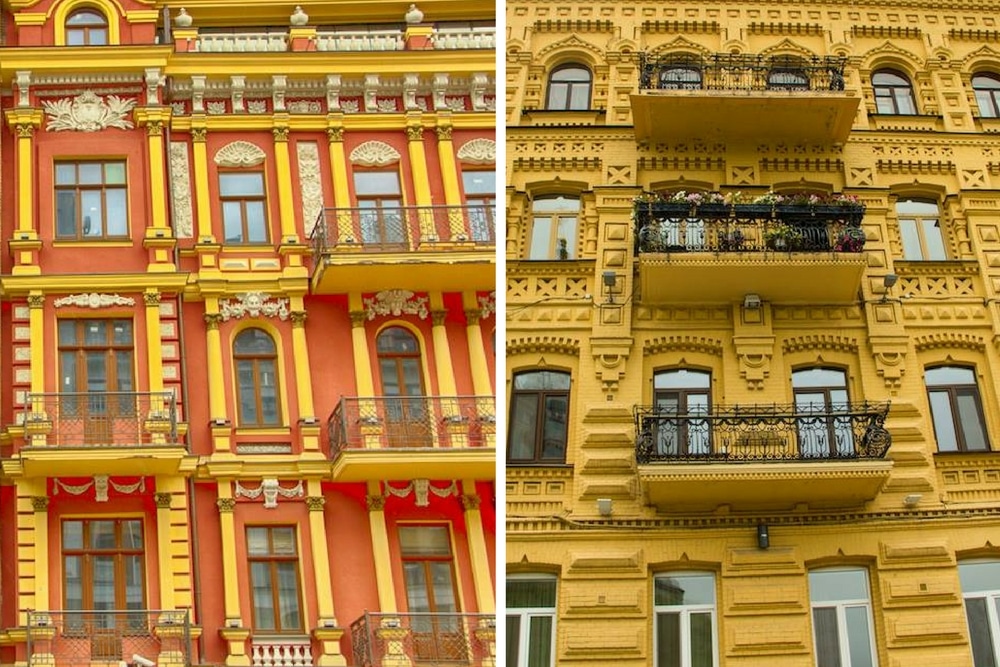 There's a Great Coffee and Craft Beer Scene
There are awesome coffee shops everywhere. We've yet to have a bad cappuccino, and for the most part, we've been able to get delicious speciality coffees for around US$1.15 / CDN$1.50.
The coffee budget goes far in Kiev, and the same goes for beer. There are loads of mass produced Ukranian beers — pilsners and lagers, mostly — that are not bad, and can be had for $2 for a 0.5 Litre glass in a bar (and much cheaper in a supermarket). Add to that, there's a growing craft beer scene of microbreweries and local producers.
If you're interested in Kiev's craft beer spots, check out this post from Megan Starr for a few suggestions on where to go. It has a Google map that you can save in your app, and use while you're out and about to find one of her recommended places!
It's Cheap As Chips
Speaking of prices…some of the prices are actually mind boggling for us.
We bought a tube of Sensodyne toothpaste the other day, and it cost us about $2 Canadian / $1.50 US. That is the cheapest tube of Sensodyne we've ever bought. Anywhere.
Our Uber rides around Kiev have cost in the range of 40 to 60 UAH, never more, which is between USD $1.60 and $2.40. Beer is cheap. Coffee is cheap. Eating out in restaurants is cheap.
When we first arrived, we bought 2 Ukranian SIM cards for our phones, each with 5GB of data and a bit of calling and texting. Total cost? Less than USD $10.00. Cheap.
There Is Loads To Keep You Busy
We did zero research about Kiev before arriving, other than making sure it was safe. Basically, we arrived with no idea what to do, and just sort of walked around stumbling upon cool things.
It truly feels like you can't walk for more than a few blocks in central Kiev without running into a jaw-droppingly gorgeous golden onion-domed church.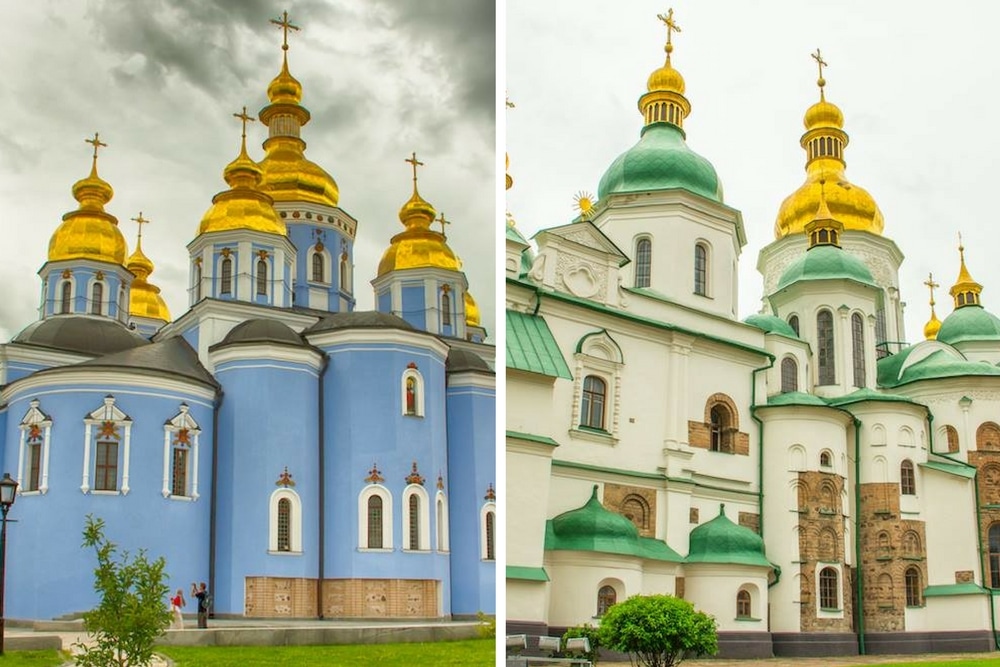 There are interesting pieces of contemporary history related to WWII, Chernobyl, and the recent Orange Revolution. There are a tonne of cafes and pubs and restaurants to explore. And there's a seemingly out-of-place extreme-ish sports culture that includes jumping off bridges and zip lining across the Dnieper River (if you're into that kind of thing).
We had arranged to do a kayak trip with Active Ukraine through all the islands on the Dnieper River but unfortunately had to cancel when we woke up to a miserable rainstorm on the day of our trip. But if you're looking for something organised to do, they seem to be a good bet (and you can check Trip Advisor reviews for Active Ukraine here – they have tours all around the country).
Basically, there's enough to keep a tourist busy for at least a few days, up to a week, depending on what you enjoy and how you travel.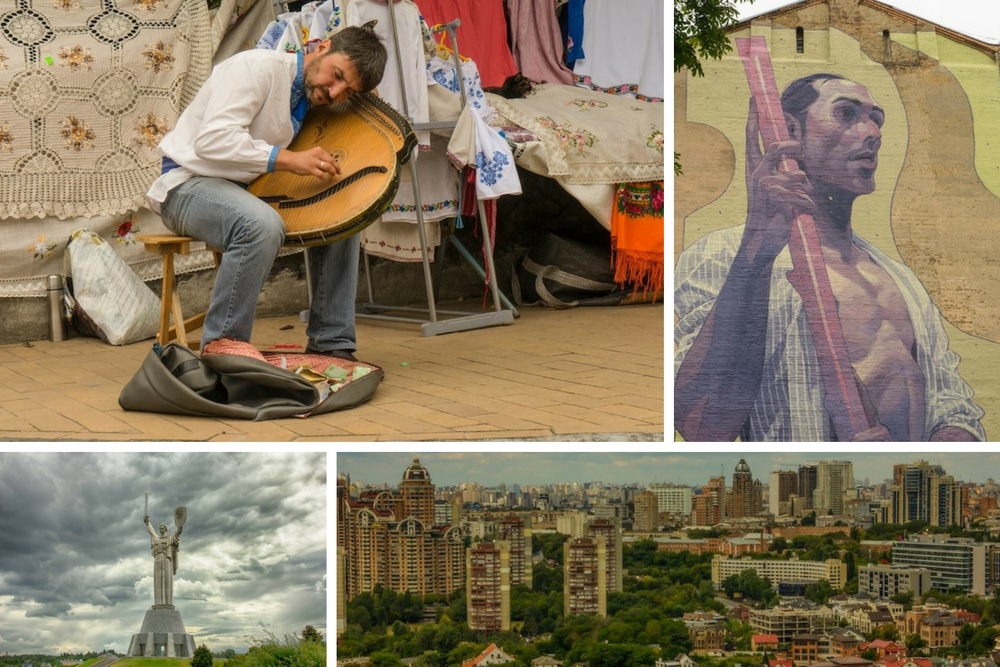 We Feel Safe in Ukraine
So with that explanation of how we travel out of the way, we didn't feel even slightly unsafe in Kiev in terms of property crime, everyday city crime, or the war in the east: it really did feel to us like a non-issue for us (not in the big picture, ethical, moral and geopolitical terms, but in the every day Is Ukraine Safe to Travel terms).
Some Tips & Recommendations
---
Should You Travel to Ukraine Right Now?
Obviously, that's something only you can answer for yourself.
While things could change at any moment, we absolutely feel safe travelling in Ukraine.
We are focusing our travels on the West of the country, because it's the most up-and-coming area for tourism, and so it makes sense we get to know the region and write about it. After a few days in Kiev, we'll be basing ourselves in Lviv, and hope (plan?) to check out Ternopil, Chernivtsi, Ivano-Frankivsk, and Podilski Tovtry National Park during our 9 weeks in the west.
That said, Dnipro and Kharkiv in the east seem to be getting a decent amount buzz these days in Eastern Europe travellers circles, too. It really just depends how comfortable you feel going off the beaten path, and how far!
Safety Tips For A Ukraine Trip
These are really the safety tips I'd give to anyone, going anywhere, but they stand for Ukraine as well…
Avoid Nightclubs (and Casinos & Strip Clubs, While You're At It)
Going along with our cautiously adventurous travel style, we are pretty cautious when we're in a new place. We don't stay out late, and we almost never go to nightclubs on our travels. We've heard many, many stories of travellers and friends running into very bad situations in nightclubs around the world, and we've personally had to get out of a nightclub really quickly on one occasion.
I'm not saying this IS the case in Ukraine, but in many countries, mafia, nefarious characters, and drug dealers operate in night clubs, which is why we feel they're best to avoid in most countries.
Don't Be a Drunken Idiot
Alcohol and travel can feel like a natural combo – after all, it's fun to try some local beers with all the new friends you're meeting – but it's far too easy to go overboard and get yourself into trouble.
For solo travellers, the risks are mostly 1) your drink spiking and being drugged, and 2) losing your common sense and doing something stupid. For group travellers, alcohol increases the likelihood of debauchery, pissing off the wrong people, and fighting (we saw this happen all the time in when we lived in Prague with stag and stagette groups having too much to drink, and getting too rowdy).
Practice standard precautions to avoid having your drink spiked, and don't be a drunken idiot.
We never stay in a new country more than a day or so without having phone and Internet access. Besides being WAAAAAAY more convenient and enjoyable (ordering Ubers, using Google Maps to find transit routes, figuring out what to do, etc.), it also makes a difference to your safety, being able to get home quickly, know exactly where you are, or call for help.
In Ukraine, we bought the "L" data and phone package with Lifecell, which gives us 5GB data, unlimited calls to Lifecell phones, 150 minutes of calling to non-Lifecell phones, and 150 SMS messages within 30 days. Total cost was about $5, including the SIM card, and you can pick up local SIM cards at specific shops, or at kiosks on the street – they're pretty much everywhere.
If you're only going to be in Ukraine for a few days, however, buying a local SIM card may be more hassle than it's worth.
In that case, check out KnowRoaming SIM Sticker, which you adhere to your existing home-country SIM card. You buy it, install it, and then activate it and load it with credit, but it doesn't actually do anything until you arrive in a foreign country. KnowRoaming offers data + text messages + phone, and you only pay for the credit you need. You have the option of buying a set amount of data, which is used against a country-specific rate ($0.15 per MB in Ukraine), or you can buy unlimited data plans for $7.99 per day.
Note, to use either solution, your smartphone has to be unlocked, which means you 1) either bought it outright and own the phone, 100%, or 2) you have to contact your carrier at home and have them unlock it (policies differ across countries and carriers, but in our experience it's completely worth doing this!).
Arrange An Airport Or Train Station Transfer For Your First Day
Honesty time: even after travelling the world for the better part of 15 years, and full-time for 3 years, we still get a little nervous and intimidated when we arrive in a new country or city; doubly so when it's a place we're already slightly unsure about, and especially when we're arriving at night.
Because we weren't sure what it'd be like arriving in Kiev, we arranged a private airport transfer from the airport to our hotel. Worth. Every. Penny.
If you're arriving in Kiev at night, I'd strongly recommend an airport transfer. Even if you're arriving during the day, as we did, it sure made things a bit more relaxed not having to stress about this right off the bat.
We arranged our airport transfer through our hotel, but you can also arrange transfers via Viator:
Be Careful With Your Stuff
Common sense is to not flaunt your expensive gear when you're travelling, and I think this is good advice in Ukraine. When it comes to protecting gear and electronics:
We both use DSLR cameras, but we don't use the original camera strap that came with either camera body. In my opinion, nothing says "rob me" like Canon, Sony, or Nikon splashed all over your camera strap. I use the Rapid Strap RS-7, which I LOVE from a security and safety point of view, because I can put my camera down by my hip when I'm out and about, which is far less obvious. Geoff rigged up a cheaper solution using the strap from a duffle bag and circle rings from a hardware store…whatever works!
Something I don't currently use, but will certainly purchase when I upgrade my phone, is the Kenu Highline Lockable Smartphone Leash. A world-travelling friend recommended this product, and I can see the benefits. Basically, you can bungee your phone to your bag, and then can use it without worrying about dropping it or having someone grab it our of your hand or off a table. Genius.
Many of our friends use PacSafe gear. Although we haven't gone in that direction so far, if you're particularly worried about your camera, laptop, tablet, wallet, etc., or about bag slashing, it's worth looking into them. They have a range of styles and are all cut-proof and slash-proof.
We both use Macbooks, which look expensive and are easily recognizable. Basically, our defense strategy is to make them look crappier, which we've done with a combination of Uncommon Computer Covers (but any brand will do) and stickers, especially to cover up the glowing apple logo on the back of the screen. I don't know if it makes a huge difference, but I feel better pulling it out in a café to have it look slightly more non-descript.
Health & Personal Safety
We've read mixed reviews on the safety of drinking water in Ukraine, and from what we gather, the quality varies a lot from city to city. In cities like Kiev and Lviv, it's probably safe to drink from a bacterial point of view, but the quality of the pipes is questionable, and it apparently tastes pretty crappy. In other places, it's certainly not safe to drink. We're using bottled water, which I hate because of the environmental impact, but it's all we can do right now. Next time we're in Canada, I will probably pick-up a Steripen UV Water Purifier to assuage my guilt, and kick plastic water bottles to the curb once and for all.
Two other must-pack items for safety, especially if you're travelling solo: a safety whistle and a doorstop.
How We Decided Ukraine Was Safe Enough for Us
---
As mentioned above, we tend to use a range of sources when we're trying to decide whether to travel to a particular destination. As we were a bit nervous about Ukraine, and wondered if Ukraine is safe right now, we used more sources than usual before booking our flights!
Government Travel Advice
In addition to checking for advisories and getting visa information, you can set up alerts to be notified if a new travel warning is issued.
Bloggers & Crowdsourcing
We try to read blogs with a critical eye, but in general love them as a way to get a feeling for a country or city, and to get travel ideas. Before our trip to Ukraine, we read the following posts about travel in the country:
We also used the Facebook Group Travel to Eastern Europe, the Balkans, Former USSR to crowdsource thoughts from people who had recently travelled through different regions.
Guide Books, Fiction & Non
I absolutely love guidebooks, but unfortunately don't use them that much anymore, because we simply don't have the space (or extra weight in our luggage) and because we're going from new country to new country, and don't have a base. I also have quite a few books (fiction and non-) on my reading list for the time we're here. While there's no way I'll get through all of these, I can dream!
Lonely Planet Ukraine — In our experience, Lonely Planet is always a trusty companion. We also like Rough Guides, but they don't have a book for Ukraine, unfortunately.
History
Travel Writing & Memoir
Contemporary Fiction
Classic Fiction
Anything by Nikolai Gogol, a Ukrainian widely considered to be the father of Russian literature (which seems strange, but makes sense when you consider most Ukrainians are bilingual in both languages, and "many find it hard to say which language is their 'native' tongue." I've got this collection of his greatest hits on my list.
The Guardian has a great list of classic Ukranian literature if you're craving more!
Pin This Post!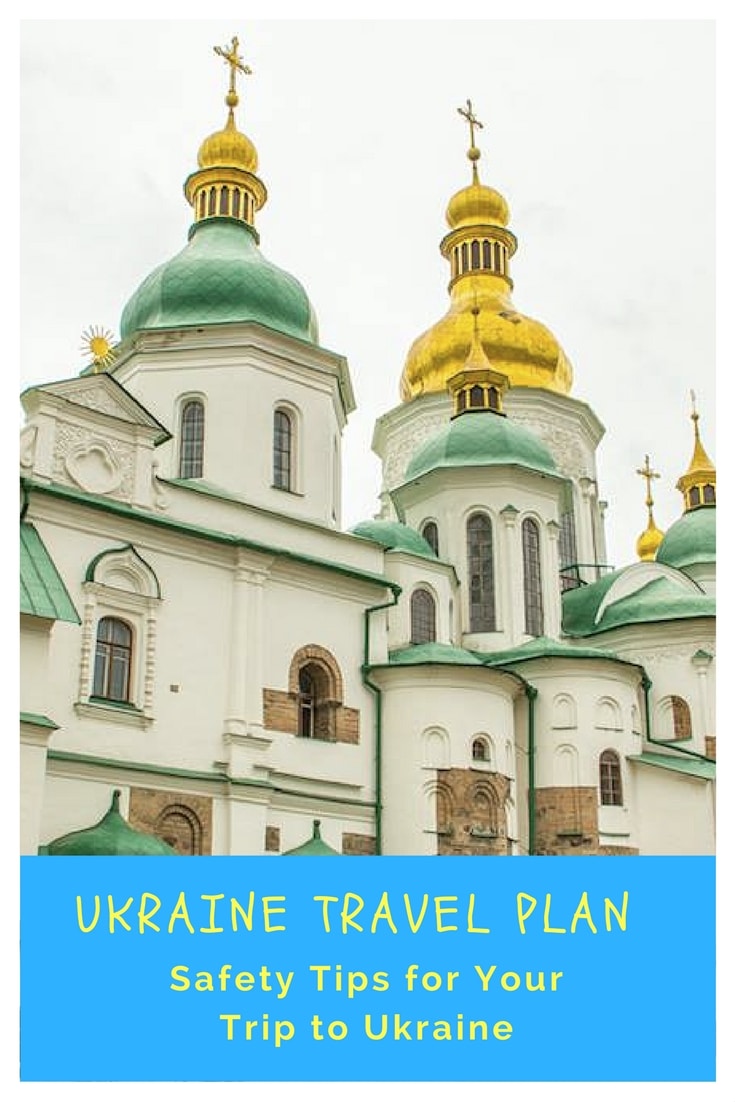 ---
Disclosure & Disclaimer
First, for the disclosure. Many of the links in this post are affiliate links, which means when you click through, buy something or book something, we earn a small commission, but you pay the same price. It's one of the ways we earn an income off of this website, and keep the proverbial lights on and laptops whirling.
Now for the Disclaimer. All content provided on Wandertooth.com is for information and entertainment only. Wandertooth Media Inc. makes no representations as to the accuracy or completeness of any information on this site or found by following any link on this site, and will not be liable for any errors or omissions in this information nor for the availability of this information. The owner will not be liable for any losses, injuries, or damages from the display or use of this information.