Tired of the same boring hotel stays? Check out these bizarre destinations. From a hotel made of ice to sleeping under a giant aquarium – these are the most unique hotels in the world!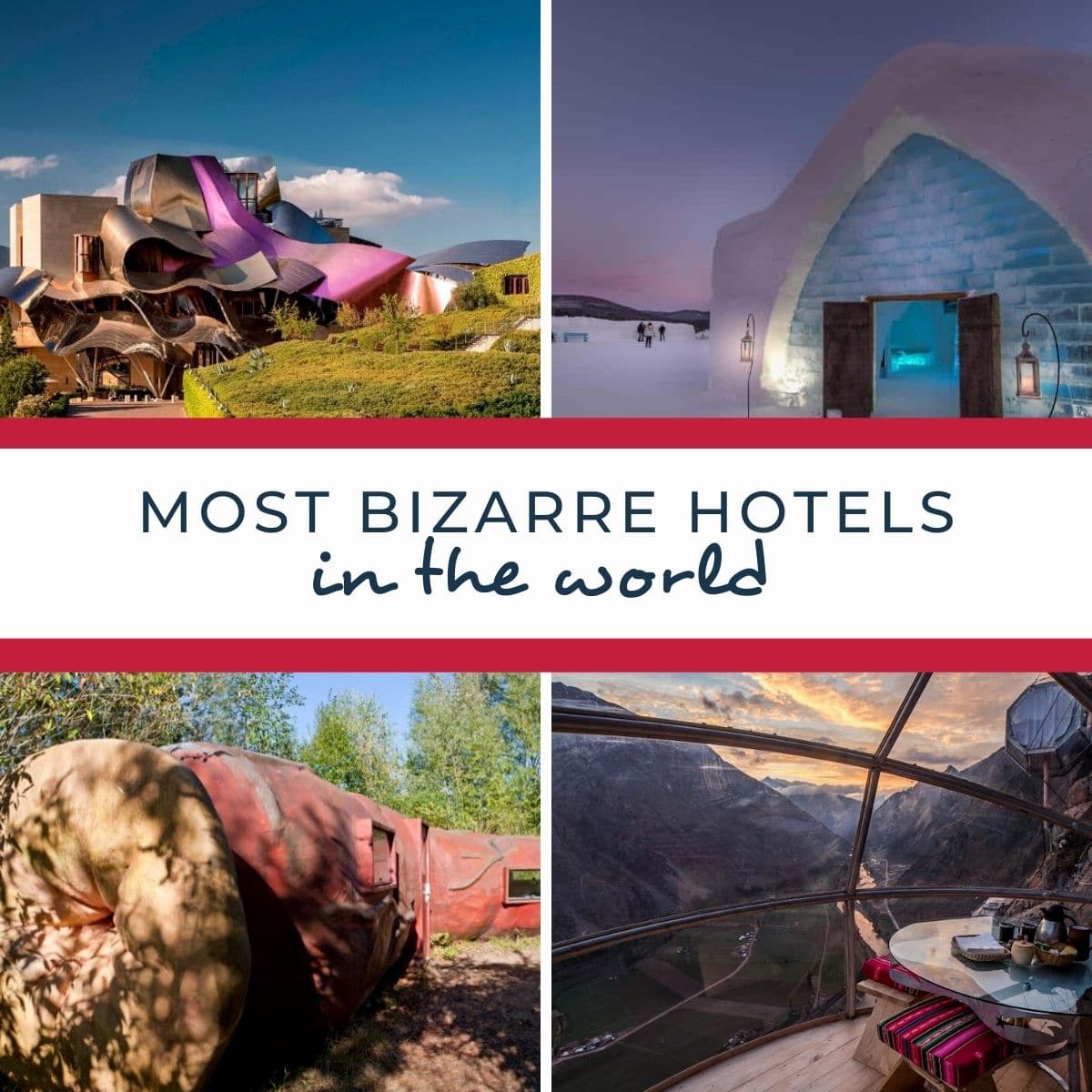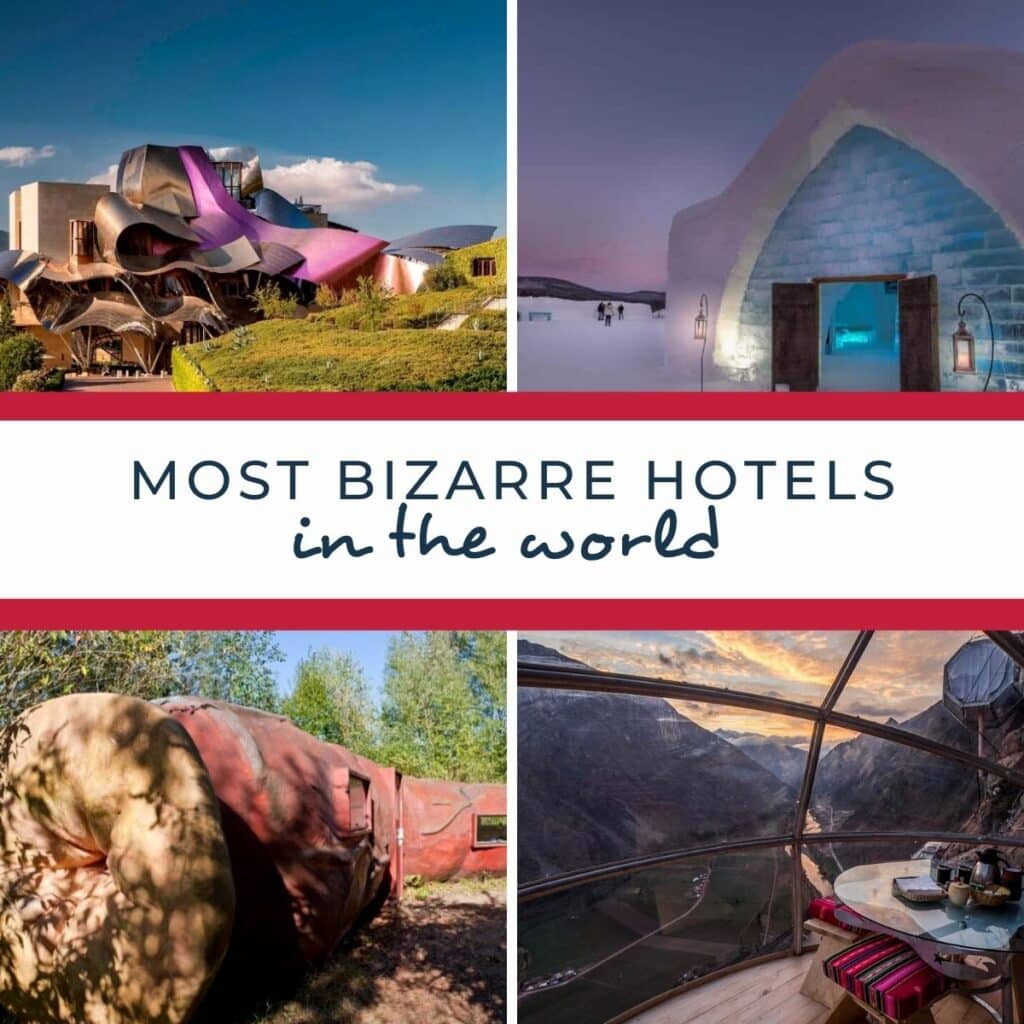 Holiday Inn and Motel 8 are fine when you've been driving all day long and need a break. But if you're looking for a place to stay that's out-of-this-world unique, then you need to book a stay at some of the most bizarre hotels and Airbnbs around the world.
We're talking crazy experiences like staying inside a giant rectum, crashing inside an ice hotel, or sleeping with sharks. They sky really is the limit!
Belgium's CasAnus, Belgium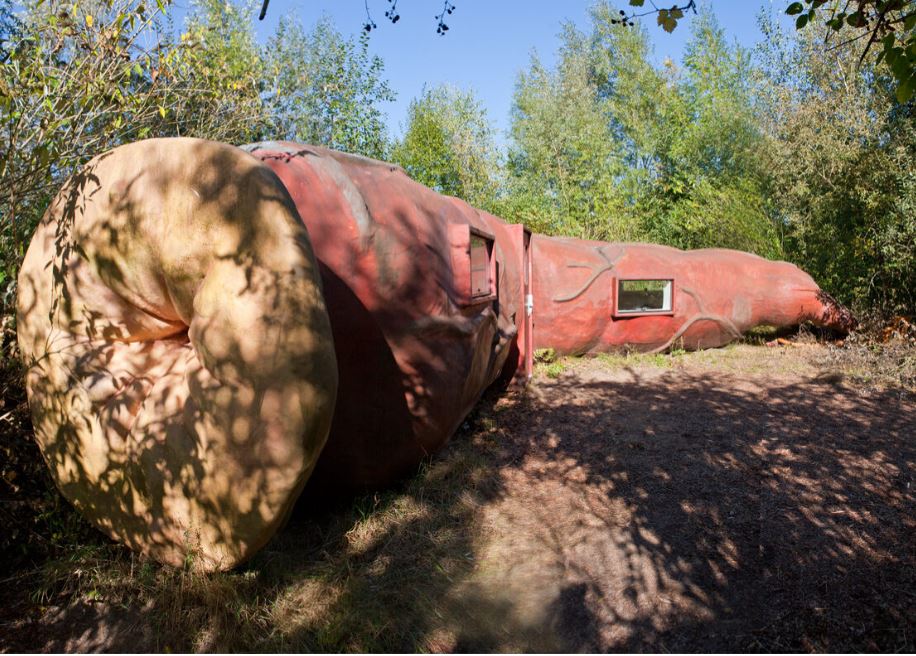 The quirky CasAnus Hotel in Belgium is a one-room hotel that's shaped to look like a ginormous anus. It was designed by a Dutch artist named Joep van Lieshout.
Surprisingly, this humble abode is sparkling clean despite what the name of the hotel might suggest. You'll find plenty of peace and quiet in the artsy intestine sculpture that sits at the Verbeke Foundation Sculpture Park. 
Cinderella's Castle Secret Suite, Orlando, Florida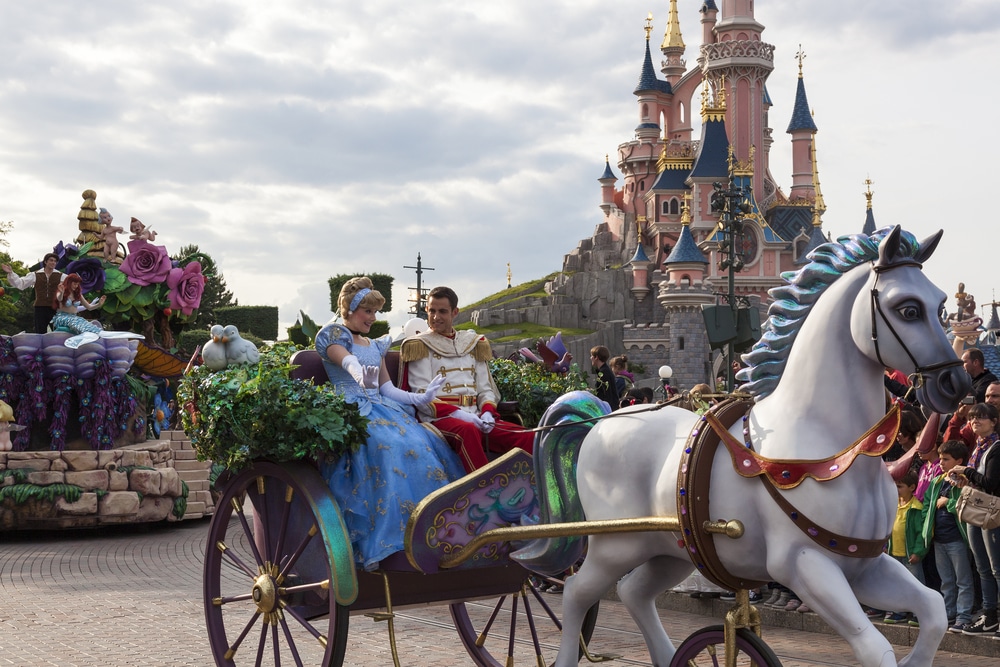 Cinderella (or at least, her castle) has been keeping a secret all this time! As it turns out, there's a hidden suite inside Cinderella's castle that was originally designed to accommodate Walt Disney and his family. The suite can accommodate up to six people, and it's truly straight out of a fairytale book.
Unfortunately, it's not available to just anyone. The only way anyone gets to stay in this secret room (with its stained-glass windows and Cinderella's Royal Table!) is by winning a contest.
Wizard of Oz Room, Roxbury, New York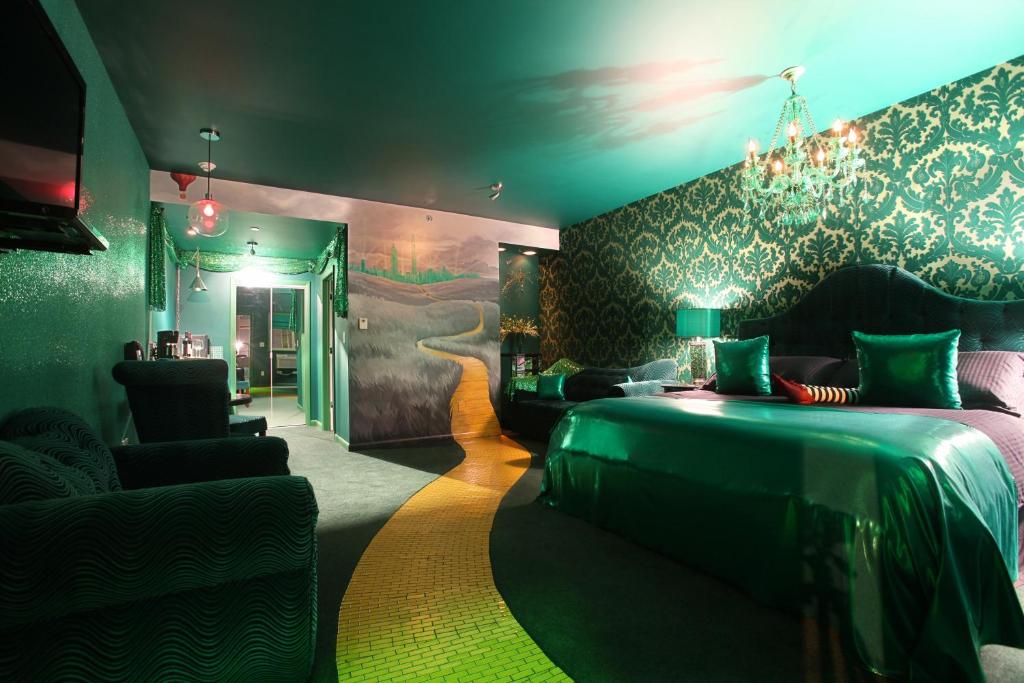 Ask for the Wizard of Emeralds room at The Roxbury in New York. This hotel proves there really is no place like home—thanks to its "Wizard of Oz" inspired decorations plastered all over the place. Almost everything in the room is emerald green, the infamous yellow brick road divides the room, and a mural of the gorgeous Emerald City is hand-painted on the walls.
Guests looking to sip some wine will be delighted by the ruby slipper wine bottle holder. And when the poppy-painted bathroom makes you sleepy, you'll be able to rest your head on a pillow that looks like the Wicked Witch of the East's legs and an emerald bedspread fit for a wizard or the king of Oz.
Aquarium de Paris, Paris, France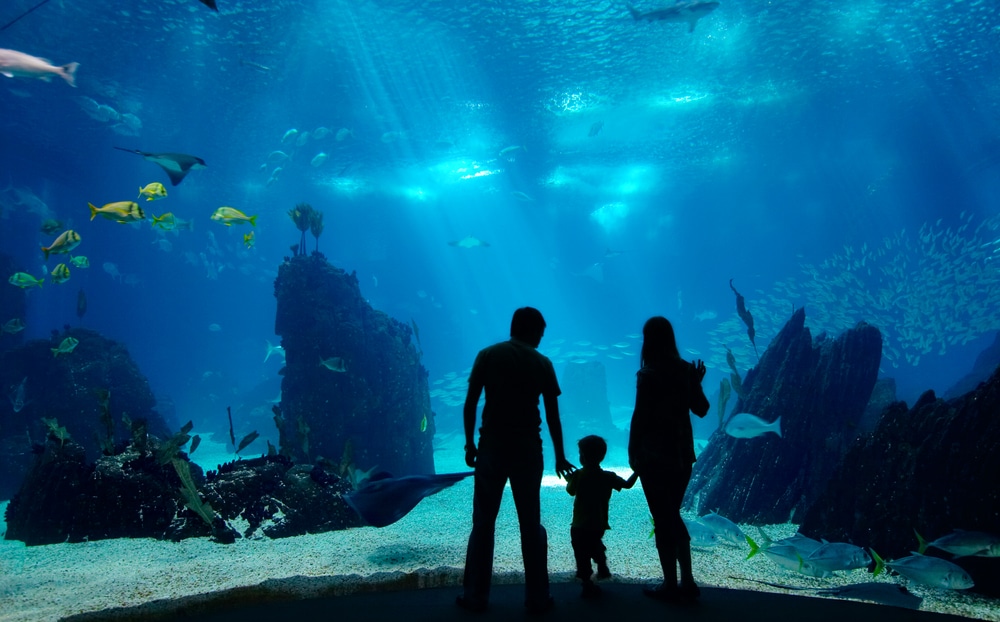 Who needs sleep when you've got sharks staring at you through the window? Can you imagine what it'd be like to wake up surrounded by dozens of sharks without fearing for your life?
Guests can literally sleep with the sharks inside a glass room 33 feet underwater inside a massive tank full of 35 sharks at the Aquarium de Paris in France. This stay comes with a round bed, some side tables, and a magnificent underwater view—perfect for anyone who's a major shark enthusiast.
Skylodge Adventure Suites, Sacred Valley, Peru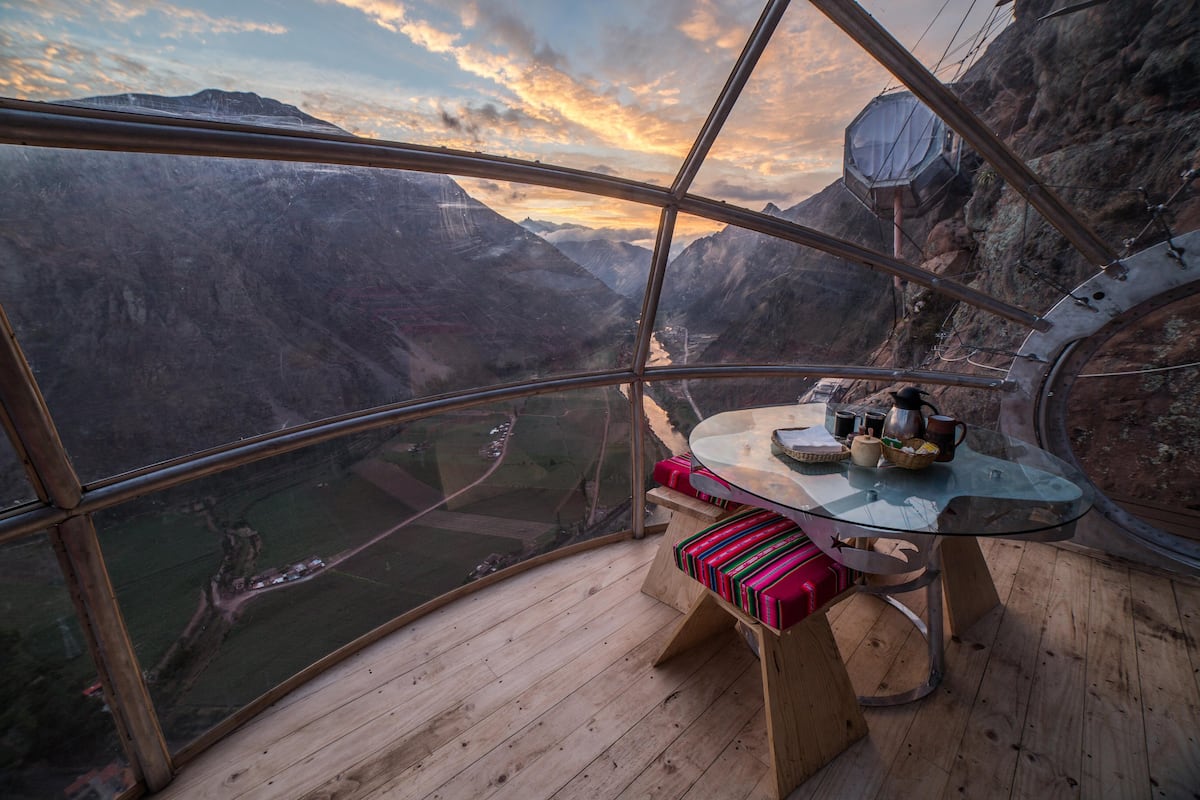 Located in Peru, the Skylodge Adventure Suites lets guests literally sleep on top of a 1,200-foot mountain. This vacation rental is certainly not for the faint of heart, but it's oh-so worth it! Thanks to the 300-degree view, guests can bird watch while basking in the breathtaking Sacred Valley in Peru.
Worried about how you'll be able to live in one of these glass pods? Don't be. This suite comes with all the amenities you could possibly need: four beds, a dining room, and a bathroom. The hotel even provides breakfast and dinner, too. 
Ice Hotel, Quebec City, Canada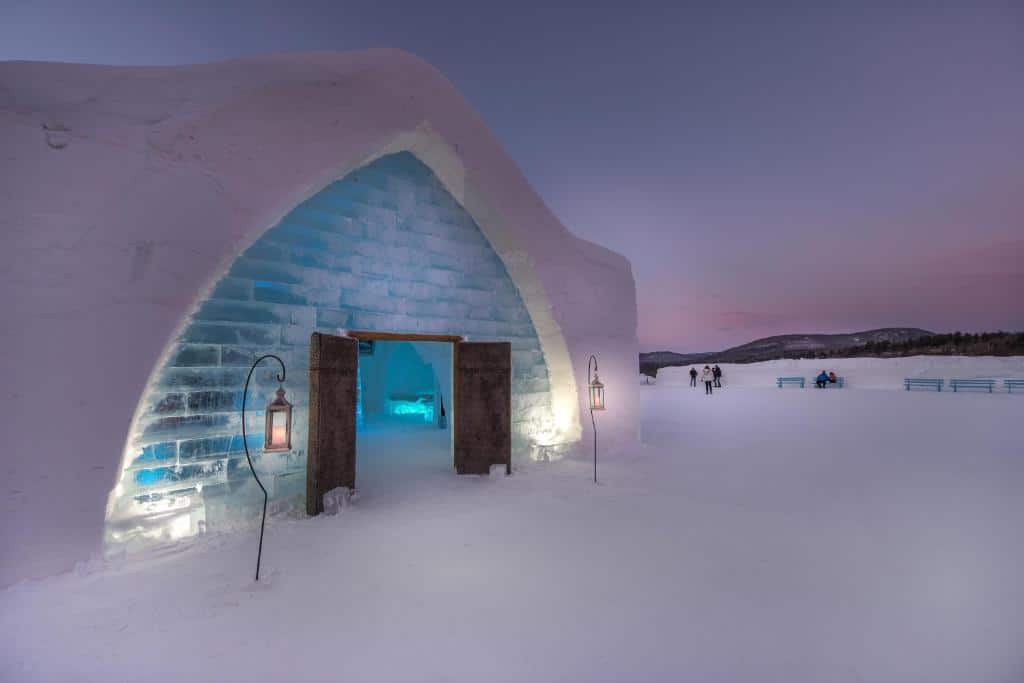 Guests visiting the Laurentian Mountains in Quebec City, Canada, can stay at the Hôtel de Glace (or Ice Hotel). This hotel features 44 unique suites, and as the name suggests, they're made of a combination of ice and snow.
And while most people wouldn't imagine a hotel made of ice to have heated bathrooms and fireplaces, this one does—as well as other cool features like arctic spas and a beautiful grand hall. 
Wilton Castle, Bree, Ireland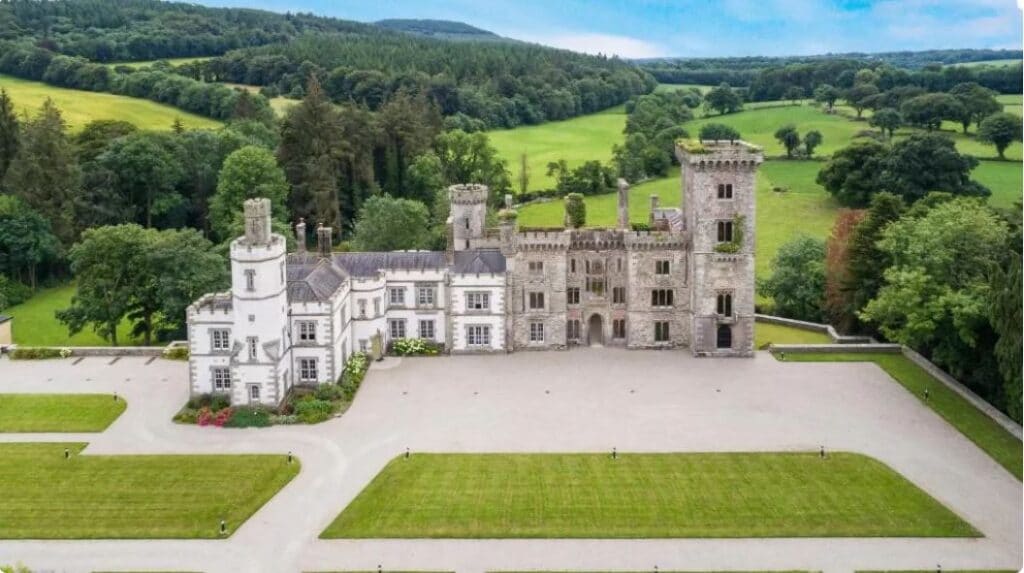 The Wilton Castle in Bree, Ireland, dates back to the 19th century and is located near the Boro River, majestic Irish hills, and acres of woodland. On the outside, the castle and its tapering towers look like a scene straight out of a childhood fairy tale book. 
On the inside, the castle comes with four apartments, a fully-stocked kitchen, sitting room, and complete furnishings. Make sure to check out their website as County Wexford, where the castle is located, offers all types of festivals, events, and activities at various parts of the year like the Wexford Strawberry Festival and Wexford Walking Tours.
Treehotel, Harads, Sweden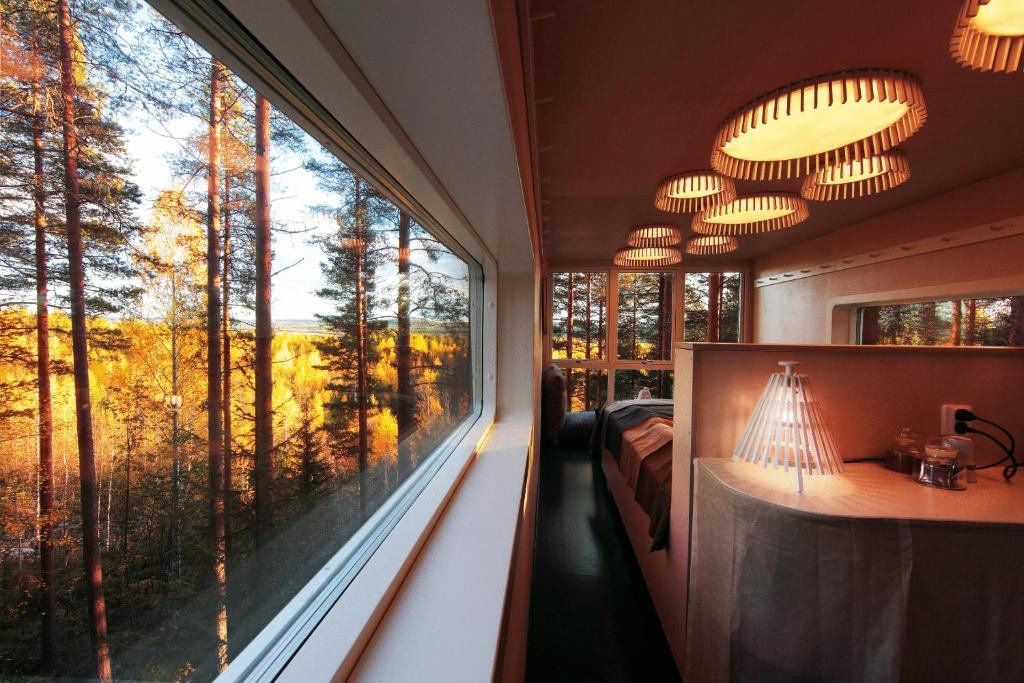 The Treehotel in Sweden will bring out the kid in every guest with its seven uniquely shaped living pods—some of which look like a flying saucer while others look like a mirror cube. Guests can climb to the magical Treehotel by using electric stairs, the suspended bridge (yes! the pods are suspended 20 feet above the ground), or go for the classic and use a ladder.
If you're staying between the months of September and March, you'll get to experience the wondrous dance of lights known as the aurora borealis. 
Hotel Marqués de Riscal, Las Rioja, Spain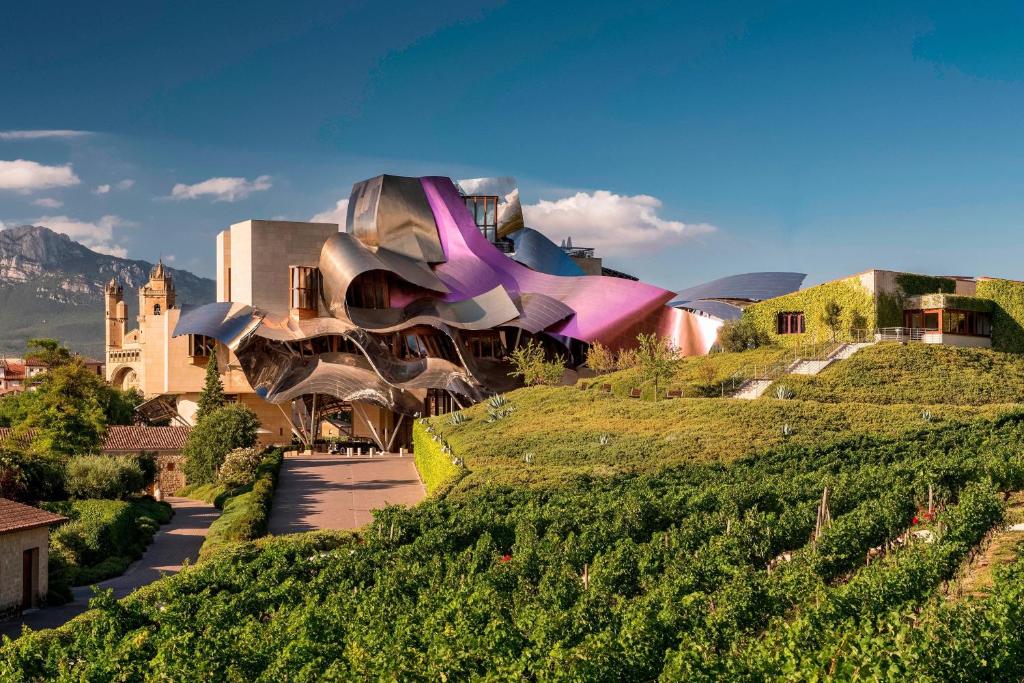 Surrounded by vineyards and grapevines is the Hotel Marqués de Riscal in La Rioja, Spain. It'll be easy to spot this fabulous work of architecture thanks to its curvy titanium exterior. The interior decor is pretty jaw-dropping too, with its curvy maple wood walls and cutting edge decorations.
Guests will get to enjoy the hotel's luxurious spa and a library full of books about Spain, art, and wine, as well as tour the bodega of wine.
Inntel Amsterdam Zaandam, Amsterdam, Netherlands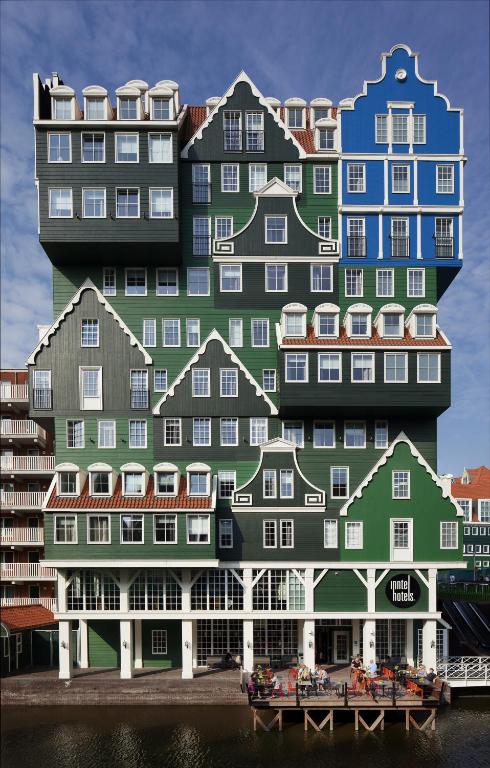 Located in Amsterdam, Netherlands, the Inntel Amsterdam Zaandam offers Turkish steam baths, a Finnish sauna, spas, and a pool to help guests relax. But the look of the hotel is what will really wow you. From the outside it looks like a bunch of different colored houses that have been stacked up on top of each other—and they actually have been.
There are almost 70 houses stacked here; one of them even looks like it's upside down. It's like someone was playing Tetris but with homes instead of blocks. And best of all, the hotel is within range of the train station so you can easily head out and explore the beautiful city of Amsterdam.
I hope you've been inspired to check out these bizarre hotels and vacation rentals. For more unique travel experiences, check out these ideas: