Planning a trip to Bruges Belgium? If you're short on time and only have a day in Bruges, you'll want to read this guide to the best things to see in Bruges in one day! Plan your trip with this one day in Bruges Belgium itinerary.
This is a guest post by Isabella Biava of Boundless Roads


Disclosure: This One Day in Bruges Belgium travel guide contains affiliate links. That means we earn a commission when you use the links on this site to book a hotel, buy your travel insurance, shop for travel essentials, etc.. You don't pay anything extra. If you'd like to learn more about how this works, you can read more under our Disclaimer page.
I visited Bruges during a reunion with friends that I hadn't seen for a long time, and it proved to be the perfect setting for our meetup! We enjoyed strolling around the colorful city, loved its historical buildings and cobblestoned roads, and made sure to try the city's many fantastic restaurants while catching up with our lives.A UNESCO World Heritage site, this quaint little city won't leave you disappointed. Although Bruges has always been a strategic commercial hub due to its proximity to the harbor, the popular town reached its apogee in the 15th century, when it became the most productive hub for luxury goods and the most important commercial city within the Burgundian Netherlands under Philip the Good. Artists – especially painters and architects – were attracted to the city's vibrancy and social life, finding inspiration for their work in a city that is still known for its beauty today!
Merely by walking around the city with your eyes open, you'll see beautiful buildings and stunning gothic churches, making a walk through Bruges anything but boring.
We stayed in Bruges for one day and one night, but manage to see so much during that time. The city is very small, and all the most important attractions are within walking distance from one another, making it relatively easy to visit Bruges in one day.
Still wondering what to do in Bruges for a day? If you only have one day in Bruges, this guide will help you decide how to spend your time!
The Best Things to Do with One Day in Bruges Belgium
Things to Do in Bruges in a Day
Pin Me ⇩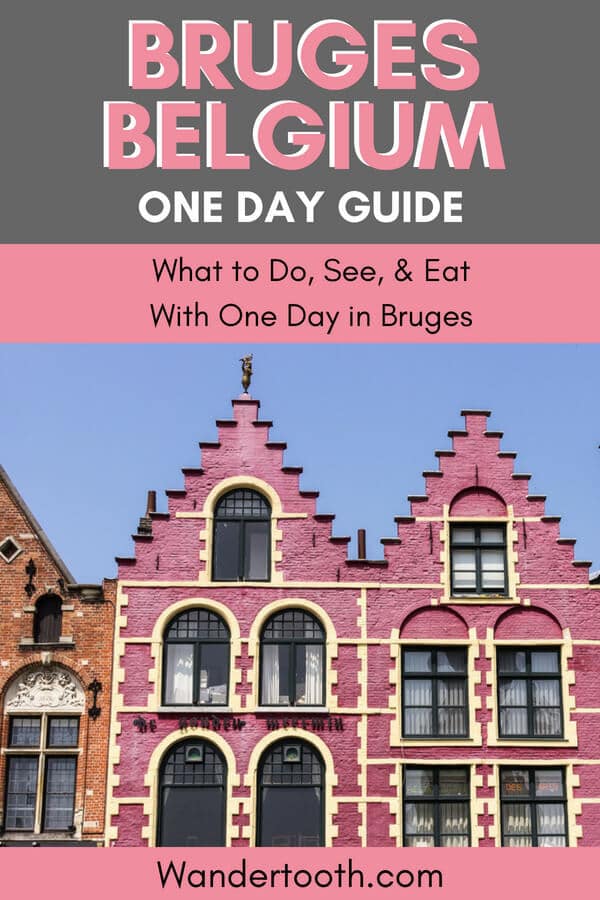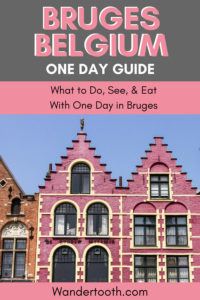 ---
The Best Things to Do in Bruges in One Day
Visit the colorful main square, or Grote Markt, and climb the Belfry
This is an absolute must! The main plaza is surrounded by brightly-colored historical buildings. During the day, you can climb the 366 steps to the top of the popular Bruges belfry tower (which is 83 meters, or 272 feet, high), from where you'll have stunning views of the city.
When you're finished, pick up some frites – one of Belgium's many delicious treats – at one of the food stalls in the square.
Come back in the evening, when the city lights are turned on, and this area becomes even prettier!
If you have enough time, be sure to also check out The Historium, located on the Grote Markt. A unique museum, it takes you back in history to the golden age of Bruges via a virtual reality experience (€19.50), click here for tickets and more info.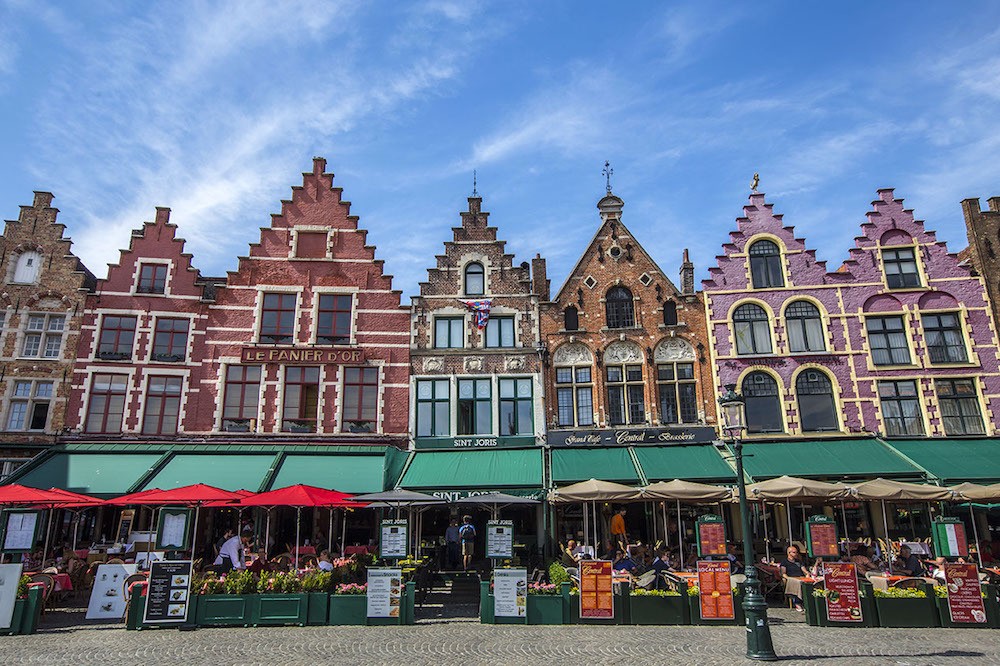 The Grote Markt is a must see if you only have a day in Bruges! Photo courtesy of Isabella of Boundless Roads. Used with Permission.
Stop By the Most Photographed Spot in the City to Get Postcard-Perfect Shots
Rozenhoedkaai is one of the most photographed spots in the city. It's the place where the Groenerei and Dijver canals meet, and is less than 2 minutes walk from Tanners Square (Huidenvettersplein) and the Fish Market (Vismarkt), and 5 minutes from the Grote Markt.
Many canal tours in Bruges leave from here, and you can join a boat tour to reach some of the less visited areas of the city.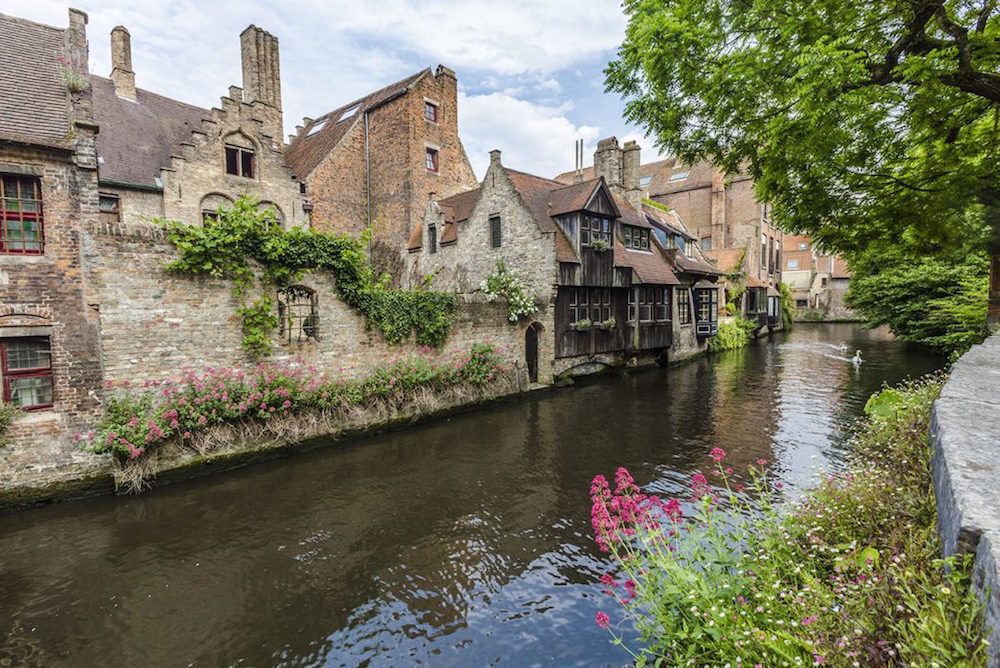 Bruges canals are sure to intrigue! Photo courtesy of Isabella of Boundless Roads. Used with Permission.
One of the pretty corners of Bruges
See and Appreciate Some of the City's Architectural Icons at Burg Square
Just at a short walk from the Grote Markt square, you'll find Burg Square, an important seat of regional power for hundreds of year, and the spot where you can see some of Bruges' most emblematic buildings today, including the 14th-century Gothic Town Hall, the smaller 16th-century Civil Registry, and the stunning Basilica of the Holy Blood: all icons of the modern city and its glorious past!
You can get to Burg Square from the fish market (Vismarkt) via Blind Donkey Alley (Blinde Ezelstraat).
Stroll Around the Lake of Love
Situated an easy 15 minutes' walk from the city's historical center, Bruges' Lake of Love is set in a huge park perfect for peaceful, bucolic walks. Besides being a lovely getaway from the city centre, it's also a place of historical importance: boats used the pier here to dock, making it a connection between Bruges and Ghent. There are also many swans – one of the symbols of the city – in the Lake.
Legend has it that if you kiss your love on Lovers Bridge, your love will be eternal.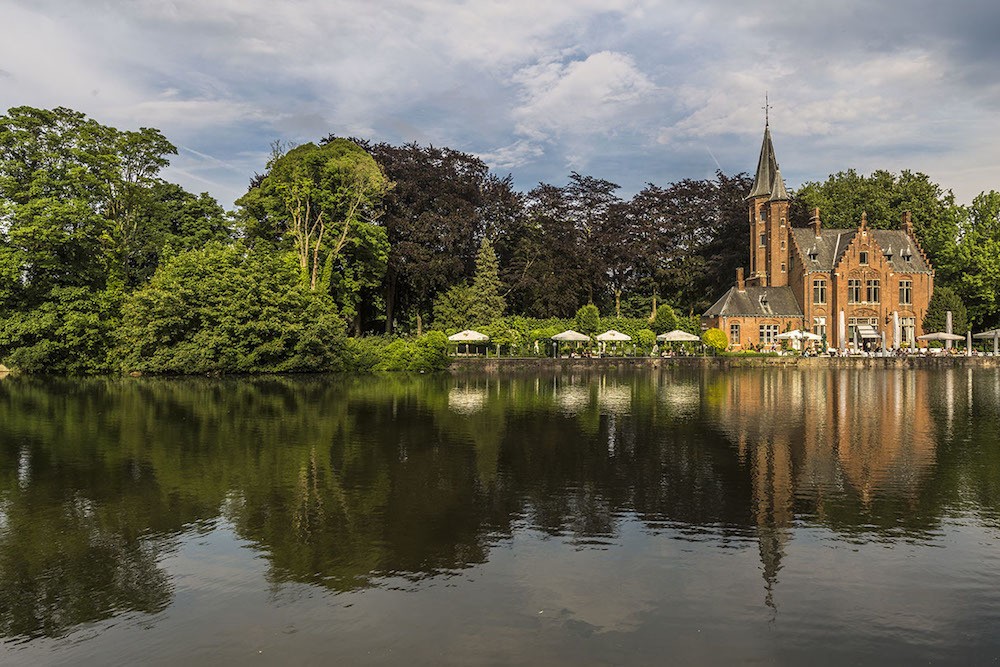 Photo courtesy of Isabella of Boundless Roads. Used with Permission.
Explore the Historical Hanseatic Neighborhood
Bruge's Hansa Quarter thrived during the 13th to 15th centuries, when merchants from the Hansa countries of Scandinavia, England and Germany met to trade with those from France, Spain, and Italy in this section of the city.
The beautiful old buildings in this area still evoke Bruges' history as a crossroads of trade. Be sure to keep an eye open for the Spaanse Loskaai (Spanish Unloading Quay), Oosterlingenplein (Easterners' Square, which references the Hanseatic traders, who were collectively known as the Easterners), Tolhuis (the old toll house), as well as number of historical buildings.
After the 15th century, Bruges' importance as a trading center declined, as the local port silted up, and the larger port of Antwerp surpassed it.
Do the Windmill Walk to See Four Original Windmills that Surround the City
Although windmills are more closely associated with Belgium's neighbor, the Netherlands, Bruges has 4 remaining historic 18th and 19th century windmills, located on the city ramparts between the Dampoort and Kruispoort.
The "windmill walk" takes you along the northeastern part of the canal that surrounds the city, and takes about 1 hour, round trip, from the Grote Markt, walking. The stretch that contains the windmills can be done in 10 minutes, not including stopping to take pictures and walk around the windmills. If that sounds like too long of a walk, this would also make a perfect use of bike rentals!
If you're using Google Maps to navigate, type in Koelewei Mill, De Neuwe Papegaai, Sint-Janshuis Mill, or Bonne Chieremolen, or just "windmills Brugge" and they should come up.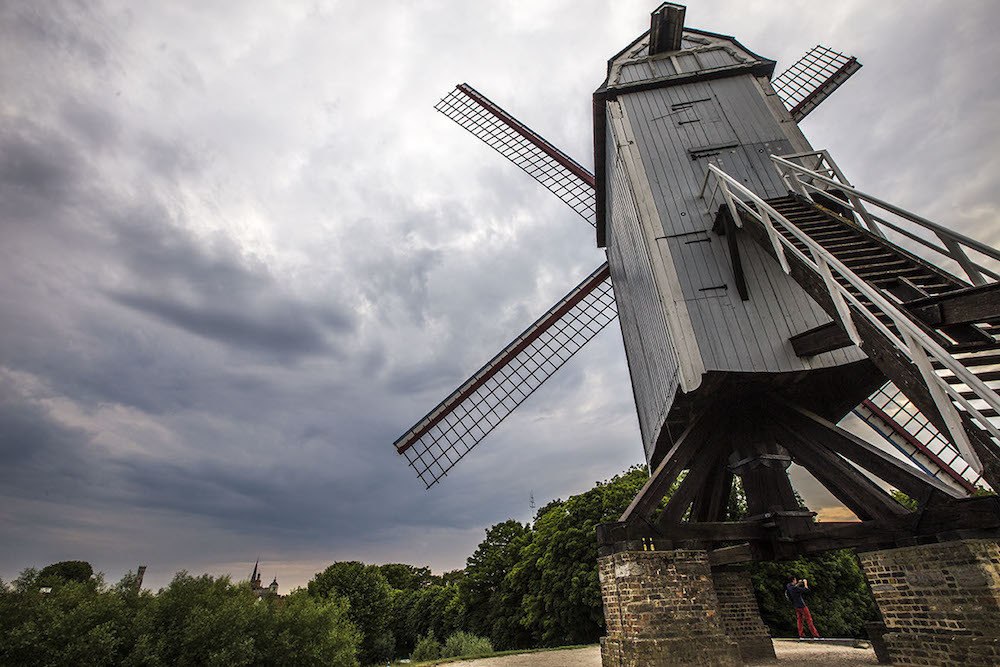 Photo courtesy of Isabella of Boundless Roads. Used with Permission.
Walk Through Bruges' Smallest Lane (and Have a Beer and Get a Picture)
De Garre is known as Bruges' smallest street, and makes for a tiny walk and a nice photo opp. Within the alley, Staminee De Garre is a popular spot for a Belgian beer if you're thirsty.
Find De Garre off Breidelstraat; it's about a 2-minute walk from the Grote Markt.

Eat All the Chocolate
Belgium is pretty much the motherland of chocolate, so it's perfectly acceptable to indulge to your heart's content. When in Rome, right The city's best chocolate shops treat chocolate as a work of art, and the shops are attractive and full of their colorful masterpieces.
Where to Go in Bruges for the Best Chocolate?
While you cannot escape chocolate shops in Bruges, Pralinette, Dumon, Chocolate Line, Chocoladehuisje, and The Old Chocolate House are great starting points to get your fix: they are consistently mentioned as some of the best chocolate shops in Bruges.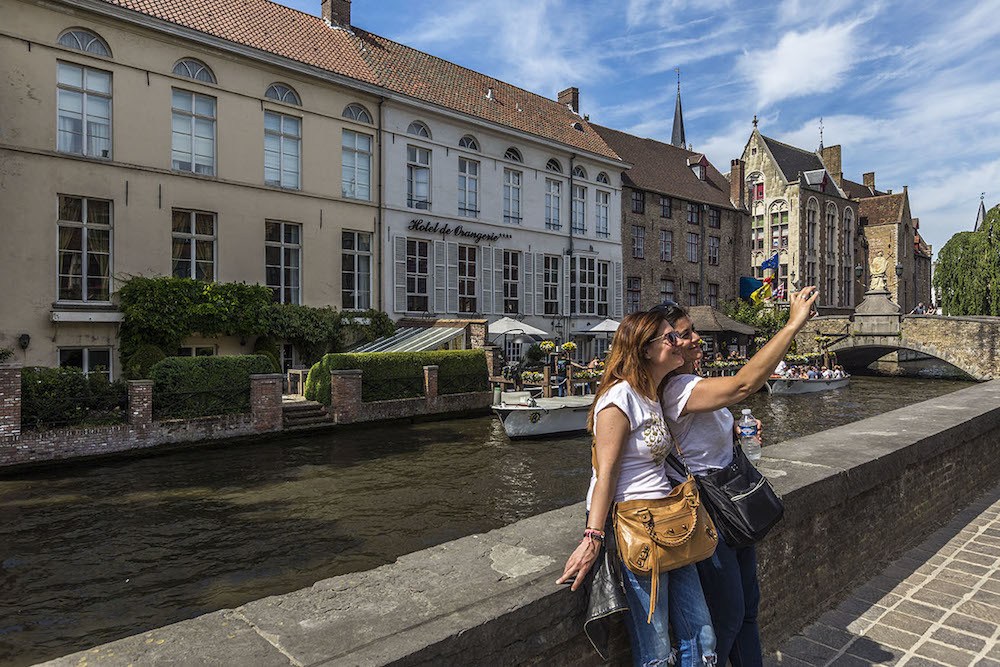 Photo courtesy of Isabella of Boundless Roads. Used with Permission.
---
Where to Eat in Bruges
Bruges is full of lovely restaurants, bars and cafés catering to all tastes and budgets, so you won't go hungry (although choosing a place may be difficult).
Typical dishes in Bruges – mussels, french fries, Belgian chocolate, waffles – aren't exactly light on the calories (tip: waffle kiosks are scattered around the city for your delight), so you may want to opt for lighter choices during meal time.
Breakfast or lunch at the stylish Le Pain Quotidien. If you're in Bruges during warm weather, sit in the garden if you can find space, or choose one of the beautifully decorated rooms inside.
Le Pain Quotidien has a great choice of delicious dishes, including vegan and vegetarian choices. Dishes are mostly made with organic products.
---
Where to Stay in Bruges Belgium
If you plan on spending a night in Bruges, the historical center is the best area to stay in Bruges. Consider the following two hotels in Bruges if you plan to stay the night and want a luxury experience:
Pand Hotel – Small Luxury Hotel: Part of the Small Luxury Hotels of the World group, Pand Hotel perfectly matches modern comfort and style with the historical ambience of Bruges. This is Isabella's top choice.
Hotel Ter Duinen: A modern boutique hotel with a cozy and elegant atmosphere, this is another great choice.
If you're traveling on a smaller budget, or would prefer to save your money for Belgian beer, chocolate, frites, and lace, here are some mid-range and value-focused accommodation options in Bruges.
Grand Hotel Du Sablon (9.2 on Booking.com) *3-star, historic center, 3 min walk to Market Square, 9.7 location score

Monsieur Maurice (9.2 on Booking.com) *3-star, historic center, 6 min walk to Market Square, 9.5 location score

Hotel Fevery (9.3 on Booking.com) *3-star, family run eco hotel, free bike rental, 9.2 location score
---
How to Take a Day Trip to Bruges Belgium
Day Trip from Amsterdam to Bruges
Amsterdam to Bruges day trips are quite popular, and you have the option of doing it as a DIY or with an organized tour.
If you choose to go it alone, your best bet is to take the high-speed Thalys train from Amsterdam to Brussels, arriving in Brussels in less than 2 hours (1 hour 50 minutes, give or take). From Brussels, it's about a 1-hour train trip to Bruges. If 6 hours on a train in one day feels like too much, you can overnight in Bruges. Alternatively, you could visit both Ghent and Bruges in an overnight trip from Amsterdam to Belgium; the two cities are about 30 minutes from one another via train.
If you'd prefer to take an organized trip, trips tend to be about 11 or 12 hours, but you won't have to worry about trains and connections, and you'll have a guide once in Bruges to make the most of your time. These tours also tend to incorporate some free time, so you can do a bit of shopping or see any of the sites that aren't included.
Day Trip from Paris to Bruges
Thalys trains from Paris to Bruges take about 90 minutes, give or take, and go once or twice per hour, throughout the day. Once you've arrived in Brussels, you can change to take a 1-hour train to Bruges. In total, Paris to Bruges day trips require about 5 hours or round-trip travel time if going by train.
As with Amsterdam, Paris to Bruges day trips are fairly popular, so if you don't want to go it alone, you can join a guided tour.
If you'd like to make it an overnight (or two-night trip), Lille on the French-Belgian border is nice, as is Ghent, in Belgium.
Day Trip from Brussels to Bruges
Taking a Brussels to Bruges day trip is a lot faster than coming from Amsterdam or Paris: Bruges is just an hour or so on the train from Brussels, with trains going every 30 minutes or more, with trains going throughout the day, from around 5 am until midnight-ish.
---
Good to Know: Other Bruges Tips and Info
Safety: Bruges' historical centre is filled with people day and night, and is quite safe. As always in tourist areas, take care to protect your belongings against theft and pickpockets.
Money: Major credit cards are widely accepted in Belgium. For Americans, it's worth getting your credit card provider to add a PIN to your card before your trip, as pin-less cards can be difficult to use in places. Belgium uses the Euro (€).
Phones and Apps: We use Google maps for finding our way around new cities, and use the XE.com app to do currency conversions on the fly. You'll need internet coverage to use your phone, which you can achieve with a portable Wifi device, international SIM, or a local SIM (if your phone is unlocked).
Comfort: We recommend comfortable walking shoes with stiff soles in Europe, as cobblestone streets can wreak havoc on your feet.
Language: Bruges is the capital of West Flanders, a Flemish-speaking region in northwest Belgium. Flemish is a dialect of Dutch. Many Belgians in Flanders don't speak French, and English is probably your best bet if you don't speak Dutch. That said, in the touristy old town of Bruges, you're likely able to get by in German and French as well.
A City of Two Names: Because Belgium is bilingual, the cities have both a Flemish and French name. Bruges (in English) is known as Bruges in French, and Brugge in Flemish-Dutch.
Before You Go: Perhaps the most well-known movie about Bruges is 2009's crime comedy In Bruges with Colin Farrell. Georges Rodenbach's 1892 book, Bruges-la-Morte (Bruges the Dead), is also set in the city.
---