Exploring the Belgian Ardennes and WWII Battle of the Bulge Locations By American Military Jeep. Tips for Planning WWII Bastogne Tours and Remembrance Tourism in the Region.


Disclosure: We took this tour on part of a media trip organized by Liberation Route Europe, and received the experience free of charge. Please note this website also contains affiliate links. That means we earn a commission when you use the links on this site to book a hotel, buy your travel insurance, etc.. You don't pay anything extra, and it helps us cover our costs. If you'd like to learn more about how this works, you can read more under our Disclaimer page.
Paul is silent and grinning, a look of contentment splashed across his face that leaves little room for interpretation.
Here in the Belgian Ardennes, it seems, he's in heaven. Driving on roads surrounded by sparse forests and rolling green hills, farms and tiny specks of French-Belgian villages, it's clear he loves his toy: loves talking about it, loves driving it, and more than anything, loves sharing his passion for remembering what happened here.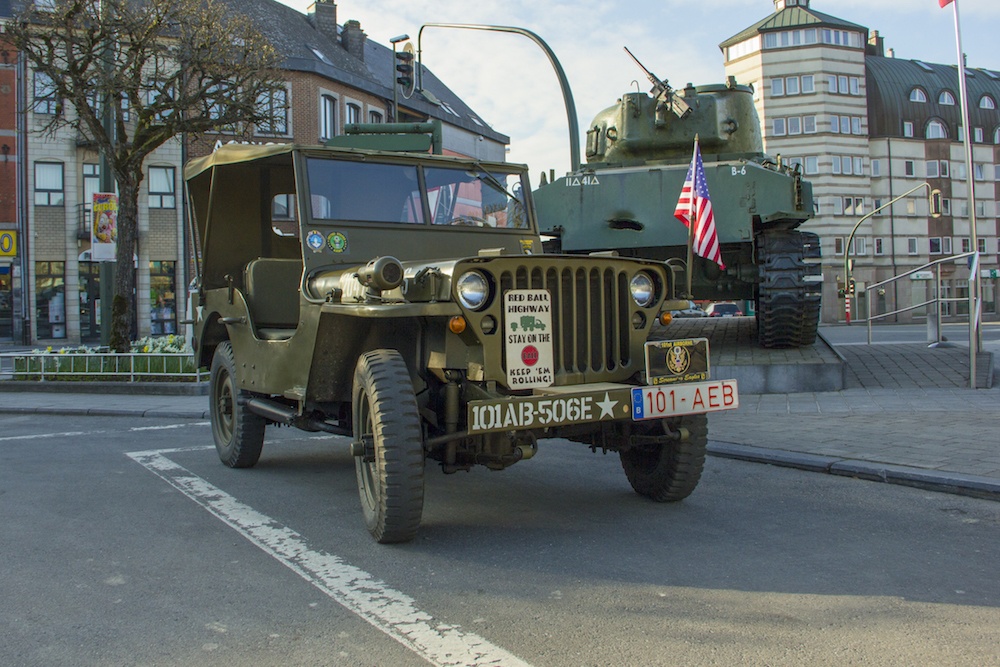 We're just outside the Belgian city of Bastogne, driving around in a Willys MB from WWII — the toy.
I'm in the front passenger seat, Paul is driving, and Geoff is in the back.
We have to yell to hear each other, such is the rumble of the engine and whip of the wind, which chills our faces and hands as we cruise through the countryside in an open-air jeep that's more than 70 years old; quite literally, an antique.
We take a left, and my entire body slams to the right. I rush to find something to grab onto so I'm not thrown out of the passenger-side opening, and then secure my camera with my free hand, the jeep rumbling steadily onward.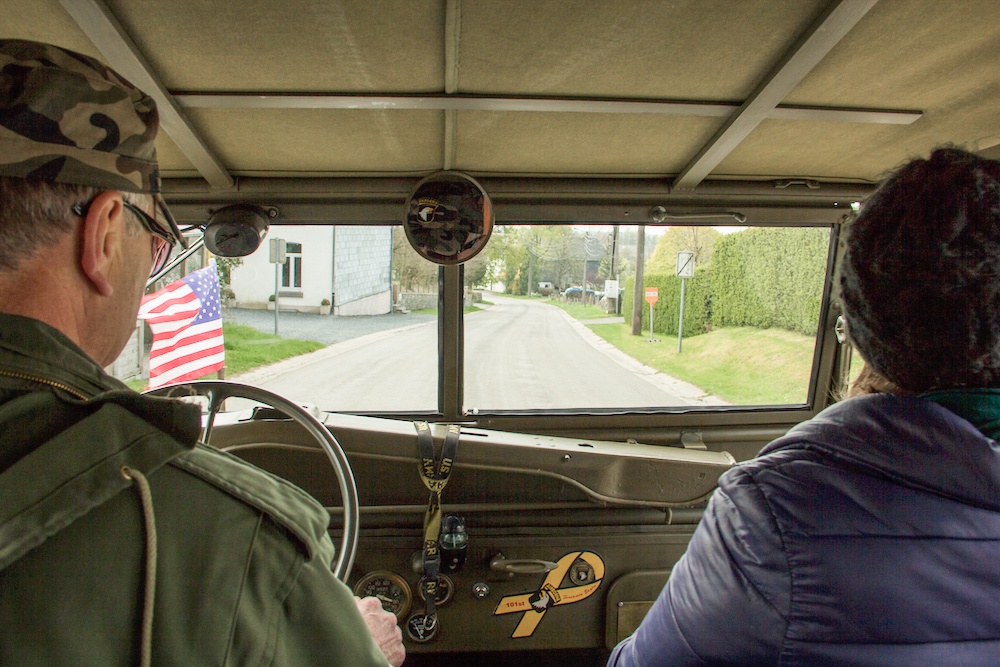 From Bastogne, we take the N4 south to Sainlez, before switching to secondary and tertiary roads. The landscape is a scene of idyllic pastoralism, and we drive through village-after-village, most of which are comprised of a single road straight through town, stucco-covered one-storeys lining either side of the road.
The smell of fuel is overpowering, burning our nostrils and dampening any attempts the fresh countryside air makes to break through.
When we hit speed bumps, Paul makes consoling groans and looks our way to ensure we're okay. We most definitely are, his wide grin contagious.
A right and then a left deliver successive body slams against the side of the jeep. No time for seatbelts in World War II. And then the road opens up to a long, rolling straight away, like a roller coaster in the kiddie park. The jeep gets up to 60 as we pass what look like Christmas tree farms and actual farms: a baby long-haired pony, some cows, farm houses and barns.
Still, the smell of fuel is all-encompassing. How many brain cells are we killing?
We cruise past farm-after-farm and village-after-village that still bear the scars of a war that ended more than 70 years ago. Shell marks on the side of one building. Ugly, stuccoed buildings thrown hastily together to house a region full of refugees scarred by the unimaginable.
After 10 minutes or so, the cold creeps in, forcing its way under my jacket and up my back.
What was it like here in December 1944?
Shivers.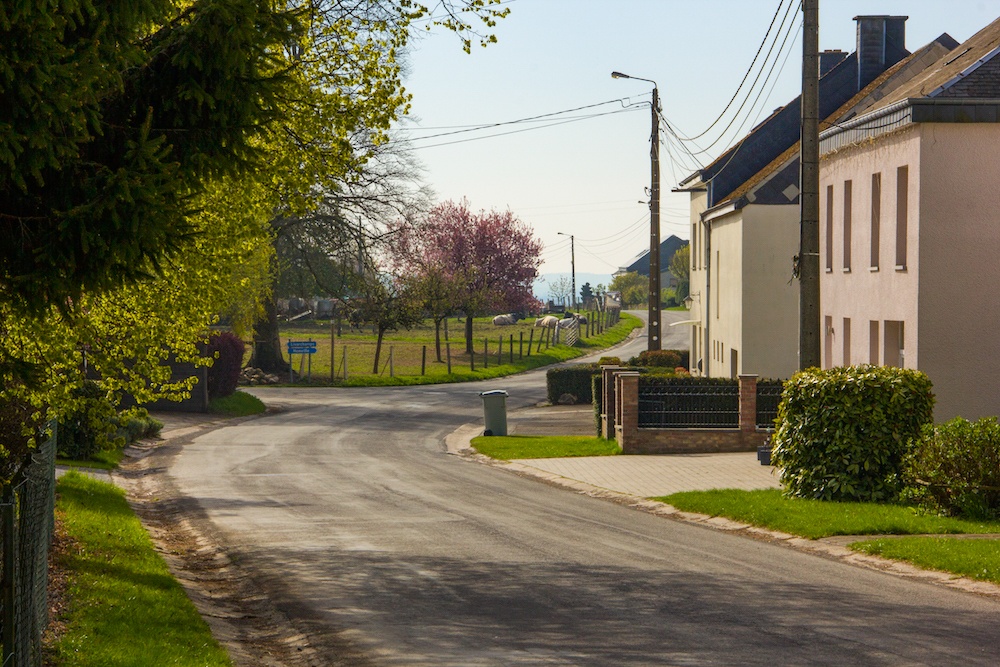 The Battle of the Bulge is probably best known to today's generation because of Band of Brothers, the story of the US Army's 101st Airborne's Easy Company as they fought their way across Europe from the Normandy landings in June 1944, to Operation Market Garden in the Netherlands, and then the Battle of the Bulge and Siege of Bastogne at the end of the year.
After this part of Belgium had already been liberated from the Germans for a good three months, Hilter set his sights on Antwerp and its port as a last, desperate grasp to change the outcome of the war. Capturing Bastogne — a strategic crossroads along the route to Antwerp — was seen as mission-critical, leading to a German occupation over Christmas and 8-day Siege of Bastogne, along with countless miseries for the locals.
Looking back, it seems only a megalomaniacal fanatic with limited grasp on reality could have believed the Germans had any chance of changing the outcome of the war at that point.
Which makes what happened here — an offensive with a staggering and unnecessary loss of life and property, one that laid bare the land, the houses, the people…everything — even sadder.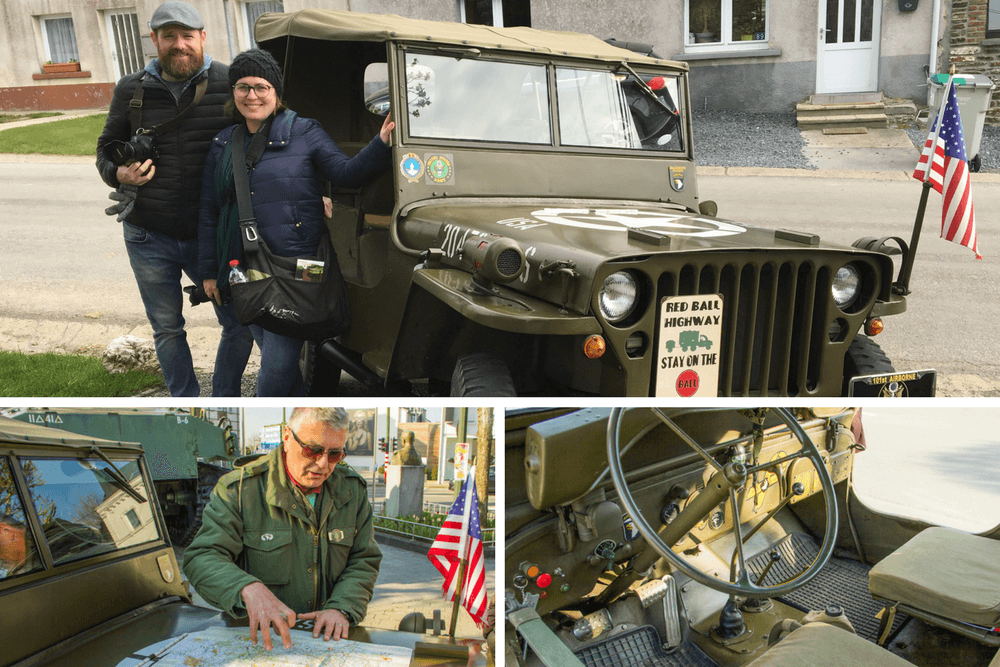 We rumble onward, the landscape changing to a thickening forest, patches of trees mixed with clear cuts and farmland, until we reach the Jack Woods. Out of the Jeep, we climb up a roadside bank into a peaceful forest pockmarked by holes.
Foxholes, explains Paul.
A little further in, there's a makeshift memorial, put here by a veteran: a white wooden cross, surrounded by individual tokens of gratitude: flowers, candles, flags from different countries.
So much of the war, we know books and TV and movies.
But there's something about standing here, in the midst of trees that served as shields and villages destroyed, letting the cold seep in and the smell of fuel burn our nostrils, that lets it hit you in a different way, wash over you as a wave.
Right here. This patch of forest. That farm over there. Life here would have been an unimaginable brand of hell.
At the nearby (and excellent) Bastogne Museum, it's hard not to admire the job the government and large organizations are doing to keep these stories alive.
But out here in the Jack Woods — and in the front of an antique Jeep — it's equally impressive what people like Paul are doing: helping the next generation experience WWII and the Battle of the Bulge with all our senses: wind whipping and nostrils burning, cheeks cold and reddened, struggling to hear, and walking in the steps of those who fell here for our freedom.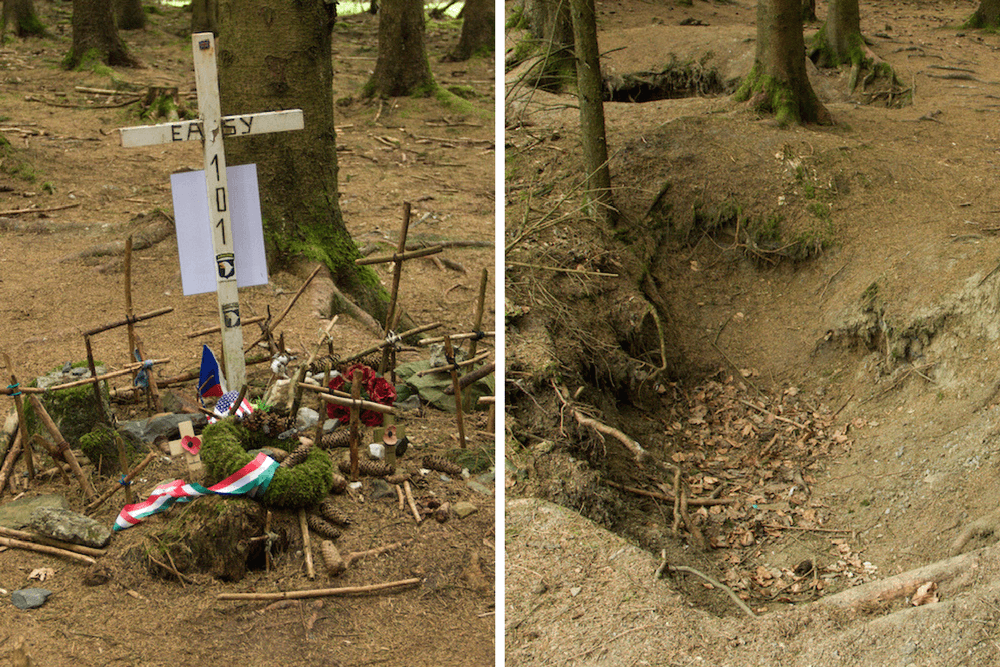 ---
Planning a Remembrance Trip?
Read more about our travels with these suggested posts, or check out our Remembrance Tourism home page.
---
Practical Info to Plan Your WWII Bastogne Tours
Bastogne is a city very much on the remembrance tourism circuit, and is well set-up for remembrance tourists.
The excellent Bastogne War Museum, opened in 2014, anchors visitors to the city, which provides a great base for visiting nearby sites, or if you have a car, it can also be an easy day trip from Brussels. Ettelbruck, a small town in northern Luxembourg known for the General Patton Museum, is a 45-minute drive away. Within another 30 minutes of that, you'll find Diekirch, home to Luxembourg's National Military Museum, and Clerveaux, a site of fierce fighting during the Battle of the Bulge. In the other direction, the Luxembourg American Cemetery in Hamm, just outside Luxembourg City, is where Patton was laid to rest among his men after a car crash took his life in December '45.
If you're interested in arranging a jeep tour, you can get in touch with Ardennes White Star directly on their website. Most of the content is in French, so we'd advise using Google's Chrome browser, which will auto-translate the content, if you don't speak French.
We visited Bastogne as part of a media trip with Liberation Route Europe, a not-for-profit dedicated to creating an international remembrance trail that connects important sites along the Western Allies' advance across Europe. If you're planning a WWII battlefield or remembrance trip, we'd recommend checking out the Liberation Route Europe website and several free apps they offer.
Your best bet for accommodation is in or around Bastogne itself. We stayed at Nuts Castle (yes – that's its real name), a beautiful, large chateau-style accomodation just outside the city that was the US 101st Airborne's Headquarters during the Battle of the Bulge. Cast and crew of HBO's Band of Brothers also stayed here in December 2016.
If you'd rather stay in a hotel, Hotel Melba and Le Merceny are both highly rated.
---
What do you think about our Bastogne tours experience in a US military jeep? Are you planning a Battle of the Bulge or remembrance trip?
Like This Post? Be Sure to Pin it for Later!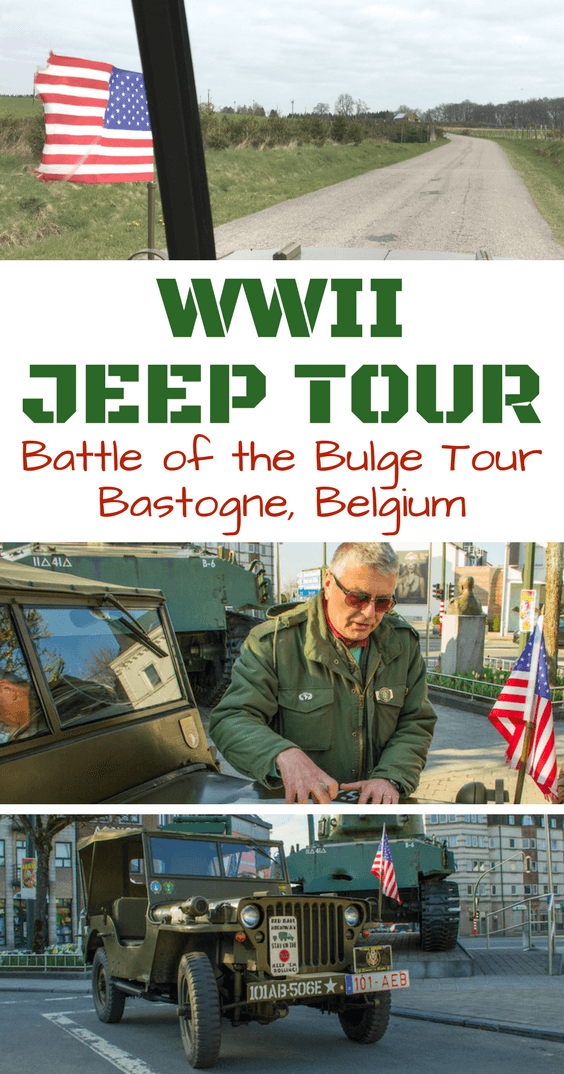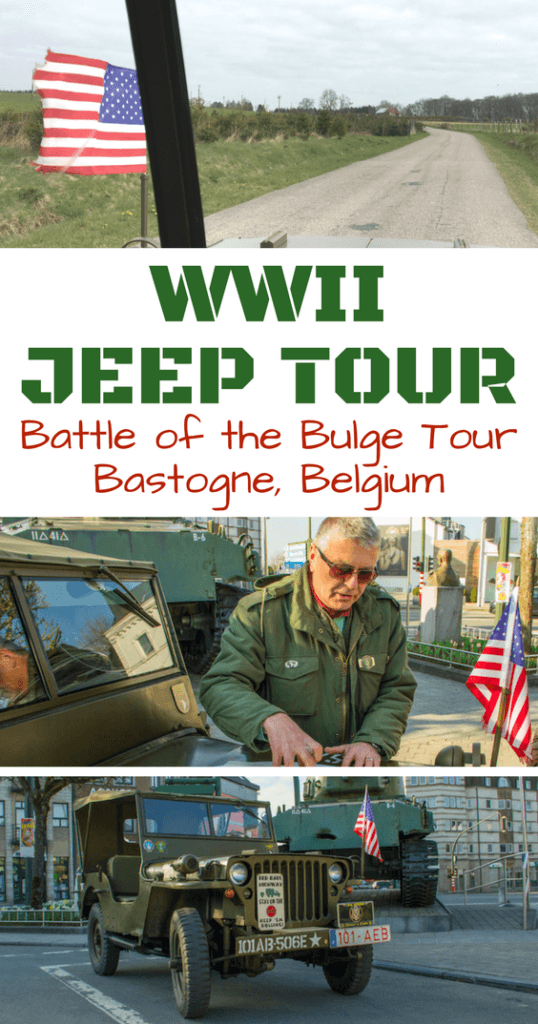 ---