What to do in Brussels Belgium you ask? Today's guest author gives us a unique perspective of the city – that of a local! The best things to do in Brussels are covered plus some extras. Read on to find out how to spend short city break, or a great weekend in Brussels.


Disclosure: This post contains affiliate links. That means we earn a commission when you use the links on this site to book a hotel, buy your travel insurance, etc.. If you'd like to learn more about how this works, you can read more under our Disclaimer page.
This is a guest post by Sophie Lenoir from bittenbythebug.be
***
What to do in Brussels For a Weekend Trip
Brussels has so much to offer, you won't be able to cover it all in one weekend. Nevertheless, it is possible to spend an unforgettable weekend in Belgium's capital, provided you know where to look.
Here's a pick of the best sights and activities for a great first time in Brussels.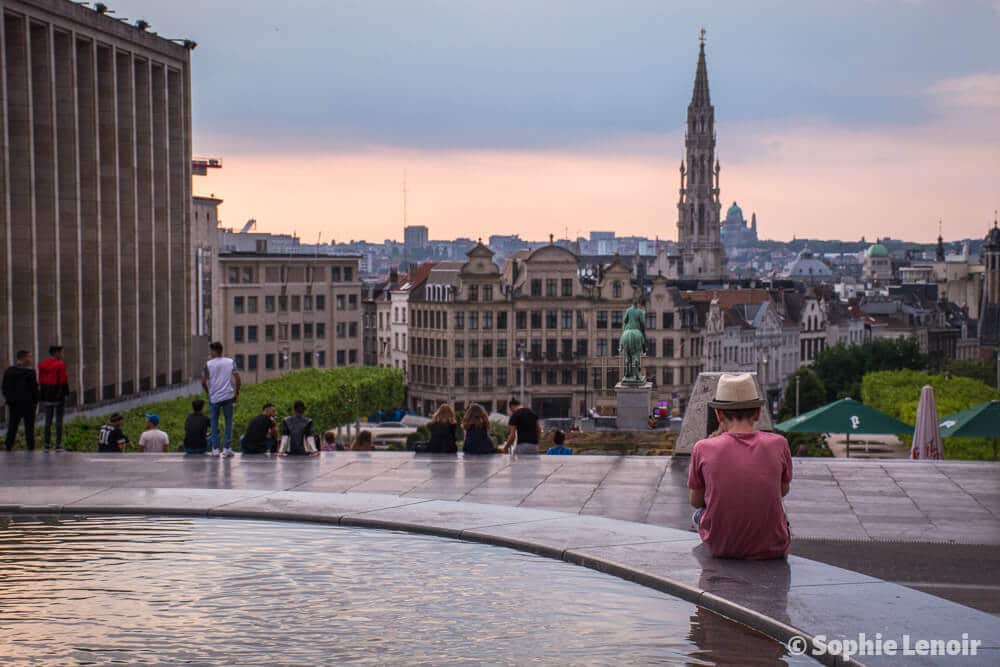 Weekend in Brussels Itinerary: How to Spend Saturday
Start by exploring the city center, which is teeming with historic buildings, quaint streets and … waffle vendors!
The best way to discover Brussels' center is by wandering randomly through its pedestrian streets, which makes it easy to enjoy its graffiti walls, peeing statues and trendy shops.
However, make sure not to miss the places listed below.
The Grand Place & Manneke Pis
The Grand Place in the heart of Brussels is absolutely stunning. It is surrounded by guild houses, the City Hall and the Maison du Roi. All year round, different events take place here, like the Christmas market, the floral carpet, the beer festival, and many more.
Manneke Pis (a statue of a peeing little boy) is one of the most famous statues in Brussels. Don't expect too much of it, because it's actually a tiny statue. Nevertheless, it's only one street away from Grand Place, so walk over to see which costume he's wearing today (in the museum further up the street, his entire wardrobe is on display). There are many legends explaining the origin of the statue, one of which is about a little boy who peed on a burning gunpowder fuse, thereby saving Brussels from a large explosion.
Also try to spot the other two peeing statues in the center of Brussels: Jeanneke Pis (a peeing girl) and Zinneke Pis (a peeing dog).
Waffles are a Must!
When in Brussels, don't even bother trying to resist to the Brussels waffles, which cost as little as 2 euros. Go crazy and order all the toppings you like. If you don't know what to pick, you can never go wrong with chocolate, strawberries and whipped cream.
The majority of waffle shops sit on Rue de l'Etuve, close to Manneke Pis. Otherwise, there's also Maison Dandoy, a tea room specialized in speculoos (another specialty!) where you can sit down and have a break.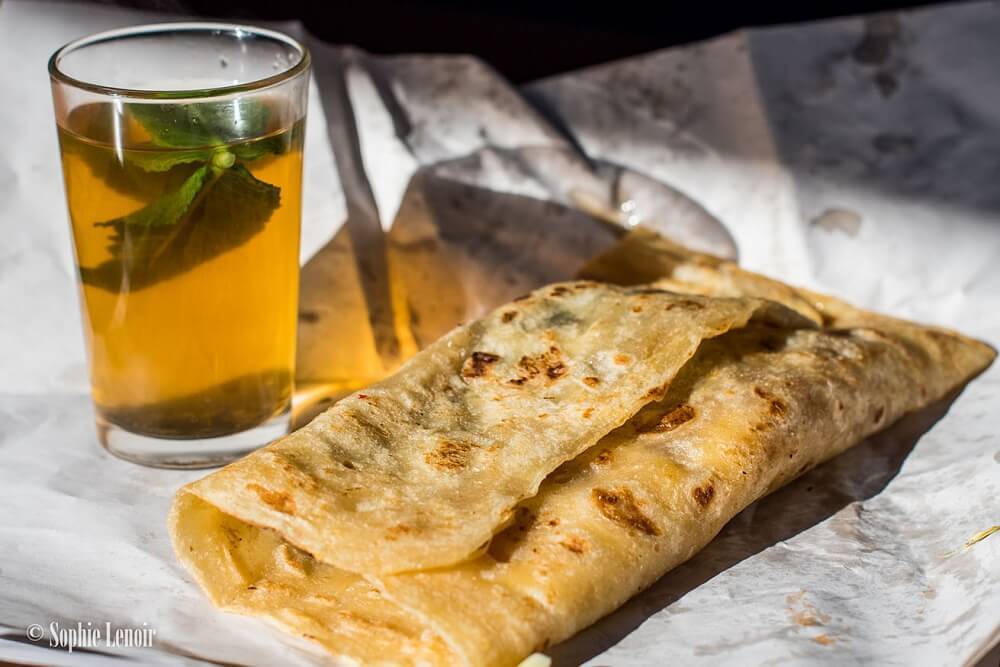 Galeries Royales Saint-Hubert & Place Sainte-Catherine
When you're finished enjoying a waffle, head over to the Galeries Royales Saint-Hubert, a prestigious ensemble of glazed shopping arcades that house some of the most famous Belgian chocolatiers, fancy boutiques and the special bookstore, Tropismes Libraires. In fact, the first praline was created there! Neuhaus, Leonidas and Pierre Marcolini are just a few of the chocolatiers offering high-quality pralines. Wouldn't that be a nice souvenir to take home for your family?
Place Sainte-Catherine is where all the fish restaurants are. At Noordzee you can go tapas-style and select a few options to share. On sunny days, many locals will gather around the fountain while enjoying drinks and long conversations.
Mont des Arts
Also make time to walk up to Mont des Arts for one of the nicest views over the city center of Brussels. Especially at sunset, the view is mind-blowing.
Turn around to marvel at the beautiful architecture of the Musical Instruments Museum, a luxurious Old England department store that has more than 1100 historical and modern musical instruments on display. You can access its rooftop for free and enjoy both a drink and a great view.
On top of the hill, there's also the Royal Palace, which opens to the public for a few weeks every Summer. The Royal Family doesn't live here though. It is the King's administrative residence and main workplace. On the opposite side lies Parc Royal, good for a relaxing stroll.
Street Art & Dinner
Although there is so much to see and to do, Brussels' centre is not that large and is easily walkable. Take your time to stroll around and try to spot as many graffiti walls as you can.
In the evening, pick out a nice restaurant for dinner. Some of my favorites in the city center are Chez Gudule, Kumiko and Chez Leon. If you don't mind going a bit further from the center, take a metro to Le Clan des Belges for some good old Belgian food in a cozy setting.
Find Your Brussels Hotel Here…
Weekend in Brussels Itinerary: How to Spend Sunday
Breakfast and the Hallepoort
Although not a touristy spot, I recommend starting yours Sunday at marché du midi (the morning market at Brussels South train station) with a delicious Moroccan pancake and fresh mint tea for breakfast. They are a bit tucked away behind a stall selling olives and dried fruit, but the line of people queueing gives the location away.
From there, walk on to Hallepoort, one of the last remnants of the former defensive wall around Brussels. It hosts a museum about the history of Brussels and has an amazing rooftop view.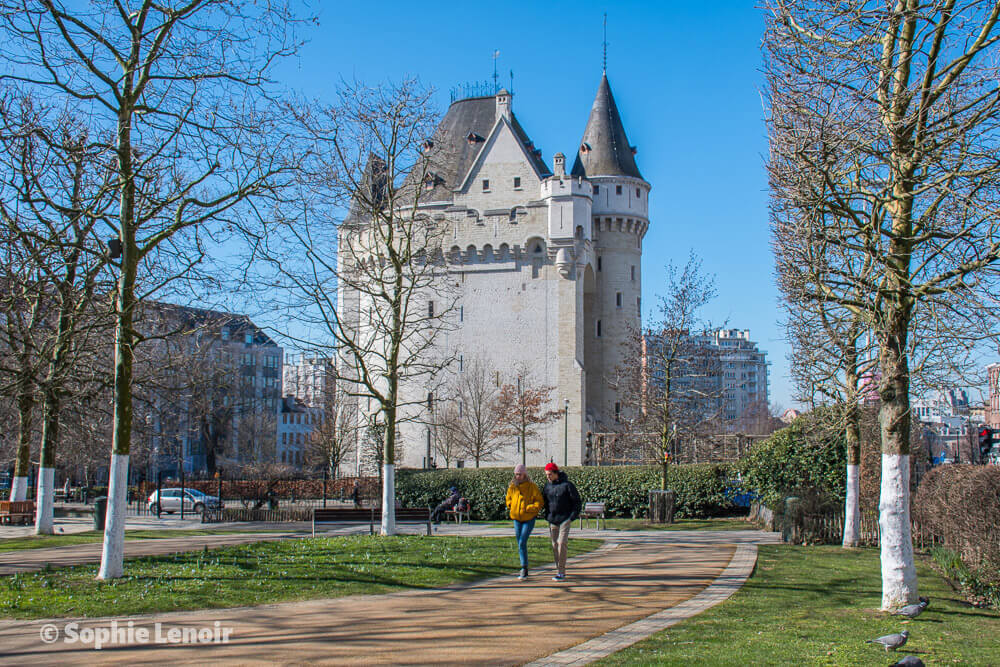 Marolles District to Place Poelaert
Next up, head to the Marolles district, the ancient Jewish quarter where a flea market takes places every day on Place Jeu de Boule. Look around for a Tintin comic, which makes a nice souvenir from Brussels.
Have a coffee in Le Chaff and try to get a spot on the first floor, from where you can overlook the hustle and bustle on the square.
Keep your eyes up while walking through this district as many large walls are covered with graffiti depicting famous characters from Belgian cartoons.
Walk up through Rue des Renards. Here you'll find Restobières, which is nice restaurant that offers original Belgian dishes all prepared with beer.
Take the elevator to Place Poelaert. From here, you can overlook the city and even spot the Atomium in the distance. Behind you is the enormous Palais de Justice. Although under construction since forever, it's still a beautiful building. You can walk in for free to marvel at its architecture.
The Atomium
You've already seen the Atomium in the distance, but now it's time to have a look up close. You can get there in about 30 minutes by taking the metro from Louiza to Heizel. It is possible to visit the Atomium from the inside for a fee. The Atomium always hosts interesting expositions about Belgium and you can take the elevator to one of the higher 'balls' in order to treat yourself to a view of the entire Brussels region.
Don't miss the opportunity to take some photos in front of the Atomium and then wander through the surrounding park Baudouin.
---
Like This What to do in Brussels Post? Pin it for Later!