This week hits the one month mark since we arrived in Prague, and it's gone by in a blur.
For those of you who don't know, we're here taking a course: on Friday, we will (hopefully) graduate with our Trinity Cert. TESOL qualification, which is the preliminary teacher qualification for those wishing to teach English to speakers of other languages (TESOL).
We're taking it at OxfordTEFL Prague, which has been nothing short of excellent, and we've both learned a lot and been humbled many times over in front of an exceptionally supportive group of adult learners, tutors, and other teacher trainees.
With the end of our course in sight, we have a choice to make: hit the road or dig our worn heels into Prague's cobbled streets.
As it turns out, we love Prague. And so — if the government is so kind as to allow it — we've decided to stay through until the end of the year.
We're ready for a base, for some stability, and for some cheap living; as it turns out, staying in one place is much, much cheaper than moving to a new destination every few days.
We move into our new place on Friday, after our final exam (an interview with an external moderator) and before celebration beers by the river.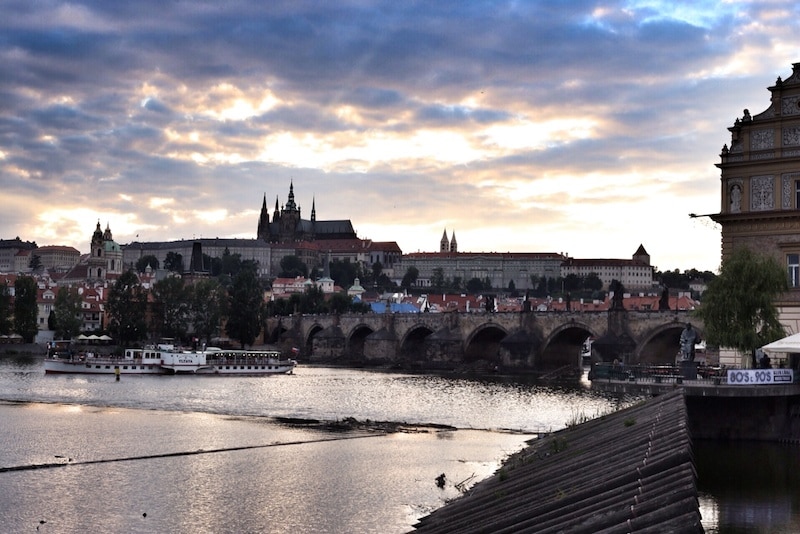 How Can We Stay in the Schengen Zone for Longer than 90 Days?
Staying in the Czech Republic for more than 90 days at a time is not without its complications.
Czech is part of the Schengen Zone, which is the area in Europe you can travel through without showing your passport.
Because you don't show your passport between every country — like when traveling from France to Germany, for example — the entire Schengen zone has unified rules about foreigners visiting.
Canadians (and Americans) can stay for 90 days in the Schengen Zone out of every 180 days.
So, if we stay in the zone for 3 months, we then have to leave for 3 months before we're allowed back in.
The Schengen Zone makes traveling throughout Europe much more convenient, but it really sucks if you want to stay in Europe for longer than 3 months.
Thankfully, when there's a will, there's a way.
The Czech Republic, for example, has a magical visa for freelancers who wish to work in the Czech Republic: the Živno (pronounced /'ʒɪvnəʊ/ if you're into the international phonetic alphabet, and let's be honest: who isn't?).
A Živno is a hassle to get, but not insurmountably so, especially if you have an agency working on your behalf (we do).
We're in the process of applying for a six-month Živno, which will allow us to legally stay and work in the Czech Republic until the end of the year.
We'll essentially be sole proprietors in the Czech Republic, allowing us to make money in whatever manner we see fit: writing, teaching, videography…it will all be fair game.
The preliminary Živno is then renewable for up to two years, making it a pretty sweet deal for freelancers who want a base in Europe.
UPDATE: I'm excited to say that we WERE able to get that Zivno visa and make Prague our home for an extended time. Check out this post for more details on the process of getting that freelancer visa in Prague.
So Now We Get to Live in Prague – a Fairy Tale Kingdom
Prague living is pretty awesome.
It's possible that the weather has had something to do with our feelings (its been sunny and in the 30s for almost two weeks now), but we're kind of in love.
We're currently staying in Prague 5 (see here for details on Prague's various districts), which means we take public transit to school every morning: after jumping on tram #9, I usually check emails or Facebook on my phone until the tram approaches the bridge that takes us across the Vltava River.
For the crossing, I've made a pact with myself that I will NEVER EVER look at my phone while crossing the river. If part of your morning commute looked like this, I hope you'd make the same promise to yourself.
As of Friday, we'll be living in Prague 1, two blocks off of Wenceslas Square, a key location in the 1989 Velvet Revolution and about 10 minutes from Prague's famous Astronomical Clock.
As we'll be here on freelancer visas, we'll be free to pick up whatever work we want, as well as continuing to work on a long-term plan that allows us to make money and travel.
Resources for Moving to Prague
Since originally writing this post, we succesfuly obtained the Zivno visas that allowed us to stay in Prague long term. And we ended up staying for more than 15 months!
If you're considering a move to Prague, here are some resources that will definitely help you out!
Prague Neighborhood Guide – A comprehensive guide to Prague's districts, that will help you determine the best area of Prague for you stay in the short and long term.
Getting a Freelancer Visa in Prague – Details on the process we followed to obtain the coveted Zivno visa that is needed to stay and freelance in Prague.
Best Things to Do in Prague – Once you get here, you are going to want to explore! Here are our favorite hot spots in the city.