All the reasons we think you should visit Nice France for your next European holiday! If France is on your travel wish list, we've pulled together 10 reasons to include Nice on your itinerary. With warm weather year-round, a gorgeous old town, great food, and plenty of things to do, Nice is well worth adding to your France itinerary.
This is a guest post by Clare Dewey of Epic Road Rides. Clare is a big fan of Nice, and a frequent visitor due to the amazing road cycling in the nearby southern Alps.


Disclosure: This Nice France travel guide contains affiliate links. That means we earn a commission when you use the links on this site to book a hotel, buy your travel insurance, shop for travel essentials, etc.. You don't pay anything extra. If you'd like to learn more about how this works, you can read more under our Disclaimer page.
***
Nice is a vibrant, cosmopolitan city on the French Riviera in the south of France. One of the most opulent and stylish cities in the world, you'll find stunning Belle Epoque architecture with pastel coloured buildings, huge shuttered windows and ornate ironwork. Offering azure sea views, colourful markets and chic bars and restaurants, if you haven't already visited Nice, you should add it to your bucket list now!
In this post I share 10 reasons to visit Nice, from walking or cycling along the Promenade des Anglais bike path to sipping a glass of wine in a beach bar.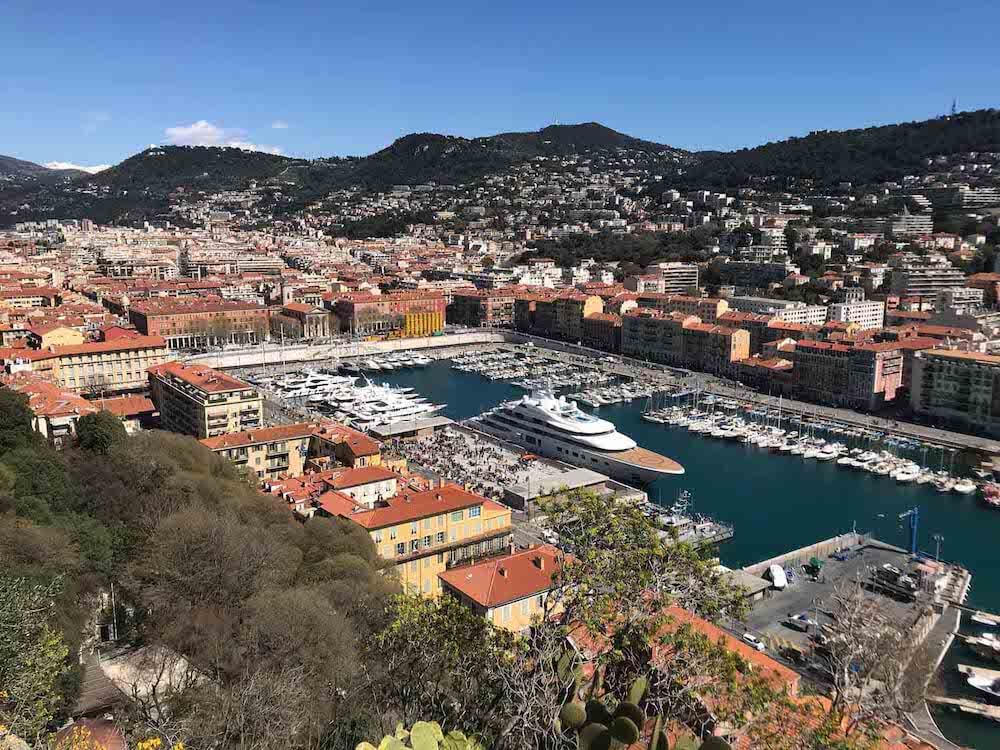 Image ©Epic Road Rides – Used with permission
01. Nice is Warm (Nearly) All Year Around
Nice gets nearly 2,700 hours of sunshine each year and only 60 or so days of rain. It has a mild, year-round climate that's perfect for visitors…no matter when they plan their trip.
The chance of warm, sunny weather increases if you locate yourself in one of the nearby towns that benefit from a special microclimate. Protected by the Alps just behind them, you'll find temperatures in towns like Villefrance, Saint-Jean-Cap-Ferrat and Beaulieu-sur-Mer especially attractive.
02. Nice is Easily Accessible from all Over the World
One of my favourite things about Nice is how easy it is to get to.
The international airport is France's third busiest, and you can fly direct to Nice from all over the world. The airport is just 8 km from downtown Nice, so getting into the city is super easy. You can even catch an Uber; though there are plenty of taxis and buses too.
This makes all the difference if you're short on time and prefer to spend your vacation days relaxing and exploring, rather than wasting time and money on a long transfer.
03. Nice has Fabulous Accommodation Options
Nice has the second-largest hotel capacity in the country, so there's something for everyone when it comes to finding accommodation in Nice.
I like to stay in small boutique hotels or apartments near the port or in the bustling old town, where you feel you're in the heart of authentic Nice. The buildings are old, the windows are large and you're surrounded by excellent restaurants and bars.
If you prefer five-star comfort, take your pick of the historic Art Deco hotels that line the seafront: the Negresco and the Hyatt Palais de la Méditererranée are some of the best hotels in Nice. These hotels are close to the fabulous Promenade des Anglais and boast far-reaching views down the coastline.
RELATED: Visiting Paris? Check out our Where to Stay in Paris Neighborhood Guide!
04. You Can Stroll, Bike or Scoot the Promenade des Anglais
The Promenade des Anglais is one of the most famous roads in France. It starts at the airport in the east and extends all the way around to the headland (near the port and castle) in the west.
Fortunately for those not driving, there's a wonderful wide pedestrianised area between the road and sea. There's also a bike lane that is popular with everyone from serious lycra-clad cyclists to kids on scooters – for more details check out the Epic Road Rides guide to cycling the Promenade des Anglais mentioned in the introduction (There is also loads more information on road cycling in the mountains around Nice on the Epic Road Rides website).
I love walking or cycling the Promenade des Anglais, but if you're feeling less active, find one of the blue chairs scattered along and rest your feet; you're welcome to take a seat and watch the world go by. There are often people busking along the Promenade, and it's a great place to chill out and enjoy Nice's Mediterranean climate.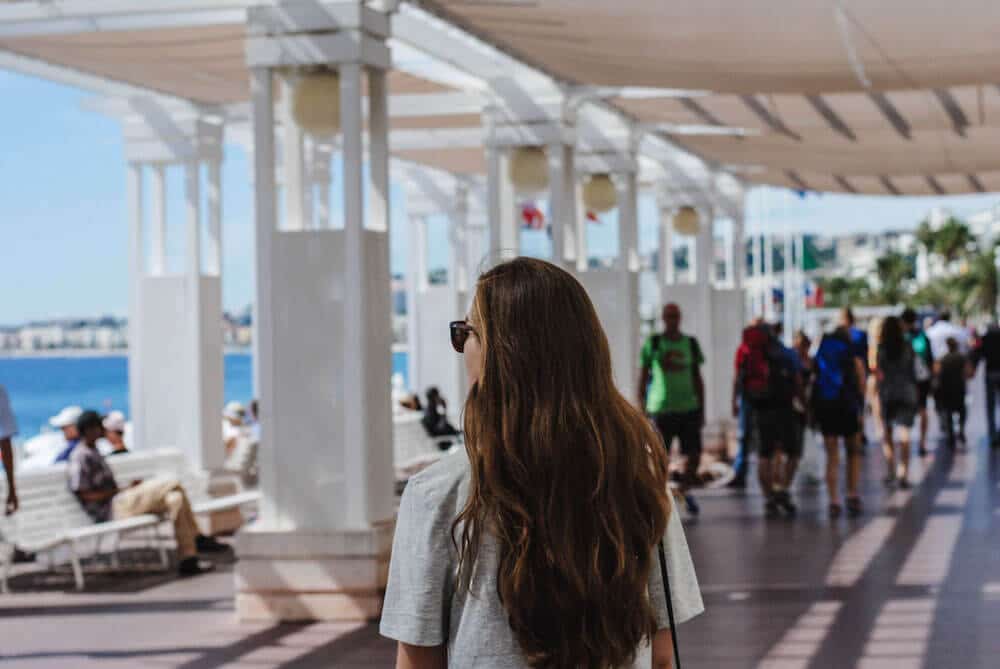 05. Nice has Brilliant Beaches
There aren't many major cities bordered by the gently lapping Mediterranean sea. Though Nice's beach is comprised of pebbles, there's always the option to pay for a seat/lounger at one of the oh-so-cool beach bars. Also many of Nice's private beaches bring in their own sand.
Alternatively, you can head to one of the sandier public beaches – as you head east from Nice, the pebbles get smaller!
06. You Can Wander the Old Town (the Vieille Ville)
The meandering lanes of the old town are a treat to explore. The orangey-yellow buildings are tall and beautiful, the alleys are narrow and crowded with shops, restaurants and bars. It's easy to get lost, which you're sure to enjoy!
The sea is never too far away and there are vibrant sights and smells from the daily flower and food market on the Cours Saleya (near the sea), too.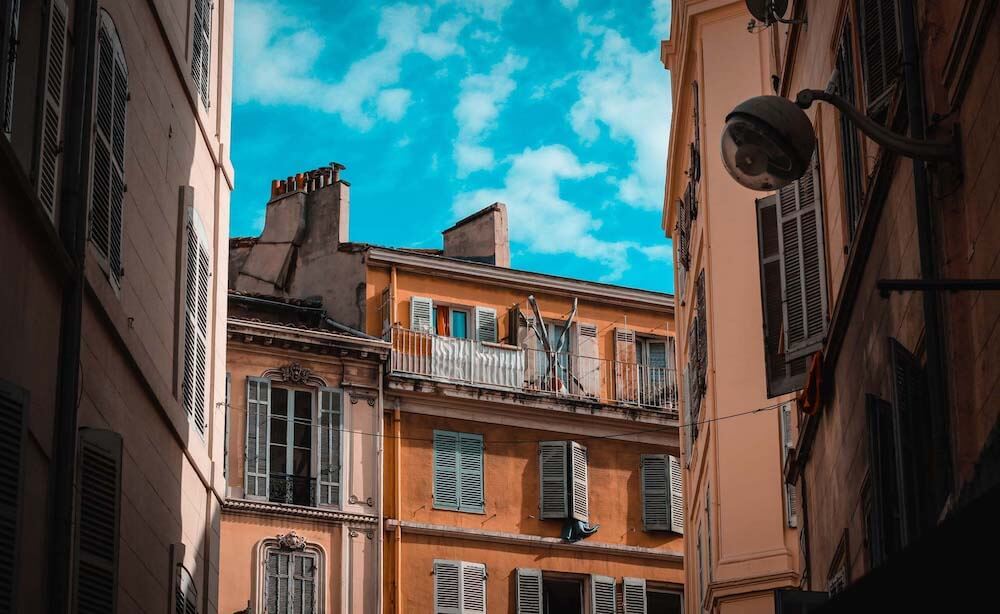 07. Nice has World Class Museums and Art Galleries
Artists have long appreciated the quality of the light along the Côte d'Azure. Artists including Picasso, Chagall and Matisse made the French Riviera their home.
As a result, you'll find the Picasso museum in Antibes, the Matisse museum in Matisse's villa in Nice, and the Chagall museum, also in Nice.
More contemporary artworks are found in Nice's modern art gallery, MAMAC.
08. Nice has a Cosmopolitan Range of Restaurants
Nice has serious strength and depth when it comes to restaurants. You'll find everything from Michelin-starred restaurants (I loved our incredible meal at Flaveur restaurant!) to kebab shops.
If you want to eat like the locals, try the local fast-food speciality, socca. It's a chickpea pancake made in copper pans with chickpea flour, olive oil and water. It's served with salad, and I recommend washing it down with a cold beer.
I also love Pissaladière. It's a bit like a pizza; a sort of open-faced tart, topped with caramelized onions, olives and anchovies – just don't expect any tomato or cheese.
Nice is an authentic, vibrant city and the food choices reflect this.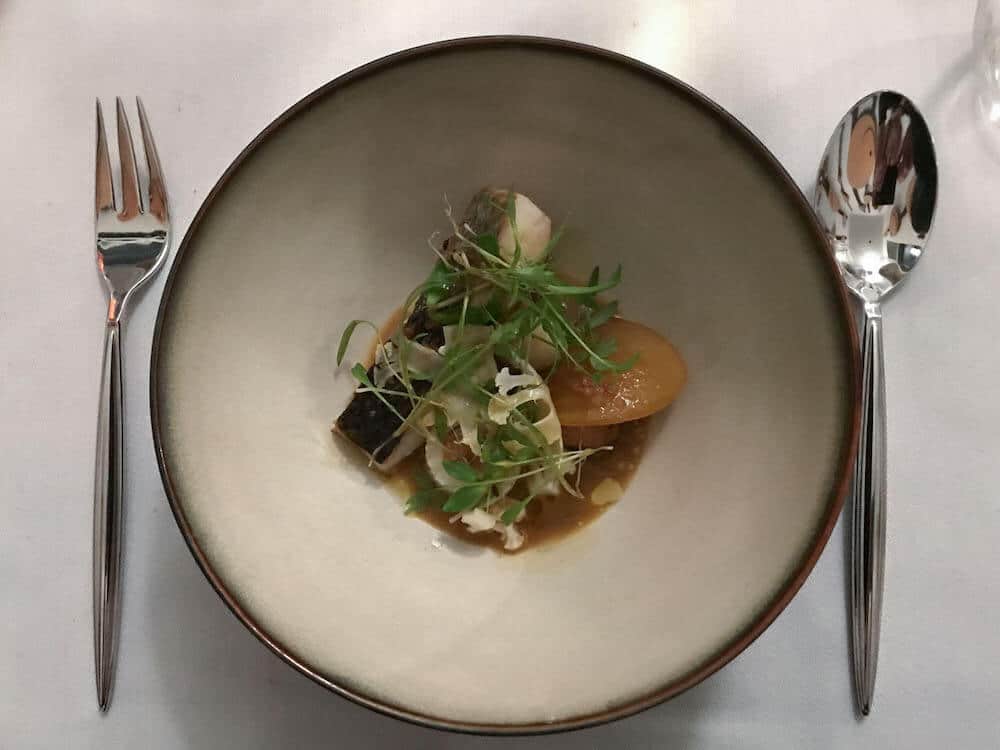 Image ©Epic Road Rides – Used with permission
---
Helpful Info: Restaurant Reservations & Food Tours Nice
---
09. Nice's World Class Parks Are Perfect for Nice with Kids
I have two young kids and one of my favourite things about the city is the parks…perfect for enjoying Nice with kids. My two favourite are the Promenade du Paillon and Castle Hill.
Promenade du Paillon runs along the path of the old Paillon river (which was concreted-over to make the park). It starts at the Promenade des Anglais and runs north. It creates enclaves of green serenity, with everything from a whale-shaped climbing frame to the Miroir d'Eau (mirror of water), a 3,000m² paved section dotted with water jets. The jets are automated and vary at a moment's notice, shooting out anything from puffs of cooling mist to vertical fountains of water that burst high into the air. As you can imagine, they are a huge hit with kids.
Castle Hill is also unmissable. It sits on the headland that rises between the Promenade des Anglais and the port. Take the lift to the top or climb the stairs and you'll find unsurpassed views east over Nice to the airport and beyond, or west, over the port and the Côte d'Azur. There's also a kids playground with a huge rope climbing tree, slides and climbing frames. There can't be many playgrounds in the world that have a better view than this one!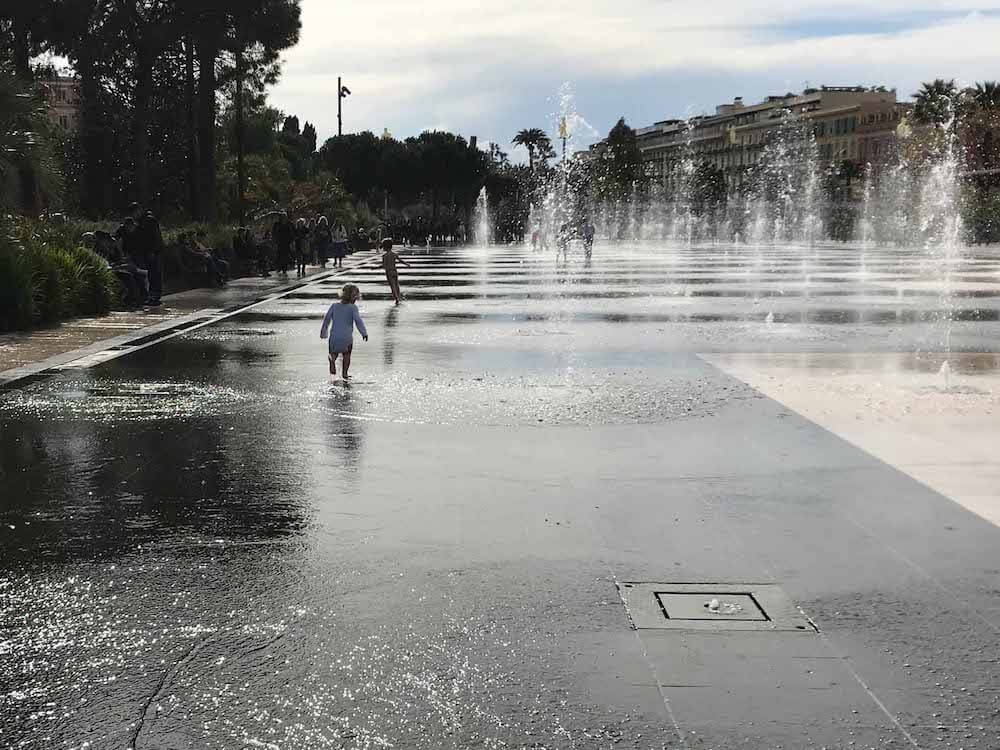 Image ©Epic Road Rides – Used with permission
---
Other Ideas for Exploring Nice France with Kids
---
10. There are Plenty of Day Trips from Nice: Nice is a Superb Base for Exploring the Côte d'Azur
Nice is centrally placed along the Côte d'Azur, and good transport links make it easy to explore other towns. There are buses and trains that will cheaply and efficiently whiz you along the coast to glamorous resorts such as Menton, Monaco, Antibes and Cannes, all within around 30 km of Nice.
Organized Day Trips from Nice
If you'd rather have everything arranged for you, there are plenty of organized tours covering the best day trips from Nice:
---
Whether you're like us and come to Nice for the fantastic road cycling, or you're after a romantic break or a relaxed family holiday, Nice is a superb place to visit. I highly recommend it!
---
Pin This Post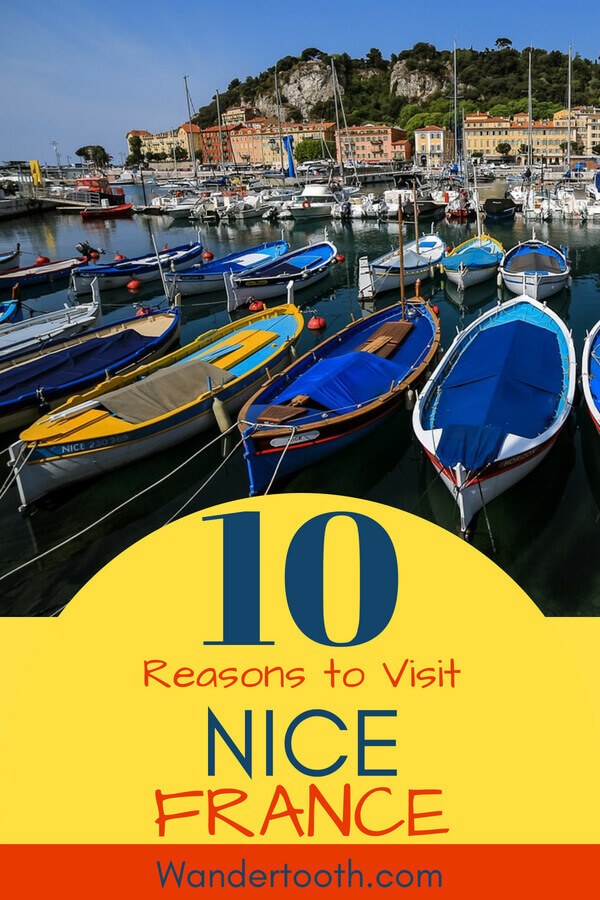 ---
Further Reading