Bairro Alto Lisbon neighborhood guide. Insider tips to make the most of your time in this popular area including where to eat, drink, stay and shop.


Disclosure: This Bairro Alto Lisbon district guide contains affiliate links. That means we earn a commission when you use the links on this site to book a hotel, buy your travel insurance, shop for travel essentials, etc.. You don't pay anything extra. If you'd like to learn more about how this works, you can read more under our Disclaimer page.
***
Bairro Alto Lisbon stretches from the top of the hill in Chiado and Praca de Luis Camoes, named after a Portuguese national poet, to the depths of the heart of Lisbon's nightlife in Cais do Sodre. This vibrant neighborhood is home to the best restaurants and bars in Lisbon and provides a bar-hopping experience like no other city.
What to See in Bairro Alto
There are plenty of cultural landmarks in the area, namely the Museum of Contemporary Art (MNAC) (R. Serpa Pinto 4) and the Museum of Pharmacy (R. Mal. Saldanha 1).
One of the most popular attractions are the Elevador da Bica (Rua de S. Paulo 234) and the Rua de Boa Vista accessible from Largo do Calhariz. It provides one of the most iconic Lisbon photos. The narrow street of the steep hill line and the pastel-colored houses on the sides – classic Lisbon!
As with any neighborhood in Lisbon, Bairro Alto is also home to some beautiful churches. Most notably, the Igreja de São Roque (Largo Trindade Coelho, 1200-470 Lisboa), and the 13th century Igreja de Sao Domingo ( Largo São Domingos, 1150-320 Lisboa) in the old Jewish neighborhood close to Rossio Square. The church has had a tough history of fires and earthquakes. Be sure to take a look at the beautiful facade of the nearby Rossio Train Station.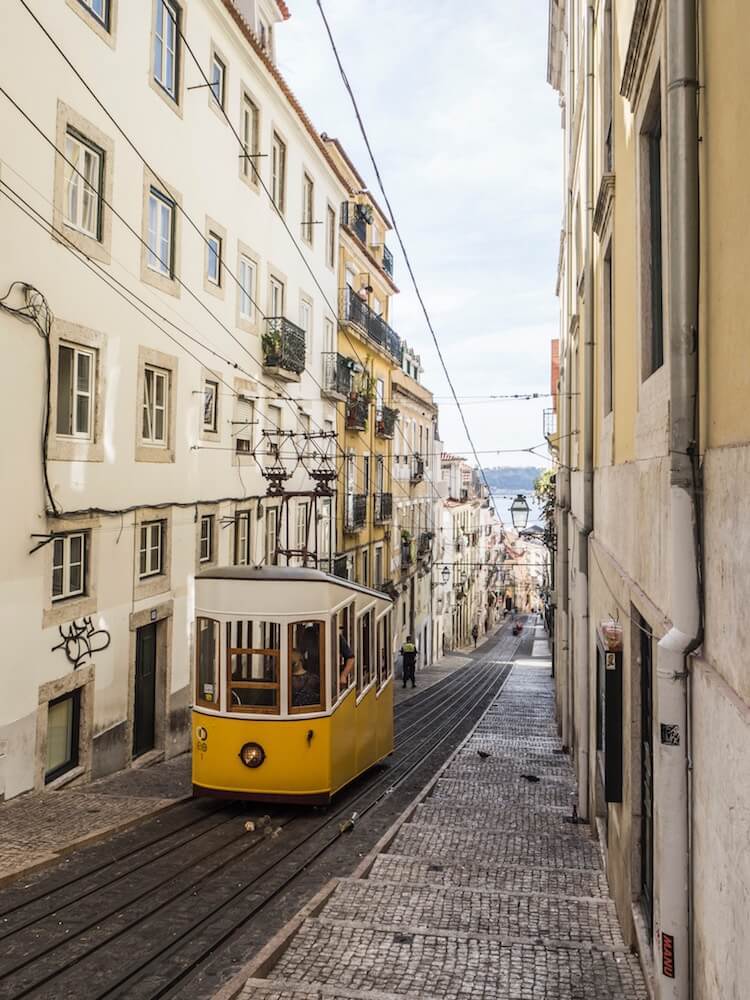 Accessibility to Other Sites
Bairro Alto is a mostly pedestrian friendly Lisbon neighborhood, you will not find a lot of buses or trams trying to make way through the narrow streets but it is well connected to Chiado and Estrela districts. If you wander around the local parks, you will inevitably end up at one of the two Miradouros of Bairro Alto – The Miradouro de Santa Catarina and Miradouro de São Pedro de Alcântara (Rua de São Pedro de Alcântara, 1200-470 Lisboa). Easily connected to Rossio Square, where you'll pass numerous ginja (Portuguese Cherry liquor) spots on your way to down. If you're up to it, try A Ginjinha (Largo São Domingos 8).
What to Do in Bairro Alto
Drink and meet people at the Miradouros! Viewing the city from the Miradouros has become a favorite 'passtiempo' in Bairro Alto. If you visit the city when the Bairro Alto Market (Travessa da Cara 24) is happening, you'll find lots of cool and unique items from contemporary Portuguese designers. Both Rossio Square and Praça de Luís de Camões are places where free walking tours start usually daily at 10 and 3 pm.

Bairro Alto Shopping Guide
Even though the reputation of Bairro Alto is as the drinking capital of Lisbon, there are some boutique stores and design shops particularly down Rua da Misericórdia and for lovely tiles check out Galleria Sant'Anna (R. do Alecrim, 95). Check out the Embaixada Shopping center in nearby Principe Real for some cool Portuguese designer stores..
A couple of Lisbon's oldest bookshops are worth taking a peek into, Livraria Olisipo ( Largo Trindade Coelho, 7) and Leya in Rossio ( Praça Dom Pedro IV 23).
Where (and What) to Eat in Bairro Alto
Bairro Alto is known as a bit of a drinkers paradise, but that doesn't mean that you won't find great eateries nearby. Great tapas can be found at Tapa Bucho Gastrobar (R. dos Mouros, 19) and for some great tacos and the largest margaritas you'll ever see head to Pistola y Corazon (R. de Boavista, 16).
And if you haven't seen a Fado show in Alfama, try Tasca de Chico ( R. do Diário de Notícias 39). If you're after a more substantial meal, head down to Cais do Sodre for some Mexican food at Las Ficheras (R. dos Remolares 34).
If you are just feeling peckish, you can get a variety of meals in the famous TimeOut Market Mercado da Ribeira (481, Av. 24 de Julho) starting from some Michelin Star restaurants and ending with some homemade Italian Gelato.
Nightlife in Bairro Alto
Bairro Alto is the place to be if you're looking for nightlife. Start off with some drinks in the heart of Bairro Alto at PARK bar (situated on top a of parking lot close to Calçada do Combro 82). You'll be treated to a breathtaking sunset view while enjoying a Pink rose. Pensão Amor (R. do Alecrim 19), a former boarding house converted into one of the most charming bars in nearby Cais do Sodre, but it's known to be a bit risque. Pavilhão Chinês ( R. Dom Pedro V 89) is probably the only place in Lisbon that will make you feel like a bit posh with a butler opening the door for you. S through Jardim do Principe Real, or head off to Miradouro São Pedro de Alcântara before turning in.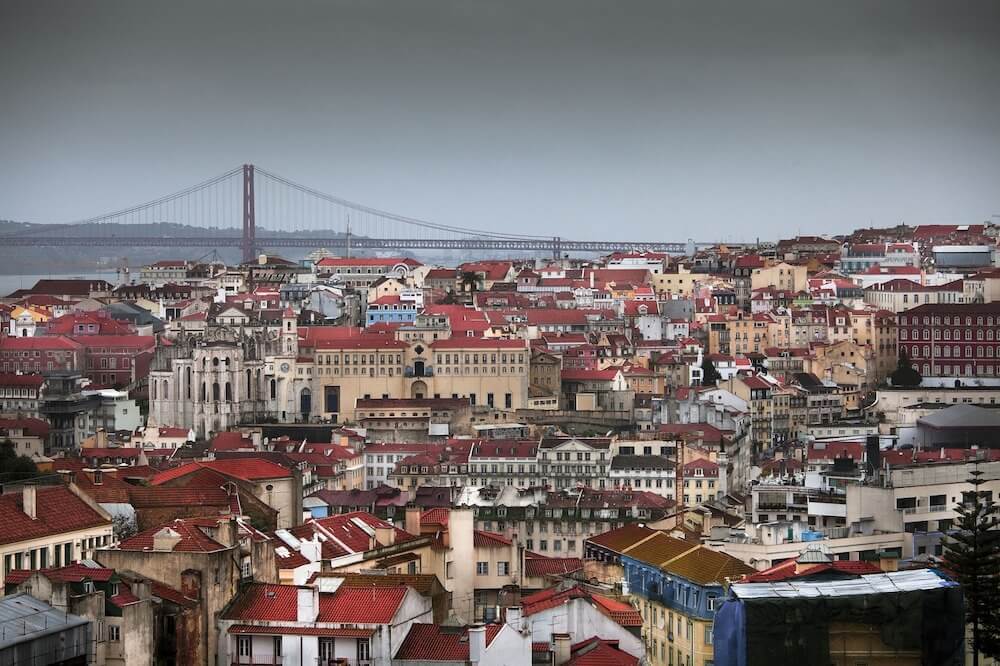 Who Should Stay in Bairro Alto
Bairro Alto is great for nightlife and it's well-connected to other popular parts of Lisbon. There are some boutique hotels that offer a great experience and you'll always be 2 mins away from your favorite bar.
So who should stay in Lisbon's Bairro Alto?
Young backpackers looking for affordable accommodation.
Travelers who plan to stay in a luxury hotel in a city center location.
Solo travelers looking for new friends.
Bairro Alto is probably not the best option if you are traveling with children. For a more family-oriented neighborhood, try Avenida da Liberdade.
Pros and Cons of Staying in Bairro Alto
Pros:
Central location & close to many main attractions
Bars and nightlife
Walkable to Principe Real with excellent connection to other neighborhoods
Cons:
Not locally populated, very touristy
Popular for going out, it can get quite crowded and noisy during at night
Public transport is not easily accessible
Where to Stay in Bairro Alto
Beginning at Praça Luís de Camões where Bairro Alto starts and in the summer months and holidays it can get pretty rowdy, so if this is not your scene, pick something around Principe Real. You will have to walk upwards a little, but it will be much quieter.
Hotels in Bairro Alto Lisbon
Top 3-star Hotels Bairro Alto Lisbon
Top 4-star Hotels in Bairro Alto Lisbon
Top 5-star Hotels in Bairro Alto Lisbon
Top Budget Options in Bairro Alto Lisbon
Safety Tips for Bairro Alto
As in most areas where drinking is involved, make sure that you know your limits, especially if you are traveling alone. Make sure you always know where your hotel is (take a business card), as it is easy to get disoriented in the crowded narrow streets of Bairro Alto. Be aware of your belongings at all times.
---
Like this Guide? Pin It For Later!