If you're thinking of staying at the famous Blue Lagoon on your trip to Iceland, you must consider the Silica Hotel. We had a chance to stay at the beautiful hotel and try out the private Silica lagoon and all the hotel amenities on our recent Iceland trip. Here's our full review!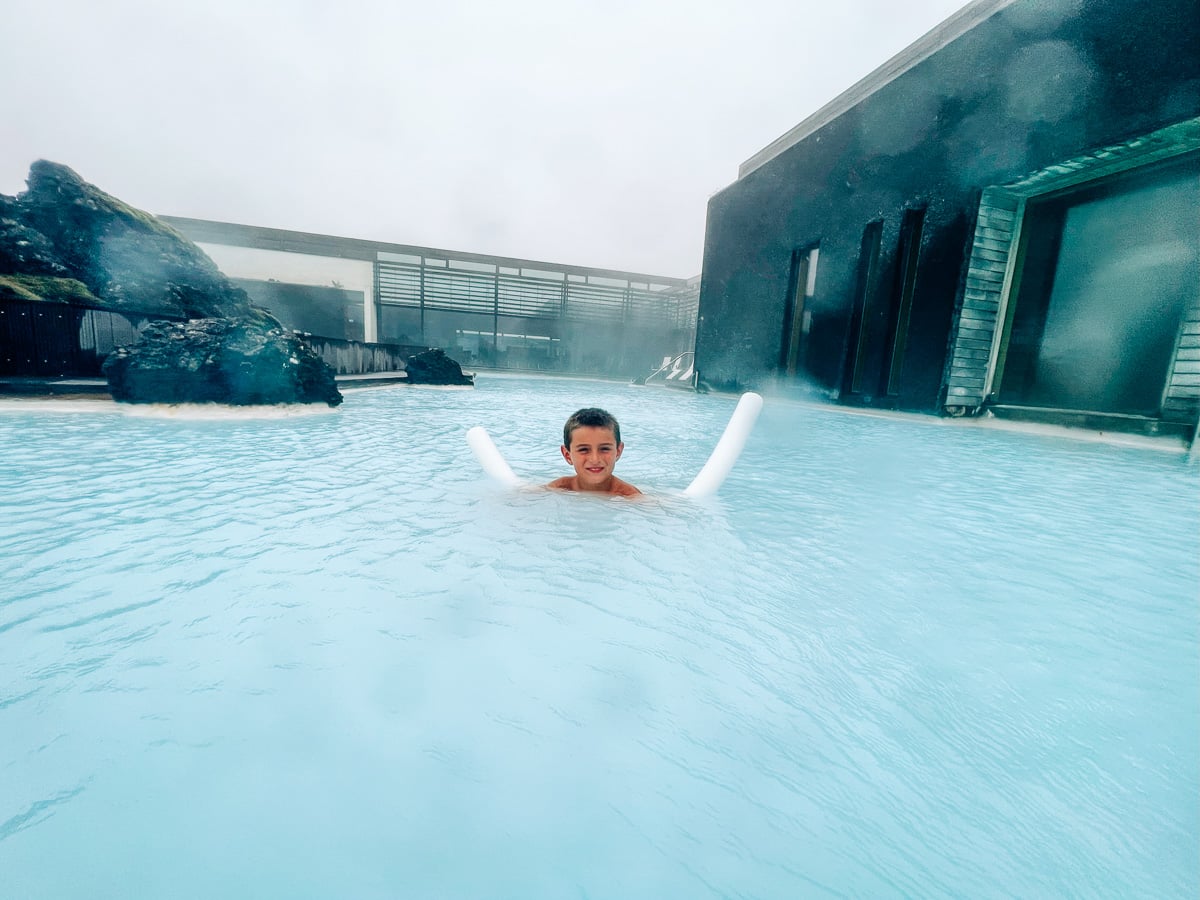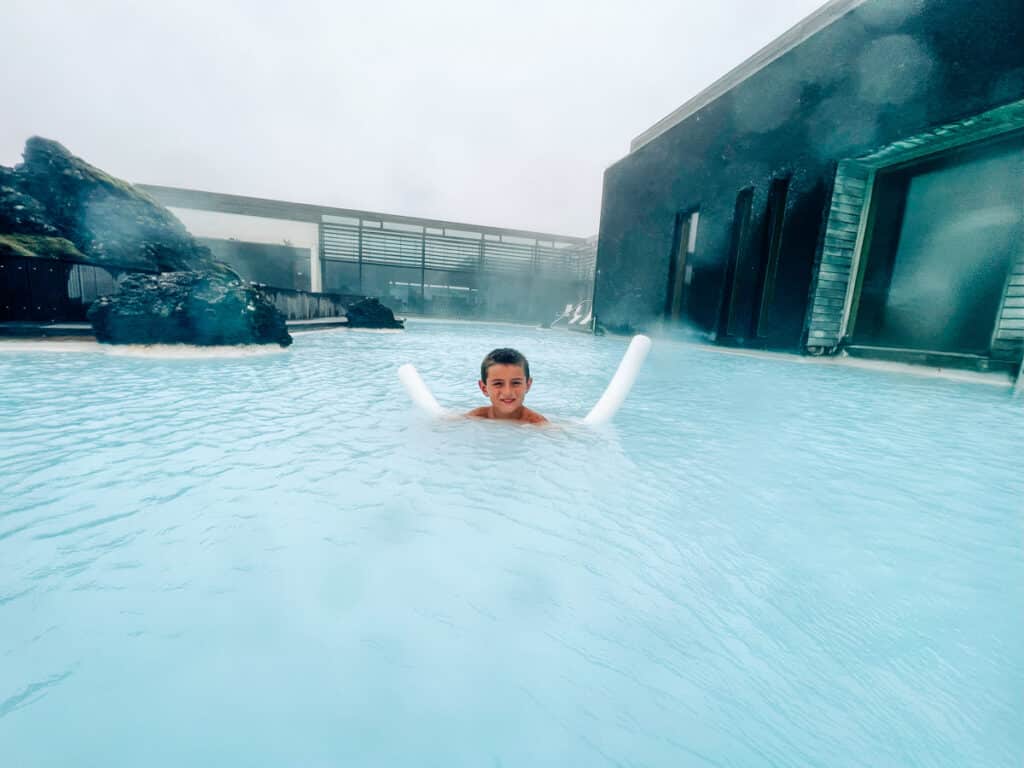 Location
The Silica Hotel is part of the large Blue Lagoon complex, which is one of Iceland's most well known tourist attractions. It's located about 40 minutes outside of Downtown Reykjavik in the Reykjanes Peninsula.
This is a very cool area to explore while visiting Iceland with some neat geothermal areas, lava fields, and the famous Bridge Between Continents. So in addition to the Blue Lagoon, Silica Hotel is a great home base for exploring the whole Reykjanes Peninsula.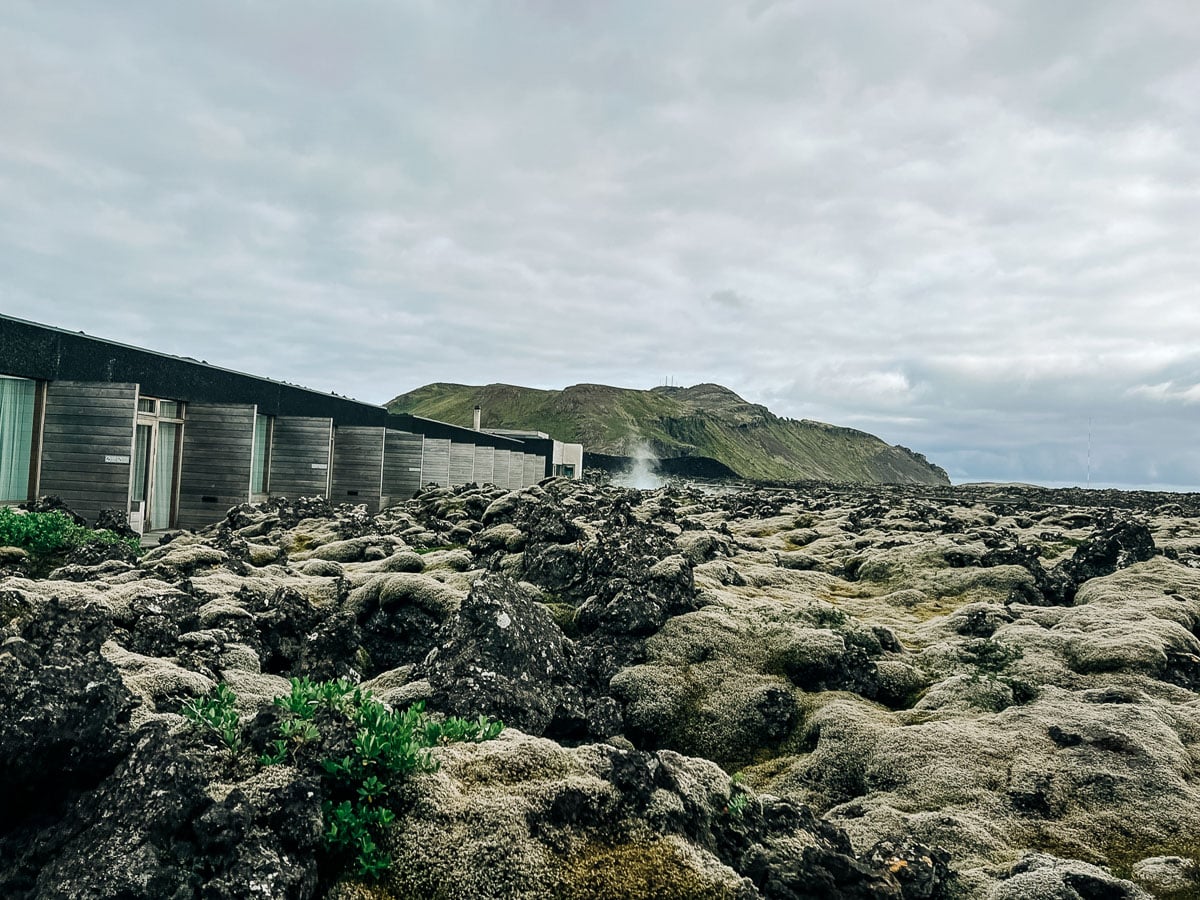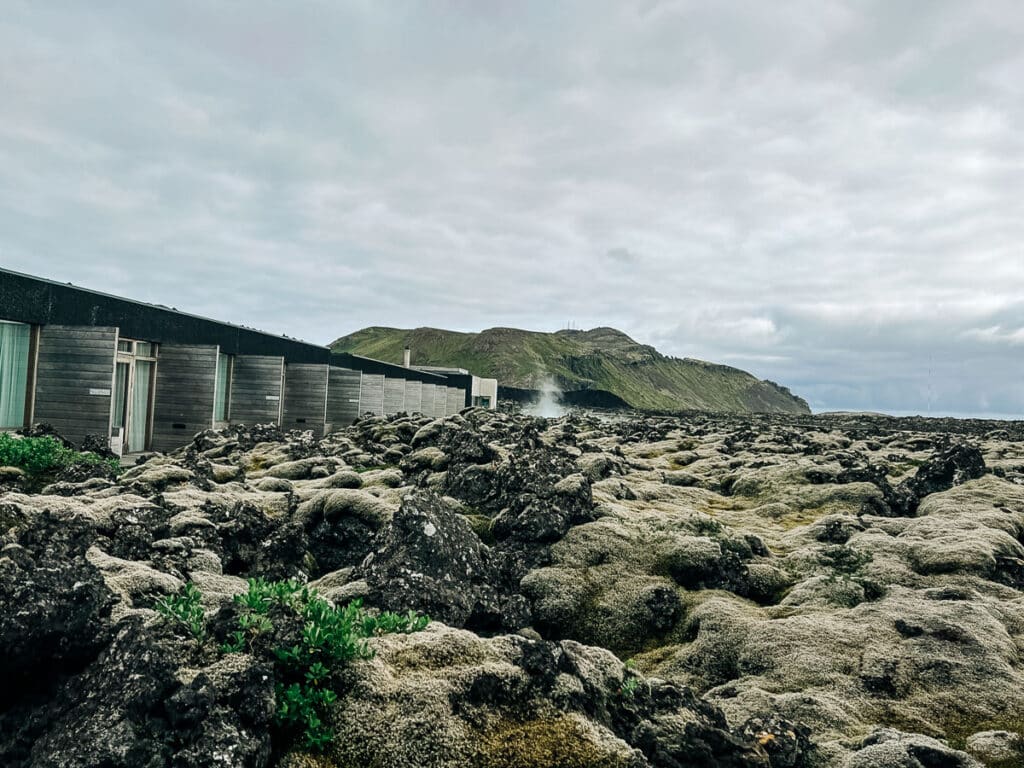 In fact, the hotel itself sits smack in the middle of a lava field. If you take a look at the design, you can see that the hotel is literally built around the rocks so as to disturb the natural beauty as little as possible. Very cool.
The nearby town of Grindavik is just a 15 minute drive away, and is a cool place to check out the commercial fishing boats and a few delicious local restaurants.
Access to Blue Lagoon
Now of course you will want to make a visit to the Blue Lagoon on your stay – in fact that's probably the reason you are considering staying at Silica Hotel in the first place, right?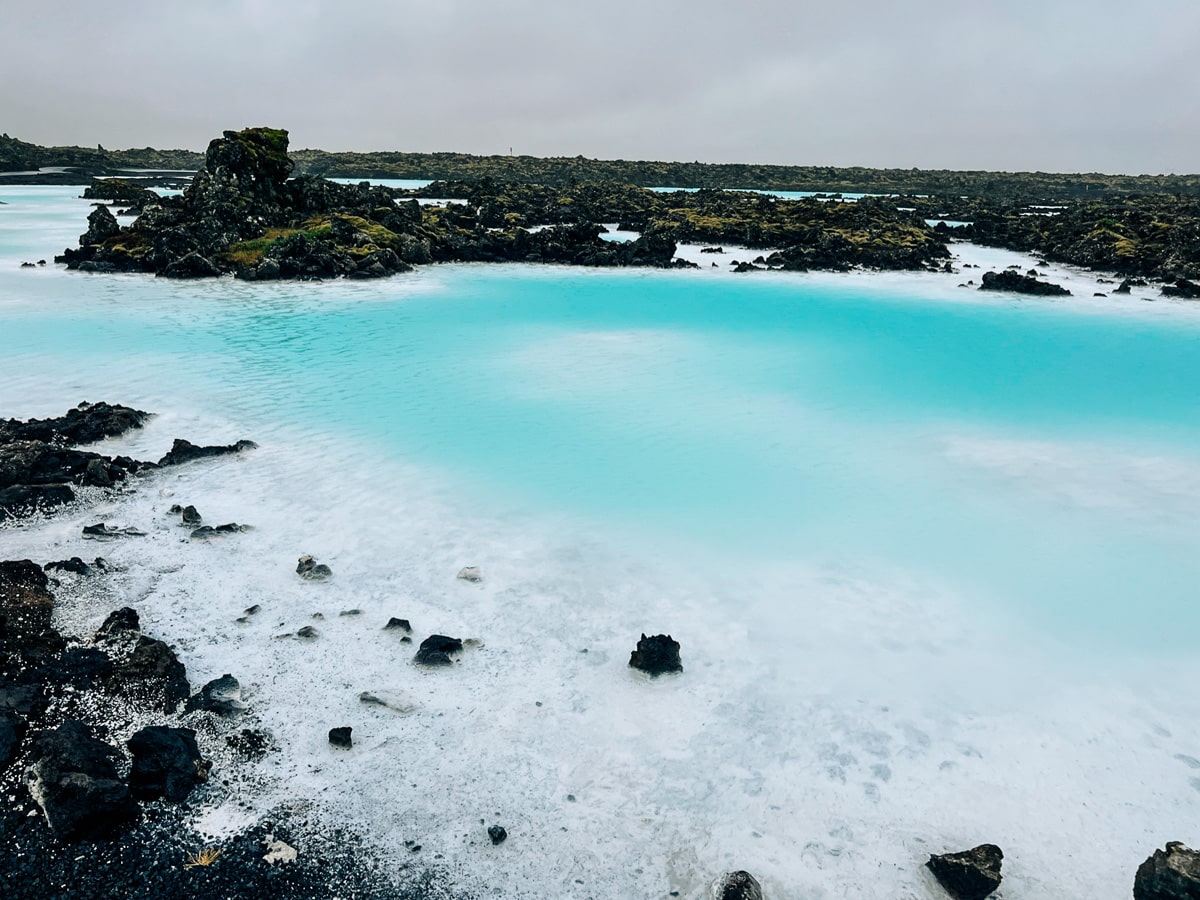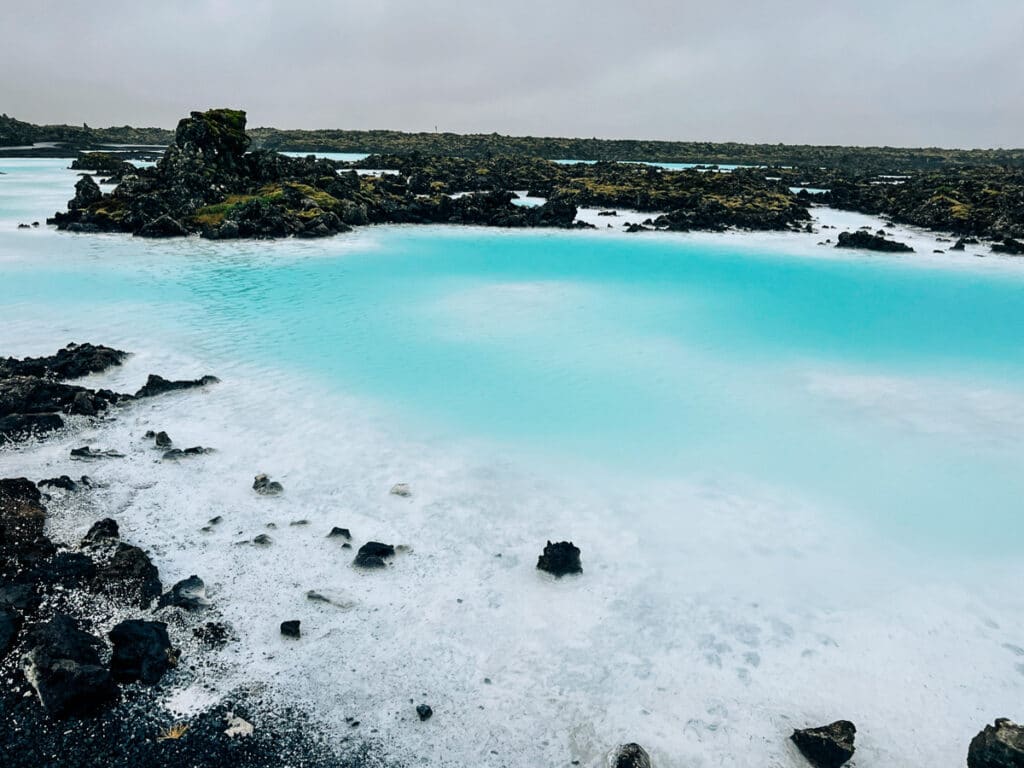 Access to the Blue Lagoon comes complimentary for Silica Hotel guests. Everyone booked in the room will get one complimentary premium access to the lagoon for each night of the stay. We stayed for two nights, but just made one visit to the main Blue Lagoon, which is probably enough for most people (it is a tourist attraction after all).
A couple things to note here. You do not have to make a reservation for Blue Lagoon in advance. Hotel guests can simply go down to the reception desk when ready to make their visit, and they will call over and make you a reservation for right then. You'll get priority access, so no need to worry about it being booked up.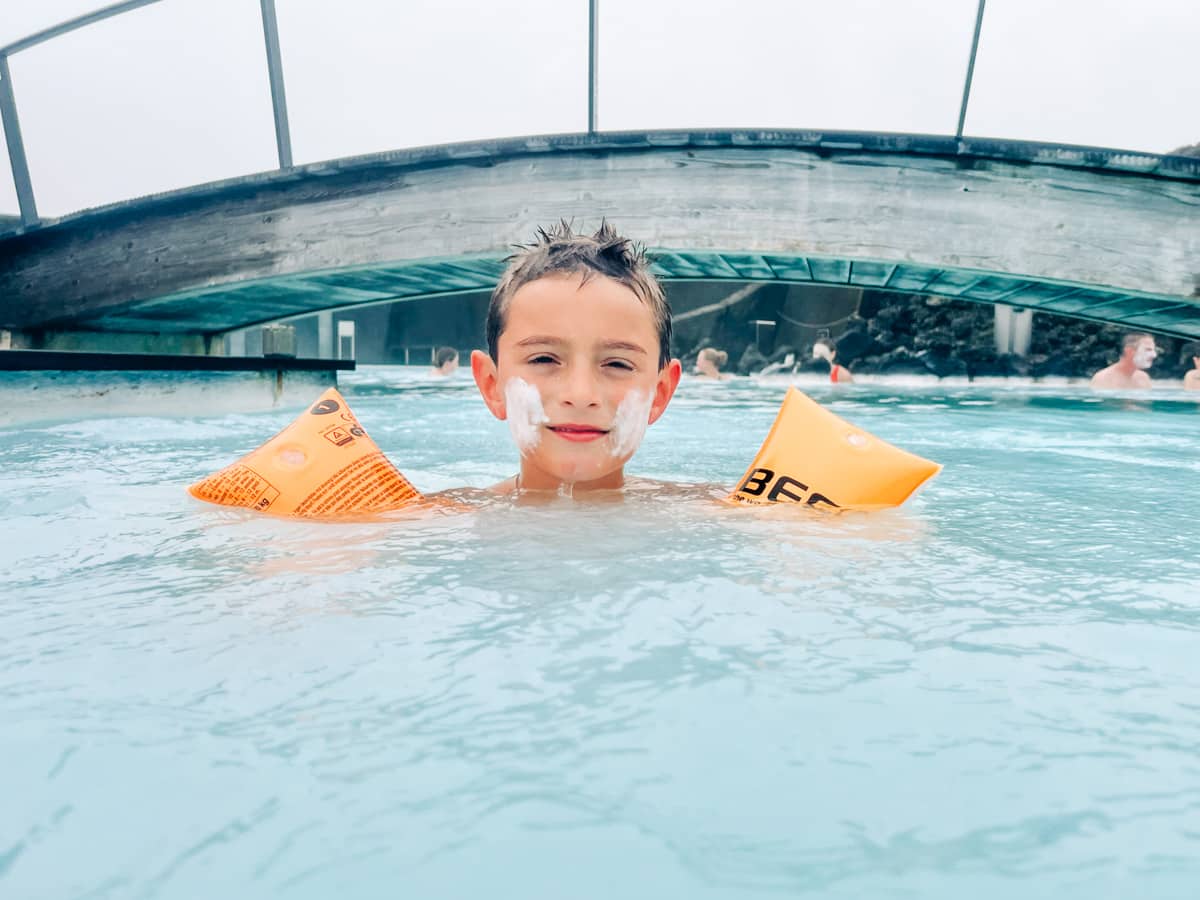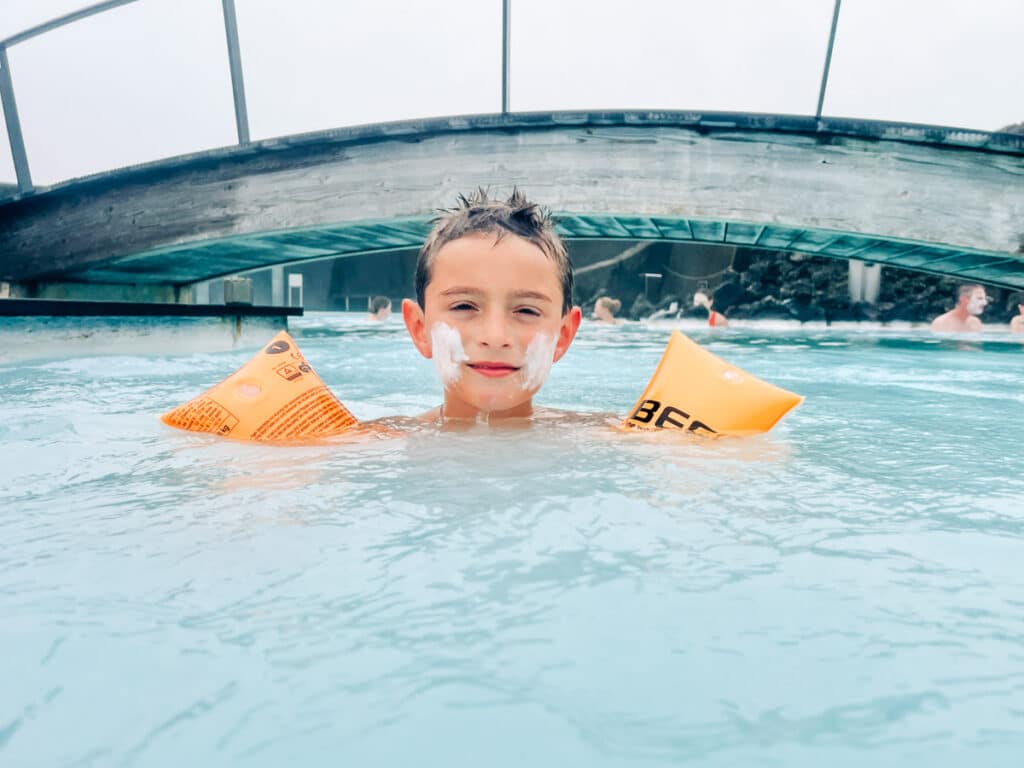 This is a really nice benefit since the Blue Lagoon often books up weeks in advance, making the prime time slots difficult to get in the busy summer season. Having flexibility on time means you can go when you're feeling like it and the weather cooperates, and aren't locked into a time slot you booked months ago.
In addition, you get the premium access which includes a couple extra benefits over the regular access. You'll get the use of complimentary bathrobes at the lagoon, there's a priority line for check in (helpful if it's busy), a free drink (including for the kids – mine got an icee), and three complimentary face masks (the regular entry just includes the first one free).
Considering that Blue Lagoon tickets are somewhat pricey – this adds a fair amount of value to staying at the hotel.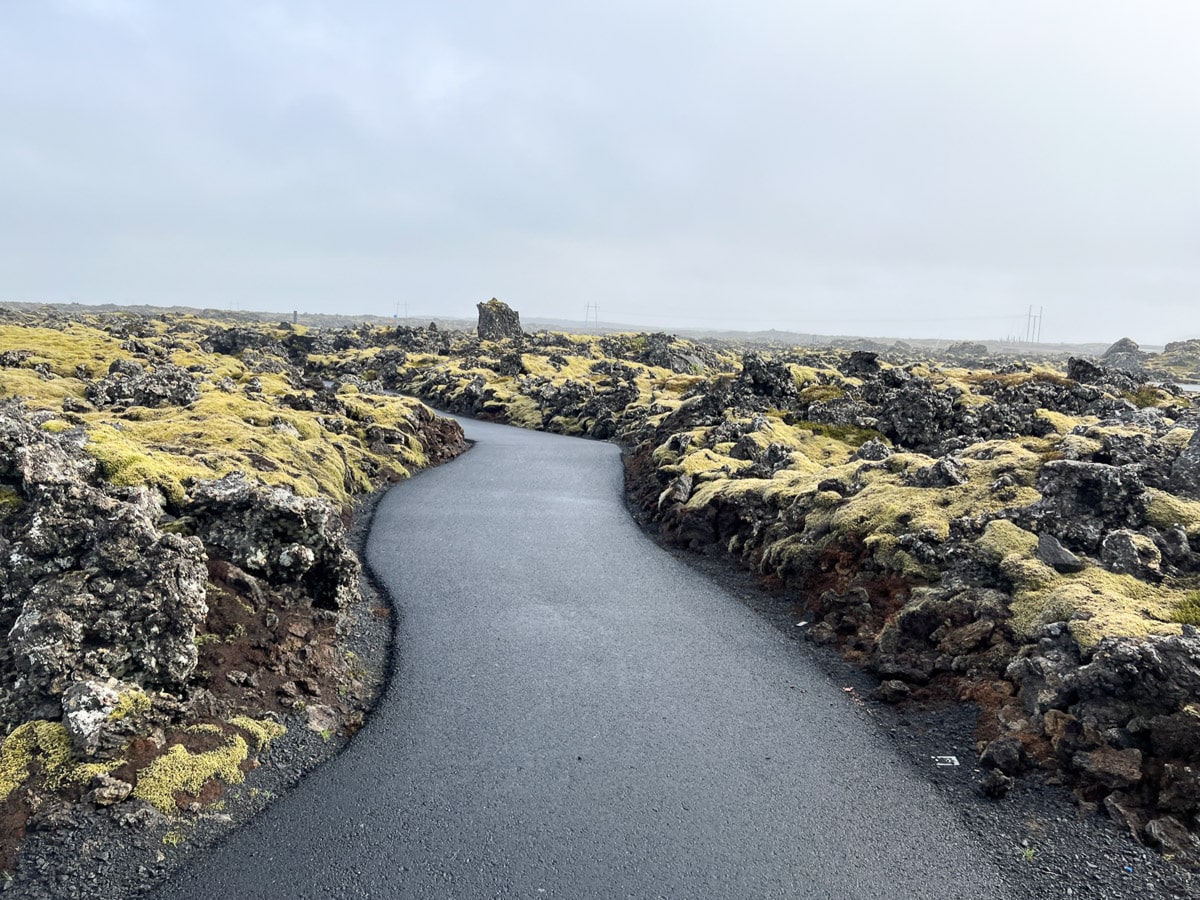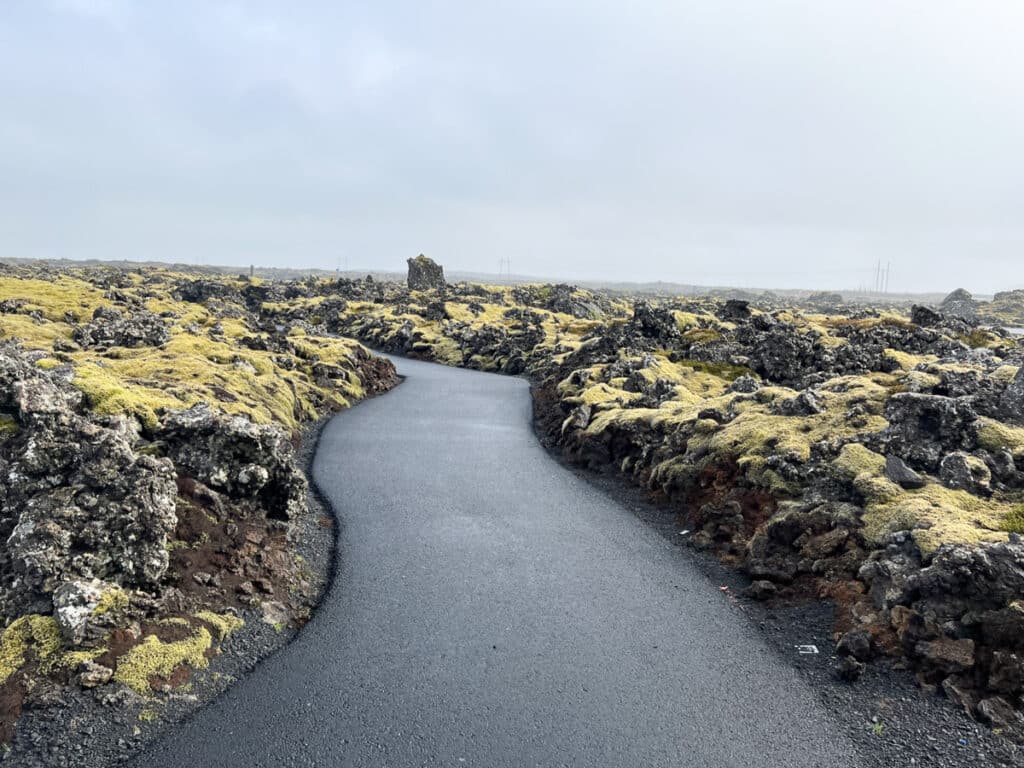 Oh, and you can simply walk over to the main Blue Lagoon from the hotel. There's a short walking path that takes 5-10 minutes and winds through some really cool lava fields and the blue lagoon waters. Very cool. Although, I wouldn't recommend walking it during rain and hurricane force winds like us! :-D
The Private Silica Lagoon
Now here is where Silica Hotel really earns every penny that it costs to stay here. (And it's pricey.)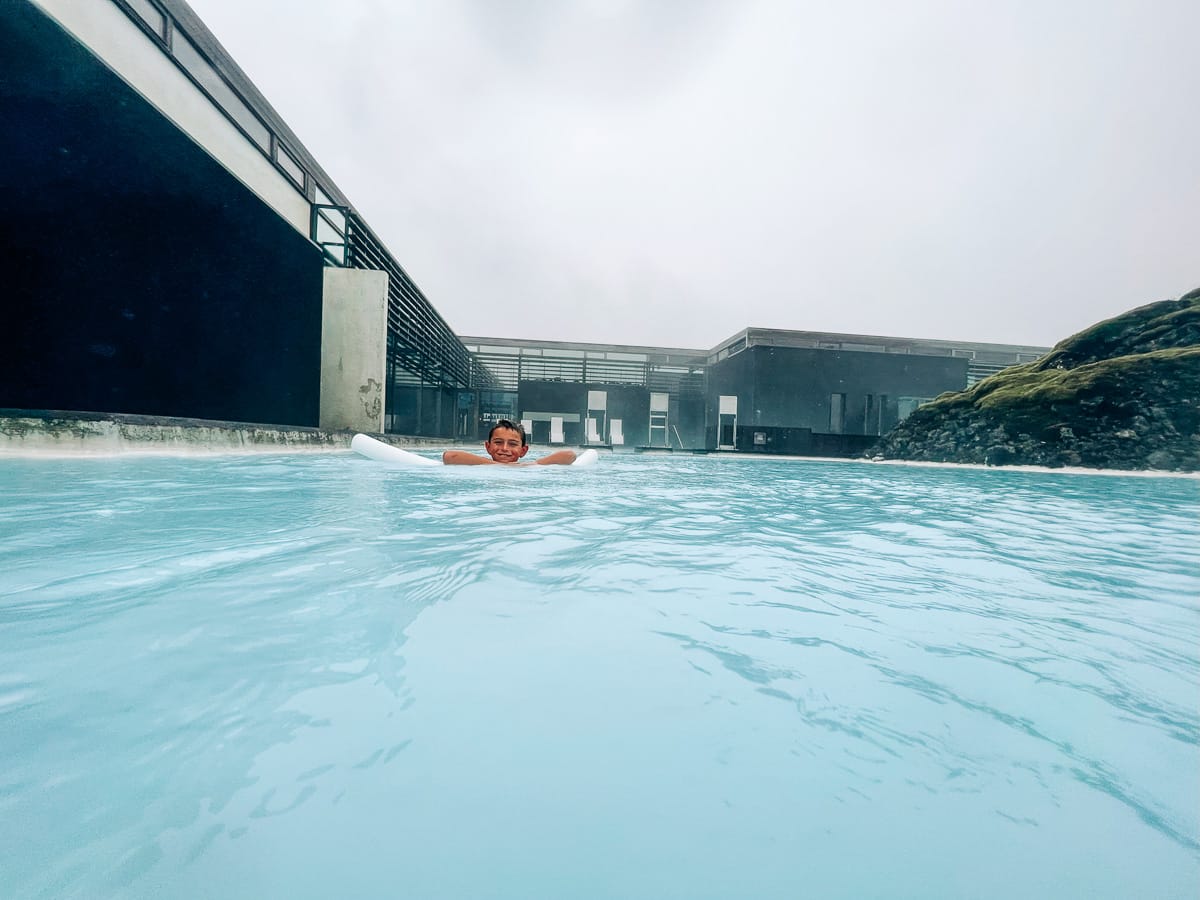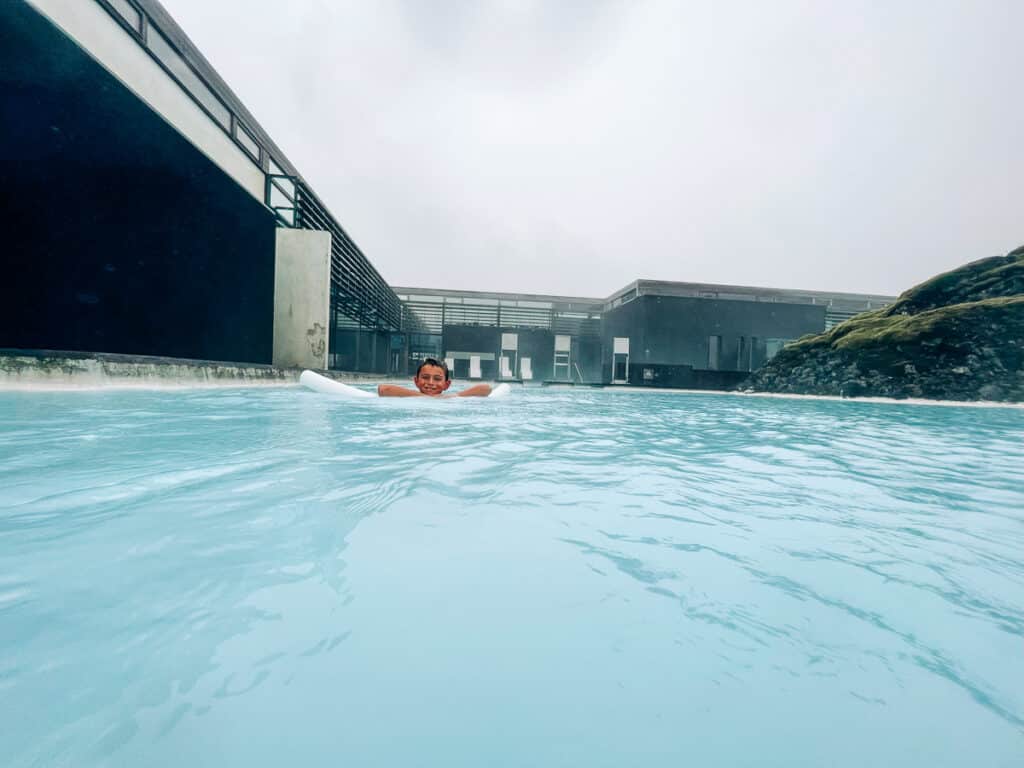 The hotel has a private geothermal lagoon that is reserved just for hotel guests. It's basically a smaller and quieter version of the famous Blue Lagoon. But with only 35 rooms at the hotel – it is very private. And it is absolutely the main reason to stay here.
So first off, when you visit the main Blue Lagoon you will need to plan on changing and showering in their larger locker rooms. Not a big deal, but not nearly as comfortable as getting showered and dressed in your own hotel room, which is perfectly acceptable at the hotel.
You'll be given robes and flip flops – so shower and change to your swimsuit in the privacy of your room and then go down to the lagoon in your robe. Everyone will be doing it, so don't feel weird walking around in a robe!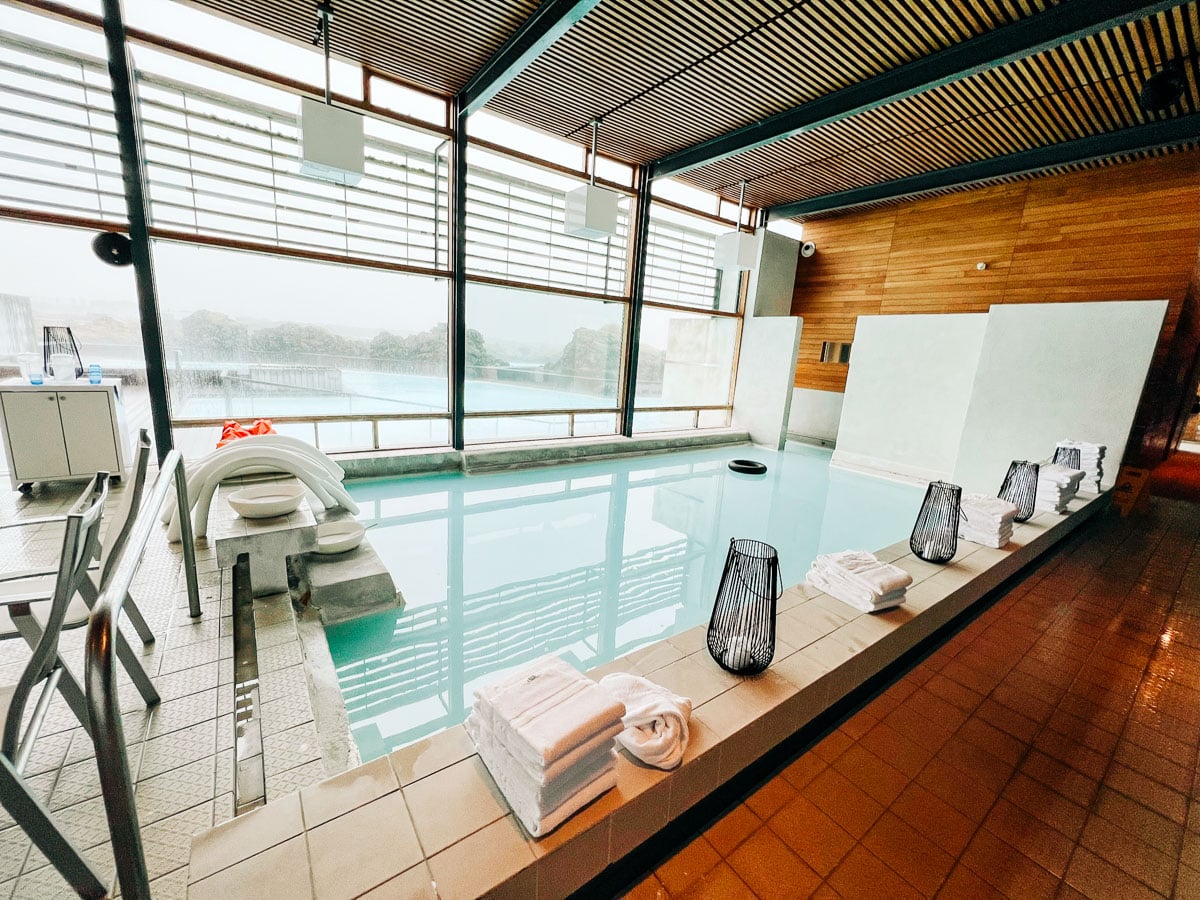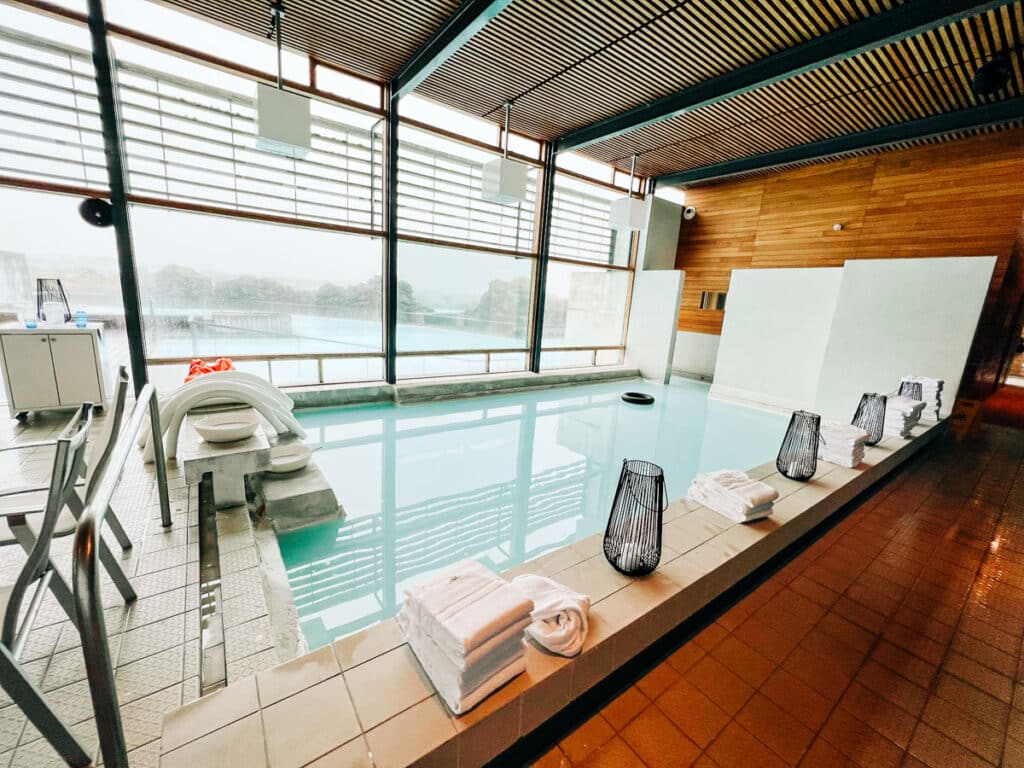 You can enter the lagoon from inside – you get into the indoor pool and go through a doorway to the outdoor lagoon. So you never have to step out into the freezing cold air. Very nice!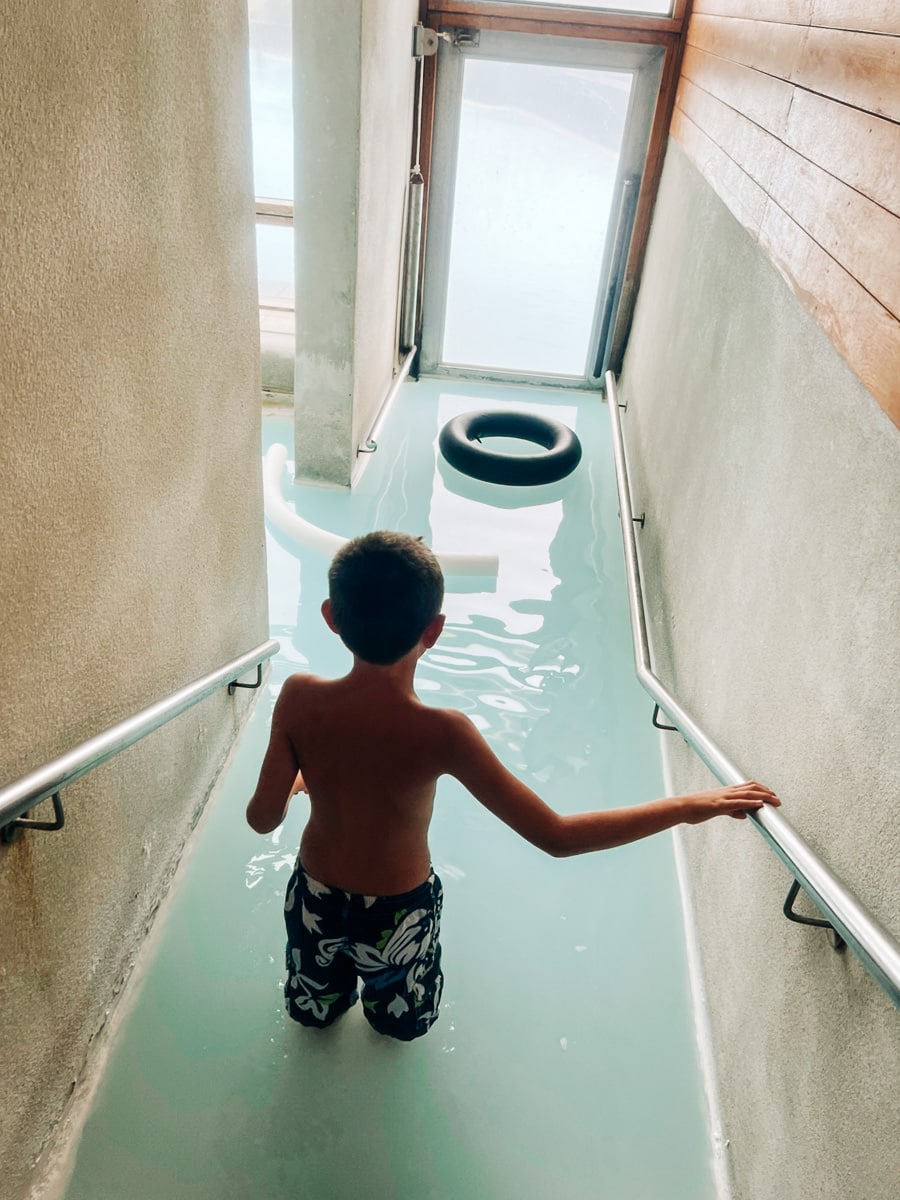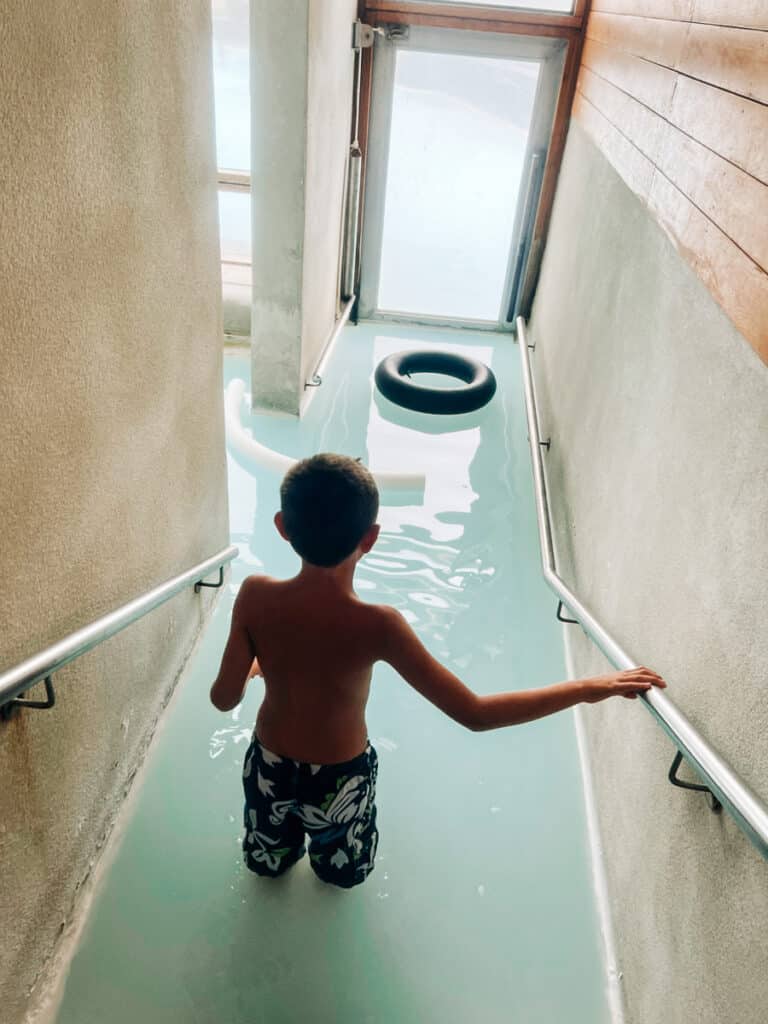 And the lagoon is huge! It feels like it goes on and on, and there were never more than 3-4 groups in at a time while we were there. So it is private and quiet. Very relaxing.
They have bowls of their famous face masks out around the pool, so you can help yourself if you want to try them out. There are also plenty of fresh towels available and pitchers of cold ice water to help yourself to. Plus there were arm floaties and pool noodles set out for anyone to use as well.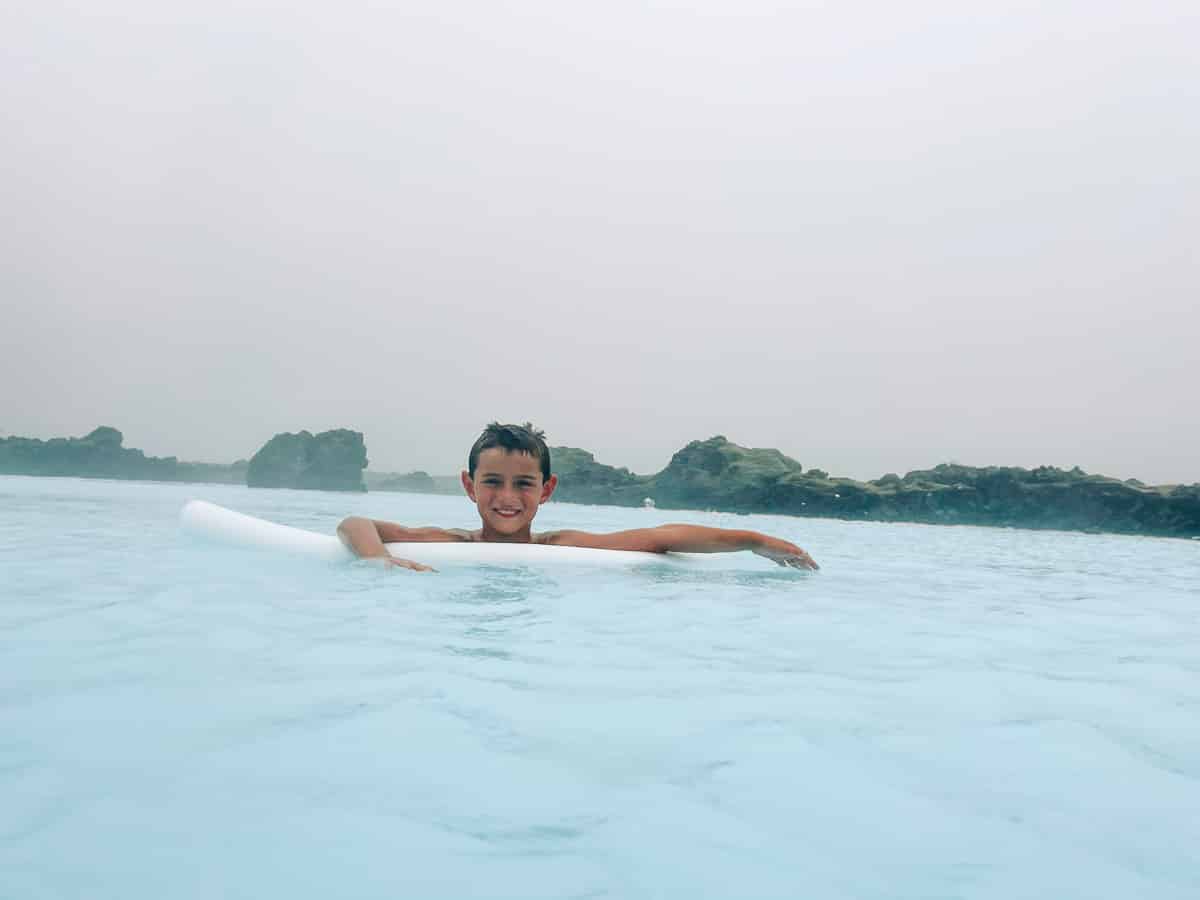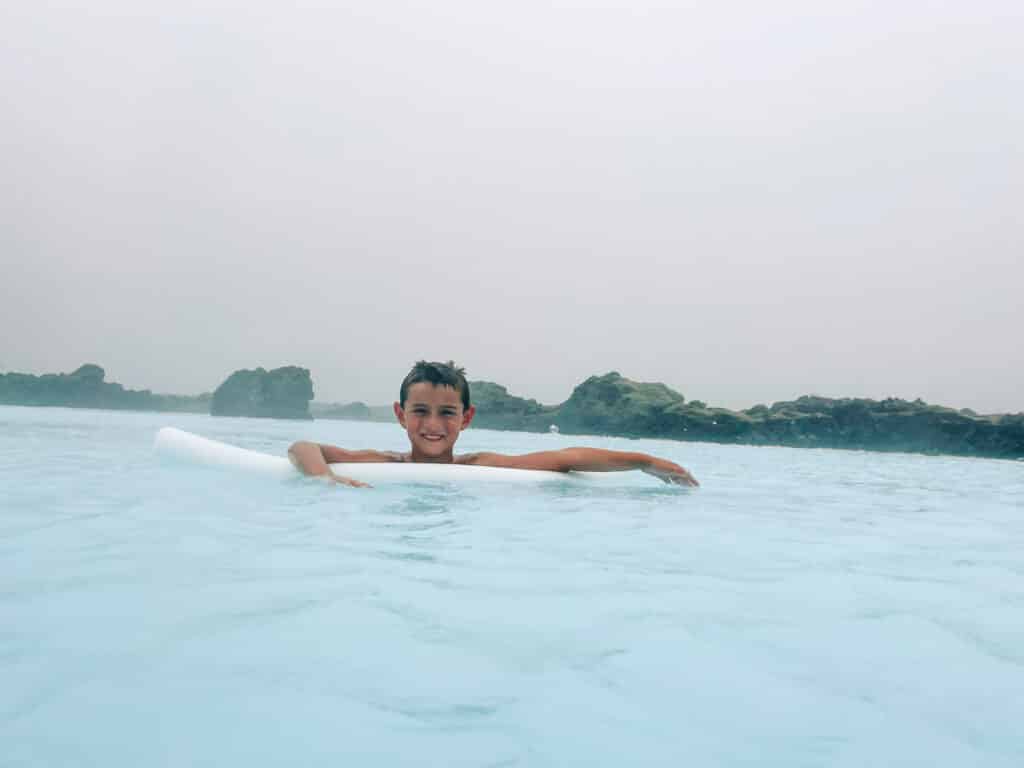 While there is no swim up bar like the main Blue Lagoon, you can easily pop into the hotel bar in your bathrobe and grab a glass of champagne, which many people were doing. Oh, and they included a free drink each as a welcome. Nice touch!
And when you're finished, there is a large locker room with showers and changing areas available. Or of course, you can just go up to your private hotel room and shower.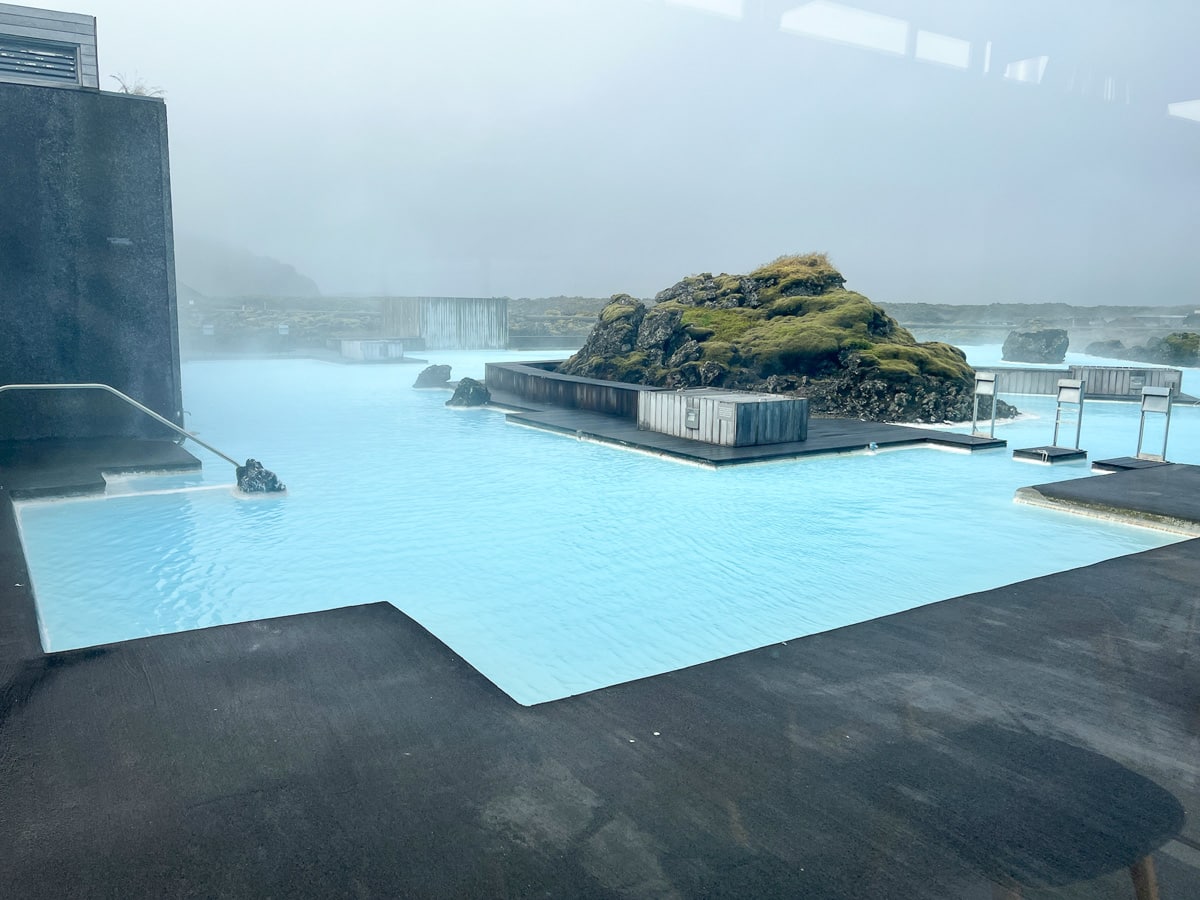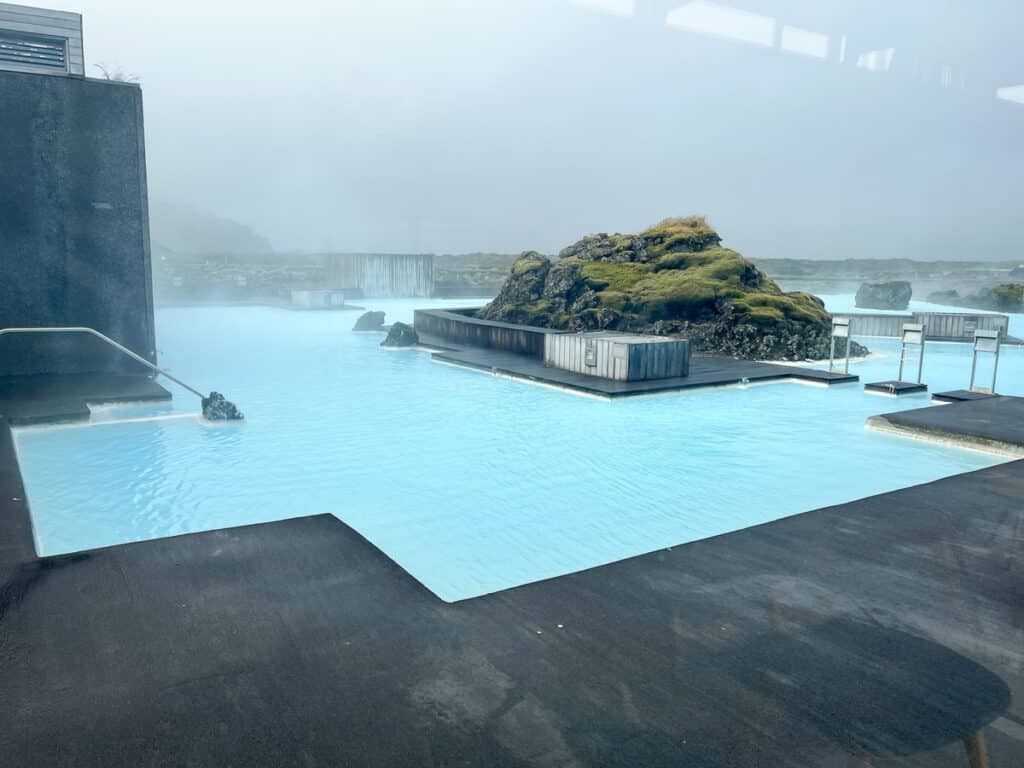 Overall, the private lagoon was such a great experience and we really felt it was worth what we paid to stay at the hotel, which was definitely a splurge.
Rooms
The rooms here were also really nice! Clean and comfortable, with plenty of space, even with a third bed added for my son. There was even a sofa with a little coffee table, which was nice for eating in the room (which we did one night).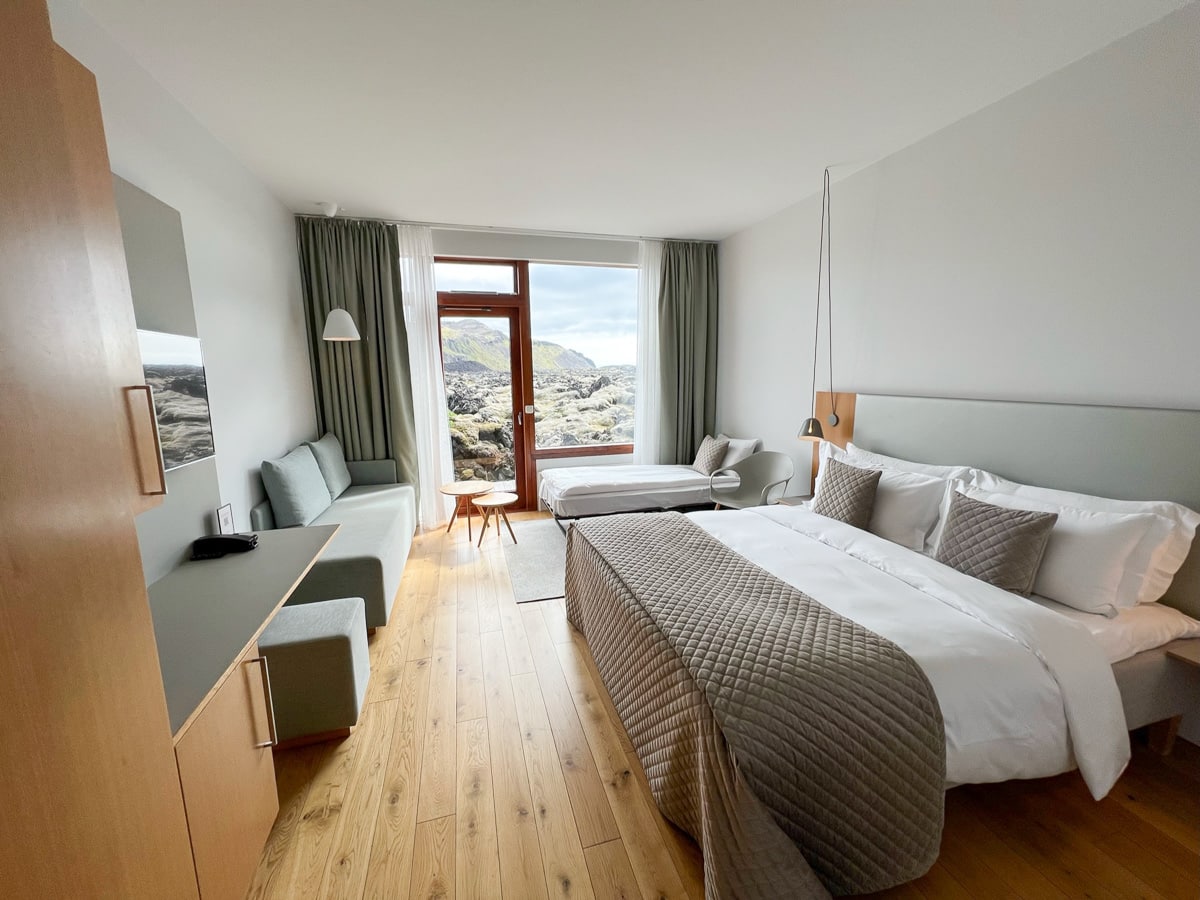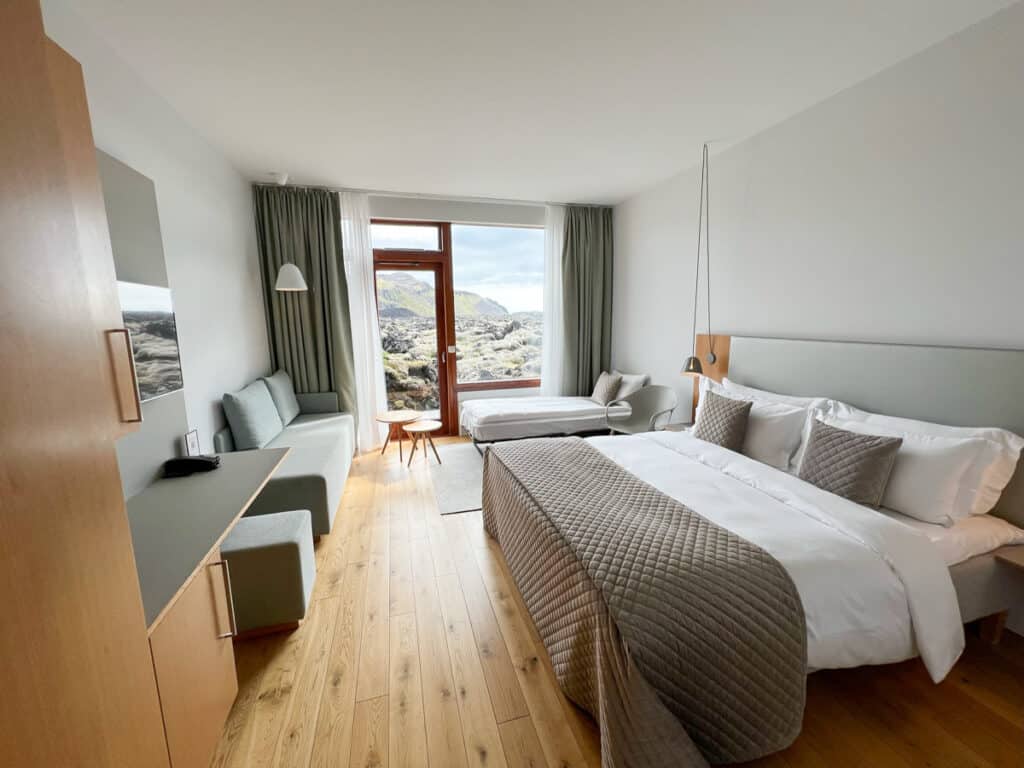 The rooms were set up with all the nice little luxuries. There was a mini fridge – which is always a huge convenience when travelling. And it was stocked with free sparkling water and sodas – another nice little touch. There was a coffee machine and a kettle for making tea. Outlets by the bed. Blackout curtains.
And in the bathroom, there were plenty of towels and awesome toiletries. Silica is actually pretty well known for their skin and hair care products, and they were not stingy with providing them in the rooms. (Of course you can buy some when you check out if you want!)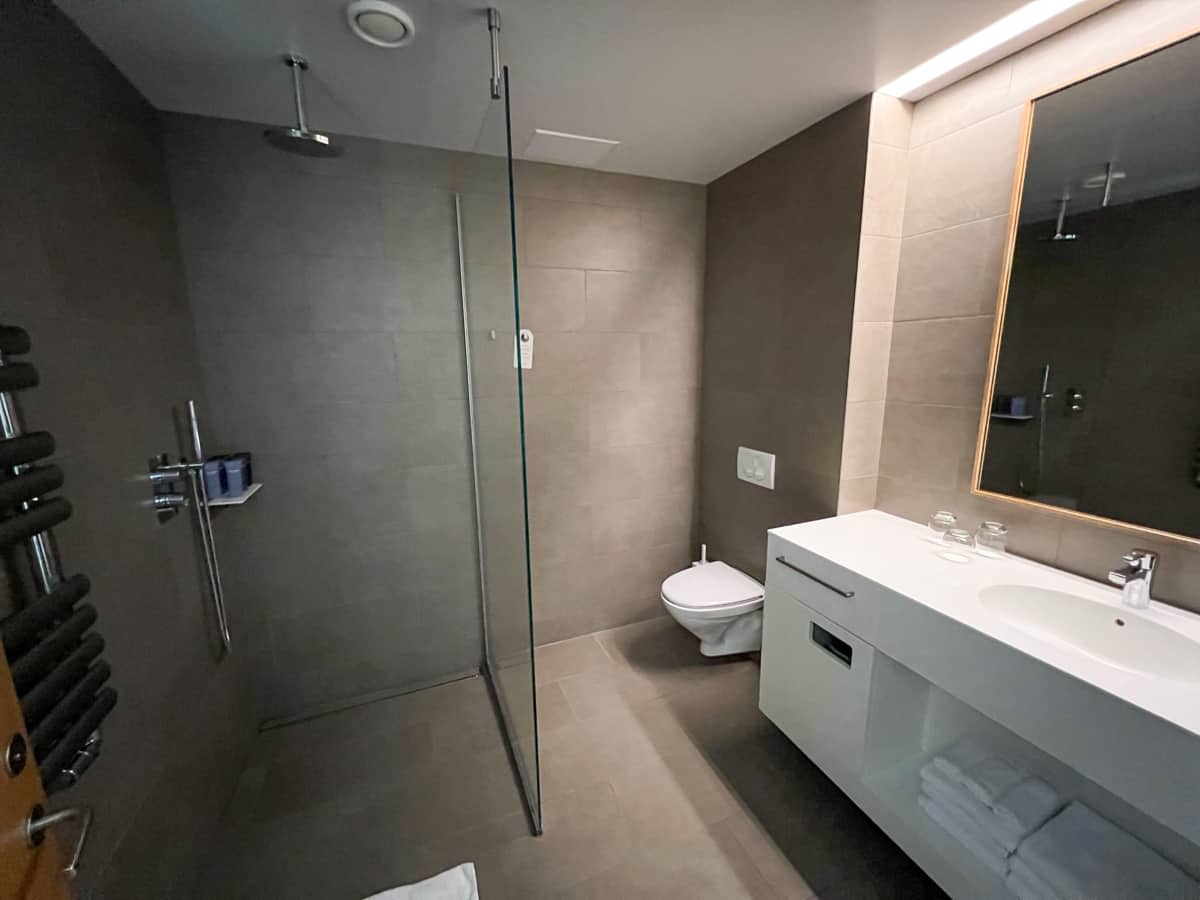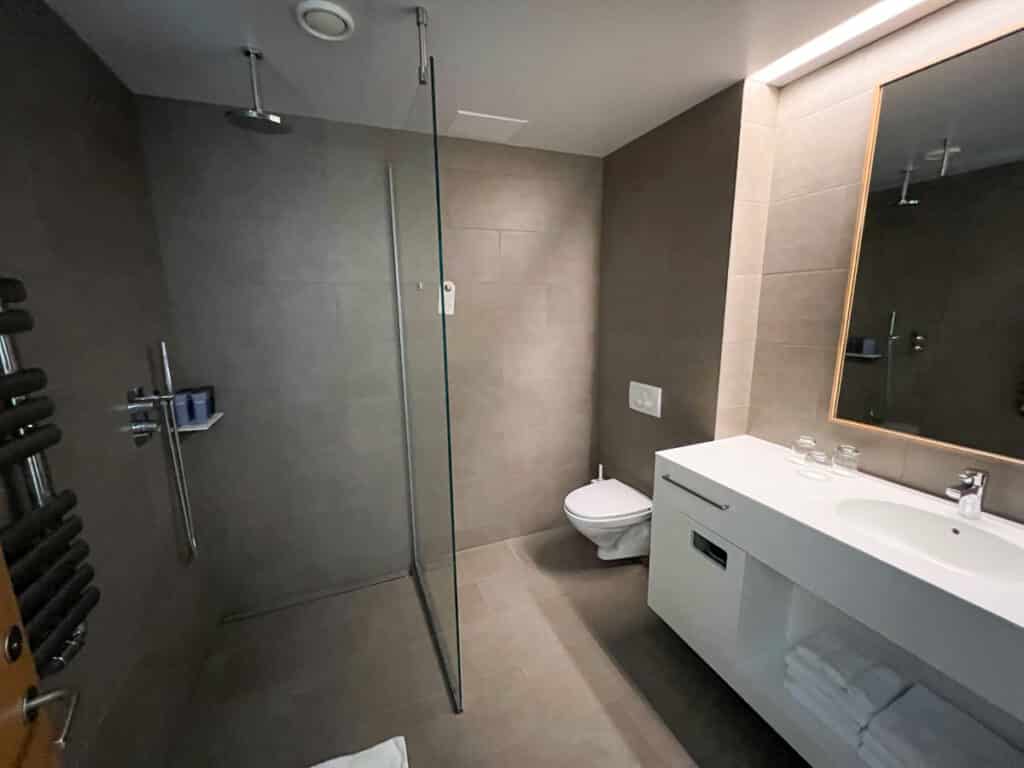 They were way more generous with the towels and toiletries than other hotels, which makes sense since their guests are spending most of their time soaking in the lagoon while there! Quick tip: The lagoon water is harsh on your hair. So wet it, lather it in conditioner, and tie it up before going in the water.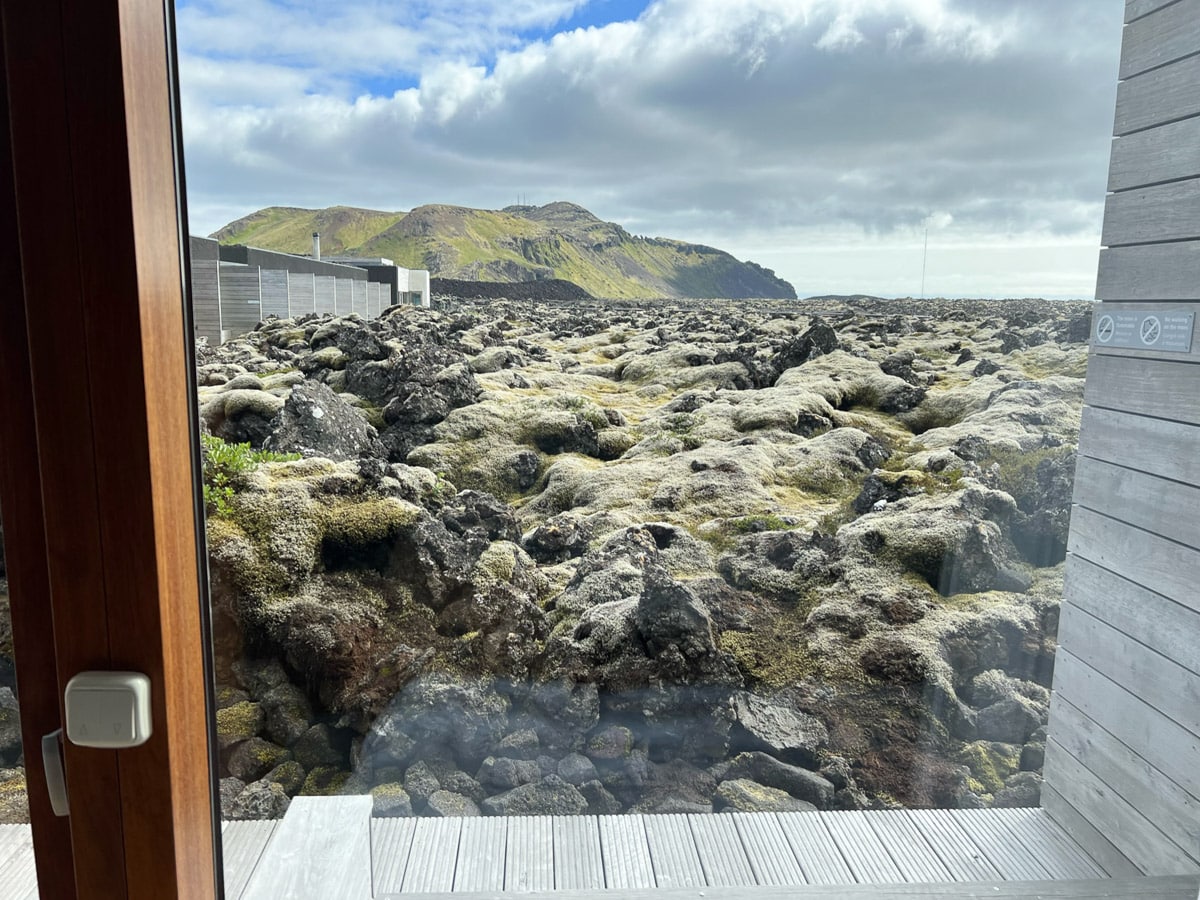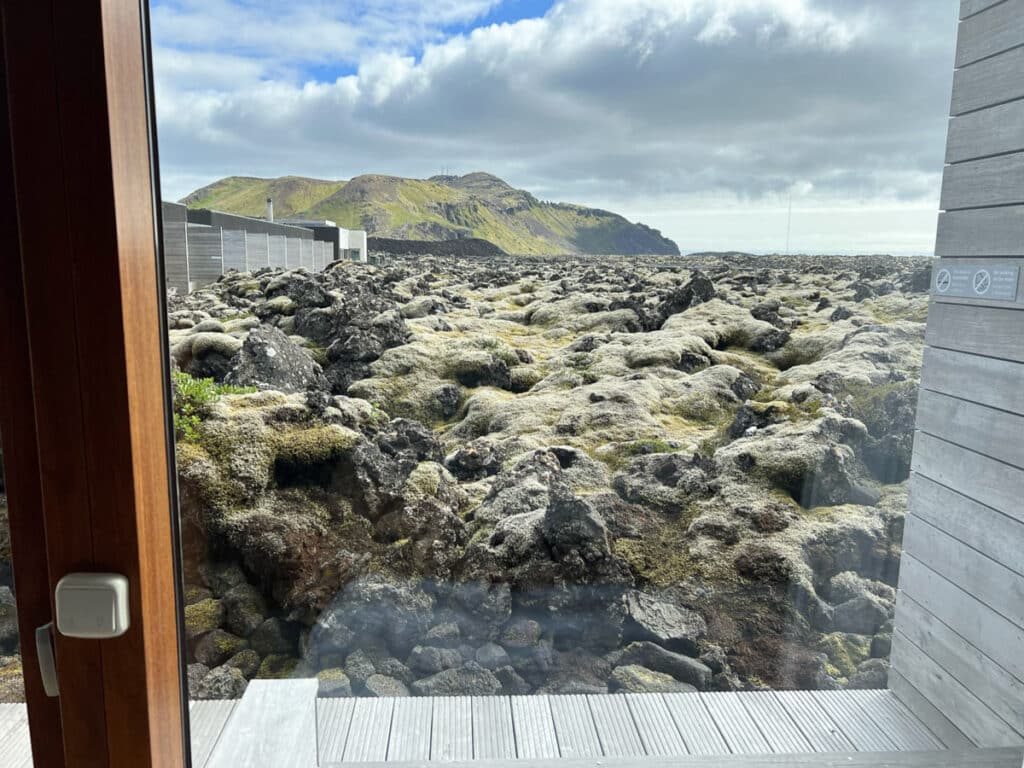 And of course, we have to talk about the view! We stayed in a Mountain Deluxe King Room (with an extra bed added). There was a great little outdoor patio with a bench that directly overlooked the lava fields. Very, very cool.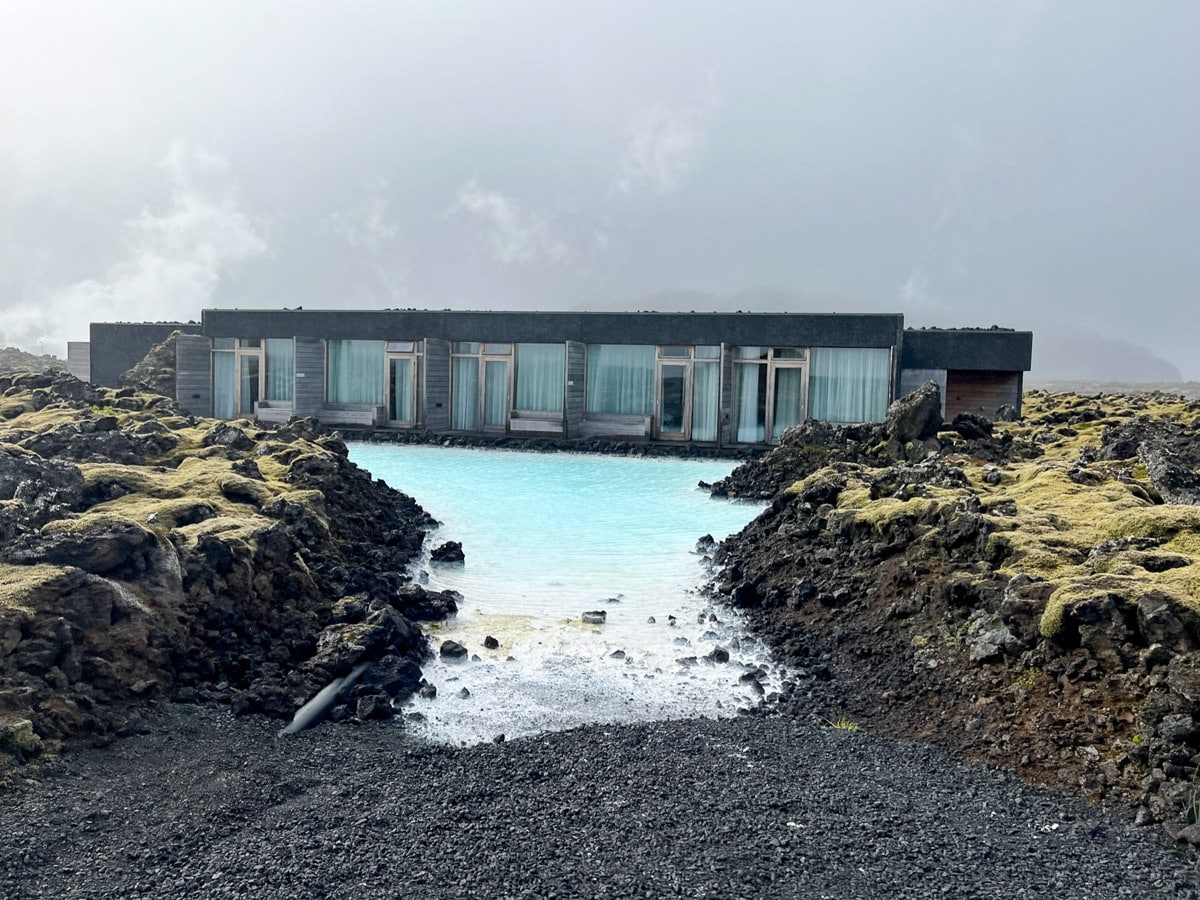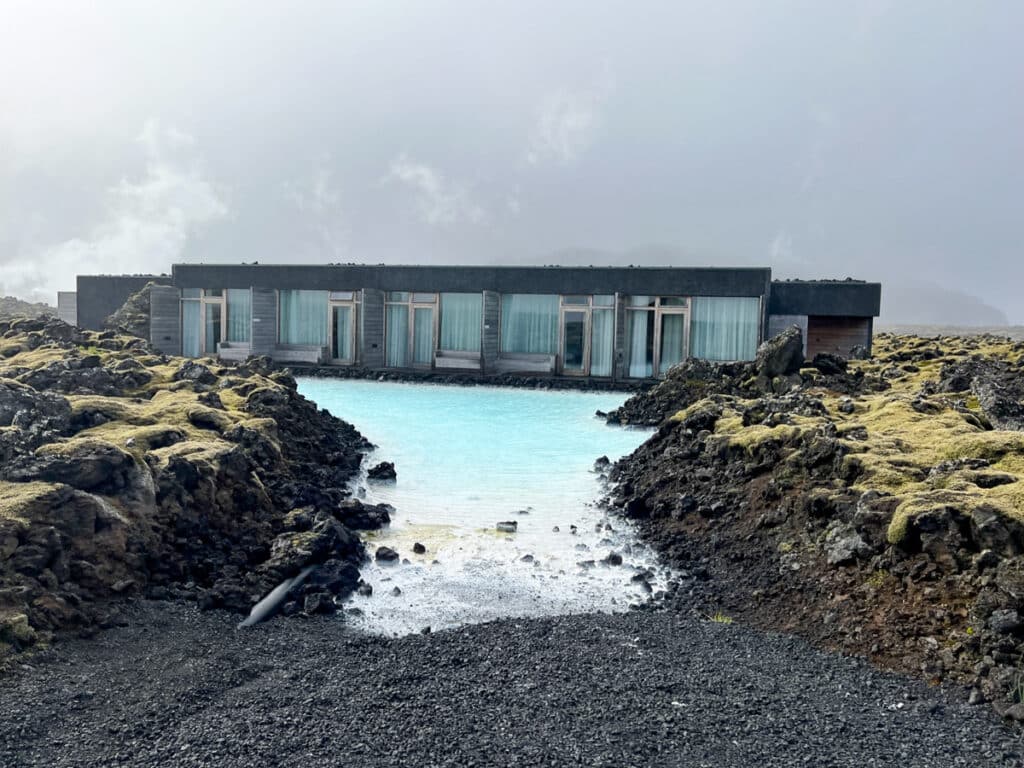 When choosing your room, there are also some rooms that have a lagoon view. Those are also pretty neat, with the blue waters flowing right past the hotel rooms. But note that you can't swim there – it's just for looking.
Amenities
The hotel has a lovely bar and lounge area, where you can grab a drink and enjoy a view of the private lagoon. There is no restaurant inside the hotel, but they do have some grab and go food items available and there is a café and the fancy Lava Restaurant at the main Blue Lagoon complex.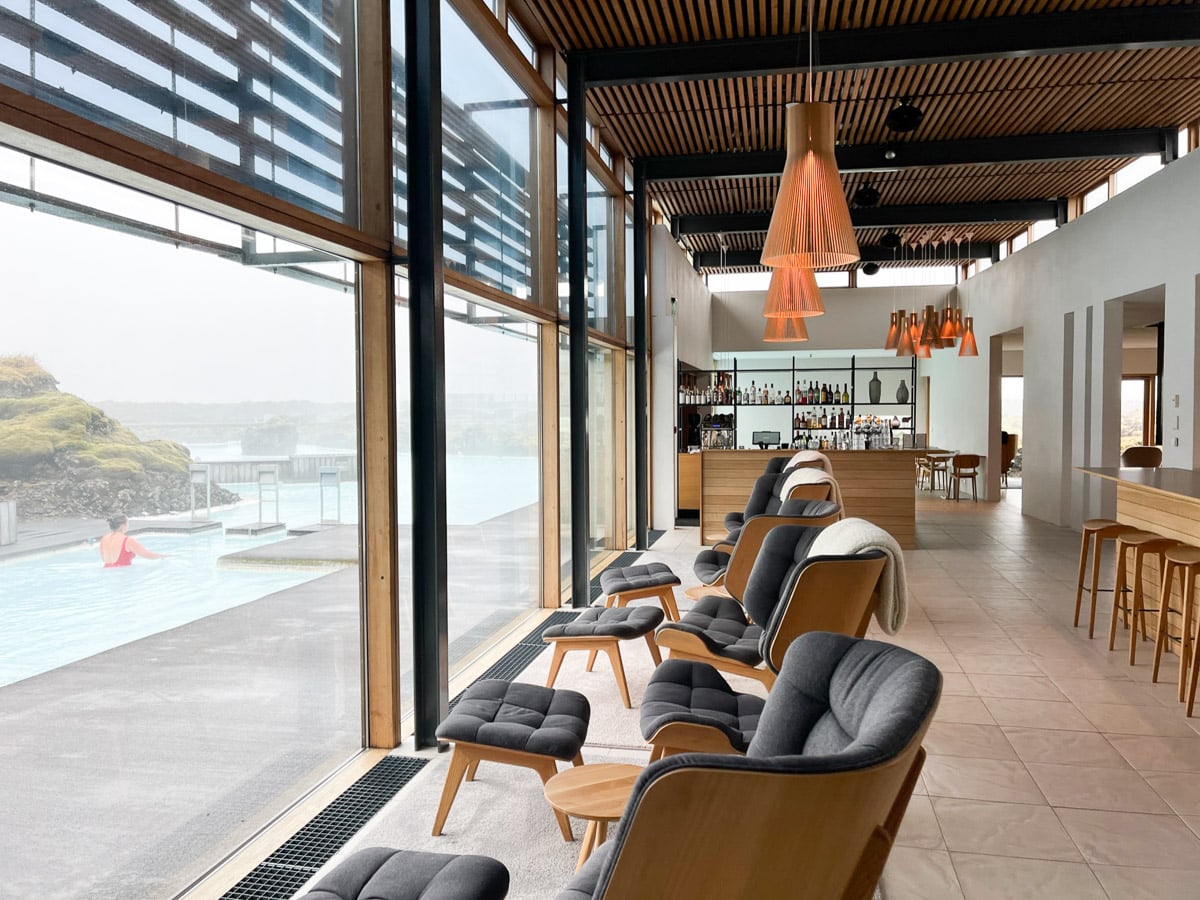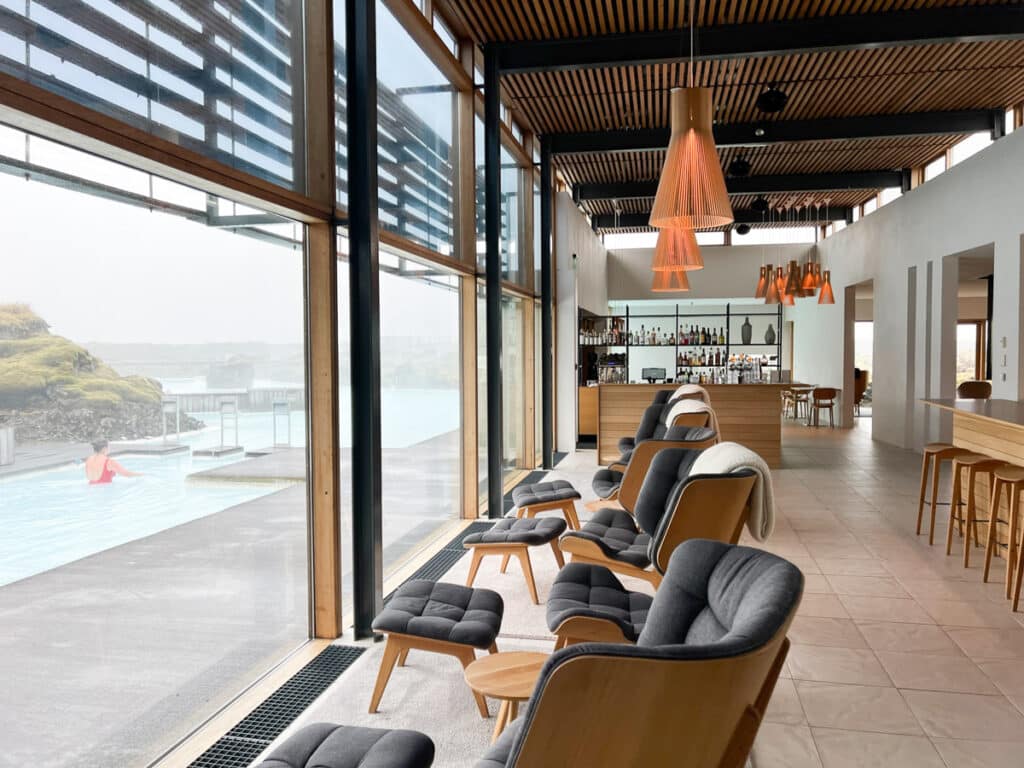 You can also order food in from some local restaurants, and the front desk was very happy to help us do that. In fact, they let us know about that option when we checked in. We ordered in a pizza one night, and my son was delighted when it was delivered right to our hotel room door.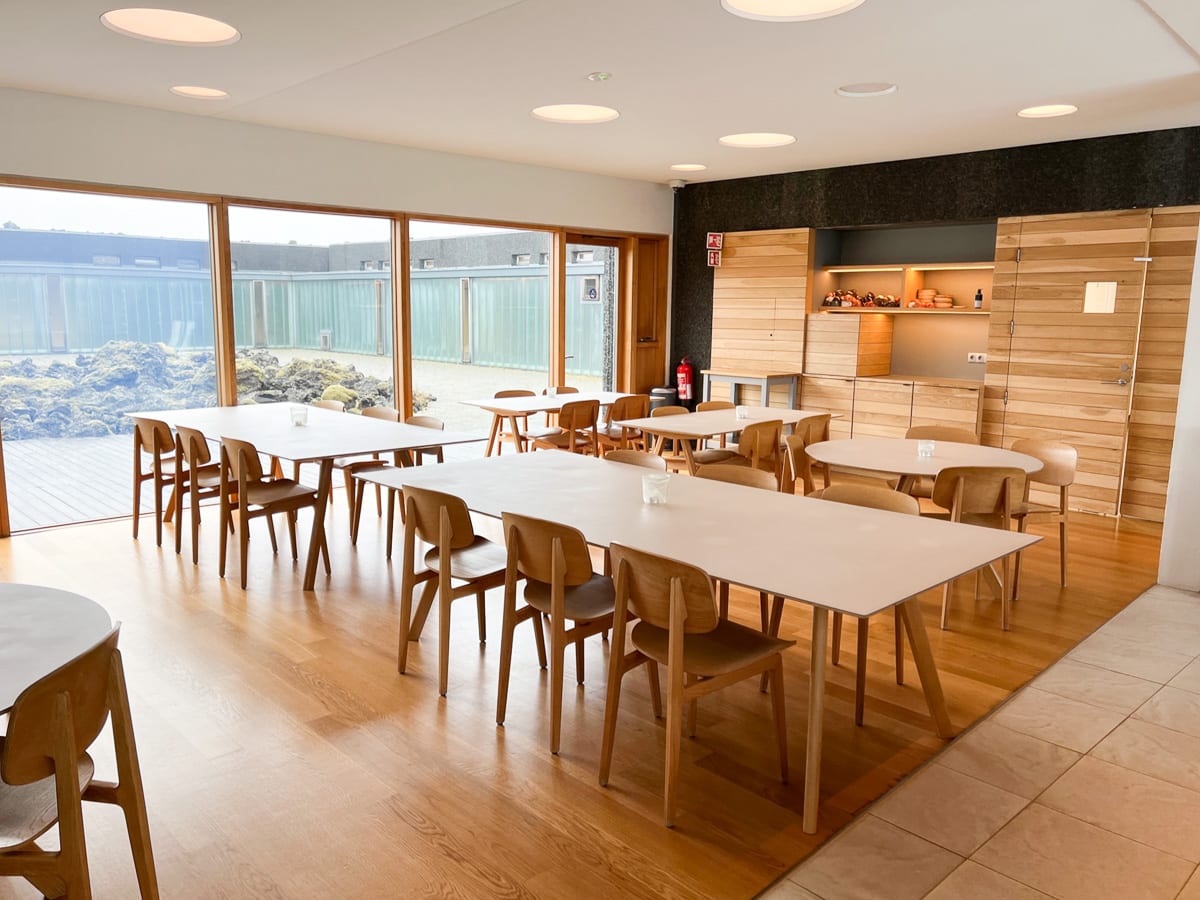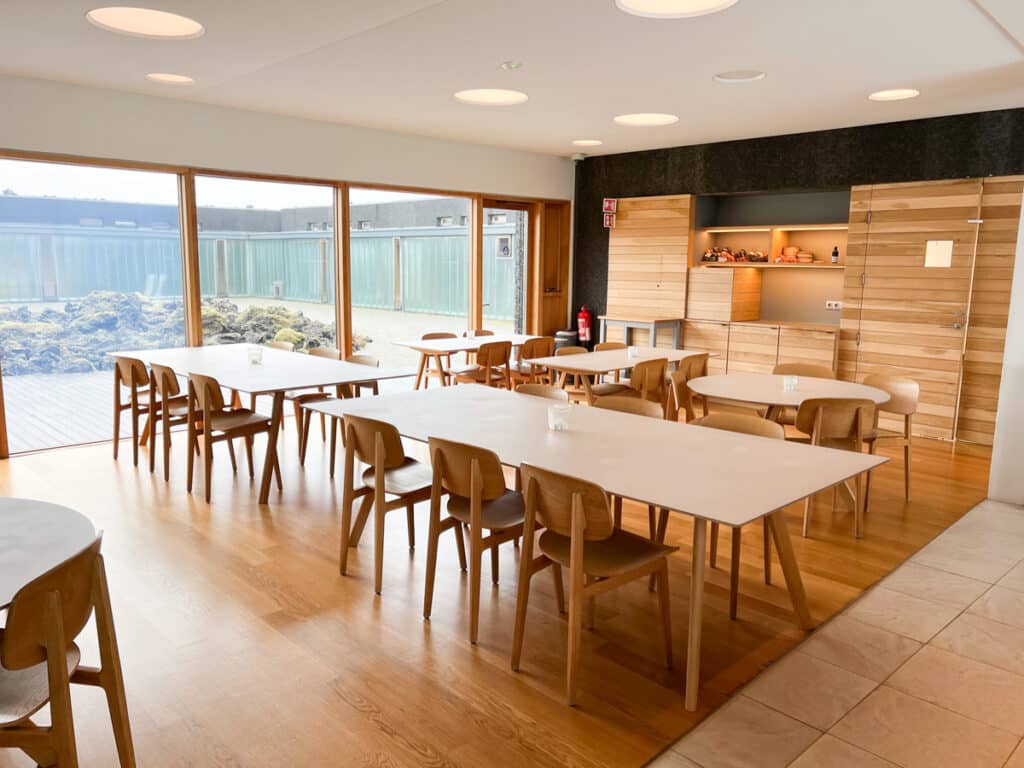 Breakfast was included with the stay, and was one of the better breakfast spreads we found on our trip. Lots of fresh baked bread, pastries, cheeses, eggs… the works.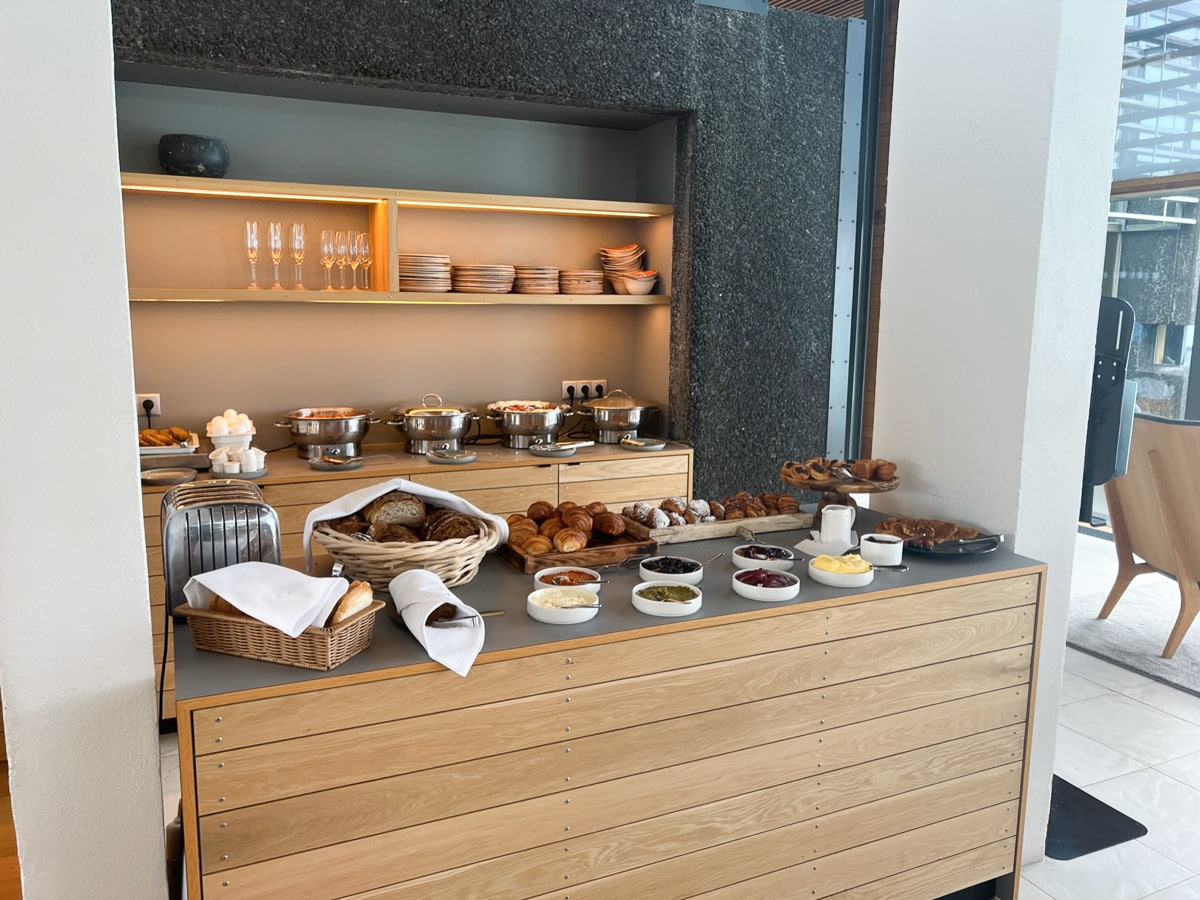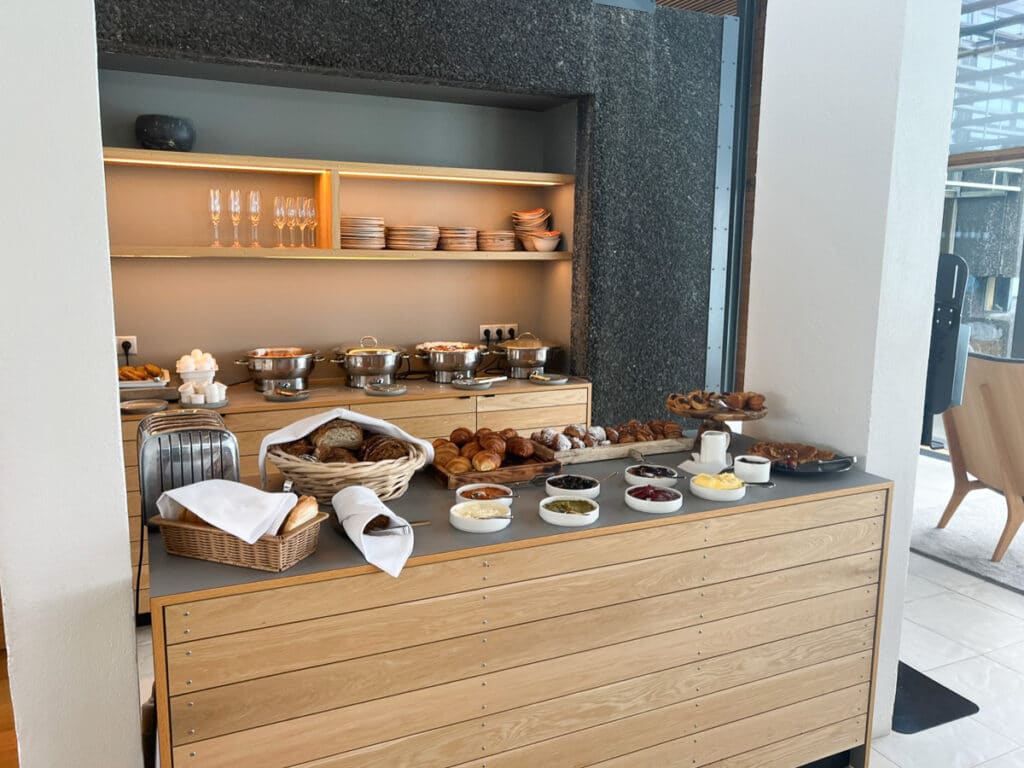 There is also a Relaxation Room available, which I noticed was being offered up to people if they arrive earlier than the check in time. It was basically a quiet room with a nice view of the lava fields, so you have a place to hang out if the room isn't ready. I would not count on an early check in here, as they have few rooms and are almost always booked full.
There was also plenty of free parking available in the large lot. No issues there.
Is Silica Hotel kid friendly?
I was a little concerned about whether this very upscale hotel would be family friendly, so let me put your concerns to rest there. We felt perfectly welcome with our seven year old and saw several other families with kids there as well.
The rooms were really comfortable for families – with lots of space and a fridge for storing snacks and milk and all the other things that come along with kids.
The private lagoon itself was also kid friendly. But I will say that it has a very quiet and serene atmosphere, so I imagine kids running around and making a fuss might be frowned upon. Kids floating around the lagoon with their parents is totally cool.
There were arm floaties and pool noodles available as well. At the main Blue Lagoon, kids under nine were required to wear the arm floaties. But I didn't notice any signage here indicating a rule and no one mentioned it to my seven year old. (My son is tall for his age and a good swimmer since we live in Florida, so maybe that's why they weren't concerned. YMMV.)
But to be transparent, my son definitely enjoyed our visit to the main Blue Lagoon more than the time we spent in the private Silica Lagoon. Don't get me wrong, he was happy to do both. But the main lagoon is bustling with activity, has a swim up bar with froezn drinks, has bridges and caves to swim under and around, and has lots of other kids to play with. So… yeah, the main lagoon is more kid oriented.
But don't mom and dad get to chill sometimes too? :-D If you're staying here with kids, I would definitely plan on doing the main lagoon once so your kids can have that experience. And then enjoy your relaxing time in the private lagoon in the evenings.
For guests that are looking for an adults only experience, there is another hotel called The Retreat on the property that is only for guests ages 12 and up.
Would we stay here again?
Yes, we would definitely stay at Silica Hotel again. It's a beautiful property, the service was excellent, and access to the private lagoon made it worth every penny. This is really the ultimate way to visit the Blue Lagoon in Iceland!
Check Rates & Availability
We book our rooms via Booking.com whenever possible and the reason is simple – they have much more flexible cancellation and refund policies than you'll find when booking direct at most places. In this case, I wasn't charged until just a few days before our trip and I could have cancelled with no penalty up until then. Very important with international travel – you never know what will happen.
You can check availability and rates for Silica Hotel at Blue Lagoon here.