What are the best day trips from Florence Italy? Florence is the perfect city to Base yourself on your Italy Holiday. Enjoy the Tuscan lifestyle! There are some really wonderful Tuscany day trips from Florence, and we've got 10 of the best ones here.


Disclosure: This post contains affiliate links. That means we earn a commission when you use the links on this site to book a hotel, buy your travel insurance, etc.. If you'd like to learn more about how this works, you can read more under our Disclaimer page.
This is a guest post by Anca from onedayitinerary.com
***
The city of Florence is widely considered to be one of the best places you can visit in Italy. Incredible architecture, loads of culture, great food and so many sights to see! It's no wonder Florence is right up there with Rome as the most popular Italian city to visit.
But Tuscany, the region in which Florence is located, is just as famous for its beauty. This part of Italy offers breathtaking landscapes and a rich and intricate history. It has given us the Renaissance and so many famous artists. Therefore, if you come here, day trips to explore the region are pretty much a must.
But where should you go? Honestly, you really can't go wrong no matter where you end up! But here are some of our top suggestions.
Here are the top 10 day trips from Florence you should consider.
Surely, you'll find the perfect destination among them!
---
---
Siena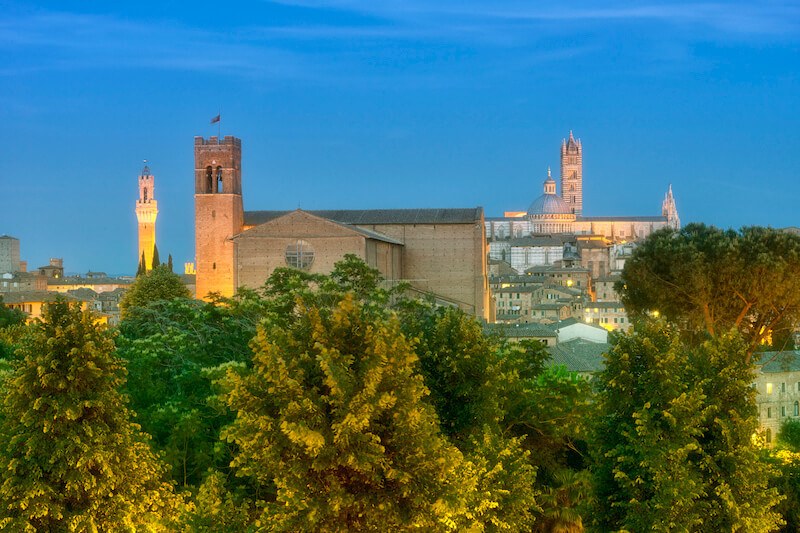 Siena is about an hour's drive from Florence (you can easily take the bus if you don't have a car with you).
This incredible city has been around since ancient times, so it has a whole lot to offer in terms of sights. As a matter of fact, its entire city centre is a UNESCO World Heritage Site!
The Siena Cathedral is a masterpiece which can be visited and climbed for a spectacular view. Palazzo Pubblico (the Siena town hall) is an architectural feat which houses a fantastic museum. And Torre del Mangia, right next to it, offers breathtaking views if you want to climb 400 steps.
If you can, plan you trip to Siena around the Palio, a traditional horse race held on July 2 and August 16. The city becomes packed with thousands of people gathering on the Piazza del Campo, the main city square in front of Palazzo Pubblico.
San Gimignano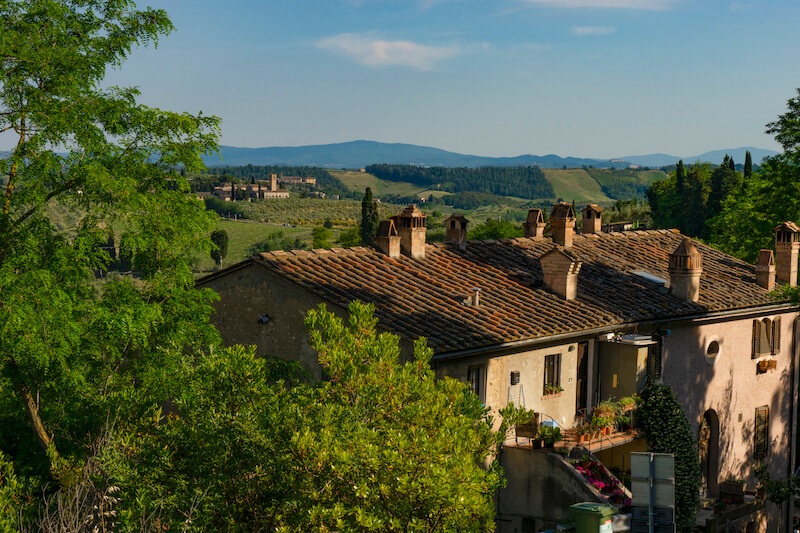 Siena and San Gimignano are often combined, but don't rush things if you have the time – both places are more than worthy of a whole day, and could easily make two separate day trips from Florence.
San Gimignano is best known for its medieval towers, of which 14 still stand and provide this place with a unique skyline. Standing on a hilltop surrounded by old farms, vineyards and olive trees, the town looks like something straight out of a fairy tale.
Like in Siena, the historic centre here is also under UNESCO's protection, with some truly beautiful examples of medieval architecture. Palazzo Comunale is one of the most important spots to visit while in town, along with the nearby churches which contain impressive frescos.
Once you're done sightseeing, enjoy the charm of this beautiful little town, walk its fascinating streets and taste some of the local products. You'll love every second of it!
Chianti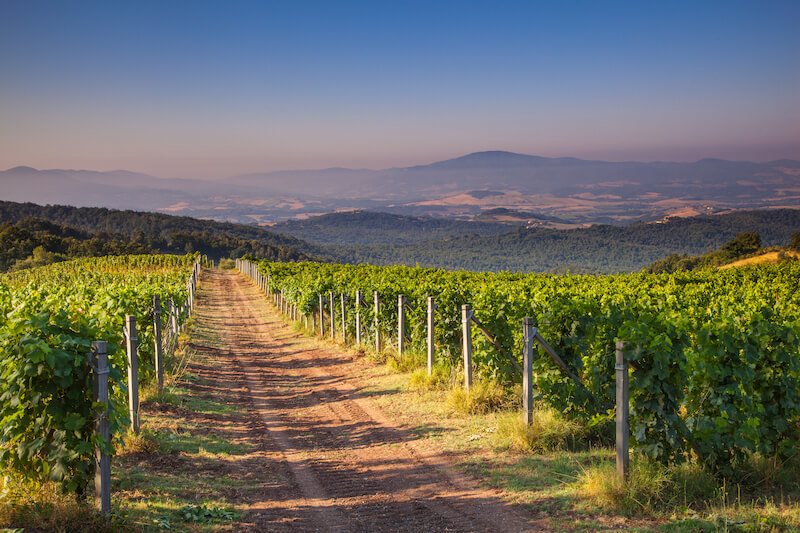 Wine lovers won't want to miss the chance to visit the region in which one of Italy's most famous wines is made! Even if you don't drink, a day trip from Florence to Chianti is a great way to spend the day.
Chianti is a part of Tuscany, and is full of picturesque hills and beautiful little towns. Naturally, this is also a foodie heaven – you can try numerous superb wines apart from Chianti, and pair it all with some spectacular food. There's even an option for a tour of the vineyards on a horse!
This is the perfect way to get away from the city and into the Italian countryside. Unfortunately, you'll need a car to do it independently. Since that puts a damper on the Chianti tasting, we suggest you do it as an organized tour. There are plenty of tours to Chianti from Florence, but this one gets great reviews.
---
Find Your Florence Hotel Here…
---
Pisa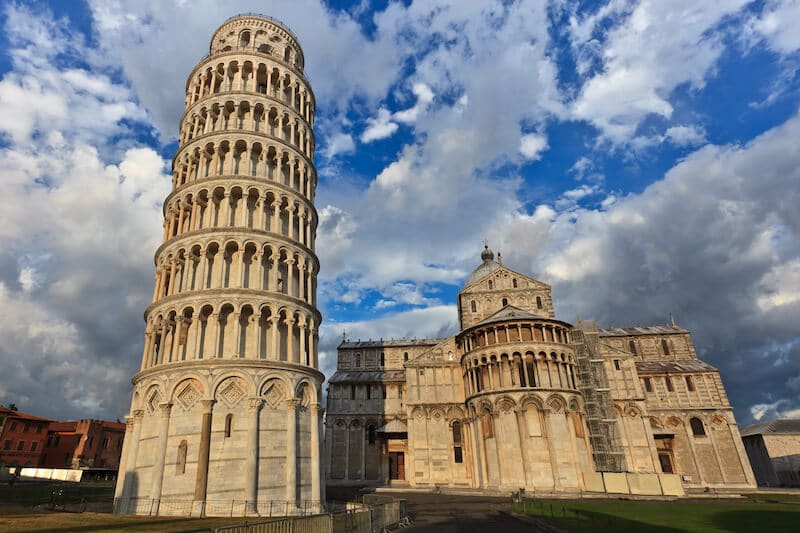 Who hasn't heard of the Leaning Tower of Pisa? Visiting Pisa as day trip from Florence is your chance to visit the tower (and get the ridiculous photos).
You can get to Pisa from Florence by bus (just over an hour) or train (about 90 minutes).
The famous tower sits on Piazza del Duomo, a square with several other very important sights. Namely, the cathedral (Duomo) right next to the tower, the baptistery, and the fascinating cemetery.
The city is packed with beautiful palaces and squares. Knights' Square (Piazza dei Cavalieri), is one of the mains sights, along with towers and great museums (the National Museum of San Matteo is absolutely superb!).
You'll have a busy day trying to cover it all, so if you need to stop and take a break, Pisa's Botanical Garden is very close to the main square. Find a free bench and enjoy the greenery!
Lucca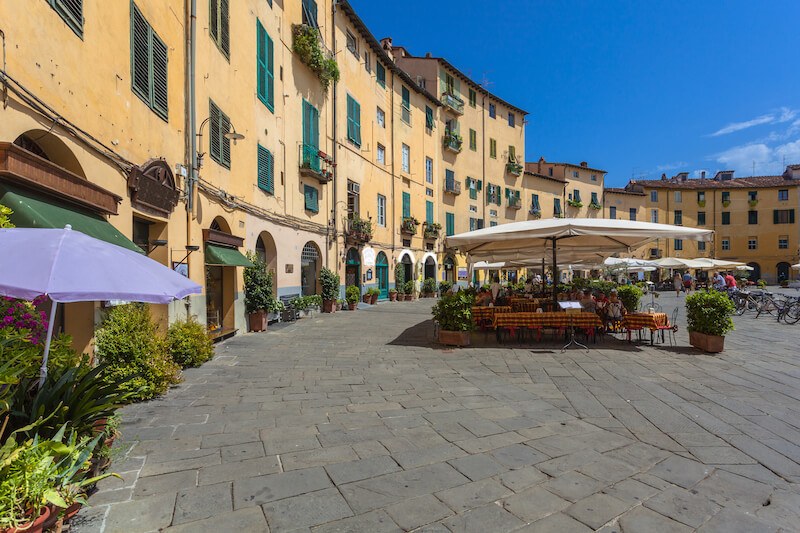 Top Gear fans will know that Clarkson, Hammond and May shot an episode in this beautiful little town. If you're not a fan, don't worry: that's not the only reason Lucca is on this list of top 10 day trips from Florence!
It has numerous amazing sights and will relax you with the atmosphere of a peaceful little town. Its main square, Piazza dell' Anfiteatro, is not so much a square as an oval, but what is truly remarkable about it is the houses surrounding the Piazza have actually been merged with the walls of a Roman amphitheatre.
You'll also want to visit Palazzo Guinigi and climb its tower, not just for the view but also for the trees that grow on top, making this tower truly unique. The local cathedral houses some very important pieces of art, so it should be added to your list, too!
Getting here takes about an hour, maybe a bit more, and you can take the train or bus, with some great views along the way.
Cinque Terre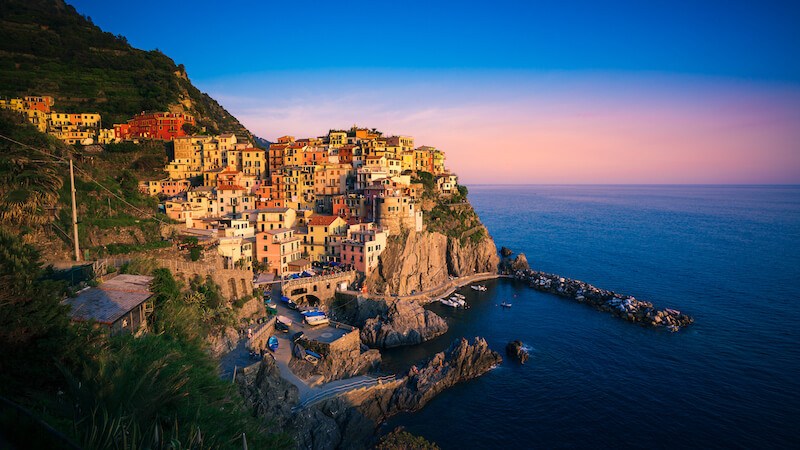 Although not a part of Tuscany, Cinque Terre is still a very popular day trip from Florence because it only takes a bit over 2 hours to get there. With a slightly earlier start you can have a truly fantastic day, and maybe even grab a boat tour of this fascinating and postcard-perfect area.
Five mesmerizing towns and villages, some of which are on steep cliffs right next to the sea, await you. They really show you the fully beauty of the Italian Riviera. Beautiful hills dot the land, and the coastline shows off the very best of the Mediterranean. You can swim, wander, eat. Whatever you do, you will enjoy your time in this incredible national park and Italian UNESCO World Heritage Site to the fullest.
This is as close to a perfect day trip as one can get on their vacation.
Porto Venere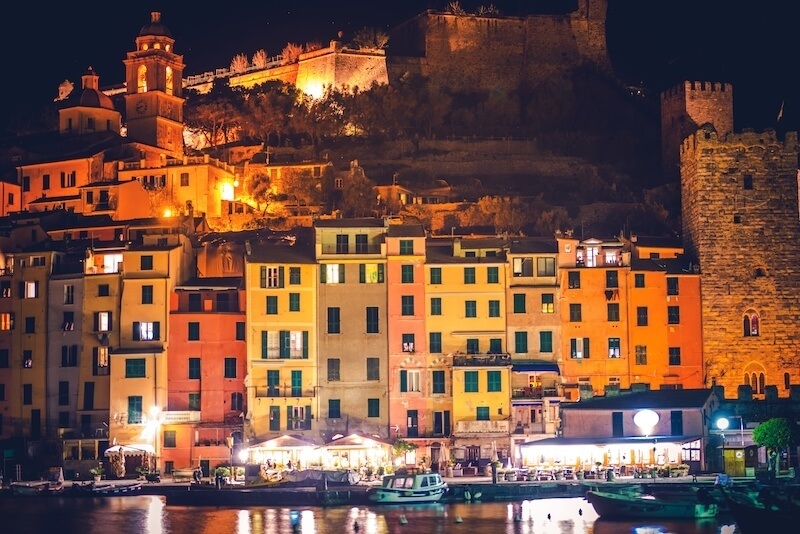 While Porto Venere is not a part of Cinque Terre, it is no less beautiful. Situated just south, this charming village is the perfect spot if you're looking for a place to spend your day swimming and enjoying the beach. There are plenty of great diving places around here, and the sea caves will leave you speechless.
As for sightseeing, the Church of St. Peter from the 12th century, with its distinctive black and white stripes, is the main attraction. It provides an incredible view of the sea below if you climb it. Lord Byron, the famous British poet, also loved coming here, and Byron's Grotto is the place to go for inspiration!
Bologna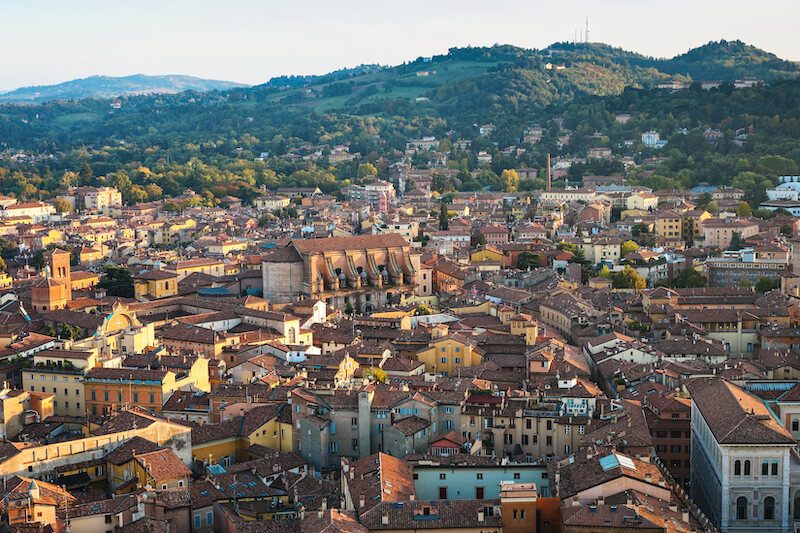 Attention, foodies!
Bologna is very close to Florence and considered the heart of Italian culinary scene. A day trip from Florence is easy and worth it, especially if you want to taste something truly special. Try the only true Parmigiano Reggiano – found all over the city – and maybe grab a bottle of real aceto balsamico as a souvenir. Also visit L'Osteria del Sole, the oldest pub in the world dating back to the middle of the 15th century. But that's just the tip of the iceberg: there are so many dishes to enjoy here!
Besides food, Bologna has a lot to offer, and the distinctive red buildings give it a unique look. The city is famous for its university, and there are loads of beautiful squares, towers and churches to explore.
Less than an hour away by train, you can easily get here and have a wonderful day exploring!
Assisi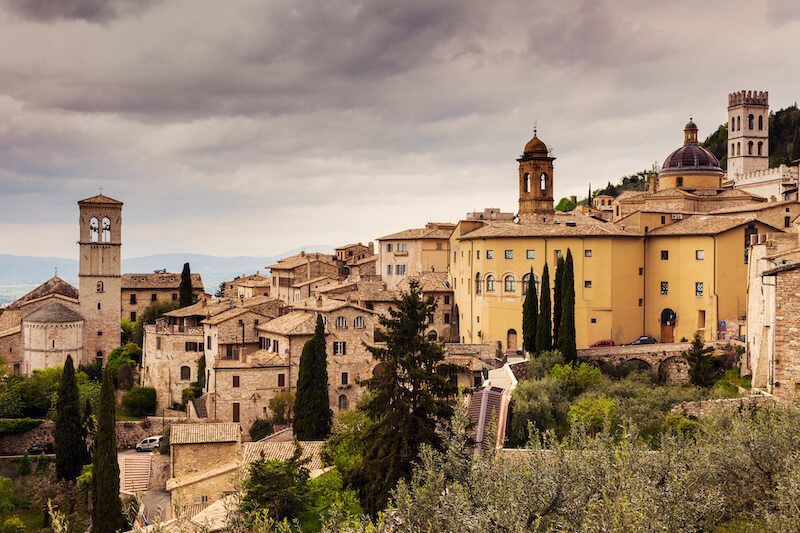 If you're a devout Catholic, the town of Assisi is one place you'll surely want to visit. This is where the famous St. Francis of Assisi spent his life preaching understanding between religions and care for the poor.
The Basilica di San Francesco is dedicated to the Saint and houses 28 frescoes depicting various episodes from his life.
For those less interested in the religious significance, there is still lots to see in this pretty little town, like the temple of Minerva, now converted to a church, with some elements dating back to ancient Rome. You should also climb Rocca Maggiore, a medieval fortress overlooking the town, for spectacular views. Apart from that, plenty more churches and palaces deserve your attention.
Getting here by car is best. It will take you about two hours. You can also hop aboard a train, but expect it to take up to three hours.
Venice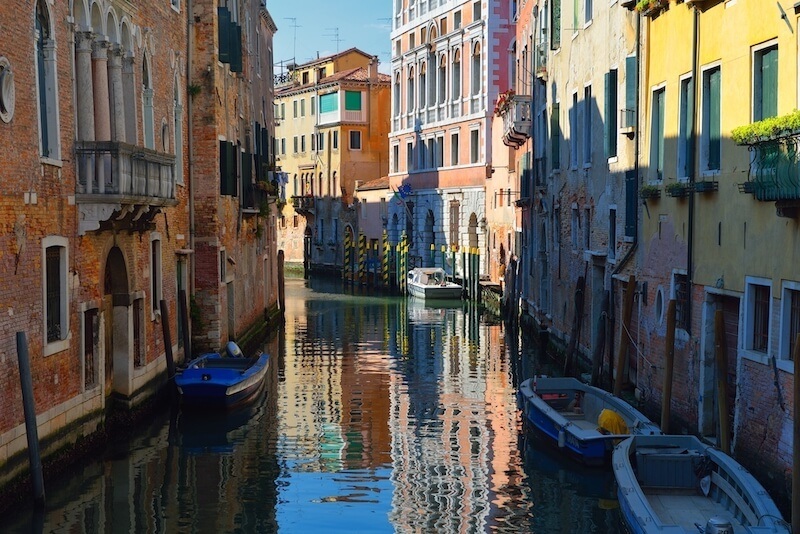 Last, but most certainly not least, a city that really needs no introduction – Venice. Thanks to Italy's fast trains, you can be there in just two hours, leaving plenty of time to enjoy.
Hop on a gondola and ride the famous canals while marvelling at the buildings sitting right up against the water. Get lost in the narrow streets. Enjoy some incredible art, or learn how Murano glass is made. Visit the church of San Marco and maybe even feed the pigeons!
---
Anca is the founder and chief editor of One Day Itinerary, a travel blog dedicated to those who want to make the most of their time in a new city, even if they only have only one day there. Thanks to the fact that she has traveled literally all over the world, she can tell you the dos and don'ts of pretty much every major city in the world. As a matter of fact, she's already done so in her blog posts.
Like This Guide? Pin it For Later!