Valencia! It just sounds nice doesn't it? But why spend a weekend in Valencia? And maybe you're wondering about things to do in Valencia Spain? Today's guest author shares her thoughts on how to spend the perfect weekend, or short city break, in Vahhhh-lencia!


Disclosure: This Things to do in Valencia post contains affiliate links. That means we earn a commission when you use the links on this site to book a hotel, buy your travel insurance, etc.. If you'd like to learn more about how this works, you can read more under our Disclaimer page.
This is a guest post by Angela Thurstance from 6oclocktrain.com
***
Things to do in Valencia Spain for 2 or 3 Days
Are you thinking of taking a European city break? Perhaps you've already decided on Spain – a fabulous choice. Spain is an amazing country with so many beautiful cities to discover.
Valencia is Spain's third largest city, yet it's often overlooked for its more high profile neighbours such as Barcelona, Madrid or Seville. I think that's a mistake.
Valencia boasts amazing contemporary modern architecture mixed with wonderful historic buildings. More than that, Valencia is right on the coast and you'll find some of the finest beaches in Spain here. Add in the fabulous weather and the Valencian hospitality and you have the recipe for a perfect city break destination.
Explore Valencia Your Way
Although I've focused this article on a weekend in Valencia, it would make an excellent mid-week break as well. Or you could plan to spend longer. Valencia is a great beach holiday destination, and a longer visit would give you a chance to explore the surrounding area as well.
City Break in Valencia Spain Itinerary
I really love exploring the city. These are some of my favourite things to do in Valencia Spain all packed into one weekend. If you'd rather take a bit more relaxed approach, then please do spend more time on the beach or find a hotel with a fabulous pool! If you have far more energy than me, add a few more attractions or plan some walks along the coast. The more you look into visiting Valencia, the more you'll realize how much there is to do here. Don't just take my word for it: come and see for yourself!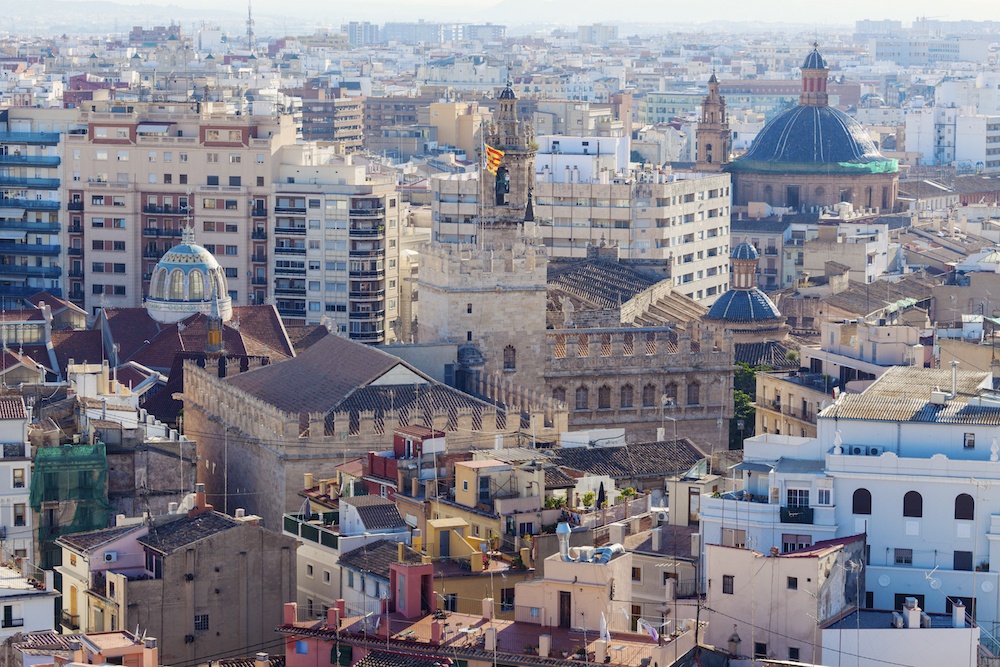 Things to do in Valencia Spain Itinerary
Day 1
Your city break begins as soon as you arrive in Valencia. If you've got the day off work then you'll probably want to make the most of it and arrive early. Don't be tempted to set off too early though. Nothing wears you out more than a 5 am trip to the airport. Make it a reasonable start and save your energy for sightseeing.
Getting from Valencia Airport to the City
If you're coming for the weekend, I'll assume you're going to fly in. Valencia is also an easy place to get to from other places in Spain, for instance, Madrid or Barcelona. Once you arrive at the airport you'll need to find your way into the city. You'll find several options so choose whichever fits your needs and budget.
Taxi: The airport is approximately 8kms from the centre of town. A taxi to the center will cost around 14 Euros and is probably the easiest way.
Aero Bus: The Aero Bus departs from the departures area of the airport every 20 minutes. You'll pay just 2.50 Euros per person and there's plenty of room for any luggage. The Aero Bus is a direct service which drops you right in the city centre. If you're arriving very late or early then be aware that it only runs from 6 am to 10 pm.
Metro: The metro runs from 4 am to 11.30 pm weekdays and 5 am to 12.30 pm weekends. To get to the city centre, you take either Line 3 or 5 and get off at Xativa station. The trip will take you about 20 minutes and trains run every 5-10 minutes so it's very convenient. A single ticket will cost 4.90 Euros. If there's 3 or more of you, you're better off taking a taxi if you can fit with luggage. Although I use metros a lot normally, I actually think the Aero bus is the best option in Valencia.
Settle into your Valencia Hotel for the Weekend
For a weekend break, I'd advise staying in or near the Old Town area as it's a great central location for all the sights. If you'd prefer a beachfront hotel though, then go for it – it's your trip after all!
Old Town
Start your trip in the Old Town.
Valencia may not be the first Spanish city you think of for history. However, it was actually founded in 130 BCE so you'll find over 2000 years of fascinating heritage here. In fact, Valencia has one of the largest historical centres in Europe. That's pretty impressive given the abundance of historical architecture across the continent.
Plaza de la Virgen & Valencia Cathedral
The Plaza de la Virgen is a great place to absorb the atmosphere of Old Valencia and you'll also find one of the city's star attractions nearby: Valencia Cathedral. I do find that I'm drawn to the cathedrals in European cities because they invariably offer some of the most impressive historic architecture. Valencia Cathedral does not disappoint. The history of the site is fascinating. It was originally a Roman Temple and was subsequently a mosque before the Christian Cathedral was built.
In the summer, the cathedral is open from 10 am to 6.30 pm weekdays and 2 pm to 6 pm on Sundays. You do have to pay to gain entry, but for 7 Euros you get an audio guide as well.
El Carmen
Keep wandering around this area and you'll come to Valencia's other main square, Plaza del la Reina. This area is called El Carmen and it's really the heart of Old Valencia. Here, you'll find Santa Catalina Church and Tower. It's only open in the mornings and between 7 pm and 8pm daily. It makes a good place to visit in the evening, before dinner. Otherwise admire the view of this pretty Baroque church, one of the oldest in Valencia, from the outside. If you are passing when it's open, entry is free.
Serranos Towers
One thing I can never resist when walking around a historic city is the opportunity to walk on the old city walls and fortifications. If you agree, you'll enjoy Serranos Towers. For a very reasonable entrance fee of 2 Euros, you can climb to the top of the old city gate and gaze across the historic centre. It's open until 7 pm and it's a great way to orientate yourself with this fabulous city.
Tapas on the Square
Afterwards, head back to either of the two squares you've just wandered through. I'm sure you'll have already spotted a Tapas bar or two that will be perfect for an early dinner. The Spanish dine late but the Tapas bars will be buzzing in the early evening as locals and tourists relax and enjoy some pre-dinner drinks. You can make a great meal out of a few shared plates of Tapas or if you want to eat later, enjoy some people watching before eating in one of the many nearby restaurants.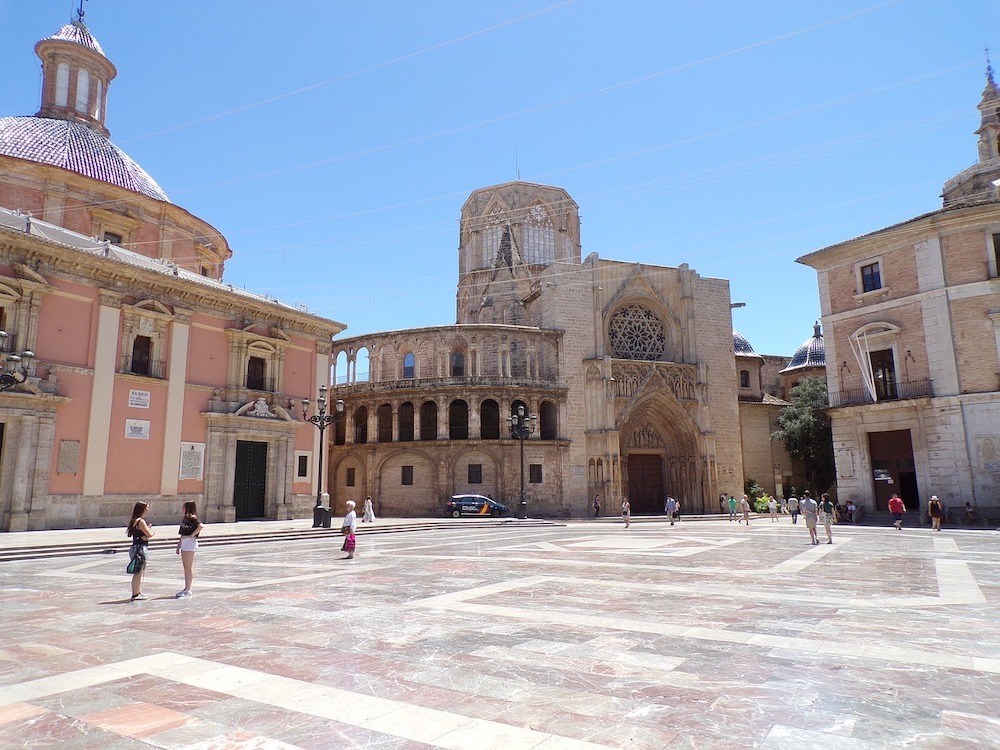 Day 2
After spending your first day in the historic centre of Valencia, go see a different side of the city on Day 2. Visit the Ciudad de las Arte y las Ciencias (City of Arts and Science) and marvel at the modern contemporary side of Valencia. Walking into this futuristic complex, you might think you're in a completely different city.
This huge complex is divided into 6 different areas.
Hemisfèric, Umbracle and Science Museum
As you approach, the distinctive central building is the Hemisfèric where you can watch 3D films in the state of the art IMAX cinema. This was probably my favourite part of the complex. Next, the Umbracle is the most attractive car park I've ever seen. Basically, you walk across the car park roof through lovely landscaped gardens with a fabulous view of the entire complex. Then move on to the Science museum which is a spacious exhibition with plenty of interactive displays covering science, technology and the environment. It's a fun place to spend an hour or so even if you don't have kids with you.
Palau de les Arts Reina Sofia and Agora
The Palau de les Arts Reina Sofia is an impressive building specifically designed for opera and live music performances. It has several, differently sized auditoriums which enables it to put on shows of various types from large scale productions to intimate musical recitals. Check out their website to see what is showing during your stay.
The newest part of the complex is the Agora. This is a huge exhibition space which is used for a variety of displays, exhibitions and trade shows during the year. They often have free art exhibitions here as well and it's a good excuse to wander in and admire the building, which is constructed around a series of lakes.
The Oceanographic
Finally, make your way to the Oceanographic, where you can descend under the sea at Europe's largest aquarium. As you wander through the aquarium you'll find different buildings dedicated to specific marine ecosystems. Move from marine specimens of the Mediterranean, through to Tropical seas and oceans. You can even visit the two polar regions. You can spend a few hours enjoying the parkland setting as well as getting a close-up view of the marine life.
Traditional Paella and Wine
Finish your day of exploring Valencia's contemporary side by returning to the Old Town to enjoy a traditional Paella dinner. Valencian paella is traditionally made with meat but you'll find plenty of restaurants that offer a vegetarian or even vegan version if you prefer. It's a hearty dish made of rice, beans and vegetables, and is really delicious.
For a truly traditional Valencian meal wash it down with a glass of local wine. The largest wine region in Valencia is Utiel-Requena, where they've been making wine since the 7th century. You can also sample wines from Valencia itself, made from vineyards surrounding the city. Most restaurants and bars will offer the local wines but you'll need to ask, as house wines will likely be from other Spanish wine regions. You might pay slightly more for the local ones, but in my opinion, it's worth a small premium to get a truly authentic local experience.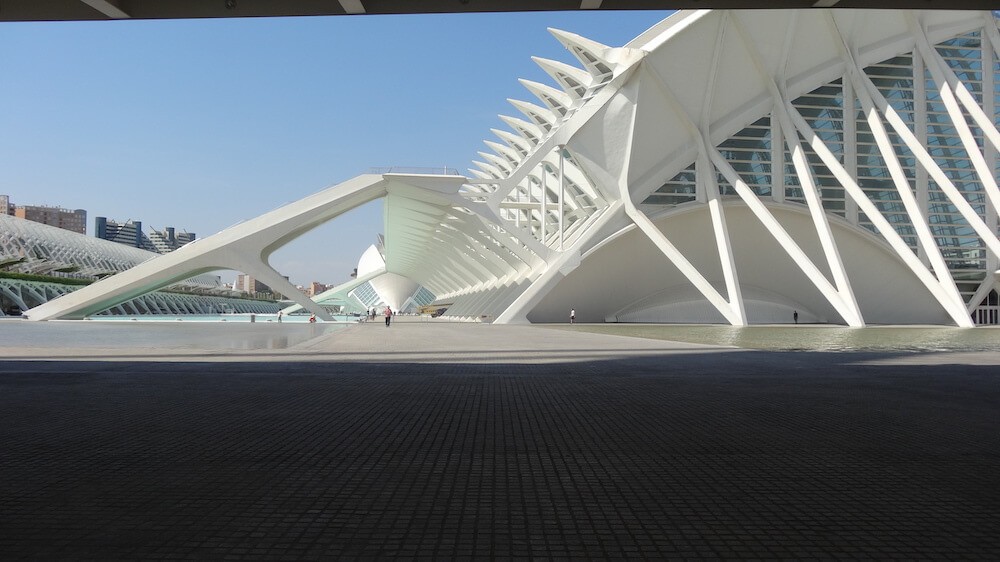 Day 3
Depending on what time you've booked your flight home, you should have some time on Day 3 to enjoy more of Valencia. Feel free to spend the entire day on the beach or by the pool if the weather allows. It should, and you'll probably get plenty of lovely sunshine in Valencia. If you're still keen to see more, take a stroll along the Jardin del Turia.
Jardin del Turia
The Jardin del Turia is a 1.1 million square metre park. If you like to cycle, hire some bikes and cycle the entire 7km of the river bed. Otherwise, spend time meandering through greenery as you pass from the old to modern parts of the city. On a Sunday morning, you'll have plenty of company. It's a popular place for runners, walkers and cyclists and you'll also probably meet plenty of friendly dog owners.
La Malvarrosa Beach
If time permits, take the opportunity to visit one of Valencia's fabulous beaches. Even if it's only for an hour or so. The closest beach to the city is La Malvarrosa. Beaches near the city centre aren't always the best but La Malvarrosa is a very pleasant surprise. It's large and clean with a lovely promenade for walking. It's popular, but not too crowded. We've spent many pleasant hours here and I can recommend it.
Where to Stay in Valencia Spain? Find Your Valencia Hotel Here…
I always think an hour or so on the beach is the perfect end to any holiday. I hope you'll agree that Valencia is a fascinating city with many amazing sights and a diverse range of things to keep you busy. This weekend itinerary has only touched the surface of what this wonderful place has to offer. However, I always feel as though I've had a great time when I know I have to come back and see some more. Have a fabulous weekend in Valencia!
---
Like this Post? Pin it for Later!