Considering visiting Utrecht, and asking yourself, Is Utrecht Worth Visiting? Find out why American expats in the Netherlands think you should visit Utrecht, the differences between visiting Utrecht vs Amsterdam, and why you really don't have to choose between Utrecht or Amsterdam on your next Dutch holiday!
This is a guest post from Sarah and Justin of Travel Breathe Repeat


Disclosure: This Utrecht vs Amsterdam travel guide contains affiliate links. That means we earn a commission when you use the links on this site to book a hotel, buy your travel insurance, shop for travel essentials, etc.. You don't pay anything extra. If you'd like to learn more about how this works, you can read more under our Disclaimer page.
***
I
f you're planning a trip to the Netherlands, chances are you're planning to spend most, if not all, of your time in its crown jewel and capital city, Amsterdam. And Amsterdam is indeed a wonderful, beautiful destination.
That said, Amsterdam is also bursting at the seams with tourists, which isn't good for the city or travelers. So why not consider another centrally-located, stunning, and typical Dutch city?
As expats living in the Netherlands, we've visited many cities and villages in the country, and Utrecht is one of our favorites. In this post we're sharing our top five reasons to visit Utrecht instead of Amsterdam.
A Little Background Information About Utrecht
Utrecht is the fourth largest city in the Netherlands after Amsterdam, Rotterdam and The Hague, and is just 30 minutes by train from Schiphol Airport.
Utrecht is home to the largest university in the Netherlands (Utrecht University) and the tallest tower in the Netherlands (Dom Tower) – one of the most popular places to visit in Utrecht. The city's founding can be traced back to ~50CE, when the Romans built a fortress at what is now Dom Square. Visitors can see buildings from the Middle Ages still standing in the city center.
Beyond this history and the attractions, why should you visit Utrecht vs Amsterdam?
01. Utrecht Has (Way) Fewer Tourists
Amsterdam has a tourist problem. The city has seen insane growth in tourists over the last 10 years, and it isn't stopping anytime soon. That means overcrowded streets and attractions, ridiculously expensive accommodation, and annoyed locals. All of which can make visiting Amsterdam a bit hectic and somewhat lacking in local character.
With Utrecht being a somewhat under-the-radar destination for international tourists, the city doesn't (yet) face these problems. And you can see and feel the difference.
While we do love Amsterdam — and will never forget the first time we laid eyes on its canals eight years ago and felt utterly relaxed and happy — we felt it again the first time we visited Utrecht! That feeling of peace and calm is easy to reclaim in Utrecht.
And while Utrecht can of course get crowded in its most popular spots on a sunny day, it's nothing like the zoo Amsterdam can be these days. In Utrecht, if find yourself in a place that's a little too busy or touristy, just venture five or ten minutes further down the main drag or off onto a side street, and you'll find some peace and quiet.
Many of the tourists in Utrecht are actually Dutch, so you'll still be surrounded by locals and exposed to Dutch culture…even if you're surrounded by tourists!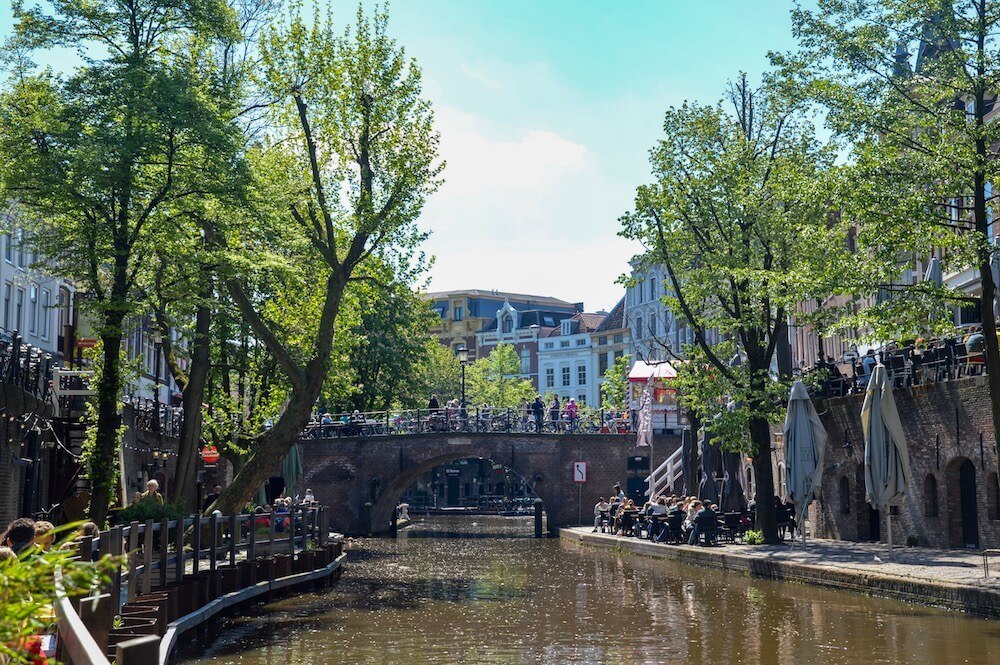 02. Utrecht is Stunning
Utrecht is just as beautiful, lovely and charming as Amsterdam.
Its main canal, Oudegracht, winds its way through the city, lined by typical and pretty Dutch buildings. Trees arch themselves over the water. The gorgeous gothic Dom Tower, the city's main landmark, soars over the city. And yet another canal circles the city center, with plenty of green space on either side.
A couple of especially pretty spots we'd recommend seeking out in Utrecht are the small garden in Pandhof Sinte Marie (St Mary's Courtyard), and Lange Rozendaal, a small picturesque street just off Oudegracht. You'll also want to check out Molen Rijn en Zon, a windmill that's just hanging out in the middle of an otherwise normal, busy street.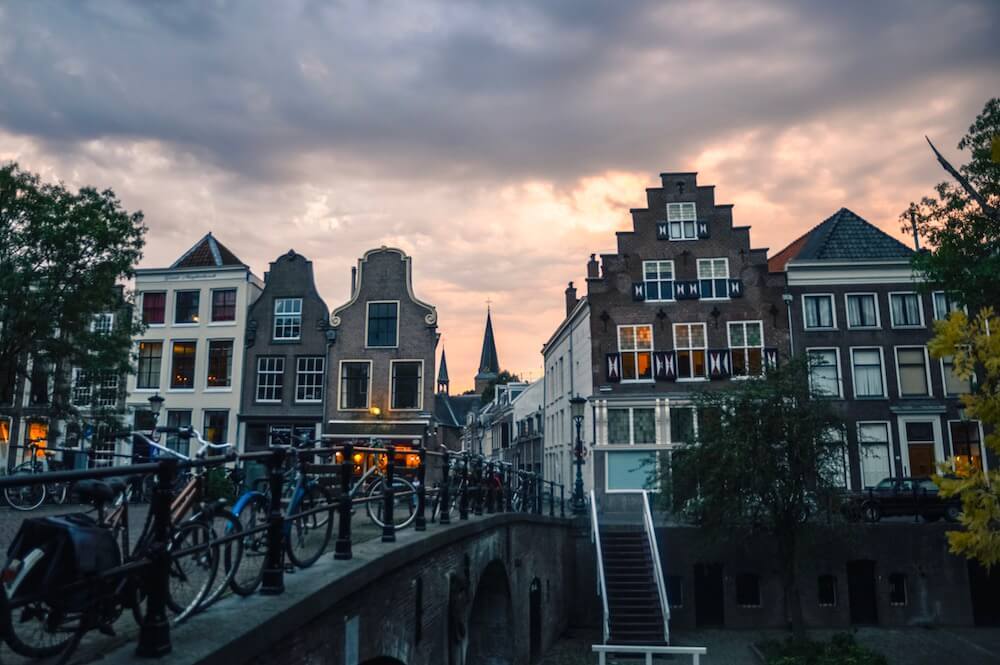 03. You Can Get Up Close and Personal With the Canals
Utrecht's canals are quite unique. As opposed to just walking above the canals, in Utrecht you can walk or sit right down at canal-level.
Along the Oudegracht, you'll see many people with picnics or enjoying a cocktail at a café right on the water. In the center of the city, these places can get busy and noisy, but venture just a tiny bit further and you're bound to find a peaceful spot all to yourself.
Of course, you can also take a canal cruise or rent your own boat to truly explore the city by water.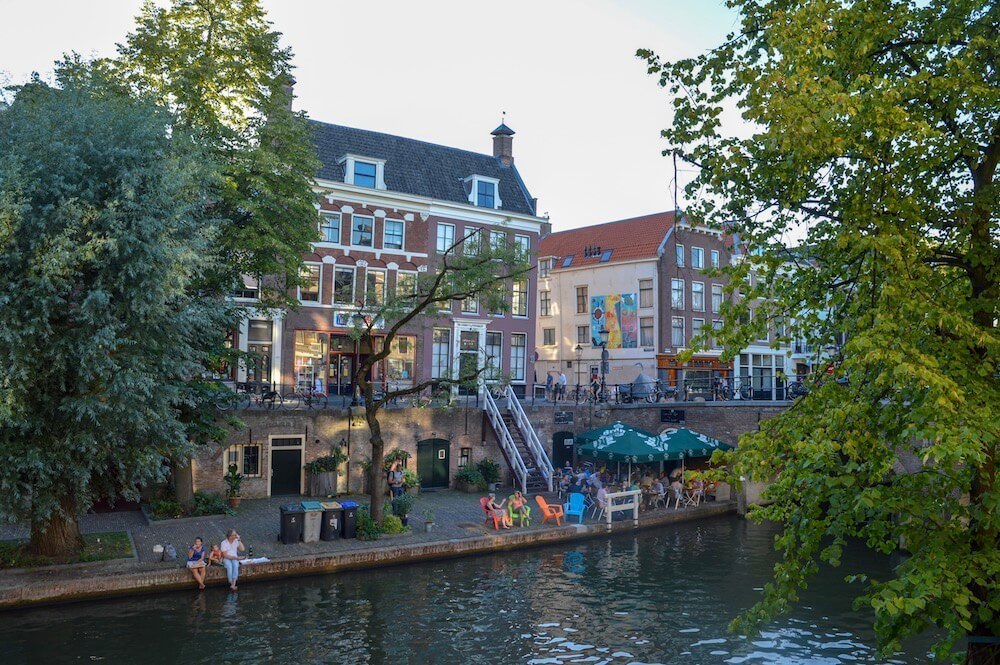 04. Utrecht is Compact and Easy to Get Around
As one of the largest cities in the Netherlands and a major transportation hub in the country, Utrecht has everything you could ever need in terms of shops and restaurants. But it feels more like a small village, especially compared to Amsterdam.
Utrecht is small enough that you can walk to pretty much everything you'd want to see. Its major landmarks and attractions are pretty centralized. If you spend just a few days in Utrecht, you'll likely feel that you know the city quite well. Contrast that to Amsterdam, where you'd barely be able to scratch the surface in that time.
And while both cities have easy to use public transportation (as does the rest of the country), you probably won't have to use it in Utrecht, whereas in Amsterdam it's absolutely necessary.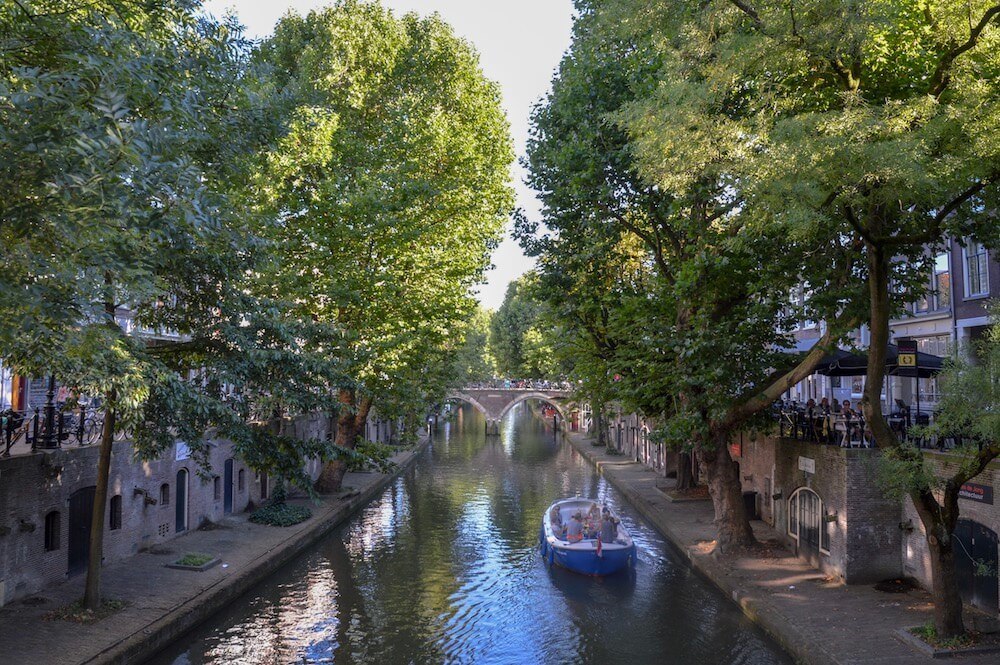 05. Regional and International Access
Utrecht is centrally located, so if you're on a longer trip, you can easily explore other destinations in the country.
It's relatively close to the popular Hague, Rotterdam, and other destinations in Zuid-Holland (South Holland). But there are some really lovely destinations in the North and to the East, and in Utrecht, you're better positioned to explore them.
Utrecht is also a great jumping off point to other countries in Europe. Specifically, it's often a transfer point on trains to and from Germany.
Where to Stay in Utrecht
Mary K Hotel (9.4 on Booking.com) *4-star, historic center, canal, 9.8 location score
Mother Goose Hotel (9.0 on Booking.com) *4-star, historic center, close to Dom Tower, 9.7 location score
Boutique Hotel ZIES (9.3 on Booking.com) *3-star, historic center, museum quarter, 9.3 location score
Utrecht vs Amsterdam: Is Utrecht Worth Visiting?
Yes, Utrecht is worth visiting!
We hope we've piqued your interest in Utrecht. Even if you don't skip Amsterdam entirely (we know that's a hard sell), Utrecht is deserving of a visit. And because the Netherlands is compact and easy to travel around, you really don't have to choose between Utrecht or Amsterdam.
Further Reading
---
About the Guest Author
Sarah and Justin are the married couple behind Travel Breathe Repeat. They created the blog to document their 13-month journey around the world, raise awareness for Sarah's rare lung disease, and inspire others with special needs to travel. Originally from New York, they are currently living in Rotterdam, the Netherlands (although they would also be happy to live along one of Utrecht's canals).
Like this Guide? Pin it for Later!