Where to Stay in Bratislava: Advice from a local Bratislavan and travel blogger about the best neighborhoods to stay in Bratislava, Slovakia! (Plus 20 hotel & holiday apartment suggestions)
We created this guide in collaboration with Karin Ardila, a local Bratislavan and blogger behind Girl Astray. Karin was born in Bratislava, and has lived in the city for most of her life. We're happy to welcome her as our local city expert for this Where to Stay in Bratislava Guide.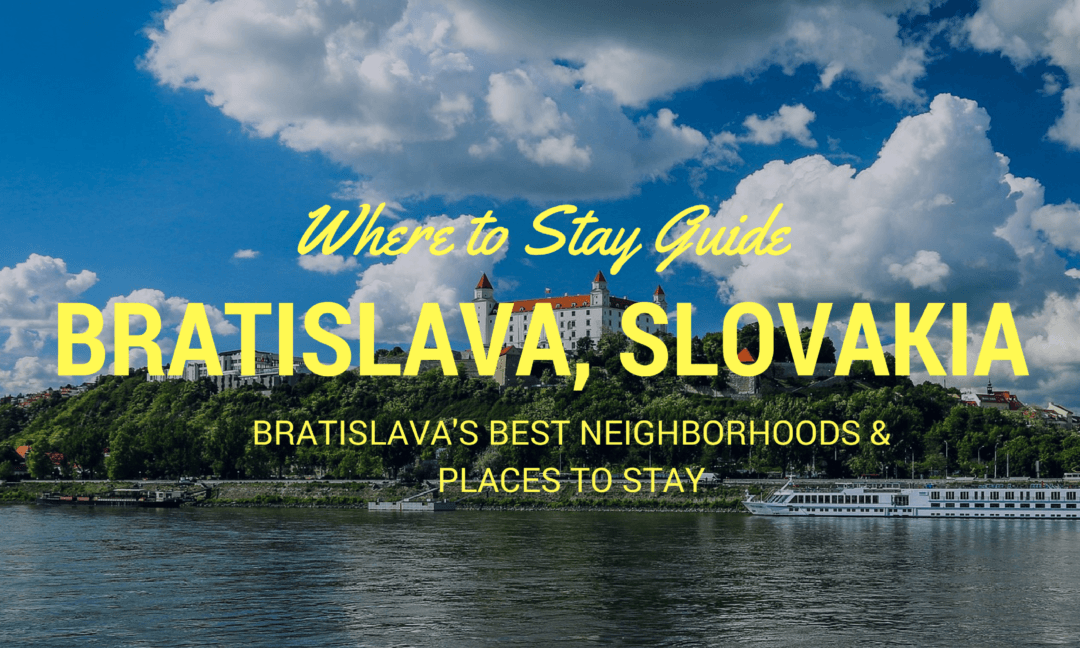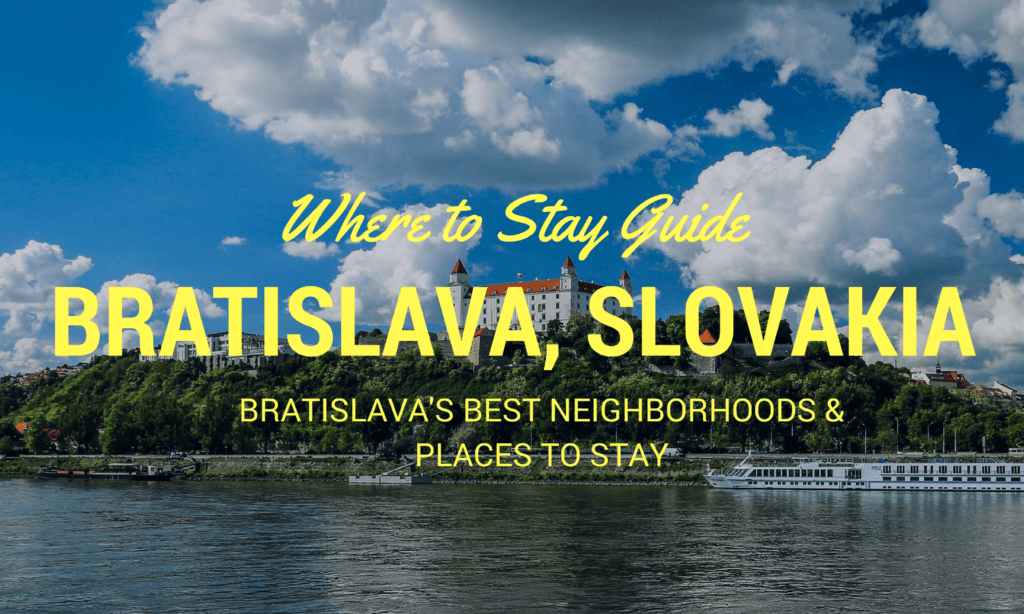 Disclosure: This Where to Stay in Bratislava Guide contains affiliate links. That means we earn a commission when you use the links on this site to book a hotel, buy your travel insurance, etc.. You don't pay anything extra. If you'd like to learn more about how this works, you can read more under our Disclaimer page.
Where to Stay in Bratislava, Slovakia: Start Here For A Quick Look At Bratislava's Best Neighborhoods
If you're planning a trip to Slovakia's capital and are wondering about the best places to stay in Bratislava, start with this quick guide to Bratislava's best neighborhoods.
We've written detailed info about the neighborhoods we think are the best areas to stay in Bratislava later on in this post, but we also wanted to provide a brief overview summarizing where to stay in Bratislava by neighborhood (and where to visit!).
Each of the area names is clickable, and will take you to more detailed info about that section below. But for now, here's a summary of Bratislava's best neighborhoods!

Best Place to Stay in Bratislava: The 3 Best Neighborhoods to Stay in Bratislava
Bratislava Neighborhoods: 4 More Neighborhoods to Explore in Bratislava
Bratislava Travel Tips & Further Info
Travelling Around the Region? We also have a Where to Stay in Budapest, Where to Stay in Vienna, Where to Stay in Prague, and Where to Stay in Berlin Guide that might be helpful!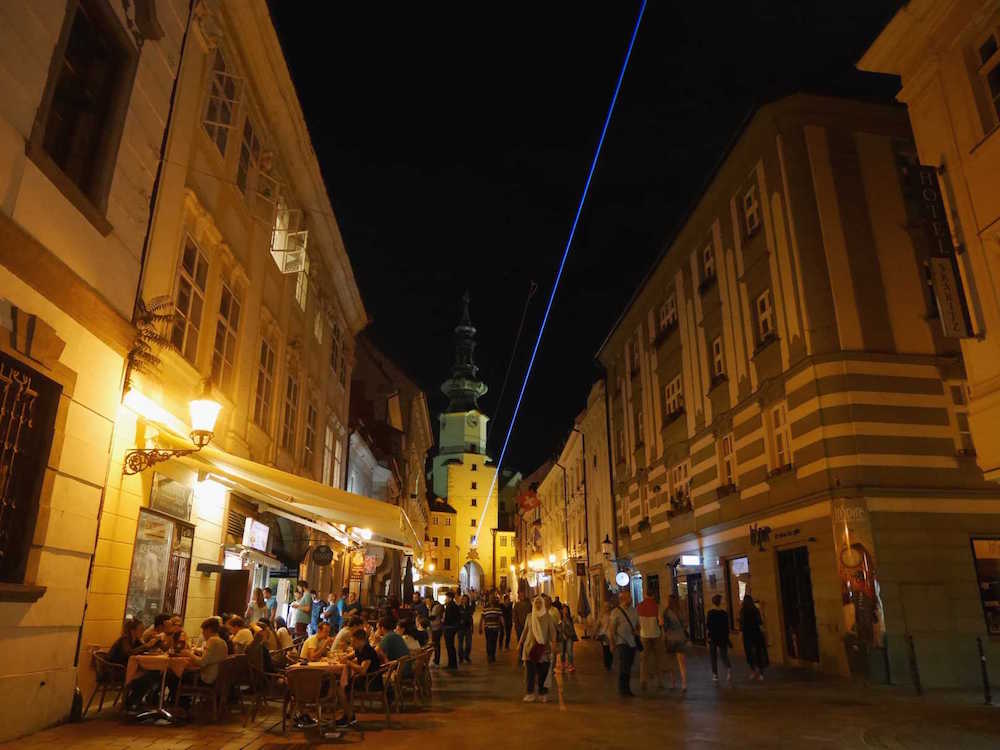 Despite its small size, Bratislava has a very practical location. Vienna is only a one-hour ride away, and Budapest is easily reached by train. On top of being an interesting addition to a Budapest-Vienna trip, there are also countless options to explore within the city and in its vicinity: the picturesque town of Trnava, historically important Esztergom, and romantic Moravian wine villages are all worth your time.
In recent years, the capital of Slovakia has grown in popularity among tourists, becoming a popular stop for visitors exploring central and eastern Europe. As someone who was born in Bratislava — and have lived here for most of my life — I have watched it emerge from its communist past, developing into a modern and lively city worthy of international interest.
If you are one of the curious visitors who decide to spend more than an afternoon in Bratislava, we hope this Bratislava Neighborhood Guide will help you plan your trip, and that Karin's fondness for the city will inspire you to explore!
Where to Stay in Bratislava: The Historical Old Town is the Heart of the City
Great area for: ✓ Sightseeing ✓ Nightlife ✓ Food & Drink ✓ Arts and Culture ✓ History & Architecture
If you are a first-time visitor to Bratislava, we'd suggest you not overthink it: the city's pretty historical old town really is the best place to stay in Bratislava for quick visits and tourism.
Compact and walkable, staying in Bratislava's historical center means you won't have to worry about public transport, and you'll be well-positioned to enjoy the city's nightlife. If you arrive in Bratislava by train, you can reach the Old Town in 15 minutes on foot, or take the number 80, 91, or 93 bus.
Although small, Bratislava's Old Town is quite beautiful, with enough to keep you busy for a day or two. In nice weather (or even with a blanket of fresh snow), spend some time strolling the winding, cobbled streets, stopping into the many cafés, restaurants and shops along the way.
Be sure to stop at Michael's Gate (Michalská Brána), the only remaining city gate, and climb the stairs of the tower to experience Bratislava's center from a different perspective (and get a lovely photo). I'd also suggest visiting the courtyard of the beautiful Primate's Palace (Primaciálny Palác), which is free to enter (tip: there's free Wifi in the square in front of the Palace).
For nice coffees and local specialties (cakes, wine and drinks, and snacks), stop in at Môj Bar Café near Šafárikovo Námestie (Dobrovičova 13), or pop by the Avra Kehdabra Teahouse (Grosslingova 49), where you can also play games or try your hand at their brain teasers (ask the waiter to bring them to your table). Another one of my favorite places is the Piváreň Stupavar beer pub (Prepoštská 2087/4), where you can try local beer in a friendly setting filled with locals.
If you want to get an original souvenir and support local small businesses and creators, consider shopping at Kompót (Laurinská 19). Their t-shirts, sold in a glass jar, are especially popular!
When visiting Bratislava Castle (a must!), don't forget there are also some recently-reconstructed gardens just behind the main fortress which you can visit for free.
And don't worry too much about crowds: While the downtowns of Vienna or Prague sometimes overwhelm with the sheer numbers of tourists, Bratislava still sticks to its local charisma, as all the inhabitants love to meet up in the heart of the city.
Skip ahead to the next neighborhood ↓
Arcadia Hotel
Arcadia Hotel – A 5-star hotel in a 13th-century building, luxury touches in the rooms include marble bathrooms with heated floors, great showers, big and comfortable beds, and coffee/tea making facilities. There's a nice on-site restaurant, as well as a bar with a gorgeous fireplace to unwind at the end of the day. The hotel is within walking distance to almost everything, including St. Michael's Gate, Old Town Square, St.Martin's Cathedral (5-minute or less) and the Castle (10 minutes).
Check Availability & Prices on
Booking.com / TripAdvisor
Austria Trend Hotel
Austria Trend Hotel – A contemporary design hotel in a new building with a funky, out-there exterior (metal postage stamps on the exterior light up at night), the rooms are modern and decently sized, with large walk-in rain showers in most standard rooms. Located on the edge of the Old Town pedestrian area, it's only about a 7-minute walk to the main square and a 20-minute walk to Bratislava Castle. If you don't feel like walking, the tram stops right outside the hotel.
Check Availability & Prices on
Booking.com / TripAdvisor
Hotel Devin
Hotel Devin – A well-located property just 5 to 7-minutes' walk to Old Town Square, St. Michaels's Gate, and the Primate's Palace (and just a bit further to the Castle), the stand-out feature of this hotel are the views: rooms on one side of the hotel face the mighty Danube, and on the other side rooms overlook the iconic rooftops and church spires of Old Town. Air conditioned rooms have coffee and tea making facilities, there's a restaurant on-site, as well as a pool, steam room, and spa.
Check Availability & Prices on
Booking.com / TripAdvisor
Danubia Gate
Danubia Gate – A modern 4-star hotel with a bit of a retro color scheme, past guests mention the comfortable beds, great showers, coffee and tea making facilities in each room, and the friendly and welcoming staff. There's a fitness centre on site, as well as a diner-style restaurant.  Just a 7 or 8-minute walk to the Primate's Palace, main square and St. Martin's Cathedral, past guests give it top marks for comfort and location.
Check Availability & Prices on
Booking.com / Trip Advisor
Marrol's Boutique Hotel
Marrol's Boutique Hotel – An elegant 5-star hotel tucked in a quiet part of Bratislava's historic Old Town, it's just a 10-minute walk to the main square and other attractions. The interior is upscale and traditional-looking, and rooms offer a complimentary mini bar,  coffee and tea facilities, smart TVs, and lovely modern bathrooms. There's a spa and restaurant on site, a lobby bar with a fireplace for some winter coziness, and a terrace to enjoy the summer evenings.
Check Availability & Prices on
Booking.com / TripAdvisor
Skaritz Hotel & Residence
Skaritz Hotel & Residence – Offering large rooms with sumptuous decor, hardwood floors, and lux furnishings, this hotel is within arms reach of the main square and St. Michael's Gate. All rooms are air conditioned, and offer satellite TV,  tea and coffee making facilities, and nice bathrooms. The hotel features a spa and sauna, as well as an on-site restaurant serving up local specialties. Attractions are close by, and the castle is just a 10-minute walk.
Check Availability & Prices on
Booking.com / Trip Advisor
Hotel Avance
Hotel Avance – Offering cozy and inviting rooms, past guests have commented on the comfortable rooms and friendly service, as well as decent breakfasts. The hotel has a restaurant and a small "mini-market" on site, and plenty of cafes and restaurants nearby (although no in-room coffee/tea facilities). The hotel offers underground parking for about €7/day, and they can arrange airport transfer for you.
Check Availability & Prices on
Booking.com / TripAdvisor
Hostel Folks
Hostel Folks – Little things can make a big difference when staying at hostels, and this one seems to tick most boxes. Offering comfortable beds with electrical outlets and reading lights, it gets top marks for cleanliness from past guests. Affordable laundry, large common area, and a well-equipped shared kitchen, people also seem to appreciate the good showers and shared bathrooms. 24-hour reception, a central location, and private/dorm and female-only dorm options.
Check Availability & Prices on
Booking.com / TripAdvisor
Patio Hostel
Patio Hostel – One of the most popular hostels in Bratislava, this is a large hostel with a fun, cheery vibe. Room options include private rooms with a private bathroom if you're travelling with friends or as a couple/family. Located on the edge of Old Town, it's walkable to almost everything. Bunks have storage lockers, there are free laundry facilities and a shared kitchen on each floor, and towels and linens are provided. You can rent bicycles from the hostel, or just hang out and enjoy a drink on the lovely patio.
Check Availability & Prices on
Booking.com / TripAdvisor
There are also loads of beautiful, modern holiday apartments in Bratislava, if you'd prefer to have your own kitchen and a bit more comfort. We've listed a few that stood out to us during our research, and get top reviews from past guests.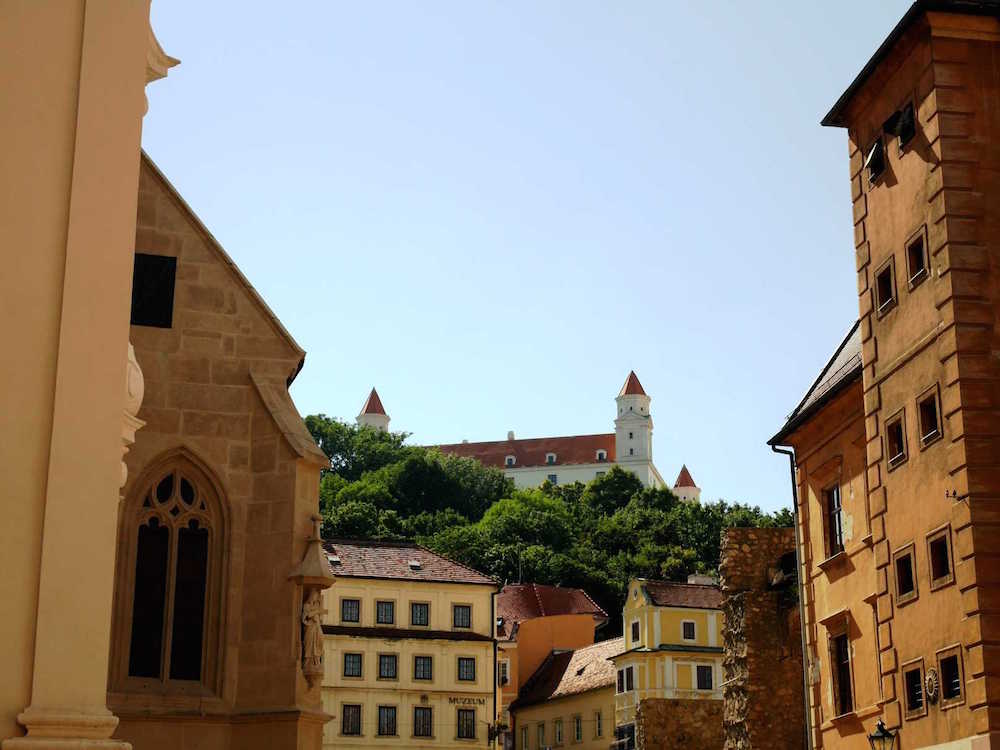 Where to Stay in Bratislava: Palisády is a Quiet & "Local" Part of Old Town
Great area for: ✓ Peace & Quiet ✓ Arts & Culture ✓ Sightseeing ✓ Convenience
Palisády is one of Bratislava's historical neighborhoods with a local feel to it. While you won't find many bars or souvenir shops in Palisády, you will be rewarded for stepping ever-so-slightly off the beaten track with cozy cafés and peaceful, romantic streets.
One of the undiscovered (by tourists, at least) gems in Palisády is the Goat Gate Cemetery (Cintorín Kozia brána). If you go for a walk to the Slavín War Memorial — a great viewpoint in and of itself — you'll probably pass it. The Presidential Palace and gardens are also close by.
If you choose to stay in Palisády (which comes from the Slovak word, palisáda, meaning wooden fortification), you can easily walk to City Hall in less than 15 minutes. You'll also be close to many public transport options, and can take trolley 203 and 207 from the Presidential Palace to Bratislava Castle.
Skip ahead to the next neighborhood ↓
Mamaison Residence Sulekova
Mamaison Residence Sulekova – Offering your choice of a suite, a studio, or a room, all have lovely modern decor and comfortable furnishings, and most offer great views of the castle (a 7-minute walk away). With a daily continental breakfast, fitness facility and sauna on site, and a fresh and clean vibe, this place gets great reviews from past guests. Apartments have equipped kitchens, and all the rooms and suites have nice, modern bathrooms. A 10 to 15-minute walk to the centre of Old Town.
Check Availability & Prices on
Booking.com / TripAdvisor
Bratislava Castle Hill Apartment
Bratislava Castle Hill Apartment – A highly-rated one-bedroom apartment, this place offers a double bed and a pull-out sectional for additional guests if needed. There's a well-equipped kitchen and grocery store nearby if you want to cook, and the castle is just a two-minute walk. To get to the centre of Old Town, it's a 10 to 15-minute walk, depending on where you are going. Located 80m from a bus stop to connect to the train station.
Check Availability & Prices on
Booking.com / TripAdvisor
Castle Wall Apartment
Castle Wall Apartment – A clean and bright two-bedroom apartment with hardwood floors, this place offers free parking right near the castle. The apartment is close to a grocery store, and walkable to the center of Old Town in about 10 minutes. Past guests have said the owner is very pleasant, attentive and helpful, and the free parking is underground in a private garage. Comfortable beds, very modern bathroom and kitchen facilities.
Check Availability & Prices on
Booking.com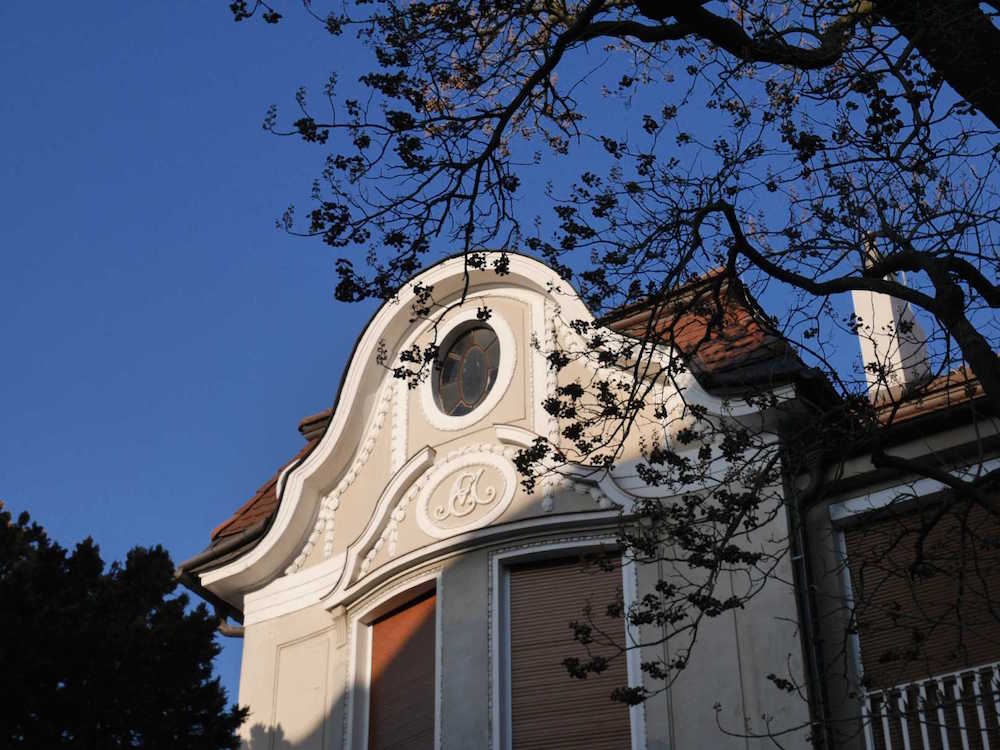 Where to Stay in Bratislava: Petržalka is Full of Typical Communist Architecture
Great area for: ✓ Communist Architecture ✓ Local Living
In the past, Petržalka was a lovely village with peach orchards. This idyllic setting was erased by the Communist regime, along with many other spots across the city, and today Petržalka has a 'communist' look to it, filled with shapeless concrete buildings and offering a window into the not-so-distant past of the city.
If you want to explore Petržalka, the area is accessible by bus (all the buses in the 90s) and a recently-added tram route (no. 1 and 5), as well as bike lane connections to the centre. While it's an interesting, off-beat area to visit, it's not the best area to stay in Bratislava for first-time visitors and those interested in Bratislava's beautiful old architecture and culture. If it's your second or third time in the city, however, if you're particularly interested in communist architecture, or you're planning to stay for a longer visit, Petržalka might be a good area to stay in Bratislava.
If exploring an abandoned metro station covered in graffiti sounds up your alley, check out Karin's post about her Stanley Kubrick-style urbex adventure at a former metro construction site that's been long abandoned. Graffiti Underground: Abandoned Metro Station in Bratislava.
Skip ahead to read about other neighborhoods ↓
Botel Dunajský Pivovar
Botel Dunajský Pivovar – Boat + Hotel = Botel! Moored on the Danube River with a great view of the castle, each "cabin" has a TV, minibar, modern bathroom and shower. We've suggested botels before in Prague and Budapest, but this is the only botel we've found with its own private brewery!!! Kick back on the deck while enjoying a Patrón beer (or a glass of wine) and a great view. On-site restaurant if you get hungry, and just a 10 to 15-minute stroll to Old Town.
Check Availability & Prices on
Booking.com / TripAdvisor
Hotel Esprit
Hotel Esprit – This looks like a decent choice if you have a car, as there is free parking on site. Located at the Incheba Exhibition Centre and across from a large shopping center,  it's close to a bus stop or a 20 minute walk into Old Town. A very modern hotel with nice rooms and a bar and terrace, but a bit far from the sites.
Check Availability & Prices on
Booking.com / TripAdvisor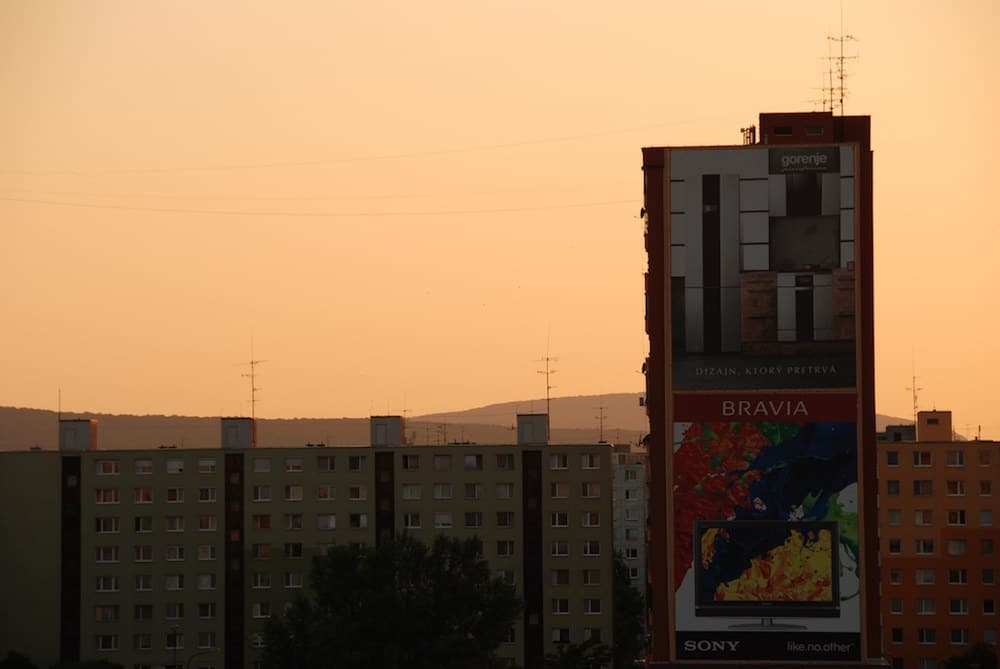 Bratislava's Other Neighborhoods to Explore
For adventurous travellers, there are several other Bratislava neighborhoods worth visiting during your stay…although we wouldn't suggest you stay in them out of practicality. While most visitors omit these places from their Bratislava itineraries, second-time visitors and those with a little more time will be rewarded for exploring beyond the downtown.
Where to Stay in Bratislava: Rača, Ružinov and More Are Worth Visiting to Get Off the Beaten Path!
Rača: Rača might be interesting to slow travelers with a bit of extra time, and those who are interested in experiencing more of the local lifestyle. Accessible by tram, parts of Rača have a distinct village feel to them, and are bordered with vineyards and a forest. If you prefer village life to the city and are visiting for awhile, Rača could be a good area to visit in Bratislava.
Ružinov: About 5 kms (3 mi) from the Old Town, Ružinov is accessible by tram, bus and bike, and has loads of parks and shops for local living. Not particularly convenient for a short stay,  Ružinov could be a good area to stay in Bratislava for people who are settling in for a few weeks.
Devín: The main attraction of this area is Devín Castle, dating in one form or another back to the year 864. It's located about 12 kms from Bratislava's Old Town, on the border between Slovakia and Austria. Sandberg Hill is another interesting attraction in Devín. A naturally-occurring sandy hill with a lovely view of the Danube, the area is home to endemic plants and fossils dating back to a time when this area was under an ancient sea. If you're driving between Austria and Slovakia, this makes a nice stop.
Koliba: Located in the foothills of the Carpathian Mountains, Koliba is home to a large and lovely forested park, popular with locals for hiking and cycling. If you're interested in active and outdoor tourism within the city limits, Koliba could be a nice area of Bratislava to visit.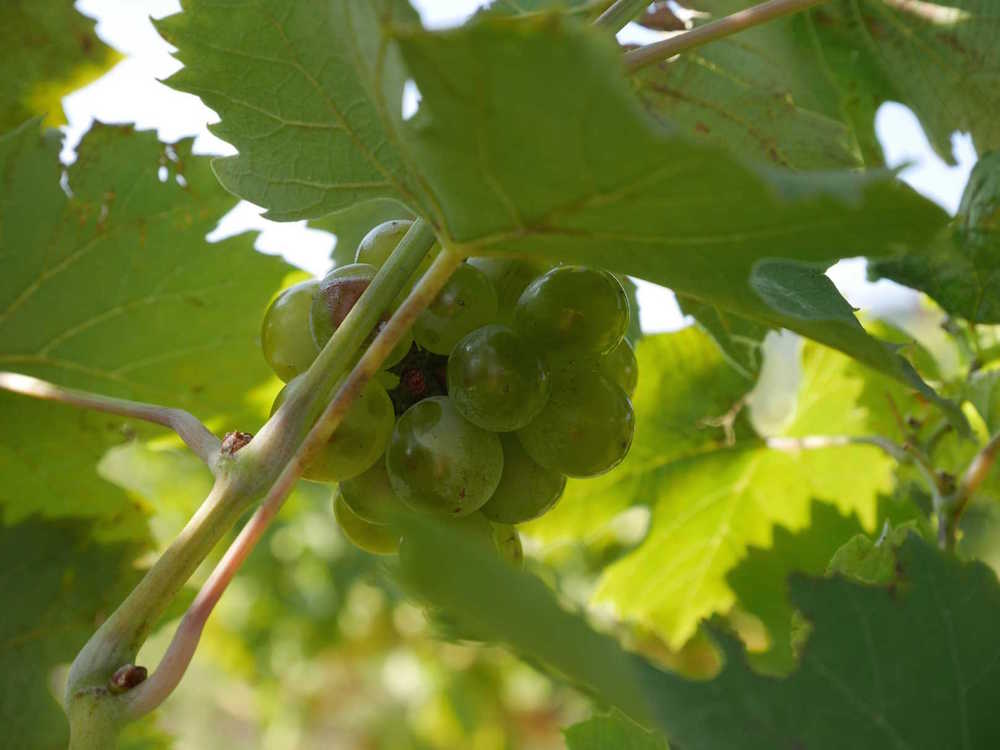 Where to Stay in Bratislava: Travel Tips & FAQs
Hopefully, we're answered most of your Bratislava where to stay questions in this post, and given you an idea about the best area to stay in Bratislava for your travel style and trip needs. That said, we know you probably still have a few more questions, and have done our best to answer them below.
Bratislava City Orientation & Transportation
With only 500,000 people, Bratislava itself is quite compact and easy to explore. Located on both sides of the Danube river, the city has an excellent tram system connecting Ružinov, Nové Mesto and Dúbravka with the downtown, in the vague shape of a badly drawn W letter.
For most visitors, you won't need to use the public transportation, other than when you first arrive in the city and when you leave. Everything is close in the downtown, and you'll most likely explore the city on foot.
If you'd like to try something a little more adventurous, Bratislava is also lovely when explored by bike – especially the wider city. While the bike lanes are far from perfect, the drivers are rather friendly to the rising bike culture. Other than Castle Hill, the city is flat, and it's possible to cross all the bridges by bike. Renting a bike will also allow you to explore the Danube area in more detail. It's an interesting part of the city for what remains of the Iron Curtain bunkers, and because of the flooded forest (a partially-protected natural reserve), and pebble beaches along the river.
If you do find yourself needing to use public transport, the system consists of trams, buses and trolleys that circulate between 5am and 11pm. There are also night buses leaving from the train station once an hour, usually around half-past, in case you arrive at night. All stops are signalled during the night, meaning the driver will only stop if you push the button to get off. Night buses from the train station stop at the Presidential palace (Hodžovo námestie).
Tickets are needed for the entire public transport system. You can buy tickets using the yellow machines at the bus stops, or in the stands. Tickets last for for 15, 30 or 60 minutes, and you can switch from one tram/bus/trolley to another, as long as it's within the valid time window on your ticket.
You can also buy a tourist ticket for 24 hours or more. Unless you are planning to take a lot of buses, the tourist tickets probably aren't worth the price.
Once you get aboard, be sure to validate your ticket. There are random controls, and fines are relatively expensive if you're caught without a validated ticket.
You can find time tables, connection information, and a journey planner on the official website of the public transport authority.
Finally, if you're planning on travelling beyond the city limits, Cestovné poriadky is a helpful website (English version available) to search transportation options.
Helpful Transit Info
Useful Train Station Connections: Tram (1, 2), the bus to the airport (61), trolley (210) and the bus (93) to downtown. Find the full schedule here.
Useful Bus Station Connections: Bus to downtown (78) and trolleys to Ružinov. Find the full schedule here.
Getting to the Airport: Buses no. 61, 96 and N61 (the night bus).
Is Bratislava Safe?
Overall, Bratislava is a very safe place to visit. Although you should watch out for pickpockets (as with any European capital!), it's highly unlikely you'll experience anything more sinister.
Even with that warning about petty crime, it's worth noting that in my experience as a local, Bratislavans are very kind: if you forget your wallet in a café, for example, chances are it will be there waiting for you when you come back. I've personally left expensive belongings on a chair, and I've found someone else's wallet in a phone booth, and both situations have turned out well for the owner! In general, it's a local practice to try to contact the owner and return their things.
Experiencing Slovak Food and Drink in Bratislava
If experiencing traditional Slovak food and drink culture is something you're interested in, I'd suggest trying some Slovak specialties at one of Bratislava's many restaurants. In particular, I'd recommend you try Kapustnica (sour cabbage soup with sausage), Halušky (gnocchi with sheep cheese and bacon), and makové šúlance (sweet gnocchi with poppy seeds) – these are all typical and very tasty dishes, albeit a bit heavy.
The heaviness of the dishes comes in handy if you plan on trying the local spirits! Slovakia is known for its fruit liquors (pálenka), which are very strong, but quite nice if you're feeling adventurous. If you're not up for the spirits, Slovakia is also a lesser-known wine producing country, with local white wines and rosés offering the best taste and value.
Internet
Bratislava is also a good spot to find a great internet connection. Cafés, bars and restaurants commonly have Wifi strong enough to get some work done, and you can also find free Wifi in front of the Primate´s Palace (where it's not uncommon to see people sitting on benches with laptops on their knees!).
So Where Should You Stay in Bratislava?
If you're visiting Bratislava for the first time, or plan to only stay for one or several days, the historical Old Town is the best area to stay in Bratislava. There are many accommodation options in Bratislava's old center, you'll be surrounded by the city's beautiful old architecture, and you'll get a feel for the provincial-yet-hip vibe of Bratislava.
If you want to try staying somewhere a bit off the path, consider staying in Palisády. If you're travelling as a couple or family, the calmness and charm of the streets in Palisády might win you over.
If communist architecture and city planning is an interest, you might find Petržalka the best area to stay in Bratislava (although personally, we'd recommend staying in either the Old Town or Palisády and then visiting Petržalka, rather than staying there).
While Rača, Ružinov, Devín, and Koliba are also interesting areas of Bratislava, we'd suggest you stay in the historical centre, and visit these neighborhoods if you have the time.
Read More & Let Us Help You Plan Your Trip!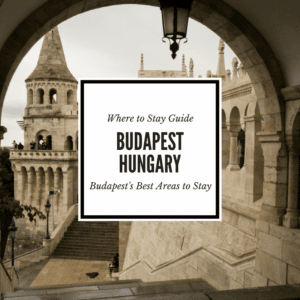 Where to Stay in Budapest: Budapest's Best Areas to Stay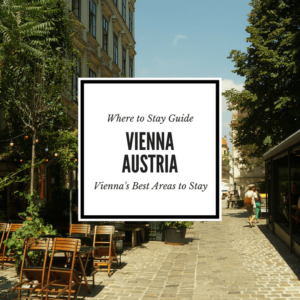 Where to Stay in Vienna: Vienna's Best Areas to Stay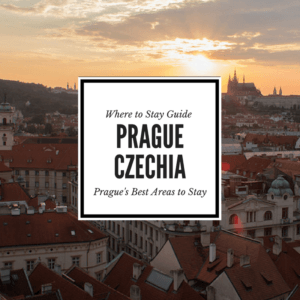 Where to Stay in Prague: Prague's Best Areas to Stay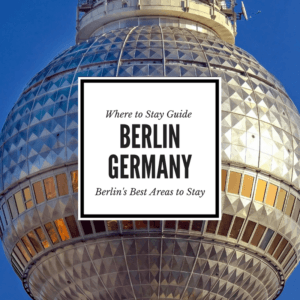 Where to Stay in Berlin: Berlin's Best Areas to Stay
Disclosure: A Quick Note About the Hotel Listings in this Where to Stay in Bratislava Neighbourhood Guide
We hope this Where to Stay in Bratislava Guide (and our Where to Stay in Vienna, Where to Stay in Berlin, Where to Stay in Prague Guides…you get the idea) make your trip planning process a bit easier, and your vacation a bit better! Our goal is to help you find the best area of Bratislava to stay, no matter what your specific travel style and budget. That's why we hired a local writer to create the bulk of this guide – we wanted the inside scoop from someone who knows all the Bratislava neighborhoods really well.
That said, it goes without saying that locals don't live in hotels. And because we can't afford to send a writer to 20 different hotels and apartments to test them out, we have to rely on online research. Basically, we've outlined the best areas to stay in Bratislava with Karin's help. Then we've done our own research using Booking.com, TripAdvisor, and Google Maps to find the best hotels in Bratislava, broken down by each Bratislava neighborbood.
We haven't personally been to these hotels, but when choosing the hotels to list, we asked ourselves things like: Have past guests left good reviews of the hotel? Does it look like somewhere I'd personally want to stay? Does it seem to be in a great location for enjoying Bratislava? Would I send the link to my mom or BFF if they were visiting Bratislava?
Our goal is to help you have a great trip to Bratislava, whether you're making a long central European vacation that includes Budapest, Vienna, Prague, and Berlin, or you're simply hoping for a short Bratislava city break. And, we understand you probably don't want to spend hours on the internet, reading reviews and cross-checking locations against Google maps. So basically, we've tried to do all that for you :)
While we hope we've succeeded…please don't blame us if we haven't. At the end of the day, we expect you'll check the most recent reviews and specific conditions in the city, using our listings as a starting point and framework, and choosing then selecting the best hotel and area to stay in Bratislava for your own trip!
As noted at the top of the page, the links in this post are affiliate links, meaning we earn a commission if you choose to book your hotel via the links in this Where to Stay in Bratislava Guide (you don't pay any extra). Thanks in advance for your support, and we hope you have a fantastic visit to Bratislava.
Like this Guide? Pin it for Later!