If you're wondering what to pack for Iceland in the summer, you've come to the right place. Here are all my tips on what to wear, how to dress for the weather, and all the things to make your vacation super easy and enjoyable – it's the ultimate Iceland summer packing list!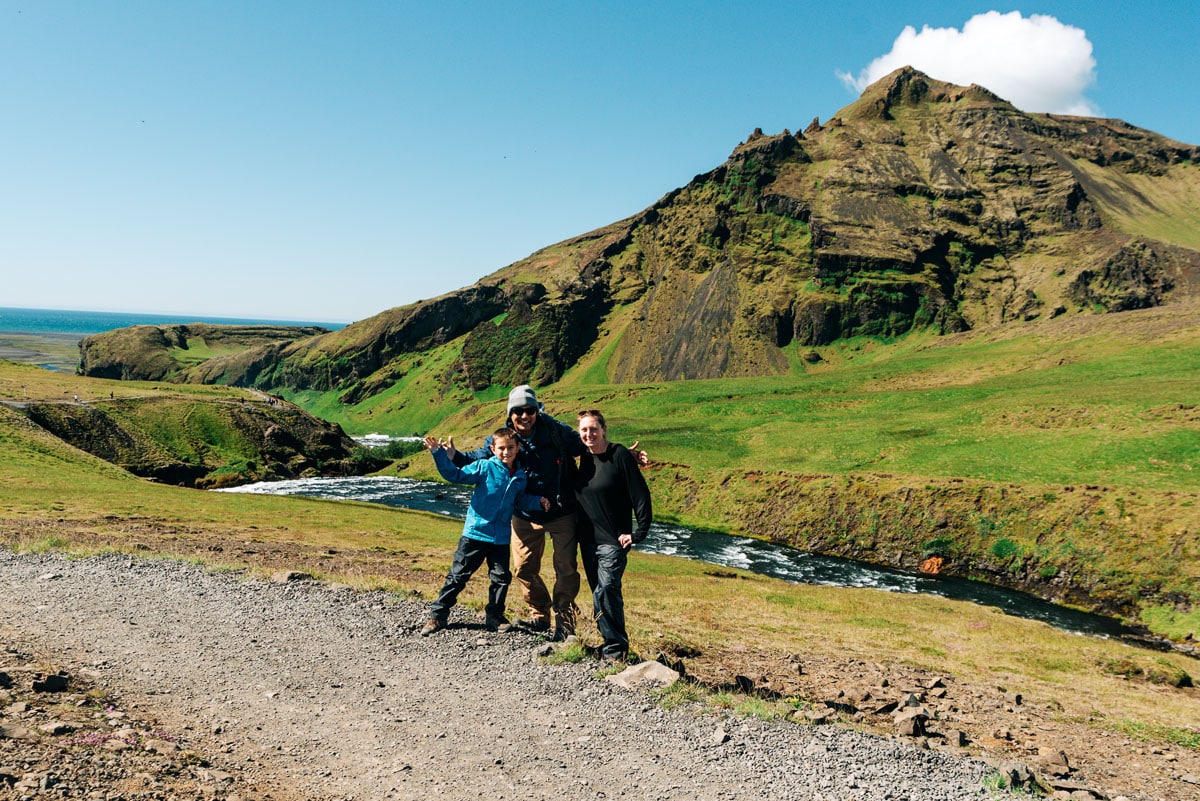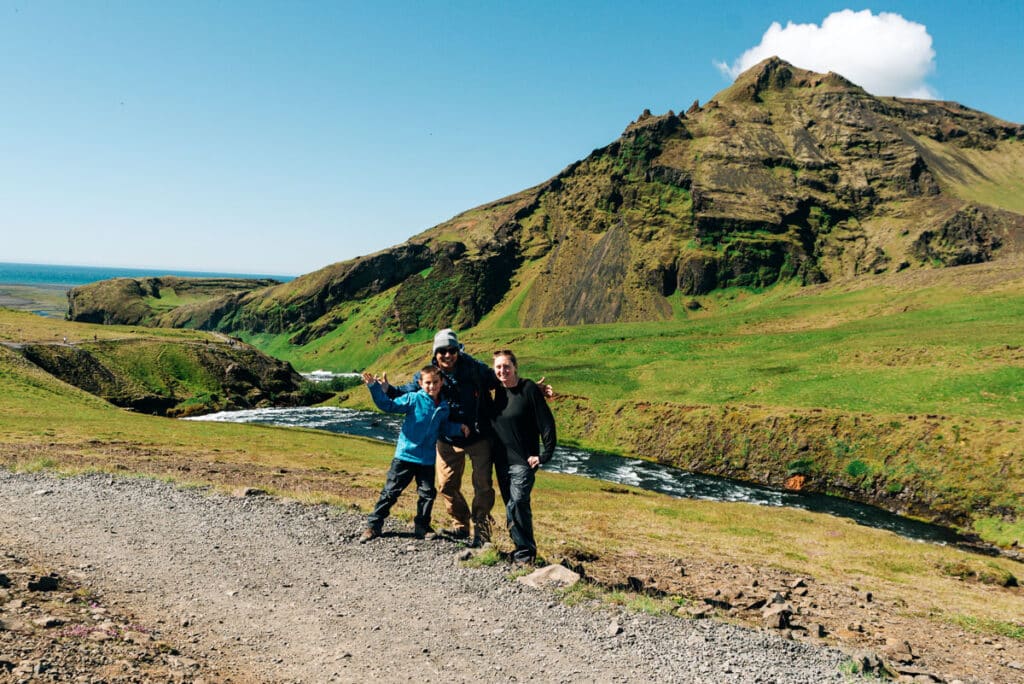 As we were planning this bucket list trip to Iceland, I spent an absolutely crazy amount of time thinking about what we needed to pack. Our summer trip to Iceland meant that the weather would be at its most agreeable.
But agreeable weather in Iceland is still pretty… um.. disagreeable. It the months of June, July, and August, Iceland can be as cold as 40 degrees with rain and severe winds, or a temperate 65 degrees and sunny. So you have to be prepared for just about anything.
And as Florida natives, we have very little cold weather gear in our wardrobes. Ok, we didn't have any cold weather gear (with the exception of what we purchased for our Grand Canyon trip in spring). So I had a lot of planning to do.
But I'm glad I spent all those hours stressing over the packing list, because we needed every last item!
And of course I want to share all that research with you, so I've compiled it into this comprehensive Iceland summer packing list! I've done my best to cover all the essentials – plus a few helpful things you probably haven't thought of yet.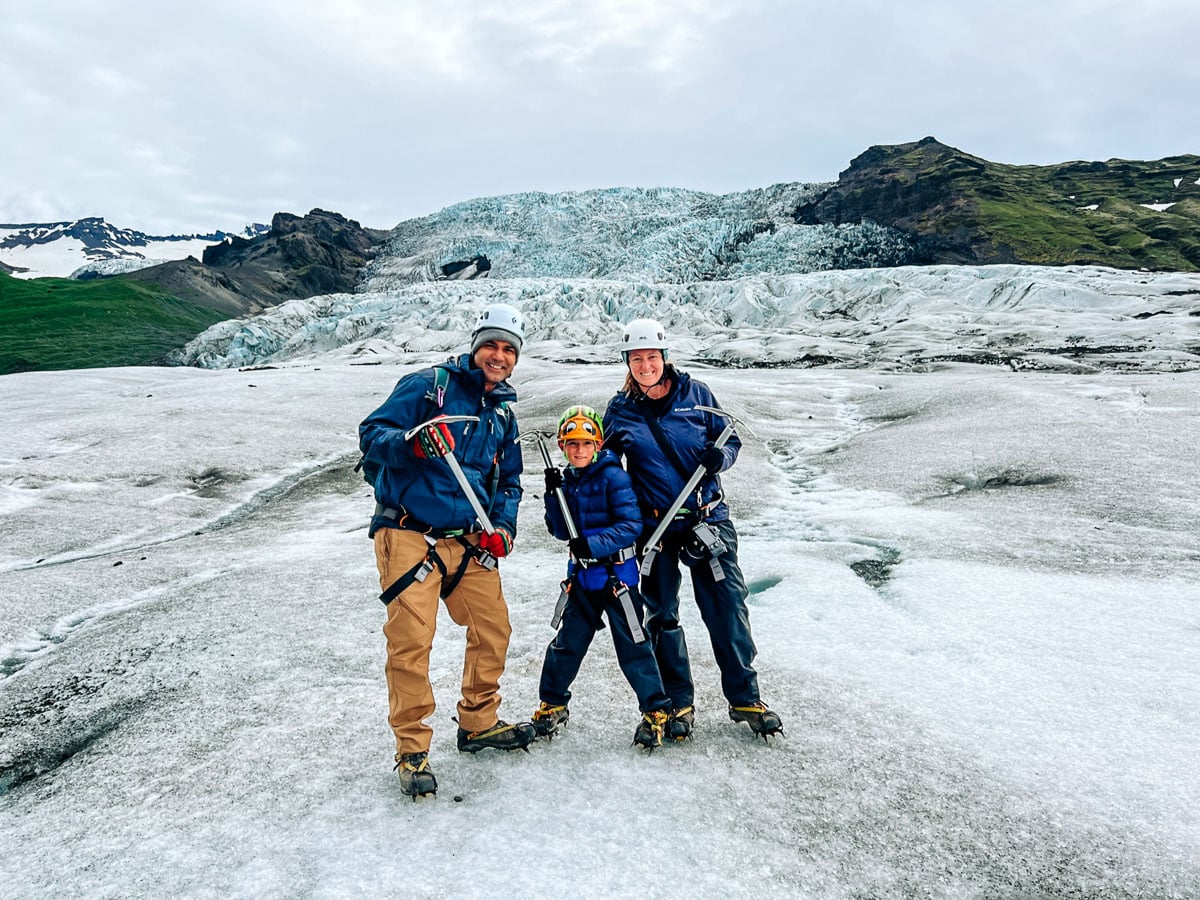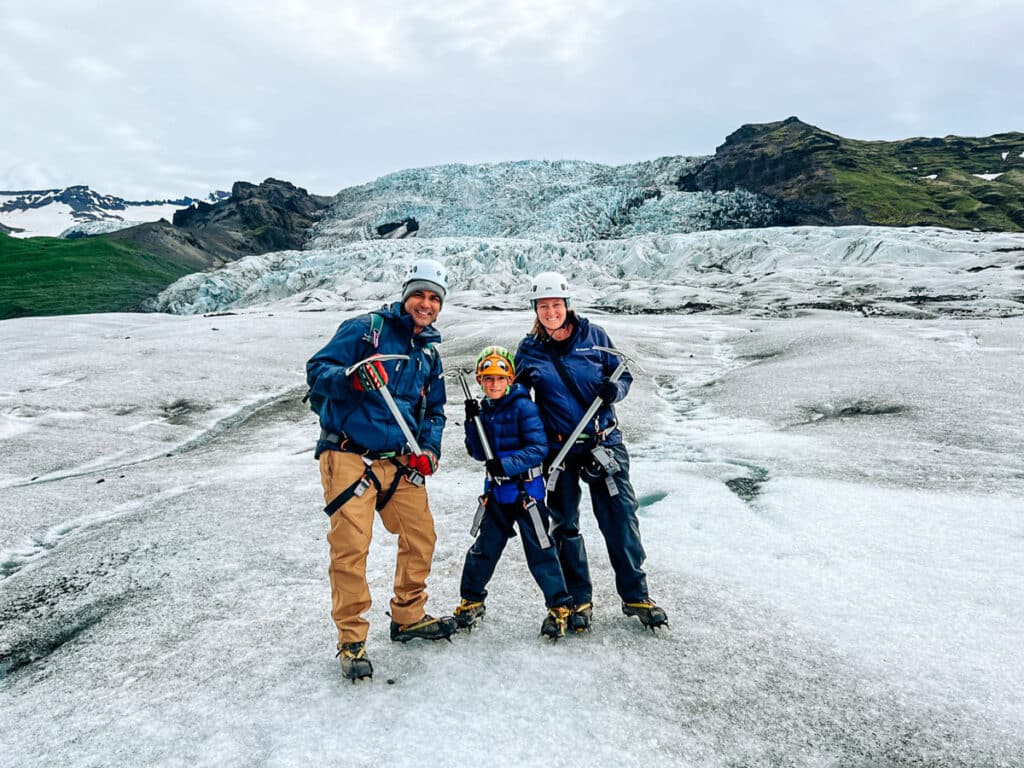 Clothing – What to Wear in Iceland in the Summer
As I mentioned, the weather in Iceland can be very temperamental, even in the summer. Temperatures can range from lows in the 40s to highs in the 60s. You could get rain every day or not at all, but are sure to get plenty of wind. And you might even still see snow!
So it's best to follow the age old advice – dress in layers. That way you can easily adjust based on the weather throughout the day and the activities you have planned. But there are some basics you should be sure to take along on your Iceland adventure!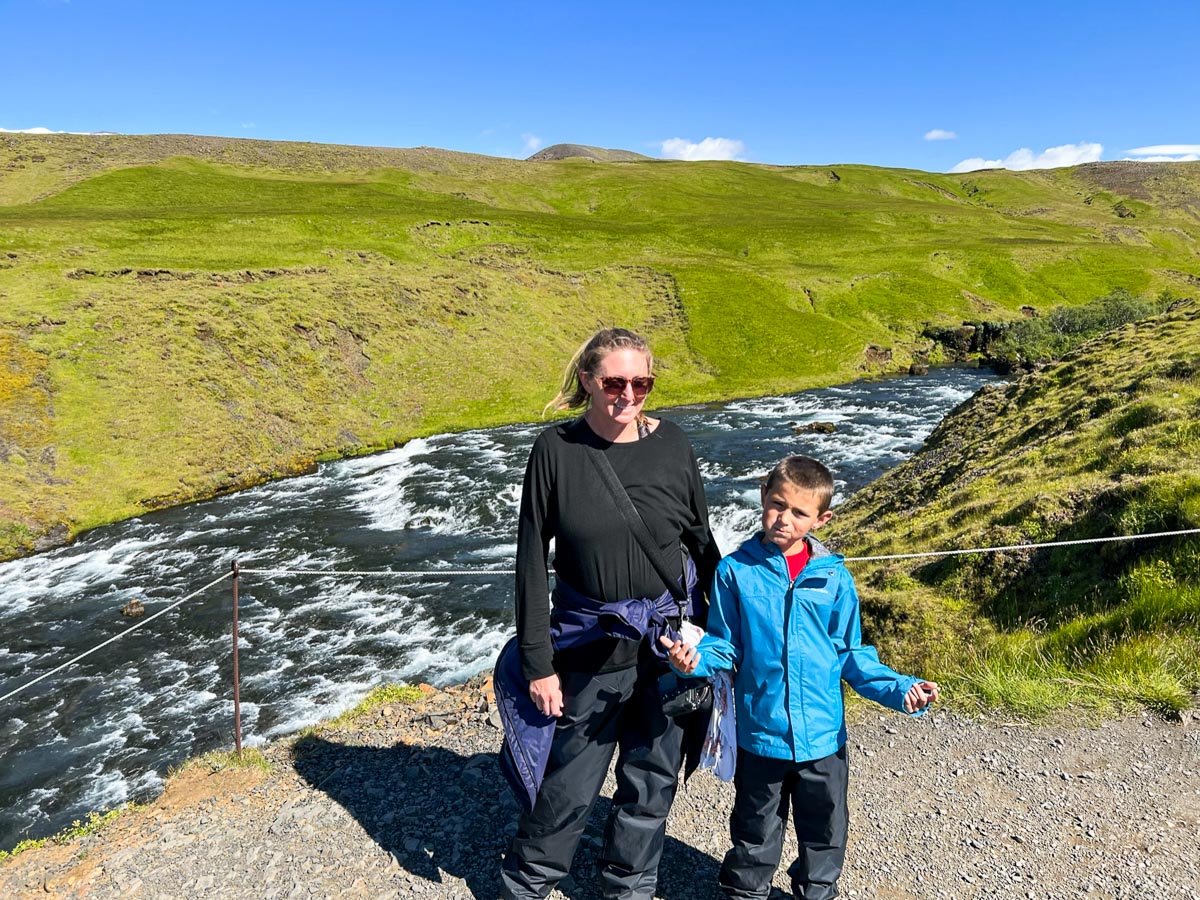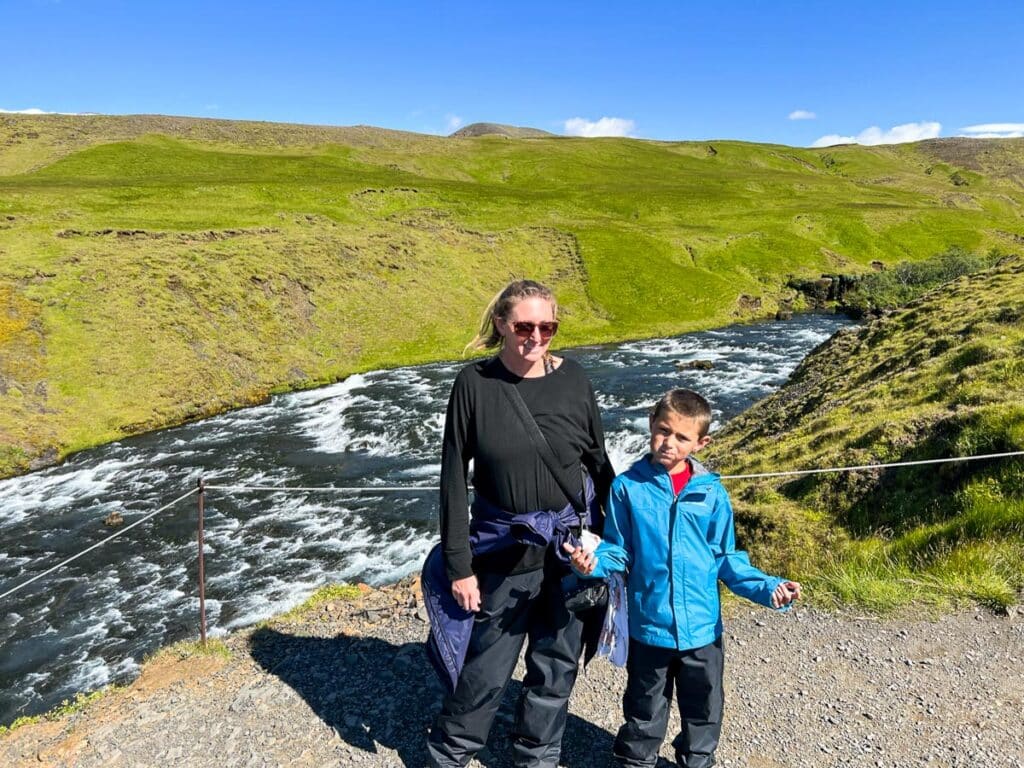 Pack Base Layers
In the summer months, a true thermal base layer is optional. But if you're from a warm weather climate like me, you'll probably want to just go ahead and bring some. A base layer is meant to be worn underneath of your regular tops and bottoms (like a sweater and jeans) for extra warmth.
My husband was fine without a base layer, but me and my son wore our Rocky thermal underwear just about every day of the trip. I wore mine underneath my waterproof rain pants many days as well.
Choose Function over Fashion
On top of your base layer, you will want long pants and long sleeved tops. As you will likely spend a great deal of time exploring the outdoors, athletic type clothing that is easy to move around in and dries quickly tends to be the best choice.
I suggest packing a combination of long sleeve quick-dry type tops for outdoor exploring and cotton tops or sweaters for your time in the city or evenings at the hotel. (I liked these quick dry tops for myself.)
And on the bottom, go for athletic style pants or hiking pants, depending on the activities that you have planned. I wore a pair of these quick dry hiking pants and they were very comfy. For women, fleece lined leggings can be a great choice as they can be worn alone or you can pull on your waterproof pants over top.
My husband bought these fleece lined water resistant hiking pants, and he ended up wearing them just about every day of the trip! They held up surprisingly well, even when getting sprayed at the waterfalls.
It's also nice to have a pair of jeans and 1-2 nicer sweaters available for dinner in the evening or walking around the city. You're unlikely to need anything fancier than that unless you have made specific plans to dine in a high end place or plan on hitting up the nightlife scene. But for most families vacationing in Iceland, you'll be very casual the whole time.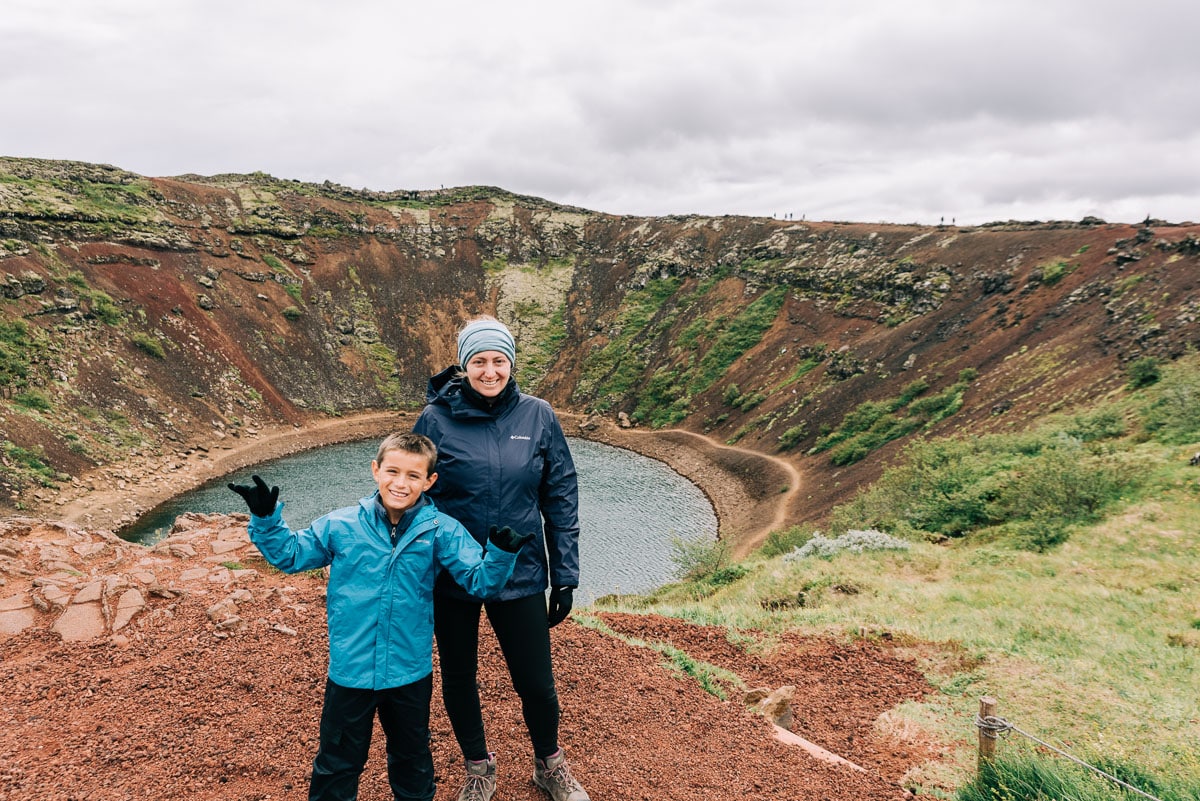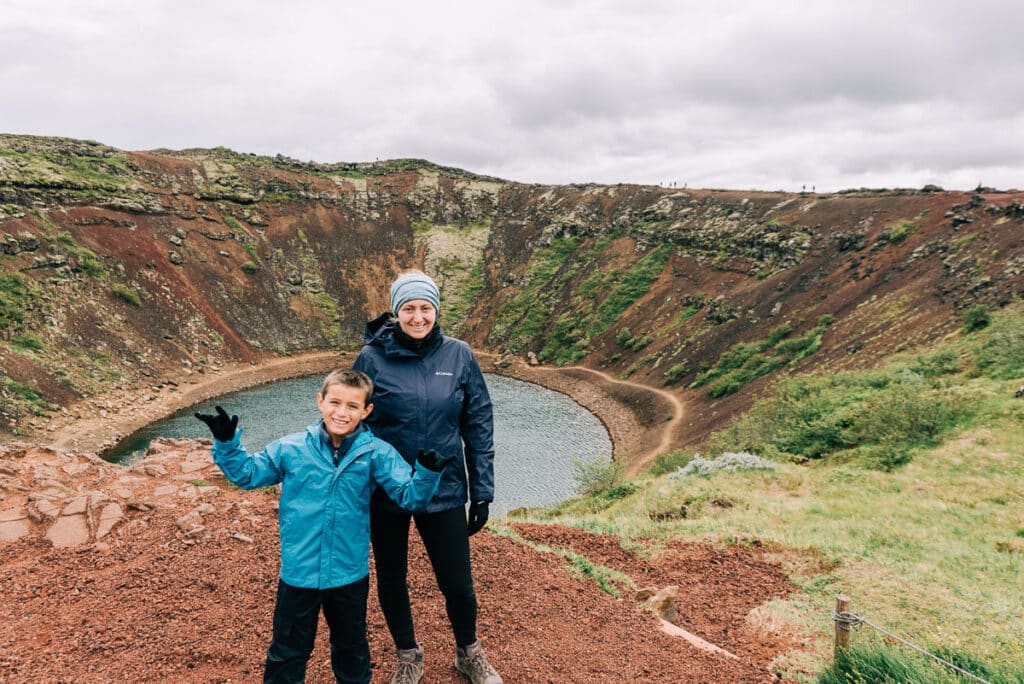 Fleece Jacket or Pullover
Next, make sure you have some type of fleece layer. On warmer days, you may be able to wear just the fleece as your jacket and feel perfectly comfortable. And on colder days, you can wear it as an extra layer underneath a warmer jacket.
We all wore our Columbia fleeces (women | men | kids) just about every day of this trip – I love these things. If you are looking for something less expensive, I've also had pretty good luck with these Amazon Essentials fleeces for my son.
For most days of our trip, a fleece paired with a waterproof shell was sufficient to keep us warm and dry. That's especially true if you are doing a lot of active exploring like hiking where a warmer jacket can get hot quickly. But the waterproof layer was totally essential.
So let's talk about waterproof clothes for Iceland…
Do I need a waterproof jacket and pants for Iceland?
Yes! You really do. You can hem and haw over it if you want, but I'm telling you to just get something waterproof. You will be much more comfortable.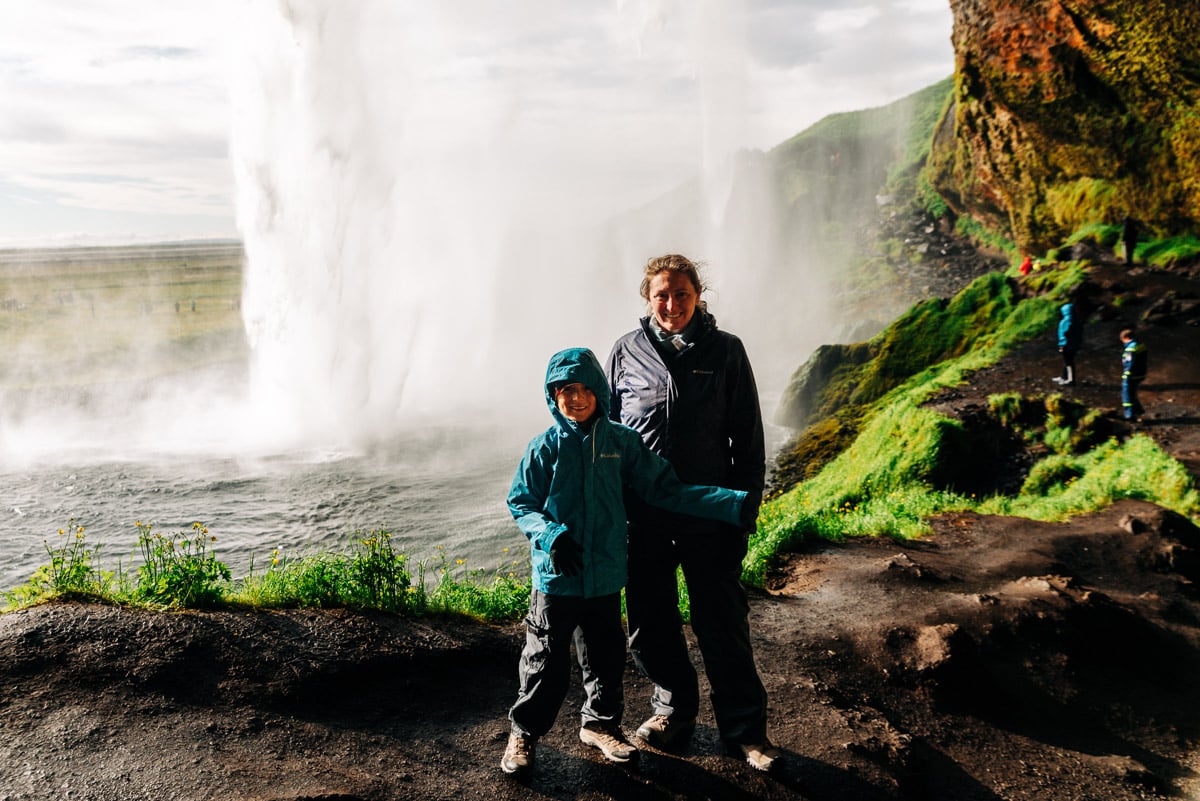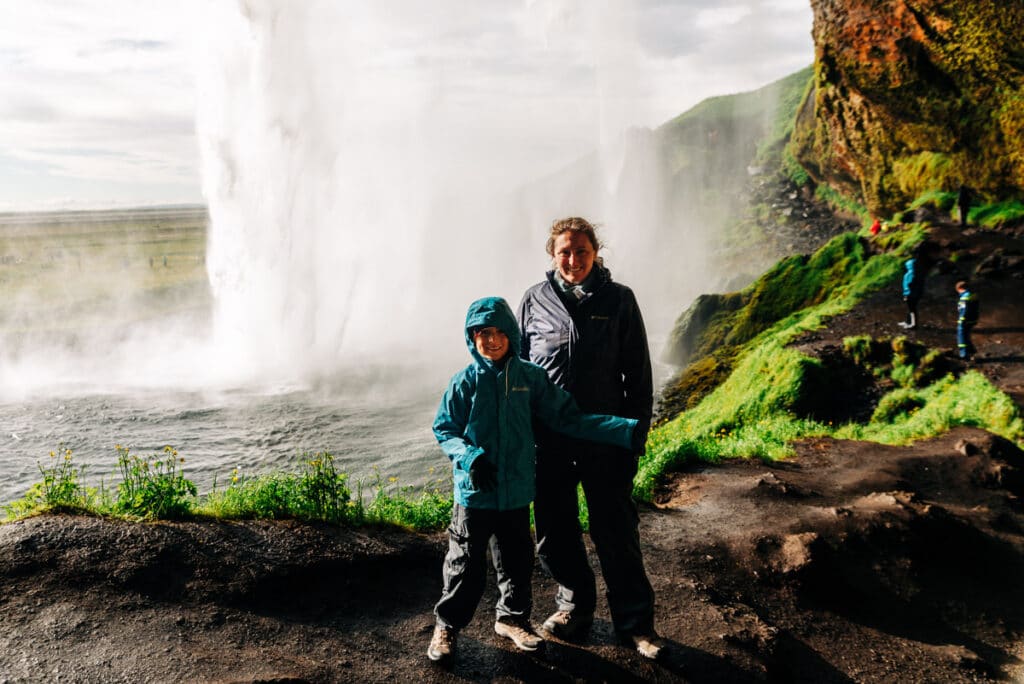 Why do you need it? Well, Iceland is a very wet place. In the summer, it's not unusual to get rain every day of your trip. It probably won't be hard rainfall all day, but it could easily drizzle all day. And pair that up with the gnarly winds and you are going to be very wet. Plus, if you plan to visit any of Iceland's famous waterfalls (which you should), you are going to get very wet on those excursions as well. Hiking on a glacier? Yep, you're getting wet again.
But my jacket is water resistant – isn't that good enough? Probably not. Look, I live in Florida. We have raincoats. But they are cheap raincoats that hold up fine when I run through a rain shower to my car. They are not meant to hold up to getting soaked or continually wet all day long. Look for clothing that is labeled as waterproof, not water resistant.
So what should I buy? Right, I'll get to the point.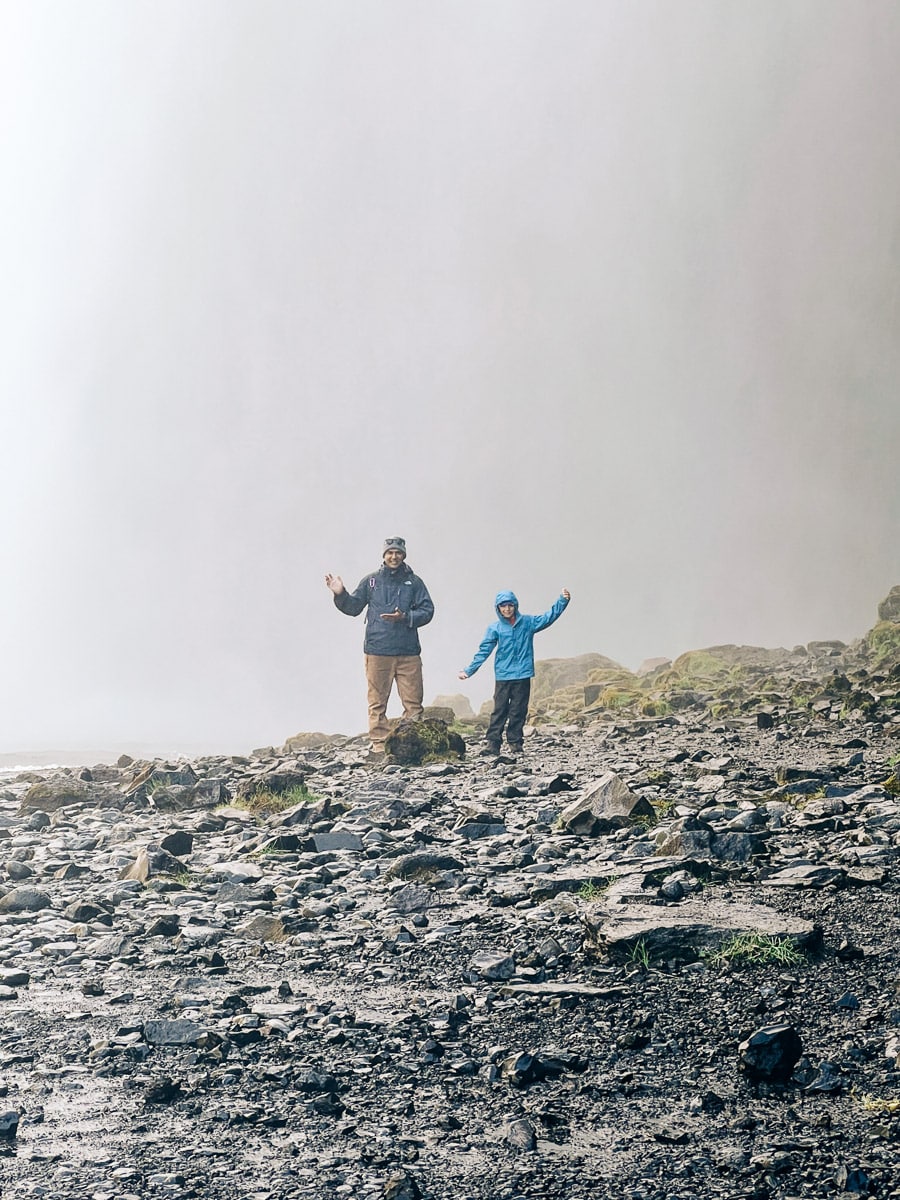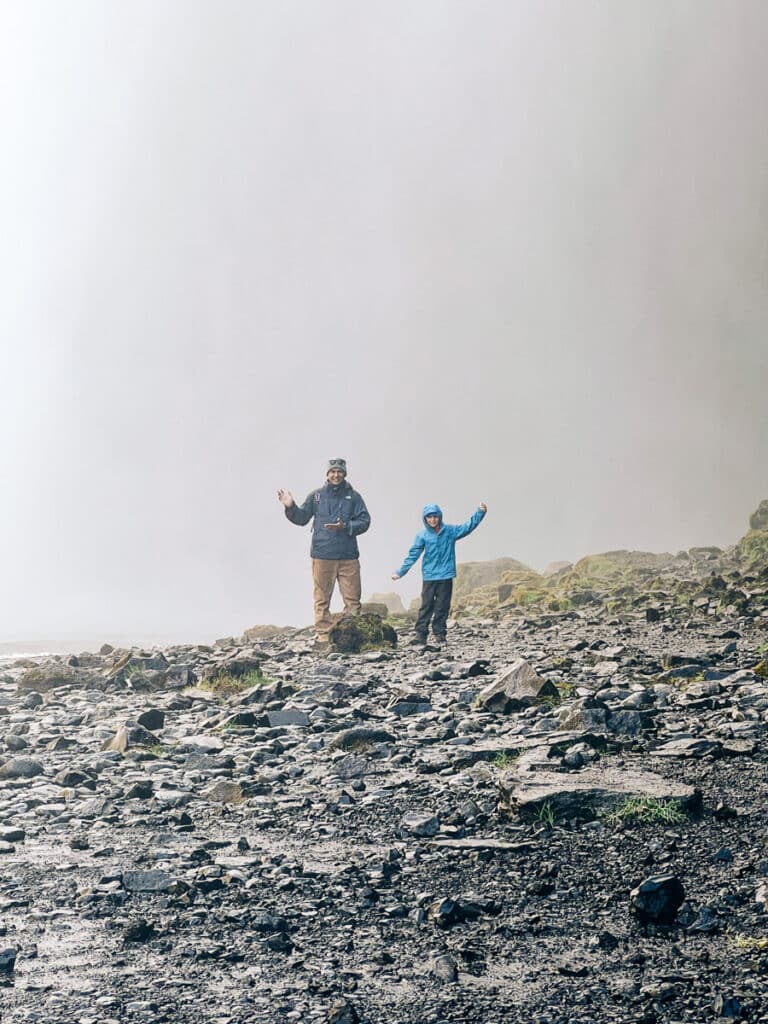 We opted to grab waterproof Columbia jackets (women | men | kids) and rain pants (women | men | kids)for the whole family . I actually bought the pants for my son for our Grand Canyon trip and they held up really well in the snow. Look for the items with the Omni Tech logo on them – that is the true waterproof stuff.
For a cheaper option, many people opt to buy these Frog Toggs. They are not exactly the most stylish, but they do get the job done and you can just slip them on over your clothes when you need them.
And if you're just wanting something really cheap to throw on for waterfall visits, then at least grab yourself some of these travel ponchos. Your legs will still get wet, but at least you'll have some protection from the overspray.
Plus A Warmer Jacket
Oh you thought we were done talking about jackets? Not in Iceland.
In addition to our fleece/waterproof jacket combo, I brought along a thicker puffer jacket for me and my son. And we definitely used those as well. I used this inexpensive Amazon Essentials puffer jacket for myself and got this (nicer) Under Armour puffer jacket for my son.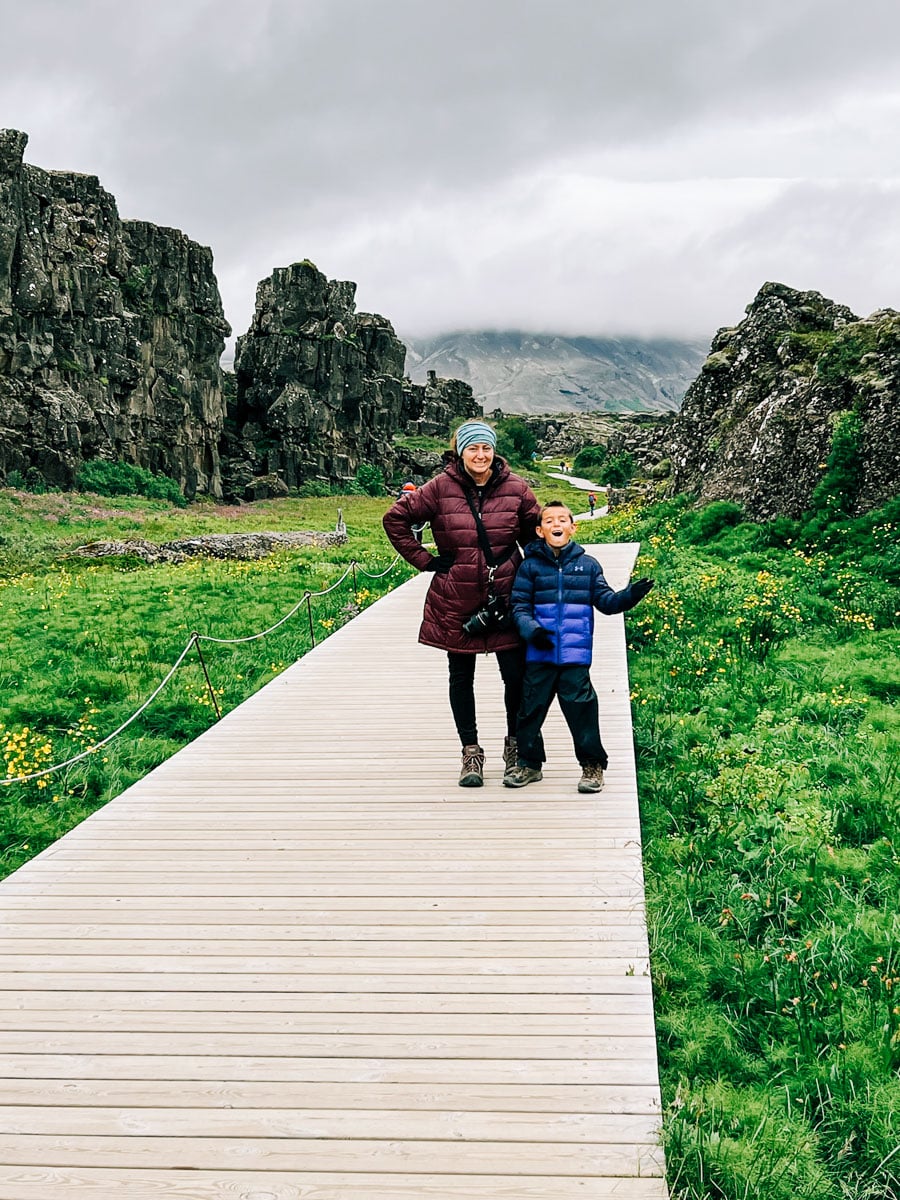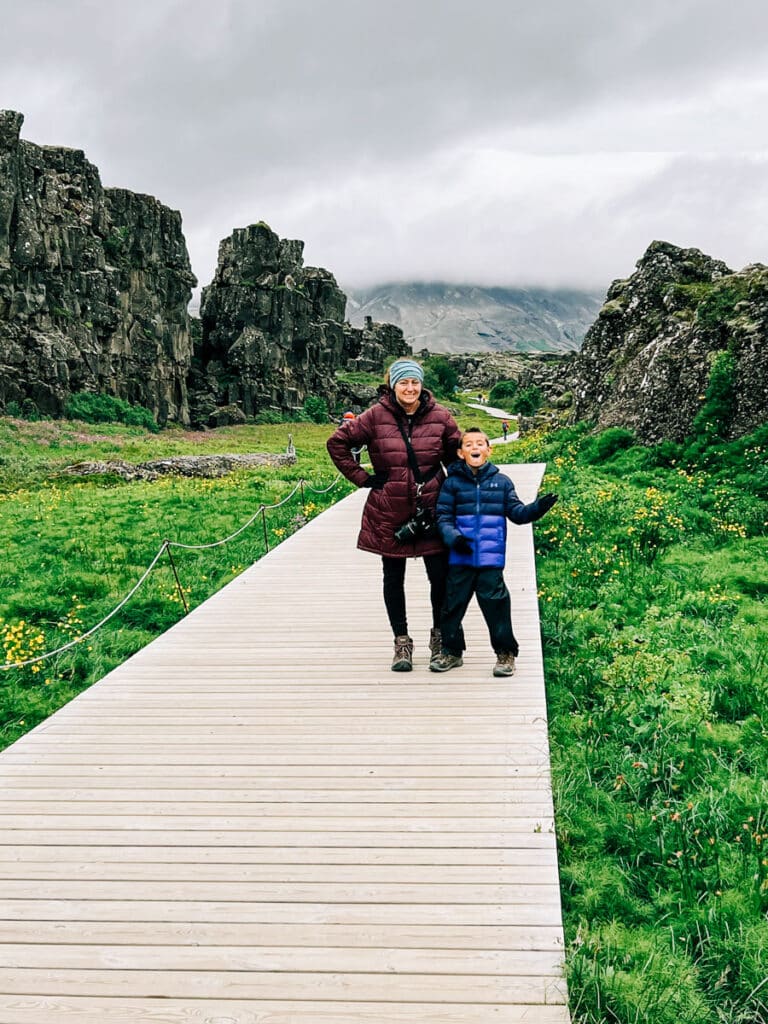 The weather really can change dramatically from day to day, and for a few days of the trip we found the puffers to be a lot more comfortable. I also found them more convenient in the evening when we just wanted to throw on one jacket and pop out for dinner, rather than getting all layered up again.
However, you could also get away with just one single jacket for the trip if you choose something that is warm enough and waterproof. My husband wore his North Face 3-in-1 jacket for nearly the whole trip, including as his waterproof layer at waterfalls. But I'm too cheap to buy myself one of those, so here we are. ;)
Shoes for Iceland
Hiking Boots are a must.
Assuming you plan to get out of the city and do some sightseeing of the famous waterfalls, glaciers, hiking trails – you need a pair of proper hiking boots or shoes. Actual boots with a taller ankle are going to be the best choice – these will give you the most stability and will also do the best job of keeping your feet dry since your waterproof pants will go over the tops.
We tested out a ton of hiking boots before settling on ours. My husband and I both opted for the Keen Targhee 3 Hiking Boots (women's | men's) and my son opted for the kid's Merrell Moab 2 Hiking Boots.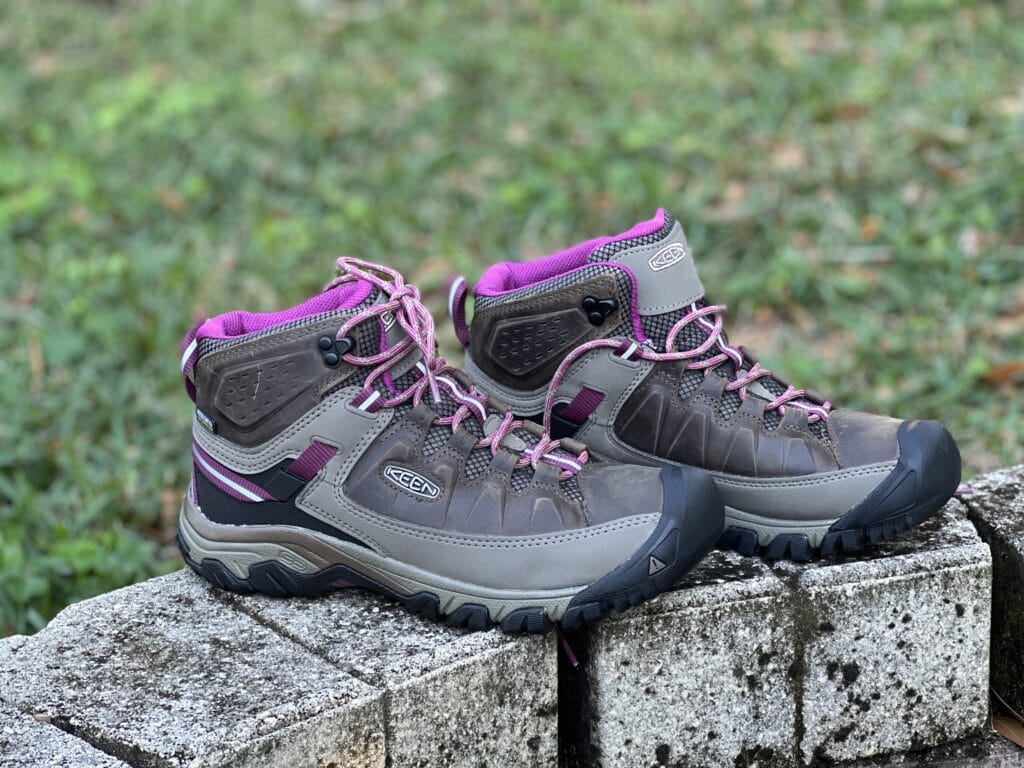 If you are set on shoes rather than boots – check out the Moab 2 hiking shoes (women's | men's) or at least bring along a good pair of trail runners. But be sure to check the requirements for any tours that you may be booking – proper hiking boots are required for glacier hikes as they are needed to properly attach the crampons (spikes) to your boots. Your tour company may offer boots for rent if you don't want to purchase them.
Casual Shoes (flats only!)
It's nice to also have a lighter pair of shoes for hanging at the hotel, going to dinner, or walking around Downtown Rekyjavik. We just brought along our regular running shoes for that, which were perfectly acceptable for every place we visited, including restaurants at night.
If you plan on dining at particularly fancy places, then you can bring along something a little dressier. But remember – flats only. You'll be walking on wet cobblestone streets. And they need to be something that will actually keep your feet dry. My usual black flats for travel would have been soaked through in minutes. A pair of casual boots like these would work well for the city.
Crampons or Traction Devices
For a summertime trip, crampons are probably not needed. (Crampons are small spikes on chains that attach to your boots to give you better traction in slippery conditions. They are often used by hikers in wet or icy conditions.)
We have our own crampons from other wintery trips, so we brought them along but didn't end up using them at all. The weather was warm enough during our summer visit that none of the trails were icy or slippery enough to warrant the use of crampons.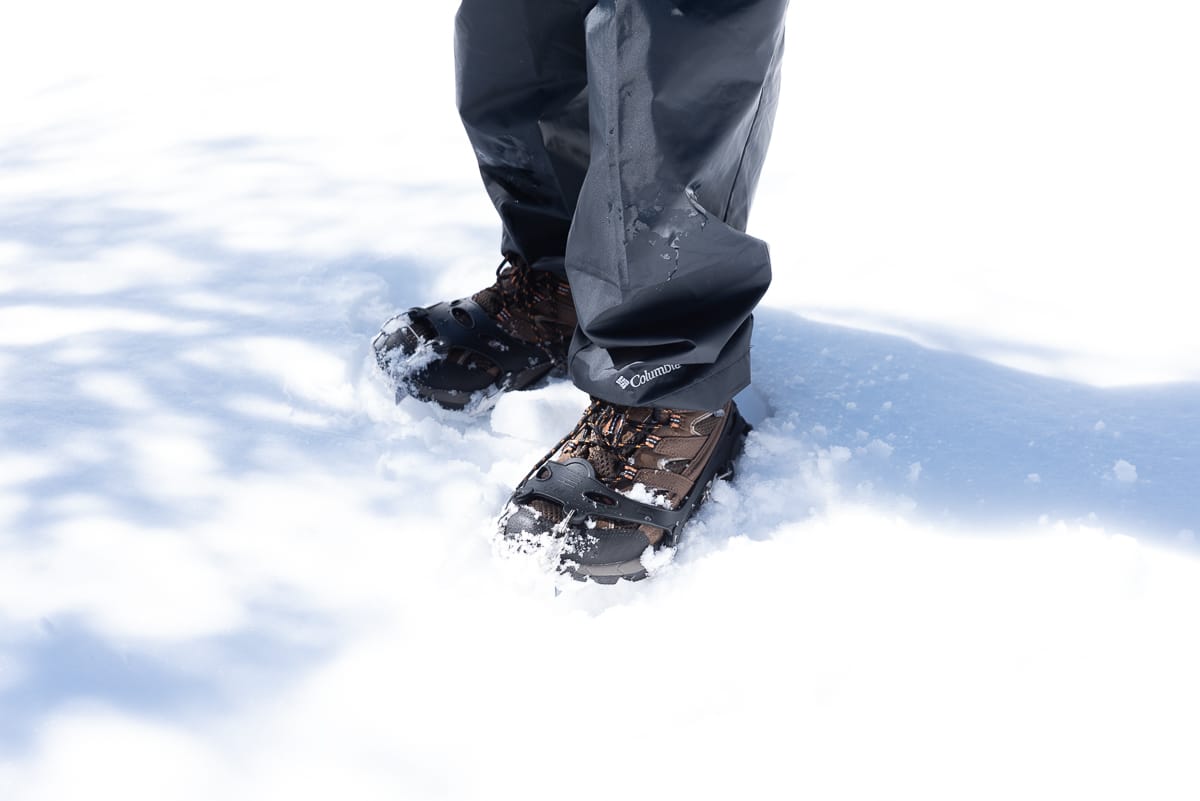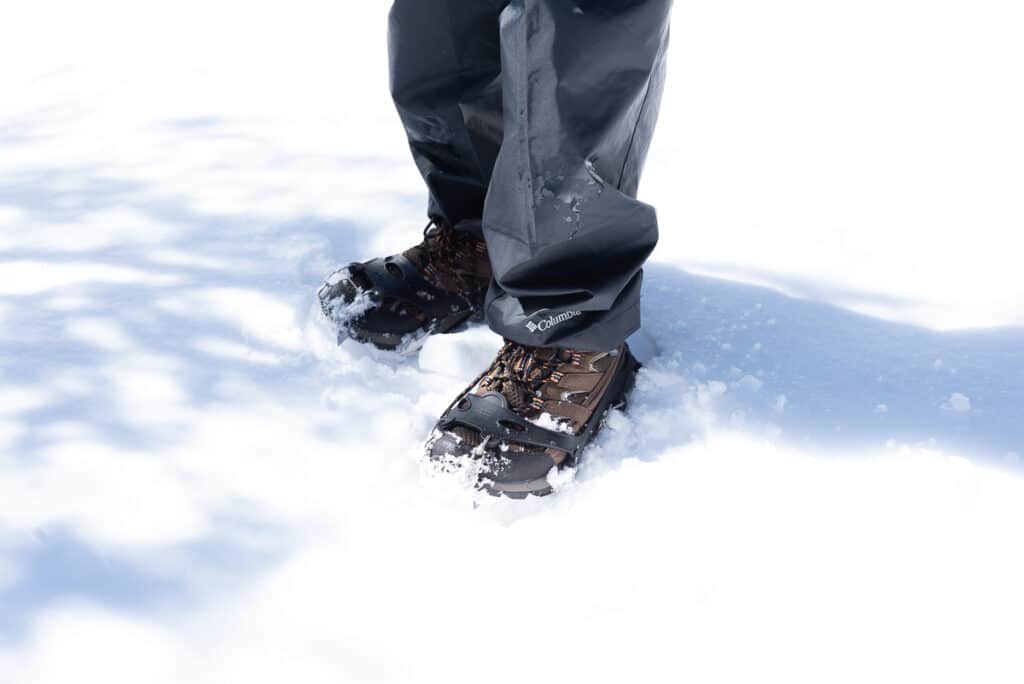 But if you're going to Iceland in the shoulder season where there may still be snow or icy conditions, then definitely bring them. Crampons can be literal life savers on icy trails.
If you are planning to do a glacier hike, crampons are absolutely required for this but your tour company will provide them. And the ones they give you for the glacier walks are much more heavy duty than what you would typically buy for a personal set.
Other Essentials for Iceland
Hats and Gloves
Be sure to pack warm gloves, ideally a pair that is water resistant so they don't immediately become soaked and useless. A hat also goes a long way towards keeping you warm on cold days.
For myself, I used one of these buffs. I prefer these over hats because I can leave my hair up in a ponytail and still cover my ears. And it can also be worn around the neck like a scarf. My son liked it too, so we got him one in Iceland as a souvenir.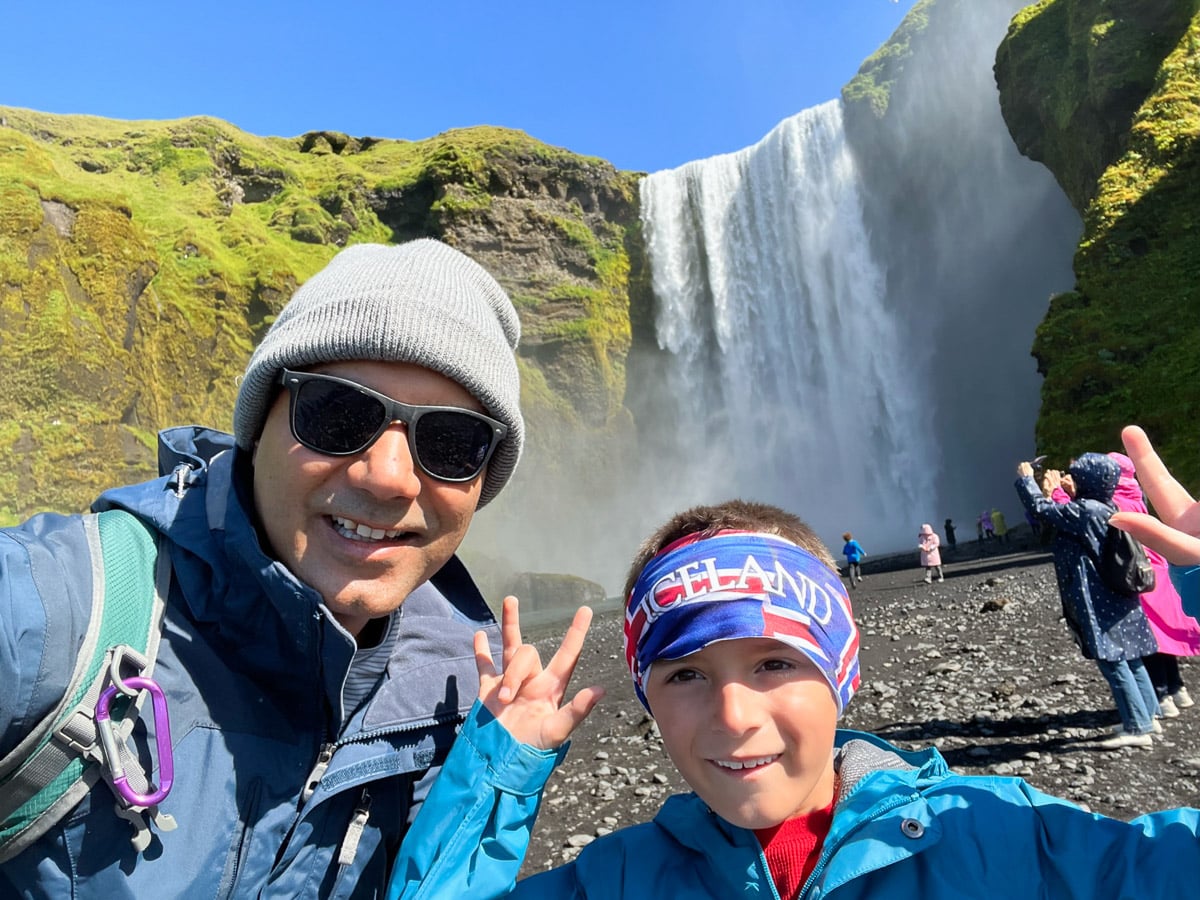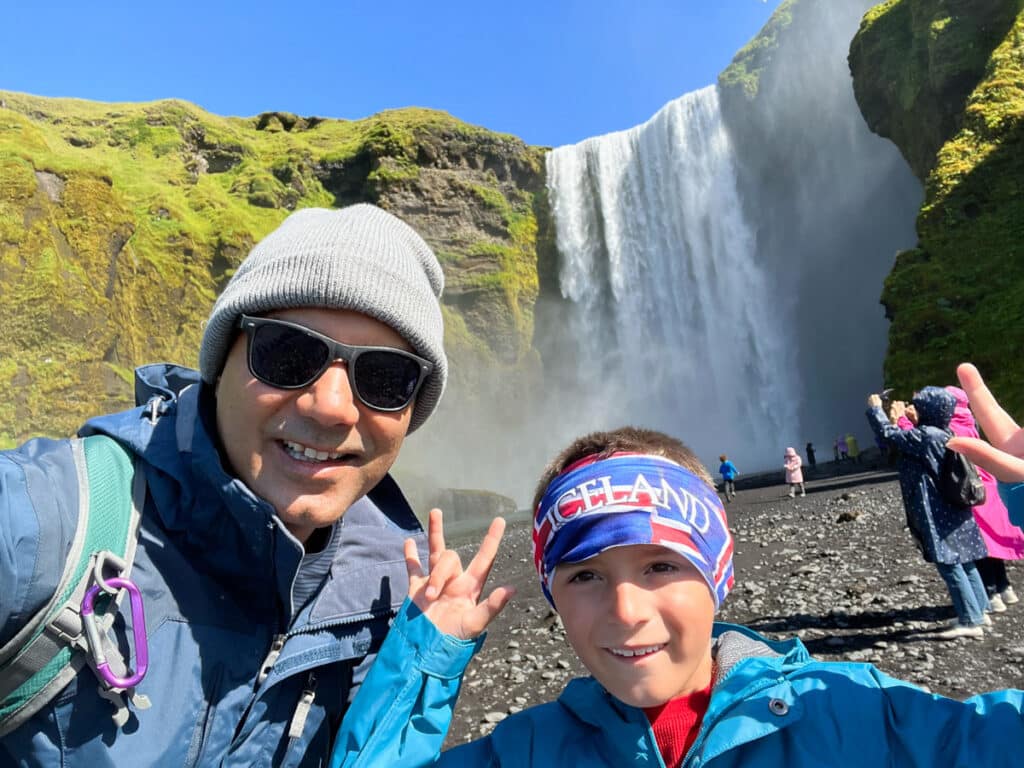 Swimsuits
If you plan on stopping at the Blue Lagoon or any of the other fabulous geothermal pools in Iceland, be sure to bring along a bathing suit. The mineral rich water can cause some fading, so I wouldn't bring your favorite one!
Turkish Towels
Most pools will provide towels (or rent them to you), so you don't need to pack your own unless you plan to bathe in natural springs without amenities – such as Reykjadalur! We love these light Turkish style towels – they are absorbent, dry really fast, and are super thin so they're easy to pack. This is what we use regularly for the beaches in Florida.
Power Adapters
Depending on your home country, you may need to bring along power adapters. You'll need these Type C power adapters. Note that these are power adapters, not converters. That's fine for most electronics these days, but check the label on your device if you're unsure.
Refillable Water Bottles
If you'll be travelling around road trip style, you'll want to make sure to bring along a refillable water bottle. Icelanders tend to frown upon the whole bottled water thing, considering they live in the midst of natural glaciers. So take a hint from the locals and bring along a travel water bottle to fill.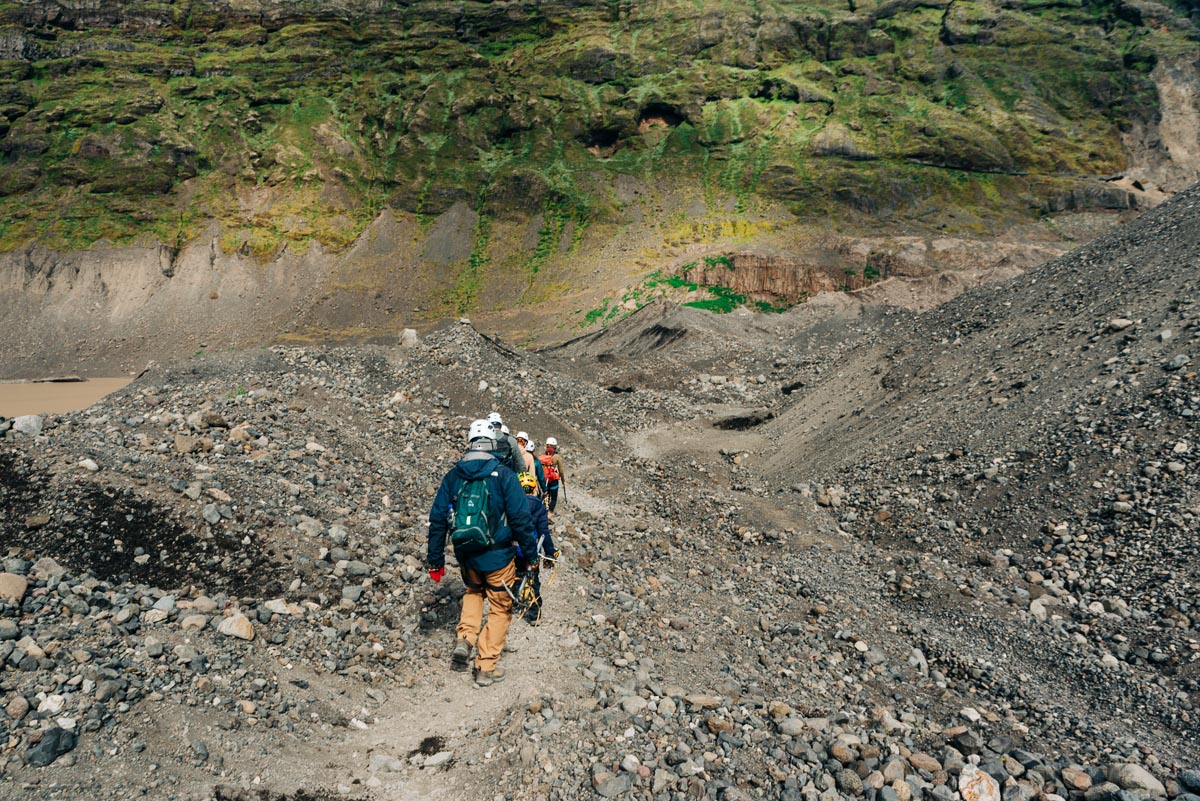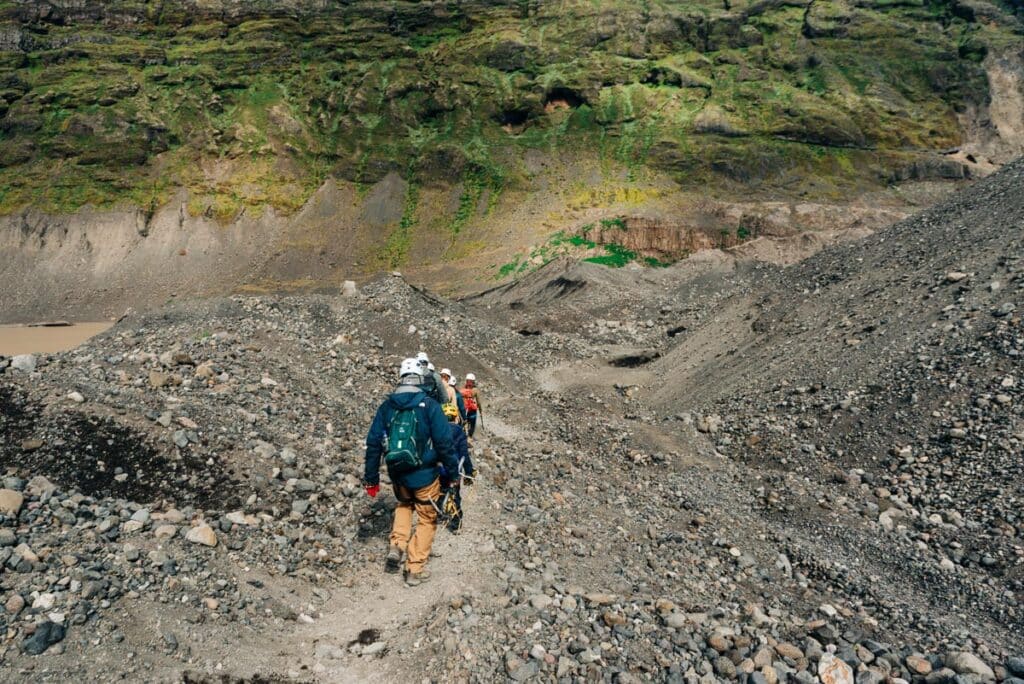 Backpack or Daypack
Your itinerary will likely involve full days of sightseeing (and possibly hiking!), so you'll want an easy way to carry around essentials like water and snacks. You may also find that you're wanting to add or remove layers of clothing throughout the day, and it's handy to have a backpack to stow them in. We use this lightweight backpack for travel – and it folds up in a little pouch for packing in the suitcase.
Sleep Masks
They don't call Iceland the land of the midnight sun for nothing. If you haven't experienced this yet, you might not fully grasp what this looks like until you see it. (I didn't!) But it will literally be broad daylight outside at 10pm. And that can wreak havoc on your internal clock. We brought along these sleep masks to be sure we could fall asleep, even when the hotel blackout curtains didn't do the trick.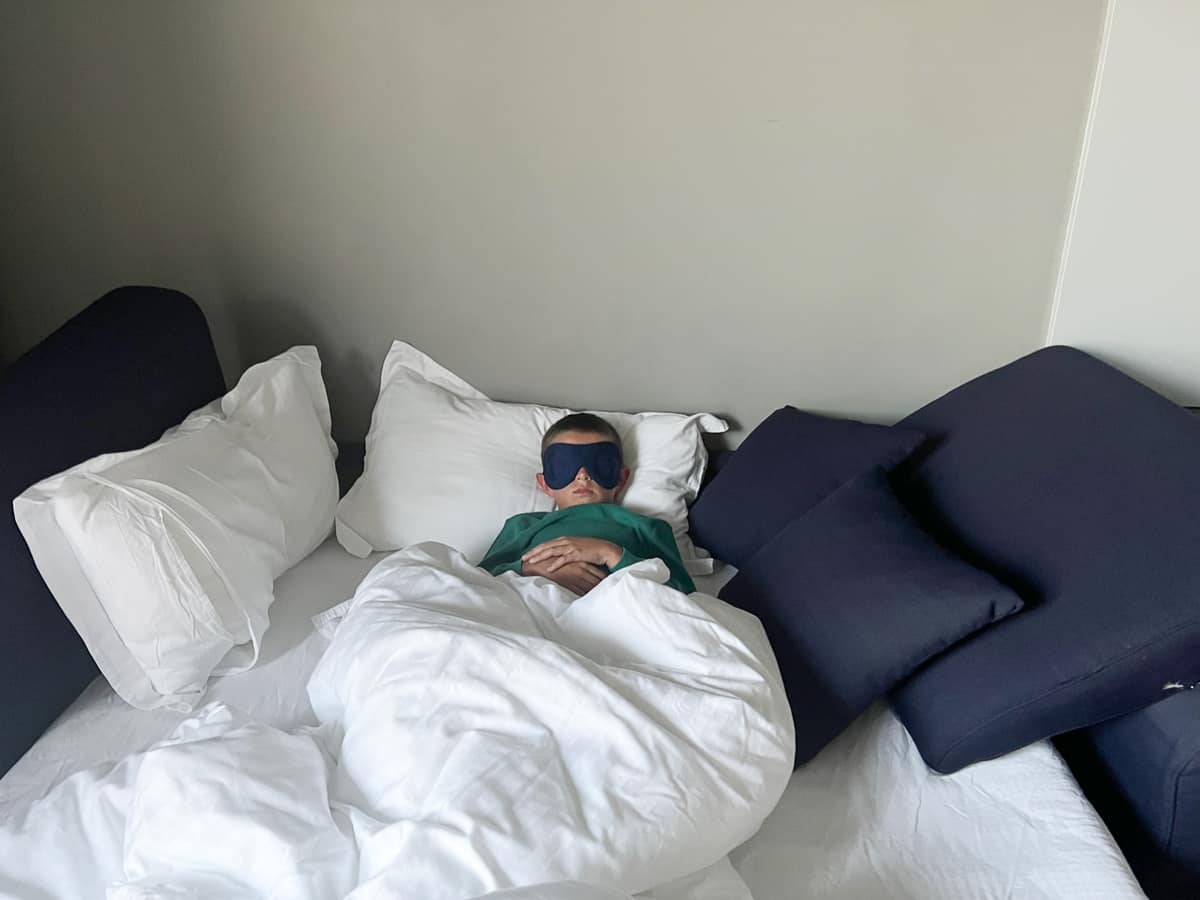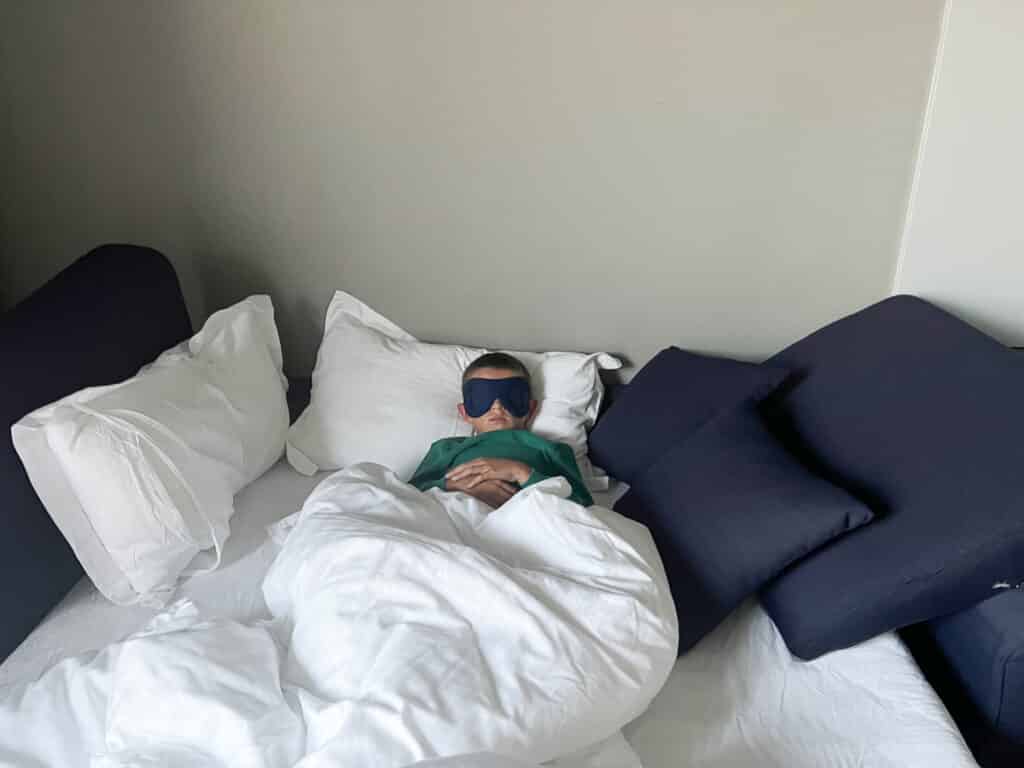 Portable Power Bank
I always carry a portable power bank along when I travel. This is handy for keeping phones charged when out on long hikes or drives, or even if you find yourself on an airplane without power outlets. I consider it a little extra insurance from a safety standpoint, and you also can keep your electronics powered up for selfies.
Car Adapter
Most Iceland itineraries involve a fair amount of driving. This is the only vacation we've ever taken that was road trip style! So be sure to have a power adapter for the car. Your rental car may or may not have USB ports, as many of the cars in Iceland are older. Grab yourself the old school kind that plug into the cigarette lighter to be sure it works.
Maps
A paper map can come in handy if your cell service is limited (which it will be in parts of the country) or if you don't want to pay for an expensive data plan while overseas. Another tricks is to download a Google map of the area before heading out so it will be available in offline mode.
Binoculars
If you're on the search for puffins or whales in Iceland, be sure to bring a long a pair of binoculars! We've had good luck with this inexpensive pair.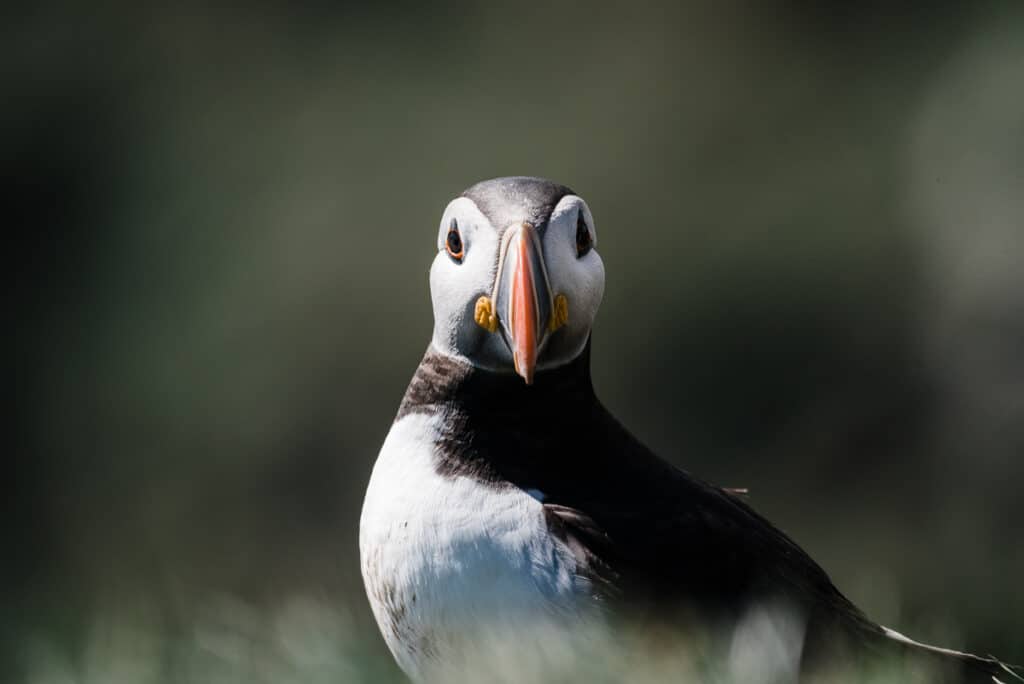 Camera and Batteries
And if there was ever a trip that was worth toting along the "real camera" for, this is the one. Iceland is a truly magical place for photography. I brought along my Nikon D750, a very long lens, and lots of extra batteries. And I was rewarded with totally amazing puffin photos.
Sunscreen and Lip Balm
This might not be top of mind given Iceland is not exactly a tropical destination, but you definitely need to pack along sunscreen and lip balm. It may be cold, but the sun is bright. And it's even brighter when reflected off water or the white surface of a glacier. You will get burned if you don't lotion up. The wind is fierce too, so some regular moisturizing lotion is also nice to have.
A Few Practical Tips
Snacks, snacks, and more snacks!
As you'll likely be road tripping from location to location in Iceland, don't neglect the snacks! This is extra important if you're travelling with kids because we all know how much fun hangry kids can be. There are plenty of grocery stores in the major towns like Reykjavik, Selfoss, and Vik where you can grab a few things to keep in the car.
Change in ISK (Icelandic Krona)
While you will be able to pay almost everywhere with a credit card, it's a good idea to have some Icelandic Krona on you for emergencies or if you care to leave a small tip for anyone. You may also encounter some bathrooms that require payment in cash. The easiest way to get cash is the ATM at the airport upon arrival. Then go buy a coffee and break a larger bill into some smaller ones.
We took out about $200 worth of ISK for an 8 day trip, and that was too much. I would only do half that next time.
Credit Card with PIN number
You will also need to have a credit card that works with a PIN number to use at unattended gas pumps in Iceland. That's the norm for most European countries, but not for places like the United States. If you don't have one, you'll need to visit gas stations that have an inside staffed area where you can pay (your non-PIN card will work fine at the register, just not at the pump). Or use Apple Pay – most of the gas pumps we encountered took Apple Pay at the pump.
(If this is you're first trip to Iceland, check out some more tips over here!)
More Iceland Trip Planning Resources
If you're planning the ultimate trip to Iceland, be sure to check out these other helpful articles: