This Spring Break we took our very first family trip to the incredible Grand Canyon National Park. Here are all the details from our 5-day trip including the best places to stay, things to do with kids, the coolest family-friendly hikes, and more!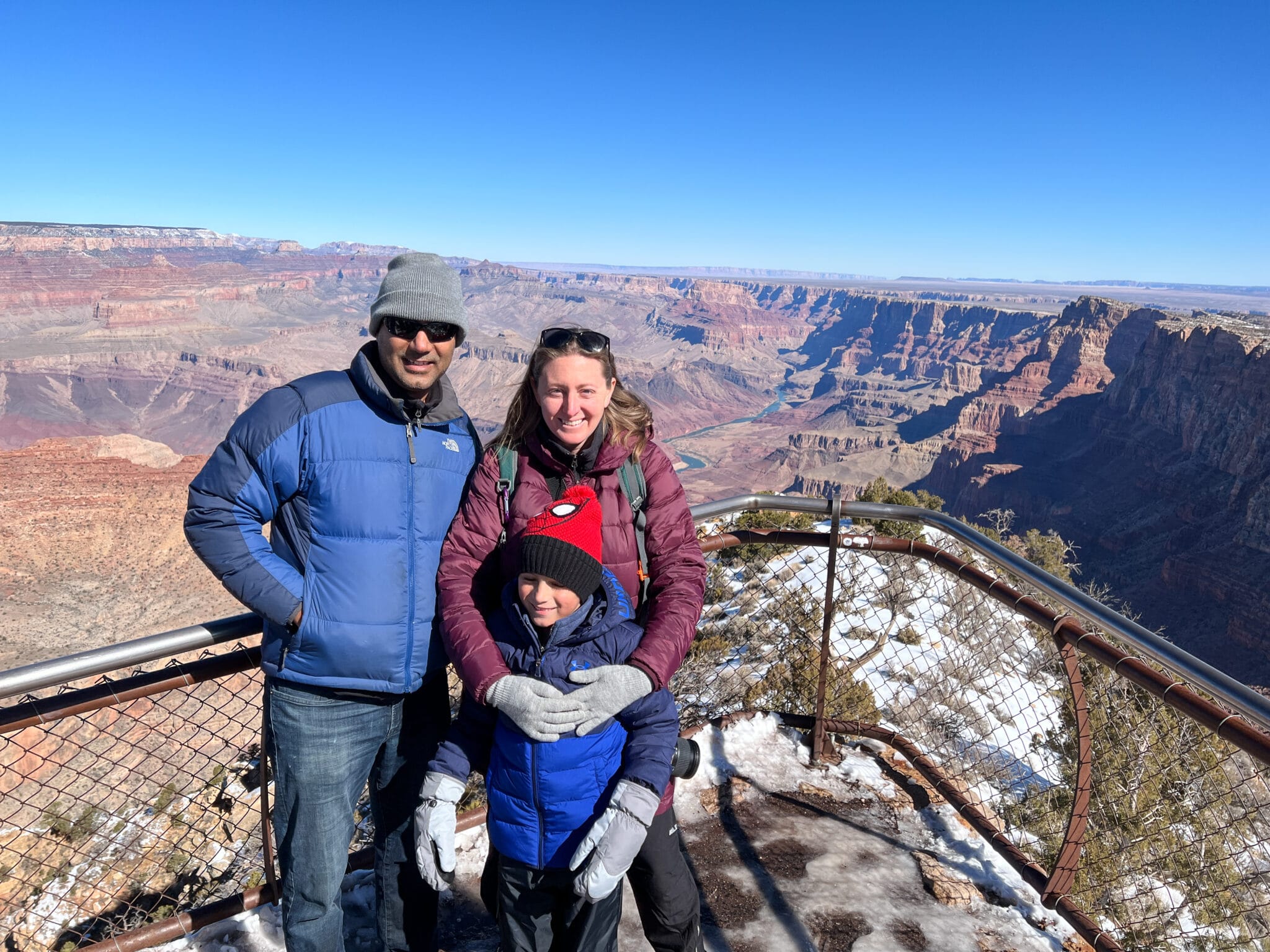 We've had the Grand Canyon on our travel bucket list for quite a few years – so I was so excited when we decided to finally do it! With international travel being a bit tougher these days, it seemed like the perfect time to explore one of our incredible national parks.
So here are all the details on our Grand Canyon adventure – and a few tips we picked up along the way!
Day 1: Flagstaff & The Lowell Observatory
If you're flying to the Grand Canyon, Flagstaff is going to be the closest airport. Many people also fly into Vegas or Phoenix and make the drive over. But we are not people that enjoy 5+ hour drives, especially with a kid. So we flew directly into Flagstaff, which is about 90 minutes from the Grand Canyon.
We arrived to Flagstaff airport around 1pm. And let me just say, this is one tiny airport. It's one of the smallest airports we've flown into within the United States, with the exception of Appleton, Wisconsin (where we live for five years!)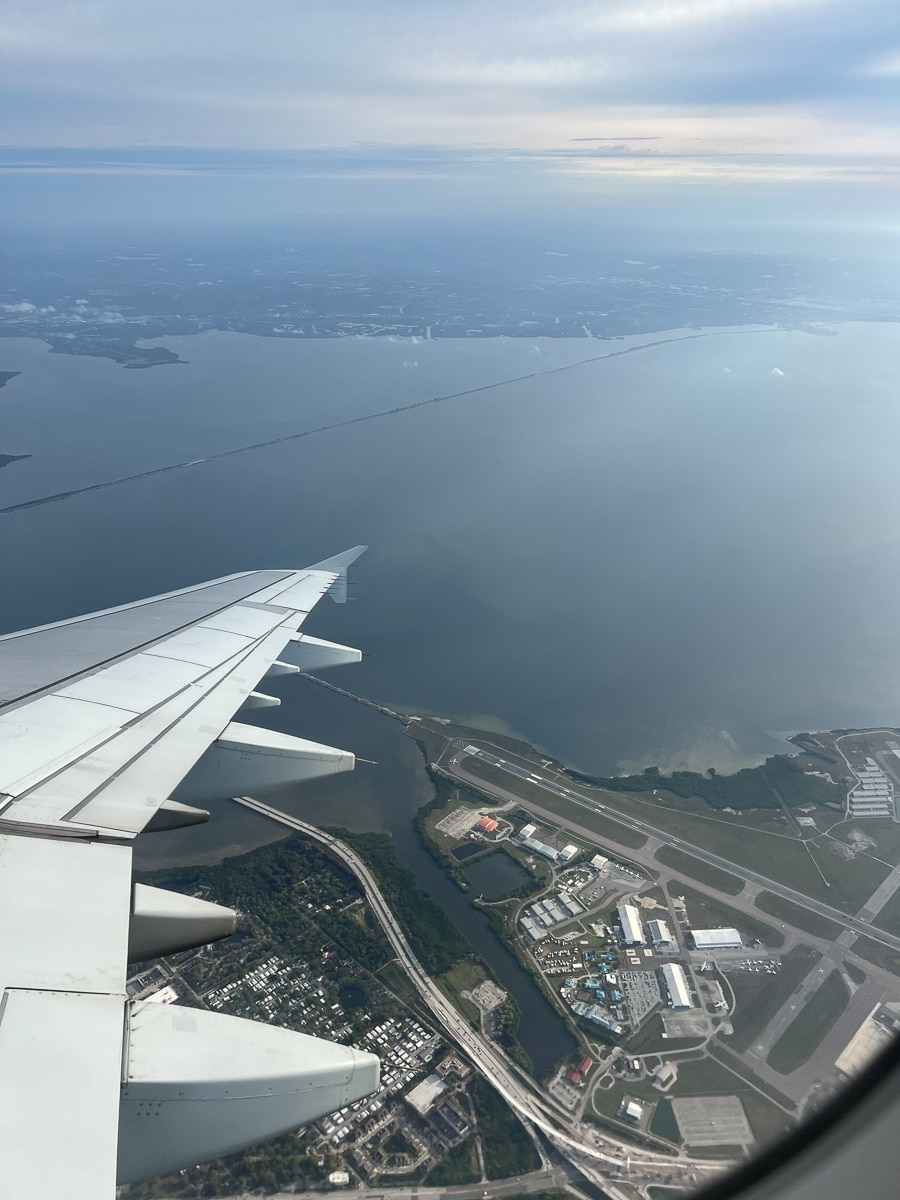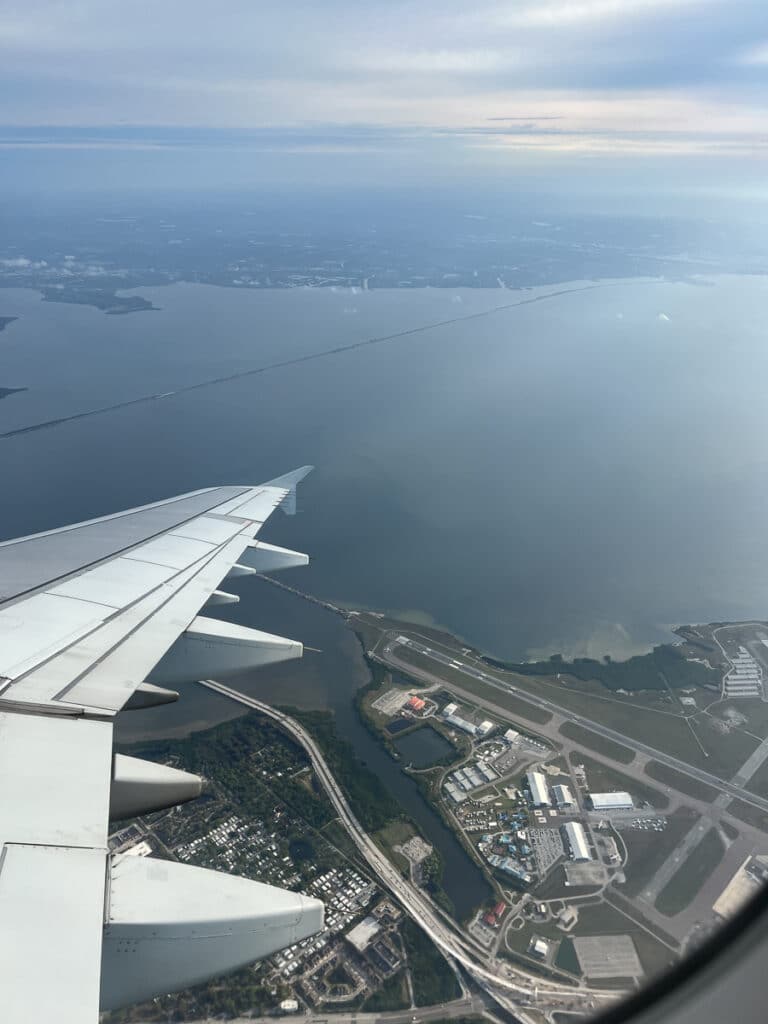 We deplaned directly onto the tarmac via those roll up steps, retrieved our bags, and then promptly realized that one of our suitcases was locked. Except… we never lock our suitcases and have no idea what the code is to unlock them. After googling the default codes and failing, we tracked down a helpful TSA agent at the gate that was kind enough to fetch a TSA key and open it for us. We still have no idea how that bag got locked, but I suspect my son had something to do with it. ;)
So now with our bag open, we went to grab our rental car. We rented from Avis, which was conveniently right next to baggage claim and our car was waiting basically right outside the front doors in the small parking lot. The car was an older model Jetta and was completely filthy on the outside, due to the snow storm they had the two days prior to us arriving. But inside seemed fine!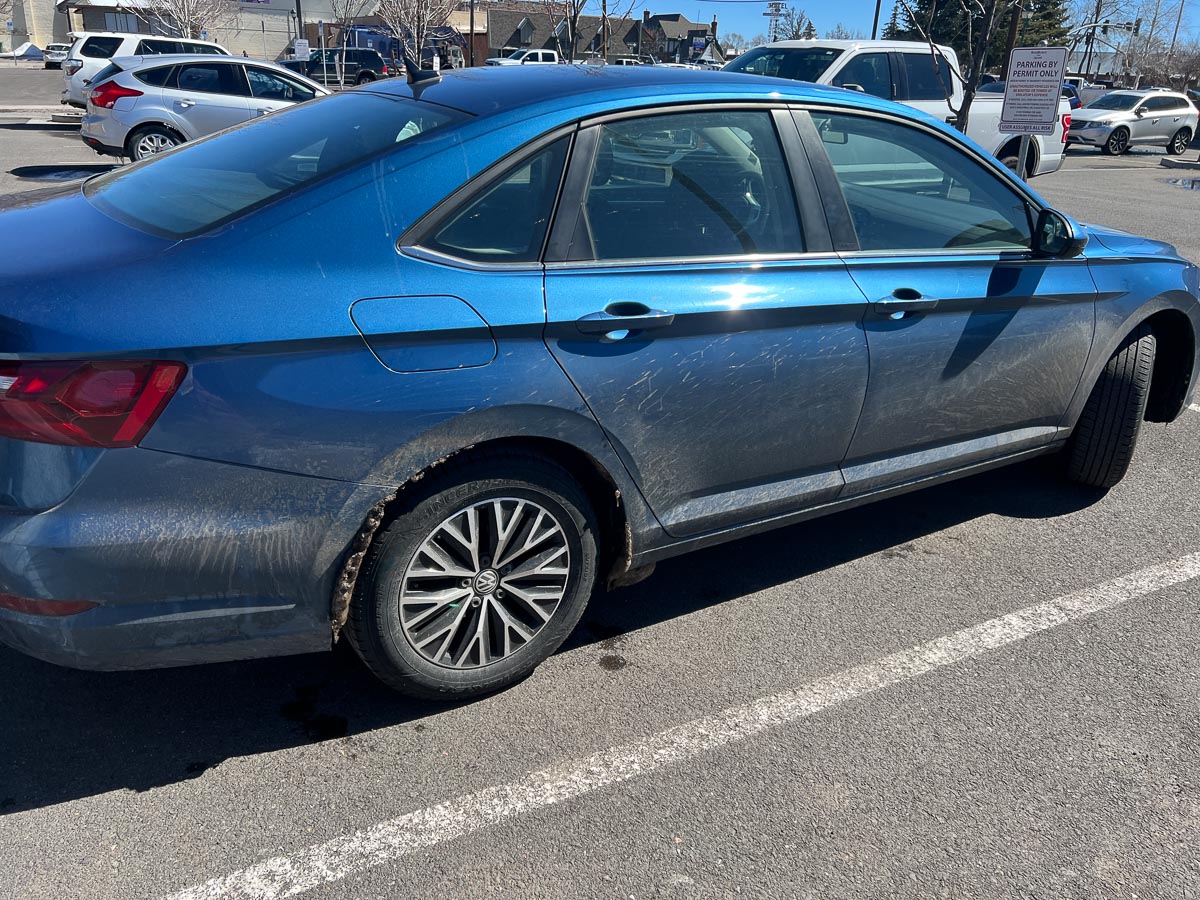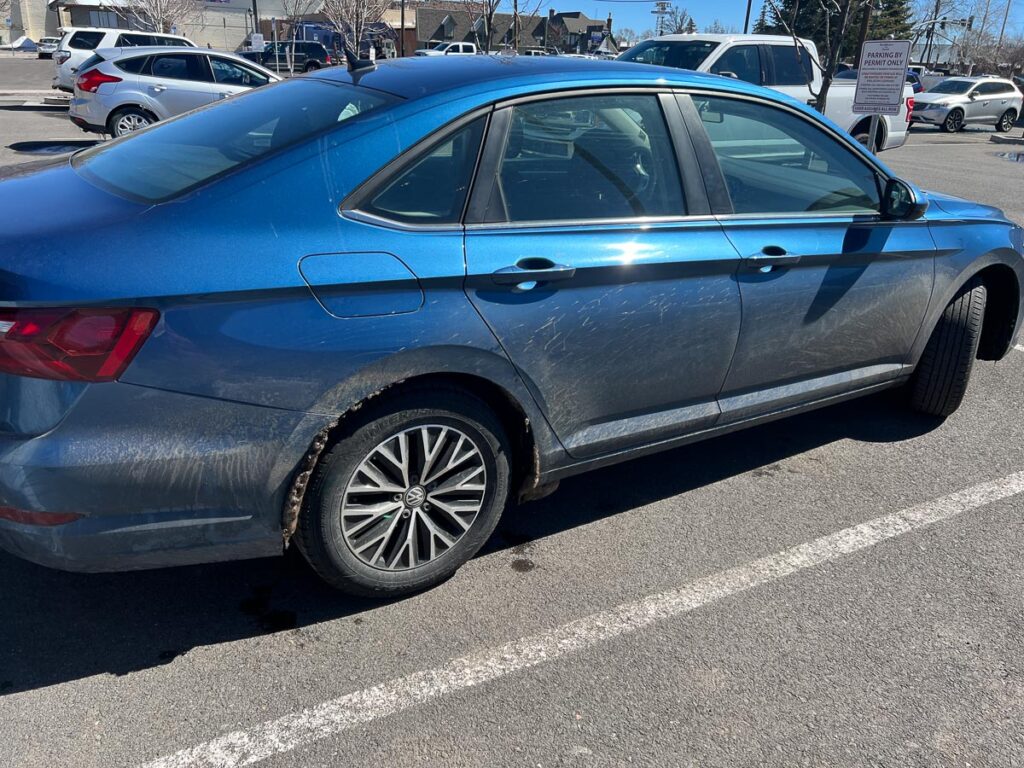 So after a brief snowball fight in the parking lot, we headed out to Flagstaff. (It's only 15 minutes away.)
At this point, we were all absolutely starving so we jumped on Chipotle when we drove past and all got a bite to eat. Then we headed to check into our hotel for the night, which was the Residence Inn in Downtown Flagstaff.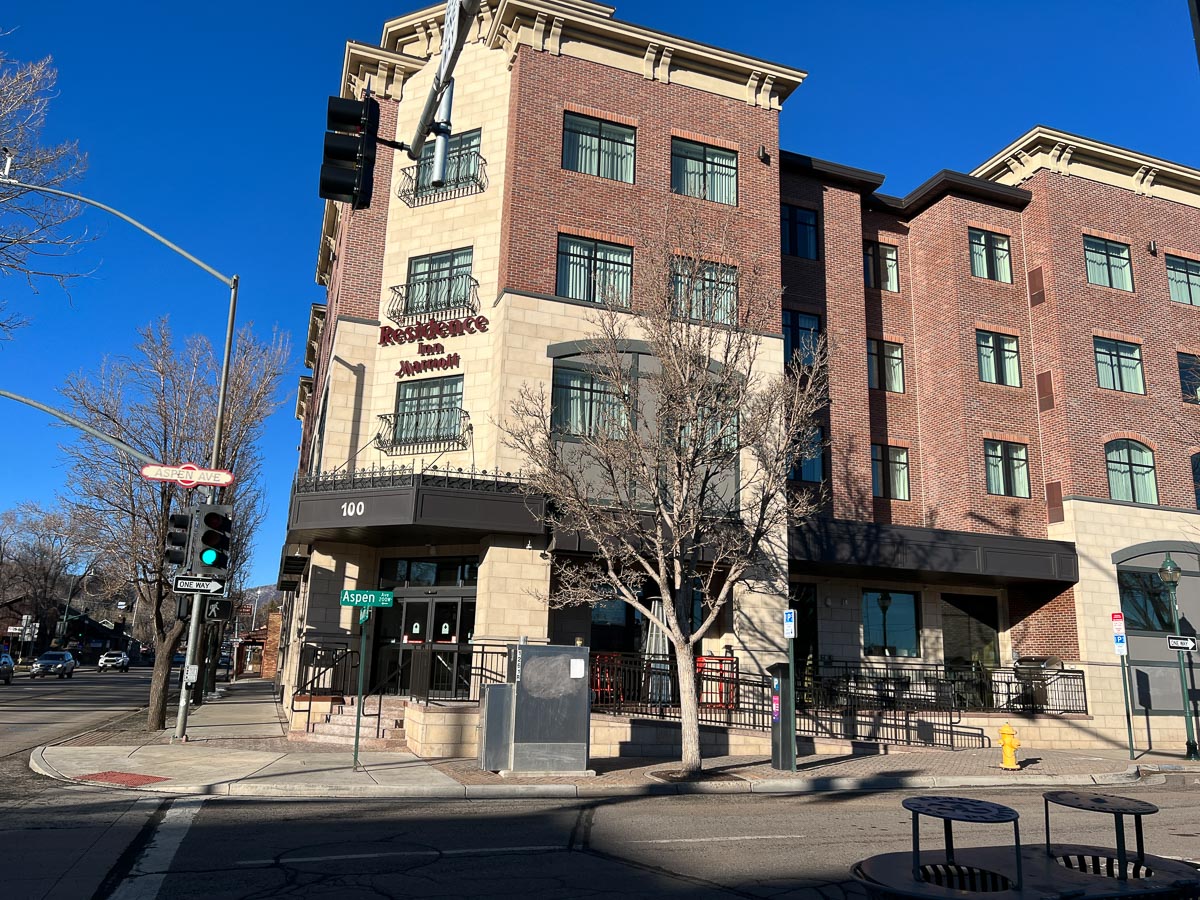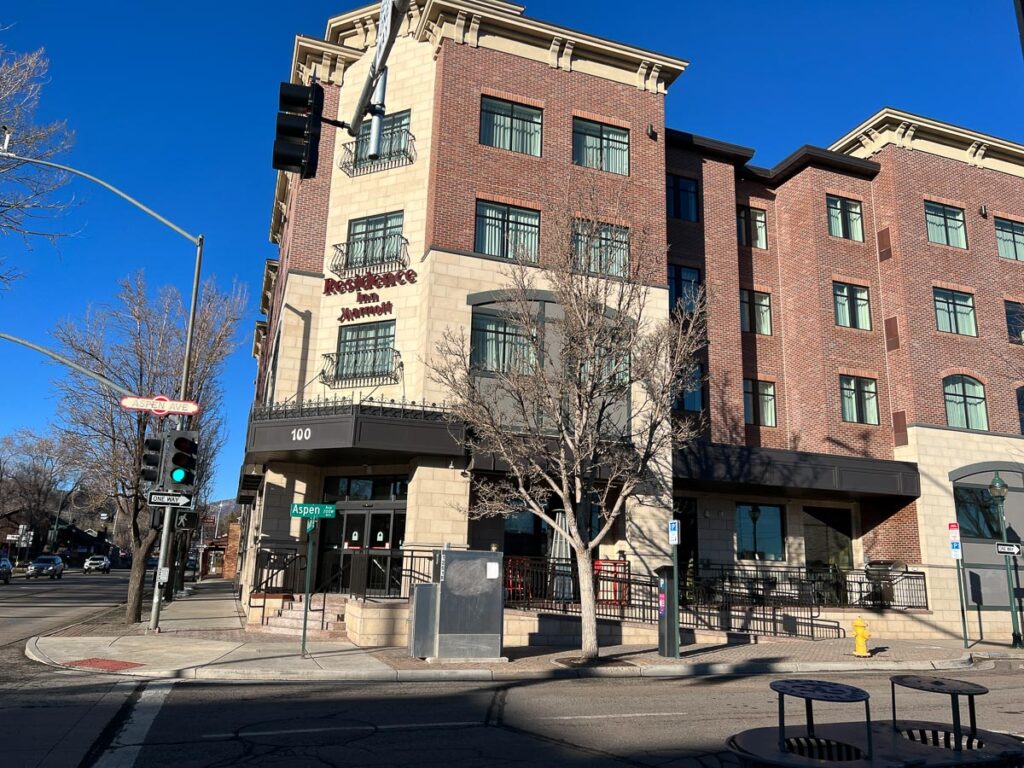 And we were very pleasantly surprised! The room was enormous with a full kitchen, the hotel was very clean and up to date, and the location was great. You could easily walk to the bars and restaurants in the cute little Downtown Flagstaff area.
After relaxing a bit, we ran out to a Target and picked up a few groceries to take into the canyon with us. We grabbed waters and hiking snacks, but frankly I would have picked up more things if I realized what the food situation in the park was like (more on that later!). So I strongly recommend getting groceries before you head into the park, if you will have at least a mini fridge to store them.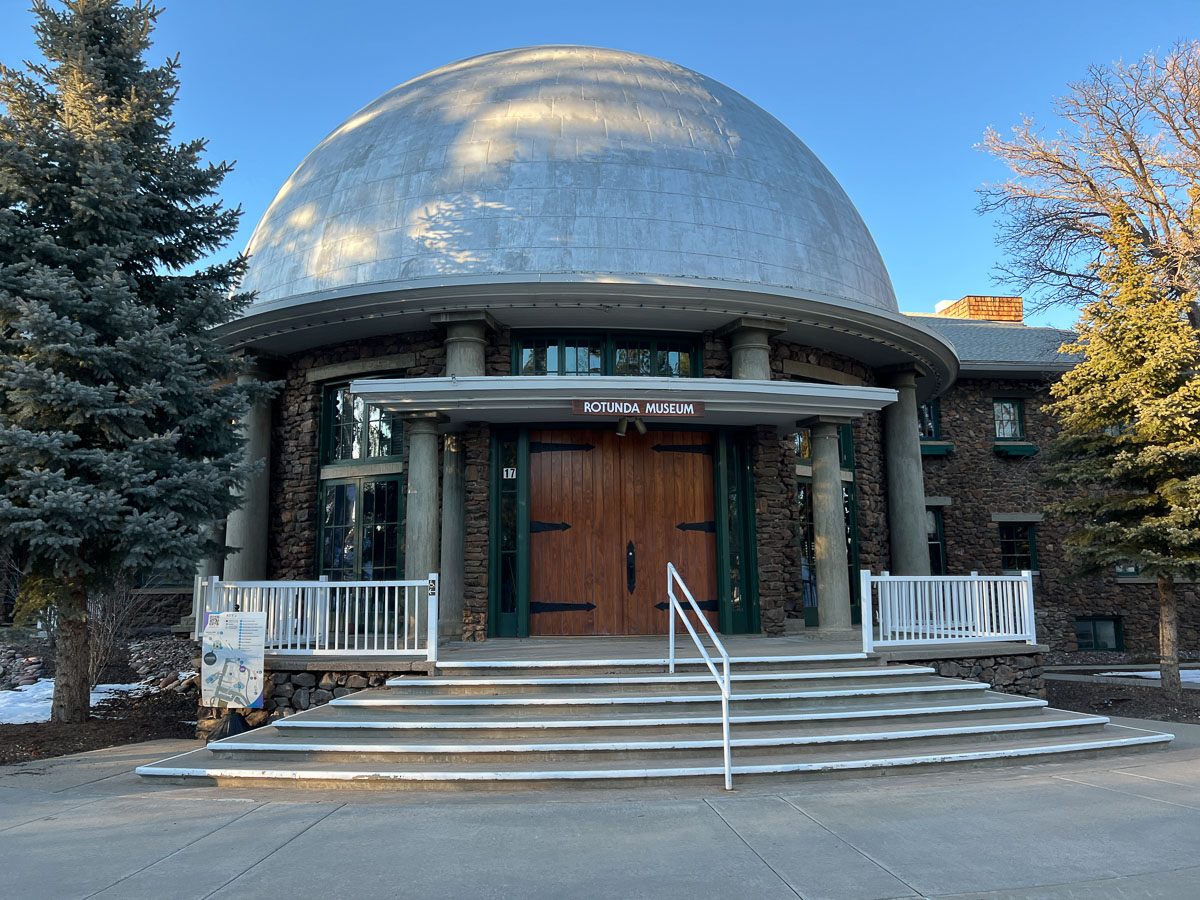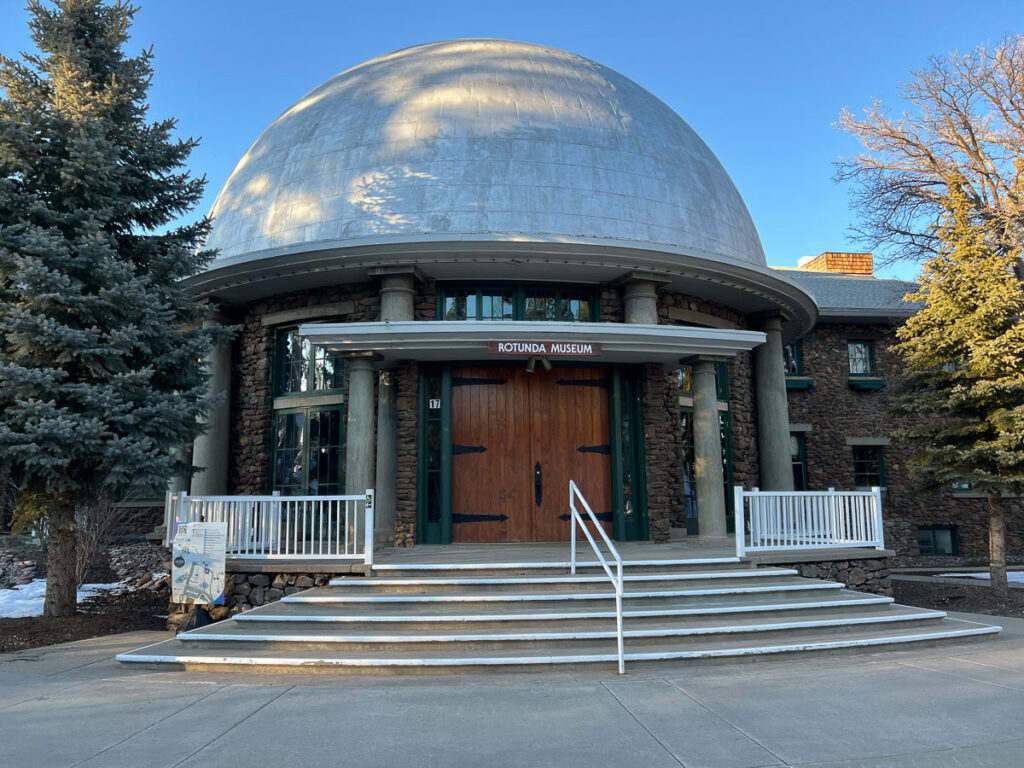 Next we decided to check out the Lowell Observatory, which is a 125 year old observatory located just a few minutes from downtown Flagstaff. With a science obsessed kid, this seemed like a fun stop to make and a good way to use a couple hours.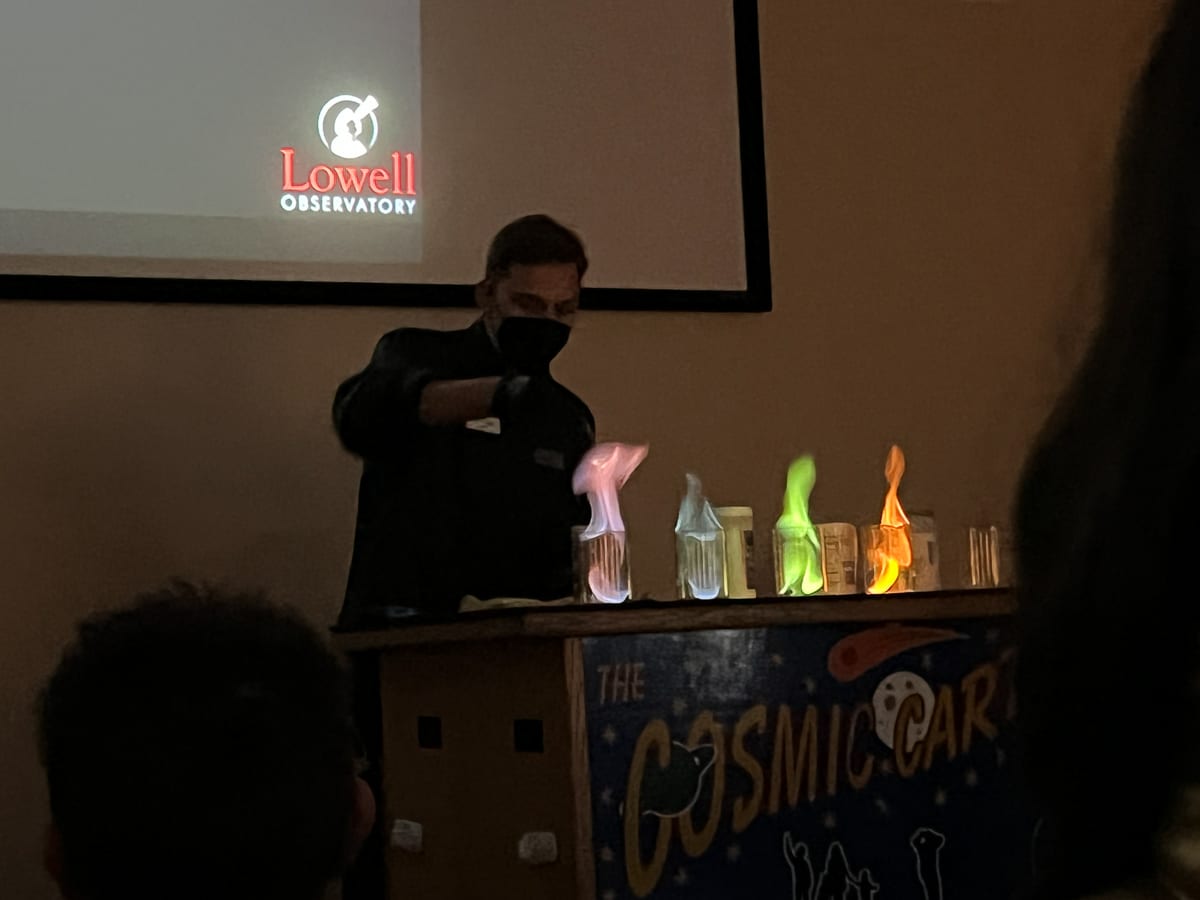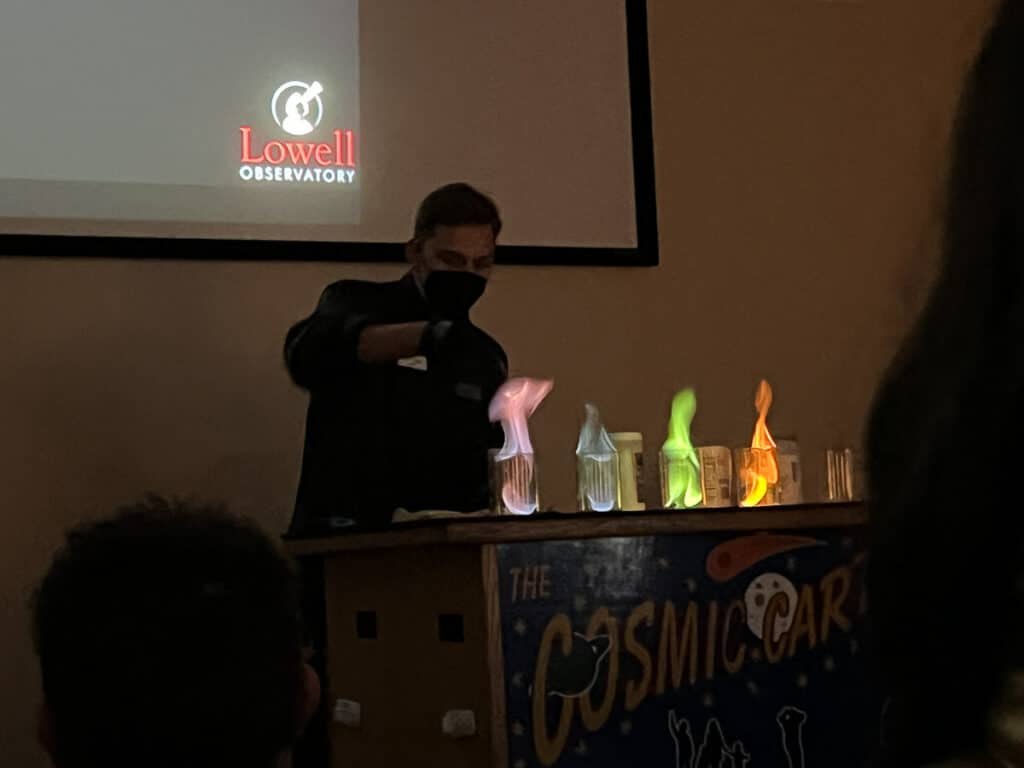 And I'm so glad we did! It was a really fun stop. We arrived around 6:15 and kicked off our visit with a really cool show about the colors of the universe. It was very interactive and family oriented – sort of part science experiment and part magic show.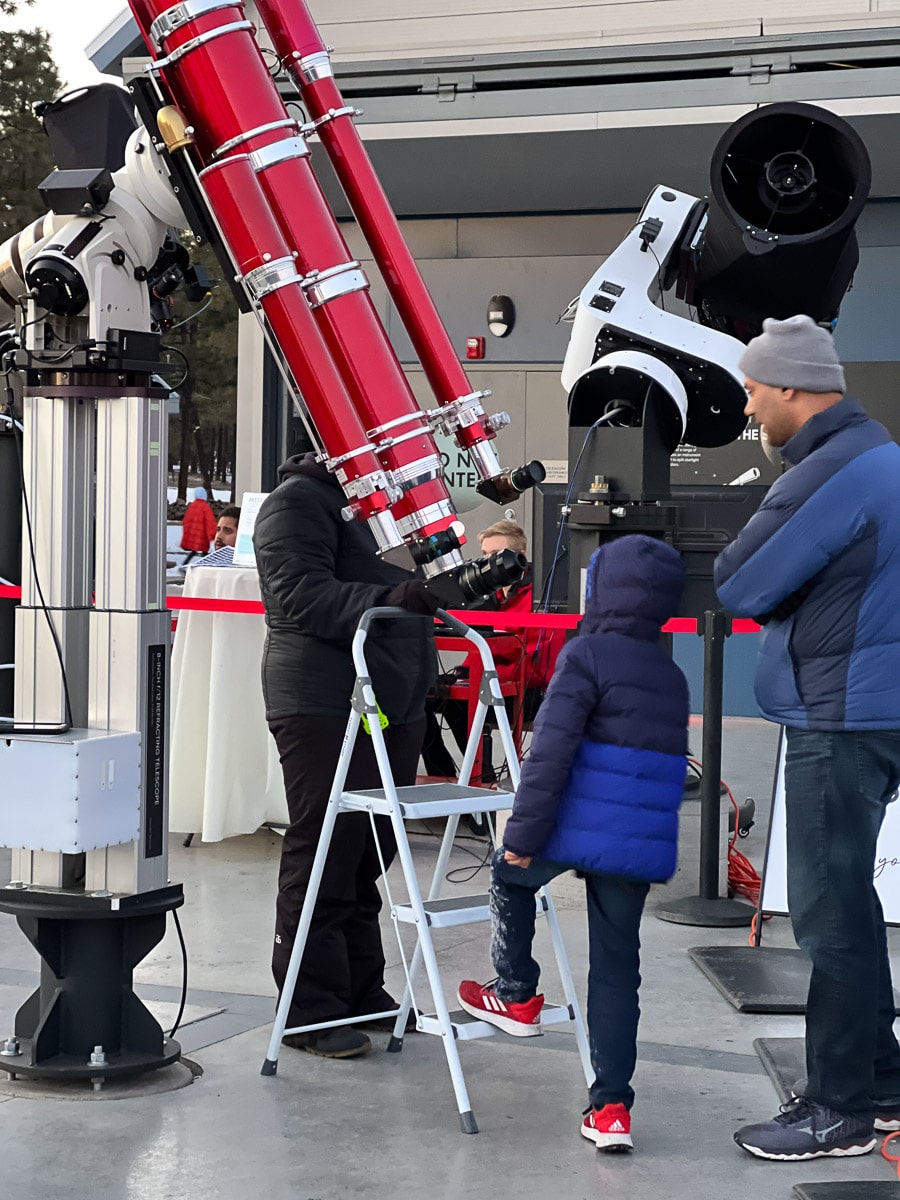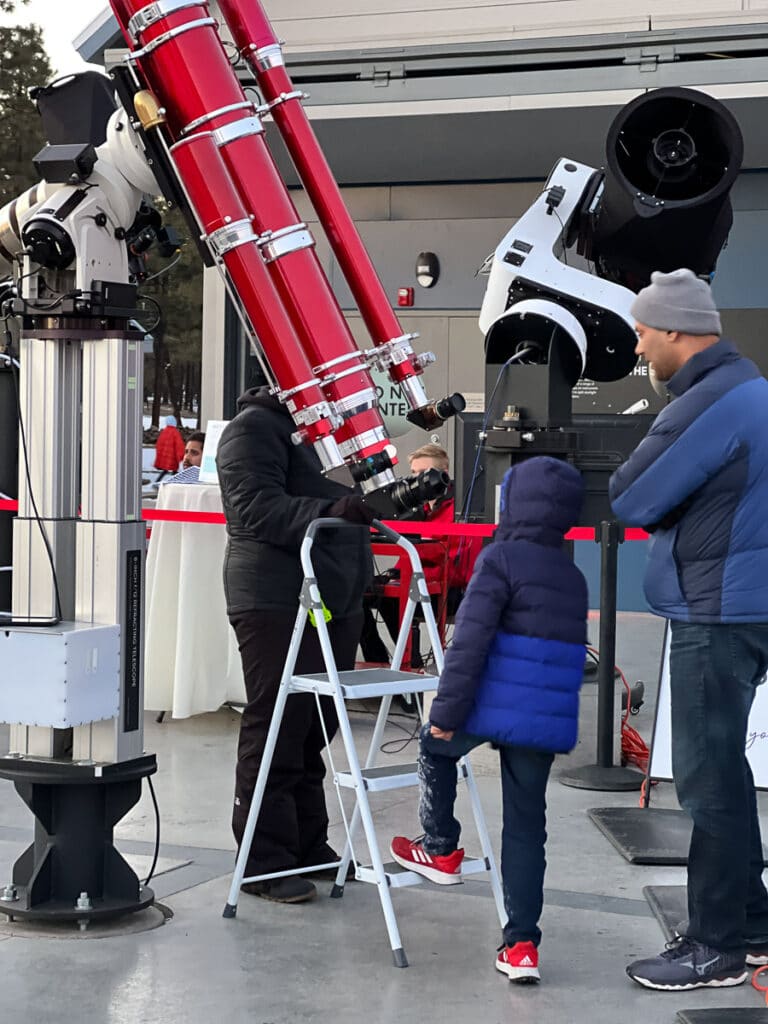 Next we took a walk to the main observation deck, as it was getting dark, and had the chance to look through some of their amazing telescopes. There was staff there to guide everyone and let you know what you're looking at.
After our visit to Lowell Observatory, we headed back to Downtown Flagstaff in search of dinner. We landed on Diablo Burger, as the kiddo requested a burger. And it did not disappoint!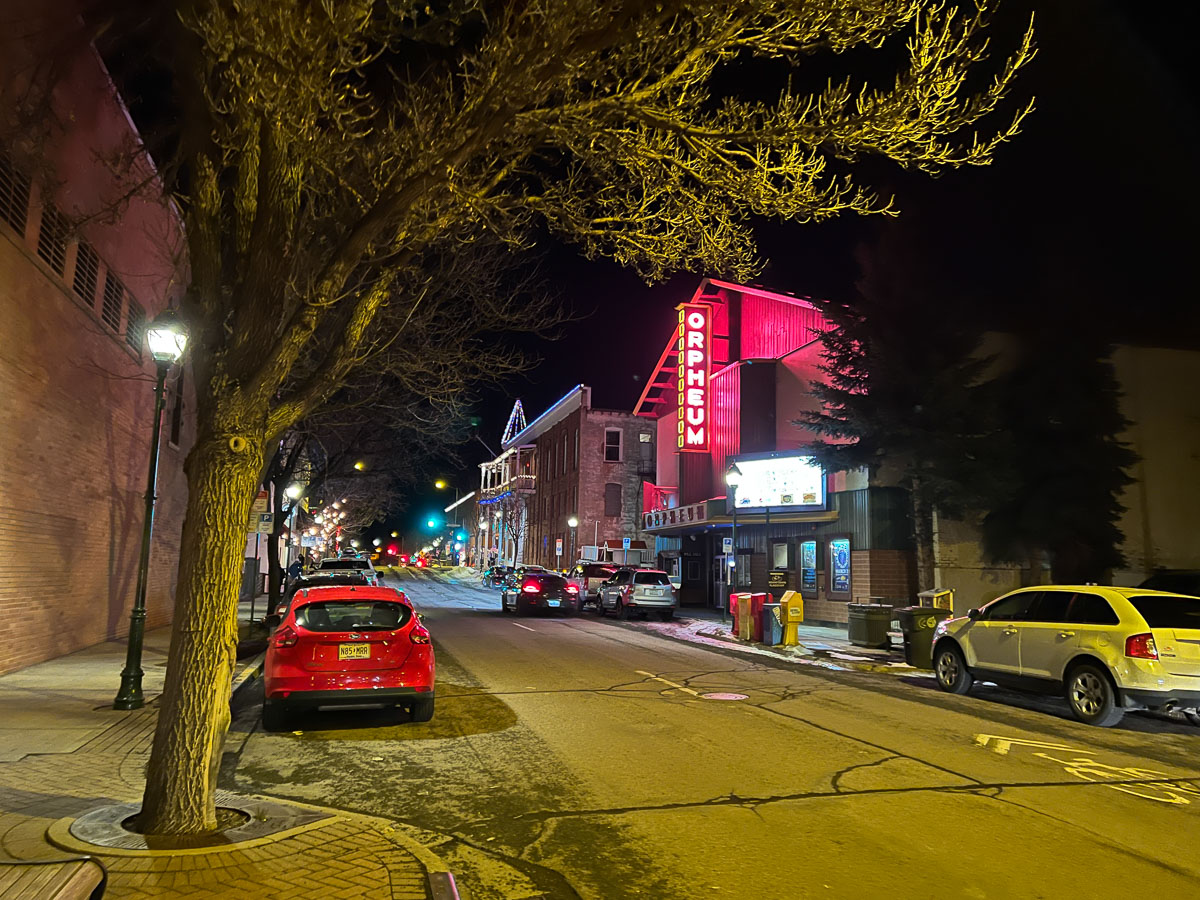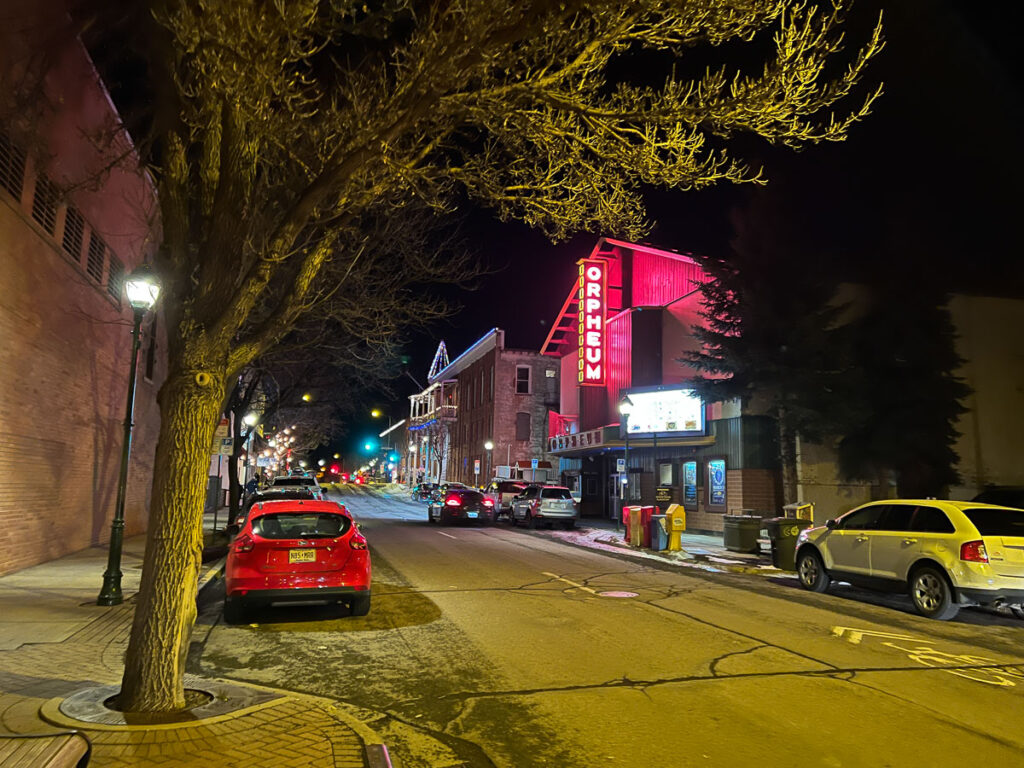 The place itself is very tiny, with only a few tables inside, which were all full. And the outdoor patio was not an option since it was freezing. So we placed our order to go, and enjoyed a beer at their counter while we waited. And we took our food back to our giant hotel room to enjoy!
The burgers were pretty delicious. And I failed to take a picture before we scarfed them down! But their claim to fame is the English muffins that they are served on. I had a veggie burger with Hatch Chile Mayo… and dang it was good.
At this point, we were exhausted from travelling all day and completely confused about the time zone we were currently in, so we all promptly passed out.
Day 2: Desert View Drive into the Grand Canyon
Finally, it was time to head into the canyon! From Flagstaff, there are two ways you could enter the canyon – the south entrance or the Desert View Drive entrance. Both are about 90 minutes from Flagstaff.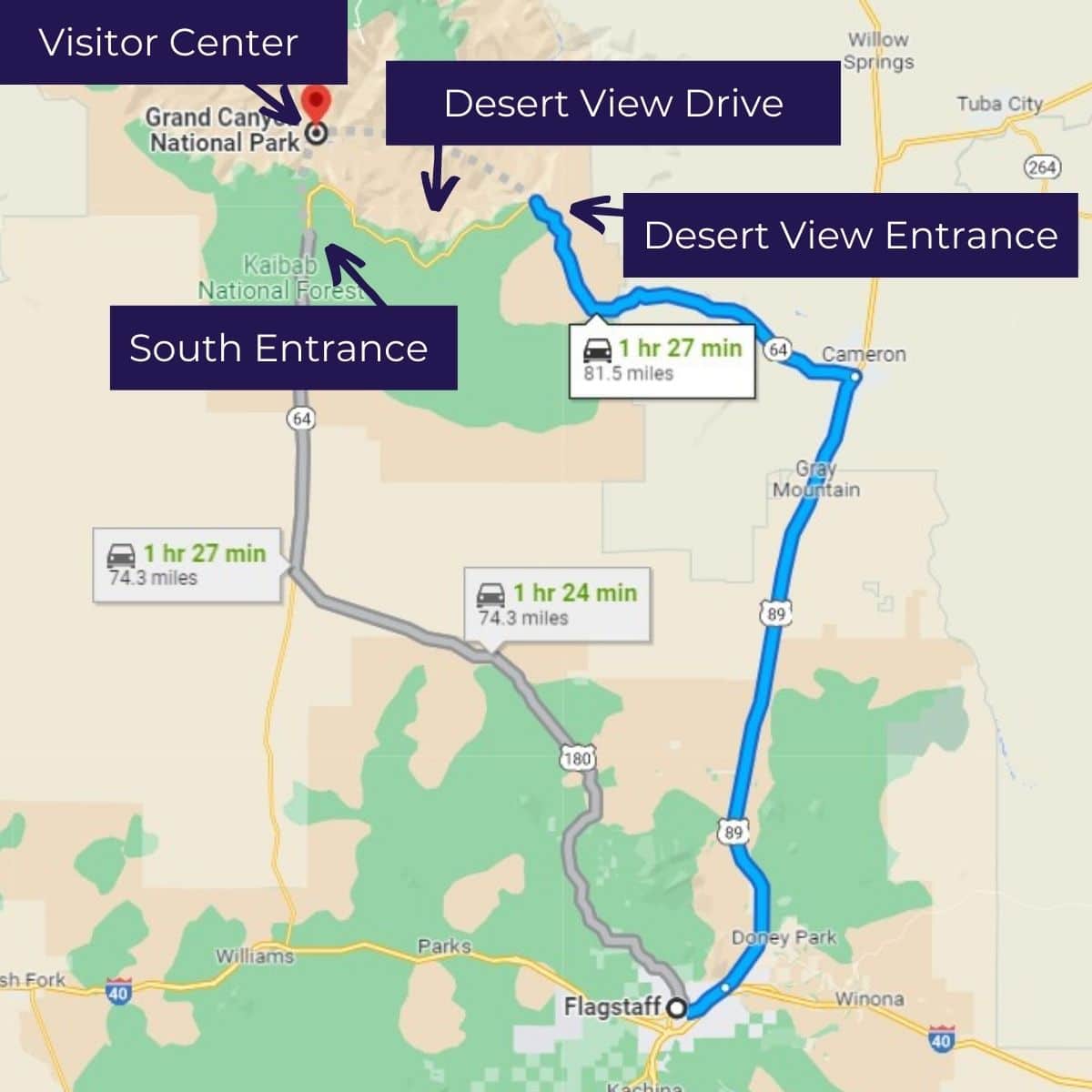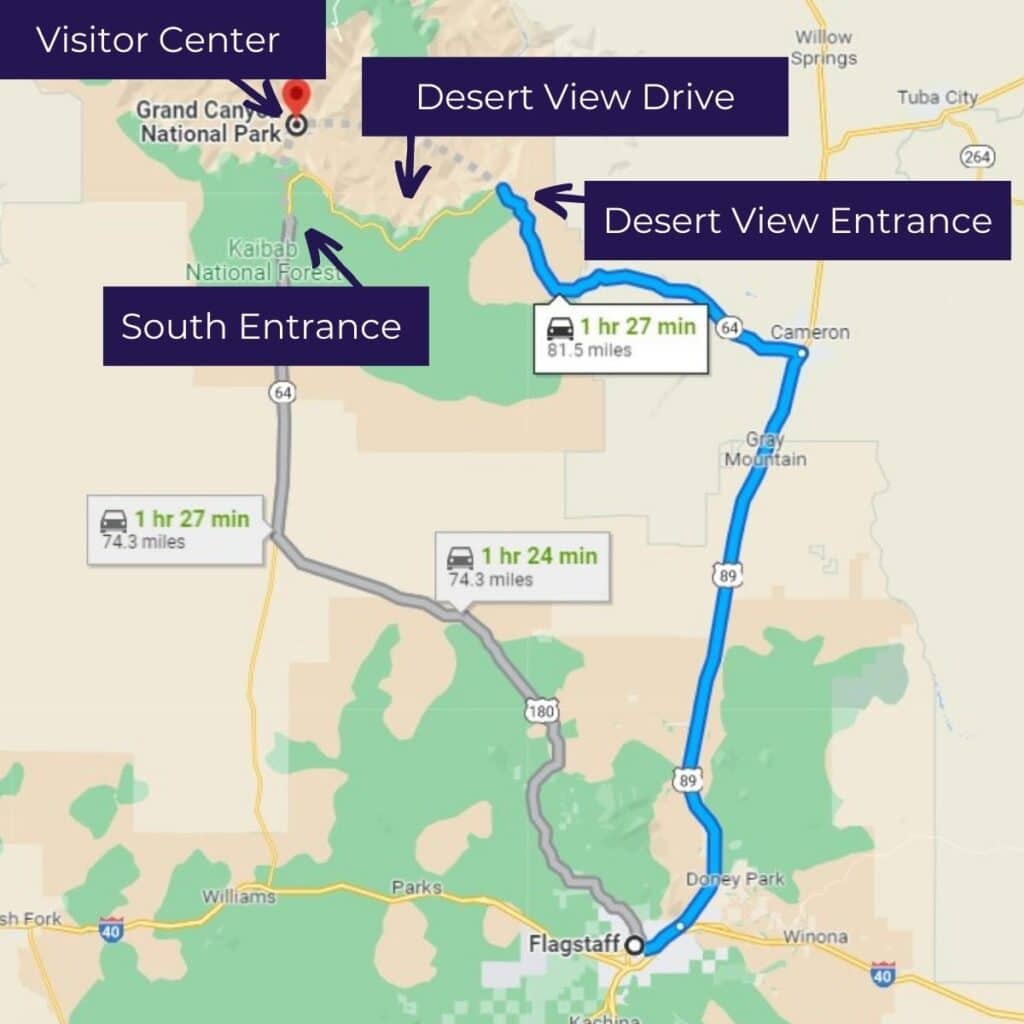 If you enter through the south entrance, you will be right in the heart of the tourist area where you will find the visitor center, hotels, and the Grand Canyon Village. This is the busiest entrance to the South Rim and you need to plan on being there by 9am if you choose this option. Seriously, don't be late. The lines can be up to 2 hours long later in the day.
If you enter through Desert View Drive, you will have about a one hour drive to reach the visitor center. BUT that drive is gorgeous and filled with scenic lookouts. Even if you don't enter the park this way, I strongly recommend you reserve a day to drive this road and check out this beautiful and more quiet area of the park. It is only accessible with a private vehicle – the park shuttles don't run down Desert View Drive.
We opted to enter via Desert View Drive and make that drive the first full day of our itinerary! We figured that would keep us away from the crowds and our hotel wouldn't be available until 3 to check in anyway.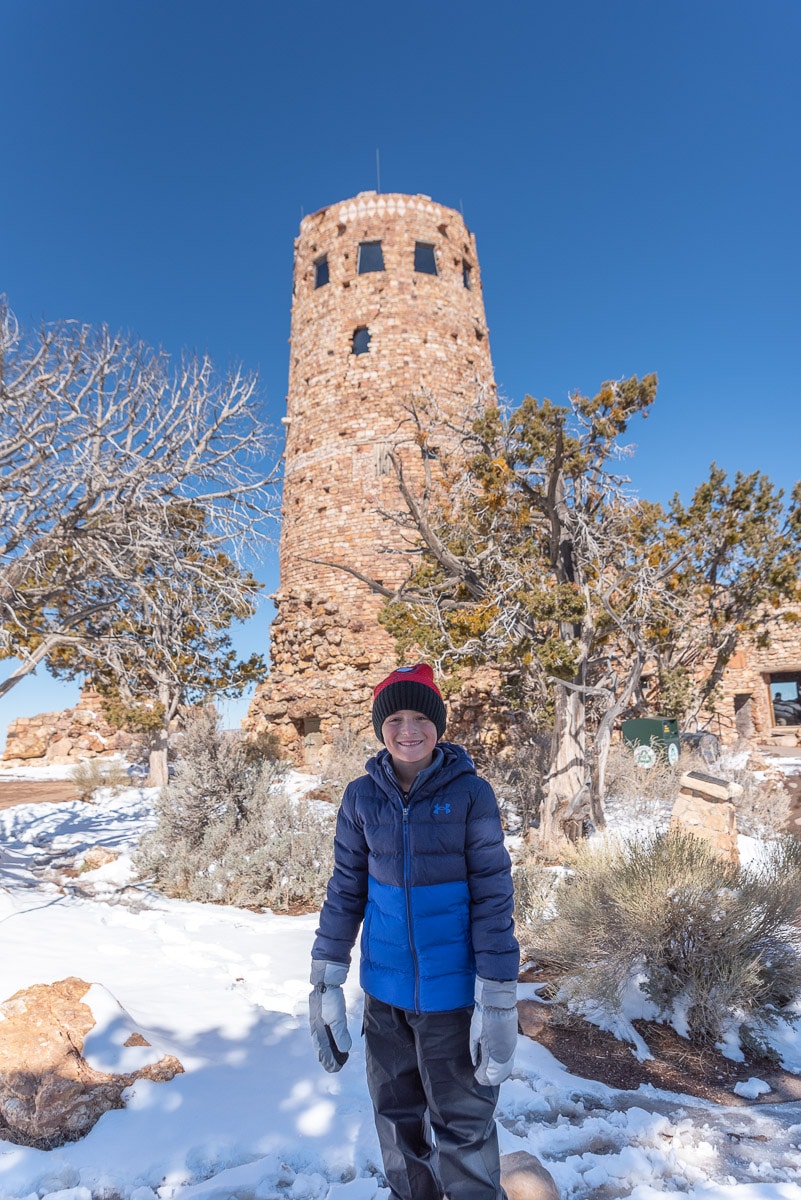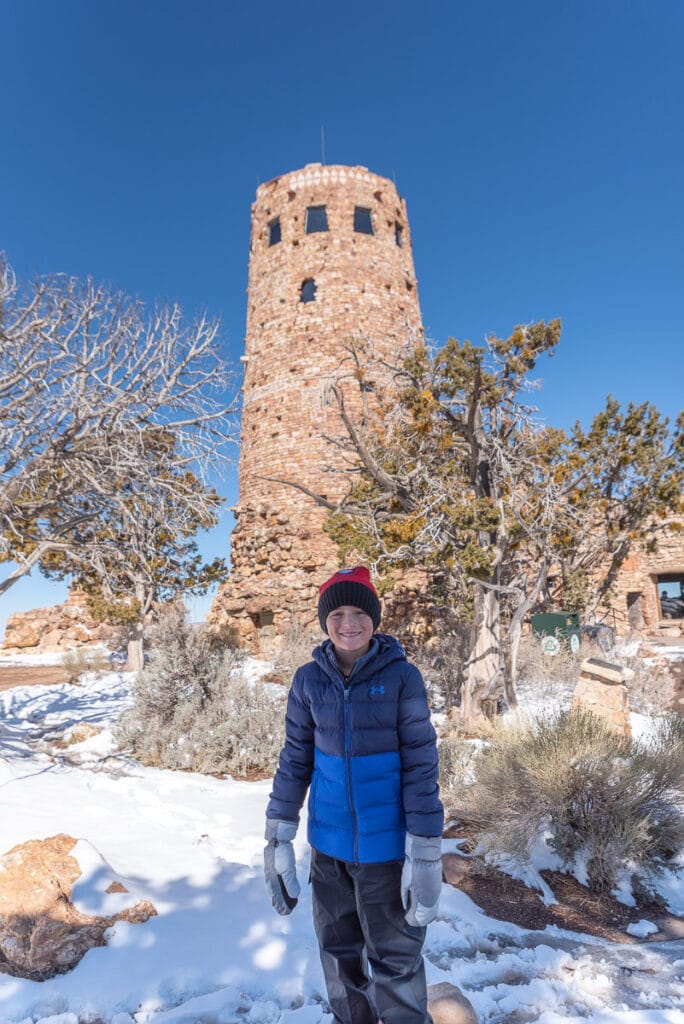 This was a great decision! The drive was gorgeous. Our first stop was Desert View Watchtower, which is a spectacular place to get your very first view of the Grand Canyon. It's also one of the only stops on the road where you will find a shop, restrooms, and water refill stations – so go ahead and grab anything you need at this point!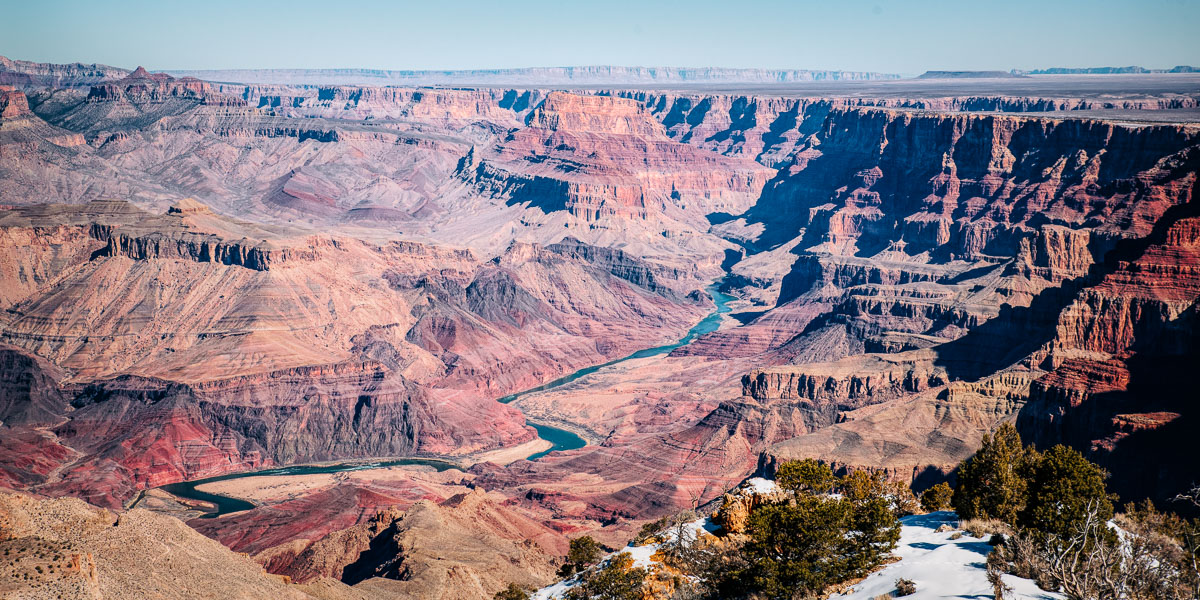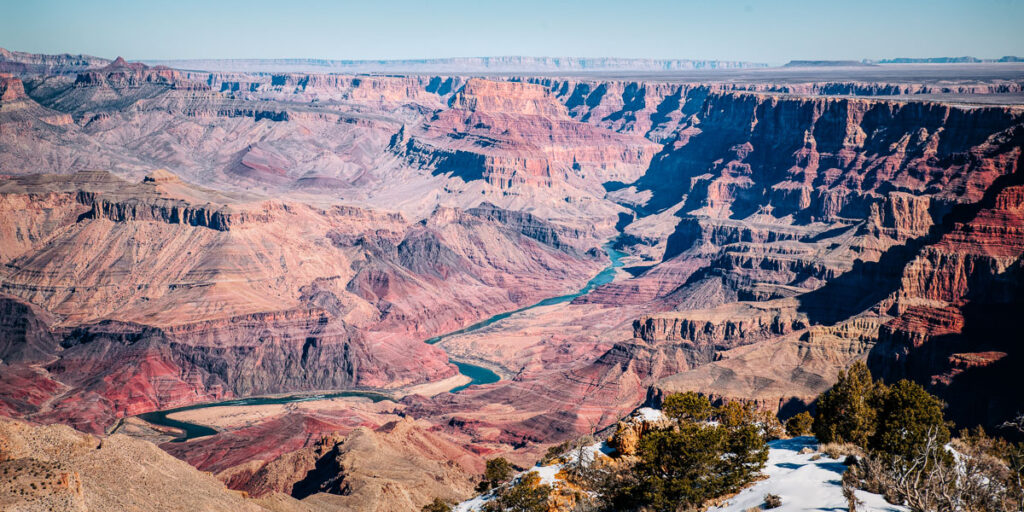 We spent the rest of the day driving down Desert View Drive and leisurely stopping at all of the scenic viewpoints. We took a lunch break at Grandview Point and snacked on some cheese and crackers (and a little wine) that we had packed along.
Our last stop on Desert View Drive was the Shoshone Point trailhead. This is an unmarked stop, but you will see a small paved entrance ramp and cars parked up in the grassy lot. We hiked this 2.2 mile round trip trail. The trail itself was very flat and easy – meandering through a pretty forest. This is definitely one of the best trails for hiking with kids in the canyon.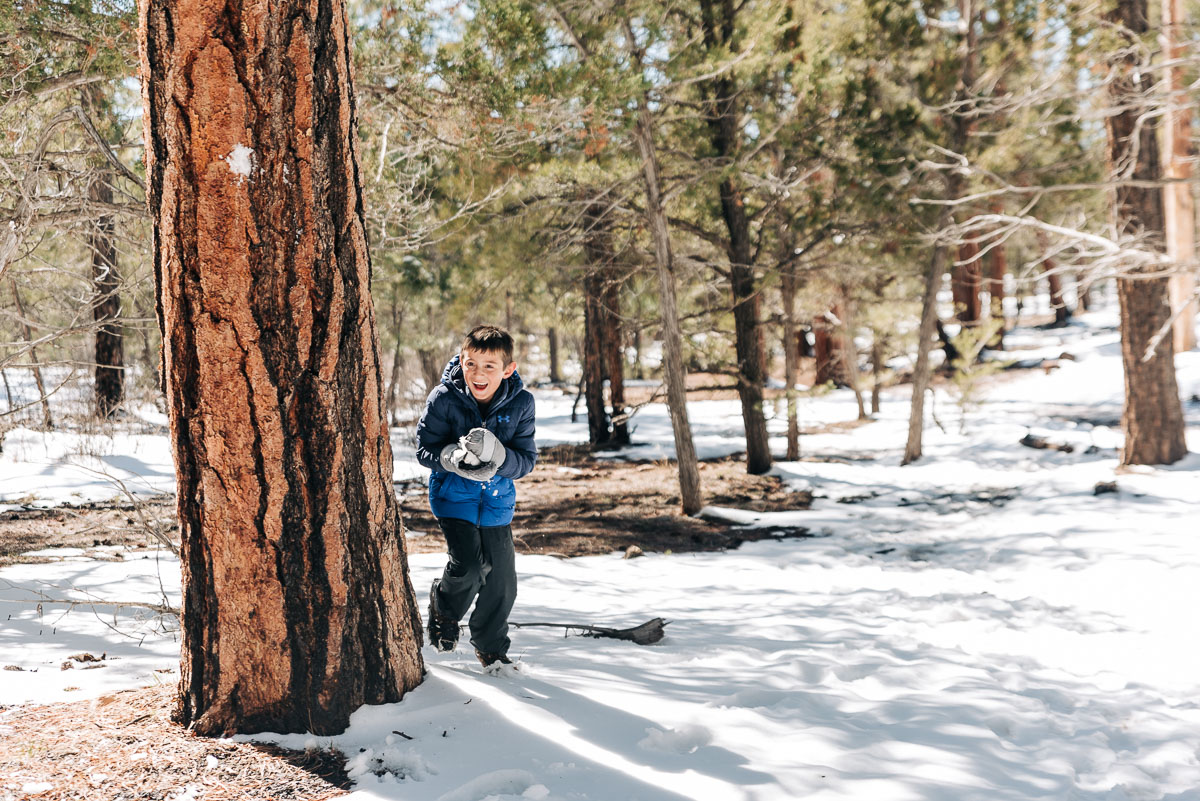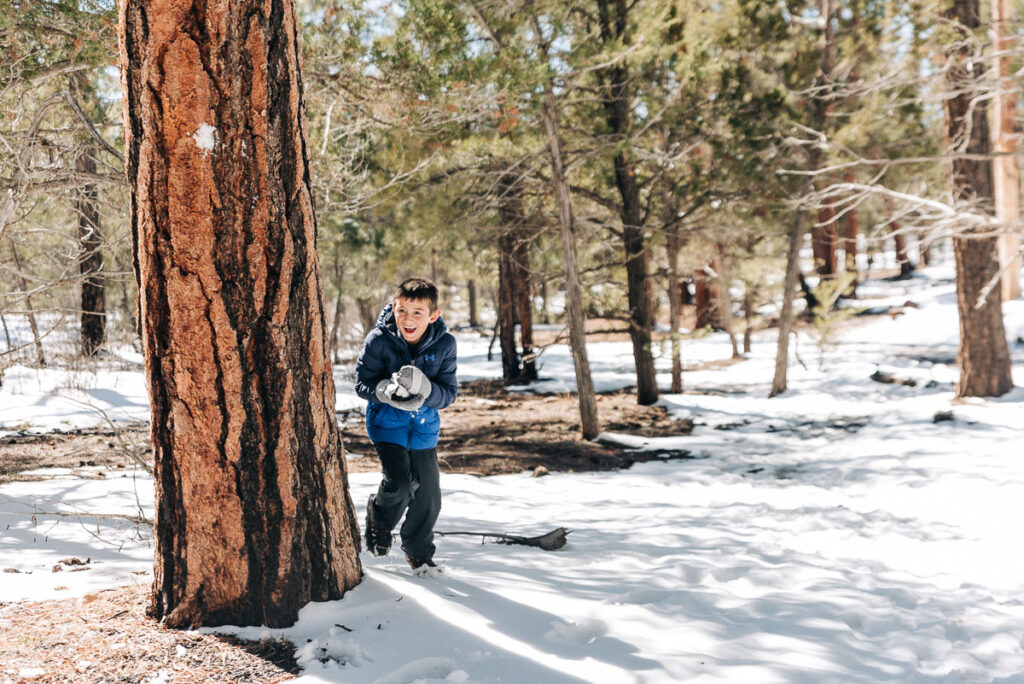 It was very icy and muddy, thanks to the recent snowstorm, and I was glad we had packed along these crampons for our boots. At the end of the trail, we reached Shoshone Point, which was an absolutely gorgeous viewpoint. Reaching it was just a little precarious, but nothing too crazy.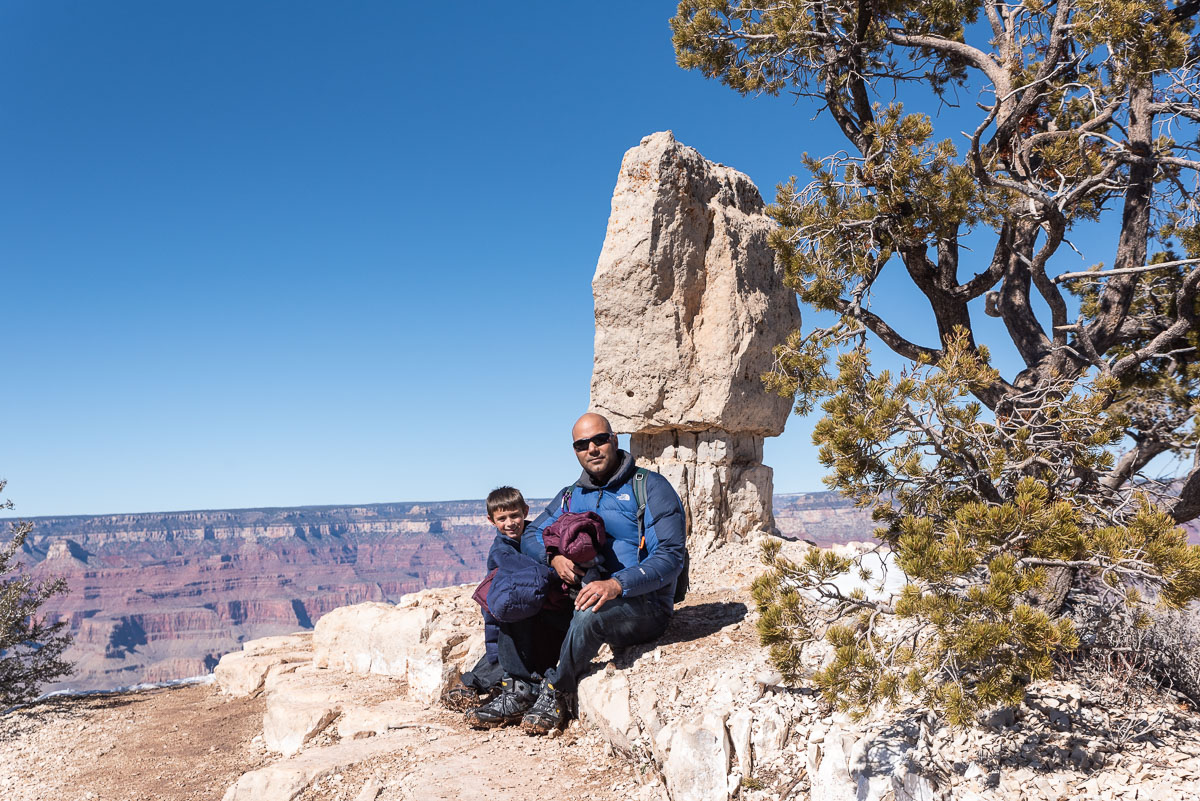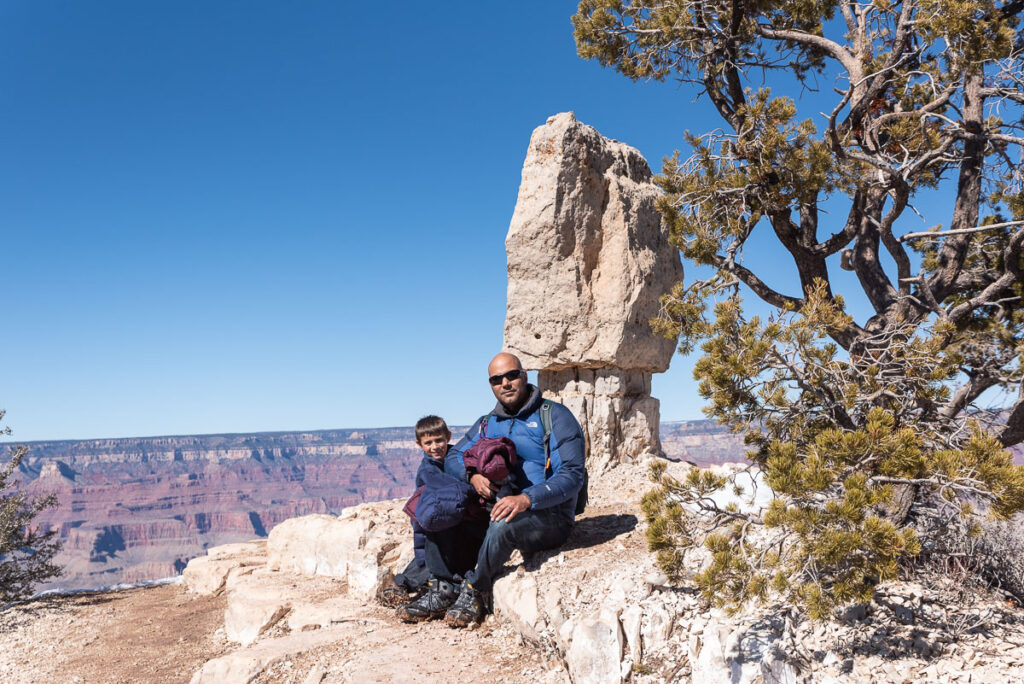 After our hike, we headed over to the Visitor's Center to pick up a Junior Ranger activity book. This is a great little program that is offered at all of the national parks. My son did it at Zion last year, and earning another badge was top of his list for this trip as well.
We didn't linger too long at the visitor center – but it is a good place to refill waters and use the restrooms. We even saw some elk along the way! I was very excited to tell the park ranger that we saw a moose. She tried not to laugh too hard while informing me that it was in fact, not a moose. :-D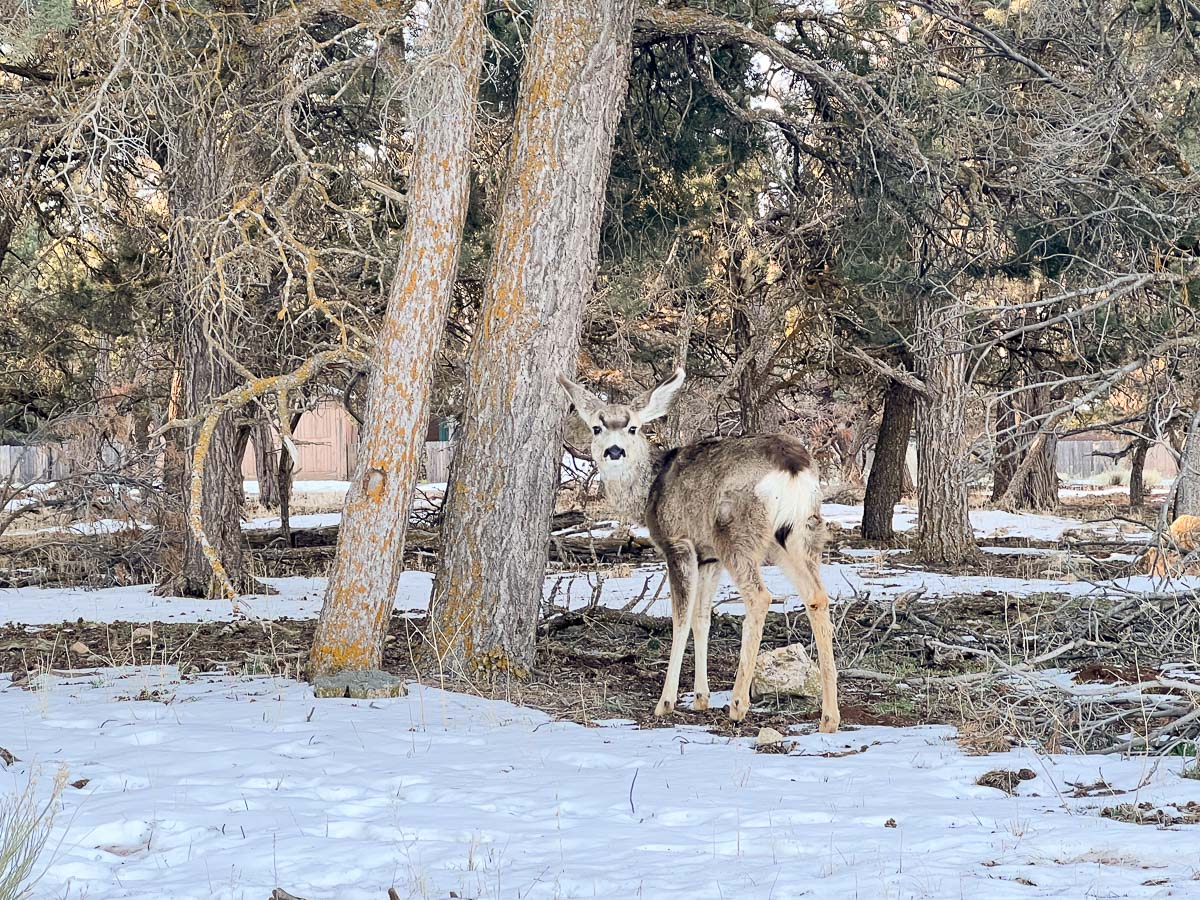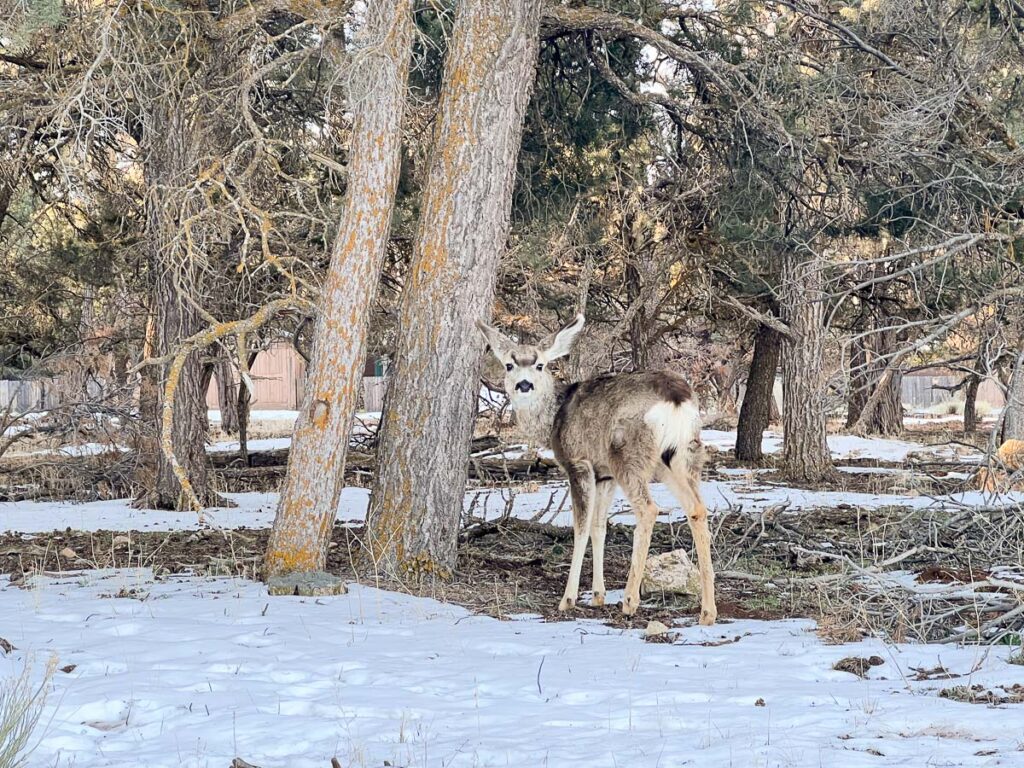 Then we headed over to check in at El Tovar Hotel, our home base for the rest of the trip. (See all our Grand Canyon hotel recommendations here.) It was around 4pm when we arrived, and we got lucky with a parking spot just in front of the hotel. It is a very small lot, and parking is a big issue in the park!
First impression of the hotel – wow! The building itself is over 100 years old, and it sits literally on the edge of the canyon. You can't really get any better than that for a location.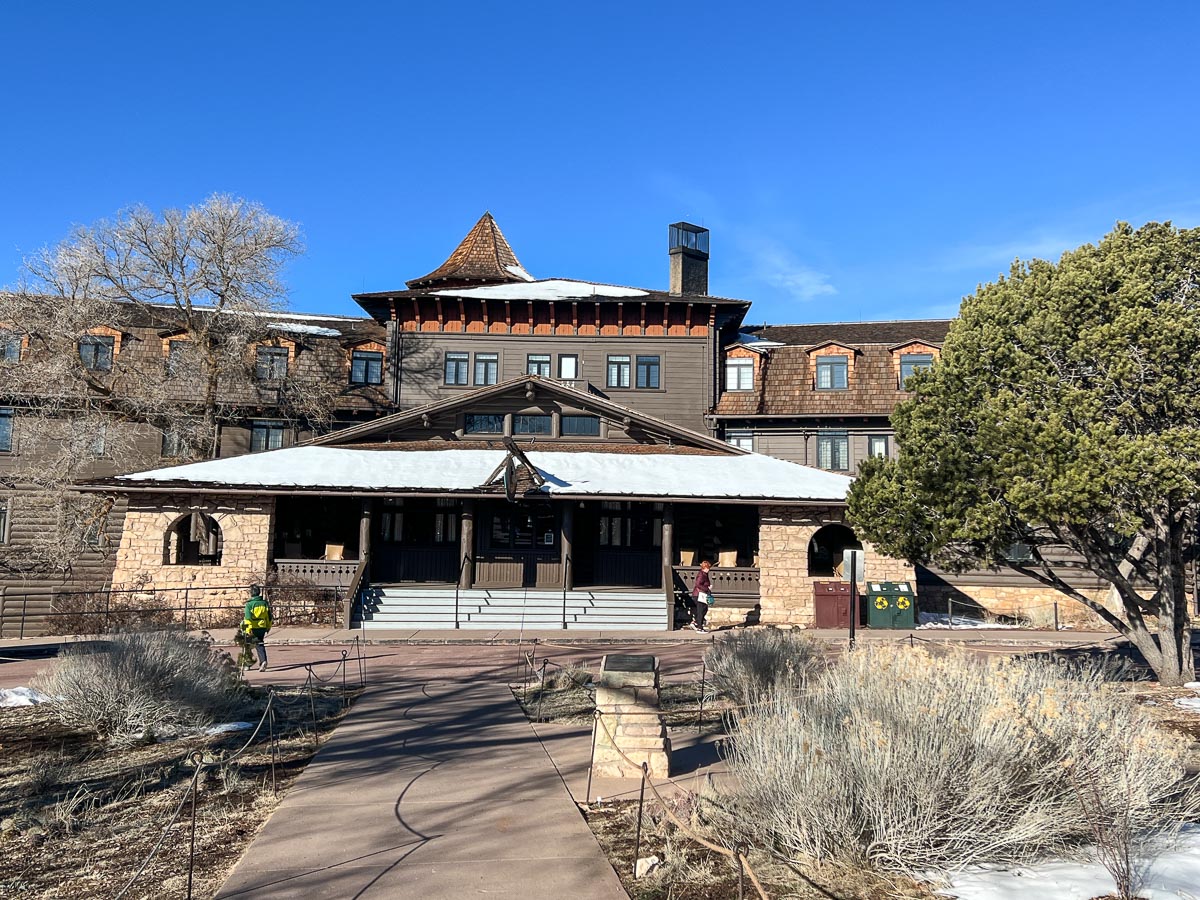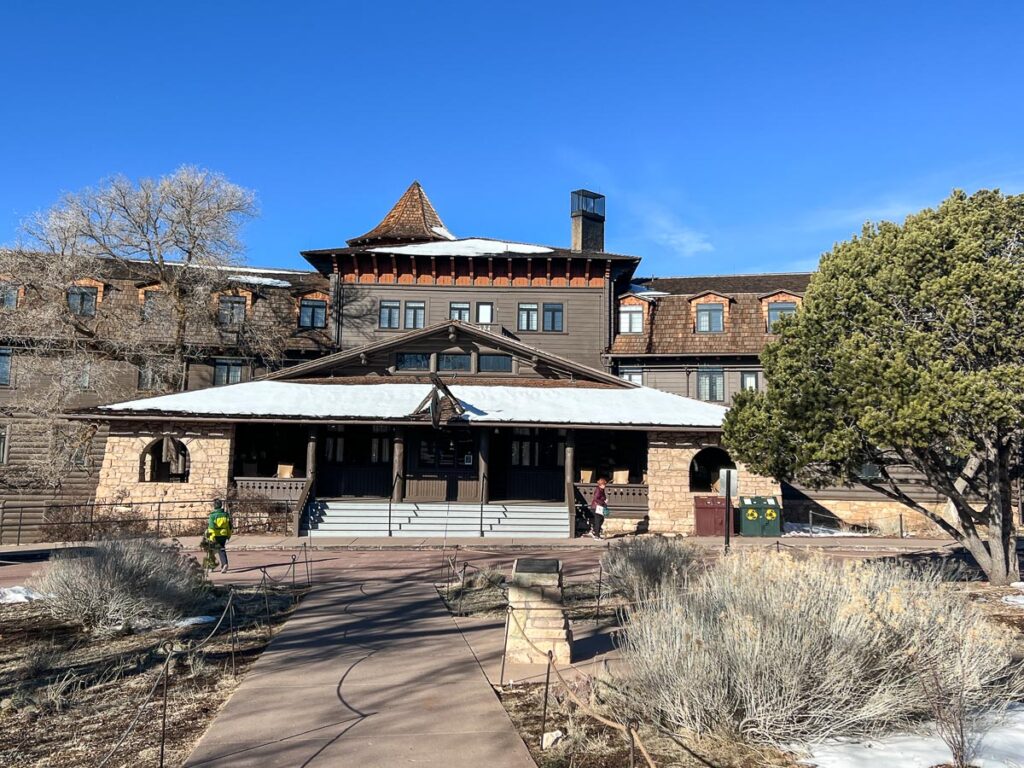 Second impression of the room was… meh. The rooms themselves are not very impressive. They are very, very dated. And almost none of the rooms have any kind of view, with the exception of a few very pricey suites.
But there was plenty of space, and they got us a rollaway bed for an extra $20/night, which was convenient. So on we go.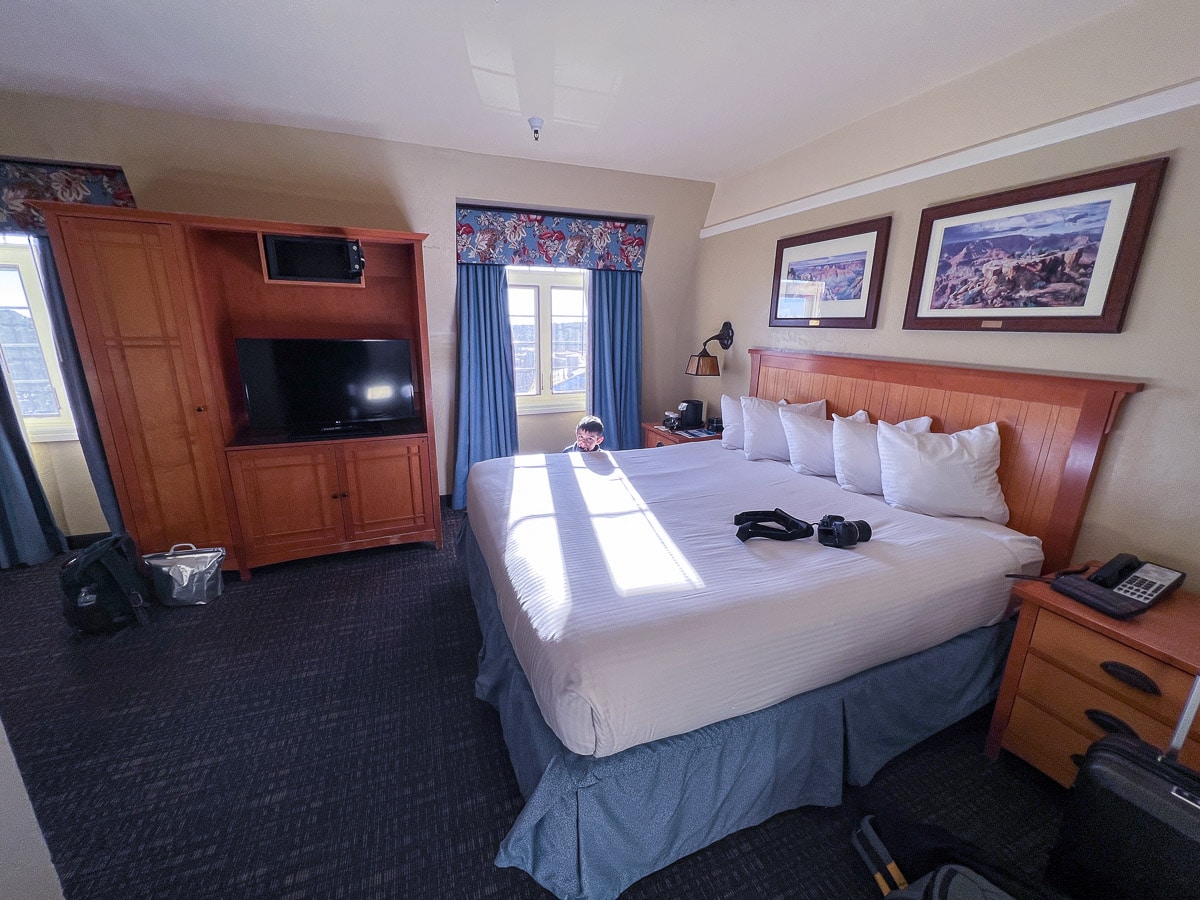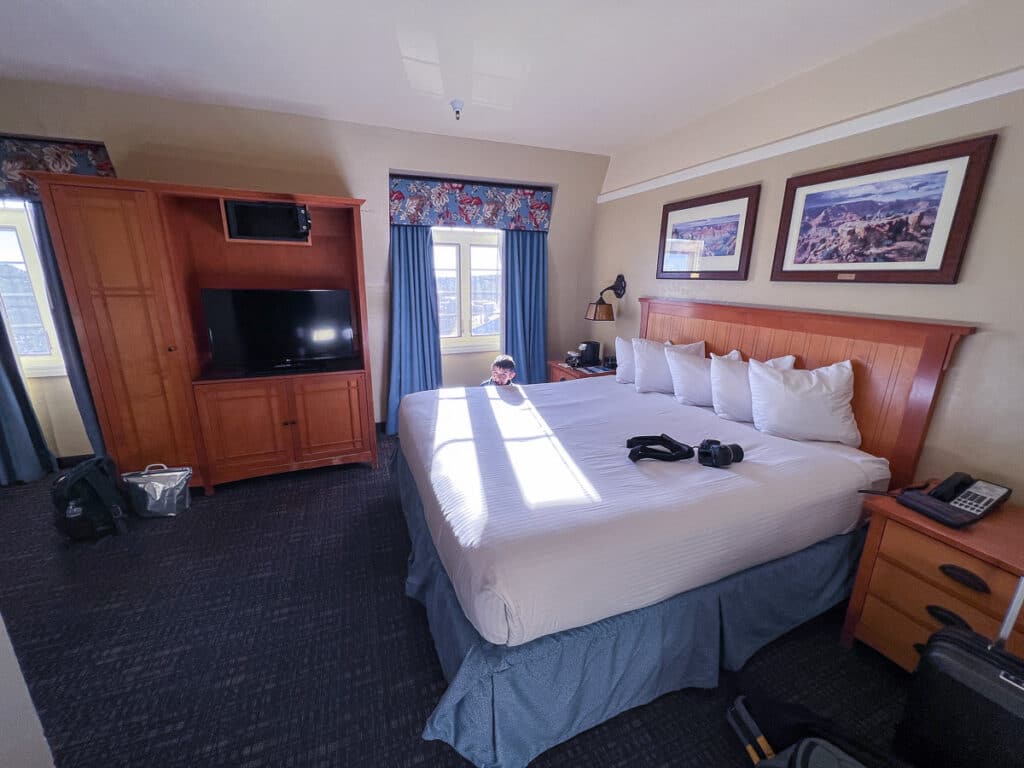 After checking in, we took a short walk around Grand Canyon Village and checked out the beautiful views. Then we headed to the El Tovar Dining Room for an early dinner.
Now it's important to note that El Tovar's restaurant is THE place to eat in the Grand Canyon. While they try to position it as fine dining, it's actually pretty casual. After all, most of the guests have spent their day hiking around a canyon. So don't expect a black tie affair – your jeans are fine.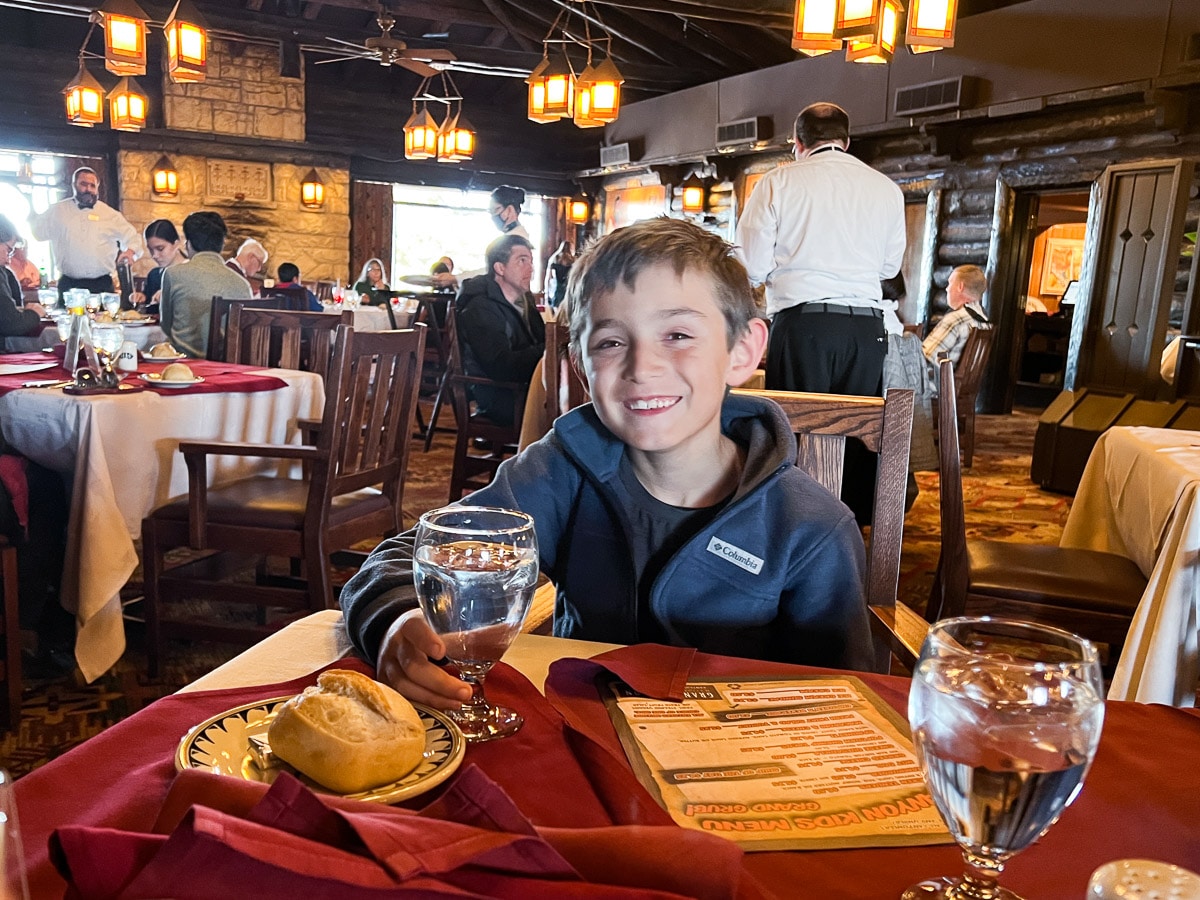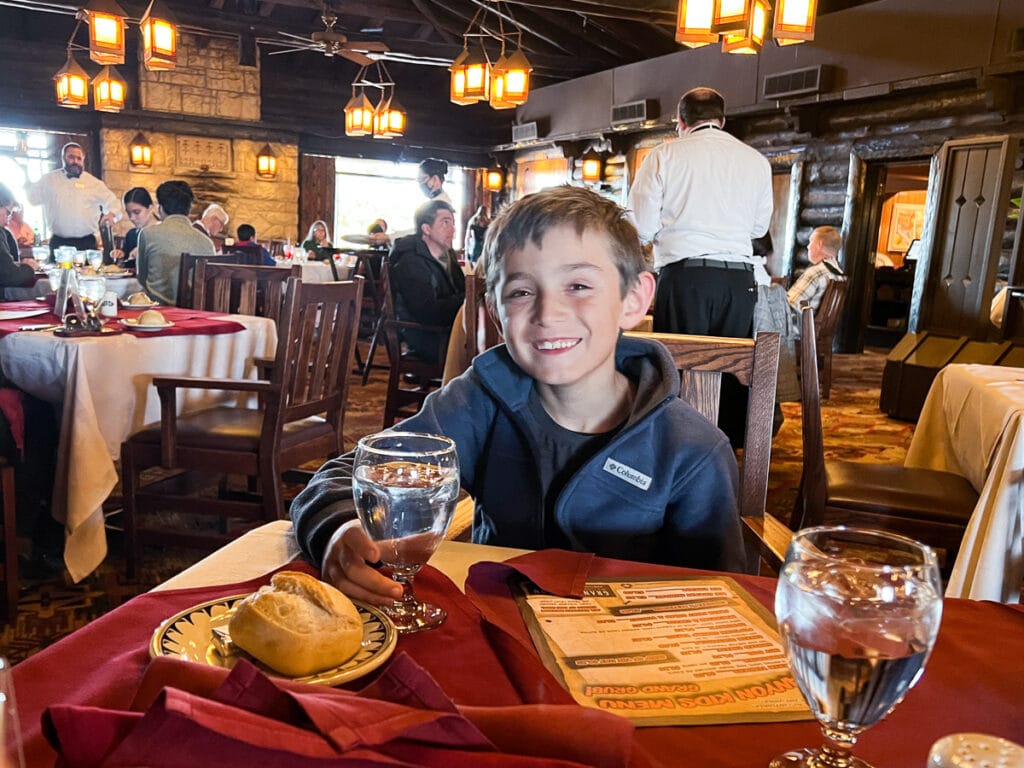 But it is by far the nicest place to eat in the park, and the service was great there. There were plenty of vegetarian options for me, and the kids menu had basically every kid food that my seven year old could think of.
Side note: You absolutely need to make dinner reservations here, as they book full just about every night. You can make reservations online up to 30 days in advance. Or if you are staying at the hotel, you can request reservations as soon as you have your room booked. And you should do it – I did it about six months in advance and still had limited time options.
We had big plans of going out stargazing in the evening, but we were all so tired that we went to bed early. And that was fine, because we had a very active day planned the next day!
Day 3: South Kaibab Trail (and the lunch fiasco!)
The next morning, I woke up super early and headed out to catch my first Grand Canyon sunrise. Luckily, I didn't have to journey too far since there was an incredible view right outside the hotel doors.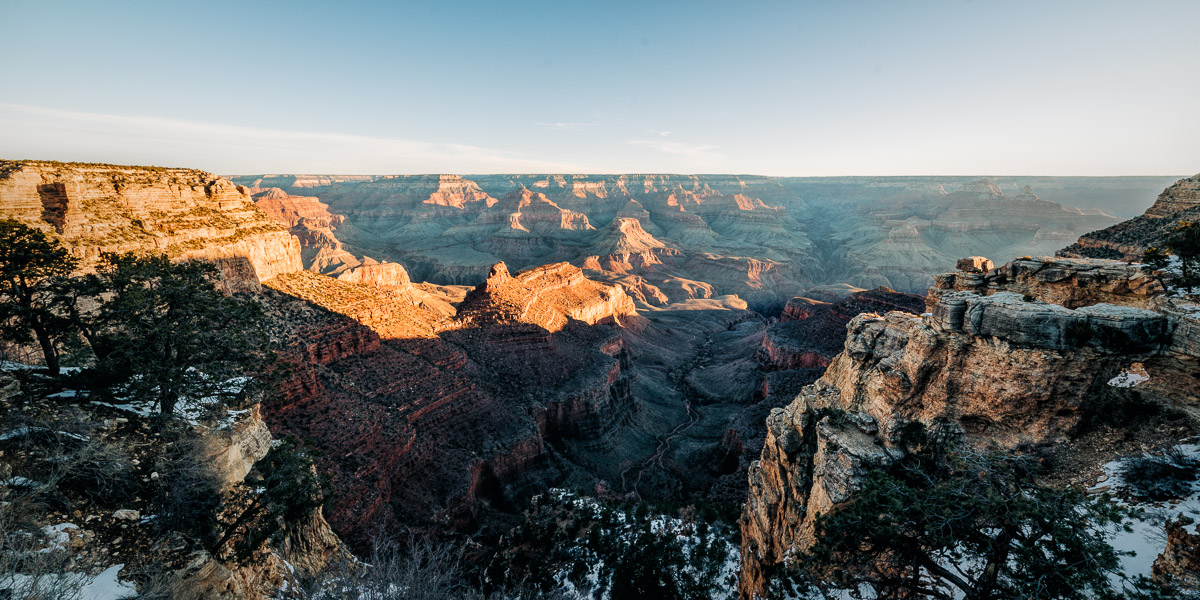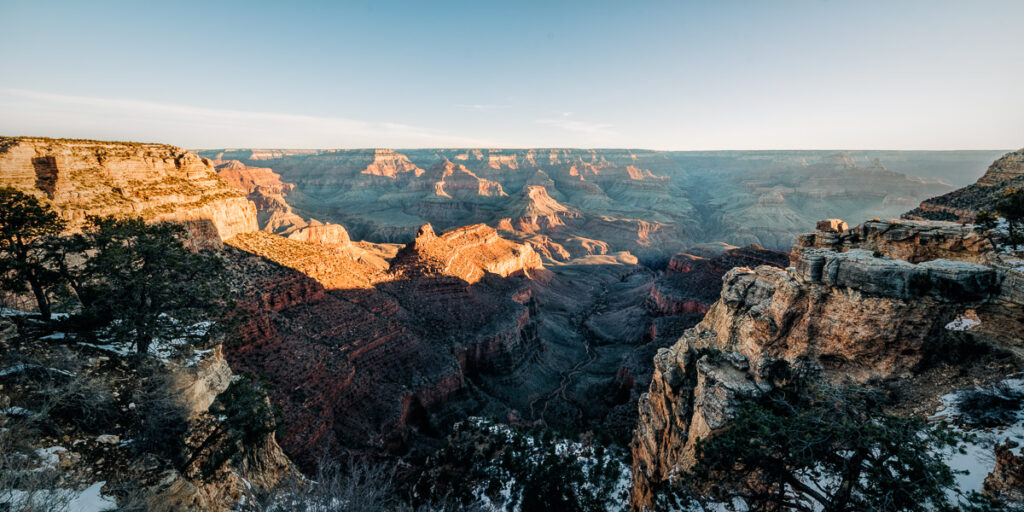 It was pretty spectacular to see the sunlight start lighting up the landscape piece by piece as the sun rose in the east side of the canyon. Then it was time to collect my family from breakfast and get on with our day.
For our second day in the canyon, we opted for a more serious hike at South Kaibab Trail. We grabbed ourselves some coffee and took the Hiker's Express shuttle over to the trailhead. (Note that the 9am shuttle got us to the trail at around 9:30 – so plan accordingly.)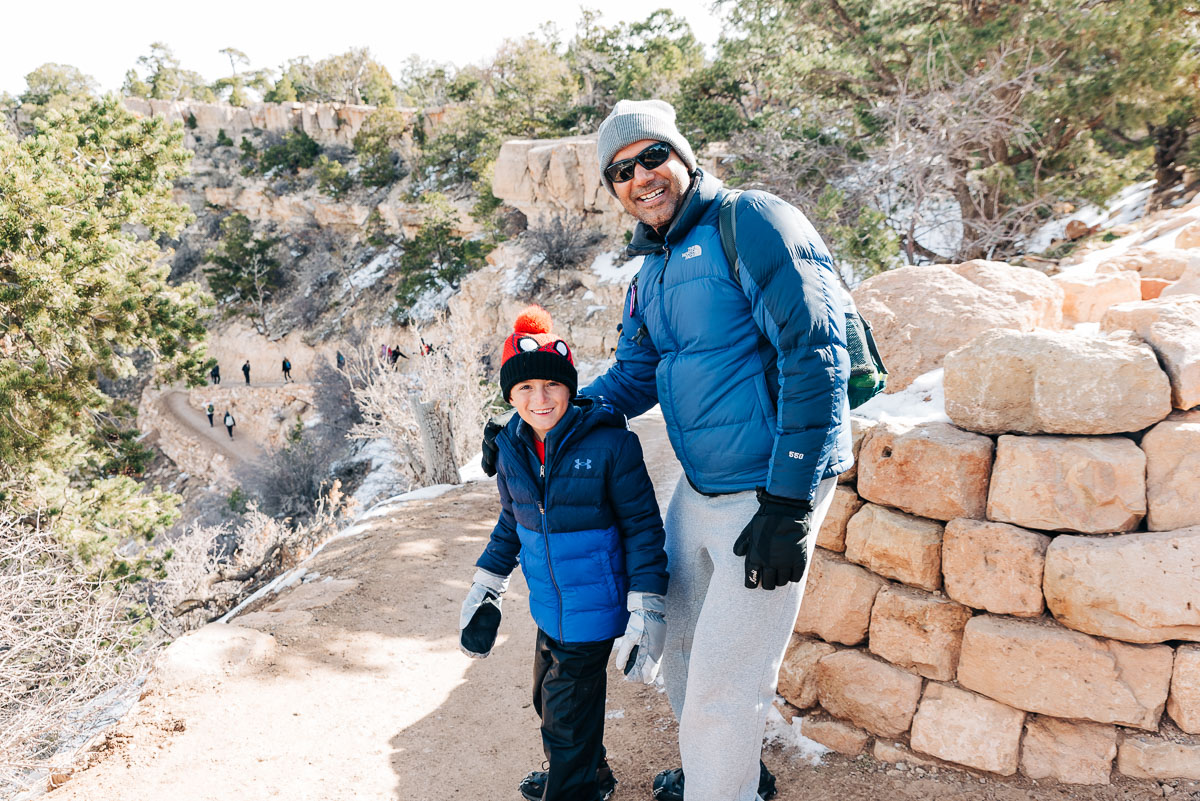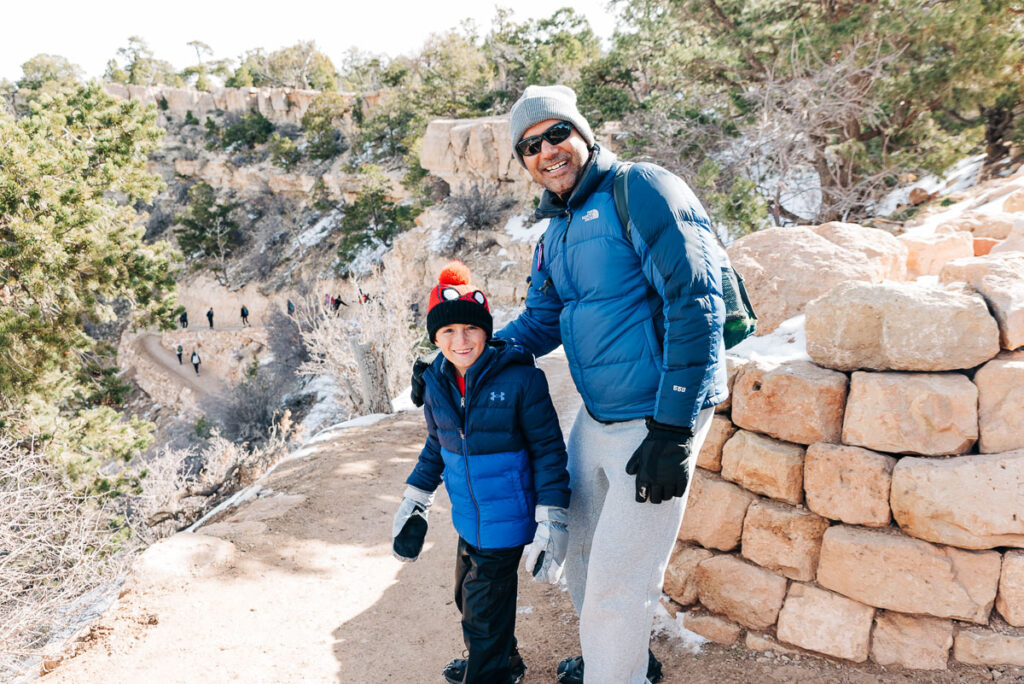 The South Kaibab Trail is a lot more challenging than the Shoshone Point Trail we did the day before, but the first few miles are still very suitable for an active family. (You can see all our recommended Grand Canyon trails for family hiking here.)
At the trailhead, there were restrooms and water filling stations, which is always helpful!
Then we headed down the canyon – and this is where things get interesting. As I mentioned, there was a big snowstorm about two days before we arrived and there was still a lot of snow and ice on the ground. The trail was VERY icy. And it's also VERY steep.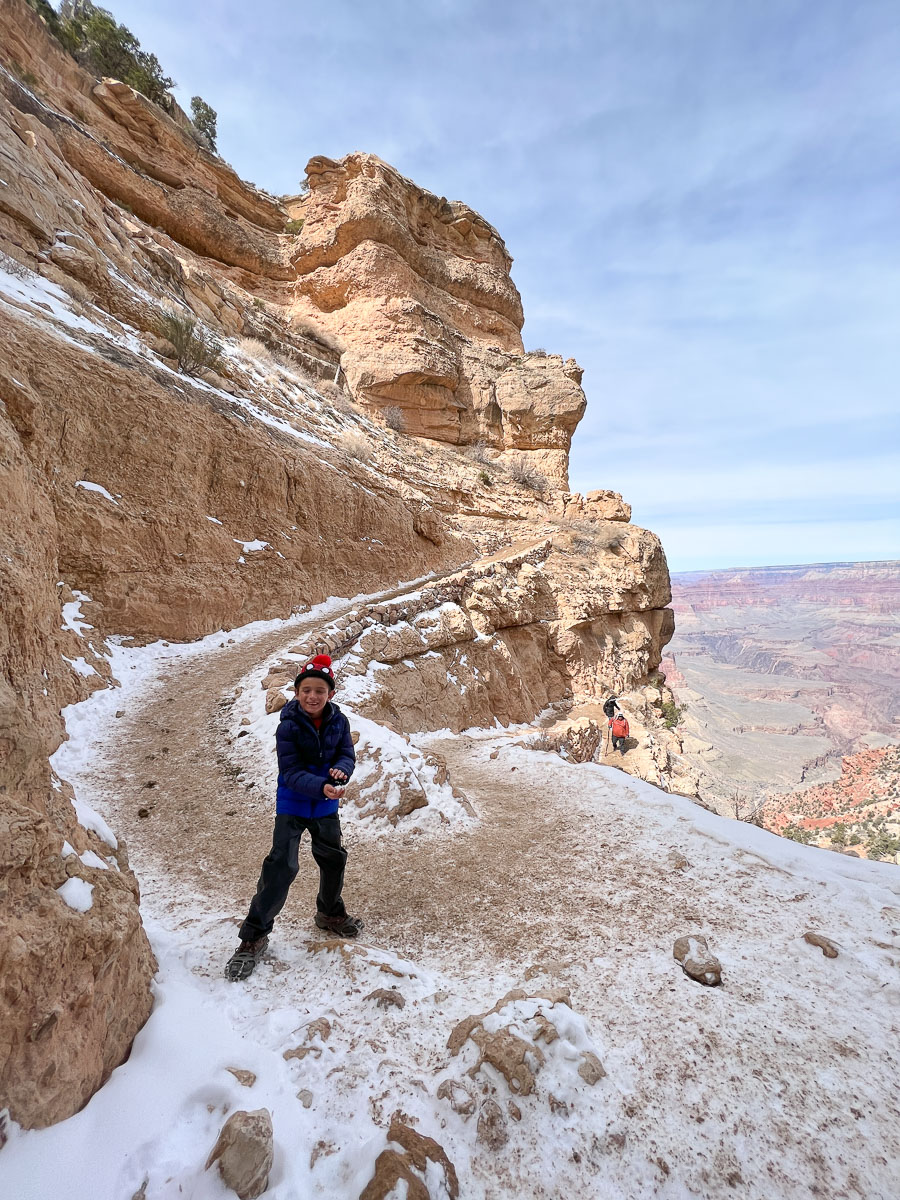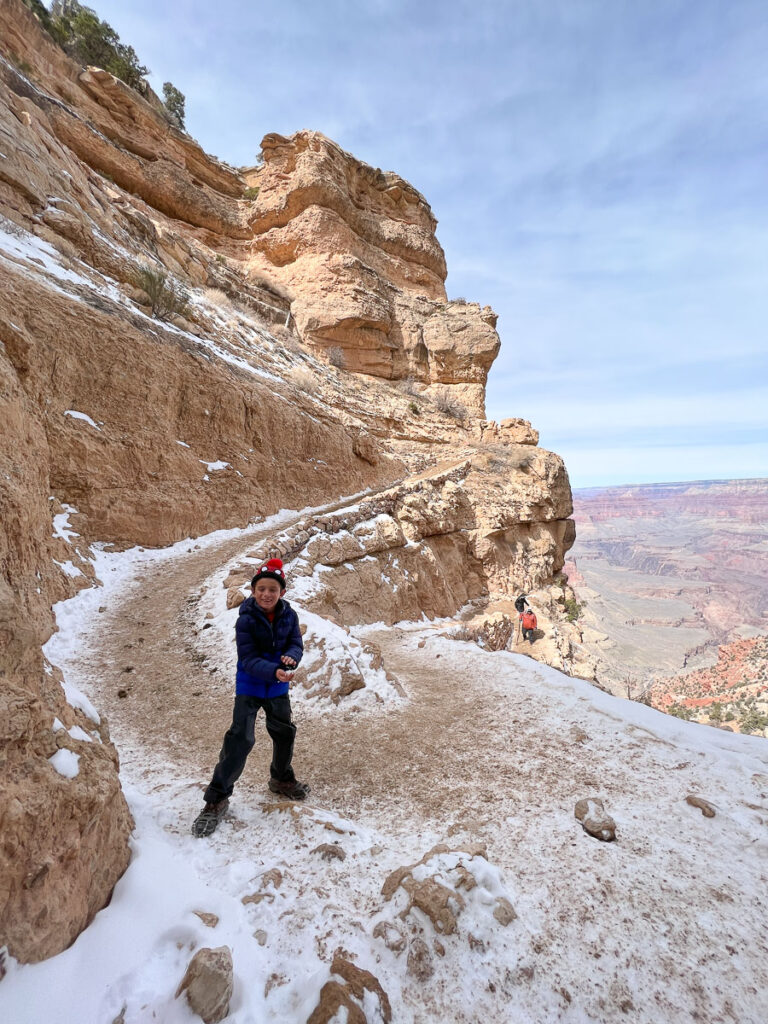 And when I say steep, I mean that a misstep could send you careening to the bottom of the canyon. There are no guard rails here – it's not Disney World.
I can't even count how many people I saw fall on their behinds. Most people were clinging to the canyon walls as they descended, trying to keep themselves upright, and I even saw some attempting to scoot down the steep trails on their butts.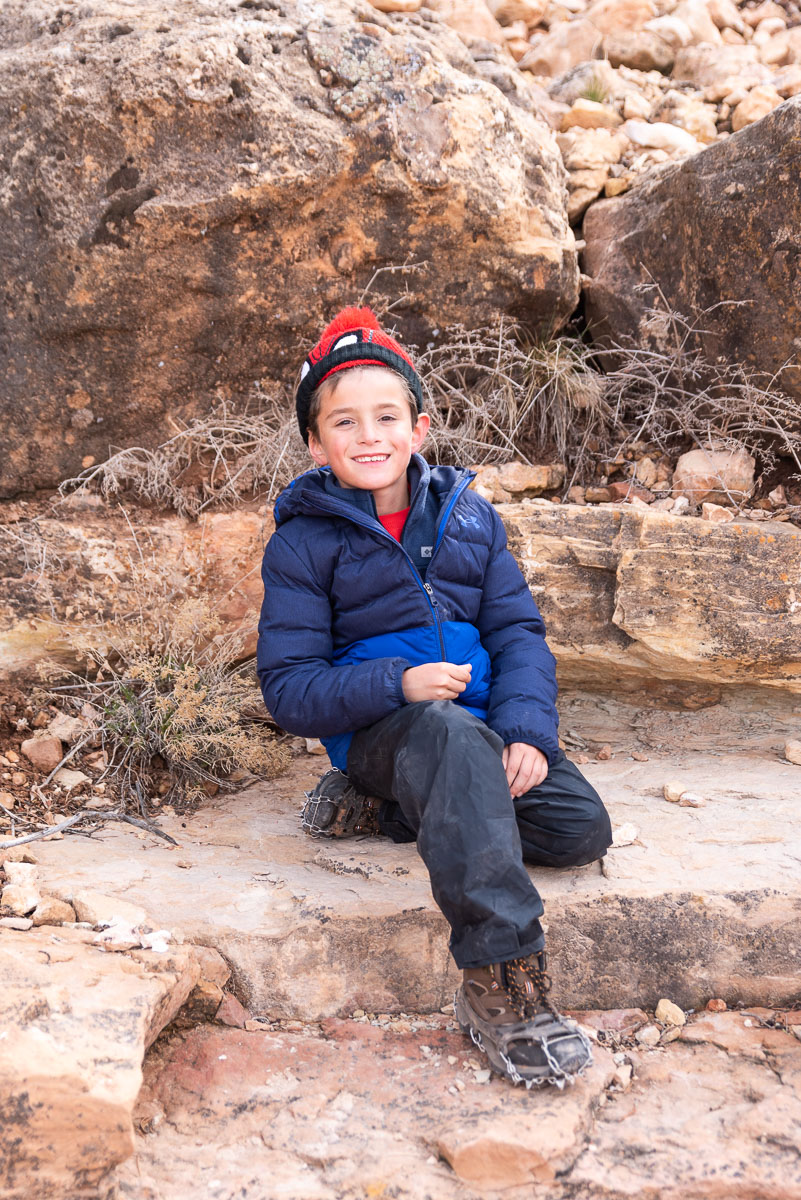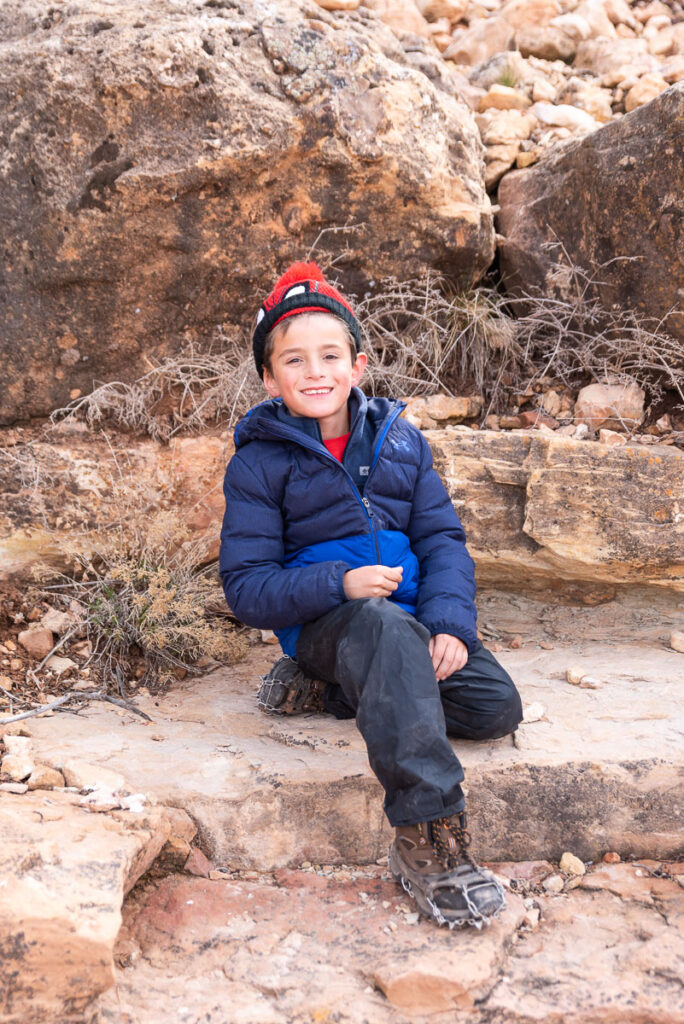 So I was super glad that we had brought along these crampons, which my husband totally made fun of me for buying. I made us all wear them, and we had absolutely no trouble getting up and down the steep inclines on sheer ice. If we did not have spikes, I would probably have turned back. It's just way too dangerous to be sliding around – one false step could be life ending.
The hike was absolutely beautiful with gorgeous views all along the way. We went down to Ooh Ah Point, which is a popular stopping point for casual hikers (like us!). It's important to remember that it will take you about twice as long to get up the canyon as it did to get down, since you'll be going uphill.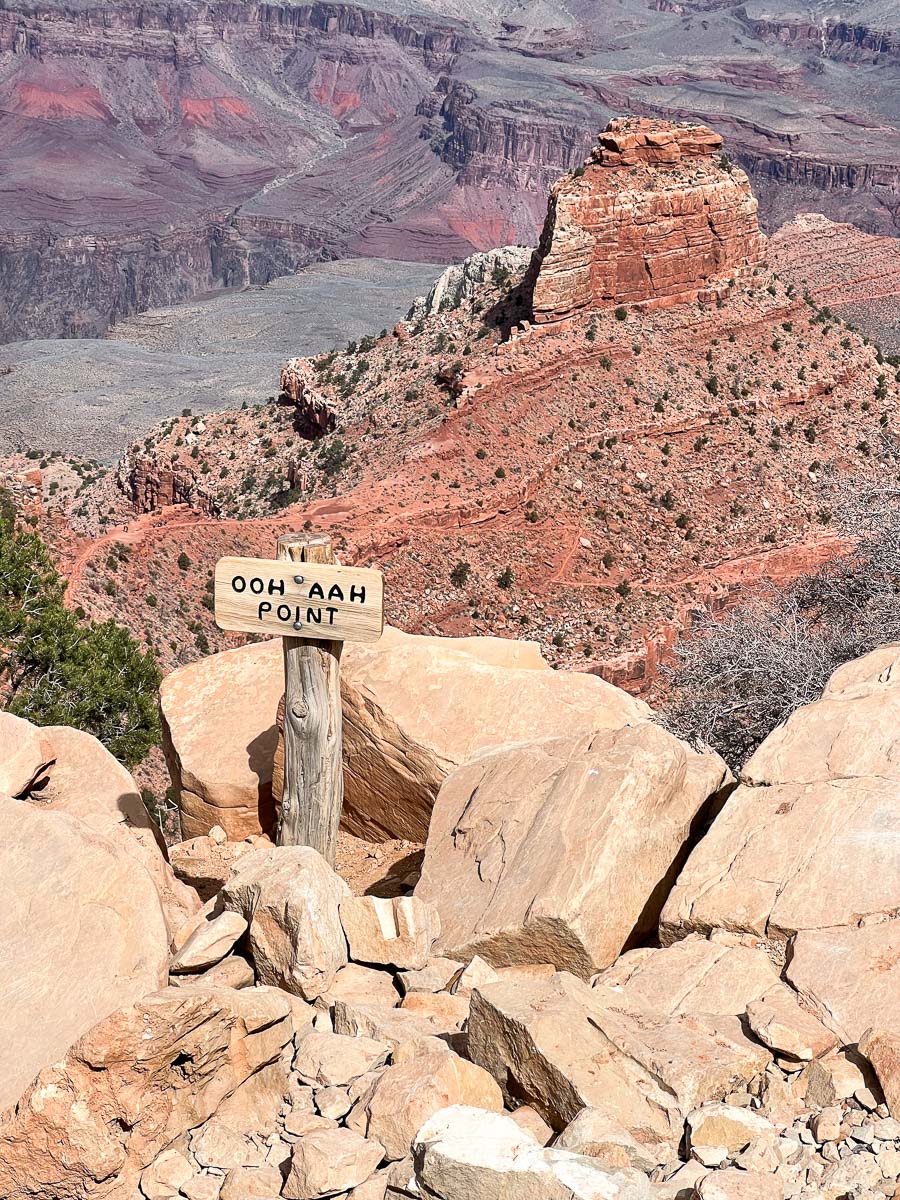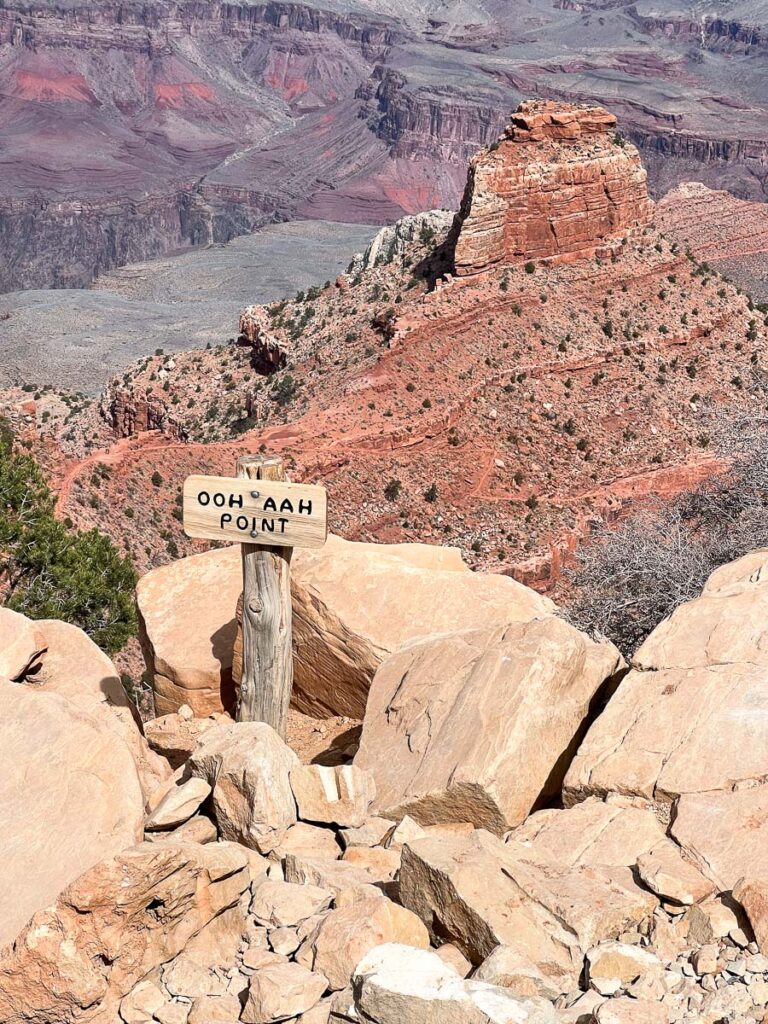 So we opted to turn back after the viewpoint. It took us about 40 minutes to get down to Ooh Ah Point, and about an hour to get back up. I also stopped a lot more on the way down, as I was taking lots of pictures.
In hindsight, I think we could have easily made it to the next stopping point. But I'm still really happy with our experience.
Back at the top of the trail, we had a snack and caught a shuttle bus back. As the shuttle was driving right by Yaki Point, we hopped off to take a look at the view.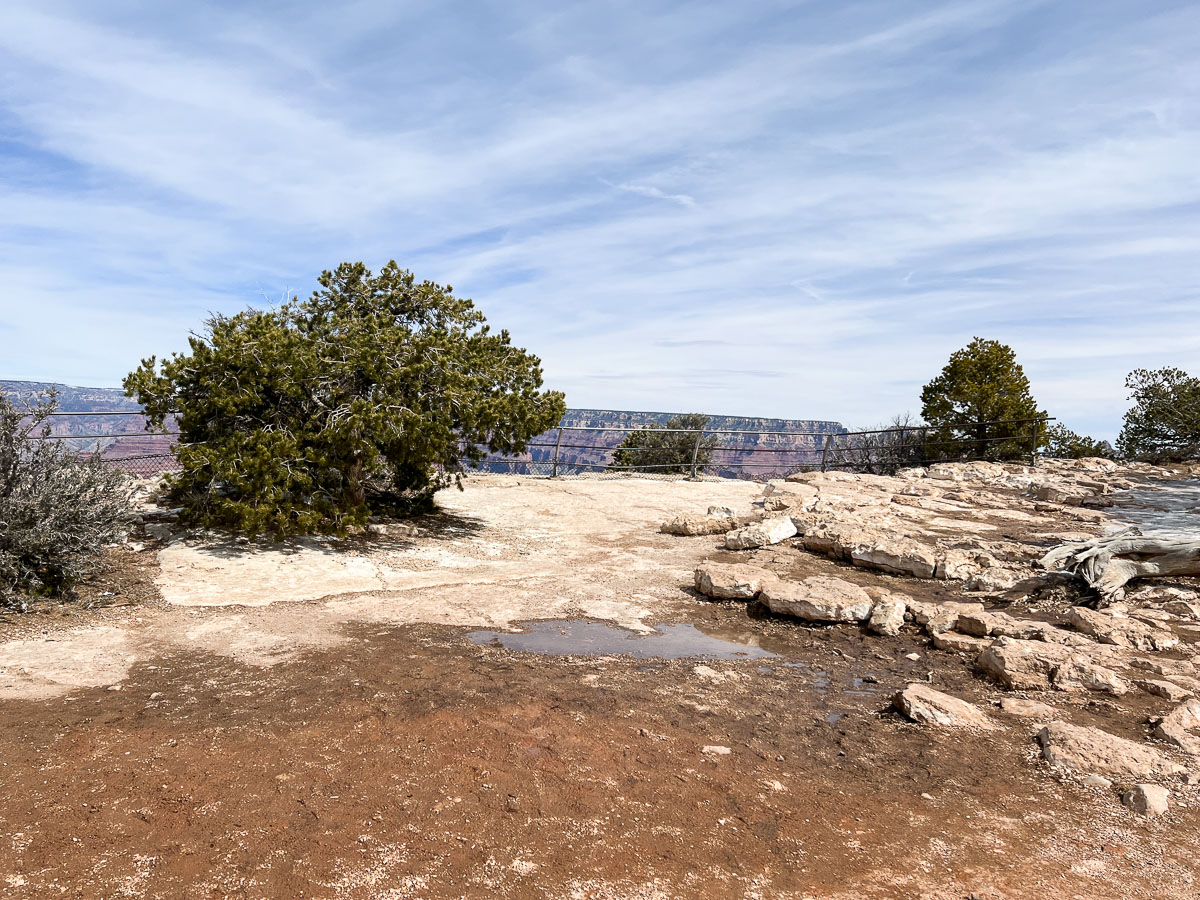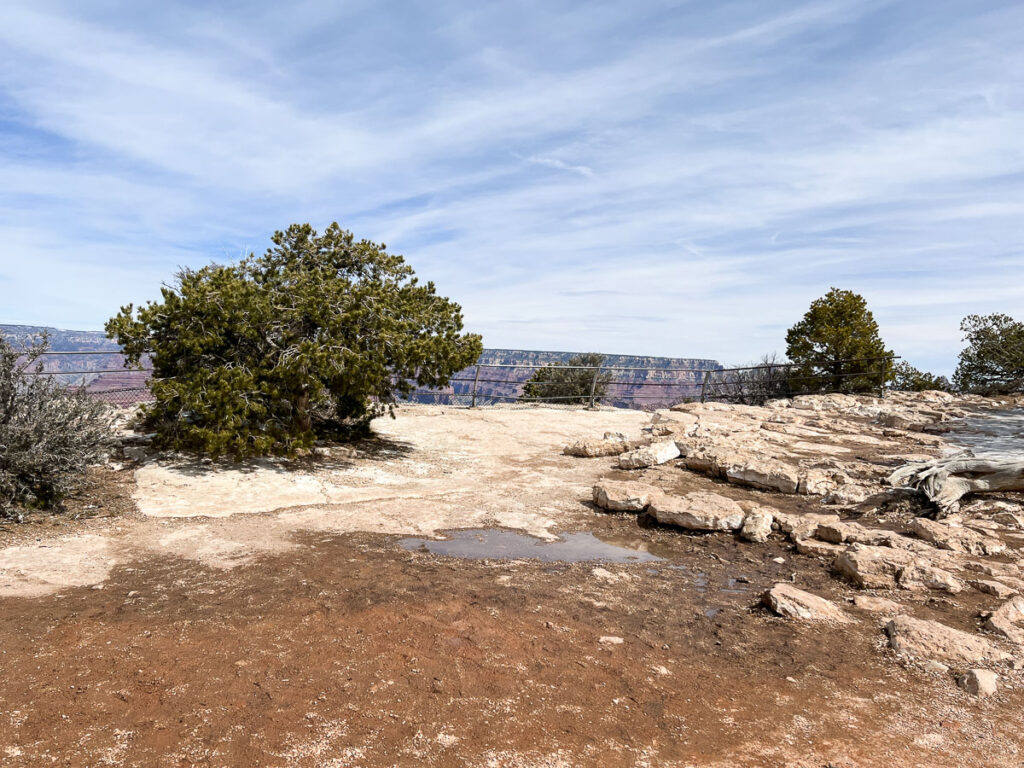 Yaki Point is definitely beautiful and worth a peek if you are already riding out that way. It's also a very popular spot for sunrise and sunset.
The next shuttle stop was the visitor center, so we stopped and turned in my son's Junior Ranger book at the bookstore. The lady was so incredibly nice and took her time to review his book and have him take the Junior Ranger Oath. He got his badge, which he proudly wore for the rest of the trip.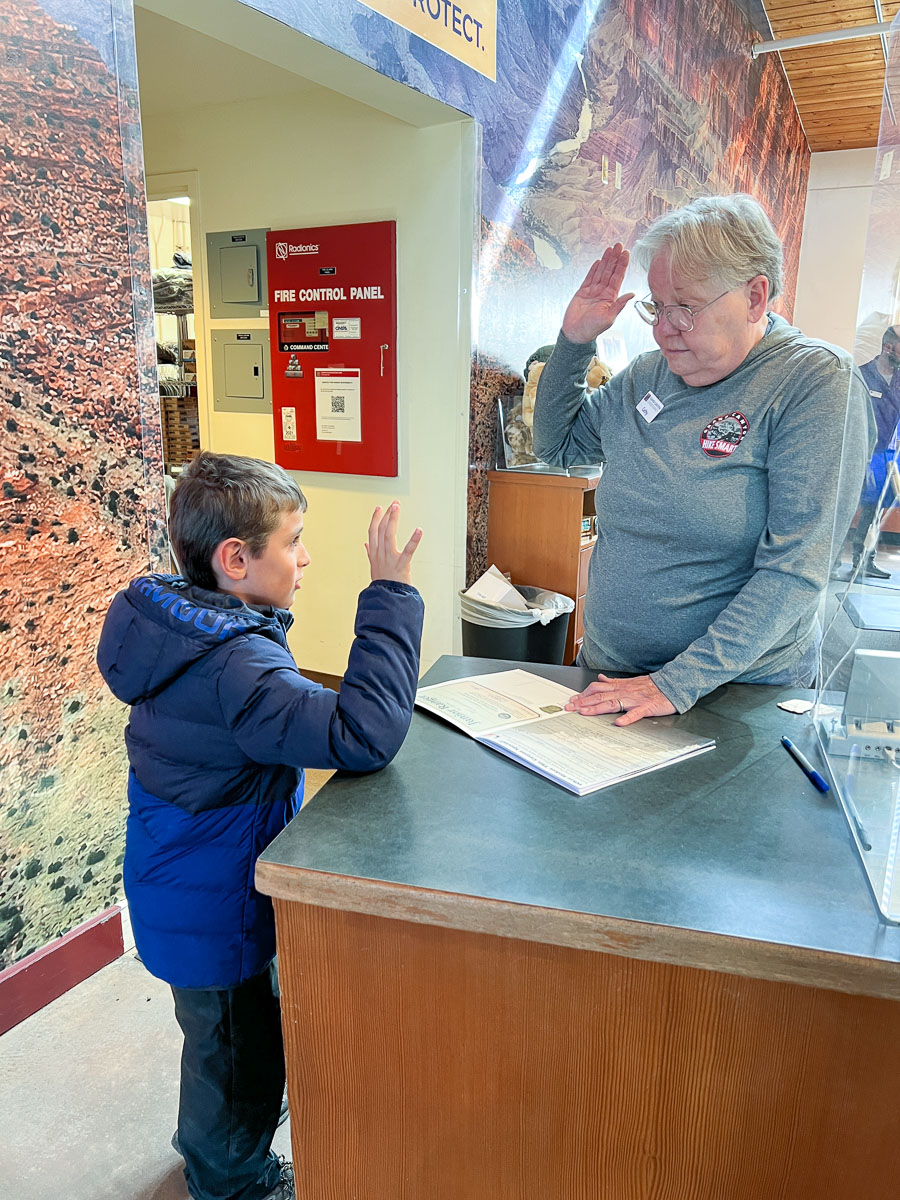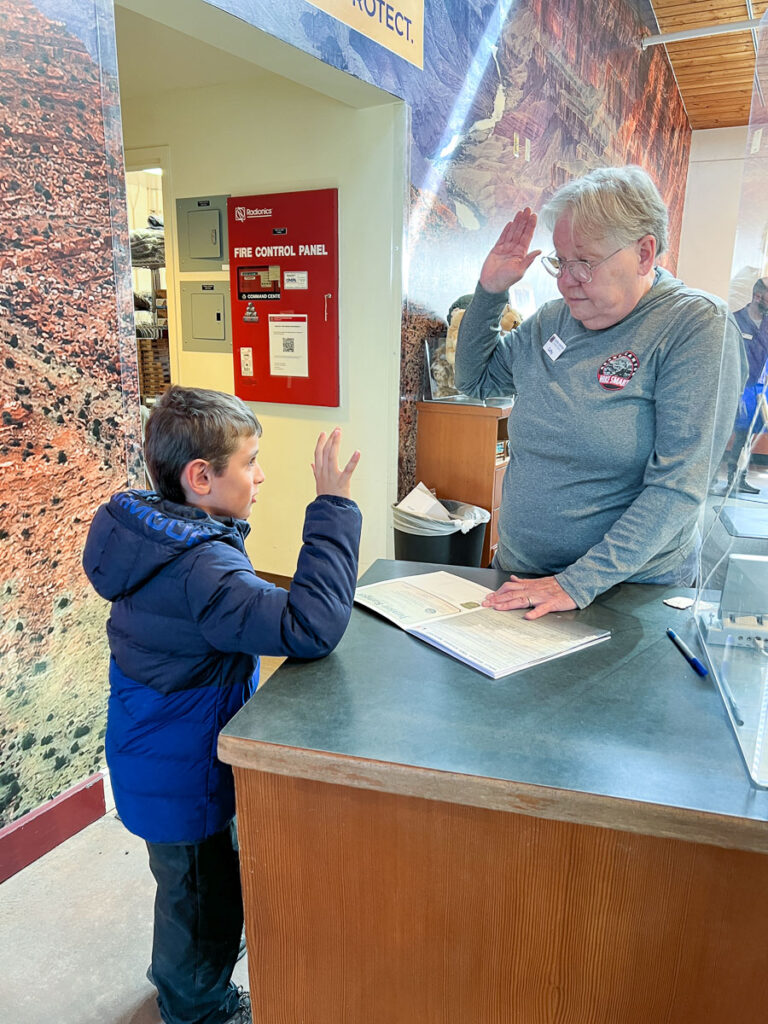 Next we rode the shuttle back into the Grand Canyon Village in search of lunch. And this is where everything went sideways on the food front.
It was about 2pm. For us, that's a little late, but not crazy. And there was no food to be found anywhere. The Bright Angel Fountain (which is grab and go style stuff), was completely out of food except for PB&J sandwiches. Yes, I said out of food. During Spring Break. Someone did not plan very well.
We stopped at Arizona (which now takes reservations, but didn't then) but they had already stopped seating guests because they close at 3. El Tovar also closes at 3 until they open back up for dinner, and was not seating guests.
My husband and I ended up eating our leftover cheese and crackers from the day before and my son happily ate a lunch of Doritos and milk. :-D
This unfortunate lunch issue was a problem all week long. So if I was coming back again, I would be sure to get some sandwich stuff and fruit to keep in my room fridge for lunch, and not bother with the restaurants at all.
And then this whole food problem repeated itself again at dinner time, when again there was no availability anywhere, despite the fact that none of the restaurants in the park take dinner reservations except for El Tovar. We ended up just putting our name on the waitlist and eating a late dinner at El Tovar for the second night. At least it was good…
After dinner, we opted to go outside and see if we could take a peek at the stars. The Grand Canyon is a designated dark zone! That means they keep the amount of artificial light to a minimum, enabling better stargazing and night time photography. Pretty cool!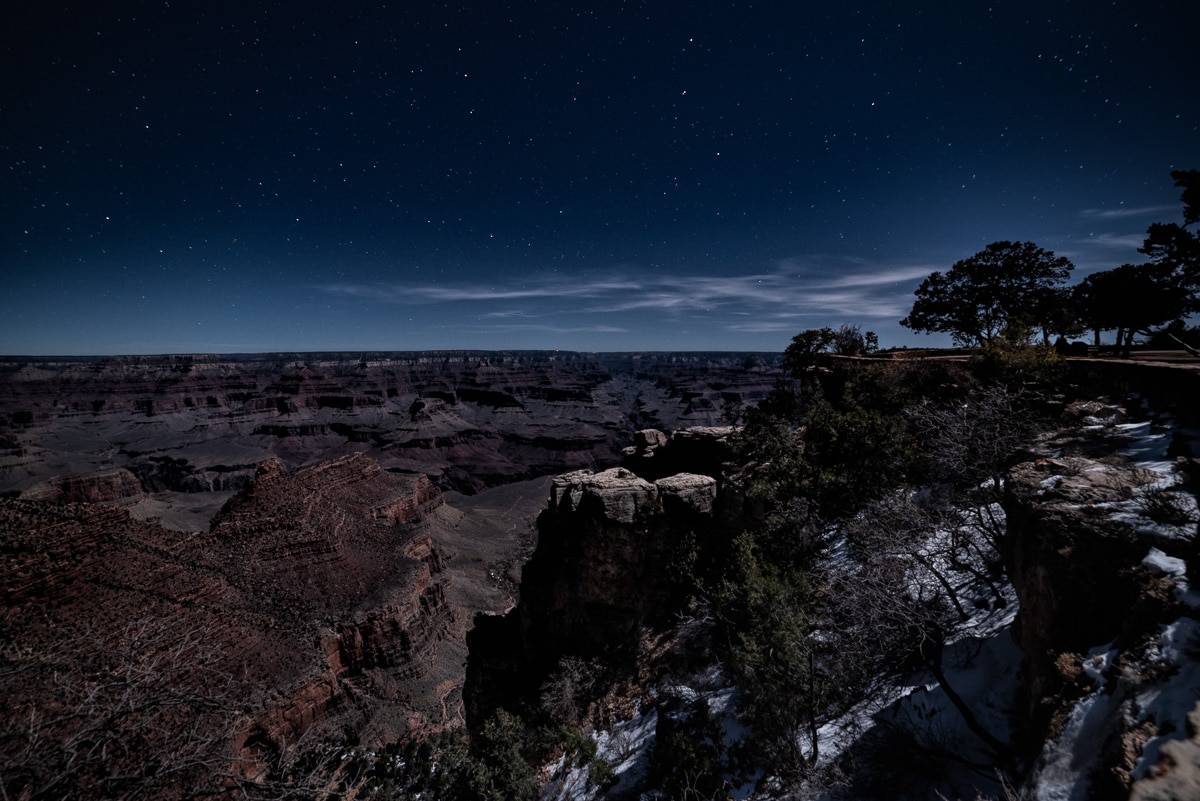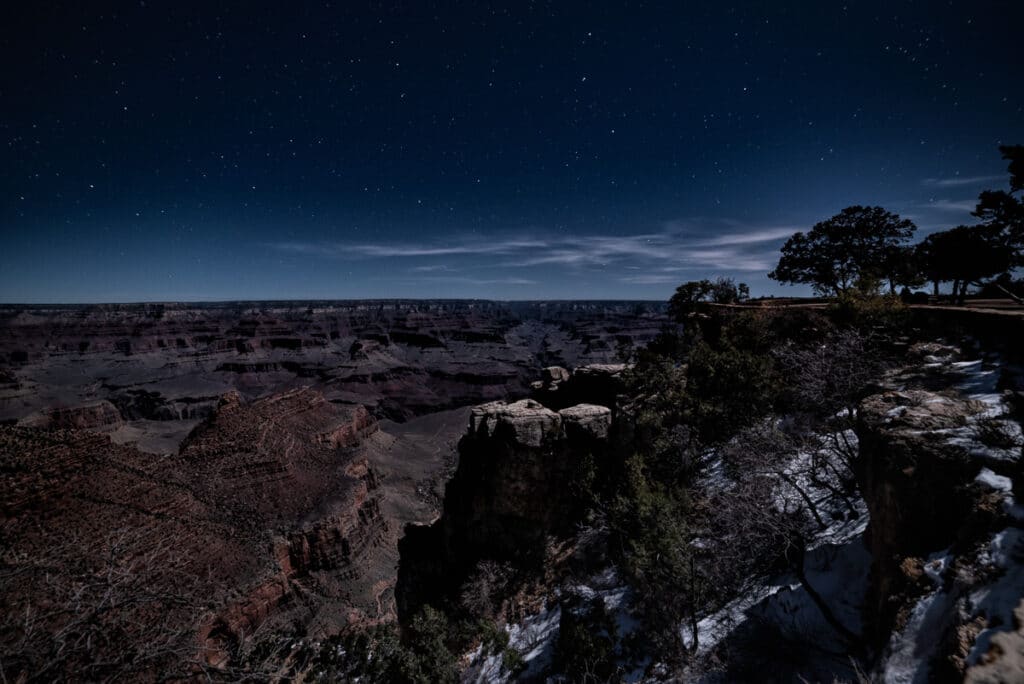 We actually dragged along my son's telescope (he has this travel scope), which was a gift from his grandparents two Christmases ago. We figured this was one of our best opportunities to see stars with it!
But… there was a nearly full moon. So the sky was actually quite bright. We were able to see a few constellations though. Check out the SkyView app for help viewing constellations – a recommendation from my son's kindergarten teacher. And we were able to look at the moon itself, which was cool enough to impress a seven year old.
Day 4: Biking the Hermit Road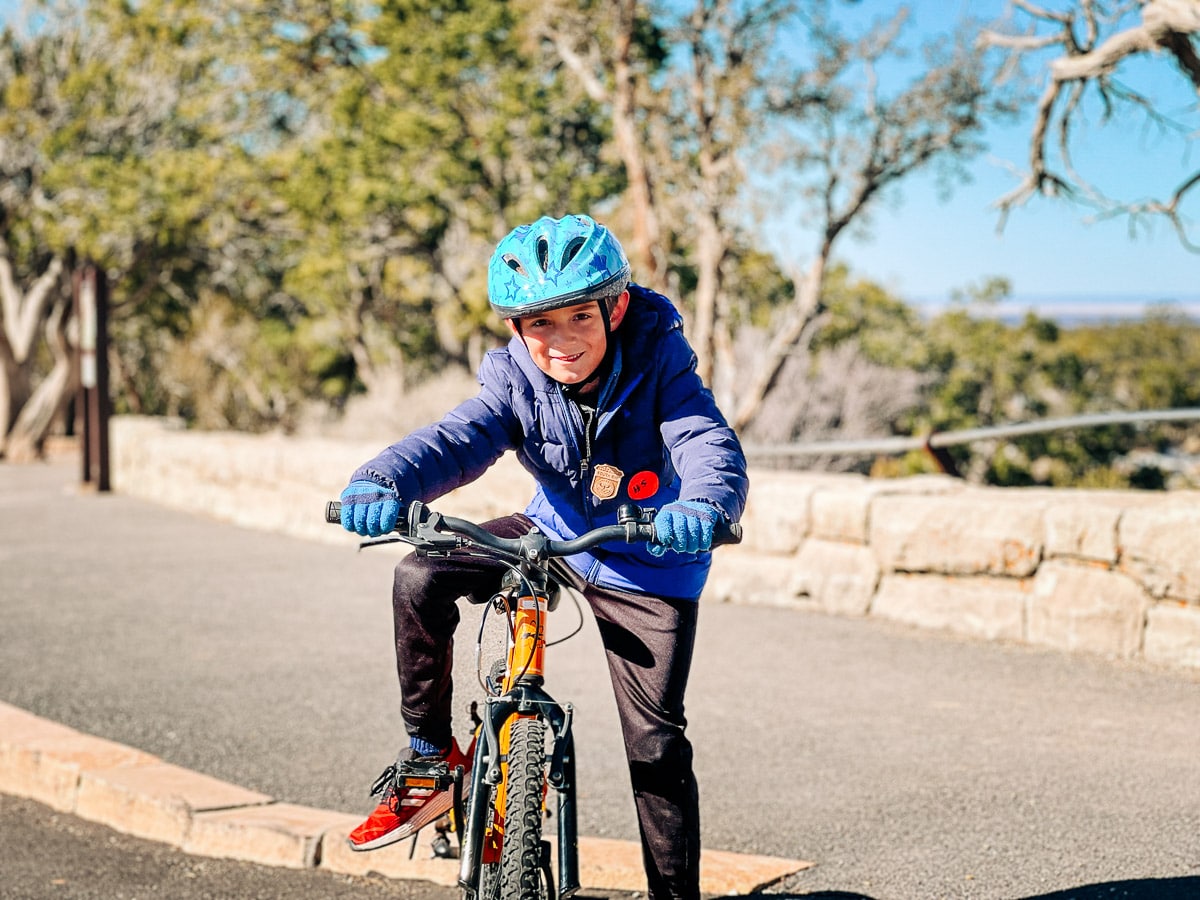 My son requested a bike ride as soon as he spotted the bike trail that runs through the park. So of course – that's what we did!
After some investigating, we determined that the very best place in the park for a bike ride is Hermit Road. It's an area that is limited to only park shuttle buses and has a nice bike trail that runs close to the canyon for at least part of the journey.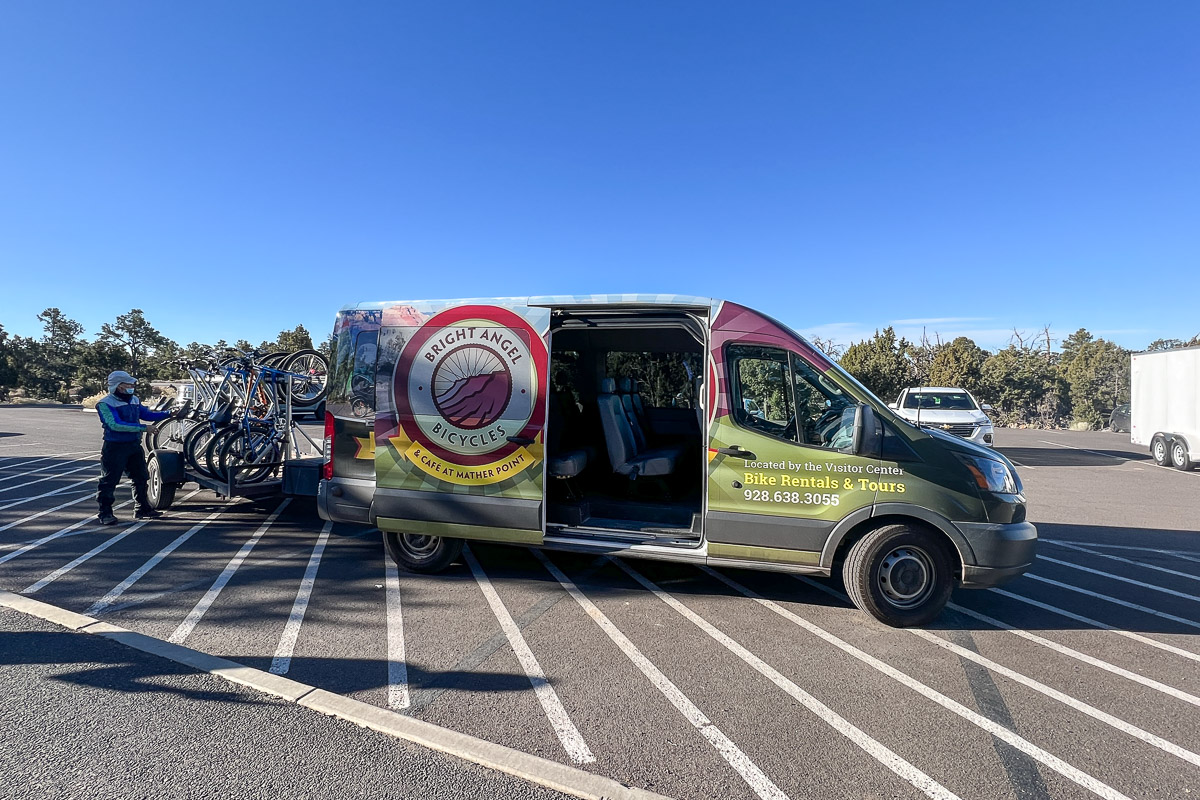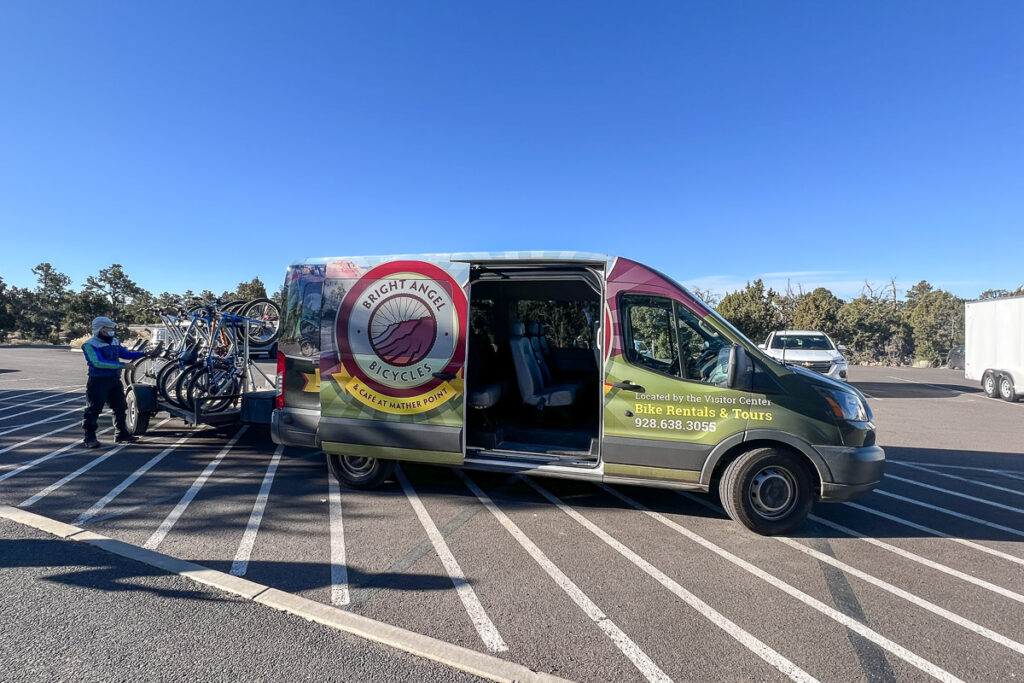 We opted for the shuttle drop off from the bike shop. So they shuttled us and our bicycles to a nice starting point along Hermit Road, which conveniently skipped the most uphill part of the journey.
And then we rode along the road and bike trail to a bunch of scenic viewpoints, stopping for beautiful views and photos along the way.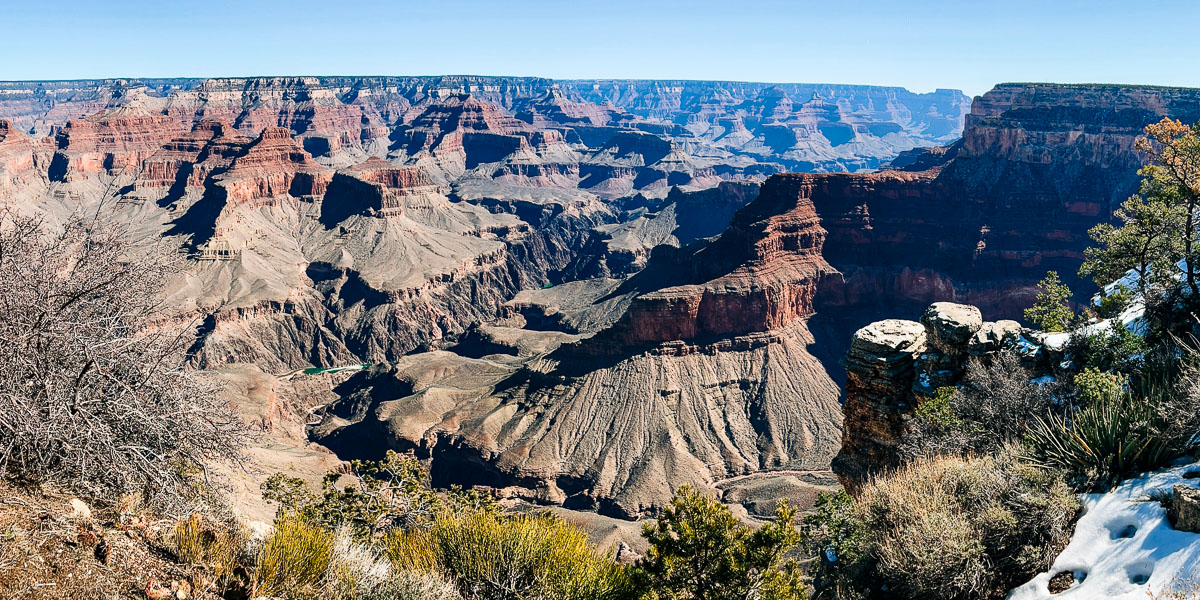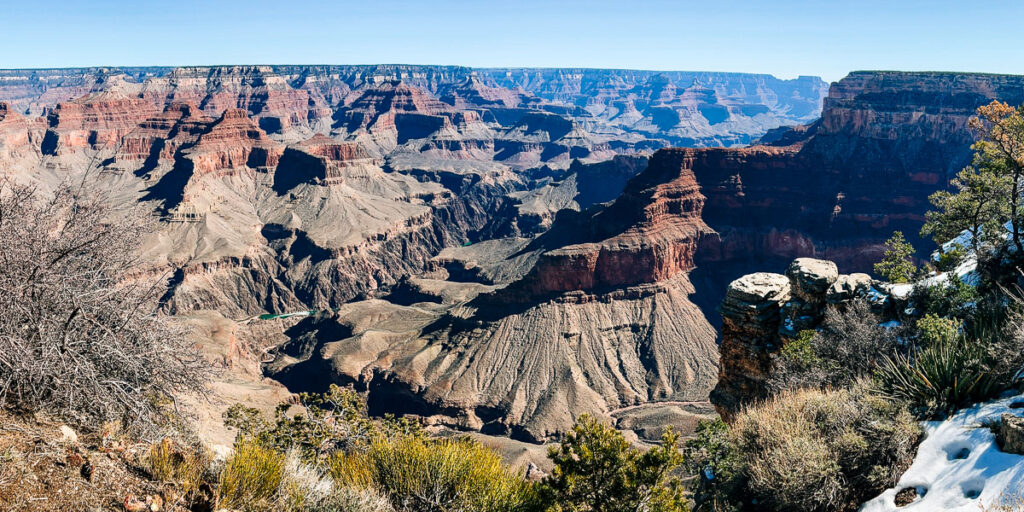 We ended the bike ride at Hermit's Rest, which was a nice viewpoint and the home of a great snack stand and bookstore. If you make it this far, be sure to get yourself a fresh baked cookie at the gift shop! They were way more delicious than they had any right to be.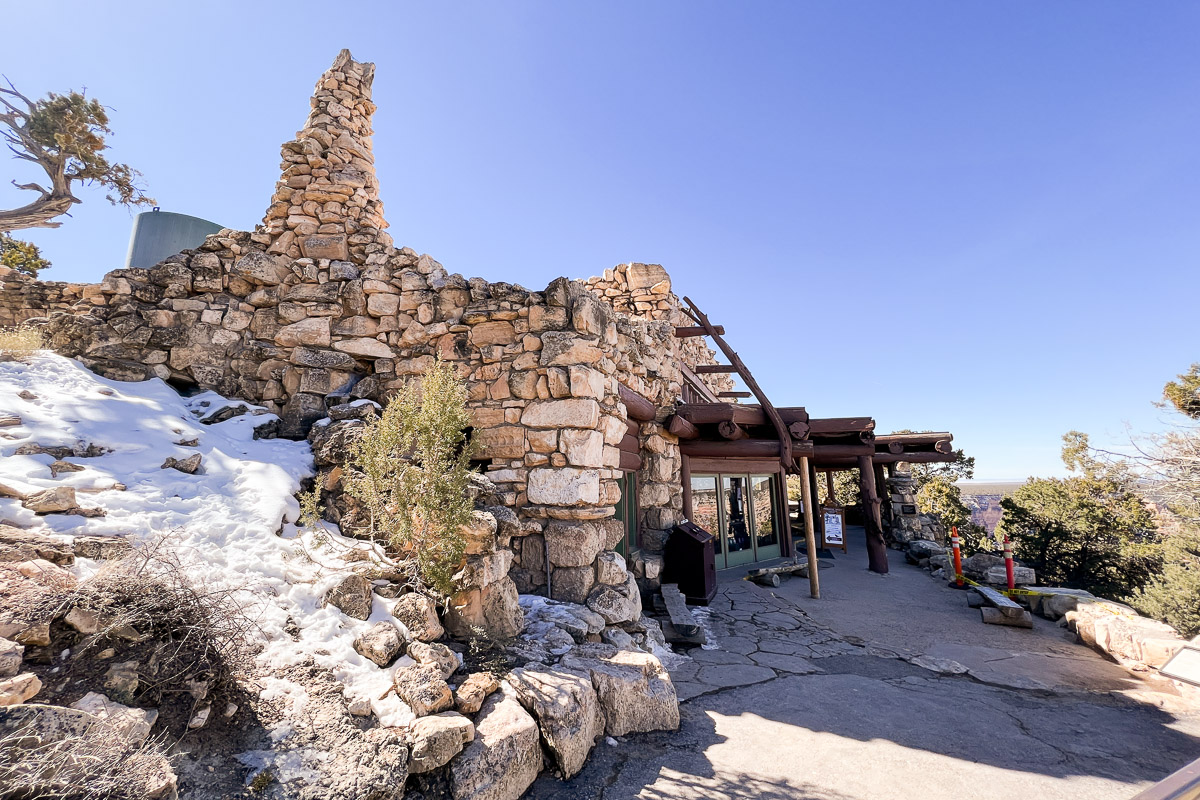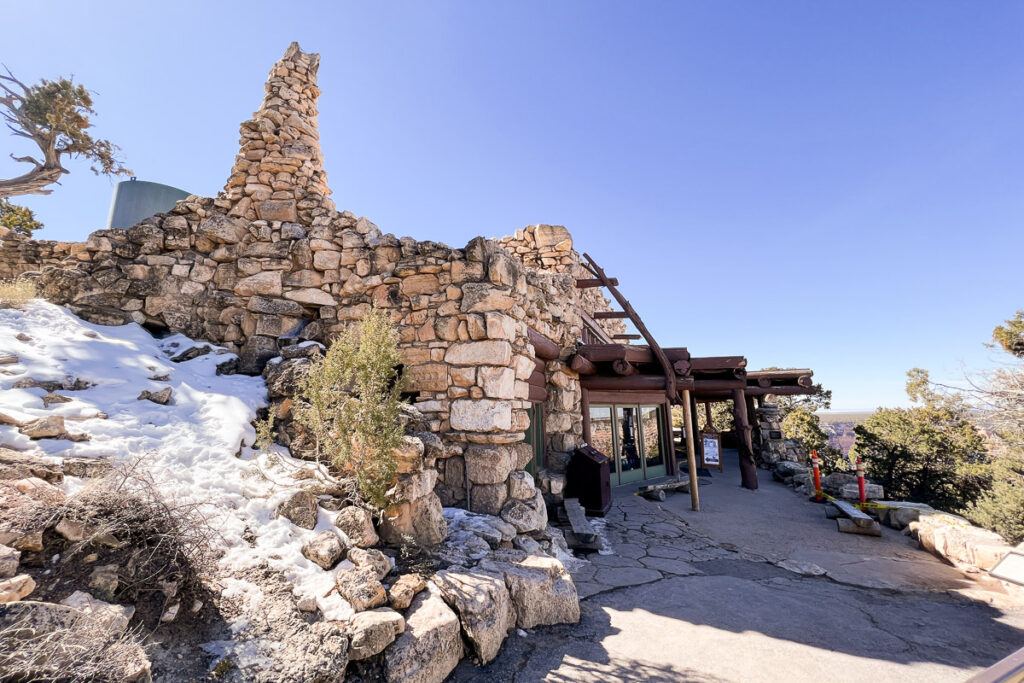 We took the shuttle bus back to return our bikes and headed back to the village for some lunch. Having learned our lesson the day before, we had gone ahead and made a lunch reservation at El Tovar (much easier to get than dinner reservations).
Now, we don't fancy eating the same menu every day, so we did take a look around at our options. But once again, there was no getting a table anywhere and the grab and go food at Bright Angel Fountain was long gone. So… El Tovar it was!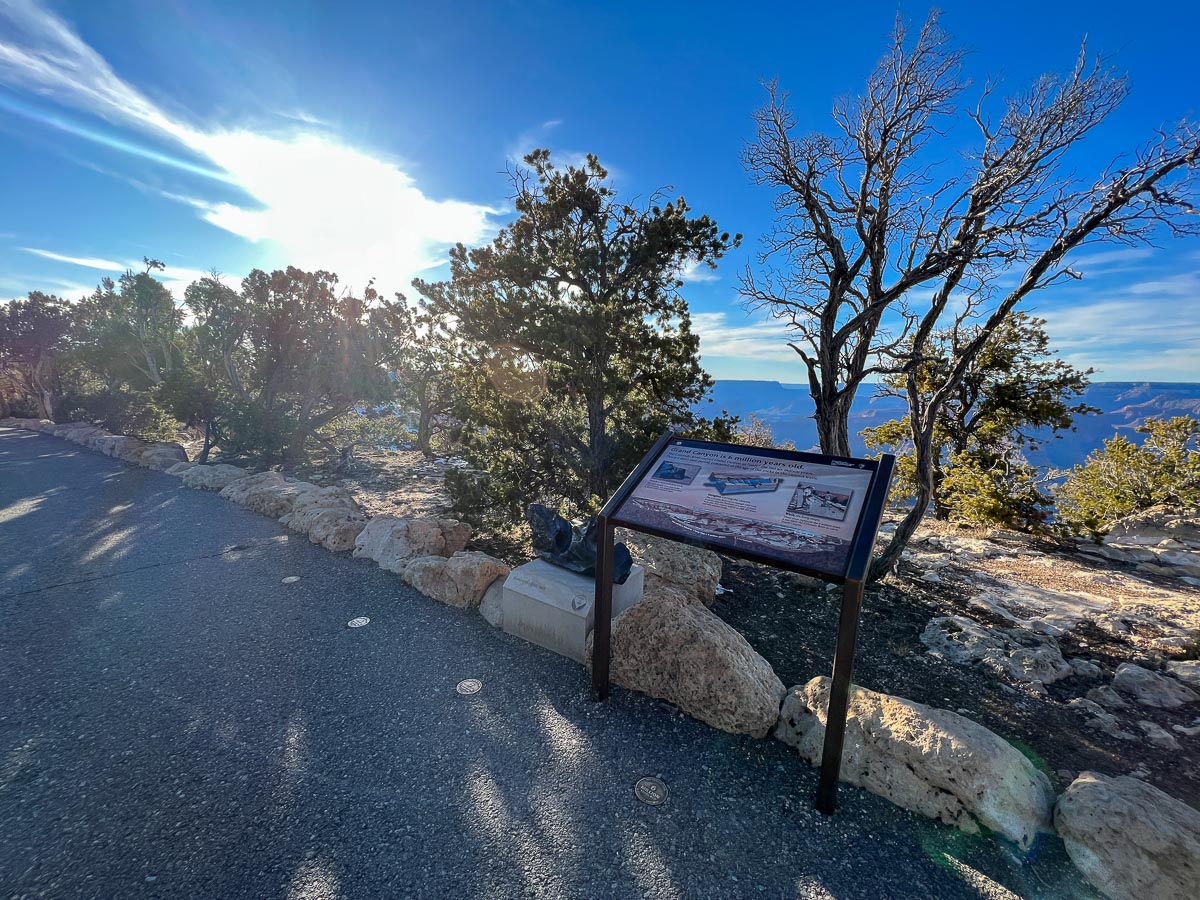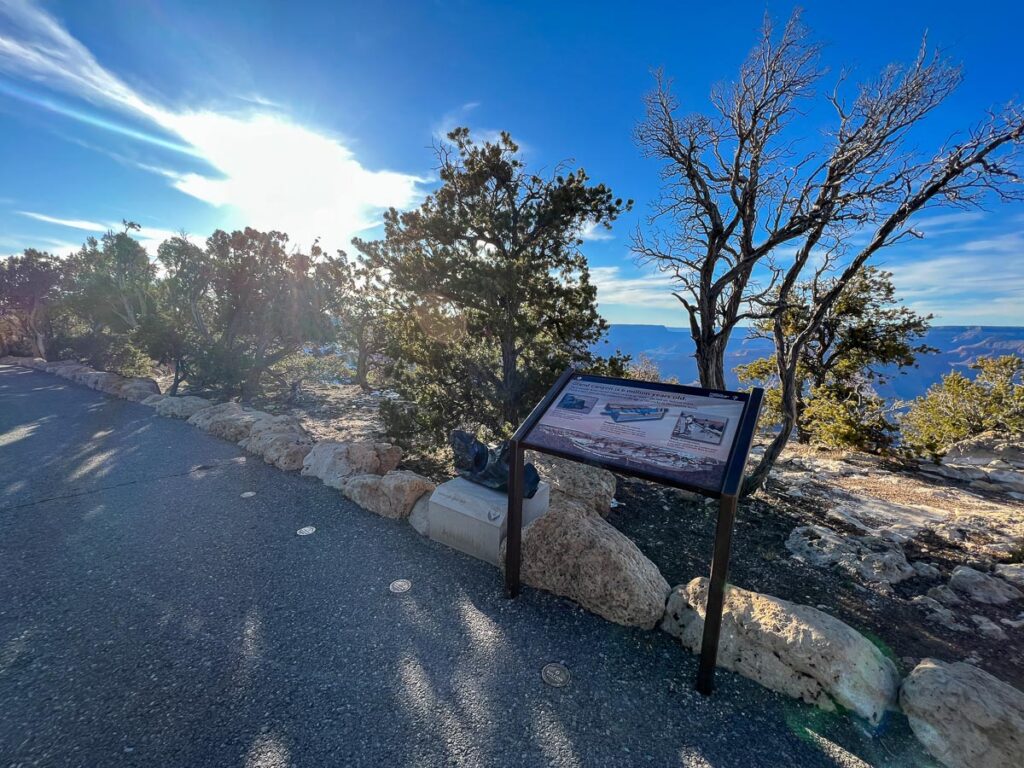 After lunch, we decided we were up for a bit more exploring. So we headed off on the Rim Trail towards the Yavapai Museum. The walk was about 1.5 miles from the hotel to the museum. It's a very flat walk with lots of beautiful views!
The Rim Trail is by far the "easiest" trail in the park. I'm not sure it even really counts as a trail, as it's more of a paved walkway. Regardless, this is a great trail option for families with kids – you could even take a stroller on it.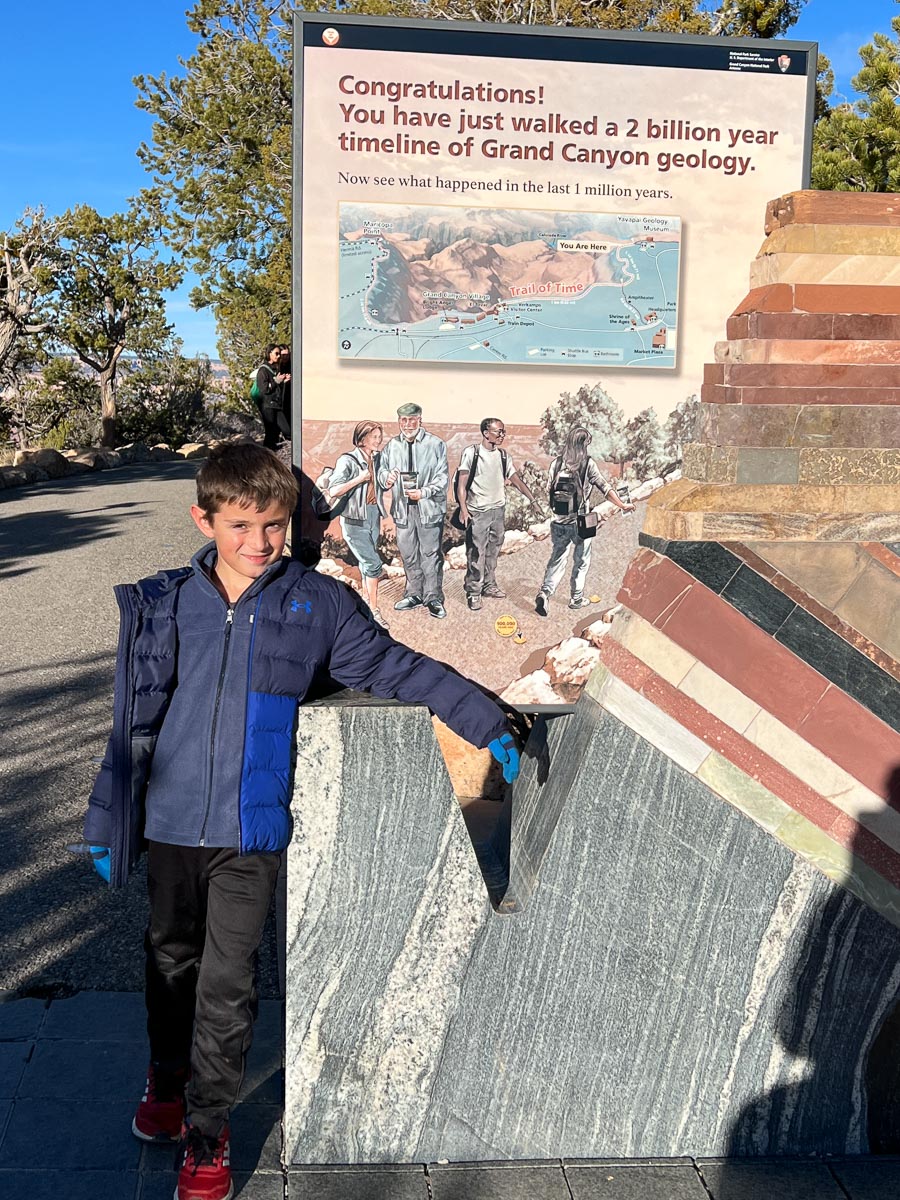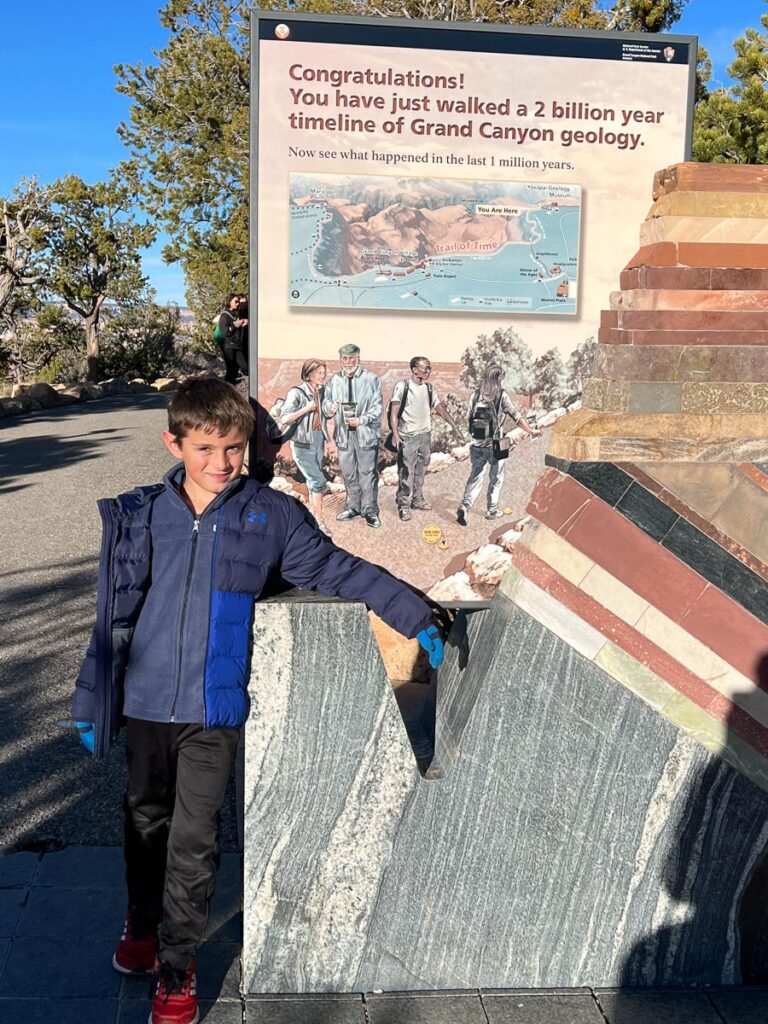 And along the way we enjoyed the "Trail of Time"– which explained all kinds of interesting facts about how the canyon formed and the various layers of rock that were deposited over the different time periods. My son enjoyed investigating the big chunks of rock on display along the trail.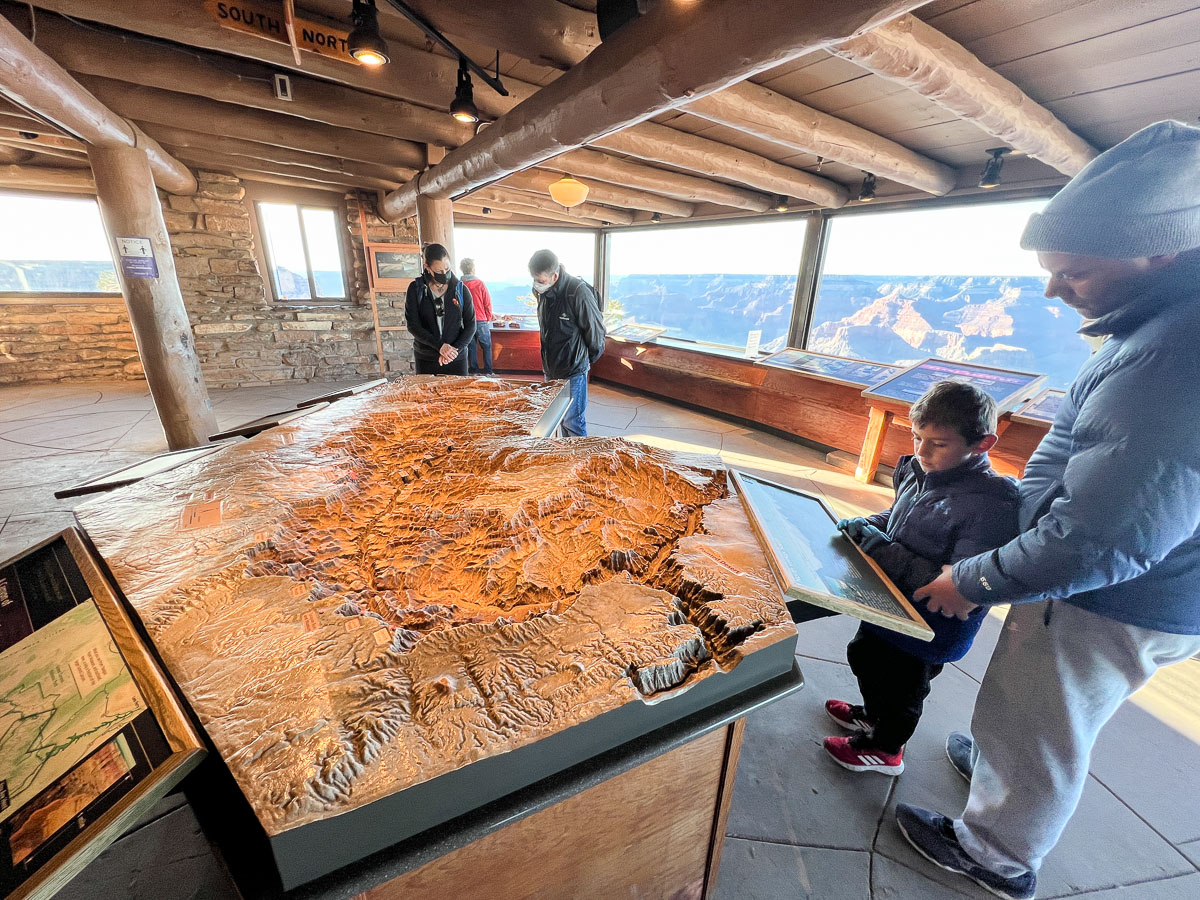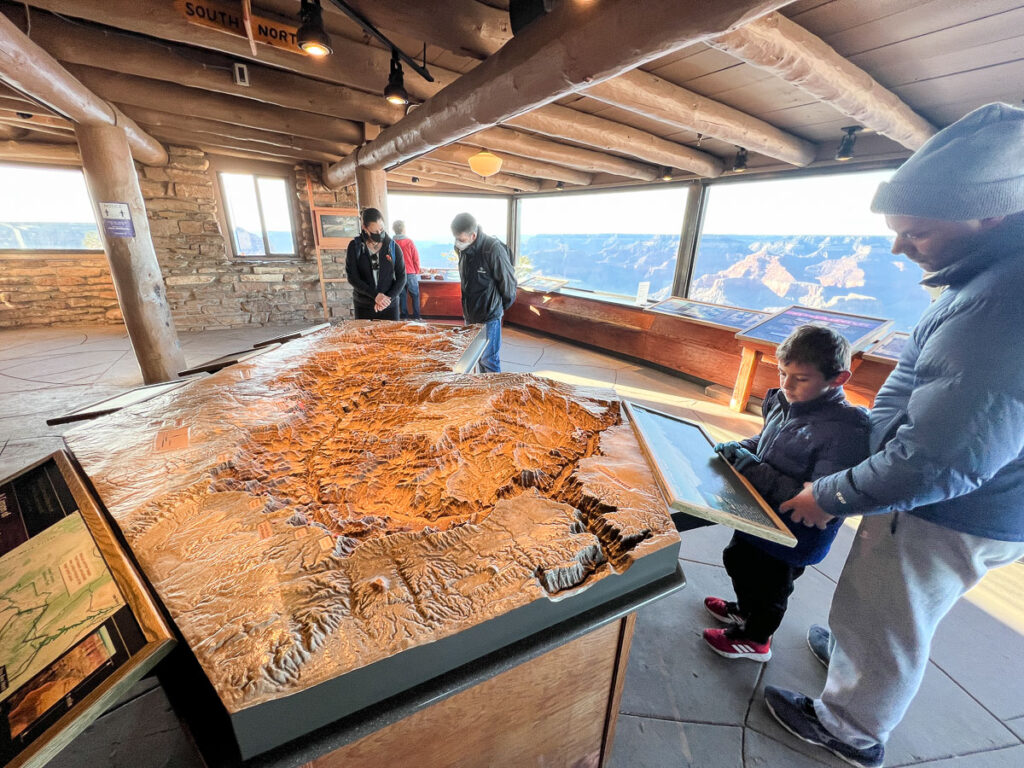 The Yavapai Museum itself was pretty tiny – but it had a few interesting exhibits and a very nice view. Outside of the museum is a small amphitheater where the park rangers hold their educational talks. You can check out the schedule of ranger programs if you're interested in catching one.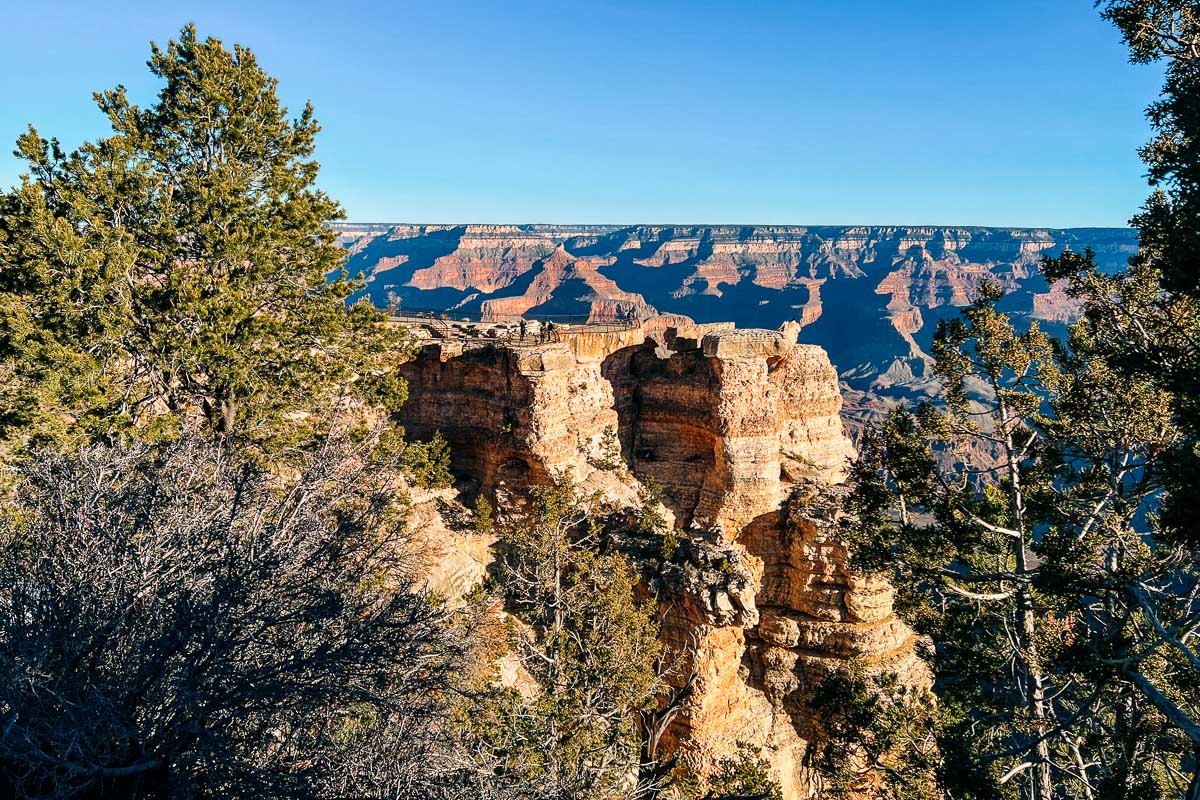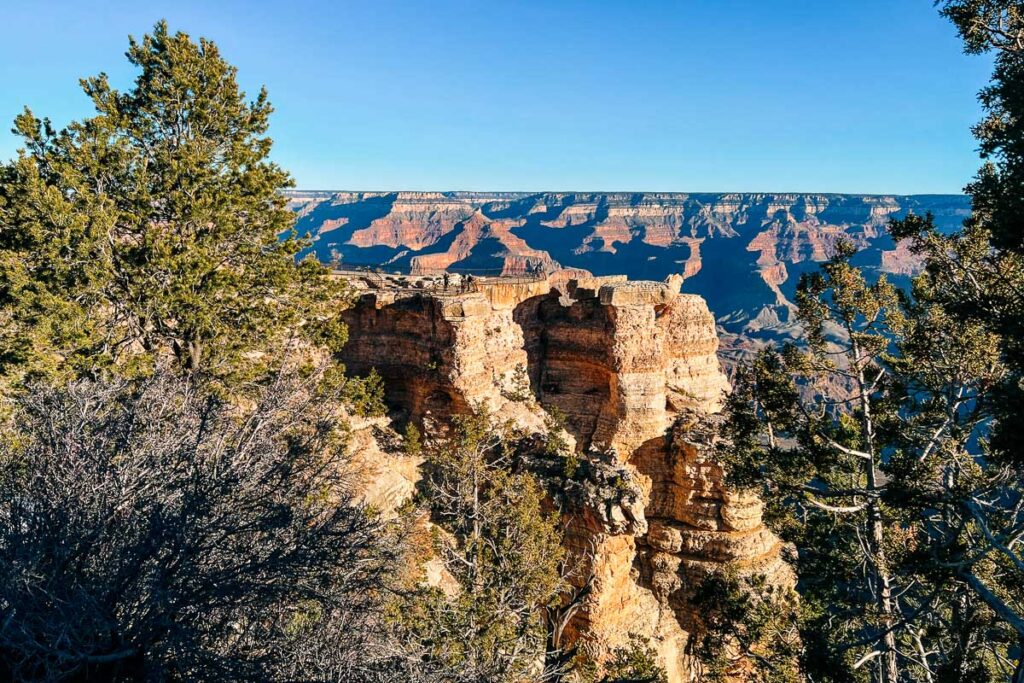 After the museum, we kept walking about another mile to Mather Point and then the Visitor's Center. Mather Point is by far the most popular spot in the park to catch a sunrise or sunset! That's because it has a great view, but that means it also has big crowds. You can walk anywhere along the rim for a beautiful view and a little more solitude.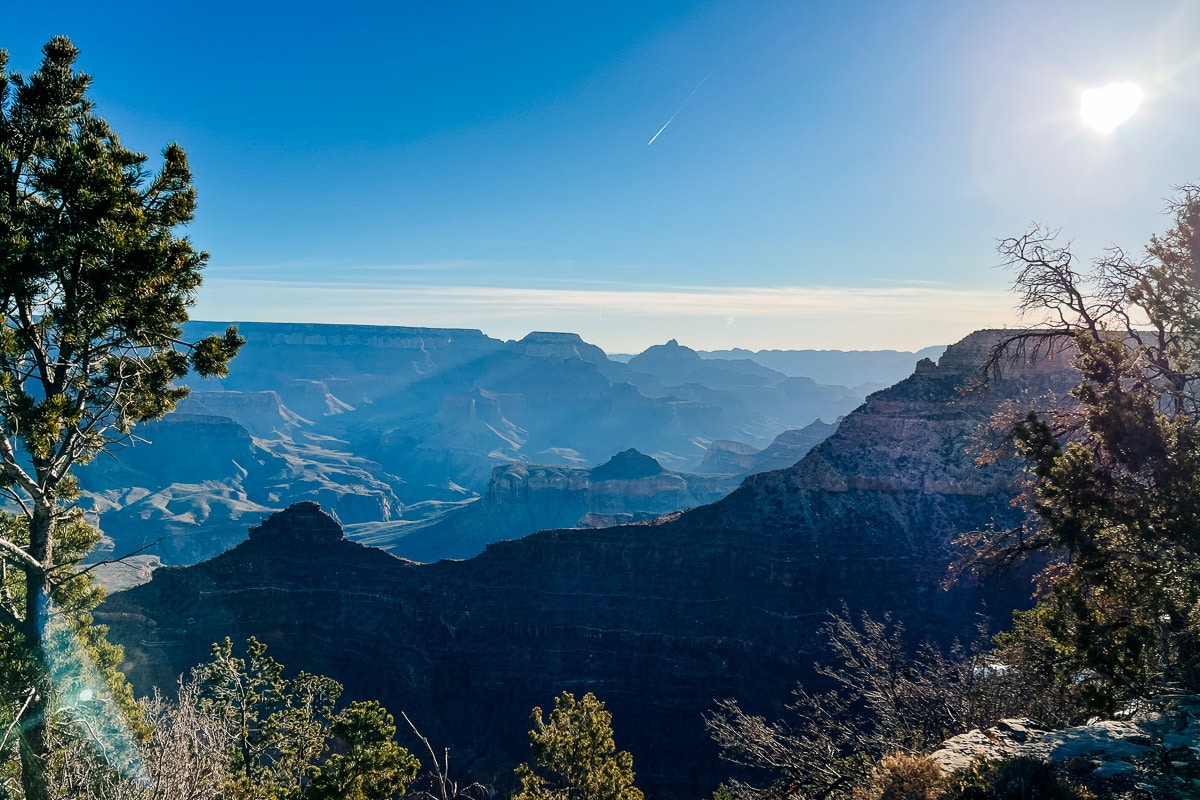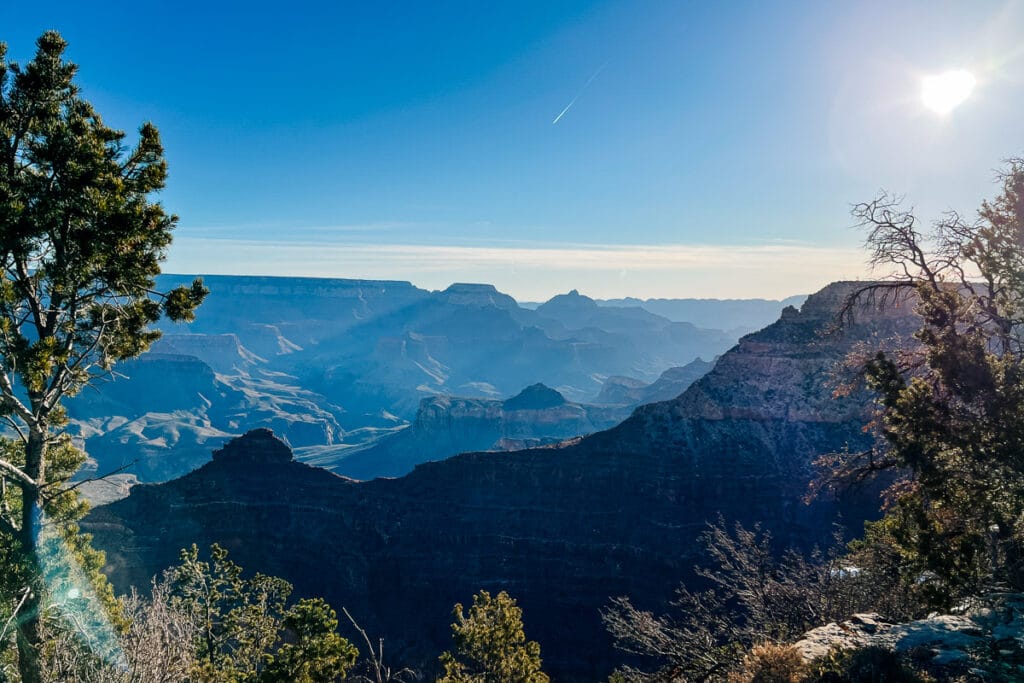 We took a shuttle back to our hotel again and enjoyed a room service dinner this time – per request of the kiddo! And it was actually pretty good. And afterwards, we took another nighttime stroll to look at the stars. Although, we did leave the telescope behind this time. It turns out, we are not particularly great astronomers. ;)
Day 5: Bright Angel Trail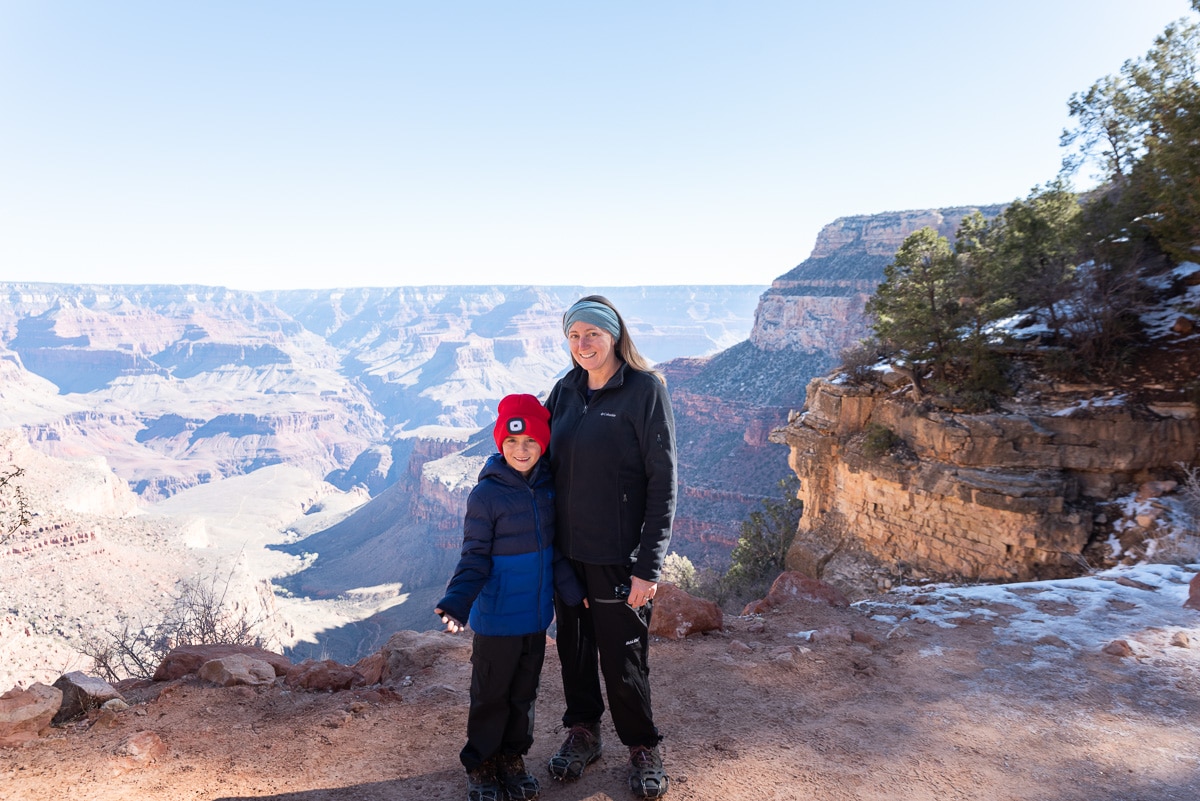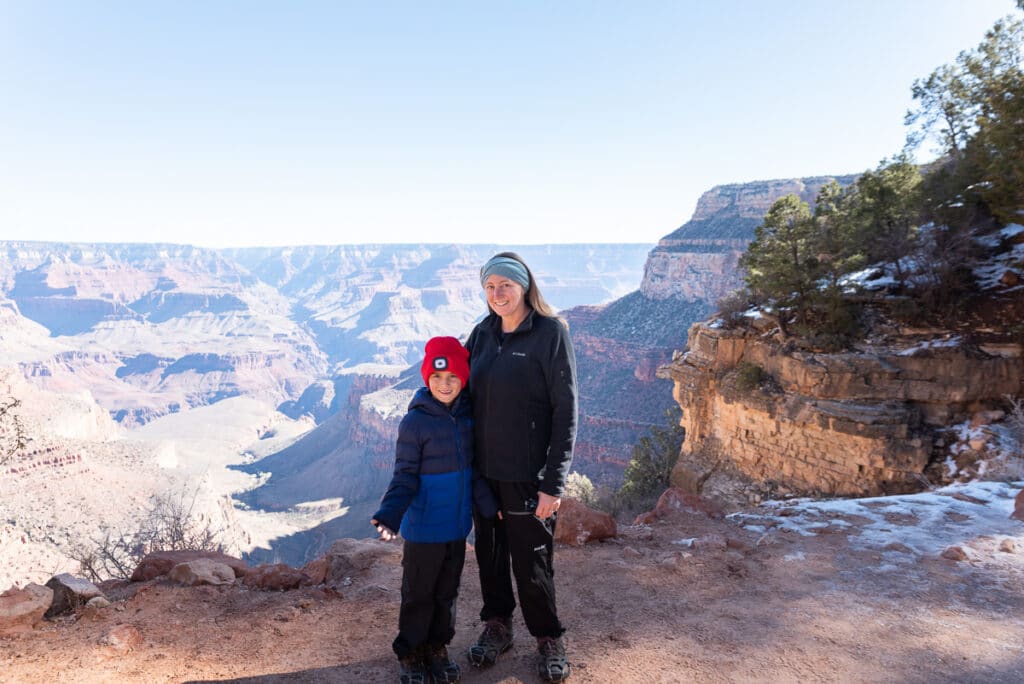 On our final day at the Grand Canyon, we decided we were up for one more big hike. So we set off bright and early on Bright Angel Trail. We felt we could handle a bit of a longer hike than we did at South Kaibab, so we set our sights on the 1.5 Mile Rest House as a turnaround point this time.
That gave us a total hike of about 3 miles and 1000 feet of elevation!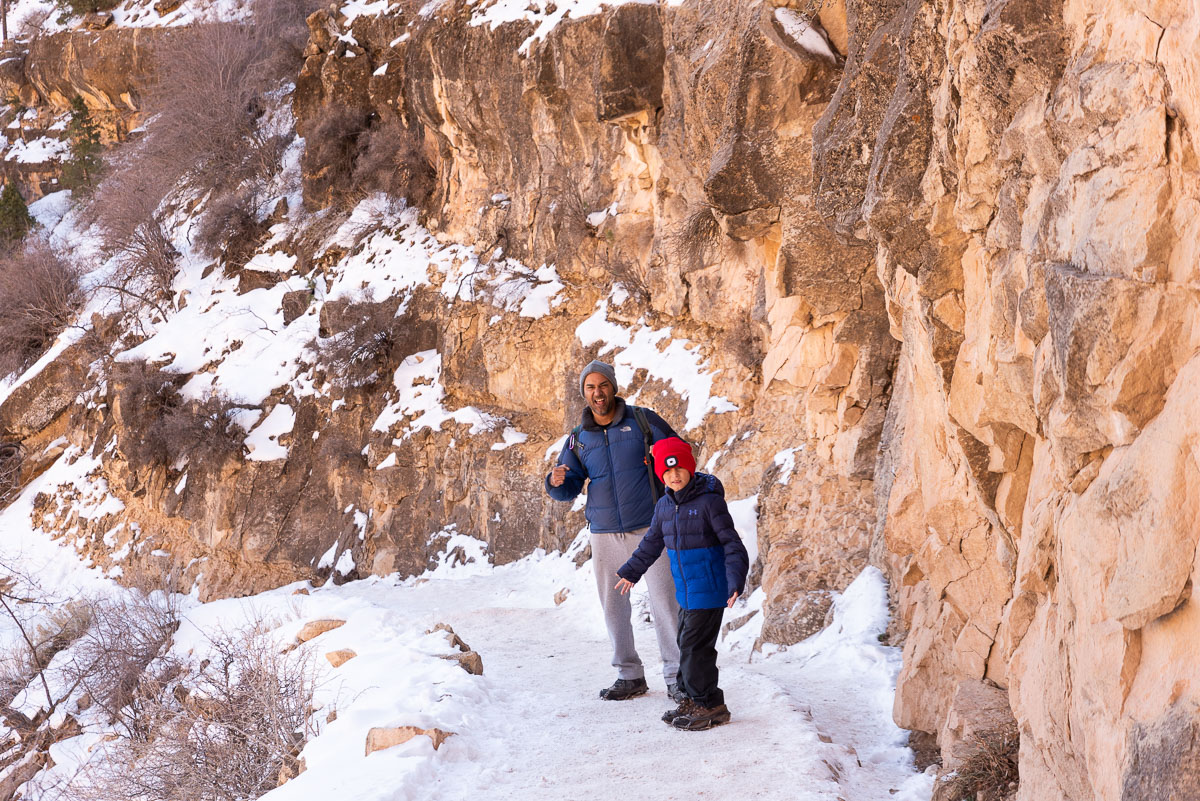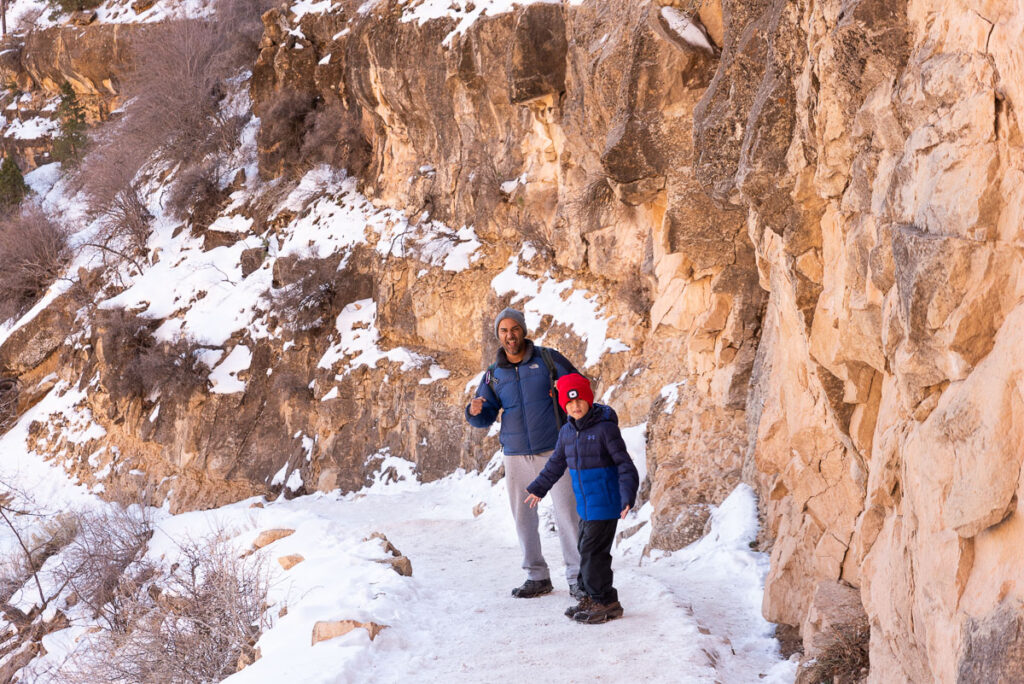 We debated whether the crampons were needed on this one, as most of the snow seemed to be melting at this point. But we opted to wear them, and I'm so glad we did. The trail was still very ICY!
It alternated between packed snow, slick ice, and lots of mud. But with the spikes, it was really no problem. We did see a ton of people having trouble on the steep slopes, including a family with multiple kids and a baby in a carrier. So seriously – if the rangers are advising crampons, just use them. They are not that expensive, and it's worth it to be sure you are safe!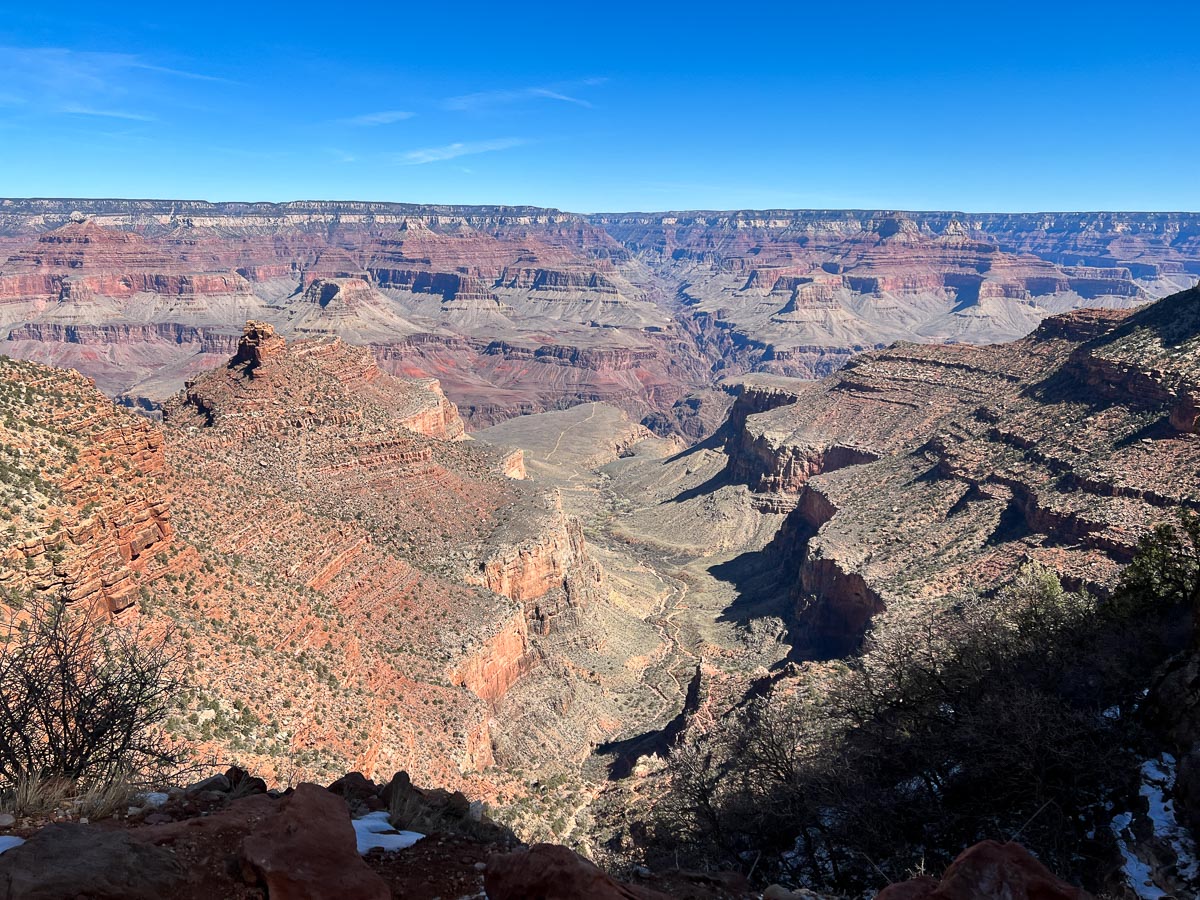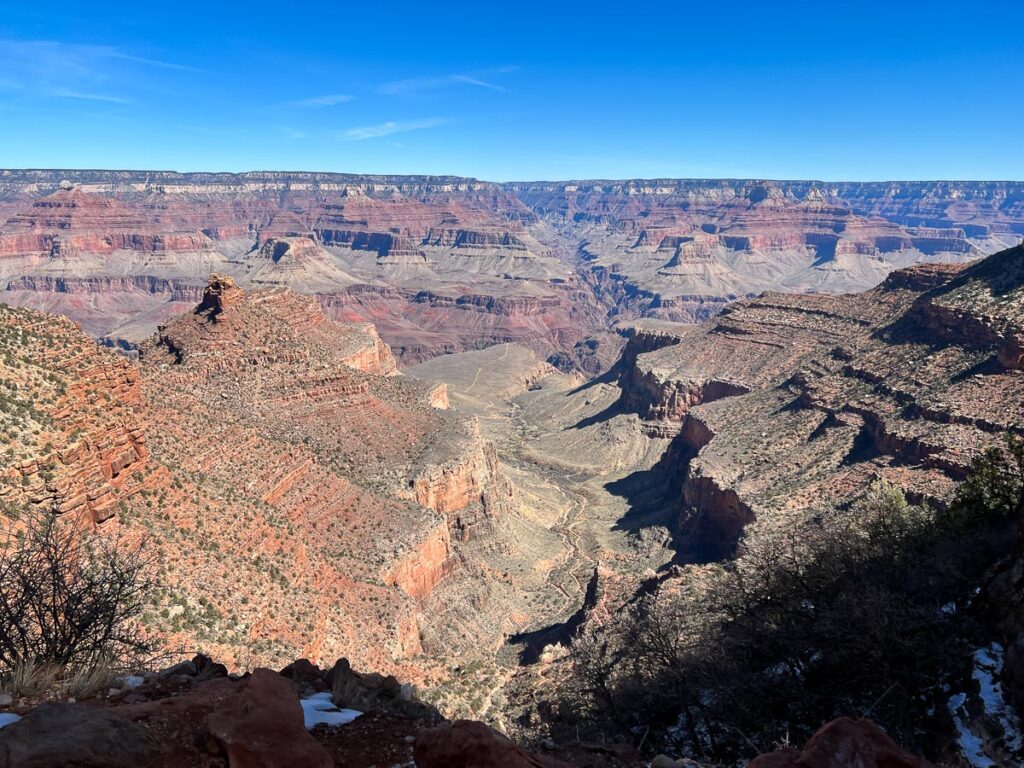 The views were really spectacular on the Bright Angel! I had done some research prior to our trip, and most people seemed to suggest that the South Kaibab Trail had the better views. But I really think they were comparable.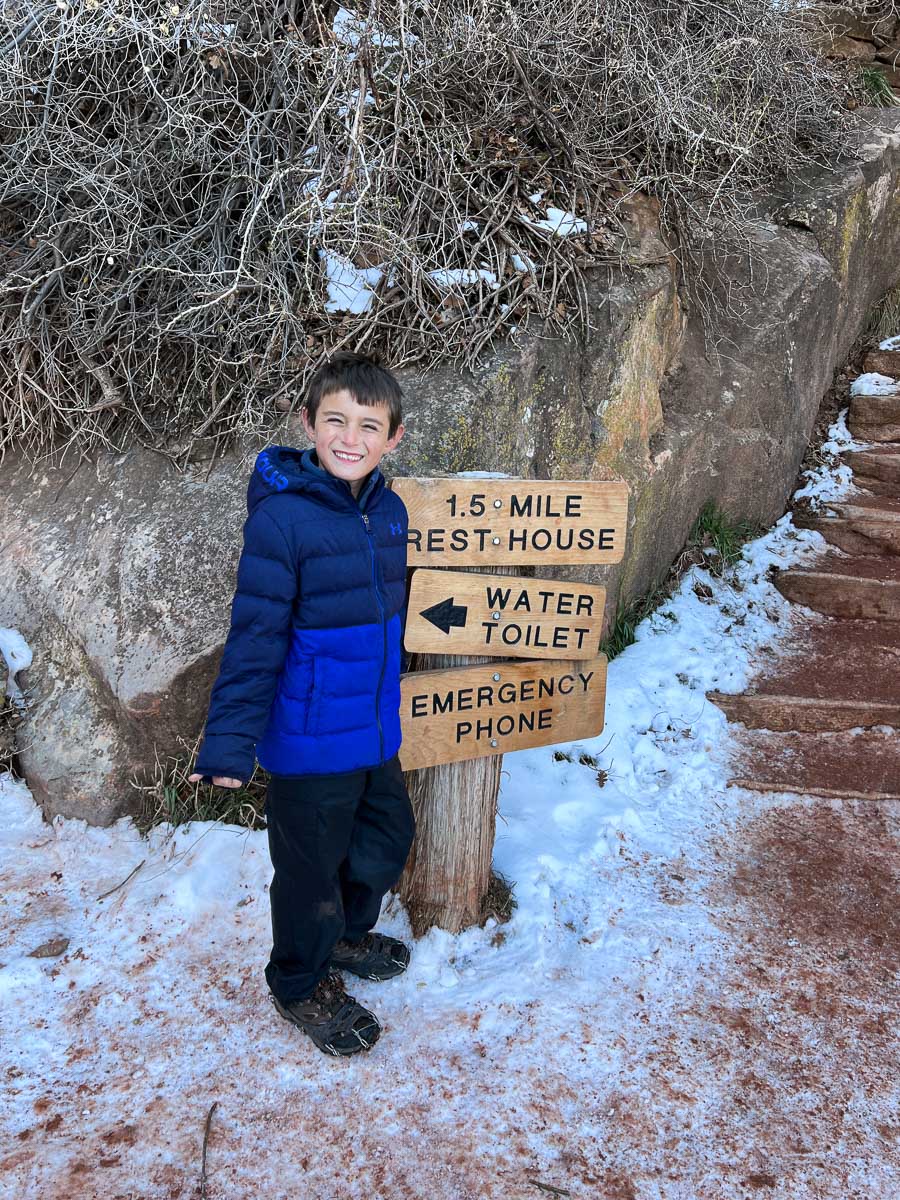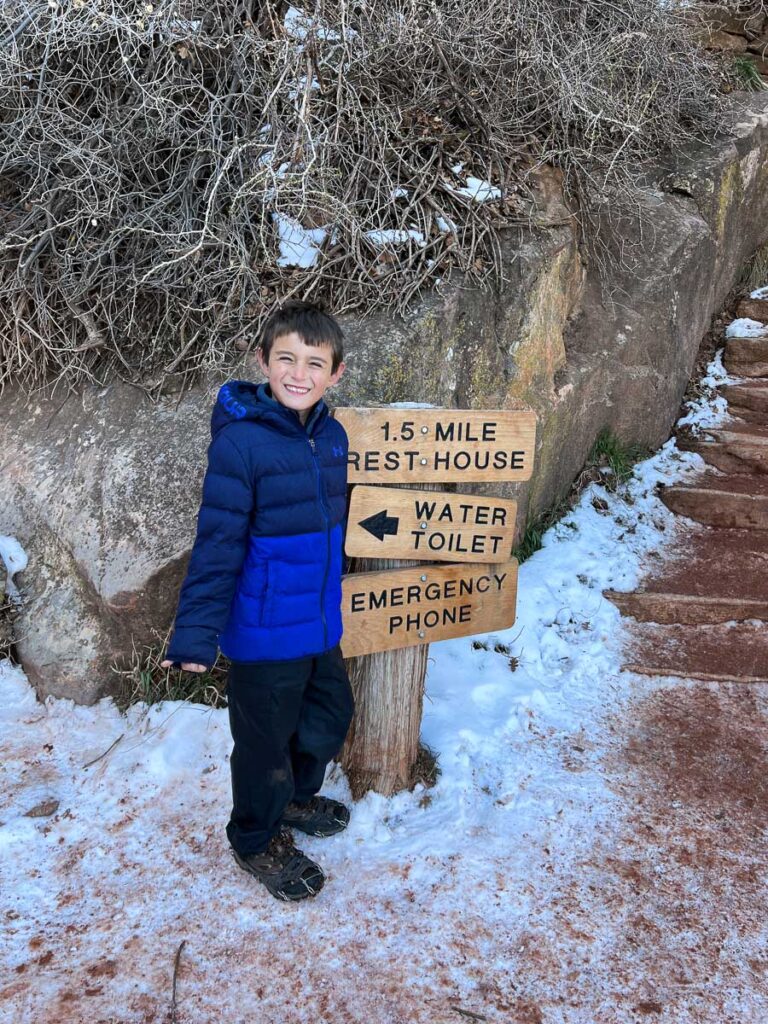 We made it down to the 1.5 Mile Resthouse in about 45 minutes, and it took us about 1.5 hours to get back to the top.
There were TONS of people making their way into the trailhead when we got up around noon. Most completely unprepared for the icy trail. So I do recommend going early in the morning if you can, to avoid the crowds.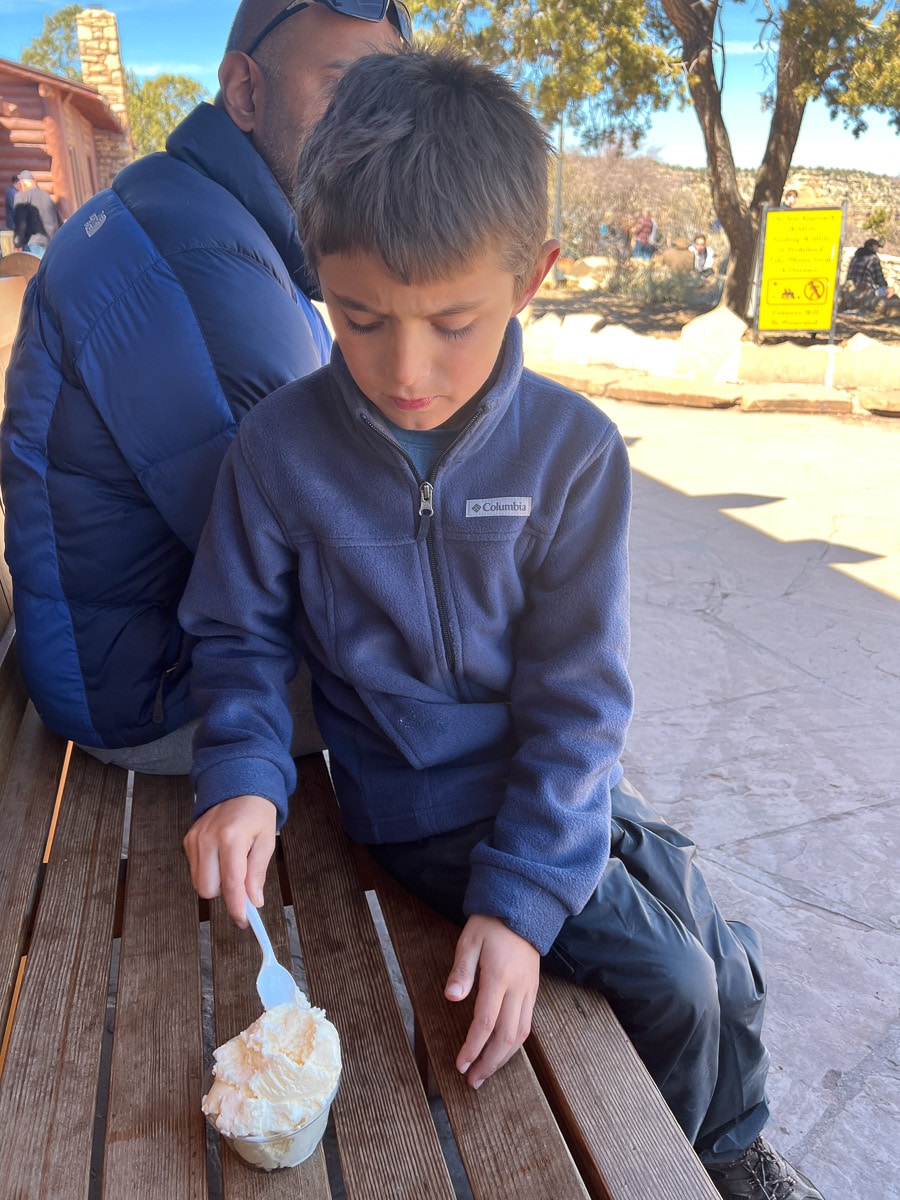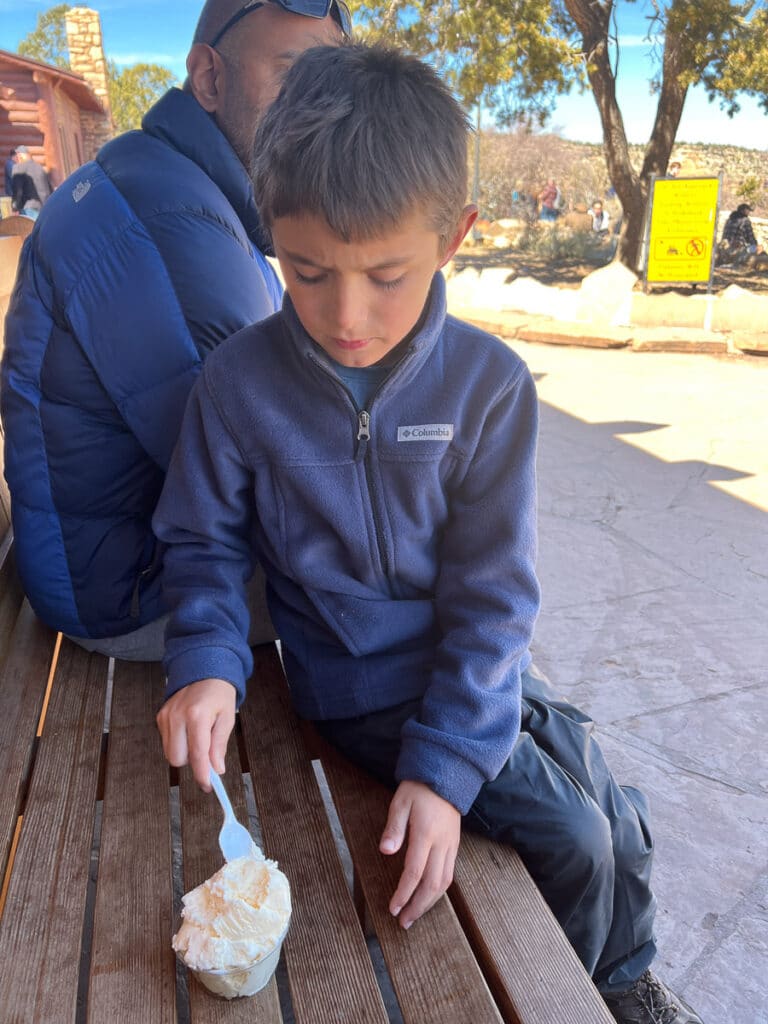 After our hike, we stopped at the Bright Angel Fountain for some ice cream! (Despite running out of real food every day, they did seem to have an endless supply of ice cream.) And then we had lunch at Arizona Steakhouse. Despite the name, they had some pretty good vegetarian options. I really enjoyed my tamales!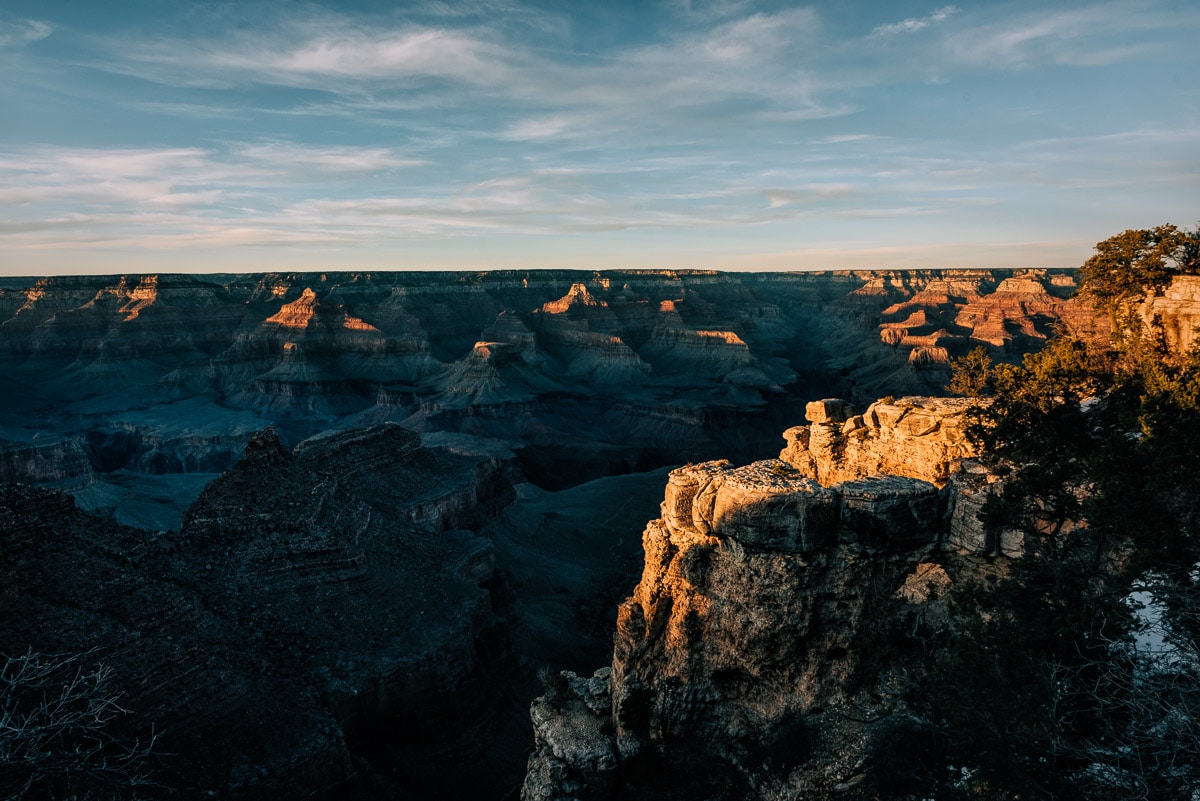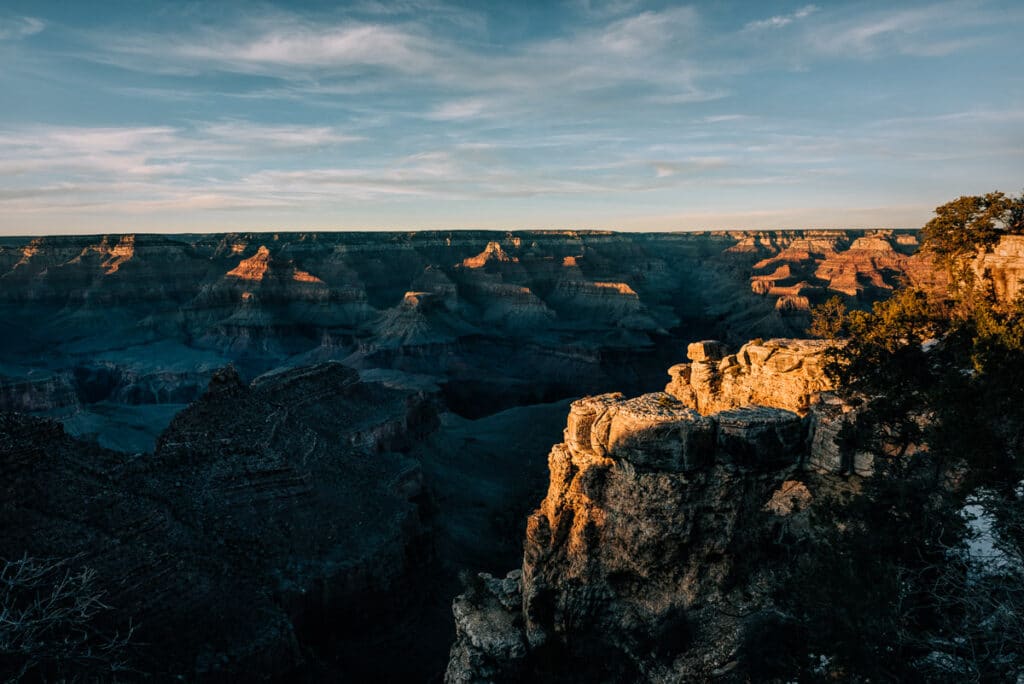 We enjoyed a little bit of downtime in the later afternoon. My husband even snuck in a nap, while my son and I played cards by the fireplace in El Tovar Hotel. And we took a nice walk to enjoy our last sunset in the Grand Canyon before our final dinner at El Tovar Dining Room!
Day Six: Heading Home!
On our final morning, we headed out of the park via the South Entrance, which is the most direct route back to Flagstaff. But we made sure to save some time for a stop at Rocks and More, in Williams, Arizona, which is literally the coolest rock store I've ever seen.
Yes, I said rock store. As in rocks. Like from the ground. That you pay money for. :-D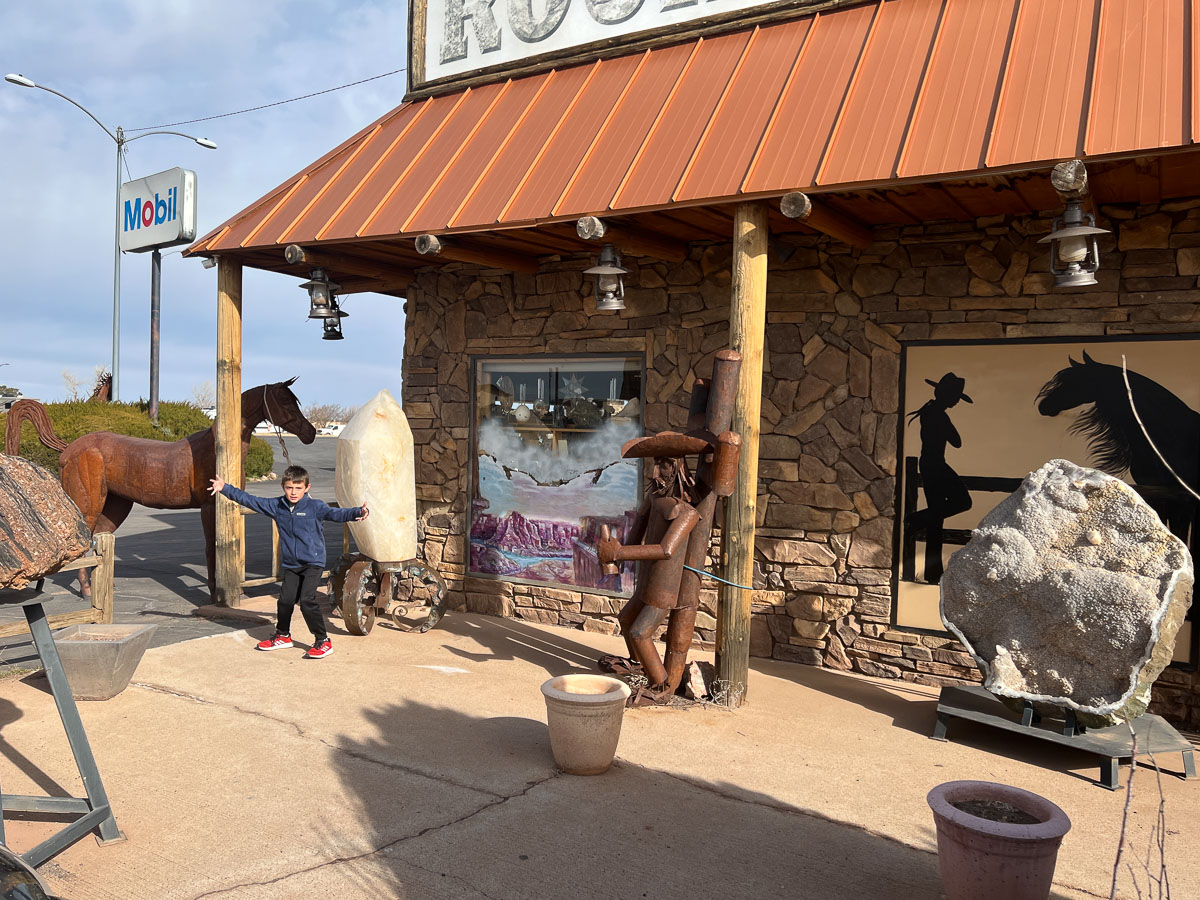 But my little rock collector was in heaven. He coughed up some of that allowance money that he holds on to so tightly to get some things for his collection. And the choices were really pretty cool!
We made another quick stop in Williams for some McDonalds hash browns, and headed off to Flagstaff Airport for our return flight home.
Note that we did drive in and out of cell phone reception on our way down to the airport, so you might want to have a paper map as a back up plan.
Wrap Up!
I feel like we saw EVERYTHING there was to see at the Grand Canyon's South Rim on this trip. I mean we really packed it in.
We likely could have done this trip in just 3-4 days, instead of 5. But we would have had to give up the bike ride and probably one of the hikes to make that happen. And having the extra time also gave a chance to just relax a bit here and there. It is a vacation after all.
Overall, we had a really fantastic trip. I felt like I really got a chance to disconnect from work and relax and enjoy the outdoors. In fact, we are talking about picking another national park to explore next break. Perhaps Yellowstone!
More Grand Canyon Trip Planning Resources
Here are a few more resources to help you plan the perfect trip to the Grand Canyon.