Is Prague Safe for Tourists? A Guide to Safety in Prague as a Tourist, with Tips for Staying Safe in Prague. Written by a Canadian Woman Living in Prague.


Prague Trip Planning Resources: Where to Stay | Things to Do | What to Pack
Before visiting Prague you may be wondering, is Prague safe for tourists and solo female travelers? Is Prague dangerous? Do I need to worry?
This post should put your mind at ease. But first, a story….
Is Prague safe for tourists and solo female travelers?
My first memory of Prague is from the summer of 1998. Having just arrived on a late evening flight from London, my mum and I were wandering through a forested park somewhere in one of Prague's neighborhoods.
We must have looked obviously lost, because we were approached by a lone older man who offered to help us find our way.
In what could have been my mother's worst parenting moment, she graciously thanked the man and we began following him through a dark, abandoned forest of an unfamiliar city. At 10pm at night.
And people wonder where I get my adventurous spirit from.
Happily, we weren't murdered in the forest. Instead, the kind stranger led us to the hostel we'd booked, and we went on to have a wonderful time in Prague.
We shopped for garnets, enjoyed Prague's many beautiful views, and enthusiastically worked our way through the best things to do in Prague.
We had a wonderful time in Prague…until my mom was pick-pocketed on one of Prague's famously long escalators. She lost her passport, bank card, and credit cards.
Pretty much everything we needed to function in a foreign country, and everything we needed to catch our flight home in two days, was stolen.
Back then, pickpocketing in Prague was fairly common. Unfortunately, we were "treated" to a first-hand experience.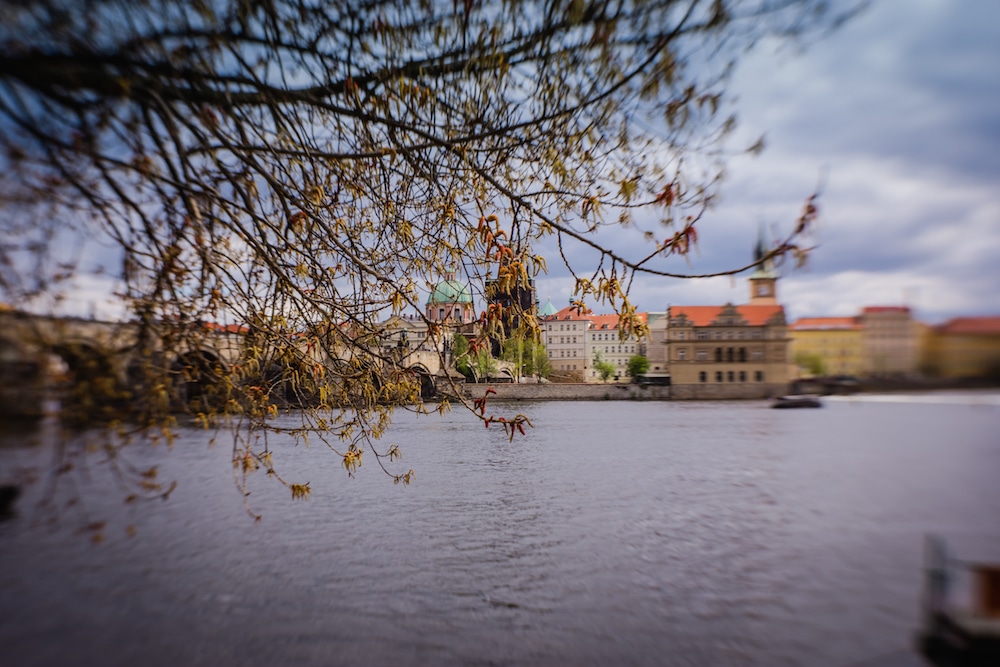 Flash forward 14 years later. My husband and I planned to spend a few days in Prague as part of a whirlwind trip that also included Bratislava, Budapest, Krakow and Warsaw. We planned to explore Prague's Old Town and take some day trips from Prague. We were especially excited to visit the Kutna Hora Bone Church.
This was before we had moved to Prague to live, and I have to be honest…I was a bit hesitant to return.
On the train from Bratislava, I relayed the story of this previous pick-pocketing in serious tones, using words like 'wallet' and 'careful' and 'teenaged punks' to deliver the message: Prague could not be trusted.
When we arrived in Prague — again, late at night, and again, with very little idea of how to get to our accommodation — I remember feeling uneasy getting off the Metro at Muzeum, walking through the dark and graffiti-ed tunnel that I now know cuts under Wilsonova near the National Museum, and coming up to the graffiti-ed dark streets of Vinohrady.
I wasn't scared, but I definitely remember feeling uneasy.
I think I would have felt even more uncomfortable if I was traveling on my own, and would have definitely regretted not arranging to arrive during the day. I wondered whether we had chosen the safest place to stay in Prague.
Arriving in the dark, I also had to wonder, is Prague safe at night?
Well…Is Prague Safe at Night?
I was thinking about this all last week, when I chose to make a 25-minute walk home alone, at 11 at night, across Prague. My husband was at home working, and I'd gone out to meet some friends. Rather than take a taxi home, I walked.
Since moving to Prague 1 year ago, I now have a very different idea of safety in Prague than I did as a tourist.
While I was never scared as a tourist in Prague, I definitely remember feeling uneasy arriving at night. While Prague's old town is pristine and well-preserved, the rest of it hasn't necessarily been as well cared for, and there is plenty of grit and grime to go along with the pastel-coloured buildings and occasional communist-style concrete block.
As a resident, this is part of what I like about Prague, but as a tourist, it's hard to know if what you see is indicative of being in an unsafe area, or simply normal.
Having lived in Prague for a year, and listened to many other expats and Czechs talk about how safe Prague is, I'd say Prague is safer than most cities of the same size.
While I take the usual precautions — walking along busy streets, staying aware of my surroundings, not wandering drunkenly through dark alleys, and taking care of my belongings to prevent pickpockets — I feel perfectly comfortable walking alone in Prague at night.
I also feel safe taking public transit, and just generally going about my business, without giving it much though, at any time of day or night.
To me, Prague feels very safe at night (and during the day).
How Safe is Prague Compared to Other Cities?
In 2018 (the most recent year available), the Global Peace Index ranked the Czech Republic 7th in the world, defining it as a country with "very high" peace and safety.
The GPI measures "the absence of violence or the fear of violence across three domains: Safety and Security, Ongoing Conflict, and Militarisation."
While this is not exactly standard tourist stuff, it's worth taking into consideration. To put the Czech Republic's 7th place ranking into context, Canada ranks 6th, Ireland ranks 10th, Australia 13th, the UK 57th, and the USA ranks 121st. For further context, Japan – a country that pretty much no one even thinks twice about visiting for safety reasons – ranks 9th, two spots behind the Czech Republic.
What about other indexes and measures of global safety? What do they say in terms of Safety in Prague?
According to Numbeo's Crime Index and Safety Index (2019), which are based on surveys from visitors, Prague has a crime index of 25.95 and a safety index of 74.05, making it the 47th safety city measured on their list of 319 cities.
Cities like Tokyo (safety index of 84.14), Vienna (77.45), Quebec City (85.28), Taipei (84.14), Munich (83.02), Basel (82.87), Zurich (81.73), and Copenhagen (76.17) rank ahead of Prague in terms of the safety index.
But it's still a very respectable showing. Some big cities you probably wouldn't hesitate to visit rank below Prague on the safety index, including: Galway, Ireland (71.38), Lisbon, Portugal (69.22), Edinburgh, Scotland (69.13), Calgary, Canada (68.61), Amsterdam, Netherlands (65.52)….
I think you get the idea.
If you're comparing how safe is Prague compared to other cities, Prague does pretty well.
Safety Issues in Prague: What to Consider if You're Wondering About Prague Safety
Are Taxis Safe in Prague?
Generally speaking, you're more likely to get overcharged in a taxi in Prague than feel unsafe or physically threatened.
Even foreigners who've lived in Prague a long time tend to avoid taxis in Prague. Unless you speak Czech like a native-speaker, the thinking goes, taxi drivers might try to rip you off.
When we lived in Prague, we took public transportation and Uber, rather than using the taxis.
If you do need to take a taxi, don't hail one on the street. Instead, ask at your hotel or hostel for them to call a taxi from a reputable company, such as AAA, Profi-Taxi or Halo
If you'd like to avoid the hassle of a taxi when you arrive in Prague, you can book a private transfer from the airport here for a very reasonable cost.
Is Public Transportation in Prague Safe?
Public transportation in Prague is safe, and generally quite good from a convenience point-of-view.
You're unlikely to experience any physical threats while taking public transport in Prague, but we do recommend you mostly stick to the city centre, and not go too far into the outskirts, especially at night.
On Line A (green), the following stops are considered relatively central: Dejvická, Hradčanská, Malostranská, Staroměstská, Můstek, Muzeum, Náměstí Míru, Jiřího z Poděbrad, or Flora.
On Line B (yellow), try staying near Křižíkova, Florenc, Náměstí Republiky, Můstek, Národní Třída, Karlovo Náměstí, and Anděl.
When you get to Invalidovna and Palmovka on one end, and even to Smíchovské Nádraží going the other way, they start to feel a bit gritty. I probably wouldn't walk around these areas by myself at night.
On Line C (red), Vyšehrad, I. P. Pavlova, Muzeum, Hlavní Nádraží, Florenc, Vltavská, and Nádraží Holešovice are central and convenient.
Beyond physical safety, the bigger consideration about taking public transportation in Prague is petty theft and pickpockets.Take precautions to protect your phone, wallet, and other valuables, especially when it's busy. Here are some great tips on avoiding pickpockets.
Are there Any Unsafe Areas and Neighborhoods to Avoid in Prague?
As above, your best bet is to stay in the city centre, in a relatively central neighborhood. In these areas, you're likely to have people around at all times of day; the central residential neighborhoods are filled with regular locals going about their day-to-day.
The areas around the train station (Hlavní Nádraží), and around the central bus station at Florenc, also have a slightly bad reputation.
If you arrive at night in these areas, just be aware of your surroundings. Even better, arrange a private transfer to your hotel in advance.
---
Safety Tips for Visiting Prague as a Tourist or Solo Traveler
Keep a Close Eye on Your Belongings
Property crime is unfortunately an issue in Prague, and not only for tourists. I know Czech people who have been pick pocketed, or had their phones stolen after leaving them on a coffee shop table and walking away for only a minute.
Since moving into our current flat in January, the building has been broken into once, with one apartment having items stolen.
The usual precautions – like keeping your wallet in a hard-to-access place and securing your bags as much as possible — are fine. I've never heard of extreme measures, like bag slashing, in Prague: it's enough to be sensibly vigilant.
It's a good idea for women to use a cross-body style bag that zips securely closed – this one is a great choice. This style of bag makes it much harder for someone to grab it and run, or snag anything from inside.
Avoid Complete Debauchery
Whenever I talk to long time travelers about times they got into real or almost-real trouble on the road, I'd say 9/10 times they were doing something stupid.
Many of our friends had run-ins with the mafia at nightclubs in Taiwan. (Yep, seriously.)
I was recently talking with some other travel bloggers about people they knew, who were abducted from a nightclub in Russia. A friend-of-a-friend picked up a life-threatening illness after a night of drinking in Bangkok, and as the story came out, it became clear that prostitutes were involved.
Prague is a both a cultural and a party destination.
While 99.99% of the tourists that come here to party have no problem, there are definitely some pretty tragic exceptions to the rule. Any time you buy drugs or hire prostitutes, you're opening yourself up to doing business with shady characters, and there are a lot of shady characters peddling all sorts of illicit options in Prague.
Similarly, strip clubs and "casinos" in Prague often have ties to shady characters, and are best avoided.
Use Common Sense
This applies to every destination, whether you're on your own or with a group.
The bottom line is I feel really safe going out on my own as a woman in Prague, but I'm always aware of my surroundings, and tend not to follow strangers into back alleys and other silliness.
Consider Airport Transfers For Late-Night Arrivals
Honestly, this advice makes sense even if you're travelling with a group, and for people of any gender. It just sucks arriving late at night to a new city.
Frankly, even if safety is not a concern, it's just a pain in the butt to make your way through the city using public transportation, while toting around all your luggage.
Prague DOES have public transportation that goes to the airport, which consists of an airport bus + metro combo, or an airport express bus.
But it's actually not that much more expensive to just arrange a private transfer, which is quite possibly worth it for not having to deal with the bus and/or metro, and especially for getting right to your hotel, and not having to drag your suitcase across cobblestones.
Get Your Guide is a company I really like for booking tours and transfer – they have a private transfer option or a shared transfer at very reasonable prices. And they have great reviews!
Where should you stay as a solo female traveler in Prague?
From what I've seen, Prague doesn't really have any "bad" neighbourhoods like many big cities, but there are some areas that are slightly rougher than others.
For example, I probably wouldn't stay right by the train station, in a dark street off Wenceslas Square, or near the metro stop Invalidovna if I was travelling by myself.
It's not that those areas are particularly UNSAFE, it's just that I personally feel they are less safe than some other areas.
If you've read my guide about Where to Stay in Prague, you know that most tourists stay in Prague 1 in either Old Town or Malá Strana, which is the heart of the centre and where many of the tourist attractions are located.
Many expats live in Prague 2 close to Namesti Miru (Vinohrady District) or Jiriho z Podebrad (Zizkov District) metro stations, and we lived in Prague 5 near Anděl metro station.
Some other areas that are nice to live in Prague – such as near Vysehrad fortress or up near Letna beer garden – probably aren't great places to stay if you're only in the city for a few days (although they could be good options if you're coming to Prague for a few months, and can take the time to get to know the neighborhood).
That said, I totally understand that solo female travelers to Prague have unique things to consider, and I've gotten lots emails from readers asking specific questions, and for recommendations and opinions on hotels.
For that reason, I've put together this list of hotels and hostels I'd recommend you consider staying in as a solo female traveler to Prague. Of course, these hotel recommendations work well for anyone that's concerned about safety.
Criteria For Making It On My Recommendations List:
It's in a busy area with lots of people around, meaning you won't have to walk down dark alleys by yourself. For that reason, I've only recommended places in Prague 1, which is the center of the city. If you're interested in more off-the-beaten-path areas of Prague, I'd suggest you check out my Where to Stay in Prague Guide!
It's a proper hotel or a hostel, with reception, rather than an apartment-hotel. I just figure when you're on your own, it's nice to be in a place where there are staff just in case!
It's within walking distance to either a metro or a tram, so you won't have to rely on taxis. Taxis in Prague don't have a great reputation, and many taxi drivers will try to overcharge foreigners. Also, the metro is SO GOOD and very convenient…there's no need for a taxi (Prague also has Uber, which is great if you don't feel like taking transit)
It looks nice, and like a place I would stay personally if I was in Prague by myself, or that I would recommend to my BFFs or female family members if they were in Prague
It's not across from a "party" bar or club, as far as I know (I may make mistakes on this…check reviews yourself!). Prague is a popular stag location for UK and German men, and it often gets a bit rowdy and embarrassing. Not to say that it's dangerous, but at the same time – and if it was me – I'd want to avoid it
It gets "superb" or "very good" reviews from past guests of all types (families, couples, solo travelers, etc).
It meets any "special consideration" need – i.e. easy to access if arriving at night, etc.
It's affordable for a single person travelling on her own, or for two females travelling together. I've tried to keep it below $100 max (thinking that would be a shared price between two), or $50 per person, but I've also given some extreme budget options. And then everything in between!
Recommendations – Safe Hotels in Prague
Budget & Extreme Budget Options
(Save your koruna for things that matter more than a bed…like Pilsner!)
Safestay Prague Charles Bridge
Safestay Prague — (Starting at $19 per person per night) — Another really nice looking option with awesome reviews, this is in a really busy location with a metro station within one stop. The hostel has a female-only dorm room, as well as mixed dorms and several double and twin rooms. Reviews are fantastic.
Check Availability & Prices on
Booking.com
Hostel Downtown
Hostel Downtown — (Prices in the $30 range) — This place looks awesome, and the reviews are fantastic. It's on on a busy road, which I think is a good thing, as there will always be people around when you're coming and going. It's also super close to a tonne of things: you could walk to Old Town, Wenceslas Square, Charles Bridge and (a bit longer) the Castle. It has a female-only dorm room, as well as mixed dorms and several double and twin rooms.
Check Availability & Prices on
Booking.com
Dahlia Hotel Inn
Dahlia Inn Hotel Prague — (Prices in the $40 range) — This place gets fantastic reviews, and it's in a good location 3.5 blocks from the IP Pavlova Metro station (red line – C). IP Pavlova isn't a bad area to consider if you're arriving by train at night, or have an early train out in the morning, as it is only 2 stops on the metro from the main train station (Hlavni Nadrazi) with no changes. From here, you could walk to Old Town in 15 minutes or so, and to the river in 10 minutes. There is Starbucks, Paul bakery, and restaurants nearby, plus one of my favorite coffee shops: Anonymous Coffee!
Check Availability & Prices on
Booking.com
Orion Hotel
Hotel Orion Prague — (Around $40 per night) — This place gets good reviews, and is in a nice area filled with expats. It's only 2.5 blocks from Namesti Miru, which is a pretty square (Namesti means square in Czech!) surrounded by cafes and restaurants. Namesti Miru is also a stop on the green Metro line, and it's only a few stops to Mustek, where you can go for access to Wenceslas Square and Old Town. Namesti Miru also has a lot of trams, including night trams if you're coming home late.
Check Availability & Prices on
Booking.com
Mid-Range Options
Design Metropol Hotel Prague
Design Metropol Hotel Prague— (Prices in the $55 to $85 range) — This place is in an awesome location right in the heart of it all, and close to Mustek and Narodni Trida metro stations. You could easily walk pretty much everywhere from here, or jump on transit, and you'd be close to lots of (touristy) restaurants and cafes. Reviews are "very good" from past guests.
Check Availability & Prices on
Booking.com
Hotel Leonardo Prague
Hotel Leonardo Prague— (Prices in the $80 range) — Hotel Leonardo is a chain, and while we've never stayed in this particular location, we have stayed in other locations, mostly in Germany, and found them to be really good value for the price. This particular location is in Prague 1, right near a spot on the river with absolutely fantastic views of Prague Castle. You're in strolling distance of Charles Bridge, and relatively close to three different metro stops, plus the tram! Reviews from past guests are "superb."
Check Availability & Prices on
Booking.com
The Dominican Hotel Prague

(previously Savic Hotel)

The Dominican Hotel Prague— (Prices in the $75 range) — This place looks really cute, and is smack dab in the prettiest part of Old Town. I have to be honest, walking home at night to this place, you'll probably come across some drunkness. However, in my experience, Old Town has plenty of people around until 11pm or even midnight, which is nice. It also gets a Superb 9.2/10 on Booking.com from past guests.

Check Availability & Prices on
Booking.com
Hotel Golden Crown
Hotel Golden Crown— (Prices starting in the $85 range) — This hotel has a boutique look to it in the photos, with nice design-focused features and muted colors. It's really conveniently-located near Wenceslas Square (but not near the dodgy parts!) and Old Town Square, meaning you'll be right in the heart of things! Prices get as low as $66 (and up!) and the reviews are fantastic!
Check Availability & Prices on
Booking.com
Archibald at Charles Bridge
Archibald at the Charles Bridge Hotel Prague— (Prices starting in the $85 range) — This place looks really cute, and is right on Kampa Island, beneath Charles Bridge. If you want to wake up every morning in Prague and walk across Charles Bridge, this looks like a great place to base yourself! Superb reviews from past guests!
Check Availability & Prices on
Booking.com
What should you do for fun as a solo female traveler in Prague?
If you're staying in a hostel, it's pretty easy to meet other travelers, and you shouldn't have too difficult a time meeting some people to go out with to explore the city during the day, get dinner or drinks in the evening, or take a day trip from Prague to one of the surrounding towns (or even a surrounding country!).
How can you meet people if you're not staying in a hostel?
I usually find day tours are a pretty good way to meet people…you can strike up a conversation or a friendship on the tour, and then make plans to do things with that person (or group) the next day, or that evening, as well.
When it comes to day tours, we typically recommend booking a tour through Get Your Guide – they have a great selection of tours to offer and are known for great customer service.
Here are a few of my favorite options!
Photo Credit: www.getyourguide.com
This tour includes stops in Old Town, Vinohrady, and the neighbourhood of Zizkov, which is basically the heart of hipster Prague, but is ever-so-slightly off the tourist trail, making a tour a convenient way to experience it. It gets awesome reviews, and includes drinks, nom noms, and any metro tickets you need while on the tour.
Photo Credit: www.getyourguide.com
Less than half the price of the Prague Beer and Tapas Walking Tour, this one still gets great reviews from past guests. The main difference is this isn't a walking tour and it isn't a food tour - it's all about the beer! This "tour" is more of a tasting experience in a single location, working your way through 7 different Czech beers.
Photo Credit: www.getyourguide.com
This tour covers all the basics of a Prague experience...Old Town, Jewish Quarter, Wenceslas Square, Charles Bridge, and the Castle. Plus, it adds in a cruise along the Vltava River (beautiful!) & lunch. Basically, you see all the "musts" in one long day tour, and then if you have more time in Prague, you can experience some of the more off the beaten path spots, or go back to your favorites :)
---
Have you ever been to Prague? Did you feel safe as a solo traveler, male or female? Tell me in the comments.
---
Pin This Post!