What are the Best Trips Around Barcelona? If You're Planning Your Holidays in Catalonia, Spain, many of the Historical Sites in the Costa Brava and Inland Catalonia Region Make A Great Road Trip From Barcelona. Here You'll Find Ideas for Visiting Some of the Most Amazing Villages, Views, and Experiences in the Area, Our Picks for the Best Places to Go in Costa Brava and Catalonia, and a 3-Day and 5-Day Road Trip Itinerary.
This is a guest post from Wendy Maes of World Wide Wendy, in collaboration with Geoff and Katie. Wendy recently took a 3-day road trip through Catalonia, stopping in Blanes, Figueres, Besalú, Castellfollit de la Roca, Montserrat, and Poblet Monastery. We (Geoff & Katie) have added to the itinerary with some of our favorite stops in the region, creating an additional 5-day road trip from Barcelona. Either itinerary can be followed end-to-end, or can be picked apart to work for you.


Disclosure: This Costa Brava Road Trip travel guide contains affiliate links. That means we earn a commission when you use the links on this site to book a hotel, buy your travel insurance, shop for travel essentials, etc.. You don't pay anything extra. If you'd like to learn more about how this works, you can read more under our Disclaimer page.
***
I am lucky enough to have a friend living in Barcelona, and visit often. But after many visits to the capital of Catalonia, on my last trip we decided to plan a Catalonia and Costa Brava road trip to see what else one of Spain's most interesting regions has to offer. What we found was a beautiful region with historical towns, monasteries, botanical gardens, and more.
If you're interested in taking a road trip from Barcelona through Catalonia, incorporating parts of Girona Province, Costa Brava and the gorgeous Catalonia coast, and Barcelona and Tarragona Provinces, this guide will help!
We've organized this guide to give you an option for a 3-day or 5-day road trip from Barcelona.
3 Day Road Trip from Barcelona: Wendy's Original Road Trip Itinerary, Incorporating Some of the Best of Catalonia
Day 1: Barcelona to Blanes and Figueres. Overnight in Figueres.
Day 2: Figueres to Besalú and Castellfollit de la Roca. Drive to Montserrat, and visit the monastery if there's time. Overnight in Montserrat.
Day 3: Visit Montserrat Monastery if you didn't have time on Day 2. Drive to Poblet Monastery for the afternoon tour, before heading back to Barcelona.
5 Day Road Trip from Barcelona: A Longer Version of Wendy's Itinerary, Incorporating a Few of Geoff and Katie's Favorite Places on the Costa Brava
Day 1: Barcelona to Blanes and Tossa de Mar. Enjoy the small town life and beach with an overnight in Tossa de Mar, or continue to Girona for an overnight.
Day 2: Explore Girona for the day and evening, spending the night in this lovely small city.
Day 3: Visit the Dalí triangle, starting in Púbol, followed by Cadaqués (Portlligat) and Figueres. If you run out of time, save Figueres' Teatro Museo Dalí for the morning of Day 4. Overnight in Cadaqués or Figueres.
Day 4: Figueres to Besalú and Castellfollit de la Roca. Drive to Montserrat, and visit the monastery if there's time. Overnight in Montserrat.
Day 5: Visit Montserrat Monastery if you didn't have time on Day 4. Drive to Poblet Monastery for the afternoon tour, before heading back to Barcelona.
---
Use these links to Read More About The Costa Brava Region, Catalonia Highlights, and Our Road Trip Recommendations
---
A Short & Sweet Catalonia Road Trip Itinerary: Visit up to 10 of the Best Places in Catalonia in One Trip
---
Blanes: Take a Trip to Barcelona Coast
Blanes is a lovely seaside town northeast of Barcelona. It's a great place if you are looking for a party or planning a seaside family holiday, but we visited to see the beautiful botanical gardens of Marimurtra. With a jaw-dropping clifftop setting, the gardens afford amazing views over the sea and region as a whole. Marimurta was founded and designed through the passion and dedication of Karl Faust, a German man who lived in Catalonia, and is home to an impressive 4,000+ species of plants.
Good to Know: Blanes is about 1 hour from Barcelona, and is a popular getaway for Barcelonans and visitors. It's a family-friendly destination with a noticeable Catalan identity and a pretty old quarter.
Stay Awhile: Family Friendly Apartments and Great Hotels in Blanes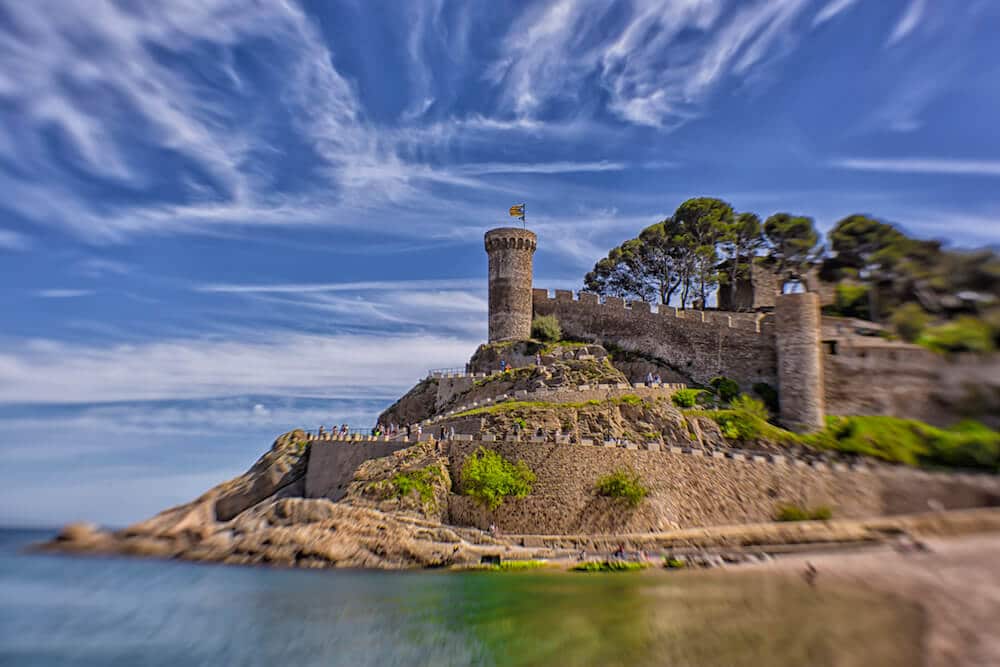 The Castle overlooking the beach at Tossa de Mar
Tossa de Mar: Spend Some Time Seaside
More sophisticated than the larger and honestly-kind-of-gaudy Lloret de Mar, nearby Tossa de Mar is a quiet and pretty beach town on the Costa Brava. The lovely Castillo de Tosa de Mar offers great sea views, and is quite picturesque in its own right. The town has a nice beach, and is filled with small alleys and quaint restaurants. It's a perfect stop for a leisurely afternoon and evening, if you have the time.
Good to Know: Tossa de Mar is about 30-minute drive from Barcelona and 45 minutes from Girona.
Organized Tours: Trips around Barcelona to the Best Places in Costa Brava
Stay Awhile: Enjoy Your Holidays in Tossa de Mar
Girona: A Surprising Hit and Hard Not to Love
The delightful capital city of Girona Province is a hit with most travellers, and once you visit yourself, you'll immediately know why. Small, walkable, and incredibly picturesque, Girona is the perfect place to spend a laid-back day or two, walking the city walls, ticking off the Game of Thrones filming locations in town, and indulging in a fantastic food scene (Girona is one of the best food cities in Spain, and has some of Katie's favorite ice cream in the world!). If you have the time, spend at least one night here – two nights is even better! Girona is one of the best places in Costa Brava and is unlikely to disappoint.
Good to Know: Girona is the capital of Girona province; it's a small and very manageable city with about 100,000 residents, and is incredibly picturesque, so be sure to charge your camera. It's about a 30-minute drive from Girona to Púbol, part of the Dalí triangle.
Organized Tours: Experience Girona and the Costa Brava
From Barcelona, you can visit Girona and the best places in Costa Brava easily on an organized day trip.
If you've based yourself in Girona, check out these tour options…
Stay Awhile: Base Yourself and Enjoy All Places to Visit in Girona and Beyond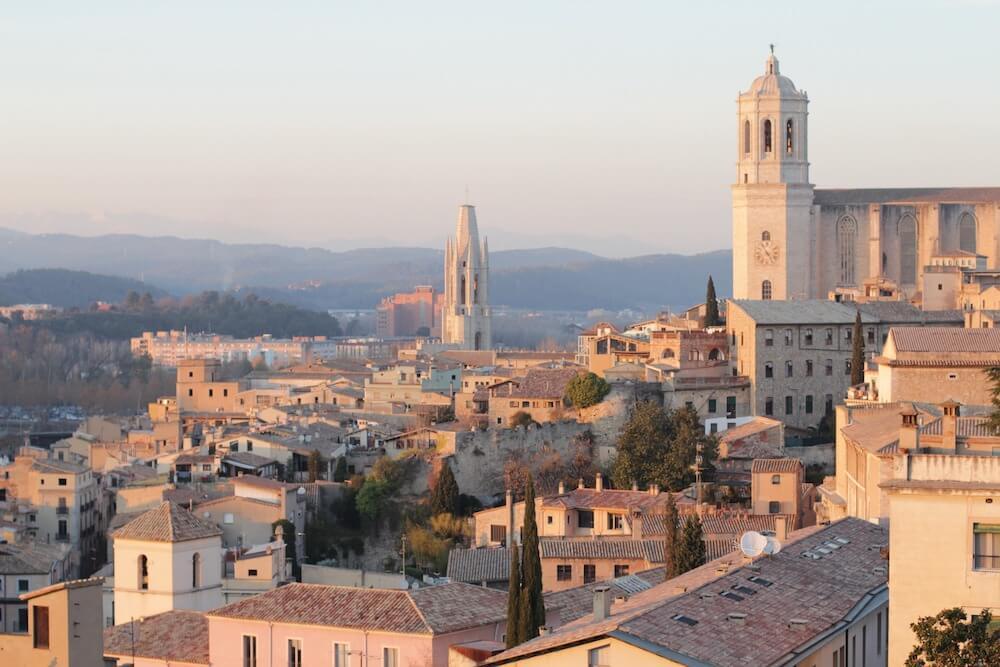 Girona at sunset, Photo via Pixabay
Púbol: a Tiny but Lovely Catalan Village
The tiny village of Púbol would be easy to skip, if not for the being part of the so-called Dalí Triangle. Púbol is home to the castle house Dalí bought for his muse and wife, Gala Dalí, and this is the main attraction in the village (the Dalí Triangle also includes Figueres – home to the Dalí Theatre Museum – and Cadaqués/Portlligat, where you'll find the Dalí House Museum). The house-museum and village are worth a few hours of your time if you're a Dalí fan, or if you enjoy quaint little villages.
Good to Know: 30-minutes from Girona, the drive from Púbol to Cadaqués (the next stop on the Dalí Triangle route) is about 1 hour and 15 minutes.
Organized Tours: See Pubol and Other Important Dali Locations
Visit Púbol and other amazing places in Costa Brava on an organized day trip from Barcelona.
Cadaqués: a Photogenic Coastal Town a Stone's Throw from France
Pronounced ka-da-kez, Cadaqués is a small coastal city in the north of the Costa Brava. The whitewashed buildings and narrow alleyways are practically begging to be wandered, and make for some great photo opps, with small pieces of street art and plenty of splashes of color everywhere. The small village Portlligat, just outside Cadaqués, is home to the Dalí House Museum, and is a highlight of this area. Beyond Dalí, Cadaqués is still worth a visit and makes a nice spot for an overnight stay. If Dalí doesn't interest you, there's a beautiful section of the Costa Brava Coastal Trail in this area, which makes for a nice bit of walking along the sea.
Good to Know: The drive from Cadaqués to Figueres is about 1 hour.
Stay Awhile: Spend a Night in this Charming, Picturesque Whitewashed Town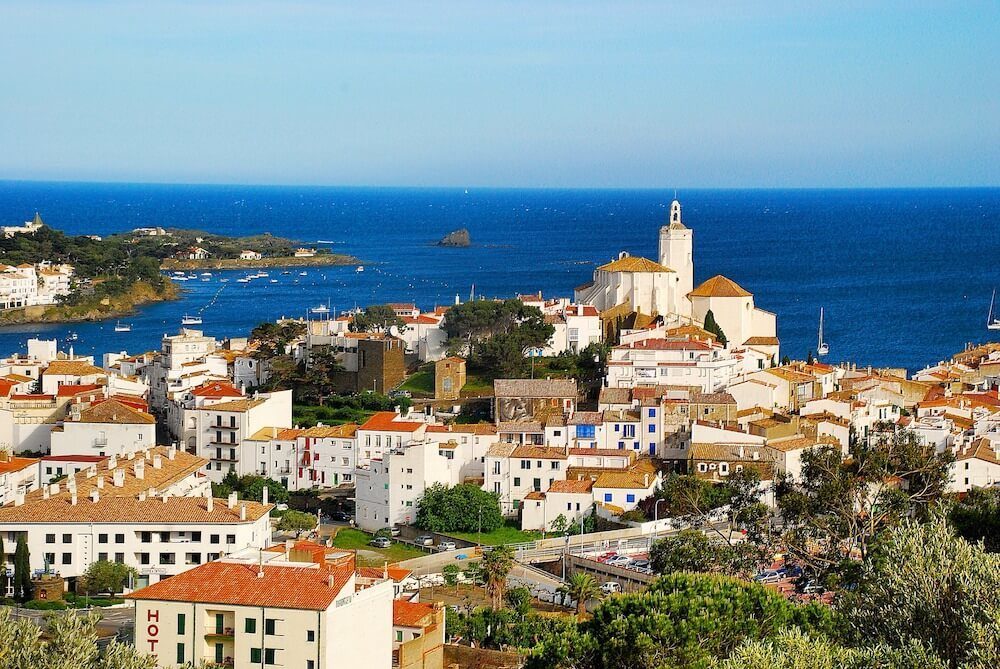 Cadaques is a scenic road trip from Barcelona, photo vi Pixabay
Figueres: Enjoy One of the Most Popular Short Trips from Barcelona
Figueres is a charming town that is best known as the birthplace and final resting place of Salvador Dalí. Although Dalí's body of work includes a variety of genres, including cubism and futurism, he is best-known for his surrealist work, which marked him as one of the greatest artists of the last century.
The Teatro Museo Dalí in Figueres owns the largest Dalí collection in the world and crosses media, from paintings to sculpture to jewellry to film (and more). Without a doubt, it's the most intriguing museum I've ever seen!
If you don't have the time to visit the inside, or aren't a huge art fan, it's still worth making a quick stop to enjoy the outside of the building (and if you're traveling with children, they'll love the pink building). An alternative to the Dalí museum is the Castell de Sant Ferran.
Good to Know: Figueres is roughly a one-hour drive (80 km) from Blanes, or 45 minutes (42 km) from Girona. If you're a Dalí fan or art lover, or are simply fascinated by this enigmatic artist, you need to allocate a fair chunk of time to the museum, as the collection is massive. In addition to the Dalí Museum, Castell de Sant Ferran makes for an interesting stop. Read our tips for spending a day in Figueres in our 55 Best Places to Visit in Spain post!
Organized Tours: Dali Inspired Tours and Tickets
Stay Awhile: Stay in Dali's Hometown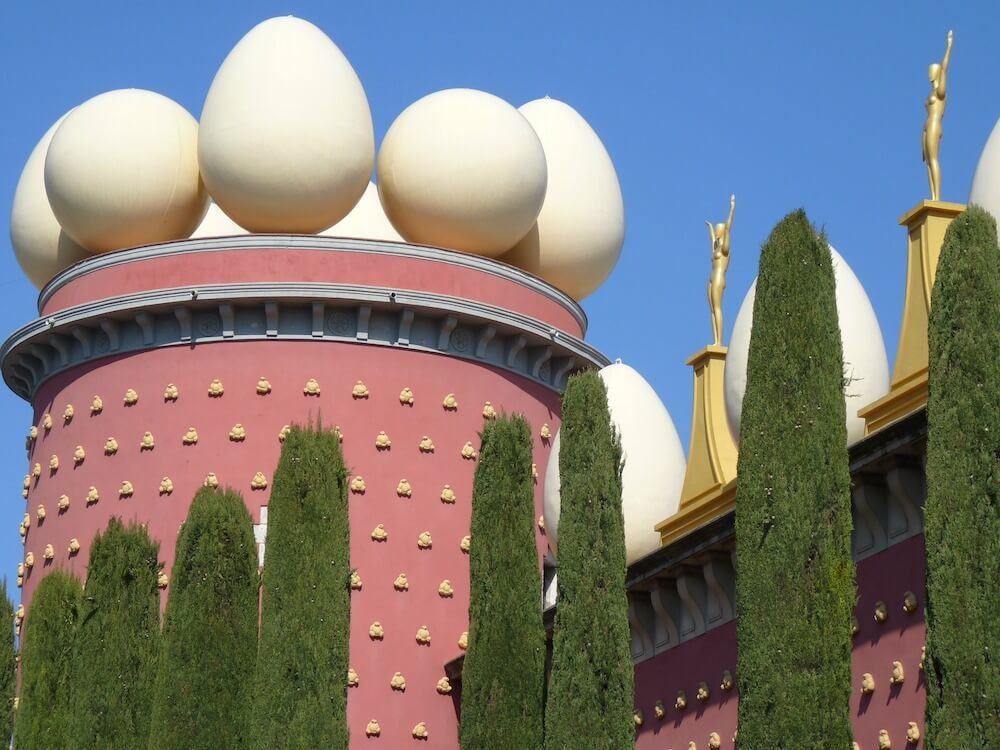 When you visit Costa Brava, be sure to see the quirky, surreal Dalí museum, photo via Pixabay
Besalú: Travel Back in Time to Medieval Catalonia
Less than 30 minutes inland from Figueres, Besalú will show you a completely different side of Catalonia, far from the seaside crowds and Dalí daytrippers.
This tiny, 12th-century mountain village is only 5-square-kilometers, and reminds me of an open-air museum. Key highlights of a trip to Besalú include the picturesque bridge; Sant Vicenç de Besalú and Sant Pere churches; and the mikvah, which was discovered by accident in 1964. A mikvah (or mikveh) is a Jewish ritual bath; as there are very few well-preserved mikvahs in Europe, it's a rather special and unusual site! You can only visit the mikvah via a tour (it's typically locked), which you can arrange through the Besalú tourist information office.
Good to Know: Besalú is roughly a 25-minute drive (24 km) from Figueres, or 40 minutes (39 km) from Girona. Expect to spend a few hours to see the entire village and its main sites. Besalú is also a popular jumping off point for treks in natural Volcanic park of La Garrotxa, nearby. If you do plan on doing some trekking, there are a couple of small boutique hotels right in the heart of the town, which you can use as a base. Besalú is another one of our picks for the 55 Best Places to Visit in Spain!
Organized Tours: Medieval Villages & Volcanoes of the Catalonian Countryside
Stay Awhile: Soak up the Sun in Medieval Catalonia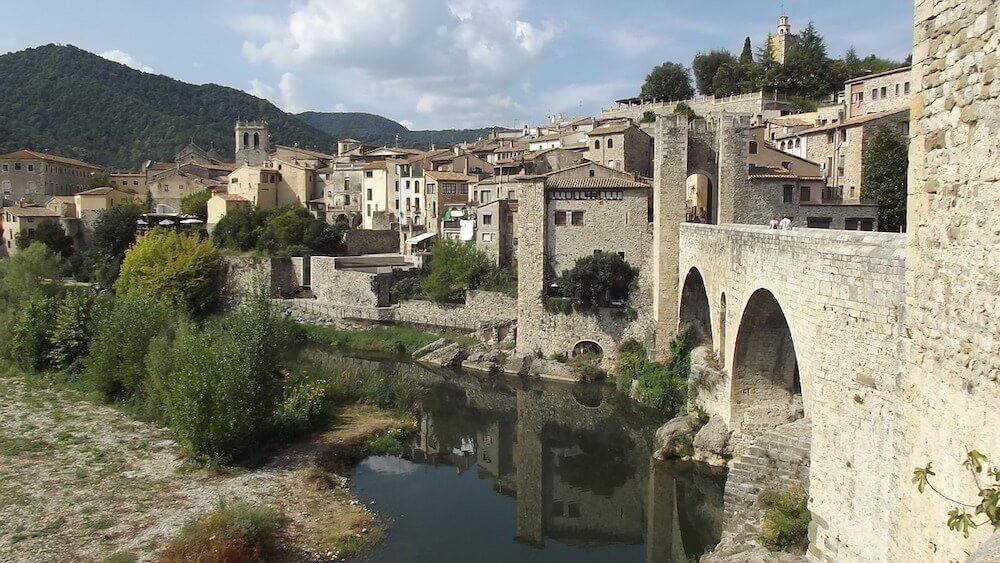 Besalú, Photo via Pixabay
Castellfollit de la Roca: Visit a Spectacular Clifftop Village
Less than 15 minutes' drive from Besalú is Castellfollit de la Roca, another spectacular village that's worth visiting if only for the location! Situated on top of a narrow, peninsula-like basalt cliff standing roughly 60 meters above the Fluvià River, it's a beautiful stop and photo opp! As if to openly defy mother nature, buildings stand at the very edge of the cliff top, with a lovely little church sitting at the end of the "peninsula."
Good to Know: Castellfollit de la Roca is roughly a 15-minute drive from Besalú, or 50 minutes (53 km) from Girona.
Organized Tours: Medieval Day Trip From Barcelona
Medieval Villages Day Tour from Barcelona: Enjoy a ride to the famous Catalonain countryside and explore beautiful medieval villages including Besalú, Castellfollit de la Roca, and Rupit, with plenty of free time to wander the cobbled streets and admire 16th century homes. Plenty of other stops along the way including panoramic views from the sandstone cliffs. Click here to learn more.
Stay Awhile: Stay in a Medieval Village
Cal Mestre Apartament: Spend your holiday in one of these fully equipped apartments complete with a terrance and BBQ area. 9.4 location score – 9.4 on Booking.com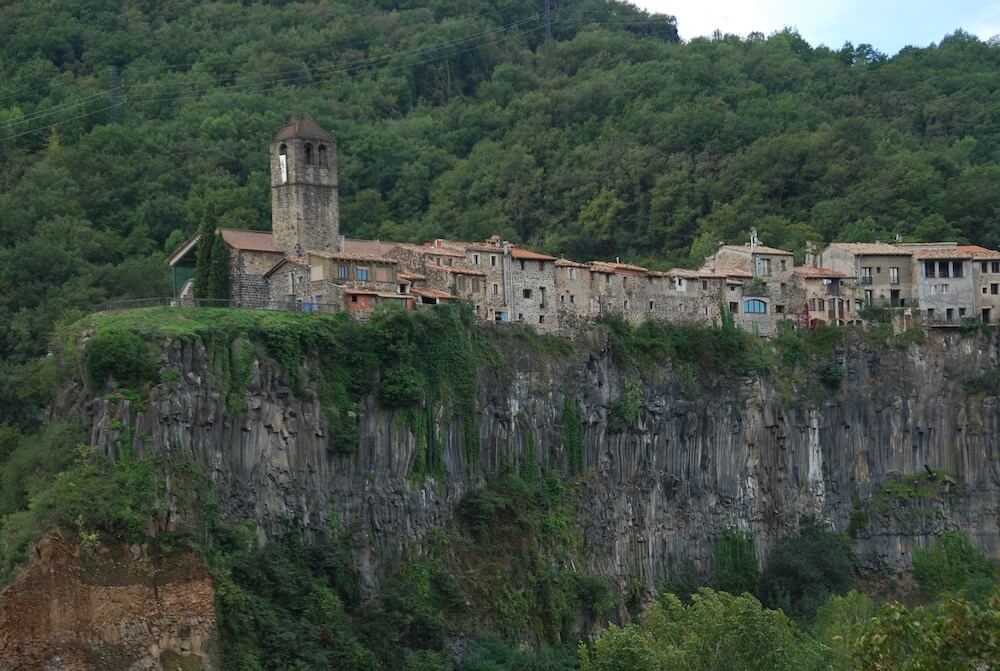 Castellfollit de la Roca in the Costa Brava Region, Catalonia, Photo via Pixabay
Montserrat Monastery: One of the Best Trips Around Barcelona
Montserrat monastery is one the most famous stops we visited during our road trip, and is most popular as a day trip from Barcelona. Besides hosting many curious tourists each year, the monastery is a tranquil place of pilgrimage. Surrounded by chapels and caves, it is one of the holiest places in Catalonia, and a must visit.
Nobody really knows when the monastery was founded, but one of the legends says that on a Saturday afternoon in 880, holy men experienced hearing a beautiful song accompanied by a blinding light that appeared to descend from heaven. When, on the following four Saturdays this miracle of sound and light repeated itself, the holy men took it as a sign, and decided to build a church (initially a priory, only later becoming a monastery).
Today, holy men still live at the monastery: Benedictine monks, to be precise. Tourist flock here because it's so beautiful, with both a spectacular setting surrounded by cliffs and mountains, and a gorgeous interior.
When you visit the interior, be sure to take a look at the small La Moreneta (Black Madonna) which is said to be the soul of Montserrat. While it's claimed the statue was made by St. Luke and then brought to Montserrat by St. Peter in the first century, carbon dating in fact dates it to the 12th century. As the patron saint of Catalonia, the Black Madonna is much loved, and is thought to have the ability to heal the sick and disabled. As such, many people arrive at the monastery specifically to pray for a miracle.
Good to Know: You can drive to the monastery from Montserrat, or take a cable car. Montserrat is roughly a 90-minute drive (114 km) from Castellfollit de la Roca, and slightly longer from Girona. You can also easily visit Montserrat as a day trip from Barcelona.
Organized Tours: Plenty of Great Options for a Day Trip From Barcelona
Click here to see a full list of Montserrat Tour Options
Stay Awhile: Stay in Montserrat
Hotel Abat Cisneros Montserrat: This building dates back to the 1500s and is located next to the monastery. Enjoy splendid mountain views and natural beauty, but with all the modern conveniences of a 3 star hotel. 9.4 locationscore – 8.4 on Booking.com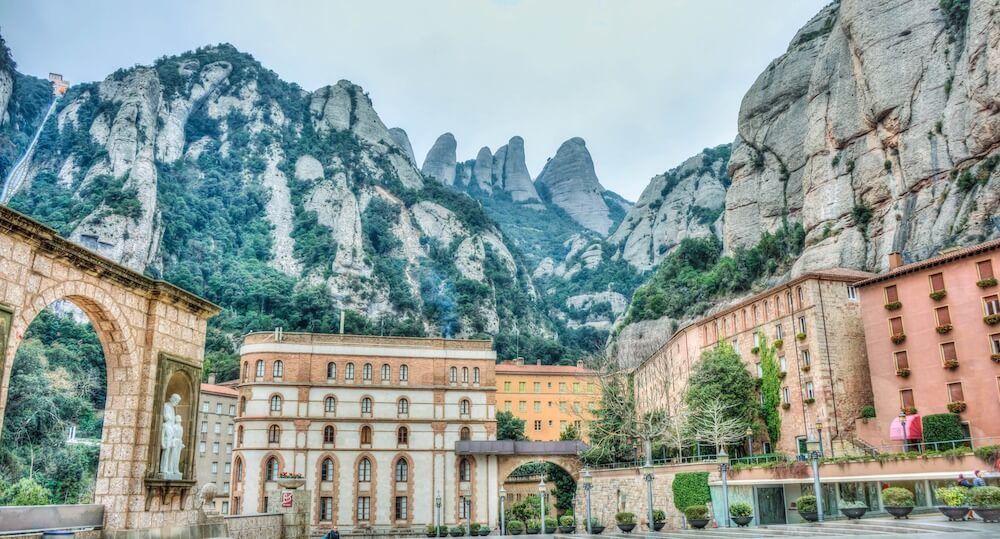 Montserrat, Photo via Pixabay
Poblet Monastery: Get Off the Beaten Track
Poblet Monastery is another beautiful monastery; it's a bit off the beaten track and surrounded by vineyards, but absolutely worth the effort.
Located about a 90-minute drive from Montserrat and less than 2 hours from Barcelona, it's the most important of the three monasteries included in the so-called Cistercian triangle (which also includes Vallbona de les Monges and Santes Creus). It's prominence and relevance can be traced back to a few things, including its role in consolidating power in Catalonia after the region was retaken from the Moors in the 1100s. The monastery is also a UNESCO World Heritage Site, and is home to a number tombs of the kings of Catalonia and Aragon.
While the years haven't been kind to this monastery (it was plundered during a Spanish civil war from 1833 to 1840, and incurred significant damage by fire), these days it's a beautiful stop. Thankfully, restoration work was carried out in the 1930s, restoring it to its proper glory.
Good to Know: Poblet Monastery is a functioning monastery, meaning visits are limited to those taking a tour. Tours are available at 10am and 3pm on weekdays, and 10:30 am and 3pm on weekends and holidays, and are mostly in Spanish. If your Spanish is rusty, bring a good guidebook with you to follow along, or read up ahead of time so you know what you're seeing.
You can get an idea of what the tour covers with this 360-degree video:

Organized Tours: Visit the Monastery on a Day Trip From Barcelona
---
Extend Your Road Trip from Barcelona By Exploring Even More Nearby Places
Catalonia is a beautiful region well-suited to exploring by road trip from Barcelona. If you have more time, extend your road trip by adding some of these suggestions from Geoff and Katie to your itinerary:
Sitges: South of Barcelona (and a great day trip from Barcelona), Sitges is an LGBT-friendly beach town that's perfect for a lazy day on the coast and a raucous party at night. We dare you not to spend at least a day sipping sangria seaside.
Santa Pau: A little town with medieval buildings and alleys to explore, Santa Pau is a nice introduction to the Spanish Pyrenees region of Catalonia. While there isn't that much to see or do in town, it's perfect for hanging out and wandering for a short while, and makes a great base for nearby hikes in the area if you're feeling active.
Tarragona: The home to the nail-biting Catalan tradition of human towers, Tarragona is a great place to discover Catalan culture, as well as being home to some nice Roman ruins. If you're planning on continuing your road trip south to Valencia, this makes a nice overnight stop (it's about a 40-minute drive from Poblet Monastery, and 2.5 hours from Valencia).
Practical Information to Plan A Barcelona Road Trip To Costa Brava and Catalonia
The 3 day road trip is about 525 km, so you'll need to choose some places to stop. For the three-day itinerary, our advice is to plan stopping for two nights along the road, spending your first night in Figueres, and your second night in or around Montserrat.
The 5 day road trip is about 630 km. Our advice is to spend your first night in Tossa de Mar, your second night in Girona, your third night in Cadaqués or Figueres, and your fourth night in or around Montserrat.
Of course it's also possible to visit all of these sites as side trips around Barcelona, but it's not the most efficient option. If you want to pick a few of the sites, there are plenty of tours that will get you there and back in a one day trip from Barcelona.
---
About the Guest Contributor
Wendy is a travel addict, foodie, and bon vivant, recounting her travels in English and Dutch at World Wide Wendy.
---
More Spain Trip Planning Resources
Pin This Post