The Best Afternoon Tea in Dublin: Two Creative, Stunning Dublin Teas You Need to Try…With A Twist! Our Review of Art Tea at the Merrion Hotel, and Vintage Tea Tours Dublin, Plus Who Will (And Who Won't) Enjoy Each Dublin Afternoon Tea


Pin this Post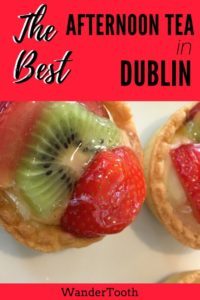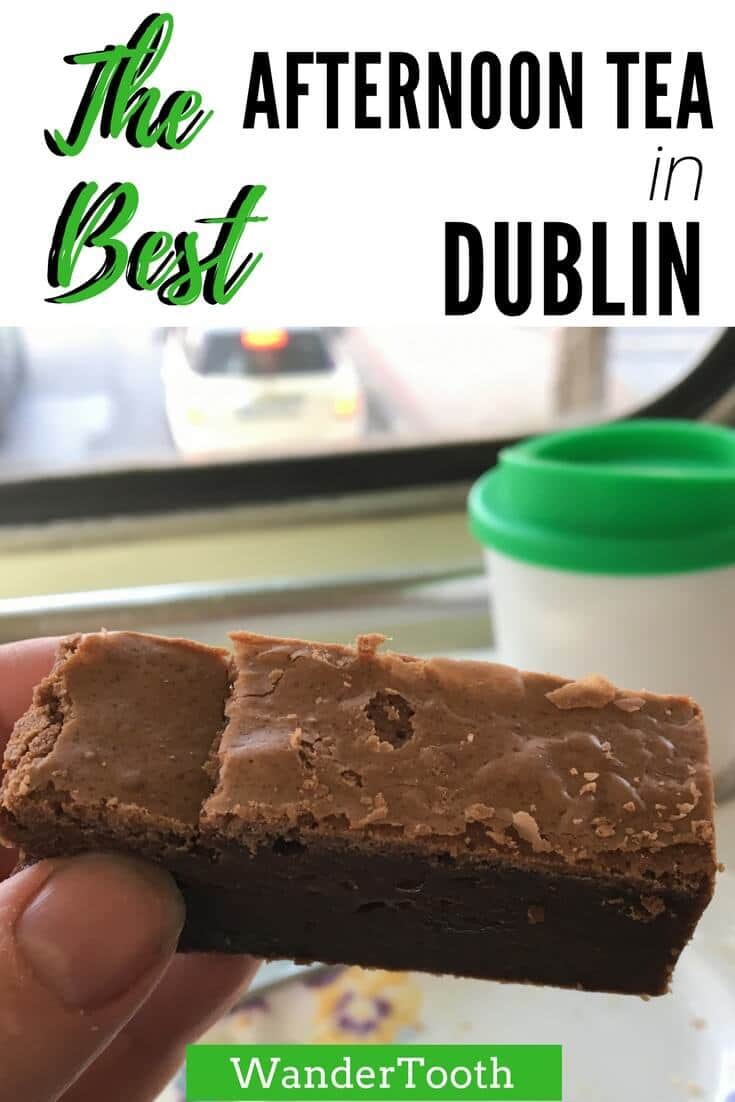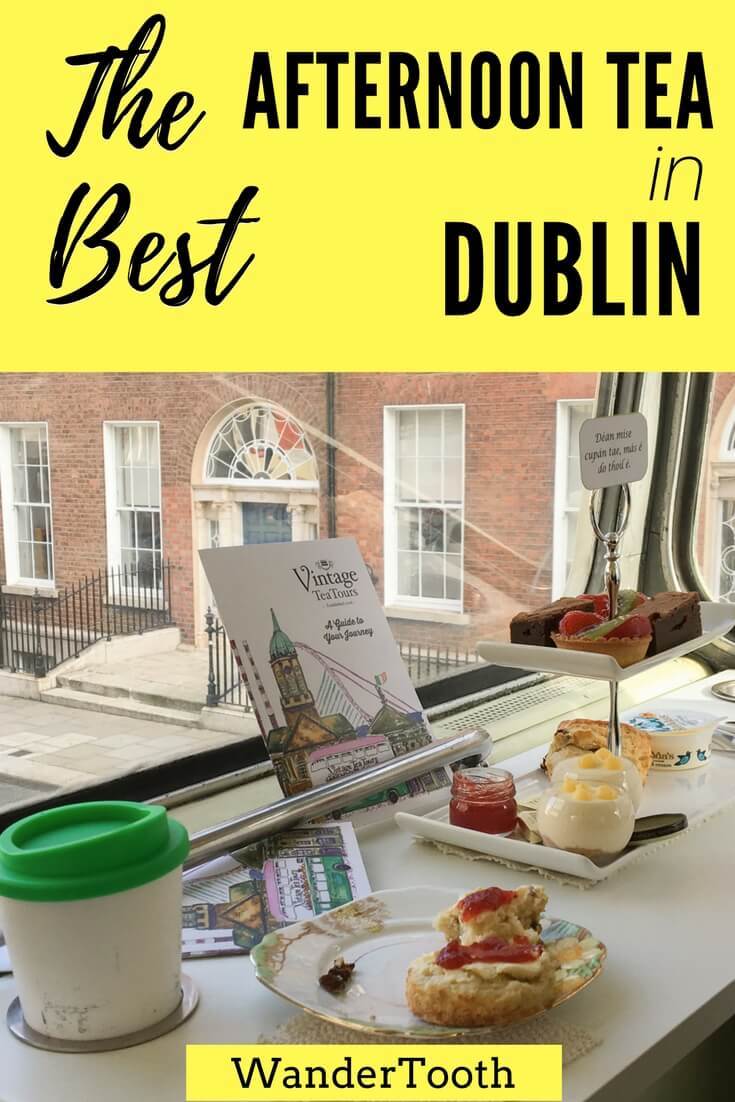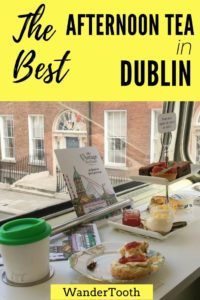 On our recent trip to Ireland, we had the pleasure of exploring Dublin for 6 full days, giving us plenty of time to get a feel for Dublin's many hip and local neighborhoods, try a range of the city's best tours and experiences, and generally develop a warm and fuzzy feeling for Ireland's very cool capital city (seriously: we'd love to go back and spend even more time there).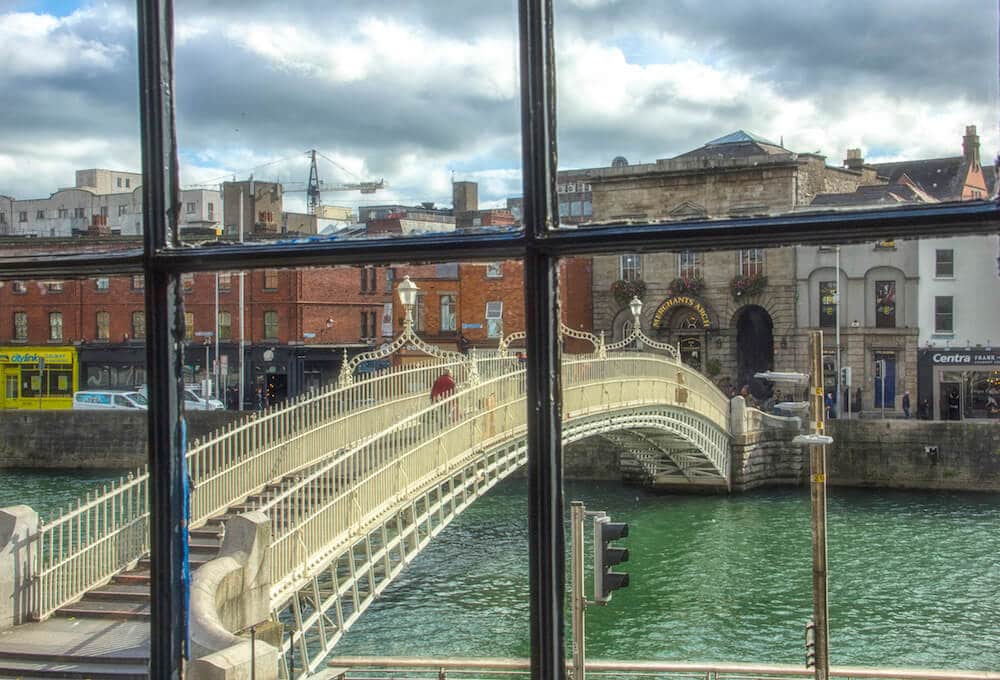 A Dublin Afternoon Tea That Will Make You Feel Like a Museum Curator? Don't Miss Art Tea at the Merrion Hotel
Situated in the heart of the gorgeous Georgian area of Dublin, the Merrion Hotel occupies four stately townhomes on Merrion Square. Purchased 20 years ago by Irish owners, the town homes were transformed from a serious state of dilapidation to one of splendour, today making up an elegant complex that houses the 5-star, relaxed luxury of the Merrion Hotel.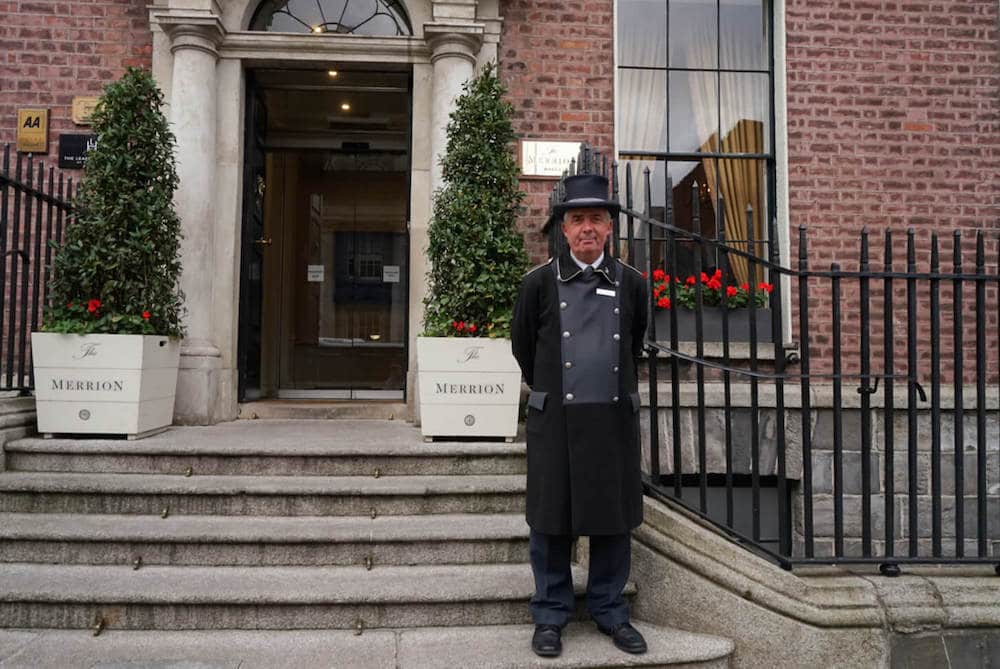 Beyond being one of Ireland's most beautiful hotels, the Merrion is also home to Ireland's largest private art collection. The 19th- and 20th-century Irish paintings that line the hotel's hallways and common areas serve as inspiration for the hotel's unique twist on afternoon tea: Art Tea.
Each week, the pastry chef at the Merrion chooses 3 pieces of art from the hotel's private collection to inspire the week's special editions, and creates his own interpretation of the masterpieces in cake and pastry form.
While guests who sit down for the traditional afternoon tea get to enjoy their finger sandwiches and scones with clotted cream, they are also treated to a delightful, creative, and always beautiful twist: pieces of art that are meant for eating.
The pastries aren't replicas of the art, but rather inspired by. And each guest for this unique afternoon tea in Dublin is also provided with a magazine-like booklet that outlines the Merrion's impressive art collection, so you can read-up on the artist and piece being served at your table!
During the week we participated in Art Tea, our pastries were inspired by John Boyd's Futile Defense (Fabricated Evidence), Mainie Jellet's Madonna and Child, and Stephen McKenna's Farm Buildings, and you can see references from the paintings show up in the pastries (below).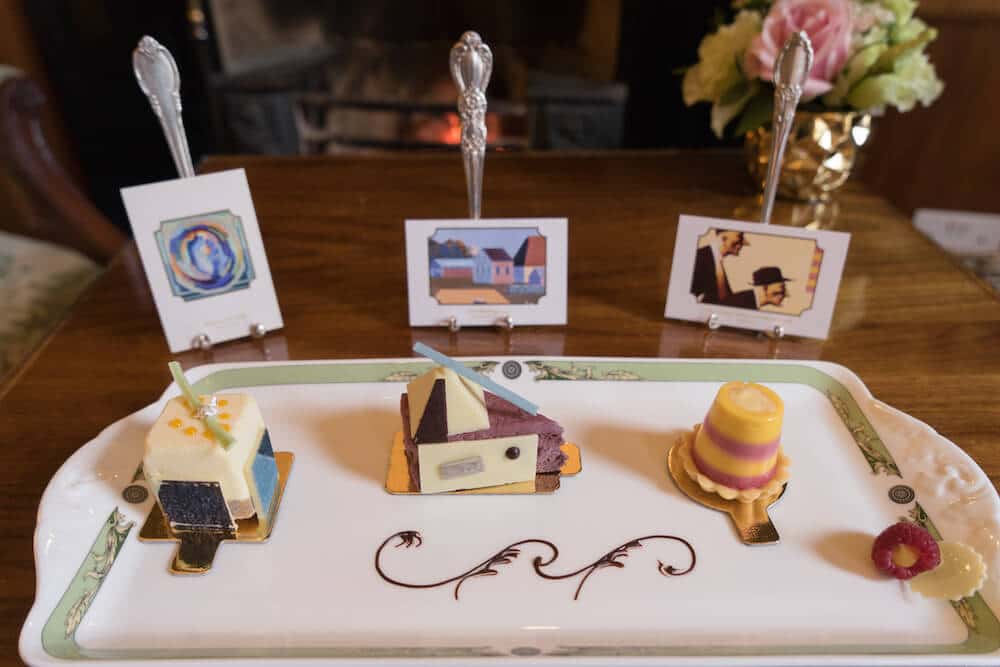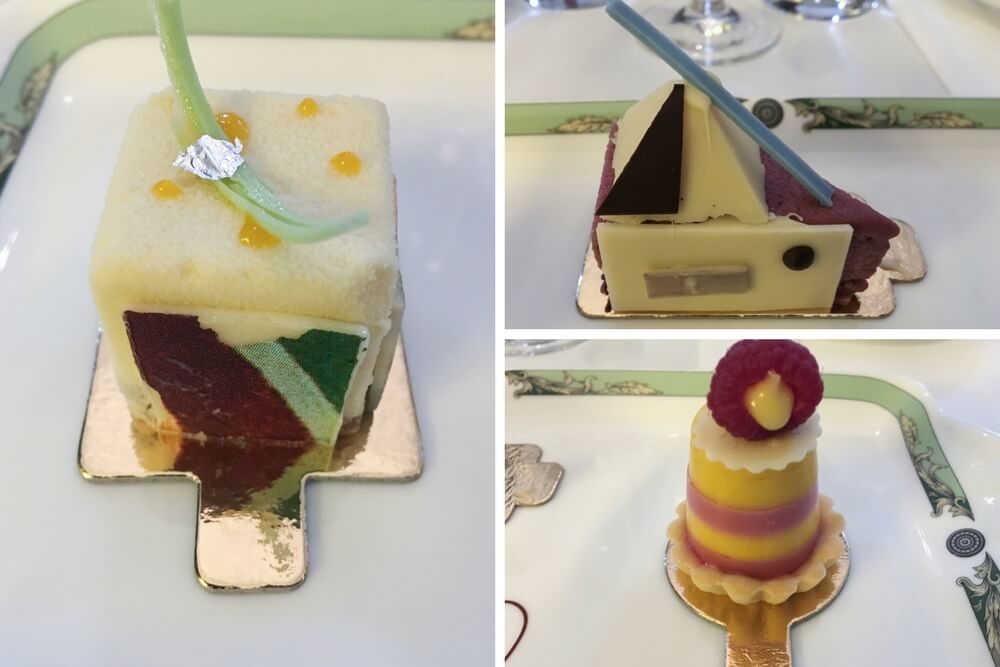 It was a lovely afternoon of champagne, tea, tiny sandwiches, clotted cream, and gorgeous little cakes inspired by some of Ireland's most respected artists. And beyond the tea itself, the setting inside the Merrion is both elegant and comfortable – a perfect combination.
---
If the Art Tea doesn't fully satisfy your thirst for Irish Art, the National Gallery of Ireland is a mere 3-minute walk from the Merrion Hotel, is free to enter, and houses some of Ireland's most important pieces of art.
---
A Dublin Afternoon Tea That Looks Like a Vintage Dream: Vintage Tea Tours Afternoon Tea & City Tour3
For something completely out-of-the-box, Vintage Tea Tours offers an on-the-go afternoon tea in Dublin that combines a lovely, highly instagrammable afternoon tea experience with a city tour. Central to the fantastic experience is Vintage Tea's gorgeously refurbished double-decker vintage bus (which is charmingly named Pauline!).
The most outstanding part of this tour is the aesthetics: Pauline is a bit of a head-turner, and pedestrians, drivers in other cars, and other passers-by couldn't help by stare at us as we drove around Dublin. At one point on the tour, we pulled up to a traffic light and found ourselves next to another (non-tea) double decker tour bus: we could clearly see the look of envy and longing on those tour participants' faces as we indulged in scones with clotted cream while also enjoying our city tour.. Pauline: One / Other Bus Tours: Zero.
When it comes to the treats, we each got our own tiered plate of goodies set out in front of us to nibble on as Pauline took us around the city. I was lucky to get a front seat, and was able to enjoy the view from the windshield while cruising around Dublin, stuffing my face, and seeing the sites. The seating is arranged so that you can sit as a group of two or four, and the bus has seating for up to 26 on the upper deck, and 12 on the lower deck. Although the upper deck is slightly more expensive, it's well worth it to sit up top to get the full "Pauline experience."
In terms of the tour, Vintage Tea Tours doesn't have a running commentary like a typical tour, but they do provide you with a gorgeous little illustrated booklet that you can refer to, which has basic info about the main sites you see. The staff were also very friendly, and chatted us up as we went, adding their own knowledge of the city into the tour where it fit.
---
If you're planning a trip to Ireland, be sure to read our other Ireland posts while you're here! Our Ireland Home Page to a great place to start to plan your trip. We also suggest you check out our Where to Stay in Dublin and Where to Stay in Belfast Guides, our personal experiences of the Best Tours in Dublin, and recommendations for the Best Day Trips from Dublin!
---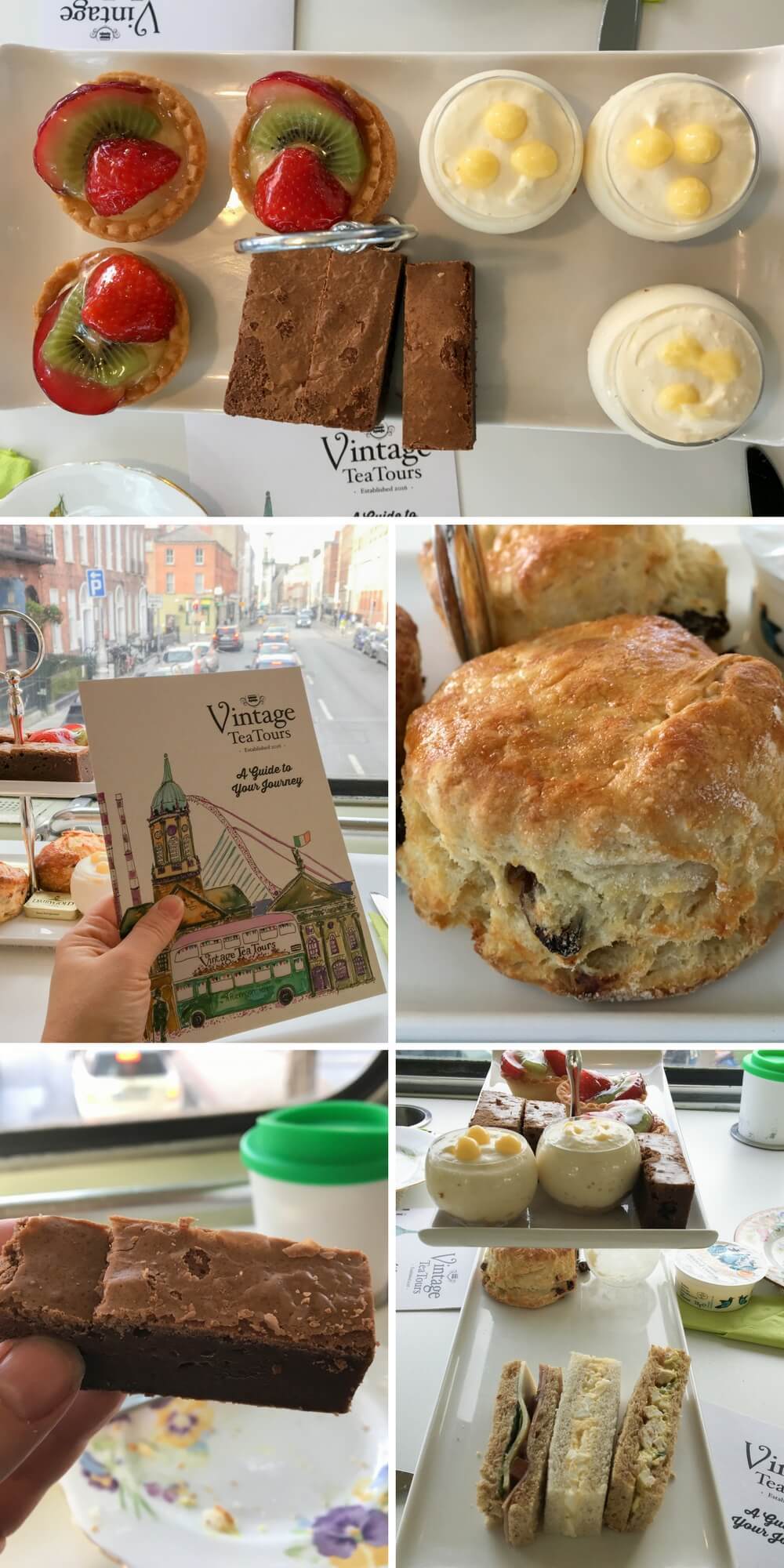 How to Choose the Best Afternoon Tea in Dublin for Your Own Trip
Frankly, I can't choose between Art Tea at the Merrion and riding around Dublin with Vintage Tea Tours and Pauline, because I genuinely enjoyed both experiences. But I do realize two afternoon teas in Dublin is probably not in the cards for most visitors who are trying to see as many things and experience as much variety as possible within a limited amount of time. With that in mind, I've tried to summarize the main benefits and drawbacks of each, as well as which Dublin afternoon tea I recommend for different trip styles.
The Art Tea is closer to what you'd expect from a traditional afternoon tea: it takes place in a gorgeous setting in a high-end hotel, comes with beautiful place settings and servings, and offers optional extras, like champagne. It's a sophisticated and elegant experience, with the art inspiration offering a unique and memorable twist. Given the calibre of experience, we found it to be priced quite reasonably, at €49 per person without champagne, or €63 per person including a glass of R de Ruinart NV.
I think Art Tea at the Merrion is best suited for small groups, families, and couples interested in an elegant experience, as well as those who are interested in Irish art. This would make a great mother-daughter, best friends, family, or couples experience, as well as those on a trip with friends who are happy with calm and quiet activities. Those on a drunken hen/stagette/bachelorette trip wouldn't fit in at this tea, and those with young children who can't sit still for an hour or so would probably find it difficult to get the full experience.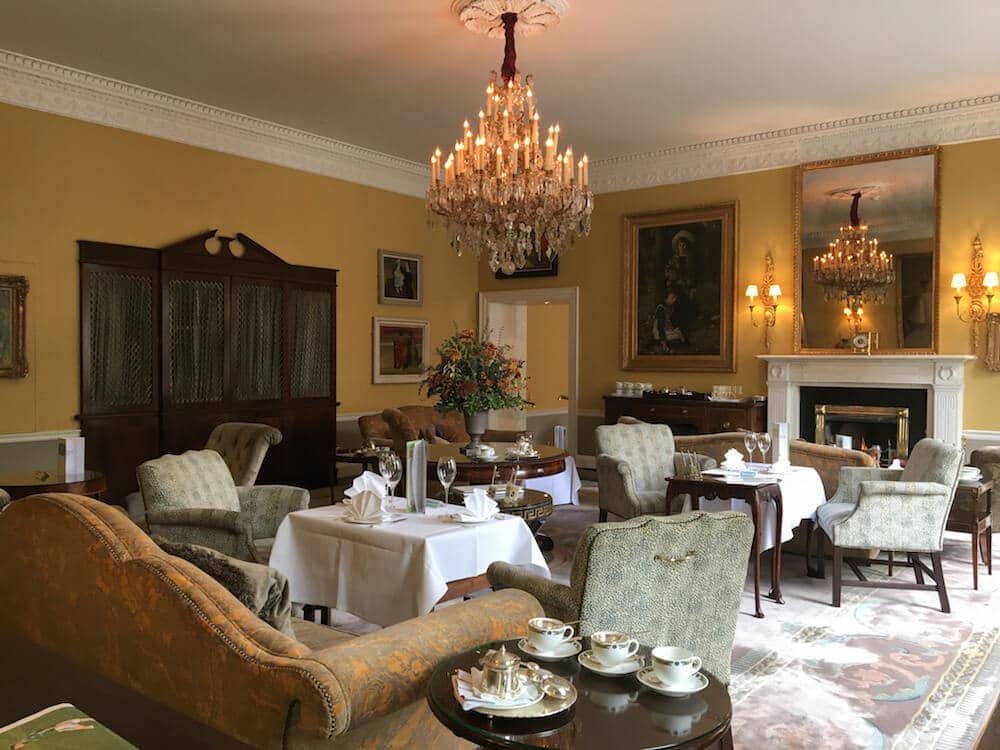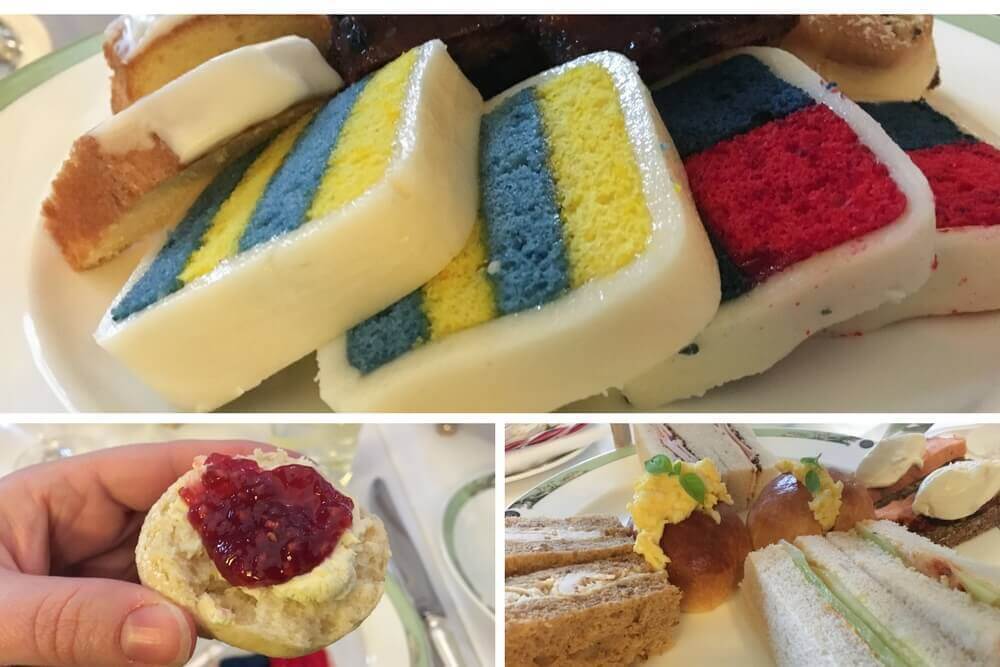 The Vintage Tea Tours experience was the complete opposite: fun, kitsch, and unlike any afternoon tea I've ever had. You drink out of a plastic travel mug with a silicon lid, and your tiered plate is on a non-slip mat so as not to slide off your table when Pauline takes a corner or hits an inevitable bump in the road. Unlike Art Tea at the Merrion, which is the height of class, what you get here is unique and fun, as well as something totally unlike what you'll find in other cities. The cost for this experience is slightly less, starting at €40 per person for "lower deck" seating, and ranging between €45 and €50 for a seat on Pauline's upper deck. For groups travelling for a hen/stagette/bachelorette trip, Vintage Tea Tours is a great activity. I also think it would be fun for kids 5 and up, although it's worth noting Pauline doesn't have seat belts. The truth is, this tour is so unique, I think most people would enjoy the experience.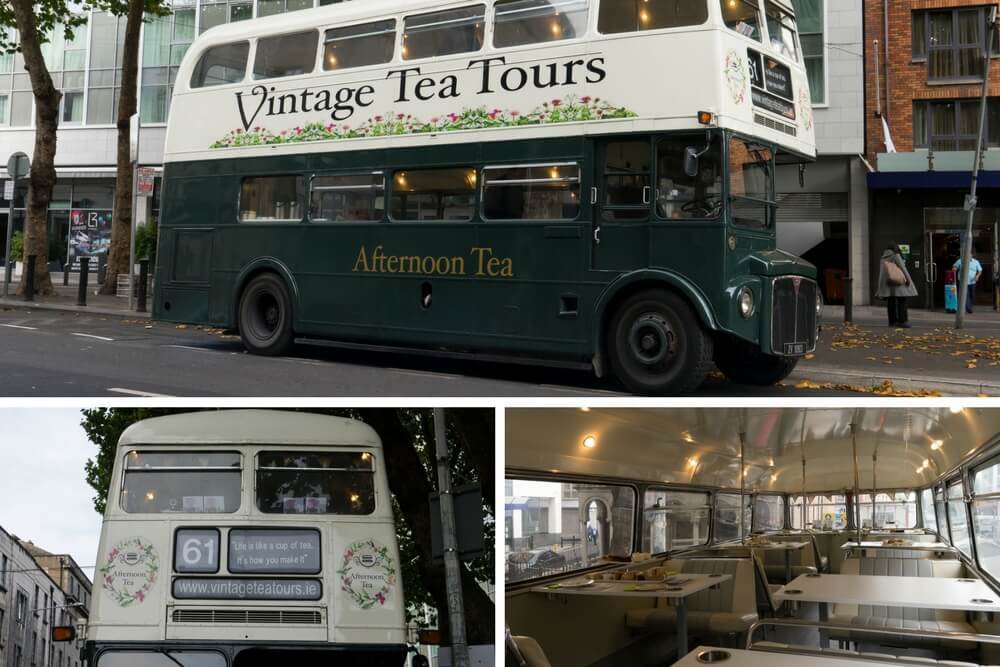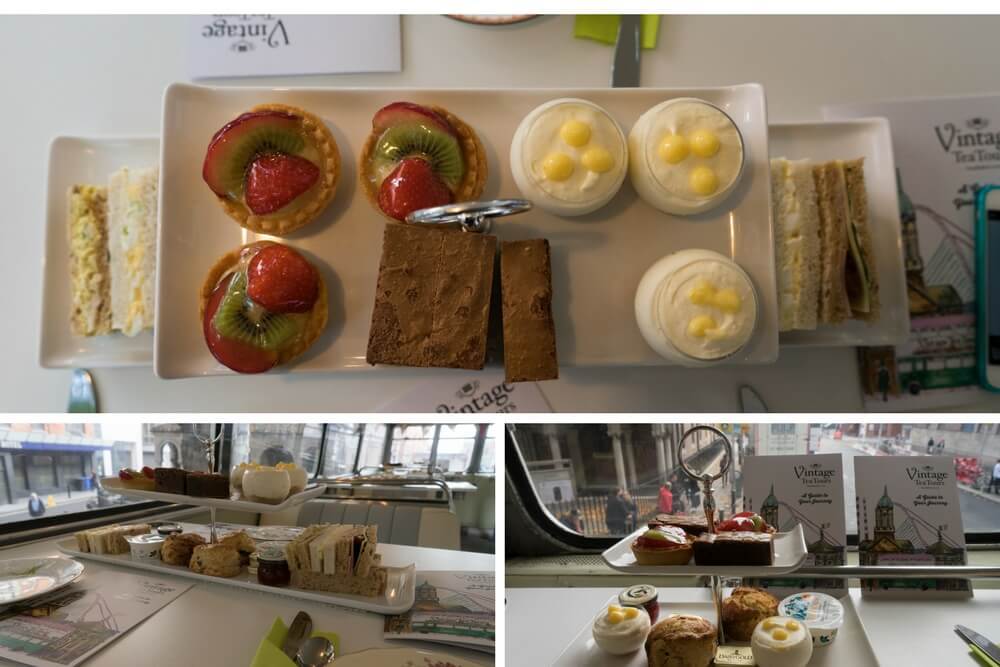 If you're looking for something elegant and sophisticated, Art Tea at the Merrion is the way to go. If, however, you're a sucker for the vintage aesthetic and are looking for something that's more lively and fun, then Vintage Tea Tours has you covered. And if time and money are no concern, by all means try both of these afternoon teas in Dublin!
---
Read More
Check Out These Related Posts Below, or Click Through to our Ireland Home Page to Plan Your Trip!