Budapest Itinerary: A Complete 3 Day Budapest Itinerary, Including Things To Do in Budapest, the Best Places to Eat in Budapest (and What to Try), and Tour Ideas. Written by a Canadian Travel Blogger Living in Budapest.


We first visited Budapest back in 2012, and immediately fell in love after just 48 hours in the city. We came back in the summer of 2016 for a three-week visit, and in January 2017 took the plunge and decided to apply for residency in Hungary, which the government granted us. Now, Budapest is our home base, and we spend our time exploring the city, and (increasingly) the lovely Hungarian and central European towns within easy reach from here.
Back in 2012, we were both mesmerized by Budapest, and I described the city like this:
If Beauty and the Beast got together and had a baby, that baby would be a sexy beast, and it would almost surely live in Budapest. It's pretty — like watercolor paintings pretty — with a gritty undertone…
I stand by that statement, but after spending more and more time in the city over the years, I'd also add that Budapest is hella COOL. It's young, it's fun, and it's unpretentious. Even if you're not into a bar/pub scene, or are parents travelling with young kids, or mature adults visiting Budapest before a river cruise, I'm confident Budapest's restaurant and dining scene, gorgeous architecture, museums and parks, history, and scenery will make you fall in love with this city, just as we have.
We spent a total of 48-hours in Budapest on our first visit, and were able to do and see pretty much everything we wanted to, although it was a bit tight: having come from Canada, we were severely jet-lagged and woke up really early. Had we slept in a bit and gotten our days started at 9am or later, we probably would have needed another day. Now that I know the city better, I'd say 72 hours in Budapest is the minimum I'd recommend spending here, or at the very least, 2.5 days (like Friday afternoon to Sunday night). But I also know that's not always possible, so have tried to put together a Budapest itinerary (several, actually) that will let you enjoy the city, even if you're extremely short on time.
This post is an UPDATE of the Budapest itinerary I wrote after that very first visit. Now that we know the city better, I've shuffled things around, added even more things to do, as well as kept most of our original things to do. I've broken the post up by first describing what I think are the highlights and 'must visits,' along with some key 'how to' information for each, and then recommending a few different options for how to visit in the form of different Budapest itineraries. It turned into a monster post, which hopefully is a good thing when it comes to planning your own Budapest itinerary and travel plans. Because there's so much information, I've added a table of contents to make navigating a bit easier.
The hope is I've given you enough info to choose a Budapest itinerary that covers all the main highlights you want to visit, a few cool and lesser known things you might be interested in, and some ideas for activities that suit special interests, like food or history tourism. We've been living in Budapest since January 2017, and we're still at the 'scratch the surface' stage of uncovering the city. So this is what I know about the city SO FAR. The idea is we'll continue to uncover more and more the longer we live here, and pass that on to you.
---
Planning a Trip to Budapest and Central Europe? Be sure to check out our Free Travel Guides page, where we have Where to Stay Neighborhood Guides for Budapest, Prague, Vienna, Bratislava, and Berlin, and lots more
---
Budapest Itinerary: A Quick Guide to Finding The Best Things to Do in Budapest
If you're planning a visit to Budapest, we're here to help! After visiting Budapest twice as tourists, we now LIVE here, and get to spend our days exploring the city and finding the best things to do in Budapest.
We've created a few different Budapest itineraries below, as well as outlining what we think are the best things to do in the city. If you're looking for something specific, you can use these links to jump directly to the attraction or Budapest itinerary (24 hour, 48 hour, etc) you think is best for your trip. If you're wondering Where to Stay in Budapest, check out our Budapest Neighborhood Guide.
Best Things to Do in Budapest: 17 Things to Do in Buda and Pest
Things to Do in Pest: Pest lies on the east bank of the Danube, and is the most lively part of the city. In terms of tourist attractions, this is where you'll find the lovely parliament building, the House of Terror Museum, Heroes' Square, Széchenyi Baths, the Jewish Quarter, and the Central Market Hall. It's also where you'll find the city's famous ruin pubs, great cafés, and shopping.
Things to Do in Buda: Whereas Pest is lively and urban, Buda feels quite a bit sleepier. Filled with plenty of residential areas, and some neighborhoods that are slowly catching up to the coolness you'll find in Pest, Buda is pretty, tranquil and romantic. This is where you'll find some of the best views in the city, and is where Buda Castle and Fisherman's Bastion is located.
Castle Hill Funicular: Zip from the river bank up to the castle hill on this nearly 150-year-old funicular.
Buda Castle & Fisherman's Bastion: Explore pretty, quiet streets and catch the spectacular views of Pest from the top.
Gellért Hill: If you're looking for the best photo of Budapest from above, this is the place to get it. If you don't want to deal with the crowds at Széchenyi Baths, try the quieter version at Gellert.
Find Your Budapest Itinerary: 3 Budapest Itineraries for Your Trip
Budapest Travel Tips & Further Info
---
Things to Do in Pest: Budapest Highlights & Things to Do
Visit the Hungarian Parliament Building
Without a doubt, the beautiful Hungarian Parliament building is a star attraction on any Budapest itinerary. Note, the parliament building has to be visited with a guide, and there are three options for going about it.
Pre-Book a Ticket & Tour via the official ticket and tour portal Jegymester.hu, which is like a Hungarian Ticket Master. You'll have to print the tickets out in advance, and may have to wait in line still (I'm going to work on figuring that out over the coming months). This will include your entrance, and your tour with an official staff guide.
Go to the Visitor Centre on the day of your visit, and wait in line to buy a ticket. In the off season, this theoretically shouldn't be a problem, but during the summer, expect to wait up to an hour to buy tickets. As with above, this will include your entrance, and your tour with an official staff guide.
Pre-book your ticket and tour through a third party, like Get Your Guide. Like a lot of things in life, this option is more expensive, but more convenient. Whether it's worth the extra cash or not largely depends on you.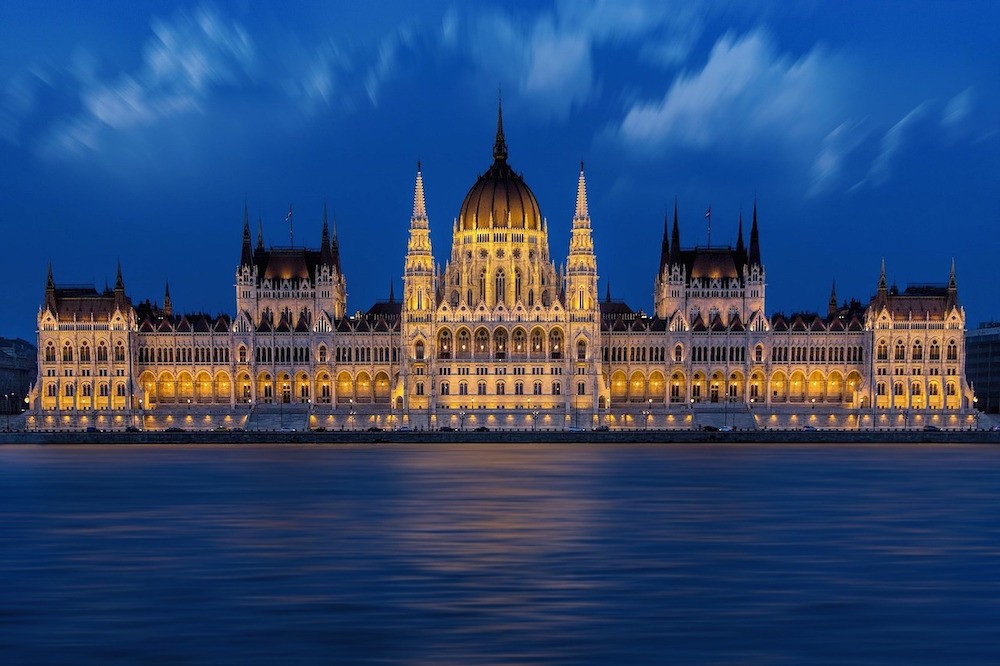 The Parliament Building. Photo via Pixabay by walkerssk is licensed under CC0 Public Domain.
Note, there's a different entry fee to the Parliament for EU vs. non-EU citizens. The "basic" price (entrance and official staff guide) is Ft 2,000 for EU citizens, and Ft. 5,200 for non-EU citizens. That's the price you'll pay if you opt for the first two bullet points above. You'll have to show your passport, so be sure to: 1) bring your passport on your day of visit, and 2) choose the right ticket.
If you choose to pre-book your ticket and tour through a third-party like Get Your Guide, expect to pay a bit more than double the "basic price" (it fluctuates according to exchange rates, of course). However, it will include transportation to and from your hotel, and will possibly be a bit more hassle free.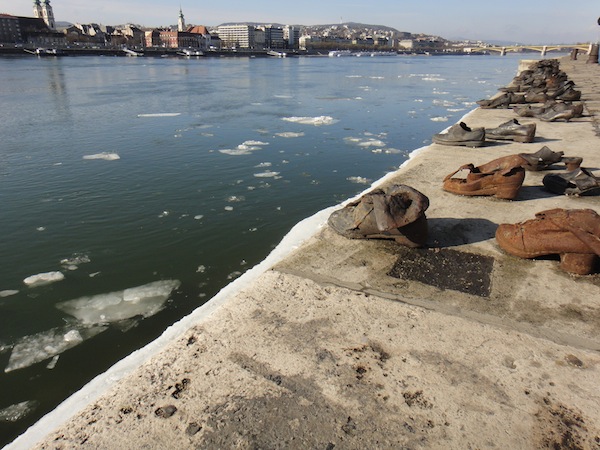 Budapest's Shoes on the Danube monument
Shoes on the Danube
Close to the Parliament building, and along the Danube in the direction of the Chain Bridge, you'll find the Shoes on the Danube sculptures.
This is a rather touching monument to some of Budapest's Jewish residents who, during WWII, were marched to the banks of the Danube, forced to remove their shoes, and shot by the Arrow Cross into the river. The event is memorialized with a plaque and bronze shoe statues in the place it happened. At any time of year, you'll find sombre visitors paying their respects, candles lit in memorial, and flowers placed by the shoes.
Despite the sombre mood of the monument, the views along this stretch of the river, looking back at the Chain Bridge, are nothing short of spectacular.
IMPORTANT NOTE: It's worth mentioning that it can get pretty slushy along this stretch of the river walk during wet or winter weather, and wearing practical shoes will be directly correlated to your ability to enjoy the experience. I'm speaking from personal experience here: on our first trip, I was woefully unprepared with canvas slip-ons and my feet got soaking wet and freezing cold.
Now that I'm a more experienced Central Europe traveller, I recommend high-quality, ankle-height gum boots for Spring travel, and a warmer winter boot in the depths of November to February (mine are Merrell brand, but anything like that should do!). In summer, you should be good with any type of normal walking shoe, although I do recommend you get something with a stiff sole, as lower-quality shoes can wreak havoc on your feet when you're on cobblestones all day. I got plantar fasciitis while living in Prague, and it was due to consistently wearing cheap shoes on cobblestones. Now, I look for trusted brands like Clarks, Ecco, or Easy Spirit.
If you're based in the US, Zappos is the undisputed king of online footwear shopping, and has a tonne of cute + practical women's rain booties and winter boots that would make a great addition to your central Europe packing list. Something like these fleece-lined duck booties or these slip-on Bogs would be my choice for wet weather. For men, I'd look at something like this pair.
The Chain Bridge
The first proper bridge to span the Danube in Budapest, the Chain Bridge dates back to 1849 (although the current iteration is newer, as the original was mostly blown up during WWII).
Without a doubt, it's Budapest's most beautiful bridge, with a pair of stone lions standing sentry on either bank of the Danube. The Chain Bridge is a busy traffic bridge, but you can also walk across on either side, and it's absolutely worth doing so for great views of the city and the river.
While any time of day is great for a stroll across the Chain Bridge, I'd recommend you make the effort to visit during early morning or late afternoon at some point during your stay, especially if you get a clear day with blue sky — the light at those times of day makes it an especially lovely view!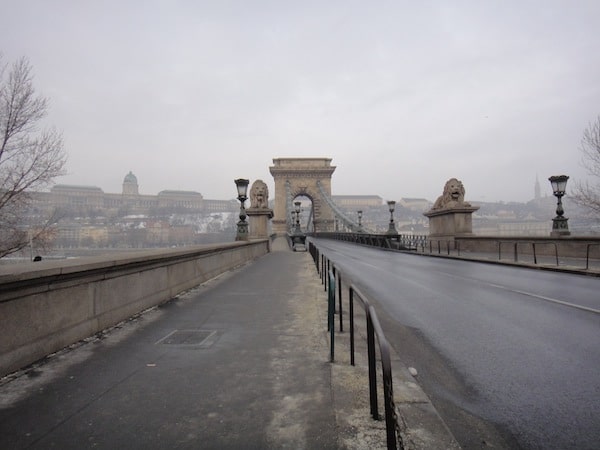 The Chain Bridge, early Sunday morning in winter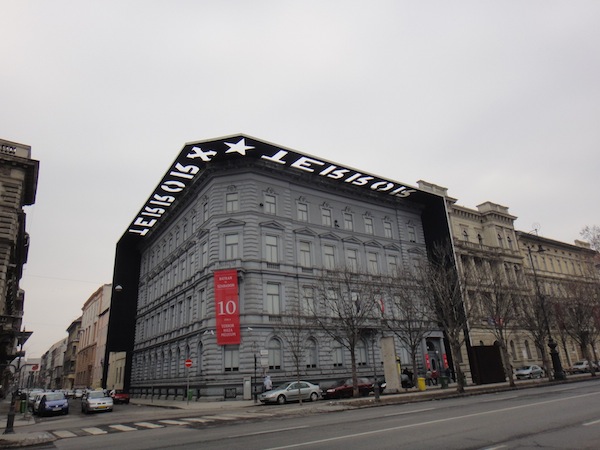 House of Terror Museum
House of Terror Museum
With an impossible-to-miss roof imprinted with the word TERROR, the House of Terror is a must-visit for anyone who's interested in what life was life for Hungarians living through the 20th century. It also serves as a monument to the specific human suffering that took place within the museum building, which was used by the fascist Arrow Cross Party and the communist AVH secret police.
I personally loved the museum, but Geoff didn't. It makes use of a lot multi-media, including music and video, which I thought imparted a certain feeling and contributed to the overall ambience of dread and doom. However, I can see how it's not for everyone, as it's definitely not a traditional museum. I would also say it's definitely not for young children, as it delves into the dark parts of humanity in a pretty frank way. Teenagers and above would probably be okay.
Note, the museum is closed on Mondays. Check their website for hours and tickets.
Heroes' Square
At the top end of Andrássy Ut. — the upmarket boulevard that runs from City Park down to the Basilica — you'll find Heroes' Square (Hősök tere), a vast public square with important monuments, and the site of several important events in recent history.
The center of the square features the Millennium Monument, built between 1896 and 1900 to celebrate the Millennium. In Hungary, the Millennium refers to the year 1896, which marked 1,000 years since the birth of Hungary, when Hungarian tribes entered (and conquered) the Carpathian basin area. Much of the construction along Andrássy Avenue as well as the (adorable!) Metro Line 1 was completed around this time as part of Millennium celebrations, which was a time of great national pride despite Hungary playing second-fiddle in the Austro-Hungarian Empire at the time.
You can walk from St. Stephen's Basilica to Heroes' Square in about 30 minutes, or take the metro (M1) 6 stops.
Heroes' Square at the end of Andrássy út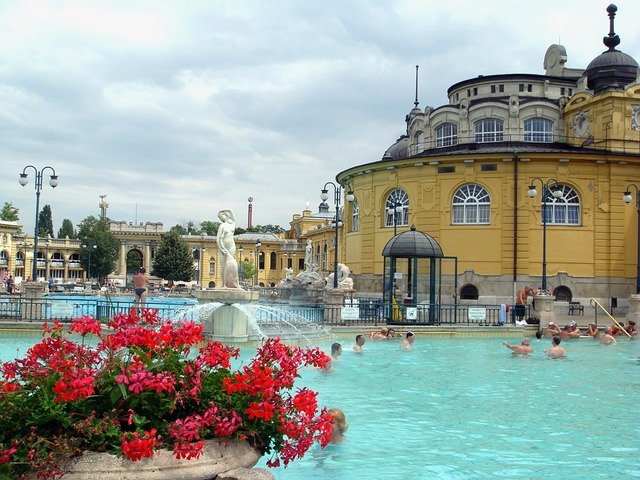 Szechenyi Baths. Photo via Pixabay by javirue is licensed under CC0 Public Domain.
Széchenyi Baths
Beyond Heroes' Square lies City Park, a very large rectangle of green space at the end of Andrássy Ut. And within the park itself lies Budapest's most famous thermal baths: Széchenyi.
Even if you've never heard the name, you've probably seen pictures of men playing chess in the bright blue waters of the baths, steam rising around them and surrounded by beautiful butter yellow buildings. Completed in 1913, the Széchenyi baths are the largest in Europe, and are very high-up on most people's must-do lists in Budapest.
Now, a full disclosure: we've never been to these baths. We've been to other baths in Budapest, but not Széchenyi. And locals are a bit divided about whether they'll go to Széchenyi, or not. It's turned into a bit of a tourist attraction, including hosting spa parties in the summers. And locals seem to love debating whether the baths are cleaned frequently enough. Some Budapesters seem very happy to go, and others prefer going to the quieter, more therapeutic-focused baths.
Tickets start at Ft 4,600 (roughly US $15 / €15 at the time of writing) for a morning ticket, and go up from there. There's a discount of 10% to 20% if you have a Budapest Card. You can also pre-buy skip-the-line tickets for about US $24.00, a premium that is probably worth paying during high season or on weekends to get in and out faster (but probably not worth it if you're visiting during shoulder and off-season during weekdays).
The Basilica
I generally feel that churches are like castles: best admired from the outside. But I might have to make an exception for this one, which is apparently one of the top 10 most photographed buildings in the world. While I haven't been inside quite yet, it's on my to-do list. I'm particularly interested in heading up to the cupola for the panoramic view (500 ft). You can also catch an organ concert in the church (we did this at St. Nicholas Church in Prague, and it was a great experience!).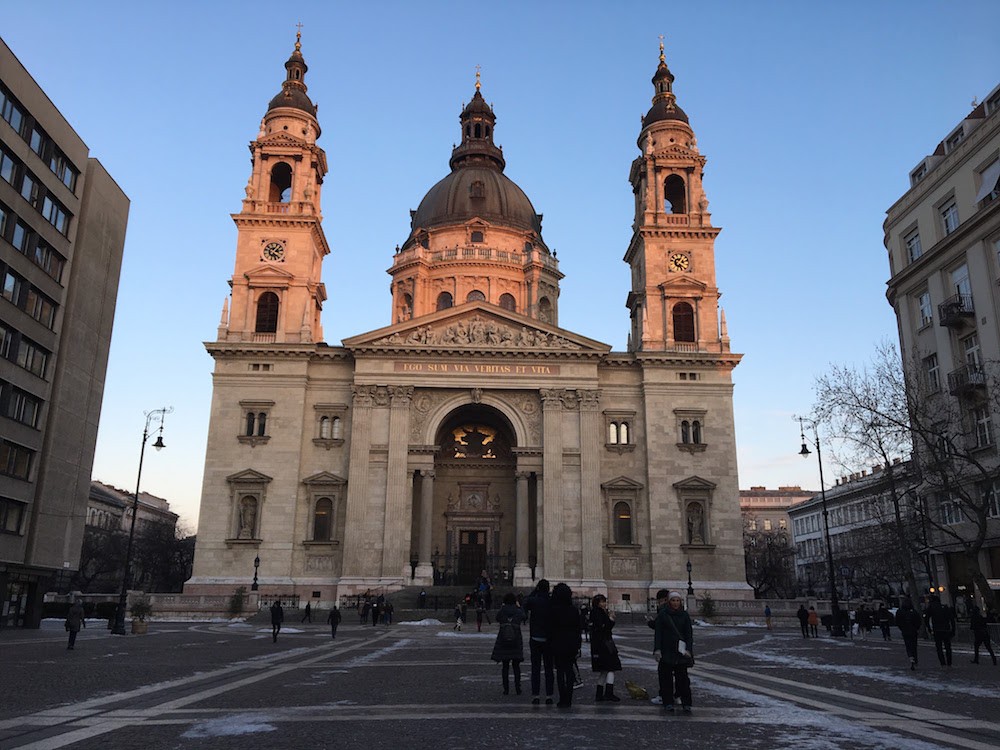 St. Stephen's Basilica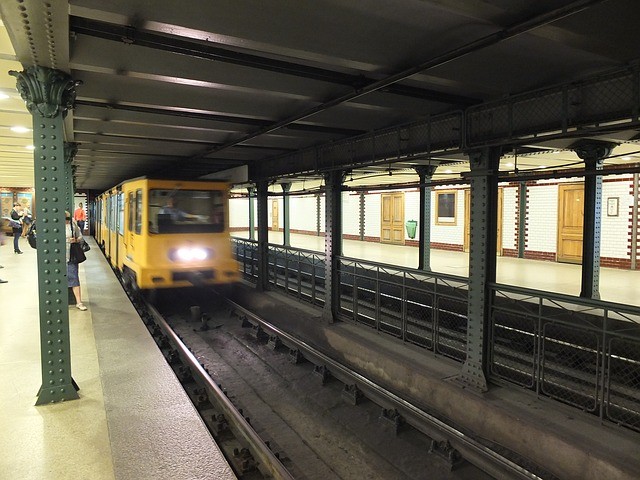 The Budapest Metro. Photo via Pixabay by beata_bm is licensed under CC0 Public Domain.
The M1 Millennium Line Metro
Fun Fact: Budapest is home to the third-oldest metro in the world, and the oldest on the European mainland. The M1 is still functional, and looks pretty much the same as it would have when it opened to the public back in the 1890s. It's even listed as a UNESCO world heritage site!!!
Budapesters are very fond of the M1 – it's everyone's favorite line, and is really darn cute. The cars are much smaller and narrower than on the other lines (although, it's not a small as Glasgow's adorable metro), and the stations are quite lovely as well.
While I can't say it's a must-see, it is well worth the price of a ticket to experience a charming piece of history. And chances are you'll take it at some point in Budapest.
Wander the Jewish Quarter
This is Budapest's nightlife hub, and is home to many great bars and restaurants that get very lively in the evenings and on weekends. During the day, it's worth visiting this area to learn more about Budapest's Jewish history and community (there's a highly-rated tour if you want to visit with a knowledgeable guide), and at night it's the place to be for food and drink. A few sites to check out include:
The Great Synagogue on Dohány Street — The largest synagogue in Europe, it's immediately recognizable for it's grand and imposing presence and architecture. Still in use by the community, you can visit a number of buildings and points of interest within the complex, including a Holocaust memorial and a museum.
The Carl Lutz Memorial, a striking statue at 10 Dob utca that commemorates the Swiss diplomat's successful efforts to save more than 62,000 Hungarian Jews during WWII.
Gozsdu Udvar, a passageway lined with bars and cafés on the ground level, and residential buildings up above. A good spot if you're hungry!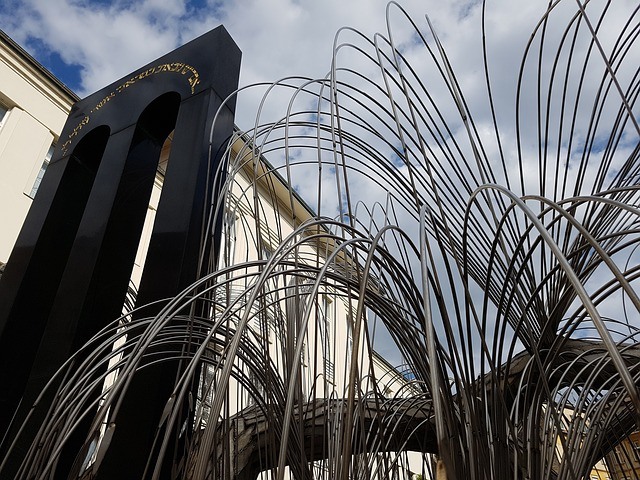 Tree of Life Memorial. Photo via Pixabay by karinkarin is licensed under CC0 Public Domain.
All throughout the Jewish District, you'll find some great street art on the sides of buildings. My favorite (so far) is 'Budapest Ain't So Small' on Kazinczy utca (near Mika Kert at #47). It's a map of Hungary, with points showing interesting places to visit beyond the capital, and it makes a statement about how Budapest influences everything beyond the capital, too.
If you're hungry while in the area, jump into Kőleves (Kazinczy u. 41) for some (non-Kosher) Hungarian Jewish food. I can recommend the matzo ball soup!
In the evenings, check out the ruin pubs in the area. Szimpla Kert* is probably the most famous, and is therefore very touristy (but still fun). You can find it at Kazinczy u. 14. (*Kert means terrace in Hungarian – you will see it everywhere, attached to the names of bars and restaurants). On Sundays there's a flea market at Szimpla.
There are loads of great cafés, pubs, wine bars, and restaurants all throughout the Jewish Quarter. Just start walking and you're sure to run into something!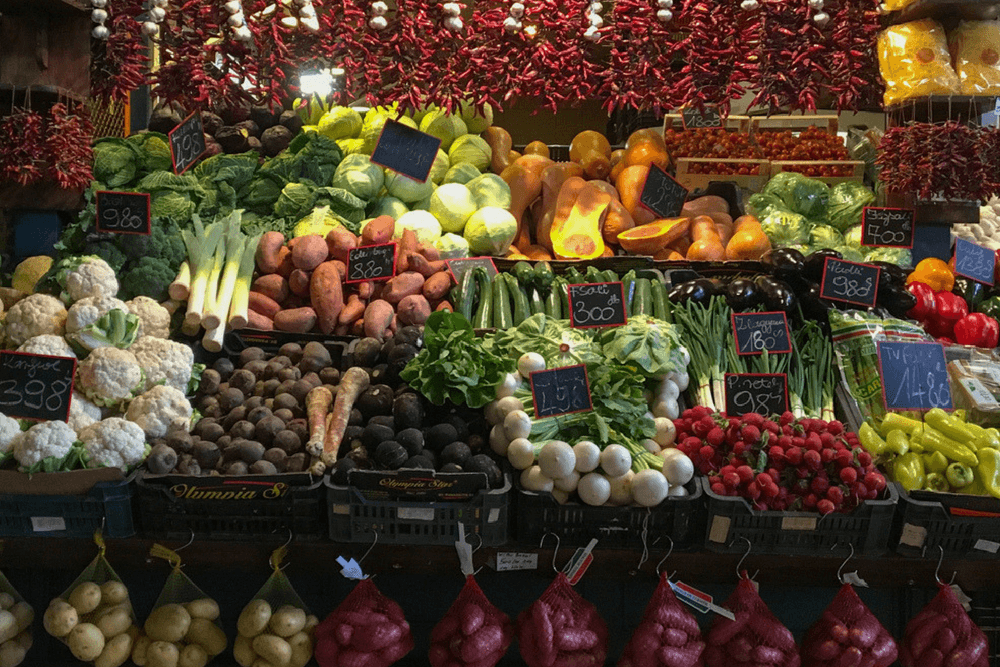 Beautifully-presented veggies and dried paprika peppers in the Central Market
Central Market Hall
Described to me by a tour guide as Budapest's 'Cathedral of Food,' the Central Market Hall lies at the end of Váci utca, which serves as a pedestrianized high street running through the 5th district.
When you enter via the main entrance (near Liberty Bridge), stick to the center and right-side aisles, as these are the most beautiful parts of the market (on the right aisle, it's much more functional, geared toward locals doing their grocery shopping). This is a great place to see, taste, and buy the ingredients of typical Hungarian dishes and meals: dried paprika peppers, the sinus-clearing pálinka fruit brandy, sausages, and pickled produce, among other things. I could easily spend an hour or more here, wandering and asking for samples!
Enjoy the View from the Whale Building
If the weather is nice, we like to go to the Bálna (whale) building, which is just beyond the back entrance of the Central Market Hall, and is immediately recognizable for its modern architecture.
Built with the intention of becoming a shopping and dining hub, the whale has been a bit of a bust to-date on the shopping side of things, and the selection of stores inside is still a bit disappointing (although there are a few craft and jewelry artisan stalls). That said, it's still worth a visit on a nice day, as the exterior has a nice sidewalk terrace area with great (unobstructed) views along the Danube and of Gellért Hill. You can grab a coffee or a meal during the day, or some drinks at night. It gets very busy in the summer during nice weather, so don't go expecting to get a table — which is fine, as you can stand on the terrace with your drink.
The Bálna is about a 30-minute walk from the Chain Bridge, or you can take Tram #2 along the river, and be there in about 10 minutes.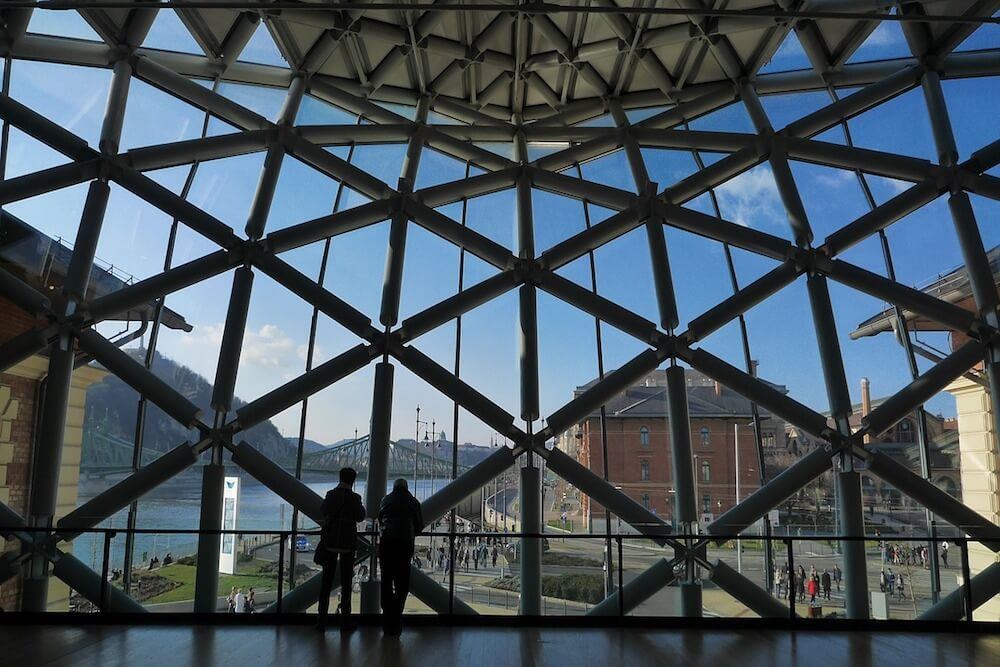 The Whale Building in Budapest is surrounded by cafes and beer gardens in the summer
New York Café
Considered one of the most beautiful cafés in the world, New York Café isn't a great spot to go if you're looking for a slice of local life, as you're pretty much guaranteed to be sitting next to other tourists. It is, however, beautiful, and gives you a hint of what Budapest was like back at the turn of the last century: La Belle Époque.
While it's easy to imagine poets, artists, and intellectuals writing and debating in the café, it's hard to swallow paying €7 for a cappuccino in a city where the going rate in artisan coffee shops is more like €2, and I honestly don't know if I can recommend visiting. As it is gorgeous, I'd say it's worth the splurge if you're not travelling on a budget. If you are on a budget, or you're just looking for a killer cup of coffee, London Coffee Society and WARMCUP are both within a 3 minute walk of New York Cafe, and are a great bet!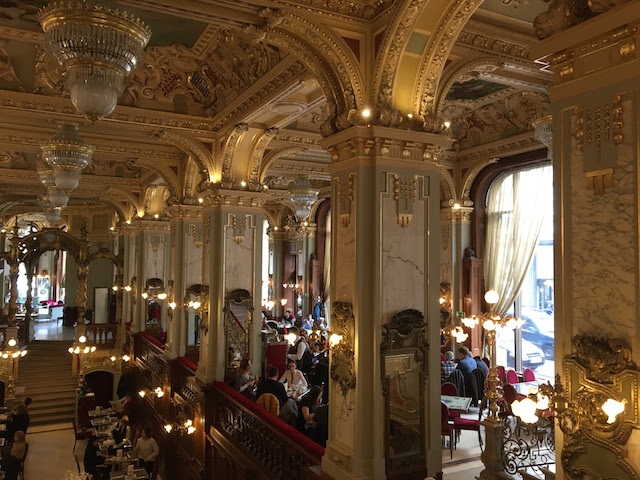 New York Cafe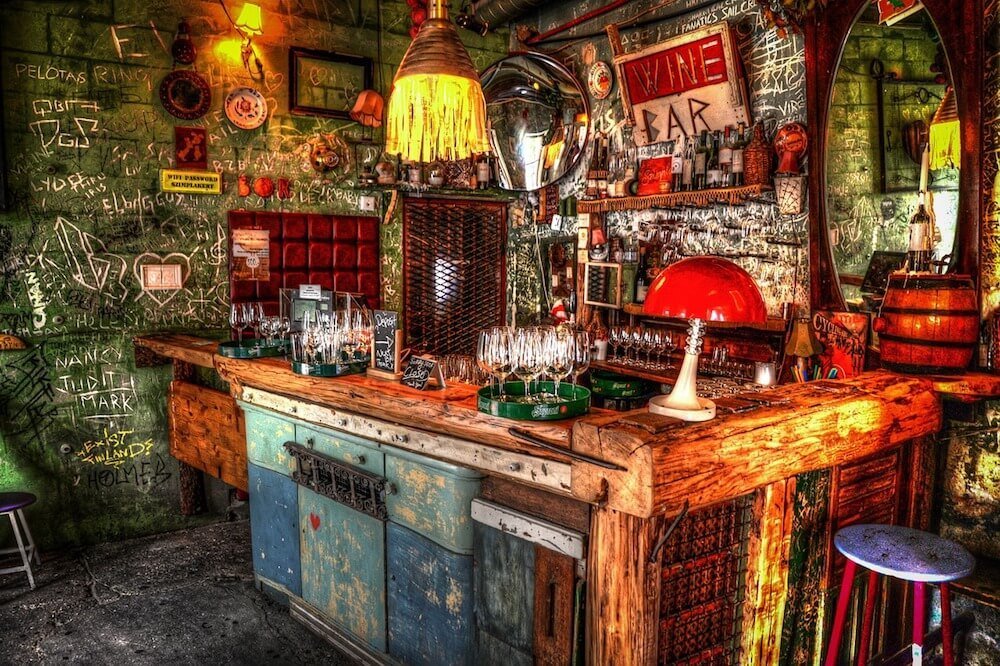 A Ruin Bar in Budapest- Photo via Pixabay
Ruin Pubs
Ruin pubs are a pretty uniquely Budapest thing, developing over the last one or two decades due to the prevalence of cheap real estate (at the time) and the city's willingness to develop a nightlife scene.
Ruin pubs started when entrepreneurs found and bought abandoned buildings, did the minimum required to make them safe, and filled them with a mishmash of furniture and cheap drinks. Some ruin pubs are inside buildings, and some are make-shift terraces made from the corridors between two buildings. They all have the vague feeling of being in Grandma's house, or at the very least a bar furnished from garage sale finds. And they are very popular.
The most famous is Szimpla, in the Jewish Quarter, but it's far from the only ruin pub in Budapest. There's a list here, but I can't speak to its quality, as we certainly haven't been to all of those places. A few places we can vouch for include:
Szimpla, in the 7th. This is probably the most famous of the ruin pubs, and consists of a terrace (kert) and interior space. It's open during the day and in the evenings, and mixes concerts and DJs at night with flea markets on (select) weekend days. It has more of a pub/beer garden feel than a nightclub (at least when we've visited), making it enjoyable for the more mature crowd, as well as the youngens. In addition to beer and cocktails, there's a wine section. As this is the most famous of the ruin pubs, it's also the most touristy.
Élesztő is in the 9th, and a wee bit of a walk away from the typical tourist areas of the 5th, 6th, and 7th. But if you're willing to go a bit off the typical tourist path, it's got a fantastic selection of craft beer, and is a lot of fun. This is another 'pub' style place (read: nice for an older crowd, too), with a central terrace surrounded by small interior spaces to huddle if the weather is bad. There's also a wine bar.
Csendes is an interior-only pub-style ruin pub that we like. It's relatively small and looks like Grandma's house, and sells decent-quality wines as well as beer.
Anker't is a nice garden pub in a former factory. They have fresh, unpasteurized Czech pilsner on tap, which is a rarity in Budapest.
Things to Do in Buda Budapest Highlights & Things to Do
Buda Castle Funicular
On the other side of the Chain Bridge, you'll find the Buda* side of the river, where there's a funicular that takes you up to the top of Castle Hill. The funicular costs 1,200 one-way, or 1,800 return (which is about US $4 one-way, or US $6.20 return). If you don't want to shell out for the ride, you can also walk up (about 20 minutes) or take public bus #16 from Clark Ádám tér. If you buy tickets on-board from the driver, they'll cost 450 Forint.
* Budapest used to be two different cities: Buda and Pest (which is pronounced more like Pesht). Buda lies in the west bank of the Danube, and contains the Castle, among other things. Pest lies on the east bank, and contains the Parliament building, and much more. Budapesters still make a distinction between the two sides of the city, Buda and Pest.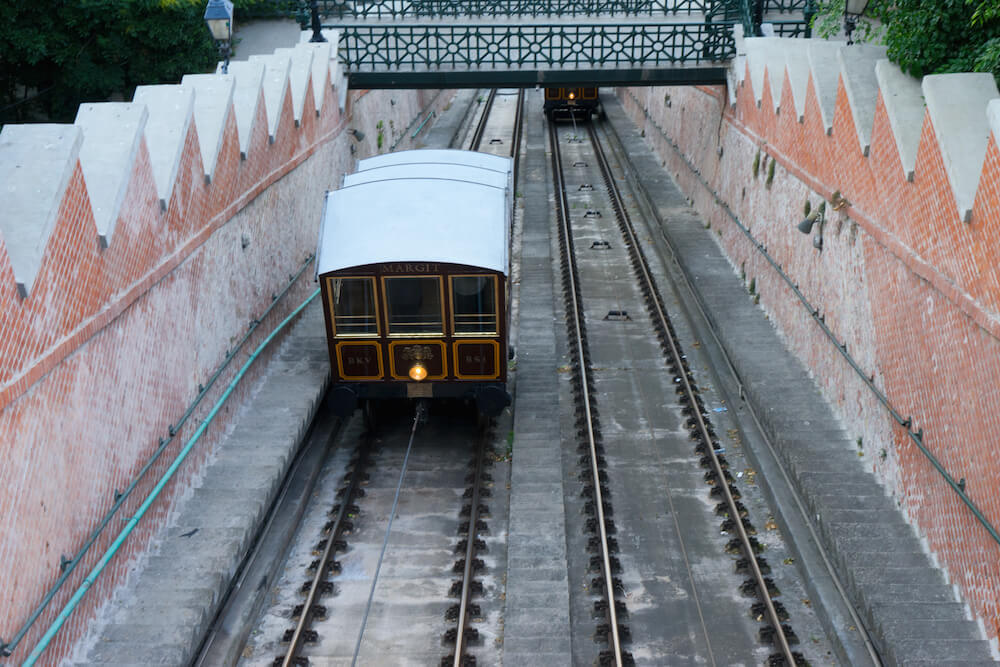 The Buda Castle funicular
Lovely Fisherman's Bastion
Buda Castle & Fisherman's Bastion
Once you get to the top of Castle Hill, you'll probably want to spend a few hours up there, as it has some great views of the Pest side of the city, as well as some of Buda's main attractions: the Castle and Presidential Palace, Matthias Church and Fisherman's Bastion. There's also loads of old, pretty buildings painted in pastels, and winding cobbled streets. And quite a few restaurants to choose from if you're ready for lunch!
In my opinion, the Buda Castle itself is the least interesting part of this part of Budapest. It's a palace, rather than a castle, and it's quite modern. I think many people (us included) choose not to go into the castle, but if you do you'll find the National Gallery and the History Museum (1 of 3 in Budapest), gardens and a museum. The presidential palace has a nice changing of the guards ceremony every day, at the top of the hour from 9:00 am to 5:00 pm.
Once you've checked out the palace, head over to Matthias Church and Fisherman's Bastion, the fortress-esque birthday-cake-looking structure facing Pest, near the church.
The church is lovely, inside and out, has interesting history, and you can pay extra to up the bell tower. It's HUF 1,500 to enter the church, and another HUF 1,500 to go up the tower.
As with any church, you need to dress appropriately if you want to enter. As Budapest gets really hot in the summer, I've found the best option for keeping cool is wearing a sleeveless shirt/dress, and keeping a scarf in my bag to cover my shoulders when I'm visiting churches.
Also in this area is Hospital in the Rock, an underground cave network that was used during WWII. We haven't visited this yet, so unfortunately I can't say whether it's worth the time.
TRAVEL TIP: If you're in Budapest for a romantic trip or want some peace and quiet at night, Castle Hill is one of the prettiest and most tranquil areas of the city to stay. Much of the professional activity in this area is government, and this part of the city really dies down in the evenings when the tourists go back to the Pest side of the city, and the government workers go home – perfect for wandering lonely streets with your love! There are also spectacular views in the evening and at night from Fisherman's Bastion. We'd suggest checking out Pest-Buda Hotel or its sister hotel, Balthazar in this area. They're both family-owned boutique hotels, and are both highly rated. We also have a full list of Budapest's best neighborhoods to stay if you need more ideas.
Enjoy the View on Gellért Hill
Gellert Hill stands high above the city, and offers great views. At the bottom of the hill, you'll find the Gellert Baths, where you can melt away any stress by soaking in the pools and getting a massage (hours and treatments available on their website). Note, the baths can really take it out of you, so it's best not to plan too much after an afternoon at the baths!
To get to the top of Gellert Hill, you need to take Bus #27 from Móricz Zsigmond körtér, followed by a bit of a walk.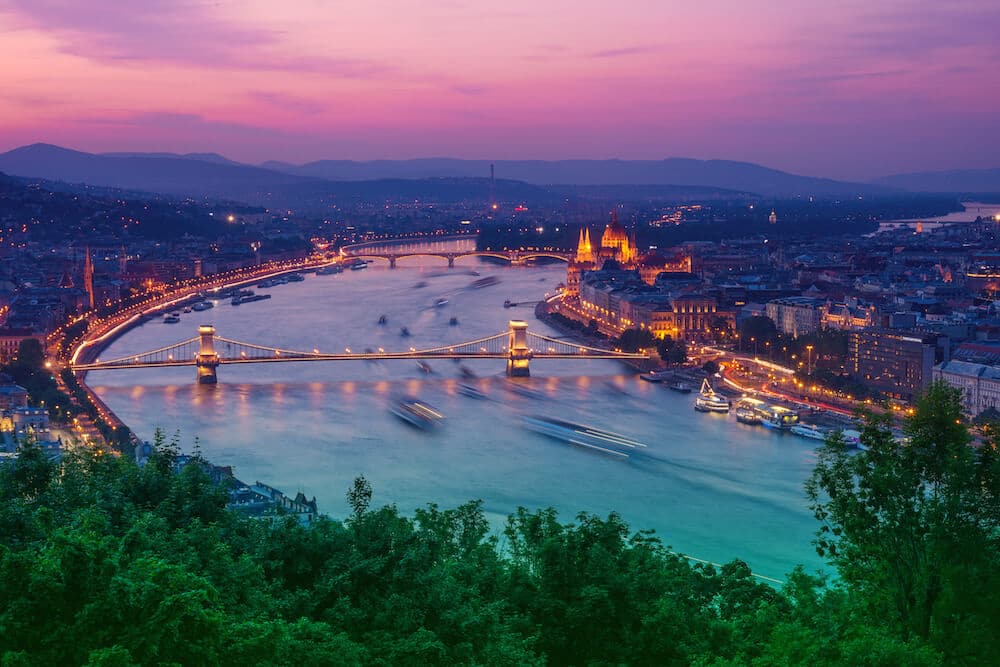 The view from the Citadel atop Gellert Hill
---
48 or 72 Hours Budapest Itinerary: Different Budapest Itineraries
I've put together a few different Budapest itineraries based on spending 2 or 3 days in the city. If you only have one day in Budapest, I'd suggest you look at taking an All-in-One Budapest Walking Tour or getting a pass for one of the Hop-on-Hop-off bus tours. Because things are a bit spread out, these will probably give you the best chance of seeing all the main sites in a super compressed timeframe.
For the different itineraries below, I've started by creating a 48-hour itinerary that best mirrors the kind of travel we like to do — mostly independent exploration, with a few tours and ticketed events. I've then added a few different 'Day 3' add-ons that serve different travel styles and interests if you can swing 72 hours, and want to build a 3-day Budapest itinerary. I've also added an alternative to the 48 hour itinerary in case you don't like our suggestions :)
The Main Sites in 48 Hours
This is a fast and busy Budapest itinerary that will give you the highlights of the city, including a few tours that go into more depth about the city's Jewish community and history, and life under communism.
Things to Pre-Book: ✓ Széchenyi Baths Skip-the-Line Ticket ✓ Jewish History Walking Tour ✓ St. Stephen's Organ Concert ✓ Communism Walking Tour
Day 1:
Morning: Start your day around 8am at New York Café for an expensive coffee in a beautiful setting. If you're on a budget, just grab a coffee and some photos here, and pick up breakfast in one of the bakeries or Spar supermarkets nearby. If you're a budget traveller, indulge in a luxurious breakfast here.
Once you're finished, take the metro from Blaha Lujza tér (M2, red) to Heroes' Square/Hősök tere (you'll have to switch at Deák Ferenc tér), and visit the Széchenyi baths. When you're finished, walk to nearby Heroes' Square.
Lunch & Afternoon: Take the M1 metro (the old one!) to Deák Ferenc tér, and grab lunch at Belvárosi Disznótoros (Király u. 1d), a butcher where you can choose your choice of grilled chicken, pork, beef or fish, plus a multitude of salads, pickled veggies, and starchy sides, for about €4 per person. They speak English, so don't be intimidated!
Pre-book a 2pm departure on the highly-rated Jewish Heritage Walking tour, and learn about the history of this still-active community in Budapest. There's both a 2-hour and 4-hour tour to choose from.
Evening: Catch an organ concert in St. Stephen's cathedral, then take and evening cruise on the Danube to see the parliament building at night.
Day 2:
Morning: Start your day near the Parliament Building, picking up a coffee at the nearby Espresso Embassy. From there, walk toward the Chain Bridge along the Danube, stopping at the Shoes on the Danube monument, before continuing on to the Chain Bridge. Take the funicular up Castle Hill, and spend an hour or two wandering the pretty streets and enjoying the view from Fisherman's Bastion. If you have time, go into Matthias Church, and climb the tower.
Afternoon: Take bus #16 from the top of Castle Hill to Deák Ferenc tér, and then walk to the Opera House to join the 14:30 Communism tour (pre-book). Learn about the life under communism, from the 1956 revolution to the fall of the iron curtain.
If you don't want to do a tour, but would like to learn about Hungary during WWII and communism, visit the House of Terror Museum instead.
Evening: Visit a ruin pub or a terrace bar in the evening, or go taste some Hungarian wine at one of the many wine bars in the city. The Jewish Quarter is the liveliest part of the city in the evenings!
Day 3 Add-Ons
Food & Drink
If you want to stay in the city, book a Budapest cooking class (includes a market trip) for the morning, and a wine tasting for the second part of the day. If the weather is nice, check out Budapest's street-food scene (mostly concentrated in the Jewish quarter) for another meal.
If you'd prefer to get out of the city, consider taking a day trip to one of the nearby wine regions. Get Your Guide offers a 4-hour visit to the Etyek wine region (which produces mostly white and sparkling wines), with a stop at several family-run wineries with meats and cheeses included. Check prices and availability.
Architecture
For more intellectually-themed tours, we like using Context Travel, which we used for the first time in Rome (and were blown away by the quality of tours). They only hire PhD and Masters level experts in each field, which allows the tours to feel more like a university course than your typical tour. In Rome, we visited Ostia Antica with an actual Archaeologist, toured the historical centre with a Restoration Architect, and visited the Vatican Museums with an Art Historian, for example.
If you're interested in learning more about the beautiful art nouveau around the city, Context's Belle Epoque architecture tour should be a great start, and is lead by a local Architectural Historian. To see what else they have on offer, check out their Budapest tours home page for timing and availability.
Outdoors
If you're here in warmer months, head to Margaret Island, a massive public park, for a picnic and a walk around the perimeter. You may also want to take the public ferry to make your own DIY Danube river cruise (free if you have a public transport card).
If you're feeling really adventurous, check out this caving tour, which takes you through the elaborate cave system that lies under parts of Budapest. Not for the claustrophobic (or for me, personally), but certainly something unique and a bit different!
Day Trip from Budapest
On our first visit to Budapest, we independently visited Szentendre on a half-day trip out of the city.
Szentendre is a tiny town just outside of Budapest known for its resident artist/artisan population. It's very cute, but also quite deserted in the winter. We visited on a Sunday morning in February, and found the old town to be totally deserted as everyone was in church. The upside of this was we got some great photos without people, but it wasn't exactly the lively artisan town we'd hoped for. We wandered around for an hour or so, eventually finding a single café willing to sell us hot chocolate and pastries. When we were done, we wandered back into the freezing cold just in time to hear the bells of the town's two churches ring, releasing into the streets families who'd been at Sunday service. Gradually, the town woke up, stores opened their shutters, and restaurants put their menus out.
Looking back, it was pretty cool that, for about an hour, we had the town and all its charm and beauty to ourselves. This side trip is one of my favorite memories of our first trip to Hungary. That said, I'd really recommend this as a late spring, summer and early fall trip, when the whole 'lively artisan town' thing is in full swing.
Now, in theory, Szentendre is supposed to be easily reachable by transit, but we struggled a bit due to transit disruptions. When I look at Google maps, it looks like there are still disruptions due to construction. So while it's certainly possible, be aware it may take you a bit longer than planned. That said, I think you could do it on your own as a half-day trip.
If you're interested in seeing Szentendre and something else outside of Budapest, this Danube Bend Day Trip from Budapest looks like a decent tour option, and includes some Danube cruising, Visegrad Castle ruins (which look pretty cool), and Esztergom Cathedral, as well as some time in Szentendre. Transportation is a combo of coach/bus and boat.
Alternative 48-Hour Budapest Itinerary
Admittedly, the 48-hour Budapest itinerary I've outlined above doesn't allow for much in the way of in-depth visits to the different sites. It's more focused on being 'fast and furious' and cramming as much as possible into the limited time you have. If you'd prefer to take things a bit slower, however, I've outlined an alternative 2-day Budapest itinerary to consider.
Day 1: Buda
Morning: If you're staying in Pest, walk across the Chain Bridge and take the funicular up to Castle Hill (and if you're staying on Castle Hill, you're all set to go!) Spend your morning visiting Buda Castle (and the National Gallery), St. Matthias Church, and Fisherman's Bastion. This will take several hours, and take you through to lunch. Grab something light for lunch, or if you want something hearty, we've heard Pest-Buda Bistro isn't a bad choice for traditional Hungarian fare.
Afternoon: Climb up Gellert Hill, and then go relax the rest of the day away by soaking in the pools and/or getting a massage or treatment at the Gellert Baths (hours and treatments available on their website). Note, the baths can really take it out of you, so it's best not to plan too much after an afternoon at the baths!
Evening: If you have energy left after your trip to the baths, head over to the Pest side of the river for dinner and/or drinks. Around the Basilica and along Vaci Utca are traditionally 'touristy' spots that will provide a pretty safe intro to Pest, and you'll be able to find plenty of different spots to eat and drink. If you want to see the more lively side of Pest head to Kiraly Ut., Dob. Ut., or Kazinczy Ut., or around that area, which is filled with bars and restaurants.
Day 2: Pest
Morning: Start your day at the Parliament Building, taking the time to go inside. From there, walk toward the Chain Bridge along the Danube, stopping at the Shoes on the Danube monument. If you didn't do this on Day 1, walk into the middle of the Chain Bridge to get a great view, before continuing on along the Pest side of the river, walking away from the Parliament toward the "whale" building and Market Hall. If the weather is nice, grab a coffee on the terrace outside the Bálna (whale) building, or continue to the market.
Afternoon: Wander through the Central Market Hall next, and stock up on paprika, pickled things, and pálinka (traditional Hungarian fruit brandy). Most of the vendors will give you small samples if you ask politely, and are interested in buying. Once you're finished at the Market Hall, head to the Jewish District, and visit the Synagogue and memorial garden in the back. Walk to Deák Ferenc tér (dee-ak fair-ence ter) and get on Metro Line 1 (yellow – the Millennium line) to Hősök tere (Heroes' Square). When you're finished, take the same metro back to the Opera and pop your head inside before walking several blocks along Andrássy út to the Basilica (be sure to climb the tower).
Evening: Visit a ruin pub or a terrace bar in the evening, or go taste some Hungarian wine at one of the many wine bars in the city.
---
Download Our Budapest Itinerary for FREE
If you're like me, planning your Budapest trip is half the fun! I love having paper during my own trip planning process, so I thought I'd create a Budapest itinerary you can download and use during your trip planning and on your trip.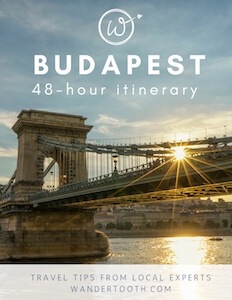 ---
Budapest Itinerary: Frequently Asked Questions
We've put together as much info as we can possibly think of in this Budapest itinerary, but there are no doubt some things we've missed, and we'll update this section as we get questions!
Where to Stay in Budapest
We have a detailed Best Areas to Stay in Budapest Guide, which is your best bet for finding Budapest's coolest neighborhoods to explore. I've tried to summarize things a bit here if you don't feel like clicking over :)
How to Get from Budapest Airport to the City
Unfortunately, Budapest's awesome public transport doesn't extend (seamlessly) to the airport. While it's absolutely possible to get from Budapest airport to the city centre via public transport, it's not fast or easy, and it involves a change.
Personally, we use miniBUD, or a taxi. MiniBUD is a shared van transfer right to your hotel, and it's pretty reasonably priced at less than €10 per person. The main downside with miniBUD is waiting to leave, and waiting while everyone else gets dropped off before you: you sometimes have to wait for the van to fill up with people going in a similar area, and if there are 4 or 5 travellers and they all get dropped off before you, it's a bit of a pain.
An alternative is a private airport transfer.
Fötaxi is the official taxi operator from the airport. There is a booth where you give the address or hotel name of where you're going, and they will print out a voucher and assign you a taxi. It's not a flat rate, and you still pay the driver (credit cards and Euro accepted), but it's pretty slick and easy. The price will be about €25.00.
Bus 100E is a new airport bus which costs 900HUF per person and will take you to Deak Ferenc Ter in the center with metro and tram connections, in about 45 minutes. More about this on our Where to Stay in Budapest post.
Our Favorite Places in Budapest
I'm slowly starting to track the places we like, and those we've heard about from friends or online, and want to go. And I'm putting them all in a map. I figured I might as well share the map here…use it if you'd like, but don't blame me if we don't have the same tastes :)
I'll update this over time. To use it on your own mobile, you need to have Google Maps installed. Then hit the star icon on the map, and it should show up as one of your available maps on your app.
One More Tip…Look Beyond Recent History
It's nearly impossible to visit Hungary and other parts of Eastern Europe without coming face-to-face with the 20th-century atrocities of the region and, to be honest, it can take a toll on your heart. We really encourage you to visit the Shoes on the Danube monument, learn about Hungary under fascism and communism, and understand the impact it had.
However, I'd also say that Budapest today — while shaped by the Communism legacy — is far beyond a 'post-communist' place…it's just so much more than that piece of history, and it's easy to see if you're willing to look. Budapest is hip, entrepreneurial and international, with a distinct Hungarian flair. This city feels like a boom town right now…there's just so much going on, and young Hungarians, who for decades went abroad for opportunity, are finally starting to stick around and make the city even cooler.
Hopefully you can tell from this guide that we love it here…and we hope you will too!
If You Like it, Pin it! Save this post for later on Pinterest