Budapest Tips: A Practical Guide to Budapest for First Time Visitors! 'Good to Know Before You Go' Budapest Travel Tips. Budapest Safety Advice, Budapest Taxi and Transit Info, Budapest Tourist Tips for Getting the Most Out of your Trip to Budapest, and More! Local Advice Written by Canadian Expats in Budapest – Continue Reading to Find our Very Best Travel Tips for Budapest Hungary!


If you've found this post, we're going to make an educated guess that you're planning a trip to Budapest. And we couldn't be more thrilled that you've chosen our 'adopted' home for your upcoming holiday. If you're just getting started with your Budapest trip planning, and even if you're a bit further along, you've come to the right place. Because we know you'd rather focus your time planning the sights, tours, restaurants, and nightlife you want to experience in Budapest, we thought we'd put all the boring (but practical) info you need to know before arriving in Budapest in one place – that's right, we've filled this one post with our best tips for Budapest and a few Budapest tips and tricks that will make your vacation a bit easier. We hope it's helpful!
What You'll Find in This 'Practical' Budapest Tips Guide:
---
Budapest Travel Tips: Getting the Lay of the Land
Historically, Budapest was actually 2 separate cities, Buda and Pest. To be really accurate, what is now known as Budapest was made up of 2 towns (Buda and Pest) and a village, Obuda. In 1873 Budapest was formed from all three to create a flourishing European hub. Today, most people only refer to the Buda side of the city, on the west bank of the Danube river, and the Pest side, on the east bank.
The Buda side is home to the likes of Buda Caste, Gellert Hill, Fisherman's Bastion, Matthias Church, and a few other notable attractions. It is generally much quieter than Pest. The Pest side is the pulse of the city, where the bulk of the hotels and restaurants are. Nightlife, most museums, notable monuments and squares, the Opera House, the Basilica, the gorgeous Hungarian Parliament building are all on the Pest side, which is where most visitors will spend most of their time.
For most visitors wondering where to stay in Budapest, we recommend staying on the Pest side of the city, and visiting Buda.
On the Pest side, the inner city is arranged like a spider web, and their are two ring roads, an inner ring and an outer ring (known as the grand boulevard). Between the outer ring road and the river is where you'll find almost all of Pest's attractions; within the inner ring, closer to the river, you'll find loads of restaurants, bars, cafés, markets, all within a short walk.
The inner ring is marked on the map below by a green line, and the outer ring is marked by a red line.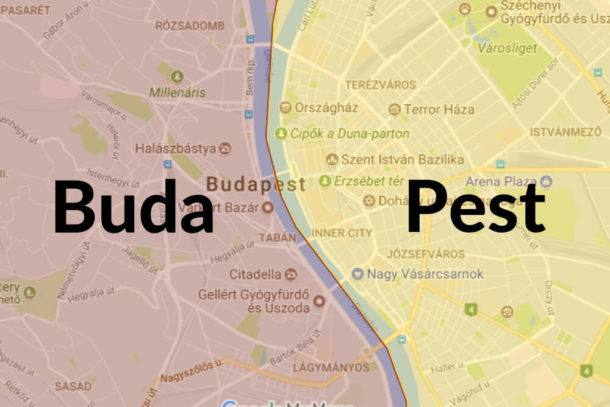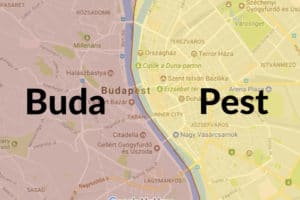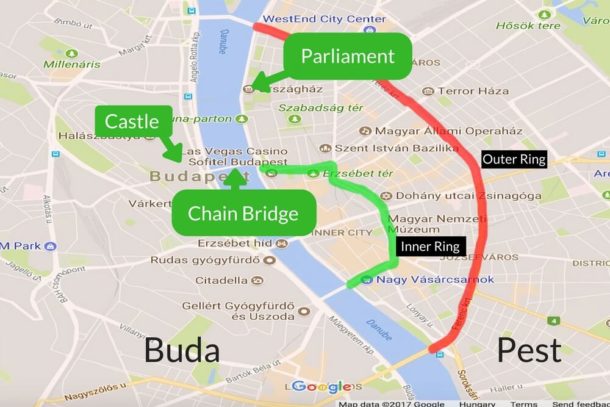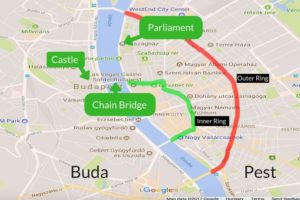 ---
Staying Connected in Budapest
Wifi in Budapest
Although Budapest doesn't have free city-wide Wifi, almost every café, and many bars and restaurants, have okay Wifi. The staff at most establishments are happy to give you the password if you're a customer.
Hotels and holiday apartments also generally have Wifi, to a varying degree of quality. In our apartment, we get speeds of around 85 mbps download, and 10 mbps upload. However, public Wifi and shared networks, and those in hotels and holiday apartments, won't be that fast.
It's also possible to rent a pocket Wifi device in Budapest from companies like My Webspot, which gives 1GB of data per day in Europe. This is a great option if you need fast, 4G internet speeds but don't want to buy a local SIM card (info about that, below), or if your phone is locked and you can't but a local SIM. My Webspot prices start at €5,40 per day.
Read Reviews of My Webspot, and Check Prices.
Getting a SIM card in Hungary
There is also excellent 3G and 4G coverage in the city and outlying areas. In theory, Budapest has LTE, but our Telenor SIM cards, which we've been using for more than a year now, never seem to reach anything over 4G. That said, the connections are fast and reliable.
If you have an unlocked mobile phone (more about that below), any of the large mobile phone providers offer pre-paid SIM card options. The SIM card itself will cost little or, more commonly, be included in the package. The main companies are T-Mobile (Telekom), Vodafone, and Telenor, which is what we use.
Typically, spending around 3000HUF (~$12US) will get you a prepaid SIM card and about 1GB of data, some local calls and text messages, all valid for a month. All three companies have outlets in any of the major shopping centers, as well as stand alone stores in the center. The process will require a bit of paperwork, and Hungarian law requires you to provide ID, so make sure you bring your passport!
As Hungary is part of the EU, if you purchase a SIM card here and travel to another EU country, the card will work without having to purchase anything extra. Similarly, if you have already purchased a SIM card in another EU country, it will work just fine in Hungary.
Again, your phone must be unlocked for a local European SIM card to work!
Change Your Plan Before You Travel Many North American cell phone providers now have travel packages where you can upgrade your plan for a limited time in order to use it while you're travelling. It's worth finding out about this option prior to travelling, although we recommend getting a pocket wifi device instead of buying an international add-on to your home plan. The reason for this is that going over the limits on your home plan can be very expensive, whereas the Pocket Wifi device will simply throttle the speed once you reach the limit (which is 1 GB per day with My Webspot). For us, there's some peace of mind knowing you're not going to come back to a massive cell phone bill!
Unlock Your Phone Before You Travel. When you get your mobile phone (at least in North America) you likely got the phone at a discounted rate, and the total cost of the phone is amortized over part of your monthly contract. Because of this, your phone is tied, or 'locked' to your cell phone provider for a certain amount of time – usually the first few months. If your phone is locked, you will not be able to use a SIM card from another company, so if you plan to buy a SIM card in Budapest, call your provider and ask them to unlock your phone for you. Regulations about whether, when, and how cell phone providers must unlock customers' phones vary across jurisdictions, so you'll simply have to call and figure out what applies for your situation
---
Arriving in Budapest, and Getting from Budapest Airport to City Center
Budapest has one international airport (Ferenc Liszt International Airport) located about 30 to 40 minutes outside the city centre. There is just one terminal at the airport, split into 2A and 2B, and since they're in the same building, there's no real need to worry about which terminal you are landing at or departing from – if you go to the wrong one, you can walk to the other terminal in less than 5 minutes!
For interest sake: Terminal 1 closed in 2012 due to the collapse of Hungary's national airline, Malév Hungarian Airlines, that same year. Since then, the building has slowly been turned into a large event space!
It takes around 40 minutes to get from the Budapest airport to city centre hotels or holiday apartments, and you have a few different options when it comes to transportation.
If you arrive in the middle of the night, you'll be able to get to the city centre via a taxi, MiniBud, or private transfer. Public transport from Budapest airport to city centre locations is limited during the night, and generally not a good option unless you arrive in the daytime. Alternatively, Budapest has a new airport hotel if you want to stay the night and figure it out in the morning.
MiniBUD Shared Mini Bus
The Budapest airport's minibus is a shared transfer service called MiniBUD. A Budapest airport transfer to city centre locations goes for about US $10.00 per person. Prices vary based on distance, but to give you an idea, we always pay 5400 HUF (~$21.00US) for two people, for a one-way ride to the 7th District (city centre). This is slightly cheaper than taking a taxi from Budapest airport. It's not necessary to reserve in advance and there is no real advantage to doing so, but you can on their website if you wish. Upon arrival, they have well-marked booths in both terminal 2A and 2B, and the staff will show you how it works. All their customer support members speak excellent English.
The mini buses depart with a group of people travelling to a similar area, so sometimes you have to wait until the minibus has enough passengers. Although we have waited up to 45 minutes when we landed late at night with a bunch of other flights landing at the same time, we have mostly found the wait time to be 30 minutes or less. They will give you a ticket with a number on it, and when your number comes up on the display screen in the waiting area, you'll see a bus number assigned to it. The buses will be right outside the door, the driver will check your ticket and help you load your luggage.
Although you don't have to reserve when you arrive, you do have to make a reservation for your return trip to the airport. You can purchase a round-trip when you arrive, or make a reservation via their website for getting to Budapest airport from your hotel or apartment. When you make your reservation online, you enter your flight information, and they tell you what time they'll pick you up. They tend to be pretty cautious when it comes to getting you to the airport on time for your flight – we've arrived 3 hours prior to our flight before when using Minibud, so if you'd prefer a bit more time in the city (rather than at the airport), a taxi might be a better option.
Express Airport Bus Budapest
Bus 100E (Airport Express) to Deak Ferenc Ter in the city center goes every 30 minutes from the airport between 5:00 and 00:30, and takes 30 to 40 minutes. On this route there are two stops prior to Deak Ferenc ter, which are Kalvin ter (M4 connection), or Astoria (M2 connection). Tickets cost 900HUF (~$3.60US/~€2.90) per adult (free for adults 65+ or children under 6; ID may be required). Purchase tickets from the driver (cash only/exact change), at the BKK service counter in the airport terminal, or at the vending machines at the bus stop. The vending machines are touch screen and have an English option, and will accept credit cards. The bus departs from the sidewalk in front of the arrivals level. The driver is almost always accompanied by one or two English speaking staff members who help things along and can answer any questions.
Please note this service runs independently from normal Budapest airport public transport so a special airport bus ticket is required. Regular transit passes for Budapest are not valid on this bus, nor is the airport bus ticket valid on other public transportation in the city.
Private Transfer
If you're a group of two or more people traveling together, private transfers from Budapest airport may be more economical than MiniBUD or a taxi, and also more convenient. GetYourGuide sells a few different options, including individual transfers, transfers for groups of up to three or more (from ~US $46), and – for something fun and different – transfers for groups of up to three in a Trabant, the classic Eastern European car from communist times (from US $47.83). No one would say that a communist era Trabant would be the best way to get from Budapest airport to city centre, but it certainly looks like it's the most fun!
Taxi
Fötaxi is the only company registered for non prearranged airport pick ups. Their taxis are readily available and well controlled: buy your voucher from the Fötaxi stand, and they will assign you to a taxi. The estimated fare will be written on the voucher. It's all very well marked, and taxi fare from Budapest airport to city centre will cost you roughly HUF 7000 to 10,000 (US ~$30 to $40) to the city centre, and, obviously about the same from hotels or apartments in the Budapest center to airport hotels or the terminal.
Uber and Lyft currently do not operate in Hungary, but Taxify, which is essentially the same, does operate in Budapest. If you download their app and set up your account before you arrive, you can order a taxi and they will be there in about 5 minutes. They are also excellent to use around the city as well, we cover them in more detail further on (click here to skip to that section).
Personally, we tend to use Taxify. We've used Fötaxi once, and while the service was fine, the driver's credit card machine didn't work when we arrived home. So Geoff had to jump out of the cab and find an ATM at midnight while Katie waited with the driver and our luggage. With Taxify, your account is linked to your credit card, so there's no need to pay the driver directly.
If you decide to download the Taxify app, use the promo code WNDR2TH and get 500HUF credit to use toward your first ride!

Public Transit From Budapest Airport to Center- Bus + Metro (Transfers Required)
You can take Bus 200E from the airport terminals to Kőbánya-Kispest metro station, which is the last stop for this bus. The bus goes every 10 to 15 minutes, more frequently during peak times. From there, you'll need to transfer to the metro which is line M3, and this is the first station on this line so you can only go in one direction. Popular central stops include Kalvin ter, and Deak Ferenc ter (M1, M2 connections). The metro goes every 5 minutes from around 04:30 am. Until further notice, the M3 metro currently only operates on weekdays until 20:30 due to a reconstruction project. In the evenings and on weekends, replacement buses operate.
This entire route will take you roughly 45 minutes to the city centre. Because the Budapest transit system runs on a "1 ticket 1 ride" system, you'll need two tickets for this journey, which are 350HUF each (US ~$1.40US/ ~€1.10). In the airport, buy your tickets at Relay, the post office, the BKK (public transit) info booth, or the vending machine at the bus stop outside the terminal. The BKK info booth staff speak English, the vending machines are touch screen, and have an English language setting (they actually have multiple language settings on the machines).
Note: Budapest metro tickets, and Budapest bus tickets are the same and all single journey Budapest public transport tickets need to be validated (time stamped), at the validation machines at the top of the escalators before going down to the metro, or at the machines on the bus or trams.
For more information about public transport in Budapest, continue reading Getting Around Budapest, or visit http://www.bkk.hu/en/tickets-and-passes/prices/.
---
Getting Around Budapest
In terms of getting around the city, the Budapest public transit system is very convenient, dependable, and safe, consisting of a network of frequent trams, buses, and 4 metro lines. The most convenient trams for exploring the city centre are the #4 and #6, and the #2. Trams 4 & 6 run along the same track on the 'outer' ring road surrounding the city center in Pest, and cross Margaret Bridge, providing wonderful views of the river with the castle on one side and the parliament building on the other. Tram 2 runs around the back of the parliament building along the Danube (also in Pest) to the Chain Bridge (and beyond); at Christmas, this tram is decorated with Christmas lights!
Budapest metro lines 1, 2 and 3 all connect at Deak Ferenc Ter in the city centre, making this a convenient spot for transfers. This is also where you can catch bus 100E for transport to Budapest airport on the express bus. Metro line 4 is likely to be the least Budapest metro line used on your trip, although it does serve the Gellert Baths. Metro line 4 is very new and modern and was built as a connector between Keleti Train Station and Kelenföld Train Station.
Fun fact: Budapest metro line M1 is the oldest underground metro in continental Europe, it's even protected by UNESCO!
Wherever there aren't trams or metros, you can usually get a bus. When getting on the bus, you can usually get on at the back and middle doors, as long as you have a ticket. If you're using a single-use ticket, be sure to validate your ticket using the yellow or orange machines on board. Sometimes the driver will only open the front door, which means they're checking tickets as you board. You can purchase a ticket on board from the driver (450HUF), but they will not have change. And remember to validate (time stamp) your ticket!
Budapest Public Transport Tickets
Upon arrival, either at the Budapest airport or once you've settled in, consider purchasing a 24- hour or 3-day Budapest transit pass (1650 HUF and 4150 HUF, respectively), which gives you unlimited access to the bus, tram, and metro, with the exception of the 100E airport bus. A 7-day pass is available as well for 4950HUF (US ~$19.90 / ~€16.00). If you choose to use individual tickets, you can buy a pack of 10 for 3,000HUF (~$12.00US/~€9.70). These can be purchased at BKK service offices, vending machines found at every metro station and most tram stops, most tobacco shops, and post offices. Note that you have to use a new ticket for every ride, unless you're transferring within the metro. You also have to validate these single tickets using the orange or yellow machines, which are located in metro stations at the top of the escalator down to the platform, and on board buses and trams. You do not have to validate passes, as the validity is already written on the pass.
Here is a breakdown of Budapest public transport prices:
Single journey: 350HUF (US ~$1.40US/ ~€1.10), or 450HUF from the driver.
Pack of 10 Single tickets: 3000HUF (US ~$11.90/ ~€9.60)
24 hour transit pass: 1650HUF (US ~$6.55/ ~€5.30)
72 hour transit pass: 4150HUF (US ~$16.50/ ~€13.25)
7 day transit pass: 4950HUF (US ~$19.90 / ~€16.00)
Public Transit Operating Times: The metro/tram/bus runs 7 days per week from approximately 05:00 am to midnight. Select trams, including the popular 4 & 6 line, run through the night at reduced frequency, usually twice an hour.
Free Public Transit With the Budapest Tourist Card
Alternatively, you can buy a Budapest Card which includes unlimited use of public transportation. The Budapest Card includes unlimited use of public transportation, it also includes free or discounted entry into many of Budapest's attractions, and restaurant discounts. If you purchase it online, they'll deliver your Budapest Card to your hotel for free, so it's ready for you whenever you arrive. There are lots more discounts of 30-50% on restaurants, unique tours and museums.

Prices for the Budapest Card are as follows:

1 Day – €19 / $23.30US
2 Day – €29 / $35.57US
3 Day – €37 / $45.38US
4 Day – €49 / $60.10US
5 Day – €59 / $72.36US
Unlimited use of public transportation
Free entry to the Hungarian National Gallery
Free entry to Memento Park
Free entry to Lukács Thermal Baths
2 Free walking tours – one in Buda, and one in Pest
20% discount to Szechenyi Baths
30% discount to The Hospital in the Rock
Taxis
As a general rule, avoid hailing a cab on the street to avoid overpaying. We use Taxify, an app-based taxi company which operates almost identically to Uber and Lyft, but in licensed yellow taxis. If you are familiar Uber and Lyft, Taxify will feel very familiar. You will need cell phone data or wifi to use the app, and we recommend setting up your account before arriving in Budapest so it's ready to go if you need it.
If you're not familiar with app based taxi companies, or have never used one before, the biggest advantage is that no money ever changes hands. The ride journeys are recorded and, if necessary, reviewed by the company. You select your destination address, it will calculate an estimated fare range, and if you're happy with it, go head and select the ride. You'll know the driver's name, and licence number, and be able to monitor the route right from your phone. If you are unhappy with anything, you can contact the company later and they have access to all the ride data. Simple and safe, and no digging around for cash or credit cards at the end of the ride.
Download the Taxify App and Enter Coupon Code WNDR2TH to Save 500HUF on Your First Ride!
Alternatively, Fötaxi is seeking to earn respect in the taxi world here. They are developing their own app, but for now, you can book online and even request an English-speaking driver, and you can also calculate your fare. The one time we've used Fötaxi, we weren't able to pay with card – it could have been a glitch with that taxi on that day, but it's probably best to have some cash with you!
If you're unsure, have your hotel arrange a cab for you.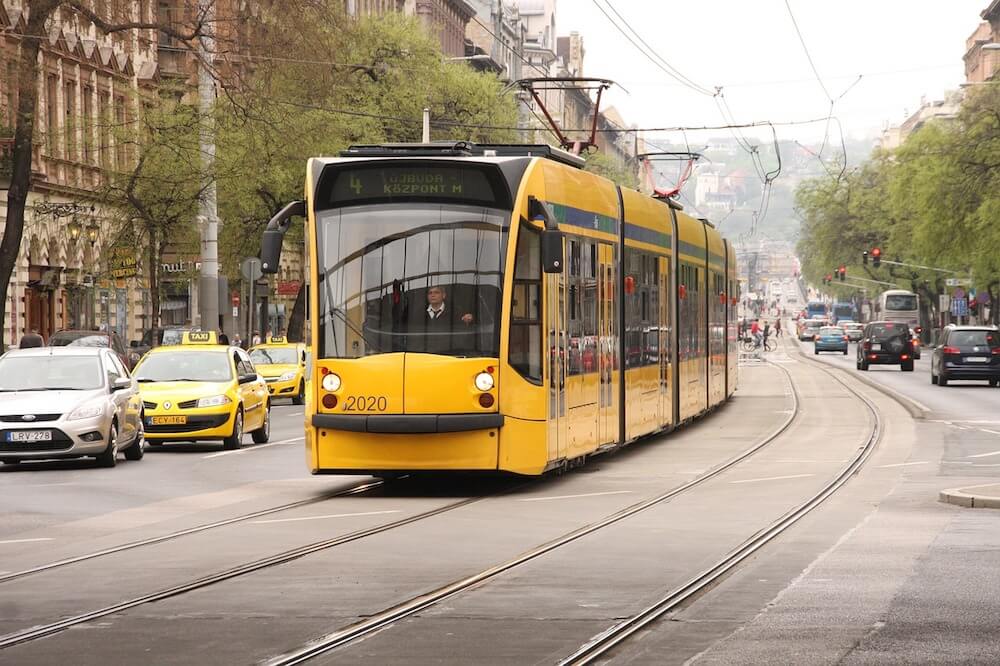 ---
Hungary Currency: What Currency is Used in Budapest?
Hungarian money is called the forint, or Hungarian Forint (HUF officially, sometimes written as 'ft' – short for forint). The Hungarian currency is a mixture of coins and notes. The coins come in 1ft, 2ft, 5ft, 10ft, 20ft, 50ft, 100ft and 200ft denominations. The bank notes come in 500ft, 1000ft, 2000ft, 5000ft, 10000ft, and 20000ft. The notes are thankfully different colors, but make sure you count the zeros before you hand over a note! My father once handed over a 10,000 note and (almost) walked away not expecting any change because he thought it was a 1000 note, so be careful! Also, stores mostly round up so if something costs 998, and you give 1000, they will not give you change.
At the time of writing, the exchange rate to other major currencies was as follows, but we recommend you get the XE.com app for your phone to check live Hungary currency rates as you travel:
$1 USD = 250HUF
€1 Euro = 310HUF
£1 GBP = 354HUF
$1 CAD = 202HUF
$1 AUD = 201HUF
Payments and Withdrawals
Pin-enabled major credit cards and debit credit cards are accepted at almost all major shops and restaurants, but it is best to ask beforehand. Most shops have contactless technology, allowing you to pay by tapping compatible cards. That technology is universally referred to as "Paypass" here. In locally-owned fast food shops, markets, and convenience stores, you'll likely need cash, and it's best to have smaller denominations. The HUF 1,000 note is very common, and widely accepted. You might get an eye-roll if you try to pay for something small with a HUF 10,000 note, although supermarkets like Tesco and Spar are good for using these notes, as well as restaurants. We always get an odd amount of cash out of the bank machine (i.e. HUF 19,000, instead of 20,000), to force the machine to give us some small bills.
Budapest has a large selection of ATMs throughout the city, with OTP, Raiffeisenbank, MNB and K&H being common. If you need to visit a bank branch, they are typically open from 10:00 am to 18:00 pm Monday to Friday, although some branches close at 16:00, and some have Saturday hours as well.
Money changers exist in the center, but don't expect the most favorable rates.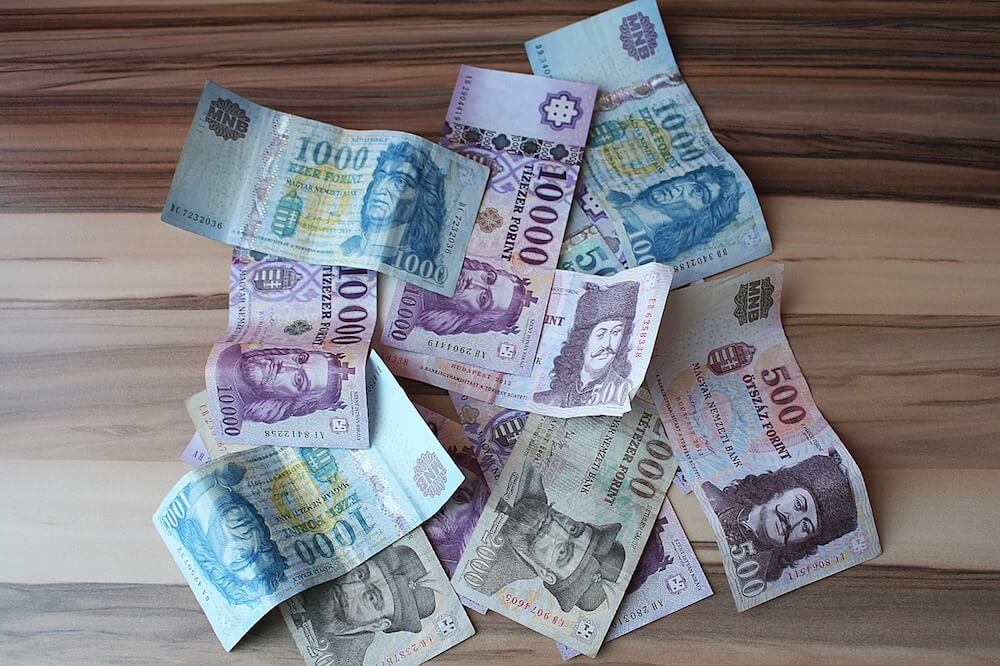 ---
Is Budapest Tap Water Safe to Drink?
In a word, yes. Hungary is part of the European Union, and as such the regulations for things like clean drinking water are pretty high. That said, there are some places where we wouldn't drink the water, but that's mostly in obvious places like public bathrooms and rural areas. Overall, you're fine in the capital and other larger Hungarian cities.
Locals and tourists alike drink the tap water from bars, restaurants and hotels and apartments. On a personal note, we actually quite enjoy the drinking tap water here, and find it to be very clean and safe.
If you're not comfortable with drinking tap water on your travels, but don't want to create the unnecessary plastic waste related to bottled water, we recommend the GRAYL Ultralight Purifier Water Bottle, which filters and purifies both obvious pathogens (i.e., bacteria) and the not-so-obvious (i.e., lead). You can read more about the Grayl and other travel water bottles here, or check prices on Amazon.
---
Electricity: Hungary Electrical Outlets
Electrical outlets in Hungary are the standard European 2-prong, 220V, meaning you will need a plug adaptor if you're coming from North America, the UK and Ireland, and Australia/New Zealand.
Note, plug adaptors only allow you to plug your device in; they don't convert the electrical current from the local voltage to that required by your device. The first time we came to Hungary, Katie fried her hair dryer by using an adaptor without a convertor. So we suggest checking your electronics to see what voltage they can run on, and bringing an adaptor-converter combo that can handle high powered items like a hair dryer if needed.
Although it's a bit large, something like this will ensure you are covered no matter where in the world you are, plus it has USB ports for added convenience for charging tablets, phones, cameras, etc.
Search for electrical adapter-converter combos on Amazon.
---
Local Customs
Of course, Budapest and Hungary have many local customs that you'll discover on your trip, such as the fact that older Hungarians don't click glasses to cheers when drinking beer (and only beer), due to an old grievance with Austria. When it comes to practical customs, tipping and set lunches are the most relevant to travelers:
Tipping: Tipping in Budapest is becoming the norm, at least in central Budapest, and a 10% gratuity is the going rate. If paying with cash, calculate the total bill with tip, and specify to the waiter how much change you expect. If paying with a card, most POS card machines don't have a tip function, and servers aren't allowed to add any extra. Leave about 10% in cash on the table if you can, particularly in touristy spots. That said, no one will be shocked if you don't.
Set Lunches: These are quite common and very cheap. Typically restaurants offer a limited menu of 3 courses, with a choice between soup or salad, a main (usually there about 3 to choose from), and a dessert. Drinks are sometimes included, and sometimes cost extra. In most cases these set menus cost around US $5 to $6. Most restaurants that offer set menus post their weekly menu on their Facebook page, in case you want to do a bit of research.
National Holidays in Hungary
While grocery stores and regular shops will be closed on national holidays, Budapest's tourist centre will still have some cafés and restaurants open, expect perhaps for Christmas Day and New Year's Day (although we can confirm, Starbucks was open on both last year). Also, small convenience stores (known here as ABC shops) are usually open on holidays for staples like milk, bread, a few veggies, and alcohol.
January 1 – New Year's Day
March 15 – National Holiday (Hungarian Revolution of 1848)
Easter – Easter Sunday and Easter Monday
May 1 – Labor Day
Whit Monday – May or June
August 20 – St. Stephen's Day, the first king of Hungary (amazing fireworks show on this day!)
October 23 – Day of the Republic (revolution of 1956)
November 1 – All Saints' Day
December 25-26 – Christmas
Public transportation will operate on a reduced holiday schedule on these days, most public offices will be closed, and some shops and restaurants will be closed. In the center, however, it'll be business as usual, most of the touristy places will be open, and some smaller convenience stores. We've never had a problem, the only frustration for us has been supermarkets on those days. Outside the center though, you'll find most things closed. On holidays such as All Saints Day, and St. Stephen's Day, places like the Parliament Building, and the National Gallery at the castle are open to the public with no ticket required.
---
Emergency Numbers
In an emergency, calling 112 will connect you to a main operator who can dispatch Police, Fire and Ambulance. When you call 112, you will be able to speak with an English-speaking operator. Calling 112 is the same as dialling 911 in North America or 999 in the UK.
Hungary also has separate numbers to reach individual emergency services.
104 – Ambulance only
107 – Police only
105 – Fire only
The above numbers reach the direct service, however English may be limited. You really are best to call 112 if you have or encounter an emergency.
Another good number to know is FirstMed, which is a private (although somewhat expensive) full service medical center. There are a few like this in Budapest, but this is what we use personally. We have gone there for one-off illnesses, Katie received all of her prenatal care there, and we'll be taking our daughter there once she's born for paediatric visits. We have seen several different doctors, and know and trust their services. FirstMed has a 24-hour hotline with fluent English speakers ready to assist you if needed: +36-1-224-9090. Write down the number and carry it with you, just in case!
---
Hungarian Language
The Hungarian language is complex, very difficult to learn, and unlike any of it's neighboring languages. Many say it's closest cousin is Finnish, another complicated language.
We won't bore you with any grammar, tenses, cases, or rules (mostly because we can't – our Hungarian is terrible!), but we thought we'd list a few common words, phrases and useful tips to help you on your trip; it's always nice to be able to say 'hello' and 'thank you' in the local language. Disclaimer – we are not Hungarian speakers, but we have picked up a few things that we think might be helpful.
First, a note about pronunciation, the most common and somewhat confusing one is the letter 's' which is pronounced, like the English, sh, when it's written by itself in Hungarian. The 's' sound that we know in English will be written as 'sz' in Hungarian.
When you see "s" in written Hungarian, pronounce it like sh in English (shirt)
When you see "sz" in written Hungarian, pronounce it like s in English (sea)
When you see "zs" in written Hungarian, pronounce it like zgh, like in televi

s

ion, or 'prestige'
Saying hello and good-bye: Szia (singular), Sziasztok (plural), or Halló (either). Szia (pronounced like SEE-ya) is an informal greeting like 'hi' used when addressing one person Sziasztok (pronounced like see-YAS-tok) is the same but plural, so used when addressing two or more people. The word hello is used often as an informal greeting, but sounds more like 'hallo.' All of these are used to mean hello and goodbye, so don't be surprised when someone says "hallo" when you're leaving!
Good morning: jó reggelt (pronounced like YO-reg-elt)
Good afternoon: jó napot (pronounced like YO-nap-ot)
Saying thank you: köszi, köszönöm, köszönjük. Köszi (pronounced like KE-see), and köszönöm (pronounced ke-se-NUHM) are loosely compared to as 'thanks' and 'thank you.' You'll be fine to stick with köszi, which is simple and common. Köszönjük (pronounced like ke-sen-YUHK) is plural, like saying 'we thank you.'
Other popular words to know:
Beer: sör (pronounced like shur)
Wine: bor (pronounced like bore)
Coffee: kávé (pronounced like KAH-vey)
Open/Closed: nyitva/zárva (pronounced like neet-vah/ZAR-vah)
Allergy: allergia (pronounced like ALL-air-gey-ah)
Cheers!: Egészségedre (pronounced like EGG-es-shey-gah-dreh – often shortened to simply EGG-es-shey)
Check please!: A számlát kérem (pronounced like aw SAM-lat kay-rem)
---
Don't Miss These Budapest Experiences
If you've stuck with us for this long, we figured we probably owe you some fun suggestions in terms of what to do in Budapest! You can read more about Budapest in our Where to Stay in Budapest Guide (a neighborhood guide with hotel recommendations) and our Budapest Itinerary, as well as all our other Budapest and Hungary articles, which can be found here.
But, we also thought we'd give you some suggestions in this post:
Have a drink in a 'Ruin Bar' – Ruin bars, or 'ruin pubs' in Budapest are very popular, and are mostly in the city center. From humble beginnings making use of derelict buildings and empty spaces that no one laid claim to, to world famous elaborate bars, Ruin Bars are a uniquely Budapest phenomena. Szimpla Kert is arguably the most well known, so if you're short on time and want to see one, head to Kazinczy u. 14: there are many different themed rooms, and wacky decoration throughout. They have their own design store attached, and if you're not into having a drink at night, they host a popular farmers market every Sunday morning (it shuts down around 1pm or 2, so get there before noon for the best experience).
Take a dip in a famous Budapest Bath House – Thermal baths in Budapest frequently top the lists of best things to do in Budapest. Again, if your time is limited, Szechenyi Baths is the most famous, but also the most busy. You can purchase "skip the line tickets" in advance to avoid spending your day queuing for tickets. Gellert is wonderful, and is still busy but less so than Szechenyi. They also have a 'skip the line' ticket option. If you have a Budapest Card, a visit to Lukács Thermal Baths is included.
Walk across the Chain Bridge – Officially the Szechenyi Bridge, opened in 1849 as the first permanent 'fixed' bridge to span the Danube in the country. The bridge was seen as a marvel of modern design at that time, and is credited with bringing wealth and prosperity to the city by being able to cross efficiently. Under siege, the retreating German forces blew up the bridge in 1945. The bridge was rebuilt and opened again 5 years later.
Tour the Parliament Building – Visit the Gothic Revival Hungarian Parliament Building on the bank of the Danube. The wonderfully detailed building also houses the Holy Crown of Hungary, which you can see on a visit. Click here to read more.
Explore the Castle District – The castle district is home to Fisherman's Bastion with breathtaking views over the city. There are old streets with colorful buildings, museums, and of course, Buda Castle. The castle is actually a communist version of a castle, since the original was destroyed (many times in history) in WWII. The communist government 'modernized' the interiors. Personally, the castle district is wonderful, the castle itself is, meh. Read more about the Castle District here.
Do an Escape Room – There are hundreds of elaborately themed escape rooms in the city center, all varying in difficulty. Teams of 2 to 5, or 6 are locked in a themed room (sounds ominous but the rooms are spacious) with 60 minutes to figure out how to get out. The team searches for clues, keys, combinations, solve riddles and puzzles, unlock secret rooms and passage ways while searching for the exit. Themes range from Ancient Mayan, Jungle, Japanese Emperors, Egyptian Mummies, Mafia bosses, and much more. A lot of fun packed into one hour. We've done quite a few and can definitely recommend Mystique Rooms as our favorite.
Visit Central Market Hall – Pick up a souvenir or two at the old market hall. Find some packets of paprika to take home or give away to your friends. Lots of traditional Hungarian food on display here, and lots of Budapest souvenir stands as well.
---
Pin This Post
Save our Practical Budapest Guide to Pinterest so You Can Read it Later!