Dublin Bike Tour: How We Saw The Best of Dublin in 2 Hours…Without Breaking a Sweat. Our Review of Lazy Bike Tour's Dublin Bike Tour on Electric Bikes!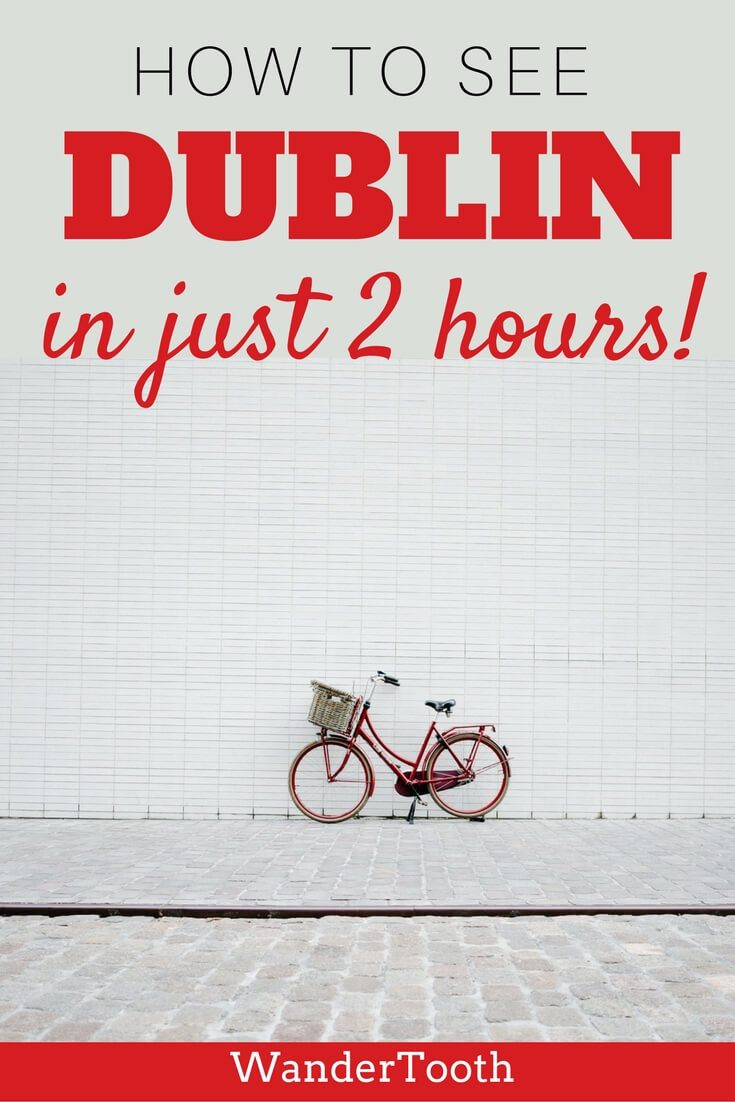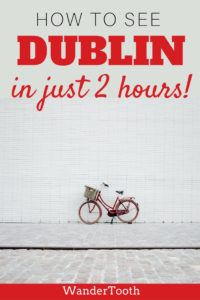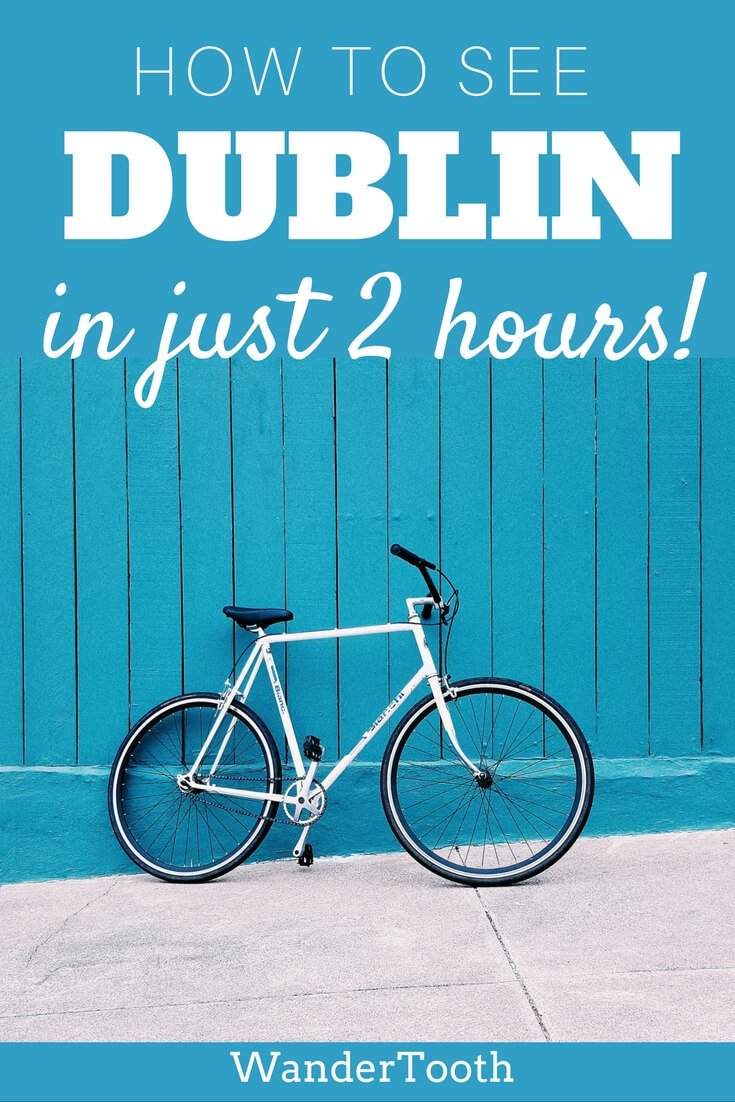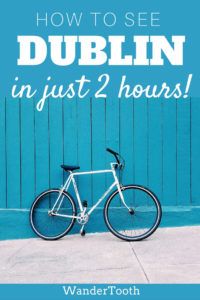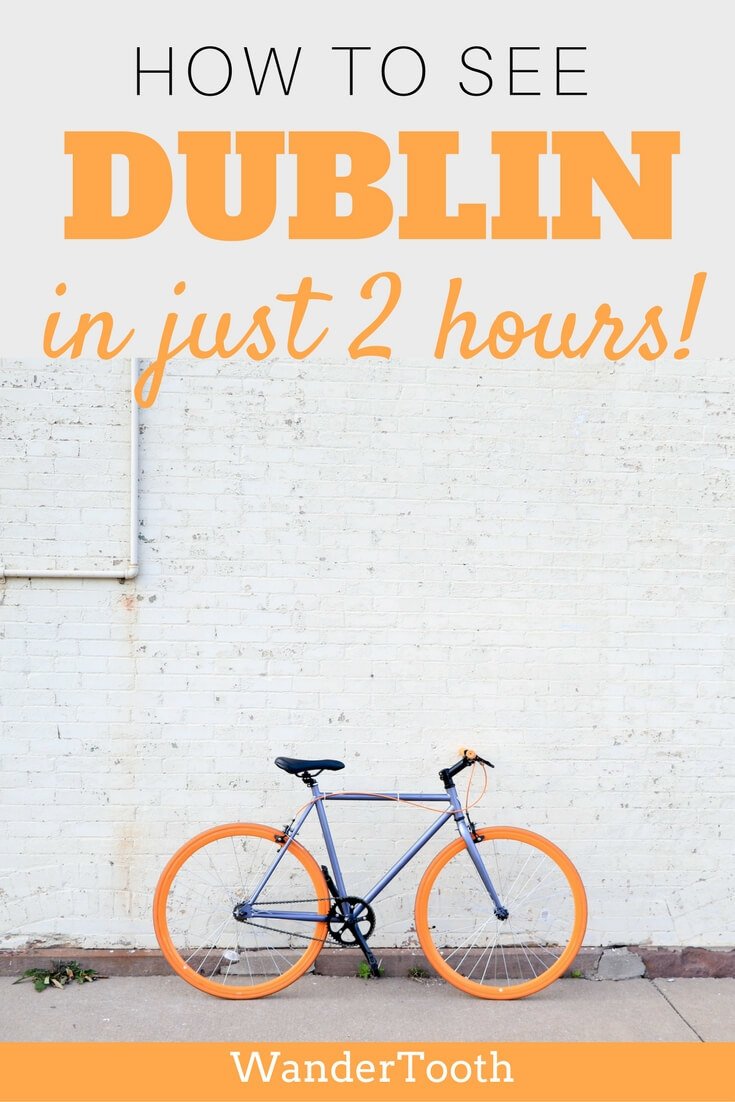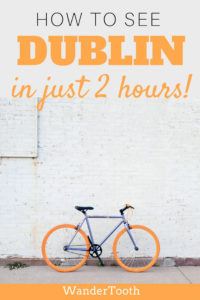 A Dublin Bike Tour That's Surprisingly Fun…
Even though we're fairly active when we travel, we're not in the habit of seeking out particularly active tours, and, until this trip, had always opted for walking tours to get our first glances of a new city, as opposed to bike tours. Sweating our way up hills, dodging traffic, and trying to maintain a sense of balance on two wheels while also trying to get to know a city just never seemed like the right sightseeing combo … and no one wants to end up a sweaty mess when you're living out of a suitcase, with limited clothing options. So when we saw a "Lazy Bike Tour" on our 6-day Dublin itinerary this fall, we weren't exactly sure what to think.
Happily, the experience was fantastic, and shifted our perceptions about taking city bike tours when traveling. Not only did we not turn into sweaty, red-faced messes (not that Dublin would ever get hot enough, especially in October), we also had a genuinely fantastic time on this Dublin bike tour, and got to see many of the city's highlights in just 2 hours, getting a great orientation to the capital which we put to use during independent explorations later on.
And all of it was done from the comfort and safety of an electric bike (hence the "lazy" in Lazy Bike Tours), with plenty of photo stops and a guide who prioritized safety and comfort, as well as having a good time.
---
Take an Electric Bike Dublin Bike Tour!
---
Safety & Comfort Are The Priority On This Dublin Bike Tour…
We met Hugh in Dublin's trendy Temple Bar district, the starting point of our tour. Hugh is both our Lazy Bikes Tours guide for the morning, and the company's founder and owner. With a keen interest in Dublin's history, an avid cyclist in his free time, and an experienced Dublin bike tour guide, the marriage between work and pleasure seems almost inevitable.
Hugh's years of experience leading city bike tours is immediately apparent when we walk into his small shop, and he gets down to business ensuring we're all safe and comfortable with the equipment. He has helmets and reflective vests prepared and ready for each of us, and every bicycle is sparkling, like they just came off the shop floor. It seems clear to us that Hugh treats his equipment with TLC, and we're impressed.
Before getting started on the actual tour, Hugh gathered our group around him for a short briefing, going over the basics of what to expect during the Dublin bike tour, some simple road safety rules, and an intro to how the electric bikes work. He also checked our helmets to make sure they were all properly fitted, had us all don our reflective vests, and adjusted seat heights on our assigned bikes before letting us try out the 'idiot proof' machines (aka: the electric bikes) in front of the shop.
Our group found the electric bikes very easy to use. We had a really mixed bag of ages and abilities on our tour, with participants in their twenties all the way to early/mid sixties. One of our tour-mates had a bad hip, and most of us hadn't been on a bike in years. Even with that massive range of abilities, all of us managed fairly well, and found the bikes comfortable and easy to operate.
They operate as a normal bike, but the electric assistance means it requires very little effort. There is even a little "electric boost" function in the handle which you can use when starting from a dead stop, or if you need a little extra push. On the day we took the tour, the weather was cool and damp, but not raining. Even with some wet spots on the sidewalks, we didn't have any concerns about safety or being able to stop. Finally, it's worth noting that Lazy Bike Tours follows a carefully chosen route that minimizes the need to cross major intersections…another plus in the safety box!
Once everyone felt comfortable, Hugh started the tour and we set off to explore Dublin on our lazy bikes!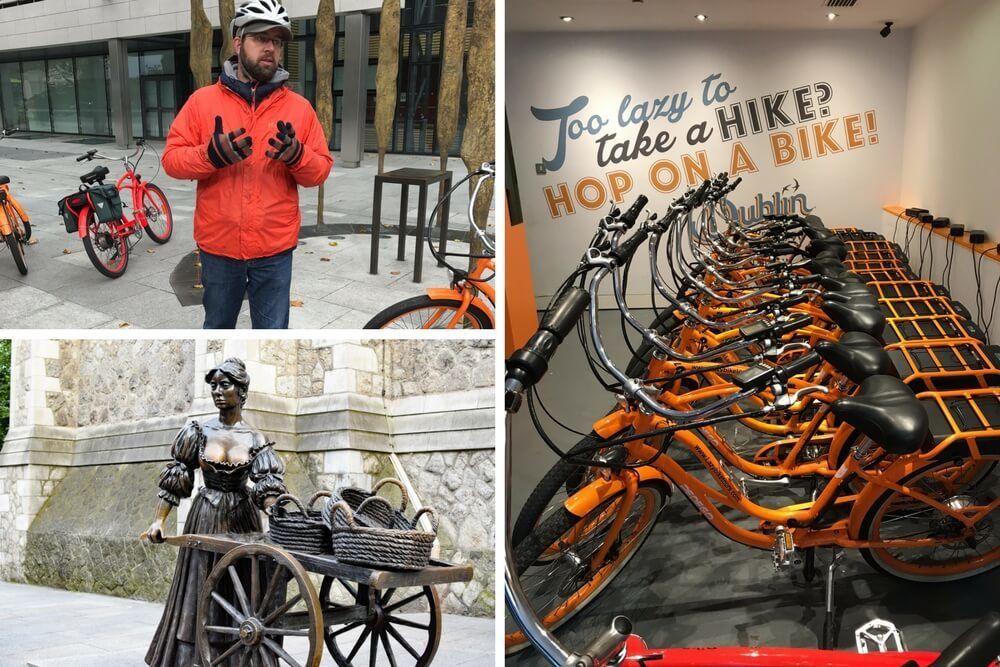 A "City Highlights" Itinerary On Our Dublin Bike Tour…
Dublin Castle: The First Stop on our Dublin Bike Tour
Just a few minutes (and a few turns) after starting our Dublin bike tour, we rode single-file through the gates of Dublin Castle. The first stop on our tour, we stopped so Hugh could fill us in on its roller coaster history. Some of the Castle's buildings, including the the prominent Record Tower, are original and date back to the 13th century. Hugh also gave us a tip for later, telling us to come back to visit the Chester Beatty Library, which, according to Lonely Planet, is one of the best museums in Europe (and is free to enter). The Library also has a rooftop with nice views of the castle.
Happily, Hugh also gave us plenty of time to roam around the grounds and get some nice photos.
---
Looking for more ideas in Dublin and Ireland? Check out our picks for the 12 Best Tours in Dublin, Where to Stay in Dublin and Where to Stay in Belfast Guides, and our guide to the Best Day Trips from Dublin. Our Country Guide to Ireland will be updated as we add more content!
---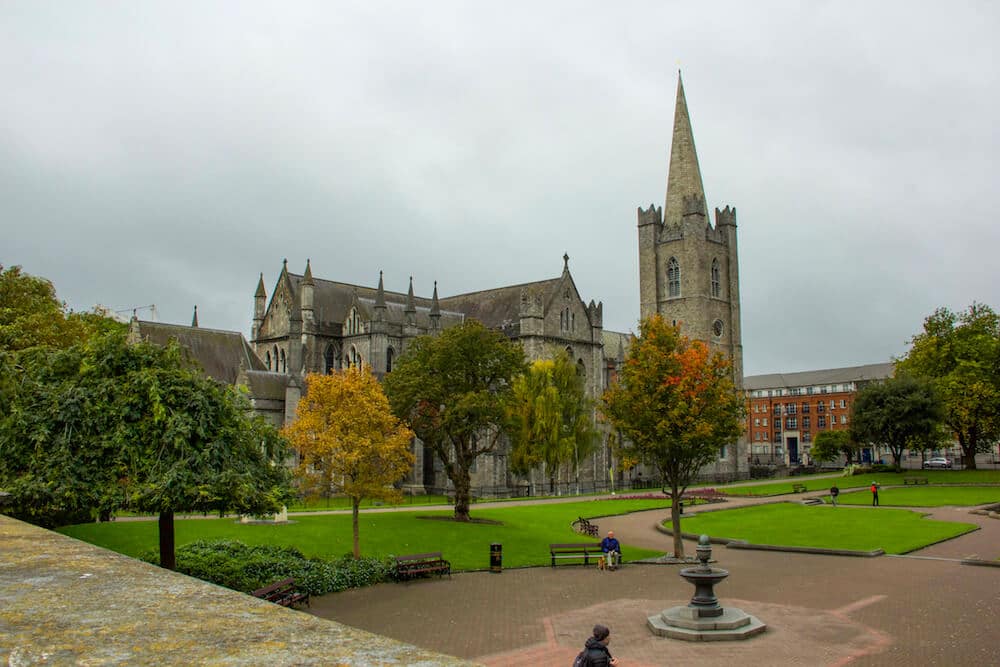 St. Patrick's Cathedral, The Liberties, & The Guinness Storehouse
Not long after leaving the Dublin castle grounds, Hugh took us to a wonderful vantage point on Bride Street looking across the park to St Patrick's Cathedral, a perfect photo stop.
From there, we weaved through the historically important (and super interesting) area of The Liberties. A working class neighborhood with weekly markets that have been going on since the 17th century, The Liberties used to fall outside Dublin's city walls (and, therefore, outside it's jurisdiction). Today, the area is not only home to the Guinness Storehouse and Teeling Whiskey distillery, but also The National College of Art & Design, tech companies and a lively nightlife scene.
At each stop, Hugh captivated our attention with stories of the struggles and triumphs of the working class, the social housing that dominated the area, British rule and dominance, and how companies like Guinness changed the fabric of Dublin society.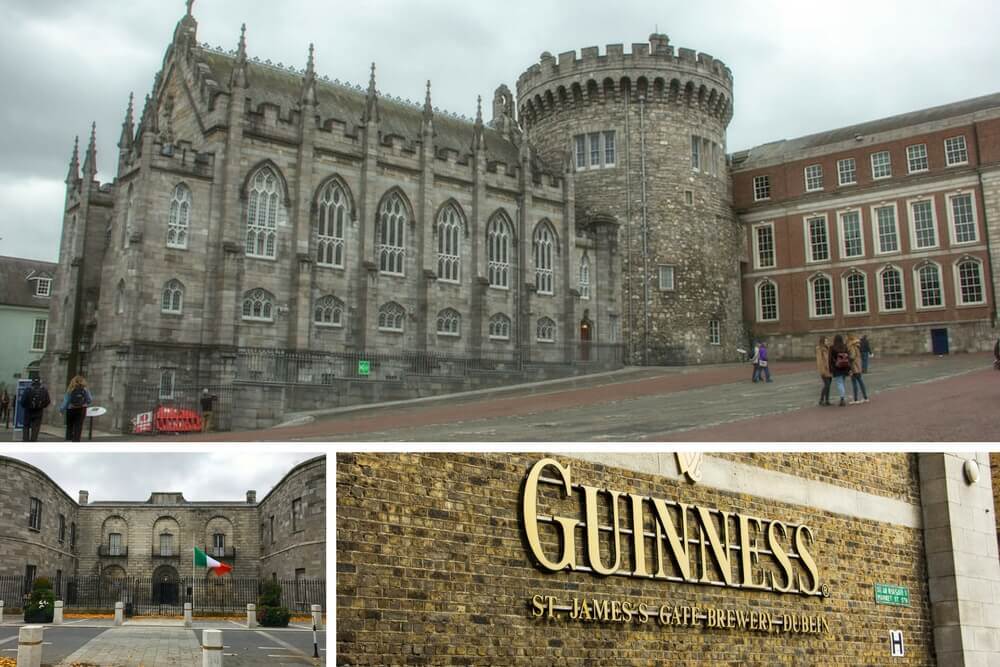 A Stop To Learn About The Irish Revolution
Our "lazy" Dublin bike tour culminated at the Kilmainham Gaol, a former 18th-century prison which housed prominent figures from the Irish Revolution, including the Easter Uprising. The prison had a grim reputation for its poor conditions, and at one point was not segregated; men, women and children (often petty thieves) shared the same cold cells with a single candle. The building is now a museum and symbol of Irish independence, and is a nice alternative (or addition) to visiting the GPO, or the General Post Office, which served as the location of the bloody Easter Uprising.
Feeling refreshed, energized, but also looking forward to a hot coffee, we headed back to the Lazy Bikes shop in Temple Bar.
---
Book your Dublin bike tour with an electric bike here. Tours are lead by Lazy Bike Tours and go rain or shine so bring everything you might need! The tour lasts 2 hours, and go twice daily at 10:00am or 12:30pm.
Click here for booking information
---
Who Would Enjoy This Dublin Bike Tour?
We enjoyed our Lazy Bike tour of Dublin, and think it's suitable for most adults, and teenagers aged 14 years old and up. It's worth noting, however, that Lazy Bike Tours (and their insurance company) has some restrictions on who can and cannot participate in the tours:
Who Shouldn't Book This Dublin Bike Tour:
✕ Unfortunately, pregnant women can't participate due to insurance issues. If you're pregnant and looking for a fun tour of Dublin, check out our Best Tours in Dublin post, which is based on our personal experience.
✕ Children under the age of 14 can't participate either.
✕ If you can't ride a conventional bike, this tour isn't for you.
✕ Finally, if you're travelling with a furry companion (a pet), note that this tour is for humans only.
Who Should Book This Dublin Bike Tour:
✓ This tour is good for adults aged 18 and up who can ride a bike, and for teens ages 14 through 17 who are accompanied by a parent or legal guardian (they must be present to sign the waiver, and to accompany the teen on the tour).
Dublin Bike Tour Practical Information and FAQs
Operator: This electric bike Dublin bike tour is operated by Lazy Bike Tours and can been in advance booked online
Tour Start/End Point: 4 Scarlet row, Essex Street West, Temple Bar, Dublin
Length of Tour: 2 hours
Times: Lazy Bike Dublin bike tours go daily at 10:00am or 12:30pm, rain or shine!
Notable Stops: Tour stops on the Lazy Bike Dublin bike tour include Dublin Castle, St. Patrick's Cathedral, Christchurch Cathedral, Guinness Storehouse, The Liberties area, Kilmainham Gaol, and more
What's Provided: High visibility safety vests, helmets, electric bikes, and a guide
What to Bring: Bring a light snack (there are no food stops on the tour) and wear comfortable shoes and a rain jacket (weather dependent). Bring your camera to take advantage of the photo stops, and somewhere to hide it if it starts to rain.
Bikes: You have a choice for your Lazy Bike Dublin bike tour of either an electric bike, or a traditional bike, if you prefer. All bikes seem to be well-maintained, and were in top working order during our tour. Be sure to arrive a few minutes early to get comfortable with whichever bike you choose.
Ready to Book?
Click here to check availability
---
Further Reading to Help You Plan Your Dublin Trip