The Best Places to Visit in Spain: 55 travel bloggers share where to go in Spain, including the most popular places in Spain across the north, east (coastal), south, and central parts of the country, as well as the Balearic islands and Canary Islands. If you're trying to decide where to visit in Spain or are looking for the most beautiful places in Spain, start here!


---
Spain is one of the most visited countries in the world…and once you've had a taste of the Spanish culture, landscape, lifestyle, and food, you'll quickly understand why.
Of course, Madrid and Barcelona top most people's lists as the two must see places in Spain. The third largest city in Europe, Madrid has all the markings of a vibrant European capital, offering food, history, culture, architecture – pretty much anything you could want for a Spanish city break. Less than 3 hours away by train, coastal Barcelona gives you an insight into Catalan culture, and provides days and days worth of activities, with Gaudi's out-of-this-world Modernisme buildings, a city centre beach, great food and nightlife, and a gorgeous old town meant for wandering.
Beyond the two main cities, there are countless smaller cities to visit in Spain that won't disappoint: Valencia, Seville, Granada, Bilbao, and Santiago de Compostela are just some of the best cities in Spain that come to mind, but the list is long. And that's not to mention the small villages and stunning natural areas that will drop your jaw and leave you planning your return trip, before you've even finished the first one.
Because of its size, diversity, and array of fantastic destinations, planning a trip to Spain can be a bit overwhelming…there are simply so many top Spain vacation spots to choose from. We reached out to more than 50 travel bloggers for help identifying their picks for the best Spain destinations for all sorts of travelers, with the results below: a whopping 55 answers to that all important question, what to see in Spain?
Whether you're just starting to plan your first trip, or are a seasoned Spain expert looking for a new favorite spot, we hope this list inspires you with some of the best places to go in Spain! And if you need more help planning a DIY tour of Spain, be sure to check out our Perfect Spain Itineraries post, and our Spain homepage, which has a complete listing of all our Spain articles.
Includes the Autonomous Regions of Galicia, Asturias, Cantabria, Basque Country, and Navarre
Includes the Autonomous Regions of Aragon, Catalonia, Valencia, and Murcia
Includes the Autonomous Region of Andalusia
Includes the Autonomous Regions of Madrid, Castile and León, and Castilla-La Mancha
Includes the Canary Islands and the Balearic Islands
Just in Case You Plan on Eating Your Way Across Spain…
Devour Tours is a food tour company that was co-founded by American travel blogger Lauren Aloise back in 2012, and has since grown from offering food tours in Madrid to offering food, wine, and tapas tours in 6 cities across Spain (Granada, Madrid, Barcelona, Seville, Malaga, and San Sebastian). Devour is all about connecting visitors with local, family-run businesses, so don't be surprised if you find yourself at a 100+ year-old tapas bar on a Devour tour, tasting tapas that have been passed down for generations. With humble beginnings in Madrid, Devour has grown into a serious force in Spain's food tour market, and now has more than 50,000 guests under its belt, offering more than 30 different tour options in the 6 different cities it operates, and earning rave reviews from those who go on their tours.
If you haven't heard of Devour yet, and eating your way across Spain sounds like a vacation-worthy goal, be sure to check out some of their food, wine and tapas tours while you're there (book in advance though, as they tend to get pretty busy!). You can find all their tours for each city by following these links: Granada, Madrid, Barcelona, Seville, Malaga, and San Sebastian.
Where to Go in Northern Spain
Northern Spain travel guide featuring the best places to visit in Northern Spain.
From the remote Costa da Morte and Cíes Islands in Galicia to the food-lovers paradise of San Sebastián, Northern Spain is sometimes referred to as 'secret Spain', far from the crowds of the centre and south of the country. Long gone are the Moorish influences of the south, replaced by intrepid pilgrims along the Camino de Santiago, unspoilt natural beauty, and proud and unique cultures, cities, and towns waiting to be discovered.
Map of Northern Spain
Northern Spain Tours
Well-Reviewed Multi-Day Tours through Northern Spain from G Adventures, Intrepid, and TourRadar (a tour aggregator)
✓ Walking the Picos de Europa (8-Day Tour from Bilbao) ✓ Cycle the Camino de Santiago (8-Day Tour from Oviedo) ✓ Secret Trails of Medieval Spain (8-Day Tour from Madrid) ✓ Walk the Camino de Santiago (8-Day Tour from Sarria) ✓ Best of Northern Spain (8-Day Tour from Barcelona to Madrid) ✓ Northern Spain Food Adventure (10-Day Tour from Barcelona to Santiago de Compostela)
Bilbao
Biscay Province, Basque Country Autonomous Community
---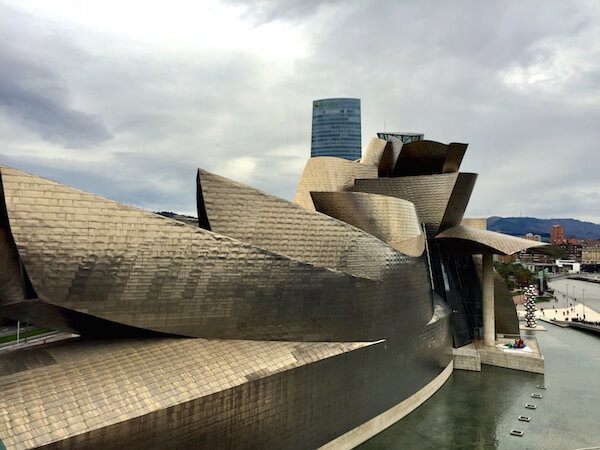 Mike of 197 Travel Stamps explains why he thinks Bilbao is one of the top cities in Northern Spain.
Lonely Planet lists Bilbao as one of the top places worldwide to visit in 2018, and I couldn't agree more. Within a couple of decades, Bilbao has evolved from a rough industrial town into one of the leading cultural and culinary centers in Europe. The construction of the iconic Guggenheim Museum has put the city on the map and more and more tourists and artists are flocking in, giving the city a dynamic and young feeling.
But Bilbao, the largest city in Northern Spain's Basque Country, has so much more to offer than just a famous museum: as the birthplace of pintxos, a type of Basque-style tapas served on a small piece of bread, you'll never be hungry during your time here. You can spend days hopping from one restaurant and market to the next, while having a few drinks and pintxos at each one. After a large meal, the Nervión riverbank invites a relaxing stroll. During the summer months, the city beach is also just a 30-minute ride from the town center.
Book Your Trip
Top Bilbao Hotel Recommendation: Gran Hotel Domine Bilbao II Top Bilbao Tours & Attractions: Bilbao Like a Local Tour I Vitoria & Rioja Day Tour from Bilbao I Basque Coast from Bilbao
San Sebastián
Gipuzkoa Province, Basque Country Autonomous Community
---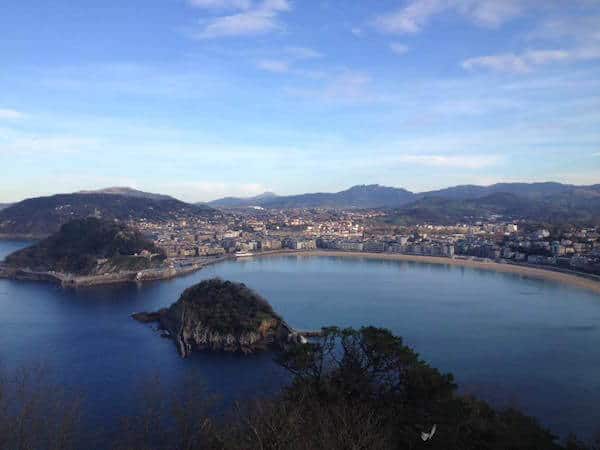 Tom of The Travelling Tom makes the case for adding San Sebastián to your Spain itinerary.
San Sebastián may not be the most well-known place in Spain, but it is one you should definitely visit. This beautiful city in Basque Country is full of beautiful sights, and boasts an array of delicious local cuisine, too.
One of the best things to do in San Sebastián is hike to the top of Monte Igeldo. From there, you'll get an amazing view of the city and the mountains in the background. Plus, there is an old amusement park at the top, should you need another dose of adrenaline. San Sebastián also boasts two beaches. The most well-known is La Concha, which has beautiful views out into the Bay of Biscay with rock outcrops visible all around you. Playa Zurriola is the place to go if you want to catch some waves. It's a surfing beach, and is an ideal spot to catch a gorgeous sunset too. Finally, the city is famous for its cuisine and boasts a number of Michelin-starred restaurants. If those are out of your budget, all the local bars offer pintxos, a local favorite. You can't leave San Sebastián without sampling a few.
San Sebastián is undoubtedly one of the best places to visit in northern Spain. If you're considering visiting the country, you definitely need to add it to your itinerary!
Book Your Trip
Top San Sebastián Hotel Recommendation: Casa Nicolasa II Top San Sebastián Tours & Attractions: Hiking the St. James Way I Grab Your Pintxo Tapas Tour
Lekeitio
Biscay Province, Basque Country Autonomous Community
---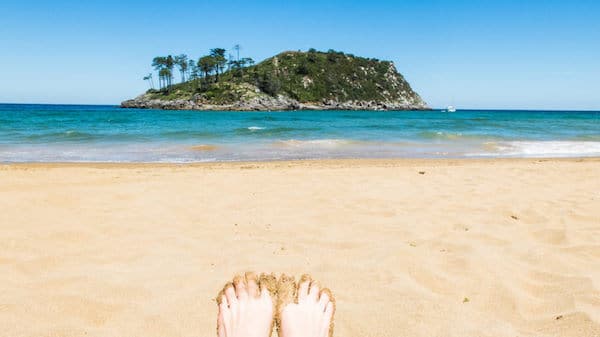 Allison of Eternal Arrival explains why Lekeitio is the perfect destination for sun seekers looking for gorgeous Northern Spain beaches, without sacrificing on culture.
Lekeitio is a small fishing village in Northern Spain's Basque Country, but don't overlook its small size — it's absolutely worth a visit. Lekeitio is home to one of the most gorgeous beaches in all of mainland Spain. The beach has beautifully soft sand, turquoise waters, and a lovely view of nearby San Nicolas island, which you can actually walk to at low tide (just don't get stuck there when the tide rolls back in!). You can kayak in the calmer part of the bay, swim in the crashing waves, or just sun yourself all day before heading into town for some local Basque cider and fresh seafood.
The houses on the turquoise harbor are colorful and vibrant, and the restaurants serve up some of the most delicious food imaginable — don't miss the fresh octopus, sardines, and delicious tapas (called pintxos here in the Basque Country) on offer at the local restaurants. There's also a cool church that can't be missed — the Basilica de Lekeitio — with its impressive decorative arches and Gothic style.
Where to Stay in Lekeitio
Zubieta (3-star rated 9.0/10 by past guests) I 1-Bedroom Central Apartment (Rated 9.5/10 by past guests)
Pamplona
Navarre Province and Autonomous Community
---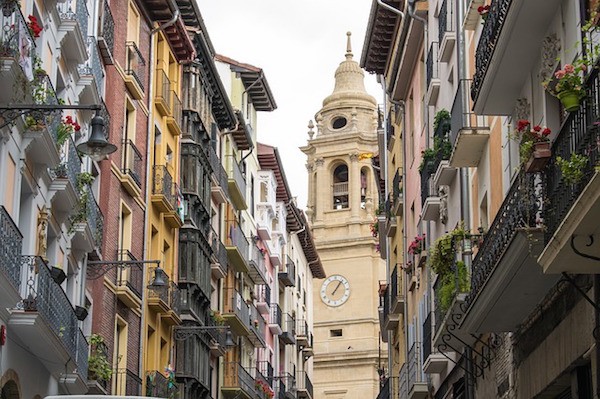 Aditi of Travelogue Connect explains why Pamplona is worth visiting throughout the year.
Of course, Pamplona is best-known for the Running of the Bulls during the San Fermin Festival held each year from July 6 to 14. But there is so much more to this city than this one week in July.
Pamplona is the capital of the fiercely independent Kingdom of Navarra, and is a fascinating place to explore. It is a great city to visit if you are a foodie, since it is home to some of the best bars and restaurants in Spain. Pamplona's Old Town is surrounded by medieval city walls and is full of Gothic-style churches. This part of the city shouldn't be missed at any cost.
For history lovers, Pamplona offers Museo de Navarra, the best museum in the city. Pamplona also has a vibrant nightlife filled with wine bars, live music venues, and nightclubs. Pamplona's Riverside Park spans a whopping total of nearly one million square meters. It is the lung of the city, and the perfect place for enjoying a leisurely walk along the banks of Arga, Elorz and Sadar rivers.
Where to Stay in Pamplona
Gran Hotel La Perla (5-star rated 9.6/10 by past guests) I Pamplona Cathedral Hotel (Rated 8.9/10 by past guests) I Hotel Yoldi Pamplona (Rated 8.8/10 by past guests)
Santander
Cantabria Province and Autonomous Community
---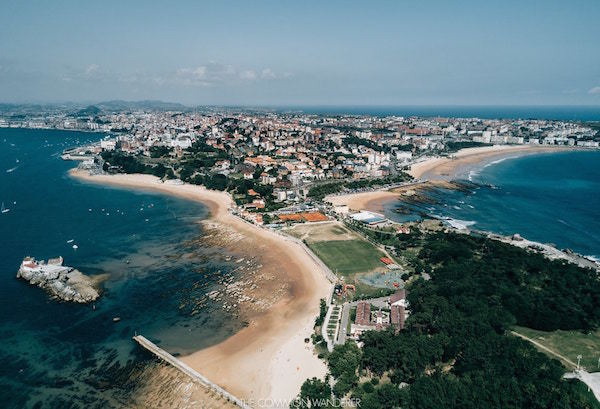 Miranda & Mark of The Common Wanderer share why the golden beaches, beautiful surroundings, and excellent food and drink scene make Santander one of the best places to visit along the north coast of Spain.
These days, it's hard to find a city in Spain that remains relatively untouched by tourism – but Santander is thankfully one of them. We spent a warm weekend in Santander recently, having arrived with no prior knowledge or expectation and departed having immensely enjoyed all that the city has to offer.
It might not have the immediate charm of other Spanish cities, but from the elegant tree-lined 'Paseo de Pereda' promenade, to the atmospheric plazas; the golden sands of El Sardinero, and the impressive (yet blustery) coastal walks; to the newest jewel in Santander's cultural crown, Centro Botin, Santander really does have a lot to offer.
Then there's the food and drink; tapas bars are dotted all over Santander, serving delightful dishes formed with incredibly fresh local ingredients. Our standout favourite was the Bodega del Riojano, a rustic dining room lined with colourful wine barrels painted by the hands of contemporary artists, including Picasso, in return for food.
But for us, the vast natural beauty of its surrounds, and its stunning golden beaches close to town made Santander our favourite Spanish city.
Where to Stay in Santander
Oviedo
Asturias Province and Autonomous Community
---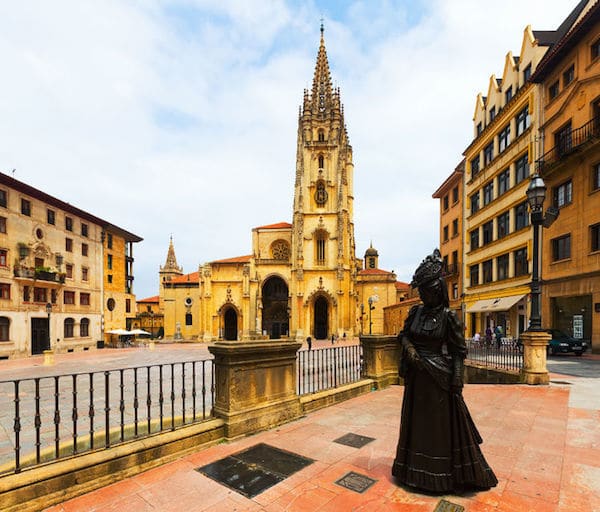 Talek of Travels With Talek explains why Oviedo is one of the best cities in Spain for nightlife.
Oviedo is the capital of the Principality of Asturias in northern Spain, an area of Spain that travelers frequently miss because it is not as well-known as other Spanish gems, like Barcelona or Madrid. But Oviedo is worth a long, leisurely visit: you won't be disappointed.
Oviedo has all the classic Spanish trappings: the medieval structures, the winding streets and the alleyways leading to wide open plazas and friendly people. It is also one of Spain's major party towns. Three sections of the city cannot be missed if you are looking for unique experiences. The first is Tapas Street, with an extensive collection of neighborhood bars offering killer tapas. Then comes Cider Street (Calle Gascona), with quaint restaurants and waiters that serve cider from about three feet up in order to properly aerate the drink. And finally, there is North Street, with more upscale restaurants serving unique and sophisticated Spanish cuisine. Musicians are a fixture at all these locations, making for a lively and unforgettable visit.
Where to Stay in Oviedo
Cudillero
Asturias Province and Autonomous Community
---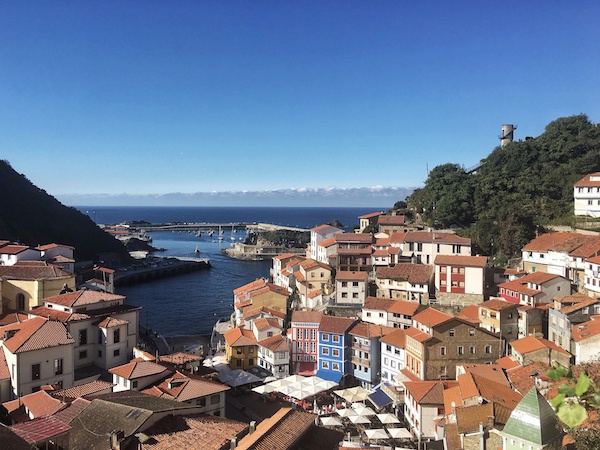 Claudia of My Adventures Across the World shares why Cudillero is the perfect stop on a laid-back Spain vacation.
Cudillero is a lovely place on the coast of Asturias, Spain that may well be one of the most lovely places to visit in the country. It's a tiny fishing village, with a small harbor. The colorful houses are built along the side of the mountain. It looks like they are hanging from there. The view of them from the harbor is splendid, though the best view of the village is that from the top, looking down the harbor.
As the streets are incredibly narrow, there's no cars in the village, making it incredibly pleasant to walk around. It's a place where the pace of life has remained slow, where those that live there all know each other, and are always there for one another. Sleepy cats wait on door mats; people carry around their daily shopping on the stairways that connect the various parts of the village; an old lady sits by the window, admiring life passing by and just staring at the breathtaking view. It has an incredible atmosphere, where one could easily get lost for days.
Where to Stay in Cudillero
Santiago de Compostela
A Coruña Province, Galicia Autonomous Community
---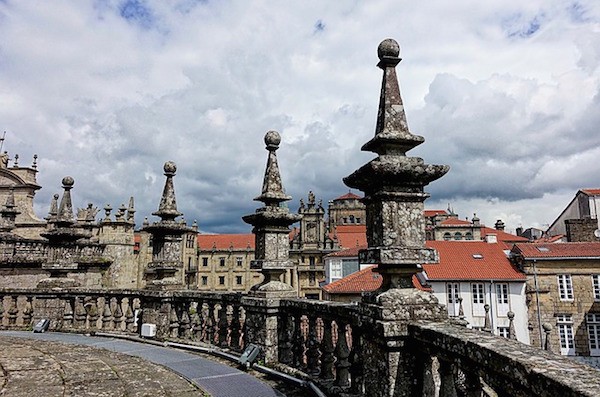 Roman of Roman Roams suggests a visit to Santiago de Compostela in north west Spain, and explains why it's one of the top spiritual and historical places in Spain.
Santiago de Compostela is a small town of about 100,000 inhabitants in the northwestern corner of Spain, in the region of Galicia, not far from the beautiful Asturias.
For its size, it offers a surprisingly big variety of historical attractions and gourmet experiences. The most famous sight in the town is its cathedral, which is the last point of the pilgrimage route that starts in the Pyrenees called St. Jacob's way. This huge cathedral finished in 1211 is the largest Romanesque church in Spain. It brings a large number of both pilgrims and tourists to the town.
Apart from the famous cathedral, you can enjoy the narrow streets of medieval houses in the old town, try pulpo (octopus), which is the traditional food here, and have a Tarta de Santiago with coffee for dessert. Enjoy the tranquility and the feeling of being in a medieval Spanish town (but without inquisition) any time of the year.
Book Your Trip
Top Santiago de Compostela Hotel Recommendation: Boutique Hotel Literario (3-star rated 9.2/10 by past guests) II Top Santiago de Compostela Tours & Attractions: Cathedral Guided Tour I Cape Finisterre & Costa da Morte Day Trip I Full-Day Boat Trip to Rías Baixas
Costa da Morte (Death Coast)
A Coruña Province, Galicia Autonomous Community
---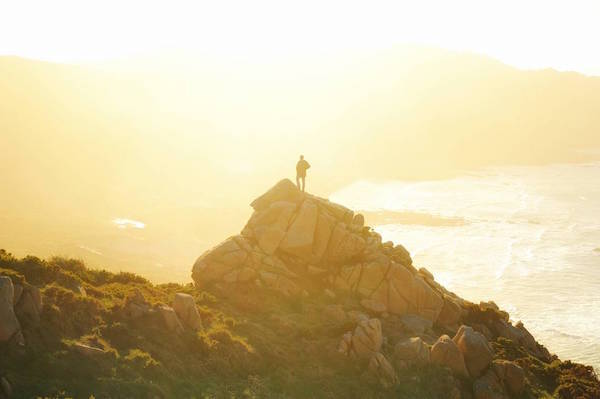 Inma of A World to Travel makes a case for visiting Galicia's spectacular Death Coast, one of the most beautiful places in Spain.
Directly exposed to the Atlantic Ocean, and between the coastal towns of Carnota and Malpica, the shore of Costa da Morte (aka Death Coast) was named after the many shipwrecks along its unforgiving jagged shore. Unfortunately, earlier this century, it was also famous for a massive oil spill – a natural disaster from the Prestige – that dyed black the entire coast, spreading all the way to France throughout the northern Iberian peninsula.
But there's more to this region than the origin of its name. As sheer, raw and inhospitable as it gets, Costa da Morte is also one of the most beautiful places in the country and a Galicia must-see destination filled with unique traditions, warm inhabitants, and tons of great photography spots.
If you come, do not hesitate to get in touch, we are based nearby and would love to give you some tips!
Cíes Islands
Pontevedra Province, Galicia Autonomous Community
---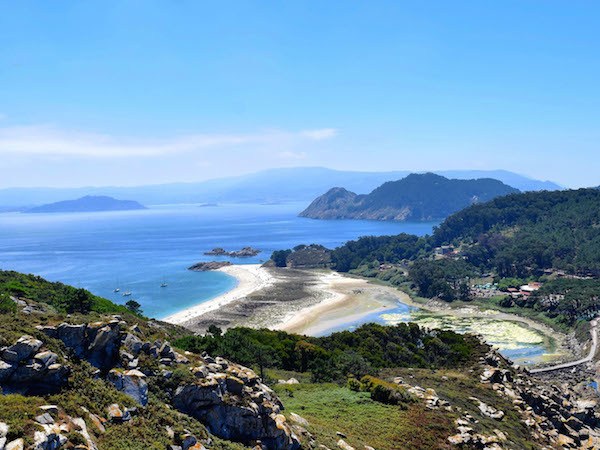 David of Travelsewhere explains why the Cíes Islands are one of the best places to see in Spain for those looking to beat the heat of the centre and south of the country, and for those looking for the best beaches in northern Spain.
Just off the coast from the Galician city of Vigo lies a playground for lovers of the outdoors. The Cíes Islands are two mountainous islands in the Atlantic Ocean covered in forest and joined by a small causeway. There are a number of hiking trails that lead through the eucalyptus trees and take you to sublime view points that look out over the entire area. The views from Alto del Principe are just phenomenal.
Oh and did I mention the world class beaches? No? The Cíes Islands are home to multiple, sheltered soft sand beaches that you can easily spend the day lying on. Plus, with the cooler Galician climate, it doesn't get nearly as crazy hot as the centre of Spain. Instead, you'll find it comfortably warm as you spread out on the ever popular beach, Playa de Rodas. Whether you visit as a day trip from Vigo or stay at the island's campsite, you won't regret the visit.

Where to Go in Eastern Spain / Coastal Spain
While the country's many vibrant cities top the list for some of the best places to see in Spain for cultural travelers, most visitors would agree the Spanish coast is one of the top holiday destinations in Spain. This section includes Aragon in north east Spain, the Costa Brava and Girona Pyrenees, and goes south along the Mediterranean coast, including Costa Blanca and Costa de Valencia.
Map of Eastern Spain
Eastern Spain Tours
Well-Reviewed Multi-Day Tours through Coastal and Eastern Spain sold by TourRadar (a tour aggregator)
✓ Spanish Spree (14-Day Circle Tour from Madrid) ✓ Catalonia Gastronomic Cycling Tour (6-Day Tour from Romanya de la Selva to Girona) ✓ Spanish Experience (9-Day Tour from Barcelona to Madrid)
Alquézar
Huesca Province, Aragon Autonomous Community
---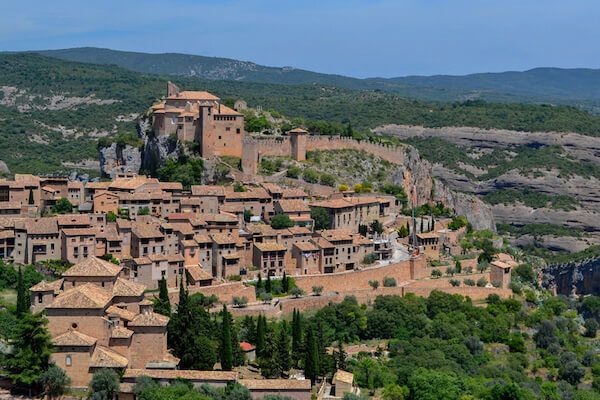 Allan of Live Less Ordinary explains why the small village of Alquézar is one of the best places to travel in Spain for those wanting to truly get away from it all.
Surrounded by winding roads, olive groves, and limestone cliffs, Alquezar is a quiet medieval village found in the remote province of Huesca, just south of the central Pyrenees. The village sits on an outcrop over deep canyon caverns, vultures circling almost continuously from above. Given its remote and off-the-beaten-track location, the village is mostly overlooked by tourism, with the tourism that does exist focusing on canyoning, rock climbing, and birding in the surrounding canyons. But this lesser-known medieval village is no doubt worth the journey, and more, with its old cobbled paths, terracotta tiled roofs, and rustic Spanish charm. With no more than 400 residents, it is also a small village full of local charm, and it centres around the local attractions of Saint Michael's church and the medieval castle and Collegiate church of Santa Maria. In evenings the perfect setting is found at the Al Fresco dining (or Al Fuera in Spanish) on the pedestrianized Main Street and central square: perfect for local olives, tapas and maybe some Sangria.
Zaragoza
Zaragoza Province, Aragon Autonomous Community
---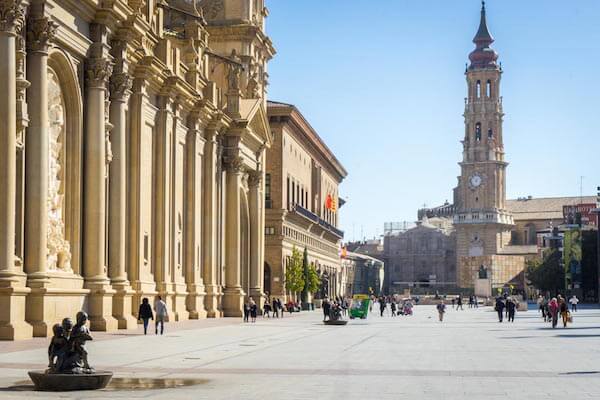 Michael of Time Travel Turtle explains why he considers Zaragoza to be one of the top cities to visit in Spain, even if it is a bit overlooked by most tourists.
It may the tenth largest city in Spain, but Zaragoza is often overlooked by tourists. At the crossroads between Madrid, Barcelona, Valencia and Bilbao, it may seem like somewhere you pass through, not spend a night in. But there is plenty in Zaragoza that will impress you.
I think the most impressive sight is the Cathedral-Basilica of Our Lady of the Pillar. It is absolutely enormous – about 150 metres long – and is full of chapels and artwork. Another important site is Aljafería Palace, the stronghold built in the 11th century by the Islamic rulers of the time. It has some wonderful Mudéjar architecture (and is part of a World Heritage Site).
There is also a really interesting art scene in Zaragoza. Goya gets all the attention from traditionalists because this is his hometown and there is a museum dedicated to his work. But an annual street art festival means there's also plenty of cool stuff to be found on the walls.
And, finally, I would also suggest you check out the old site of the 2008 Expo. There is some stunning modern architecture and installation art still there, including the beautiful Bridge Pavilion, designed by Zaha Hadid.
Where to Stay in Zaragoza
Barcelona
Barcelona Province, Catalonia Autonomous Community
---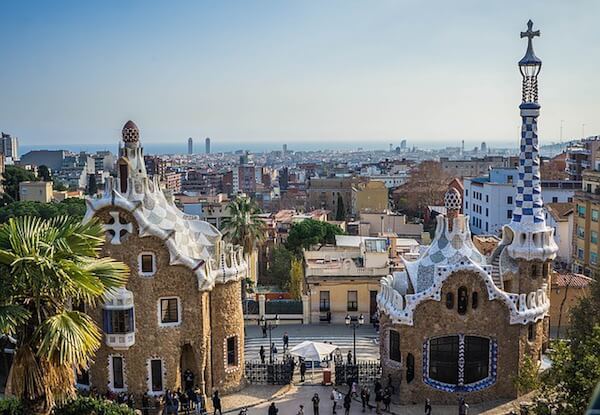 Vicki of Vicki Viaja shares her love for Barcelona, and makes it easy to see why it's one of the most popular cities in Spain to visit.
On my first trip to Barcelona, I totally fell in love with this beautiful city. Not even one year later I packed my bags and moved here. But it's not only the famous sights, such as the Sagrada Família or the Park Güell, that make Barcelona so special. It's the whole vibe of the different neighborhoods, the beach, and the wonderful people living here.
There are both old quarters, like the Barrio Gótico, and modern places, like Gràcia, which has a lot of alternative shops and restaurants. It's just a perfect mixture of traditional city and modern vibe. You will find amazing art, museums, and festivals, but also party, beach, and relaxation. And don't let me get started with the food. Catalonia simply offers super delicious dishes that I couldn't go without anymore. But the best thing about Barcelona is the weather. Almost every day, you are able to enjoy the sun. What could be better when discovering the mesmerizing streets and architecture of Barcelona?
Find the best area to stay in Barcelona with our Barcelona Neighborhood Guide. Plan your time outside the city with The Best Day Trips from Barcelona.
Book Your Trip
Top Hotel Recommendation in Barcelona: K+K Hotel Picasso (4-star rated 8.9/10 by past guests) I Top Tours and Attractions in Barcelona: Barcelona Skip-the-Line (Sagrada Familia I Park Güell I Casa Mila I Casa Batlló) I Barcelona Transport Card I Spanish Cooking Class & Market Tour
Girona
Girona Province, Catalonia Autonomous Community
---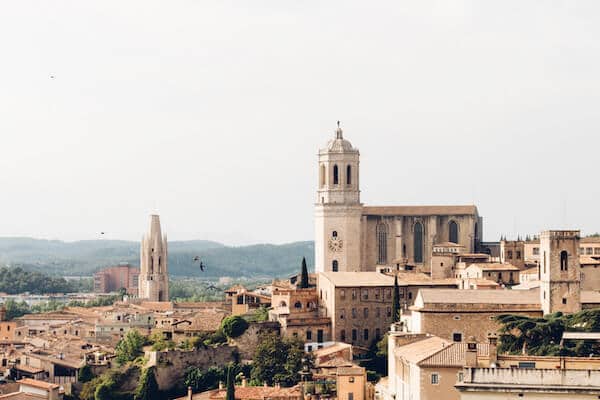 Emily and Andrew of Along Dusty Roads explain why you should visit Girona, the largest city on Costa Brava.
Where in Spain can you eat at one of the world's best restaurants, drink coffee side-by-side Tour de France cyclists, walk a bridge designed by Eiffel, and follow in the footsteps of Game of Thrones characters?
Little Girona is often forgotten about by visitors to Catalonia. With the more famous and glamorous Barcelona only 40 minutes away, perhaps that shouldn't be too much of a surprise. However, those who choose to spend a few days exploring Girona's wonderful medieval centre are never disappointed – despite its small size, this city packs a punch! Its cobblestone streets and alleyways are filled with history and a delight to explore, its unique brightly painted houses lining the river Onyar are incredibly photogenic, whilst a walk along the old city walls is rewarded by spectacular views over the city.
For a romantic weekend break in Spain, Girona is the perfect option.
Where to Stay in Girona
Top Hotel Recommendation in Girona: Hotel Nord 1901 Superior (4-star rated 9.1/10 by past guests)
Tossa de Mar
Girona Province, Catalonia Autonomous Community
---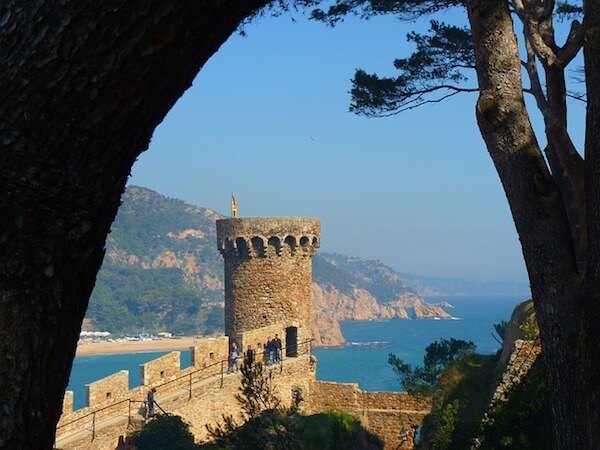 Margarita of Down Shifting Pro tells a story of her time in Tossa de Mar, a lovely stop along the Spanish coastline.
It all began because we got lost. We weren't really, really lost, we were just looking for a different castle. This is what happens when you tour the Girona province of Spain. We found ourselves in a small tourist town with a huge fortress and a charming walled city within. The fortress sits on top of a mountain and looks down on the village of Tossa de Mar and the Mediterranean beach. Within the ramparts of the old town – Vila Vella – you will walk on cobblestone streets, eat at charming cafes and browse small shops that blend in seamlessly. From the lighthouse you will look down at two of four beaches – the large public beach at the foot of downtown and the smaller Codolar beach which is accessible from the walled old town. As I walked around the town, I captured my favourite image as I looked up to the 13th century tower and framed it against the beautiful Mediterranean sky. Picture perfect day in Costa Brava.
Where to Stay in Tossa de Mar
This part of Spain is filled with many gorgeous Spanish Coastal resorts to choose from – perfect if you're planning a beach holiday in Spain. However, we also recommend staying within Tossa de Mar itself, and renting a car to explore the area. We've included some city-centre hotel recommendations below.
Top Hotel Recommendations in Tossa de Mar: Hotel Diana (3-star rated 9.4/10 by past guests) I Boutique Hotel Casa Granados (4-star rated 9.3/10 by past guests)
Montserrat
---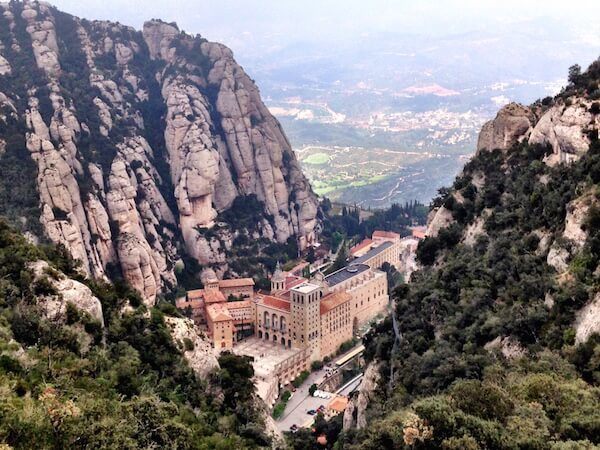 Betsy of Passing Thru explains why Montserrat tops the list for one of the best day trips from Barcelona.

An important shrine to the Black Madonna patron saint of Catalonia, Montserrat has played a role in history from pre-Roman pagan times to the present. Montserrat is an easy and essential day trip from Barcelona where visitors will find a mystical combination of spiritual and religious insights in a spectacular physical setting. Nestled in a cluster of unmistakeable rock formations which soar 4,000 feet up from the valley floor below, Montserrat's Benedictine Abbey and Royal Basilica date back to the 16th century. The Museum of Montserrat provides an intimate experience with paintings and sculptures by Catalonian artists such as Dalí, Picasso and Caravaggio. Legendary associations with St. Ignatius of Loyola (founder of the Jesuits), the Holy Grail in King Arthur and Germanic myth, as well as 20th century defiance during the Spanish Civil War and the Basque separatist movement make this site an imperative for visitors who are interested in history and religion, as well as active outdoor adventurers who will revel in trekking above the mountain's funicular ascent.

Book Your Trip
Montserrat Day Trips from Barcelona: Montserrat Monastery & Natural Park Hike I Montserrat, Tapas and Wine Half-Day Tour I Half-Day Montserrat Tour from Barcelona I Trans Montserrat Return Ticket and Museum Entrance
Besalú
Girona Province, Catalonia Autonomous Community
---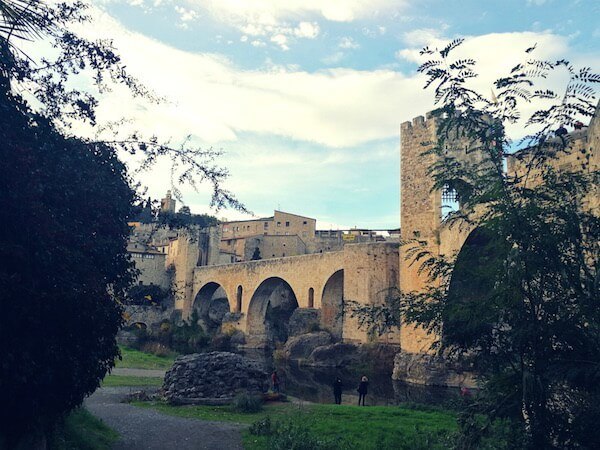 Jessica of Catalan Living shares why Besalú is worth a visit on the Costa Brava
Besalú is only a 20-30 minute drive north of Girona and is a great day trip for anyone wanting to be whisked back to Medieval Catalonia.
The magnificent Pont-de-Besalú bridge conjures up romantic sentiments, welcoming you into the heart of the cobbled town. You can believe the rumours that the town might be used as a location for Game of Thrones as you wander aimlessly through the dark, towering streets.
There are a myriad of souvenir shops, selling slightly classier gifts. The streets open up onto a large plaza where a Museum of Miniatures and the Monastery of Saint Peter sit grandly, overlooking a couple of traditional, white linen table restaurants. A tourist train takes you on a 45-minute tour of the historic centre and you must absolutely stop at the Maria de Lourdes Vives Segui Bakery to taste her chocolate muffins. A synagogue and Mikveh were discovered in 2006 which date back to the 12th and 13th century.
If you enjoy trekking, there are a couple of small boutique hotels right in the heart of the town, which you can use as a base while you explore the surrounding natural Volcanic park of La Garrotxa.
Figueres
Girona Province, Catalonia Autonomous Community
---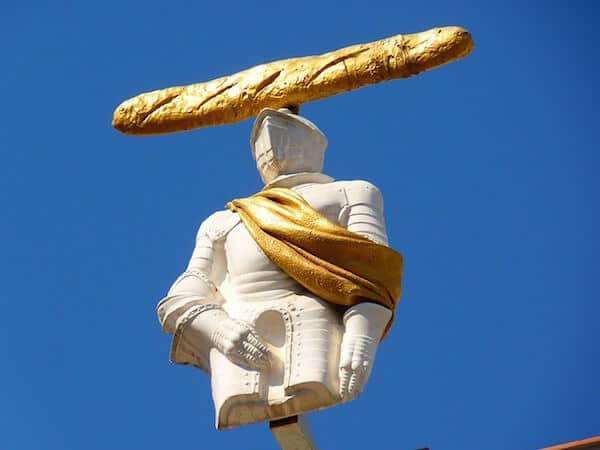 Jess of Longest Bus Rides shares why Figueres is worth the time.
Figueres, Spain, located 2 hours north of Barcelona (Girona is between the two cities), is often a day trip for visitors of the Salvador Dalí Museum. Most people miss one of the best little tours I have ever been on, which is a short walk from the museum. Advance reservation is required for a tour of Castell de Sant Ferran, at which time you select your preferred language. Meet your guide upon arrival, have a quick introduction about the difference between a castillo and a fortaleza, and receive your helmet with headlamp. Then, hop into an open-top jeep and you're on your way to the tunnels and learning all about hilltop defense. The grand finale of the tour includes one last use of your headlamp: a boat ride in the massive underground water cistern.
I highly recommend the cheese plate at the El Motel (Hotel Empordá Restaurant). The cheese cart selection is fabulous, and the food is wonderful.
A full day in the city, completely on foot, is breakfast at a café, castle tour (plan on another hour or two post-tour for visiting areas not covered during the tour), lunch, Salvador Dalí Museum (plan on several hours to visit all the rooms, free coat-check), supper. This walkable city has small streets with wonderful graffiti worth wandering for.

Siurana
Tarragona Province, Catalonia Autonomous Community
---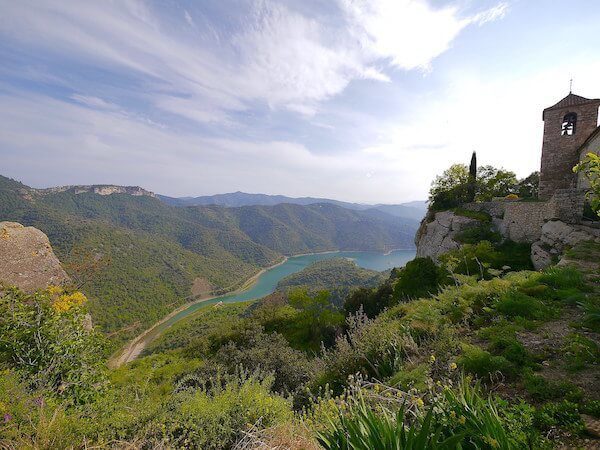 Mar of Once in a Lifetime Journey shares why Siurana makes a great stop for adventurous travelers.
Although it is steeped in a fairly tragic history of battles lost and won, today, the tiny village of Siurana is a must-visit for adventurers and romantics. As it is magnificently perched on a cliff top, it is a favorite spot for rock climbers (9b class). If you aren't the intrepid type, you can take a slow stroll along the ancient cobblestone road with a guided tour that runs every weekend at noon through the Tourism Office at Cornudella. Stop at the well-preserved Romanesque church that was built between the 12th and 13th centuries. You can not only marvel at the stunning building, but will also be in awe of majestic 360 degree views over the mountain range and the horizon. Step into the remains of the Moorish castle which was a military stronghold in the 9th Century. End your brief journey by watching the brave climbers on the jagged cliff face.
Vall de Núria
Girona Province, Catalonia Autonomous Community
---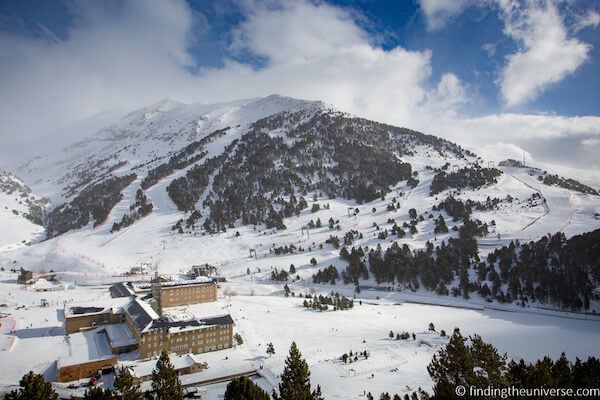 Laurence of Finding the Universe shares about Vall de Núria, one of the best places to go skiing in Spain in winter, and open for year-round visits.
One of my favourite places to visit in Spain is the Vall de Nuria. This beautiful valley is located high up in the Spanish Pyrenees, about 100 miles north of Barcelona, and is only accessible by a special train – or on foot!
The Vall de Nuria is a year round destination. In winter, it becomes a winter wonderland, home to all sorts of snowy activities from skiing to snow shoeing to tobogganing. With 10 runs to choose from, it's the perfect place for a family skiing adventure. For more on winter activities in this part of the world, check out our guide to skiing in the Spanish Pyrenees.
In the summer, the valley is popular with outdoors enthusiasts, who come here for the hiking and wildlife watching opportunities. At whatever time of year you visit, you will find a number of services in the valley, including accommodation, food, and equipment hire. The valley is also popular with pilgrims, as it is home to a beautiful old chapel.
Many people choose to overnight in the valley, but it can also be visited on a day trip from cities such as Barcelona or Girona. You can also stay in one of the towns below the valley from where the train operates – we'd suggest Ribes de Freser as a good option, as this has lots of accommodation and dining options as well.
Where to Stay in Ribes de Freser
Santa Pau
Girona Province, Catalonia Autonomous Community
---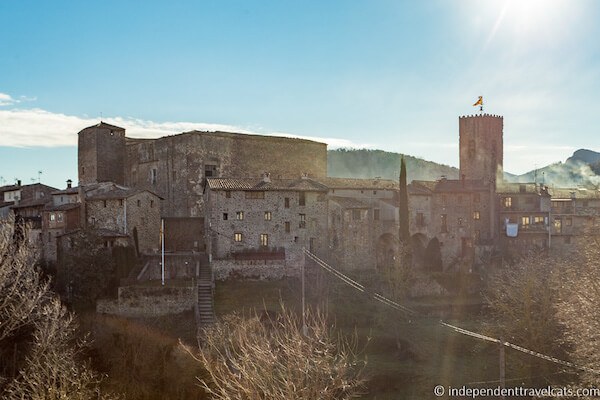 Jessica of Independent Travel Cats shares about Santa Pau…
The Spanish Pyrenees region of Spain is filled with cute medieval villages and hill towns. We have visited a lot of cities and towns in this area, but one of my favorite towns is Santa Pau. Santa Pau is located within the La Garrotxa area of the Costa Brava region of Catalonia in Spain.
Although there are no major must-see attractions, this little town has a number of well-preserved medieval buildings and alleys. The town helpfully has a series of placards and information boards around the town to help learn more about the history and you can follow them to learn about the individual buildings and sites. These include doors and portals, a main square area, a church, a castle, a tower, and a bridge. A great town to spend a couple of hours exploring on foot. The town is also well known for its local white beans, and although you can get dishes here or elsewhere in the region year-round, there is a town festival, La Fesolada, that celebrates the beans.
In addition to this, nearby is hiking and walking opportunities through forested areas, extinct volcanos, and to natural pools. There is much to explore in this region.
Sitges
Barcelona Province, Catalonia Autonomous Community
---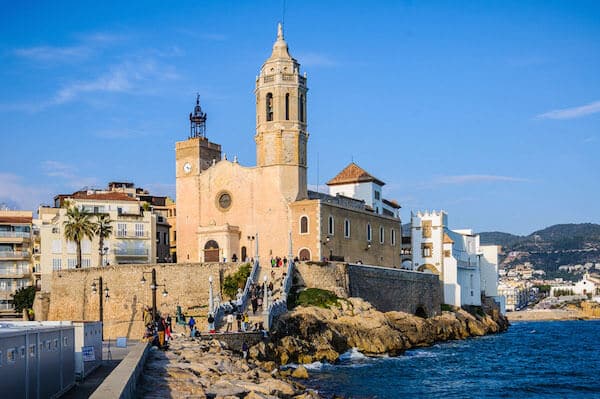 Gábor of Surfing the Planet shares about Sitges, a top day trip from Barcelona.
Sitges is a charming coastal town situated a 30-minute train ride from Barcelona. It's one of those places which show you a very different face, depending on when you visit: expect a different city if you visit on a weekday in winter, when it's a calm place, or if you go there during the summer months, when it's full of tourists.
Visitors are attracted to Sitges by the long sandy beaches and the vivid nightlife. In summer there's a party everywhere, and Sitges is world famous for being one of the first extremely gay-friendly places in Europe, and is still a very popular destination among gay tourists.
I really like taking a stroll on the long maritime avenue of Sitges, presided over by the majestic Sant Bartomeu Church that stands as a guard on the shore. Sitges has quite a few important modernist buildings and interesting museums. Walking on the seaside you will also see a lot of "villas" from the post-colonial era. One of the greatest moments of the year is the Carnival in Sitges, which has a really special atmosphere.
Valencia
Valencia Province and Autonomous Community
---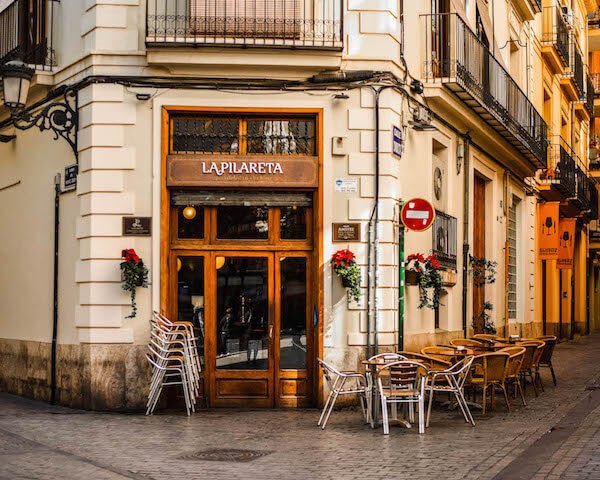 Stephanie of History Fan Girl shares about Valencia
Valencia is a beautiful town on the Mediterranean. It's typically far quieter than Barcelona or Madrid unless you visit during Fallas, when fireworks can start as early as 8 am! Traveling during the offseason, I found a city full of beautiful squares, cafes and tapas restaurants crowded with raucous locals, and (thankfully) minimal tourists.
Some of the most popular tourist attractions are the city's famous tower and the UNESCO World Heritage Site La Lonja de la Seda de Valencia, the gorgeous Silk Exchange building. However, I found my favorite moments in the city were enjoying tapas on the sidewalk in the colorful Ruzafa neighborhood and giving myself an impromptu street art tour by the central market.
For those interested in traveling to local festivals, Las Fallas is in March, with pre-festival festivities beginning in the last week of February. The festival is in honor of Saint Joseph and includes amazing pyrotechnic shows where monuments are burned down.
Valencia has so much to offer-whether you're looking for a peaceful break or a raucous time.
Book Your Trip
Top Hotel Recommendation in Valencia: One Shot Mercat 09 (4-star rated 9.3/10 by past guests) I Top Tours and Attractions in Valencia: City of Arts Full-Day Combined Ticket I Valencia Bike Tour I History of Valencia Guided Walking Tour I Oceanogràfic Entrance Ticket
Tabarca
Alicante Province, Valencia Autonomous Community
---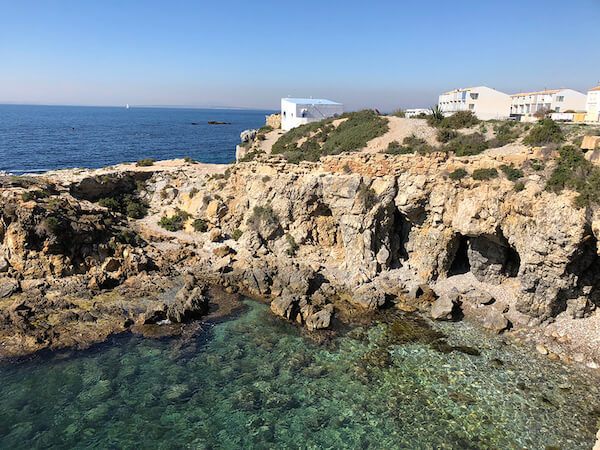 Niall of Independent Atlas sings the praises of Tabarca.
The tiny islet of Tabarca is among our favourite places to visit in Spain. At only 1 mile long, and less than 1/2 mile wide, you can explore this place in just an hour. But why would you? As the boat chugs into the little harbour you will feel transported back to an age long gone, and seeing the crystal clear, blue waters teaming with marine life, you may decide you never want to leave.
Once an ancient pirate stronghold, Tabarca embodies what Spain used to be, long before package holidays and massive apartment blocks bought the world to the Mediterranean coast. There are no cars here, because there are no roads. Wander the cobbled streets of Nueva Tabarca and look out across the sea from the ancient walls of the fortified town. There are coves and caves where it is rumoured that pirates buried their treasure. The azure, full waters are part of a conservation area making it perfect for everyone, whether you snorkel, dive, climb, canoe or just want to chill in the sun.
Tabarca gets busy with day trippers in July and August and has a completely different vibe, but visit just out of season and you'll feel like this place is your own little secret.
Cartagena
Murcia Province and Autonomous Community
---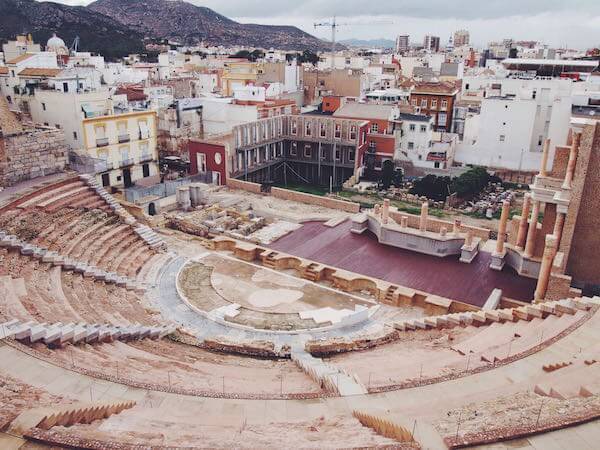 Emily of Wander-Lush shares why Cartagena, one of the most historical cities in Spain, is perfect for travelers interested in Roman and Byzantine history.
Located in the southeastern corner of Murcia region, roughly halfway between Valencia and Malaga, the small city of Cartagena is surrounded by some of the Mediterranean's best beaches and summer resorts. But it's not sun worshipping people come for. One of the oldest ports in Spain, Cartagena is best known for its Roman and Byzantine ruins.
Its 3000-year history is woven together under the "Cartagena, Port of Cultures" initiative, which makes it easy to discover the various layers of the city's heritage on foot. Start at the Historical Interpretation Centre at the Castillo de la Concepcion to get an overview. From there, visitors can embark on a series of thematic routes— 'Roman Cartagena', 'Millennial Cartagena' or 'Modern Cartagena', each with its own points of interest that span from Cartagena's founding in 228 BC right through to the Spanish Civil War. If you have to choose just one archeological site, make it the Teatro Romano—the second-largest Roman Theater on the Iberian Peninsula is a Cartagena icon.
You'd do well to time your visit with one of the city's raucous medieval carnivals. The Carthaginians and Romans Fiesta, held over 10 days each September, sees Cartagena's residents dress up to reenact the battles of the Second Punic War.
Where to Stay in Cartagena
Where to Go in Southern Spain
Some of the best places to visit in southern Spain are in fact some of the best places to visit in the country as a whole, such is the mesmerizing beauty, rich history, and intoxicating culture of this region. The biggest challenge in finding the best of Andalusia is narrowing it down from a long list of wonderful cities, villages, and coastal hotspots. We hope this helps you find some of the best places to visit in southern Spain; if you want more, check out our Andalucia travel guide post.
Map of Southern Spain
Southern Spain Tours
Well-Reviewed Multi-Day Tours through Southern from G Adventures, Intrepid, and TourRadar (a tour aggregator)
✓ Discover Moorish Spain (8-Days Madrid to Seville) ✓ Best of Southern Spain (8 Days Madrid to Barcelona) ✓ Cycle Andalusia (9-Day Tour from Seville to Granada) ✓ Walking Andalusia (8 Days from Malaga) ✓ Authentic Andalusia (8 Days from Malaga)
Seville
Seville Province, Andalusia Autonomous Community
---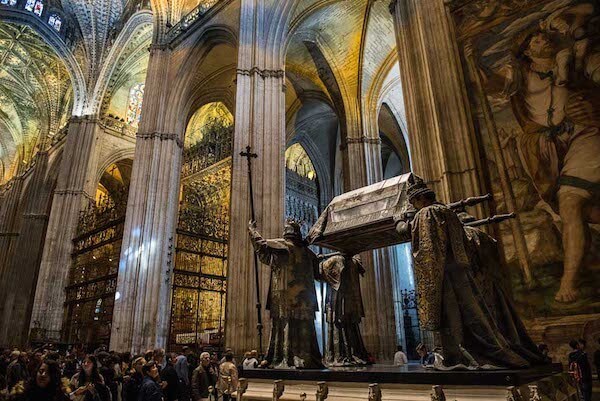 Tom from TravelPast50 lived and traveled repeatedly in Spain for more than 40 years, and has spent a great deal of time in Seville.
There are lots of things to do if you have a few days in Seville. If it's your first time, here's a list of the basics you should make time for.
The Cathedral is the biggest in Spain and the third biggest in the world. But the size is immaterial to the beauty within. There's an intricate carved walnut choir, some fascinating reliquaries in the "Treasure," and a collection of the best Sevilliano painters such as Zurburan and Murillo. And, maybe best of all, the spectacular tomb of Christopher Columbus.
The Alcazar is the former home of the Moorish kings of Seville. It sports carved walls and columns which rival those of the Alhambra in Granada. There's been a little spoilage, as a lot of Christian iconography was later imposed, but what remains is lovely.
The Museum of Fine Arts (Bellas Artes) has the best of the Seville School of painters. There are lots of works by Murillo, who paints the most beautiful women. Unfortunately, the museum design makes it impossible to really get close and study most of the small paintings.
Andalucia is the home of Flamenco. You can go to many touristy tablaos to overpay for drinks, but the best place to see the real thing is the La Casa de la Memoria. Book in advance for this tiny room or you'll miss it. If you don't speak Spanish, have someone at your hotel help you.
Seville is renowned for its tapas. Often they aren't free here, like in many Spanish cities, but for a couple of euros you can eat very well. Best to pair them with a very cold local Cruzcampo beer, or even better, an ice cold copita of dry fino sherry. It's not the sweet stuff your grandma drank. Oh, and splurge and get the jamon jabugo (cured ham) at least once.
Read More & Book Your Trip
Read More: Where to Stay in Seville (Seville Neighborhood Guide) I Perfect Day in Seville One-Day Itinerary II Top Seville Hotel Recommendation: Hotel Amadeus and La Musica II Top Seville Tours & Attractions: Alcázar, Cathedral & La Giralda Tour I 1-Hour Flamenco Show
Málaga
Málaga Province, Andalusia Autonomous Community
---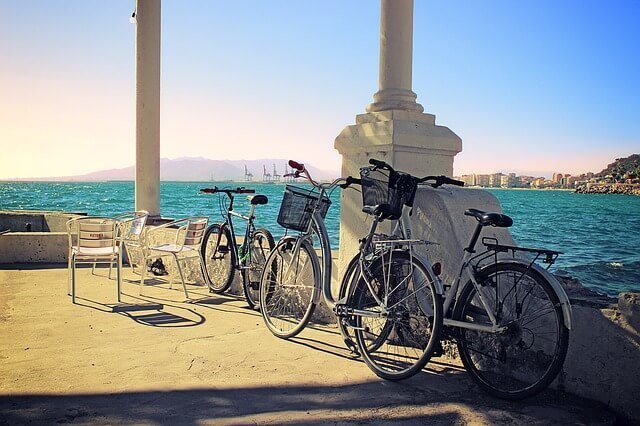 Jorge and Claudia of Couple RTW explain why Málaga is one of the best cities in southern Spain for sun seekers.
Malaga is the capital of the province of Andalusia in the South of Spain. It is the 6th biggest city Spain and one of Europe's oldest cities. Although it is mostly known for its gorgeous coastline, the Costa del Sol, Malaga has much more to offer. It has a vibrant culture, plenty of museums and several historic points of Interest.
First of all, when in Malaga you should visit the Alcazaba and the castle of Gibralfaro. It provides you the opportunity to enjoy the excellent views while learning about the legacy of Islam in Spain. Don't forget to stroll through the picturesque old town, the port of Malaga, and regularly stop to eat all the tapas you can. Malaga is the hometown of Pablo Picasso so you can visit the museum of Picasso and Picasso's birthplace.
However, the best of it all and the main reason why Malaga is such a great tourist destination are the beaches. Malaga has some of Europe's best beaches, particularly la Malagueta, where you can just lie in the beach, suntan, and take a swim in the Mediterranean sea, when it becomes too hot! Malaga has it all!
Book Your Trip
Top Malaga Hotel Recommendation: Hotel Boutique Teatro Romano II Top Malaga Tours & Attractions: Half-Day Excursion to the Caminito del Rey I Old Town, Beach & Marina Bike Tour I Museo Picasso Entrance Tickets I Day Trip to Gibraltar from Malaga
Ronda
Málaga Province, Andalusia Autonomous Community
---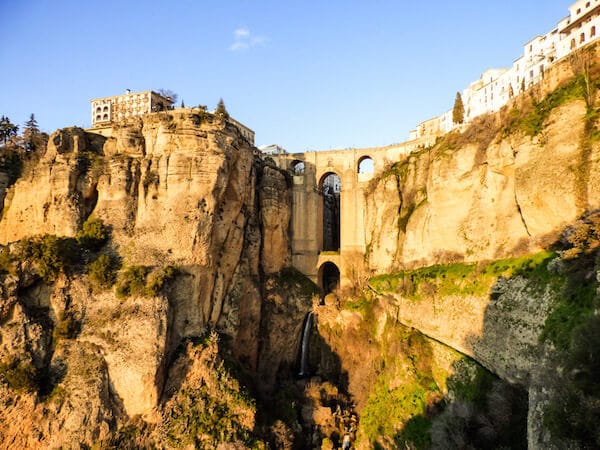 Sarah and Nathan from Live, Dream, Discover explain why Ronda stands out as a top place to see, even when compared to the more popular Andalusia points of interest.
Although not as well-known as it's beautiful neighbor, Sevilla, Ronda is a must add to any Andalusia tour. This small town, perched cliff-side, is best known for its dramatic views of, and from, the 18th century Roman style bridge called Puente Nuevo that spans a 100m chasm. Numerous viewpoints along the edge of the town offer spectacular photo opps of the El Tajo gorge below town as well as a sweeping landscape of patchwork fields, olive groves and mountains in the distance. The town itself is divided by the gorge and is known as old town and new town for obvious reasons. Old town dates back to Islamic times but today is a little rough around the edges. However, the appeal of old town is that it's less touristy and therefore allows a look at a more authentic side of small town Andalusia. The new town is much prettier with parks, promenades and streets filled with restaurants and bars. During the day new town will fill with busloads of day tripping tourists, so the secret is to spend a night or two and experience Ronda with the locals.
Book Your Trip
Ronda Day Trips: Pueblos Blancos & Ronda Day Trip from Seville I Full-Day Ronda Tour from Costa del Sol
Nerja
Málaga Province, Andalusia Autonomous Community
---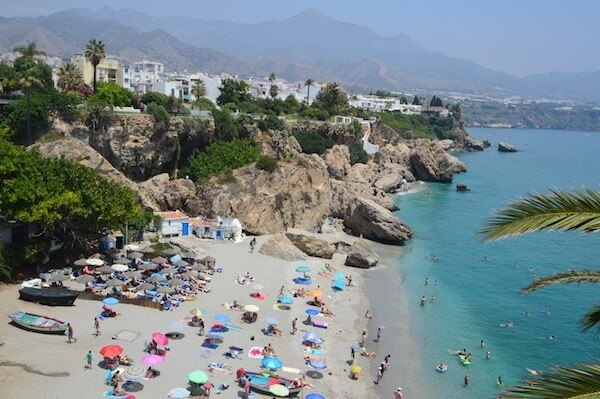 Christopher of travelingmitch makes a case for including Nerja when you're visiting southern Spain.
Nerja, a resort town on the Costa del Sol, is everything you'd hope it would be from everything a quick Googling might tell you. Yes, it's a resort town in the sense that it has no shortage of crystal clear blue waters, but it's also so much more. In short, it's far from one dimensional.
The Balcón de Europa (literally, the Balcony of Europe) might just be the highlight of the town. It was a vantage point constructed high up on the cliff edge to keep away pesky pirates and privateers. Now, it's home to concerts, and the life sized statue of King Alfonso XII. This statue, intended or not, continues to appease the elders of the town, while simultaneously creating an Instagram hotspot for the millennials.
Nerja is a must visit in the south of Spain. By day, you can visit the many beautiful beaches, and by night you can wine and dine like royalty, literally beside a statue of royalty. Nerja has got it all.
Mijas
Málaga Province, Andalusia Autonomous Community
---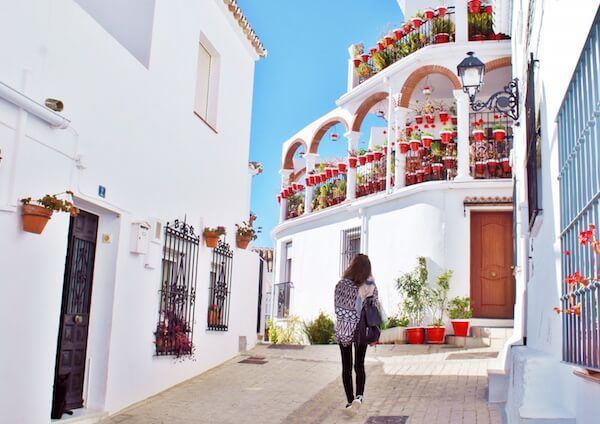 Maria of Travelling Buzz shares about Mijas, one of the best villages to visit in Andalusia.
Mijas Pueblo is a fairytale town in the south of Spain. Located just half an hour away from Malaga, it's a perfect choice for a day trip. White houses, blooming flowers and colourful cafes, Mijas is one of the most picturesque places in Andalucia.
When you reach the town, you'll stumble upon some stunning panoramic views to the coast. Head to San Sebastian street and you will find great Instagrammable spots. The great thing is that the area is sunny during most of the year, so you will have a great atmosphere on top of everything else.
Make sure to put your GPS to Mijas Pueblo rather than the coastal part, as they are a bit far from each other. But the trip towards Mijas is an experience by itself, too – there are plenty more picturesque little towns on the way. So just grab your camera and be ready to take lots of photos.
Córdoba
Córdoba Province, Andalusia Autonomous Community
---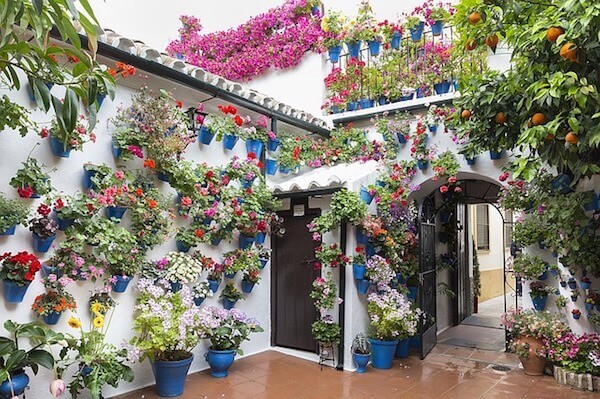 Faye and David of Delve into Europe share about Córdoba, one of the best places in southern Spain for delving into Moorish history.
You'd never imagine it now, walking around this quiet, but beautiful provincial Andalusian city, but there was a time when Cordoba was one of the biggest, greatest and most powerful cities in the world. Between the 8th and 11th centuries it was the capital of an emirate, then a Caliphate, and was one of the most advanced centres of learning in the world. By the year 1000 it had a population of over 300,000 – at a time when London and Paris each only had around 20,000.
The best place to get an idea of the greatness of Cordoba is the 8th century Great Mosque, around which a Catholic cathedral was later built. It was one of the four wonders of the medieval Islamic world. The city was founded by the Romans, who left behind the amazing stone arched bridge over the Guadalquivir river.
Cordoba's gorgeous whitewashed old town is one of the largest in Europe, and it bears witness to the city's other history and cultures, with the Juderia or Jewish district to the north of the mosque and cathedral, and the Alcazar (Castle) of the Christian kings also nearby.
One of the most popular times to visit Cordoba is in May when many houses open their private patios for viewing, decorating them with stunning floral displays in an attempt to win a prestigious competition.
Book Your Trip
Top Cordoba Hotel Recommendation: Hotel Viento10 II Top Cordoba Tours & Attractions: Great Mosque and Cathedral History Tour
Granada
Granada Province, Andalusia Autonomous Community
---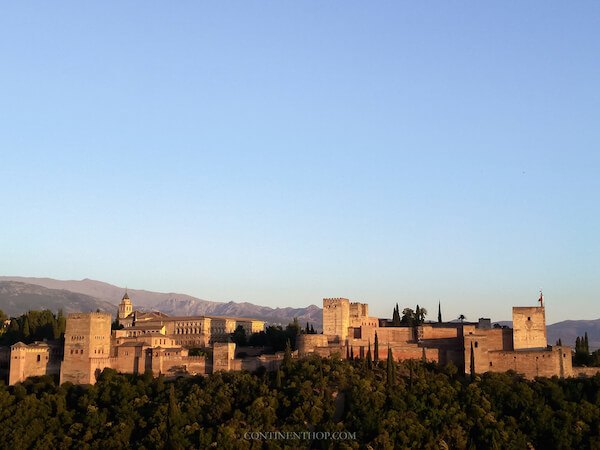 Lavina of Continent Hop explains why Granada is easily one of the most popular Andalusia destinations for visitors.
Visiting Granada might make you wonder if you've stepped back in time! In addition to gorgeous food, and lovely restaurants sprinkled around the city that serve the tastiest plates of tapas, the main highlight of the city is the Alhambra.
The Alhambra is a classic example that showcases the different periods of history Granada experienced. The architecture is exquisite, and one can easily spend about half a day admiring it and taking a walk through the Nasrid Palace and the Alcazaba.
Granada isn't the perfect spot only for history and architecture buffs – there is plenty for all kinds of travelers to do. They are making hiking trails in the vicinity if you're feeling outdoorsy; you could rent a bike and explore the city at leisure; you could take a Spanish cooking class; or even spend a day relaxing at one of the famous Hammams!
The Sacromonte region in Granada is popular as it still contains caves inhabited by locals! Flamenco shows are held seasonally in one of these and are a must-do when visiting the city!
Granada undoubtedly showcases the best of what Andalusia has to offer to visitors!
Book Your Trip
Read More: Tips for Visiting the Alhambra I Where to Stay in Granada I Top Granada Hotel Recommendation: Room Mate Leo II Top Granada Tours & Attractions: Alhambra Skip-the-Line Tickets I Alhambra Guided Tour I Albaicín and Sacromonte Walking Tour
Guadix
Granada Province, Andalusia Autonomous Community
---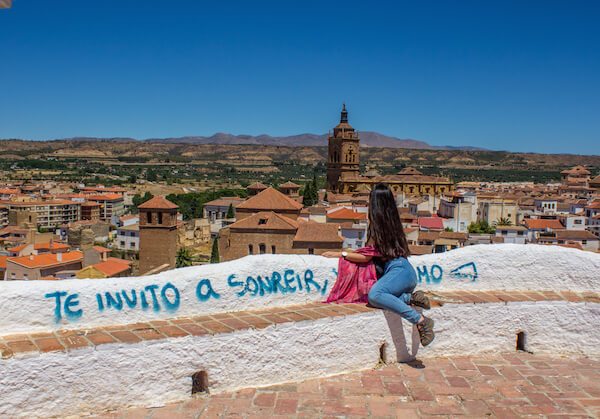 Lara & Valter of Heart of Everywhere explain why Guadix makes for a memorable stop on a southern Spain trip.
Andalucía always attracted our curiosity like no other region of Spain. Thirsty to explore more of the region beyond its most famous highlights, we wanted to visit lesser-known cities and attractions. That´s how we ended up in Guadix, a Spanish city we have never heard of.
Guadix is not a major Spanish city like Barcelona or Madrid. And while it doesn´t have picturesque architecture or the Moorish charm of Seville and Granada, Guadix has something truly unique: a landscape like no other.
While driving from Granada to Guadix we witnessed a drastic change in the scenery. Gradually we left the mountains of the Sierra Nevada and arrived at a place which reminded us of Middle Eastern or African deserts. It seemed like we had crossed a border and entered a new country.
Guadix is also known as the "troglodyte town" due to its district with cave houses, where many inhabitants still live in these peculiar homes. While checking in at our hotel, we also discovered another delightful fact: did you know that thanks to the unusual scenery of this city, a dozen films were shot here? Films by directors such as Steven Spielberg (Indiana Jones and the Last Crusade) and Sergio Leone were filmed in Guadix.
Cádiz
Cádiz Province, Andalusia Autonomous Community
---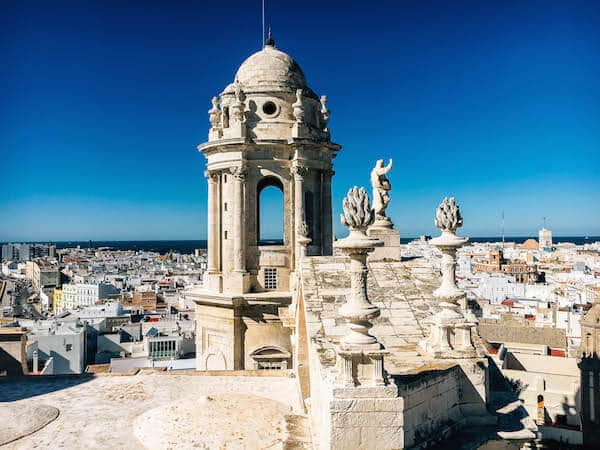 Katy of Untold Morsels on why Cádiz is one of the best places to visit in Andalucia for fresh seafood!
Culture, history and the sea collide in the ancient city of Cádiz in Andalusia, southern Spain. Once an important naval stronghold and the place from where hundreds of voyages of discovery to the new world were launched, Cádiz is now a bustling port city with great beaches.
In Cádiz, wander its beautiful streets and spot over 100 watch towers that were used to observe the ships sailing in from the Atlantic. The most famous of these is the Torre Tavira. Here you can climb to the top for sweeping views of the city.
After you climb the tower head to the nearby central market, thriving with fishmongers selling the catch of the day. We saw huge tuna, octopus, shrimp and countless varieties of fish. So it is not surprising that the seafood dining in Cadiz is amazing, and there are plenty of tapas bars near the market to enjoy the local dishes.
Then head to the beach! Cádiz has several wonderful urban beaches – La Caleta and La Victoria are the perfect spot for a swim.
As the sun is setting, stroll back into the old town towards the cathedral. Time for more tapas and tasting the wine from nearby Jerez.
Book Your Trip
Top Cádiz Hotel Recommendation: Hotel La Catedral II Top Cádiz Tours & Attractions: Cádiz Medieval Tour´
Jerez de la Frontera
Cádiz Province, Andalusia Autonomous Community
---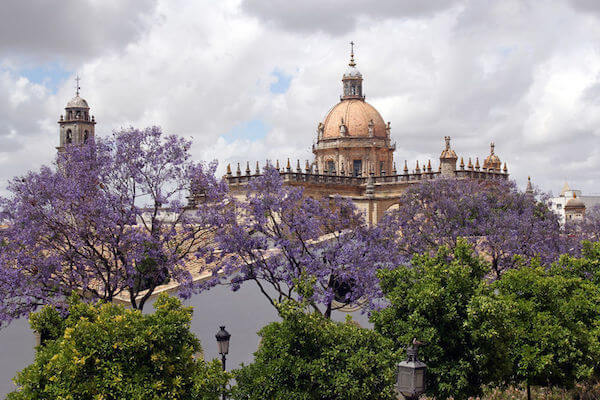 Vy of 7 Crossroads shares why Jerez de la Frontera is a must-stop city on a southern Spain vacation for sherry lovers!
Jerez de la Frontera is most famous for its production and export of sherry. Like the wine itself, Jerez is a beautiful blend of ancient and modern cultures, with influences from Southern Spain and Moorish occupation.
Walking the medieval streets of the city is like going back in time, especially around the Alcazar or the old city hall. The streets are lined with bitter orange trees, wafting a delightful citrus scent mixed with the alluring smells of sherry bodegas and their oak casks. If drinking isn't your thing, Jerez has deep roots in equestrian breeding by Carthusian monks, and is also considered a birthplace of flamenco music. The city has a charm that seems so characteristically Spanish that it's hard to not get caught up in the romantic nature of it all. Seemingly mundane things, like quiet walks on cobbled stone streets and sips of brandy at night, become essential parts of life; you can't help but fall in love with the world when in Jerez.
Book Your Trip
Top Jerez Hotel Recommendation: Eurostars Asta Regia II Top Jerez Tours & Attractions: Andalusian Horse Dancing Show I Historic Center Tour of Jerez I Sherry Winery & Tasting Tour
Tarifa
Cádiz Province, Andalusia Autonomous Community
---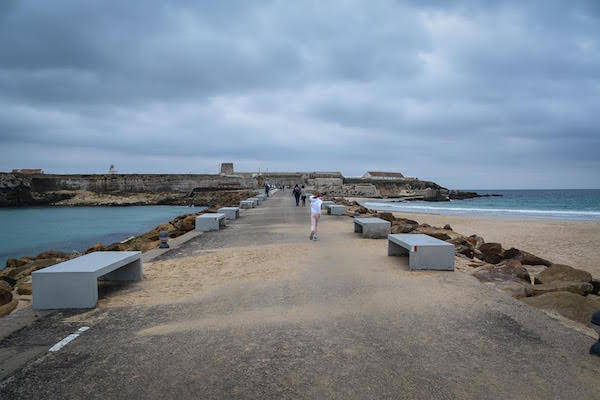 Silke of Happiness and Things shares her thoughts on Tarifa, one of the best places in Andalucia for kite surfing
Tarifa is Spain's southernmost city, a place where the Atlantic Ocean meets the Mediterranean. It's also the beginning of the Costa de la Luz, the Coast of Light, and the name does this magical place justice: There is indeed a different quality to the light here, even in winter. Take a walk down the causeway to Isla de las Palomas, where both seas meet. Take in the views from here, the haunted watchtower with its Gothic arches and circling ravens. Watch the ferries crisscrossing the Straight to nearby Africa, and explore the ancient ruins of the castle of Guzman El Bueno. Spend a day up in the air, gliding on the Atlantic winds with your kite. And then lose yourself in the old town, with its surfer bars and hippie shops. Before you return to your hotel though, risk one last look across the water, where the lights blink on the shores of Morocco, and dream about your next adventure.
Almería
Almería Province, Andalusia Autonomous Community
---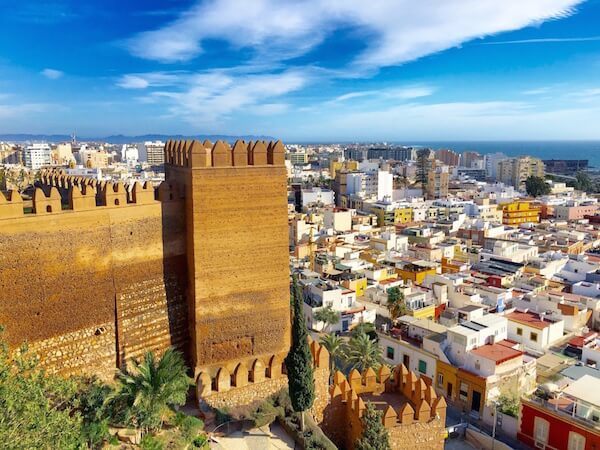 Sonja of Migrating Miss shares why Almería is one of the best cities in Andalucia for an authentic, unspoilt experience.
Almeria is a little off the beaten track, tucked away in the southeast corner of Spain. While some of the nearby beaches and villages have become popular with tourists from abroad, Almeria city remains more popular with Spanish tourists. For this reason, it maintains its air of authenticity. Some of the best things to do in Almeria include seeing the Alcazaba, a Moorish fortress that overlooks the area, visiting underground tunnels that are remnants of the Spanish civil war, enjoying the nearby beaches, and of course, the tapas. Almeria is one of the best places for tapas, because restaurants and bars have extensive menus where you can choose which tapa you would like with your drink, for free! As well as traditional tapas like fish in a tomato sauce, cheese, olives, pork in cheese sauce, and potato salad, many places offer fusion style tapas with Mexican, Italian, and Asian influences.
Mojácer
Almería Province, Andalusia Autonomous Community
---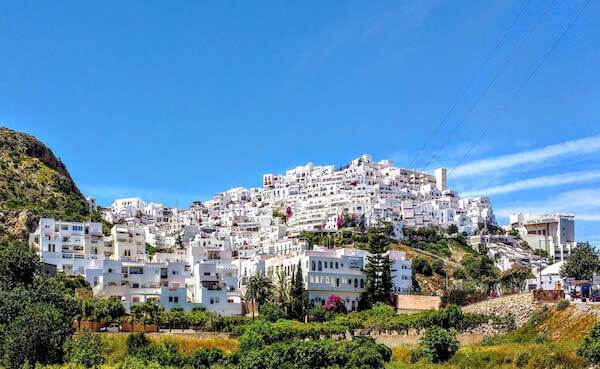 Faith of XYU and Beyond shares about Mojácer, an off-the-beaten path spot representing the best of southern Spain.
The Almeria Province, from Carboneras to Villaricos, is on what is known as the Costa de Almeria. There is a small village in the hills with glorious beaches below that is simply one of the best places to visit in Andalucia if you want some Spanish sunshine. It's called Mojacer (pronounced: mo-hack-er).
Mojacer actually encompasses two areas. Mojacer Pueblo sparkles in the Spanish sun with its whitewashed village clinging to the side of a cliff. To experience the old pueblo and its Moorish history, you need to head up to the old town and explore on foot. Fortunately, this is easily accomplished by taking the elevator up to the top.
Mojacer Playa is around 2 kilometers down from old town, and there are plenty of buses or taxis to get you there. Mojacer's gorgeous groomed beaches are stacked with chirinquitos, bars, and cafes with so much beach you can be on a virtually deserted one, and yet a quick walk takes you to the cafe for a beer or coffee. The Spanish adore Mojacer and flock there in the month of August. The rest of the year is relatively quiet with more and more Brits finding their way to this Spanish paradise.
Cabo de Gata-Níjar Natural Park
Almería Province, Andalusia Autonomous Community
---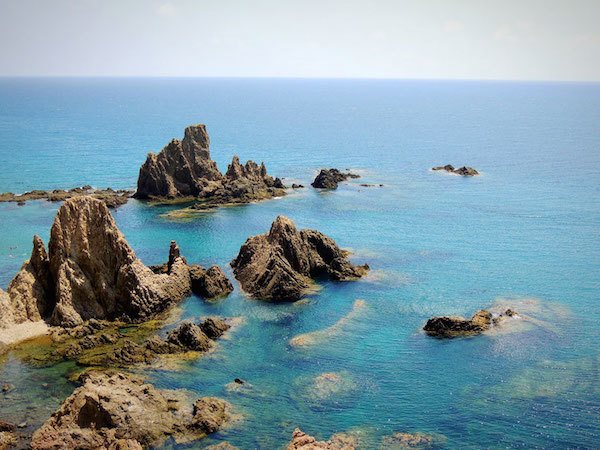 Paulina of Paulina on the Road shares why Cabo de Gata-Níjar Natural Park is worth your time if you're planning to travel to southern Spain.
Cabo de Gata, the natural park on the outskirts of Almeria, is one of Spain's best kept secrets. Whereas most of the Andalusian coast is often spoilt with concrete buildings and mass tourism, the region of Cabo de Gata natural park seems still untouched. Of course, it's off the beaten track, but this is the main reason for Cabo de Gata's rough charm.
The region boasts a large number of pristine beaches. There seems to be a beach for everyone and you'll be spoilt for choice. "Las Salinas" beach is famous for the flamingos that are in the salt mines and Cala Las Sirenas has the most stunning views. Instead of trying to make the impossible choice of visiting only one beach, take my advice and go to them all.
Where to Go in Central Spain
The Regions of Madrid, Castile and León, and Castilla-La Mancha make up the historic heart of Spain. Filled with history and teeming with castles and medieval fortresses, this is the place to go if you want to discover a lesser visited part of the country: the agricultural epicentre of the country, which couldn't be more different from the typical sun-drenched Spain holiday destinations.
Map of Central Spain
Central Spain Tours
Well-Reviewed Multi-Day Tours through the Heart of Spain from G Adventures, Intrepid, and TourRadar (a tour aggregator)
✓ Best of Spain and Portugal (14 Days from Lisbon to Barcelona) ✓ Spanish Spree (14 Days from Madrid)
Madrid
Madrid Province and Community
---
Chrysoula of Travel Passionate shares why you shouldn't miss a trip to Madrid
Madrid is a buzzing metropolis that combines the old with the new. Cobbled alleyways at the Barrio de la Latina co-exist with skyscrapers. It is also a city with rich history and culture. It is home to world-class museums like the Prado and the Reina Sofia, a beautiful Palace; large Plazas great for people watching; Retiro, a large park perfect for walks and soaking under the sun; and a world-famous football club for sports lovers.
Madrid also has a diverse culinary scene. You can enjoy tapas and wine in one of the many restaurants, or at the San Miguel Market; churros with chocolate at San Gines; or a bocadillo de calamares (squid sandwich) from one of the street vendors.
On Sundays, you can enjoy a walk in the capital's biggest flea market, El Rastro, in the heart of the Latina neighborhood. Browse for antiques, second-hand clothes, vinyl and more.
Madrid is a city not to be missed on a trip to Spain.
Book Your Trip
Top Hotel Recommendation in Madrid: Room Mate Mario (Rated 8.9/10 by past guests) I Top Tours and Attractions in Madrid: Prado Museum Tickets I Hop-On-Hop-Off City Tour I Madrid Royal Palace Tour I Madrid Tapas Tour
Valladolid
Valladolid Province, Castile and León Autonomous Community
---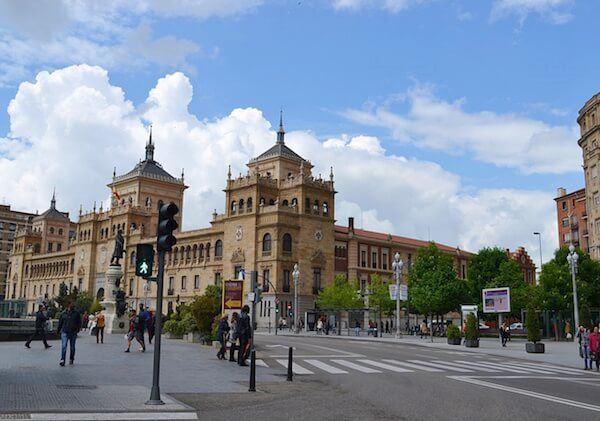 Aleah of Solitary Wanderer shares why Valladolid is a great fit for travelers interested in history, culture, and food.
For those who appreciate history, arts and culture, and gastronomy, Valladolid in Spain is the city to visit.
Valladolid was the former capital of the Spanish Empire in the 17th century, and you can see its historical legacy in the Old Town, in its number of museums, and in its universities (University of Valladolid was founded in 1241). The cathedral and other churches are worth a visit too, being perfectly preserved examples of the architecture of their time.
Literature and history lovers would also appreciate the city. You can find in Valladolid the centuries-old house of Miguel de Cervantes, and the spot where Christopher Columbus died. If you love films, one of the oldest international film festivals is held here, the Semana Internacional de Cine de Valladolid (Seminci), showing films that otherwise wouldn't be shown in Spain.
My favorite? The tapas in Valladolid. Different bars have different tapas and a lot of them are even award-winning. You can stay for hours just sampling one tapa after another!
Valladolid may not be a party place like Ibiza, or an incredibly popular one like Barcelona. However, it has a lot to offer and definitely deserves a visit.
Where to Stay in Valladolid
Hotel Boutique Gareus (4-star rated 9.1/10 by past guests)
Segovia
Segovia Province, Castile and León Autonomous Community
---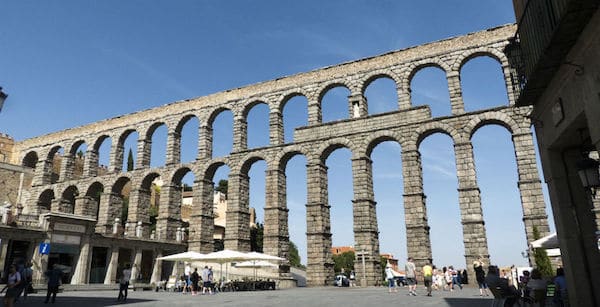 Matt of The Travel Blogs on why Segovia makes a perfect day trip from Madrid.
Just a short train ride north of Madrid you can find a wonderful small city called Segovia. Its place as a stop on a high-speed train line makes it perfect for a side trip during a city escape to Madrid. Growing up around a fantastic Roman aqueduct, Segovia has over 2000 years of history to it. In the south of the city, you will find the Segovia Alcazar, a castle which proudly stands as one of the few in Spain that remain undefeated by enemies, and it's easy to see why with the imposing walls built on the edge of a valley. Curiously, it also claims to be the inspiration behind Walt Disney's iconic Princess Castle, but then again, don't they all!
As with all Spanish cities, Segovia has its special, must try dish. Cochinillo Asado is a speciality that the locals are fiercely proud of and regularly compete to see who can produce the best. It consists of a rare breed of pig, local to the area, roasted in a special coal fired oven. Although it sounds simple enough, one taste and you'll see why the locals are so proud.
Book Your Trip
Segovia & Toledo Day Trip from Madrid
Ávila
Ávila Province, Castile and León Autonomous Community
---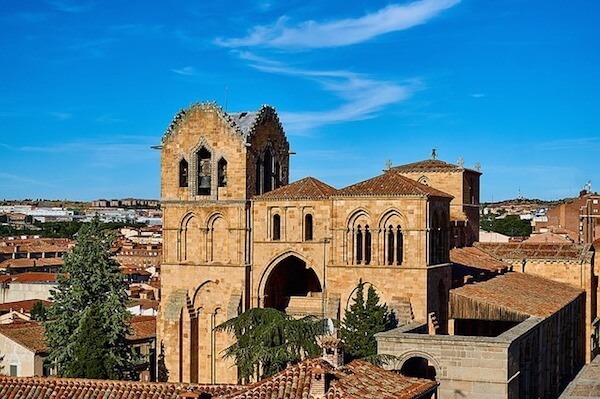 Nisha of Lemonicks champions Ávila as a great place to experience traditional Spanish culture.
A trip to Ávila is more about experiencing traditional Spanish culture than visiting a holiday mecca. With a wealth of exceptional monuments and UNESCO-listed status, Avila is one of the most interesting cities in Spain. Thousands of tourists visit each year because of its connection with Saint Teresa, but Ávila has something to offer for all types of visitors.
Protected by formidable fortified medieval walls, you'll immediately fall in love with the town. The walls are considered among the finest city defenses in the world, and I recommend you do a city walls tour.
One of Avila's oldest religious buildings, the Cathedral of Avila is heralded as being some of the finest Gothic, Romanesque and Renaissance architecture in Europe. Don't miss the Cathedral Museum, which houses a large artifact collection, including tapestries and embroidered pieces.
The fascinating museum of Oriental Art is a showcase for Asian art. The collections include some stunning ivory carvings and metalwork, and a room of exotic animals.
Like many Spanish cities, Avila is also known for its tapas bars, and been long-known for its fine veal. Many of Avila's restaurants, whether high-end or less expensive, offer veal on the their menus.
Finally, you can't avoid trying Yemas de Avila, a dessert made of egg yolks and sugar that is everywhere. Makes a popular souvenir, also.
Burgos
Burgos Province, Castile and León Autonomous Community
---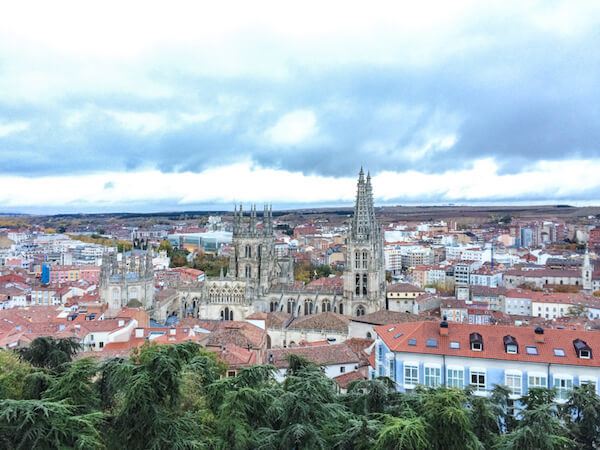 Lisa and Eric at Penguin and Pia share why Burgos is another great spot for an authentic Spanish experience.
If you don't know much about Spain, Burgos is probably one of those cities you haven't heard of. Located in the north of Spain between Madrid and Bilbao, it is easy to reach by bus or car and certainly worth a visit. In Burgos, you'll get an authentic Spanish experience without bumping into tourists everywhere you go. The locals are friendly and the city isn't too big – making everything relatively easy to reach on foot.
If you're an architecture enthusiast, Burgos is great as it offers lots of beautiful structures from the "Las Huelgas" monastery to the arch called "Arco de Santa María". The main attraction of the city is the Burgos Cathedral, which was first built in the 13th century but has undergone multiple changes since then. Visually stunning on both the inside and out, the cathedral has been a UNESCO World Heritage Site since 1984.
If you want a great view of the city you should climb up to the Mirador Del Castillo – a viewpoint from which you can see the entire city and the surrounding Spanish countryside. Overall, if you want an authentic Spanish experience, consider making Burgos the perfect stop for a day or two.
Where to Stay in Burgos
León
León Province, Castile and León Autonomous Community
---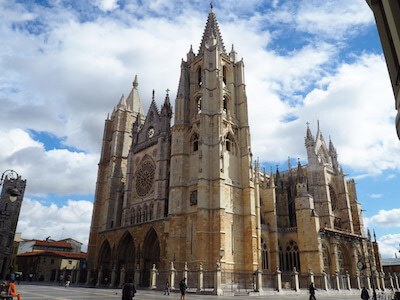 Evelina of Little Big Traveler on León
Leon, with its enchanting atmosphere, is one of Spain's precious jewels. The city sparks with medieval history, stunning architecture and remarkable monuments.
The best way to explore Leon is by foot. The historic center is easily accessible and well marked. If you are into history, roam the small cobblestone streets and you'll hopelessly fall for Leon. Among other valuable attractions, it houses one of the prettiest cathedrals in Spain. The stained glass windows inside are considered to be among the finest in Europe. Moreover, in Leon, you can find a work of the renowned architect Gaudi – Casa Botines, as well as the beautiful Renaissance palace – Palacio de los Guzmanes. Wandering in Leon's old town you'll inevitably bump into some peaceful squares and charming tapas restaurants that offer local dishes, including cured meat and my personal favorite – croquetas.
Leon is also a lively university city with lots of going on. The new part shows the modern face of the city, featuring the Contemporary Art Museum (Museo de Arte Contemporáneo de Castilla y Leon), some stylish cafes, local bars, lush greenery and a bunch of quirky buildings.
With all that said, there is no doubt why Leon is one of the best places to visit in Spain!
Where to Stay in León
Salamanca
Salamanca Province, Castile and León Autonomous Community
---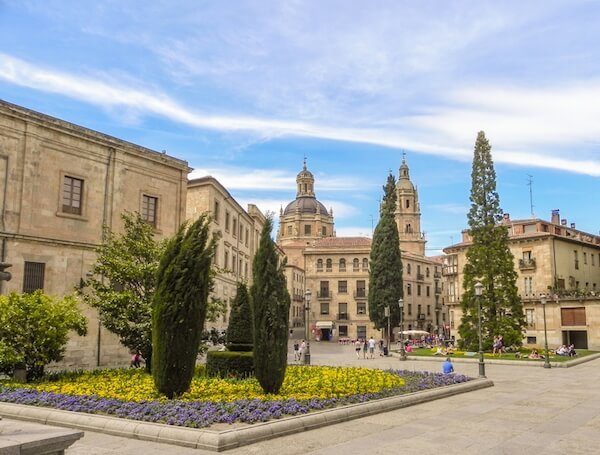 Adrienn of City of the Week shares why Salamanca is a traveler favorite.
The gorgeous city of Salamanca can be found in the northwestern part of Spain, approximately 200 kilometers away from the capital city of Madrid. Dotted by majestic plazas, impressive palaces, colorful museums and a myriad of imposing religious buildings, it's easy to see why Salamanca is so beloved among travelers and locals alike. Home to the oldest university in Spain, it is one of the largest university cities in the entire country, welcoming thousands of international students each year.
Kickstart your day of sightseeing in The Old City of Salamanca, a UNESCO-protected World Heritage Site since 1988, filled to the brim with some of the most beautiful Romanesque, Gothic, Moorish, Renaissance and Baroque monuments you'll ever see. Check out the unique Casa de las Conchas, known for its curious façade decorated with 300 shells. Cool off with a cold beer and watch the world go by in the stunning Plaza Mayor, one of the largest public squares in Spain. If you happen to catch a rainy day, delve into the many awesome museums the city has to offer, like the Museum of Art Nouveau and Art Deco, the Museum of Trade or the Museum of Automotive History.
Where to Stay in Salamanca
La Alberca
Salamanca Province, Castile and León Autonomous Community
---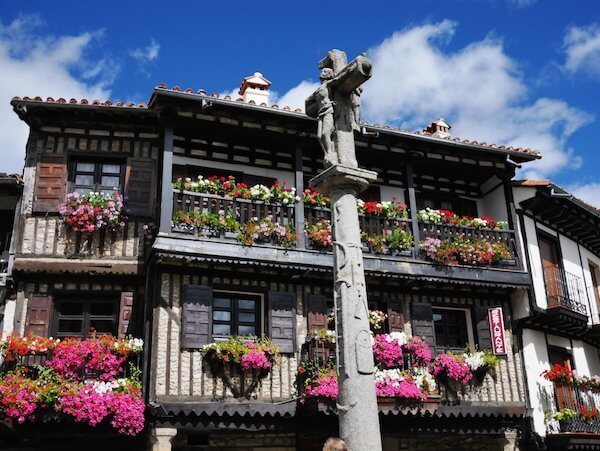 Brittany of The Sweet Wanderlust shares a unique tradition from La Alberca.
I visited La Alberca in northwest Spain as a volunteer for Pueblo Ingles, an English immersion experience for professional Spaniards. Each day, we walked the cobblestone streets of La Alberca, which are mostly free from cars since only the 1,100 residents are allowed to drive there. Walking through the Plaza Mayor, surrounded by homes made of stone and wooden lattices with balconies bursting with flowers, and past the 18th Century church, it's easy to see why this is the first village that earned National Historic Heritage status.
My favorite part, though, is the town pig. Yes, pig! Each year on July 13, a piglet is blessed and released into the streets. Throughout the year, the pig is fed by the townspeople and given a place to stay by City Hall (although legend says if the pig shows up at your door and is sleepy, you must give it a comfy place to rest). In January, on the feast of San Antonio, the pig is raffled off by lottery, which leads to another of this town's many special traditions: jamón ibérico.
Don't miss this cute historic town!
Toledo
Toledo Province, Castilla-La Mancha Autonomous Community
---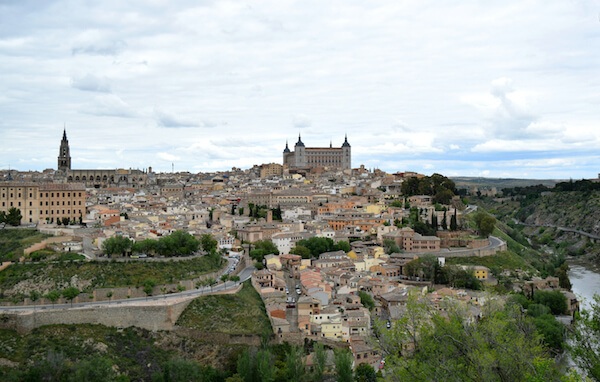 Kate of Our Escape Clause Explains Why Toledo is a Must-Do Day Trip from Madrid.
An imposing castle, impressive bridges, a river that looks like a moat, and sword shops on every corner: if you ask an eight-year-old to describe a medieval city, they're almost certainly going to describe Toledo.
Set just an easy bus or train ride away from Madrid, Toledo makes for a perfect day trip from the bustling Spanish capital city.
Escape here for a look into a fascinating past: Toledo prides itself on being a "City of Three Cultures", boasting significant Christian, Muslim, and Jewish influences. The city also has a long history of producing bladed weapons, so if you've ever wanted to pick up a sword or dagger as a souvenir, this is the place (just double-check you can take it home first!).
While you're in Toledo, be sure to make your way outside the city walls for beautiful views of the city, to step into the ornate cathedral and marvel at the opulent gold structures, to sample Spanish food in one of the outdoor restaurants, to pass through the Puerta de Bisagra gate, and to stroll across the 14th-century San Martin Bridge.
Where to Go in the Spanish Islands
Home to some of the best resorts in Spain, the Canary and Balearic Islands are commonly thought of as having some of the best holiday destinations in Spain. If a beach holiday is on your agenda, you're likely to find all you need on one of Spain's most beautiful islands.
Map of Spain's Islands
Spanish Islands Tours
Well-Reviewed Multi-Day Tours through the Heart of Spain from TourRadar (a tour aggregator)
✓ Walking in Mallorca (8 Days from Palma de Mallorca to London)
Tenerife
Santa Cruz de Tenerife Province, Canary Islands Autonomous Community
---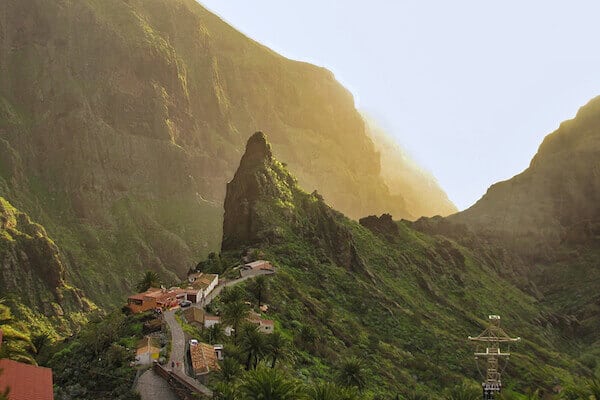 Teresa of Brogan Abroad tells us why Tenerife goes above and beyond the typical Spain beach resorts.
Famous for its climate, Tenerife attracts mostly visitors in search of beaches and sunshine. But step away from the resorts, and you will find an island with plenty more to offer!
If you like nature and extreme landscapes, head to Parque Nacional del Teide. The park consists of two huge craters separated by the Roques de García, a group of rock formations in the Las Cañadas Caldera. There is a walking trail here that takes you through moonlike landscapes made up of pinnacles and ancient lava fields that have turned to rock. In the summer you can climb to the top of Mount Teide, the third largest volcano in the world. But unless you are a hardcore hiker, I'd recommend taking the cable car.
Tenerife is also full of cute and quaint villages. Masa is a tiny little village perched on the top of a ravine with spectacular surroundings. Garachico, one of the most picturesque in the island, is set at sea level where you can bathe in one of the natural volcanic pools. Not too far, Icod de los Vinos is the proud location of a millenary dragon tree and a volcanic cave more than 11 miles long and thought to be the largest in the world.
Book Your Trip
Tenerife Whale Watching Tour / Mount Teide Cable Car Fast Track Ticket / Day Trip to El Hierro Island
Lanzarote
Las Palmas Province, Canary Islands Autonomous Community
---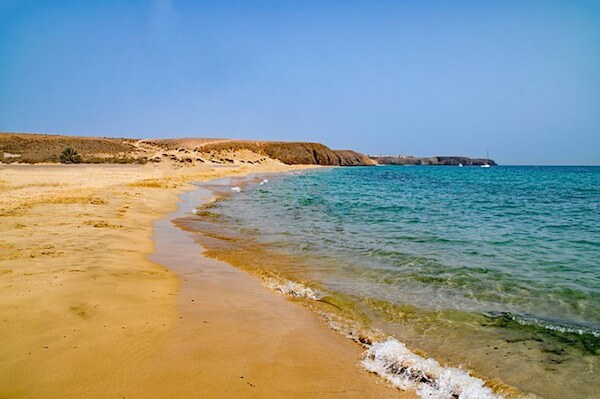 Chantell of Adoration 4 Adventure Loves the Diversity of Lanzarote.
There aren't many islands in the world where you can find spectacular beaches, volcanic rock landscapes, colored-sand mountains, and an underwater museum. Lanzarote offers all this plus the artistic creations of famous Spanish architect and artist, César Manrique.
Lanzarote is one of seven main islands that make up Las Islas Canarias (the Canary Islands), a Spanish region located off the west coast of Africa. Vacationers of all kinds can find something here, from luxury tour options that transport you between the attractions, to surfing camps with budget accommodation options. And if you're taking a family vacation, be sure to check out these things to do in Lanzarote with kids!
As with most destinations in Spain, there are great lunchtime deals to be found with the "menu del dia" (menu of the day), which is usually 2-3 courses with a drink. After enjoying your lunch with a caña (glass of draft beer), it will be difficult not to join the locals in siesta time.
Book Your Trip
Volcanoes and Caves Full-Day Tour of Lanzarote I Lanzarote Day Tour of Timanfaya National Park I 6-Hour Sailing Trip to La Graciosa
Fuerteventura
Las Palmas Province, Canary Islands Autonomous Community
---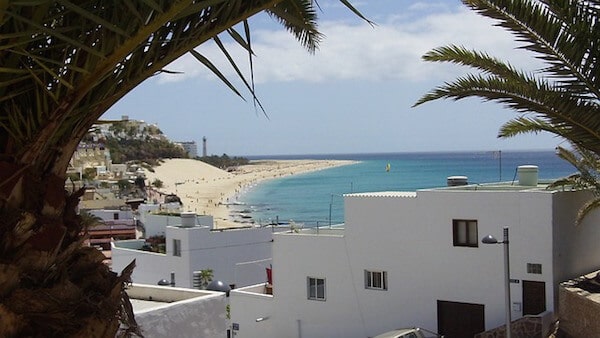 Jasmine of The Life of a Social Butterfly on Fuerteventura's white sand beaches and beautiful sand dunes.
The white sand found in Fuerteventura is often compared to the beaches of the Caribbean. In northern Fuerteventura, the dunes stretch on for miles, making it no wonder this is a popular location for tourists.
Appealing to those seeking a relaxing break, away from the hustle and bustle of some of the busier Canary Islands, Fuerteventura is equally as appealing to adrenaline junkies looking to get involved in kitesurfing and other water sports.
Whether you're looking to hire a dune buggy to tear around the vast Canarian landscape, or seeking a siesta after whiling away the hours on the beach, one thing you can depend upon is the delicious Canarian diet. From fresh seafood found in soups or paella, to the variety of tapas and popular Canarian potatoes (salted boiled potatoes, served with mojo sauce), there is something for everyone.
And that's not even mentioning the year-round sunshine. Yet another reason why islands such as Fuerteventura are so popular, the climate leaves little wonder why Canarians seem so laid back and carefree.
Gran Canaria
Las Palmas Province, Canary Islands Autonomous Community
---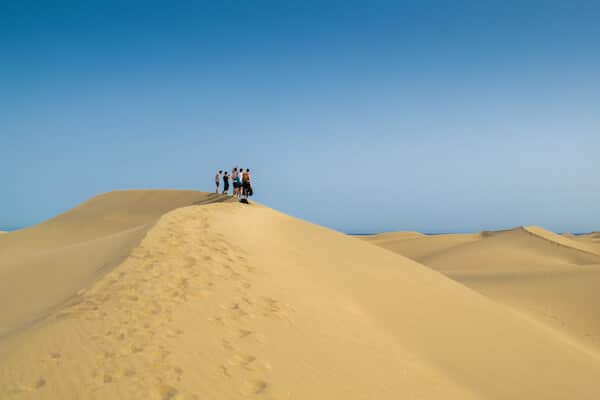 J of My Normal Gay Life explains why Gran Canaria is a great choice for those searching for the most perfect of Spain beach holidays.
If you love Spain and want to experience something completely different than the rest of the country, head to Gran Canaria. Technically sitting on the African continent, this beautiful island has plenty to explore, including hiking trails leading to stunning natural vistas, perfect beaches, gorgeous warm weather, and it's famous Sahara Desert-like dunes. If you're a coffee lover, it's also home to Europe's only coffee plantation. With an open-minded and accepting attitude, Gran Canaria is also the epicenter of gay European holidays. Be sure to check out a fun drag show or just dance the night away! It's the ideal place for a relaxing yet riveting vacation!
Book Your Trip
Gran Canaria Full-Day Small-Group Tour I Catamaran Tour with Lunch & Drinks I Full-Day Vespa Tour by GPS
Ibiza
Balearic Islands Province and Autonomous Community
---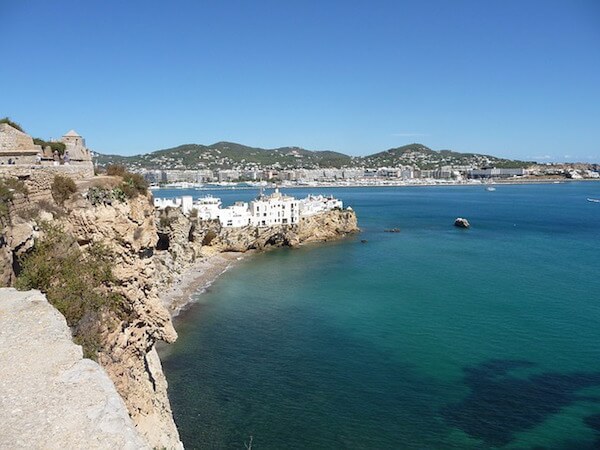 G. Isabelle of Dominican Abroad on Ibiza, home to perhaps the most famous holiday resorts in Spain.
Ibiza is a part of the Spanish Balearic Islands in the Mediterranean Sea. This 220 square mile island boasts some of the best beaches and nightlife throughout Europe.
For nightlife enthusiasts, Ibiza is arguably the best place on the globe for partying. Around the island there are hundreds of nightlife opportunities and some of the best nightclubs in the world. The venues vary per taste, from hilarious foam parties to posh and exclusive glittery clubs with fun performances. After spending a summer in Ibiza, it's hasn't been easy for me to be impressed by nightlife anywhere else! After the clubs close, there are after parties held in underground locations until noon the following day. Some locations look like caves in Ibiza's old town.
I recommend renting a car and driving around Ibiza on your own to see some of the beautiful nature and stunning beaches the island has to offer. The waves and water vary from turquoise green to crystal clear cyan blue. There are over 50 beaches in Ibiza, but my favorite one was in Formentera. The smallest of the Balearic Islands, reachable by boat from Ibiza. It makes for a beautiful day trip!
History is ubiquitous through Ibiza. In Eivisaa there is the Ibiza Old Town: an ancient neighborhood perched on a hill with a fortress and castle. It was declared a World Heritage Sight in 1999 and today holds beautiful sights for a walk, residential homes and delicious restaurants. This is a must visit for anyone who travels to Ibiza.
Ibiza might be small but it is packed with things to see and experience. It is one of the best places to visit in Spain. I would recommend at the very least 3 days to better appreciate all it has to offer. I spent 3 months, and that wasn't enough!
Mallorca (Majorca)
Balearic Islands Province and Autonomous Community
---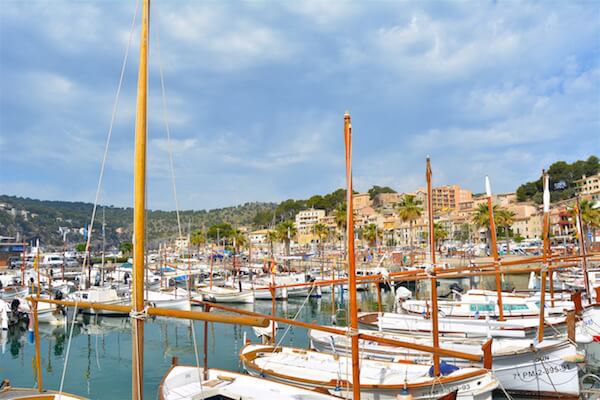 Soumya of Travel Books Food explains why Mallorca is a great choice for those looking for a quiet beach vacation.
If you are looking for a quiet beach destination in Spain, then Mallorca or Majorca is the perfect choice. Mind you, Mallorca is quite famous with Europeans, and the capital, Palme De Mallorca, as well as few other parts of the island, can get quite crowded at times. But venture out to some other parts of Mallorca, like Pollenca or Soller, and you will find a quiet beach destination.
The best thing is that you have so many beaches to choose from on this cute little island off the coast of Barcelona. There are so many things to do in Mallorca, but if it was up to me, I would spend all day lazing around at one of the beaches with a book in my hand. Alternatively, you can go for a tram ride to Soller town, visit the many historical buildings in the capital, go in search of oranges, or go visit the monastery at Valldemossa.
Book Your Trip
Palma de Mallorca Guided Tour of Old Town I 8-Hour Formentor and Puerto Pollensa Tour I Mallorca Half-Day Coasteering Experience
Menorca
Balearic Islands Province and Autonomous Community
---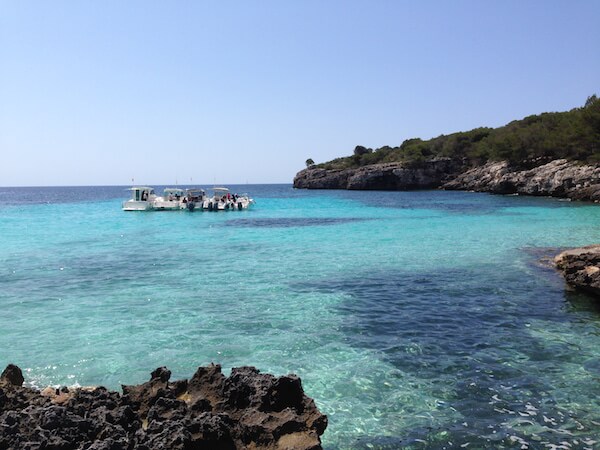 Catherine of The Go Fever shares why Menorca is one of her favorite Spanish islands.
Menorca is the island usually overlooked when one prepares a trip to Spain's Balearic islands. Being the smallest, it's more laid back than Mallorca, and certainly less crowded and party-oriented than Ibiza, but in my opinion it has so much more to offer than its sister islands.
Menorca is an absolute must-visit destination for any beach lover; the island boasts some of the prettiest beaches in the Mediterranean, with hidden creeks of turquoise waters and long sandy shores. Some are difficult to find, making it even more rewarding to actually reach them, and the breathtaking views they offer are worth every effort. Even in the summer months, the beaches never feel crowded, and in some places you can have the pristine waters to yourself. When you're tired of lazing in the sun, the picturesque towns of Ciutadella and Mahon, the capital, are wonderful places to get lost in, wandering the alleyways and stopping for an al fresco coffee when the afternoon sun is too hot.
If you're into unspoilt, idyllic islands, Menorca is the perfect destination and certainly one of the best places in Spain.
---
Still Wondering What to Visit in Spain? Check Our Some of Our Other Posts
9 Perfect Spain Itineraries I Where to Stay in Barcelona I The 6 Best Day Trips from Barcelona I Where to Stay in Madrid I Where to Stay in Seville I Our Guide to a Perfect Day in Seville I Where to Stay in Granada I Tips for Visiting the Alhambra I Andalusia Trip Planning Guide I Best Spanish Cities for Foodies
Pin This Post