Mala Strana, otherwise known as Prague's Little Quarter or Lesser Town, is an upscale district near Prague Castle. It's beautiful, romantic and brimming with culture. Here are our favorite things to do in this beautiful Prague district.
Also be sure to check out our complete Insider's Guide to Mala Strana for more tips on where to stay, eat, and shop in the area.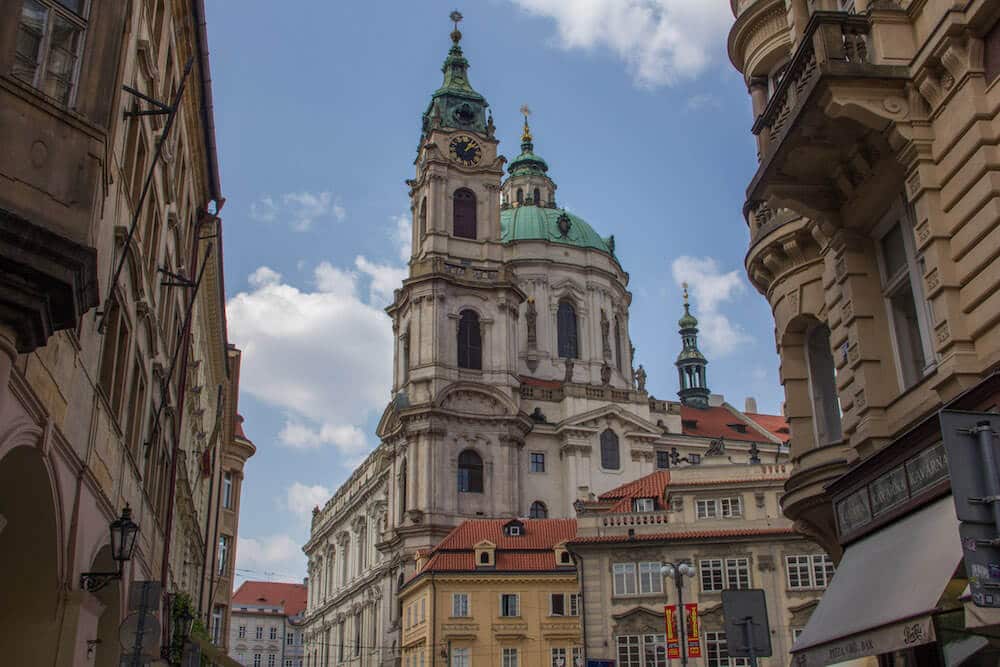 Prague Trip Planning Resources: Where to Stay | Things to Do | What to Pack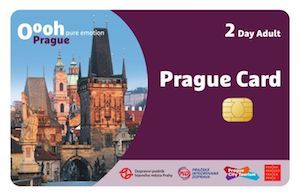 Get a Prague Card
If you're planning to spend a few days in Prague, and see most of the popular tourist attractions, a Prague Card is a great option. It gives you admission to 60+ of the city's top attractions, a boat cruise, and a city bus tour. Available in 3-5 day increments.
Catch A Classical Concert At St. Nicholas Church
In Mala Strana, it's impossible to miss the iconic, skyline-defining copper dome of St. Nicholas Church, which took 100 years to build, and was completed by 3 generations of the same family.
Be sure to take in the beautiful ceiling and the organ, which Mozart used on a visit to Prague, and catch a classical music concert in the evening, if you're so inclined!
Tip: If you purchase a Prague Card, you'll get discounted tickets to the amazing evening concerts, plus free admission to most of the tourist attractions in the city.
Climb St. Nicholas Church's Adjoining Tower
Just over 200 steps to the top, this gorgeous tower offers incredible views of Prague.
There is a charge to climb the tower (totally worth it!). You can purchase tickets at the base of the tower (around CZK 90). Or purchase a Prague Card which includes free admission.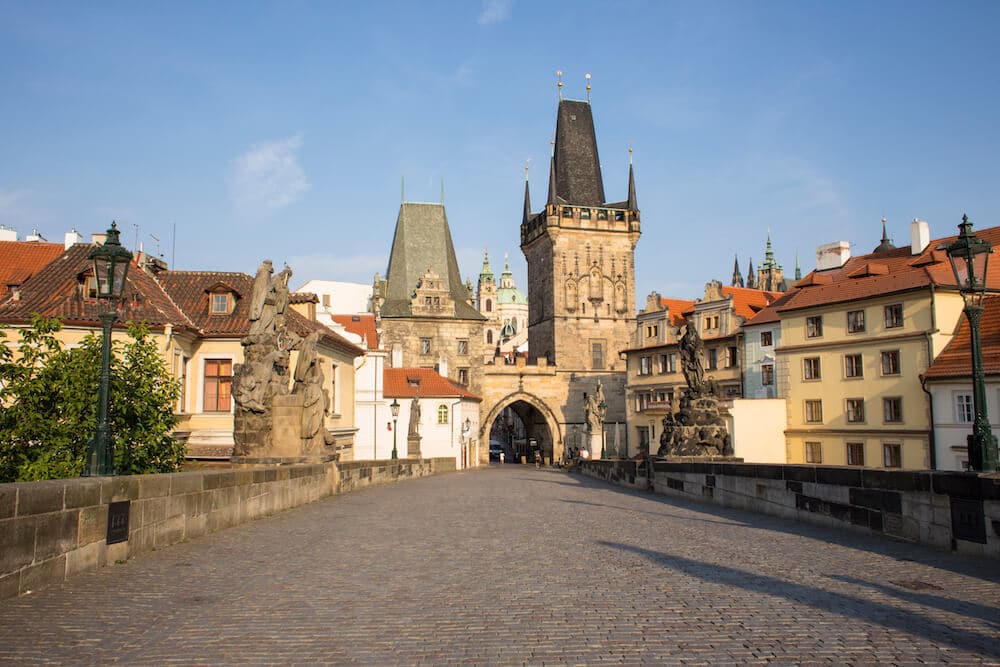 Take a Walking Tour
One of the most fun and informative ways to get to know the city is on a walking tour. I personally recommend this private guided walking tour, which gets great reviews from our readers.
It will take you through Mala Strana and Old Town, hitting up all the major sights including Prague Castle and Charles Bridge.
Visit Prague Castle
Prague Castle is a must-see attraction in Mala Strana. It can get a bit crowded, but it's worth the trouble of seeing this majestic place. See our tips for visiting Prague castle here!
I strongly recommend booking a tour in advance, which will get you a local guide and ability to skip the long lines.
Alternatively, you can purchase a Prague Card which includes entrance fees to the castle and most of the other major tourist attractions in the city.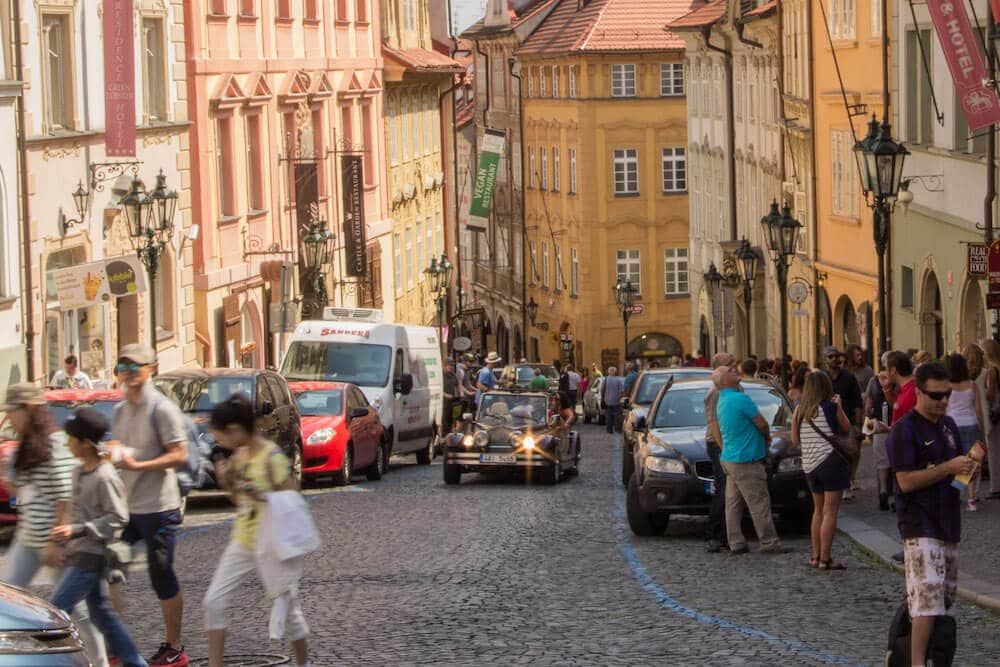 Explore Historic Nerudova Street
Nerudova Street is the most popular way to get up to Prague Castle, and provides a thoroughfare from St. Nicholas Church and Malostranské Náměstí up to the Castle.
Today, Nerudova Street has been taken over by tourist shops, but hints of its past grandeur remain if you look at the building facades.
Back in the day, Prague didn't have addresses, and people distinguished one building from another by the sculptural details on the building exteriors.
Look for the Golden Lion, the Golden Cup, the Two Suns and more.
And if you're intrigued by the architecture and statues, you'll want to check out this DIY walking tour of Prague.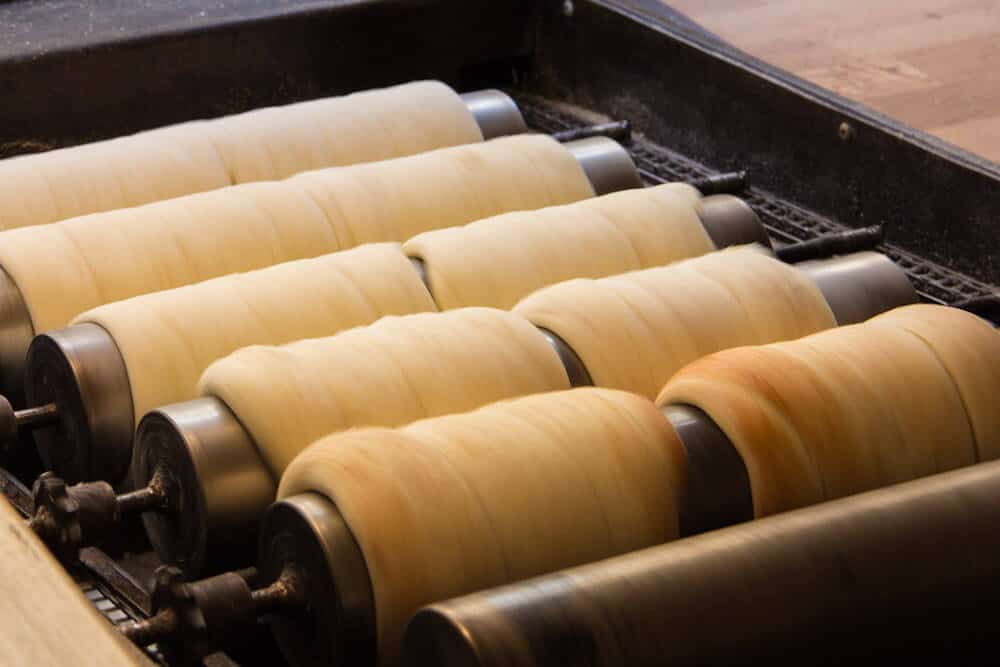 Taste Prague's Best Trdelník
Trdelník is a classic Prague treat – although you can also find versions in Hungary and Slovakia, and possibly other Slavic countries as well!
It's kind of like a donut, but is a bit more cakey than doughy.
It's cooked over a fire, and typically served with cinnamon, sugar, and sometimes some nuts. Creperie U Kajetána (Nerudova 248/17) is often recognized as having the best in Prague.
If you're looking for more tasty treats, or are travelling as a vegetarian in Prague (we get a lot of questions about this!), you might also want to try Smažený sýr, which is a totally addictive fried cheese dish.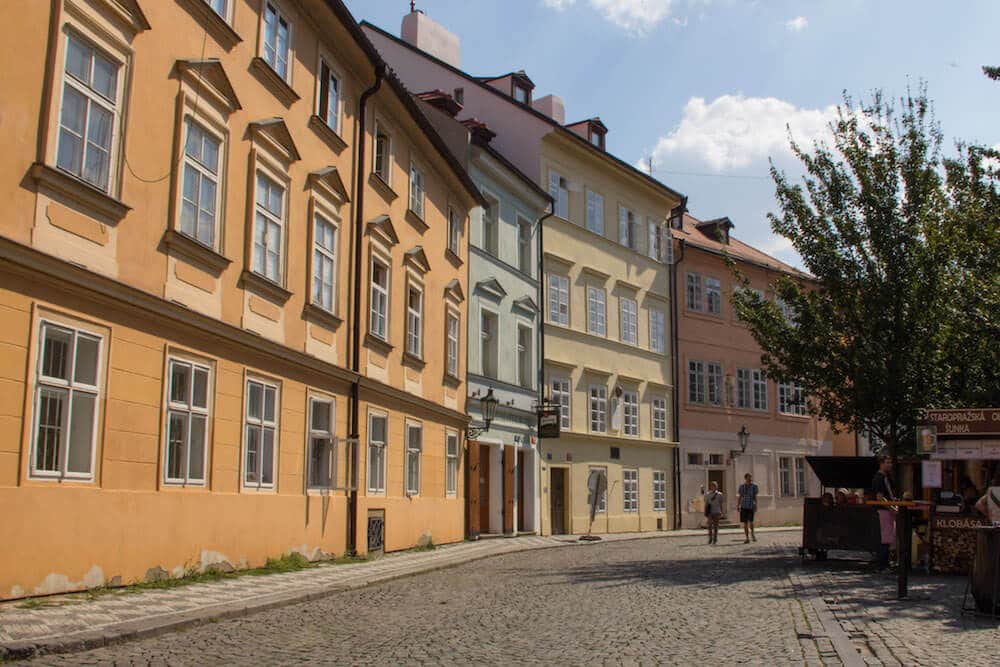 Spend a Lazy Afternoon on Kampa Island
Just as Nový Svět feels like a separate village, a world away from Prague's crowds, so too does Kampa Island.
Just south of Charles Bridge on the Malá Strana/Castle side of the river, Kampa is a man-made island with lovely lanes, bridges, old mill waterwheels, pubs and cafés.
It's a wonderful place to spend a day wandering around, enjoying the tastes and scenery.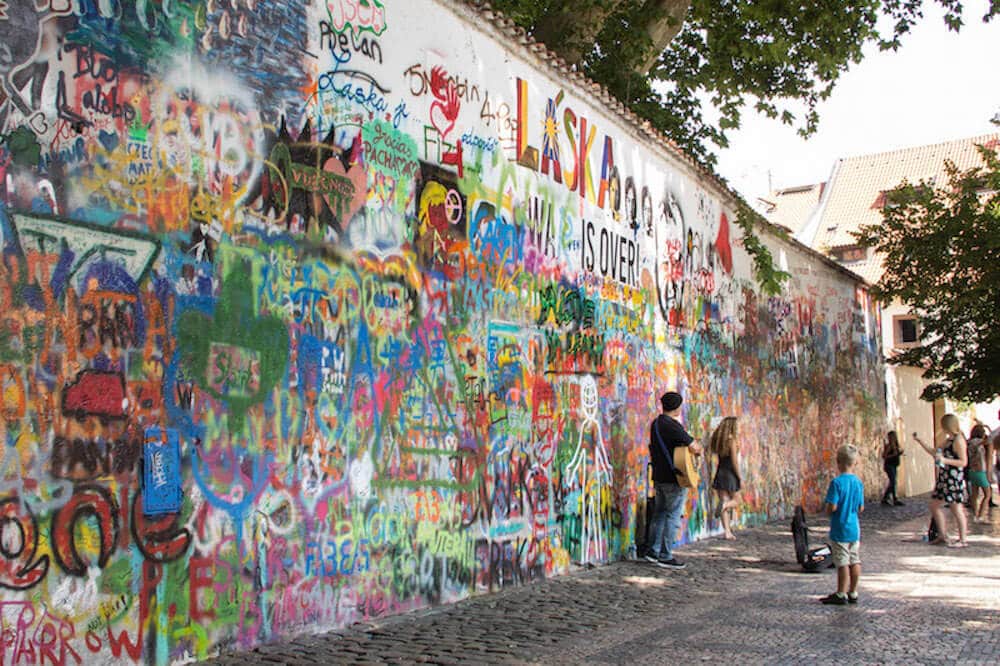 Leave a Message at the John Lennon Wall
The John Lennon Wall on Kampa is one of Prague's legendary attractions.
It spontaneous popped into existence in the 1980's after John Lennon was assassinated, as a means to mourn his loss and continue the message of freedom and peace that he embodied.
Despite the best efforts of the secret police, the wall lived on. Today is a popular spot for tourists – and makes a great Instagram photo.
Tip : Bring your own marker if you want to contribute.
For more tips on visiting Mala Strana including things to do, hotels, restaurants, shops, and more – check out our Insider's Guide to Mala Strana.