Get beyond Prague's most popular tourist sites with this one-day, self-guided walking tour…with a twist. Experience a stranger side of Prague and visit 12 of Prague's most head-scratching, fascinating, and moving sculptures. Follow the walking tour using the free Trover app, and plan your own unique Prague itinerary for your trip!


Prague Trip Planning Resources: Where to Stay | Things to Do | What to Pack
We created this sponsored post in collaboration with Trover, a photo-sharing social network made specifically for travelers.
Introduction
Besides being one of the most beautiful cities in the world, Prague is blissfully compact for visitors on a tight schedule, making it possible to see the city's most important sites over the course of a long day's walk.
If the idea of shuffling from major site to major site along with the rest of Prague's million visitors doesn't appeal, we've partnered with the travel photo sharing app Trover to put together a DIY walking tour that will let you see the main sites…with a twist.
Prague is filled with hidden artistic gems, and this walking tour will take you past some of the most interesting (and, some might say, bizarre).
For those who suffer from FOMO (fear of missing out), don't worry: each stop along this DIY Prague walking tour is a sculpture or piece of public art, but the route also takes you past some of Prague's most noteworthy sites, including Old Town Square, Charles Bridge, and more.
That's right: it's possible to see Prague's most famous sites AND its most bizarre statues, all in one day!
If you prefer a guided walking tour of the city, I highly recommend this private guided walking tour. You'll get a taste of all the major sights in the city, without the hassle of a large tour group! And don't forget to check out these other great things to do in Prague.
You can preview the sites included in this DIY walking tour using Trover (available on desktop and a mobile app):
Prague's Strangest Sculptures Walking Tour – a photo list by Wandertooth
You can also use Trover to plan your own trip to Prague and beyond, and curate your best photos and memories from the trip once you're home (sign up for the site here).
We used the "lists" function to create this tour, adding a mix of our own photos (or "discoveries", in Trover speak) and others' to build a collection that includes all the stops on the tour.
If you're planning your own trip, you can search for other users' discoveries in Trover, and save them to a list. The nice thing about Trover is all discoveries are geotagged and can be seen on a map, making it a super practical combo that's part social network and part guidebook, and (most importantly) practical to use once you're actually on your trip, wandering around a new city.
If you only have one day in Prague and want to spend it on a DIY tour with a bit of a twist, check out our picks below and on Trover.
We've broken the tour up by area, and cover Wenceslas Square, Old Town/Jewish Quarter, and Mala Strana/Castle Area in the tour.
If you are touring the city on your own, and plan to stop and visit some of Prague's attractions along the way, consider purchasing a Prague Card. It will give you admission to the most popular sights in the city, including the must-see Prague Castle.
Wenceslas Square & Area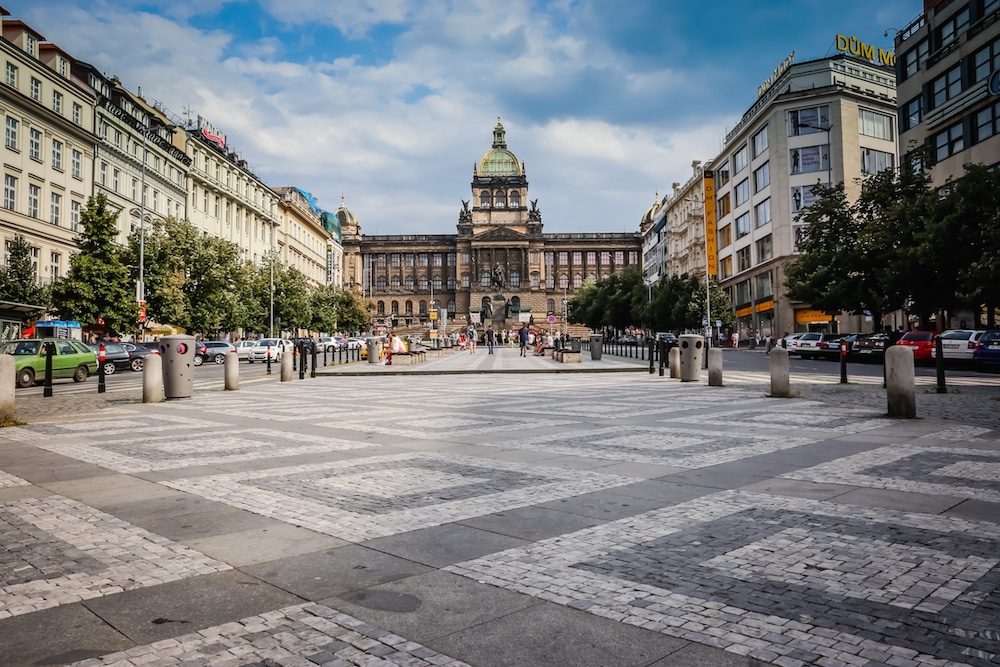 St. Wenceslas Statue (Wenceslas Square)
Start your itinerary at the "top" of Wenceslas Square, which sits between the lovely Vinohrady neighborhood and Old Town.
Just under the imposing National Museum building, you'll find a statue of St. Wenceslas, who is known as Václav in Czech and posthumously ascended to the status of King of Bohemia.
Meeting under his horse's tail is a tradition for Praguers -- and the perfect place to start any tour of the city.
St. Václav is a patron saint to Czechs, and is famous for being the kind subject of the song "Good King Wenceslas." A victim of fratricide, Václav was killed by his brother Boleslav in a cruel Game-of-Thrones-esque murder in 935 CE during his son's christening ceremony.
Every December 18, Czechs also memorialize Václav Havel at the statue. Havel was the country's first president after communism, and possibly the country's second "Good King Wenceslas."
If you're hungry, Wenceslas Square is full of food stands where you can grab a sausage and Pilsner: a perfect Prague snack to keep you going!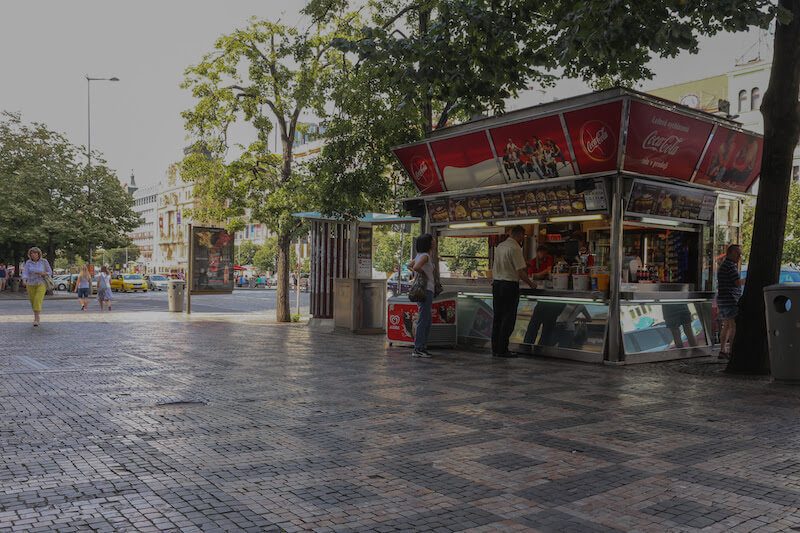 King Wenceslas Riding an Upside-Down Dead Horse (Lucerna Palace)
A quick walk down Wenceslas Square takes you to the Lucerna building, owned by former President Václav Havel's family.
Inside the building's main hall, you'll come across a rather bizarre take on the St. Wenceslas sculpture you just left at the top of the square. It's also the first David Černý sculpture included in this tour.
Černý is a bit of a local bad-boy-artist who gained notoriety when he painted a Soviet tank pink after the Velvet Revolution. He continues to exercise his free speech in his work.
One notable sculpture consisted of a giant middle finger, which he floated up the Vltava River and right past Prague Castle, where the Czech president has his office.
At Lucerna, you will see Černý's sculpture of St. Wenceslas riding a dead, upside-down horse.
Černý is tight-lipped about the meaning, but many think it represents Czech President Václav Klaus (and no, not every Czech leader has been named Václav).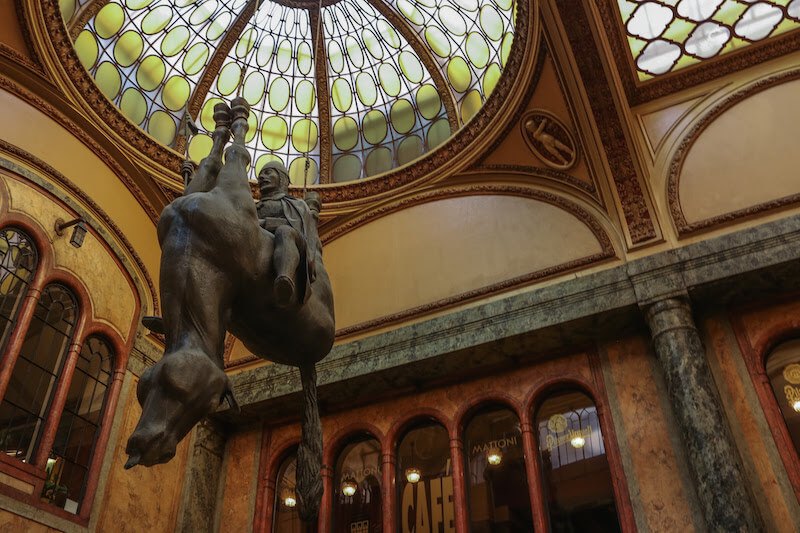 If you need a bit of extra time to contemplate the statue, visit Cellarius, the wine shop next to the sculpture, for a glass. Cellarius has a very knowledgeable staff and can help you pick a bottle, too.
If you use the Štěpánská street entrance to Lucerna, look closely on the right for a paternoster, a 19th-century elevator, in view behind glass doors.
The Head of Franz Kafka (Quadrio Shopping Plaza)
Another wonderful Černý sculpture is the 11-meter-tall kinetic sculpture of Czech writer Franz Kafka's head, just a 7-minute walk from Lucerna.
This giant shiny bust is made of 42 independently-moving panels which rotate the head in metamorphosis (see what we did there?). It really has to be seen to be truly appreciated!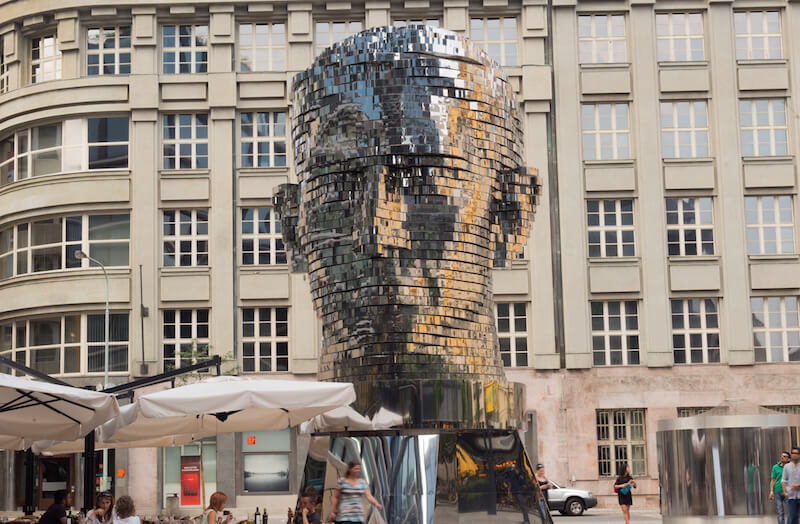 If you've worked up an appetite watching Kafka spin, or you're ready for a hit of caffeine, take a short wander over to the famous Cafe Louvre (Národní 22), where Kafka himself used to dine.
Old Town and Jewish Quarter
Man Hanging Out (Intersection of Husova and Skořepka Streets)
Make your way to Prague's Old Town square via the David Černý sculpture, Man Hanging Out.
This hard-to-spot piece depicts not just any man, but Sigmund Freud, and it's rather creative placement has prompted more than one person to call emergency services.
When you reach the intersection of Husova and Skořepka streets, look up to find it. And don't be surprised if, once you spot it, you'll prompt others to notice this hidden sculpture as well and start a photo-taking domino effect.
Most people miss this statue because they aren't looking up!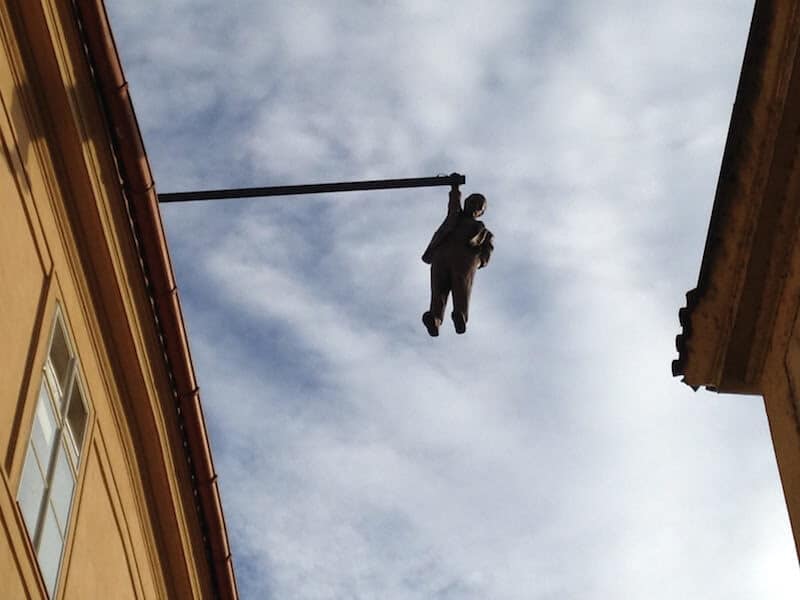 Old Town Square
From Man Hanging Out, wander the labyrinthine streets to Prague's Old Town Square. The square is a feast of sites, many of which offer insight into how important art and beauty is to Czech culture.
The centuries-old astronomical clock is from a time when function wasn't the only goal of engineering. The 1915 monument to Jan Hus (of the Hussite Wars) is a testament to art on a massive scale.
Galleries surround Old Town Square, and even the pastel-colored buildings create a scene that belongs in a painting.
Old Town Square is one of the most visited parts of Prague, but deservedly so.
Spend some time hanging out in Old Town Square and climb the City Hall tower for great views before making your way to the adjacent Jewish Quarter and next stop on this tour.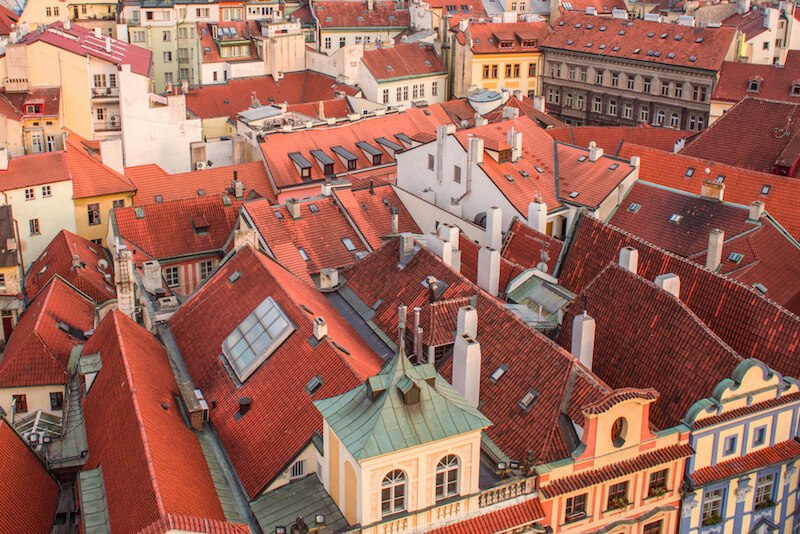 Statue of Franz Kafka (Dušní 141/12)
From Old Town, head to the beautiful Jewish Quarter, which is remarkably well-preserved compared to the Jewish Quarters of other Central European cities such as Budapest and Krakow.
In fact, the Jewish Quarter is one of the most interesting areas of the city. If you have the time, this is a great guided tour of the Jewish Quarter. You'll get a chance to see the beautiful synagogues, the Jewish museum, and learn about the history and culture of the area.
One of the most striking statues in this area is the Statue of Franz Kafka by Jaroslav Róna (Dušní 141/12). Erected in 2003, it's based on Franz Kafka's first novel Amerika, in which a political candidate rides through the streets perched upon the shoulders of a giant.
This haunting statue has a special presence at night when it is even more perplexing and "Kafkaesque."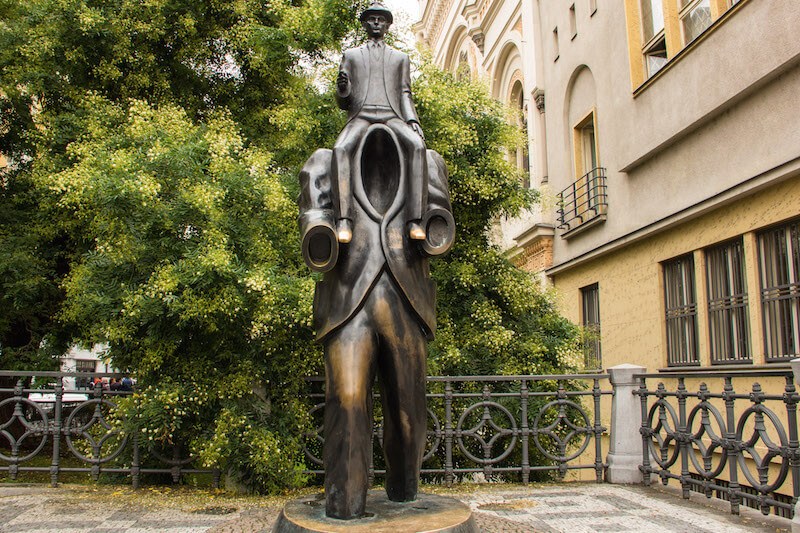 While in the Jewish Quarter, take some time to visit a few of the main sites, such as the Old Jewish Cemetery, the Old-New Synagogue, and the Spanish Synagogue.
Charles Bridge Area
From Old Town, wander your way toward Charles Bridge through some of Prague's legendarily narrow (and confusing) streets.
While you're there, be sure to explore the bridge and all it's hidden novelties. See our tips for visiting Charles Bridge here!
Don't worry too much if you get lost as the streets are really quite lovely to wander without a timetable - just keep going, and eventually you'll find yourself on the perimeter of Old Town!
Embryo (Namesti U Sv. Anny)
Perhaps the most bizarre of all the statues on this itinerary, David Černý's Embryo is installed on the side of a building just above the street sign for Na Zábradlí street in Anenské námesti.
When you spot the bulge in a drain pipe that kind of looks like a stomach, you'll have found it. If you find yourself in the area at night, you'll be pleased to see Embryo lights up in the darkness, with a not-unpleasant pinkish glow.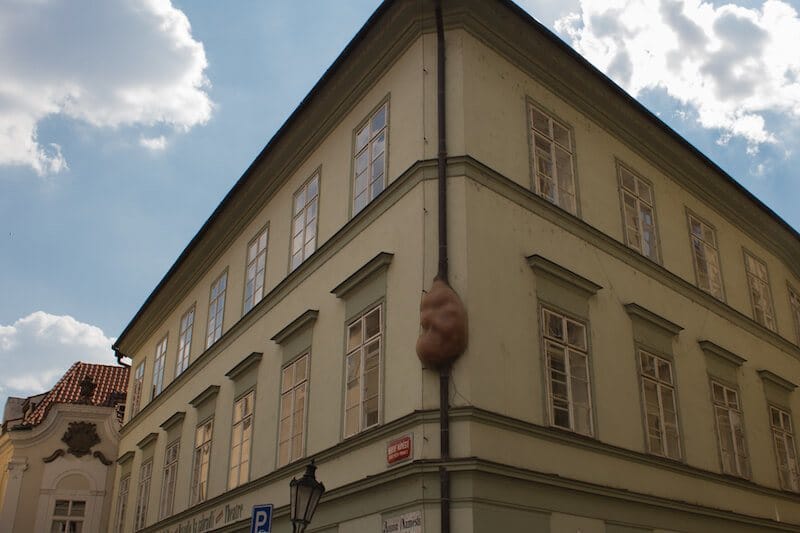 If you're thirsty, right around the corner is the Prague Beer Museum, a perfect stop for a tasty drink or snack.
St. John of Nepomuk (Charles Bridge)
Charles Bridge is host to thirty statues, but the most famous is the statue of St. John of Nepomuk.
St. John heard the Queen of Bohemia's religious confession. Legend has it he was drowned in the Vltava in 1393 because he refused to reveal the Queen's confessions (and suspected affair) to King Václav IV of Bohemia.
Decorative panels at the base of the statue depict the queen's confession and St. John's drowning. Touching the panel - touch both scenes to be safe - apparently ensures you're destined to return to Prague one day, kind of like tossing a coin in Rome's Trevi Fountain.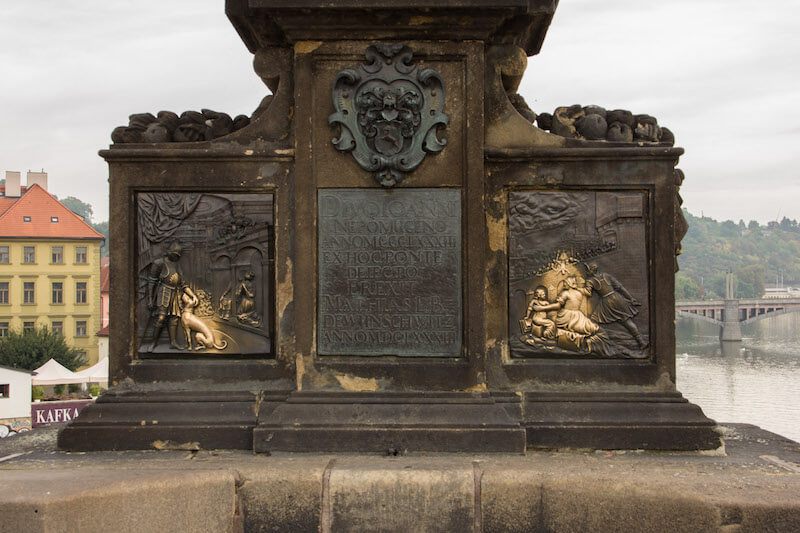 If you're in the mood for even more magic (or miracle), walk a few meters back along the bridge in the direction of Old Town. On your left side, you'll see a small iron gate with five stars on it, and just below there's a cross inlaid into the bridge's stone wall.
This is said to be the exact spot where St. John was martyred. If you touch the cross and stars with your left hand and make a wish, the wish will be granted in one year!
Kampa Island, Mala Strana and Prague Castle Area
When you reach the other side of the river (opposite to Old Town), you're in Mala Strana.
On your left side there's a large staircase built during the 12th century. The stairs lead down to Kampa Island, which is separated from the mainland by a 750-meter canal called Čertovka (Devil's Canal).
Be careful though: Čertovka is home to a mythical water goblin named Vodnik (which is mostly used by parents to keep their kids from getting too close to the water).
Other than the mythical water goblins, the island is a beautiful, serene park with an art museum and some more bizarre sculptures!
The "Barcode Babies" (Museum Kampa)
Variously referred to as the giant babies or the barcode babies, David Černý's Miminka babies near Museum Kampa (U Sovových mlýnů 2) are always popular. The same baby sculptures normally adorn the Zizkov TV tower, although they're currently on tour abroad as I"m writing this.
There are often festivals and art installations in Kampa Park, and it is easy to make a lap of it before exploring Mala Strana and Prague Castle area in more depth.
Kampa is perfect for a stroll any time of year. In summer, Kampa is green, warm and inviting. During winter, it's still beautiful and takes on a cozy air, with people roasting klobasa (sausages) over open fires around Christmas.
The nearby graffiti-covered Lennon Wall is another popular attraction, and a great spot for photos.
Piss (Cihelná 635/2b)
After exploring Kampa Island, wander north of Charles Bridge to the courtyard of the Kafka Museum on Cihelná street. Here you'll find another bizarre Černý sculpture-fountain, simply called Piss.
Interactive and kinetic, Piss features two men standing on a map of the Czech Republic...urinating (don't worry, it's water).
The men typically move their - ahem - streams to a set pattern, but if you send a text message to +420 724 370 770 they will spell out your message with their "pee." (The number is posted near the statues, so if this one doesn't work anymore , just check in person!)
This is especially fun if it's recently snowed!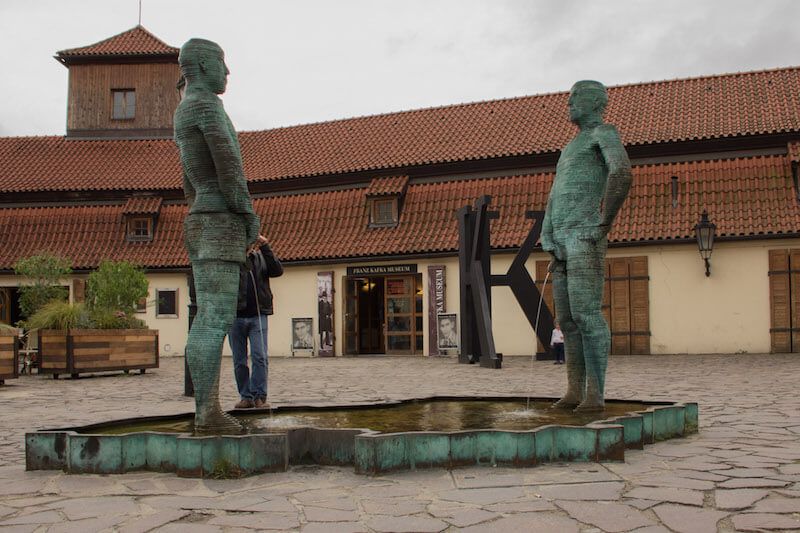 Youth (Jiřská 6/2)
From the bottom of Mala Strana, make your way up to Prague Castle to see this unique statue by Miloš Zet, which has been getting attention from ladies (and everyone, really), since 1962.
The statue itself is a bronze, naked young man. Somewhere along the line, a rumor started that rubbing his penis brings good luck, and this tradition has left the statue with a distinctly golden glow…down there.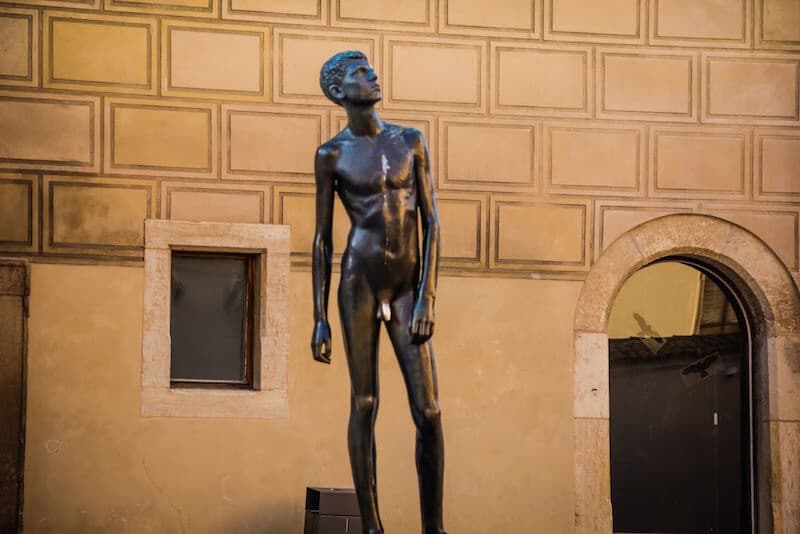 Youth is in the courtyard of the Toy Museum on Jirska street, within the Prague Castle complex.
It's behind a gate that closes in the evening, so if you fancy a fondle it's better to head there in daylight.
Memorial to Victims of Communism (Újezd tram stop)
Unveiled in 2002, this work by Czech sculptor Olbram Zoubek and architects Jan Kerel and Zdeněk Holzel features seven statues of men. The men toward the back of the installation appear to be deteriorating, losing what makes them human as they fade into the distance: a symbol of the horrors Czechs experienced during life behind the Iron Curtain.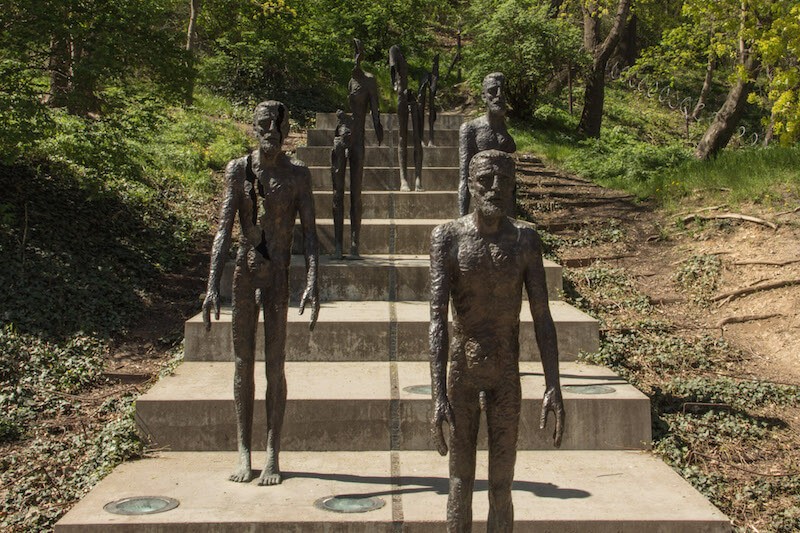 At night, the statues are lit in an eerie, thought-provoking way. A strip of bronze in the middle of the installation gives estimated numbers of those affected by communist rule, and a plaque nearby states these numbers don't represent everyone.
Found near the tram stop Újezd at the bottom of the Petrin Hill park, this is a good piece to see at the end of the day, and has good tram connections to get elsewhere in the city.
---
Pin This Guide!