Mala Strana Prague Guide: Otherwise known as Prague's Little Quarter or Lesser Town, this upscale district near Prague Castle is beautiful, romantic and grown-up. Get to know Prague Mala Strana with this insider's guide to one of Prague's best neighborhoods!

Prague Trip Planning Resources: Where to Stay | Things to Do | What to Pack
For as long as there has been Prague, there has been Mala Strana.
Mala Strana means the "Little Side" or "Lesser Town," and it sits across the river from Old Town Prague. This more grown-up part of Prague's city center holds many gems.
Beautiful churches and romantic streets fill every cranny of this tiny district. It's especially magical on long summer evenings, or in the winter if you're lucky enough to experience Prague in the snow!
Tucked into the shadow of Prague Castle, there's a lot to love about Prague Mala Strana!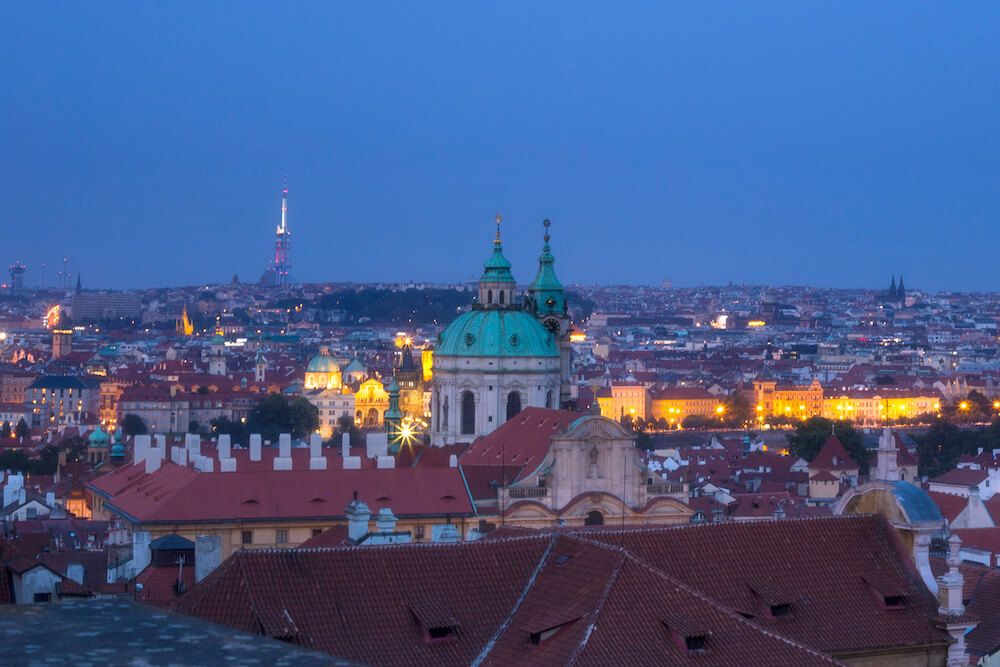 ---
Who Should Stay in Mala Strana Prague
People who aren't afraid of some crowds, but want a more relaxed and mature atmosphere than Old Town Prague or Zizkov District, will enjoy Mala Strana.
It's great for those who want easy access to Old Town's sights, but would rather stay in a Prague neighborhood full of galleries and boutique hotels.
Generally speaking, it's more expensive to stay in Mala Strana than other Prague neighborhoods. That eliminates a certain crowd, but it is possible to find a few cheap hostels or hotels if you look hard enough.
Worth mentioning, if you want the mature and grown up feel of Mala Strana, but are on a tighter budget (and don't mind being a bit further from the main attractions), you might consider Prague's Vinohrady neighborhood.
Pros:
Calm and relaxed atmosphere – for the most part
Large parks and gardens all around
Super walkable and fun to explore
Dozens of galleries, antique shops and cafes everywhere
Quieter at night than Old Town
Lovely views of Prague from near Castle Square
Cons:
Not a young party neighborhood
Crowded in some places
Cafes and bars might be small with no room
More expensive for lodging and everything else
Not many locals
Where to Stay in Prague Mala Strana
There are no bad parts of Mala Strana. There will be more crowds around the Charles Bridge and Malostranske Namesti. So if you don't like crowds, avoid these places.
There are a handful of boutique hotels and pensions near the Ujezd and Hellichova tram stops. These areas will be a bit less busy than near Malostranske Namesti.
If you skip across Vítězná street south, prices for lodging go down. Technically out of Mala Strana, this neighborhood (Andel) is more local.
Best Hotels in Mala Strana
While generally more expensive than some other Prague neighborhoods, there are plenty of Mala Strana hotels to choose from, and it's possible to find options for any budget.
Hotels in Mala Strana
3-Star Hotels in Mala Strana Prague:
4-Star Hotels in Mala Strana Prague:
5-Star Hotels in Mala Strana Prague:
Hostels in Mala Strana Prague:
If none of these hotels strike your fancy, check out our full guide to where to stay in Prague for more ideas.
Things to Do in Mala Strana, Prague
A walking tour is a great way to see all the highlights of Prague, including Mala Strana. This private guide tour is one of the best-reviewed, and a favorite among my readers.
Charles Bridge is one of the quintessential things to do in Prague. Stroll over Charles Bridge and climb the Malostranská mostecká věž (Lesser Town Bridge Tower).
From there you'll get a bird's eye view of the Bridge. The towers on both sides of the bridge are accessible, and each offers different (but equally incredible) Prague views.
It costs a few dollars to climb the towers, but there's a discount if you purchase a Prague Card, which also gives you access to the most popular tourist attractions throughout Prague.
In Mala Strana, Malostranske Namesti is a great place to start exploring. There you will see St. Nicholas Church, with its impressive dome towering over the square.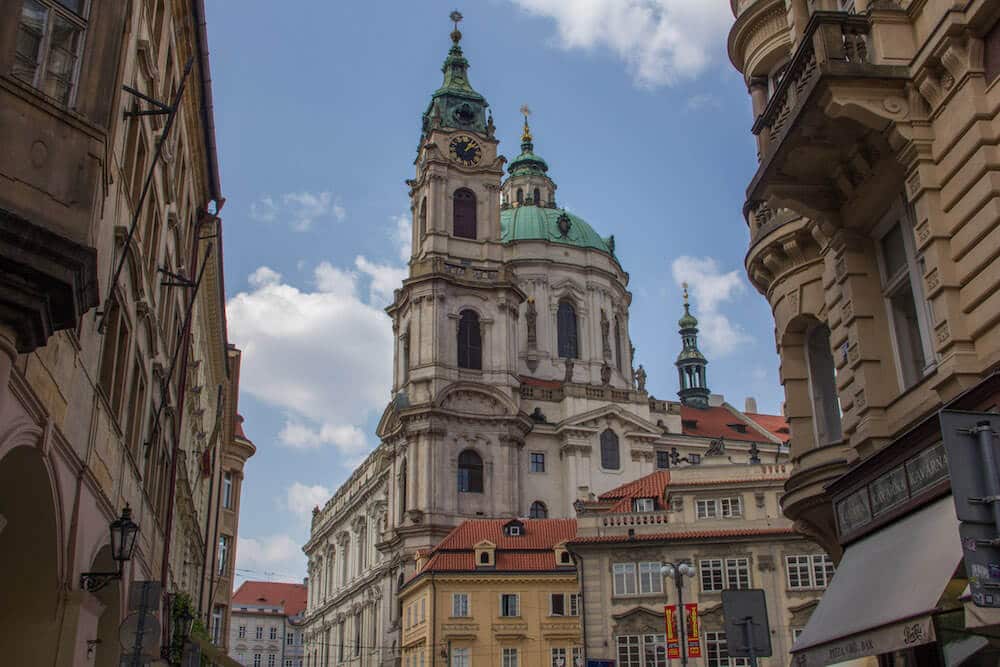 Visit the Zahrady pod Pražským hradem (Gardens under the Prague Castle). The gardens are connected and allow you to take a scenic walk up the hill to the iconic Prague Castle.
Prague Castle is a must-see attraction! The ticket line can get a bit crazy, so I recommend one of these two options for getting your tickets in advance:
Purchase a Prague Card – You'll get admission to Prague Castle and 60+ of the most popular tourist attractions in the city. It also includes a cool river boat cruise and sightseeing bus tour. Get a Prague Card here.
Take a Guided Tour – A guided tour is a great option for Prague Castle. You'll get access via a shorter security line for guided groups, and you'll get a local guide to explain all of the history and incredible stories about this iconic place! Book a Guided Tour here.
For more tips on seeing the castle, see our guide to visiting Prague Castle.
Take a pilgrimage to the Church of the Infant Jesus. Devotion to the church's namesake statue has been recognized by four Popes since 1896. It hosts thousands of pilgrims each year.
The Czech Museum of Music is in the Prague little quarter. It houses everything from rare instruments to items once owned by famous composers.
And while Petřín Park is technically out of Mala Strana, it's right on the edge so you should visit if you can. The park is on a hill and there is a funicular that will take you to the top — or middle if you like.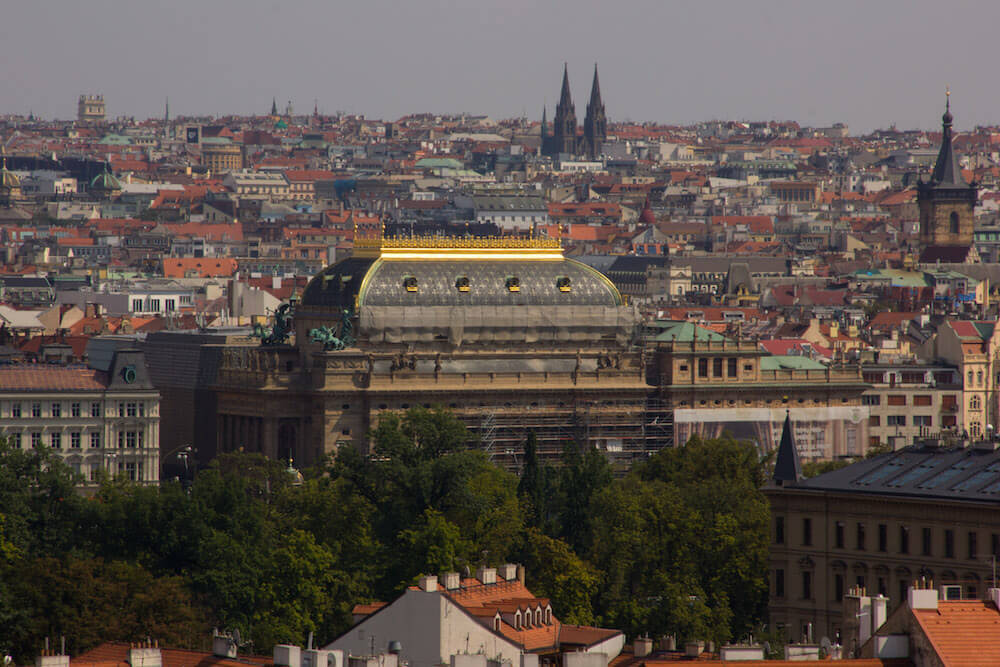 The funicular is popular during peak season and there will be a line. A ticket is required, but it is only a standard Prague transport ticket. Buy some extra tickets at a metro station or tobacco stand, and then skip the ticket line at the funicular.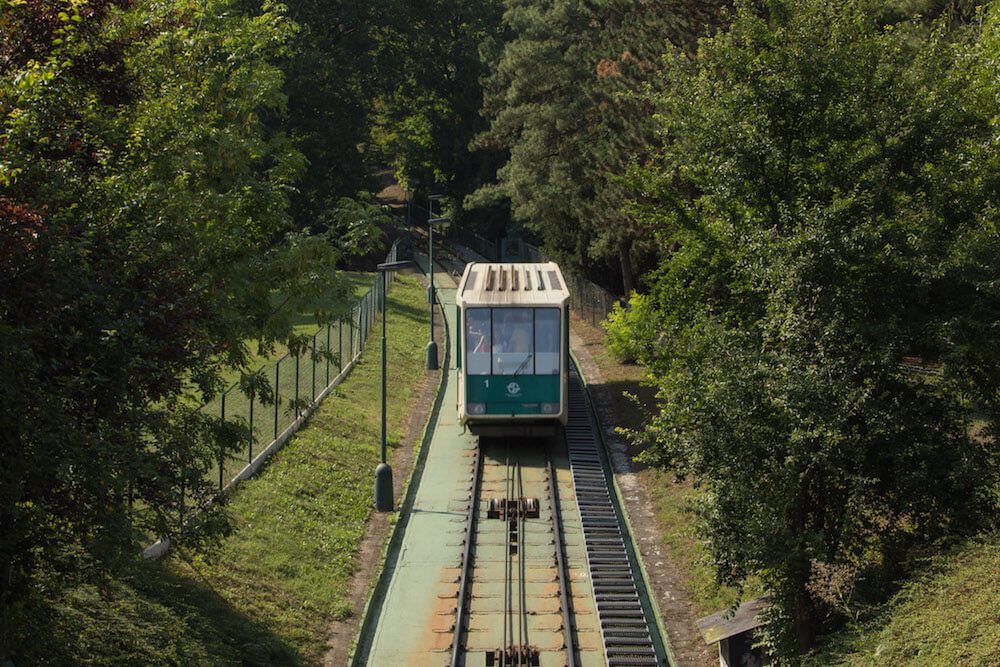 ---
What to See in Mala Strana, Prague
Mala Strana is all about art, churches and gardens.
You will see locals lounging in parks all summer long. Don't be shy about doing the same to unwind after fierce sightseeing in Old Town!
The Wallenstein garden is a semi-hidden baroque garden that's very nice to visit. Expect beautiful statues and hedges, a huge Koi pond, vast promenades, peacocks, and a majestic view of the Prague Castle (check out our guide to visiting Prague castle too!)
Access the garden from Malostranska metro stop. At the top of the escalator, exit the doors to the left. Enter the gardens via the gate on the right.
For a different view of Charles Bridge, follow the path along the river toward Manesuv Most. It's a great vantage point for photos.
If you're into photography, be sure to take a look at our favorite photo spots in Prague!
Many locals enjoy strolling through Kampa Park, just under Charles Bridge.
There you can see the famous David Cerny babies sculptures, or just nap on the grass!
If you're intrigued by the unique sculptures, you might like this DIY Walking Tour which takes you by all of Prague's cool (and often weird) statues.
And don't forget to check out this article for more fun and quirky things to do in Mala Strana.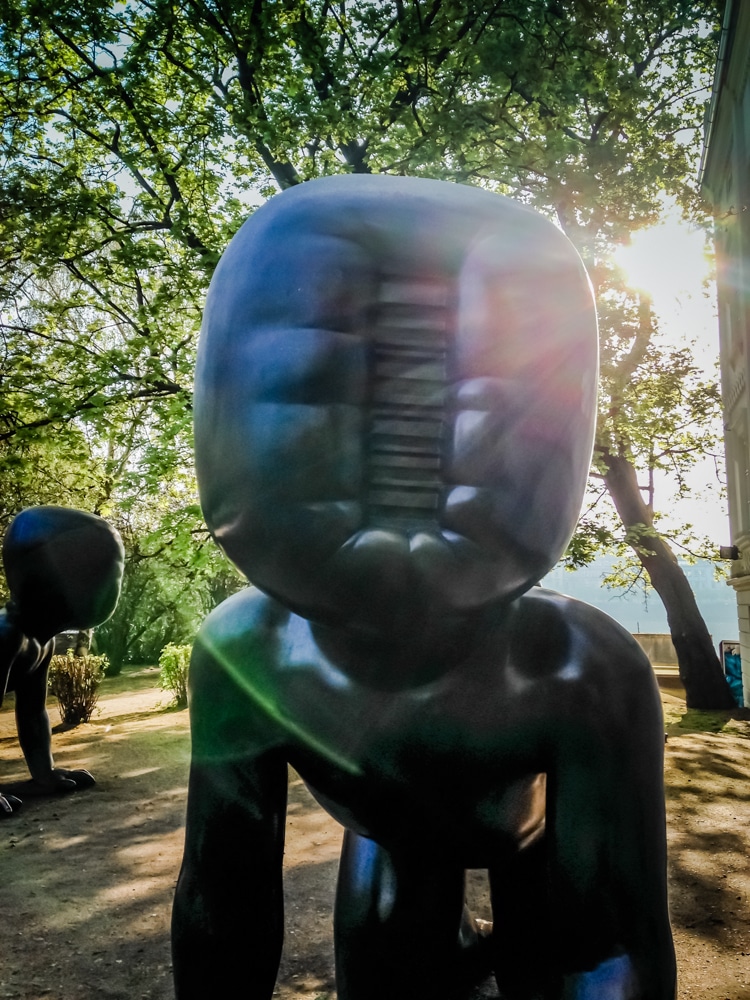 Nearby, the John Lennon Wall is a popular spot for photos. Covered in colorful graffiti, it's one of the most Instagrammable things to do in Prague!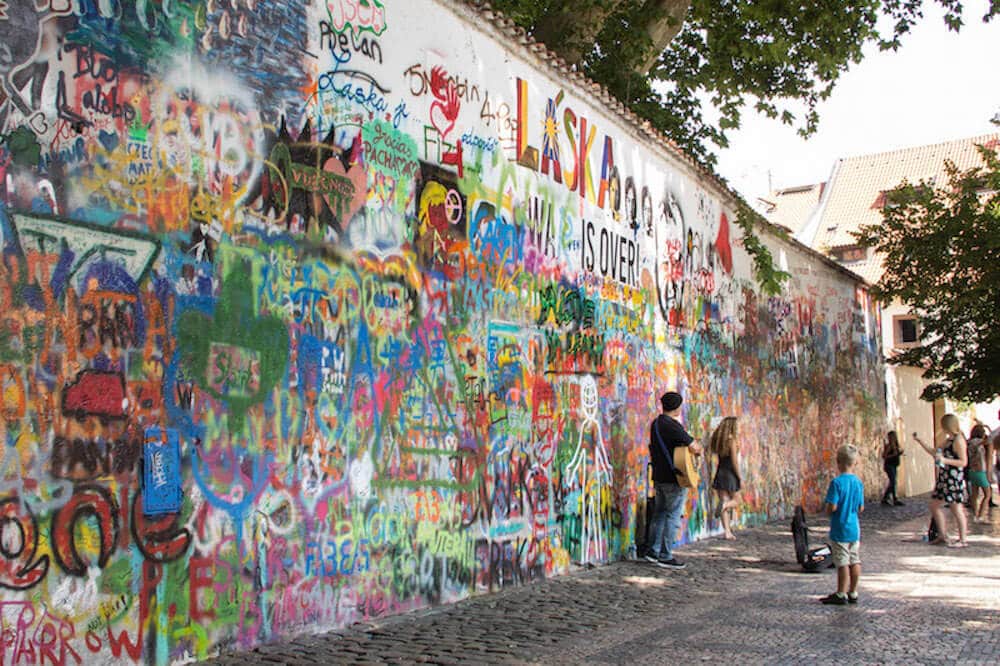 ---
Prague Mala Strana Transportation & Accessibility
A few tram lines run through the Little Quarter of Prague. The convenient "tourist tram" number 22 that passes many Prague sites is one of them. The A (Green) metro line also stops at Malostranska.
Mala Strana isn't the most accessible via public transportation, especially when compared to some other Prague neighborhoods. However, it's just a quick walk across Charles Bridge to Old Town, which is very well connected.
If you are planning to stay in Mala Strana, I strongly recommend arranging a private transfer from the airport. It's not much more expensive than a taxi, but will save you from the stress of navigating the (sometimes aggravating) taxi system upon arrival.
If you plan to take any day trips from Prague to nearby towns, such as Pilsen, the Kutna Hora Bone Church, or Karlstejn Castle, you'll need to get from Mala Strana to the Prague train station.
To get to the train station, take the metro Line A from Malostranska, and switch at Muzeum to the red Line C.
---
Mala Strana Shopping Guide
Mala Strana is full of small gallery and design shops.
If you're looking for a perfect beer gift for a beer lover, stop in at the CZECH BEER SHOP (Lázeňská 15). Yes, they have tastings.
The exquisite dolls at Art cz Gallery (Prokopska 5) are sure to impress collectors. They have dolls made from myriad materials.
If you are looking for a design item to complete a room, Cihelná concept store (Cihelná 2b) is worth a visit.
Manufaktura, which has locations around town – including in Prague Old Town – has a shop on the Mala Strana side of Charles Bridge. It's a great spot for Czech beer and wine bath products, a few housewares, and wooden toys. Find it a few doors down from McDonald's at Mostecká 276/17.
If you love small shops, our best advice is to simply wander through the neighborhood, and see what you find! Mala Strana is a great area for exploring!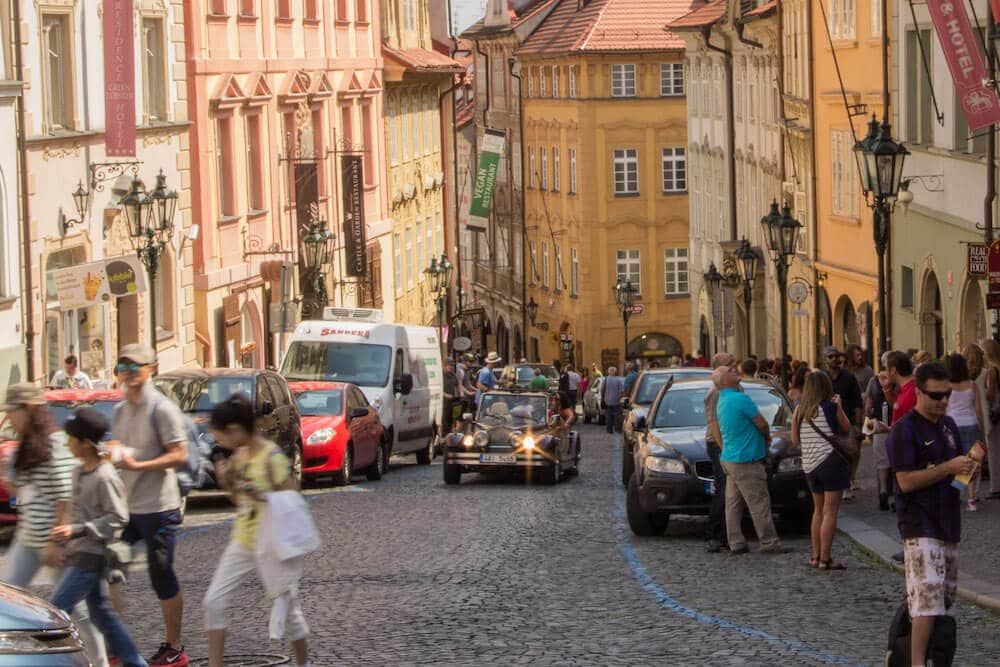 ---
Best Mala Strana Prague Restaurants
Bella Vida café (Malostranské nábřeží 3) is perfect for breakfast and lighter fare. It has a wonderful view of the river and entrance to ship locks, so you can stay for hours watching the world go by.
Decorated in the style of the "First Republic," Café Savoy (Vítězná 5) is a little more upscale (read expensive). The food and experience makes it worth it. Cafe Savoy is a popular hotspot for some famous Czechs and there is even parking for your Maserati!
El Centro (Maltézské námesti 9) offers authentic Spanish cuisine a few steps from Malostranske Namesti. Owned by Spaniards, it's your best option for tapas and paella in Mala Strana.
The Cantina (Újezd 38) has Mexican-style cuisine in a festive atmosphere. It is popular with locals and tourists alike. Reservations required.
Restaurace Malostranská beseda (Malostranské náměstí 21) is a restaurant, pub, cafe and music club all in one – although not in the same space. They have great beer and delicious traditional Czech cuisine in the heart of Mala Strana.
Another great traditional Czech establishment is Restaurant Pod Petřínem (Hellichova 5). The menu isn't very diverse, but what they cook they cook well. A .5L Kozel draught beer is only 27 CZK which makes it one of the best beer bargains in Mala Strana.
---
Mala Strana Nightlife
Mellow and more grown up than other Prague neighborhoods, Mala Strana has a wild side at Popocafepetl (Újezd 19), where you can dance the night away.
Vinograf (Míšeňská 8) is cozy and has an impressive selection of wine with an extremely knowledgeable staff. There is also a location in Old Town that is more of a restaurant.
Bar Bluelight (Josefská 1) is popular with locals and open until 3 a.m., so it's a great stop at the end of the night.
U Malého Glena Jazz Club (Karmelitská 23) has blues or jazz music every night from 8:30 p.m. and some great food too.
If you need to do a load of laundry with your drink, Laundry Bar (Nerudova 21) has you covered. They close at midnight, so it's a good take on a laundromat. They have many games to keep you entertained if watching clothes spin isn't your thing.
A little ways outside of Mala Strana, but still convenient, is Letna Park. Anyone looking for a traditional beer garden should visit Letna Beer Garden. In addition to the beer, the view from Letna Beer Garden is one of the best in Prague! It is not open year round and it's not in Mala Strana, but it's so close, and the view is worth the trip!
---
---
Safety Tips for Mala Strana
Prague is extremely safe, and Mala Strana is no exception. Beggars rarely make it off Charles Bridge, and locals relaxing in the area are only worried about enjoying themselves!
Like any other city, it's good to be aware of your surroundings and take some basic precautions. Here are some of my best tips for avoiding pickpockets, no matter where you're travelling.
Police may sometimes walk the beat – they are friendly and helpful. Most of the police posted in Mala Strana speak English and will do what they can for you.
If you can't find a police officer on the street there is a police station at Letenská 23. You can go here to file a report if needed – ring the bell at the door.
Calling 112 will connect you to emergency services.
---
Pin This Guide!