The Best Food Cities in Spain: 4 Spanish Cities to Completely Stuff Your Face In! This is a Guest Post from Allison at Eternal Arrival, Outlining Her 4 Favorite Cities In Spain That Foodies and Food Travellers Shouldn't Miss!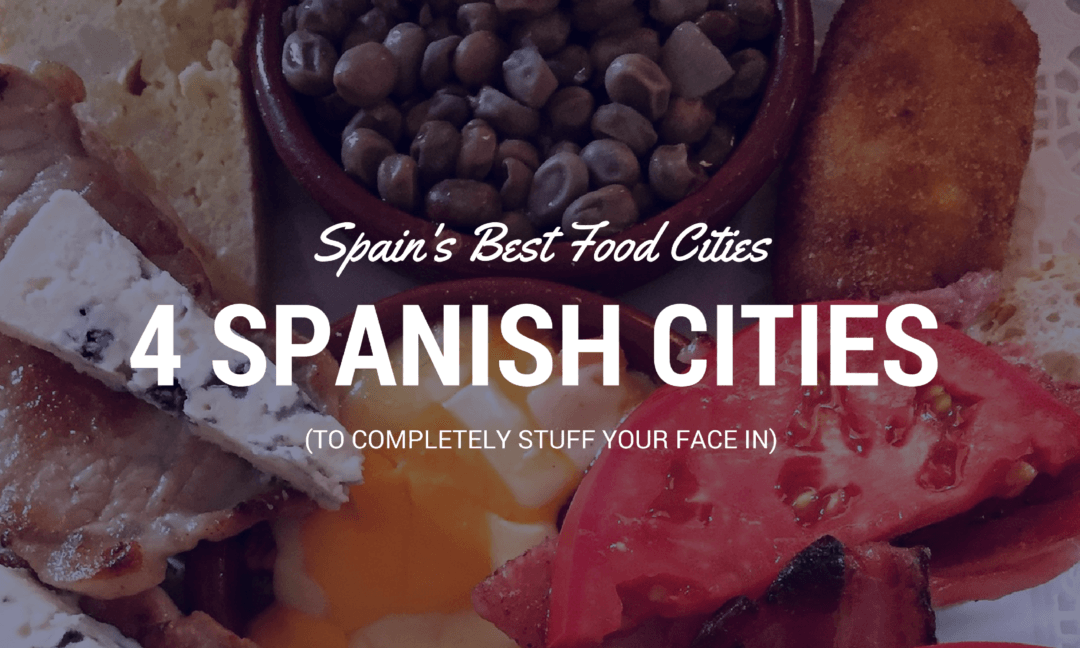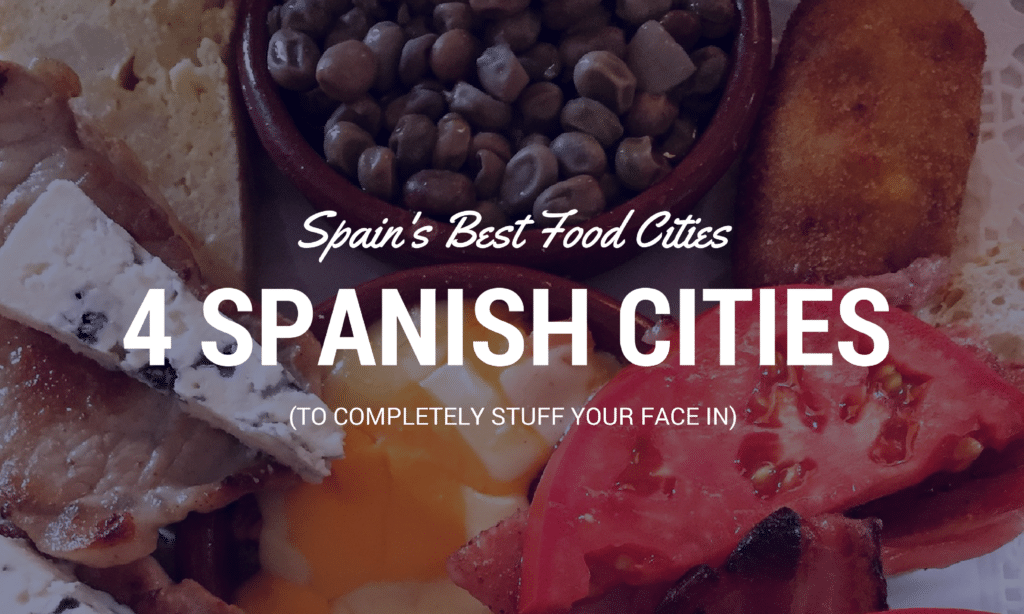 Disclosure: This guide to the best food cities in Spain contains affiliate links. That means we earn a commission when you use the links on this site to book a hotel, buy your travel insurance, shop for travel essentials, etc.. You don't pay anything extra. If you'd like to learn more about how this works, you can read more under our Disclaimer page.
***
The Best Food Cities in Spain: Four Spanish Cities for Foodies…That Aren't Barcelona
Spain is a food lovers' paradise. From legendary tapas to the inventive, Michelin-star-studded Basque region, there's no shortage of delicious food to be had in Spain.
And while Barcelona gets much of the attention when it comes to Spanish food, there are many other great Spanish food cities waiting to be explored!
Allison Green of Eternal Arrival recently spent five weeks eating her way around Spain. In this guest post, Allison shares her thoughts on the foodie highlights of this beautiful country, and picks 4 of the best food cities in Spain…that aren't Barcelona!
Allison's picks for the best food cities in Spain include:
Before We Get Started, We Want to Tell You About Devour's Delicious Food Tours Across Spain…
Devour Tours was co-founded by travel blogger Lauren Aloise back in 2012, and has since grown to offering food, wine, and tapas tours in 6 cities across Spain (Granada, Madrid, Barcelona, Seville, Malaga, and San Sebastian). With a goal of connecting travelers with local, family-run food businesses to highlight Spanish culture through it's food, Devour has now hosted more than 50,000 guests, and over 30 different tour options in the 6 different cities it operates. If you haven't heard of Devour yet, and are planning on eating your way around Spain, be sure to check out some of their great food tours while you're there (book in advance though, as they tend to get pretty busy!). We've highlighted a few below in Granada, San Sebastian, and Madrid, but it's worth checking out their city-specific websites for all 6 cities to plan your trip! You can find all their tours for each city by following these links: Granada, Madrid, Barcelona, Seville, Malaga, and San Sebastian.
---
Granada
If you're a foodie on a budget, I can't think of a better place to go than Granada. Every single drink you buy will get you a small tapa.
Sometimes it's your choosing; other times, it's the chef's call. These tapas range from the traditional, like boquerones (anchovies) and tortilla española (potato and egg frittata), to the inventive and multicultural offerings at places like Bar Poe. The best part? A tapa and a drink will only set you back about 2 to 2.50 euros!
Try a tinto de verano if you're there in the summer – a favorite Andalusian drink of red wine and lemon soda, much better tasting than it sounds!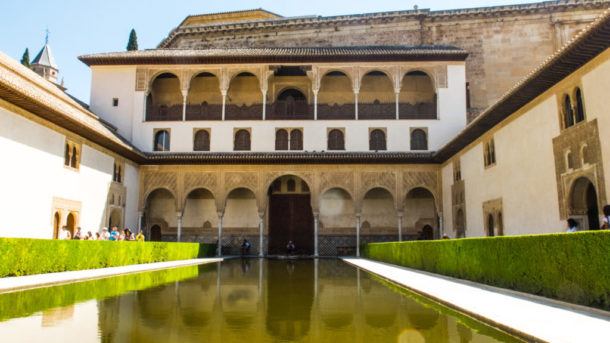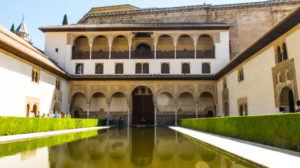 Granada Food Tours to Consider
Granada Tapas Walking Tour: Over 2.5 hours, you'll explore Granada's Albayzín neighborhood. The area is rich in culture and history – and delicious food. With your expert guide, you'l dive deep into the legends and hidden passageways of this historically Arabic neighborhood and indulge in stops at the best tapas bars. Check Prices and Availability.
Guided Gourmet Tapas & City Tour: A bit longer than the Ultimate Tapas Tour, this tour lasts 3 hours, taking you on a guided tour through the city center and then heading to the bars to enjoy some local tapas. The focus in this tour is off-the-beaten path spots that aren't touristy and are filled with locals, combined with a historic walking tour in between stops! Check Prices and Availability.
Granada Travel Tips
If you're planning a trip to Granda, we'd recommend staying in one of Granda's central neighborhoods of El Centro, El Albaicin, or El Realejo (which is slightly further away, but has a young, hip vibe). Check out our Where to Stay in Granada Neighborhood Guide for a full run-down.
If you're going to Granada, chances are you'll also be visiting the Alhambra. As it turns out, getting tickets to the Alhambra and booking a time slot to see the Nasrid Palace is kind of complicated. Check out our Tips for Visiting the Alhambra post for updated "how to" info, and for all our best tips!
If you plan on visiting other destinations in the south of Spain, we've got you covered:
Bilbao
San Sebastián gets all the foodie love, but I was even more impressed with Bilbao, the other major city in Spain's Basque region. The tapas in Bilbao are insanely inventive and delicious. In the Basque country, these tapas are called pintxos, and are usually composed of different local and seasonal ingredients atop a slab of white bread. The possibilities are too many to detail, but include combinations on cheeses, meats, fruit compotes, nuts, roasted vegetables, and spices, or are topped with fresh seafood like anchos con vinagreta (anchovies marinated with finely chopped peppers in a vinaigrette) or pulpo (octopus). Also make sure you try the local txakoli (a young, slightly effervescent white wine) and sidra (hard dry cider)! Nearby Lekeitio makes a delicious day trip – be sure to try to fresh octopus and mussels!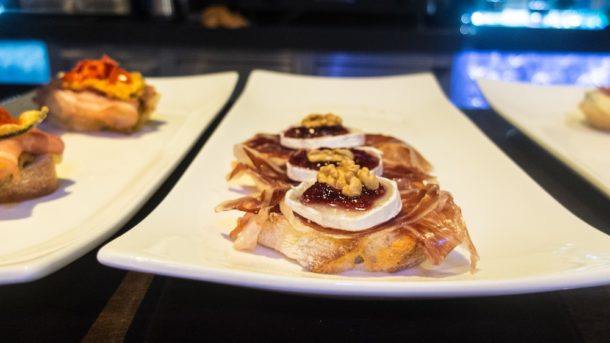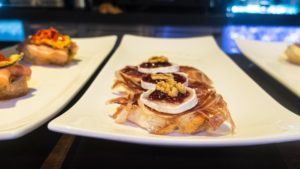 Eat More Pintxos!
Pintxos Food Tours in Basque Coutry — If you're obsessed with finding hidden gems and tasting the very best pintxos, consider jumping on a small group food tour. In San Sebastian, you can try the Ultimate San Sebastian Pintxos and Wine Tour – 3 hours of eating your way around San Sebastian, and enough food to make up a full dinner. This tour stops at 6 different locations, all of which are family-run with stories that go back generations!
Eating Pintxos Outside of Basque Country — If you're not fortunate enough to be going to Basque Country this trip, fear not: pintxos are taking Spain by storm, and can now be found outside of their ancestral region. In Barcelona, for example, Maitea gets high marks. If you want to try pintxos wherever you're going, consult Google before you head out for the "best pintxos in CITY." Your mouth will surely thank you!
---
Need some help planning your Spain trip?
Don't forget to
pick up a travel guide
to help you plan, but also help you learn as you go with restaurant recommendations, DIY walking tours, and tips to make your Spain trip memorable for all the right reasons!
---
Madrid
Spain's capital is an amazing place to eat at one of the many tapas restaurants, particularly in the neighborhood of Puerta del Sol. Chueca and La Latina also have some delicious offerings. Be sure to try some jamón iberico at Museo del Jamón, which literally translates to "Ham Museum" and may be one of my favorite places in the world. You also should definitely try some churros con chocolate (churros with chocolate) – a perfect breakfast or midday snack!
Although sister city Barcelona seems to get more interest from international tourists, you really shouldn't discount the capital; try to build about 3 days in Madrid into your itinerary, if you can!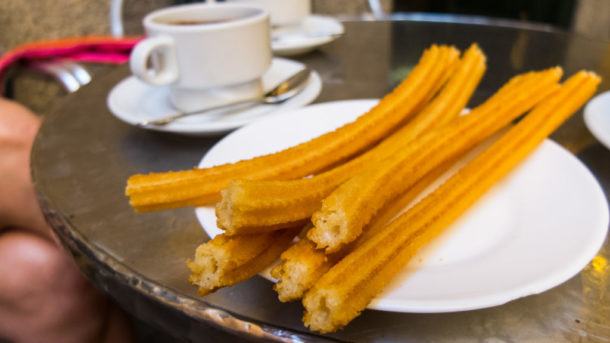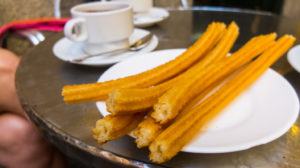 Madrid Food Tours to Consider
Devour Madrid offers several well-rated food tours in Madrid, giving you plenty to choose from…hope you're hungry!
Madrid Travel Tips
If you're unsure which neighborhood and area of Madrid to stay in, check out our Where to Stay in Madrid Neighborhood Guide for an overview of the pros and cons of Madrid's best areas (plus hotel recommendations in each).
Girona
Barcelona gets all the recognition, but I actually preferred its more low-key neighbor up north, Girona. Used as a Game of Thrones setting, Girona's historic old town is filled with charm – and delicious eats. Be sure to try some pintxos at Zanpanzar, where each treat will only set you back 1.90 euros. My favorite was a truffled goat cheese, candied apricot, and walnut pintxo – ridiculously decadent, unbelievably delicious, and perfect with a glass of sidra or cerveza.
For dessert, you can do no better than Rocambolesc, a gelateria run by one of the most famous restauranteurs in the world. Their violet gelato is out of this world amazing!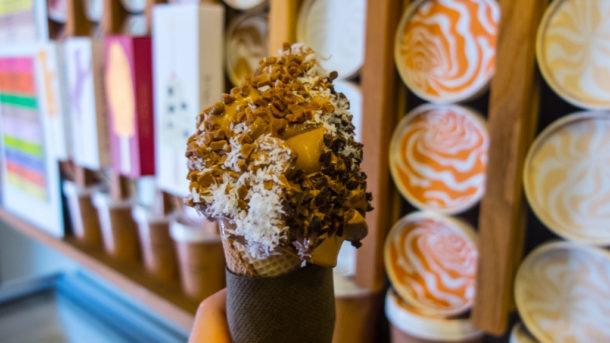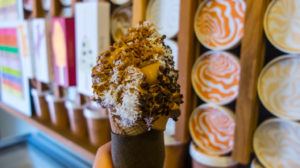 Girona Travel Tips
Our One Day Guide to Girona – Girona is the heart of the Costa Brava region of Spain as well as being a center of Catalan culture. It makes a perfect day trip from Barcelona, although if you have a few days, we definitely recommend you spend more than a day!
If a Spain road trip sounds up you're alley, we've put together a 3-day and 5-day itinerary through Costa Brava and Catalonia, including Girona.
Big Thanks To Allison For Sharing!
Allison is a full-time freelancer and travel blogger, exploring the world solo in pursuit of new and exciting adventures. At her blog, Eternal Arrival, you'll find backpacking and budgeting tips, off the beaten path destination guides, and thoughts on how to balance travel with mental and physical wellness.
If you enjoyed Allison's tips for the best food cities in Spain, show your appreciation by heading over to her blog, and following her on Facebook, Instagram, and Twitter.
---
Planning a Trip to Spain? Save This Post on Pinterest So You Never Lose It (and follow our travel boards while you're at it!)