Where to Stay in Granada: Advice from a local British expat and travel blogger about the best neighborhoods to stay in Granada, Spain! Includes recommendations for 17 places to stay in Granada.
We created this guide in collaboration with Josh Taylor, a British expat and travel blogger in Granada! Josh has provided the local expertise (and photos!) by outlining the best areas to stay in Granada, and I (Katie) have gone in to add in hotel recommendations and additional thoughts.

Where to Stay in Granada: Start Here For A Quick Look At The Best Areas to Stay in Granada
If you're looking for quick answer about where to stay in Granada, start here. We've included detailed outlines of the best area to stay in Granada below, but we also wanted to provide an at-a-glance summary of the best Granada neighborhoods to help you choose where to stay in Granada quickly and painlessly, just in case detailed research isn't your thing.
Also visiting Barcelona, Madrid, or Seville Next? Check Out Our Where to Stay in Seville, Where to Stay in Barcelona AND Our Where to Stay in Madrid Guide for the Best Spots to Stay!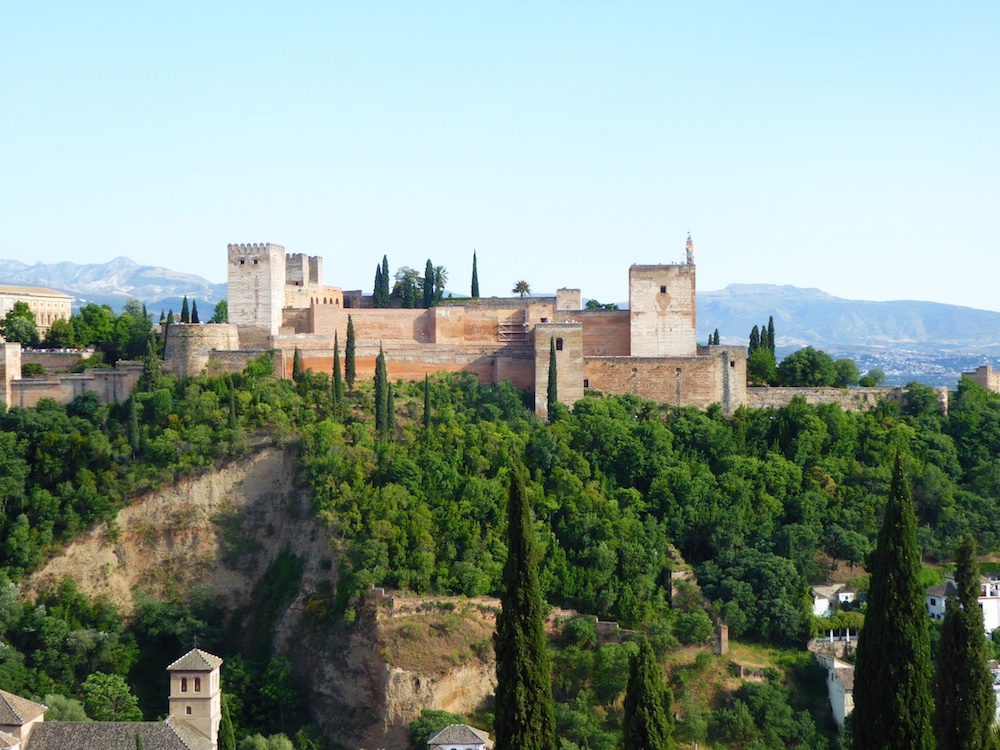 Planning on Visiting the Alhambra?
Skip-the-Line: Alhambra & Generalife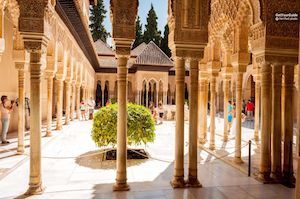 Skip-the-Line Alhambra & Nasrid Palace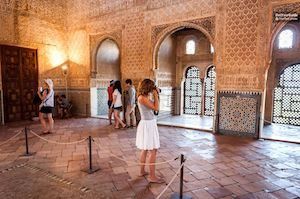 Skip-the-Line Group Tour of Alhambra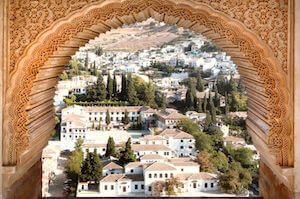 Click here to read our Tips For Visiting the Alhambra!
Where to Stay in Granada: An Introduction from Josh
I'd never heard of Granada or its majestic Alhambra Palace until about a month before I first visited. I went on a whim – lured by the promise of 'world-class' snowboarding at the local ski resort. Yes, that's right, a ski resort. In southern Spain! Being a snowboarding addict I hadn't hesitated for a moment when the suggestion was put to me.
I lived in Cadiz, another city in southern Spain, at the time. It was almost April and the daytime temperature was averaging a pleasant 25C; the thought of snowboarding had been far from my mind. But suddenly, there I was, bussing it across Andalucia with two mates to what sounded like the most idyllic place on earth.
On my arrival I quickly discovered that Granada offered much more than just a ski resort. There was the Moorish-made Alhambra Palace, perched dramatically above the bustling Plaza Nueva; the grand cathedral rising above the Granada skyline; the vibrant nightlife, filled with chatter in a hundred different languages, spoken by young people from all over the world. And best of all? There was FREE (yes FREE) tapas served in every bar.
I had found my heaven on earth.
Fast forward 5 years and I'm still just as excited about Granada as I was that weekend. I've lived in 4 different Granada 'barios', with Spanish, French, Italian, Lativan (but let's not go there) and – of course – English housemates. I speak fluent Spanish and, having plied my trade as an English teacher, have become one of those super annoying people that correct their friends' grammar.
My blog, Spain For Pleasure (not porn, honest), is a leading resource for expats (or 'guiris' as we are affectionately known) and travelers in Spain. As well as tips on learning Spanish and teaching English, I share information on living in Granada, including all the best places to stay and neighborhoods to call home.
Hopefully, this guide will help you decide where is the best place to stay in Granda on your trip!
Where to Stay in Granada? First, Get Your Bearings
You are likely to arrive in Granada either by bus or plane. Annoyingly, neither the bus station nor the airport are close to the city centre.
The bus station is in La Chana, toward the west end of town. Your best bet is to take a taxi for about €8 to the center. However, you can also take a local bus by catching the N4 from the bus station and then switching to the LAC.
The airport is about half an hour outside Granada. There are regular and direct buses to the centre (about €3) and plenty of taxis (about €15).
The inner city transportation system is actually rather efficient. Thanks to a recent overhaul, the various Granada neighbourhoods are now well linked together by fast, hybrid buses – the busiest and most frequent of which is the LAC. To use these buses you'll need to pay a flat €1,20 fare or buy a bus pass for €5 and top up if you plan to use them often.
There is even a metro system due to arrive any week now, though admittedly the Granada ayuntamiento (city council) has been saying that for about 8 years!
But back to the question of where to stay in Granada. The most popular barrios to stay in are el centro, el albaicin and el realejo. So let's talk about these first.
Where to Stay in Granada: El Centro is Where the Action is!
The forté of Granada is undoubtedly its cultural diversity. The North African influence, which derives from the city's Moorish era when the Alhambra was built, manifests itself throughout the centre of Granada. As such, Granada's city centre is the highest in demand for tourist accommodation or rooms to rent. Not only are you within walking distance of all the historic sights, but you'll have an endless selection of quality bars and restaurants to choose from and you won't have to fork out on late-night taxis. By staying in Granada centre your experience will be very touristic; convenient but expensive, vibrant but less authentic. It's difficult to determine how much of Granada the centre actually spans. Some say it includes the whole of Camino de Ronda and Camino Arabial – two of the longest and busiest thoroughfares in downtown Granada – while others will argue that this area is its own barrio. The simplest way to determine whether a place is in the centre is by checking the postcode and/or looking on Google Maps. 18001-18005 are the most central areas.
Skip ahead to the next neighborhood ↓
Room Mate Leo
Room Mate Leo — A 3-star design hotel with a 4-star feel, it gets rave reviews and would be my mid-range choice in this area. Features I love: there's a rooftop terrace with beautiful views of the old city and Alhambra, it's in a traditional (but updated) building, and they offer free wifi throughout the city (they lend you a MiFi device). Another plus: it's on a pedestrian street.
Check Availability & Prices on
Booking.com / TripAdvisor
---
Granada Five Senses Rooms & Suites
Granada Five Senses Rooms & Suites – A solid mid-range choice in a central location, it's within walking distance to bars, cafés and restaurants, and has easy access to the Alhambra via bus (you can also walk). Modern, minimalist design with funky decor, friendly staff, and a spa/fitness center and rooftop pool (with a nice view). Parking is also available it you're driving.
Check Availability & Prices on
Booking.com / TripAdvisor
---
Khu Hotel
Khu Hotel — Another cheap and cheerful design-style hotel in a fantastic location, this property gets high marks for spacious, clean rooms with fun, modern decor and in-room fridge, friendly staff, central location, and price – it looks like a fantastic value for what you get. Clean and comfortable, this looks a great spot to hang your hat for a few nights (in between tapas eating)!
Check Availability & Prices on
Booking.com / TripAdvisor
---
Autograph Collection
AC Palacio De Santa Paula, Autograph Collection — Located in the former Santa Paula convent and Casa Morisca (a protected building), it's located on the main avenue in El Centro, Gran Via. A quick walk to the cathedral and pedestrianized area, there's a gym, sauna, Turkish baths, on-site restaurant and outdoor bar, and modern decor.
Check Availability & Prices on
Booking.com / TripAdvisor
---
Hospes Palacio de los Patos
Hospes Palacio de los Patos — If staying in a luxuriously converted 19th-century palace sounds good, this is the property for you. The conversion looks beautiful, with white marble staircases blending with contemporary, minimalistic design touches. Beautiful building, lovely gardens, and great massages after a day of exploring!
Check Availability & Prices on
Booking.com / TripAdvisor
---
NH Collection
NH Collection Granada Victoria — Located right in Granada's center, this 4-star property gets fantastic reviews from past guests, with rave reviews for location, comfort, and helpfulness/friendliness of staff. Beautiful building and lovely-looking, modern rooms, although beware: one complaint did mention it's noisy.
Check Availability & Prices on
Booking.com / TripAdvisor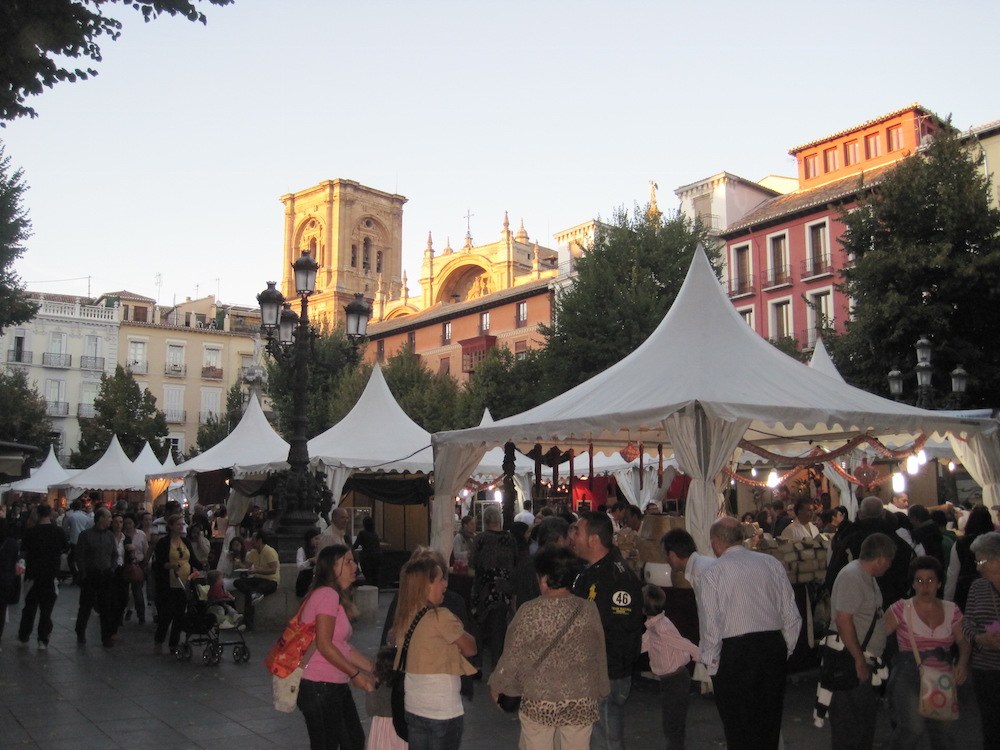 Where To Stay in Granada: Stay in Historic El Albaicin
The Albaicin – or Albayzín as the Moors christened it – is Granada's oldest and most iconic barrio. It was built on an enormous slope facing The Alhambra and contains countless winding, maze-like passageways. Seriously, if you're going to go exploring here, take a map. Not a 'Google map' as data reception is very patchy – I mean a proper, old-school map. Trust me, you'll be glad of it.
Despite falling to the Christians in the late fifteenth century, El Albaicin still smacks of the Moorish era. Many of the aljibes (Moorish wells) and evidence of the ancient irrigation system can be found in the cobbled streets. At times it really does feel as though you're living in a time warp – particularly when taking coffee on your terrace, eyes closed, with the distant sound of Flamenco singing and clapping coming from somewhere amidst the chaos of ramshackle rooftops.
If you stay in El Albaicin you'll certainly have the best view in Granada, if not from your room or terrace then through a gap in the brickwork somewhere along your street. On a sunny day, of which there are many, The Alhambra is a sight to behold from El Albaicin.
Skip ahead to the next neighborhood ↓
Palacio de Mariana Pineda
Palacio de Mariana Pineda — A boutique hotel located within a 17th-century palace, this property has been impeccably restored and decorated, retaining the original character but with modern touches. Only some rooms have lift-access, something to consider if you have a lot of luggage! Fantastic reviews all around.
Check Availability & Prices on
Booking.com / TripAdvisor
---
Hotel Casa 1800 Granada
Hotel Casa 1800 Granada — Bright and airy with lovely views of the Albayzin and Alhambra, this hotel is within a restored 17th-century building a few steps from Plaza Nueva, but in a tranquil area. Many of the rooms have terraces, and if not, there's a nice courtyard to relax in. Gets great reviews for location, views and friendly staff!
Check Availability & Prices on
Booking.com / TripAdvisor
---
Santa Isabel La Real
Santa Isabel La Real — Simple, clean and charming, this property has the look of a quaint B&B, with a terrace and courtyard for evening relaxation. Request room #11 for a peak at the Alhambra, but if it's not available, don't worry: this hotel is only a few minutes' walk from San Nicholas mirador! Again, this property gets fantastic reviews.
Check Availability & Prices on
Booking.com / TripAdvisor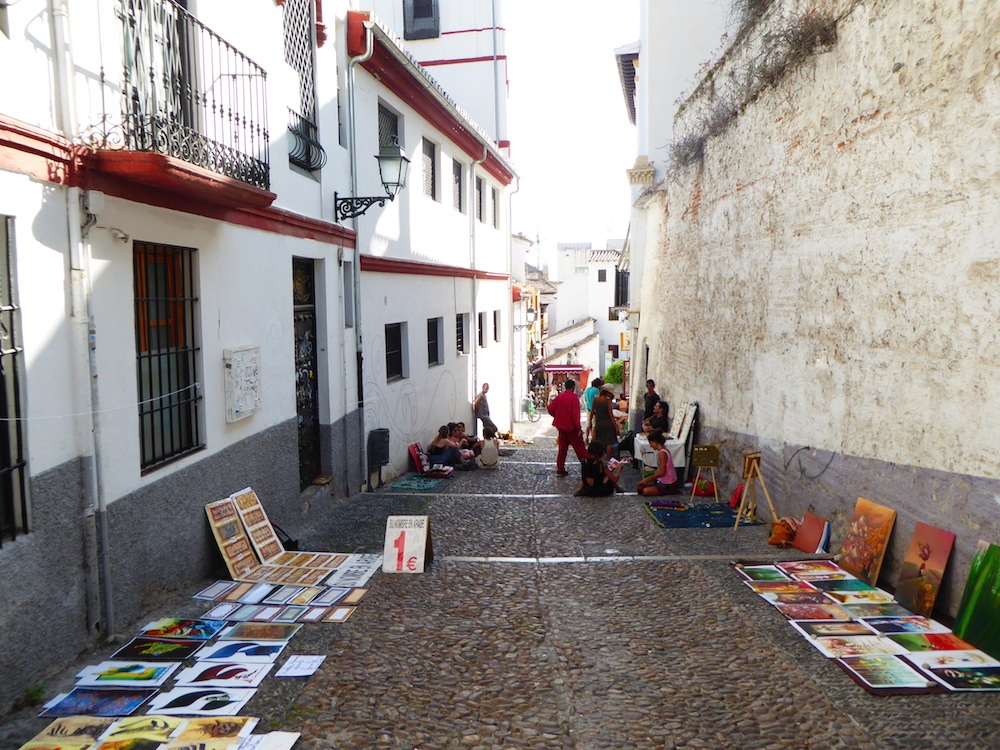 Where To Stay in Granada: Stay Right at the Alhambra!
If the Granada is one of those once-in-a-lifetime destinations for you, then perhaps once-in-a-lifetime accommodations are in order? The Alhambra has one luxury hotel within the its grounds, and a few just outside to choose from. If you're planning a visit to the Alhambra, make sure to check out our Tips for Visiting the Alhambra article.
Skip ahead to the next neighborhood ↓
Parador de Granada
Parador de Granada — Set within a restored 15th-century convent on the Alhambra's grounds, this is a luxurious splurge hotel! The word 'magical' comes to mind, as does "once-in-a-lifetime." If you're coming to Granada for a special occasion, this is a great bet. Note that while the hotel is consistently given top marks, note that the restaurant gets mixed reviews: the general consensus being it's worth it once for the ambience :)
Check Availability & Prices on
Booking.com / TripAdvisor
---
Alhambra Palace
Alhambra Palace — Located just outside the walls of the Alhambra Palace complex, this is another 'top marks' luxurious hotel. The hotel itself is beautiful, with Moorish-inspired rooms and tilework that looks straight out of the Nasrid Palace. The terrace bar also has spectacular views, and multiple past guests indicate its worth paying extra for a room with city views!
Check Availability & Prices on
Booking.com / TripAdvisor
---
Eurostars Washington Irving
Eurostars Washington Irving — Not quite within the Alhambra's walls, this luxury property gets pretty close: just 400 meters outside its walls (less than a 5-minute walk). A relatively new property with an outdoor pool, sun terrace, it offers spacious rooms decorated in subdued contemporary colors and furnishings. Past guests rate its location, comfort and value highly.
Check Availability & Prices on
Booking.com / TripAdvisor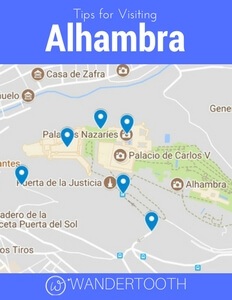 Get Our Free Map for Visiting the Alhambra Here
Need Some Help Planning Your Visit to the Alhambra?
Don't forget to pick up a guide to help you! The Alhambra in a big place with lot's of history and wifi is not the best in some areas. This guide can be printed out so you can take it with you and learn as you go! Also check out our Alhambra Tips article to make sure you've got everything covered!

Where to Stay in Granada – Vibrant and Quirky El Realejo
If you'd like to stay somewhere that's as quirky as it is vibrant, look no further than El Realejo. From the tapas bar teeming Campo Principe to the El Niño de las Pinturas street art tour of discovery, there's so much to see, do, eat and drink in Granada's Realejo bario. It's a melting pot of culture and ethnic backgrounds, and thus a favourite with students, expats and Spaniards alike.
El Realejo is steeped in history too. The neighbourhood used to be the Jewish quarter of Granada under Moorish rule – from the 8th century right through to the 15th century, when the Moors finally surrendered to the Christians. Granada was the last stronghold of The Moors and its recapture by the Spanish monarch meant the unification of Spain for the first time in over 800 years. Recently the first Jewish museum opened in El Realejo, offering for the first time a real insight into how the Jews lived here. Besides this there are many small art galleries hiding down side streets and alleyways. You can easily lose an afternoon exploring here.
The nightlife in El Realejo is legendary. There are countless bars which stay open until late. More recently a lot of trendy cocktail bars have been popping up, like San Matias 30 (C/ San Matias 30) and Colagallo (C/ Molinos 28), where you can order a premium cocktail for as little as €4. My favourite restaurant in Granada, Casa Lopez Correa, is in El Realejo. This place not only serves up locally brewed IPA beer and Italian-Spanish-English infused tapas, but is hopping on a Friday night and even does intercambios on a Monday.
Skip ahead to the next neighborhood ↓
Gar Anat
Gar Anat Hotel Boutique – Right between El Centro and El Realejo, and not too far from the Albaicin, this is a modern design hotel in a 17th-century Pilgrim's hospital building. It looks beautiful, drawing on the building's architecture, but with funky modern touches. It's a 5 to 10-minute walk to the Cathedral, and the same to Campo Principe. Excellent mid-range choice with a design focus.
Check Availability & Prices on
Booking.com / TripAdvisor
---
Marquis Urban
Marquis Urban – A very funky-looking hotel within a few blocks from the buzzing Campo Principe, Marquis Urban mixes crisp white linens and furnishings with bright, pop-art colors. On-site cocktail bar, interior courtyard, roof terrace (with views), this place is hip, modern, clean and comfortable. I'm definitely interested in staying here on our next trip to Granada!
Check Availability & Prices on
Booking.com / TripAdvisor
---
Apartment Options
Apartamentos Campo Del Príncipe – Right near Campo Principe, it looks fantastic and gets great reviews. If you're looking for a self-catering spot in a hip and lively area that's slightly off the tourist track (while still being mighty convenient). There are 12 self contained apartments with everything you'll need, full kitchen, washing machine, etc. Also there is a shared rooftop terrace.
Check Availability & Prices on
Booking.com / TripAdvisor
---
Hotel Molinos – The World's Narrowest Hotel
Hotel Molinos — Recognized in the Guinness Book of World Records as the world's narrowest hotel, the cheap and cheerful Hotel Molinos is only a few blocks from the lively Campo Principe in the lively El Realejo area. It's a one-star, and certainly the least expensive hotel listed with our Where to Stay in Granada guide, but it looks cheerful and fun, and gets good reviews. I'm a sucker for quirky, and this certainly fits the bill!
Check Availability & Prices on
Booking.com / TripAdvisor
Options for Staying Further Out…
Predictably, the closer you live to the centre of Granada the easier it will be to explore. However, by staying on the outskirts you won't be limiting your sightseeing opportunities too much. As mentioned earlier, the city's bus system is efficient and reliable, meaning barrios like Bola de Oro, Genil, El Zaidin and La Chana are well connected. I've outlined 2 good bets below!
If you're looking to stay in one of these neighbourhoods, your best bet is an apartment rental website focused on travelers and short-term visitors. We'd suggest checking out HomeAway, VRBO, FlipKey and – of course – Airbnb.
Bola de Oro
Bola de Oro, which runs along the Rio Genil, is probably Granada's greenest and most peaceful barrio. You certainly wouldn't be disturbed by noisy traffic or drunks stumbling home in the early hours. However, if you are liable to stumble home drunk in the early hours now and again then you may end up stumbling for a rather long time. Walking at normal pace, however, takes about 20 minutes from the centre.

La Chana and La Cartuja
These are undoubtedly the busiest student barios of Granada. Both are located close to the main university campus and accommodation is generally dirt cheap around here – some rooms can be rented for as little as €150/month. Local tapas bars stick to the student-friendly budget too, offering up gigantic portions of the usual fodder – with a beer or glass of wine – for about €2.
So Where Should You Stay in Granada?
(If after reading everything above you're still wondering where is the best place to stay in Granada, check out our summary below)
Where you should stay in Granada really depends on your personal circumstances.

El Albaicin is the best neighborhood in Granada for travelers who would like the most authentic Granada experience possible. However, if you aren't so big on steep hills and generally lots of uphill walking, then you're better off just visitingEl Albaicin, and staying somewhere else.
El Realejo has got the lot: culture, history, nightlife and fantastic restaurants. If you're looking for a lively and hip vibe, and don't mind being a tad outside El Centro to do it, El Realejo is probably the best area to stay in Granada for you.
El Centro has all that too – it is super convenient, with that, it's much busier. If you want convenience, then El Centro is likely the best place to stay in Granada.
If you want to keep away from the hustle and bustle, head to the outskirts…just make sure you've topped up your bus pass!
One last note – Granada is a very safe city. In my 5 years there I've never seen or heard of any crimes being committed against tourists.
Have a great time in Granada!
Popular Granada Tours
Hammam Arabian Bath Experience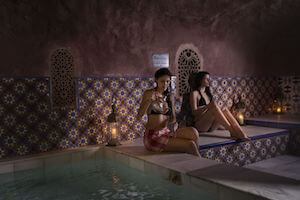 4WD Safari of the Sierra Nevada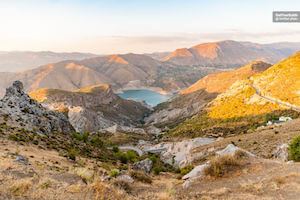 Flamenco Show Experience in Albaycin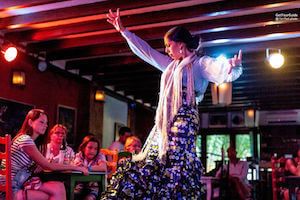 ---
More City Guides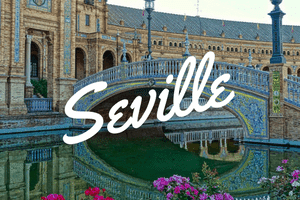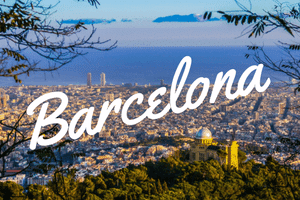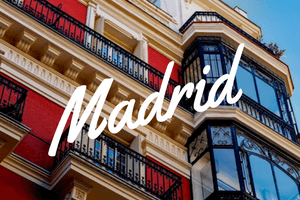 Click here to see all of our FREE City Guides
A Quick Comment on the Hotel Recommendations In Our Where to Stay in Granada Neighbourhood Guide
So…here's the thing. We get emails almost every day from readers, especially when it comes to Granada and its most famous attraction, the Alhambra. We've been getting more and more requests for help re. hotel recommendations in Granada — people wanting to know which area to stay in Granada, and the best place to stay for their travel needs — and we're always more than happy to help as much as we can.

That said, we can't possible stay in all of the hotels in Granada! We enlisted Josh to outline different areas because we wanted to be able to give you a locals' perspective into the best neighborhoods to stay in Granada, and then I went into to add hotel recommendations.

The recommendations are based on what we'd suggest to family, friends…people we care about and want to have an awesome time!  We haven't personally stayed in any of these hotels (although we hope to rectify that in 2017). The recommendations are solely based on our research, knowledge of Granada, and hours spent combing through the reviews of past guests.

Ultimately, our goal is to help you have a great visit to Granda (because it's truly an amazing city!) and to help you do just that without having to invest hours of research into choosing the best place to stay in Granada!

Hopefully we've succeeded!

Did You Know? Hotel referrals are a primary source of income for this website. By making your hotel bookings using the links in this website, you support our continued efforts to bring you the best travel information. It's as easy as booking your hotel through Booking.com or TripAdvisor … and it doesn't cost you anything extra!
Like this Guide? Pin it for later!