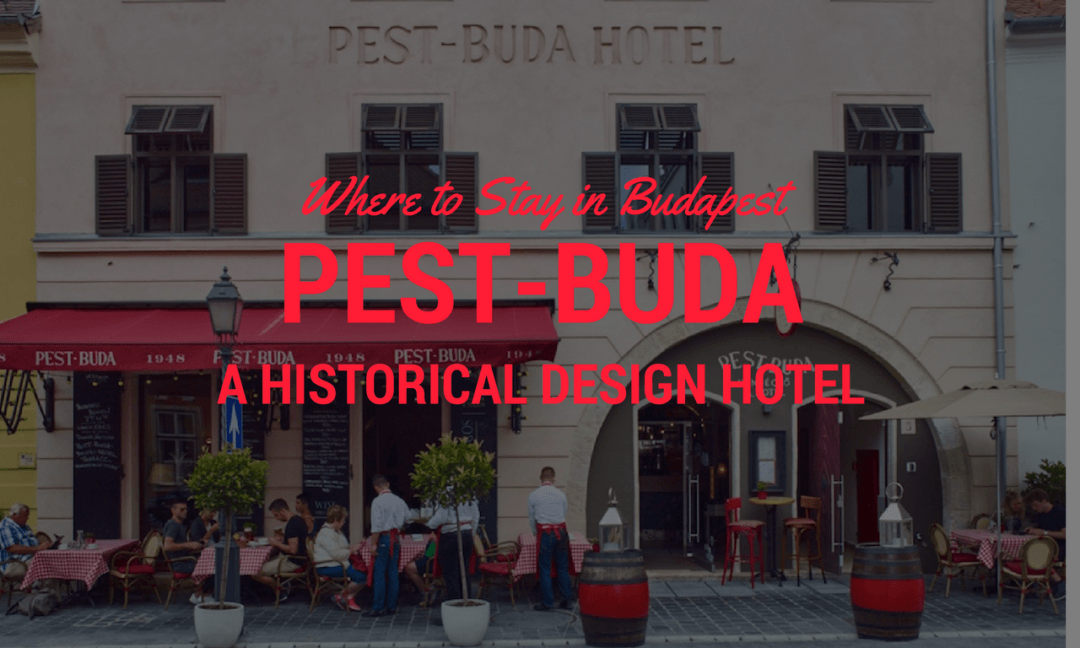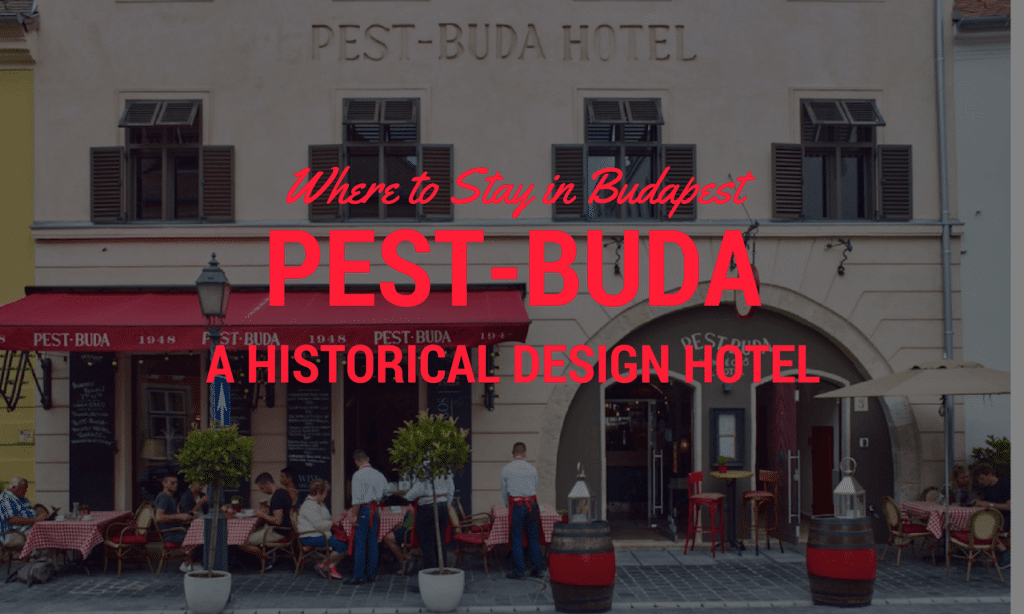 Disclosure: This hotel review contains affiliate links. That means we earn a commission when you use the links on this site to book a hotel, buy your travel insurance, etc.. You don't pay anything extra. If you'd like to learn more about how this works, you can read more under our Disclaimer page.
***
After a hectic few months traveling around Portugal and exploring Rome with Context Travels, we arrived in Budapest slightly exhausted and in need of some R&R. Having already been to Budapest on a previous trip (during which we stayed in Pest), we wanted to stay in a different section of the city this time, one that offered a calm and tranquil base from which to explore.
Happily for us, we decided to stay at Pest-Buda Hotel in the Buda Castle District (which gets exceptional guest reviews on Booking.com and TripAdvisor).
Run by the same family that launched the wildly-popular Baltazár Budapest (and many of Budapest's most popular restaurants), the Pest-Buda benefits from its' owners extensive hospitality experience, as every detail is 100% on point at the Pest-Buda.
Before I get into the property features and our stay, it's worth taking a quick minute to chat history. The Pest-Buda is located on the site of Hungary's oldest hotel — the first hotel on this site was opened in 1696. The building itself has had a tavern or restaurant on-site for centuries, something that continues today with the synonymous bistro.
Pest-Buda Hotel Review
(What You Can Expect If You Stay At Pest-Buda)
First Impressions of Pest-Buda Hotel
We stayed at Pest-Buda for 3 nights in July 2016, spending all three nights in one of their Simple Rooms (their words), a cozy room with a king-sized bed that feels like a delightful cloud, a walk-in rain shower, and a view out to Fortuna Street.
Location — Pest-Buda Hotel is right in the heart of Budapest's World Heritage Castle District. The Castle District is one of the most historic parts of Budapest, and home to some of the key tourist sites you'll probably have on your must-see list: Fisherman's Bastion, Matthias Church, and the Royal Palace, as well as great views of the Chain Bridge and Hungarian parliament building. Pest-Buda hotel is only a few minutes' walk from all of these spots!
If you want somewhere tranquil, romantic, beautiful and historic, the Castle District is a great place to stay in Budapest. It is quiet in the mornings and evenings, meaning you can explore some of Budapest's most-visited attractions when there aren't that many people around. During these times, the district feels more like a walkable and very pretty small town than a big city. During the height of the sightseeing and business day, the Castle District springs to life with tourists and locals going to and from work and meetings.
Reception & Staff — Arriving at Pest-Buda Hotel, we felt immediately welcomed. You enter the hotel through a small corridor adjacent to the Pest-Buda Bistro, which serves Hungarian fare and gets consistently fantastic reviews. The staff met us right away, took our bags up to our room, and checked us in painlessly (one of the things I love about staying in small boutique hotels is almost never having to wait in line to speak with staff). Throughout our stay, the staff was super helpful, ordering us a taxi when needed, recommending things to do, helping us navigate the city, etc.
The Decor — Pest-Buda is a design hotel, and the design is a big part of the experience. I think they've done a really nice job balancing a hip, modern feel, while also referencing the building's history as a inn and tavern. It's modern but cozy, rustic but luxury. Somehow it all fits together and works. The interior design is by Hungarian designer Tibor Somlai (who recently did the café in the Opera House, too) and the graphic design is courtesy of Géza Ipacs.
Pest-Buda Hotel Rooms
The Pest-Buda has 10 Rooms, each of which has a unique design, while still tying into the hotel overall. We stayed in one of the 'simple rooms', which was a perfect fit for us. It had a bed, a nice desk for working, a walk-in rain shower, and a separate toilet area/WC. The bed and bedding was insanely comfortable, and came with a hypoallergenic option if it's an issue for you.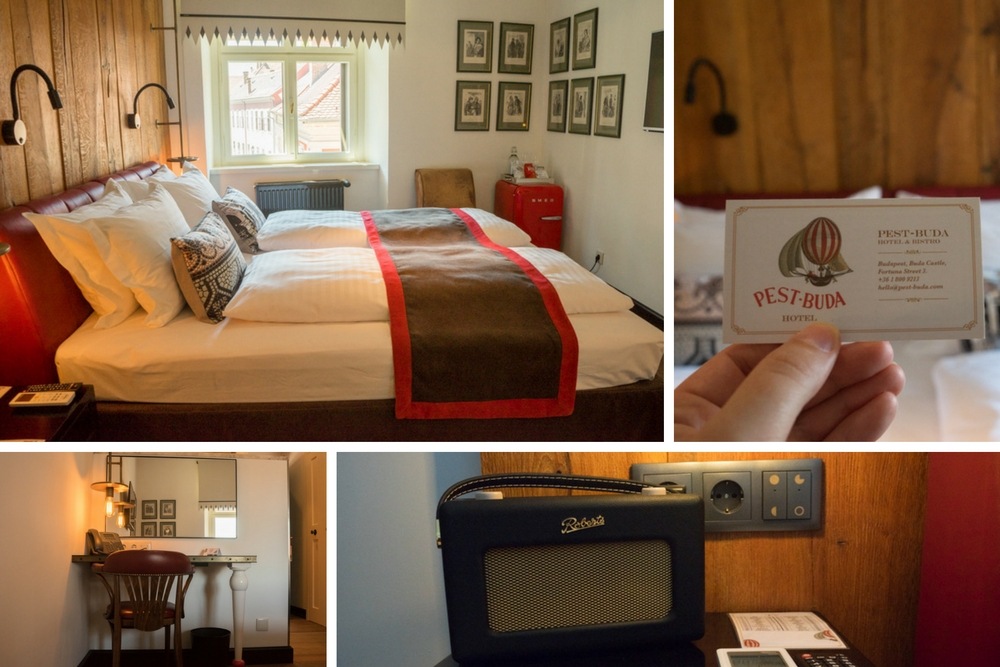 In addition to the Simple Room, the hotel offers a slightly larger Courtyard Room, a suite with a separate lounge area and bathroom, and an Atelier Suite (basically the penthouse!) with a separate living room, and a bathtub (in addition to the rain shower).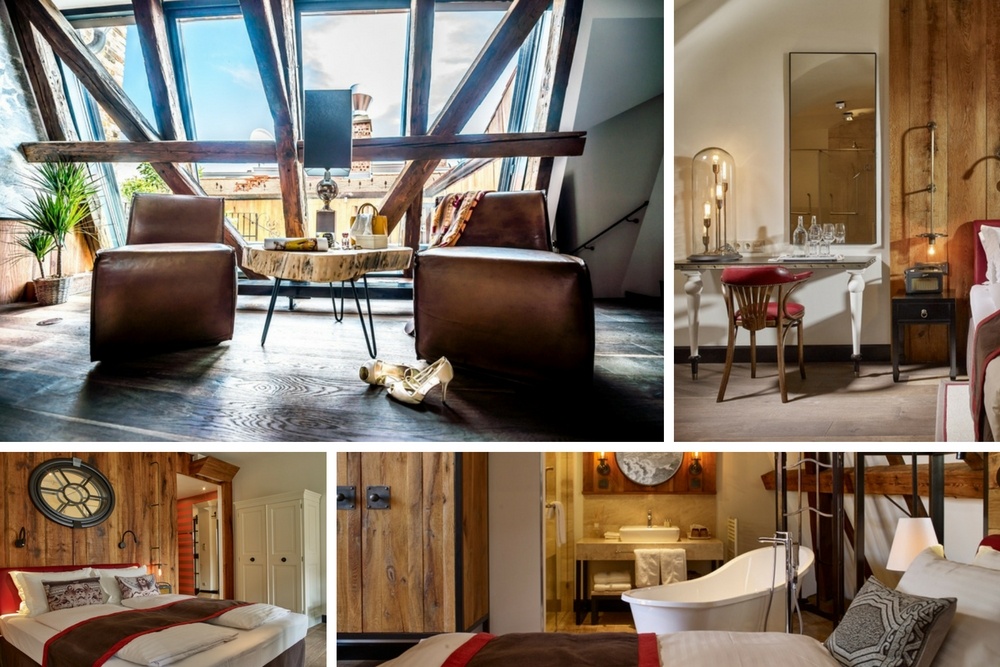 Pest-Buda Hotel Public Areas
The owners have gone out of their way to preserve some of the original character and history of the building, which is most evident in the public areas of the space: the original Baroque roof, doors in the staircase (that look like an entrance to Doby the house elf's room!), the stairs themselves.
The public areas of the hotel include a small reception lounge on the ground floor, the stairs up to the room, and – of course – the restaurant and outdoor patio, a 30-second walk toward Matthias Church from the hotel's front door.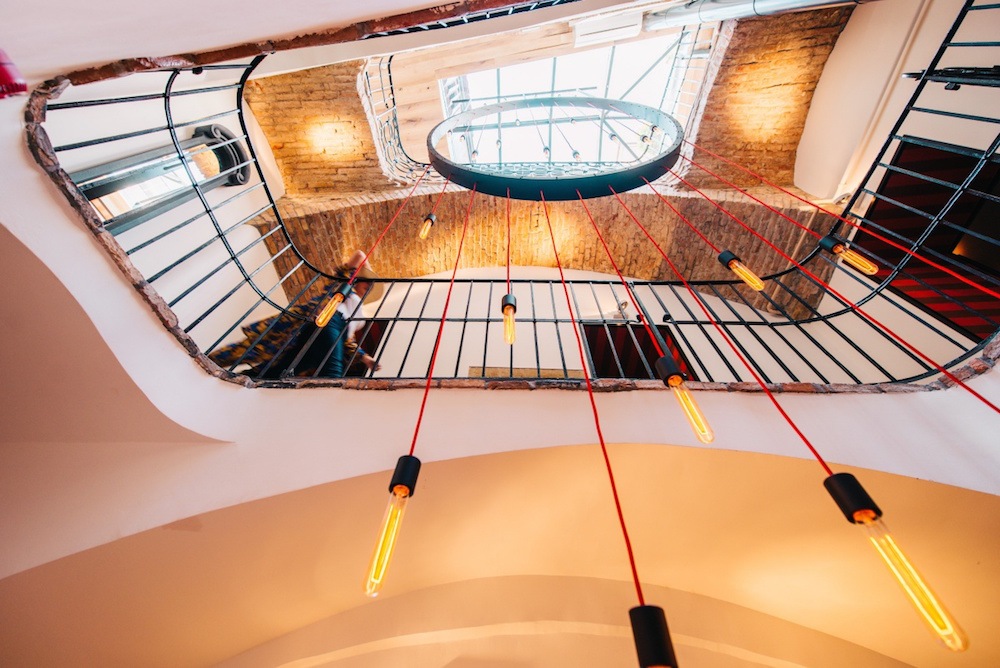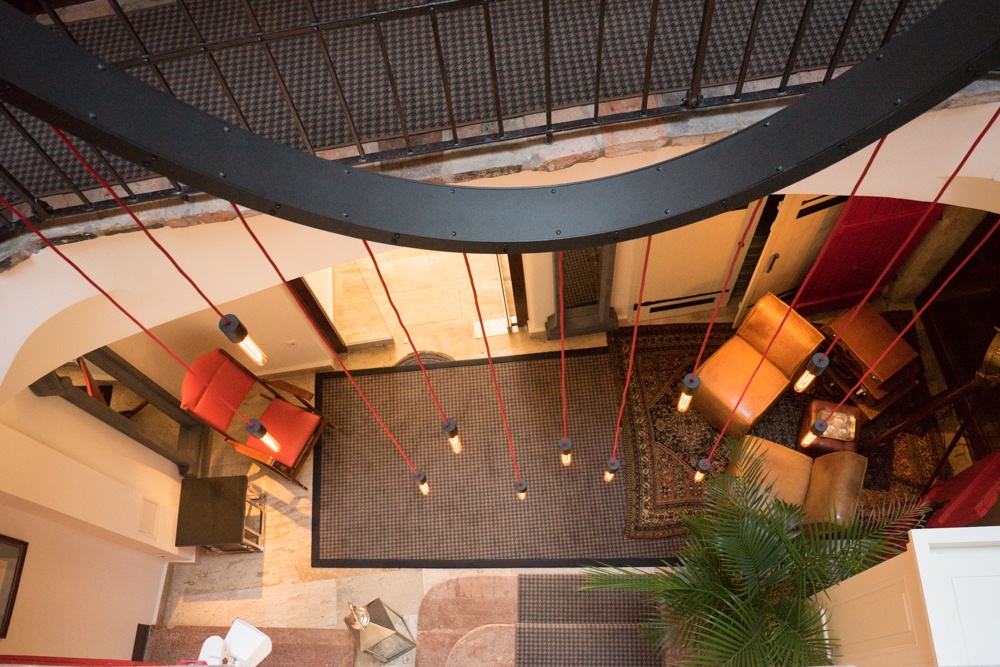 Pest-Buda Hotel Amenities
Wifi — There is free wifi throughout the hotel, and it worked very well. We even managed to upload some client videos using the free Wifi, which is unheard of! The wifi is strong enough to stream music, watch Netflix, etc., and should absolutely meet your needs if you're a business traveler.
Rain Shower & Cosmetics — Every room has a spacious walk-in rain shower that is so relaxing, I once showered twice in the same day. Showers are a 'make it or break it' factor for us when it comes to hotels, and this one lived up to the luxury label of the hotel, all the way. The bathroom also stocks L'Occitane bath gel, shampoo, lotion, etc.
Entertainment — Our room (and I *think* every room) came with a satellite radio, which we used when in-room for some tunes. Each room also has at least one flat screen TV with international news and business channels. This is in addition to unique (and Hungarian) artwork in each room.
Bistro — The on-site bistro is a nice touch, especially when you don't feel like venturing too far. And it's a great spot to try some hearty, home-style Hungarian dishes and wines. Both the terrace and the restaurant were bustling for our entire stay.
---
Don't Take Our Word For It...Check Out The Exceptional Reviews on TripAdvisor!
---
Final Thoughts
We genuinely enjoyed our time staying at Pest-Buda Hotel, and would recommend it for singles and couples travelling on their own, families and business travelers. The key point is it's in a beautiful, quiet and historical area — which is perfect for us, but might be too quiet if you love nightlife (although we did go out to Budapest's craft beer district while staying here, and it wasn't too far).
Check Availability: HotelsCombined / Booking.com
---
We were guests of Pest-Buda Hotel, and want to extend a huge thanks to them for hosting us — we had such a great time exploring Budapest's Castle District in the mornings and evenings, when it's free of crowds, and found it to be a great base to go into the Pest side of the city, as well. If you have any questions about Budapest or Pest-Buda, don't hesitate to get in touch with us…we're happy to help! Also note that some of the links in this post are affiliate links.
Pin it for later!