It's no secret that the Golden State is home to some of the most beautiful sights in America, and there's no better way to explore California than by taking the scenic route.
If you're itching to feel the thrill of the open road, then you've landed at the right place.

In this post, I will share some of California's most fascinating roads. Be it a quick morning jaunt or a multi-day trip, the magic of these drives is that you're the one who decides how long they'll take. So, from Joshua Tree's desert magic and all the way up the alluring Sierra Nevada Mountains, here's a quick countdown of the five most scenic drives in California you absolutely need to drive at least once in your life.
Before I dive into some of the most gorgeous drives you can take in the sunny state of California, I want to make sure you're prepared for a Cali road trip. A road trip through California can be one of the most memorable experiences you create, but your trip's success lies in its preparation!
7 Fast Tips To Make Your California Road Trip Even More Awesome:
Map out your drive. Do your research ahead of time on which highways you want to drive down. Once you've created an itinerary, pass a copy to a loved one so that someone knows your approximate whereabouts.
Don't pack all your activities tightly. Plan to have times to spare because you never know what you might find along the drive. Plan to have time to stop and explore.
Avoid rush hour driving. The traffic on Cali's highways is quite insane.
Take your car to the shop before leaving. Make sure it's in good working condition.
Download your favorite playlists and podcasts.
Stop at state parks. They're too beautiful not to see!
Check the weather. Make sure you have a sweater in case of weather changes.
Four Most Scenic Drives in California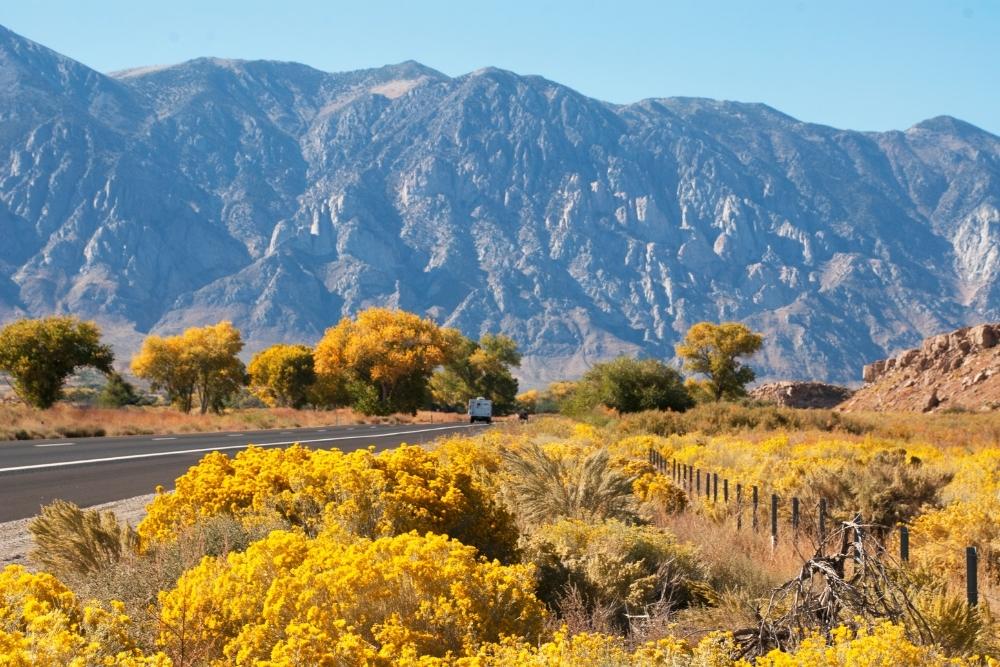 Highway 395 (Sierra Nevada Mountains) – 450 Miles
Located at the rear of the dreamy Sierra Nevada mountains, Highway 395 is a fantastic road trip that will have you travel back in time to old western California. The feeling in small towns and the stunning natural views you'll get to see along the way haven't changed much since the old western times. The drive will take you through rural communities, ski resorts, ghost towns, and much more.
Starting from Los Angeles and ending in Lake Tahoe, this classic California drive will take you 450 miles along the Sierras, which guarantees epic views every mile of the way. Furthermore, you'll also pass two of Cali's most famous national parks: Joshua Tree and Death Valley, where you can take a little detour and explore some of California's most unique natural wonders.
As if that weren't enough to convince you to buckle up and take this incredibly scenic drive, you'll also get to see some of California's best-hidden gems, including the Bristlecone Pine Forest, the Mono Lake, the Devil's Postpile, and even a ghost town called Bodie!
While in Lake Tahoe, spend some time hiking, take a boat cruise and visit Kings Beach. Check out The Landing Resort and Spa if you're looking for an epic place to stay. (The Beach Retreat & Lodge at Tahoe is an excellent family-friendly accommodation.) Finally, plan a stop at both Death Valley and Joshua Tree National park if you have the time. While in Death Valley National Park, a few particularly awesome things to do are visit Racetrack Playa, Badwater Basin, Dante's View, and Zabriskie Point. While in Joshua Tree National Park, make sure to snap photos of the mystical-looking trees, climb the rocky walls and enjoy the true uniqueness of the environment.
Notable Things To See On The Drive:
Red Rock Canyon
Manzanar
The Bristlecone Pine Forest
Convict Lake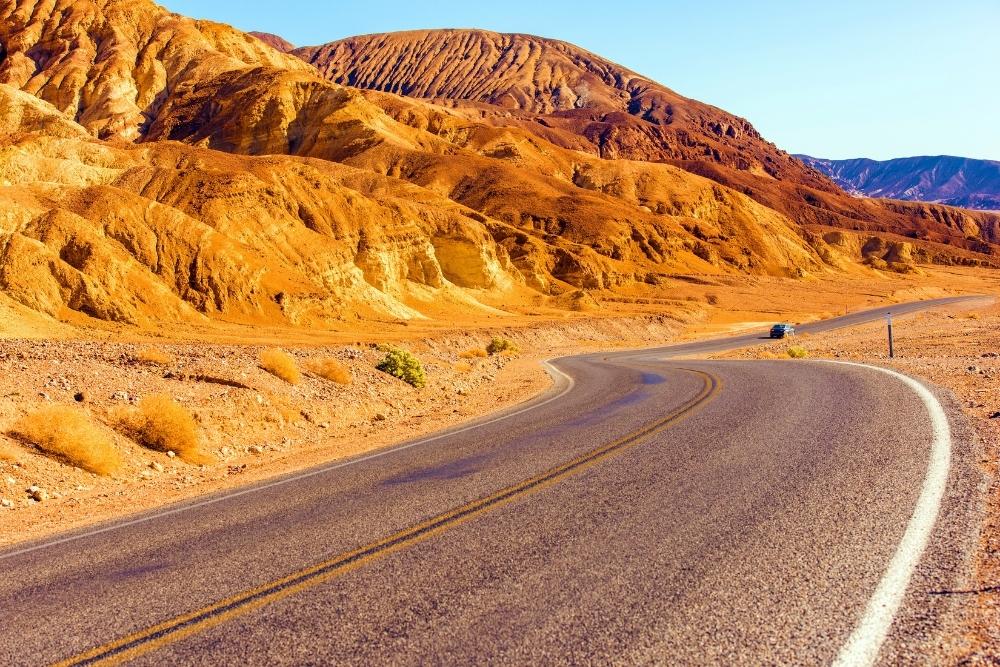 Highway 190 through Death Valley – 93 miles
Death Valley is one of the most mystical locations in the world. While exploring it on foot is definitely possible, there's no better way to check off as many views as possible than by driving through it.
Some of the most loved sights in the park are set right by the road, so this drive pretty much guarantees breathtaking views all over. The first point of interest is the Mesquite Sand Dunes at Stovepipe Wells. Here you can park your car and stretch your legs for a mile to get to the top of the tallest dunes. Further on, you'll get to Scotty's Castle, which is a Death Valley Ranch filled with history and an open window into the life of the roaring 20s'.
Back on the road, make a stop off at Harmony Borax Works, a former mine and borax plant that will take you back into history and give you little glimpses of what life in Death Valley during the 1800s was like.
From there, you can drive down to Furnace Creek, where you can either spend the night, grab a bite, or park your car for a few days and get a little more personal with Death Valley by going on a hike. Another unique thing to do here is to take a little detour and drive down Artist's Drive Loop, which is a shorter (but incredibly scenic) drive where you'll get to see mountainsides plastered in every color of the rainbow.
To end the fabulous drive, head to Zabriskie Point, where you'll get the best views of the golden badlands below. This is probably Death Valley's most iconic vista and the most wonderful way to wrap up an incredibly scenic road trip (sunsets are pretty memorable here, so try to get here in time!)
Notable Things To See On The Drive:
Mustard Canyon
Death Valley Lows
Furnace Creek Visitor Center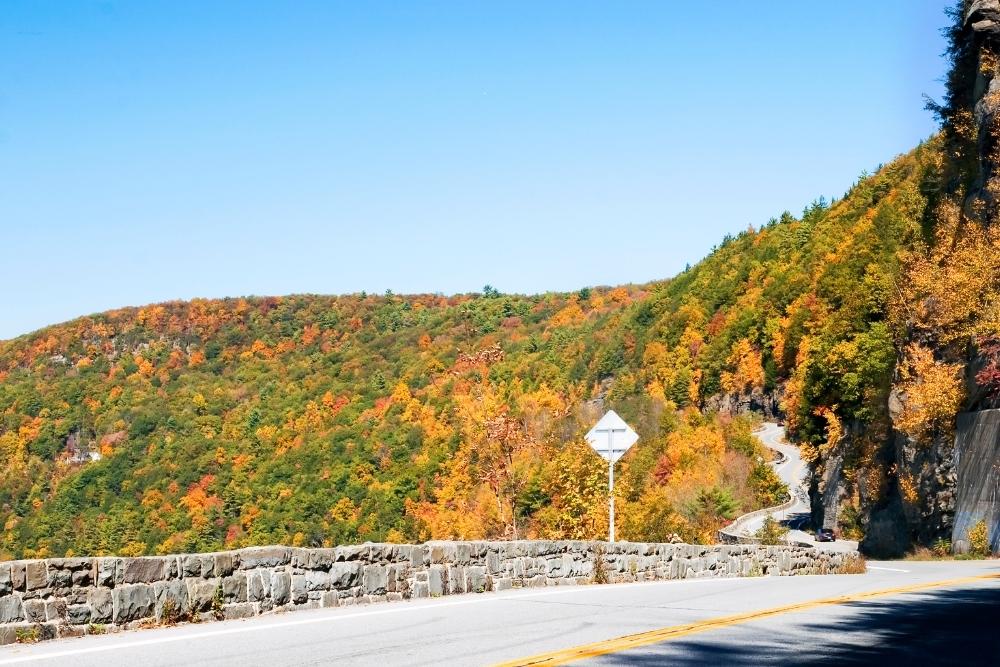 Jacinto Reyes Scenic Byway – 3.65 miles
Cutting through the Cuyama, the Valley of San Joaquin, and up to peaks over 5,000 feet tall, the Jacinto Reyes Scenic Byway is king for insanely good views.
Even though the drive is short, you'll need several hours to complete it as you'll be making endless stops to catch glimpses of the stunning landscapes. If you need to stretch your legs, a wonderful way to do so is by stopping at Los Padres National Forest, where you can find a variety of hiking trails and horseback riding to get a little more personal with the area.
The Piedra Blanca Formations trail is an easy hike if you only have a day, which is just 2.6 miles long and provides great views and wildlife sightings. However, if you're keen on a true challenge, the Dry Lake Ridge Botanical Area hike is sure to please.
Notable Things To See On The Way:
Incredible plant life
Piedra Blanca Rock Formations
Rose Valley Recreation Area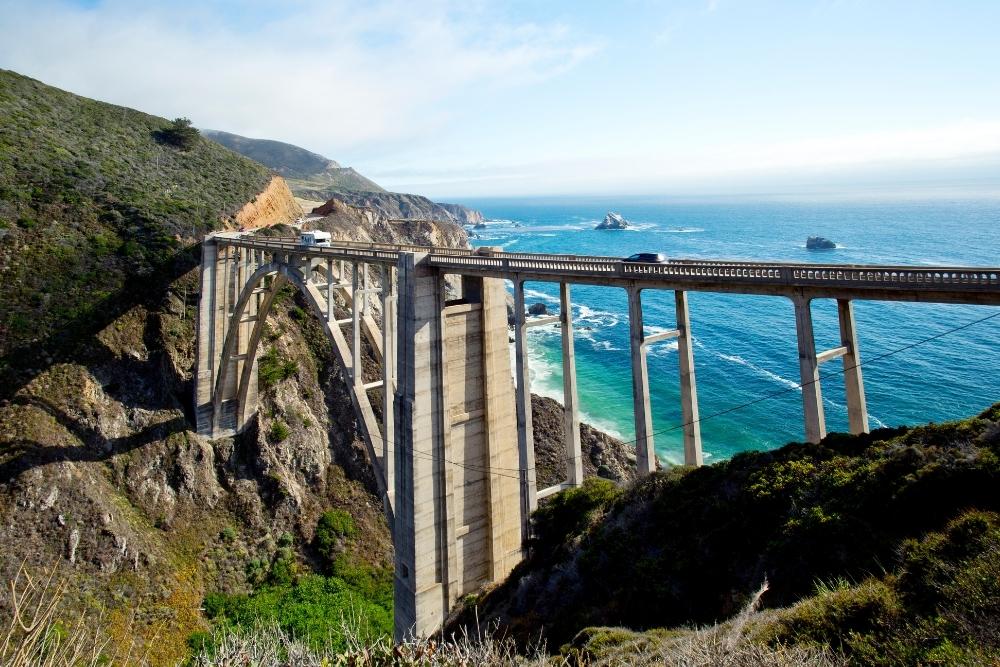 Malibu to Big Sur – 278 miles
The drive from Malibu to Big Sur is not only beautiful but absolutely spectacular. The breathtaking coastline and panoramic views hug the entire drive. Don't miss seeing the Bixby Creek Bridge, Morro Bay, and thick evergreens blanketing the terrain.
Other Incredible Drives To Take In California:
San Francisco to Sonoma
Redding to Lassen Volcanic National Park
San Fransisco to Fort Bragg
Have you ever road-tripped through these scenic drives in California? What are some other incredible drives that guarantee insanely beautiful views? Let me know all about them and your favorite stops in the comment section below!