The Perfect One Day Trip to Sintra: The Best Spots to Visit if You Only Have a Day in Sintra. A Sintra itinerary for those who are short on time or want to spend one day in Sintra Portugal as a side trip from Lisbon.
This is a guest post from Sabrina Bos of Backpacking Like a Boss


Disclosure: This A Day in Sintra travel guide contains affiliate links. That means we earn a commission when you use the links on this site to book a hotel, buy your travel insurance, shop for travel essentials, etc.. You don't pay anything extra. If you'd like to learn more about how this works, you can read more under our Disclaimer page.
***
Sintra is a mystical part of Portugal. It's what you dreamt your own kingdom would look like when you were a kid, a place of cobbled streets, lush forests, magical castles, royal villas and beautiful gardens. Only 12 kilometers (7.5 miles) from the coast and surrounded by hills, you can easily see the architecture and style of Sintra was all about love and romanticism.
And even though there are enough attractions and activities to keep you busy for days, most people only spend a day in Sintra. Attempting to visit all of the palaces and grounds in one day wouldn't allow you to enjoy the many dazzling details of the different palaces, gardens and villas. Which is why I suggest doing some research on your own, and determining the best spots to visit for your own interests if you only have one day in Sintra Portugal.
Plan the Perfect Lisbon Day Trip to Sintra: Table of Contents
---
Staying in Lisbon? Check out our comprehensive Where to Stay in Lisbon neighborhood guide!
---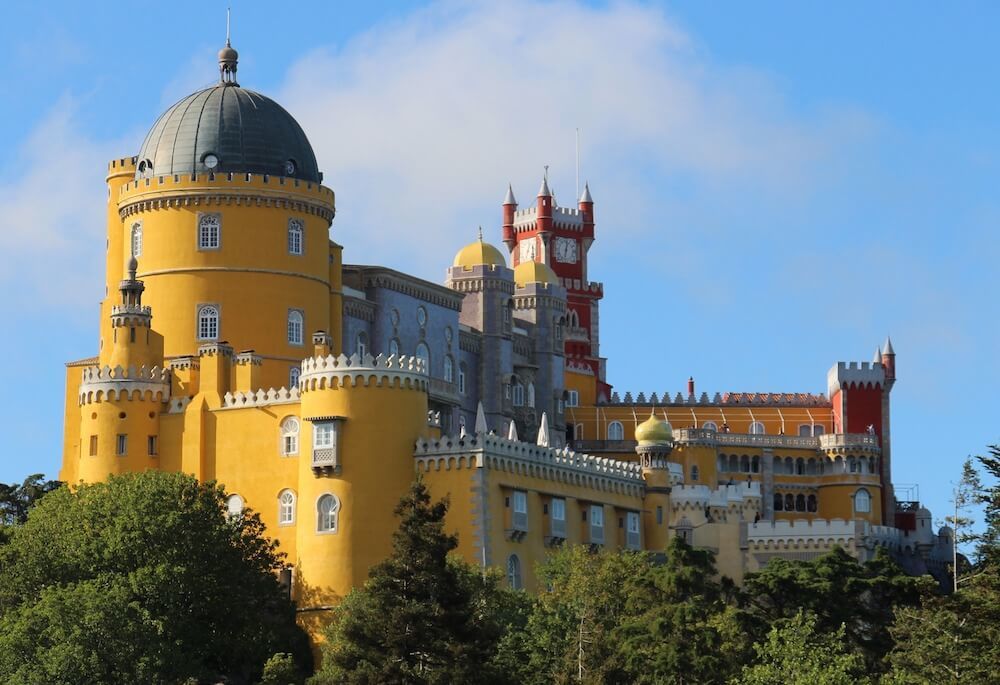 Sintra Itinerary Introduction: Planning to Spend One Day in Sintra Portugal
The thing about Sintra is there's so much to see!
There are people that spend 1 hour in each place, cramming in the 6 main attractions in one day – and that's totally fine. But in my opinion, this is too rushed, and the charm of Sintra will pass you by.
The only way to really see everything in one day is with an organized tour, or with private transport and purchasing all your tickets in advance. Some of the palaces and grounds are pretty far from each other, and take some time to get to. Also, they get really busy in summer, and you'll lose time queuing up for the ticket offices.
A better way to discover Sintra (in my opinion) is to pick a maximum of 2 main attractions to see in one day, and enjoy the surrounding attractions while you go.
You can find a sample Sintra itinerary below. This itinerary features two Sintra highlights: the Palacio and Parque de la Pena and the Quinta de Regaleira.
09:00 Parque de la Pena
From the Sintra town centre, take a bus (or a noisy tuk tuk) to the entrance of the Parque and Palacio de la Pena.
The Parque de la Pena surrounds the Palacio Nacional da Pena with woodland and secretive paths. While the park may seem like just a forest, it's actually meant to be a maze of romantic paths. You'll find romantic little arbors, bridges, caves and fountains while exploring the park. It's a joy to walk around and simply explore, and the botanical gardens and the leveled ponds are especially pretty – don't miss them!
At the entrance, you can buy your tickets at the machine or the ticket booth. Entrance to the park costs €7.50 and includes the palace terraces, or you can buy a ticket for the gardens and palace for €13.50.
Good to know: If you just want to see the palace from the outside, you don't need to buy a ticket to the palace. Buying a ticket to the gardens is enough, and you'll still get all the great pictures and views!
Hidden Attraction: Chalet da Condessa D'Edla
In the far corner of the Parque de La Pena, King Ferdinand II built this chalet for his second wife, the Countess d'Edla. He modelled it on the alpine chalets that were very popular at the time. Today, it's been fully refurbished to look how it did when it was originally built.
It costs €9.50 for adults to enter the chalet, but if you only have 1 day in Sintra, I would suggest simply enjoying it from the outside.
11:00 Palacio de la Pena
From the chalet, stroll back to the Palacio. When you get closer, you'll know you're on the right track when you see the amazing colours of the castle popping up!
The Pena Palace is one of the most famous attractions in Sintra and it's easy to see why! King Ferdinand II commissioned the Palace in 1842, and he wanted it to look like a scene from an opera. The brightly coloured walls and mix of different styles and influences makes it a fascinating building to explore and take photos of!
The Pena Palace is very popular, which also means it can be very crowded with tourists. In summer, you may want to switch this itinerary around, visiting the palace first as early in the day as possible, and visiting the gardens after. In off-season, 11:00 is still early enough to avoid the crowds. Alternatively, you can turn the whole itinerary on its head, and visit as late in the day as you can.
If you are keen on visiting one more palace, the opposite Moorish Castle can be reached quite easily!
Good to Know: Many people would say the outside of Pena Palace is far more interesting than the inside! In addition, exploring the palace from the inside means another long queue and walking in line with others to see everything. If you're short on time, you may want to stick to the exterior of Pena Palace, and adding in the Moorish Castle, time permitting.
14:00 Lunch
There are multiple restaurants at the Palacio de la Pena, but they do get crowded, and by this time of day, the sun is already very hot.
A better option is to head back into the town centre, where you'll find some attractive lunch options. Tourist restaurants line the main square, but if you explore some small streets off the square, you can find some hidden gems.
I recommend trying the amazing Portuguese sheep cheese with sweet marmalade and a delicious fresh glass of Portuguese Vinho Verde, a very light sparkling white wine that's perfect for a sunny day.
From the town centre of Sintra, it's an easy 15-minute walk to your next stop: the Quinta da Regaleira.
16:00 Quinta da Regaleira
The Quinta da Regaleira is a fantastic-looking 19th-century Gothic mansion that used to be the home of a local millionaire.
It's also surrounded by some of the most beautiful gardens in Sintra! If you explore the gardens, you'll find mystic religious symbols, gargoyles, monuments, secret caves and passageways. There's even a famous well with a spiral staircase that leads down to a series of secret tunnels underneath the gardens.
It will take you about two hours to visit the mansion and gardens, but can easily be longer if you like to take pictures.
To get here, you can easily walk here from the city centre, and it won't feel as crowded as some of the other sites in Sintra (it's quite large and spacious). An adult ticket costs €6.
Tickets and Tour Options
Click to See a Full List of Sintra Tour Options
---
Practical Information for Spending A Day in Sintra
Transportation for Your Lisbon Day Trip to Sintra: Getting from Lisbon to Sintra and Getting Around
Getting from Lisbon to Sintra is the first step to spending a day in Sintra. Luckily, making your way from Lisbon to Sintra and back is a walk in the park, as Sintra has a train station with a good connection to Lisbon.
And while getting to Sintra is easy, getting around is maybe even easier! The town is well-catered to tourists, and the tourism office has done a great job making everything accessible. Walking everywhere is possible, but you should wear good walking shoes and bring lots of water: it's very hilly, and it gets very hot in summer!
Alternatives to walking include good public transport options (bus), tuk-tuks, taxis and sightseeing buses. Here you can find all the information you need about getting to Sintra from Lisbon, getting around the town, and getting between the palaces and surrounding highlights.
Where to Stay in Sintra
If one day in Sintra isn't enough for you, consider staying overnight. There are plenty of nice hotels in Sintra that range from budget to (over-the-top) luxury! There are also some backpacker hostels if you're on a strict budget.
The biggest benefit to staying in Sintra is that you can beat the crowds and visit your first stop right when it opens!
Tips for Avoiding Pickpockets and Theft
Stay safe in Sintra and Lisbon by checking out our anti-pickpocket guide to help travelers visiting Europe. The advice is just as applicable for those visiting Sintra as any other city in Europe. If you're worried about keeping your belongings safe in Sintra or elsewhere on your vacation, be sure to read our article, 5 Cheap and Sneaky Ways to Stop Pickpockets.
---
Not Your Average Lisbon Tourist Guide: Context Travel's Sintra Day Tour from Lisbon
Portugal is one of those countries we (Geoff and Katie) keep going back to visit time and time again. There's something about Lisbon, in particular, that we just can't stay away from. But if your trip to Portugal and Sintra is going to be a once-in-a-lifetime experience, we think it's worth making it an experience you'll remember!
Led by a PhD or Master-level historian, Context Travel's Sintra Day Tour from Lisbon is a tour that will do the sites justice! Led by scholar tour guides (called Docents), Context Tours are more like walking seminars … as if you're with your favorite university professor on a summer intensive course in Portugal. The Sintra Day Tour from Lisbon focuses on the royal and romantic history of the town and some key monuments, visiting the Vila Palace and Quinta da Regaleira as a group while learning about the history, and then the Docent sets you free to see some of the other monuments on your own.
Although they're not the cheapest around (expect to pay around $100 US per person on a small group tour), we believe Context runs some of the best tours around, and highly recommend the company based on our personal experiences around Europe.
---
Food
At the larger attractions, there are some cafeterias with food. However, they are as average as most tourist attraction cafés….they make a nice break from the heat and the crowds, but aren't great. I recommend having your meals in the town center.
Toilets
Sintra's larger attractions, like the Palacio de la Pena and the Moorish Castle, have good sanitary facilities inside and outside of the grounds. These are your best bets, as well as restaurants in town.
More Portugal Trip Planning Resources
---
Like This Guide? Pin it for Later!