How To Choose The Best Dublin Whiskey Tour: Our Review of the 3 Most Popular Dublin Whiskey Tours, with a Summary of Who Will Love Each Whiskey Tour Dublin. Includes Reviews of the Irish Whiskey Museum, Jameson Whiskey Tour Dublin, and Teeling Whiskey Distillery Dublin Tour


Pin this Post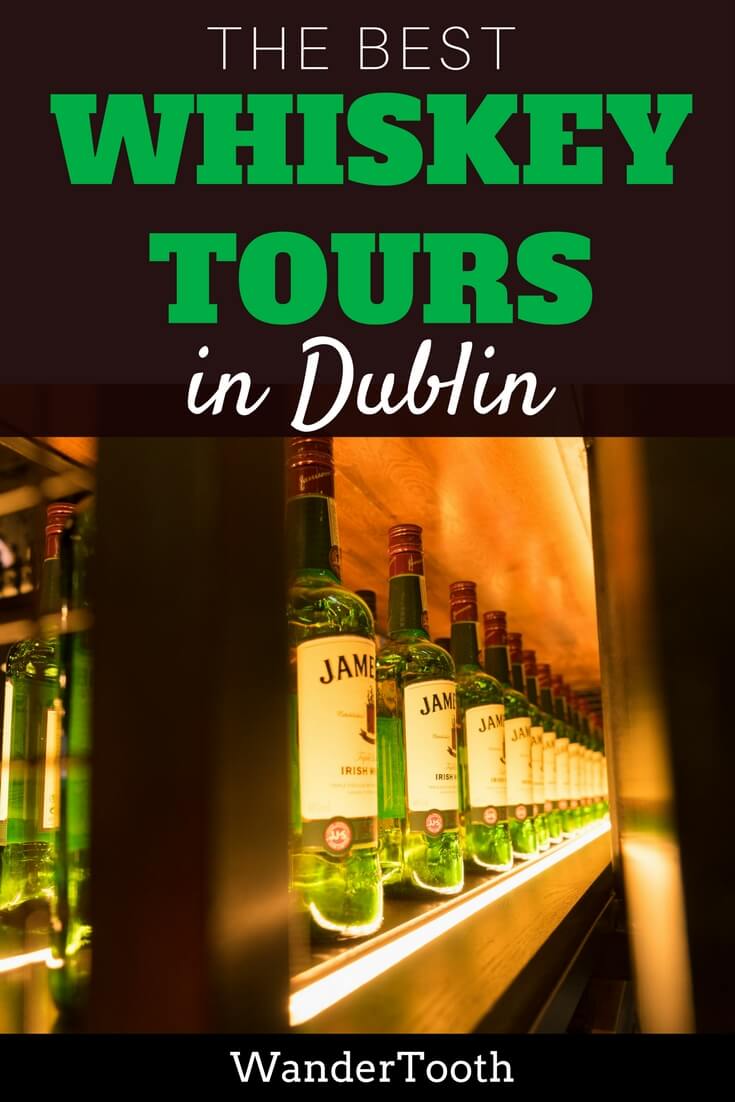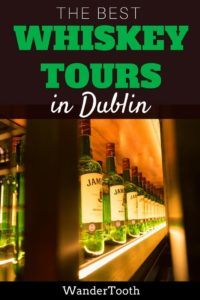 In our minds, Ireland is associated with gorgeous scenery, friendly locals, fantastic pubs, and – of course – its two most famous beverages: Guinness and Irish Whiskey. On our recent trip to Dublin, Geoff and I took it upon ourselves to experience as many of these quintessentially Irish experiences as we could, enjoying pub hopping through some of Dublin's oldest and most famous establishments on the best-selling Literary Pub Crawl, learning to pour the perfect pint at the Guinness Storehouse, and doing our best to seek out and try some of the best experiences for Irish whiskey Dublin has to offer. While the number of distilleries in Dublin has declined since the heyday of the Irish whiskey boom more than 100 years ago, there are still plenty of Dublin whisky tours to enjoy. And enjoy them we did.
In the name of research and in search of the best Irish whiskey tour Dublin, we visited the Irish Whiskey Museum, Jameson Whiskey Tour Dublin, and Teeling Whiskey Distillery Tour.
Read our reviews below, and then choose the best whisky tour Dublin for your own trip!
---
Interested in an Irish Whiskey Tour Dublin?
Find The Perfect Tour & Book Ahead
---
The Irish Whiskey Museum is the Best Whiskey Tour Dublin for Whiskey Novices And Those Who Enjoy Learning About History and Culture
Our Irish whiskey journey started out at the Irish Whiskey Museum in central Dublin. Whereas the Jameson and Teeling distillery tours (below) naturally focus on their own brand's stories and flavours, The Irish Whiskey Museum tells the story of Irish whiskey from a broader perspective.
The one-hour tour took us on a chronological journey about Irish whiskey through the centuries, going all the way back to whiskey's birth in Ireland as the the water of life (Uisce beatha), when it was used as a catch-all cure for ailments and diseases of all sorts.
We found it to be a surprisingly fascinating story, making this a good Irish whiskey tour for those who already love whiskey, and those who are simply curious about Ireland's history, and the histories and lore behind one of its most famous drinks.
One of the things we found most interesting from this tour was the role Irish whiskey has played in Dublin's economy over the years. Although Irish whiskey is currently enjoying a massive revival, dramatic booms and busts in Ireland's whiskey industry have made for a wild ride over the years. From the late 1800s, when Dublin was the distilling capital of the world, the industry virtually collapsed from the 1-2 punch of Irish independence (1922) and American prohibitionism (1919). Almost overnight, the industry's two largest markets (the UK and USA) were closed for business. It's incredible to realize that Dublin went from being the centre of the distilling universe to a city with less than a handful of distilleries within a few decades; by the 1970s, there were zero whiskey distilleries in Dublin, a fact that is just now beginning to change again.
The economic bust of Ireland's whiskey industry, and the subsequent revival we're experiencing today, was only part of the tour. Our guide also gave us insight into parts of Irish culture, such as how the tradition of the Irish wake, in which loved ones watch over the deceased's body from death until burial, is inextricably linked to the island's love of whiskey. Back before modern (aka: safe) distilling methods were widely available, many Irish were poisoned from drinking homemade poitin (clear, unaged whiskey; basically moonshine), with the victims falling into a lifeless-like coma. According to the story our guide told, it took a few poor souls being buried alive before they realized you could wake-up from poitin poisoning, and the victims weren't in fact dead. Just in case, the tradition of keeping watch over the body of the deceased was developed to prevent others from being buried alive. Whether it's 100% true or not, it made a great story on our tour!
Of course, a whiskey tour isn't anything without a tasting, and we finished up our time at the Irish Whiskey Museum with a tasting of four different brands of whiskey: Glendalough, Powers, The Irishman, and Tullamore Dew. Throughout the tasting, our guide helped us identify the different flavors in each, and helped us figure out our personal taste preferences, and what kind of whiskey we should buy or order when on our own.
The combined history lesson (which used figurines, videos, and our guide's stories) and tasting made this a great option for those who are interested in learning more about Irish whiskey, but aren't sure where to start.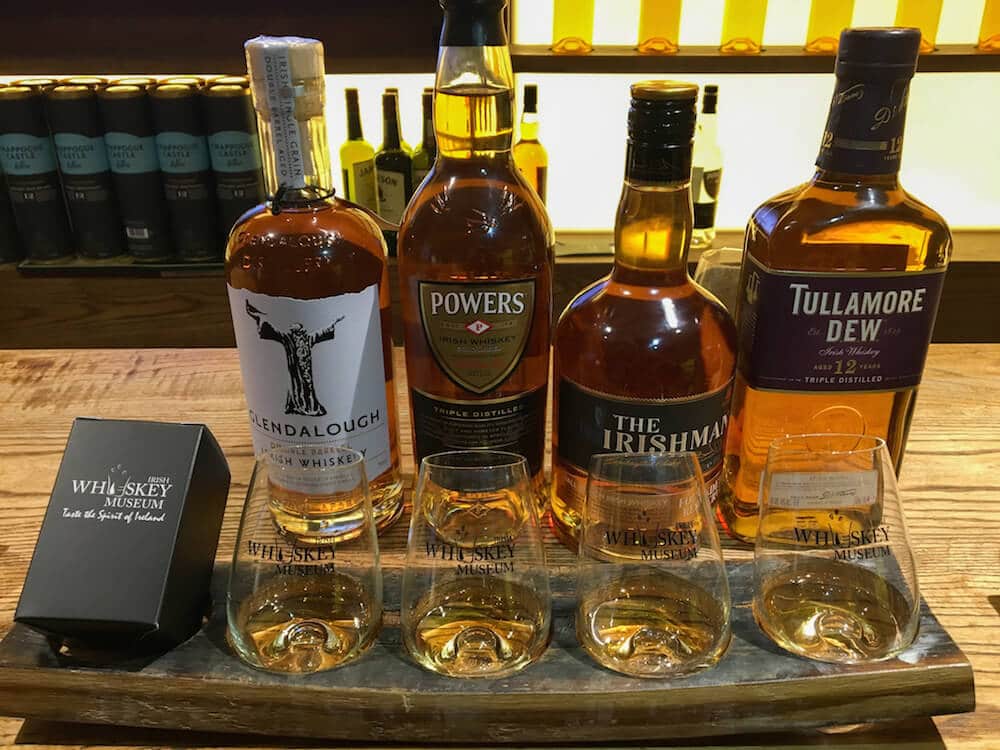 Who Would Enjoy The Irish Whiskey Experience?
Whiskey novices who aren't sure what flavours they enjoy, and are looking for a bit of guidance.

Whiskey lovers who are interested in delving a little more into the history of Irish whiskey, and how whiskey shaped Dublin as a city and Irish culture.

Those who don't enjoy whiskey, but are interested in learning more about Irish culture and the role the distilling industry played in Dublin's economic fortunes (and misfortunes).
Need-To-Know Info About The Irish Whiskey Museum Dublin
If you bring children along, they'll be served a soft drink during the whiskey tasting. The guides are quite funny and engaging, and patient if you choose to bring your kids along. There are some rather steep stairs to climb up before the tour, but if you have trouble or have a stroller, there's also a lift.

Irish Whiskey Museum tickets vary in price. The regular tour (€17) includes 3 tasters of whiskey at the end of the tour; for €28, you can try the Whiskey Blending experience, which includes an extra taster of aged whiskey, and the chance to create your own personal blend of whiskey, with a 30ml (about 1 fluid oz.) bottle of your own creation to take home.

The regular tour lasts about an hour, and there's an onsite bar if you want to linger over a drink afterwards.
Reserve Tickets to the Irish Whiskey Museum Online
---
Looking for more ideas in Dublin and Ireland? Check out our picks for the 12 Best Tours in Dublin, Where to Stay in Dublin and Where to Stay in Belfast Guides, and our guide to the Best Day Trips from Dublin. Our Country Guide to Ireland will be updated as we add more content!
---
The Jameson Experience is the Best General Whiskey Tour Dublin

Whereas The Irish Whiskey Museum gets into the history of Ireland's national spirit, the Jameson whiskey tour Dublin (known as The Jameson Experience) gets more into the technical (but not-at-all boring) aspects of making whiskey, combining a live guide's commentary with video and interactive stations where you can use all 5 senses to experience different stages of the whiskey-making process.
Worth noting, the Jameson Experience isn't a distillery tour: there's no walking the distillery floor, looking at stills as workers buzz about, as you'd find on a typical distillery tour. Rather, the Jameson Experience is a high-budget, interactive experience that's more like a science centre for whiskey lovers. It's slick and well-produced, and all of that adds up to an engaging experience that is both fun and enlightening.
In the main interactive room, we smelled the difference between Bourbon and Sherry, spotted the difference between different ages of whiskey (New Make, 1 Year, 3 Year, and 7 Years of aging), compared malted and unmalted barley, and smelled the difference between pot still and column still whiskey. The interactive activities were supported by video and the guide's own additions to the tours, making the end-to-end experience thoroughly engaging.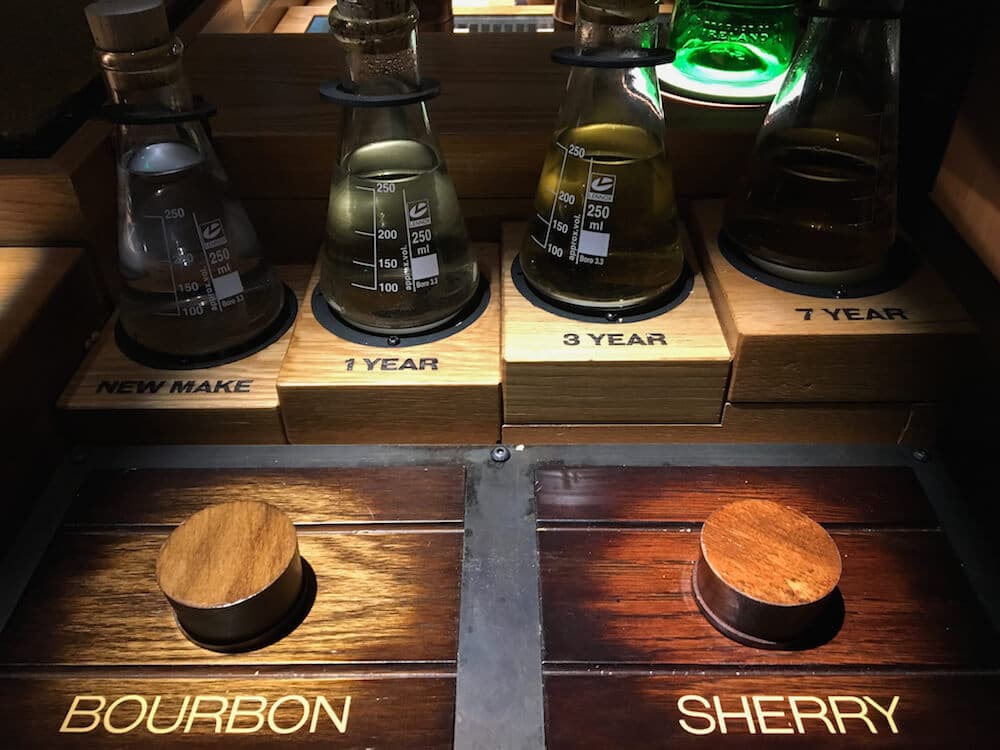 Of course, the Jameson Experience also focuses a lot on the Jameson brand itself, and what makes it unique. We saw a recreation of company founder J. Jameson's original Dublin office, learned the Jameson family motto — Sine Metu, which means without fear — and heard stories about how the company has grown over the years. We also got a preview of the 3 additional experiences they offer beyond the main tour: the 90-minute Whiskey Makers Experience lets you blend your own whiskey to take home with you; the Whiskey Shakers experience has you make 4 different whiskey-based cocktails; and the Whiskey Tasters experience has you taste 4 different whiskeys that are relevant to Jameson's original Bow Street Distillery location.
At the end of our tour, we (of course) did a tasting of 3 different whiskeys: Jameson Irish Whiskey, plus one Scotch and one American-style whiskey. As with our tasting at the Irish Whiskey Museum, our guide helped us identify the different flavours in each, and find our personal preference.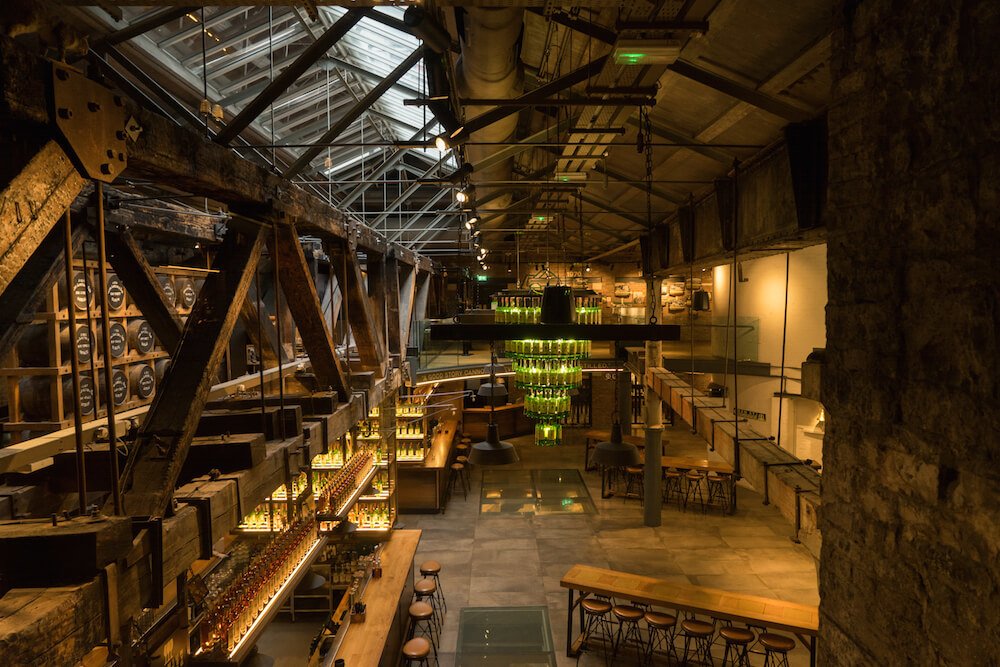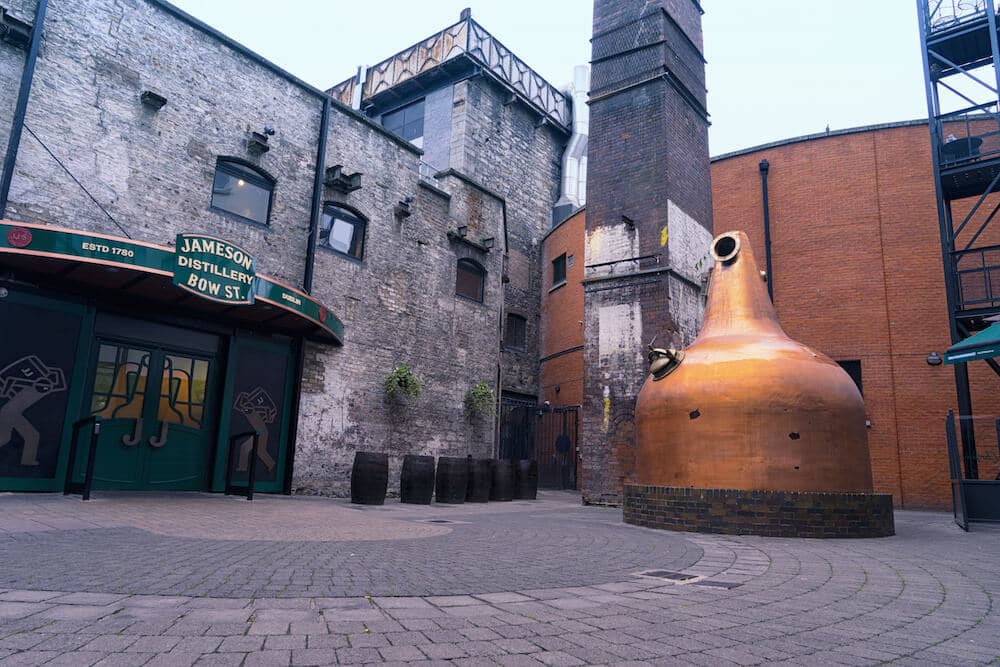 Who Would Enjoy The Jameson Whiskey Tour Dublin?
Jameson lovers, of course!

Whiskey novices and whiskey lovers who are interested in learning a bit more about how whiskey is made.

Whiskey novices who aren't sure what flavours they enjoy, and are looking for a bit of guidance.

Those who don't enjoy whiskey, but are open to being entertained for an hour or so – it really is quite interesting, and is one of the better alcohol tours we've done in our day (we've done quite a few!).
Need-To-Know Info About The Jameson Whiskey Tour Dublin
If you bring children along, they'll be served a soft drink during the whiskey tasting (likely juice). As with the Irish Whiskey Museum, the guides are used to having kids join the tour, and are able to engage them throughout to keep it as interesting as possible for younger family members.

The Jameson Experience tour (€20) includes 3 tasters of whiskey at the end of the tour, plus a cocktail.

The regular tour lasts about 45 minutes, and then you can linger over more at the onsite bar. There is also a wide array of branded merchandise and souvenirs in their shop.
Reserve Tickets to the Jameson Whiskey Tour Dublin
---
The Teeling Distillery Tour is the Best Dublin Whiskey Tour For Seasoned Whiskey Drinkers, Non-Traditionalists, And Those Looking for a Proper Whiskey Distillery Dublin Experience
Whereas The Irish Whiskey Museum and Jameson Bow St. Experience are what we'd categorize as whiskey experiences, new-kid-on-the-block Teeling offers a proper Irish whiskey distillery tour (and, of course, tasting!).
Teeling's HQ is in an area of Dublin called The Liberties, located about a 20-minute walk from St. Stephen's Green. The Liberties dates back to the 15th century, when Dublin was a walled city. The Liberties fell outside Dublin's city walls, and, therefore, its jurisdiction. People here were "at liberty" to do what they wanted, making it an area of rebels and lawlessness.
As with the other two Dublin whiskey tours in this post, the Teeling tour touches upon the role of the whiskey industry in shaping Dublin over the years, briefly covering the role of American prohibitionism, Irish independence, and a refusal to adopt new technologies in essentially tanking the 37 whiskey distilleries in Dublin.
Much more than that, however, this is a proper whiskey distillery tour, taking groups across the manufacturing floor to see behind the scenes of the first new distillery to open in Dublin in more than 125 years, and the first distillery to operate in Dublin in almost 40 years (the large, heritage brands have moved production outside of Dublin)! For those who are interested in seeing whiskey production in action, in Dublin, the Teeling tour is the best choice.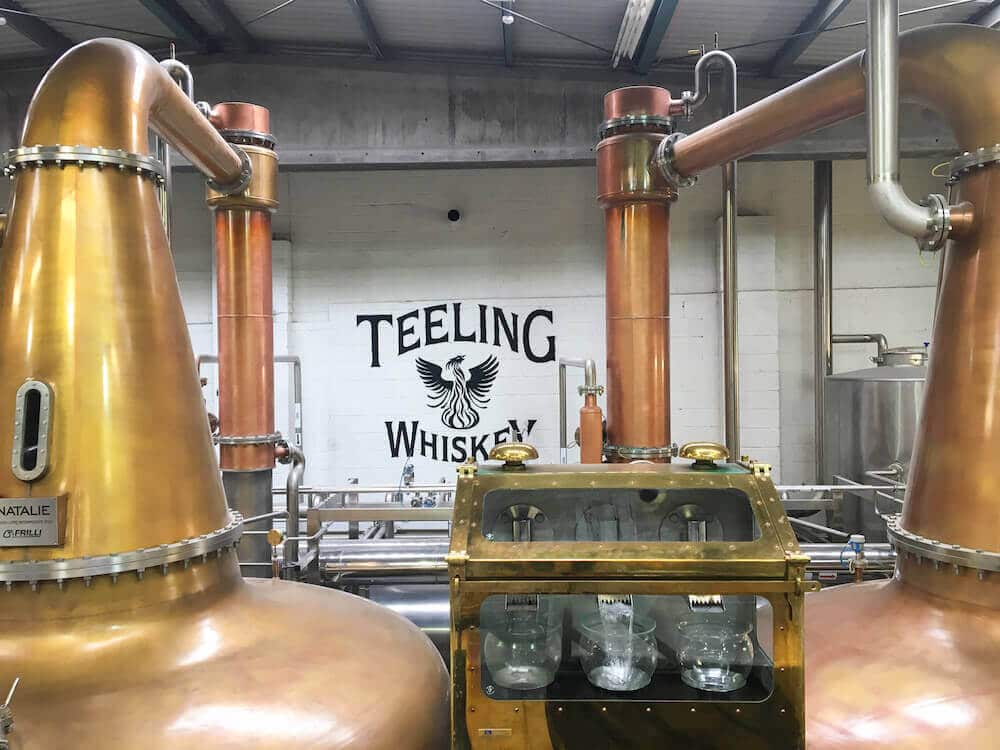 Teeling's logo is a phoenix rising from a pot still, and there is a defiant and rebellious spirit in the brand that comes across in the tour and the whiskey. Teeling is making a name for itself within the industry with a you name it we try it kind of attitude; they're using non-traditional methods and casks — such as red wine and tequila casks — to produce and age. And the result is a creative brand with unique flavours, which you get to try at the end of the tour.
Our whiskey tasting at Teeling consisted of 3 different Teeling whiskeys, plus a whiskey cocktail. We tried the Teeling Single Grain Irish Whiskey, the Teeling Small Batch Irish Whiskey, and the Teeling Single Malt Irish Whiskey. As at the other whiskey tours we tried, the guide stuck with us throughout our tasting to help us identify the different flavors, and choose our favorites.
Like at Jameson, Teeling has a gift shop on site if you'd like to buy a bottle of their whiskey, some whiskey-flavoured food (flavoured popcorn and salt were both on offer), and more. There's also a bar, if you'd like to extend the tour with some DIY tastings!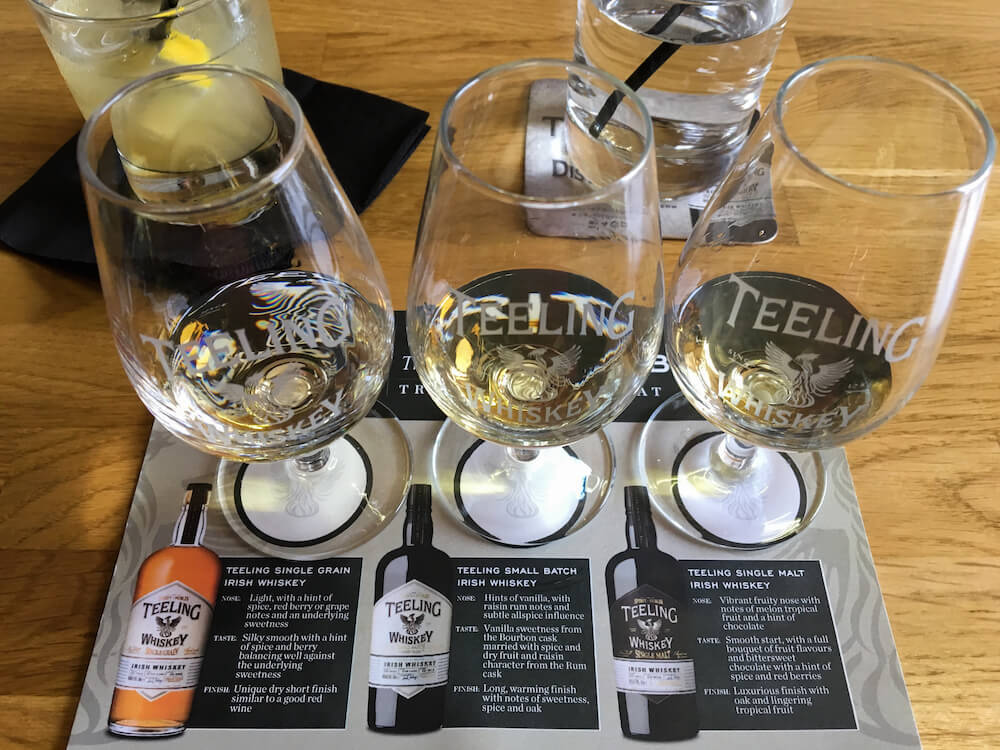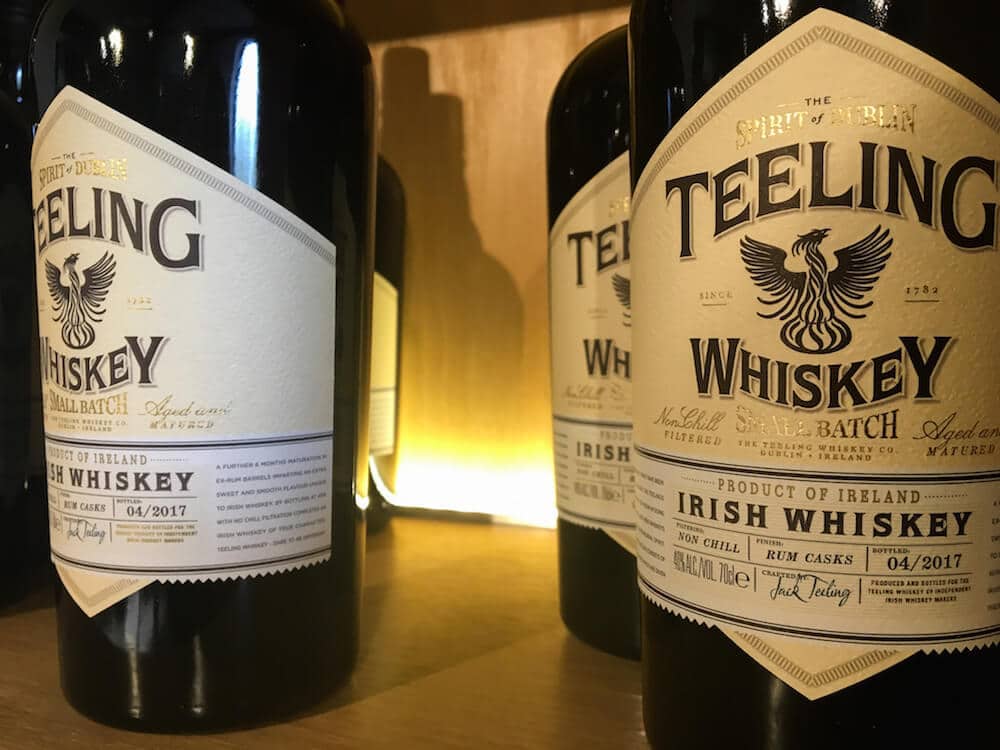 Who Would Enjoy The Teeling Whiskey Distillery Dublin Tour?
Of all three tours, this tour is the least "generalist" and most suited to whiskey aficionados interested in the creative production and aging methods Teeling is experimenting with.

This tour would also be great for those who've never been on a distillery tour, and would like to see the actual production process.

Of the three experiences, this is the least suitable for children.
Need-To-Know Info About The Teeling Whiskey Distillery Dublin Tour
Teeling offers 3 different distillery tour options, ranging from €15 to €30 per person, depending on which option you choose. The different in price depends on how many and which whiskeys you want to taste at the end, and people within the same group can choose different tastings, depending on how much and what they want to drink.
---
Book your Dublin whiskey tour (or tours) in advance through Get Your Guide, and skip the hassle of lining up (or the heartbreak of missing out on sold out tours).
Click here for booking information
---
---
Further Reading to Help You Plan Your Dublin Trip