The Best-Selling Dublin Literary Pub Crawl We Loved: A Dublin Pub Crawl Like No Other, The Dublin Literary Pub Crawl Is Entertaining, Thoughtful, Educational, And Thirst Quenching! Read Our Review In This Post, And Find Out Who We Think Will Enjoy The Dublin Literary Pub Crawl.


---
---
Pin this Post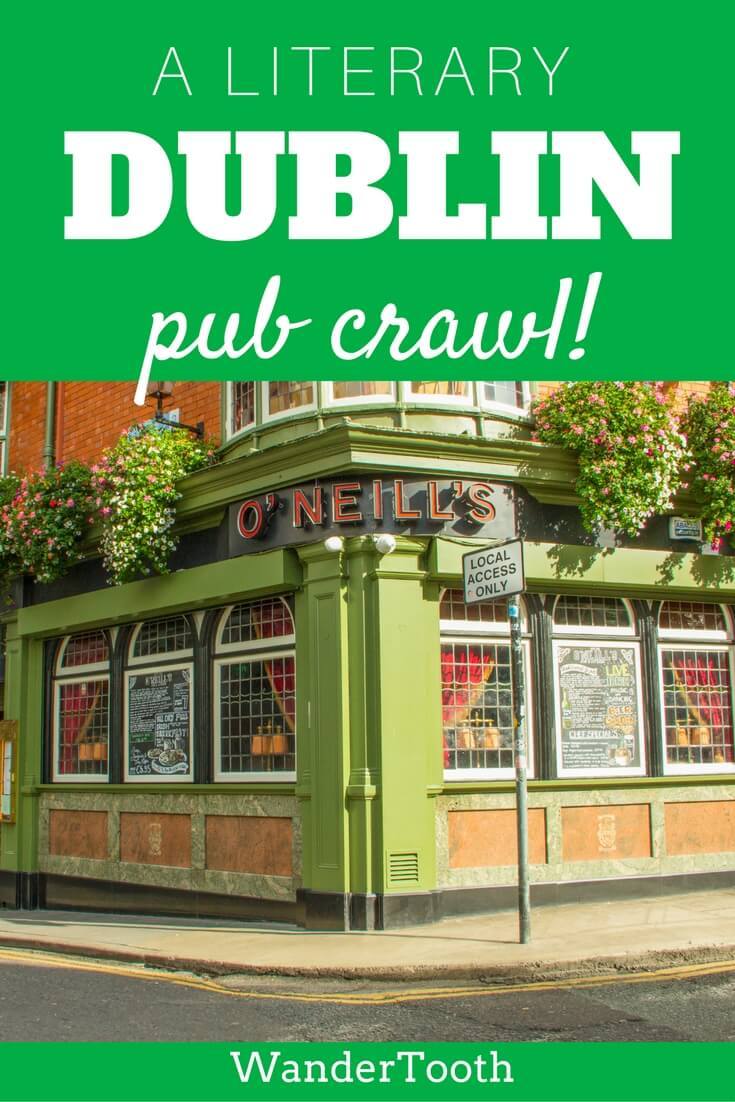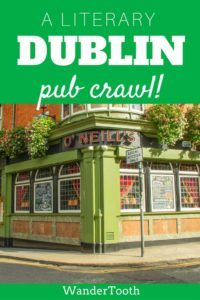 Ireland has long been known for producing fantastic artists, musicians, and storytellers, and throughout the centuries, Dublin has served as both home and muse for some of the world's most remarkable literary giants. Arriving in a city that has seen the likes of Joyce, Shaw, Swift, Yeats, and many more walk its sidewalks and sip pints in its pub, we were keen to explore the literary side of Dublin on our recent stay, and booked a Literary Pub Crawl to introduce us to this unique side of the Irish capital.
Not sure exactly what to expect, we were thrilled when we realized the tour is led by (very good) actors committed to bringing Dublin's most famous literature to life.
---
Interested in The Dublin Literary Pub Crawl?
Learn More & Book Your Tickets
---
Our tour began just up the street from Trinity College at the Duke Pub, which has been pouring pints since the 1820s. It has been a favorite to the likes of Irish writers James Joyce and James Stephens, and Sinn Féin founder Arthur Griffith, among others. It's also wonderfully well-preserved and cozy, which made it the perfect place to begin our Dublin pub crawl.
The Literary Pub crawl had a private room reserved for us in the upstairs of the pub, and after finding seats and closing the doors, the tour's two actor-hosts introduced themselves before breaking into an old Irish Ballad, setting the tone for a lively evening.
They then dove into the life and times of one of Dublin's most celebrated novelists and playwrights, Samuel Beckett, the way only Irish storytellers can. Our group was immediately captivated by the voices at the front of the room as they began performing an excerpt from Waiting for Godot, one of his most well-known plays. After which, they described scenes from James Joyce's Ulysses, referencing scenes and locations that had become familiar to us over our last few days visiting Dublin.
And for a little bit of friendly competition, they let us know they would be quizzing us at the end of the tour to see how much we retained, before leading us out onto historic streets and a crisp Dublin night, pointing us onward to our second stop on our Dublin pub crawl: The Duke.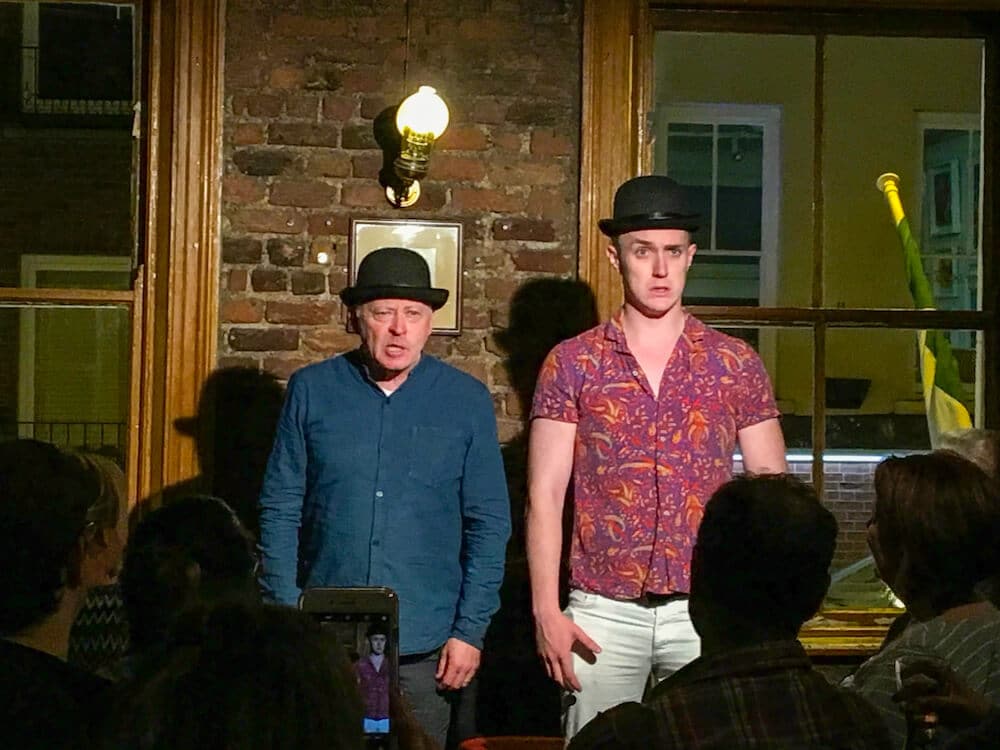 ---
Looking for more ideas in Dublin and Ireland? Check out our picks for the 12 Best Tours in Dublin, Where to Stay in Dublin and Where to Stay in Belfast Guides, and our guide to the Best Day Trips from Dublin. Our Country Guide to Ireland will be updated as we add more content!
---
Stopping on the way to The Duke, we paused on the grounds of Trinity College, where many of Dublin's revered writers attended. Trinity College was founded in 1592 and is Ireland's oldest and most prestigious university. The list of famous alumni is long and remarkable, including writer Oscar Wilde who, it seems, has just as many stories about him as there are stories by him! Our tour guide/actors jumped into character, performing for a few minutes before telling a few amusing anecdotes about a time when Wilde visited the United States, and proved to some skeptical miners just how much whiskey a good Irishman can handle.
Before moving on to our next stop, our guides gave us a quiz — and a chance for us to win some prizes — based on some of the facts and dates we had remembered from the tour so far. With the lucky winner awarded, the literary pub crawl Dublin moved on to another historic pub just up the street. As we walked, our hosts describe the history of the establishment and the surrounding streets.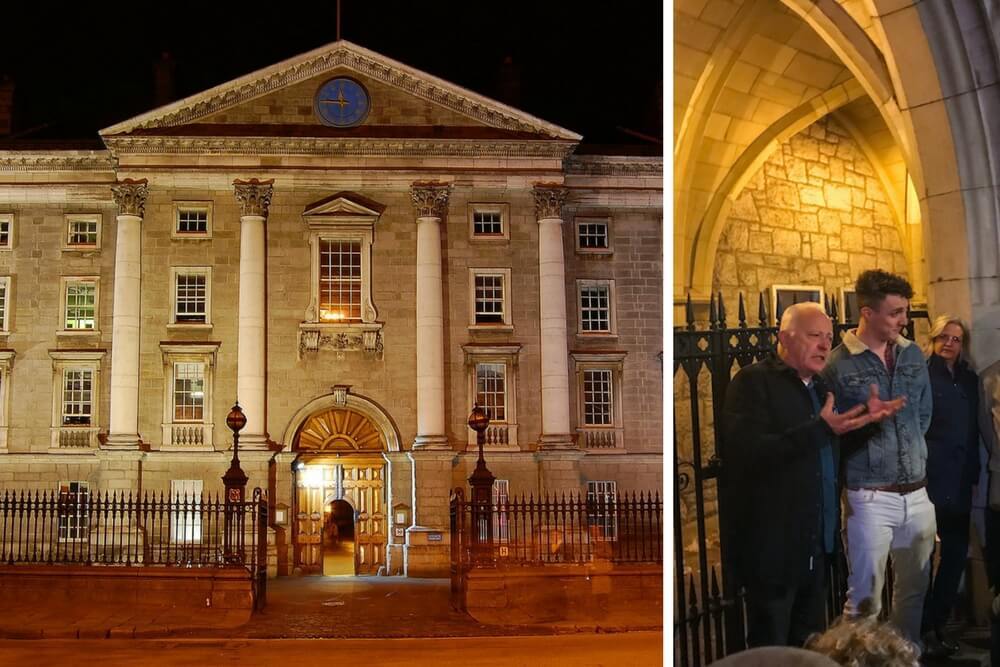 This Dublin pub crawl continued at the iconic O'Neills Pub on Grafton Street, just steps from the Molly Malone statue. A pub has occupied this venue under different names since the early 1700s, and has existed as O'Neills since MJ O'Neill bought the establishment in the 1920s. Well known today for its authentic charm, great food and lively traditional Irish music, academics and creatives alike have enjoyed pints here for hundreds of years given its close proximity to Trinity College.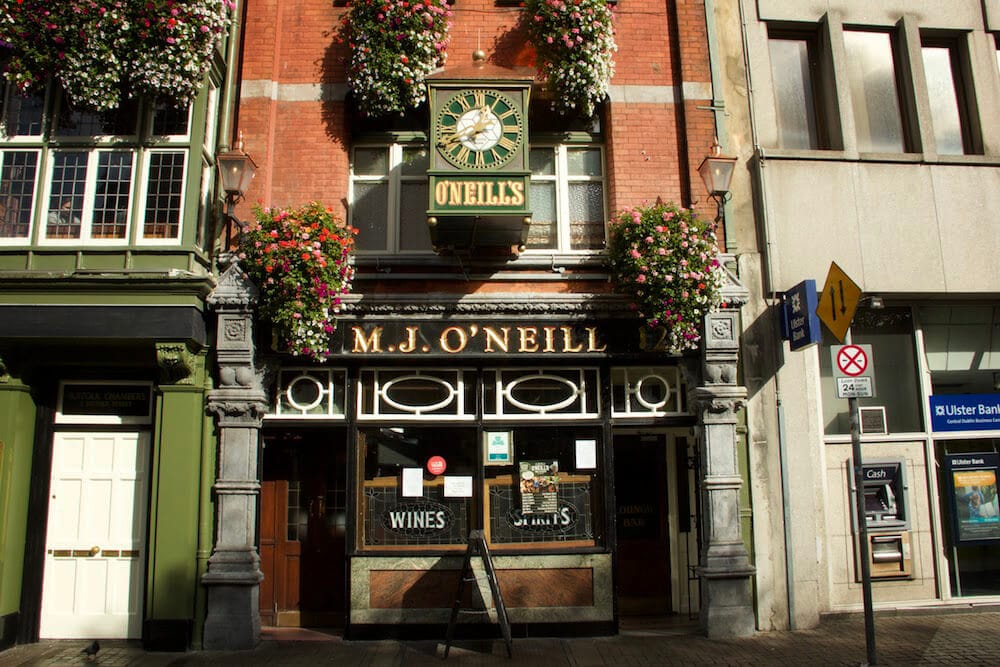 All told, we visited four historic pubs on our Literary Pub Crawl Dublin, each with fascinating and delightful histories, and stories about the literary legends that drank inside. If ever the phrase if these walls could talk applied, it would be in these places.
And while I don't want to give it all away (you'll just have to take the tour yourself), I can say the actors/tour guides were fantastic; we were engaged for the entire tour, at times hanging on every word.
There is minimal walking involved, and we spent about 20 to 25 minutes in each pub, with the entire Dublin pub crawl lasting about two-and-a-quarter hours: plenty of time for a pint or glass of beer (or something else) in each pub, plus a bathroom break and many great stories.
We had a tonne of fun on this tour, and can highly recommend it to you, too!
---
Book your Literary Dublin Pub Crawl here. Tours begin upstairs at The Duke at 7:15pm and go rain or shine, so bring a rain coat or an umbrella if the forecast calls for wet weather! The tour lasts 2 1/4 to 2 1/2 hours, and will end very close to the departure point, usually at Davy Byrne's just up the street. More information below.
Click here for booking information
---
Literary Dublin Pub Crawl Practical Information and FAQs
Times: The Literary Dublin goes daily at 7:15pm, rain or shine. Tours can be in advance booked online.
Tour Start/End Point: The Dublin Literary Pub Crawl starts at The Duke Dublin, 8 & 9 Duke Street, Dublin 2. The tour will end very close to the starting point, usually at Davy Byrne's Pub at 21 Duke Street.
Length of Tour: The pub crawl lasts 2 1/4 to 2 1/2 hours. Expect it to end around 9:45pm.
Pubs: The tour visits a total of 4 of Dublin's historic and noteworthy pubs, including The Duke.
Are Drinks Included? Food and drinks are not included on the tour, which means you can drink whatever you want at each stop. There isn't enough time to eat at the stops though, so be sure to eat beforehand (or save it until after).
How Long Will We Spend at Each Pub? The group will visit each pub for about 20 minutes: enough time for a drink and a bathroom stop!
How Much Walking is Involved? Not much. All the pubs are within two or three blocks of each other.
Can Children Join the Literary Pub Crawl Dublin? Yes. The legal drinking age in Ireland is 18. At the time of writing, children under the age of 15 can enter pubs in Ireland if they are with a parent, and those 15 to 17 can enter without a parent and enjoy food and soft drinks. To enjoy this tour, children will need to be relatively quiet for the duration of the tour, and be able to walk from place to place for just over two hours. As such, it's probably not a great bet for young children, but good for the 12 and up crowd.
Ready to Book?
Click here to check availability
---
---
Further Reading to Help You Plan Your Dublin Trip