If you're planning that bucket list family vacation to Iceland, make sure a glacier hike is on your to do list. But can you do a glacier hike with kids? We did! Here are a few tips for planning the perfect family friendly glacier hike.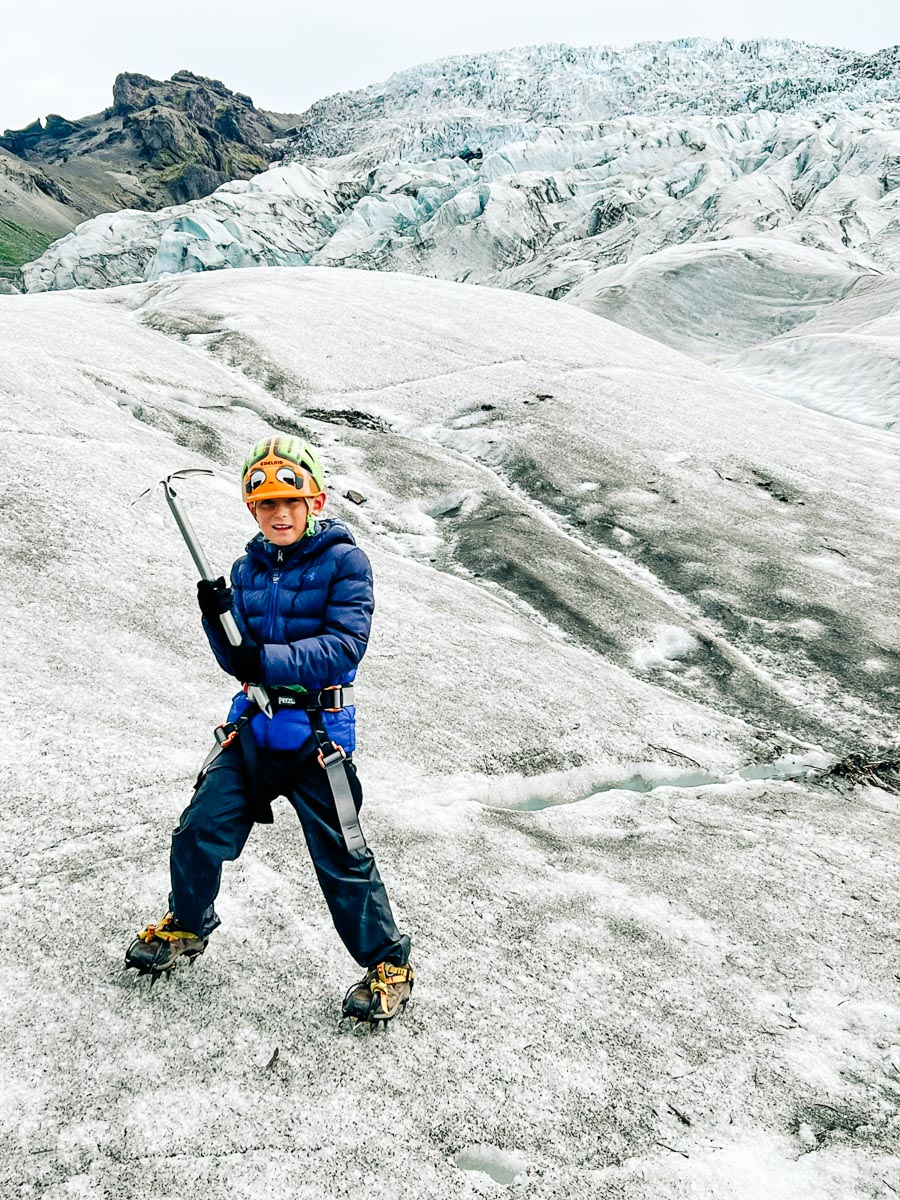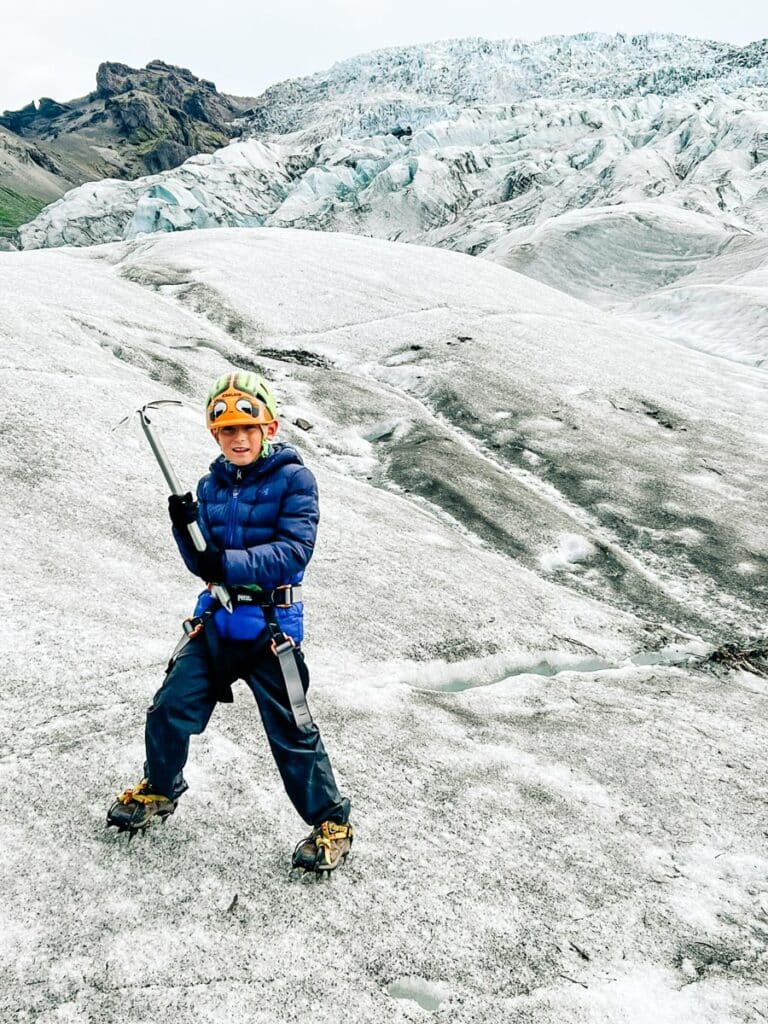 When we started planning our family vacation to Iceland, a glacier hike was one of the top activities on our wish list! It's such a unique experience, and one that can only be had a few places in the world. We didn't want to miss it! But we were also a little hesitant about whether we could manage it with an eight year old kid!
But we've been there, accomplished our glacier hike, and I'm here to tell you that it can totally be done! Here are a few tips to help you plan the ultimate glacier hike with kids.
Pick a small group tour.
There are many wonderful tour companies running glacier hikes on Iceland's South Coast, but most of the group tours are large groups. I'm talking 20+ people on some of the tours. When glacier hiking with kids, I strongly recommend that you choose a smaller group tour.
The overall experience will be much calmer and more enjoyable. And frankly, a smaller group where the guide can easily keep tabs on everyone is also a whole lot safer with kids in the mix.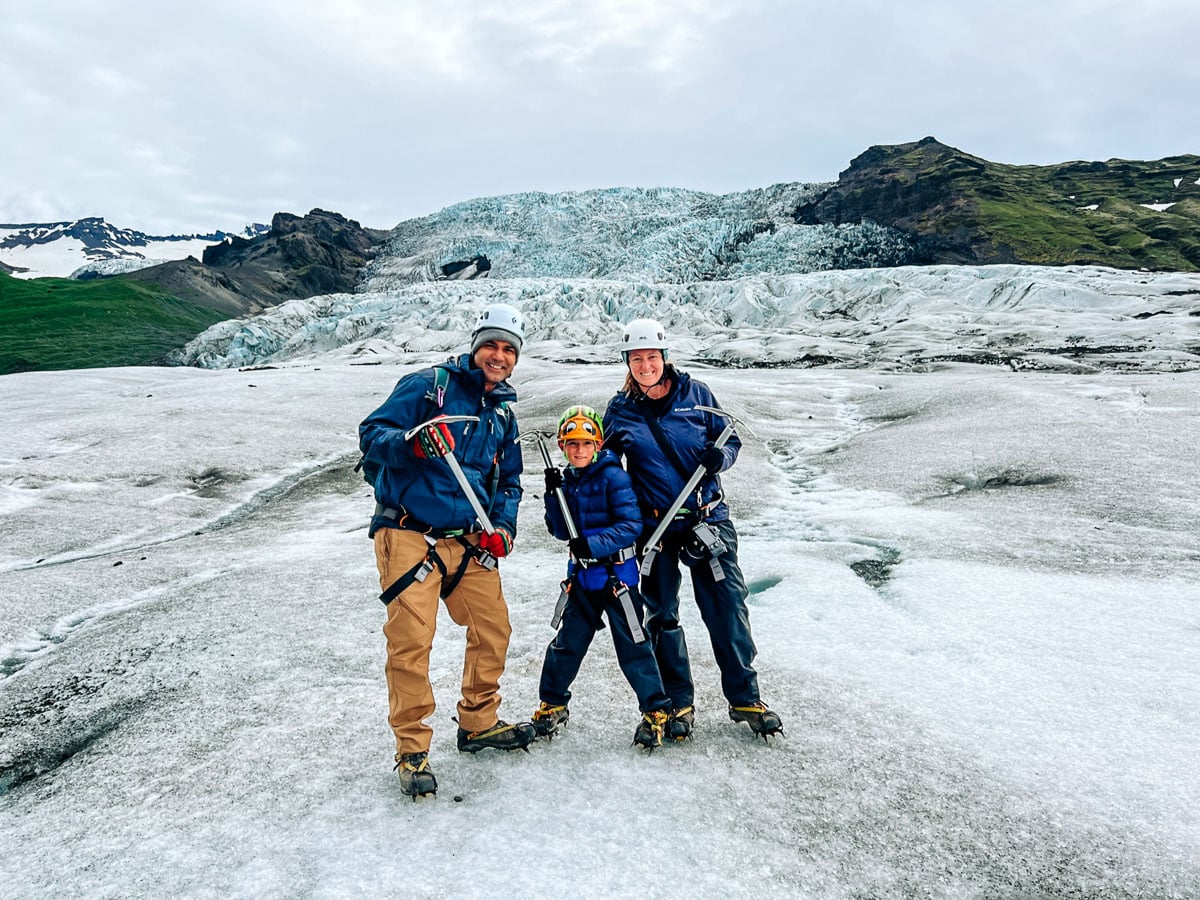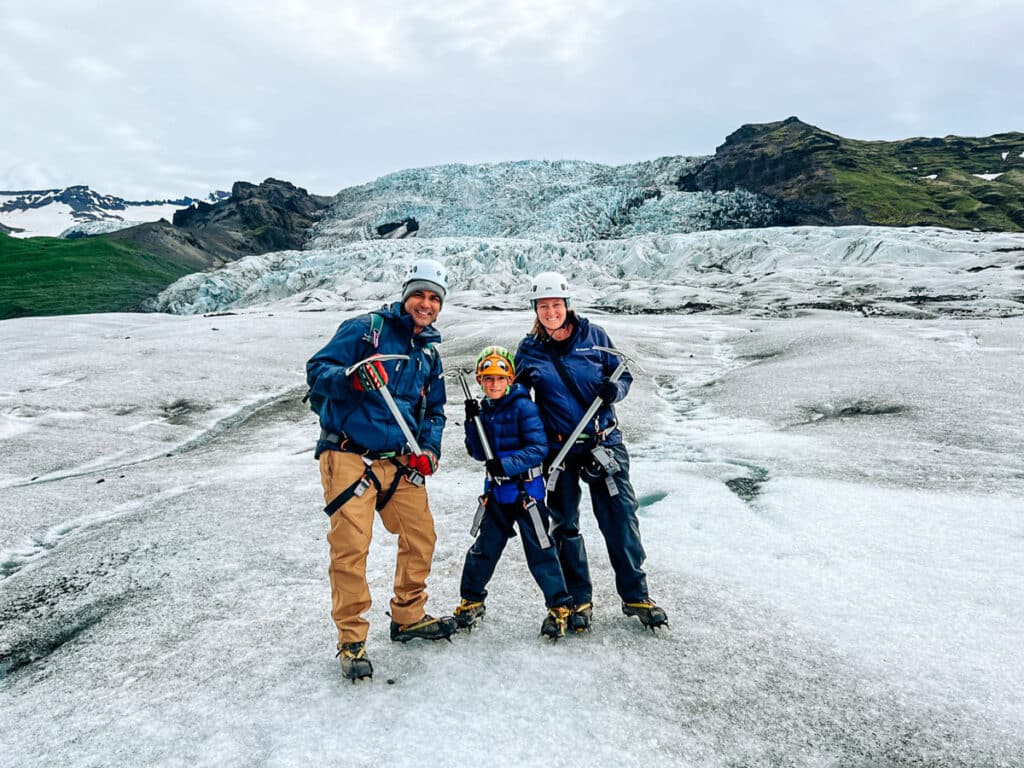 We opted for this extra small group tour with Melrakki Adventures, which had a maximum of eight people in the group. (You can read my full review of the glacier hiking tour here.) It ended up being our family of three and one other family of four. My son was the only young kid in the group (the other two boys were high school aged), which made it easy for the guide to give him some extra attention and keep a close eye on him.
Obviously you are going to be keeping a close eye on your kiddos yourself – but I'm not exactly a glacier hiking expert either.
Limit the non-glacier hiking time.
Another thing to look for when choosing a tour is how much time will be spent getting to the glacier versus actually hiking on the glacier. Many of the tours that we considered had rather long hikes just to reach the glacier itself.
We ended up doing our glacier hike in Skaftafell, where we hiked one of the "fingers" of the massive Vatnajokull Glacier. Our tour guide took us in a 4×4 Jeep right up to the base of the glacier – something that couldn't be done in a regular vehicle. So nearly all of our tour time was spent on the glacier itself. We saw other groups arriving in buses, parking in large lot, and then taking a 20-30 minute hike in just to get to the place that we started.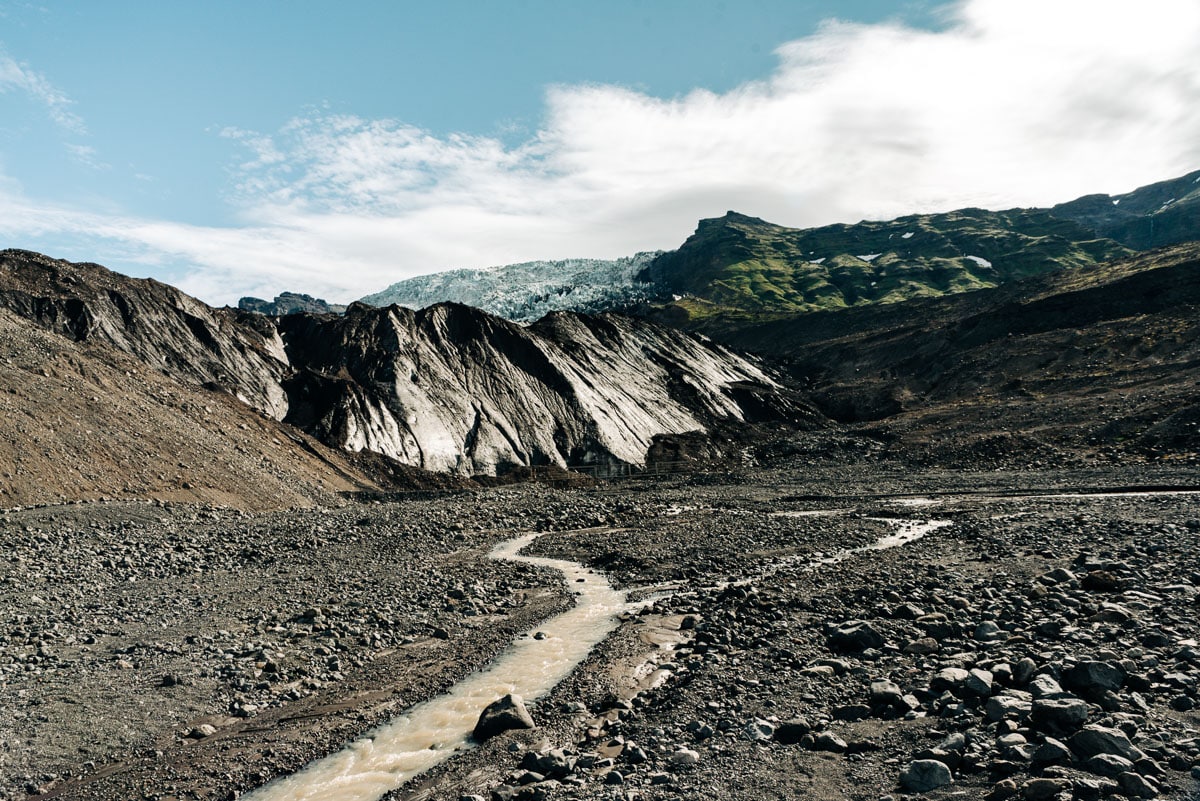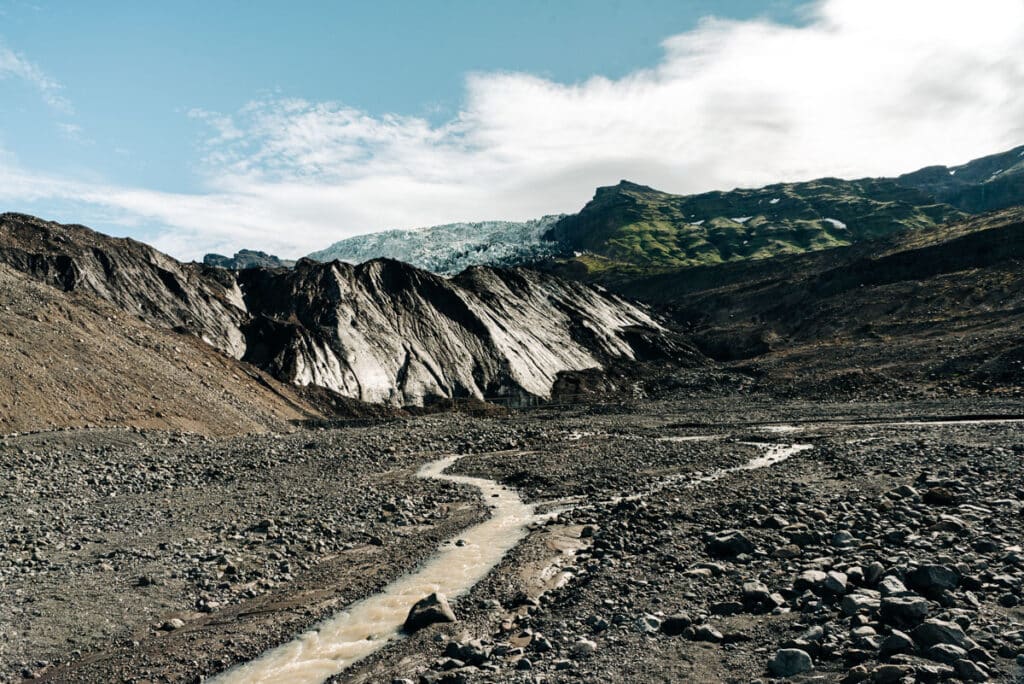 Our tour was a total of three hours including the 20 minute ride to the glacier each way. And we spent at least two full hours on the ice. So very little time wasted!
When hiking with kids this is extra important, as they aren't going to have the same stamina as an adult hiker. You don't want to burn up their energy before you've even gotten to the main attraction.
Age Limits and Shoe Sizes
As you're choosing a tour, be sure to watch out for the minimum age requirements. Some of the longer glacier hikes have minimum ages of 10-12 years. But I found that many of the shorter hikes and smaller group tours had lower minimum ages. The one we chose had a minimum age of 8, so my son just made the cut!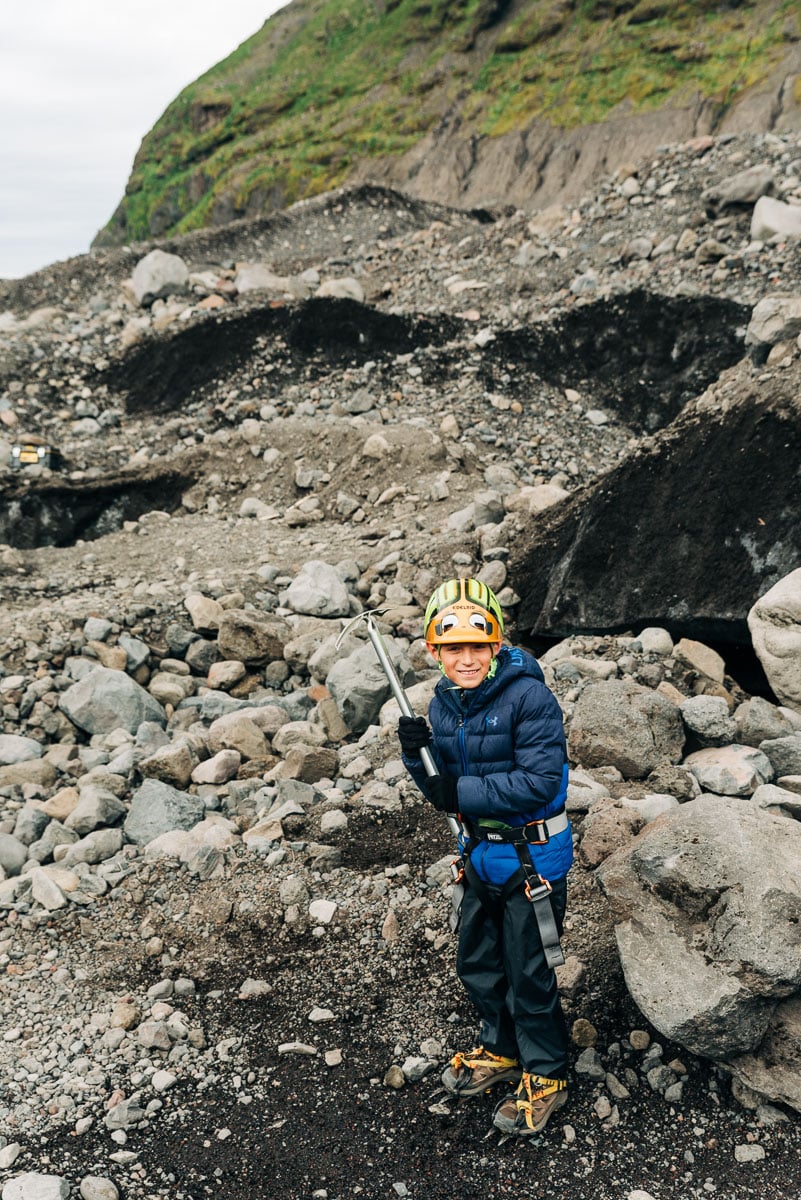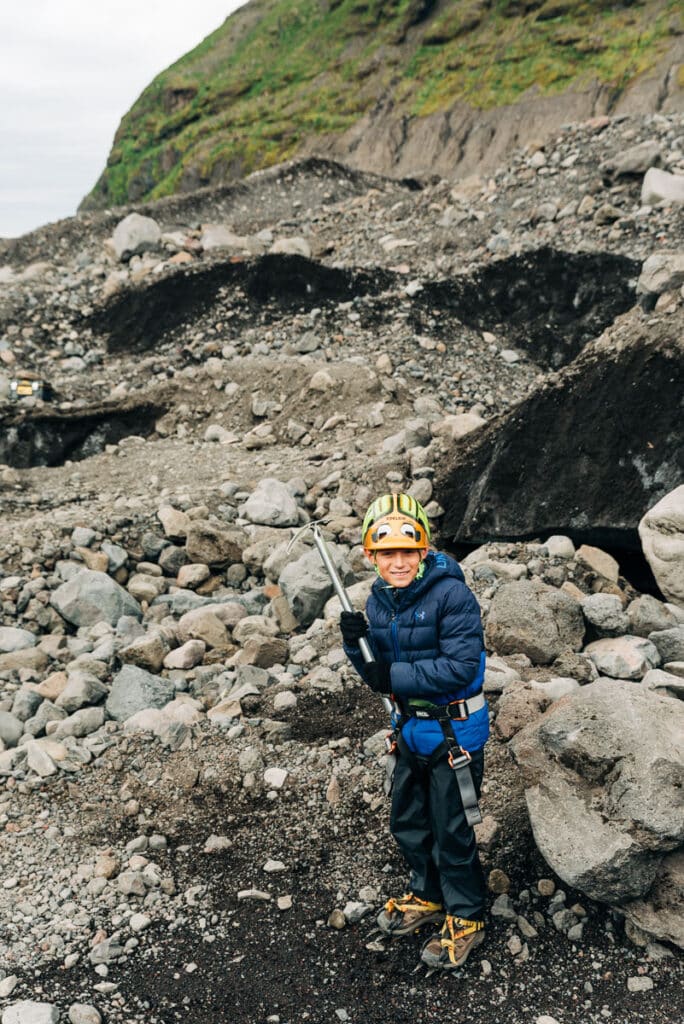 And why do I mention shoe size? If you're child is on the lower age limit for the hike, make sure you also check what the minimum shoe size required is. Most of the tour companies state this right in their tour description, and it seems like EU 34/ US 3 is a common limit. The reason is to make sure that they have crampons (the spikes you wear on your feet for the hike) that fit the youngest kids!
Wear tall hiking boots.
Proper hiking boots are definitely a requirement for a glacier hike, including for the kids. You will want firm, supportive boots that cover your ankles. You will want the stability this provides on the hike. With shorter boots that don't cover your ankles, you may find it difficult or even impossible to attach the heavy crampons that are needed.
Note that many tour companies have boots available to rent for the hike if you don't want to purchase your own! Or see my Iceland packing list for recommendations on hiking boots for the whole family.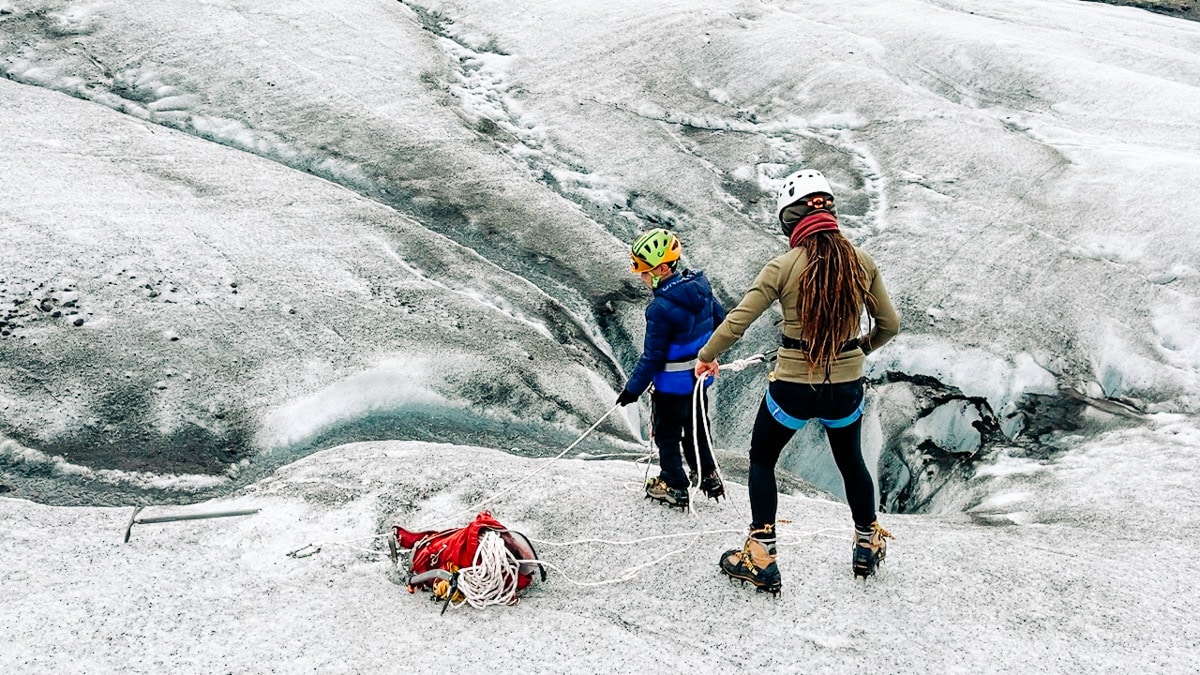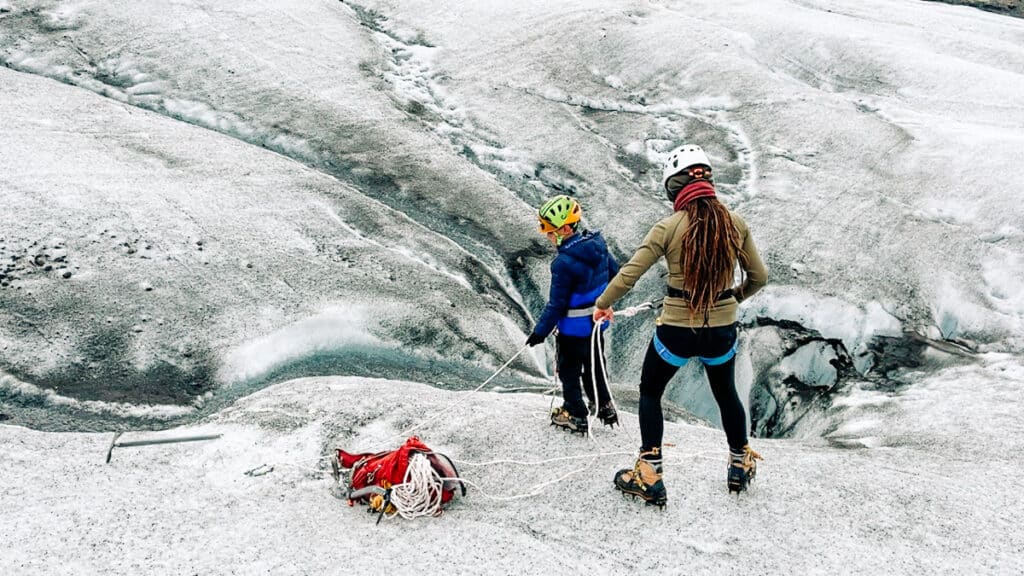 Pack water.
You likely won't be stopping for lunch or snack breaks if you're taking one of the shorter tours (2-3 hours). But you will absolutely need water. Take along a water bottle for each person. Just because it's cold, doesn't mean you're not sweating! Hiking is a lot of work in any weather and you need to stay hydrated.
We brought along this lightweight travel backpack and these collapsible water bottles, so they didn't take up much space.
Bring sunglasses, too.
That might seem a bit silly, but even on an overcast day the sun can be glaringly bright when it's being reflected off the white surface of an ice glacier.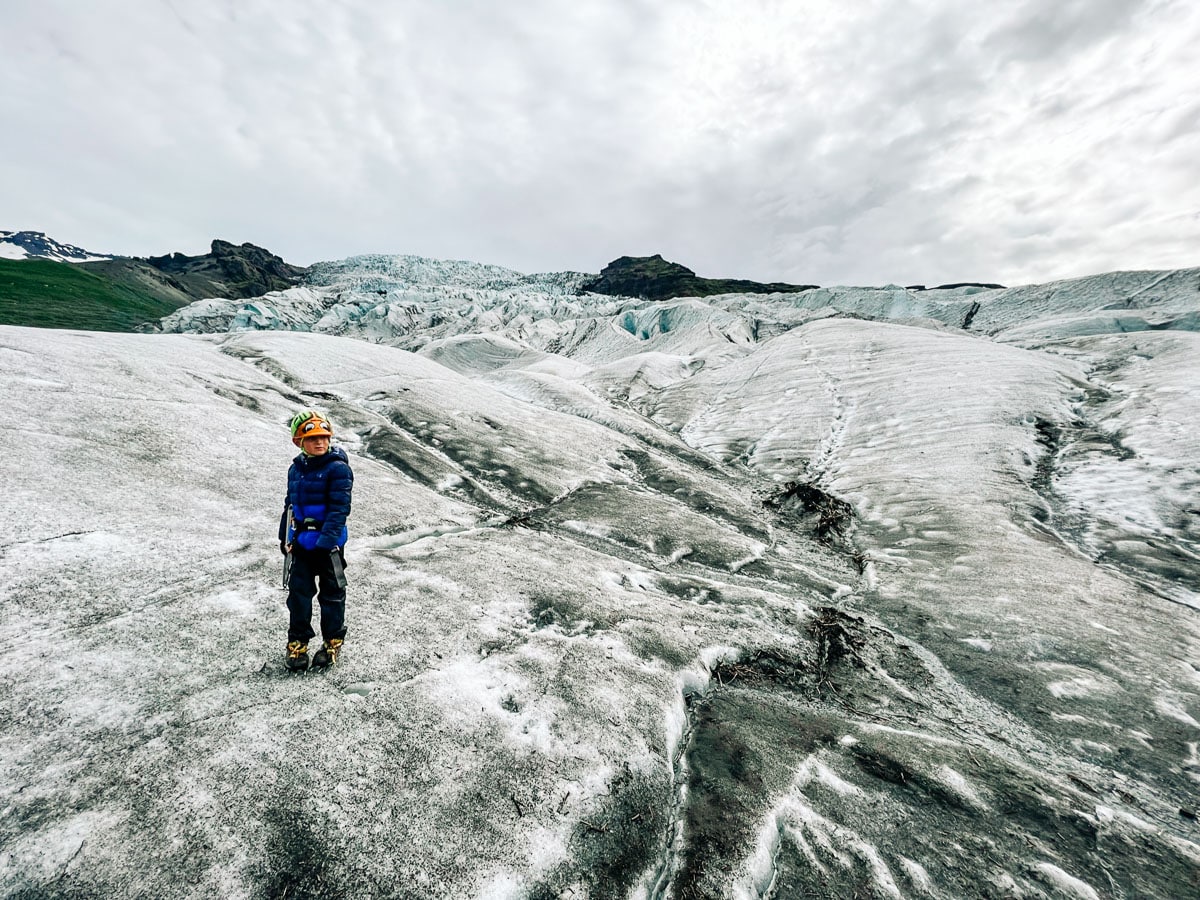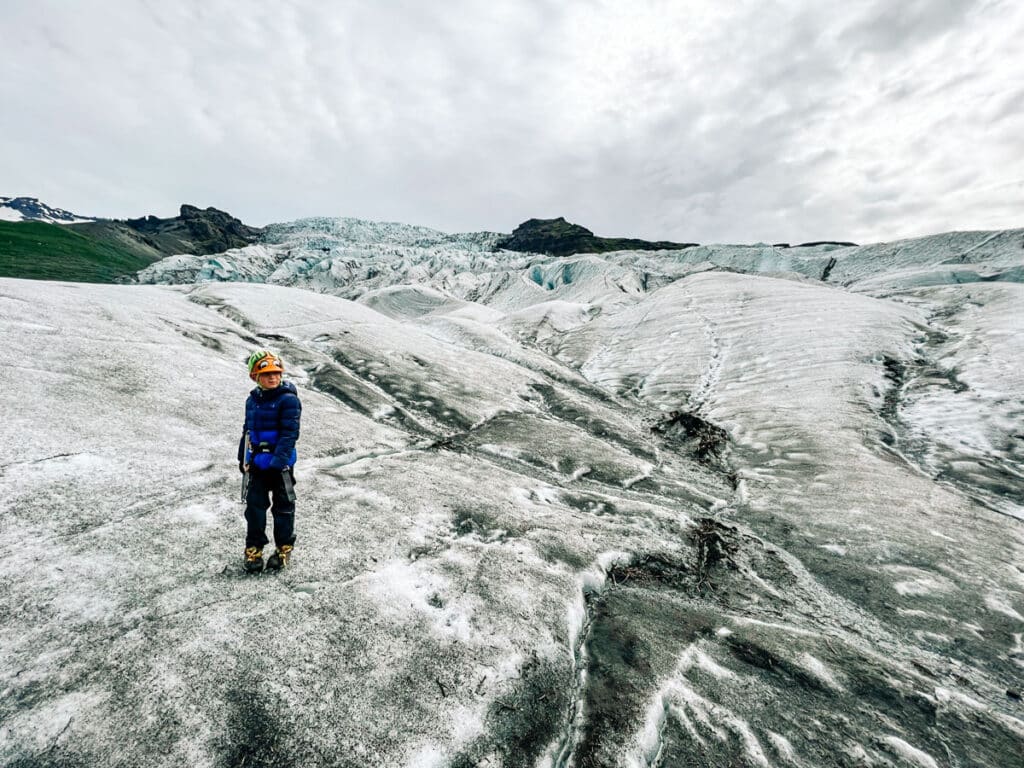 How hard is a glacier hike?
We didn't find the hike itself to be all that difficult, or at least not any more difficult than any other type of hike. Heck, climbing the steps to the top of Skogafoss was a lot harder!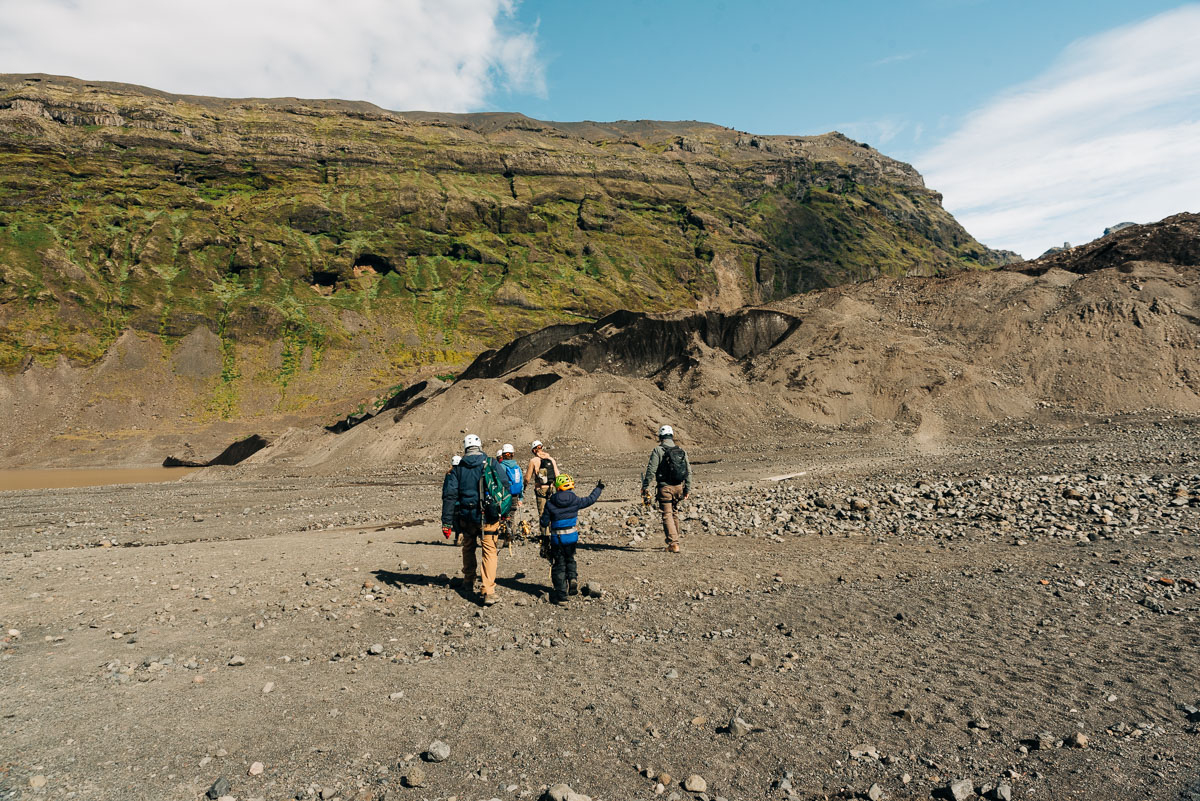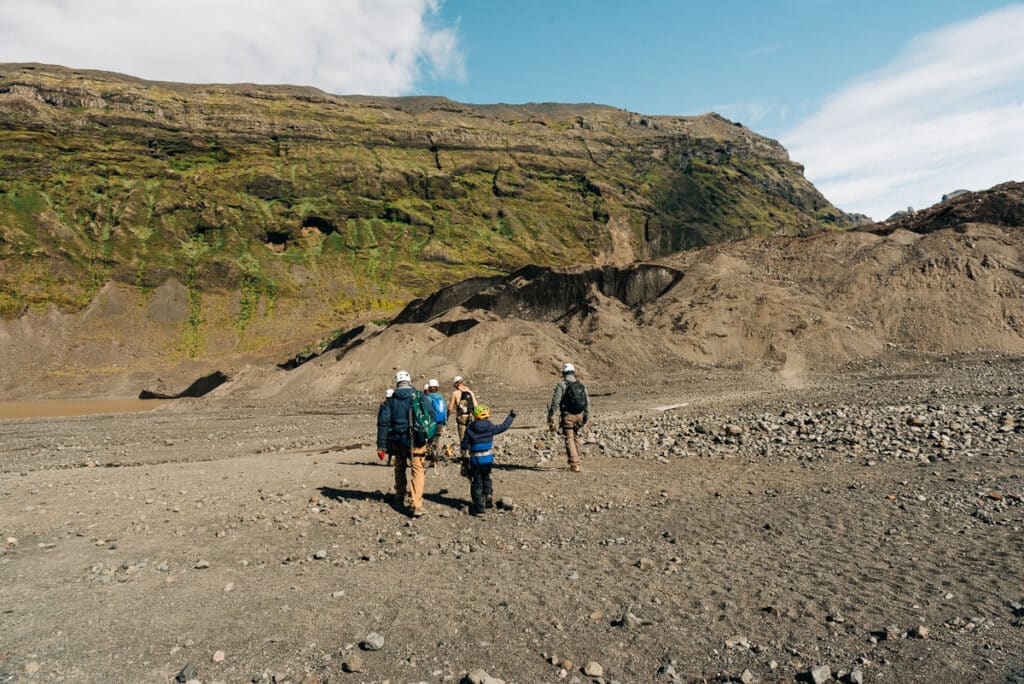 Climbing the initial ascent to reach the face of the glacier was the steepest part, and then it was relatively flat. Of course, walking with the crampons can be a bit tricky to get the hang of at first.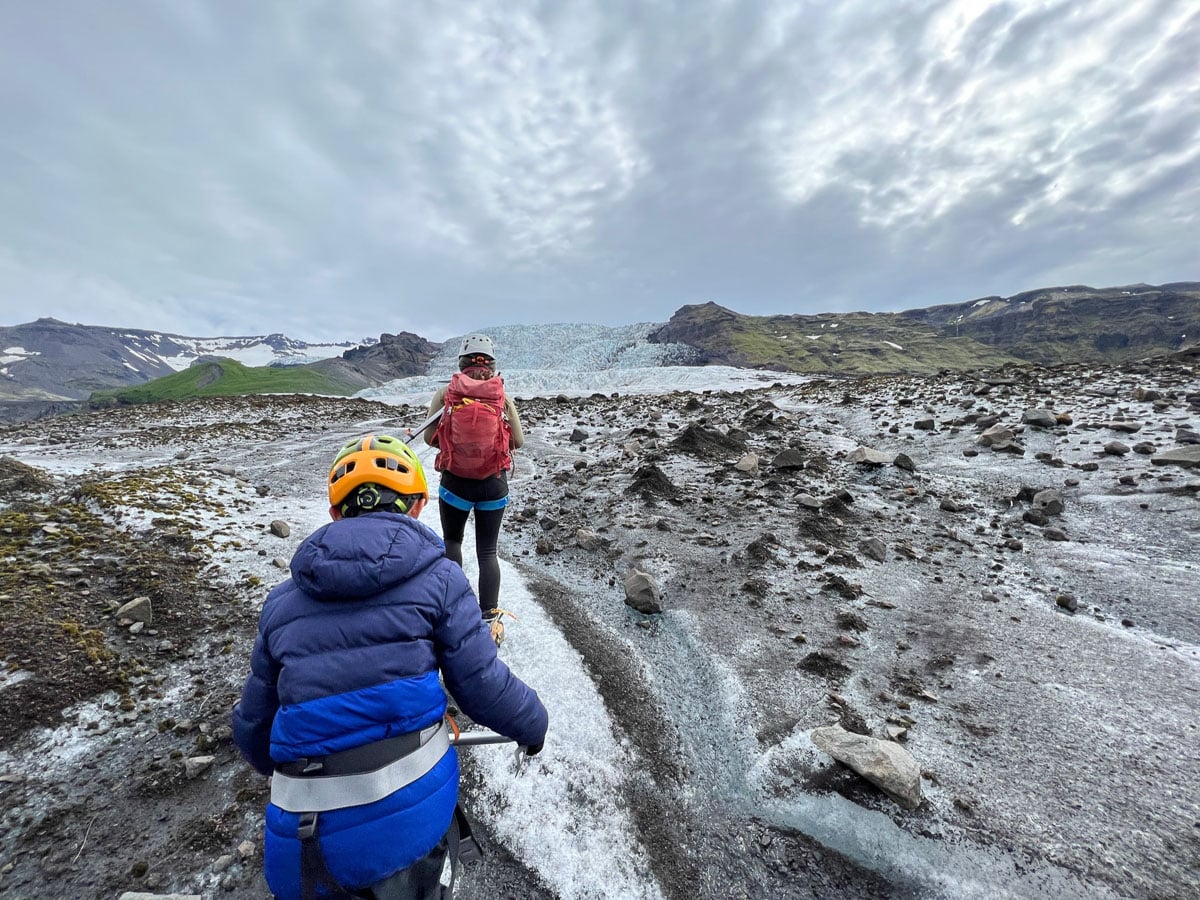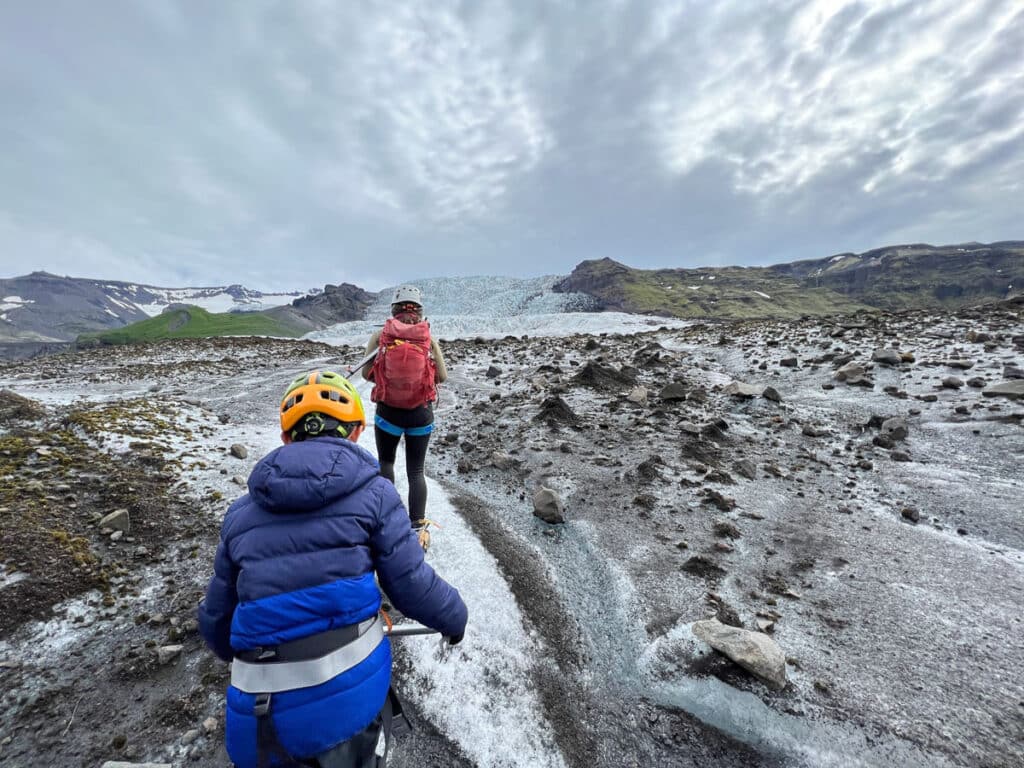 You will want to make sure everyone has a reasonable level of physical fitness, but no need to be an athlete or anything.
And with kids – you know your kids best. You want to feel confident that they can keep up with the group for the length of the tour and that they will follow instructions while on the ice.
Is glacier hiking dangerous?
It definitely can be! But that's why you go with a properly trained tour guide. Our guide was very familiar with the glacier and carefully led us around on the safest paths. She checked the ice for safety, steered us away from unsafe areas and deep crevices, and made everyone feel very safe and comfortable.
Which glacier hike tours are best for families with kids?
We personally did this small group glacier hike with Melrakki Adventures. The group had a maximum of eight people, which in our case was two families. It was just the right length for us, and the tour guide was excellent with my 8-year old son.
More Iceland Trip Planning Resources
If you're planning the ultimate trip to Iceland, be sure to check out these other helpful articles: