If you're looking for the best place to stay in Iceland's Golden Circle, you can't go wrong with the beautiful Hotel Geysir near the Geysir Hot Springs. We had a chance to stay at this lovely property and check out their rooms, restaurant, and location. Here's our full review of the hotel!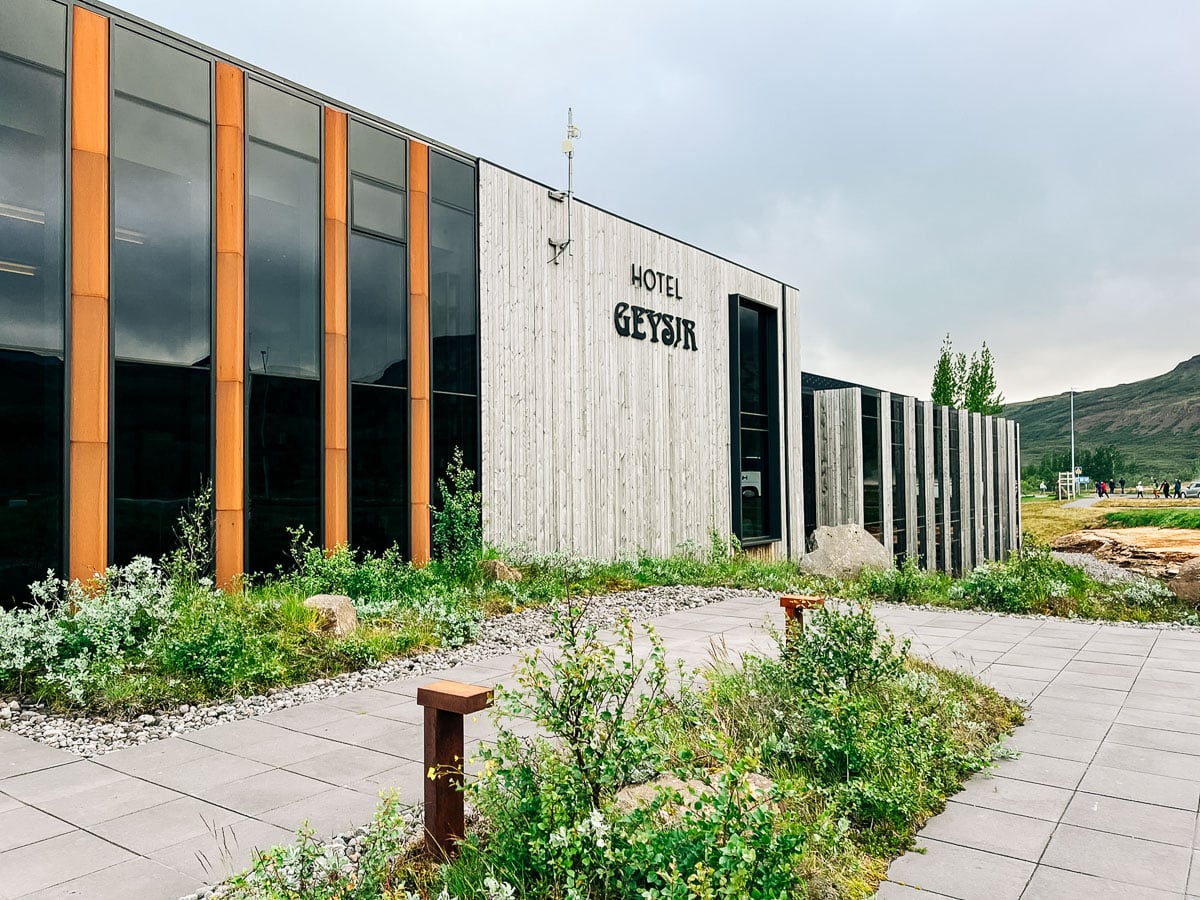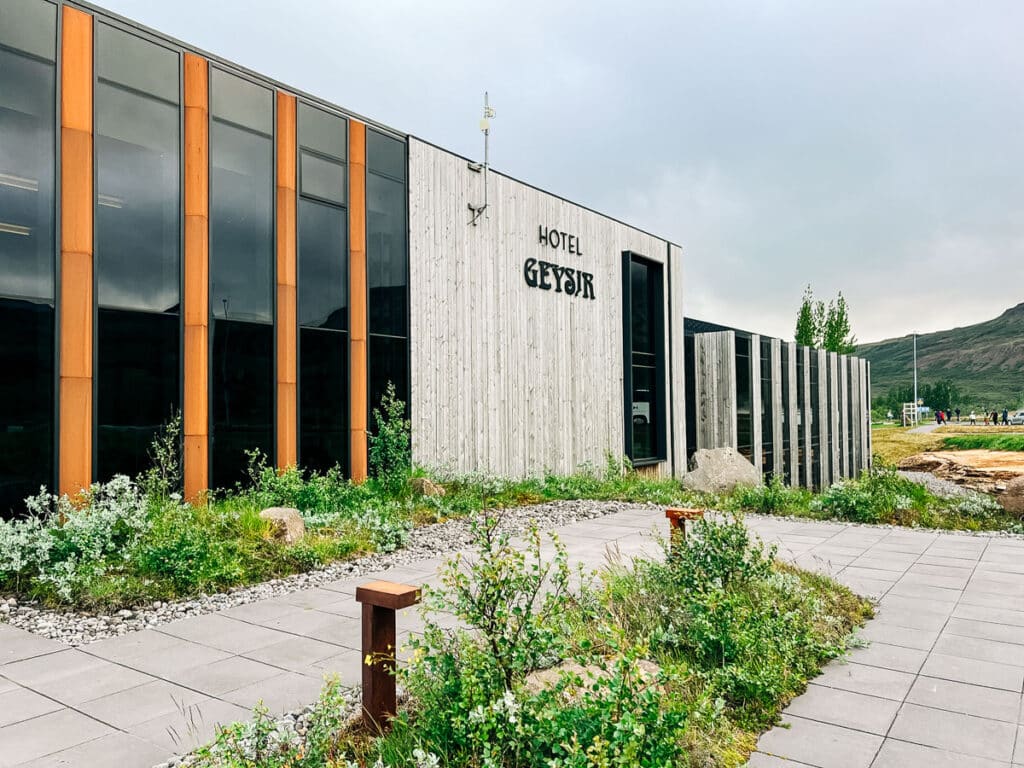 Location
Hotel Geysir is directly across the street from the famous Geysir Hot Springs, where you can see the famous Strokkur geyser erupt at all hours of the day and night. The location doesn't get any more convenient than this – you just walk across the road and you're in the middle of the geothermal area.


In addition, it's only a 10-15 minute drive to the massive Gulfoss Waterfall, a can't miss attraction. And it's a great base for exploring the Golden Circle. Many tourists whip through the Golden Circle in just a single day as a day trip from Reykjavik. But if you want to take a more leisurely approach, this is a great place to spend the night as it's roughly halfway around the loop of the Golden Circle.
Rooms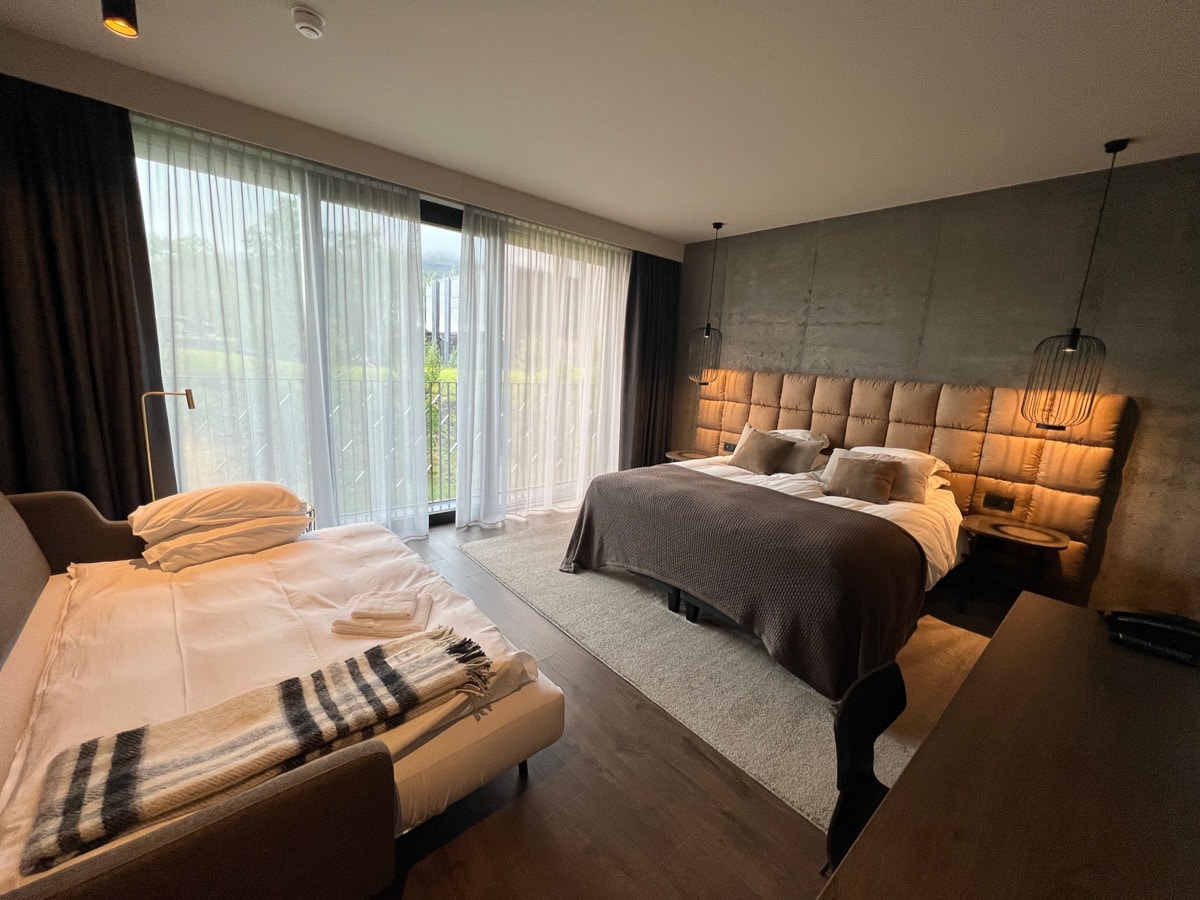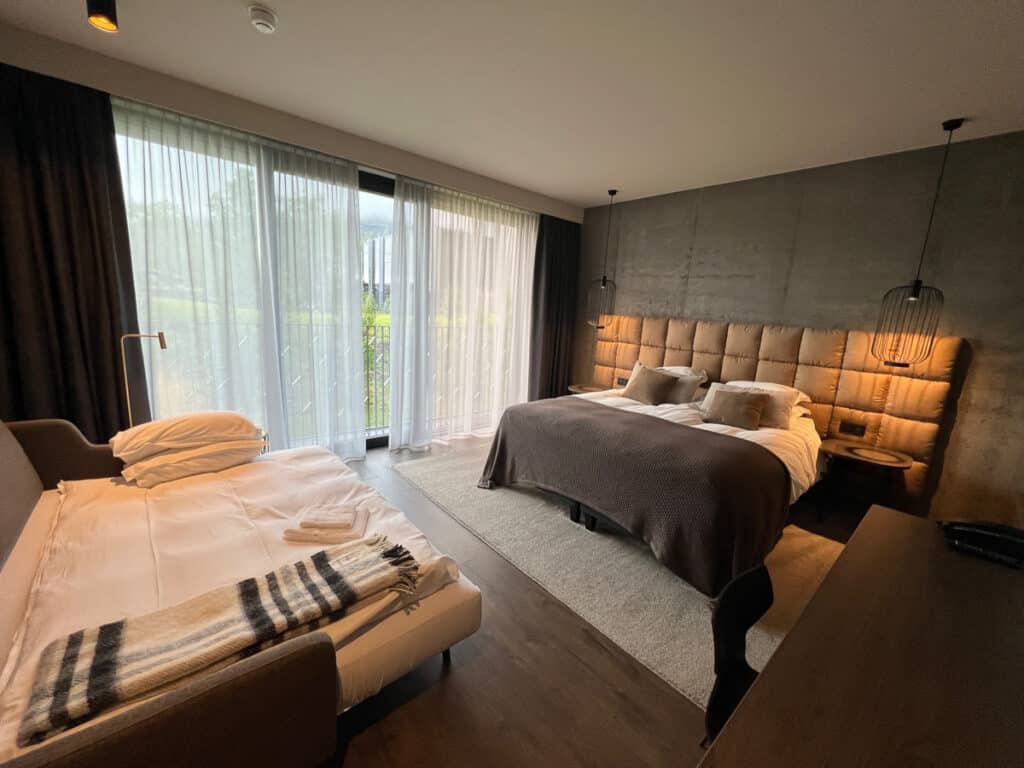 The room here was really nice and comfortable – very clean and modern. We were booked in a Deluxe room, which had plenty of space and a great little balcony for getting some fresh air.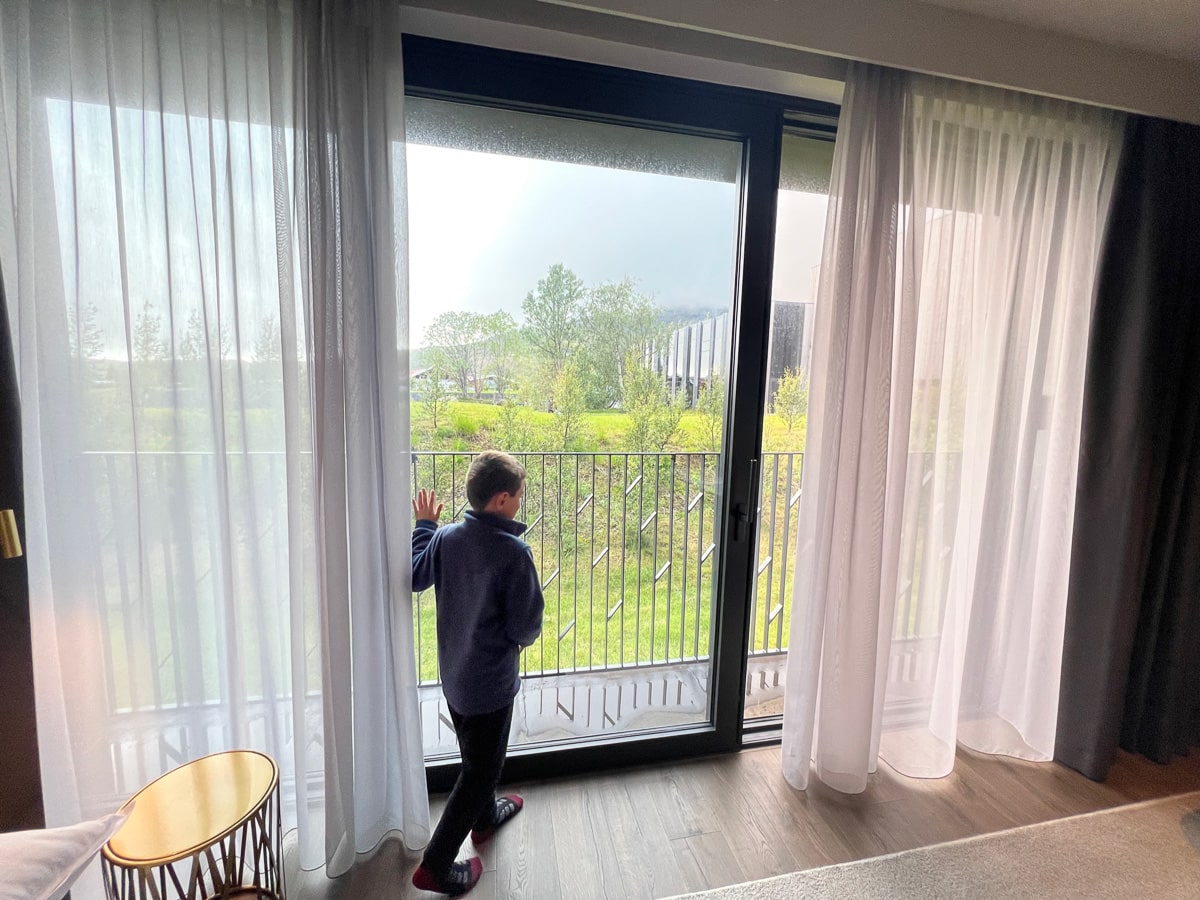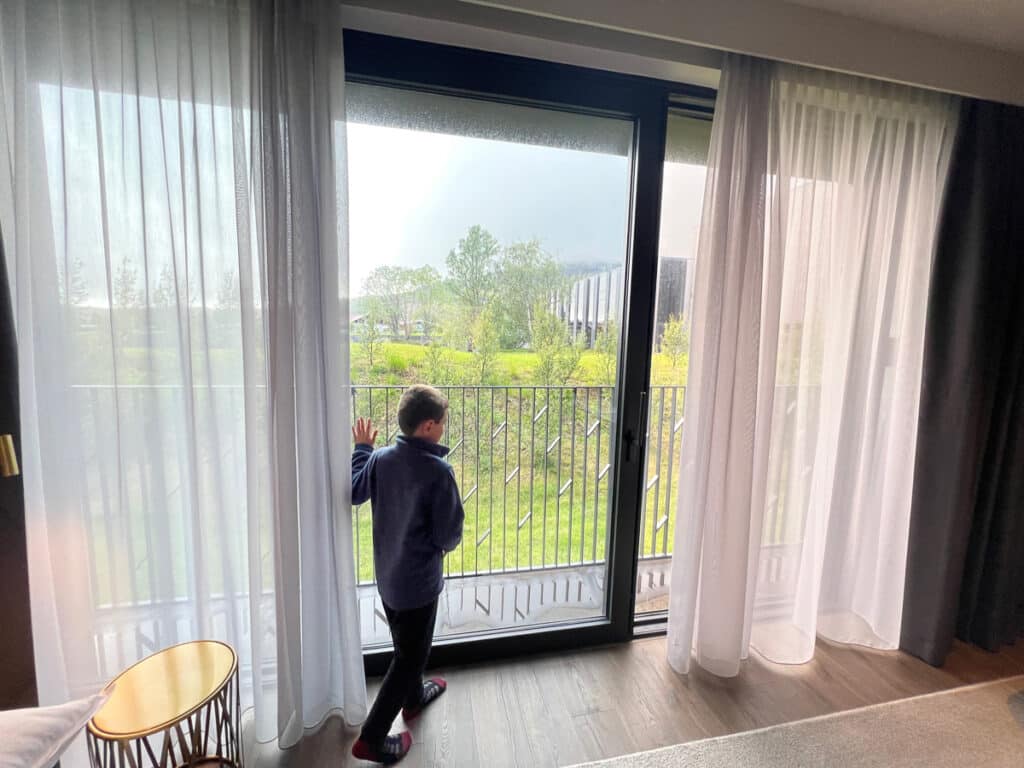 The bathroom was huge, with a giant bath tub too, which my seven year old totally took advantage of!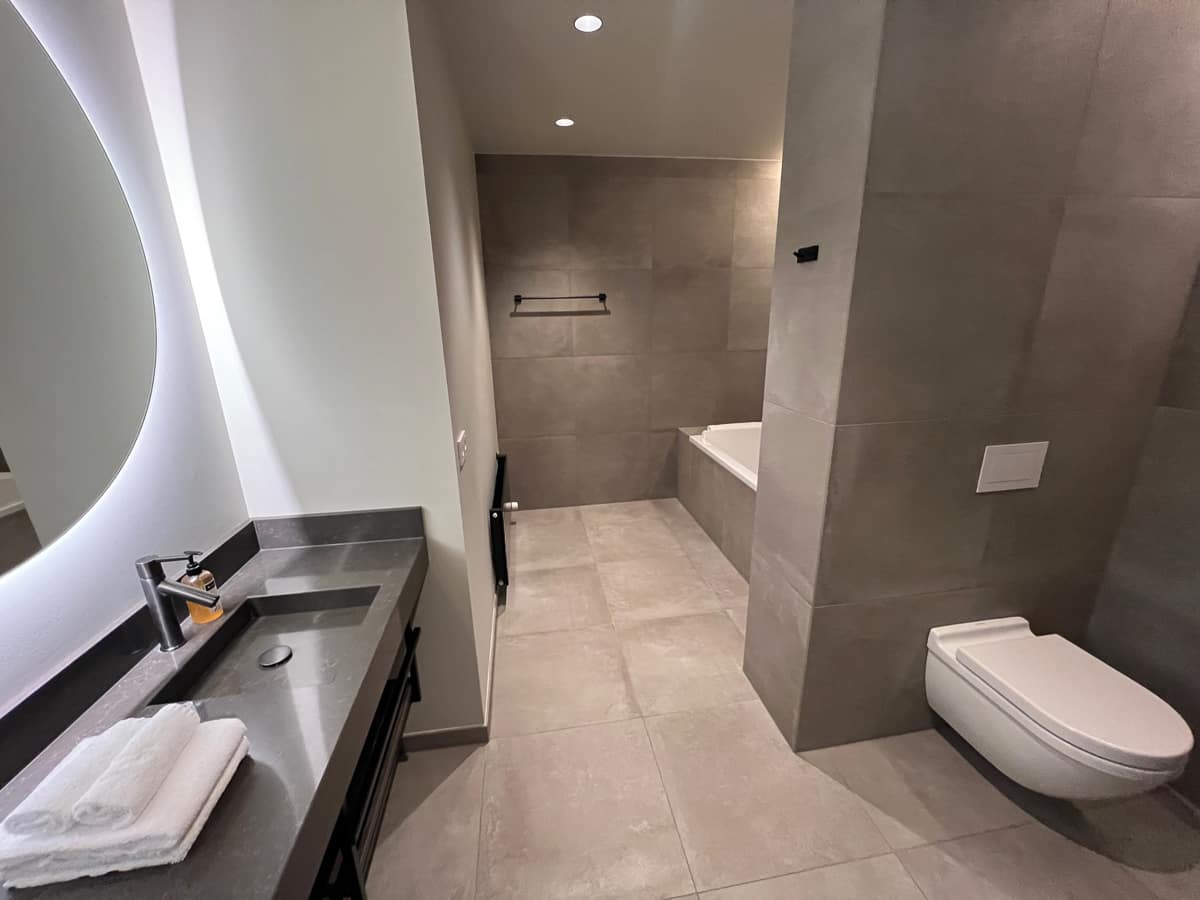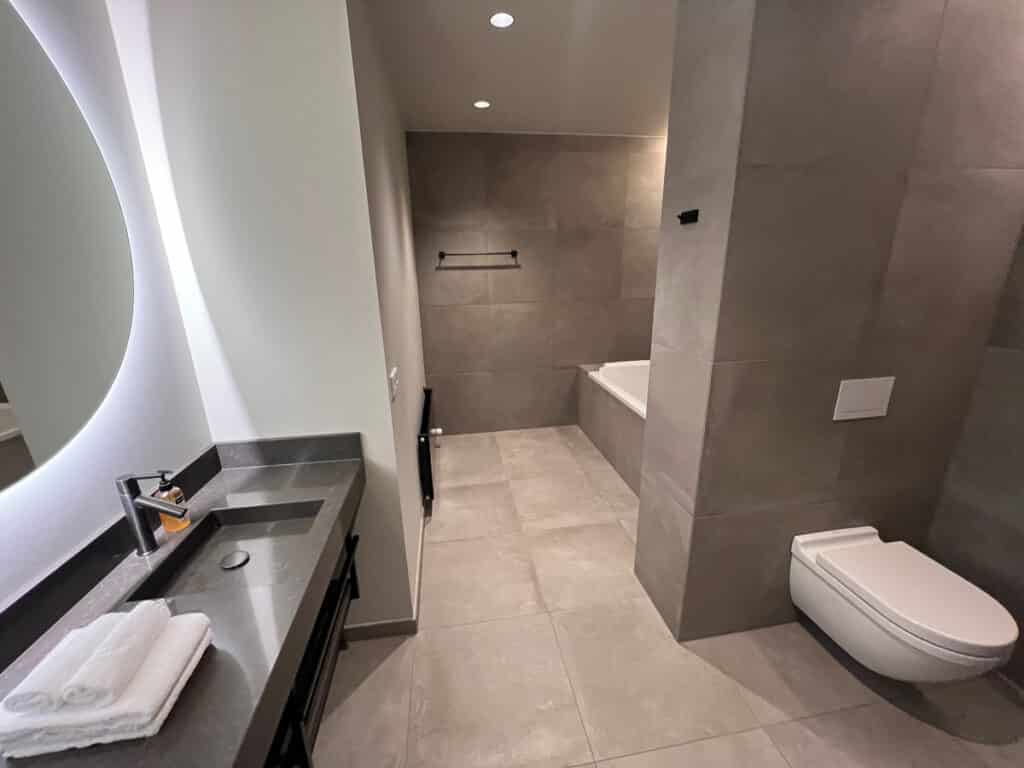 The room was full of all the little creature comforts that you would expect in a high end hotel. Fancy coffee maker. Lots of storage for luggage. Outlets by the beds. True blackout curtains – critical with Iceland's midnight sun. And it was the only place we stayed with a true king size bed – not two smaller beds pushed together.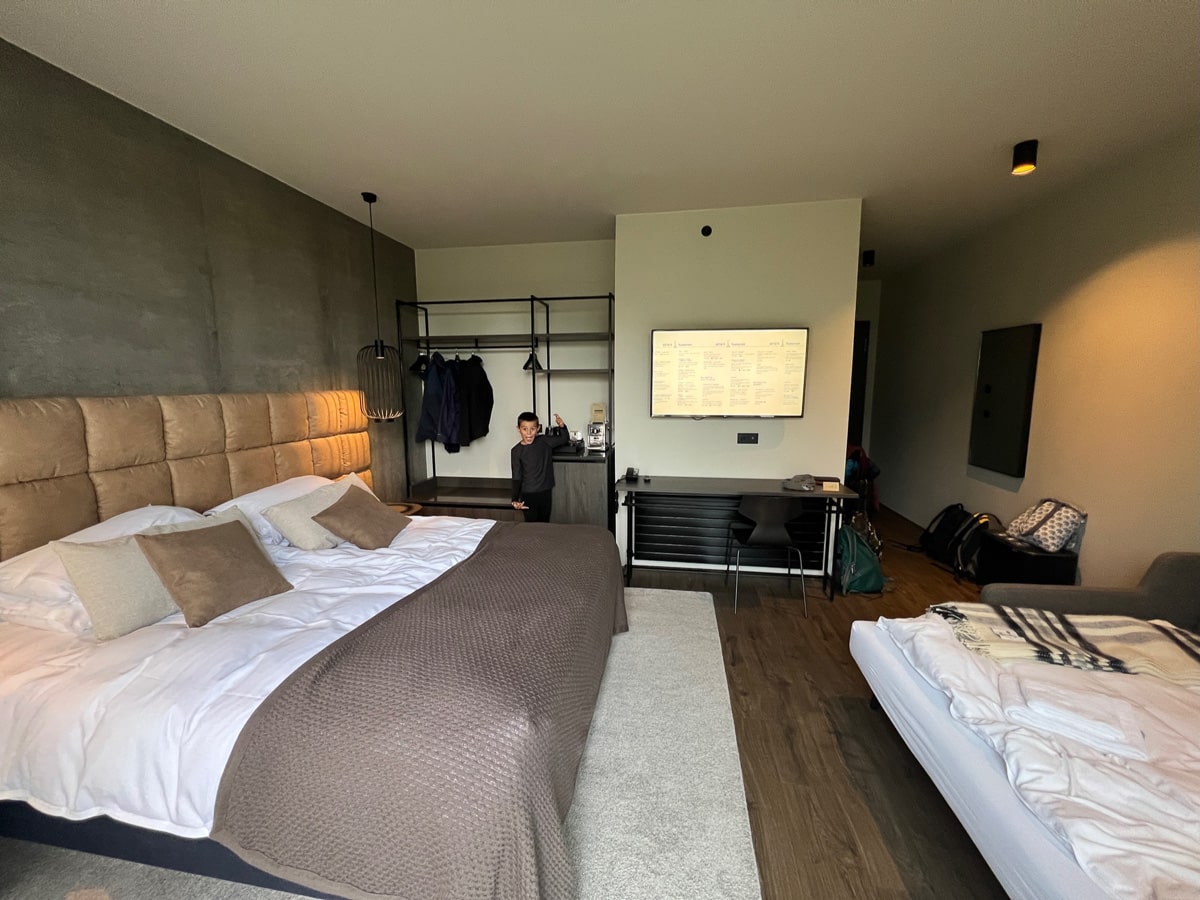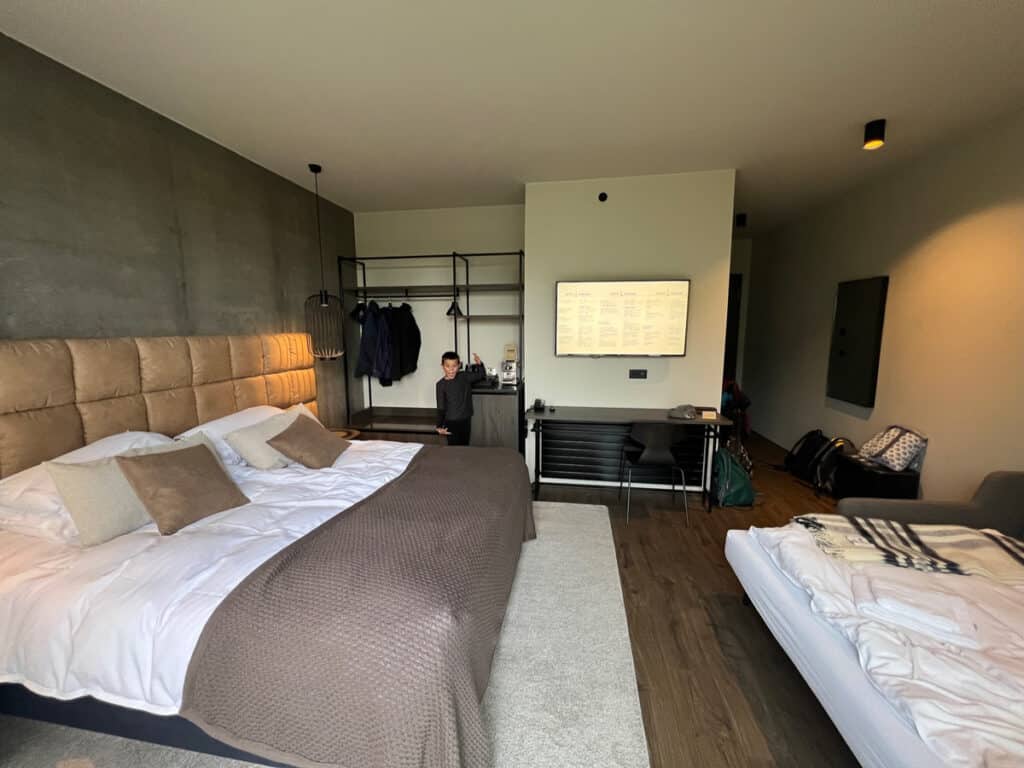 It's worth nothing that this is the only one of seven hotels on our Iceland trip that charged me an extra fee for the third bed. Everyone else included it free of charge for kids under a certain age. And that "third bed" was a pull out sofa, which is obviously always in the room anyway. But even with that extra charge, this was still one of the least expensive hotels on our vacation, and one of our favorites, so I would still say it was an excellent value.
The only real downside to the room was that there was no mini fridge, which is always nice to have on a road trip and when travelling with kids in general.
Amenities
The hotel has a large free parking lot, which is reserved for hotel guests. This was actually a great feature because if you had to share parking with all of the tourists visiting the Geysir Hot Springs, it would be very hard to get a spot.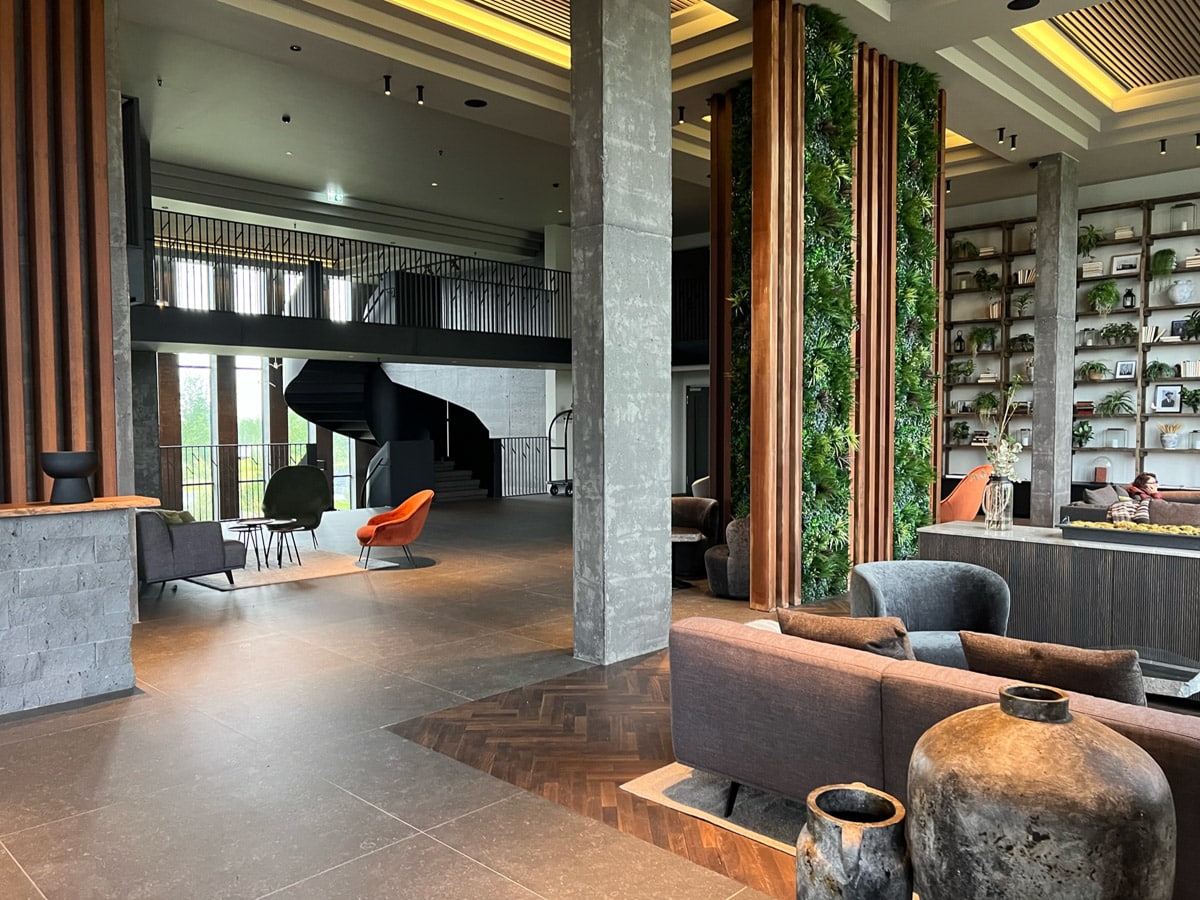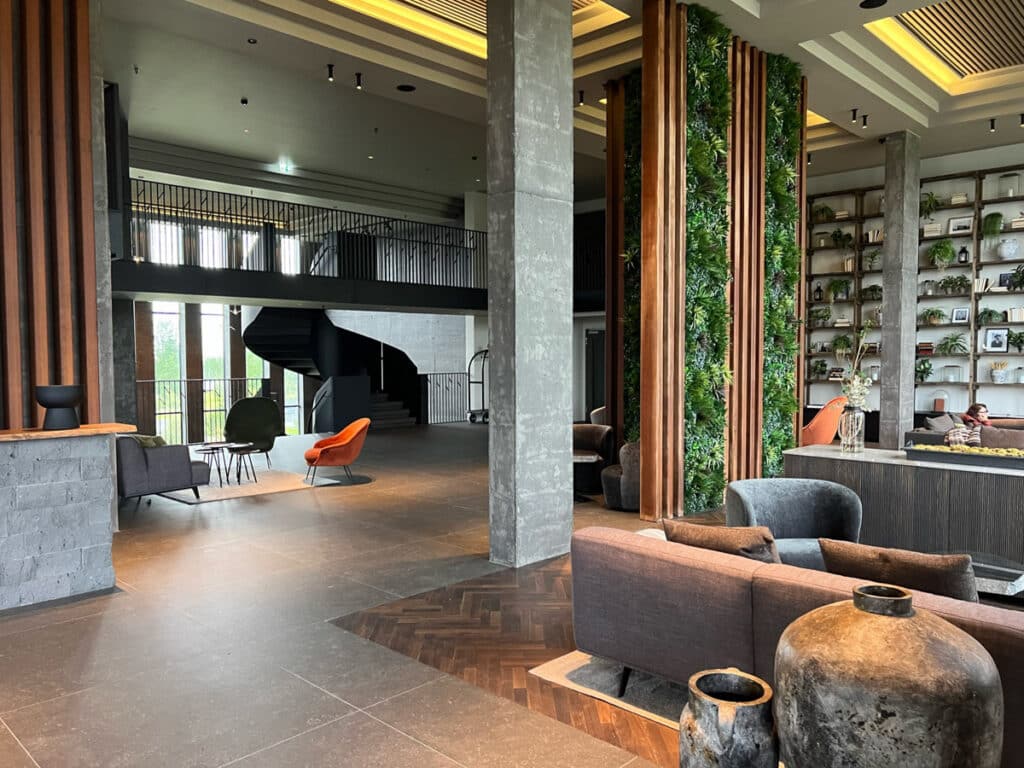 There are many beautiful lounge areas throughout the hotel, both on the reception level and adjacent to the excellent restaurant and bar.
And breakfast was included, with a huge spread of hot and cold options.
Geysir Restaurant
We had the chance to eat dinner at their lovely restaurant, and it was honestly one of the best meals we had on our whole trip!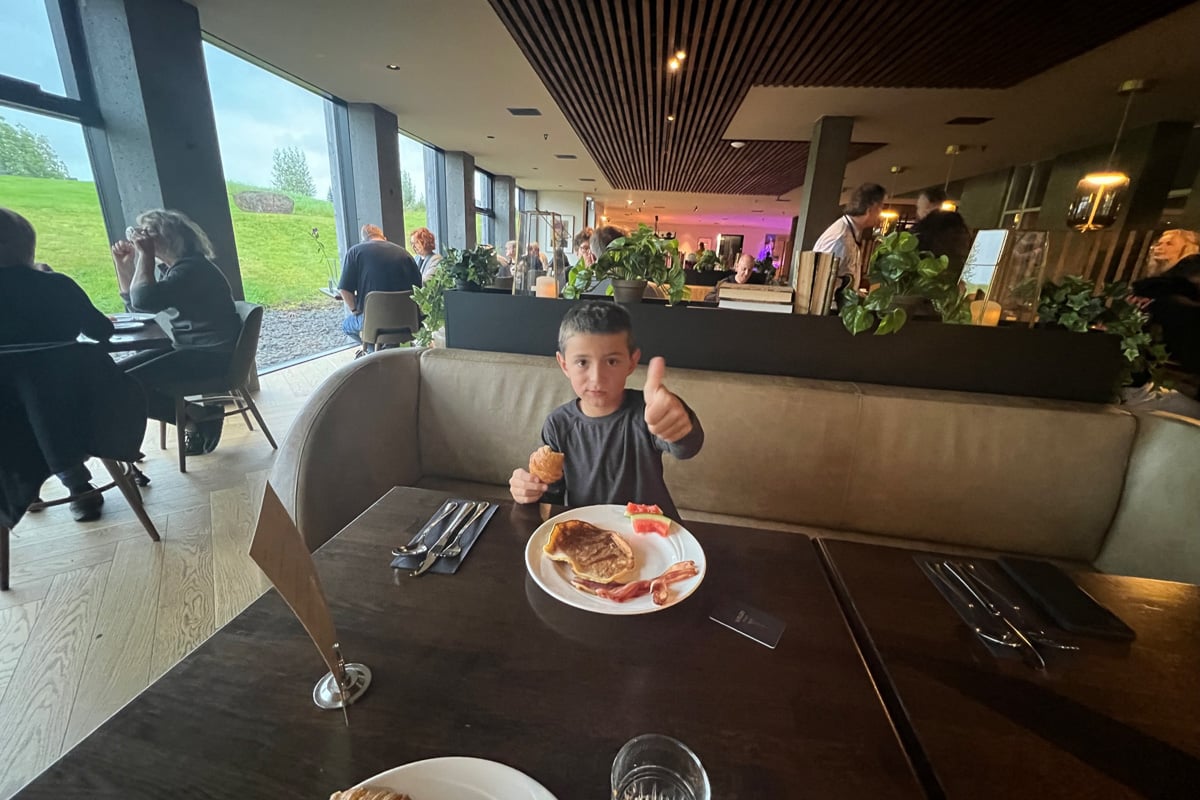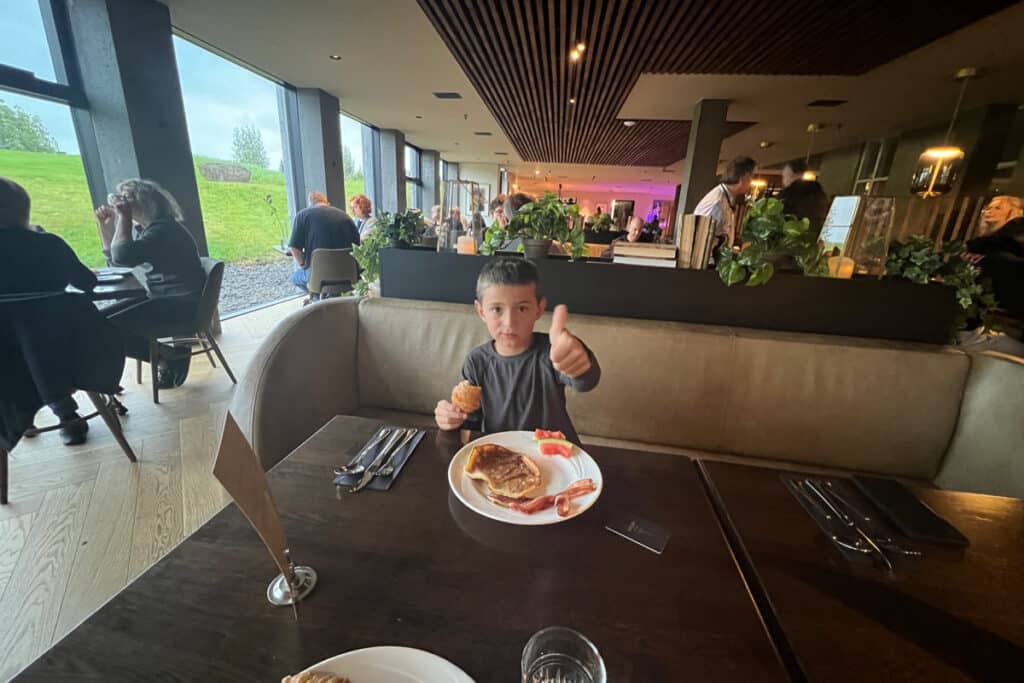 We opted for the tasting menu, which included an appetizer, main course, and dessert. And I was thrilled to see that there were totally delicious vegetarian options as well, which I couldn't pass up! I had the beet carpaccio and a delicious leek risotto. So good.
They also had a great kids menu for the little one. And when we asked if they had any ice cream for dessert, they served him up a bowl with three different types of ice cream to try!
Would we stay here again?
Yes, absolutely. This was one of our favorite hotels of the trip, and the location can't be beat for exploring the Geysir Hot Springs and other Golden Circle attractions. You can't go wrong with this one!
Check Rates & Availability
We book our rooms via Booking.com whenever possible and the reason is simple – they have much more flexible cancellation and refund policies than you'll find when booking direct at most places. In this case, I wasn't charged until just a few days before our trip and I could have cancelled with no penalty up until then. Very important with international travel – you never know what will happen.
You can check availability and rates for Hotel Geysir here.
More Iceland Trip Planning Resources
If you're planning the ultimate trip to Iceland, be sure to check out these other helpful articles: