Our recent trip to Iceland took us across Iceland's South Coast, including a stop at the lovely town of Vik. We had a chance to stay in Hotel Kria and try out all of their amenities – here is our full review of the hotel!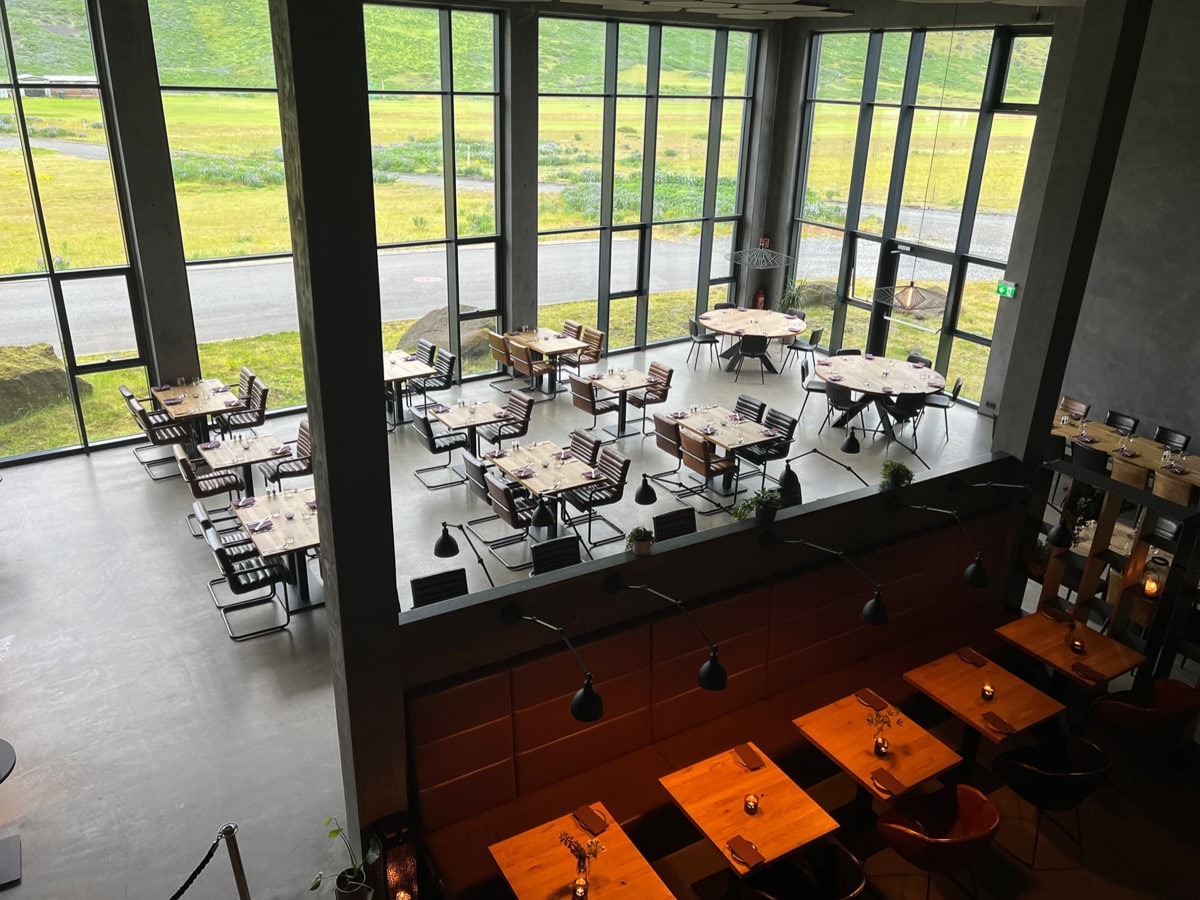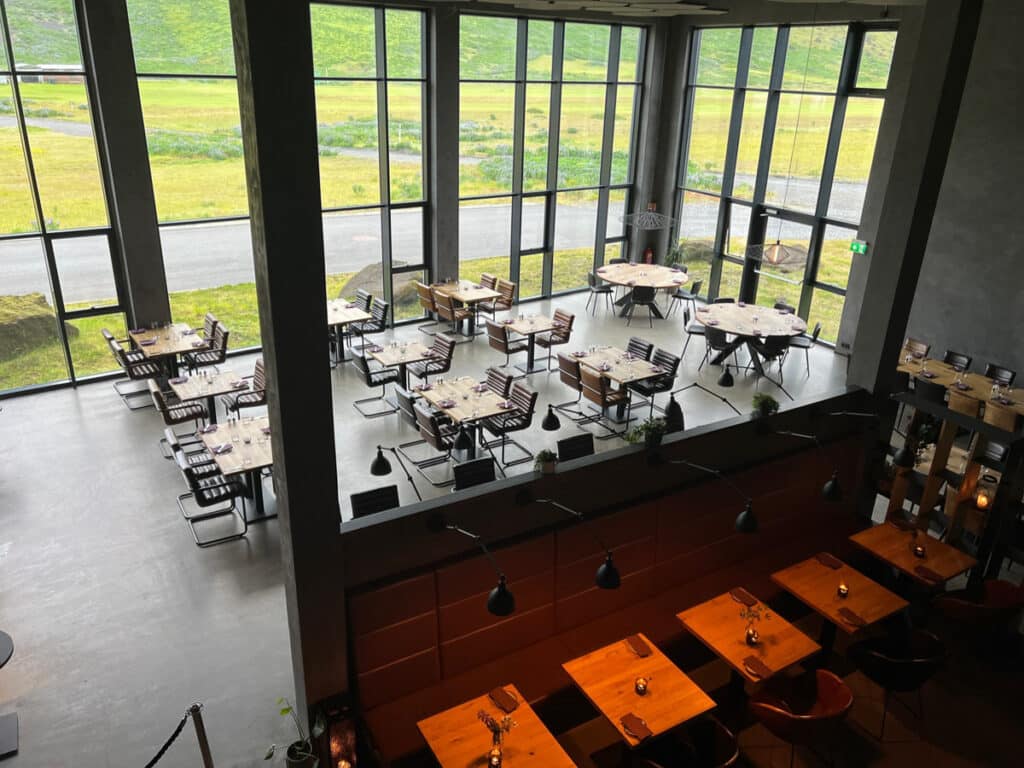 Location
It doesn't get much more convenient than this for a stay in Vik! The hotel is within walking distance of the center of town, with easy access to several good restaurants and a pretty black sand beach.
(Note it is not walking distance to the famous Reynisfjara Beach – you will need to drive to reach that.)
Directly across the street is a gas station, a grocery store, and an Ice Warehouse where you can pick up any provisions or things you've forgotten to pack. Very convenient.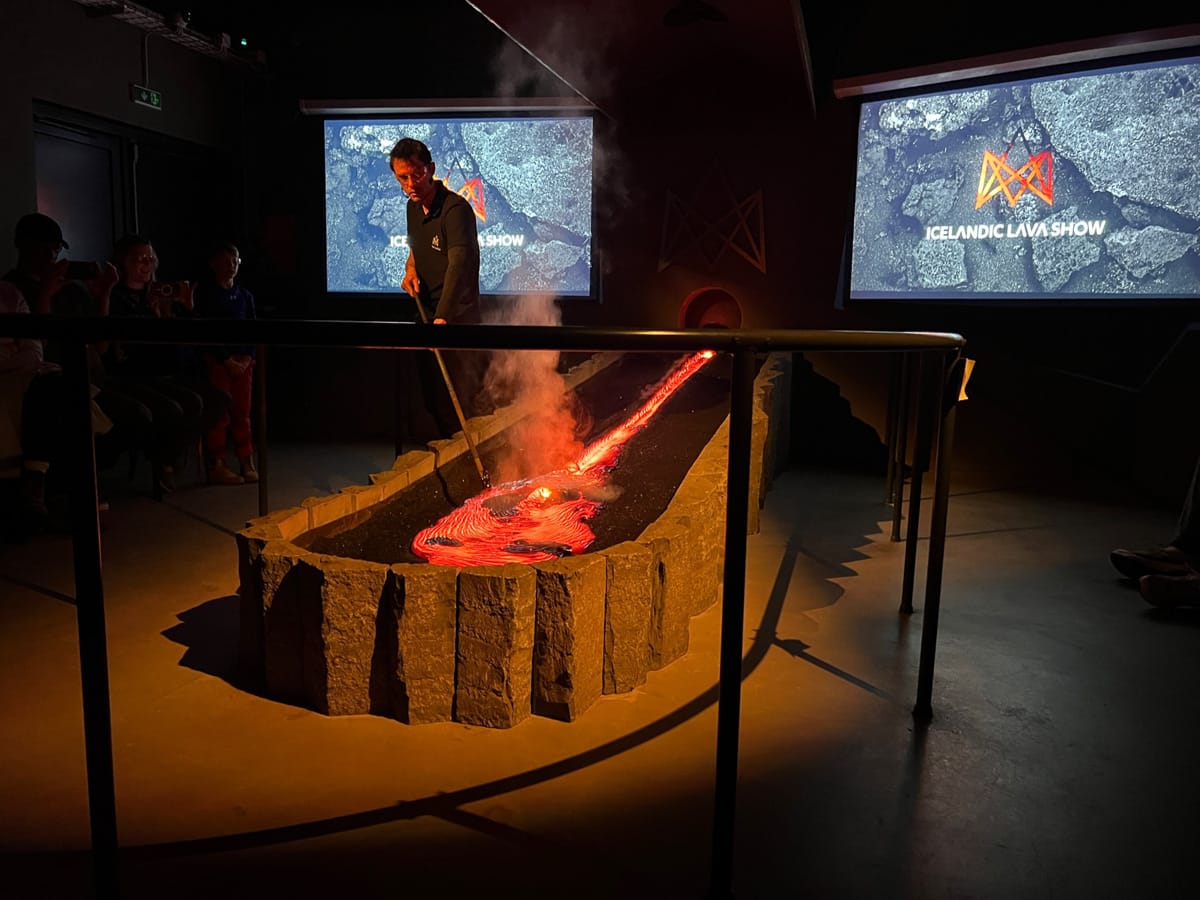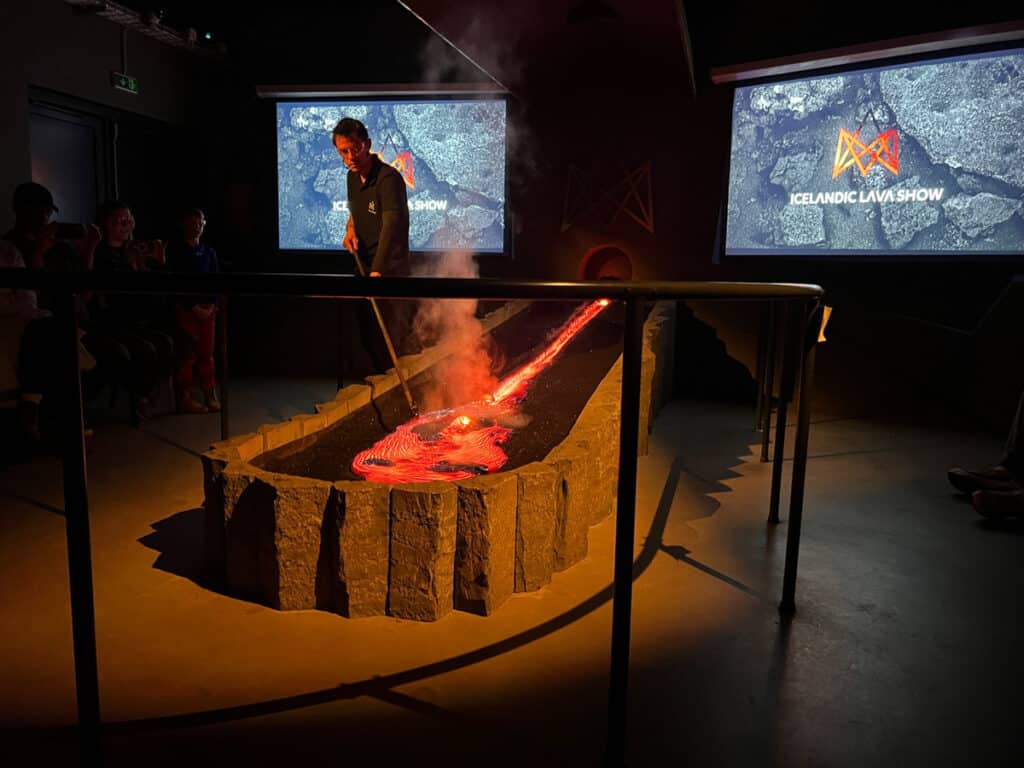 We personally enjoyed walking over to the Black Crust Pizzeria for dinner and then checking out the Icelandic Lava Show in the evening. And in the morning, we had a quick stop at Skool Beans – a coffee shop that lives inside a school bus!
The town of Vik is a great home base for exploring the sites along the south coast. Sites such as Reynisfjara Beach and Dyrholaey Viewpoint are within 15-20 minutes. And attractions like Seljalandsfoss Waterfall, Skogafoss Waterfall, and Jokulsarlon Glacier Lagoon and the Diamond Beach can be reached within a couple hours drive.
The Rooms
The rooms at Hotel Kria were very modern, updated, and comfortable. We requested a third bed and they had it ready and set up for us in the room. There was lots of storage space for luggage.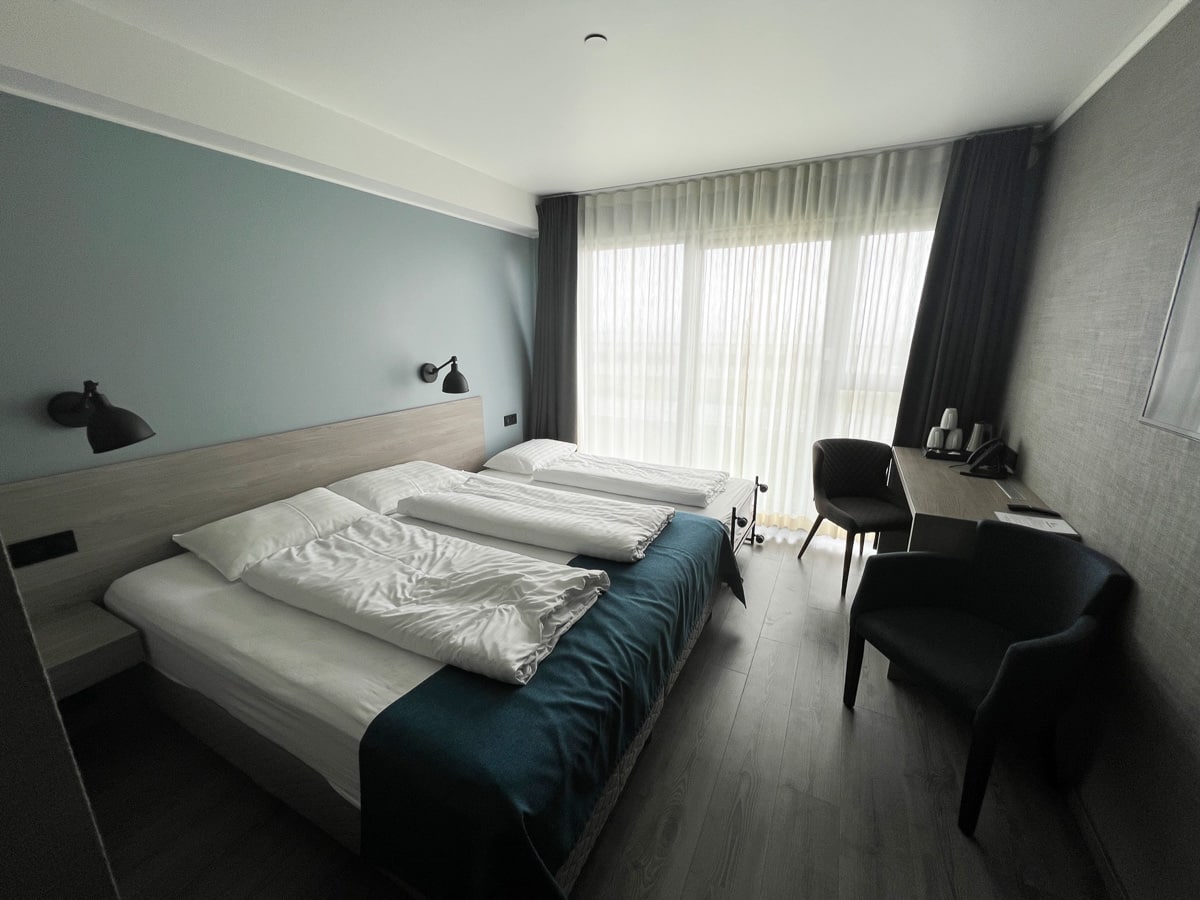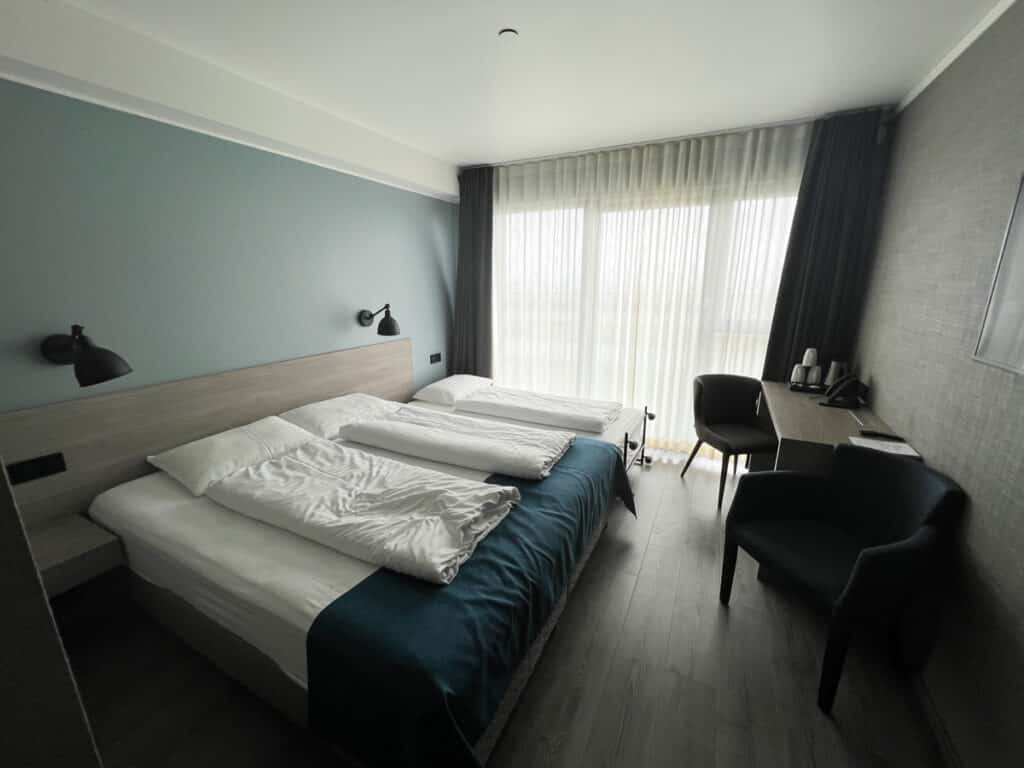 It had all the little creature comforts of a modern hotel room – outlets near the bed, a large desk for working, coffee maker, a real hair dryer (not the stuck to the wall kind), and premium toiletries in the bathroom.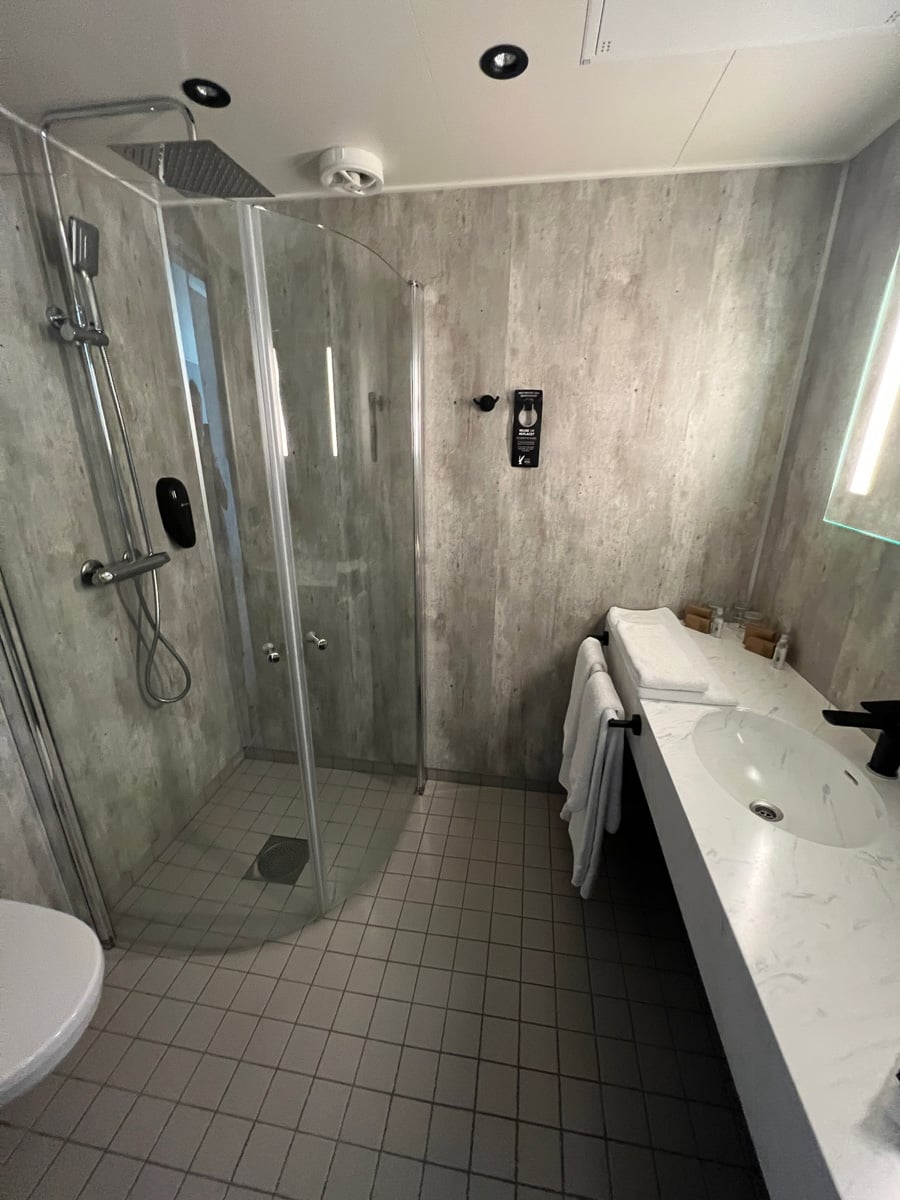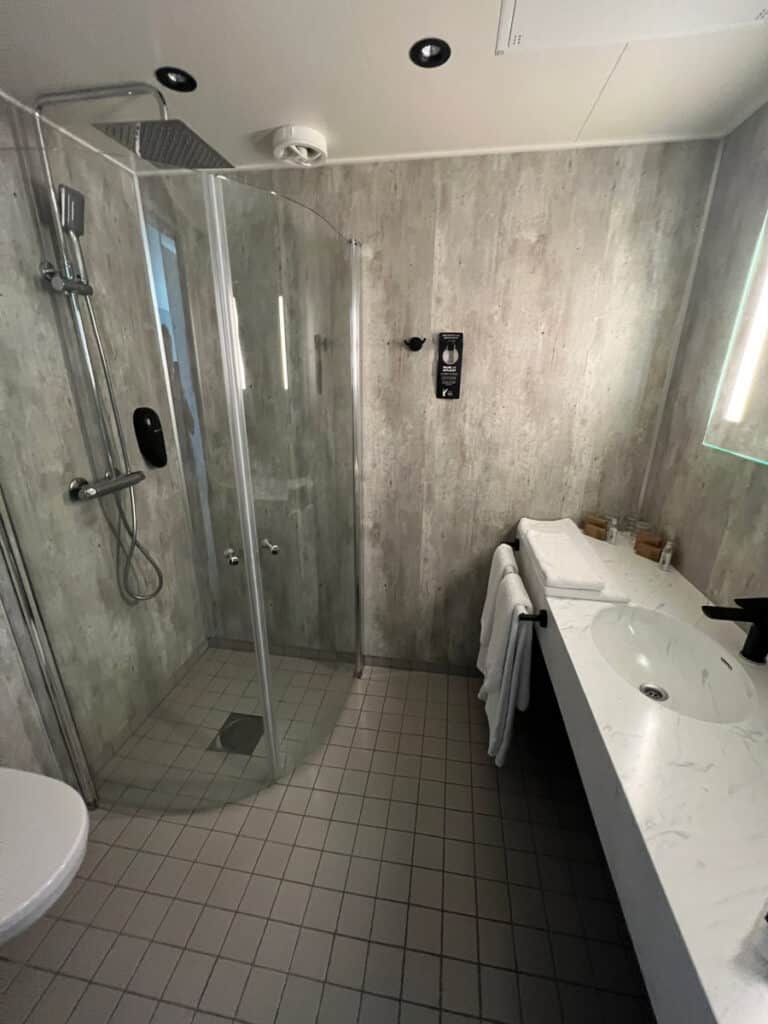 The only negative I found was the absence of a mini fridge, which all of our other Iceland hotels did offer. Minor inconvenience though.
My favorite feature was the French balcony – which basically means that the full length window slides open to turn into a balcony. It was a great way to let in some fresh air and people watch from the room!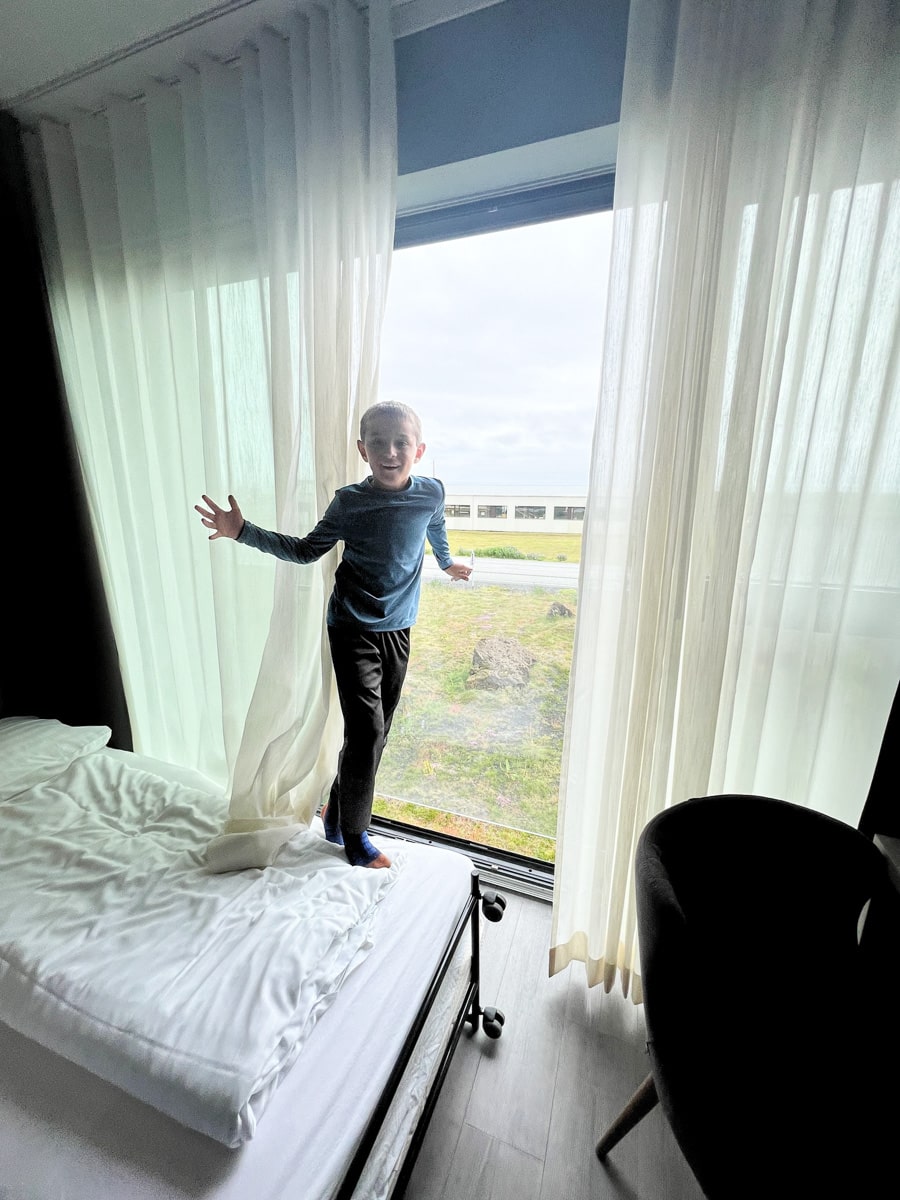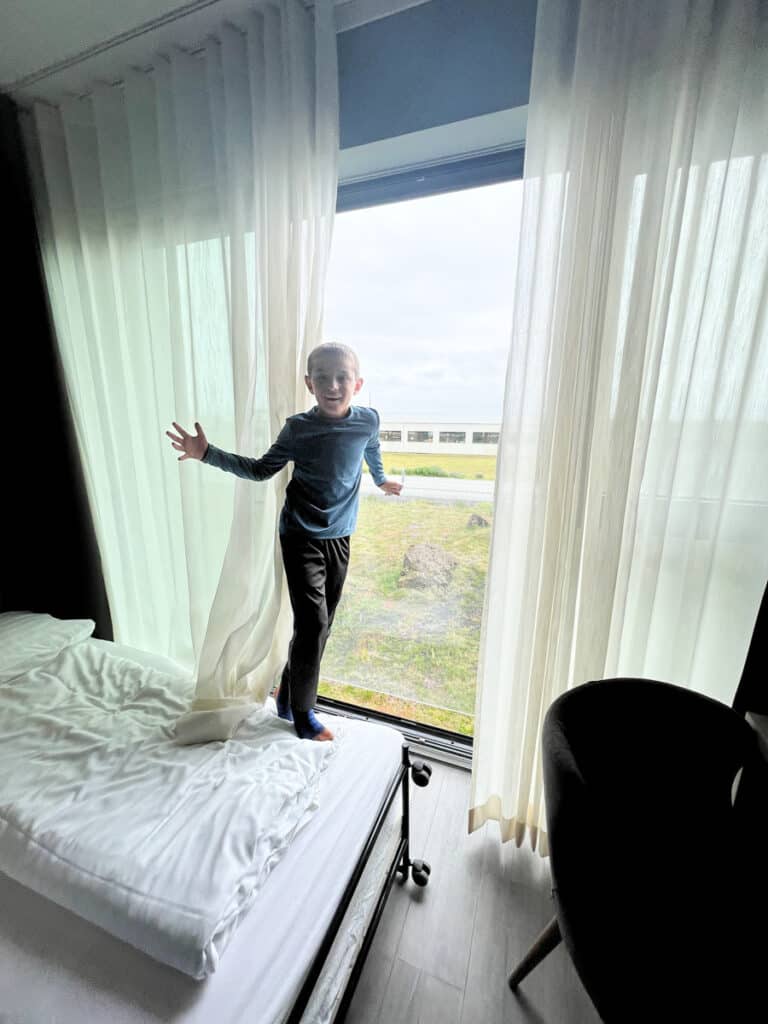 As for the view, don't expect too much on that front. We booked a standard room and due to its convenient location on the main road through Vik, the view was of the gas station and market across the street. That's what you should expect for all the standard view rooms.
There was also an option to upgrade to a Mountain View room. But set your expectations accordingly – there is an awful lot of stuff besides the mountain over there, including a parking lot and other hotels buildings.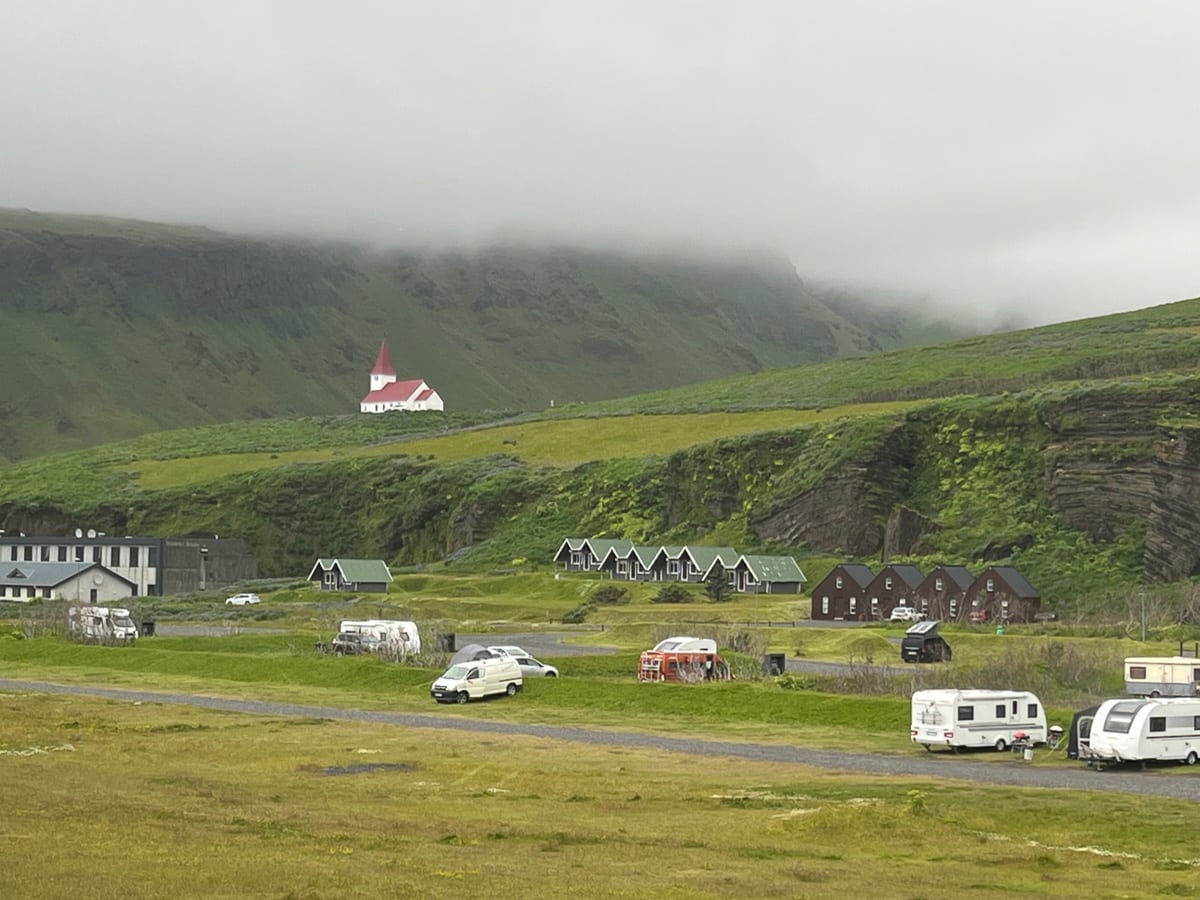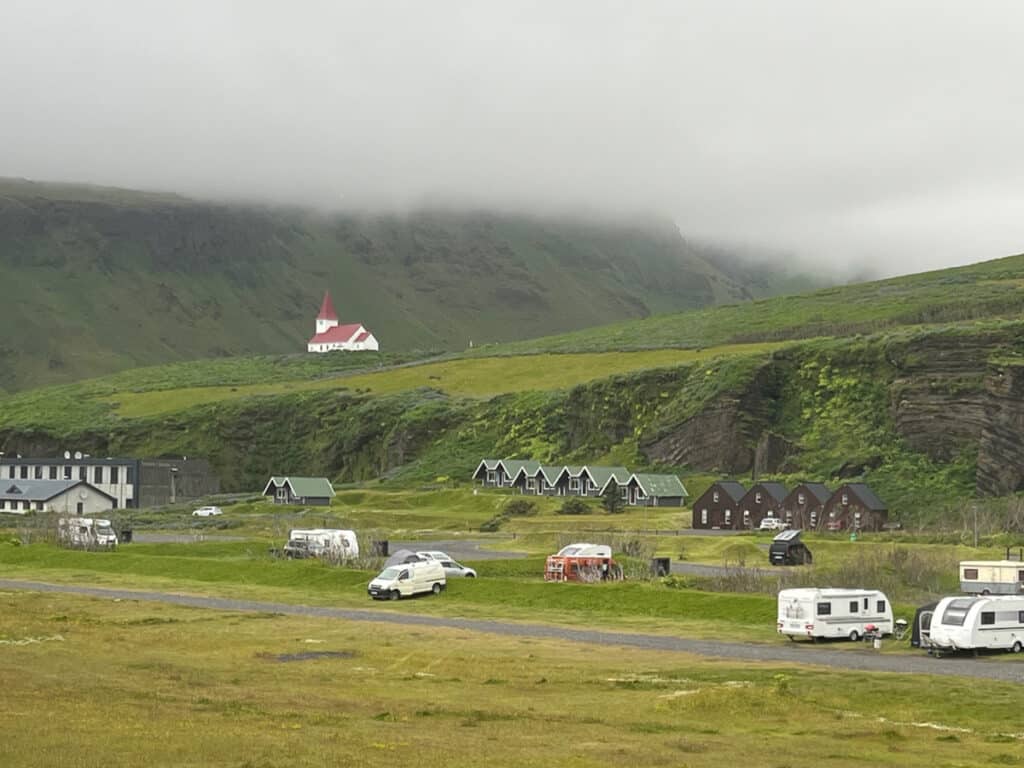 I usually do upgrade for a nicer view as I thoroughly enjoy chilling in my hotel rooms with a glass of wine in the evening, but I didn't think the upgrade was worthwhile at this hotel. Not really a complaint though – just a function of the location.
If are looking for a place with sweeping coastal or mountain views, you'll want to pick a location a bit more removed from town. Something like Black Beach Suites (also in Vik) or Hotel Umi (about 30 minutes west) would be better suited for that. We stayed at both of those hotels as well on our Iceland trip.
Amenities
We absolutely loved the whole look and feel of this hotel – everything was very modern and fresh. The restaurant and bar area were very well done.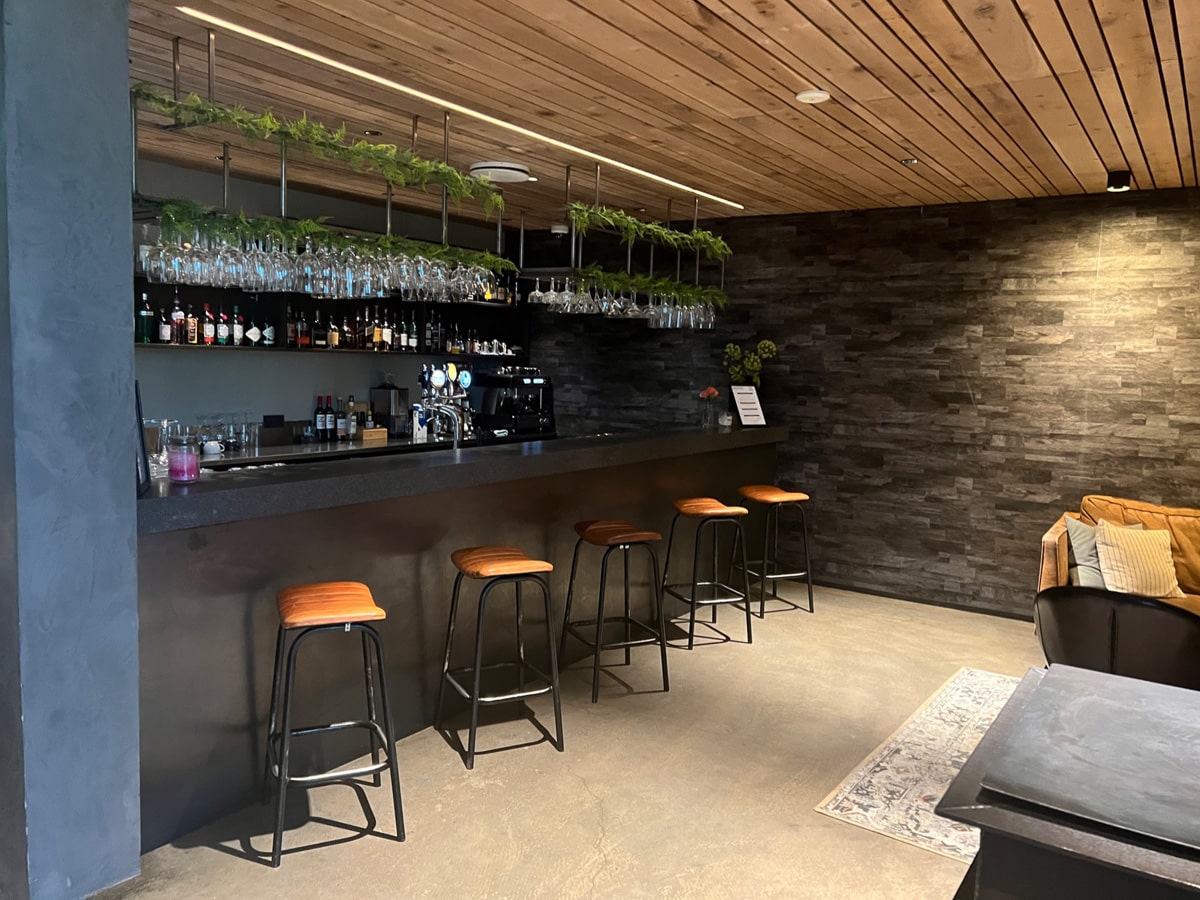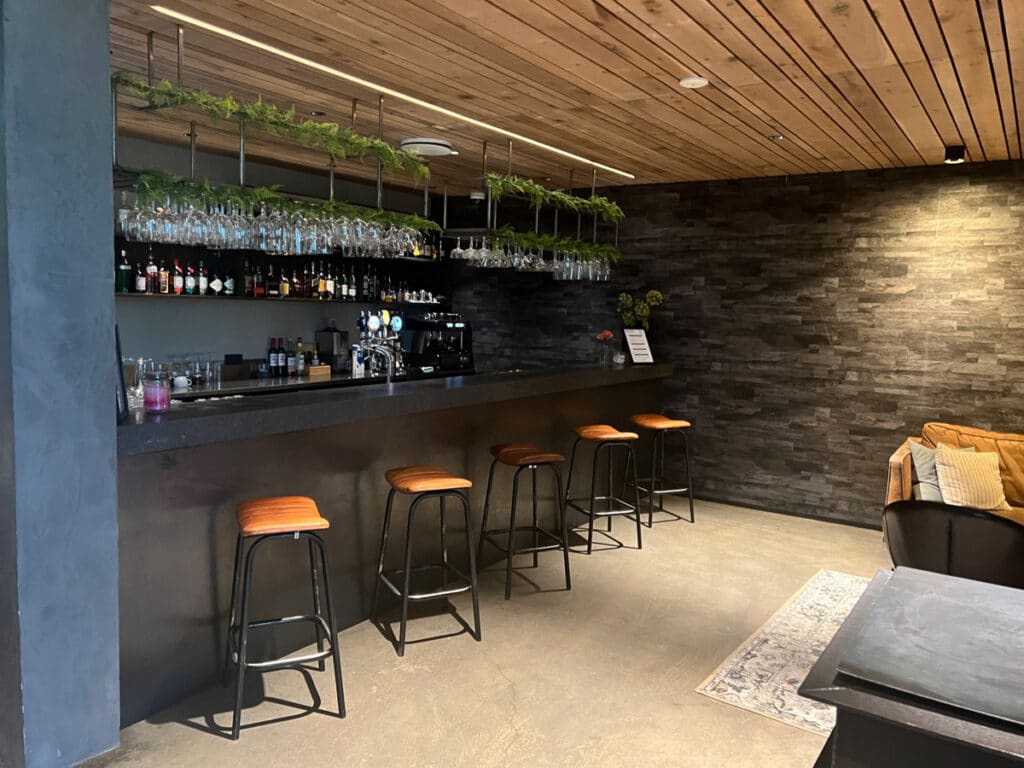 And there was an additional lounge space on the second floor, where I really enjoyed sitting and writing in the evening with a little wine from the bar.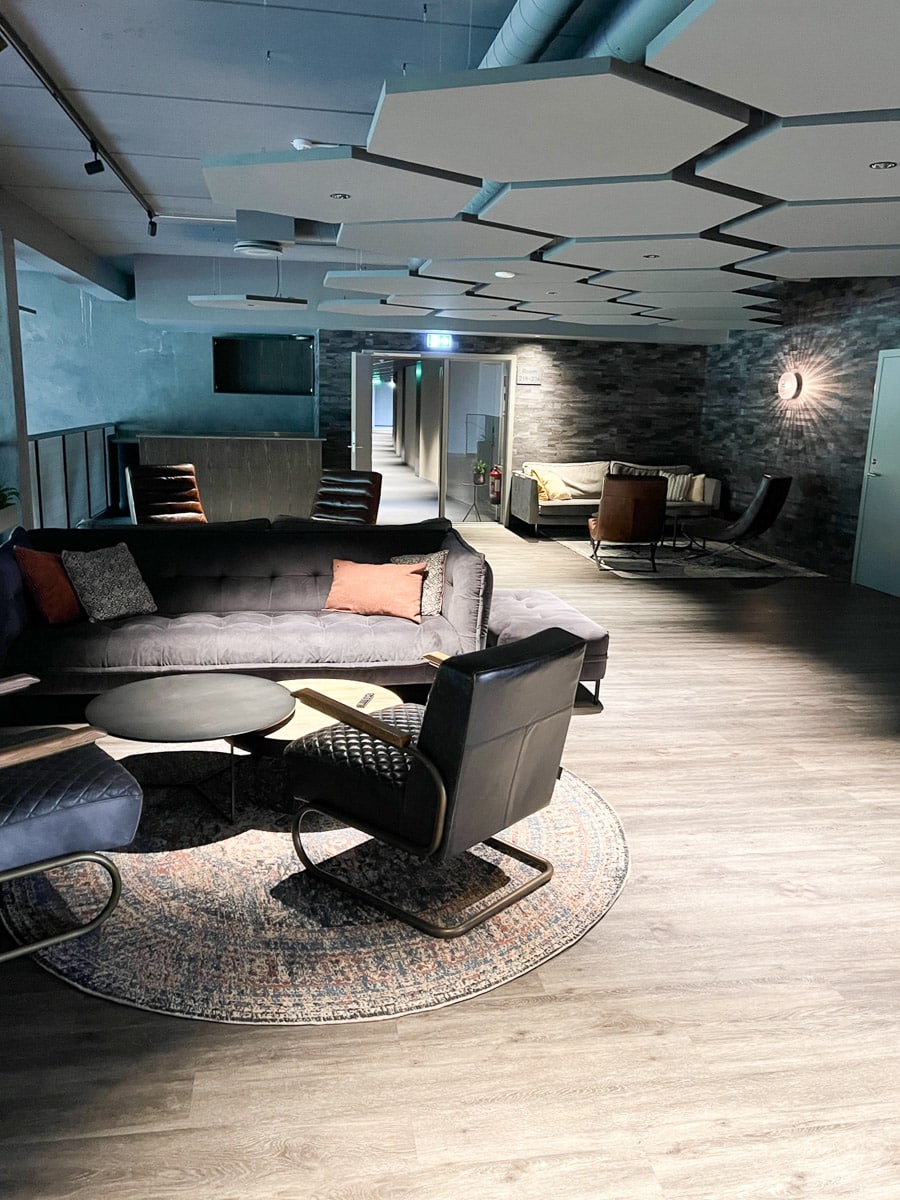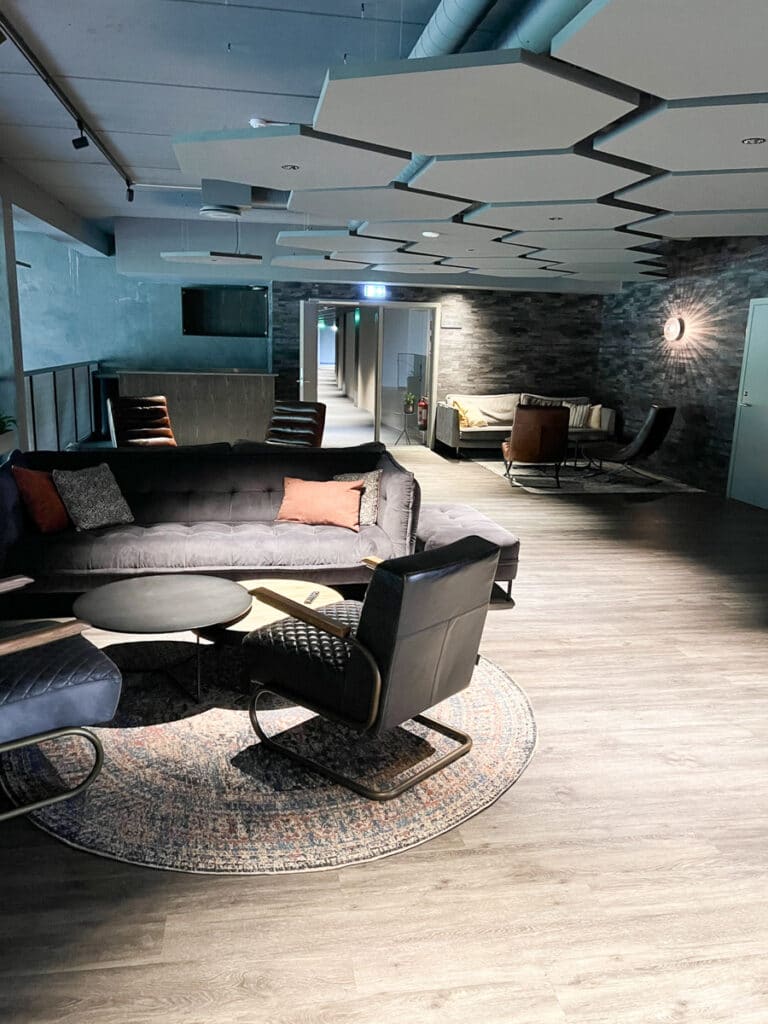 And then there was the best surprise of all – at least for my seven year old. A game room. On the second floor, there's a big game room complete with a pool table, darts, and ping pong. He was in kid heaven!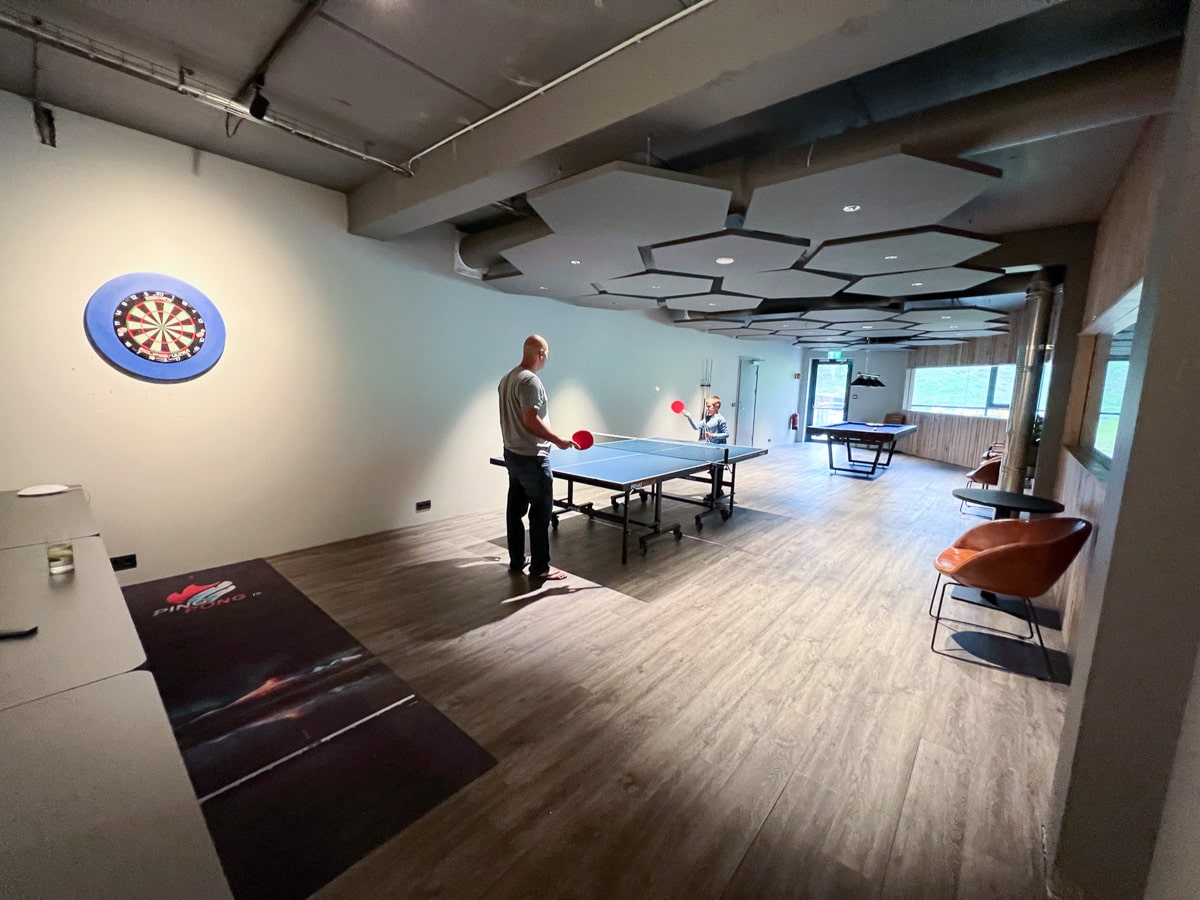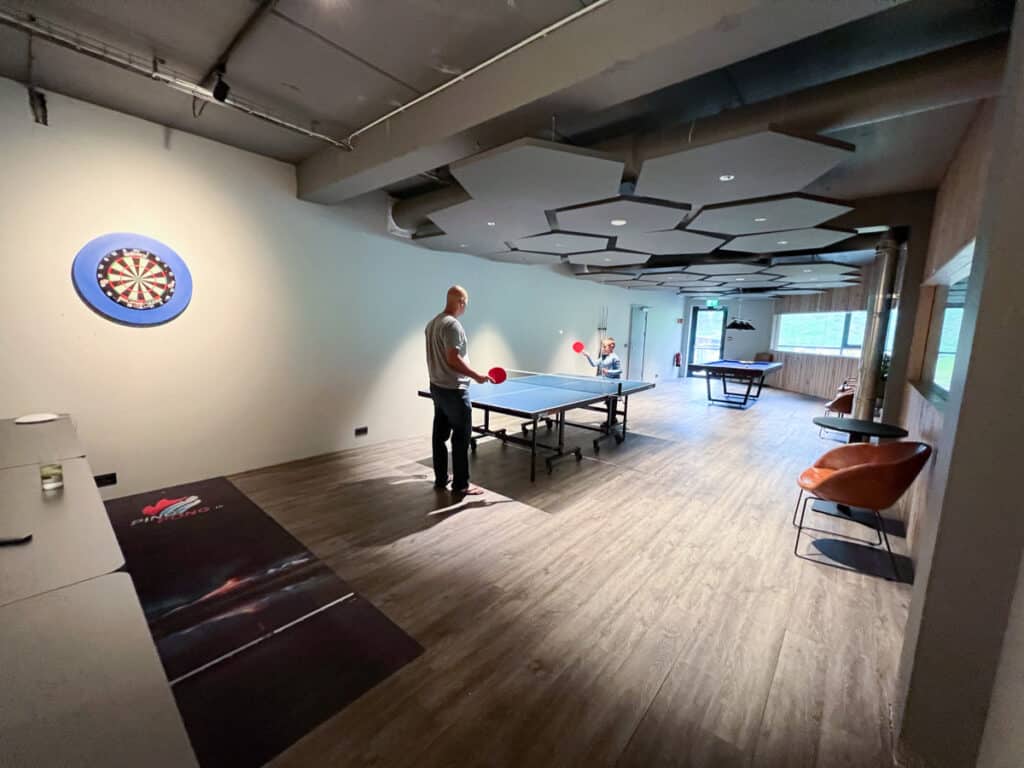 Breakfast was included with our stay – they had a huge spread served buffet style in the lovely dining room. Very good way to start the day!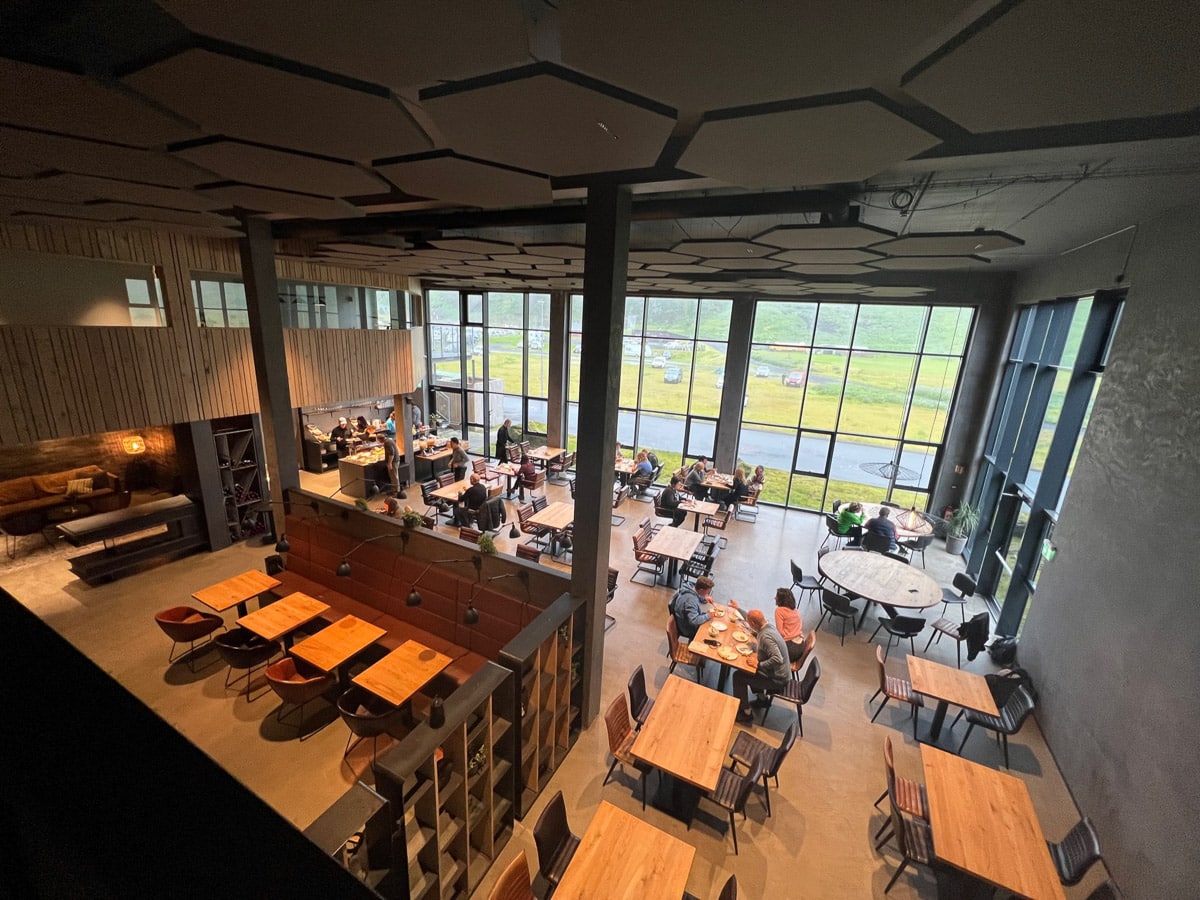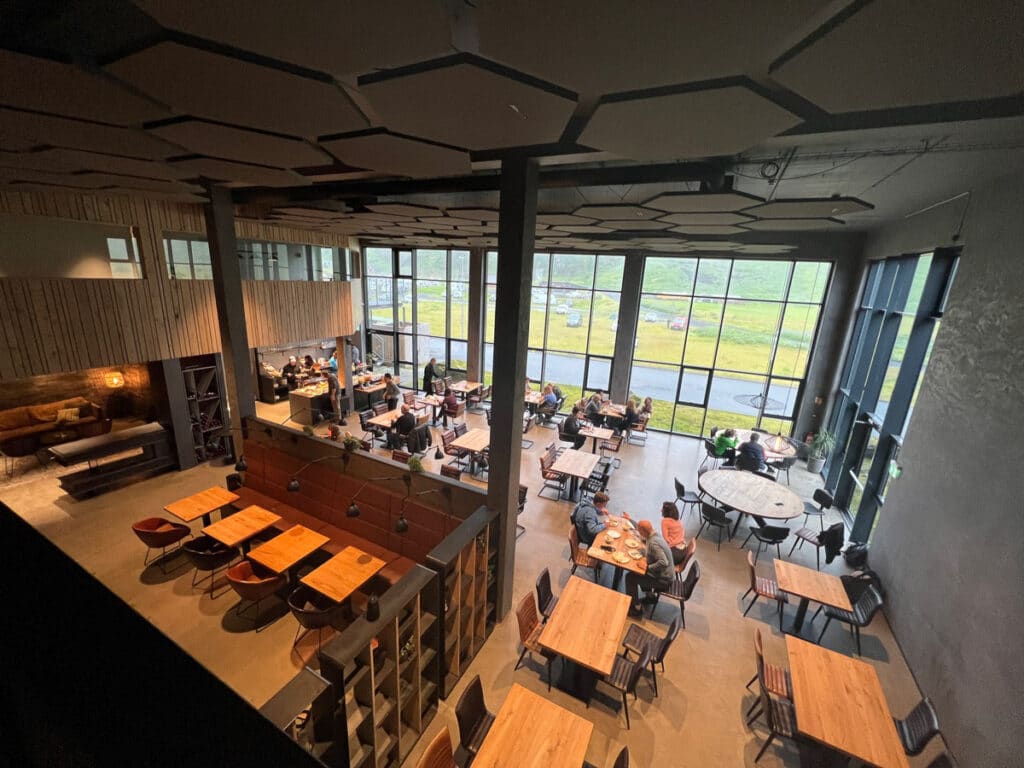 Service
We didn't have much need for assistance on our short stay, but everyone we encountered at the hotel was very friendly and helpful. Check in was quick and easy. And service at the bar in the evening was really fast and friendly, even with a pretty big crowd that included some tour groups.
That's saying a lot, as we stayed in Fosshotel Glacier Lagoon the night before, and they were really unable to manage the volume of people they had to serve in the evenings.
Would we stay here again?
Yes, absolutely! Hotel Kria was a very convenient and comfortable place to stay for our stopover in Vik. We enjoyed the room and the lounge areas, and the game room was a great bonus when travelling with kids. If you're looking for convenient walking access to the town of Vik, you can't go wrong with this place.
If you find Hotel Kria unavailable or want something a bit more remote, check out my other Vik hotel recommendations.
Check Availability & Rates
We book our rooms via Booking.com whenever possible and the reason is simple – they have much more flexible cancellation and refund policies than you'll find when booking direct at most places. In this case, I wasn't charged until just a few days before our trip and I could have cancelled with no penalty up until then. Very important with international travel – you never know what will happen.
You can check availability and rates for Center Hotels Plaza Reykjavik here.