If you're planning a trip to Iceland, you'll almost certainly be spending some time in its capital city of Reykjavik. Here are all the best places to stay in Reykjavik – the best neighborhoods, best hotels, and more.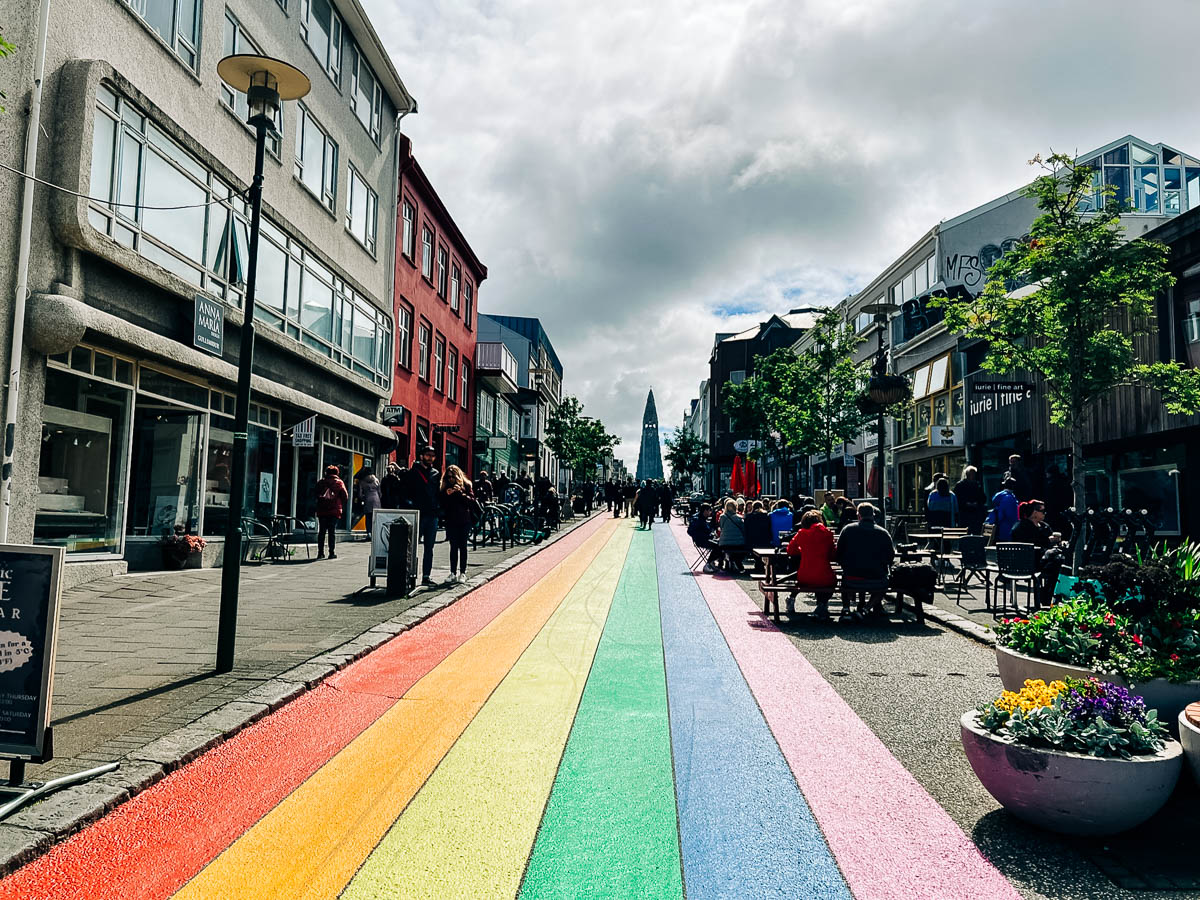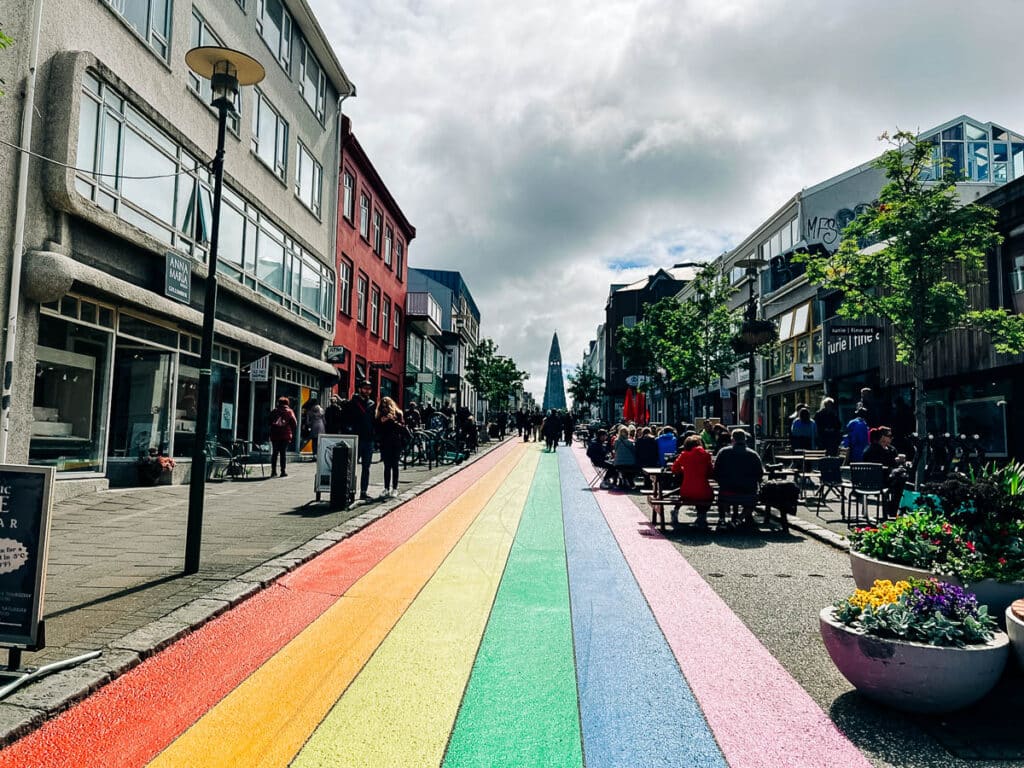 Best Neighborhood to Stay in Reykjavik
Reykjavik is not a particularly large city, but it does have a distinct downtown area which is where most tourists should opt to stay. This area is very walkable and central to most of the city's attractions, so you won't be fussing too much with taxis or parking issues.
Now the city has many unique neighborhoods each with their own name and character, but you really don't need to worry too much about that. Just stay in one of the areas highlighted on the map below and you will be fine. I've broken it up into three distinct areas, which are the only ones I would recommend staying in for a short visit – Reykjavik City Center, the area surrounding Reykjavik's Rainbow Street, and the harbor area.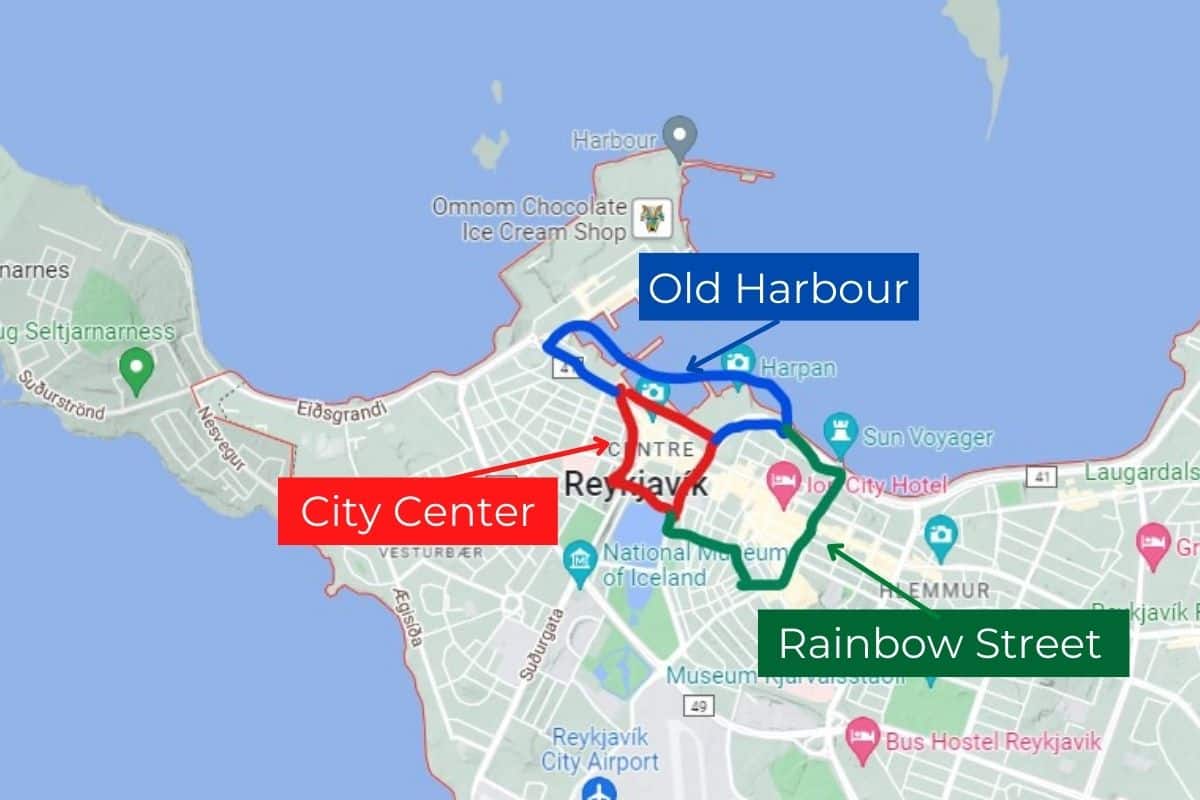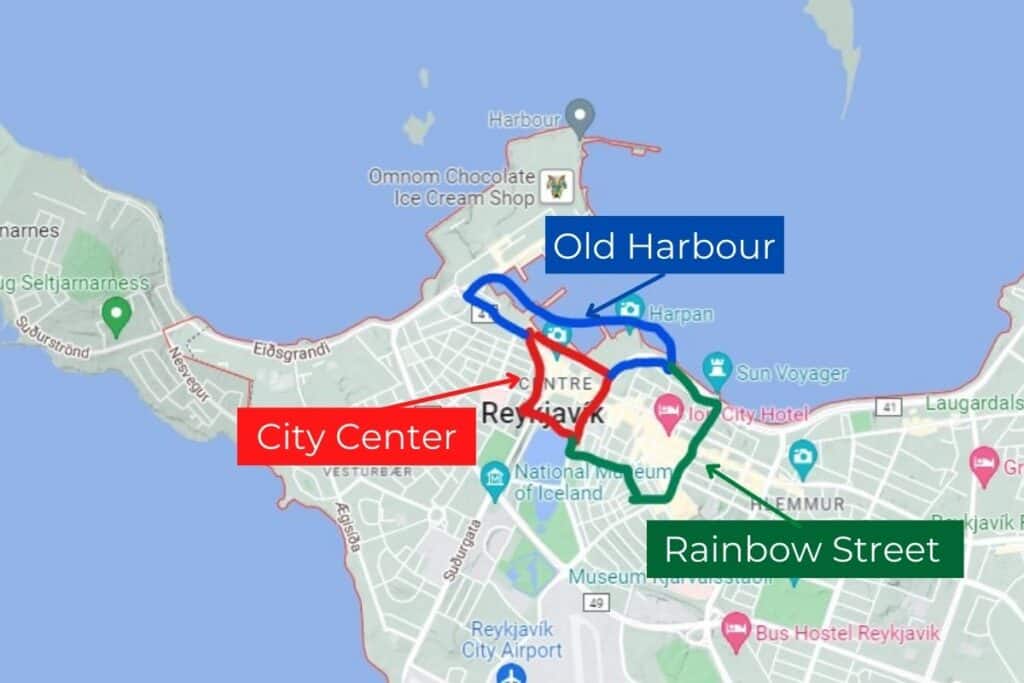 Reykjavik's City Center – This is my top recommendation for where to stay in Reykjavik. It's the most central of the three neighborhoods, putting you within walking distance of the sights in all three. It's also convenient for walking around the famous Lake Tjornin and to Hljómskála Park to its south.
Reykjavik's Rainbow Street Area – This is where you'll find the famous rainbow road that approaches the iconic Hallgrimskirkja Church. It's very touristy over here but loaded with bars and restaurants.
Reykjavik's Old Harbour- In this area, you'll have easy access to the whale watching tours and attractions like Flyover Iceland and the whale museum. It's a little bit less convenient to the city center, but still a nice place to stay.
Best Hotels in Reykjavik
Hotels in Reykjavik City Center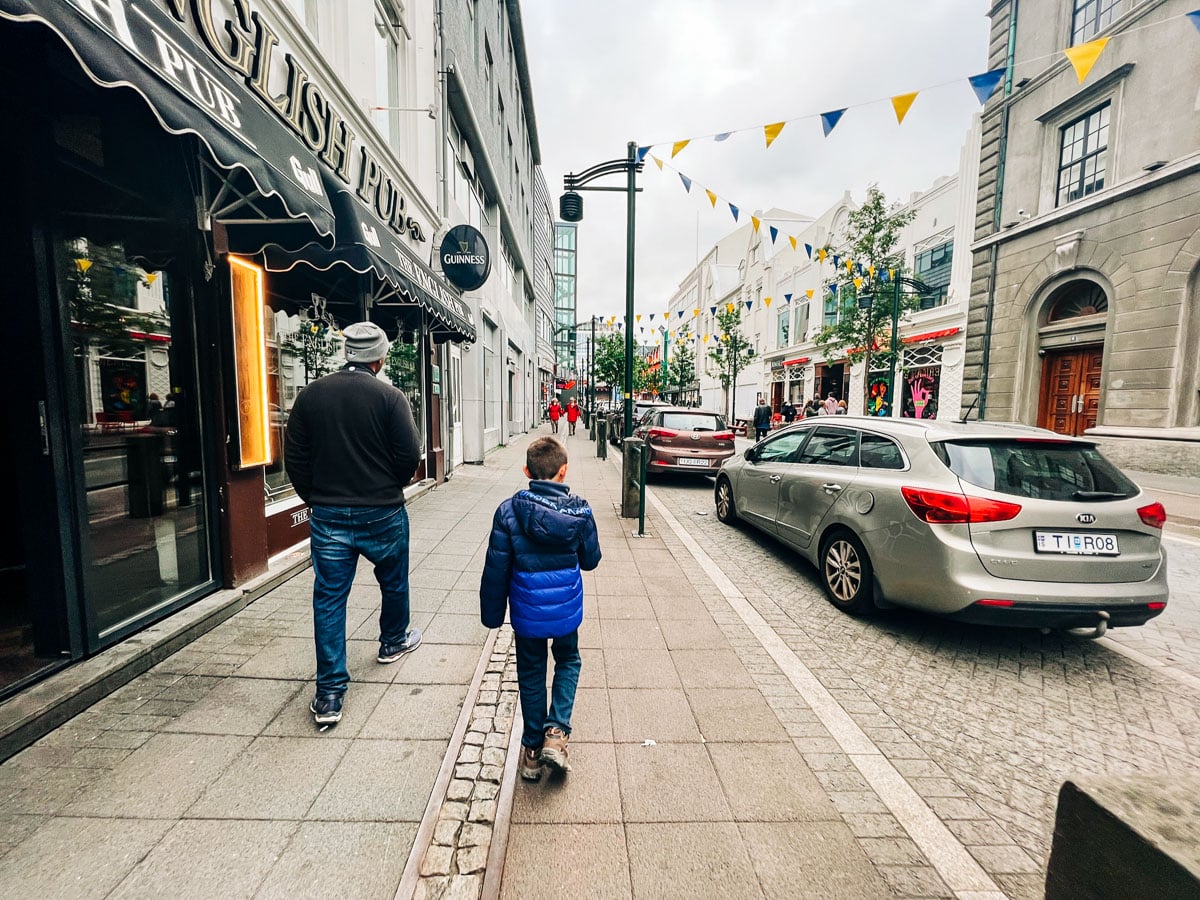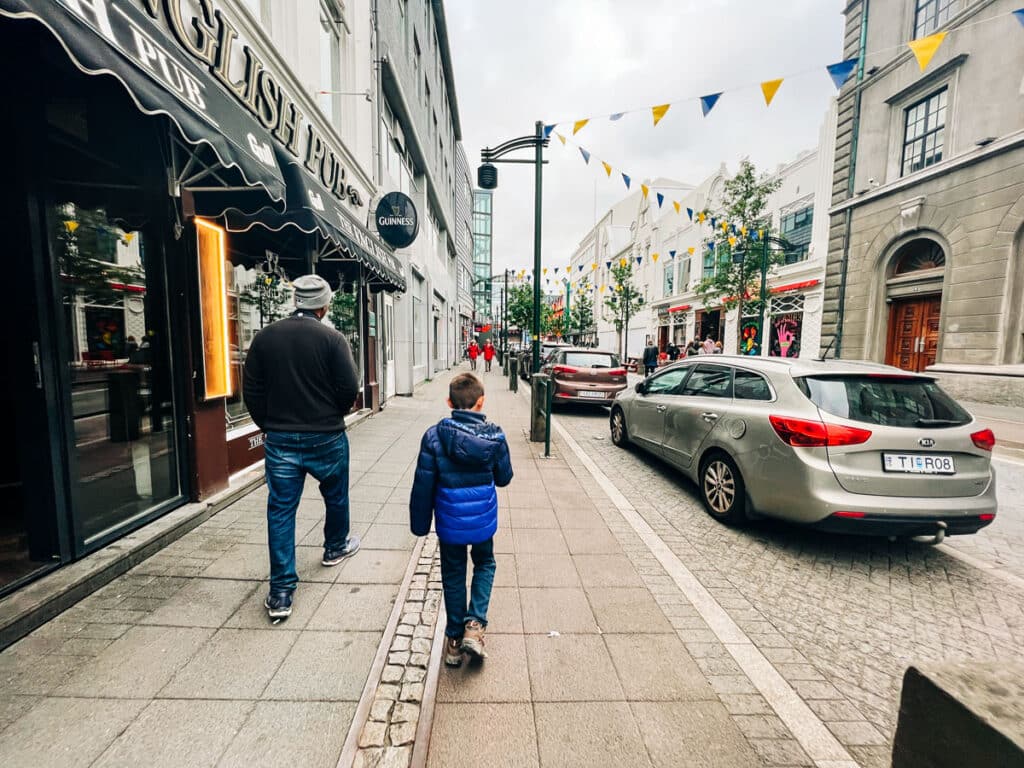 Center Hotels Plaza
We personally stayed at Center Hotels Plaza Reykjavik on our recent family vacation to Iceland, and found it to be a great choice. (See our full review here.) The room was a relatively good value, very convenient for exploring all of Downtown Reykjavik and the waterfront, and the service was great too. There's also a small bar and lounge area to grab drinks in the evening. Check Rates & Availability for Center Hotels Plaza Reykjavik here.
City Center Hotel
City Center Hotel is located just across Austurvöllur square from Center Hotels Plaza, so shares the same convenient location in the heart of the downtown area. It's a relatively simple hotel with clean, bright rooms. You won't find any restaurant or bar here, but there are plenty just outside the front doors. Check Rates & Availability for City Center Hotel here.
Hotel Borg by Keahotels
For a slightly higher end option in the city center, Hotel Borg is a wonderful choice. It has a great location, beautiful rooms, and features some really neat historic architecture. The neighboring Apotek hotel is also very nice and run by the same parent company. It also has a great spa and restaurant!Check Rates & Availability for City Center Hotel here.
Radisson Blu
And the Radisson is another good option for accessing the city center at a mid-range price point. I didn't like the location on the main road quite as much as the others, but it's still very convenient for walking to major attractions. And Reykjavik's most famous hot dog stand is just across the road. Check Rates & Availability for Radisson Blu here.
Hotels near Reykjavik's Rainbow Street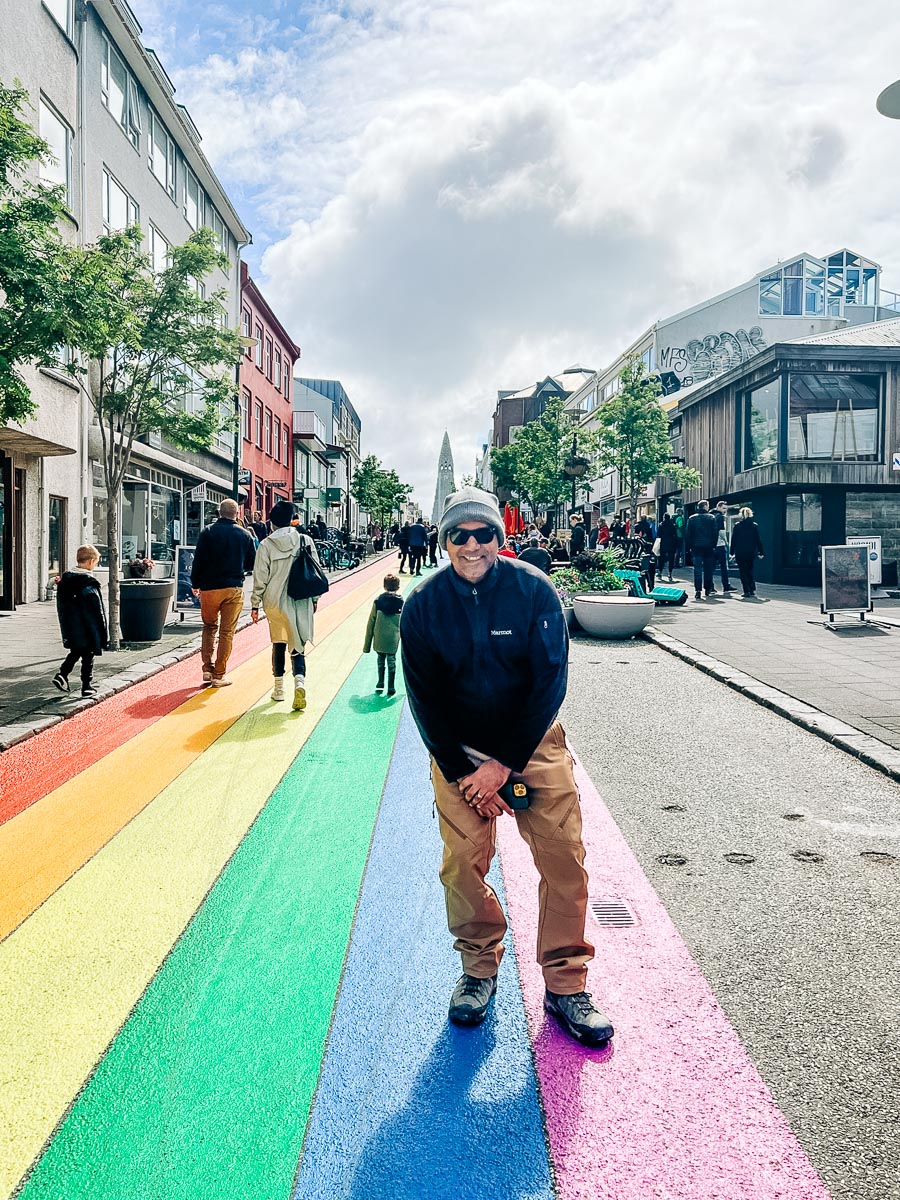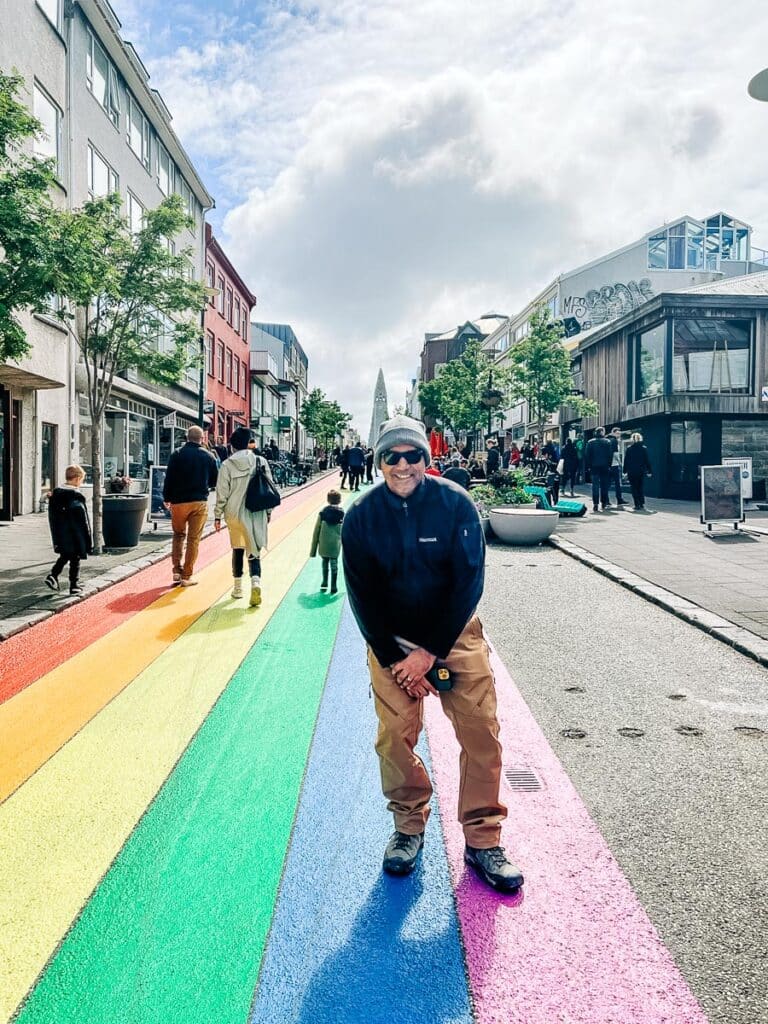 Canopy by Hilton
The Canopy by Hilton is a very reliable choice is a really great location, just steps from the famous rainbow road. You'll also find a great restaurant here and there's a convenient parking garage just across the street. Check Rates & Availability for Canopy by Hilton here.
Sand Hotels by Keahotels
Another property by Keahotels, the Sand Hotel has a really upscale feel and is also in a great location just blocks from the Rainbow Street and the famous church. The rooms are simple and stylish and this one always gets great reviews. Check Rates & Availability for Sand Hotel by Keahotels here.
Hotel Odinsve
The affordable Hotel Odinsve has a great location just two blocks from the rainbow street. They have a variety of room types from single rooms to large apartment style suites that are meant for larger families. Check Rates & Availability for Hotel Odinsve here.
Hotels near Reykjavik's Old Harbor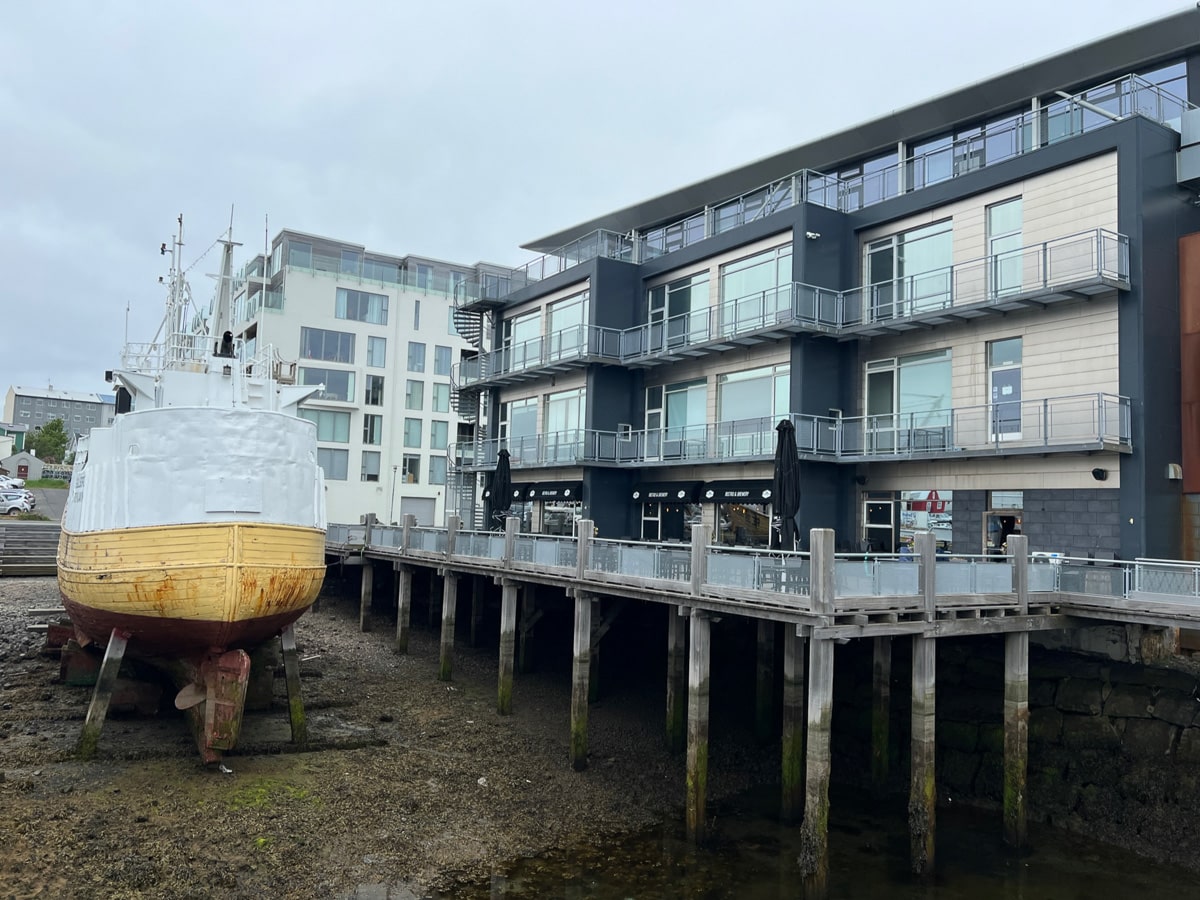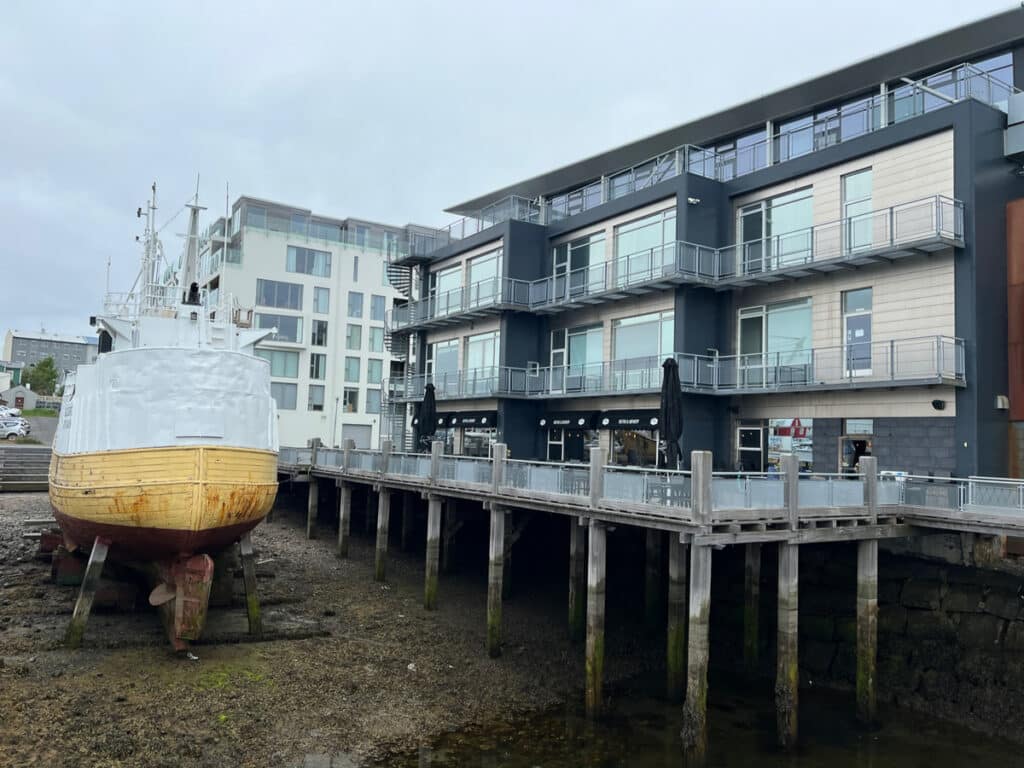 Icelandair Hotel Reykjavik Marina
There are fewer hotel options near the old harbor, and the only one I can really recommend wholeheartedly is the Icelandair Hotel Reykjavik. This is a really well done hotel just at the entrance to the old harbor area. The rooms are clean and comfy, and many of them have beautiful views of the harbor with the mountains behind it. Check Rates & Availability for Icelandair Hotel Reykjavik Marina here.
Best Apartment Style Hotels in Reykjavik
Black Pearl Apartment Hotel
The Black Pearl Apartment Hotel is the most well known and popular apartment style hotel in Downtown Reykjavik. It has a convenient location right on the border of the old harbor and city center. This is a great choice for families or larger groups with fully equipped apartments, some sleeping up to 6 guests. Check rates and availability for Black Pearl here.
Reykjavik Residence Apartment Hotel
Located a few blocks from the Rainbow Street, the Reykjavik Residence is another popular choice with more moderate pricing. The apartments here are smaller, only accommodating four guests in their largest units. This works well for families that want a little extra space and to have a fridge and kitchenette available – but isn't an option for larger groups. Check rates & availability for Reykjavik Residence here.
Room with a View Apartments
The Room with a View Hotel features regular hotel rooms along with full apartments, some as large as four bedrooms. So this is a great choice for larger families or big groups travelling together. They're located just a couple blocks from the famous Hallgrimskirkja Church and walking distance to the Rainbow Street. Check rates & availability for Room with a View here.
You can also find some larger apartment style rooms at the Hotel Odinsve, mentioned above.
Best Luxury Hotels in Reykjavik
Tower Suites Reykjavik
Tower Suites is by far the most high end hotel in Downtown Reykjavik, with a price tag to match. There are only eight suites, located on the 20th floor of one of the city's tallest buildings. They have sweeping views of the city and surrounding harbor. And of course, they offer full concierge services, which you would expect at this price point. Check rates & availability for Tower Suites here.
The Reykjavik EDITION
If you're looking for a luxury hotel, but maybe not quite as fancy as Tower Suites, Reykjavik EDITION is a good choice. This Marriott property is located on the edge of the harbor, but on the far east end which means its still very convenient for walking to the city center and Rainbow Street area. It's a high end hotel with several restaurants and bars, and many of the rooms have fantastic views of the city or waterfront. Check rates & availability for Reykjavik EDITION here.
Best Budget Hotels in Reykjavik
Loft HI Hostel
If you're looking for the best budget hotel option in Reykjavik, the Loft HI Hostel is a good option to consider. You can book an inexpensive bed in a dorm style room, a private room, or even a family room with private bath. The facilities are basic as with most hostels, but this is a highly rated facility in a great location in the Rainbow Street area. Check rates & availability for Loft HI Hostel here.
In addition, City Center Hotel Reykjavik and Hotel Odinsive mentioned above are very good value hotels that often have rooms under $200 per night.
Parking in Reykjavik
Note that the majority of hotels in Downtown Reykjavik do not offer their own parking for guests. You will need to find public parking in the city and make your way over to the hotel. Personally, we didn't find this to be too much trouble even in the busy summer season, and I wouldn't try to make your hotel choice based on parking. Download the Parka app before your trip to make it easier to pay for parking in the city.
Getting from the Airport to Reykjavik
If you're arriving on an international flight, you'll be flying into Keflavik airport, which is about 45 minutes from Downtown Reykjavik. A car rental is a smart idea if you'll be doing any exploring beyond the city center. But if you won't be renting a car, you can easily arrange for a taxi or airport transfer service.
More Iceland Trip Planning Resources
If you're planning the ultimate trip to Iceland, be sure to check out these other helpful articles: