On our most recent visit to Universal Orlando, we had a chance to stay at the Royal Pacific Resort. Here's our full review from our family vacation!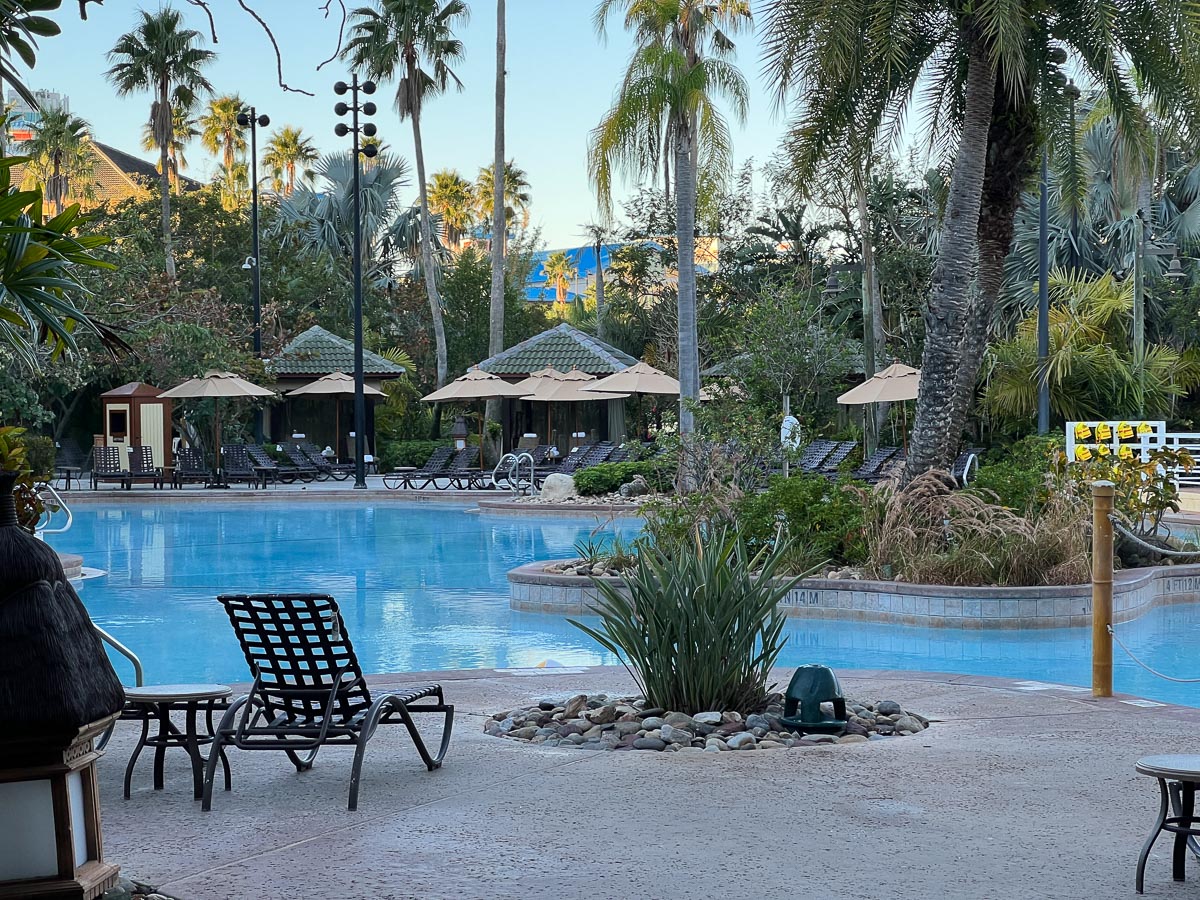 Why We Picked Loews Royal Pacific Resort
We visited Universal as a quick family trip – with a group consisting of me and my husband, our eight year old son, and one set of grandparents. So we had a pretty wide age range to accommodate. And we were staying for just a single night, planning to spend two days in the theme parks.
After looking at all the Universal hotel options, we settled on Royal Pacific for these reasons:
Super convenient to visit the parks – just walk over or take the free water taxi.
Includes Express Unlimited passes for the whole visit!
Includes Early Access to at least one park each day.
Easy access to CityWalk for dinner in the evening.
A great clean and comfortable property, with some fun amenities like a really great pool area.
If you're ready to book (or at least check the rates) at Loews Royal Pacific, I recommend checking rates here on Booking.com. I book through this site when possible, due to their generous cancellation policies and great customer service.
The Rooms
We stayed in a Standard Room, which had a view of the pool area. There was a King sized bed a pull out sofa bed, which my eight year old son slept on. The room had more than enough space for the three of us, and was clean and comfortable. Nothing fancy, but nothing to complain about either.
Here's a look at the room layout. Sorry I didn't get around to taking photos until we returned from the parks at night, but you get the idea. Pretty standard looking hotel room.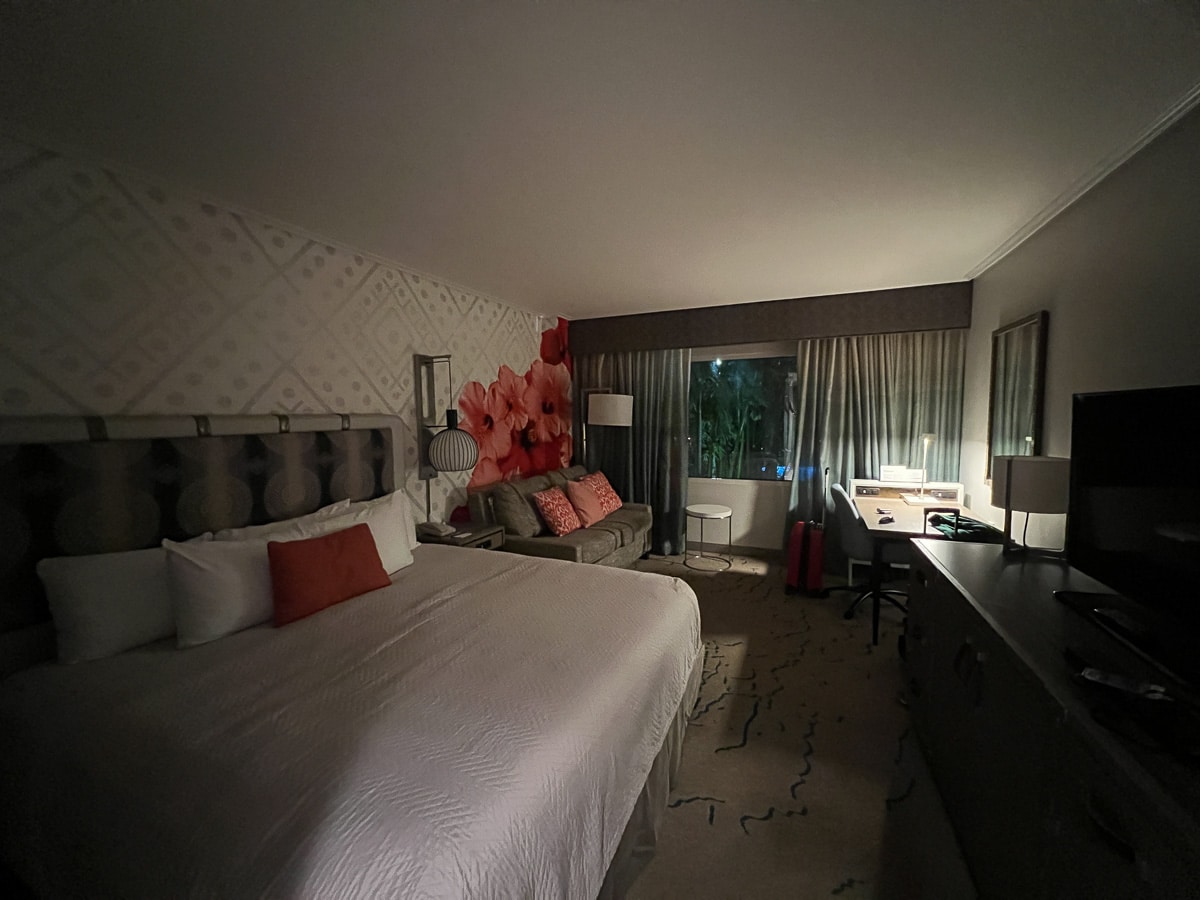 Here's a look at the storage space and in room amenities also. Most important here is the mini fridge. You moms know what I'm talking about – that fridge is key when travelling with kids. It was very small in this case, but it did stay cold. There was also a small coffee machine, but we opted for the Starbucks in the lobby.
Typical hotel room closet as well. Room to hang anything that needs it, but no extra shelves. And the safe was very small – you aren't getting a laptop in there. But this was all fine for us, as it was only a one night stay while we visited the theme parks.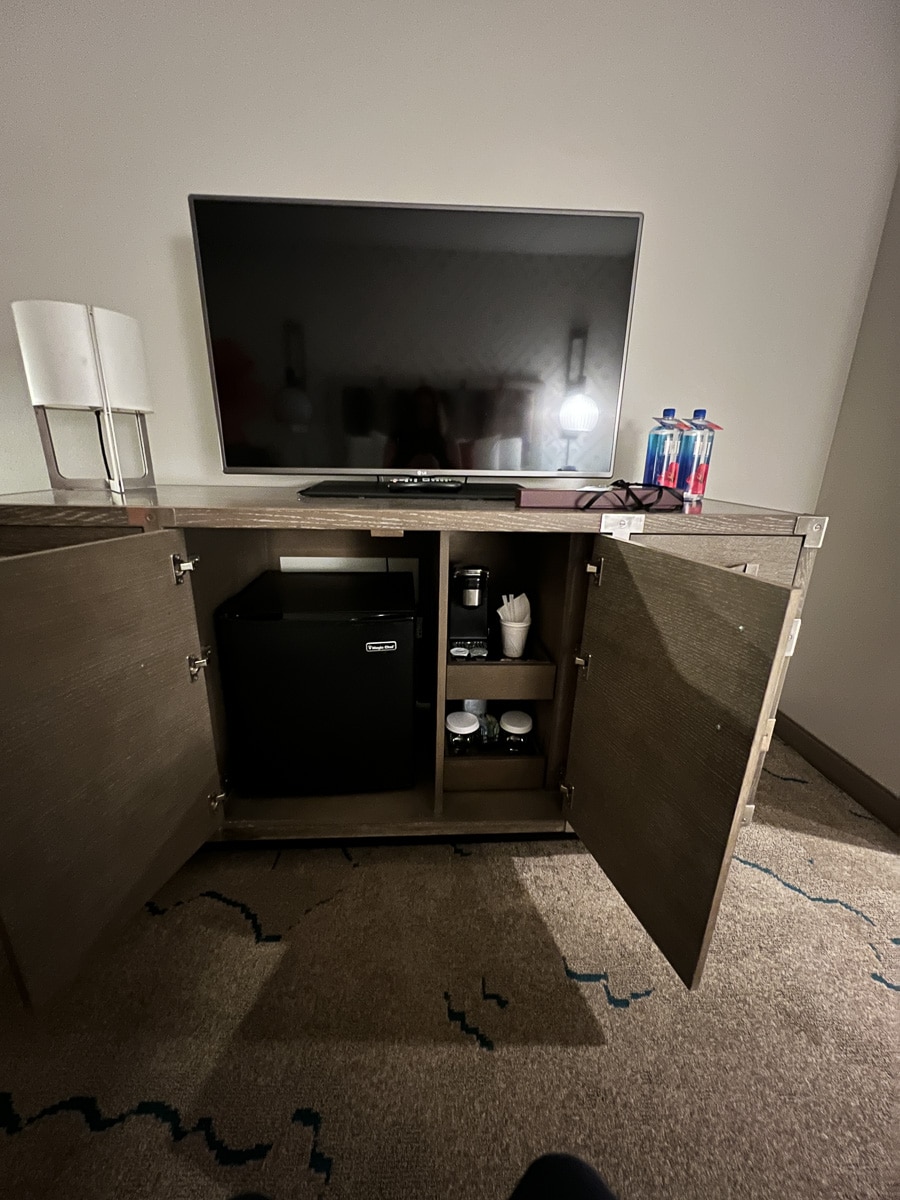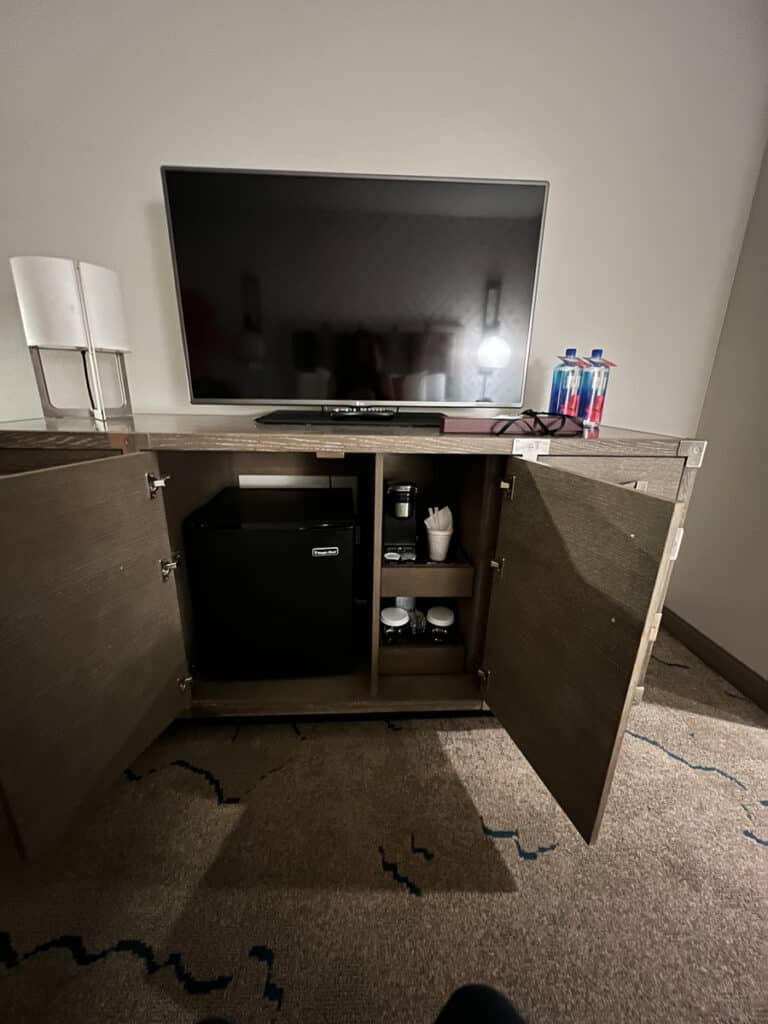 The bathroom was actually quite spacious, with a big walk in shower. And everything was clean. Here's a peek at the bathroom.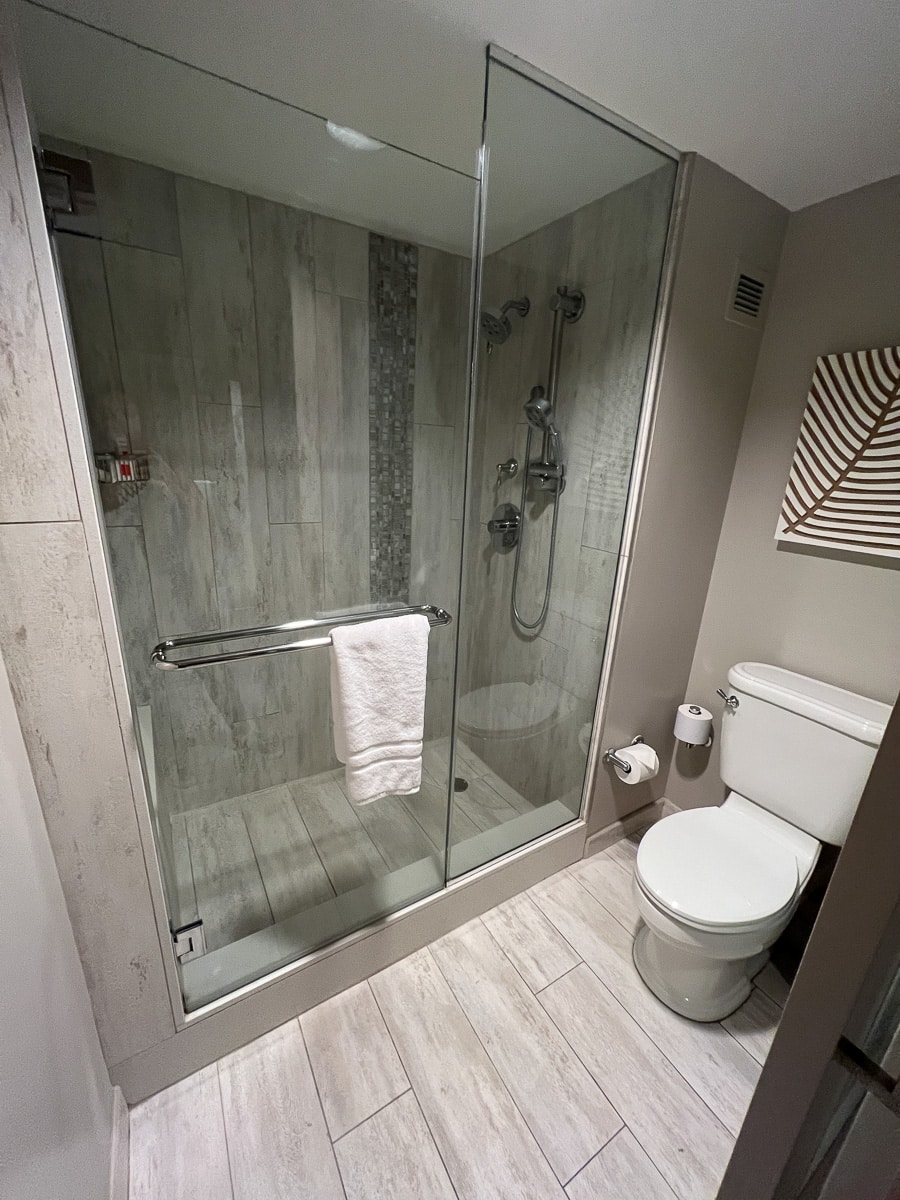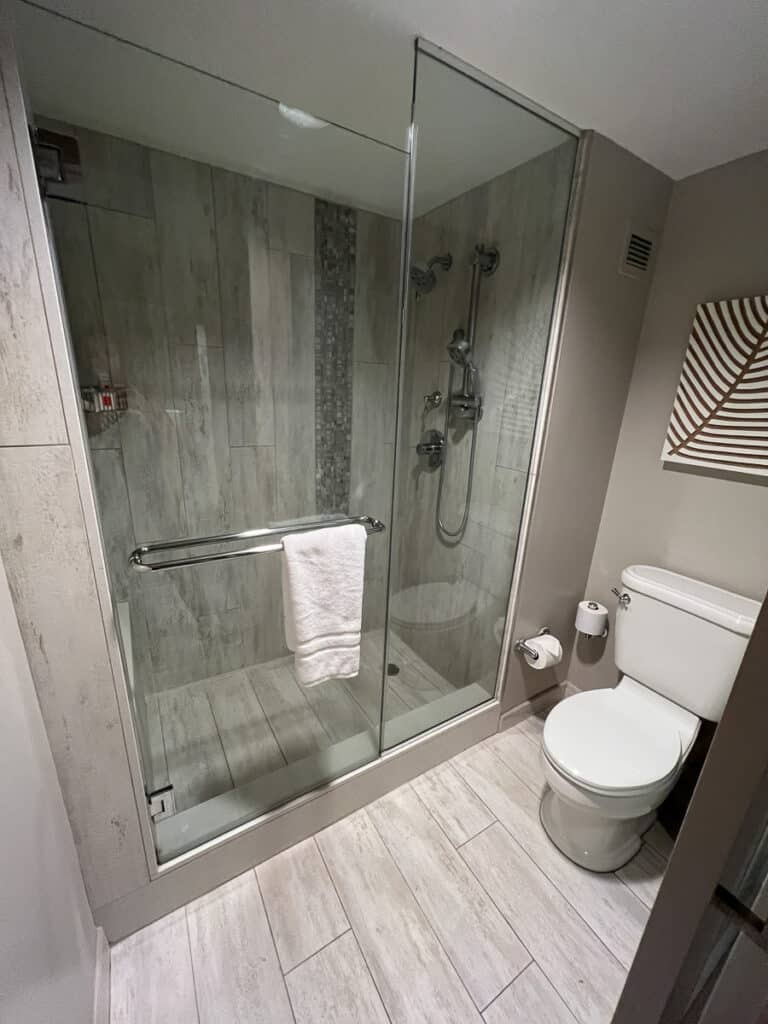 The Pool and Amenities
There is a really fantastic pool area, including a fun water slide, that is just perfect for taking a break from the busy theme parks. And yes, the pool is heated. There are even a few poolside games set up, like a bean bag toss. Of all the Universal hotels, I think Royal Pacific has the most family friendly pool area.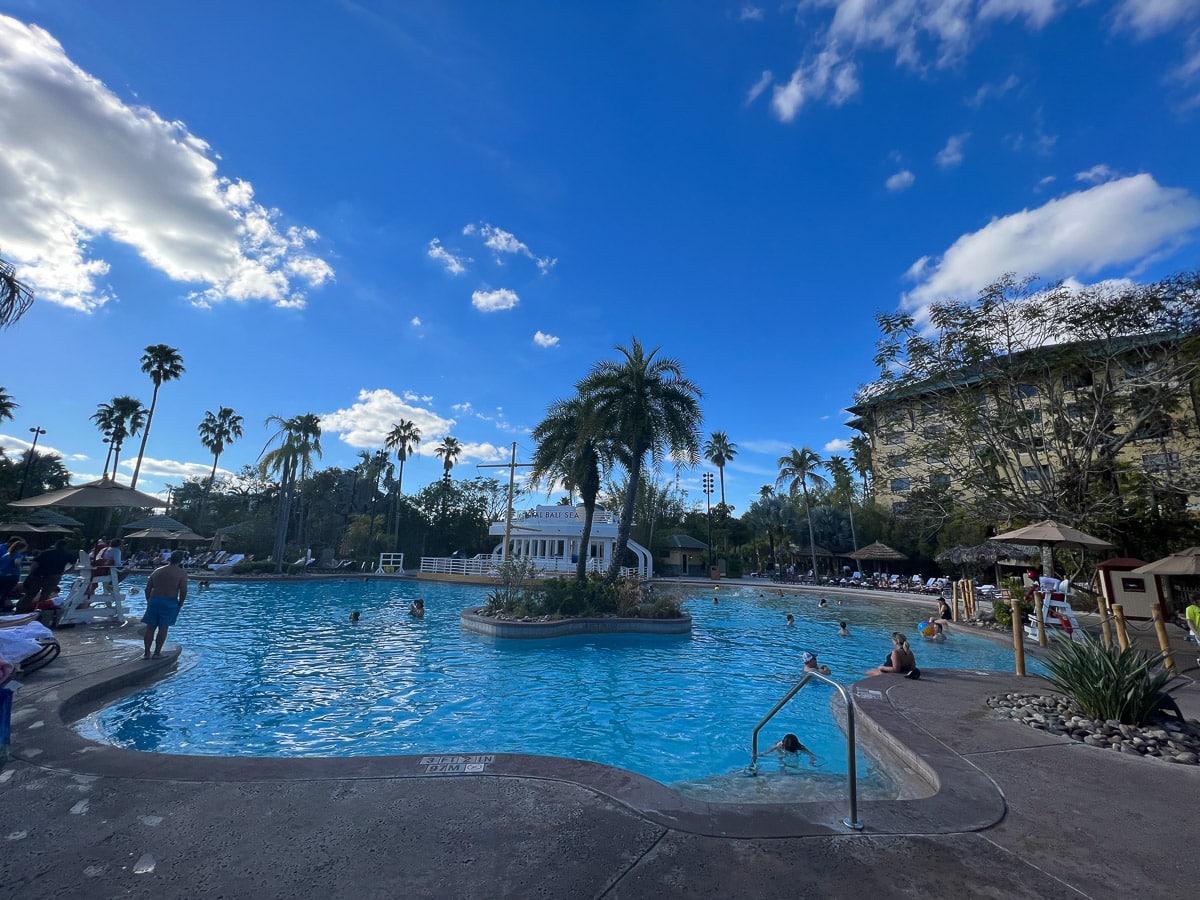 There is also a pretty nice fitness room, if you're the type to actually exercise on vacation. (I'm not, but I salute you.) Plus, there's a restaurant on site, a Starbucks in the lobby, and a small shop with grab-and-go items that is really convenient.
And there's a kids club that offers activities in the evening for an additional fee, but we didn't try it out.
Early Check In and Express Passes – The Details!
Ok, so the included express passes are one of the main reasons people choose this hotel, so let's talk about the details. When you stay at one of the Premier Universal properties, you will receive express passes for your whole party for the duration of your stay, including the day of check in and check out.
So if you stay just one night at the hotel, you will get express passes for two days! That's a great deal and I've even known people to book a room at the hotel just to get those passes, even if they don't stay in the room. (And yes, you get these benefits whether you book directly or via a third party like Booking.com!)
The Premier properties include Portofino Bay Hotel, Royal Pacific Resort, and the Hard Rock Hotel. You need to choose one of these three hotels to get the free Express Passes.
Here's how it works. On the day of check-in, you can arrive at the hotel and pick up your Express passes as early as 6:00AM. You will get a room key for each person, which is also the Express pass that you will use at the parks. (There's a bar code on the room key that gets scanned when you enter the rides.)
Of course, your room will not be ready at 6AM, but that's not a problem. You can leave your luggage with the porter and they will store it for you until you return later in the day. When your room is ready, you'll get a text message with your room number so you can proceed directly to your room after you visit the parks. Easy peasy!
Now if you are debating whether the Express Passes are really needed – you should go read my article on whether Express Passes are worth it. But there's no doubt that they will make your visit a little less stressful, especially if you're travelling with kids.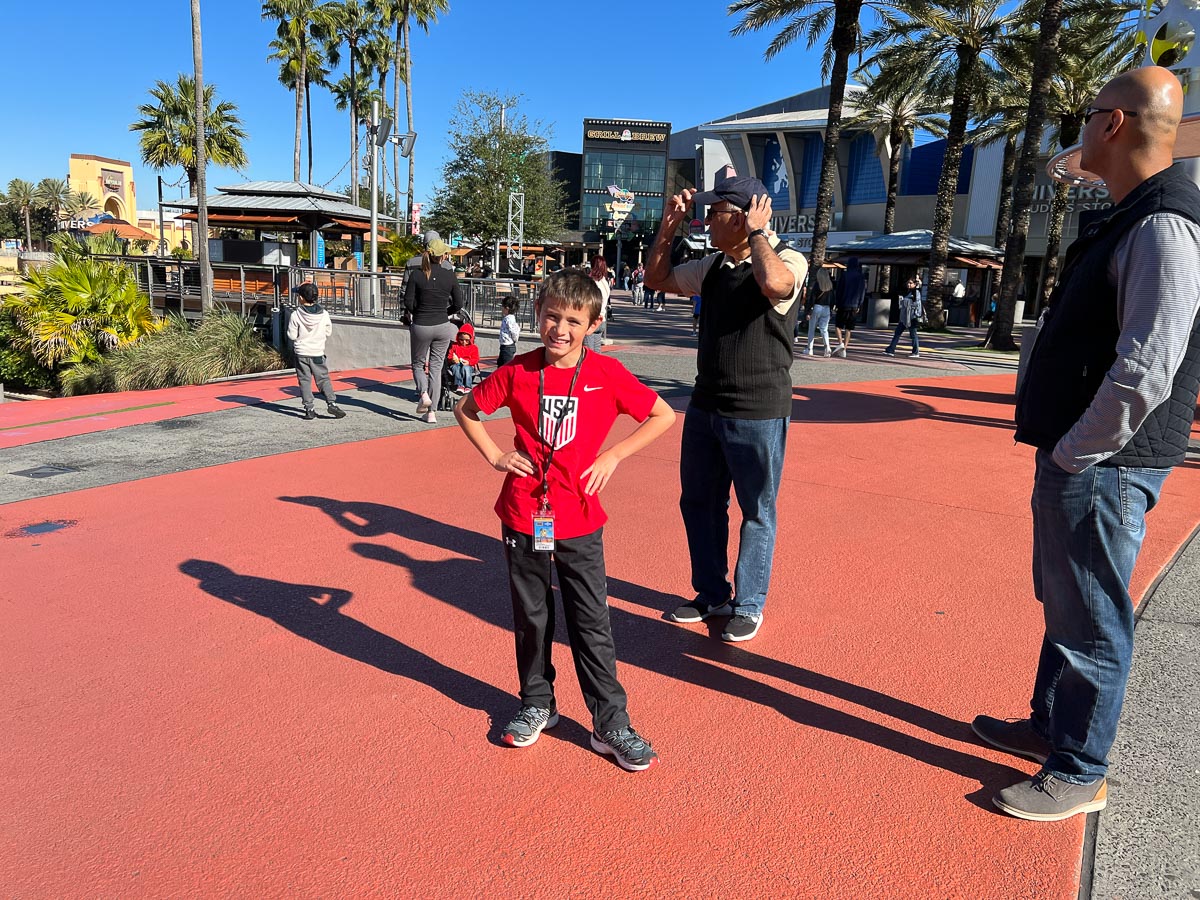 Early Park Access for Universal Hotel Guests
In addition to the Express Passes, you'll also get early park access during your stay. Note that there will only be one park with early access each day – either Universal Studios or Islands of Adventure. It changes from day-to-day, so you will need to check the website here to see which one is being offered on which days of your stay.
You'll be able to enter the park one hour before general park admission begins. But access is limited to only a couple select areas, so this isn't as big a benefit as you might think. When we visited last, we were able to access the Harry Potter area and Velocicoaster early, but not the rest of the park. Everything else was blocked off. For that reason, it was a little underwhelming, as we weren't trying to get on any of the big roller coasters. But it was still nice to walk around the Harry Potter world with less crowds in the morning.
Loews Portofino Bay Hotel vs Loews Royal Pacific vs Hard Rock Hotel – Which is the best choice?
So, as I mentioned above these three hotels are the ones Universal deems Premier hotels, which give you the extra perks like included Express Passes. So of course, these three are often the ones my readers are comparing. So here is a quick rundown on the three hotels and what they offer.
Royal Pacific Resort
South Seas theme.
Fun pool area with a water slide.
Great choice for families with kids.
Typically least expensive.
Portofino Bay Hotel
Italian Riviera theme.
Three pool areas.
Great choice for older couples or for a more upscale family experience.
Slightly further from the park entrances.
Typically most expensive.
Hard Rock Hotel
Modern and sleek.
Zero entry pool with underwater rock music!
Great choice for couples and families with teens or older kids.
Often sells out!
For families that plan to spend most of their time in the theme parks, Royal Pacific is usually the best choice. It's usually the cheapest hotel that will get you free Express passes, it's very easy to access the parks, and the pool area is especially fun for kids.
FAQs
Where can I get the best rate for Loews Royal Pacific?
I always recommend checking the rates directly with the resort as well as on Booking.com. I prefer to book via Booking when the rates are competitive, thanks to their generous cancellation policy.
How do you get from Loews Royal Pacific to Universal Studios?
You can either walk to CityWalk (about ten minutes) or take the free water taxi, which runs every 15 minutes.
What restaurants are near the Royal Pacific Resort?
There are several restaurants located right inside of the resort – Islands Dining Room (breakfast and dinner), Jake's American Bar (lunch and dinner), Orchid Court Sushi Bar (dinner), and Bula Bar & Grille (poolside, lunch and dinner). Or you can head over to CityWalk, which is Universal's entertainment and dining hub for a ton more options. CityWalk is about a ten minute walk from the hotel, or you can take the free water taxi.
How do you get from MCO to Loews Royal Pacific?
Universal Orlando is a 20-30 minute drive from the Orlando International Airport (MCO) and the absolute easiest option is to grab a taxi or Uber. There are plenty of taxis ready and waiting at the airport.
Is there a car rental at the hotel?
Yes, there is an Avis car rental right in the lobby of the Loews Royal Pacific. If you only need a car for a portion of your trip, this is a really convenient option!
More Universal Orlando Trip Planning Resources
For more help planning the perfect trip to Universal Studios and Islands of Adventure, check out these other guides: