One Day in Glasgow: What to See and Do, and Where to Eat, if You Only Have 1 Day in Glasgow, Scotland. Includes Optional PDF 1-Day Glasgow Itinerary Download and a Map of all Locations.


***
Glasgow in 1 Day: What to See, Do & Eat with One Day in Glasgow
8:30am: Breakfast at Café Gandolfi
9:30am: Self-Guided Walking Tour (Alternative activity: Glasgow Necropolis)
11:00am: Riverside Museum (Alternative activity: Kelvingrove Museum)
1:00pm: Lunch on the Go
2:00pm to 5:00pm: Glasgow Miracle Tour
6:00pm: Cocktail at Anchor Line
7:30pm: Dinner at Stravaigin
9:00pm: Pub Hop Along Ashton Lane
Google Map of Itinerary Locations
Free PDF Download of Itinerary
Edinburgh's unsung hero of a sibling, Glasgow is 100% worth making time for on your Scotland trip. Whereas Edinburgh is pretty and buttoned-up, Glasgow is handsome and a lot of fun. And while Edinburgh is all about showing off Scotland's fantastic history, Glasgow is the place to go to see a more modern side of Scotland.
We've been to Glasgow a few times now, and each time we find ourselves liking the city more and more, getting drawn into its hip yet 'too cool to care what anyone thinks,' attitude. Filled with art and culture, a fantastic food and drinks scene, some cool and creative brands, and a fair dose of historical attractions, Glasgow is well worth the short train ride from Edinburgh for a day trip or (even better) overnight visit.
If you only have one day in Glasgow, we've pulled together a few of our favorite things to do in the city. And if you do stay overnight, we recommend checking out Grasshopper Hotel for an affordable boutique (with free cookies and cupcakes), Z Hotel for a value-focused option, and Blythswood Square as a luxury choice.
---
---
8:30am: Breakfast in Merchant City
Café Gandolfi is one of the city's favorite breakfast/brunch spots, and is the perfect choice to fill up for the day. As this spot is hugely popular, reservations are recommended (you can book on their website). Note, on Sundays the café doesn't open until 9am.
9:30: Self-Guided Walking Tour (Alternate: Necropolis)
Explore the city centre with a sense of purpose, checking out some of the best (city-sanctioned) street art murals in the downtown core, while getting a feel for the city as a whole. Part of a city-backed rejuvenation project for the centre, Glasgow's Mural Trail is a self-guided walk through the city centre, stopping at city-sanctioned street art along the way. Even if you don't love street art, this walk provides a nice framework for exploring the city centre on foot, and you can stop and admire a few of the pieces along the way.
For us, the Mural Trail was yet another embodiment of how Scotland's largest city exudes a creativity that's hard to pin down, yet is everywhere.
Be sure to stop at George Square to see the 'conehead' Duke of Wellington Statue.
If street art isn't up your alley, head to the Glasgow Necropolis. Scotland seems to have some of the most beautiful cemeteries in the world, and Glasgow is no exception. The Necropolis sits above Glasgow, about a 20-minute walk from George Square in the city centre. As you climb the hill, you can get some nice views of the Glasgow skyline below. There are more than 50,000 bodies buried here, but only a few thousand tombs and markers, many alluding to the difficult times Glasgow has faced over the years.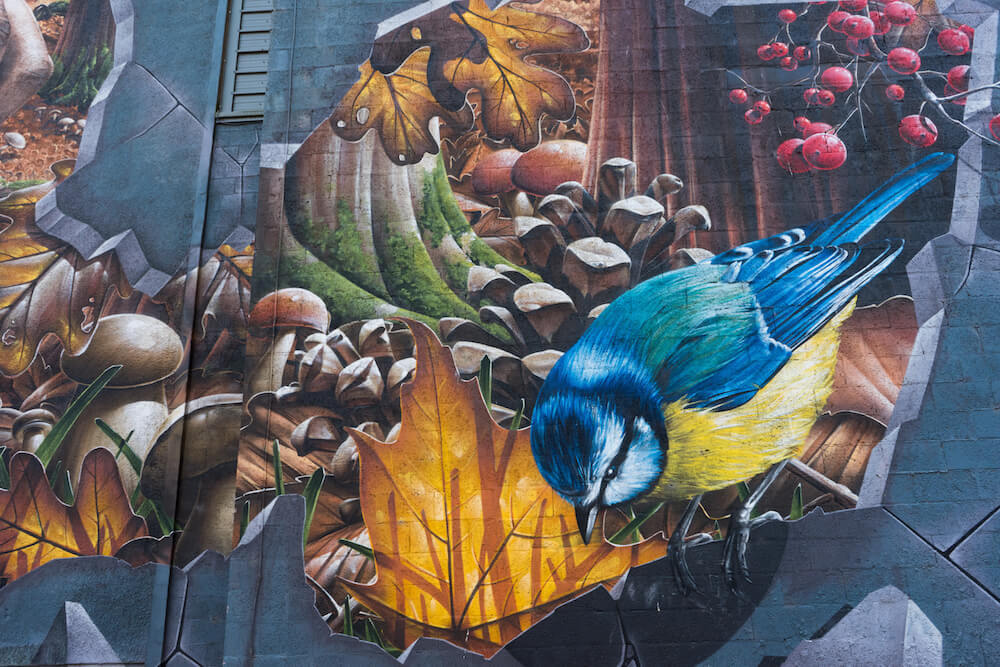 ---
Looking for more ideas in Glasgow and Scotland? Check out our Where to Stay in Glasgow and Where to Stay in Edinburgh. If you're just starting to plan your Scotland trip, check out our guide about Where to Go in Scotland. Our Country Guide to Scotland will be updated as we add more content!
---
11:00: Riverside Museum (Alternate: Kelvingrove)
Our favorite Glasgow museum is the Riverside Museum, which is in a gorgeous building designed by starchitect Zaha Hadid. It's essentially a transportation museum, but a very Glasgow focused one, giving you a picture of the city over the years, and touching on some industries that shaped the city over the years (i.e. shipping). It's also wonderfully hands-on: you can climb into old trams, jump aboard a subway car from Glasgow's (adorable) original metro system (which is the 3rd oldest in the world!), and wander a recreated street from Glasgow's past.
Alternatively, Kelvingrove is a gigantic, mixed collection of treasures. A bit of history, a bit of natural history, a bit of technology, and a bit of art, you really need to prioritize what you want to see, and focus on that; otherwise, you'd spend an entire day there.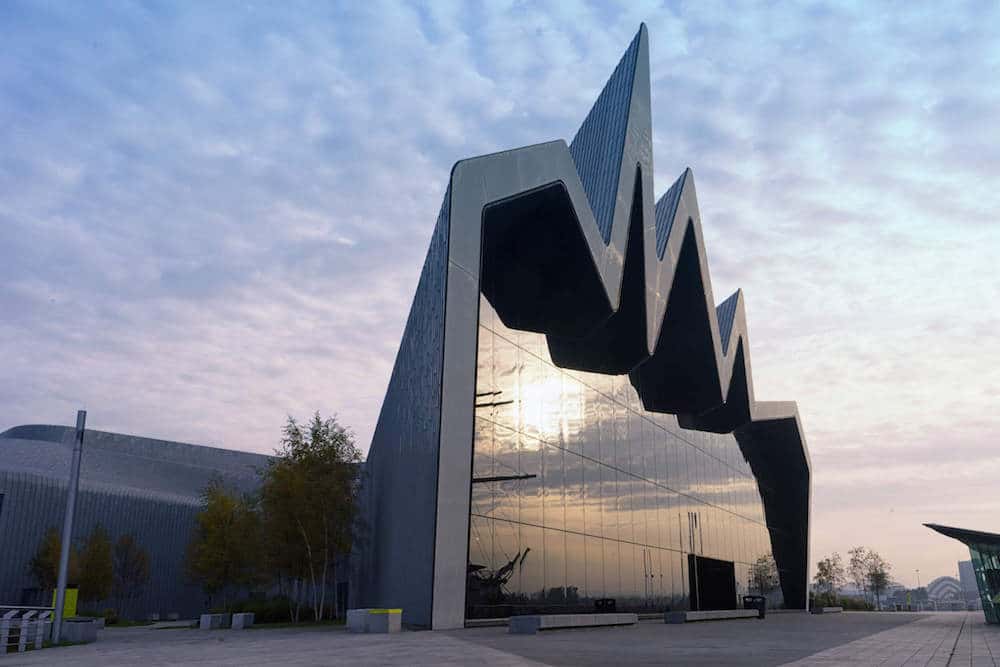 13:00: Lunch on the Go
Grab a quick lunch back in the city centre, and give your feet a break before joining a Miracle of Glasgow tour.
14:00 to 17:00: Experience the Miracle of Glasgow
The so-called Glasgow Miracle refers to the role of the arts in transforming Glasgow from a deteriorating, post-industrial city best avoided up to the 1990s into the vibrant cultural capital and visual arts powerhouse it is today.
In a city bursting with creativity and cultural events, there are any number of ways to experience the Glasgow Miracle. For those interested in visual arts and architecture, however, the Glasgow School of Art (GSA) is the obvious place to start. The GSA has now produced two generations of creative leaders, including Margaret MacDonald and Charles Rennie Mackintosh. If you're a huge MacDonald-Mackintosh fan, it's worth adding an extra half-day to your Glasgow itinerary and heading to House for an Art Lover.
GSA students lead tours of the school, which provides a good foundation for understanding the importance of the arts in Glasgow. Alternatively, Context Travel offers a 3-hour Miracle of Glasgow tour, which is led by an art scholar.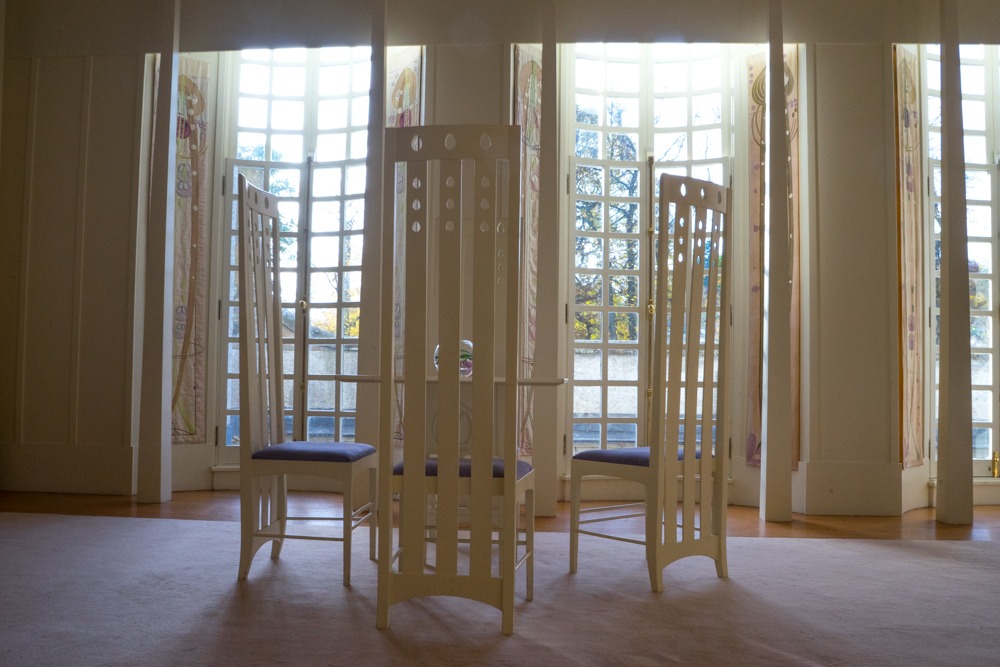 18:00: Pre-Dinner Cocktail at The Anchor Line
Right in the city centre, the Anchor Line is a beautiful spot for cocktails, with a really cool story. The bar actually sits in the building of the former first class ticket office for Anchor Line passenger ships, which took passengers across the Atlantic to the US and Canada during the 19th and early 20th centuries. Building upon this lineage, the interior has a 'grand old shipping' vibe to it, and there are original artifacts from the shipping company tastefully scattered about.
19:30: Dinner at Stravaigin
Stravaigin has both a casual café-style spot and a more upscale restaurant in the same building, and both focus on contemporary Scottish food that also draws on global influences (and is delicious). We ate in the restaurant, and found the vibe to be 'smart casual' and cozy: we didn't feel out of place being dressed fairly casually, but appreciated the upmarket service and menu. This place is popular, so reservations are required: the restaurant was packed on a Monday night when we went.
21:00: Bar Hop Through Ashton Lane
Ashton Lane is a must-visit in Glasgow; it's a picture-perfect winding laneway in the West End area of the city that is FILLED with unique bars and restaurants, often stacked on top of one another. If you want to eat here, or have your heart set on a specific bar, then reservations are recommend. Or you can do as we did: grab an Uber from Stravaigin, and then do a little DIY bar hop from place to place, popping into wherever looks cool.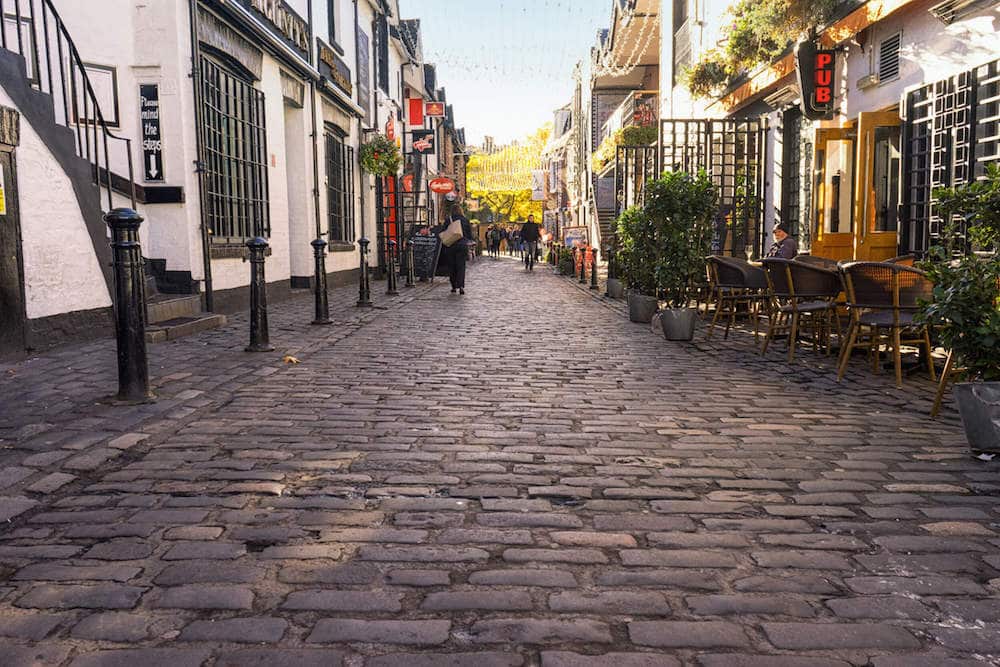 ---
One Day in Glasgow Map
We've put together a Google map with the locations featured in this Glasgow itinerary. You can save this map to your device by hitting the star icon in the top left (you need the Google Maps app to do this).
---
---
Further Reading to Help You Plan Your Scotland Trip
You can see all of our articles about Scotland on our Scotland Travel Guide page. Otherwise, continue planning your trip with one of the articles below.
---
Pin this Post