Top 5 Things to do in Seville. Includes photos, video, and 5 recommendations with the best things to do in Seville in one day, plus suggested tour options.


Seville, Spain isn't on many people's travel radar, but it should be. With warm winters and hot, sunny summers, Seville is a year-round destination, and there are enough things to do in Seville to keep you busy for weeks. Honestly, if we could swing it, we'd move to Seville in half-a-heartbeat (if you have similar dreams, check out this super detailed post about how much does it cost to live in Spain).
If you're unable to uproot your life and only have a day or two to spend in Seville, don't worry: we've pulled together a list of 5 of the best things to do in Seville (also note – this is really an itinerary for adults. If you're visiting Seville with kids, you might want to check out this list of things to do in Seville with kids to round-out your Seville trip planning!).
And when you're planning your trip, be sure to check out our Where to Stay in Seville Guide to find the best area of the city for you!
Things to Do in Seville Spain
1. Las Setas
Go to the top of Las Setas (the mushrooms), and then complain about it with locals. Officially known as the Metropol Parasol, the German-designed wood building-thingy near La Encarnación Square may look cool if you're a foreigner, but that's because you're wrong. Make no mistake, to Sevillanos the aptly-nicknamed Mushrooms are an eyesore. Skulk around the bottom taking arty-looking photos for your Instagram feed, and then head to the top and enjoy a beer while overlooking the city. If you're looking for spectacular city views, this is one of the best things to do in Seville. (You can also stay in hotels right near the Metropol...it's a good area that's not as touristy as some others) .
Make it happen
For €3, you can go up to the top of the Metropol Parasol. The fee includes an elevator ride up and down and a drink, making it a nice destination for an afternoon caña with a view.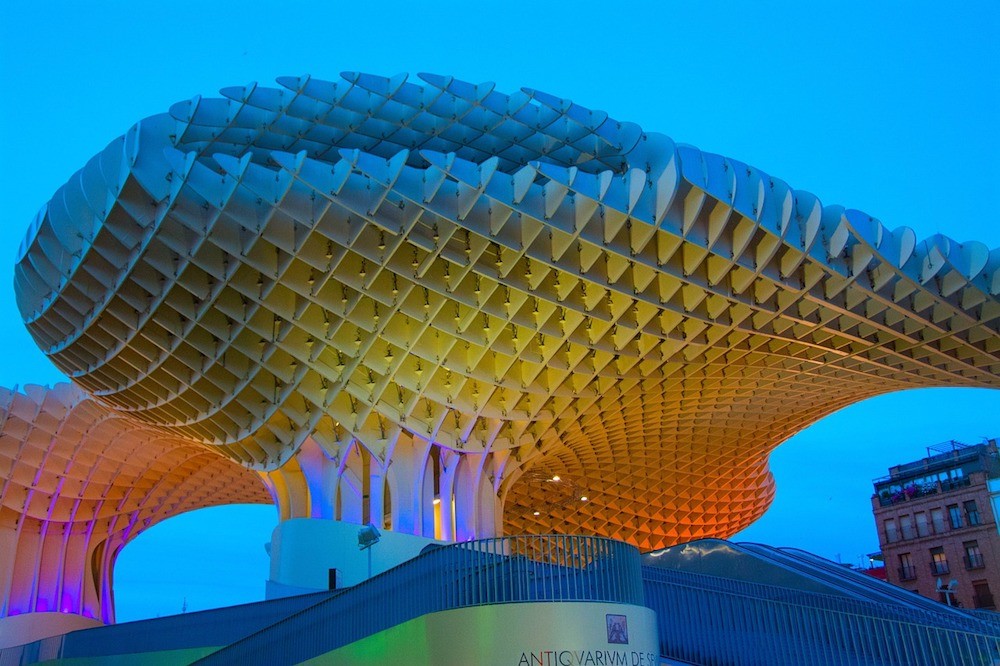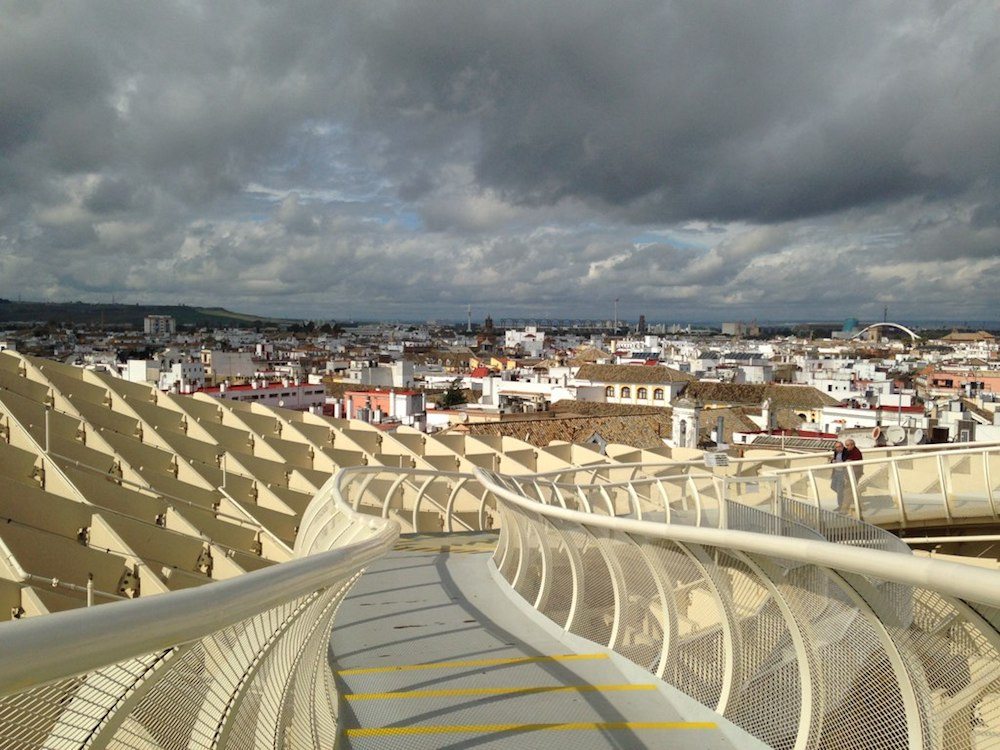 Seville Travel Tip — Choose a Hotel Right Near Las Setas!
Plaza de la Encarnación is a fantastic spot to stay in Seville, because it's slightly away from the tourist centre, meaning you get higher value for every Euro you spend! About a 10-minute walk from the Cathedral, you'll be wedged right between Old Seville and New Seville…convenient, with a bit of local flavour! Based on our research, we recommend 4 hotels near Plaza de la Encarnación:
Itaca Sevilla (3-Star With a Pool)
Hotel Itaca Seville is a 3-star with an outdoor pool that's oriented around a courtyard. It is less luxurious-looking than Hotel Palace Sevilla, but still looks nice, with traditional touches. It's a few blocks off the square.
Check Availability & Prices on
Booking.com / Trip Advisor
---
Hotel Palace Sevilla (4-Star on the Square)
Hotel Palace Sevilla is a 4-star hotel, and is right on the square. It looks great, with decor that I can only describe as "sumptuous." It also gets fantastic reviews, and is a top-seller among visitors to Seville.
Check Availability & Prices on
Booking.com / Trip Advisor
---
Hotel América (3-Star on the Square)
Hotel América is another 3-star, although unlike Hotel Itaca, Hotel América is right on the square as well. It has modern decor, and looks clean and fresh with excellent reviews.
Check Availability & Prices on
Booking.com / Trip Advisor
---
Palacio Villapanes (Ultra Luxury)
Hotel Palacio De Villapanes — Seville doesn't actually have that many 5-star hotels, but if you're looking for some insane luxury and want to stay near Las Setas/Plaza de la Encarnacion, then check out Hotel Palacio De Villapanes, which looks absolutely stunning, gets fantastic reviews, and is only a few minutes' walk from the square!
Check Availability & Prices on
Booking.com / Trip Advisor
---
2. Plaza de España
Stroll over to Plaza de España, a 15-minute walk from the heart of Seville's old town. Built in 1928 for an exposition, Plaza de España now houses government offices, and has an erie, abandoned feeling to it. And yet, it's hard to resist getting pulled in; before you know it you'll have spent an hour inspecting all the beautiful, ornate mosaic tiles, or trying to get that perfect "Moorish architecture reflected in a moat" photo. Or maybe that's just me? In either case, Plaza de España is one of the perfect things to do in Seville if your eyeballs are in need of some beauty.
Make it happen
Plaza de España is free, which makes it a no-brainer. You'll pass a number of nice sidewalk cafes on the way, so leave time to stop for a coffee on the way there or back. Once you're there, geek out with this little piece of trivia: Plaza de España is the setting for the fictitious planet Naboo in Star Wars Episodes I and II.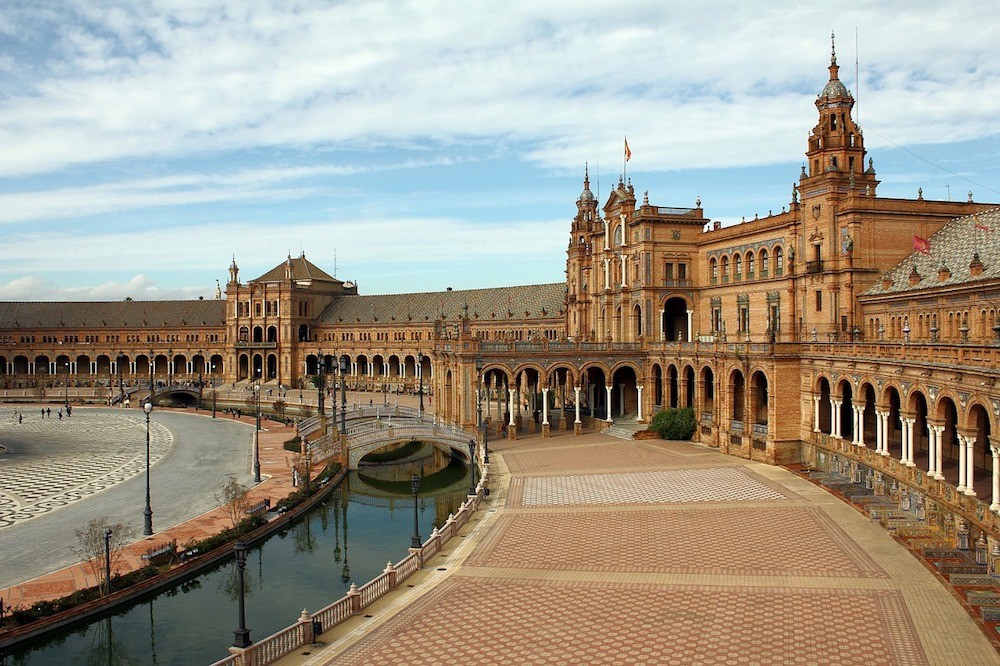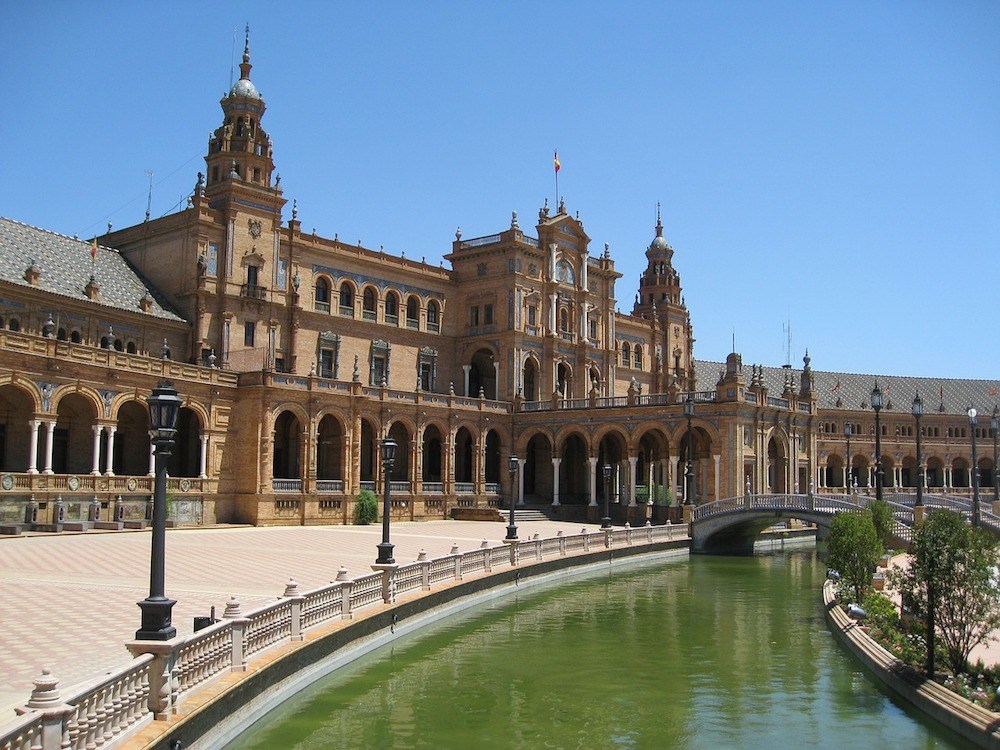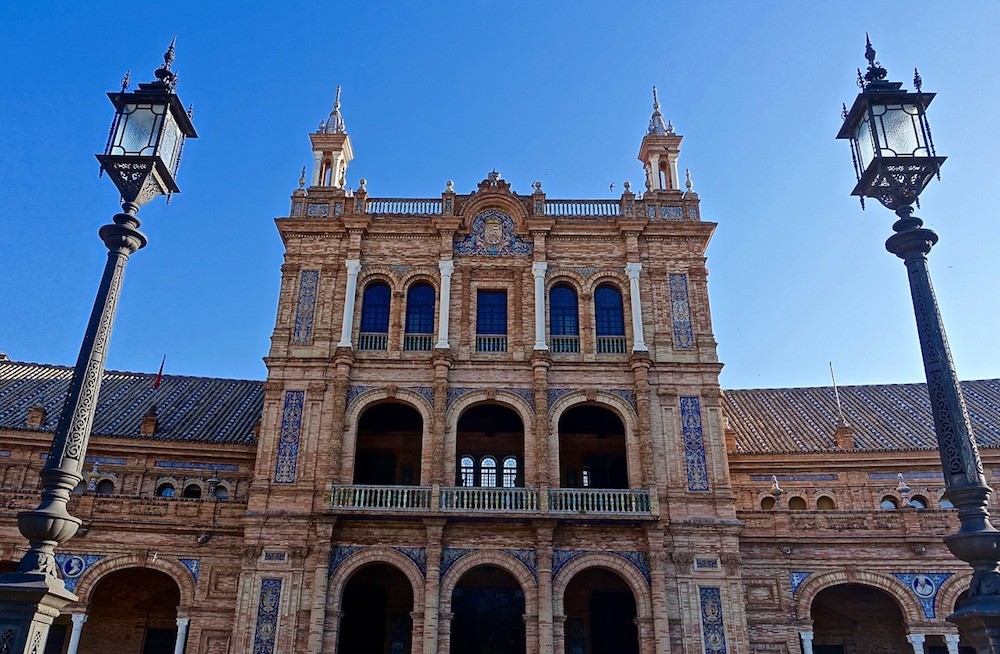 Seville Travel Tip — Explore Plaza de España On Your Own!
Plaza de España is easy enough to explore on your own. And while there are also plenty of tours that incorporate this site into a larger circuit of the top things to do in Seville, I would save my tour budget for the Cathedral and Alcazar, which I think require more interpretation, and could be brought to life with the right guide!
Or, take a zippy Electric Bike Tour of Seville to see Plaza de España and much more from the seat of an easy-breezy electric bike!
3. Seville Cathedral
Climb to the Top of the Seville Cathedral. We're cathedral skeptics and are rarely willing to fork over our limited cash to go inside an old church. But the Seville Cathedral is near the top of our favourite things to do in Seville. The views from the top are spectacular, and if the climb up the ramp to the top of the bell tower doesn't get your heart rate up, you should feel confident in your cardiovascular prowess. A few facts: The Seville Cathedral is the largest gothic cathedral in the world, and the third-largest church in the world. The size and scale of its interior is quite astounding. It's also a UNESCO world heritage site (together with the Real Alcázar and Archivo de Indias). Finally, it is arguably the burial place of Christopher Columbus, and you can see his supposed tomb inside.
Make it happen
The entrance fee to the Seville Cathedral is €9 and includes the cathedral and bell tower, which has a ramp rather than stairs to climb. Stop on the way up to catch your breath and take some photos; the views on the way up are are different — and just as nice — as those from the top.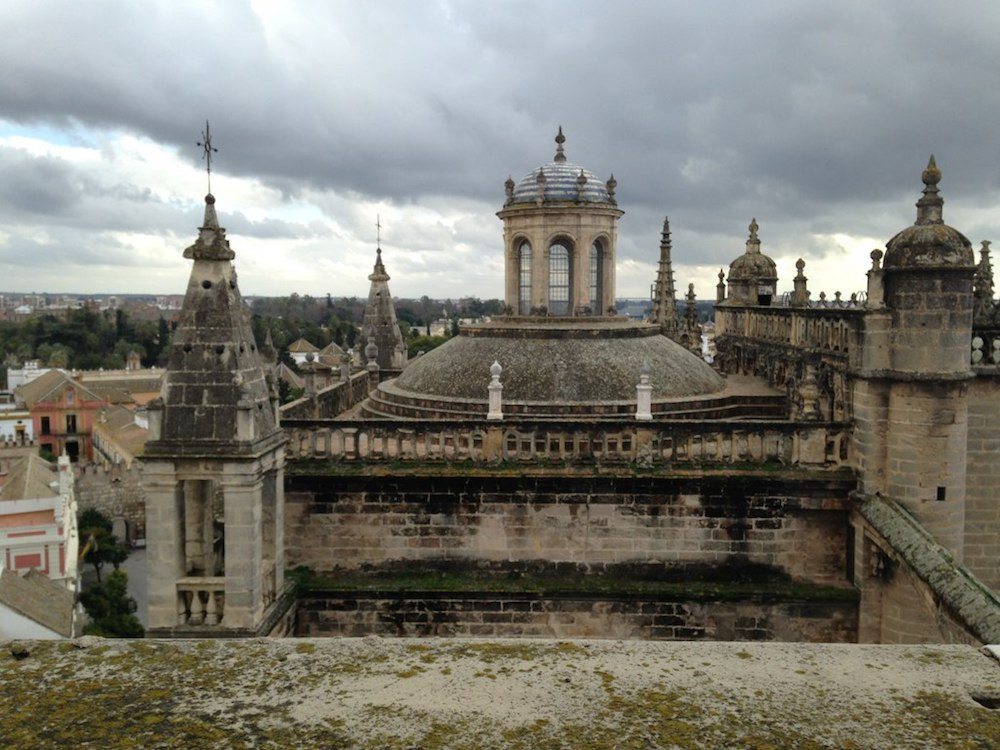 Seville Travel Tip -Book A Hotel In the Heart of Romantic Seville
If you're only in Seville for a day or two, you probably want to stay in the centre of the action: right near the Cathedral, which really is the heart of beautiful Old Seville. Thankfully, Seville's hoteliers know this, and have created a beautiful selection of hotels within a stone's throw from the Cathedral, including many of which have absolutely stunning rooftop views. These are the hotels we suggest you check out in Seville's old centre:
Suites Murillo (Luxury Lofts With A View)
Suites Murillo are a set of 3 different luxurious apartment-hotels, right in the centre of Seville. There are Suites Murillo, luxury loft-style apartments next to the Cathedral and offering fantastic views; Suites Murillo Segovias, which are 500m from the Alcázar; and Apartamentos Murillo, which are 200m from the Cathedral. Suites Murillo Segovias gets the best reviews from past guests, followed by Suites Murillo. Apartamentos Murillo is significantly less well-rated, although it's still good at 8.5/10. (If I had to choose, I'd go for Suites Murillo, because of the location!)
Check Availability & Prices on
Booking.com / Trip Advisor
---
Hotel Amadeus & La Musica (Boutique Hotel With Rooftop Pool)
Hotel Amadeus & La Musica seems to be the hotel our readers love the most in Seville, and I can see why. For one, ROOFTOP POOL! It's only 150 meters from the Cathedral, which means you can swim in the pool and gaze upon history at the same time. It's also really elegant looking, and seems to be good value for the price, with the feeling of a boutique design hotel.
Check Availability & Prices on
Booking.com / Trip Advisor
---
Hotel Rey Afonso X (Luxury with Rooftop Pool)
Hotel Rey Alfonso X is the most luxurious choice, and also has a stunning rooftop pool. It seems to be a top seller in Seville, and is very close to the Cathedral (although not as close as close as Hotel Amadeus or Suites Murillo…more like a 3-minute walk)
Check Availability & Prices on
Booking.com / Trip Advisor
---
4. Alcázar Seville
Explore Seville's Moorish Heritage at the Real Alcázar de Sevilla. Some claim the Alcázar Seville is even more impressive than Granada's Alhambra Palace. While we wouldn't go quite that far, it's pretty awesome. Soak up Andalusia's Moorish heritage by spending a few hours wandering through the Alcázar, marvelling at the intricately carved details and beautiful gardens.
Make it happen
Entry to the Alcázar doesn't come cheap: it'll set you back a cringe-inducing €11.50 — a lot if you're on a strict budget — but is totally worth it. Leave a few hours to explore the palaces and the gardens. The Alcázar is near the Seville Cathedral, making it possible to visit the Alcázar, Seville Cathedral and the nearby (and free) Archivo de Indias all in one day. You can also take a combined tour of the Cathedral and Alcazar. A visit to the Archivo de Indias is also worth the time investment, as it houses a massive collection of original documents related to Spain's adventures in empire-building.
Or, try Skip the Line Alcazar Tickets with Guided Tour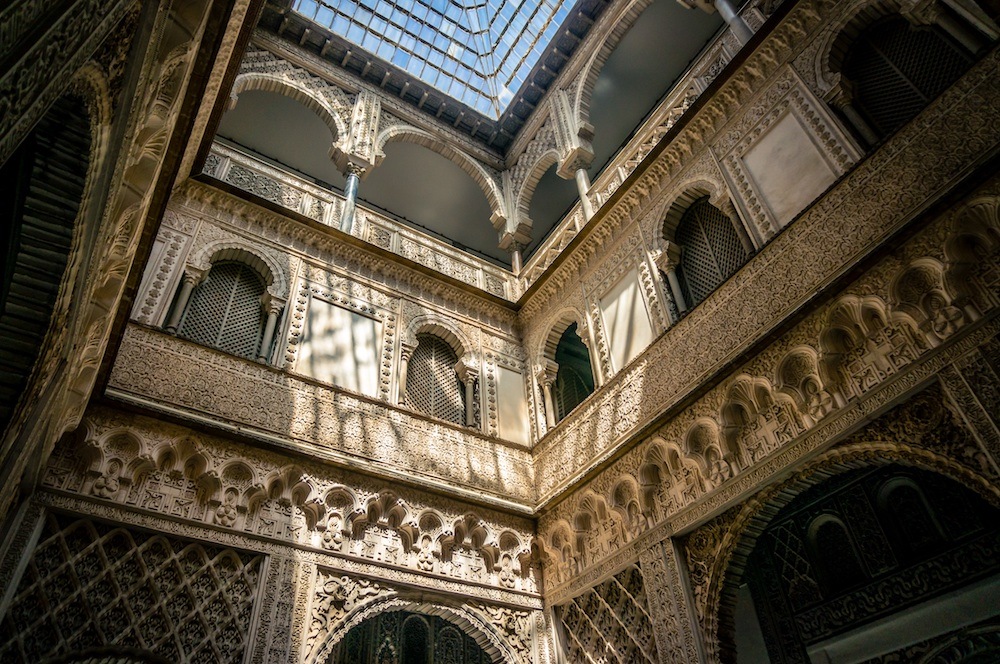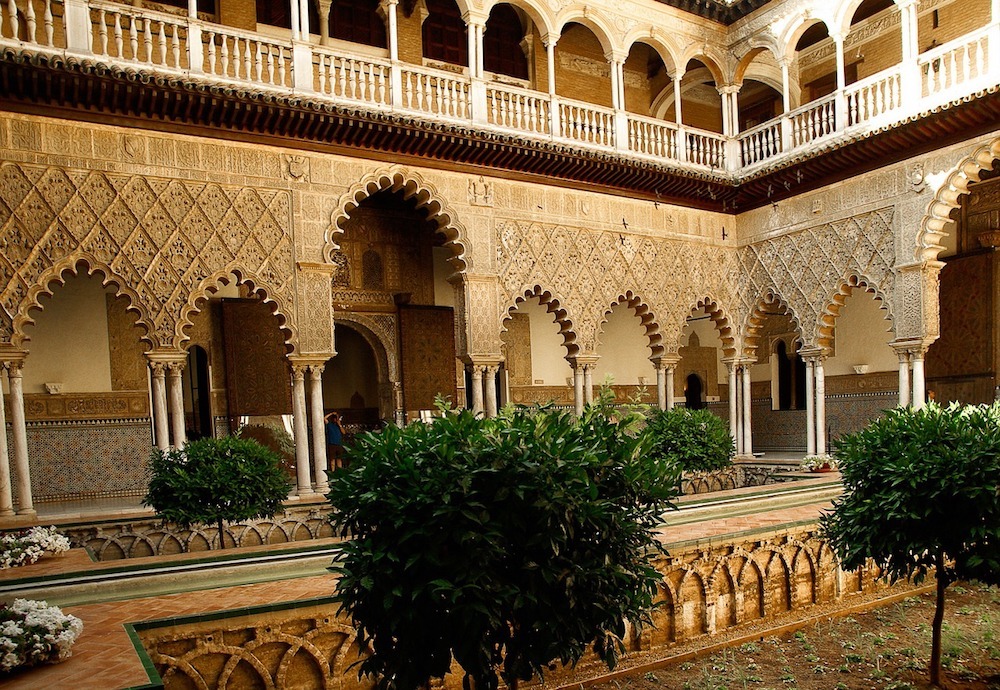 Seville Travel Tip — Join A Tour for the Most Important Things to Do in Seville!
Alcázar, Seville Cathedral and La Giralda Guided Tour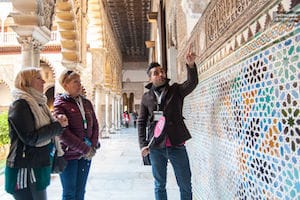 Rated 4.7 / 5 from 500+ reviews
The Seville Cathedral, the Alcazar, and the Giralda Tower are the three most important things to do in Seville – at the top of any "must-do" list of the city. And while it's certainly possible to explore all of them on your own (we did, after all!), if I did have money to spend on a tour in Seville, this is probably where I'd spend it (and maybe on a food tour, below). After experiencing the difference knowledgeable guides can make during our recent experience in Rome, I kind of regret not finding a good guide to take us through the Cathedral and Alcazar…next time we visit the city, we certainly will rectify that!
---
More Popular Seville Tours
Cathedral and Giralda Tower Guided Tour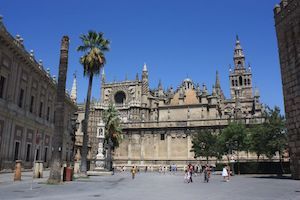 Seville Cathedral and Giralda Tower 1-Hour Guided Tour – Explore the world's largest gothic cathedral, and third largest cathedral on a one hour guided tour that also gets you access to the Giralda tower with magnificent views of the city. Soak in the exquisite interior and details in this UNESCO World Heritage Site. The large tomb suspended on pillars, is supposedly that of Christopher Columbus!
Seville Full-Day Sightseeing Tour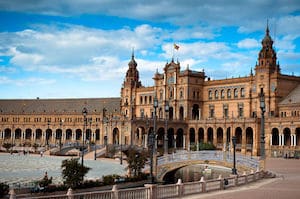 Fascinating Seville Full-Day Sightseeing Tour – A full day tour incorporates the sites in the other tours listed here – the Seville Cathedral, Royal Alcazar, but also explores Plaza de España. The tour also covers the lively neighbourhoods of Triana , Santa Cruz and San Telmo. The tour also includes a visit to the famous Bull Ring and ends with a boat trip on the river. If you're only in town for a day or two, this might be perfect for you.
Seville Hop-On Hop-Off Bus Tickets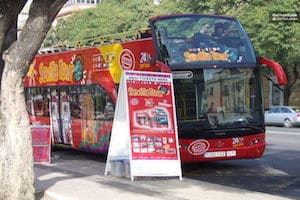 Seville Hop on/Hop off Bus – Get you tickets in advance here and choose between 24 and 48 hour tickets. With 12 stops around the city's best attractions, it's possible to explore Seville at your own pace. Your ticket also includes 4 walking tours. A great way to comfortably get out to some of the lesser visited sites.
---
5. Tapas & Caña
Tapas & Caña! One of the best things to do in Seville is experience the famous Spanish lifestyle. Siesta is a religion in these parts, and it's not uncommon to enjoy a beer at lunch. Around nine or ten at night, people start hitting up traditional tapas bars to stand at the bar, around a tall table, or even on the sidewalk while picking at small plates of cured ham and other snacks. Una caña, a small glass of draft lager, is the perfect accompaniment to taking tapas.
Make it Happen
Order a plate of jamon bellota, the best quality jamon iberico, at least once while you're in Seville. Bellota is the Spanish word for acorn, and jamon bellota is cured from acron-fed, free-living and insanely delicious black pigs in the Andalusian countryside. At €8 or more for a tiny plate of thinly sliced ham, it's priced as a treat, but it will be oh-so-worth it when the delicious morsels of meat and fat melt on your salivating tongue. If you're stuck for ideas about which tapas bar to visit, check out our friend Cat's blog. Cat is an American expat living in Seville, and regularly posts about tapas bars in Seville. And if you want everything taken care of for you, check out this Tapas & Gourmet Wine Tour on Get Your Guide.
---
---
If You Don't Want To Go It Alone
We visited Seville as independent travelers and spent about 2 weeks in the city. But if you have limited time, are traveling with a large group or family, or are simply more of a 'have someone take care of everything' kind of traveller, you might consider a tour.
We like to recommend Get Your Guide whenever possible. We can also recommend Viator because the company is also good to bloggers and employs friends, and so we want to support the company! We also earn a small commission if you book a tour through one of these links, and you pay nothing extra, which we see as a win-win! In addition to the tours listed above, these ones look intriguing!
Game of Thrones Tours — Get Your Guide offers a Game of Thrones themed tour in Seville: Kingdom of Dorne Game of Thrones Tour and Viator has a Seville and Osuna Guided Game of Thrones Tour. Honestly, I'm on the fence about suggesting either, because the reviews are either sparse (the first tour gets a great review, but there's only one), or mixed (the second tour gets very mixed reviews). But at the same time, it's impossible to visit Seville these days and not hear about Game of Thrones, and the concepts of both tours seem pretty cool!
Hot Air Balloon Over Seville — Not really fitting with the "things to do in Seville" theme of this post, but this looks too cool not to include, and the reviews are fantastic, with multiple past guests calling it the highlight of their trip!
Flamenco Show — Rather embarrassingly, we did not experience any Flamenco while in the city! It's one of the most popular and iconic things to do in Seville, and we totally missed it! I'm sure there probably a tonne of opportunities to see Flamenco in Seville, but again, if you want everything taken care of and organized for you, this seems like a pretty good option, and gets awesome reviews.
A Few More Things for a Trip to Seville
If you haven't already seen it, check out our timelapse video of Seville.
---
Heading to Granada next? Click here for our tips on visiting the Alhambra!
---
Further Reading…
If you need an introduction to Southern Spain: Our Andalusia 101 Guide should help! We hired a local writer who's lived in Andalusia for several decades to share her knowledge on this beautiful region. It includes all you need to know when planning your trip, such as the best places to go in Andalusia, things to eat and buy, don't miss highlights, etc!
If you're wondering when to go to Spain: If you haven't booked your trip yet and are wondering the best time of year to visit different parts of Spain, this post from travel blogger The Travelling Tom outlines the pros and cons of different seasons all across Spain!
If you're wondering where to go in Andalusia: Lavina from Continent Hop has put together a one-week Spain itinerary that focuses on Andalusia. If you're in need of inspiration for your trip, this could help!
---
Pin This Post!