When you picture a trip to Universal Studios and Islands of Adventure, you're probably picturing those iconic roaring roller coasters and movie quality simulators. But if you're visiting with kids, you'll be glad to know there are plenty of kid friendly rides at Universal Orlando too!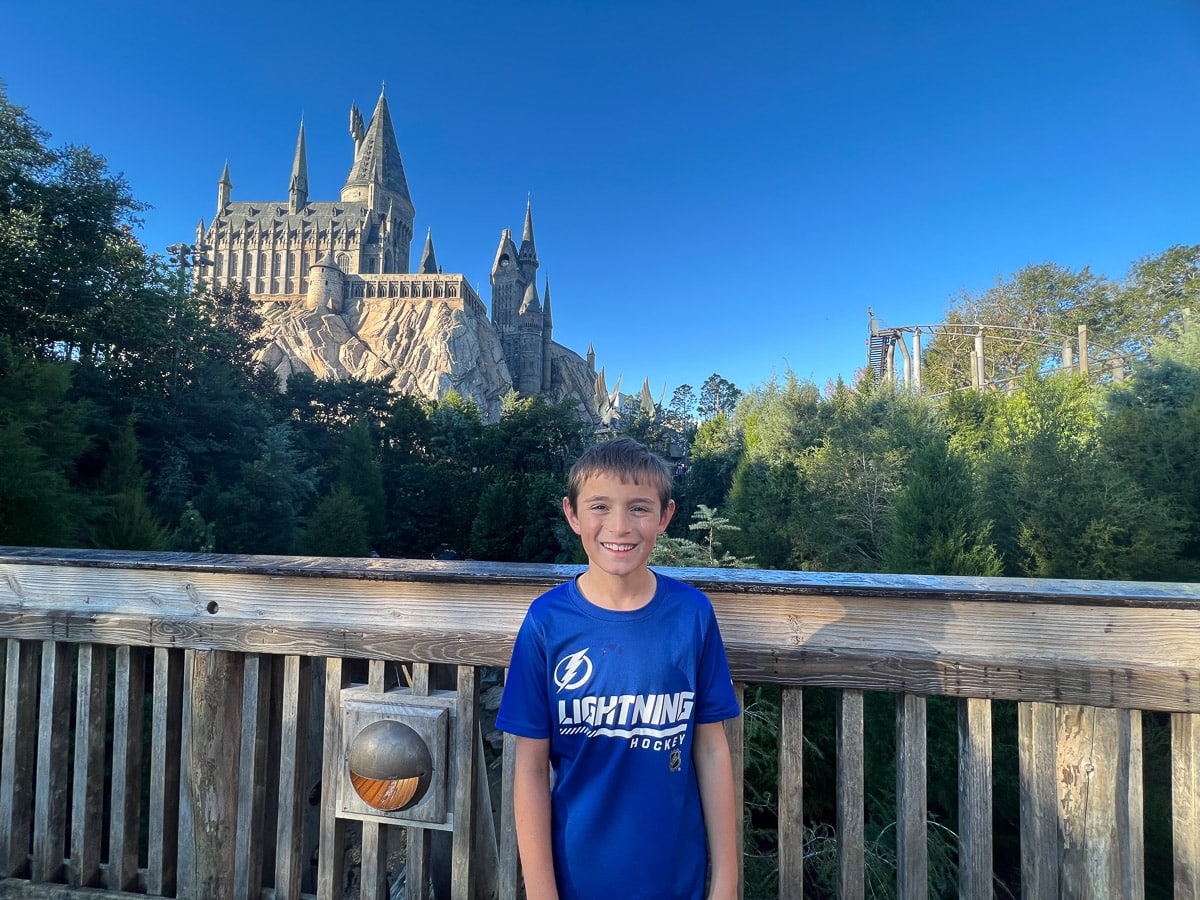 As a Florida resident, I've been to the theme parks more times than I can count. But I recently took my seven year old on his first trip to Universal, and we quickly found out that he is not a fan of high speed ,scary rides. At least not yet!
So if you're also visiting with little ones in tow, here are my top picks for the best kid friendly rides and attractions at Universal Studios and Islands of Adventure. (And make sure you check out this article for some insider tips too!)
Kid Friendly Rides at Universal Studios Orlando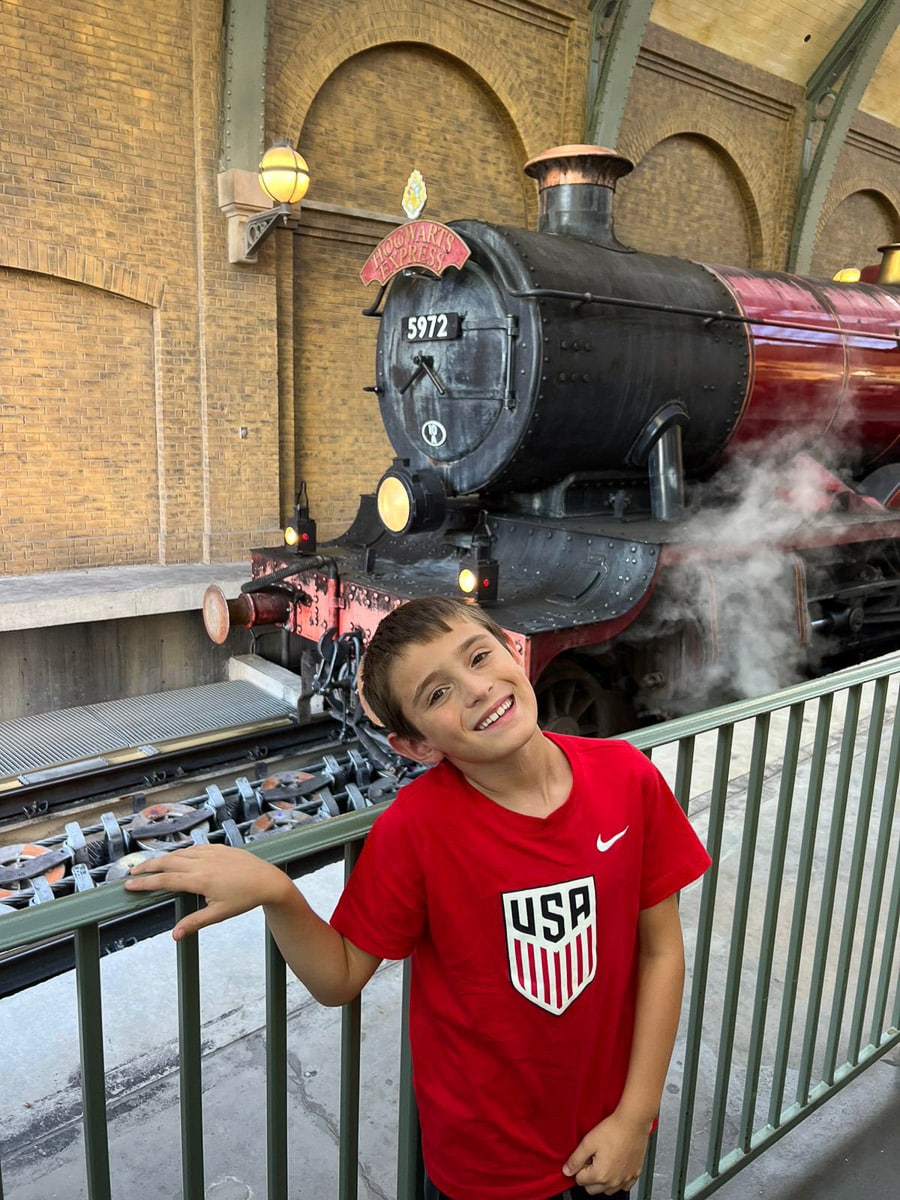 Diagon Alley and the Hogwart's Express
The real gem at both Universal and Islands of Adventure is the Harry Potter themed area of the park, so don't forget your best Harry Potter gear! The re-creation of Diagon Alley is really something special and a great place to spend some time with the family. Take a walk around the shops, where Harry Potter bought his wizarding school supplies. If you care to purchase a wand, stop at Olivander's, where they'll help you pick the perfect one. Then practice casting spells at the interactive spots throughout the park. Stop in at Gringotts and exchange your muggle money for some wizarding money instead. Grab a snack and a butter beer (not actually beer – but still worth a taste).
And if you have park-to-park passes, you can ride the Hogwart's Express straight into Hogsmeade at Islands of Adventure. The train ride really is a fun activity and counts as a ride all by itself.
There's also a great ride here called Escape from Gringotts, which is deemed a "family roller coaster". But it was way too intense for my seven year old who noped out right before boarding the ride. And I agree with him – it was pretty fast moving and the theming was pretty dark and intense. So I would save that one for just the older kids.
Despicable Me: Minion Mayhem
This one has no real fear factor. It's a 3D movie where you go in to minion training, and adventure ensues. The "vehicle" you sit in never really leaves the ground, although it does jostle you about a bit to go along with the movie. It feels like your jumping or falling in some parts of the movie, but it's all very lighthearted. The Minions ride has a 40″ minimum height requirement.
E.T. Adventure
If your kids like the E.T. movie, they'll love this ride too. You sit on a flying bicycle (well.. more like a big group bicycle) and ride through the sky. It's slow moving and very kid friendly – in fact, it's located inside the Woody Woodpecker Kid Zone. The E.T. ride has a 34″ minimum height requirement.
Kang & Kodos' Twirl and Hurl
In the Simpsons themed area of Universal, you'll find the Twirl and Hurl. It's basically a version of the teacup ride that everyone knows and loves. You can spin your little saucer as fast as you wish. Ok, as fast as you can get it to go, which isn't all that fast. Great fun for all ages, and no minimum height requirement.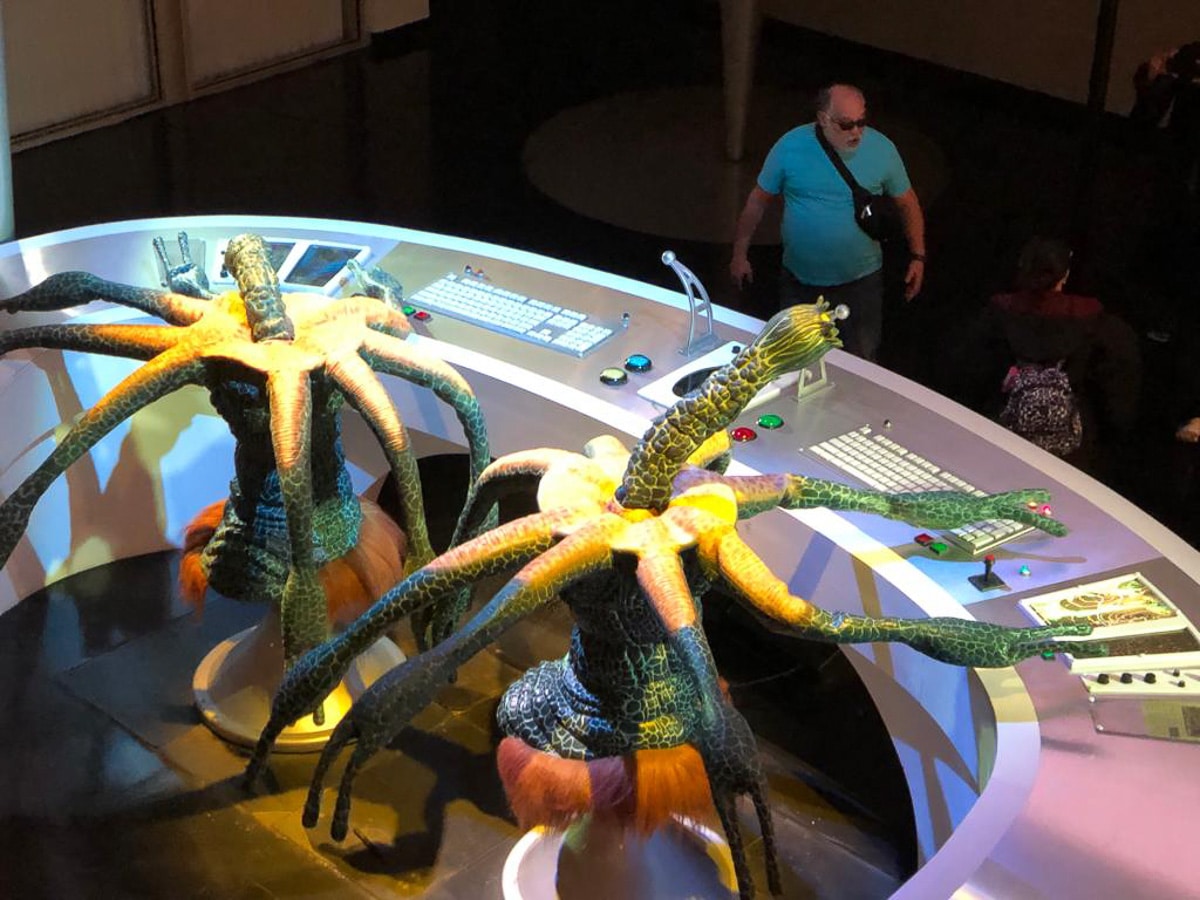 Men in Black Alien Attack
For slightly older kids, the Men in Black ride is a ton of fun. This was my seven year old's favorite ride on our most recent visit. And I'm sure that's the entirely due to the laser guns you get at each seat to shoot the aliens. ;-D There's a bit of spinning around, and of course the aliens might be scary for younger kids. The Men in Black ride has a minimum height of 42″.
The Simpson Ride
The Simpsons ride is a virtual reality roller coaster. If your kids like the idea of a roller coaster but aren't yet big enough for the real thing – this is a fun ride. For my own kid, he hates roller coasters of all kinds, and this VR version was no exception. So keep that in mind when deciding if this is a good choice for your own kid. The Simpsons ride has a minimum height requirement of 40″.
Transformers
The Transformers is a 3D experience that isn't very fast moving, but does get a little intense. It might be scary for younger kids, but is a safe bet for older preteens. The Transformers ride has a minimum height requirement of 40″.
Animal Actors on Location! Show
There are quite a few shows available at Universal Studios, but the most kid friendly one is definitely the Animal Actors on Location! It's exactly what it sounds like it would be – a fun show that shows off the talented animal actors that help make the movies we all know and love. This is great for all ages.
Character Encounters
There are several areas around the park where the kids can meet their favorite characters. Some of the most popular are SpongeBob, The TRANSFORMERS, and The Simpsons!
Arcade and Midway Games
You can also find carnival style games in the Simpson's area and the Palace Theater Arcade in the New York area.
Note that the family friendly Curious George play area, Fievel's Playland, and the Woody Woodpecker's Nuthouse Coaster are being closed in January 2023 to make way for new attractions.
Kid Friendly Rides at Islands of Adventure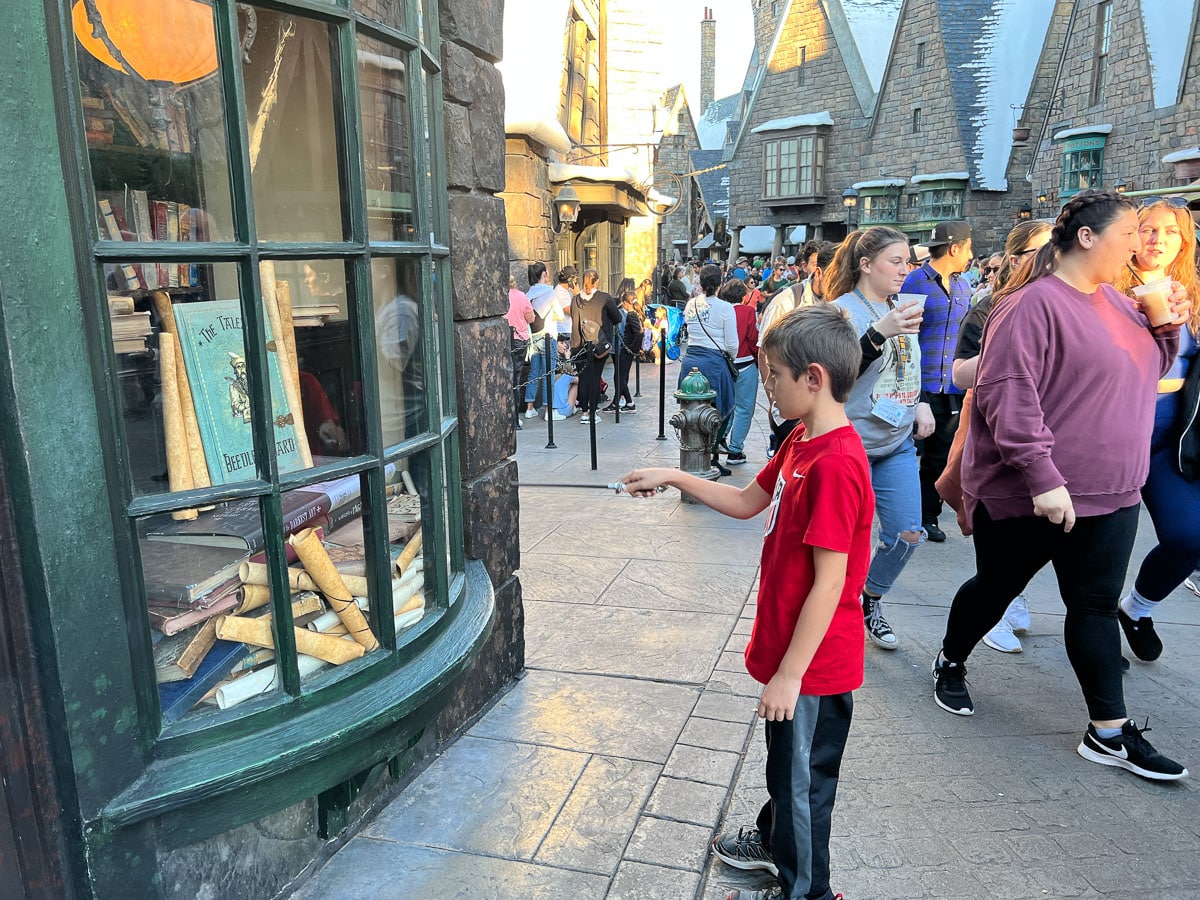 Harry Potter's Hogsmeade
The Harry Potter fun continues over at Islands of Adventure, where you'll find the town of Hogsmeade and the Hogwart's School itself. The theming is just as spectacular on this side of the attraction, making this a fun area to walk through or grab lunch. And you can ride the Hogwart's Express the other direction, back into Universal Studios. And that's worth the trouble, as the show is different in each direction.
There are three Harry Potter themed rides on the Islands of Adventure side, but both are geared to an older audience. Harry Potter and the Forbidden Journey is an indoor coaster with a 3D experience. It was honestly very intense – fast moving, lots of sudden movement, tipping almost completely backwards, and very dark theming. My seven year old did it and was pretty much terrified. Then there is Hagrid's Motorbike Adventure, which is lighter in theme, but still a pretty fast moving coaster. Both have a minimum height of 48″ and are best for older kids (like preteen and up).
If you have Express passes, they will be put to good use in this section of the park. These are some of the most popular rides at Universal!
And finally, there is Flight of the Hippogriff, a roller coaster ride that is much more tame than the big coasters and only has a minimum height requirement of 36″. This is less scary than the two rides above, but it's still a coaster. This one is a great first coaster experience for brave kids to try though!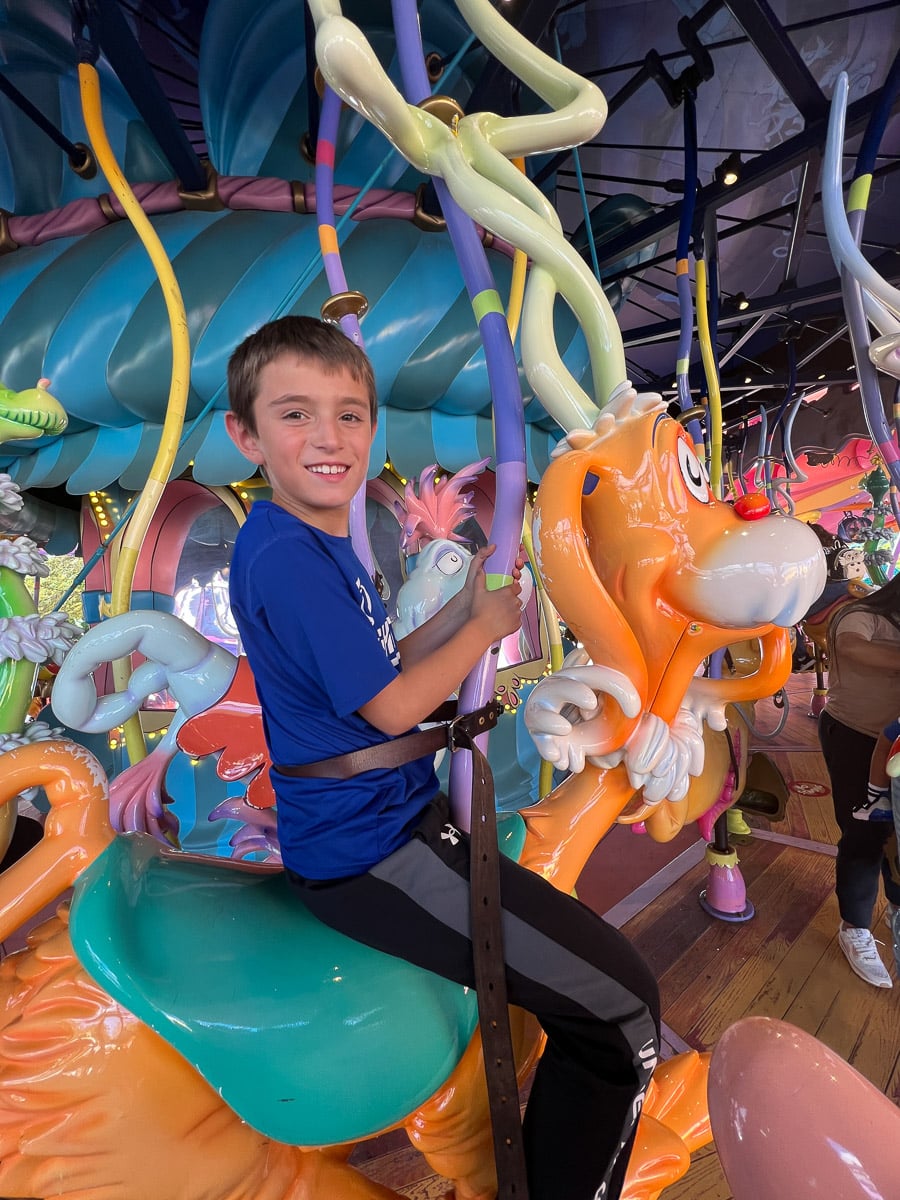 Seuss Landing – The Cat in the Hat, Trolley Train Ride, and more.
In Islands of Adventure, you'll find Seuss Landing, a Dr. Seuss themed neighborhood filled with kid-friendly activities. My seven year old really enjoyed this area! You'll find the Caro-Seuss-el, a classic carousel ride that is great for all ages. Then there's the "fish ride", which is essentially like the Dumbo ride at Disney, which is also good for all ages.
Next, there's the High in the Sky Trolley Train Ride, which is a fun Dr. Seuss themed train ride that drives all around above Seuss Landing. I have to admit, this one was pretty fun. And you should do it once on each direction, as the ride is different. Minimum height of 36″ for the train ride.
And finally, there's the Cat in the Hat ride which is an adorable ride through the famous Cat in the Hat story. There is no fear factor at all here, and it's good for all ages. But does have a 36″ minimum height requirement.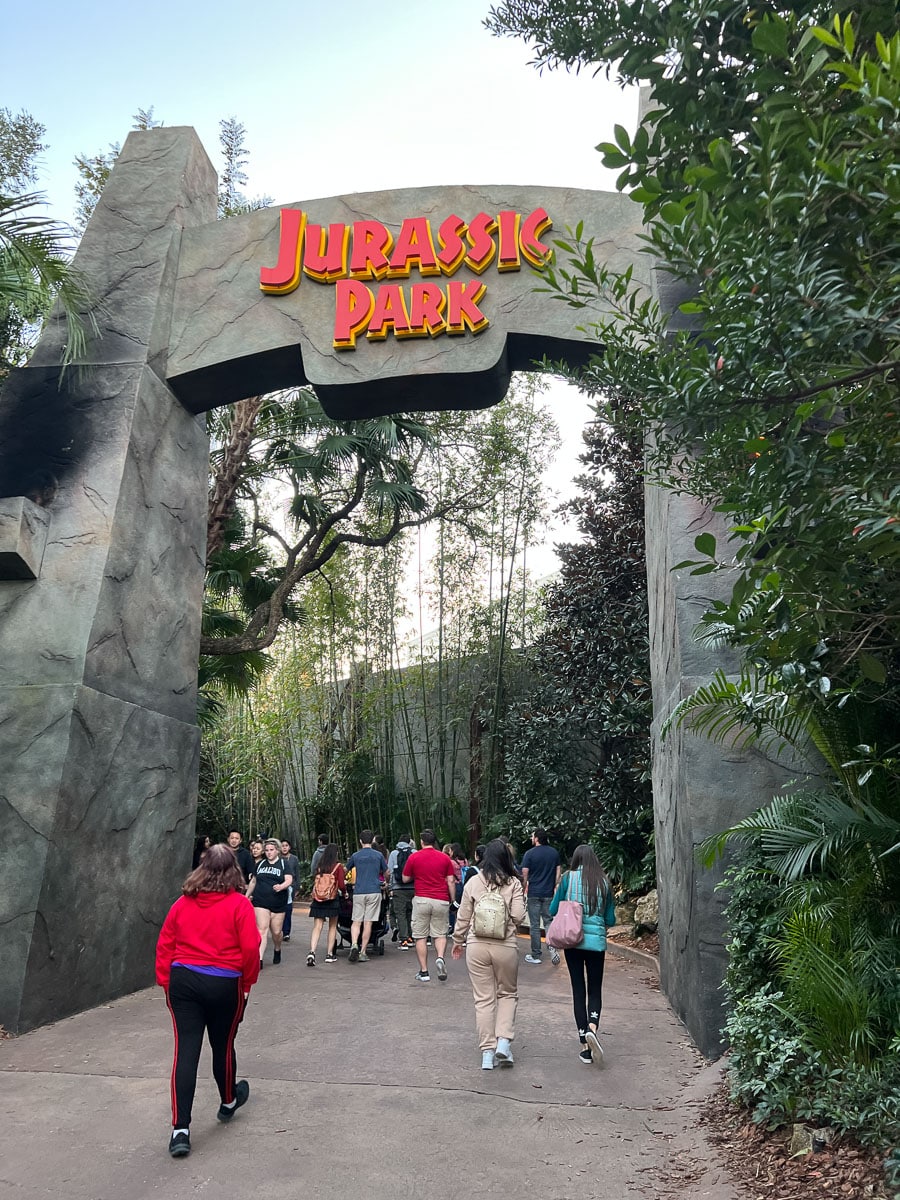 Pteranodon Flyers
This is one of the most popular kid-friendly attractions at the parks, and is actually a ride that is reserved just for kids. Well kids and one adult! In order to ride, kids must be between 36″ and 56″. If you're taller than 56″, you must have a kid. No adult riders without kids – they're trying to keep the line shorter for families.
This is a great glider that flies above the Jurassic Park area. It's pretty high up off the ground, but slow moving, and not scary at all. My son loved this ride!
Popeye & Bluto's Bilge-Rat Barges
Slightly older kids will enjoy this river rafting adventure ride. It's not too scary, except for a somewhat steep drop at the end. But watch out – you will get absolutely soaked! This ride has a minimum height of 42″.
The Amazing Adventures of Spider-Man
Spider-Man is a 3D experience that's good for most ages. There's a bit of jostling and tipping around, but the vehicle itself never really moves, so it's not too intense. The movie itself might be a little scary for the youngest kids, but it has a minimum height requirement of 40″ anyway.
Storm Force Accelatron
Over in the Marvel section, you'll find this family friendly ride tucked in among the big coasters. It's basically a tea cup style ride, where you can spin your saucer around as fast as you can. A classic for all ages!
Arcade and Midway Games
And much like Universal, you can find an assortment of arcade games at Kingpin's Arcade and carnival type games in the Jurassic Park area and Toon Lagoon.
More Universal Studios Planning Tips
And for more trip inspiration, check out these other helpful guides to Orlando's Universal Studios and Islands of Adventure: