Mexico has been on fire for us lately, visiting great spot, after great spot. We fell in love with Valladolid, and enjoyed the bright and sunny colors of Izamal, too. And while we've already talked about how friendly people from Campeche state are, we're now also adding the state capital to the list of places we love for the laid-back atmosphere, eye-candy buildings, and range of things to do in Campeche. Campeche's old town is probably the cleanest and most pristine version of Mexico we've seen yet. It is so well kept, it honestly almost felt a bit fake…like a Disney-interpreted version of Spanish colonial architecture. Almost.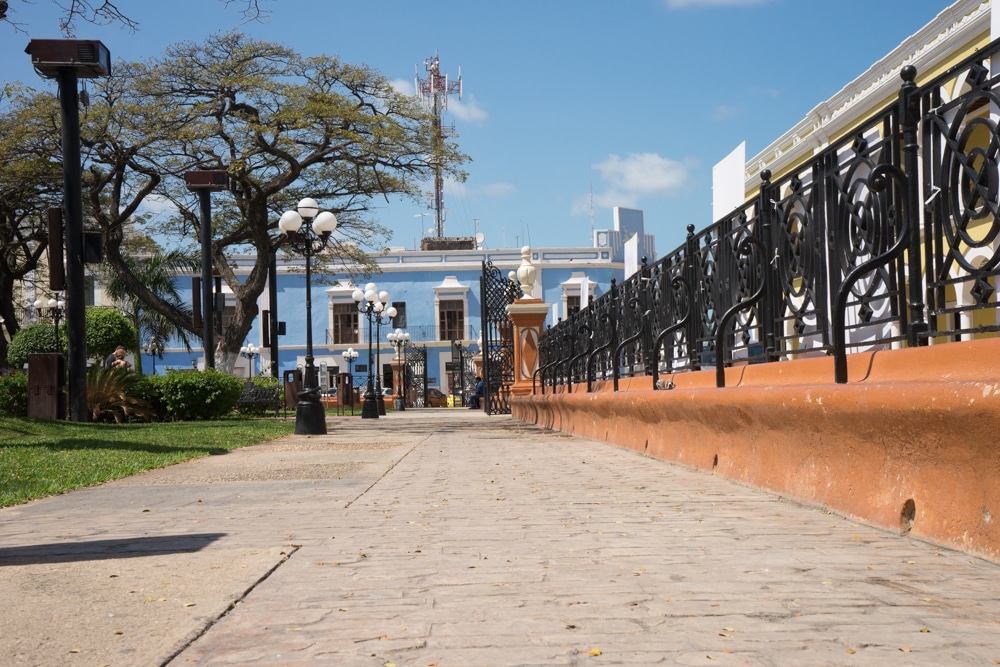 What kept it real, and makes it awesome, are the unexpected differences and quirks that set Campeche apart from other equally cute and colourful Mexican cities. Campeche has its own personality.
To start with, there's a slightly Caribbean vibe. Sipping on fresh pineapple juice at a sidewalk café, riding our bikes along the palm-lined malecón, and walking the ancient walls that fortified and protected the city from pirates…those were the fleeting moments when it didn't really feel like we were in Mexico at all, but a tiny island in the Caribbean.
I love that: Mexico is a massive country, and I don't think it always gets recognition from foreigners for the diversity of cultures, landscapes, and people that go along with that.
And then there is the accent of Campechanos. The accent in Campeche is…unique. We experienced far more tiny misunderstandings than is typical in our travels through Mexico, and we really had to work to understand what people were saying. The accent in Campeche is thick and fast, with many dropped syllables, and minimal mouth movement by the speaker. Imagine someone speaking Mexican Spanish with a mouthful of food, and you'd be close to the Campeche accent.
As you can probably tell, we liked Campeche, and would definitely recommend it if you're coming through Mexico. It's only a few hours from Merida, and well worth the side trip, even if it means a little backtracking. If you're coming from San Cristobal and Palenque, it's worth a stop, and if you have to choose between Merida and Campeche, we'd throw our vote behind Campeche.
Hit the play button and let us show you the color of Campeche, Mexico! Feeling more like a Caribbean hot spot without many tourists, this little city offers a great alternative for travellers to enjoy the Mexican sun and hospitality in a real and authentic way!
Our Favourite Things to do in Campeche
1. Cruise the Malecón
The city has done a really nice job with the malecón, the seawall/boardwalk that runs alongside the palm-lined Gulf of Mexico coast. Located just outside the walled old city, it's easy to walk to, or you can do as we did and cruise the malecón.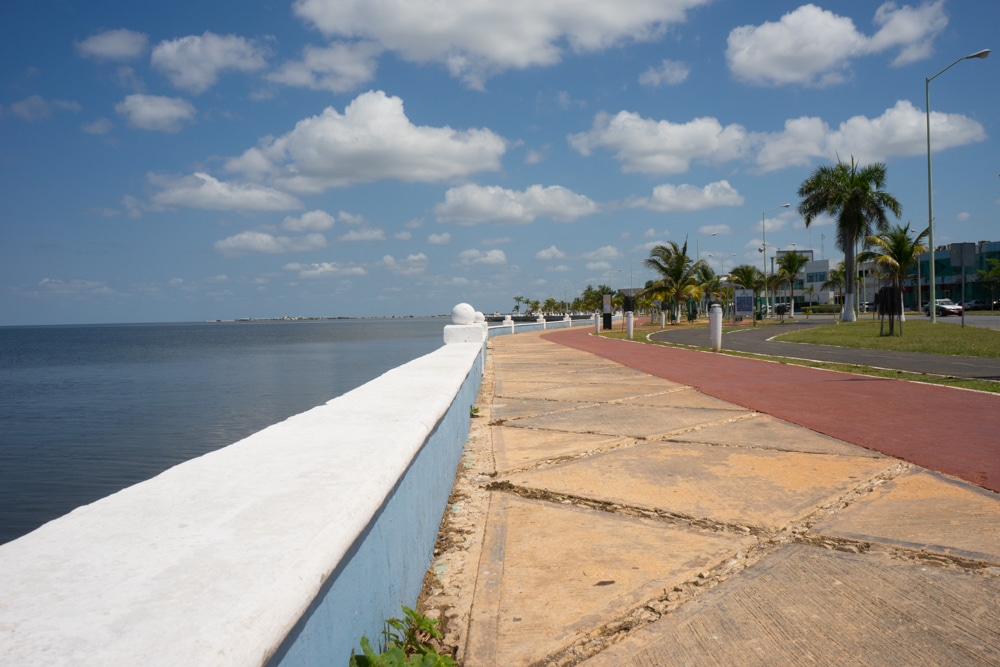 We rented cruiser bikes on Calle 59, between Calle 8 and Calle 10, at a small shop beside La Parrilla Colonial restaurant. For $100 pesos per bike, we had entire day (about 8 hours) to go exploring.
We rode the bikes all the way to Fuerte San Miguel. The malecón ran out after a few kms, leaving 1 or 2 kms of riding on the street and on uneven sidewalks – a lot of stop and go, plus a steep hill up to the fort itself. But it wasn't unmanageable if you're relatively mobile and fit. Alternatively, stick to the pathway and explore the coast.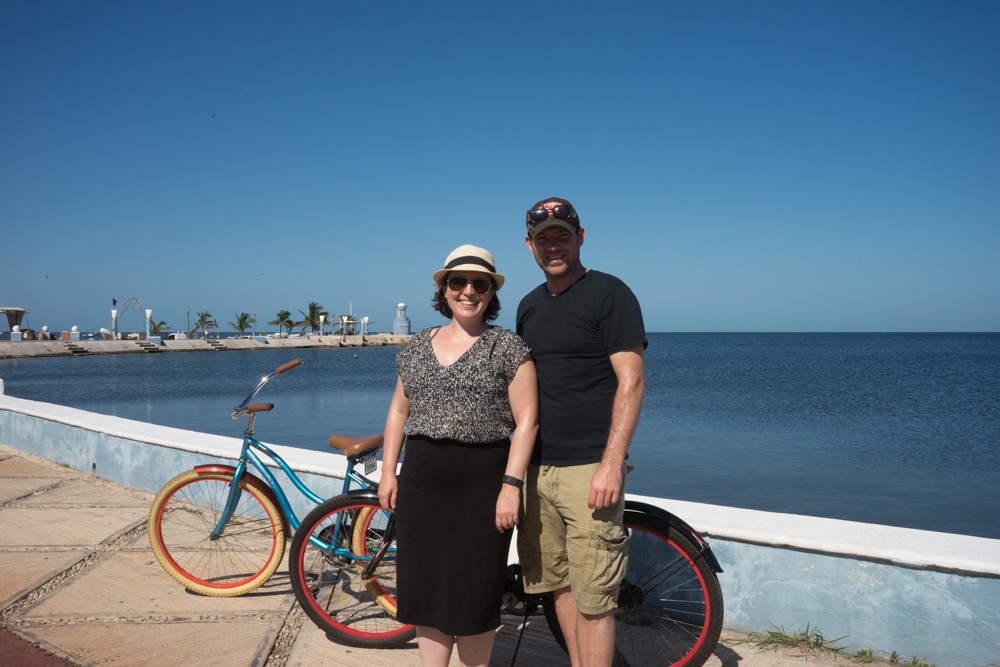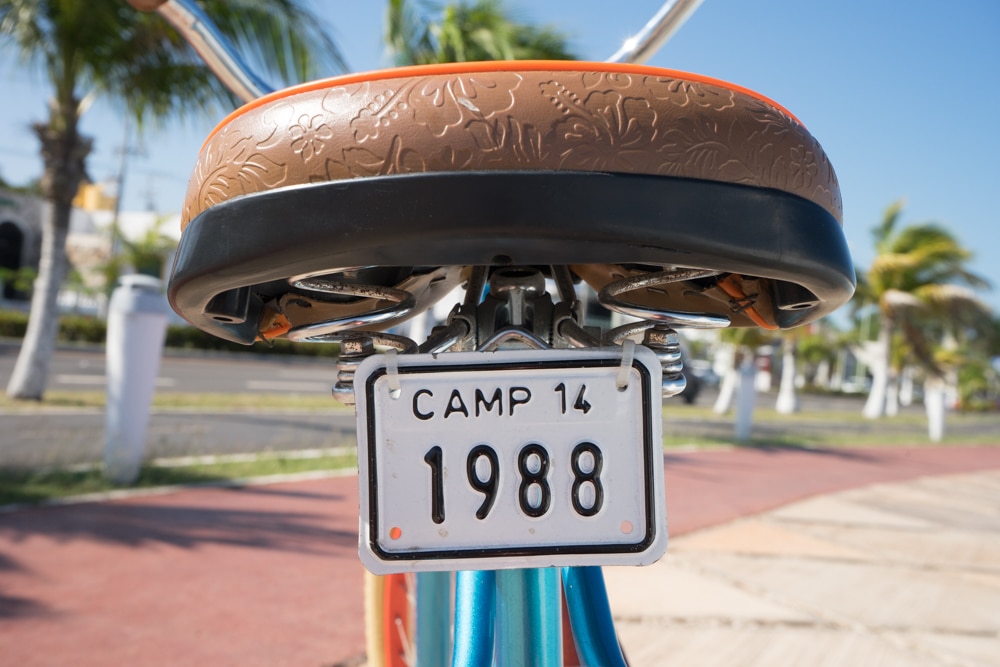 2. Become a Watcher on the Wall
Campeche's old city is relatively unique in Mexico in that it was walled to protect against pirate attacks, which became such a problem in the hundred years or so following the city's founding by Spanish conquistadores, they decided to fortify.
The walls survive to this day, along with a few ramparts and towers, and walking different sections of the wall ($15 pesos per person) is one of the unique things you can do in Campeche.
We climbed up from the city gate on Av. Republica just by asking the guards sitting in the tower if we could. They unlocked the gate, and let us up with the instructions to knock three times when we were finished, and then locked the gate behind us. We were able to walk three sections of wall, giving an interesting perspective of the city and view of the churches and colorful buildings. When we were done, we tried knocking, and then resorted to shouting our loudest holas and ringing the bell at the top of the rampart to be let out.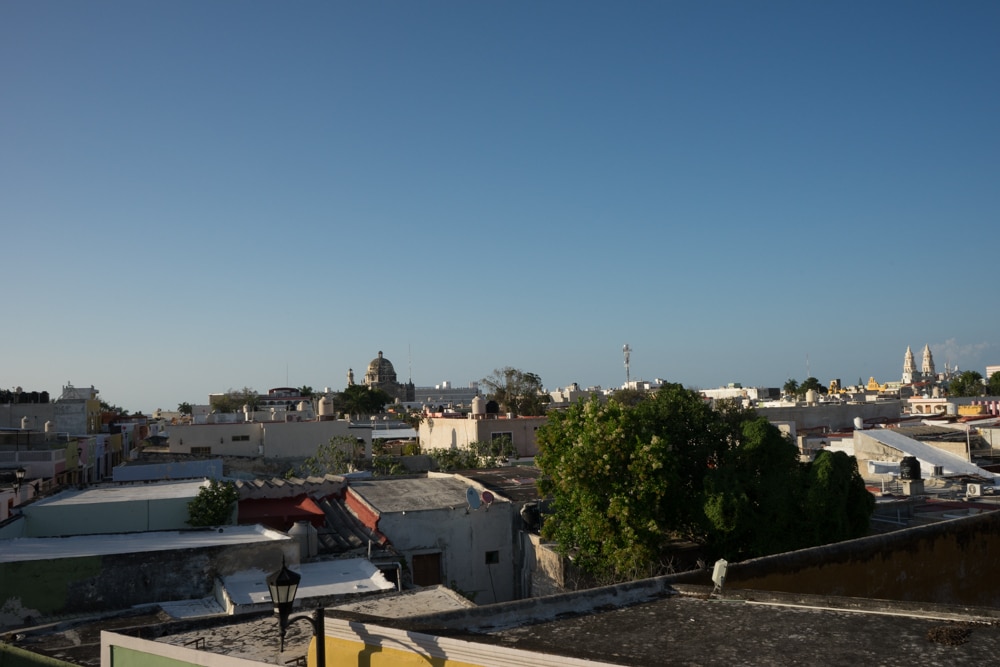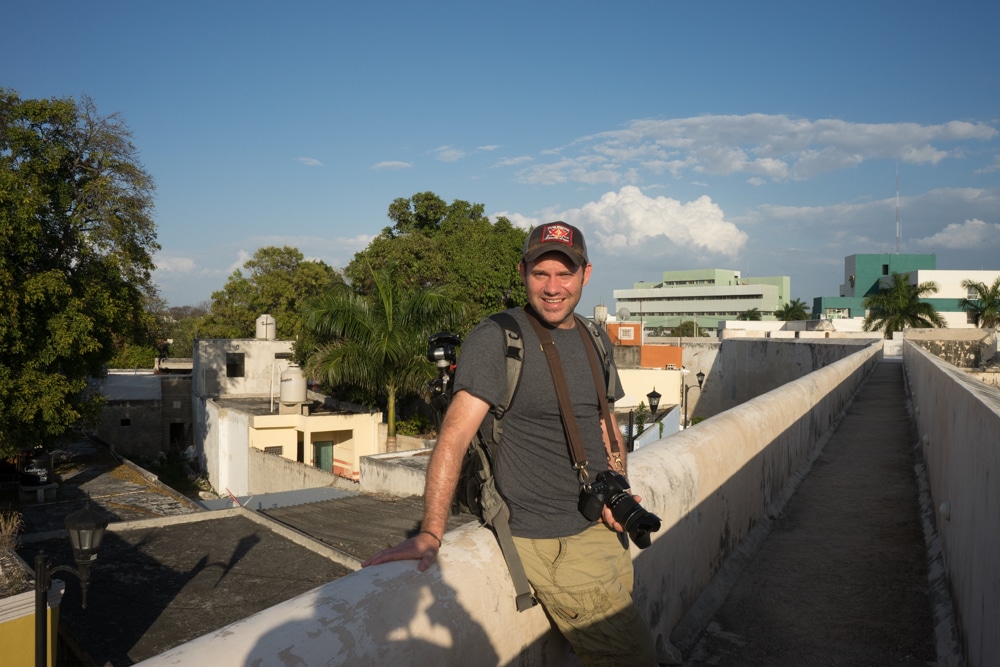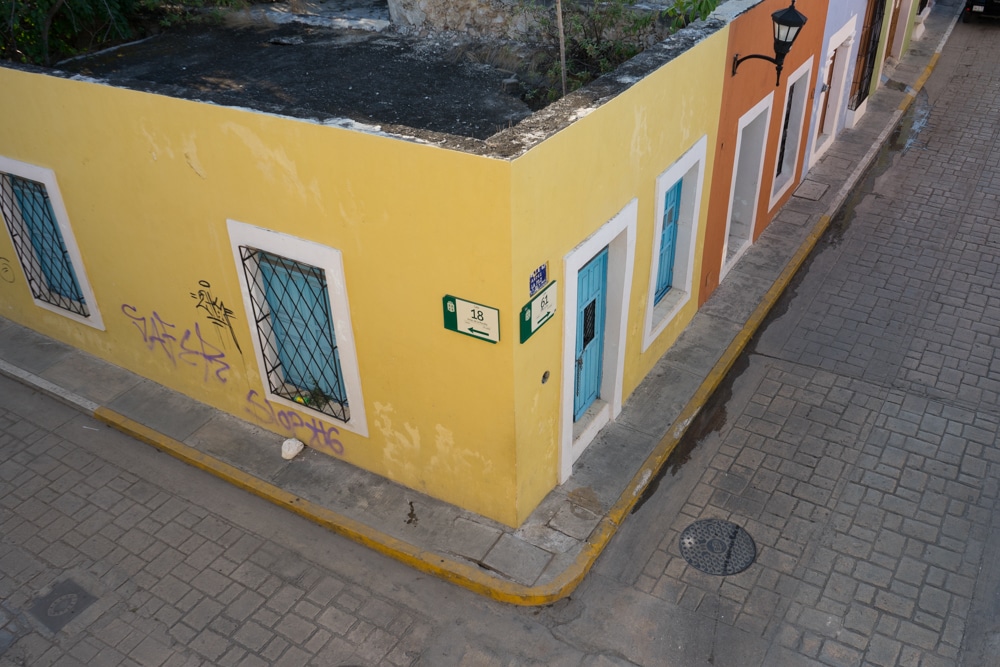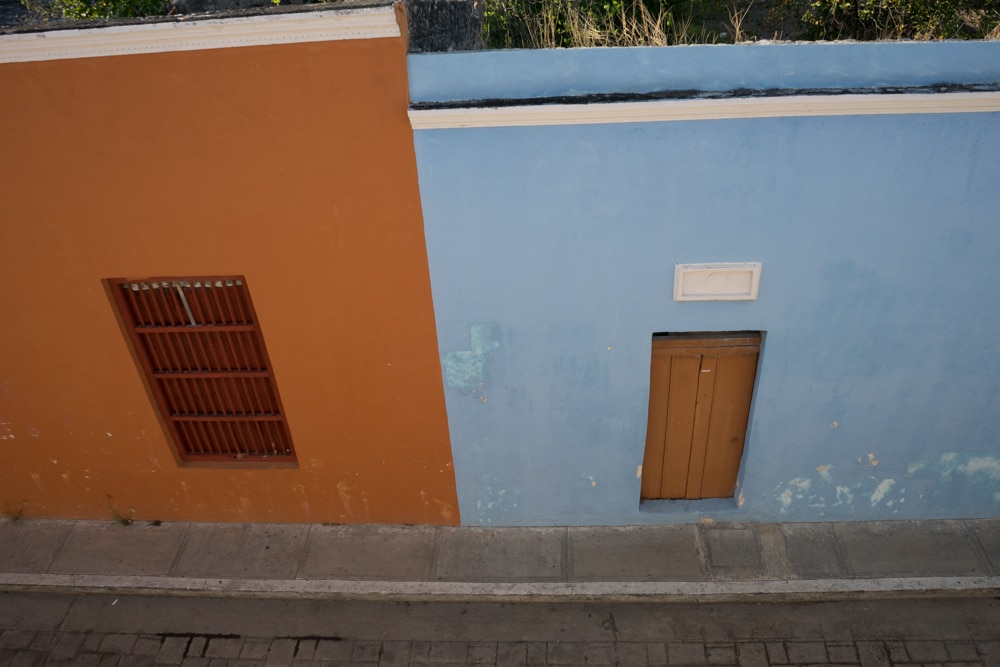 3. Get Fortified (Just Don't Go on Monday)
Campeche has two near-identical forts to the east and west of the city, San José el Alto and San Miguel, and both can easily be visited within an hour or two by taxi.
Unfortunately, we made a critical error by visiting Fort San Miguel on a Monday, when both forts are closed. Apparently, this fort has a much more interesting museum within the walls, but we missed it because of lack of planning.
On Tuesday, we took a taxi to Fort San Jose, and were able to go inside the fort walls, and into the museum.
Both forts provide a view of the city and coast, although San Miguel's view is nicer.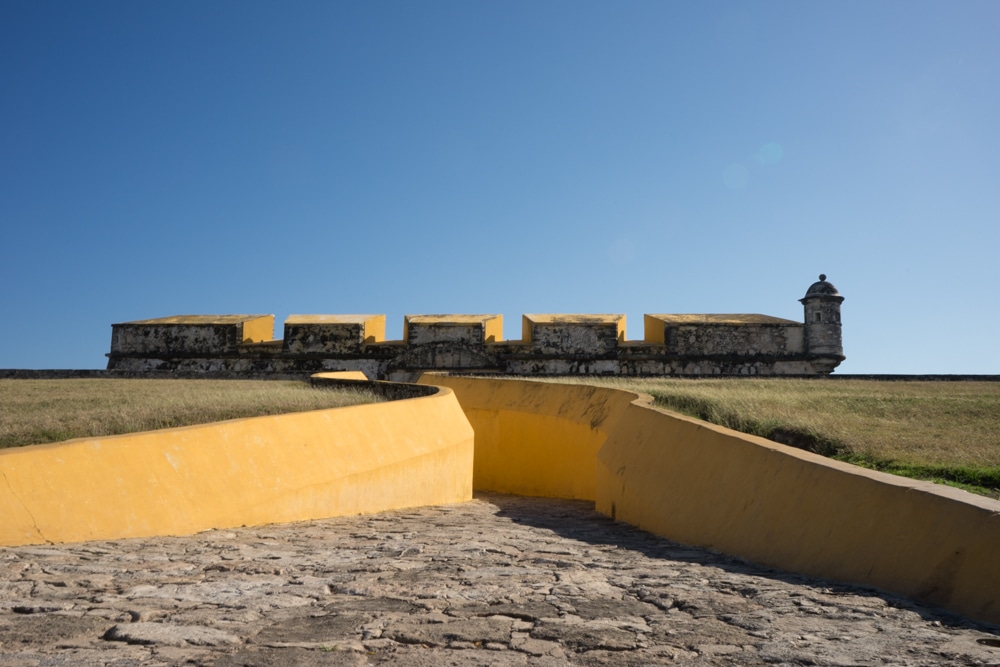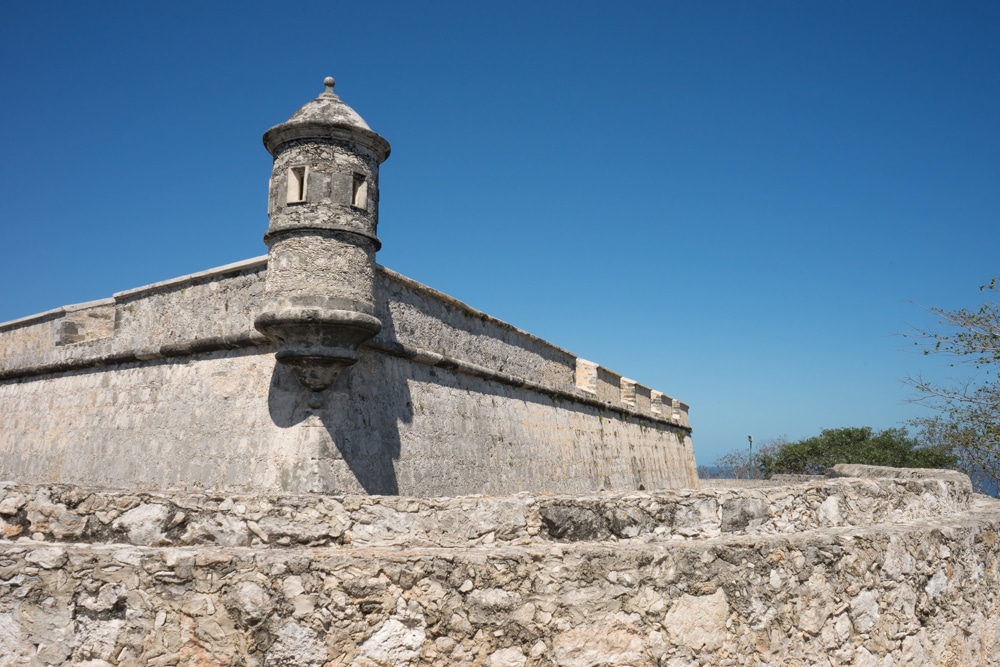 4. Spot the Rainbow
Campeche is rightfully famous for its pristine, pastel buildings that line the streets, and even created the state license plate in their image (and received UNESCO world heritage status).
One of our favorite things to do in Campeche was to simply wander, early in the morning and late in the afternoon (to avoid the heat), stopping for coffee in the morning, and beer in the afternoon.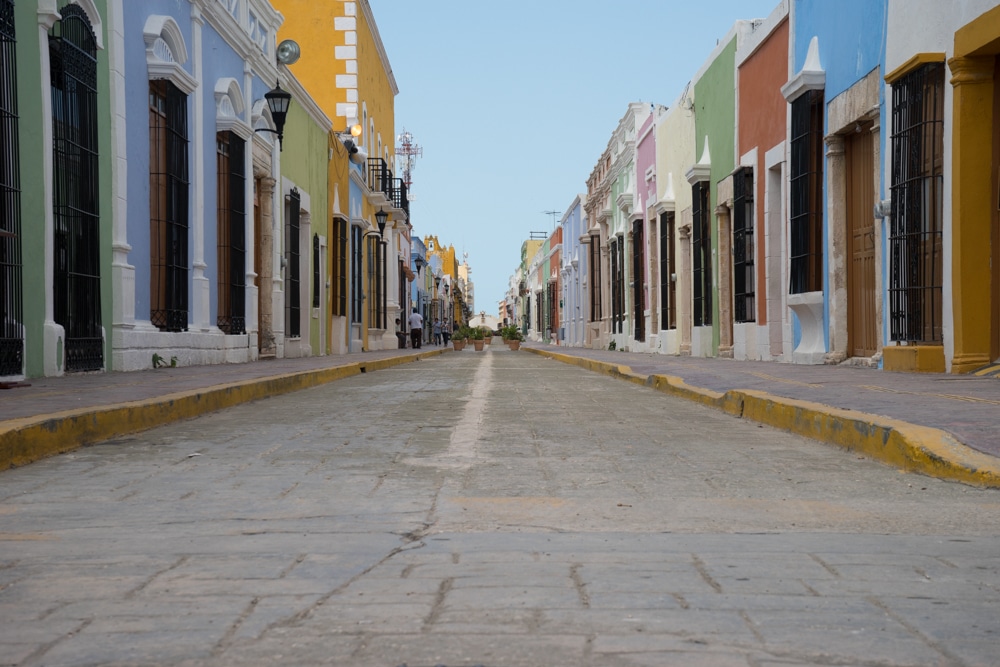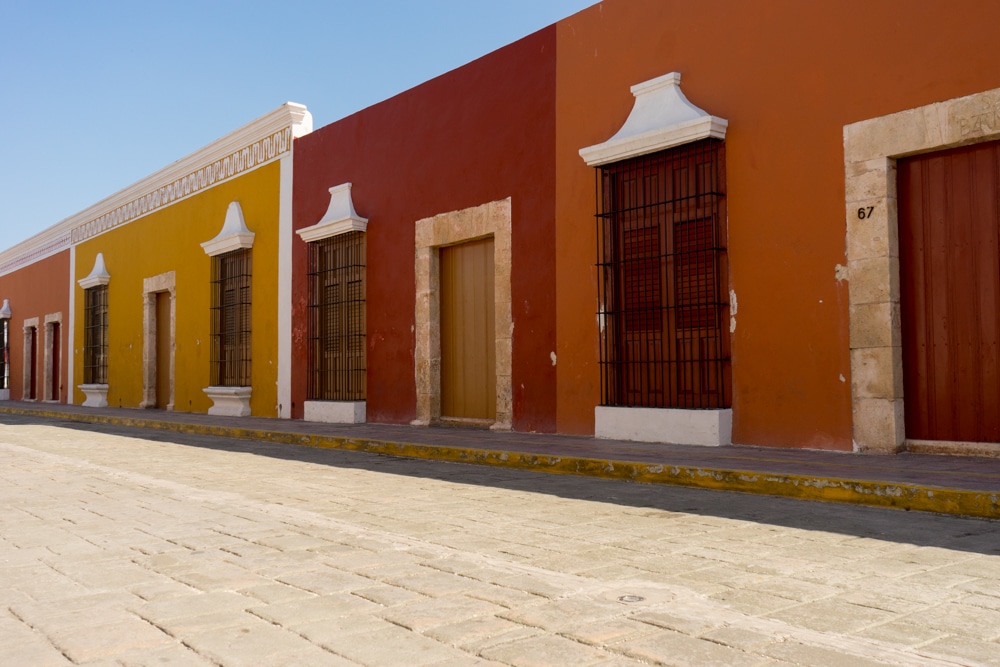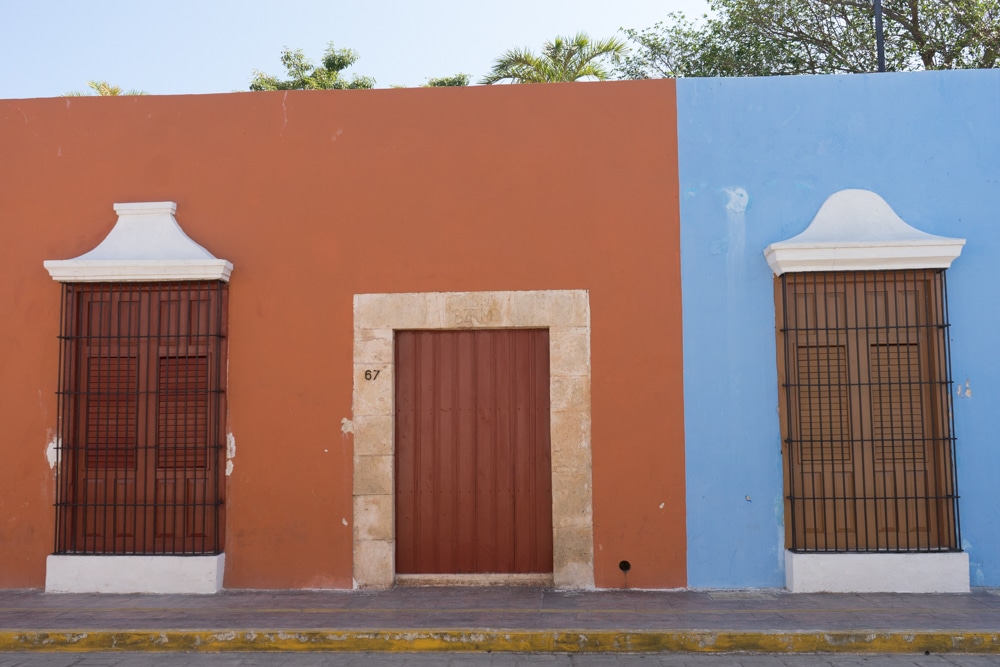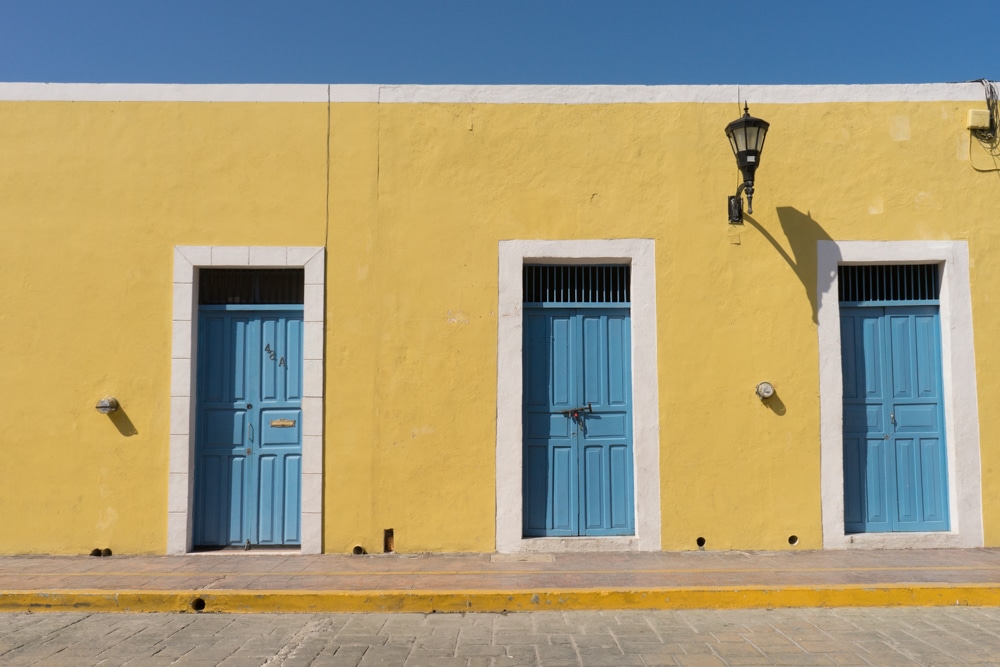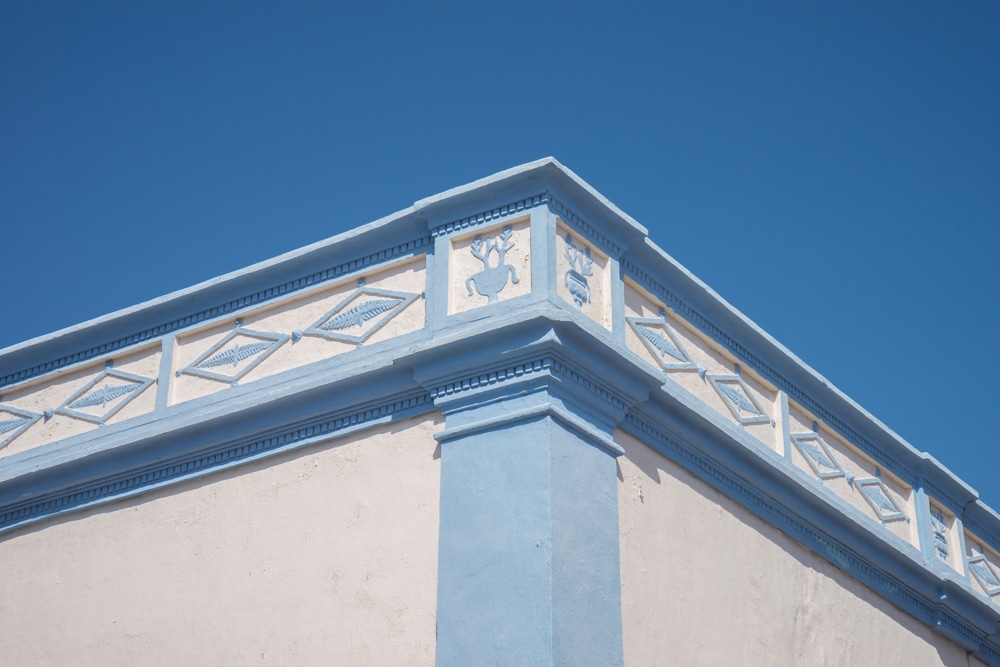 5. Catch the Light Show
Campeche is now the second city we've been to that has an evening light show (the first being Valladolid, which projects lights onto the convent). In Campeche, it's on the cultural centre in the main square at 8 pm MOST NIGHTS, but not Monday. We learned that the hard way by seeing the lightshow on Friday night, without our camera, and then returning on Monday night with our camera to find ourselves out of luck.
6. Enjoy a Beer from Up Above, or hit Calle 59
On the south side of the main square (the green building with the arches), you can go upstairs to Casa Vieje restaurant and sit on the terrace for the price of a beer, about $35 pesos. We found it to be a great spot to watch the lively life in the Parque Principal below, and gave nice views and photos of the church as dusk fell.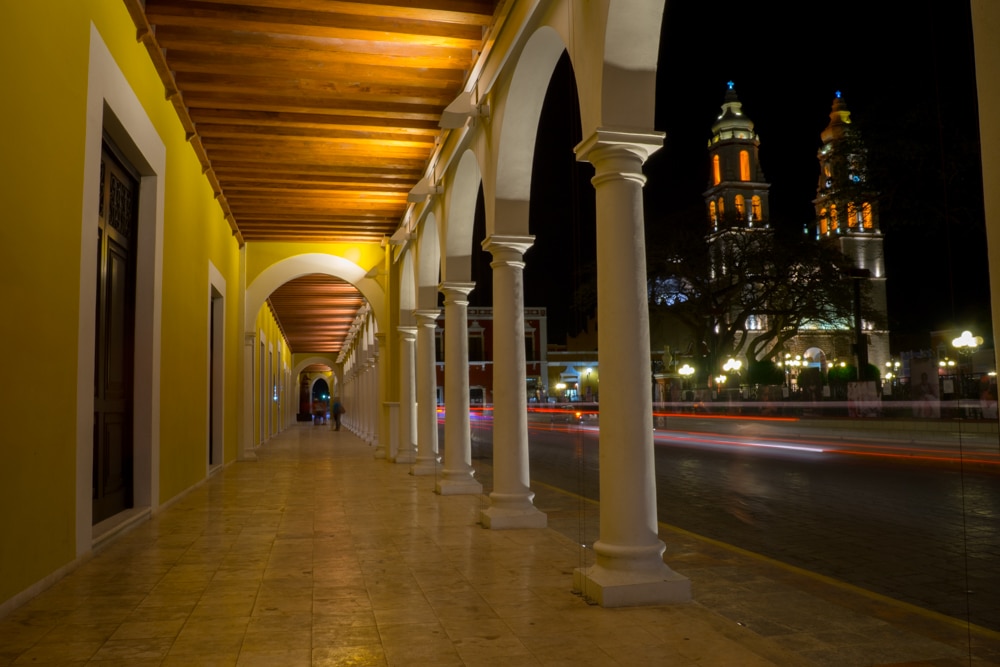 Alternatively, people watching at a sidewalk cafe on Calle 59 is a great way to spend the evening in Campeche.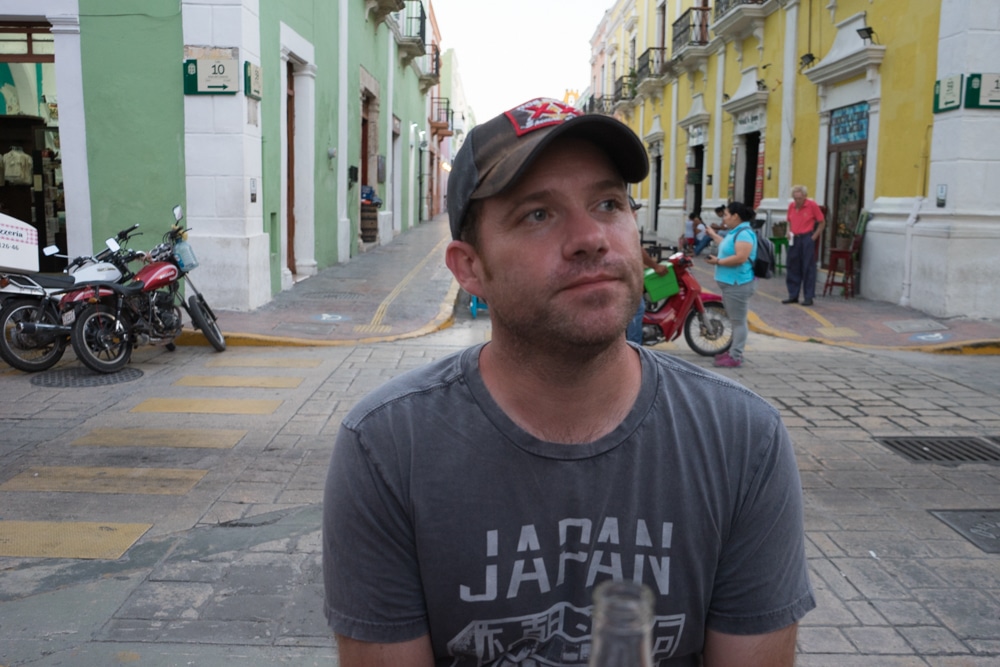 7. Goof Around on the Campeche Sign
Campeche has a coloruful Campeche sign down on the Malecon that's a favorite of locals and visitors looking for the perfect (and often silly) shot. And we spent our fair share of time down there, taking photos for others and of each other.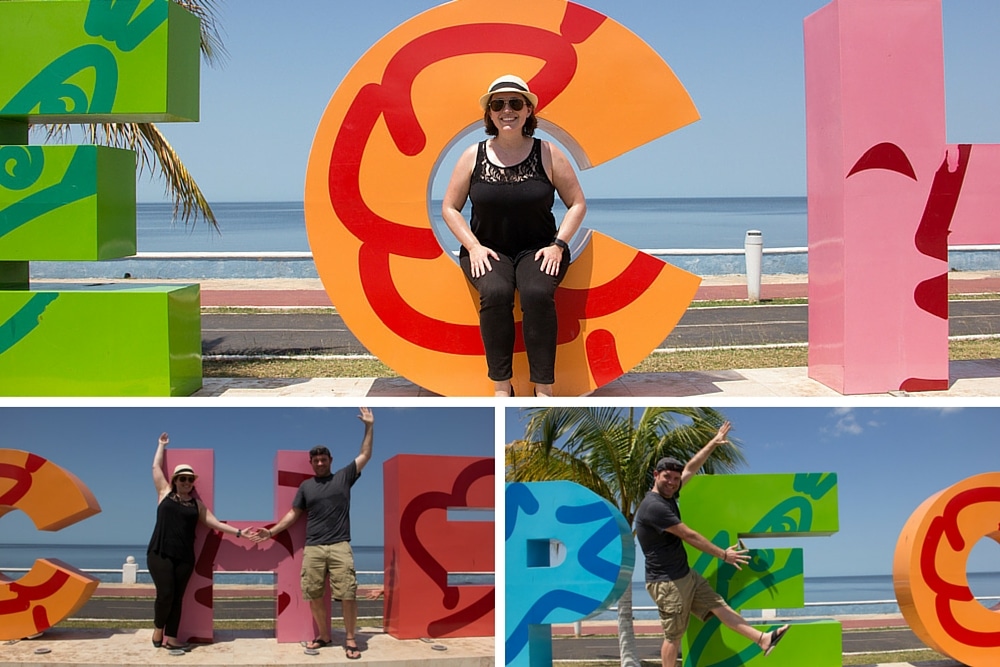 8. Go Hunting for Street Art & Statues
Campeche has a wealth of murals and statues around town that went beyond what we expected to find. There are a few really beautiful murals just outside the walled city, toward the Malecon, that are worth seeking out. There are also a mix of statues around town, ranging from quite modern, to those depicting life and traditions in Campeche.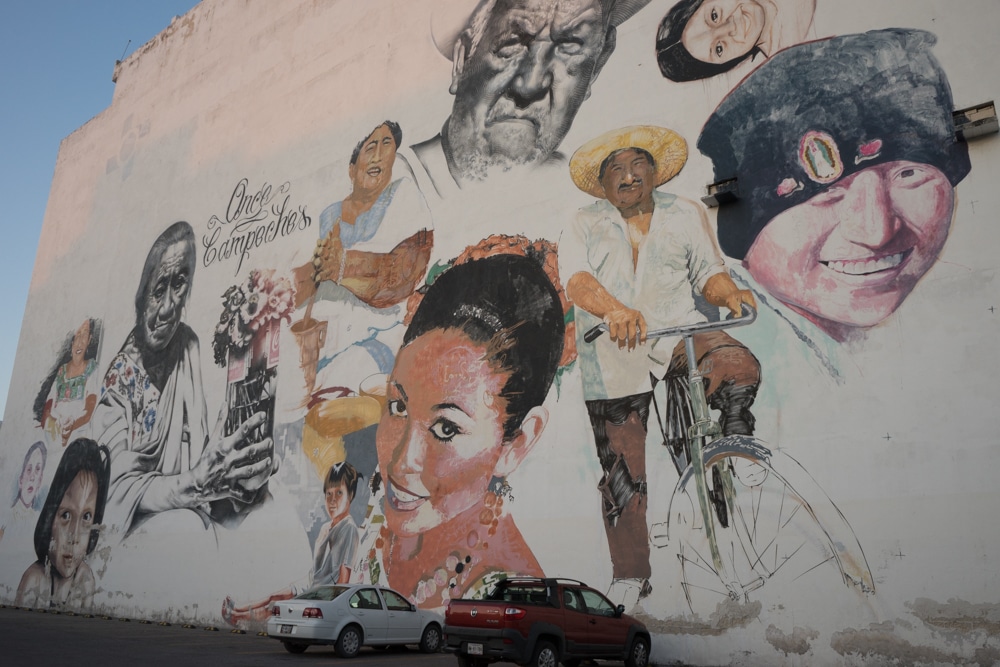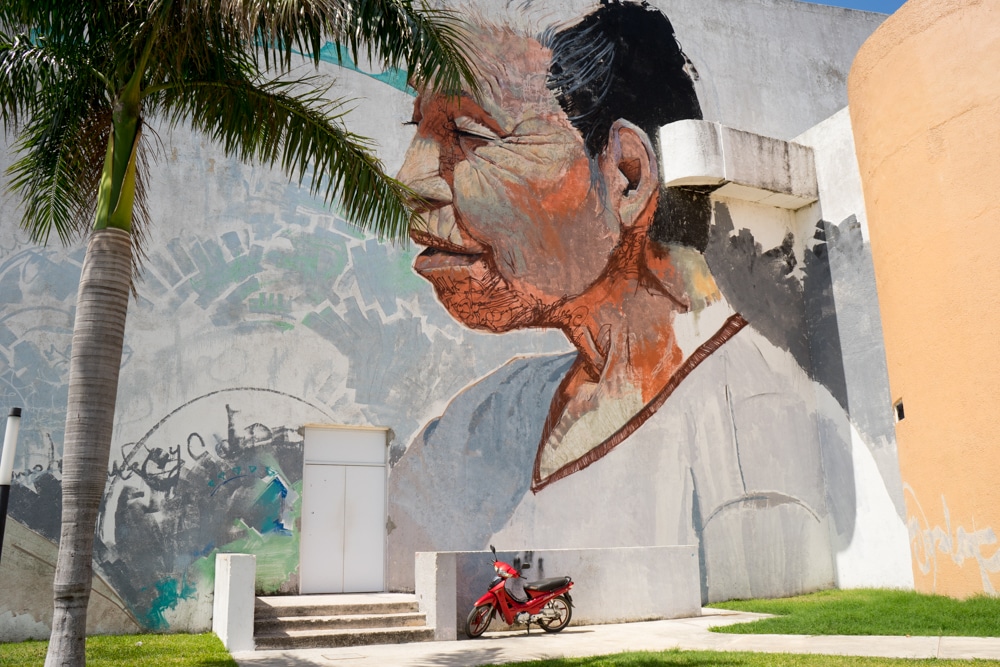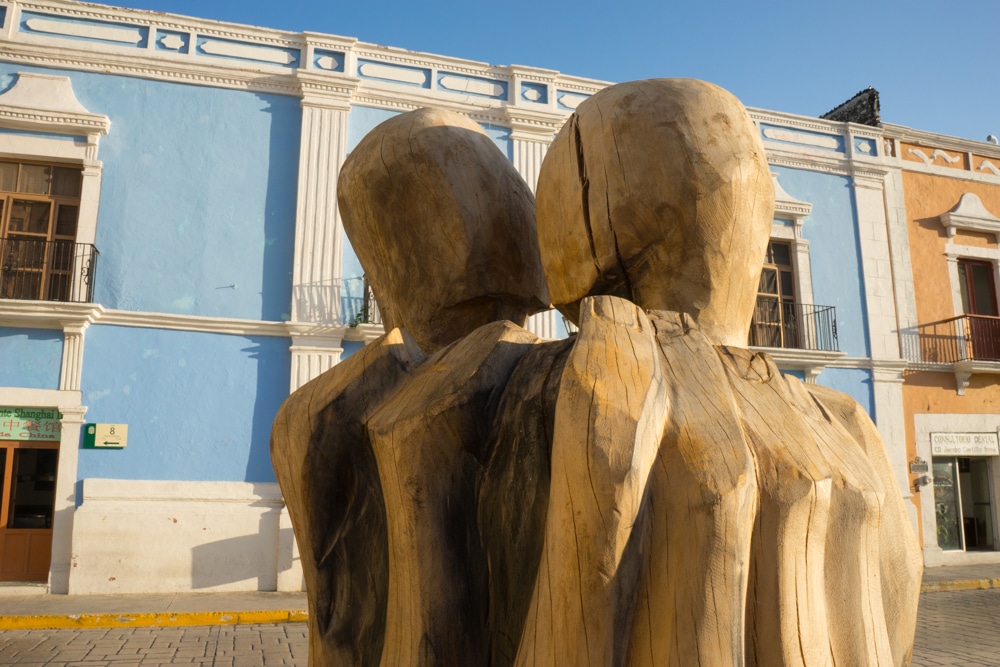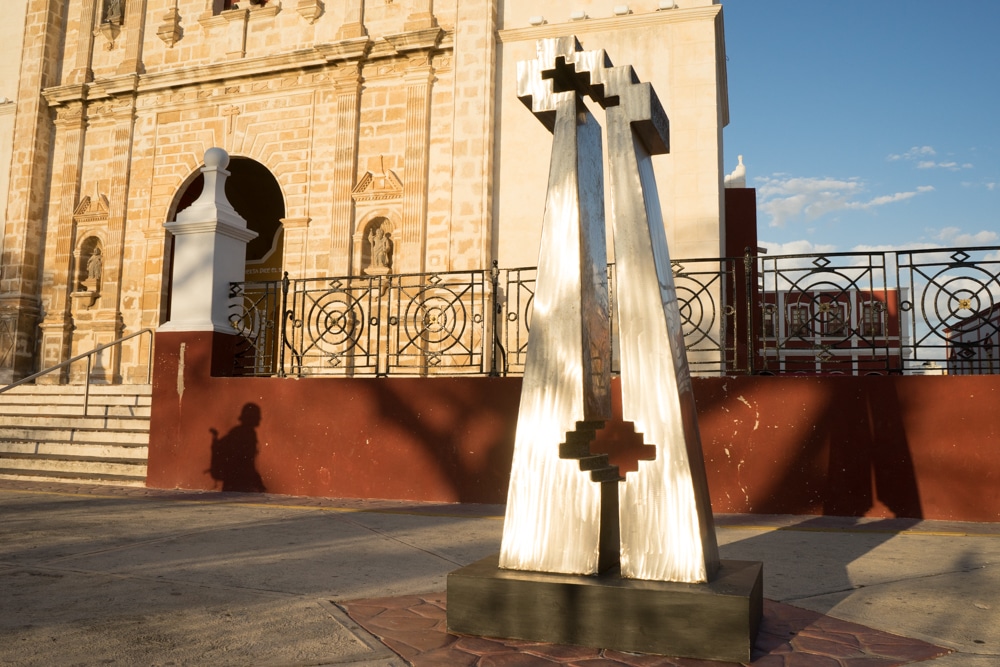 Find Your Hotel in Campeche…
Like this Post? Pin it For Later!