How to Plan the Perfect Girona Day Trip from Barcelona: Quaint and Walkable Girona makes one of the best day trips from Barcelona. This guide will help you visit Girona, with tips for the best places to see and things to do in Girona Spain (plus, where to eat and drink in Girona). If you want to plan the perfect Barcelona to Girona day trip, start here!
This is a Guest Post written by Jessica from Longest Bus Rides travel blog.


Disclosure: This Barcelona to Girona Day Trip travel guide contains affiliate links. That means we earn a commission when you use the links on this site to book a hotel, buy your travel insurance, shop for travel essentials, etc.. You don't pay anything extra. If you'd like to learn more about how this works, you can read more under our Disclaimer page.
How to Have a Perfect Day in Girona Spain: Table of Contents
Pin Me ⇩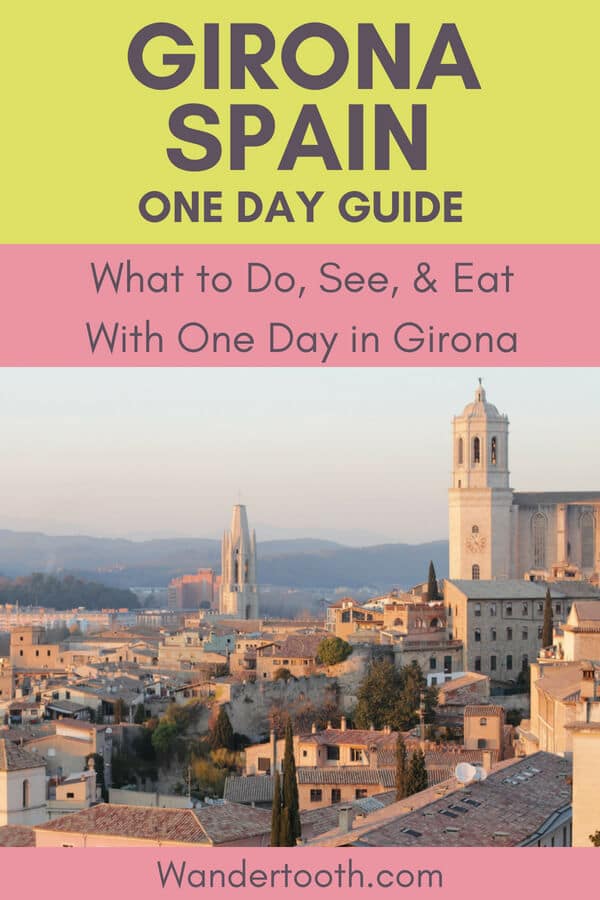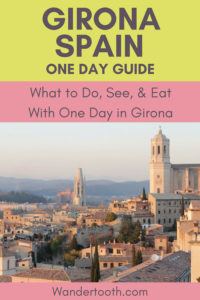 ---
Girona's Old Quarter is small, quaint, and completely walkable, nestled within a modern city of nearly 100,000. The environment is totally different than in Barcelona, just over an hour away by modern day forms of transportation…but two to three days by medieval forms (foot or horse).
There are plenty of things to see in Girona (pronounced zhee-roh-naah; you roll the 'r' in Catalan), and the best way to see the city is by spending your day wandering the narrow cobblestone streets, magical plazas, and medieval buildings. The Old Quarter of Girona is filled with museums, shops, restaurants, and cafés serving coffee, vermouth, and beer. Add the city walls, Game of Thrones locations, and a laid-back small city atmosphere for a perfectly relaxing one day trip from Barcelona, and you're sure to have a great time!
---
How Long Do You Need to Spend in Girona, Spain?
If you're planning a quick Barcelona to Girona day trip, I must warn you (so you're not angry with me at the end of your visit): you'll likely wish you'd planned a longer stay. From my 6-week road trip around Spain, Girona is one of just four places I tell my friends they absolutely must visit. (Another is a tiny town where the man at City Hall handed me the key to the town castle, no questions asked). Although I wouldn't want you to miss this lovely little city, I also don't wholeheartedly recommend you do Girona in a day. If you have a bit more time, Girona is worth it!
When I arrived at lunch time for my four days in Girona, I first ate lunch at a place recommended by my Airbnb host. While scanning the menu, I overheard other tourists saying they wished they'd planned for more time here.
I spent three nights in Girona, and will steer you toward the very best things to do in Girona during a one day trip. Choose a few of the activities for a relaxed pace, or many of them for a jam-packed day. The choice is yours.
Photo: Longest Bus Rides, Used with Permission.
How to Get to Girona, Spain
Arrive by car, train, plane (RyanAir), or bus. If you arrive by car (1 hour from Barcelona), park it as soon as possible. The Girona Old Town is meant to be walked on foot – it was built several centuries before the invention of the automobile, after all! During my 4 days in Girona, I arrived by rental car and didn't use it again until I departed. The Old Quarter is very walkable, but not very drivable: streets are narrow, and availability of parking is limited.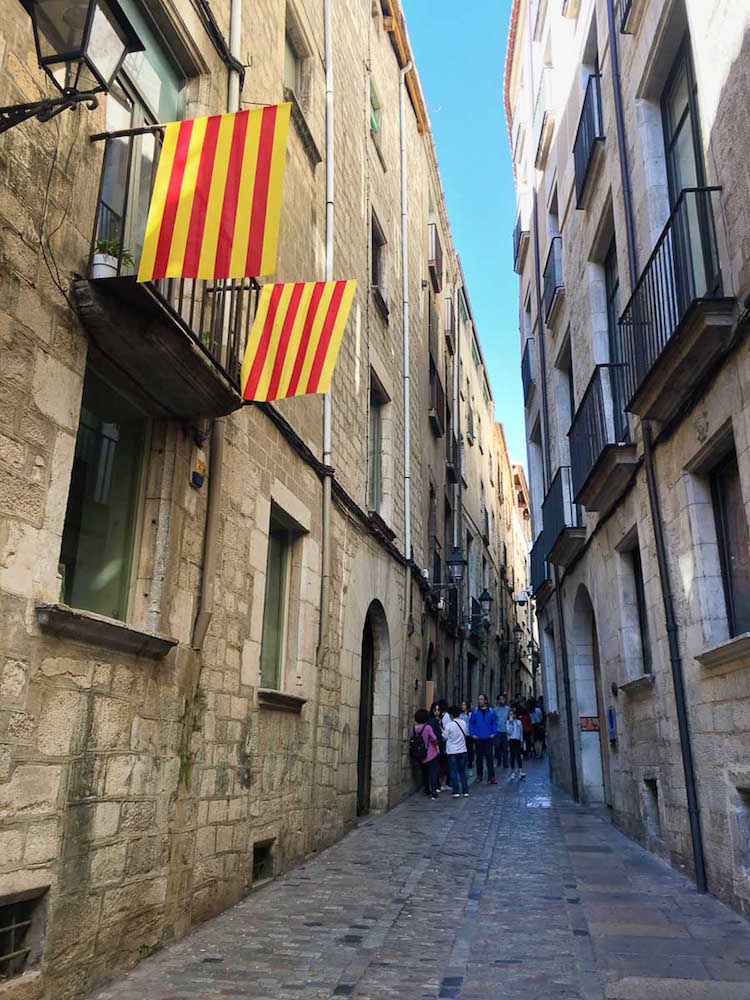 See? I wasn't exaggerating about the narrow streets! Photo: Longest Bus Rides, Used with Permission.
Train from Barcelona to Girona
Trains from Barcelona to Girona go from Barcelona Sants, and depart regularly, taking between 35 and 90 minutes, depending on what speed of train you choose (AVE trains are the fastest). Once you arrive, the train station in Girona is very central, located within an easy walk to the historical center. The Girona bus station is right next to the train station, making the bus an equally convenient option once you arrive!
---
Places to Eat in Girona (and Drink!)
You should know that Girona has more Michelin-starred restaurants than you can eat at during a day trip — more than in Barcelona, in fact. El Celler de Can Roca (3 Michelin Stars) – twice-named the best restaurant in the world – is one of them, and they also have a more accessible ice cream shop: Rocambolesc.
If you plan on trying any of the Michelin-starred restaurants, you definitely need to make reservations. However, there is so much delicious food in Girona, you'll enjoy your meals regardless of where you eat.
For a delicious French fixed price lunch for about €10, La Vedette came recommended to me by a local, and the food is delicious! There are so many choices of galette, and definitely splurge on the dessert – just ask what they recommend. I tried two and both were so tasty. Pleasant outdoor seating is available.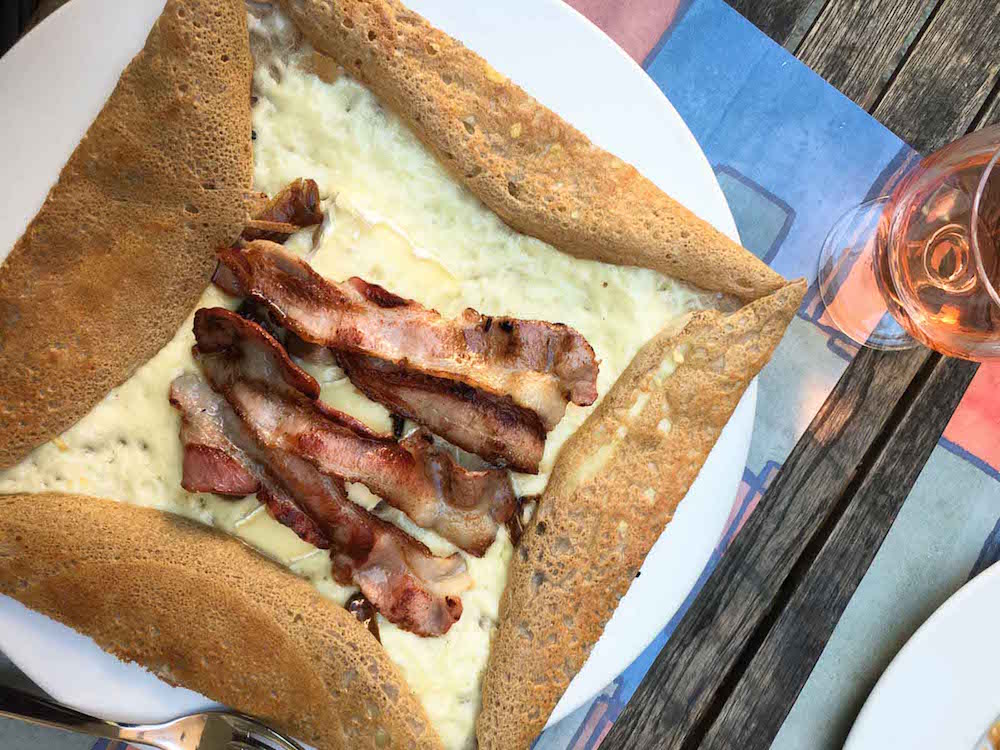 Galette at La Vedette. Photo: Longest Bus Rides, Used with Permission.
For a fancier lunch try Café Le Bistrot, and sit at a table on the wide medieval steps of the Old Quarter. The location is unbeatable, as you really feel part of the environment.
For a snack of baked goods, have a look through the windows of Croissanteria Sant Daniel or Antiga Casa Bellsolà 1892, and learn some of the Catalan language. The adorable churro shop, Montse L'Artesana, should definitely be on your list of snack places, if you love churros, like me.
+Cub Café is a great place for sitting on another small plaza. There are several cafes for juice, beer and light food in this area.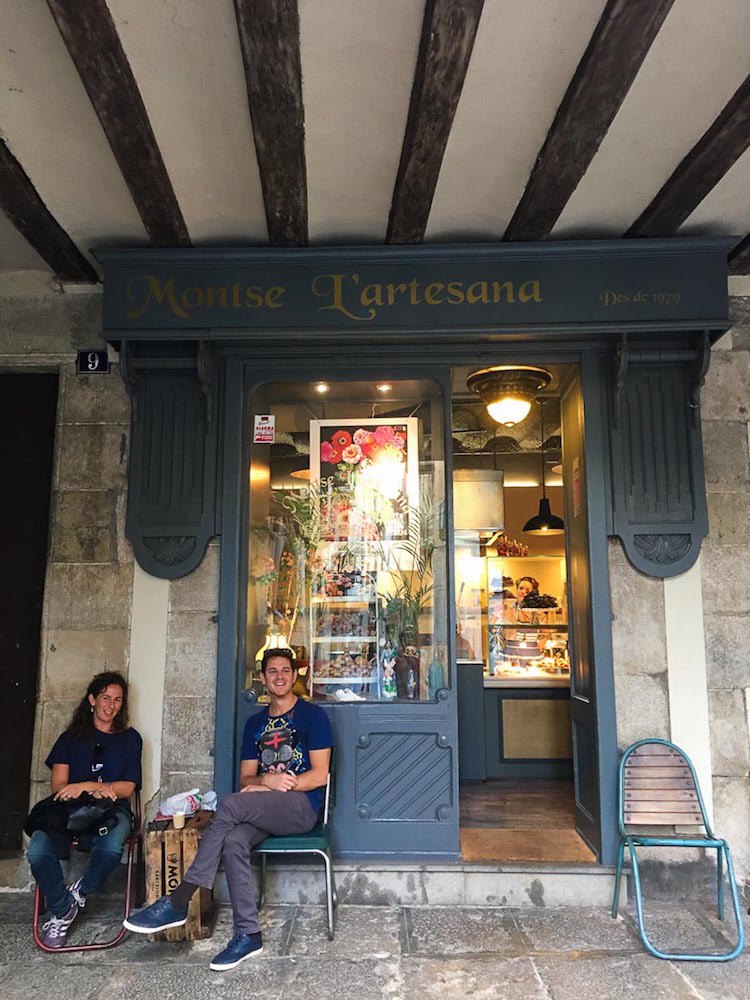 Montse L'Artesana. Photo: Longest Bus Rides, Used with Permission.
I enjoyed trying a flight of three coffees at Espresso Mafia. It's in a great location just beside a lovely plaza. Lounge outside for some great people watching while re-energizing with caffeine.
El Vermutet Can Gombau is a typical vermouth bar. Stop in for a traditional drink and enjoy the garden patio out front.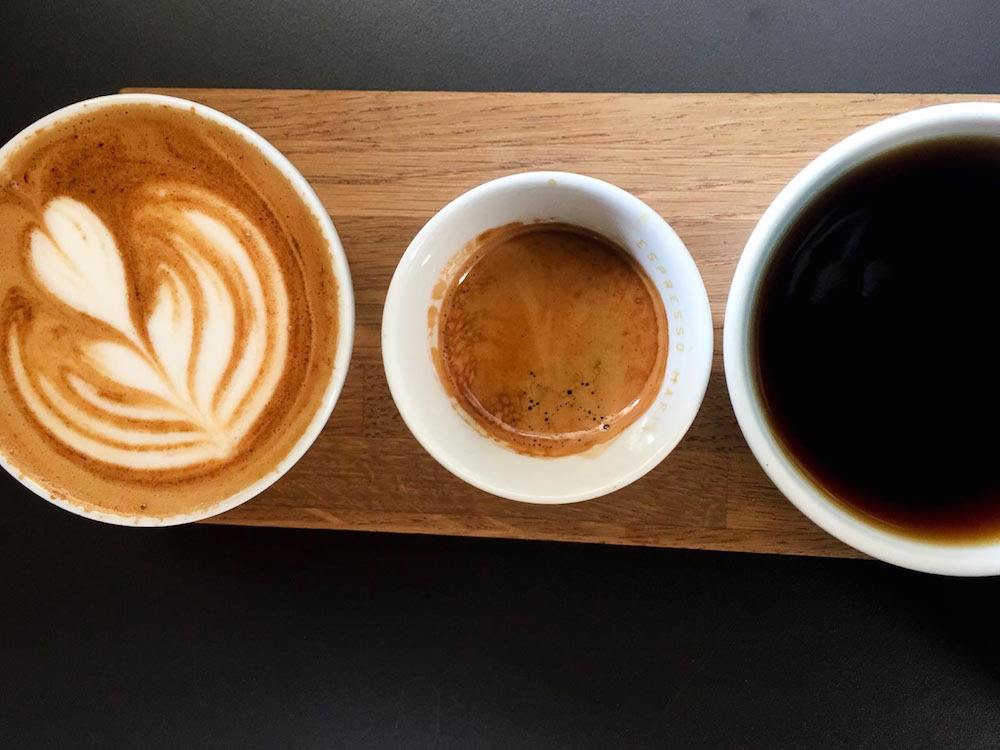 Coffee flight at Espresso Mafia. Photo: Longest Bus Rides, Used with Permission.
---
What to Do in Girona
Girona is all about strolling and relaxing. Road biking is popular here, and there are tours, in case you want to get into the beautiful landscape of green hills.
On the other hand, there are so many things to do in Girona, I recommend you stay in town. Visit the Plaça de Sant Feliu/Felix and kiss the lioness' bum! There's a small ladder to reach the target, but shorter people might need an extra boost up to reach it! It's a fun little way to partake in local tradition.
---
Top Things to See in Girona Spain
River Views: The River Onyar is a centerpiece within Girona, and chances are you'll see it again and again, even if you just spend one day in Girona. While the river itself is nice, it's really the views of the buildings lined up along the river that is the highlight.
Pont de les Peixateries Velles (the Eiffel Bridge): One of several bridges spanning the River Onyar, this one has the most famous provenance. It's nickname – the Eiffel Bridge – reflects the fact it was built by the same company that constructed the eponymous Parisian tower.
Girona Old Quarter: The old quarter sits on the east side of the river, and has many of the best places to see in Girona, including the Cathedral, Sant Feliu Church, and Sant Pere de Galligants. It's worth simply wandering and getting lost in! The newer part of town is on the west side of the river, and is also nice to walk around.
Girona Jewish Quarter: This is one of the best-preserved Jewish Quarters in Spain, and has the excellent Jewish Museum, one of the best places to visit in Girona to understand this community's long history in the city.
Walk the City Walls: The Girona Wall surrounds the city. It makes for a pleasant walk and is a great way to get photos of the city from up high.
---
John Lennon Gardens are pretty, and you will pass them while touring the entire ancient Girona city wall, which can easily take a few hours if you're stopping along the way for the views and history.
The Girona wall has guard towers and very little signage, but is a really lovely place and a nice walk outside of the main tourist area. Arrive early in the morning if you want to have the forested area to yourself.
---
Check out These Girona City Tours
Old City Wall. Photo: Longest Bus Rides, Used with Permission.
---
Museums
If you love history, Girona is filled with it. The town mascot is the fly, which comes from one of the city's many legends. Yes, like a buzzing fly that lands on your food when you're having a picnic.
The Museu d'Historia de Girona is worth your time, if this interests you.
Jews were banned from Spain in 1492 by the same Queen Isabella who sponsored Christopher Columbus' journey west in search of a new route to India. Present in the city since the 9th century, the community's long history in the city is described by the Jewish Museum in Girona, with information and artifacts. Although there are also Jewish quarters you can wander in Barcelona, Seville, Cordoba, and Granada, they do not have a Jewish museum nearly this extensive. Plan on 1-2 hours for your visit.
Tip: Most museums in Girona and in Spain offer free admission one day a week and are closed one day a week (often Monday). Check their websites for details.
---
Bridges
Bridges are plentiful, as the River Onyar (Riu Onyar) runs through the city. My favorite bridge for taking pretty pictures of the scenery is the modern metal Pont de les Peixateries Velles.
Game of Thrones fans should visit the bridge that was used as a location (Bridge over Riu Galligants – Carrer de Santa Llúcia). Get your selfie fix! Even if you're not a fan, it's a pretty little stone bridge, although when I visited the creek bed had a bit of trash and very little water (the water shown in Game of Thrones was added via CGI).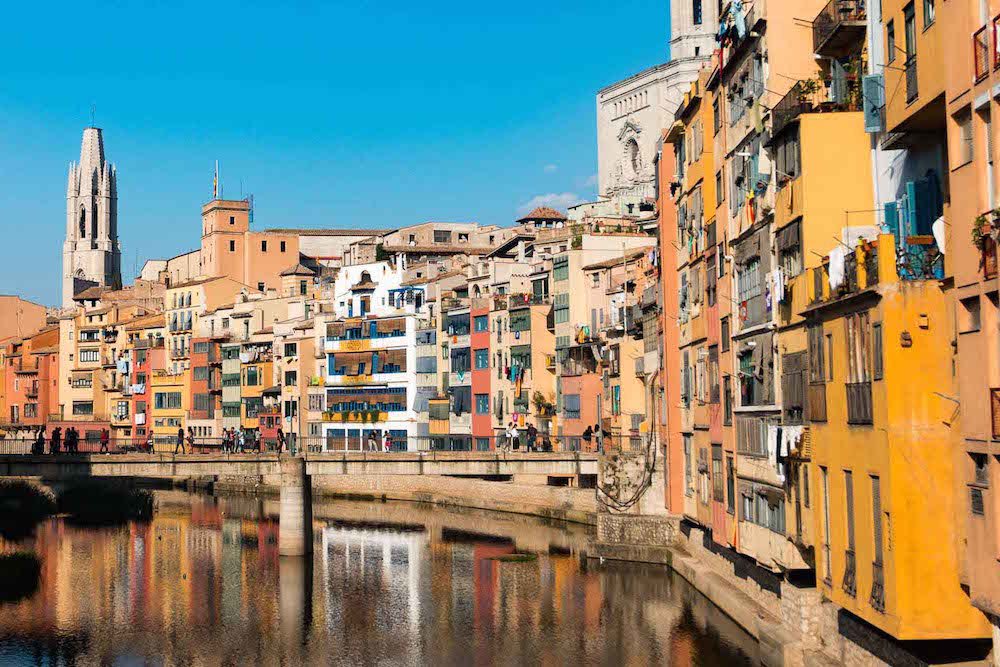 Photo: Longest Bus Rides, Used with Permission.
---
Girona Festivals and Other Activities
Apart from regular holidays, Girona claims itself as a city of festivals, from Jazz to movies, here's the festival calendar.
If you have an inclination to visit during the annual Saint Narcissus festival, during the week around October 29, I highly recommend it!
Finally, so that you can plan exactly when to visit Girona, I leave you with a schedule of the Girona Tourism Office's activities.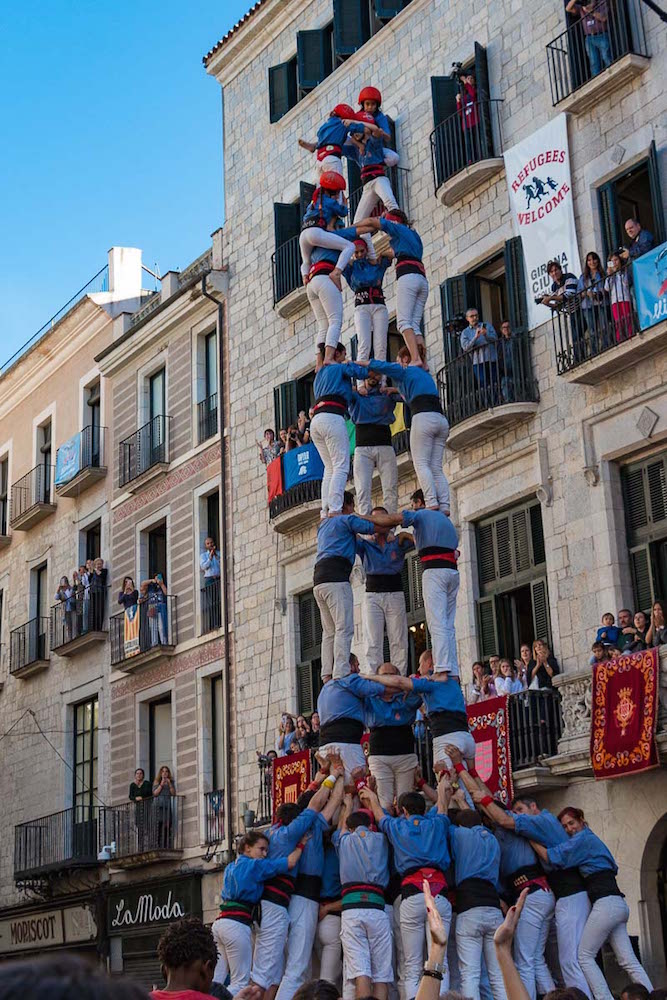 Castellers at the Sant Narcis Festival. Photo: Longest Bus Rides, Used with Permission.
---
The Ideal Barcelona to Girona Day Trip Itinerary: A Short and Sweet Girona City Tour
Arrive in the early morning by car, train, or bus from Barcelona.
Walk the 9th century Roman City Wall for an hour or two. Arrive before the other tourists and pretend you're a Roman!
Stroll through the Old Quarter. Have a snack at Montse L'Artesana or one of the bakeries. Or, get a flight of coffee at Café Mafia. Kiss the lioness' bottom at Sant Feliu Plaza.
Walk to the 'Eiffel Bridge' and admire the picturesque riverside buildings.
Have lunch at a Michelin starred restaurant, such as El Celler de Can Roca.
Visit the Jewish Museum in the Girona Jewish quarter, El Call.
Take a break on a little plaza and have a vermouth at El Vermutet Can Gombau.
Wander more of the Old Quarter. Visit the cathedral.
Relax with a beer and tapas on a plaza.
Enjoy a Catalan dinner on medieval stairs at Café Le Bistrot.
Return to Barcelona. Trains from Girona to Barcelona run until 10pm, but it's worth double checking on the day of travel
---
Other Girona Tips
Safety: The old quarter is filled with tourists and locals and felt extremely safe.
Money: There are plenty of ATMs in the city, although not many in the Old Quarter. Major credit cards are widely accepted.
Driving: Avoid it! The Old Quarter has narrow streets and limited parking. Most areas are pedestrian only.
Phones and Apps: Cell phone coverage is fine. Google maps is useful for finding your way through the narrow winding streets.
Walking Shoes: Wear comfortable walking shoes. Streets are cobbled and stairways are long.
---
Where to Stay in Girona
Should you decide to stay a night (or 3 or 4), there is plenty of accommodation in hotels and holiday apartments. I stayed in this Airbnb. The hosts were super nice and conversations with them added to my understanding of the city and its history.
Hotel Nord 1901 (9.1 on Booking.com) *4-star, terrace, swimming pool, central, 9.6 location score
Ciutat de Girona (8.8 on Booking.com) *4-star, central, swimming pool, 9.6 location score
Casa Cundaro (8.6 on Booking.com) *3-star, historic building, Jewish Quarter, 9.5 location score
---
More Spain Trip Planning Resources
---
About the Guest Author
Jess shares her photography and writing on Longest Bus Rides, her off the beaten track travel blog. Living abroad as an exchange student in high school (twice! Chile and Denmark) and then as a Peace Corps Volunteer (Guatemala), she's still constantly exploring cultures by interacting with locals through food and conversation. If you know a great place she should visit, send her a note!
You can also find Longest Bus Rides on Instagram and Facebook, where she has a habit of posting baby panda videos. She's planning on visiting China, but so far has only made it as close as Mongolia.
Pin This Post!