The Best Day Trips from Barcelona: The 6 Best Day Trips from Barcelona According to Travel Blogger Jub Bryant. Includes DIY Instructions for all Barcelona Day Trips, as well as Tour Recommendations.
We created this post in collaboration with Jub Bryant, a Kiwi traveller experiencing the world through his own eyes. He is a blogger over at Tiki Touring Kiwi, where he focuses on sporting experiences around the world, in addition to working as a freelance writer. We're thrilled Jub agreed to serve as our Barcelona expert for this Best Day Trips from Barcelona guide. All trip destinations are created from Jub's ideas; we've added in additional info as well as tour info for those who want DIY these Barcelona day trips, as well as those who don't!


Disclosure: This Day Trips from Barcelona Guide contains affiliate links. That means we earn a commission when you use the links on this site to book a hotel, buy your travel insurance, etc.. You don't pay anything extra, and it helps us cover our costs. If you'd like to learn more about how this works, you can read more under our Disclaimer page.
***
Barcelona is one of the most popular destinations in Europe, and it's really easy to understand why.
The city is charming, has a great vibe, and is filled with opportunities and activities for everyone. It doesn't matter if you like history, sports, drinking, eating, or beaching….whatever your interests are, you'll be entertained in Barcelona!
While it'd be easy enough to spend an entire week in Barcelona alone, to addition to the city itself there are a bunch of great day trips from Barcelona that will give you a chance to get to understand Catalonia outside its capital. From beaches to ancient ruins, from wineries to charming seaside towns, there is a lot to explore throughout Catalonia, and much of it can be done on a day trip from Barcelona.
With that introduction out of the way, we give you….


Our Picks for the 6 Best Day Trips from Barcelona:
While You're Here…
Read More About Spain & Plan Your Trip with These Links
1. Montserrat
Take a day trip from Barcelona to Montserrat, a hilltop monastery and city with great hiking trails to explore.
Montserrat is both an awesome hiking destination, and home to the famous and photogenic monastery. You also shouldn't overlook the small city built on top of the mountain, so be sure to leave some time to check it out at the end of the day.
The hiking here is suitable for all, with most people sticking close to the village or making the 2-to-3-hour round trip to Sant Jeroni. With well-marked trails, and using the trusty Maps.me, I loved being able to explore the trails at random, usually pointing out something in the distant and making it a goal to reach that point, and then rinsing and repeating.
Be sure to check out the Stairway to Heaven if you want a sweet Instagram photo!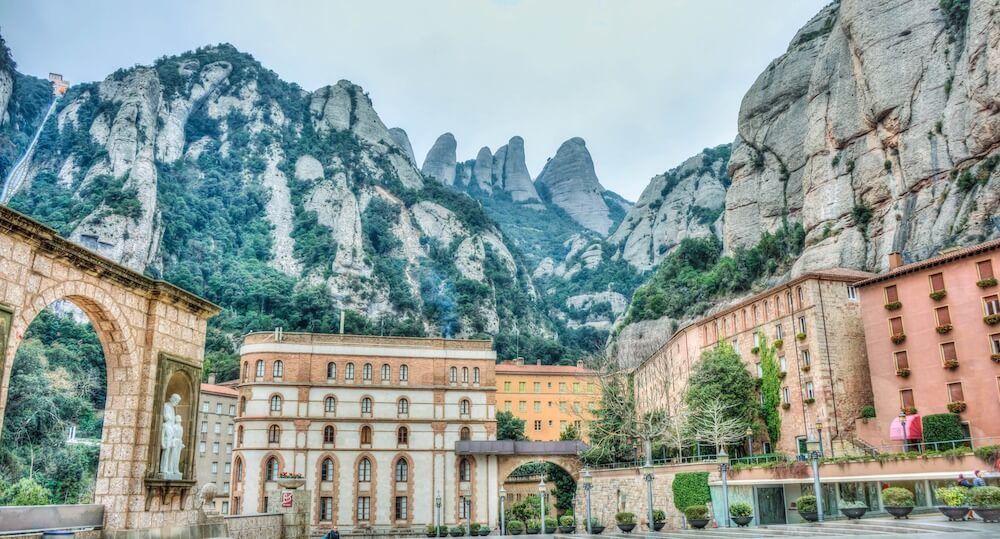 Image by Mariamichelle via Pixabay
How to Get to Montserrat from Barcelona: The easiest way to get to Montserrat is to catch the R5 train from Espanya train station in the city. They run throughout the day, but you'll want to leave by 9am at the latest to maximize your time.
After the train, the best choice is to take the cable car (Aeri ticket) up to the top of the mountain. This also runs throughout the day. The trip costs €21,10 at the time of writing for a return ticket on the train with cable car. For the latest information, this is the best, easy to understand resource we've found.
---
Prefer to Visit Montserrat as Part of a Tour? Get Your Guide offers several Montserrat tours, most of which get fantastic reviews. The Tot Montserrat: Transport, Museum Tickets, and Lunch is a round-trip day trip from Barcelona. It's not guided, which means you'll get the freedom to spend as much time as you want at each spot, but everything is taken care of, so that all you need to do is show up! Alternatively, you can add some tapas and wine to your Montserrat visit with the Montserrat, Tapas and Wine Half-Day Tour from Barcelona, which includes a tasting of Spanish wines and tapas at the 10th-century Oller del Mas castle.
Click here to Check Tour Prices & Availability
---
2. Sitges
Take a day trip from Barcelona to Sitges, an LGBT-friendly coastal town with beaches and great cafés.
Sitges is a small city south of Barcelona known in particular for its LGBT friendliness; some people go so far as to call Sitges the LGBT capital of Europe. It's fair to say I got quite the surprise when I wandered down to the waterfront on arrival to see a whole lot of people dressed up (or down) in fancy-pants costumes. I'd arrived in Sitges during Pride Week, and it was so much fun.
Beyond its inclusiveness, there is much more to Sitges to enjoy. The city is a great day trip from Barcelona, as it's a walkable city with a stunning coastline, trendy cafes and some marvellous views from the Maricel Museum. It's a great place to just sit down, relax with your friends or partner, and get into the relaxed vibe. Don't forget to have sangria at one of the beachside bars!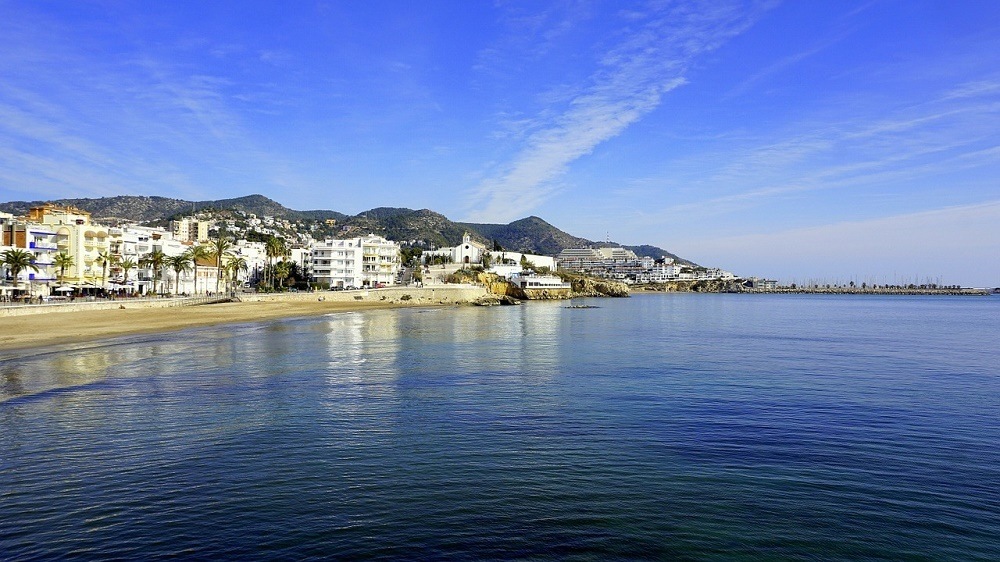 Image by JosepMonter via Pixabay
How to Get to Sitges from Barcelona: Head to Passeig de Gracia train station in Barcelona, and buy a ticket to Sitges (plenty of signage). Latest prices are 3.60€ one-way, with a couple trains leaving every hour.
No need to plan too much, just make sure you check when the last train leaves Sitges back to Barcelona (it changes periodically, from winter to summer, for example). Otherwise, it's a slow bus ride back to the city!
---
If you'd rather visit Sitges with an organized tour, Get Your Guide offers multiple options. Unrated as of yet, the Sitges: Modernism and Beach (Private Tour) looks interesting, and includes transportation by train, a guided visit through Sitges' historical center, a traditional Catalonian lunch, and a torron (a type of candy) tasting. If you don't mind packing a lot of sightseeing into one day, the full-day Montserrat, Sitges and Torres Wine Tour from Barcelona is well-rated, and include both Montserrat and Sitges, as well as a wine visit. Similarly, the well-rated Full-Day Tour of Tarragona and Sitgespacks two excellent day trip spots into one.
Click here to Check Tour Prices & Availability
---
3. Badalona Beach
Take a day trip from Barcelona to Badalona Beach, a more relaxed and less busy alternative to Barceloneta.
Barceloneta is Barcelona's most well-known beach, but most people who live in the city have a love/hate relationship with Barceloneta. The beach is extremely crowded in the summer, yet it's the easiest beach to get to from the city center, and there's a nice mix of tourists and locals when the sun is out. While Barceloneta is nice, there are other beaches that are much better and not too far away if you have the time.
Badalona is just north of Barcelona, and is convenient to reach given that it's at the end of the metro! Despite this, you won't find many tourists heading here, even if it's just a 15 to 20-minute metro ride from the center. When you get out of the station, you are just a short walk away from beachside restaurants, miles of beautiful beaches, and no crowds to be found.
Perfect for an off-the-beaten-path beach day.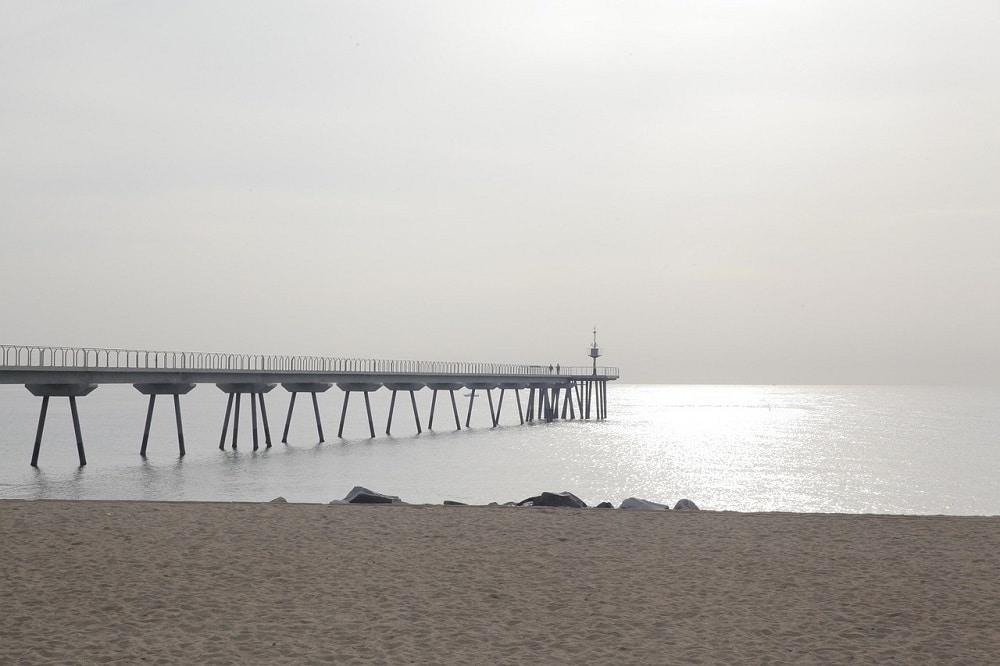 Image by ozzypiuntur via Pixabay
How to Get To Badalona Beach: Take the L2/purple metro to Badalona Pompeu Fabra; from there it's a nice 15-minute walk to the beach. A single ticket on the metro costs €2,15. If you're in Barcelona for more than 24 hours, do yourself a favour and pickup a transit pass. You can buy a 10-trip pass for €9,95 at the metro stations, or pre-order a 2,3, 4 or 5-day unlimited transit pass with the Hola BCN card. You can exchange your voucher at the airport, and the pass is good on all metros and buses operated by Transports Metropolitans de Barcelona (TMB), on trains operated by Generalitat city network, and on tram and Renfe suburban trains.
---
Barcelona Public Transport Card
The highly-rated Hola BCN card can be bought ahead of time (you exchange a voucher for the physical card when you arrive, either at the airport or another tourism info point), and gets you unlimited transport on all metros and buses operated by Transports Metropolitans de Barcelona (TMB), on trains operated by Generalitat city network, and on tram and Renfe suburban trains.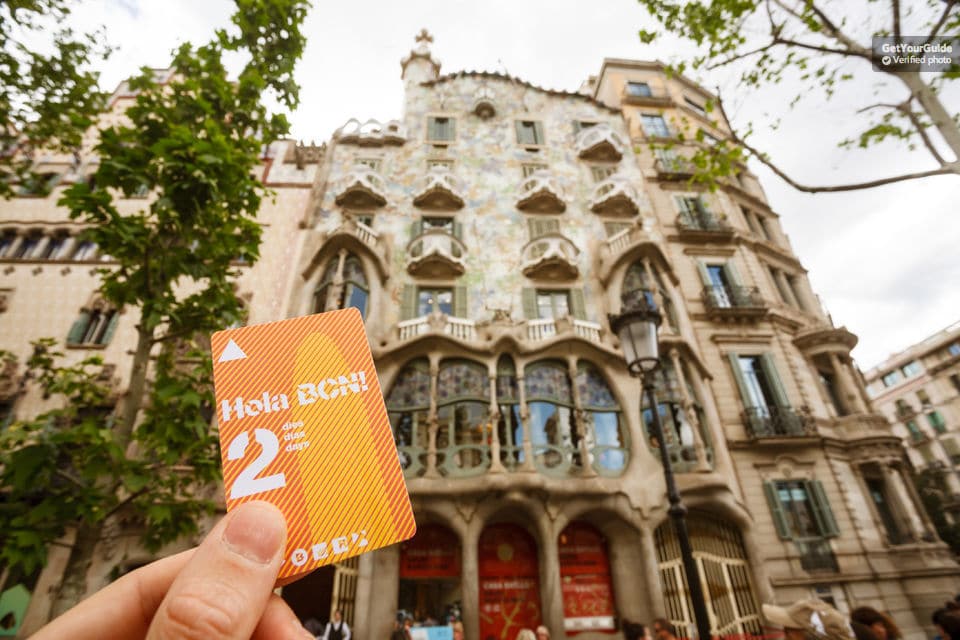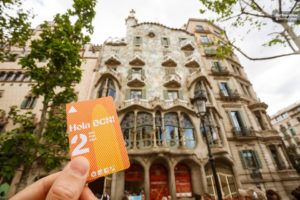 ---
4. The Catalonia Wine Region
Take a day trip from Barcelona to the Catalan wine regions of Penedès and Priorat, less than one hour from the city.
I haven't visited these areas myself, but my Catalonian friend has convinced me to visit the wineries here the next time I'm in Barcelona. The major wine areas are Penedès and Priorat, and they're less than an hour away from Barcelona.
I've always known Spain makes good wine, but certainly didn't know they were one of the top five largest countries in terms of production. There are many wineries you can visit for a tasting, but according to this blog post, some of the best wineries to visit on a day trip are Albet i Noya, Torres and Gramoa.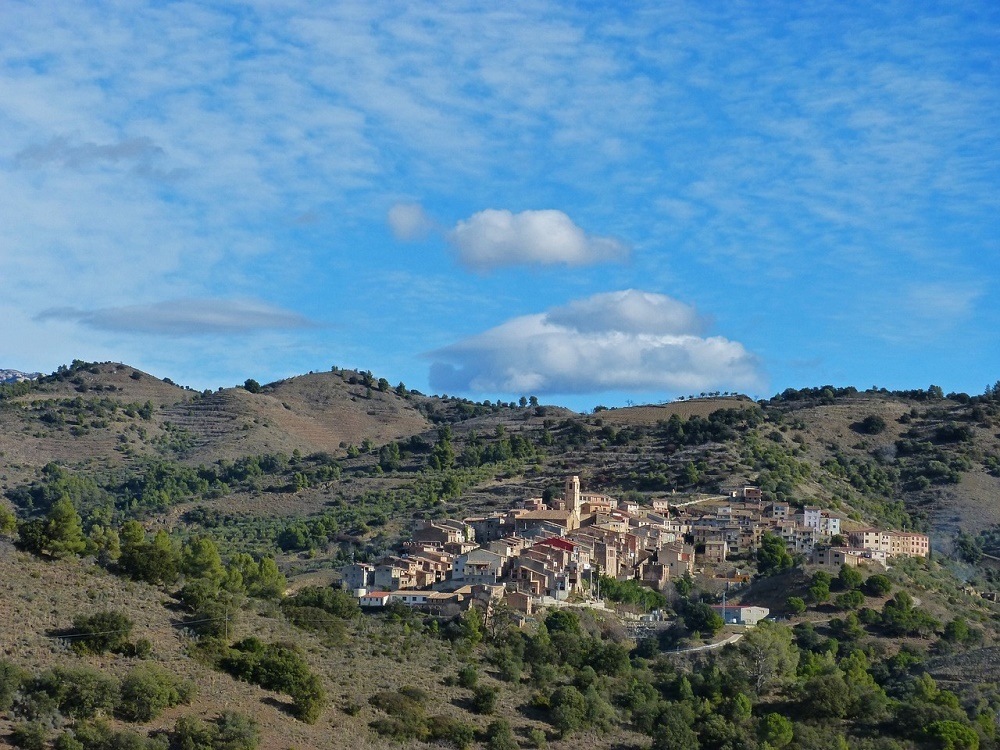 Image by maramuki0 via Pixabay
How to Get to the Catalan Wine Region from Barcelona: Renting a car is probably the easiest way to visit, as transportation to the towns exist, but getting to the actual wineries is then hard. Because of the difficulty, we recommend either joining an organized tour or using a car rental, rather than relying on public transportation.
---
Wine from Barcelona: Get Your Guide offers a highly-rated day trip from Barcelona to the Penedès Region, which includes multiple wine and cava tastings at 2 different wineries, paired with gourmet bites. The trip saves the hassle of renting a car and figuring out directions to the best wineries.
---
Need a place to stay in Barcelona? Check out our Where to Stay in Barcelona Guide, which outlines the best neighborhoods to stay in Barcelona, and lists accommodation in each. We also have guides to Madrid, Seville, and Granada, as well as plenty of content about Italyand Portugal, depending on where you're going!
---
5. Girona
Take a day trip from Barcelona to Girona, a lovely small city that's full of charm (and a filming location for Game of Thrones).
Situated 90 km north of the city, Girona is one of the most popular day trips from Barcelona. Most people head to Girona for its charm and traditional architecture, but it's also a good bet for food lovers. The cute, little cafés embrace the city's architecture, which has evolved from various historic events to create a fun atmosphere, especially on the narrow streets.
It's a great place to wander around without a fixed itinerary, although you shouldn't miss the Cathedral, the Passeig de la Muralla, and the Museum of Jewish History. It's also a great destination for golfers, as there are plenty of courses in the area. Finally, it is a filming location for Game of Thrones, making it an awesome day trip for fans!
No wonder Girona is often considered to be one of most desirable cities to live in the entire country by the Spanish!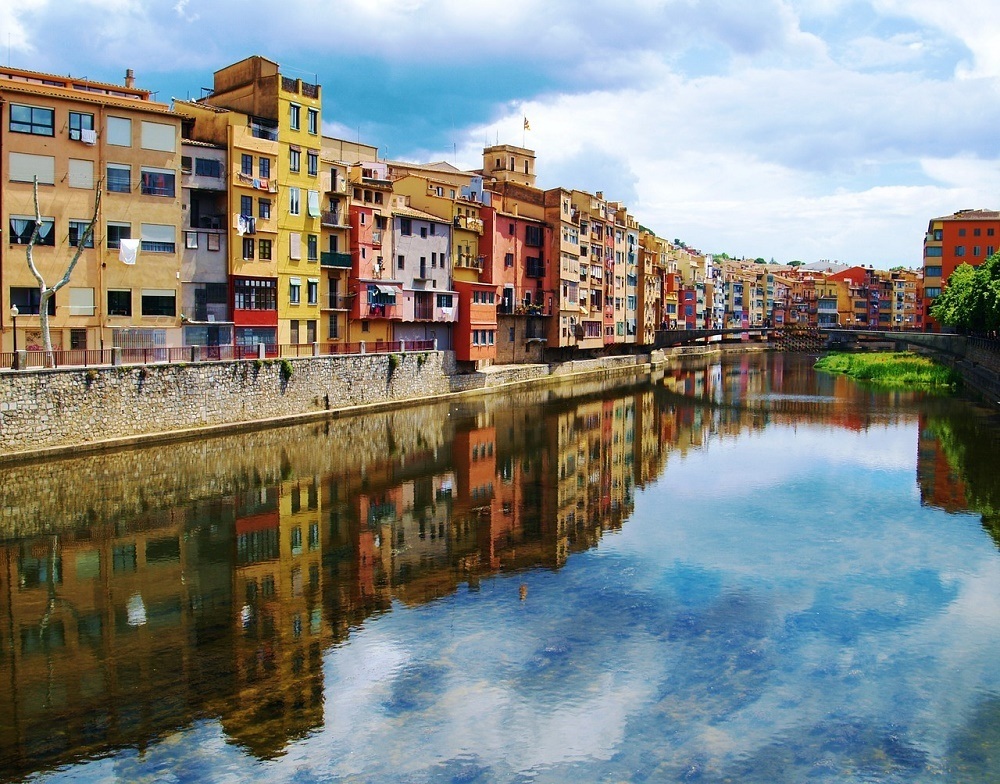 Image by tiburi via Pixabay
How to Get to Girona from Barcelona: Bus or train are your best options, with the high-speed train allowing you to minimise transit time and maximise fun times in Girona. The fast train leaves from Barcelona Sants train station throughout the day and takes 38 minutes to reach Girona for 16.20€. For specific train times view Renfe.com.
You can also opt for the bus, but there aren't that many buses running each day, so the train is usually the better option. Check out the Sagalés website for bus timetables.
---
Girona Day Trip from Barcelona: Get Your Guide offers a highly-rated day trip from Barcelona to Girona and Costa Brava, which includes a guided walking tour of Girona and a beach tour at Calella de Palafrugell (the landscapes are amazing!). Rated 4.8/5 based on 19 reviews, the trip lasts a full day and will show you a beautiful area. Otherwise, Game of Thrones fans might want to check out the Game of Thrones walking tour, which will show you all the spots where the show was filmed (note that it doesn't include transportation from/to Barcelona).
---
6. Tarragona
Take a day trip from Barcelona to Tarragona, and discover a beautiful center of Catalan culture!
If you want to get into the heart of Catalan culture, the town of Tarragona is where Catalanonia's jaw-dropping human towers originated. There are free displays of human towers happening in the city throughout the summer. When in Barcelona, ask at the information center when the next public show is, and time your visit accordingly.
Tarragona is also home to a UNESCO World Heritage Site; some roman ruins which you can explore. Everything is walkable from the train station, and if you have limited time, you could combine a visit to Tarragona with Sitges, and see both in the same day.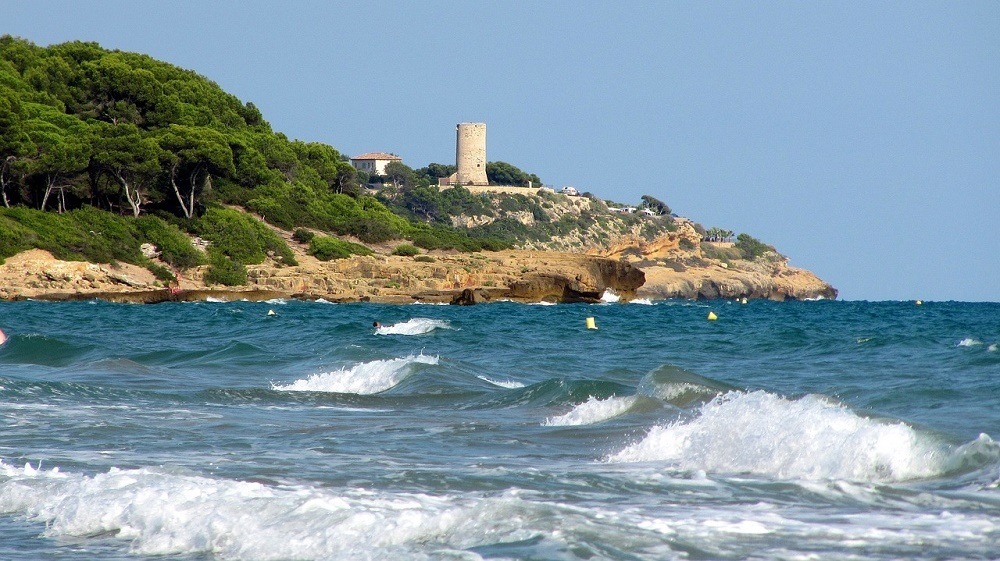 Image by neufal54 via Pixabay

How to Visit Tarragona from Barcelona: The train is the quickest option, leaving from Barcelona Sants Station throughout the day. Tickets cost ~€7 each way, or €30 if you take the high speed train. The route takes anywhere between 45 minutes to 1:20, depending on the train.
---
Take a Tour of Tarragona from Barcelona: If you're short on time, the From Barcelona: Full-Day Tour of Tarragona and Sitges includes transportation, guided tours and admission to sites, and starts at $114 per person for a visit to 2 lovely towns.
---
That's it: the 6 best day trips from Barcelona that we'd recommend (and have recommended) to our friends and family, if they were planning a trip to Barcelona. If you think we're missing one, we'd love to hear about it – leave a comment! And if you take one of the suggested tours, we'd also really love to hear how it goes!
---
Also, feel free to pin this for later!