Dublin in 3 Days: The Best Things to See and Do with 3 Days in Dublin! A Dublin 3 Day Itinerary Covering What to See in Dublin in Three Days. Includes Dublin Highlights, Museums, Tours, Restaurants, and More to Fill 3 Days in Dublin.


---
Dublin in 3 Days: What to See, Do & Eat in Dublin with 3 Days in Dublin
Day 1: Book of Kells and Trinity College Library, Dublin Castle, Molly Malone Statue, Guinness Storehouse, Dublin Literary Pub Crawl, and Temple Bar.
Day 2: Christ Church and St. Patrick's Cathedrals, Ha'Penny Bridge, Irish Whisky Museum or Jameson, Little Museum of Dublin, Merrion Square, Oscar Wilde Statue, Folklore and Storytelling Dinner at Dublin's Oldest Pub.
Day 3: EPIC The Irish Emigration Museum, Silicon Docks Neighborhood, Vintage Afternoon Tea Tour, DIY Pub Crawl
---
We were incredibly lucky to spend a total of six days exploring Dublin last fall, exploring the city on a jam-packed itinerary filled with tours, day trips, and plenty of Irish whiskey, while also hitting up Dublin's main highlights and some unexpected gems.
We left the city with a wholly positive impression of a place that's reinvented itself since the Celtic Tiger's devastating crash, re-envisioning itself as a city where small batch and craft artisans, arts and culture, and traditional industries seem to be taking a well-deserved moment in the (admittedly rare) Irish sun.
The Dublin itinerary below is based on our own experiences, and what we thought were highlights. Three days in Dublin is enough to see and experience most of the city, without having to rush too much, but some things had to inevitably be left off (we're talking about you, GPO Witness History). Got to have a reason to go back, right?
We hope our experiences help you plan your own 3 days in Dublin, and that you enjoy the city as much as we did!
---
Pin this Post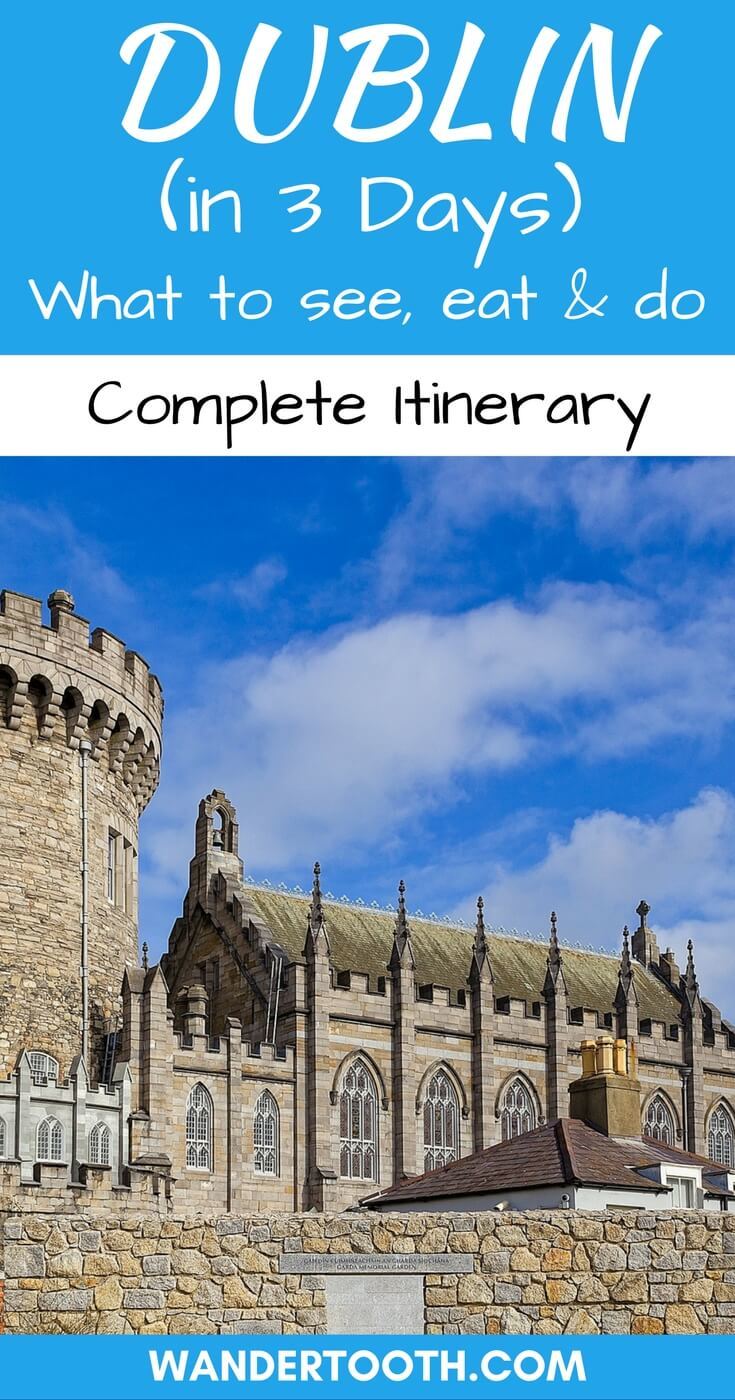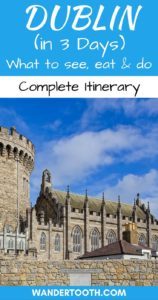 ---
---
Dublin in 3 Days: Day 1
The Very Best of Dublin in 24 Hours
9:00am to Noon
✓ Book of Kells* ✓ Trinity College Old Library ✓ Dublin Castle
*Skip-the-Line Tour Recommended
While we're the first to admit "one of the world's oldest books" doesn't exactly scream must-do tourist attraction, we can assure you the Book of Kells is worth your time in Dublin.
One of Ireland's greatest national treasures, this "work of angels" (actually: monks) is approximately 1,200 years old. The library displays two pages at a time, turning the page every few months to best protect it. And while the book itself is behind glass, you can still get a good look at it, and there's a detailed exhibition which will give you a primer on the book.
Once you're done with the Book of Kells, you'll be moved into the stunning Trinity College Old Library, one of the most beautiful libraries in the world, and built in the 18th century. The library's Long Room holds over 200,000 of the Library's oldest books on oak bookshelves, each of which beckons to be opened and read!
The one downside about visiting the Book of Kells is you won't be alone: the Book attracts an average of half-a-million visitors per year, so it's absolutely worth planning ahead. We visited at the end of October, and the line-ups were massive, even then – we can't really imagine what they'd be like in the summer. To deal with this, we recommend going first thing in the morning to avoid some of the crowds. If you're visiting in high-season, you might want to book a fast-track tour that allows you to skip-the-line, and includes Book of Kells, Old Library, and a visit to Dublin Castle. The tour goes from 9:15 to 11:45, and has been well-reviewed by past guests. You can also book tickets online through Trinity College, which give you "immediate access" to the exhibition for your time slot. It's a bit unclear what immediate access means – we're not sure if you still need to wait in line, or not, but will update this if we find out!
If you don't take the tour, feel free to wander over to Dublin Castle anyway if you have time, and head into the Chester Beatty Library, which is consistently ranked among the best museums in Europe and contains an impressive collection of ancient manuscripts. The Library has a rooftop, which gives nice views over the Castle.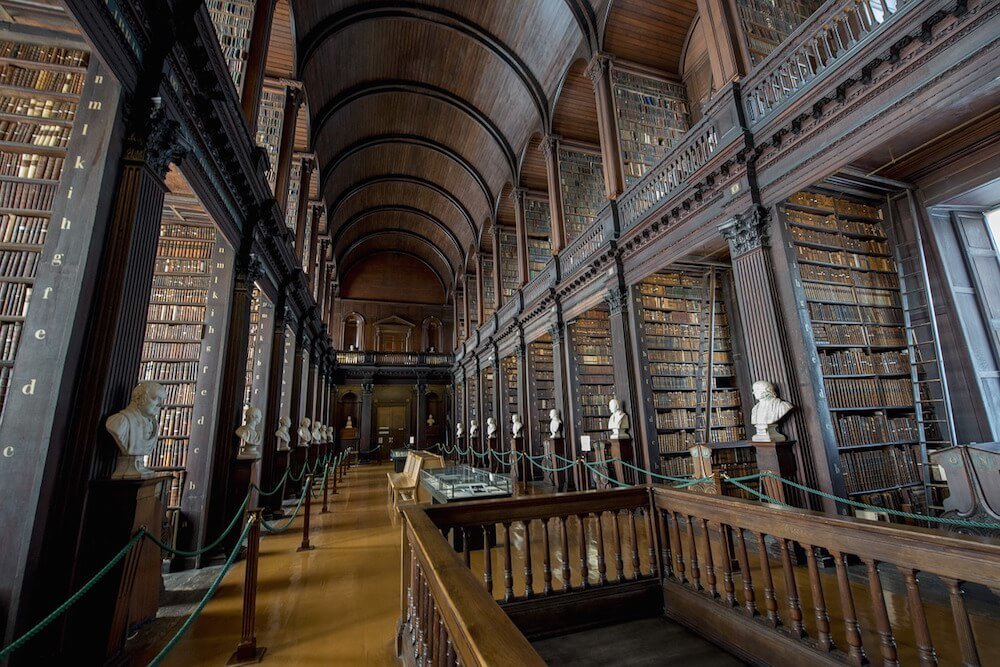 Noon to 1:30pm
✓ Molly Malone Statue ✓ Lunch in Temple Bar
Temple Bar is a short walk from both Trinity College and Dublin Castle, and can be reached in 5 minutes or less from either the Castle or the College.
We'd suggest starting at the Molly Malone statue, and doing the mandatory tourist selfie with Molly. For most people, this includes fondling poor Molly (yep, you read that right). You'll notice one part of Molly is rubbed to a shiny gold colour compared to the rest of her, due to the constant molestation she faces from tourists.
Across the street, O'Neill's is a good bet for lunch (2 Suffolk Street). When we were in Dublin, we wanted to spend as much time in Irish pubs as we could, and O'Neill's fits the bill. Food is canteen-style — you just head up to the counter and point out what you want — and is meat-heavy. There's also a good whiskey list if you feel like indulging.
It's a 9-minute walk to O'Neill's from Dublin Castle, or 3 minutes from Trinity College.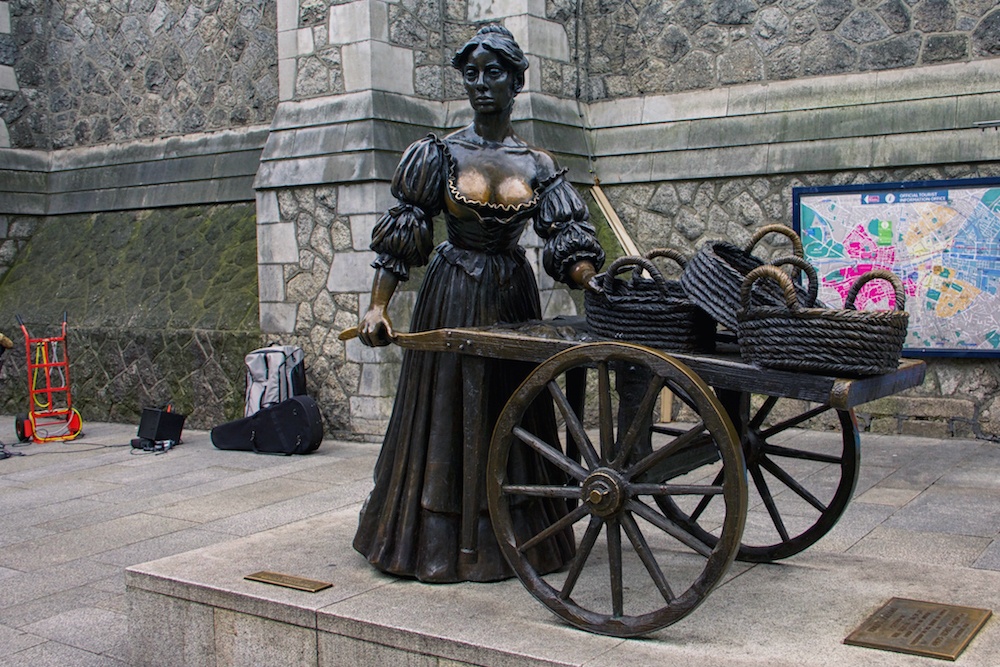 ---
Looking for more ideas in Dublin and Ireland? Check out our picks for the 12 Best Tours in Dublin, Where to Stay in Dublin and Where to Stay in Belfast Guides, and our guide to the Best Day Trips from Dublin. Our Country Guide to Ireland will be updated as we add more content!
---
1:30pm to 4:30pm
✓ Guinness Storehouse*
No visit to Dublin's capital is complete without a trip to the Guinness Storehouse, a trip down memory lane for one of two drinks universally associated with its home country. Even if you don't love the drink itself, it's still worth visiting to learn about the history behind Guinness, and the impact it's had on Dublin. We'd suggest you plan to spend 2 to 3 hours at the Guinness Storehouse so as to not rush, and so you can enjoy the included pint at the end of the tour without having to gulp it down. If you can, we strongly suggest you book ahead and get a skip-the-line ticket. This is one of Dublin's most popular tourist attractions, and line-ups can get to be a bit much. Also worth noting, the Guinness Storehouse is free with the Dublin Pass.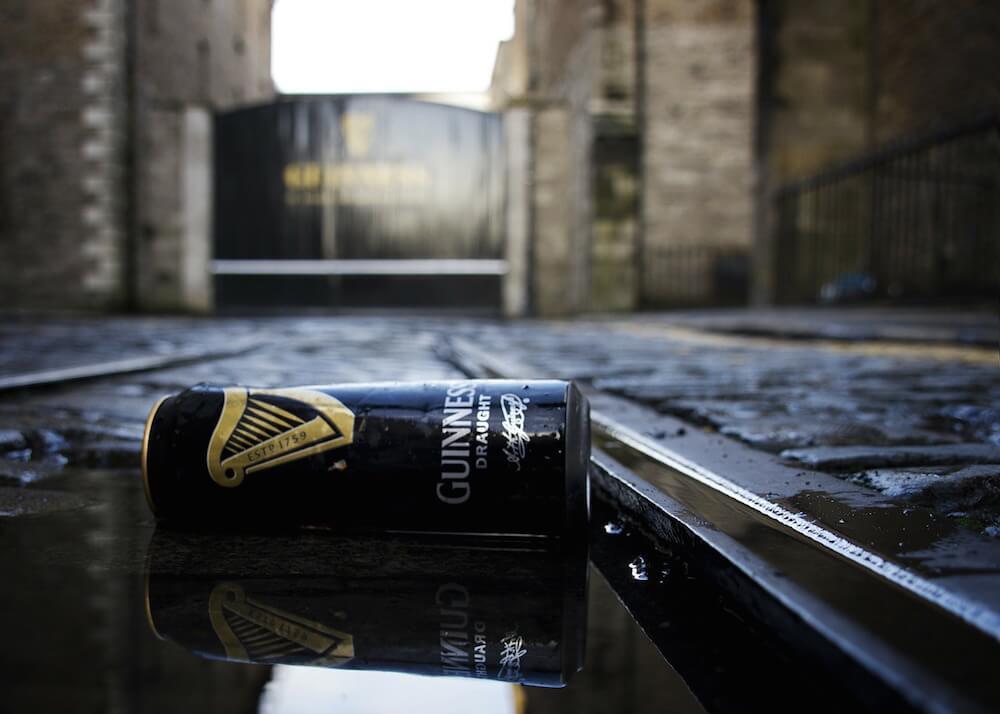 7:15pm to 9:45pm
✓ Literary Pub Crawl*
This was one of our favorite activities in Dublin, and is very highly-rated by other guests who've tried it as well.
Combining storytelling with some lifting the elbow (drinking!), the pub crawl stops at different pubs that have played key roles in Dublin's impressive literary history. The two guides we had were also actors, and performed readings and dramatizations of different pieces of Dublin-related plays and stories as we went, often in a significant location around the city.
We watched a piece of Samuel Beckett's Waiting for Godot, heard stories of Oscar Wilde at Trinity College, and listened as scenes from Joyce's Dubliners were described to us, as we hopped from historic pub to historic pub.
This was a really fun evening, and the amount of walking wasn't too arduous that almost anyone can enjoy it. Highly recommended!
(You can read about our experience here)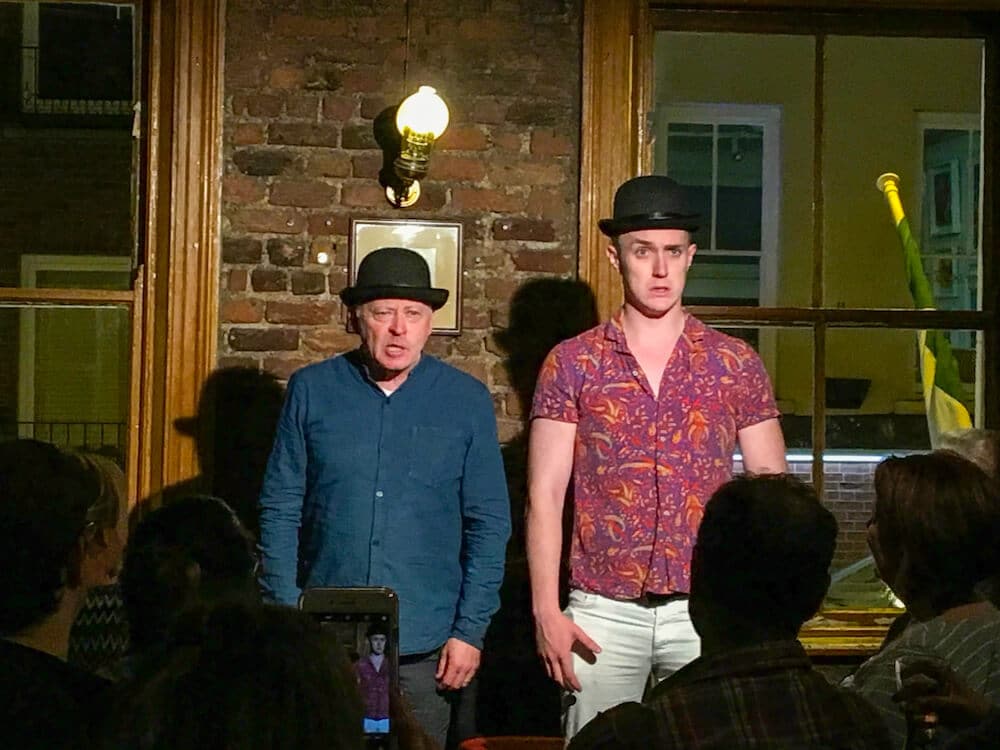 Interested in The Dublin Literary Pub Crawl?
Learn More & Book Your Tickets Here
---
Dublin in 3 Days: Day 2
Landmarks, Whiskey & Folklore
10:00am to Noon
✓ Christ Church Cathedral ✓ St. Patrick's Cathedral
Christ Church and St. Patrick's Cathedrals are two more must-sees when in Dublin, and are about a 7-minute walk from each other, making it easy to visit both in a morning.
St. Patrick's is the national cathedral of the Church of Ireland. For literature lovers, it is home to Jonathan Swift's remains. The grounds themselves are beautiful, and the interior is intricate and detailed, with beautiful stained glass – as you'd expect!
Christ Church Cathedral is the local church for the diocese, but still incredibly grand and worth a visit. Pro tip: you can pay extra to go up the bell tower if you have time (we, unfortunately, didn't get to do this due to time constraints).
All this said, we have to admit that churches aren't really our thing. We actually visited both cathedrals as stops on Lazy Bike Dublin's electric bike tour, which also includes Trinity College grounds and Dublin Castle grounds. The tour didn't go into the churches, so if you want to explore the interiors and crypts, this isn't the best option. But, if you're up for some fresh air and a bit of a city overview, you should consider it as an option.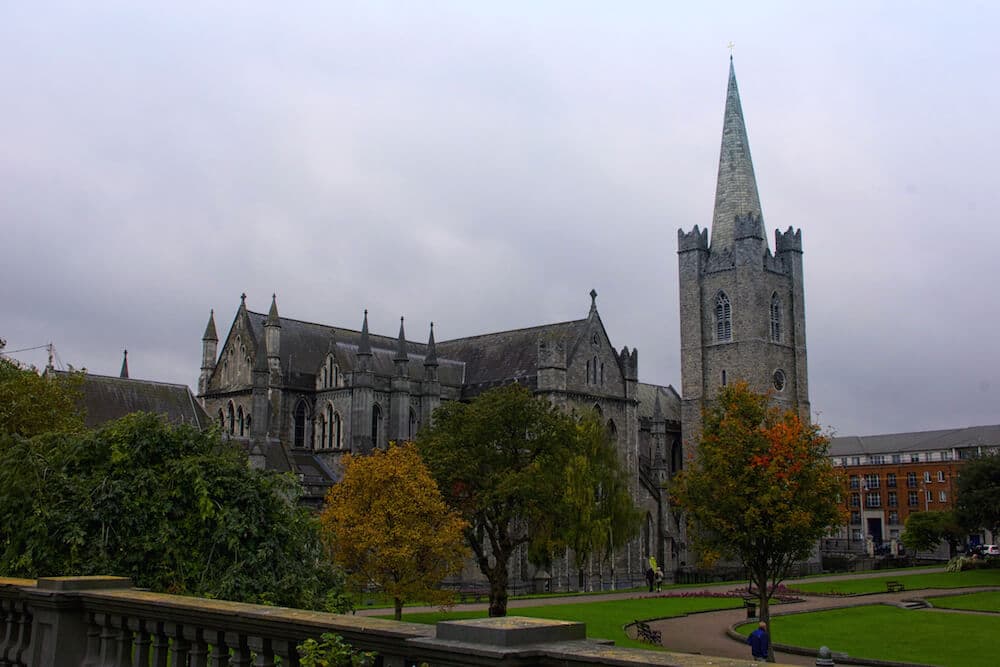 Noon to 2:00pm
✓ Ha'Penny Bridge ✓ Waterfront Lunch
From St. Patrick's Cathedral, it's a 17-minute walk up to the Ha'Penny Bridge – the iconic white cast iron pedestrian bridge across the River Liffey, and a must-see in Dublin. Much of the walk can be done along the river, and is a nice way to work up an appetite for lunch!
The Ha'Penny bridge gets its name from the toll it cost to cross it (a ha'penny is equal to 1/480th of a pound!). It was the first bridge to cross the Liffey in Dublin, and was controlled for more than 100 years by turnstiles and toll collectors, from 1816 to 1919, when the toll was dropped.
After crossing the bridge to the north side of the Liffey, stop in at The Woolen Mills for lunch. It's impossible to go far in Dublin without running into some sort of history, and The Woolen Mills is no exception. A restaurant right on the River Liffey, and overlooking the iconic Ha'Penny Bridge, the building used to house a knitting emporium where James Joyce worked as a salesman. Today, it's a restaurant and a good bet for lunch.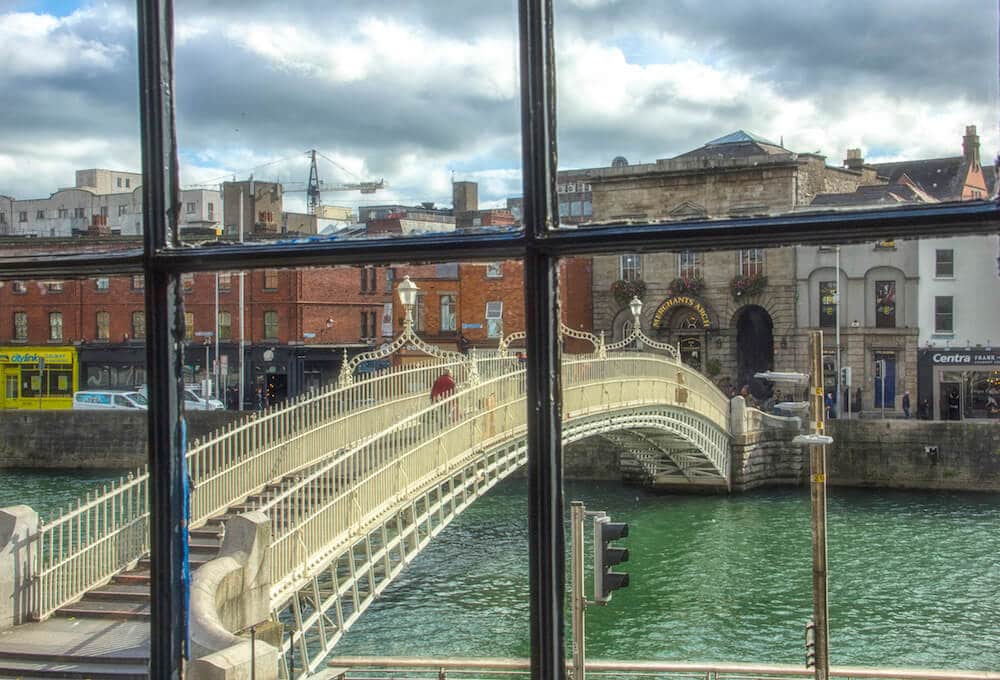 2:00pm to 3:30pm
✓ Irish Whiskey Museum*
*Advanced Booking Recommend (Especially in High Season)
Less than 10 minutes' walk from The Woolen Mills, head to The Irish Whiskey Museum to learn about (and taste) Ireland's national spirit!
We actually tried out three different whiskey experiences while in Dublin: The Irish Whiskey Museum, Jameson Bow Street, and Teeling's. The Irish Whiskey Museum and Jameson Bow St. were our favorites, and are quite different: so if you have time to squeeze in both, by all means do so.
If you're short on time, however, the Irish Whiskey Museum provides a great intro to Irish whiskey, including its history, its incredible impact on Dublin as a city, and – of course – it's flavours. It's also conveniently-located in the city center.
At the end of our Irish Whiskey Museum tour, we tasted 4 different brands of Irish whiskey, and our museum guide helped us identify the flavours in each. And – always a plus – we got a souvenir whiskey snifter to take home with us.
Tours go every 20 to 30 minutes, and advanced bookings cost €17 for the classic tour, which includes 3 tastings but doesn't include the souvenir snifter. The Premium tour costs €20, and includes a fourth whiskey tasting, plus the souvenir snifter. Both can be booked online in advance using Get Your Guide (you can choose between the Classic and Premium tours once you've selected date).
---
Alternatives to the Irish Whiskey Museum: The Jameson Tour is also excellent, although it's a bit further from the city centre – it would be about a 15-minute walk from The Woolen Mills (and about the same on public transit). If you're not sure which whiskey tour to choose, check out our review and comparison of the Irish Whiskey Museum, Jameson, and Teeling to see the differences. If whiskey doesn't interest you, check out the Art Tea at the Merrion Hotel, or the nearby National Gallery, which is free to enter and has an impressive collection of Irish art.
---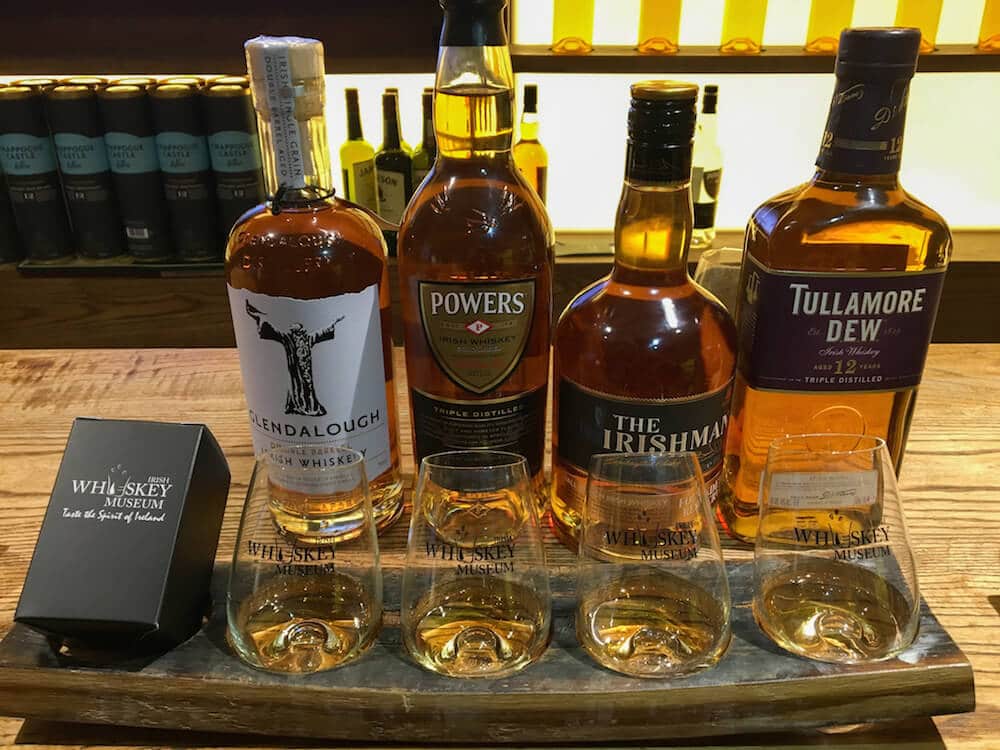 4:00pm to 5:15pm
✓ Little Museum of Dublin ✓ Merrion Square
From the Irish Whiskey Museum, it's a short walk to Merrion Square and the nearby Little Museum of Dublin, which is consistently ranked the best museum in the city, and is full of curiosities and stories of the city.
Because the museum is tiny, you must take a guided tour, which starts every hour, on the hour. Catch the 4:00 tour here, which will last about 30 minutes. Tickets do sell out, so it's best to book in advance, and the last tour of the day goes at 5pm, except on Thursdays when the museum is open until 8pm.
When you're finished, wander over to nearby Merrion Square, which has countless examples of Georgian architecture typical of Dublin. While you're wandering along the square, keep your eyes peeled for "coal holes," which look like smaller versions of manholes. During Georgian times, these were used to transfer coal into the basements to heat the homes.
Besides the classic architecture, Merrion Square is home to Oscar Wilde's childhood home at number 1 (2 Marino Park). Unfortunately, the house is only open for group tours, so you'll have to enjoy the view from the outside, and can get a bit more Wilde with the excellent and colourful statue in the park across the street (it's in the northwest corner).
For more famous Irishmen from Merrion Square, W.B. Yates lived at number 82, Daniel O'Connell (Irish political leader) at number 58.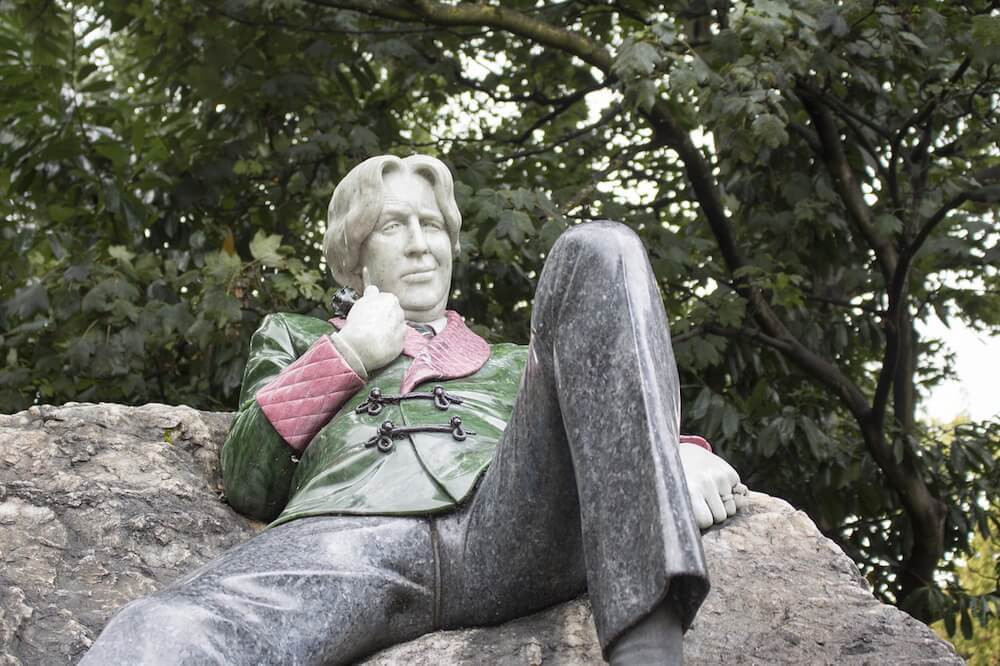 7:00pm to 9:45pm
✓ Folklore & Storytelling Dinner* ✓ Oldest Pub in Dublin
This was another highlight from our time in Dublin, so we can't recommend it highly enough! The Brazen Head is the oldest pub in Ireland, and hosts a Folklore and Storytelling dinner that includes traditional Irish food, music, and storytelling.
The history of the pub makes the experience all the more special, dating back to 1198, and has hosted some of Ireland's most famous sons over the years, including James Joyce and Jonathan Swift.
---
Dublin in 3 Days: Day 3
EPIC Ireland + The Coolest Little Bus Tour
11:00am to 1:30pm
✓ EPIC Ireland ✓ ELY Wine Bar Lunch
Start your day at Epic Ireland, and catch the 11:00 am guided tour of the museum. Another one of our favorite experiences in Dublin, EPIC – The Irish Emigration Museum, tells the stories of Irish émigrés who left Ireland and built new lives, stories, and legacies around the world.
While it's not necessary to take a tour, we'd strongly recommend it. There are just so many fascinating stories in this museum, and the tour guides really know the best of the best. The tours last 60 minutes, and we'd suggest grabbing lunch afterwards at ELY Wine Bar, in the same building.
A family-owned restaurant that sources as much as they can from their family farm in The Burren, and others locally, this place serves up a great example of the current slow, local, and low-waste food revolution that's taking over the capital.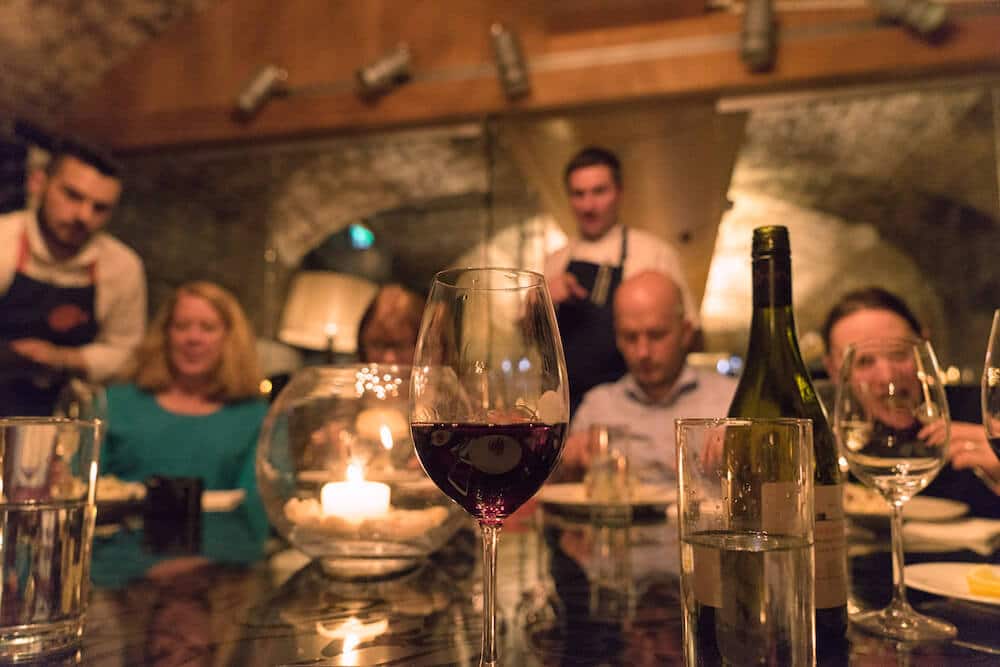 Interested In Visiting EPIC The Irish Emigration Museum?
Learn More & Book Your Tickets
1:30pm to 3:30pm
✓ Silicon Docks Walking Tour ✓ Nice Coffee Shop
Walk off lunch with a wander around The Docklands area, nicknamed Silicon Docks. This part of Dublin couldn't be more different than the Georgian or Medieval areas of the city, and is a collection of modern architecture and gleaming glass. This is the heart of Dublin's tech scene, and is where you'll find the European headquarters for Google, Facebook, Airbnb, Twitter, LinkedIn, Amazon, and more. There are a few interesting buildings/structures in the area, including the Bord Gáis Energy Theatre, the Dublin Convention Centre (CCD), and the Samuel Beckett Bridge. If you're in need of a pick me up, the Docklands area has a few great coffee shops, including The Art of Coffee (1, Alto Vetro, Grand Canal Quay) and 3fe (32 Grand Canal Street Lower). Order your coffee take-away, and enjoy it on the canal front!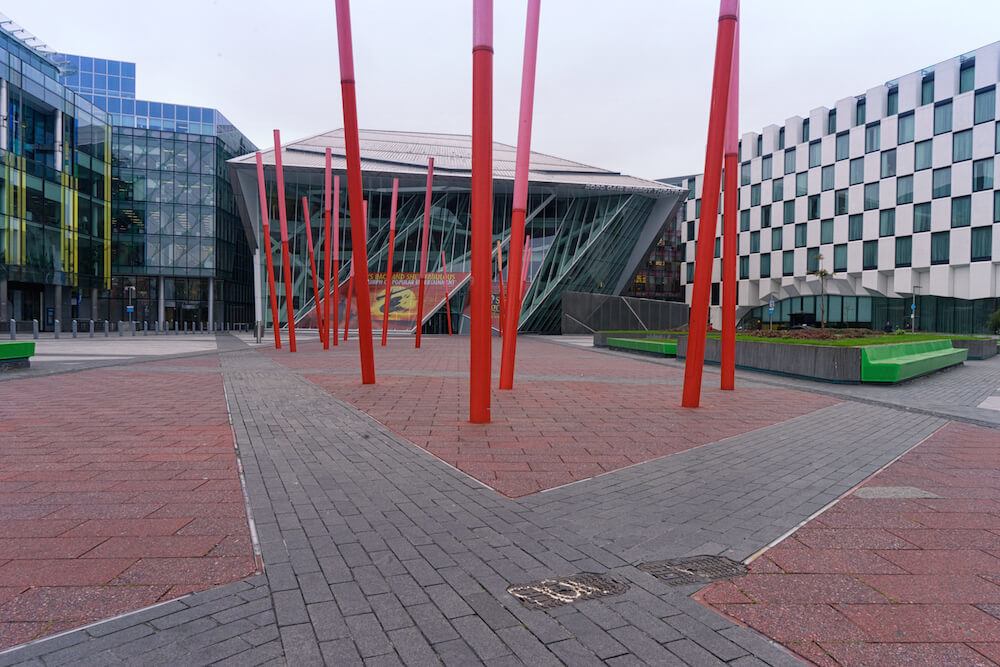 3:30pm to 5:00pm
✓ Vintage Tea Tours*
At 3:30, head back to the CHQ Building (the same buildng as ELY and EPIC Ireland) and hop aboard Vintage Tea Tours' gorgeous double-decker vintage bus named Pauline.
This was another favorite during our time in Dublin, because it's so different and unique, and also delicious. Vintage Tea Tours offers a 90-minute double-decker sightseeing ride around the city, all while enjoying a beautiful afternoon tea spread as you drive. It's unlike anything we've tried, and was a fun way to end our time in Dublin.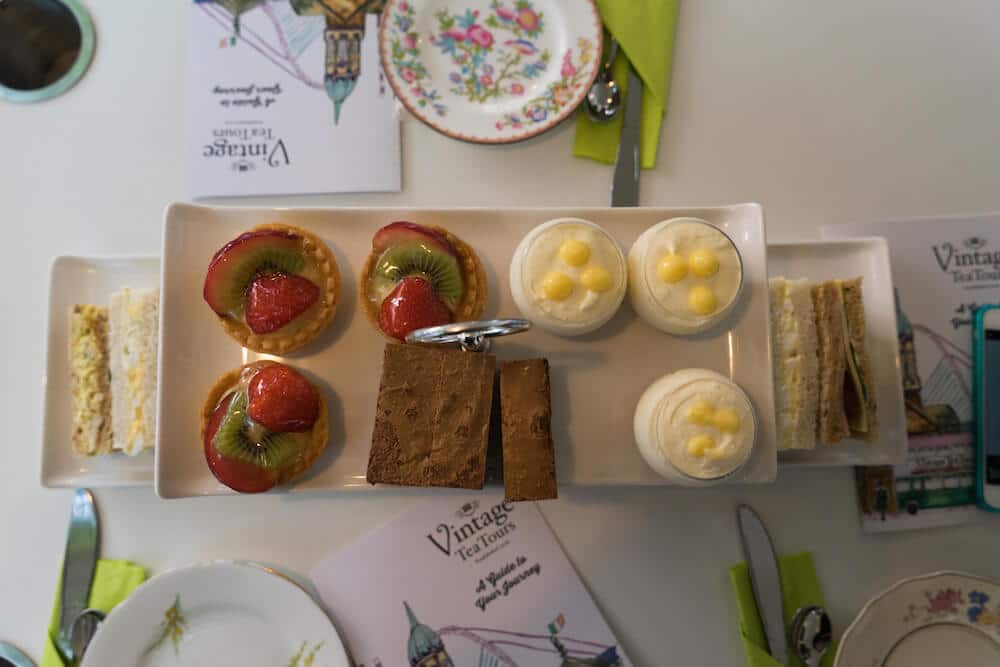 Evening
✓ Pub Hop & Live Music
Make reservations for dinner at Fade Street Social, Gallagher's Boxty House (boxty is a traditional Irish dish, like a potato pancake with fillings), or The Church (a restaurant and bar in a converted church!).
After dinner, end your time in Dublin with an informal, self-guided pub hop, going from traditional pub to traditional pub in search of a craic. Don't think too hard on this, as you're sure to run into plenty of spots with a cozy vibe and live music in Temple Bar (or the city centre more broadly).
---
---
Further Reading to Help You Plan Your Dublin Trip
You can see all of our articles about Ireland on our Ireland Travel Guide page. Otherwise, continue planning your trip with one of the articles below.