If you're headed to Iceland's famous Golden Circle, don't miss the spectacular Gulfoss Waterfall. This massive multi-tiered waterfall is one of the most popular attractions in all of Iceland.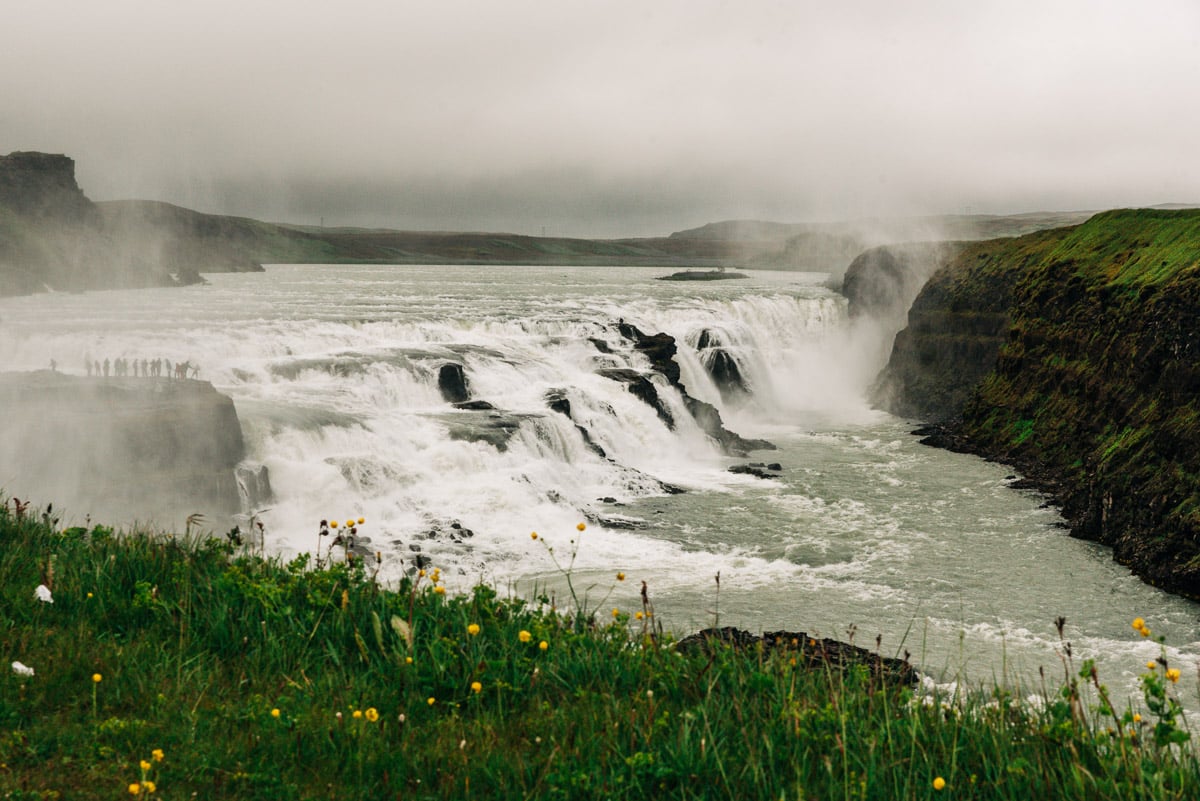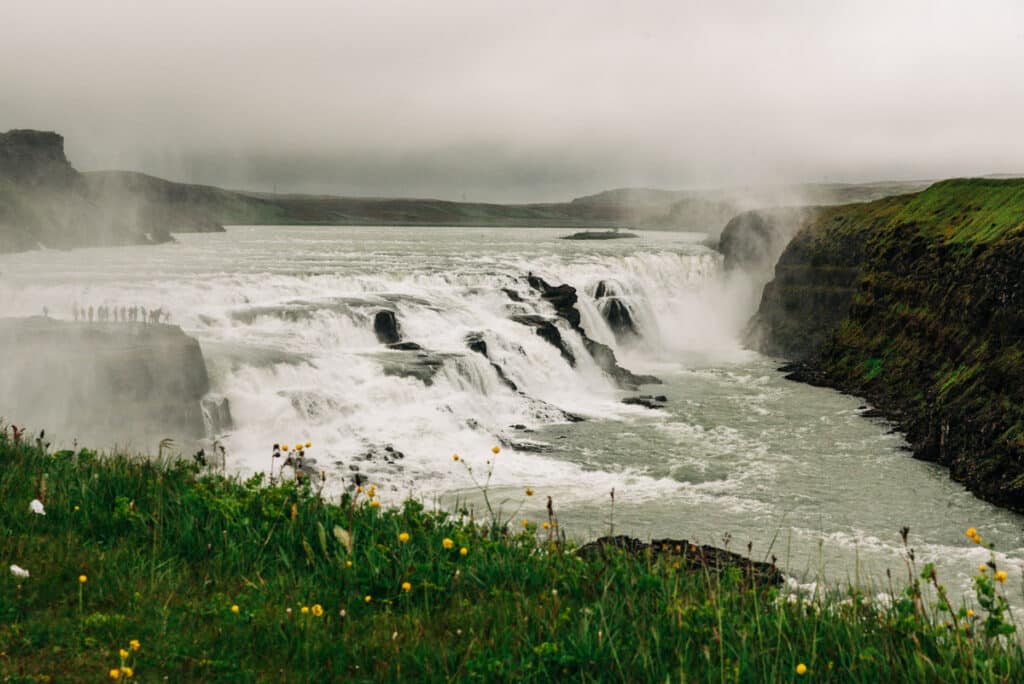 About Gulfoss Waterfall
Gulfoss (meaning "golden falls") is one of the most visited waterfalls in Iceland, thanks to its location just off of the popular Golden Circle route. It's especially impressive thanks to its tiered structure, which looks like multiple smaller waterfalls flowing into one another.
The water flows from the Langjökull glacier and down the Hvítá River to the falls. In the summertime, over 5,000 cubic feet of water per second come rushing through this massive waterfall. While not the tallest waterfall in Iceland, it is the largest volume waterfall in all of Europe!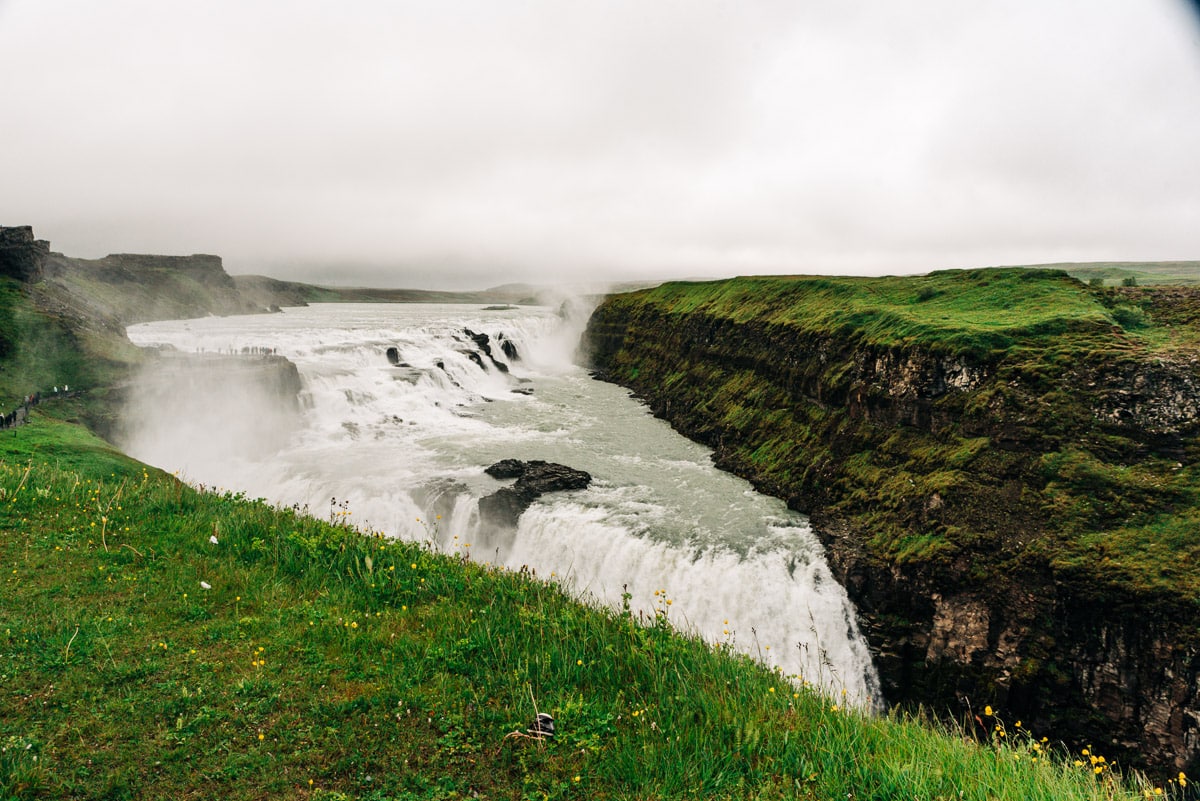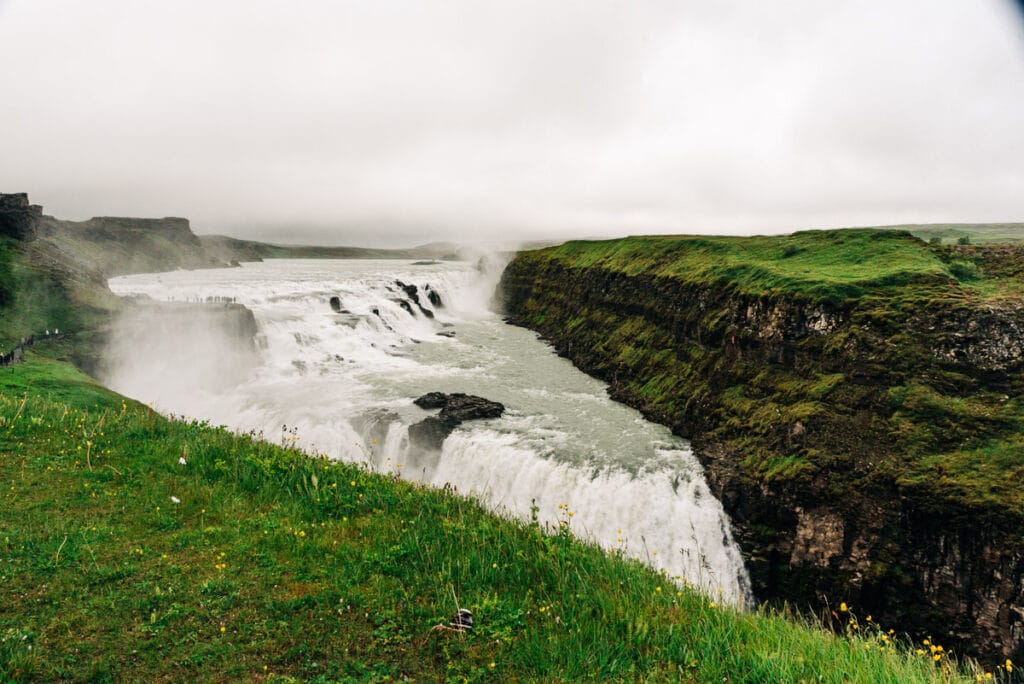 Gulfoss Waterfall is a national treasure, owned and protected by the government of Iceland. Legend has it that there was once discussion of selling the property to private investors for use in a hydroelectric power plant, and that the daughter of the property owner, Sigríður Tómasdóttir, threatened to throw herself down into the falls if the land was not protected. No one really knows if this story is true, but you can find a small memorial to the young lady at the top of the falls.
Like many of Iceland's natural wonders, Gulfoss has been featured in pop culture as well, appearing in a music video the for band Live.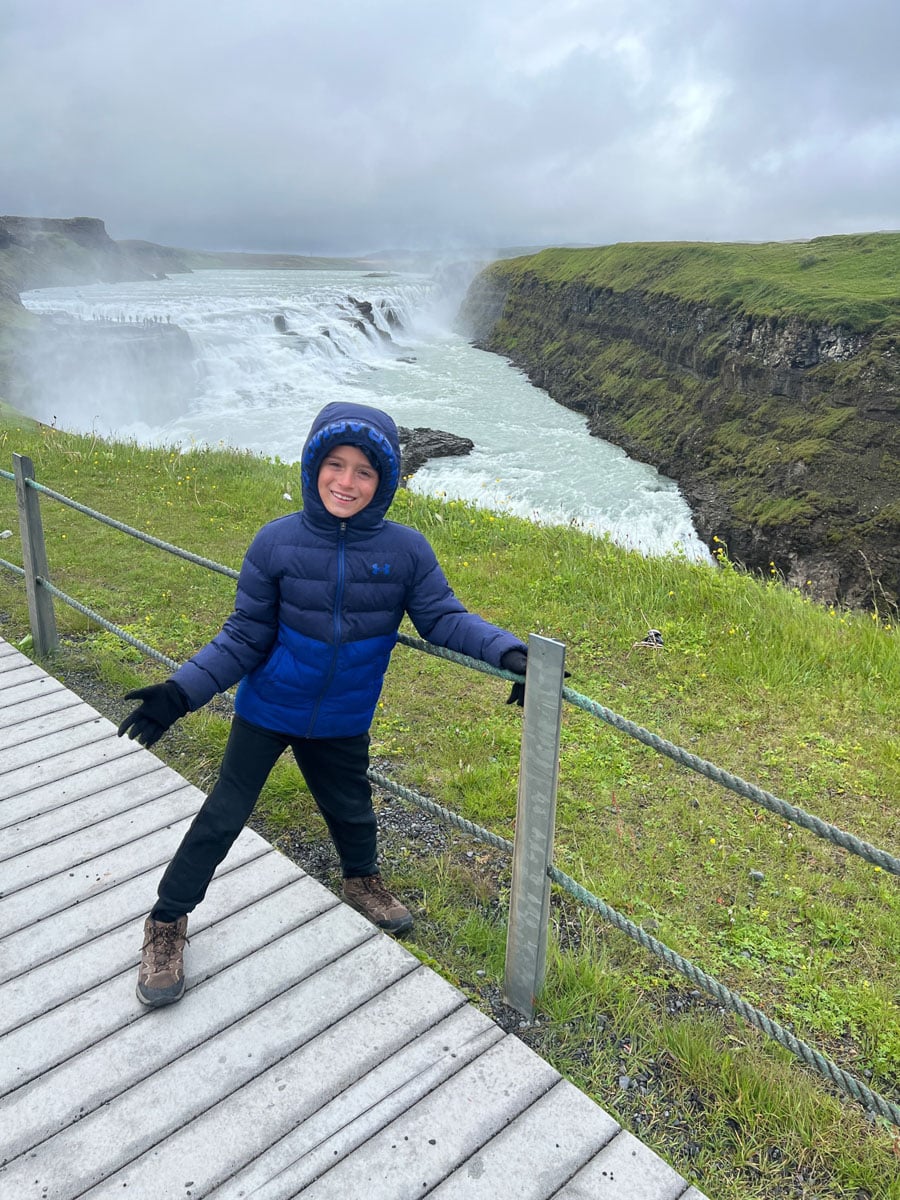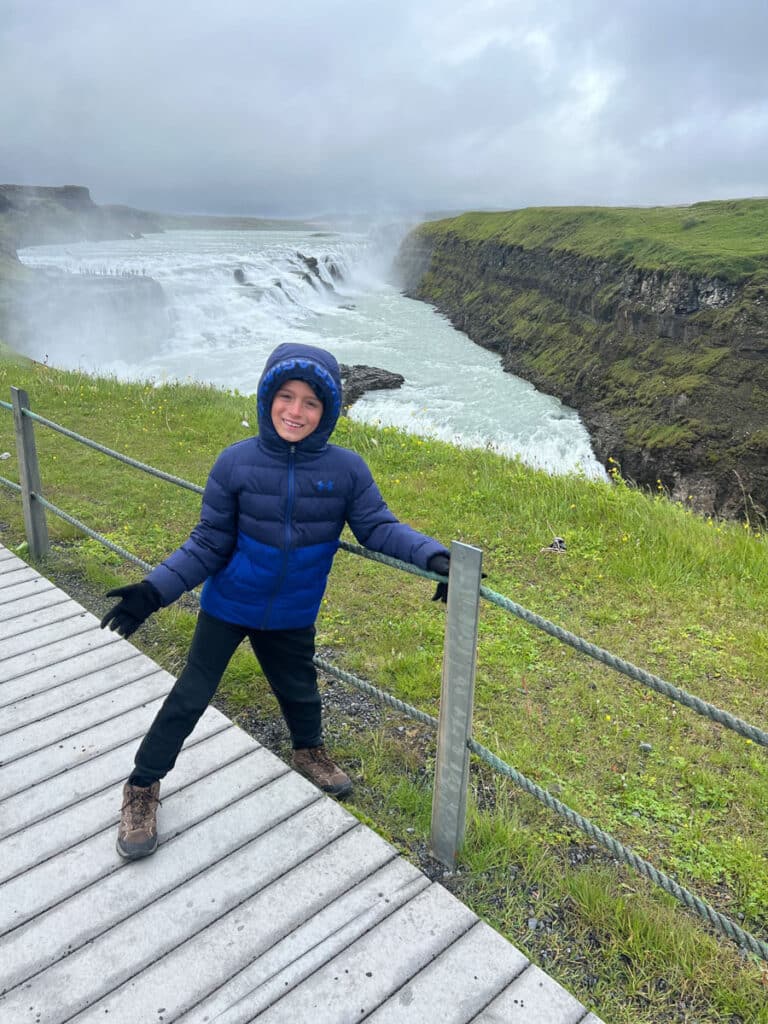 Visiting Gulfoss Waterfall
A visit to Gulfoss Waterfall can be a quick stop or this can be a great place to take a longer break on your journey around the Golden Circle. The waterfall itself is just a short walk from the parking area. You can follow the upper pathway to view the waterfall from above, or the lower pathway to view it from the front and walk up closer to the rushing water.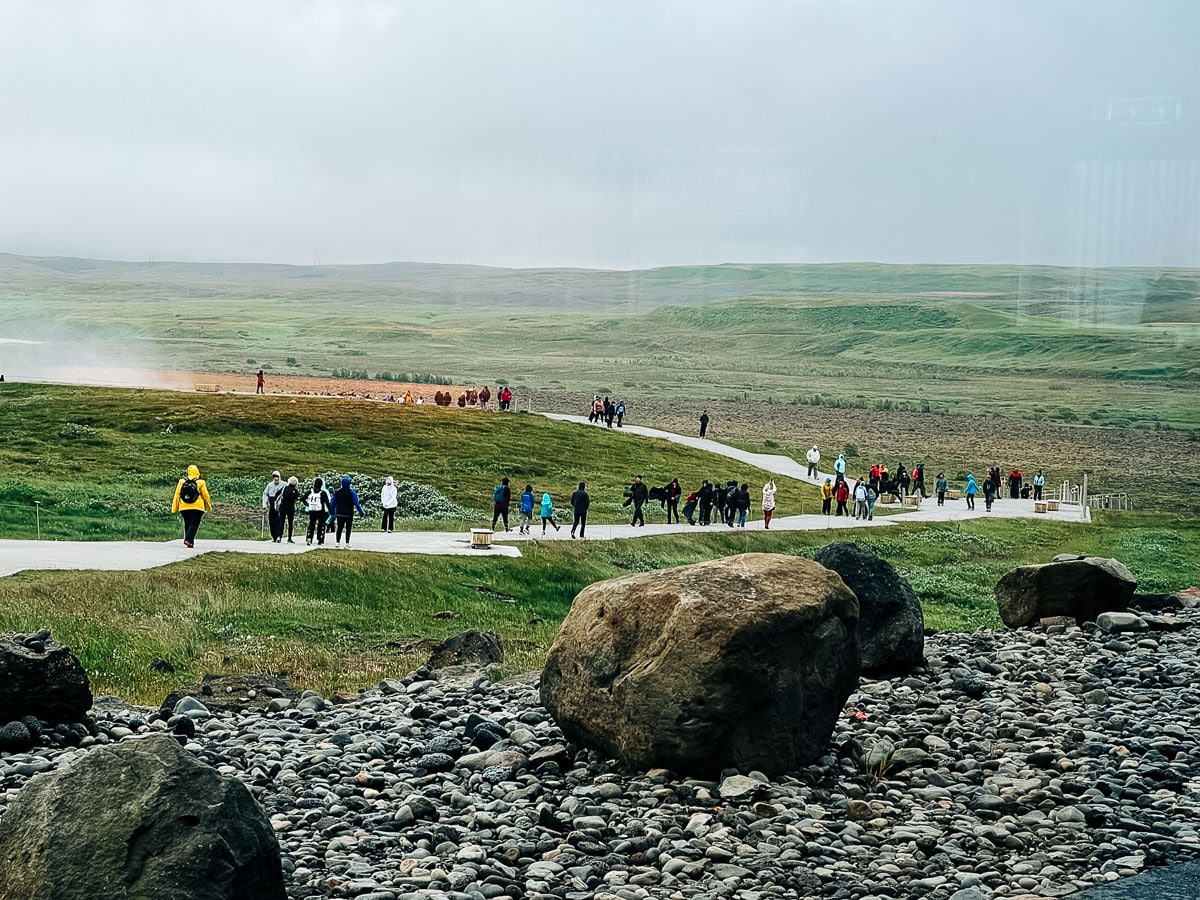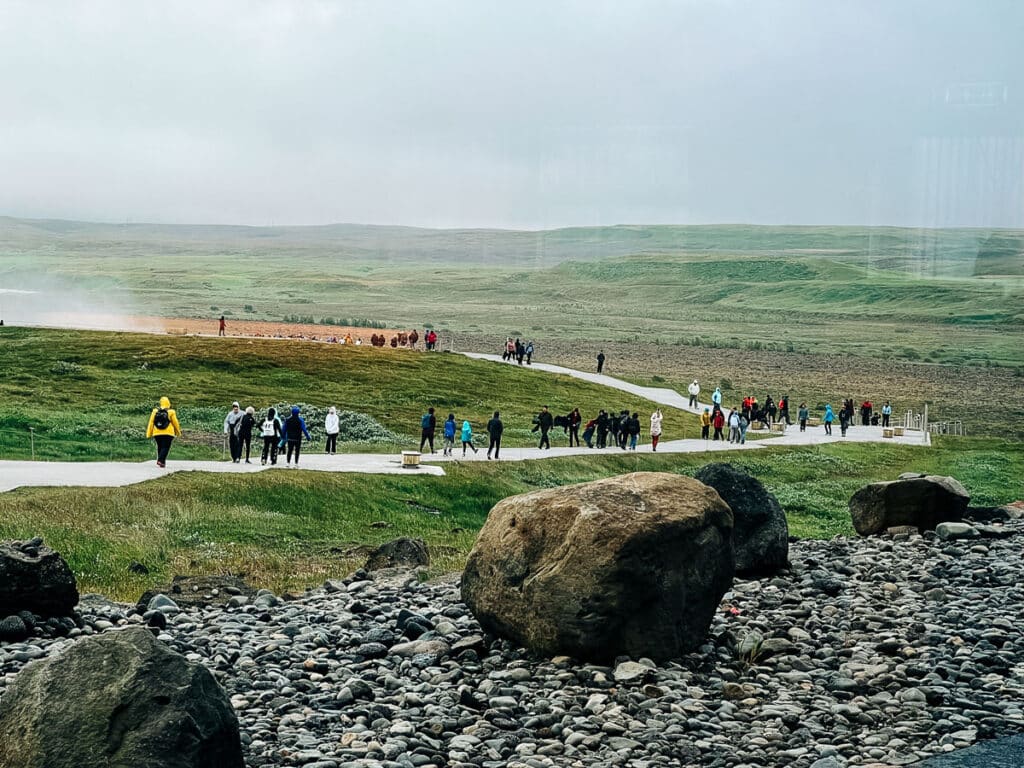 Be warned that if you choose to walk up close to the falls, you will get very wet! The wind can create some very heavy overspray. We wore our rain coats and rain pants to stay dry! (See my Iceland packing list for recommended waterproof gear.)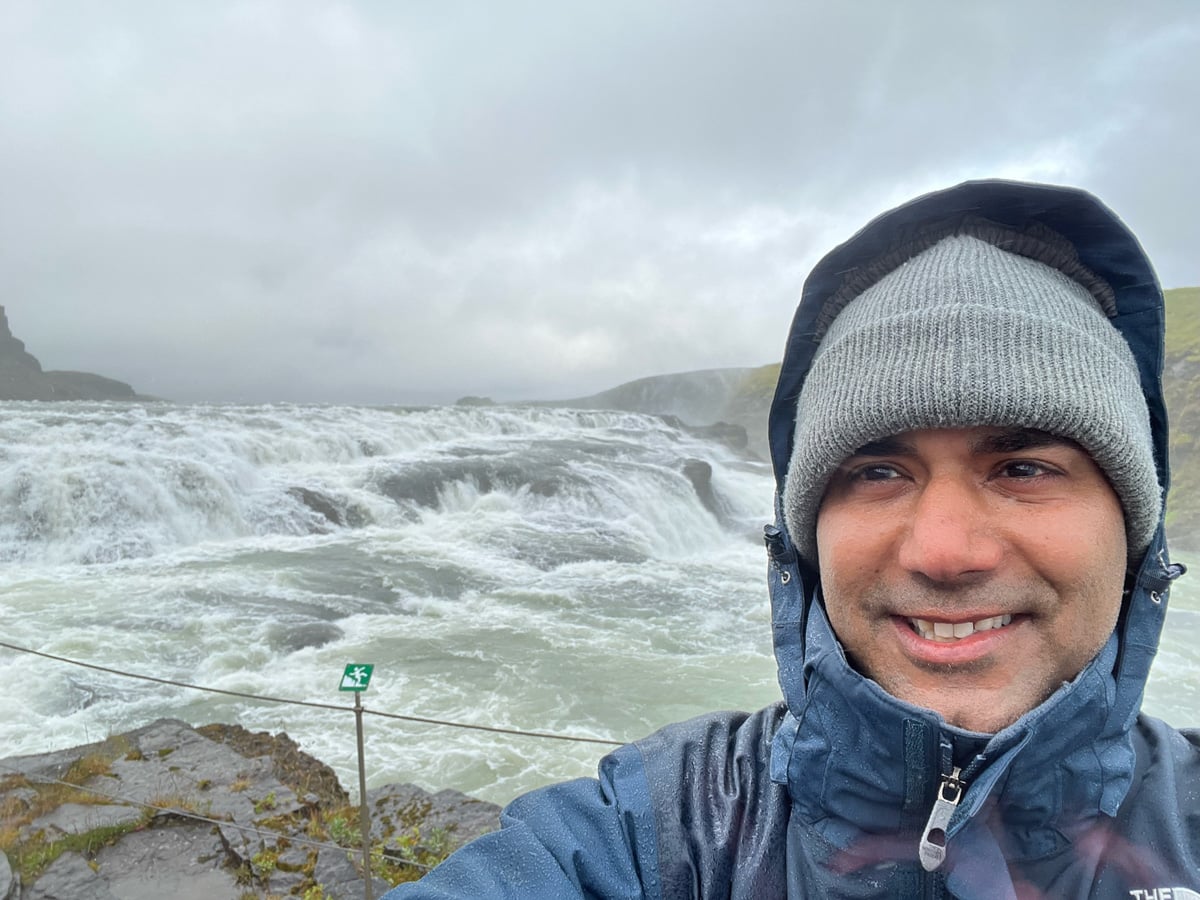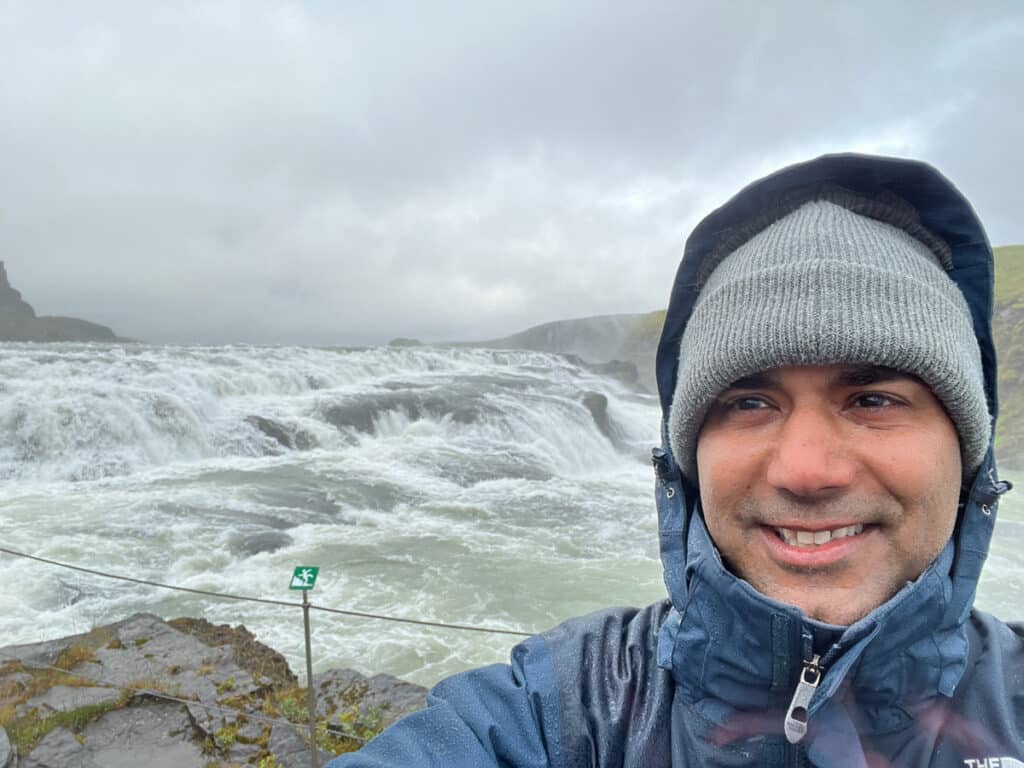 There is also a large visitor's center at Gulfoss, one of the larger ones that we came across on the Golden Circle. It has a big gift shop and a cafeteria serving lunch fare like pizzas and sandwiches. There are also free and clean restrooms available here.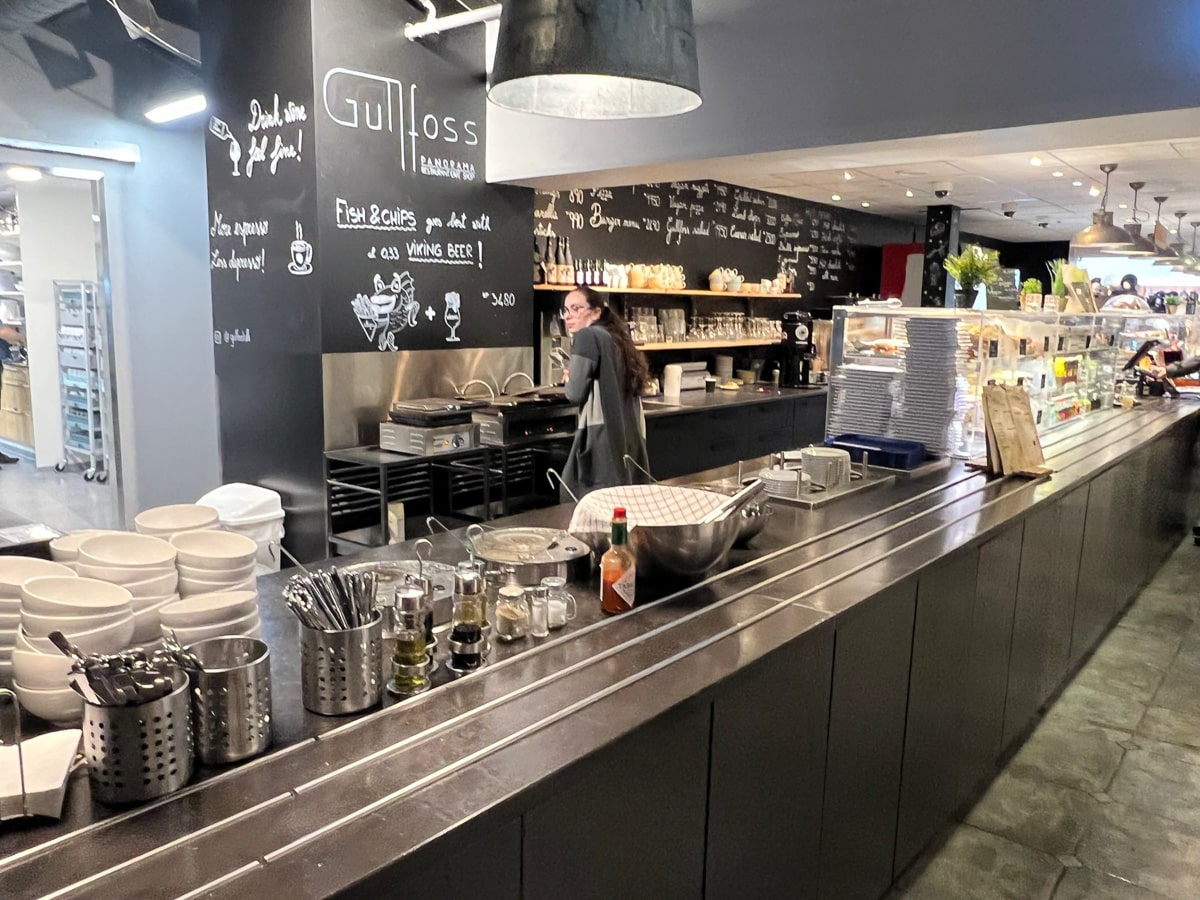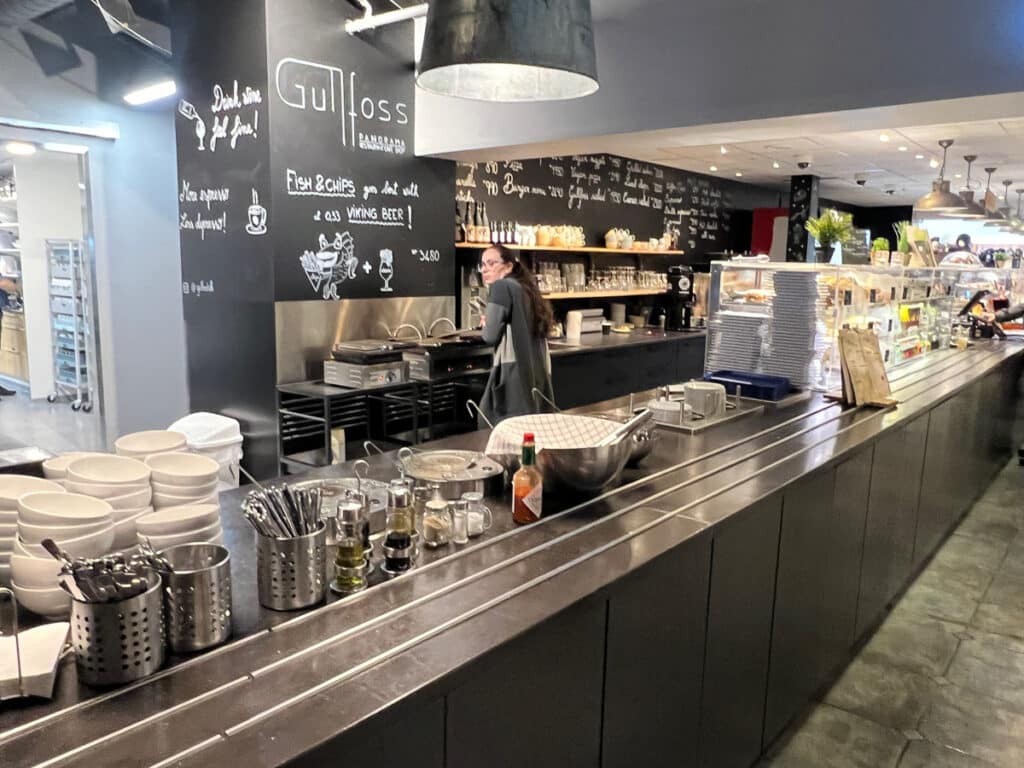 How much time do I need to visit Gulfoss Waterfall?
Plan on spending 30 minutes here to appreciate the waterfall from both upper and lower viewpoints. Add more time if you plan to have lunch in the cafeteria.
Location & Hours
Gulfoss Falls is located on the popular Golden Circle route. It's about a 1 hour 45 minute drive from Reykjavik. It is just a 10 minute drive from the Geysir Hot Springs area, another popular tourist attraction.
The waterfall can be visited 24/7, but the visitor center and café are open 10am – 6:30pm daily. Hours may vary in the off season.
Fees & Parking
Free. There are no fees to visit Gulfoss Waterfall, and parking here is also free. There are two large parking areas for visitors.
Where to Eat at Gulfoss
The best (and really only) place to eat at Gulfoss Waterfall is at the Visitor Center. You'll find a large cafeteria here with lunch fare like pizzas, sandwiches, and soups.
For a more upscale option, check out the restaurant at Hotel Geysir, just a 10 minute drive west of Gulfoss.
Where to Stay Near Gulfoss
If you're looking to stay nearby Gulfoss Waterfall, my top recommendation is Hotel Geysir. It's located just a few miles west adjacent to the Geysir Hot Springs area, and was one of our favorite hotels on our recent Iceland vacation. The property is beautiful, the restaurant is excellent, and you can walk across the street to see the geysers in the early morning or late evening hours.
There are several other good hotel options nearby as well including Hotel Gulfoss, Litli Geysir Hotel, and Geysir Hestar.
Other Nearby Attractions
The famous Geysir Hot Springs area is just a ten minute drive west from Gulfoss Waterfall, where you can see the famous Strokkur Geyser erupt every few minutes!
And Gulfoss is located on the popular Golden Circle route, where you'll find Thingvellir National Park, Laugarvatn Fontana, Kerid Crater, and more.
More Iceland Trip Planning Resources
If you're planning the ultimate trip to Iceland, be sure to check out these other helpful articles: