One Day in Edinburgh: What to See and Do, and Where to Eat, if You Only Have 1 Day in Edinburgh, Scotland. Includes Optional PDF 1-Day Edinburgh Itinerary Download and a Map of all Locations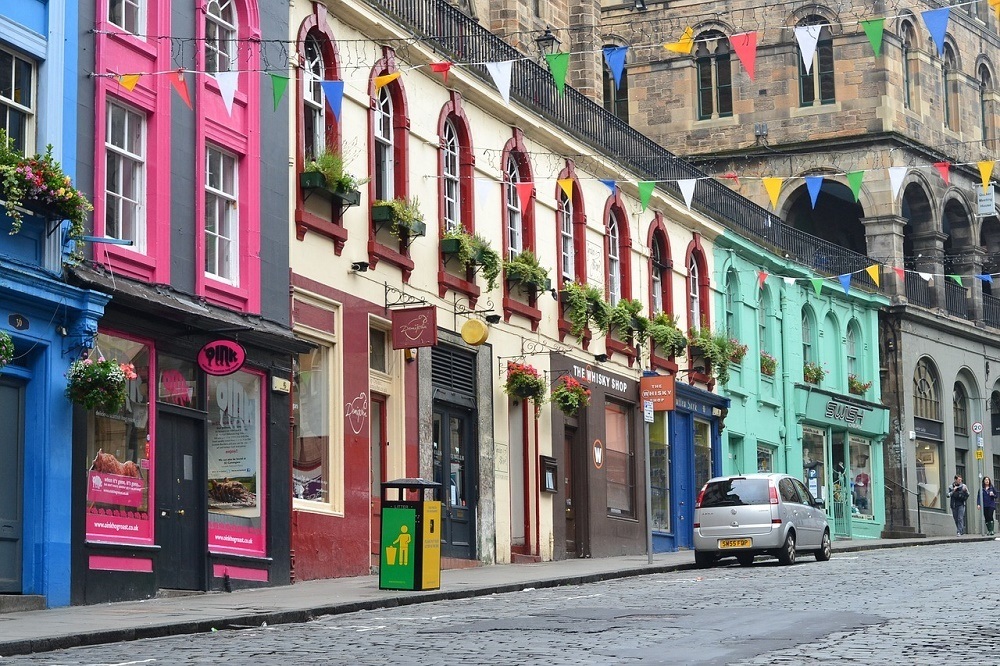 ---
***
Edinburgh in 1 Day: What to See, Do & Eat with One Day in Edinburgh
6:30am: Hike up Arthur's Seat
8:30am: Breakfast at Urban Angel
9:30am: Explore Princes Street & Head Up The Mound
11:00am: Royal Mile, Victoria Street/Grassmarket & Greyfriars Bobby
1:30pm: Edinburgh Castle
3:00pm: Scotch Whisky Experience (Alternative Activity: Atlas Obscura)
5:00pm: Pre-Dinner Cocktail at The Dome or Panda and Sons
6:30pm: Dinner in New Town
8:00pm: Evening Ghost Tour
10:00pm: Pub Hop in Grassmarket or Stockbridge
---
Long near the top of many travellers' bucket lists, it's hard not to fall in love with lovely Edinburgh. A city that at once makes its pedigree known through an imposing castle, stately architecture, and centuries-old wynds and closes, a trip to Edinburgh combines the best of Scotland's past and present.
We count ourselves lucky to have spent several months in Edinburgh on several different occasions. Even after hitting up all the main attractions and soaking in the city's unique, only in Edinburgh atmosphere, we still feel ourselves drawn back to the city again and again.
If you're traveling on a tight schedule and only have one day to spend in Edinburgh, we've done our best to put all the highlights in one spot, in the hopes it helps you find the best things to do in the city. If you have more time to spend, or are planning an overnight stay in Edinburgh, we recommend checking out Motel One Princes Street or Stay Central Hotel for a boutique feel at an affordable price, The Balmoral or The Witchery By The Castle for a luxury trip, and North Bridge Lofts or Fraser Suites for an apartment / suite option.
---
6:30am: Sunrise on Arthur's Seat
Located in Holyrood park (southeast of Holyrood Palace), Arthur's Seat is the name of the hill that rises 250 meters (~820 feet) above Edinburgh, offering spectacular views of the city and it's surroundings. With just one day in Edinburgh, we recommend starting your day early and catching sunrise from up top Arthur's Seat. A sweaty 45-minute to 1-hour walk up, the view when you get there is worth it, and it's especially nice at sunrise or sunset. We suggest starting your hike about 90 minutes before the day's sunrise, and recommend bringing a headlamp to light the way, and wearing sturdy shoes and some warm layers (it gets quite windy at the top).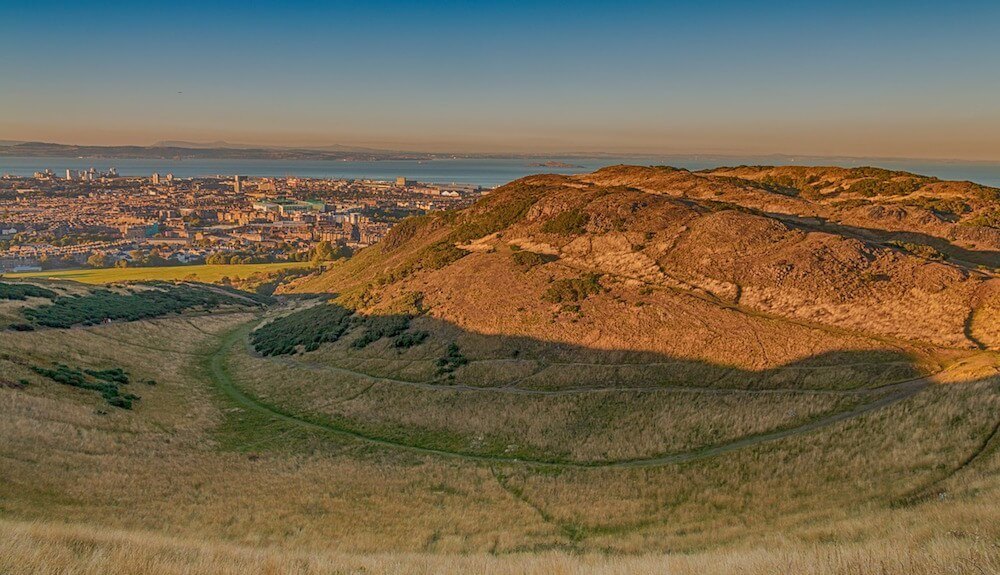 8:30: Breakfast at Urban Angel
Refuel after your hike (or simply skip the hike, and start your day at brekkie) by hitting up one of Edinburgh's most popular breakfast spots: Urban Angel, just a few blocks off Princes Street. If you're looking for a Full Scottish, this isn't the place to find it, but you will find a good mix of egg dishes, french toast, oatmeal, and smoothies.
We also recommend Loudons for breakfast or lunch (94b Fountain Bridge), and they offer a full Scottish (both the traditional version and a veggie option). They are about a 20-minute walk from the Scott Monument, so possibly a bit far if you're on a one-day rushed itinerary, but a great option if you have more time.
Looking for more ideas in Edinburgh and Scotland? Check out our Where to Stay in Edinburgh and Where to Stay in Glasgow guides. If you're just starting to plan your Scotland trip, check out our guide about Where to Go in Scotland. Our Country Guide to Scotland will be updated as we add more content!
---
9:30: Enjoy the View from Princes Street, and Walk Up the Mound
Walk off breakfast by exploring Princes Street and area in the New Town part of Edinburgh. Worth noting, the term "New Town" is relative, and this part of town is still very old. New Town was actually built between the mid 18th and 19th centuries, and is also included as part of Edinburgh's UNESCO World Heritage listing, together with Old Town.
The main attractions on Princes Street are the Princes Street Gardens and the Scott Monument near Waverley Station. Dedicated to Sir Walter Scott, the monument is £5 to enter/climb. The trip to the top is close to 300 stairs, although there are stops at each of the levels along the way if you need a break. The Gardens make for a nice walk in nice weather, and the Monument provides great views from the top, as well as insight into one of Scotland's greatest writers. All along Princes Street, you'll get great views of Edinburgh Castle up on the hill.
When you're finished exploring, head up the Mound, passing the Scottish National Gallery, which is free to enter. The Gallery has a good collection of Scottish and European masters (think Rembrandt, Raphael, Van Gogh…). They also have some good temporary exhibitions: a few visits ago, we saw The Goldfinch there.
After visiting the National Gallery, make your way up to the Royal Mile, which stretches from Hollyrood Palace to Edinburgh Castle. There are any number of ways to get there, although we like Cockburn Street for all the small shops that line the way up. This route will take you to the middle of the Royal Mile, near the Royal Mile Market at Tron Kirk.
Alternatively, pick your way through the different wynds and closes; Lady Stair's Close is a pretty route that takes you past the Edinburgh Writers' Museum, which is free to enter and an interesting stop.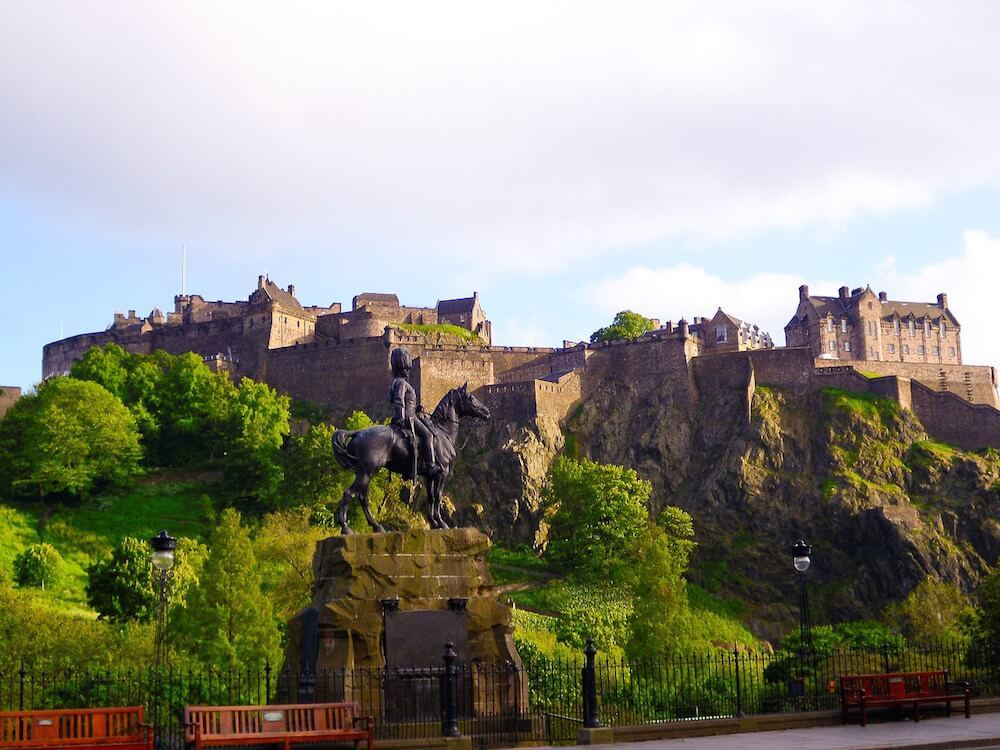 11:00: Royal Mile, Victoria Street/Grassmarket & Greyfriars Bobby
The Royal Mile is lined with tourist attractions, souvenir shops, pubs and cafés, and is well worth taking some time to explore. At the east end of the Royal Mile, you can visit Holyrood Palace, the Scottish Parliament Building, and Canongate Church, where Scottish political economist and philosopher Adam Smith is buried.
Holyrood makes for a pretty interesting visit, from both a historical and modern point-of-view. You can visit the room where Mary Queen of Scots lived for 6 years in the 1500s and see where Bonnie Prince Charlie set up court during the Jacobite rebellion (and geek out if you're an Outlander fan). I also found it interesting to see some of the details of modern Royal life, as Holyrood is the Queen's official residence in Edinburgh. We spent about an hour there, which made for a quick visit, and you could certainly spend longer. Tickets can be purchased in advance, and include an audioguide.
Around the middle of the Royal Mile, it's worth popping into the Royal Mile Market at Tron Kirk, which is lined with stalls featuring the art, crafts, etc. of local makers. St. Giles Cathedral is also hard to miss, and is worth poking around. And, although it's a large corporate chain, we do personally love the caramel shortbread at Caffé Nero, and eat way too much of it whenever we're in Scotland. So, do what you will with that tidbit of information!
After exploring the bottom and middle sections of the Royal Mile, head along George IV Bridge to the Greyfriars Bobby Statue. Bobby (a Skye Terrier) is a famous Edinburger known for guarding the grave of his owner, Edinburgh policeman John Gray, for 14 years after Gray's death – doing so until Bobby himself kicked the bucket.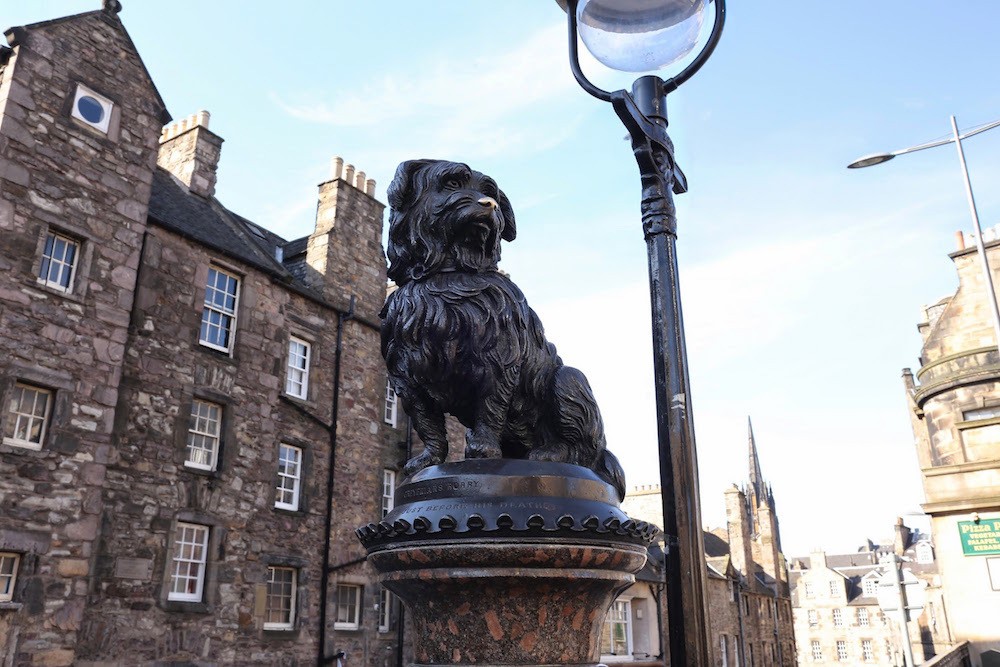 Pay your respects to Bobby, and then backtrack along George IV, passing the Elephant House, where JK Rowling was often seen writing the early books in the Harry Potter series. Then turn down Victoria Street, one of Edinburgh's prettiest streets and (another fun fact for Potterheads), JK Rowling's inspiration for Diagon Alley. Beyond the Harry Potter Fame, it's also home to loads of cute boutiques (Museum Context is one of our favorites), and a few nice pubs.
Victoria Street leads down to Grassmarket, which served as a horse and cattle market from the 14th through 19th centuries, and was also the site of public executions. The area is mostly home to historic pubs with a story, although it's hard to beat the gruesome story attached to The Last Drop: apparently, this was the pub where prisoners would enjoy their last drop of whiskey before meeting their maker (aka, the executioner) on the public square, just outside the pub.
If you're hungry, stop in at Oink on Victoria Street for a quick pulled pork sandwich to keep you going, or pick one of the pubs in Grassmarket for a more hearty lunch.
---
Tours & Tickets to Book in Advance
---
13:30: Edinburgh Castle
Unfortunately, there's no way around the hills in Edinburgh; once you're finished in Grassmarket, you'll have to backtrack up Victoria Street to the Royal Mile to get to Edinburgh Castle.
The grounds of Edinburgh Castle are free to enter, so if you're only there for the view, you can stroll past the line-up and ticket window and wander up to the main courtyard area to enjoy the vista. If, however, you want to see the interior areas, including the Crown Jewels and the wonderfully-named Stone of Destiny, you'll need a ticket.
A word of warning: Edinburgh Castle is one of the main attractions in Edinburgh and, as such, it gets busy, especially during high season. If you plan on going in, we'd suggest buying a skip-the-line ticket in advance; you'll still need to exchange the voucher at the visitor centre, but in our experience the Visitor Centre doesn't have massive lineups, whereas the ticket window does (during high season). If you're visiting during off-season, you're likely fine to buy a ticket on the day of your visit: on our last visit in November, for example, lineups were minimal.
15:00: Scotch Whisky Experience (Alternative: Atlas Obscura)
While we quite happily enjoy beer, wine, and the occasional gin and tonic, we've always found whisky to be a bit intimidating as a drink: the different countries of origin (and spelling!), different regions within a country, such as Scotland, and different methods of distillation always seemed like too tough a nut to crack. Until we actually visited Scotland and Ireland, and learned more about the drink, straight from the horses' mouths, so to speak.
In Edinburgh, the Scotch Whisky Experience is your best bet for getting a totally not intimidating, all-levels-welcome, family-friendly intro to Scotch whisky. The whole thing actually starts out with a ride, which sounds really cheesy, but we actually found to be a pretty refreshing way to present the technical bits that give you a foundation of knowledge for when you're tasting. They also do a really good job at teaching you to incorporate your sense of smell in the experience, using what's basically a scratch and sniff card to help you identify Scotland's different whisky regions.
And of course, they help you apply your newfound knowledge with tasters from the different regions. We took the silver tour when we visited, which includes one dram of whisky, split over two regions. If you want to try more, you can upgrade the tour type to get an additional whiskyallowance, or tasters in the Tasting Room bar afterwards.
We shared another drink in the Tasting Room after the tour, opting for a glass of Fettercairn whisky due to its personal significance: one of Geoff's great great (and maybe even a third great) grandfathers was the maltman at Fettercairn distillery, way back in the day.
All in all, we spent about 90 minutes to 2 hours at the Scotch Whisky Experience, which was the right amount of time for us as non-connoisseurs.
Read our Review of the Scotch Whisky Experience / Book Tickets for the Silver Tour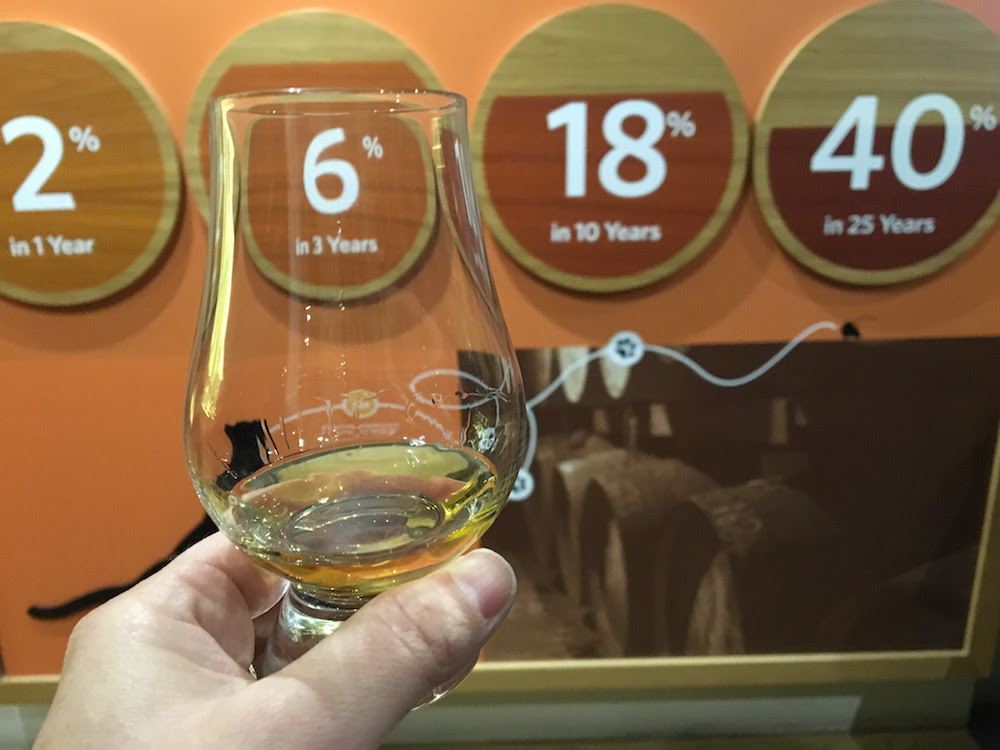 17:00: Pre-Dinner Cocktail at The Dome or Panda & Sons
Admittedly, this itinerary gets a bit boozy at this point, but you could very easily use this time to head back to your hotel to freshen up, or just order a soft drink or mocktail.
The Grill Room in The Dome is absolutely gorgeous, and is one of our favorite fancy-ish spots in Edinburgh. Thankfully, being Edinburgh, you don't have to dress too fancy to fit in – we showed up in smart casual and presentable clothing, and that worked just fine (although your morning gear from the hike up Arthur's Seat is probably pushing it too far). Do note, they don't take reservations just for drinks.
Another cool option is Panda & Sons – we've yet to make it here, but our friends who live in Edinburgh swear it's a good recommendation. The schtick here is it's a prohibition-style speakeasy, making a wee bit of deception necessary…you know, to fool the authorities. From the outside, it looks like a barbershop, and once you head inside you have to go downstairs and through the secret door. If you opt for this option, look for Panda & Sons Barbershop on Queen Street, and follow your curiosity from there!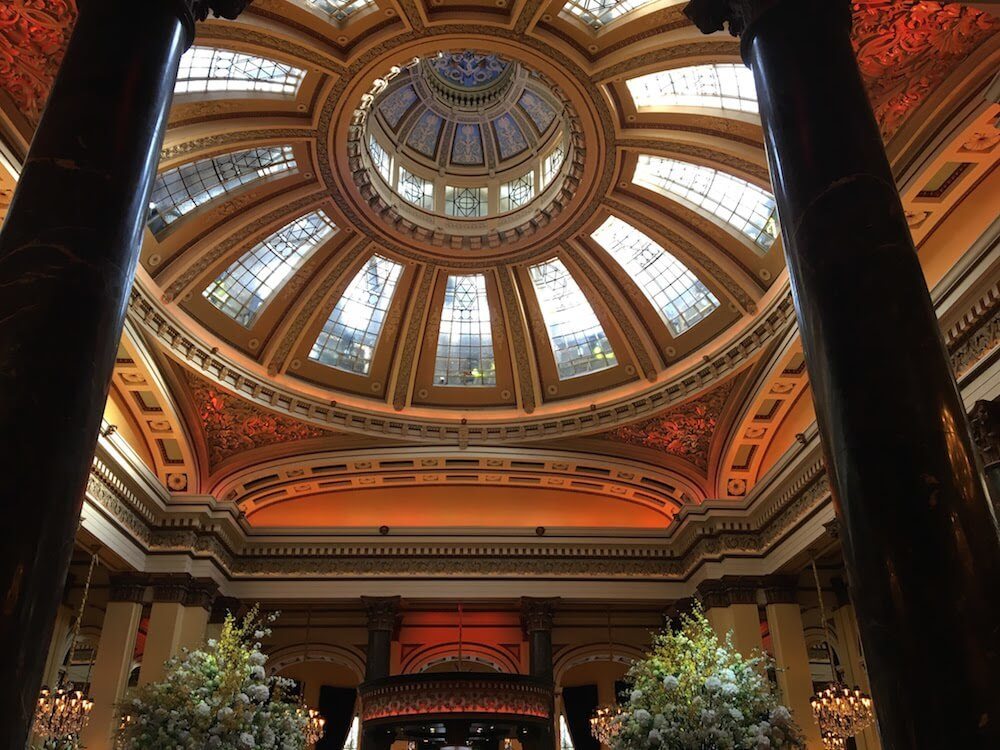 18:30: Dinner in New Town
Give Scottish Tapas a try at The Bon Vivant, where local food is on the menu, much of it in bite-sized chunks (all the better for trying everything). This is a bar/pub, but it has a cozy and intimate feeling to it, and and is a good spot for a quick-ish dinner, without sacrificing on quality. Reservations recommended.
20:00: Edinburgh Ghost Tour
If you're in need of some more stimulation, check out one of Edinburgh's famous ghost tours, which take you into the city's underground vaults and horrify with gruesome stories of old Edinburgh. There are a number of tours out there, but this seems to be one of the most popular – it's 2 hours long, and includes a drink of whisky to shore up your spirits!
22:00: Pub Hop Through Grassmarket or Stockbridge
If you have any energy left at all, pick an area and organize your own DIY pub hop. Grassmarket is a natural fit, and we suggest stopping in at the Last Drop, White Hart Inn and Maggie Dickson's.
If you'd prefer to get out of the tourist centre, Stockbridge is one of Edinburgh's coolest neighborhoods, and has a few popular pubs, The Stockbridge Tap being one of the most popular.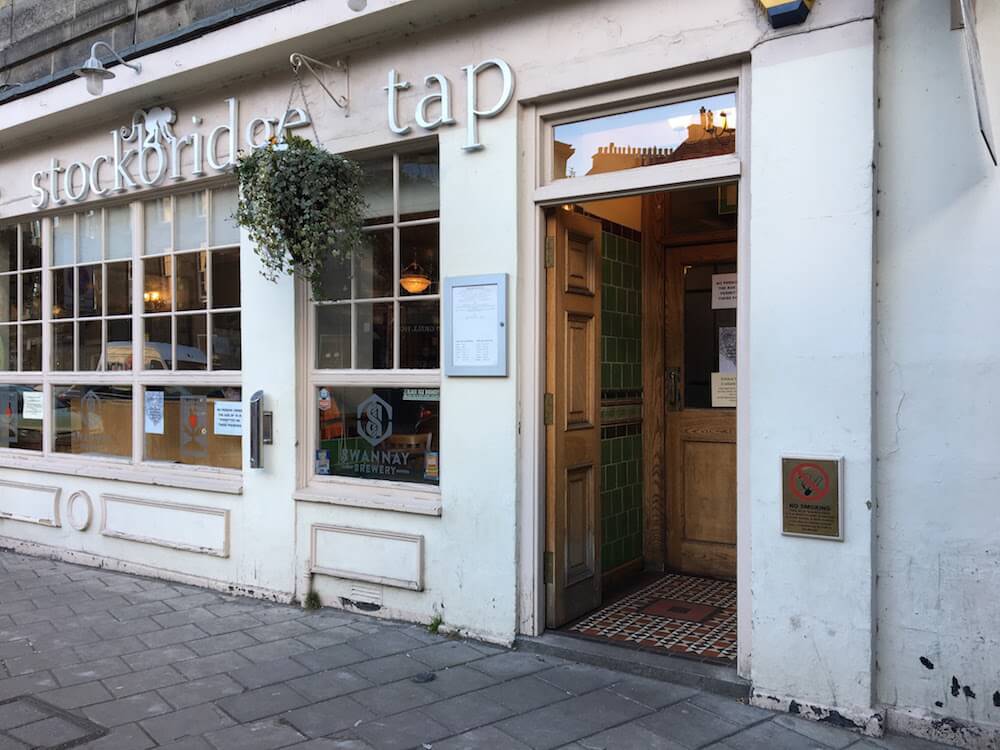 ---
One Day in Edinburgh Map
We've put together a Google map with the locations featured in this Edinburgh itinerary.
---
---
Read More About Edinburgh Here:
Our Top Posts About Scotland:
---
Pin this Post