The only Spain packing list you'll ever need! If you're planning your Spain holiday and can't figure out what to pack, we've put together this all-season Spain packing list to help. Includes what to wear in Spain in winter, spring, summer, and fall to strike a balance between the conservative and fashionable looks you'll find in Spain..without looking like a tourist!


"Everything you can imagine is real."
~Pablo Picasso
Spain is a land of art, architecture, and music, culture and fashion, food (and drink) galore, and so much more. It's a place populated by animated and passionate people, beautiful cities and towns, and spectacular natural and man-made attractions.
From its regal capital of Madrid and glistening coastal Barcelona, to the intense fury of Flamenco in Seville and the moorish complex of the Alhambra in Granada – plus, of course, the pristine beaches and lovely islands along its extensive coastline – Spain has a lot to love.
All this regional diversity and multitude of attractions makes Spain one of the most coveted travel destinations in the world. It also means, however, that packing for Spain can be a tall order.
Many travelers who visit Spain want to strike a balance between taking in the historical sights and catching some beach time, spending time in both large cities and smaller towns, and mixing finer dining and culture with some time for a laid-back vacation vibe.
This means your Spain travel wardrobe has to do double or triple duty, and making sure you've included the right clothes in your Spain packing list is essential.
If you're having trouble figuring out what to pack for Spain, you've come to the right place!
Whether you're visiting Spain in winter, summer, or somewhere in between, our Spain Packing List will help you cover all the essentials without over-packing.
Your Spain Packing List Starts Here: What to Wear in Spain Across all 4 Seasons
What's the Best Time to Visit Spain?
Generally speaking, the best time to visit Spain is spring (from late March to June), but mid-September, October, and even into early November can be a great time to visit as well. Spain summer travel (in July and August) can get a bit uncomfortable, as they are very hot months for most of the country.
You might think Spain's climate is not as diverse as other European destinations, but there is still some volatility.
For the most part, expect warm to very hot and dry summers in the interior, and hot and humid in the coastal regions and islands. Winters are cool to mild with some rain, depending on which part of the country you're visiting.
Our travels to Spain have taken us to Andalusia in the south from late winter into Spring, Barcelona in both winter and spring, and Girona and the Costa Brava in late Spring.
We saw little to no rain each time we've been to Spain, but there can be some stretches of rain in the autumn and winter, particularly in November and December in the south.
The North coast around San Sebastian sees the most rainfall, which comes fairly evenly throughout the year. Majorca, Ibiza, and the Canary Islands see most of their rainy days in the winter months.
Here below are the averages and examples of what you can expect in terms of weather in Spain throughout the year. We've used the popular cities of Barcelona, Madrid, Seville, Malaga, and Palma as examples.
Spain in January: In Barcelona, pack for average temperatures of 5°C (41°F) to 15°C (59°F). On average, January in Barcelona is quite dry with only a handful of rainy days. Madrid will be a bit cooler with temperatures ranging from 1°C to 10°C (34-50°F) with around 9 days of rain. Places like Seville, Malaga, and Palma will hover between 6°C (43°F) to 16°C (61°F) with about 10 days of rain each.
Spain in February: Barcelona will be almost identical to January temperature wise, with a bit more rain (5 rainy days on average). In Madrid, pack for average highs of 12°C (54°F) and lows of 2°C (36°F) and about 7 days of rain. Palma will be about the same in February as in January. In Seville and Malaga, expect temperatures to be between 7 to 18°C (45-65°F) with 7 or 8 days of rainfall.
Spain in March: In both Barcelona and Madrid, daytime highs are on average 16°C (61°F), and lows reach 4°C (39°F) in Madrid and 8°C (46°F) Barcelona; both are much warmer towards the end of the month. Madrid will see on average 8 days of rain, compared to Barcelona's 4 wet days. Malaga and Seville will both have average daily highs of 20°C (68°F), but Seville will see a few more days of rain (8). Palma is a bit cooler with average highs of about 17°C (63°F), and also about 8 days of rainfall.
Spain in April: In Barcelona and Madrid, expect average daily highs of 18°C (64°F), with Barcelona staying a bit warmer at night. Madrid will see about 10 days of rain, whereas Barcelona will be drier with only 5 days. In Malaga, average daily highs get to about 20°C (68°F), and you can expect the same for Palma. Seville starts to get warm at this time of year, with average highs of 24°C (75°F). Seville and Malaga will see 5 to 7 days of rain in April, and Palma will usually get around 9 days of rain.
Spain in May: If you're wondering what to wear in Spain in May, expect pleasant average daytime highs of around 23°C (73°F) in our example cities, with the exception of Seville which will routinely be in the upper 20s (low 80s). Most of the country will see around 5 or less rainy days, but Palma could see up to 9 rainy days in May.
Spain in Summer: If you're deciding what to wear in Spain in June, July and August, you can expect the daytime highs to be hot, especially in places like Seville where daily average temperatures will reach 36°C (97°F). Elsewhere will be between 28-33°C (82-91°F). Expect just a few days of rain during these months, but Malaga and Seville will be exceptionally dry.
Spain in the Fall: If you're packing for Spain in September and October, the temperatures can be still quite hot in Seville and Malaga in early Fall. Compared to September, temperatures in Madrid fall from an average of 29 to 21°C (84-70°F), but for the most part, highs in the mid-20s (mid-70s) can be expected with just a handful of rainy days in Seville, Malaga, and Barcelona. Madrid and Palma will see between 8 and 10 rainy days.
Spain in Winter: In Barcelona you can expect highs in the mid-teens (low 60s), and a few degrees cooler in Madrid. In the south, Malaga will be pleasantly hovering in the high teens (high 60s), whereas Seville and Palma are a touch cooler. Definitely expect chilly evenings. Barcelona should be dry with just 3 to 4 days of rain, Madrid will see 9 to 10 days of rain. Expect a bit less in Seville and Malaga, and about 12 days of rain in Palma for both November and December.
General Rules for Planning What to Wear in Spain
Fashion is the name of the game in Spain. You won't find local men wearing cargo shorts and flip flops or loudly patterned shirts, and women will always reserve their swimwear for the beach (in some resort towns, government officials have even banned beachwear in the town center, and those who flaunt the rules risk being fined!).
In general, locals take pride in their appearance, and are well-dressed and well-accessorized in tasteful, well put together looks.
Despite Spaniards' passion for fashion, Spain is also a fairly religious country, meaning locals are rather conservative with the way they dress as well. It's worth keeping this dichotomy in mind when deciding what to wear in Spain, especially since you'll likely visit plenty of churches, which require appropriate attire.
And if you're visiting Spain in the summer, keep in mind it's going to be hot and, if you're on the coast, very humid.
If you're wondering what clothes to wear in Spain that are smart but also practical, we've got some suggestions below…but first, we've put together some "rules" to follow when packing for Spain.
Rule #1 – Go for Fashionable & Functional…and Don't Underestimate the Heat: What do people wear in Spain? (and some "what not to wear in Spain" advice)
Fashion and personal image are taken seriously in Spain. Beach clothes are for the beach, and nothing screams 'tourist' more loudly than men in tank tops (vest tops) and flip flops (thongs) or women with sarongs over their bathing suits, in the city center (or, anywhere other than the actual beach).
Typically, Spanish people strive to be stylish all the time, but when they head out in the evening for dinner, drinks, or to meet friends, they turn up the 'style dial' even more.
For men, travelling with a light travel blazer is the difference between looking nice, or not (click to read our guide to finding the best lightweight travel blazer for men).
For women, a dress with smart shoes and accessories will do the trick. (This comfy, wrinkle-free dress from Bluffworks is a great choice).
You also really need to consider the climate. If you're traveling to Spain in March until mid-September, it's going to be pretty warm most days. If you're anything like us when you travel, most days will be filled-to-the-brim with activities, which makes it easy to get sweaty.
If you sweat a lot like I do, consider bringing some dry-fit shirts with moisture wicking (for men, dry-fit polo shirts are a good bet so you don't look like you're on the way to the gym; for women, merino wool tops are a good bet, and you can usually get some fitted and fairly stylish "basic t-shirt" options).
Packing deodorant wipes and a towel or bandana in your bag (for wiping a sweaty brow…or elsewhere) are also handy to have. Because I tend to sweat a lot, I usually opt for a darker shirt to hide the sweat, and go with lighter colored trousers or shorts.
For us, looking nice in North America and looking nice in a fashion-forward country like Spain is quite different.
So how to pack for Spain will depend on how much you want to blend in, or the degree to which you don't mind standing out as a tourist.
In our experience, traveling while also wanting to look like we fit-in is challenging.
Shoes are heavy, space is limited, and you don't always have access to an iron or your normal accessories, making it important to pack items that complement each other so you can mix and match.
So what can you expect in terms of what people wear in Spain, and how can you translate that into your own Spain packing list?
What Do Men Wear in Spain?
As for tops – smart collared shirts, polos, or bright golf shirts (like these) are a all great choices. Collared shirts are preferable to t-shirts or similarly casual tops.
For pants, choose slim fitting cotton trousers or nice jeans.
Go for tailored trousers (like a cotton pant or somewhat dressy jeans). Most Spanish men will not wear shorts unless they're at the beach, but a fashionable pair of shorts with the right shoes and the right shirt is totally acceptable.
Many men wear leather shoes in Spain, but stylish sneakers also work, as long as they are in good condition and clean.
Choose closed-toe shoes or (if you must) closed-toed sandals.
Packing a handsome blazer is a great idea, and an easy way to dress up an otherwise casual outfit for a nice dinner out. I recommend checking out the Bluffworks Gramercy Blazer, which is designed especially for travel. It has security pockets, is wrinkle-resistant, and is super lightweight for warm weather.
Build your wardrobe with mostly muted colors, with a few pops of color (if you're comfortable with them) using your shirts.
Great Pieces for Men to Bring to Spain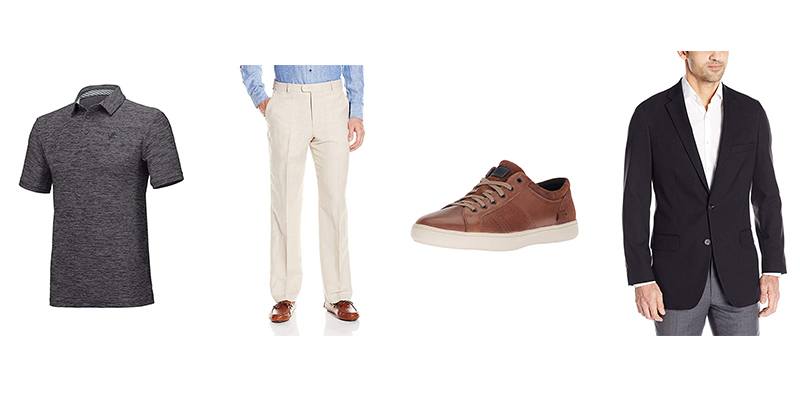 Dryfit collared shirt by Jolt Gear (multiple colors available), Flat front linen pants by Perry Ellis (available in natural (shown), navy, white, or bay blue), Colle Tie Sneaker by Rockport (available in tan (shown), blue/grey or coffee), and Haggar Men's in Motion Travel Blazer
What Do Women Wear in Spain?
In general, women look well put-together from head-to-toe, meaning hair, makeup, clothes, accessories, and shoes are all in good condition and well considered.
In cooler weather, I typically stick to stylish jeans and boots.
And in warmer weather, I typically choose dresses and skirts, paired with shawls or cardigans.
Women have more latitude with sandals, but stay away from flip flops, and feel free to pack some of your favourite accessories and scarves to dress up your outfits. (Sandals like these are a good balance between style and comfort.)
When the weather is warm, a linen or merino wool dress or a smart top and skirt, paired with comfortable but stylish travel flats or sandals, is perfect for exploring town during the day and heading out in the evening.
My new favorite dress for travel is this Trevi dress from Bluffworks. It's comfortable, easy to dress up or down, and never gets wrinkled in my suitcase!
Bring a light scarf or pashmina to cover your shoulders on days you'll be in and out of churches.
In cooler weather, Spanish women can be seen sporting well-maintained dark wash jeans and crisp blouses (like this one), accessorized with a blazer or nice coat to complete the look.
When we visited Spain in the winter, I consistently wore nice jeans, a pair of mid-calf black boots, a nice sweater, and a knee-length coat that kept out the chill and was water-resistant enough for the occasional rain.
Great Pieces for Women to Bring to Spain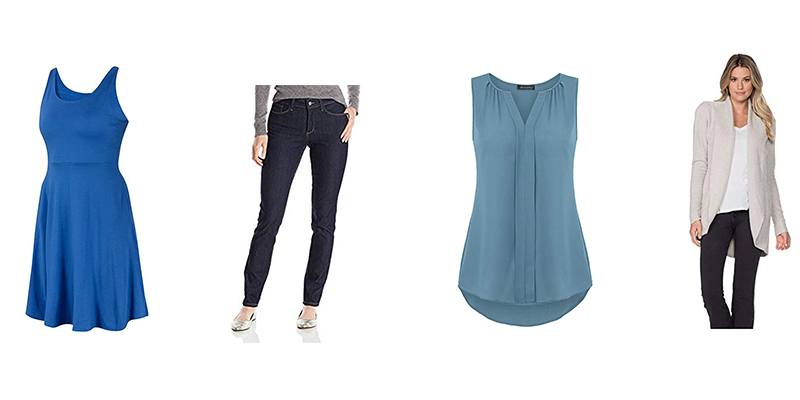 Ibex Merino Wool Costa Azul Dress, NYDJ Women's Jeans, Vinmatto Notch Neck Sleeveless Pleated Front Chiffon Blouse, Bamboo Chic Lite Circle Cardi
<div class="content_hint"></div>
Rule #2 – Don't Underestimate the Sun (and Prepare for a Little Rain, Too!)
Whether you're visiting Spain in summer or winter, there's likely going to be enough sun to do some damage, so cover up!
Obviously you'll need to bring sunscreen, but don't forget SPF lip balm, after-sun care, and a nice hat if you're out walking, hiking or exploring somewhere where you'll be out all day, like the huge Alhambra complex in Granada. (I think this sun hat is totally adorable.)
For women planning to wear mostly sleeveless outfits, pack a lightweight wrap that will fit in your day bag, and cover up your shoulders and arms when you're in strong sun or feel like you've had enough for the day.
If you're travelling with kids and have some beach time planned, invest in a long-sleeve rash guard to give them extra sun protection and save you the hassle of constantly reapplying sunscreen to their chests, backs, shoulders and arms.
If you're visiting Spain in the winter, don't be fooled: there's still a fair share of sun, and that sneaky overcast can still leave you with a nasty sunburn, even though it doesn't feel that strong.
There will also be some sudden rainfall in the winters, but not that much wind; a well-made and small travel sized umbrella and/or a lightweight and packable travel rain jacket should be enough to keep you dry.
There's no need to go overboard with the rain jacket – just something that packs up small for your day pack, and you can access as needed, like the Outdoor Research Helium Jacket, which offers versions for both men and women (for women, the Helium Traveler Jacket is a bit longer than the hip-length Helium II Jacket, so it depends on what cut you prefer).
<div class="content_hint"></div>
Rule #3 – You'll Do a lot of Walking…on Cobblestones
Spanish cities are lovely to walk around. The architecture, the sounds and the smells, the sun kissed alleys and shady side streets that are perfect for getting lost in … exploring Spanish cities on foot will give you a fuller understanding of what everyday life in Spain is all about, and let you uncover hidden gems that you'd never spot from a bus or taxi.
When deciding what shoes to wear in Spain, consider that you'll be doing a fair amount of walking, visiting some religious sites, and walking around old historic centers with cobblestone streets. With all that walking – and walking on uneven cobblestones, in particular – you'll need a good pair of shoes to wear in Spain.
Look for shoes with stiff soles, good arch support and consider getting some aftermarket insoles for added comfort. Ecco has some great options for both men and women. Another good option for men is Rockport.
Keeping in mind the religious sites you'll like be visiting, plan on having some rather conservative, closed-toed shoes. Flip flops are for the beach, and just shouldn't be worn anywhere else.
Also plan on taking a leisure pair and a dressier pair for evenings (some shoes can double up for both day and evening, which will save you some space and weight in your luggage). Then, depending on your interests and plans, add a pair for longer hikes, and something for the beach.
Finally, consider getting some orthotic shoe insoles to help make your shoes more comfortable, and bring some good quality small bandages and some antibacterial gel like Polysporin, if you're prone to blisters.
Great Shoes to Wear in Spain for Men:
Great Shoes to Wear in Spain for Women:
Rule #4 – Light Layers are the Way to Go
Light layers serve a couple of purposes.
Firstly, packing appropriately for the weather. Spain in January until about April still cools off in the evenings, so a light sweater or jacket is a good idea. October to December will require a heavier jacket, and sweaters for sure.
Secondly, particularly for women, visiting religious sites will mean you'll need to cover up your shoulders (and possibly legs as well, depending on how much you're showing). Having a light scarf (something simple like this) is a good accessory to have with you, and will also help you protect yourself against the sun.
A Note About Luggage
If you're staying in a historical city center, you need to be prepared for cobblestones. One thing we've learned since moving to Europe is cobblestones can very easily be wheeled luggage murderers, and we've seen many a tourist with small-wheeled luggage trying to drag their bags – broken wheels and all – to their next destination.
We recommend luggage with large wheels that are strong enough and sturdy enough to go over cobblestones with ease. I like to think of wheeled luggage in terms of bicycles: if you're planning on cycling over rough terrain, you'd take a mountain bike with wide tires, not a road racing bike with thin ones. Same goes for luggage in Europe – wide wheels are the way to go!
Another consideration for luggage is whether your accommodation has elevators, or if it's stairs only. In the major cities like Madrid and Barcelona, most hotels are modernized with elevators.
If you're staying in a smaller city, however, or in an Airbnb or holiday apartment, the building may or may not be equipped with a lift (our apartment here in Budapest, for example, is a walk-up).
Find a bag with plenty of handles, that is soft-sided (which is lighter than hard-sided luggage), strong, and as light as possible.
After a great deal of trial and error over the years, we've both ended up with Osprey soft wheeled luggage. We have one Osprey Ozone, and I also picked up the Osprey Meridian.
The Meridian converts into a backpack if it needs to be carried it up a few stairs, but I've only used the feature once in the entire time I've owned the bag, preferring to enlist my husband's sherpa services whenever possible. ;)
The Osprey Ozone does not have this "converts to a backpack" feature, so it gets a little extra room in the back compartment – which holds a surprising amount and is great for extra shoes – and it's a bit lighter as a result.
Things to look for if you need to buy new luggage before you travel:
Go for Soft Sided: We prefer soft-sided luggage. This may be more a personal preference, but we'd still like to make the case for soft-sided luggage: with flexible sides, it's easier to fit extra things into them, which means you can more easily find extra room for that bottle of small-batch gin you bought in Catalonia on a whim. They tend to be a bit lighter, although this obviously depends on brand and model. You don't have to worry about the hard outer shell cracking while getting handled at the airport, or under a bus (this doesn't happen a lot, but we've definitely seen cracked suitcases coming out on airport conveyor belts).
Warranties Say A Lot: Get something with a good warranty/guarantee. That's one of the main reasons we both bought Osprey suitcases (and yes, we bought them – they weren't freebies). Osprey offers a lifetime guarantee that we happily haven't had to use, but is supposed to be legendary. Luggage is expensive, so it's worth getting yourself something that will last.
Big, Strong Wheels: We mentioned this above, but it's worth repeating: anywhere you go in Europe, you'll probably be walking around old towns with cobbled streets. Small suitcase wheels make your life difficult on cobblestones: they get stuck, and can break. Heavier duty wheels that can go over rougher terrain will be handle cobblestones much easier. Also go with a two-wheeled suitcase for Europe rather than a 'spinner', or four-wheeler. The spinners are slicker and easier to manage on smooth, flat surfaces like airport terminals, but it's much more comfortable to tip your bag and pull it behind you when you're walking on rough, uneven surfaces like cobblestones.
What to Pack for Spain in the Winter
Winter Packing List For Spain:
Light jacket or blazer. Men can check out our guide to the best travel blazers.
Shoes – Comfortable, close toed, preferably with a stiff sole, especially for walking along cobblestone historic centers. Bonus if these can double as "nice" options for going out in the evenings, for dinner and drinks, etc. Ballet flats like these are a great choice for the ladies.
A fashionable scarf. A nice accessory to help against evening breezes, and an extra piece for women to cover shoulders when visiting religious sites. Some companies make infinity-loop travel scarves with hidden zippered pockets where you can stash emergency cash, your passport, etc.
A couple of light sweaters
For men, a few shirts, golf shirts & collared shirts are the way to go, using layers to find the right temperature. For women, choose from fitted t-shirts and simple blouses (like this blouse) that can work for day and night.
Jeans and cotton pants for men, and dark-wash jeans and leggings for women. Women can also add tights and sweaters to maxi dresses to find the right weight for the temperature.
Toiletries
Socks
What to Pack for Spain in the Summer
Summer Packing List For Spain:
Rain Jacket – It's a good idea to have one just in case, although you could probably get away with just a travel umbrella depending on when and where you're going. If you're looking for a good quality jacket, the Outdoor Research Helium Jacket for Men / Women is lightweight and packable. Or for an inexpensive option, pick up a fold-able travel rain coat like this.
A few shirts, dry fit golf shirts or polos are a good idea & collared lightweight linen shirts are great for men. For women, sleeveless blouses paired with skirts or lightweight pants, and a collection of dresses, are perfect. (Be sure to check out this awesome travel-ready dress!)
Light cotton, linen, or blended pants for men. For women, dark-wash jeans will work in the spring, but probably be too hot in the summer. Look for lightweight capris or skirts.
Light jacket or blazer for men. Fitted cardigan for women to dress up a blouse and skirt combo or a dress, and keep you warm in a cool breeze.
Light sweater – nice to have in the evenings
Shoes – Comfortable, close toed, preferably with a stiffer soles, especially for walking along cobblestone historic centers. If they can also be 'nice' shoes for evening dinners, that can go a long way in saving weight.
Swimwear, sandals, quick drying travel towel
Sunscreen, SPF lip balm & Aftersun care
Sunglasses & Hat
Shawl or light scarf
Baby powder/chaffing protectionfor all that walking!
A Spain Packing List For All Seasons:
Now that you've got some ideas of what to wear in Spain throughout the year, here's a few of the other items you might need no matter the season.
An electrical adapter. If you're coming from outside continental Europe (or your electronics were purchased outside continental Europe), you'll definitely need an electrical adapter for the 230v two pronged outlets in Spain. This will work across

most

of continental Europe, with a few exceptions (parts of Italy, for example). A universal adapter will give you more flexibility, and you'll be able to use it on future trips to anywhere. Also handy are the adapters with more than one port, or one with multiple ports and USB ports like this one, as many electronics these days (cameras, phones, e-readers), can be charged via USB.
An electrical converter/adapter combo. This is an important point. Not all adapters have electrical current converters. If you're traveling from North America, or anywhere where 110 volt current is standard, high output items like hair dryers will get fried with the extra voltage in Europe. Believe us – I fried my hairdryer on our very first trip to Hungary back in 2012! While computers, phones, and cameras typically have a wide range of current within which they can operate (check your charger, battery, or user manual to find out what your electronics can run on), the less expensive "household good" type of electronics (hair appliances, electric razors, etc) often need the voltage to be converter. In which case, you'll need an adapter like this one.
A compact travel umbrella. Something lightweight and easy to pack and carry around just in case. Consider the Repel Windproof Travel Umbrella.
Camera, lots of memory cards, and extra batteries. Spain is very photogenic so be ready to put your camera through the ringer. A lot of photos means a lot of battery usage, even if you're just using your phone or tablet. Consider taking an external charger with you, so you can battery up on the go. We use a Sony external battery charger.
E-reader or Audible Audio Books. An e-reader has become a staple travel accessory for Katie, and having access to the latest books, no matter which country we find ourselves in is so nice. We also love audio books, and have become completely addicted to Audible. Audible is an Amazon company, so there is an extensive selection of titles, and we find audiobooks (and podcasts) awesome for in-flight/on-train entertainment. We usually use a headphone splitter so we can both listen to the same book/podcast at the same time when we're on a flight or train.
A Daypack. You'll want something nice and light to carry bits around during your explorations. As rain is a possibility, consider something like the Osprey Ultralight Stuff Pack.
A Travel Purse (for Women). Instead of a daypack, women may want to use a cross-body travel purse with security features to prevent pickpockets and bag slashers. There are loads of them to choose from, but Pacsafe is probably the most well-known brand, and their Citysafe series has a good cross-body option and a larger tote.
Packing Cubes. We've been using packing cubes for a few years now, and never go anywhere without them anymore. Try these from Eagle Creek.
First Aid Kit. As we mentioned earlier, heat and sun present some challenges. Everything from blisters to chafing, sunburns to small cuts and bumps are possible. Either put one together yourself, or consider something like this one.
A Reusable Water Bottle. Travel can be really bad when it comes to single-use plastic, and we do our very best to eliminate as much single-use plastic from our trips (and life) as possible, and encourage others to do the same. Packing a refillable water bottle is one way to do that. Start by reading our guide to buying the best water bottle for travel.
<div class="content_hint"></div>
Spain in Winter: Is it Still worth it?
Is Spain still worth travelling to in the winter? In short, yes. Unless of course you are looking for a beach holiday, in which case definitely travel to Spain in warmer months.
You may run into some rain, but traveling in Spain in winter can be quite enjoyable, less heat, fewer crowds, less line ups at major attractions, off season hotel and car rental rates, etc.
Attractions like the Alhambra in Granada, and the Alcazar in Seville are difficult to enjoy when the temperature is 95F (35c) or higher.
Around Madrid, temperatures can be rather cool especially in the evenings. We visited Barcelona in early December and were able to move around the city sightseeing in comfort with just a light sweater.
Is Spain Safe?
Despite some recent political protests revolving around the referendum in Catalonia, Spain remains a very safe country for travelers.
Always avoid protests and other political gatherings as a general rule when travelling. Spain does have its fair share of petty theft particularly in high season due to the sheer volume of tourists, especially in Barcelona, and the the popular night life scenes in Ibiza.
Rarely do these include any type of violence, mostly pickpockets, bag snatching, phone and camera theft when distracted. Keep a close eye on your stuff, don't take any non-essential valuables like jewelry with you (for example, I usually travels with a nice looking, but fake wedding ring, and leave the real one in a safety deposit box at home).
For more information, please read our How to Avoid Pickpockets in Europe post.
Pin Me ⇩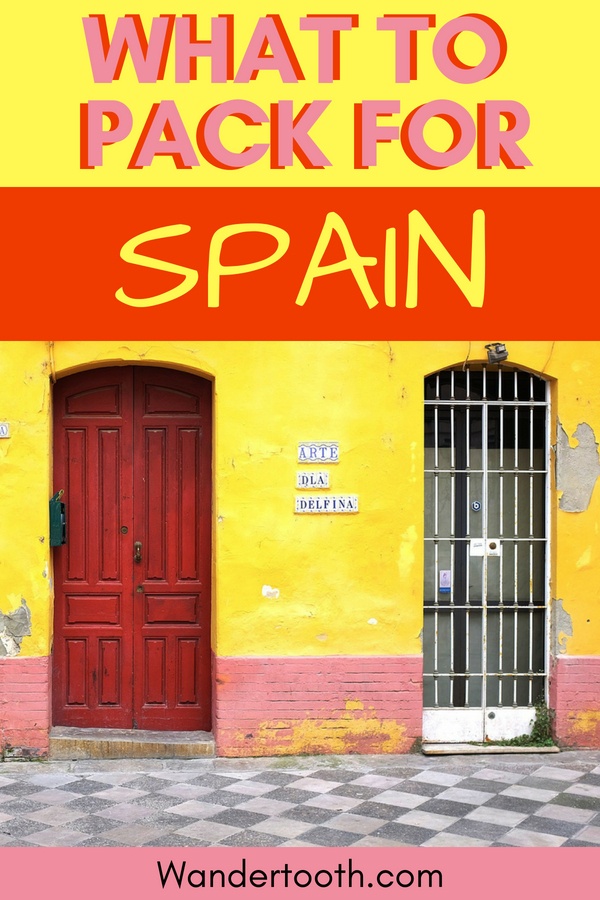 ---
Spain Trip Planning Resources