Vinohrady Prague Guide: Prague Vinohrady district is well-maintained, hip, and central. Get to know the Vinohrady District Prague with this insider's guide to one of Prague's best neighborhoods!


Prague Trip Planning Resources: Where to Stay | Things to Do | What to Pack
---
The Prague Vinohrady neighborhood began life as vineyards in the 14th century. Today, the Vinohrady district is one of the best districts in Prague.
Quiet and central, it's brimming with beautiful buildings and tree-lined streets. Filled with plenty of restaurants, pubs, and cafés, Prague's international community loves this neighborhood. So do young, middle-class families looking to put down roots.
The Prague Vinohrady district is located between Old Town Prague, Zizkov, Vršovice and Nusle. It's a very well-maintained neighborhood, and its central location make it one of the best neighborhoods to stay in Prague.
Real estate prices are high enough to keep young people in the Zizkov district or Vršovice, yet low enough for young professional families to love!
With all the charm of city center neighborhoods like Old Town and Mala Strana and none of the hassle and crowds, Vinohrady Prague is an extremely desirable neighborhood to stay in. It's a great area to stay in Prague for visitors looking for a local neighborhood feel.
If you want a quiet place to stay in Prague that's near the center, Vinohrady is a great option.
---
What to See in the Vinohrady District Prague
Your first stop should be Náměstí Miru (Peace Square) and home to the beautiful Church of St. Ludmila. St. Ludmila was the mother of Good King Wenceslas and is the patroness of Bohemia. If you're lucky enough to find it open, peek your head inside. The church celebrates Holy Mass at 4:30 p.m. every day, so please be respectful.
This square holds a nice local Christmas market in December…it's a particularly lovely scene when Prague is covered in snow.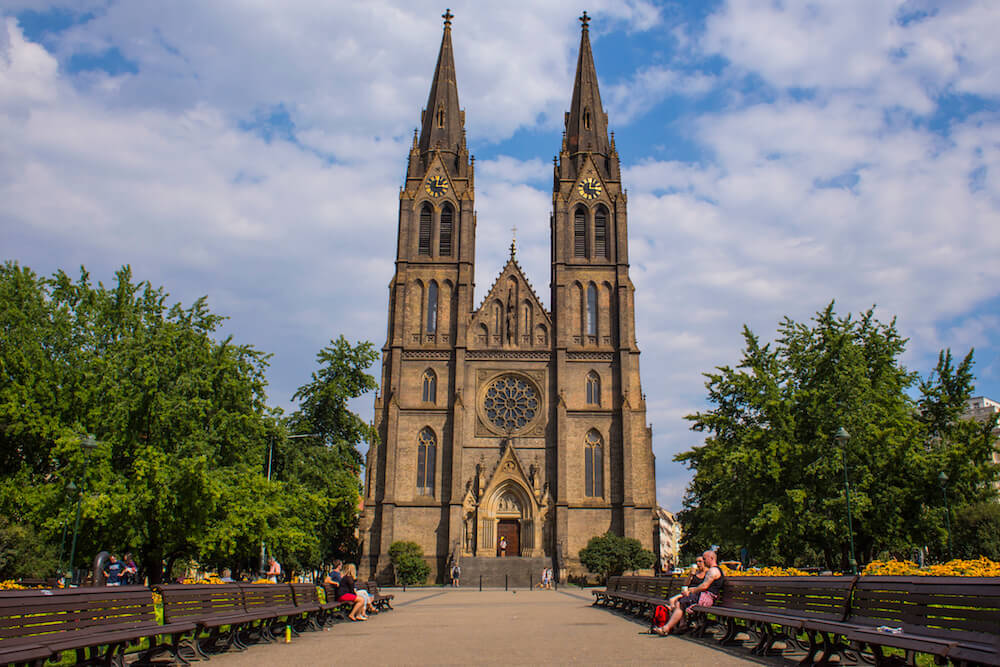 Vinohrady is also perfect for random wandering! You'll find little pieces of personality and diverse architecture everywhere.
There are memorial plaques, statues and architectural treasures at every turn in Vinohrady. Nuselské schody is a stairway built in the 1890s that unites Vinohrady and Nusle districts.
Vinohrady is also within an easy walk of the TV Tower in Prague Zizkov district. The TV Tower offers great views of Prague's residential areas.
A walking tour is a really fantastic way to get acclimate to the area, and learn about the history and culture. I really love this Taste of Daily Life Walking Tour, which takes you through the off-the-beaten-path districts like Vršovice, funky Žižkov and Vinohrady. And you get the chances to sample some local foods, beers, and wine along the way. How fun is that?
Vinohrady Prague – Transportation & Accessibility to Other Sites
Vinohrady is full of public transportation connections. It has four streets with trams, and both the A (Green) and C (Red) metro lines go through the district.
Number 16 and 22 trams connect Vinohrady to New Town. Offering a much better view than the metro, the trams stop close enough that you can walk to Old Town Prague. Tram 22 will also take you to Mala Strana and up to Prague Castle.
If you do visit Prague Castle (and you should), I highly recommend getting these Skip the Line tickets. You'll get in much faster and will have a tour from a local guide so you don't miss any of the incredible history!
Another good option is to purchase a Prague Card, which gets you free admission to most of the main tourist attractions in the city.
If you prefer to walk, Prague Old Town is a 20- to 30-minute walk from the middle of Vinohrady.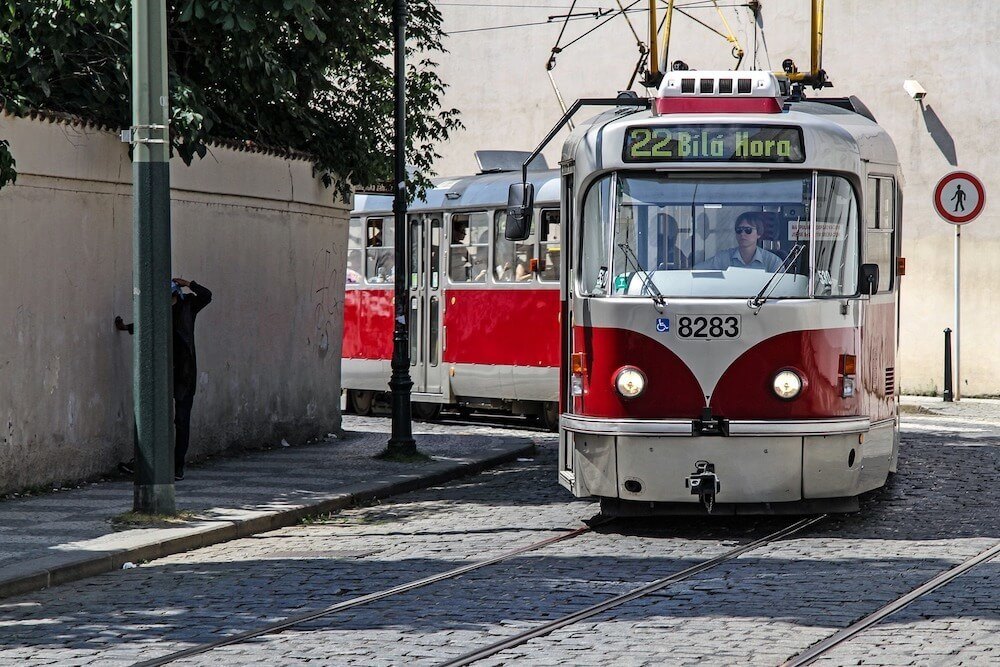 ---
What to Do in the Vinohrady Neighborhood Prague
Most of the bustle happens around Náměstí Miru or I.P. Pavlova. If you venture up Koruni or Vinohradska streets during summer, you'll find dozens of sidewalk "gardens." These gardens make a great stop for a beer or a meal.
A stroll through Havlíčkovy sady, Prague's second-largest park, is wonderful any time of year. It will give you an idea of what the area looked like 500 years ago. There is even a vineyard in the park and yes, you can stop in for a taste when the cellar is open!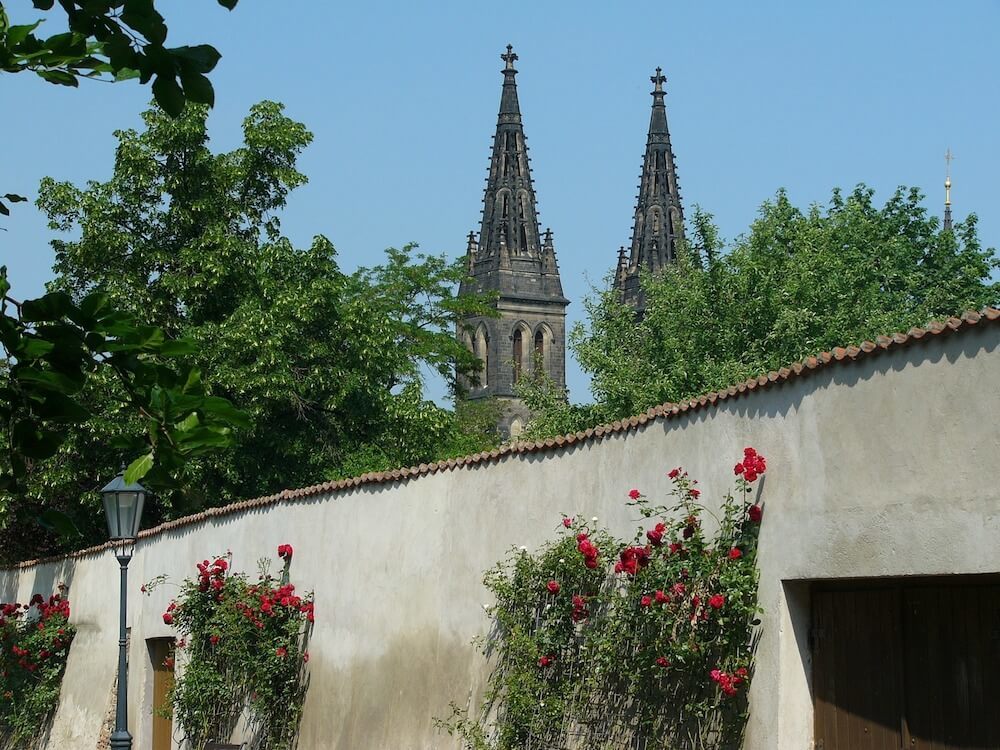 Vinohrady is very quiet once you get away from Náměstí Miru. Strolling to find the next amazing restaurant or cafe is a pleasant way to spend your time here. And the good news is, there are plenty of Vinohrady Prague restaurants to choose from – see our picks below!
As I mentioned earlier, a walking tour like this one is a great way to explore the area and learn a bit about the local culture, plus try some tasty treats from the local restaurants and breweries.
The Prague Card is another great option if you plan to hit up all of Prague's main tourist attractions. It gets you admission to prettymuch everything that a tourist will want to see in the city, including Prague Castle.
For more ideas, check out this guide to cool and interesting things to do in Prague.
---
Prague Vinohrady Shopping Guide
Almost all the shopping in Vinohrady is near Náměstí Miru or I.P. Pavlova (pronounced eee-pay pavlova).
For modern, stylish home furnishings and design, Vinohrady Pavilion (Vinohradská 50) is the spot. Originally a mill, a market was built in it place in the 1920s. There are now several stores, a café and a supermarket inside.
The farmer's market at Tylovo Náměstí next to I.P. Pavlova is open Monday through Friday from 8am to 6pm. It has a wide variety of local produce and flowers.
During Christmas and Easter, Náměstí Miru and Tylovo Náměstí host markets where you can find gifts and seasonal items. Náměstí Miru has the best market. But the best Svařák (mulled wine) stand in all of Prague is always at the Tylovo Náměstí seasonal market!

---
Where to Eat in Vinohrady: Vinohrady Restaurants to Check Out
If you like to explore AND eat, you will fall in love with Vinohrady!
For breakfast, Kavárna Zanzibar (Americká 15) has it all day on weekends; try the eggs benedict.
Radost FX (Bělehradská 120) is known for the best brunch in the city. Radost is vegetarian only, whereas Kavarna Zanzibar has vegetarian options.
You can find good Italian and brick-oven pizza (thin-crust is the only pizza you'll find in Prague) at Grosseto (Francouzská 2).
Dig into some Serbian cuisine (yes, it's a thing) at Singidunum (Bělehradská 92). It's the best Čevapčiči ("chee vahp chi chi" – a Balkan-style meat sausage/kebab) in Prague. They have delicious wine, too, and the owner might share a bottle with you if you're lucky.
Kofein (Nitranská 9) has amazing tapas, including vegetarian options, and a robust wine list.
A few meters away, Mozaika Burger (Nitranská 13) has superb burgers, creative seasonal menus, and wine.
A secret tip for Czech cuisine is Vinohradsky Pivovar (Korunní 106). More than just a local brewery, they have delicious food at low prices and the beer is super. Reservations are required because locals love it. But don't worry too much if you can't get in: there are plenty of other places with Czech food nearby.
---
Vinohrady Nightlife
On the whole, nightlife in Vinohrady is tame. As with all of Prague, there are pubs and vinoteks everywhere. Locals usually meet friends for casual drinks and a chat, then head home tipsy. If you can find a chair, any local establishment in Vinohrady will be happy to have you.
Around Namesti Miru and I.P. Pavlova things are more active.
Young partiers usually end up at Retro Music Hall (Francouzská 4). It's famous for its electronic dance music and live DJs. It's not uncommon to see bleary-eyed twenty-somethings stumbling away from Retro at 6 or 7 a.m.
Radost FX (Bělehradská 120) isn't just famous for its brunch. It's also a hoping house-music club with dancing and live DJ performances.
Beer lovers will want to visit the Prague Beer Museum (Americká 43). Their selection of beers on tap in impressive and the Náměstí Miru location is much less crowded than the Old Town one.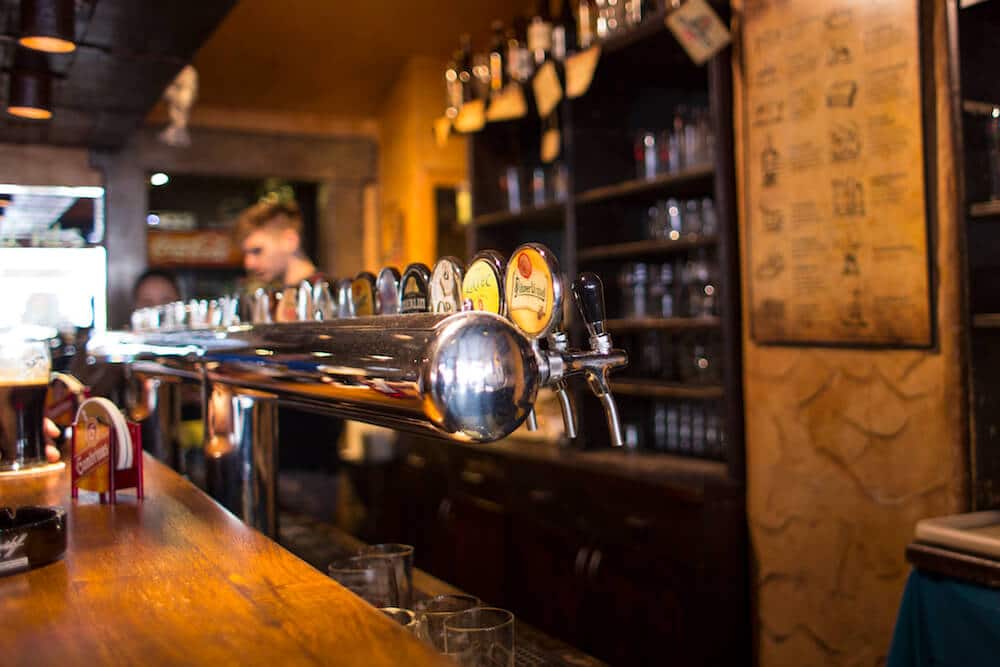 The výčep (taproom) accessed via the side door at Vinohradský Parlament (Korunní 1) is open until 4 am. The barman probably won't speak much English and won't tolerate rowdiness.
---
Who Should Stay in Vinohrady
Young, adventurous travelers will get the most out of staying in Vinohrady district. Those who like to get off the beaten path, but still see the typical tourist sites, will enjoy this area.
Most hotels are clustered around Náměstí Miru or closer to the center. Holiday apartment rentals can be found throughout the district.
It's worth noting that on weekends during the summer you may find the neighborhood a bit sleepy. Many residents pack up the family and escape to their cottages in the countryside!
Who should stay in Vinohrady
Anyone who prefers a local feel when traveling
Young couples looking for a quiet getaway with great food and drinks aplenty
Families who want to escape the party atmosphere of Old Town Prague, but still want to be close
Retired folks who want a place to relax after seeing the sites and save a little money at the same time
Those who want to stay in a holiday apartment rental, rather than a hotel
Pros and Cons of Staying in Vinohrady
Pros:
Quiet
Great food and cafes, pub, and vinoteks everywhere
Walkable, especially for getting to the center and for exploring the neighborhood
Close to the center without being the center
Very safe
Cons:
A bit sleepy for some travelers
A smaller selection of Vinohrady hotels than in more touristy Prague neighborhoods
Where to Stay in Vinohrady
You will find most hotels west of Náměstí Miru, especially along Legerova and Sokolska streets. There are also a few hostels and some more affordable places to stay.
East of Náměstí Miru, there are fewer options as things get more residential. Kralovske Vinohrady, the area west of Náměstí Miru known as Royal Vineyards, is a quiet, relaxing area to consider.
Not part of Vinohrady, but still convenient, is the area running from IP Pavlova west to the river. The luxury boutique La Ballerina and Boat Hotel Matylda, right on the Vltava, get good reviews. From this part of the river, you can easily walk to Vysehrad fortress, what we like to call Prague's other castle! You can also dangle your feet over the riverwalk and enjoy a beer at the bumping warm weather spot of Naplavka – one of the best things to do in Prague from late spring to early fall!
North of Vinohradska street is the Zizkov district, but the border is a little unclear. South of Francouzska street and west of Jana Masaryka street is the Vršovice district of Prague 10. It isn't a bad choice, although it's more attractive to a younger, bohemian hipster crowd.
Vinohrady and Prague 2 Hotels: Where to Stay in Prague's Vinohrady District
There are fewer Vinohrady Prague hotels than what you might find in Old Town and Mala Strana. There are still enough options to satisfy most types of travelers, however. Those traveling on a range of budgets should be able to find good accommodation in Vinohrady.
3-Star Hotels in Prague Vinohrady:
4-Star Hotels in Prague Vinohrady:
Hostels in Prague Vinohrady:
Safety Tips for Vinohrady
Vinohrady and most of Prague is extremely safe. However, there are a few places to watch out for. Čelakovského sady, the park the National Museum is in, is not a place to be after dark. It is popular with drug users and miscreants.
I.P. Pavlova also has some seedy-looking individuals about. They are generally harmless. Frankly, the biggest worry is intoxicated partiers heading home from the city center!
There are two police stations along Korunni Street. However, the only time you'll likely see police are for parking enforcement, as crossing guards, and walking around the station.
The emergency number in Prague is 112 and it will bring the police very quickly. They have a reputation for creating a safe neighborhood, and they are serious about keeping things that way!
---
Pin This Post